Final Co. FinalSpork Review
The Final Co. Spork is a durable, packable, and overall solid sustainable alternative to wasteful plasticware—but packing it away takes some getting used to.
Our Verdict
Unlock the Pro Summary
Save time. Get access to brief summaries of our reviews so you can browse and make decisions more efficiently.
Pros
Sturdy/durable material
Convenient carrying case with keyring
Packs small, great for travel
Cons
Tines aren't very long, doesn't work the best for things like salad
Compressing takes some getting used to
The narrow shape can make it awkward to use as a spoon
Recent Pack Hacker Video
Technical Details
Weight (oz)

1.94 oz (55 g)

Dimensions

7.5 in x 1.3 in (19.1 x 3.3 cm)

Inside the case

Notable Materials

Stainless Steel, Silicone, Plastic

Manufacturing Country

China
Buying Options

$29.95
$33.95
Full Review
Get up to 10% off Final Co. • Join Pack Hacker Pro
The FinalSpork might look like a fork that put on a few pounds, a spoon with a really bad haircut (maybe even a mix of the two), but it's so much more than that. This thing might just be the last utensil you'll ever need.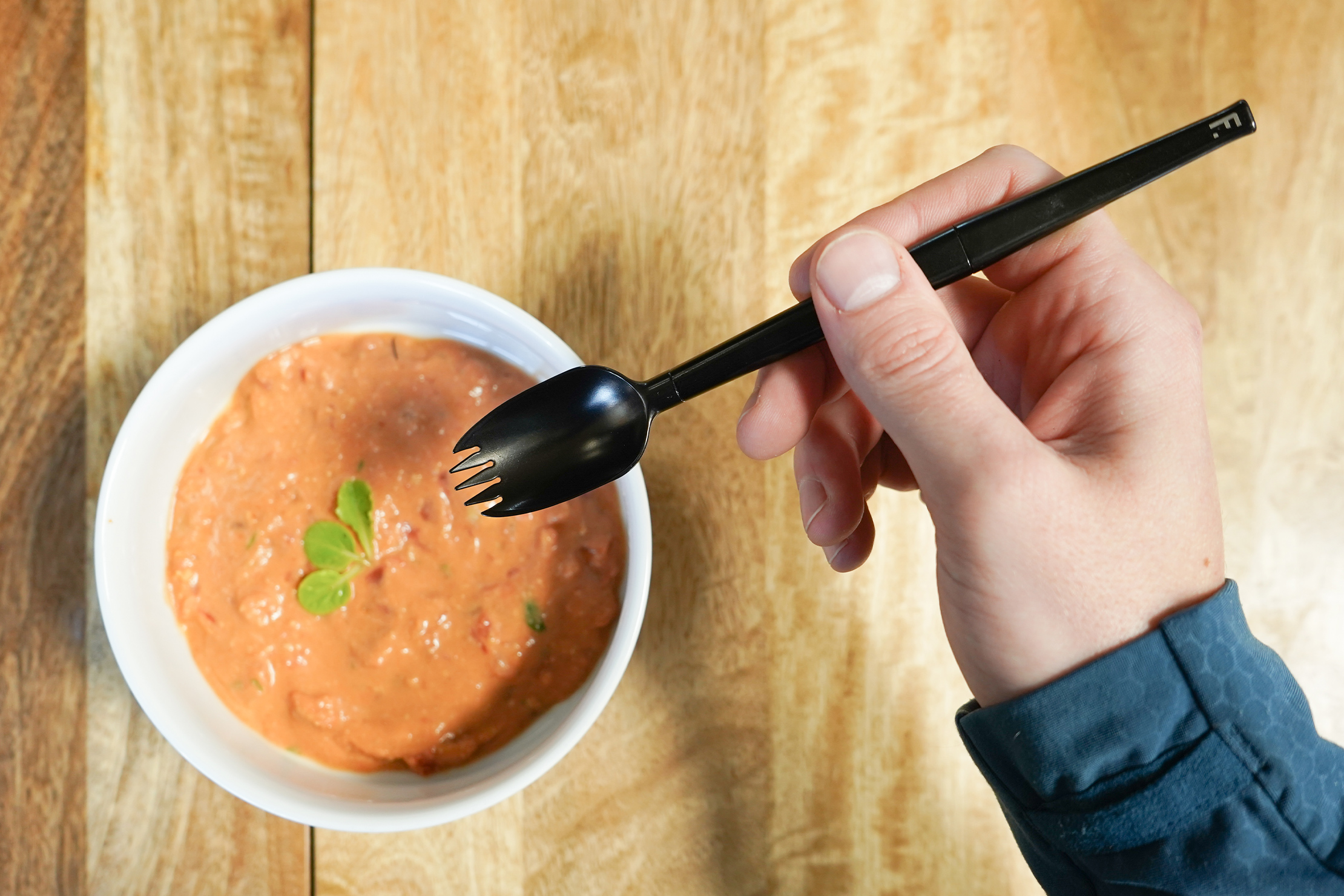 It's a great option for those looking to cut back on their plastic usage, whether you're picking it up for yourself or gifting it to your environmentally-conscious friend or family member. It even comes with its own case you can attach to your keys or bag, so you can defy single-use cutlery norms wherever you go.
We've eaten many meals with the spork over the last month of testing. If you're hungry for more information, chow down on the review below! P.S. if you're also wondering how many spork puns we can fit into one review, the answer is a lot.
Materials & Aesthetic
Final Co. is a company with a mission to reduce single-use plastic and replace it with reusable, durable, eco-groovy products—some of which include the FinalFork, FinalStraw 2.0, and of course, the FinalSpork. So far, their efforts have saved our oceans and landfills from 300 million plastic straws. We love to see brands so devout in their drive for sustainability.
This spork comes in very fun and unique colorways, including Porpoise-Ful Purple and Cyan-ara Plastic, if you're looking to brighten up breakfast, lunch, and dinner. Of course, there's also the Pirate's Booty Black option we've been testing that's more universal, too. Finally, a spork with some style. Move over white, boring plasticware—there's a new star in the cafeteria.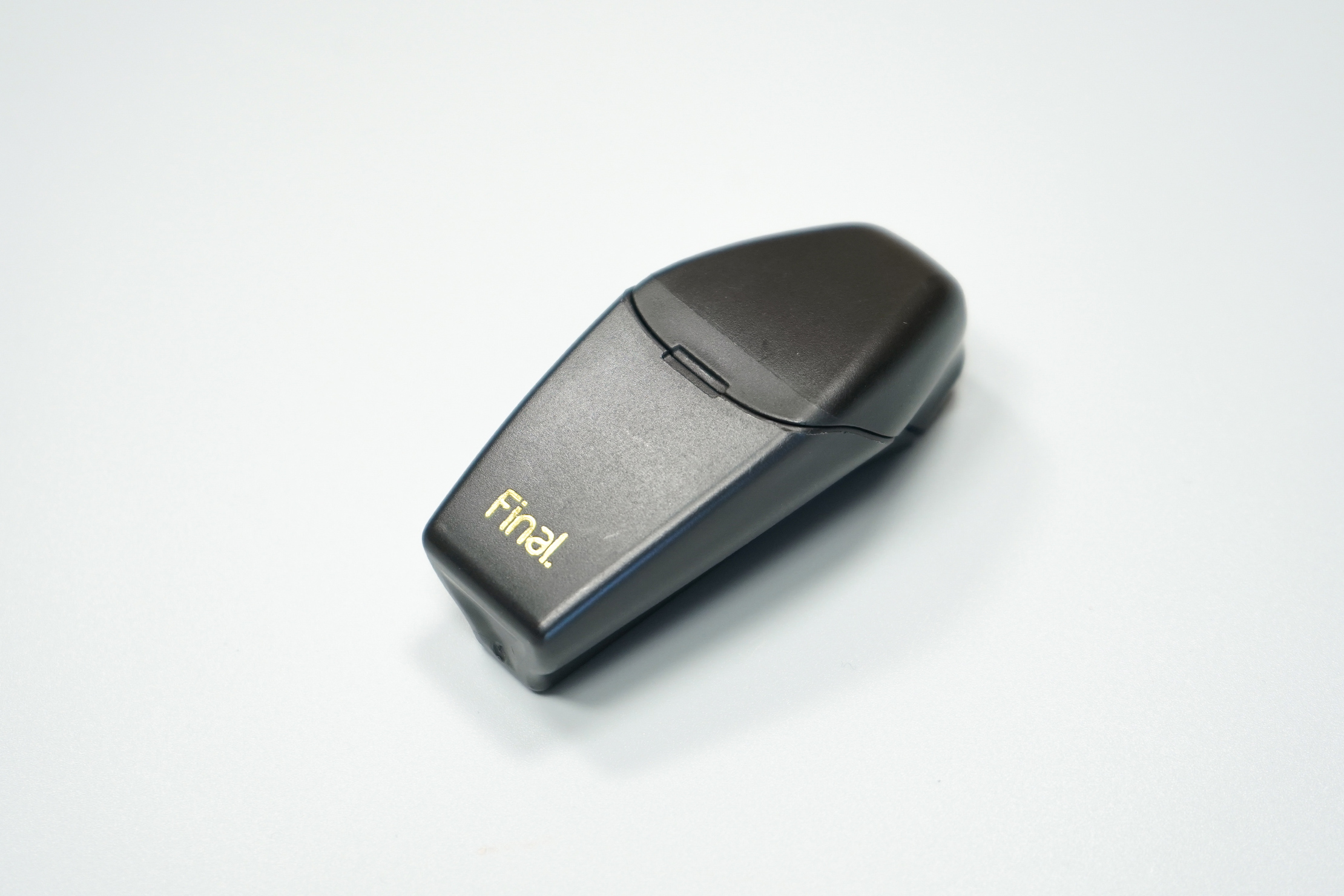 In terms of branding, the word "Final" is stamped toward the bottom of the spork's carrying case. It's subtle but intense; it's telling everyone around that this spork might just be, as we said earlier, the end all be all of cutlery.
Material-wise, Final Co. opted to make this thing with stainless steel that makes it feel like real, sturdy cutlery rather than a flimsy plastic utensil. It doesn't buckle where it folds, and we haven't noticed any chipping, scratching, or dents so far in our month of testing. We're happy to say that it's holding up well!
Features & Usage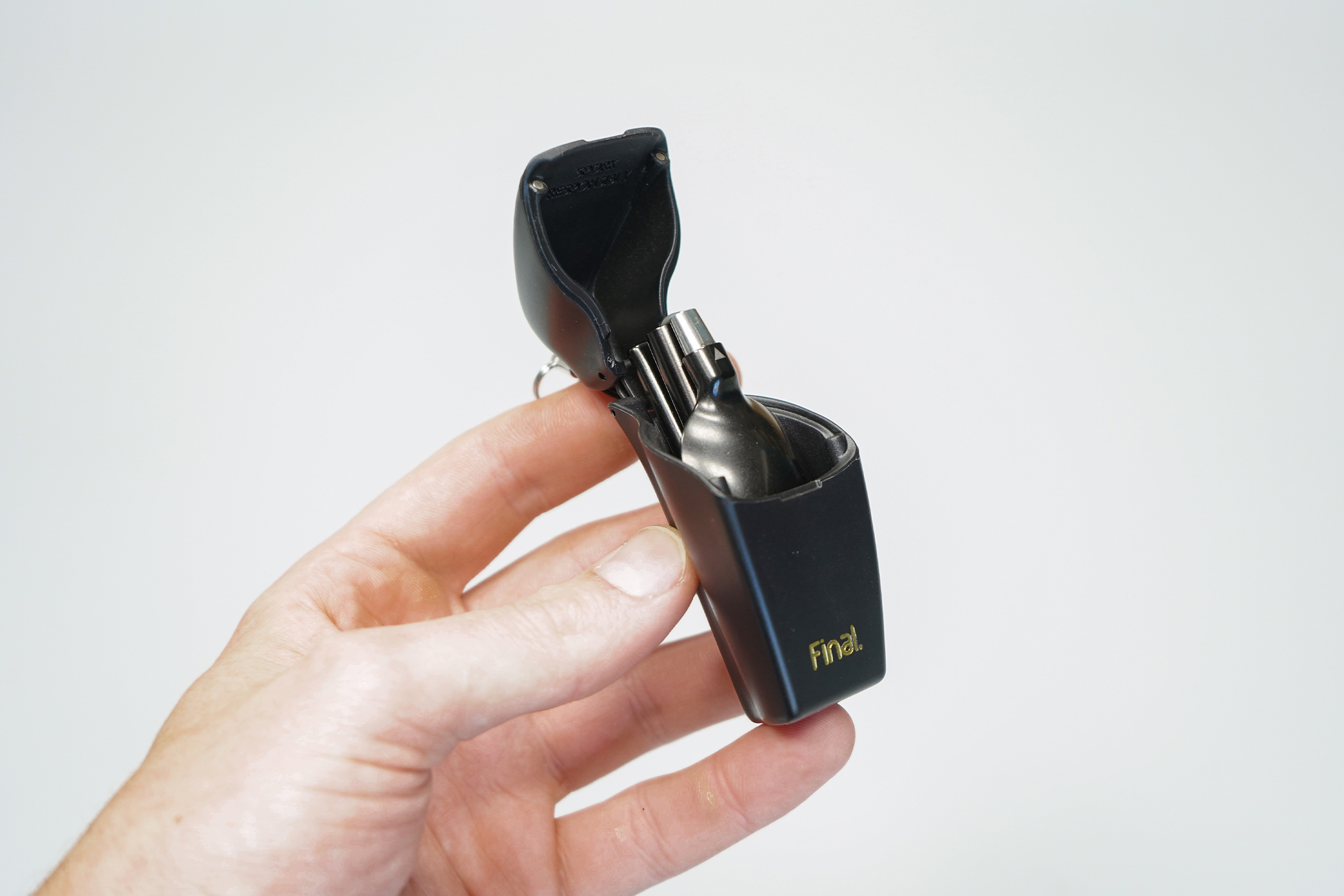 The Final Co. Final Spork comes in a convenient carrying case that opens and closes via magnets. We've tried shaking this thing around to test how well they stay secure, and so far, it's stayed shut, so we're not worried about losing our spork along the way.
When you open it up, instead of another logo, you'll notice an engraving on the lid that reads "Spork Responsibly." We appreciate the reminder and want to offer our own: remember, with great sporks come great responsibilities.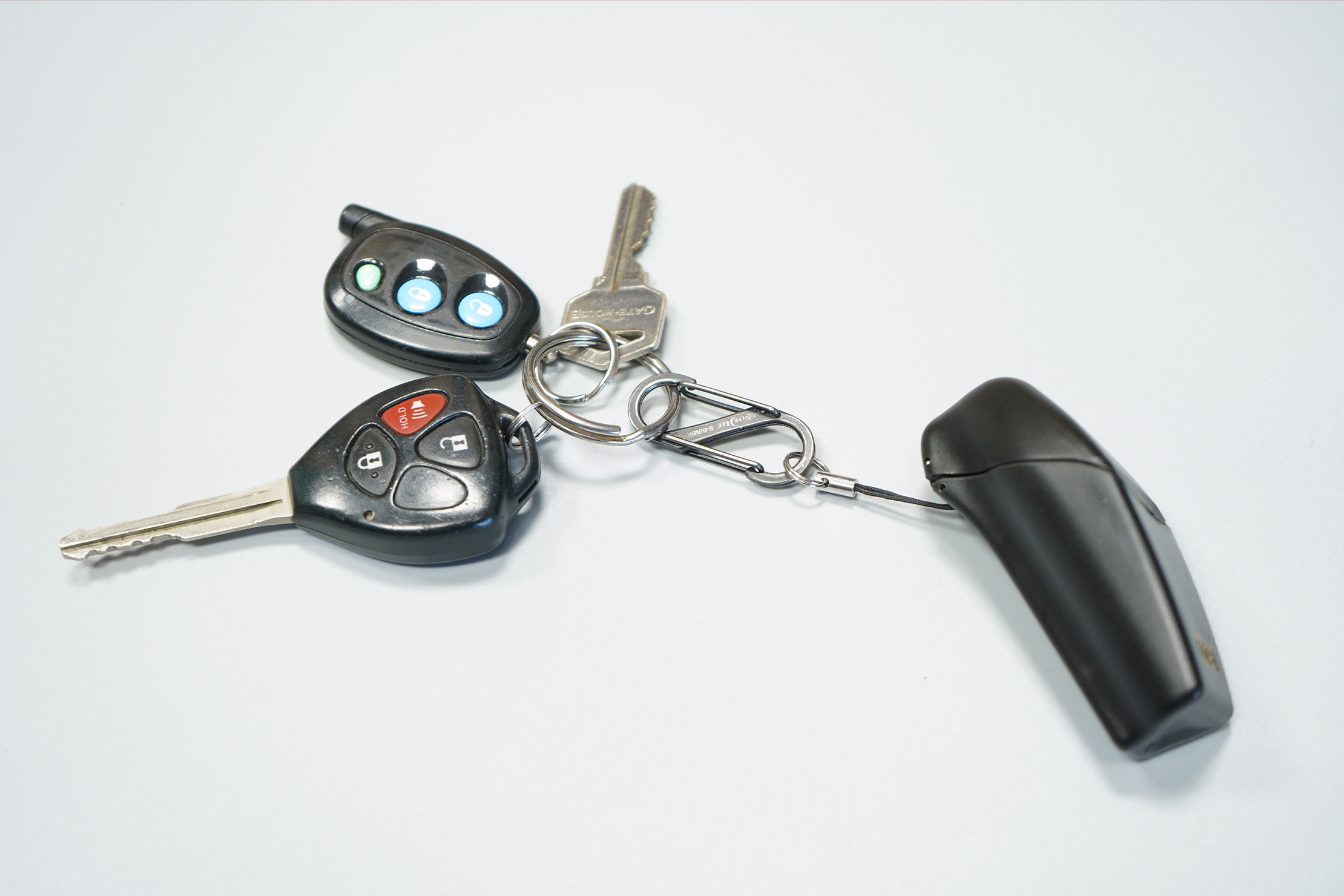 There's also a key leash on the backside so you can clip the case to your keys and carry it around with you wherever you go. That said, the case may feel a little big and bulky for this functionality. If that's the case, you can always toss this thing in your bag, purse, sling, or whatever you're hauling around, and it's still handy when you need it.
As for the spork itself, a line of silicone material runs through the inside, which allows you to fold and compresses down pretty small, so it fits snugly inside this case when not in use. One note here is that you'll want to make sure the arrows on each connecting piece line up because if not, this silicone will get twisted.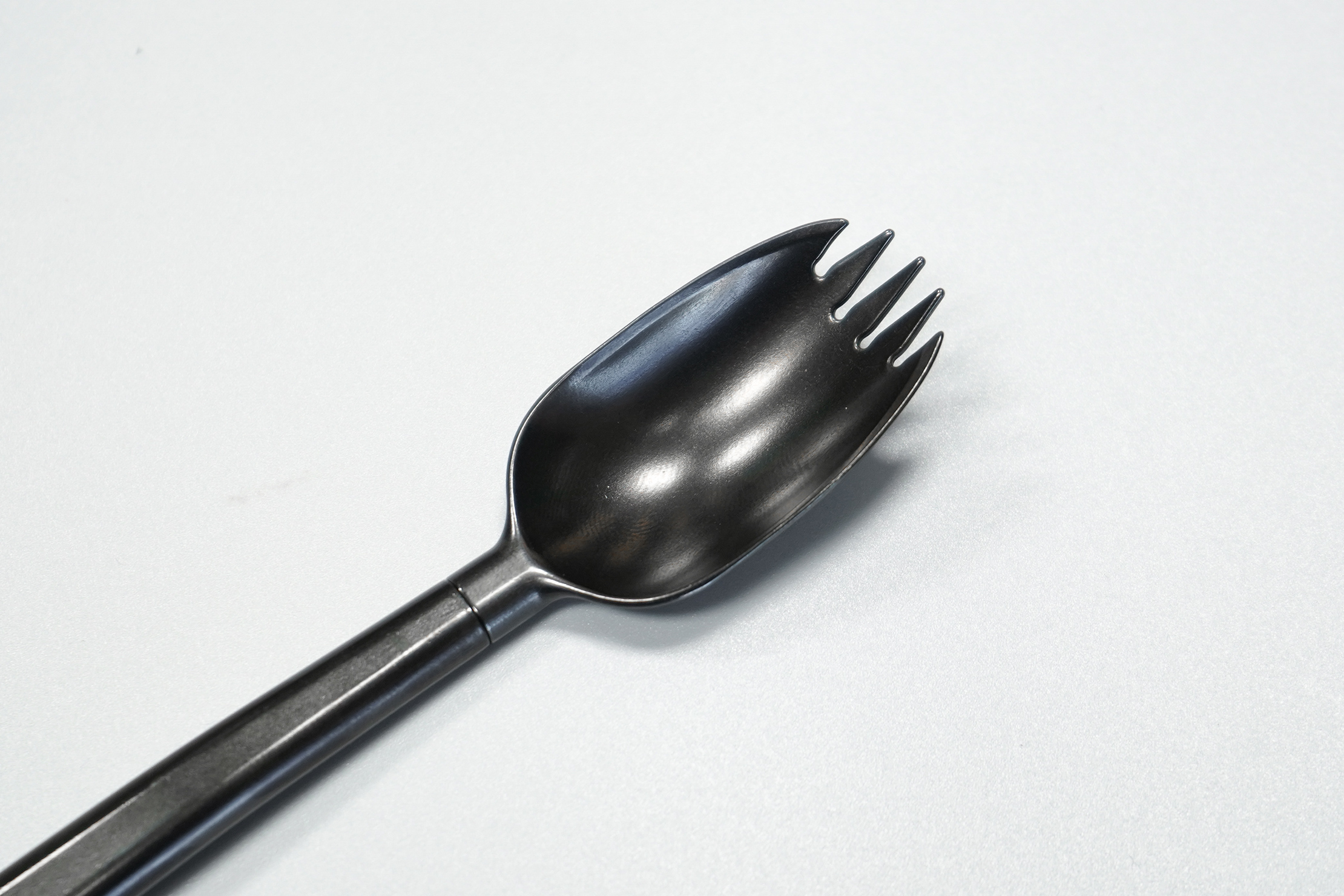 This spork is truly all-encompassing. It's built-in the shape of a spoon for when you're eating soups, stews, and anything else you need a tiny mouth shovel for, while the sharp tines at the top can dig into everything else. The spork sides are also sharper to allow you to cut into thicker, heartier foods like meat. In other words, you don't absolutely need to bring along an extra tool to cut your chicken or steak—this spork will do the trick most of the time.
While we appreciate the increased functionality these sharper edges and tines have offered, we've found they can make this thing a little uncomfortable when used as a spoon. You won't cut your lip or anything; it just makes the spork especially narrow, which takes some getting used to. Also, note that salad can sometimes be a challenge, too, as the tines on the spork aren't very long; this can make it harder to spear bulky lettuce.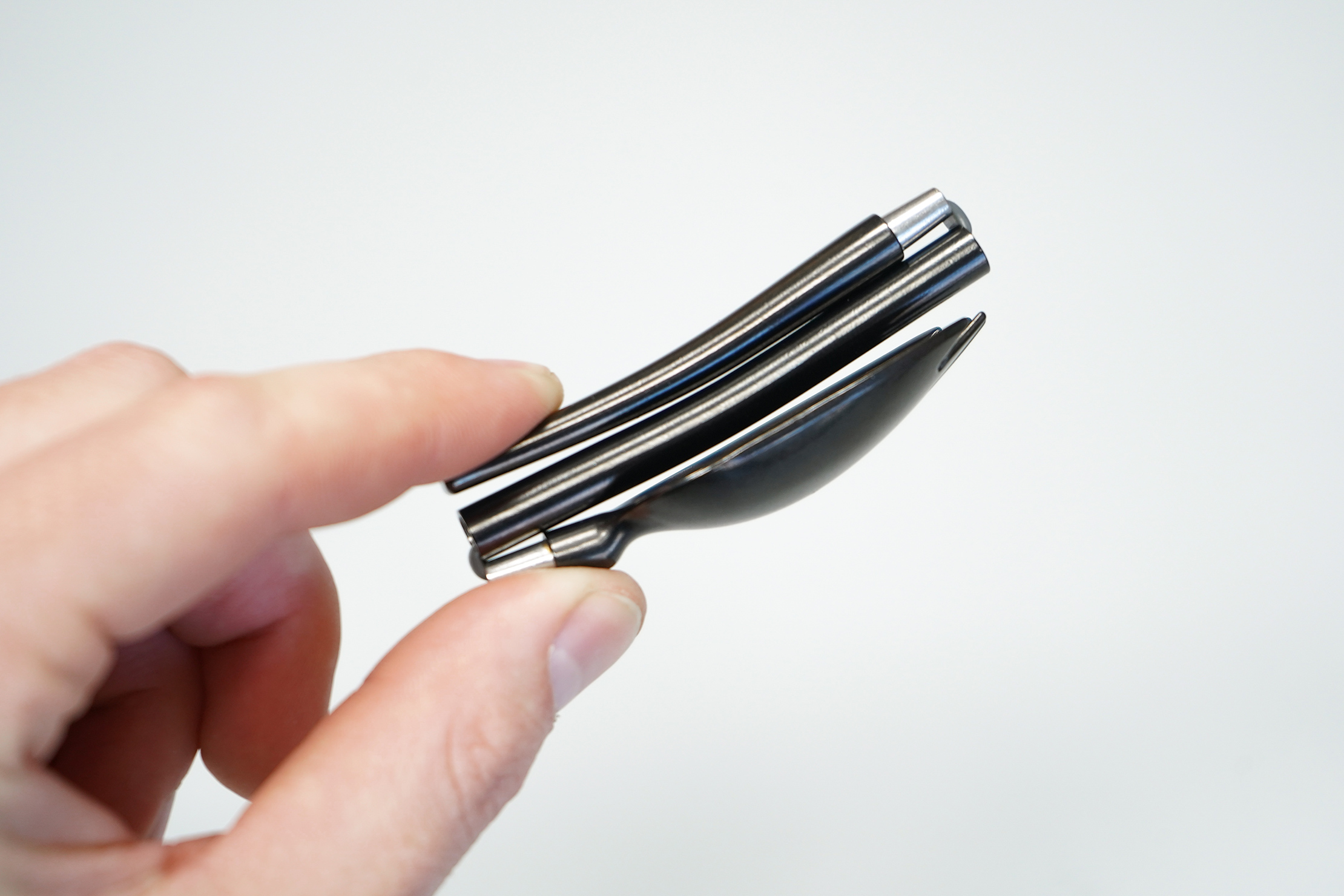 When you've finished eating, and you're packing the spork back up, keep in mind that it only compresses one way. So, you'll need to fold the head of the spork down toward the middle piece, and fold the bottom, piece up on the opposite side. Then, you want to put the spork back in its case tines side down. Otherwise, it won't fit.
This is another part of the process that takes practice. It's taken us a whole month to memorize the instructions that come along with it, and now we can fold and unfold this thing without even thinking about it—it gets easier eventually.
The Final Spork isn't the first spork we've ever tested (check out our reviews on the Life Without Plastic Stainless Steel Folding Spork and the Toaks Titanium Spork), but it's one of our favorites so far. It's a super convenient addition to both your everyday and lengthier travel line up, whether you're eating lunch at your desk or on top of a mountain.
Usage Timeline
Initial Usage
Condition: Excellent
Reusable, washable, and durable
Feels like a normal piece of cutlery in the hand, doesn't feel cheap or flimsy
Packs down small into its own case
2 Weeks of Use
Condition: Excellent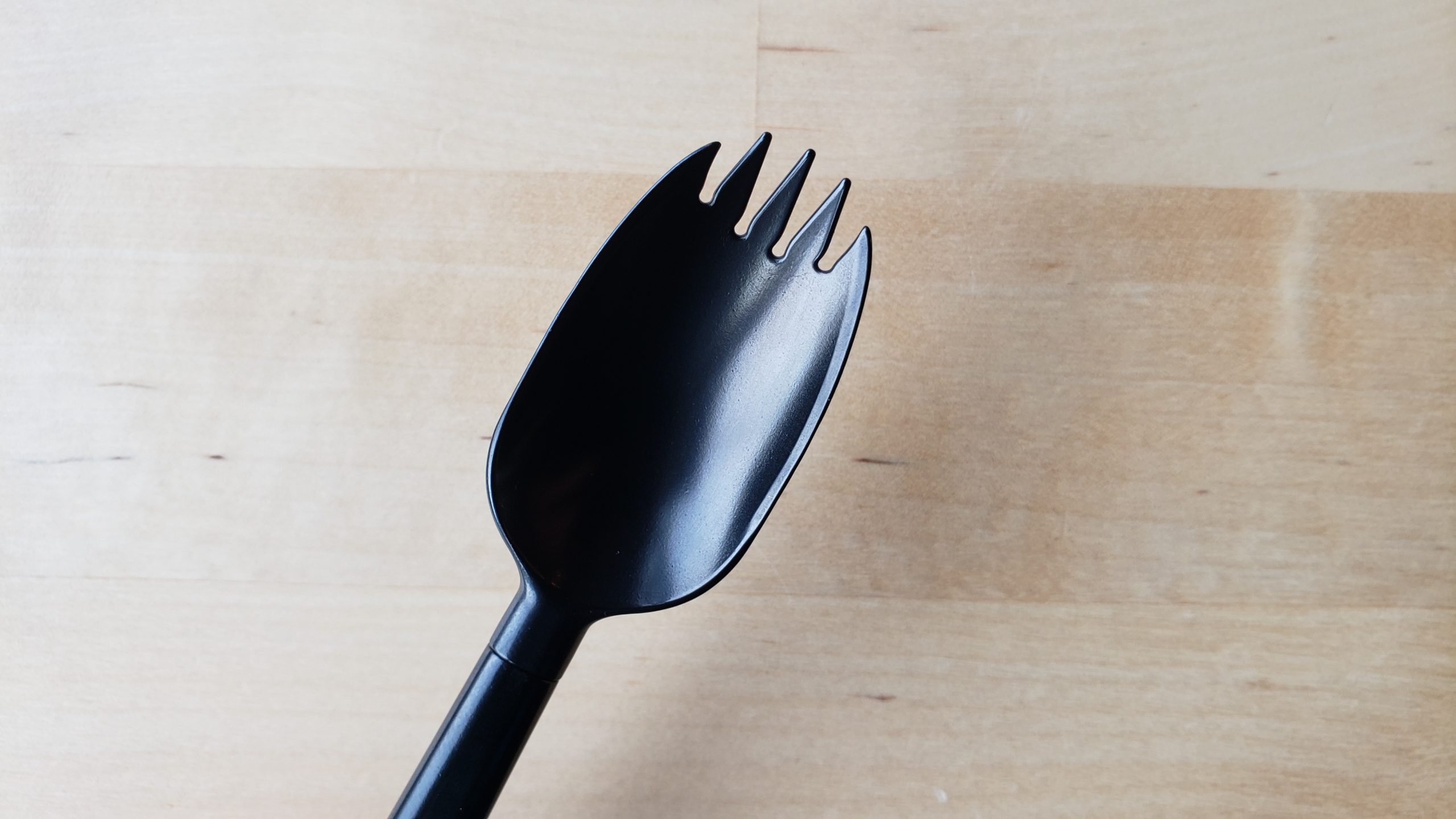 This spork is designed to do everything. The sides have a bit of an edge so they work as a cutting tool and the tines on the top are sharp enough to go through chicken. That being said, it can be a little uncomfortable to use as a spoon because of this. However, if you are trying to pack small, this is the only utensil you need.
1 Month of Use
Condition: Excellent
Still holding up great. We've finally memorized how to fold it up and put it into the case without the instructions.
Access the Pro Community Discussion
Get your questions about the Final Co. FinalSpork answered from our team and the Pro Community right here on the page. Plus, join discussions with other members about gear, guides, and more.
Other Miscellaneous Reviews