Peak Design Field Pouch V2 Review
The Peak Design Field Pouch V2 improves upon the original, though there may not be enough changes for those looking for a complete upgrade.
Our Verdict
Unlock the Pro Summary
Save time. Get access to brief summaries of our reviews so you can browse and make decisions more efficiently.
Pros
Simple and comfortable strap
Well-balanced organization
Photography-focused features
Cons
Thin strap may not be well-suited for heavier loads
Flap secures only via velcro
No separate quick-grab pocket
Recent Pack Hacker Video
Technical Details
Capacity

3l

Denier

400D

Weight (oz)

6 oz (170.1 g)

Dimensions

10.6 in x 9.8 in x 4.3 in (26.9 x 24.9 x 10.9 cm)

(full) | 9.4 in x 7.5 in x 0.4 in (empty)

Notable Materials

Nylon Canvas, Felt, Leather, YKK Zippers

Manufacturing Country

Vietnam

Warranty Information
Buying Options
$49.95

$49.95
Full Review
Get up to 10% off Peak Design • Join Pack Hacker Pro
"When something works, you don't go and reinvent the wheel." It's something we often hear when there's a discussion of even the slightest hint of change. Nothing succeeds like success after all, so why change a winning formula once you have it?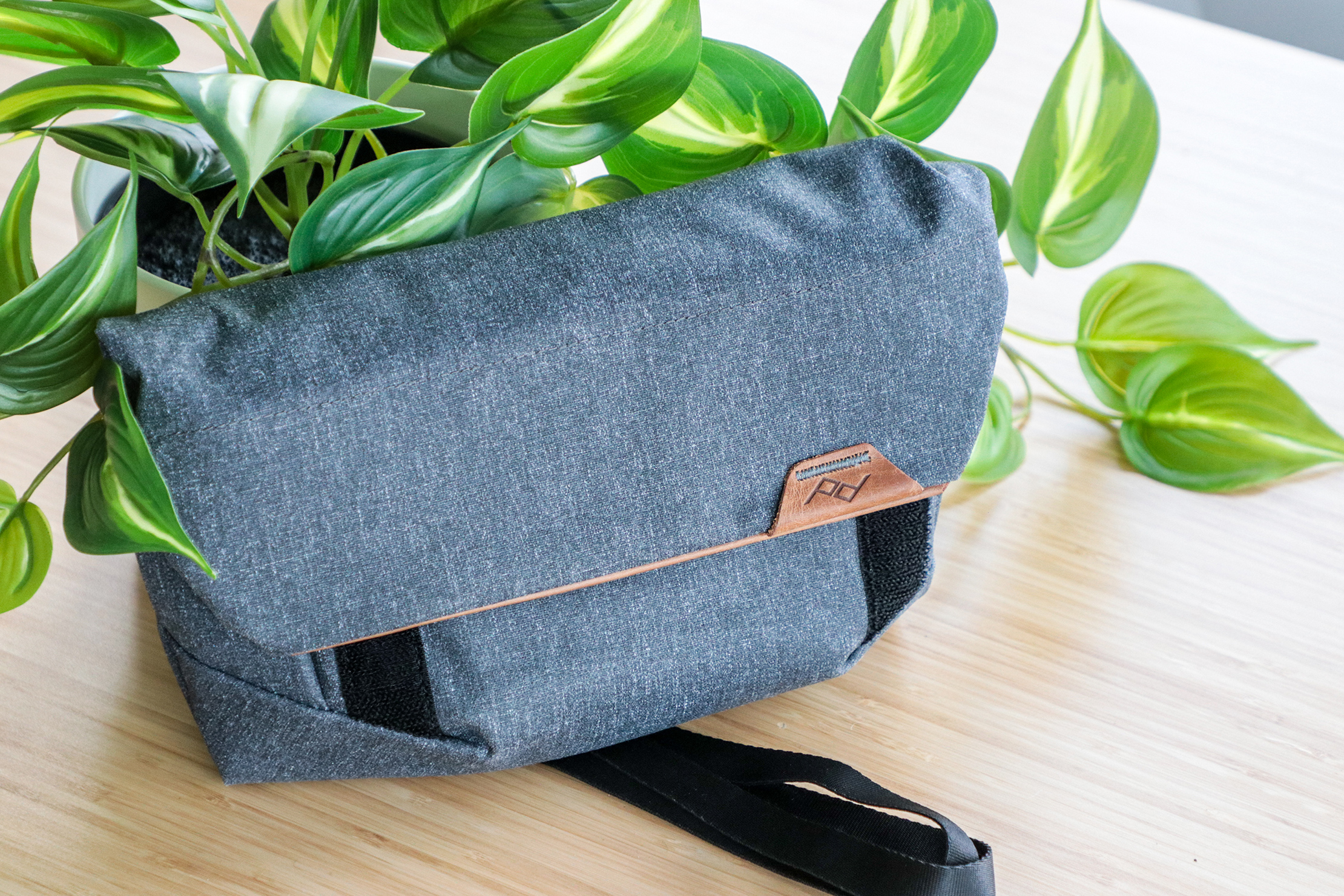 For Peak Design, their original Field Pouch seems to have reached its peak form—mostly. This means there's still room for improvement; thus, we arrive at the subject of this review: the Field Pouch V2. At first glance, it seems to have inherited a lot from its predecessor, though it's packing some new features just waiting to be unveiled.
Materials & Aesthetic
This being the second version, or "V2" as it's called, our first point of reference is its predecessor. Check out our review of the original Field Pouch, and you'll most likely draw the same conclusion we did. Nope, you're not seeing double; bits and pieces have been tweaked, but the styling changes have been fairly minimal.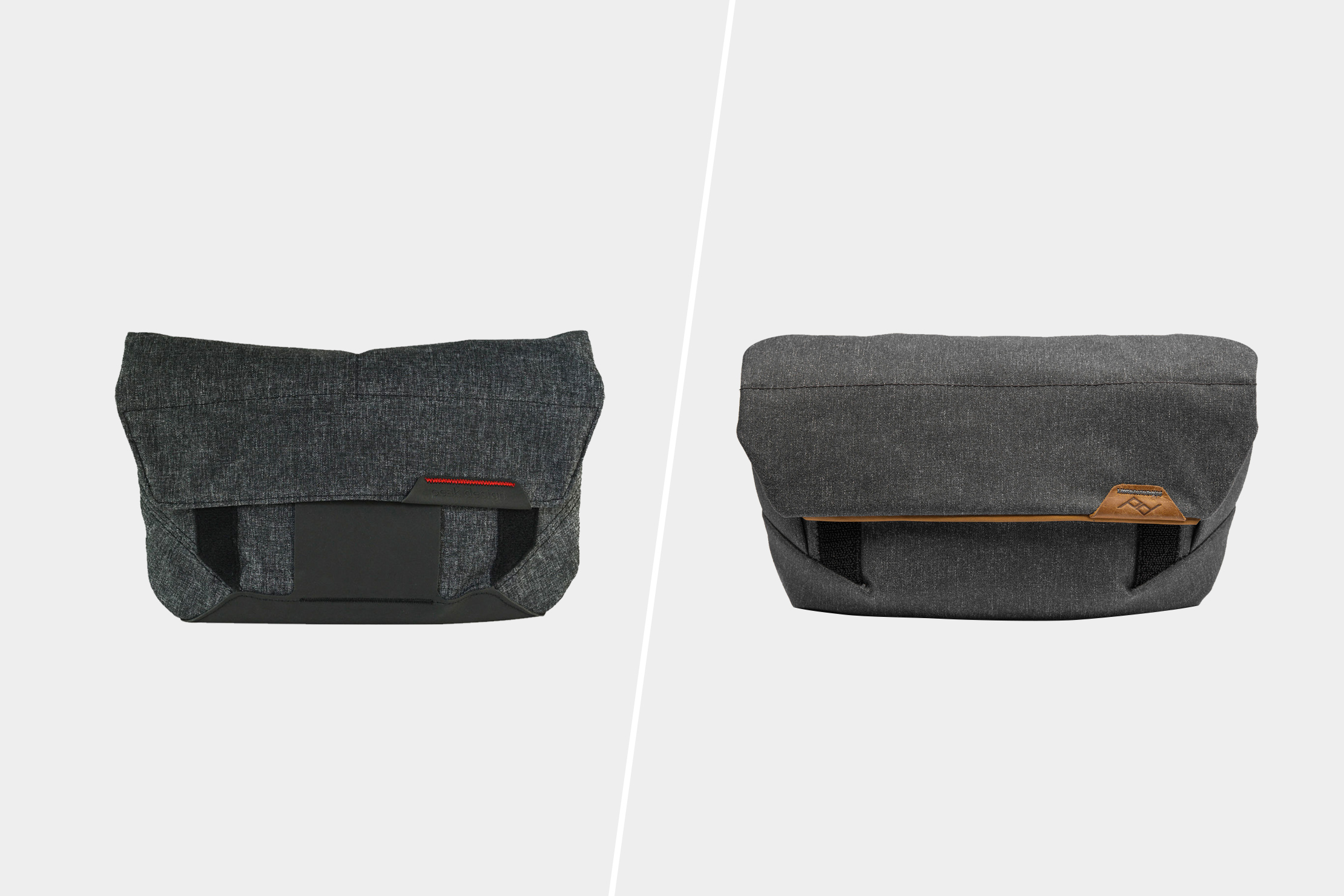 That's totally fine by us since we were fans of the original design when it first came out. It's a clean and simple aesthetic that didn't advertise the fact that you're carrying a small but valuable pack of camera goodies. Ask any of your photography buddies, and you'd be surprised how much value they can pack into a small package like this. Hence, an eye-catching design probably isn't paramount for the Field Pouch V2's purposes.
That's not to say the Field Pouch V2 is deprived of any appeal. On the contrary, the fabric has a retro and vintage feel, and the small leather trim on the flap adds just the right hint of class. "Simple" may not be the best term; perhaps "minimalist" is more appropriate. Either way, it's a tasteful design we can get along with.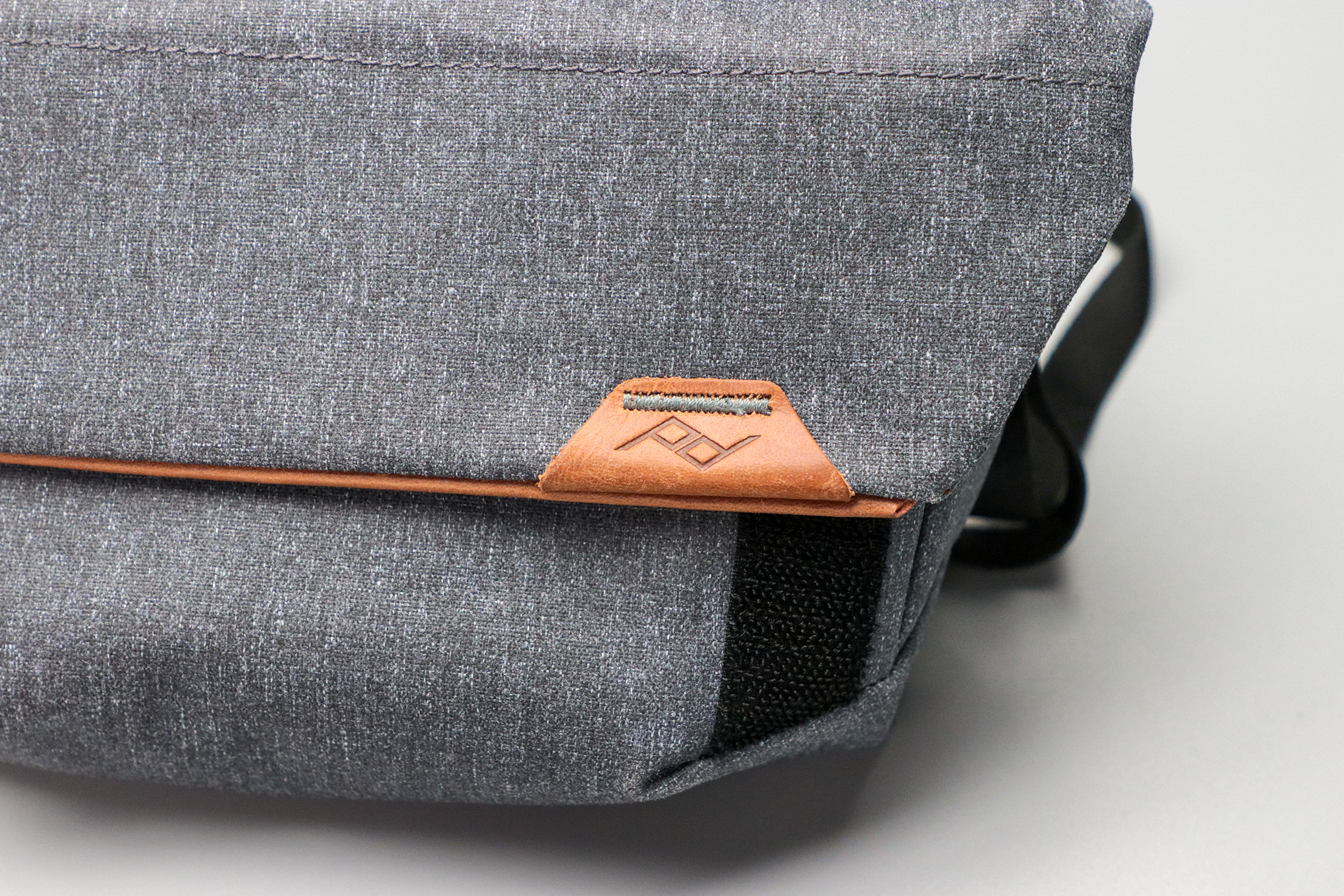 Rest assured, the Field Pouch V2 has the makings of a durable pouch as well. The fabric not only looks good but is also double poly-coated with DWR for weather resistance. The leather trim also feels nice, available on the Charcoal and Midnight (blue) colorway. For the vegans out there, the black colorway gets Hypalon in its place. Lastly, the lone zipper inside is of the YKK variety, and it slides along without a fuss. Just to note, our sample here is a pre-production one, and we did find a loose thread or two inside.
External Components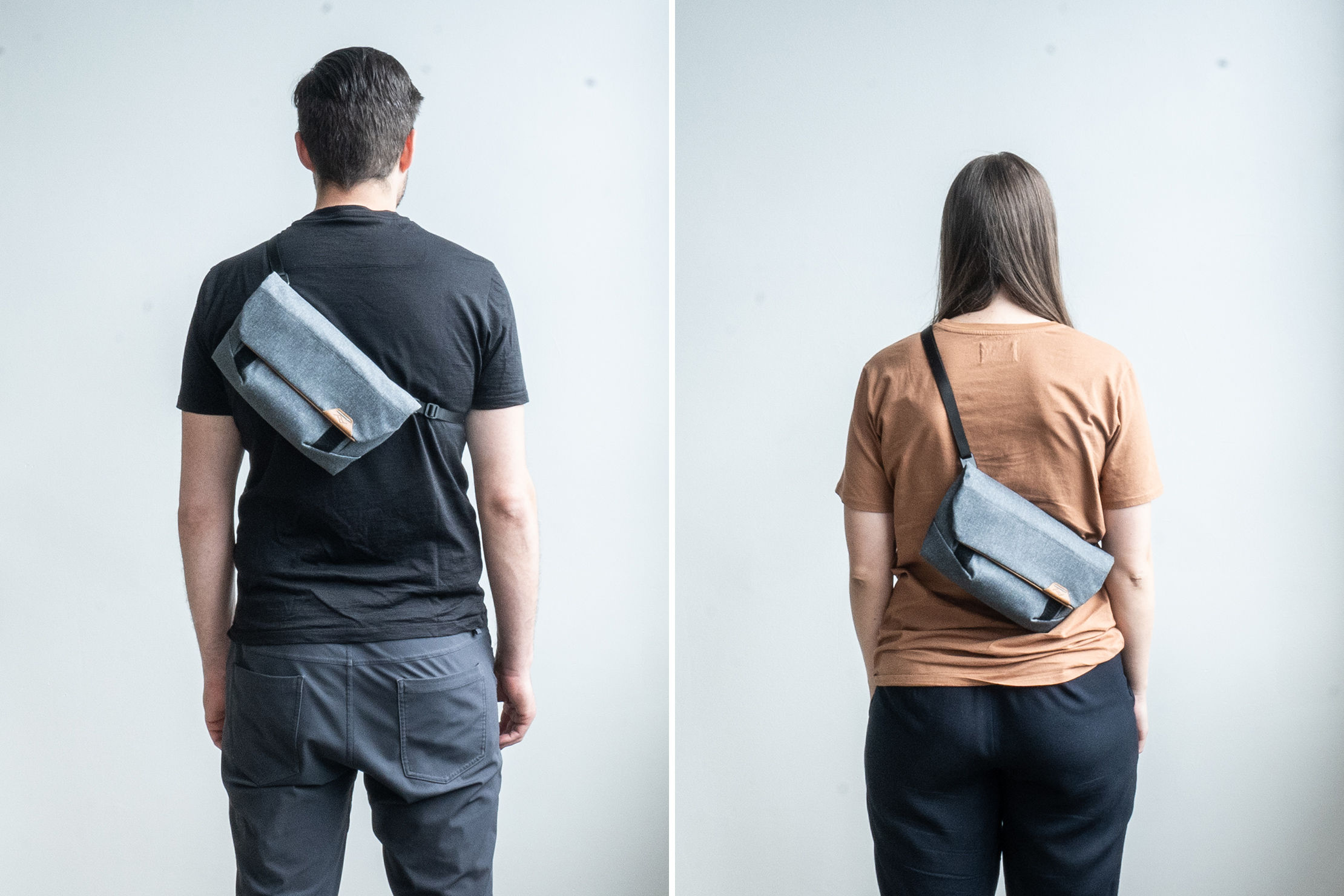 While the Field Pouch V2 is just that, a pouch, that doesn't mean it's just a pouch. There are two nylon loops at the back for attaching the included strap to turn this pouch into a sling. The strap itself is simple, hooking on via clips on either end. You probably won't be blown away by this strap's size. It's quite thin, comparable in width to what you'd find on a typical daypack's strap adjusters. Based on how thin it looks, it's not completely unreasonable to dismiss using the strap for a sling-style carry as an uncomfortable experience.
However, that'd be presumptuous because wearing the Field Pouch V2 crossbody-style is nothing short of comfortable. Whether it was sitting across our chest or on our back, it felt snug and secure. It's not bad over the shoulder and to our sides either, considering the strap's width. Of course, your mileage on comfort may vary depending on how heavy the gear you put inside is, but we tested ours with a modest setup of a mirrorless camera plus some everyday carry items.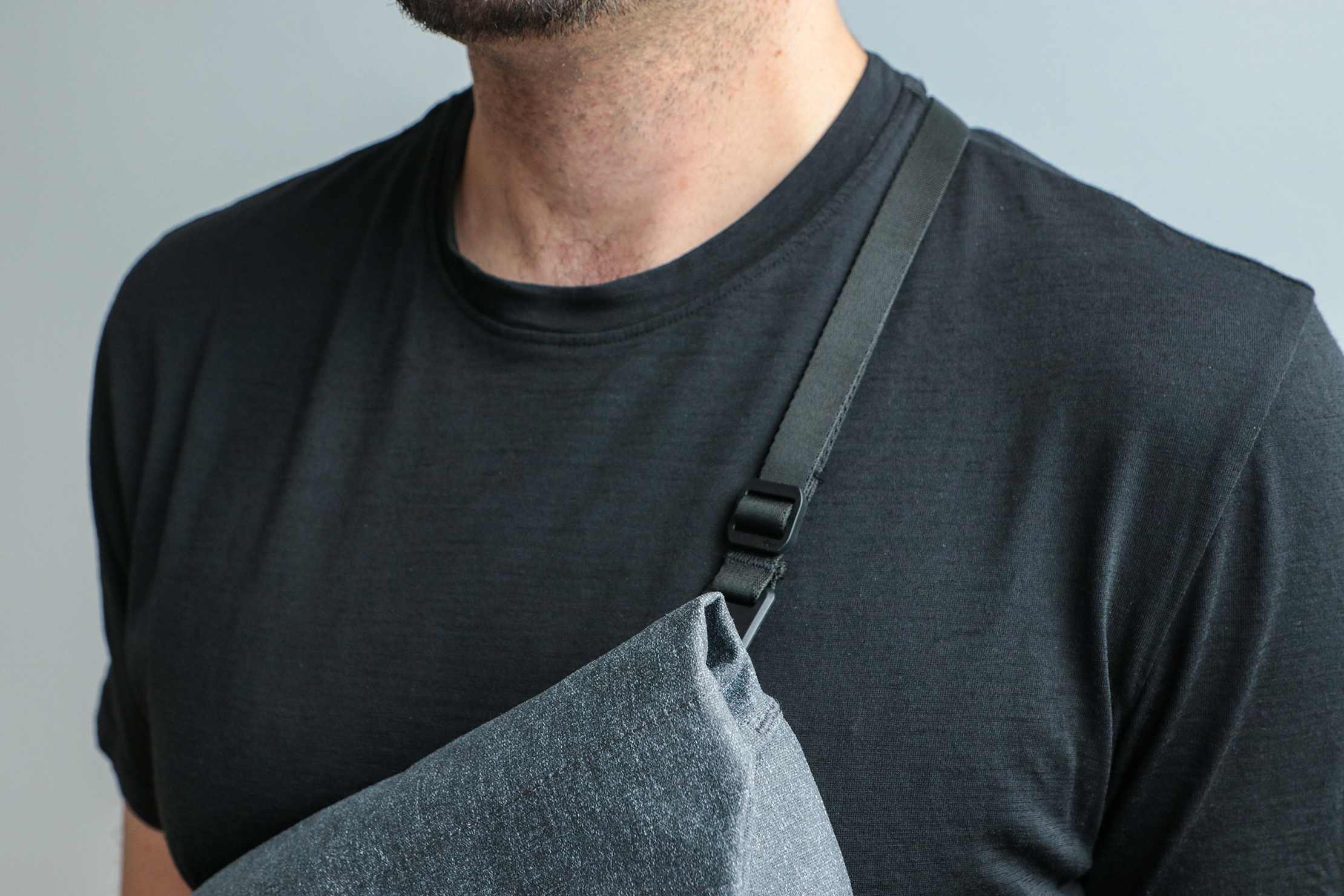 Carrying the Field Pouch V2 isn't limited to by hand or by shoulder either. As with the V1, there's a pass-through at the back so you can thread the bag through your belt and wear it waist pack-style. Have the Field Pouch V2 to your side, and it becomes a sweet little holster for your camera.
Not present on the original Field Pouch are the two pass-throughs found on either side at the front. These are designed for Peak Design's very own Capture Clip, which we found to be a handy little gadget for those who want to be quicker on the draw. With two of these pass-throughs, plus the space inside the pouch itself, you can, in theory, load up with three cameras at one time. Of course, we don't recommend that you do, for reasons of weight and comfort, but the option is there.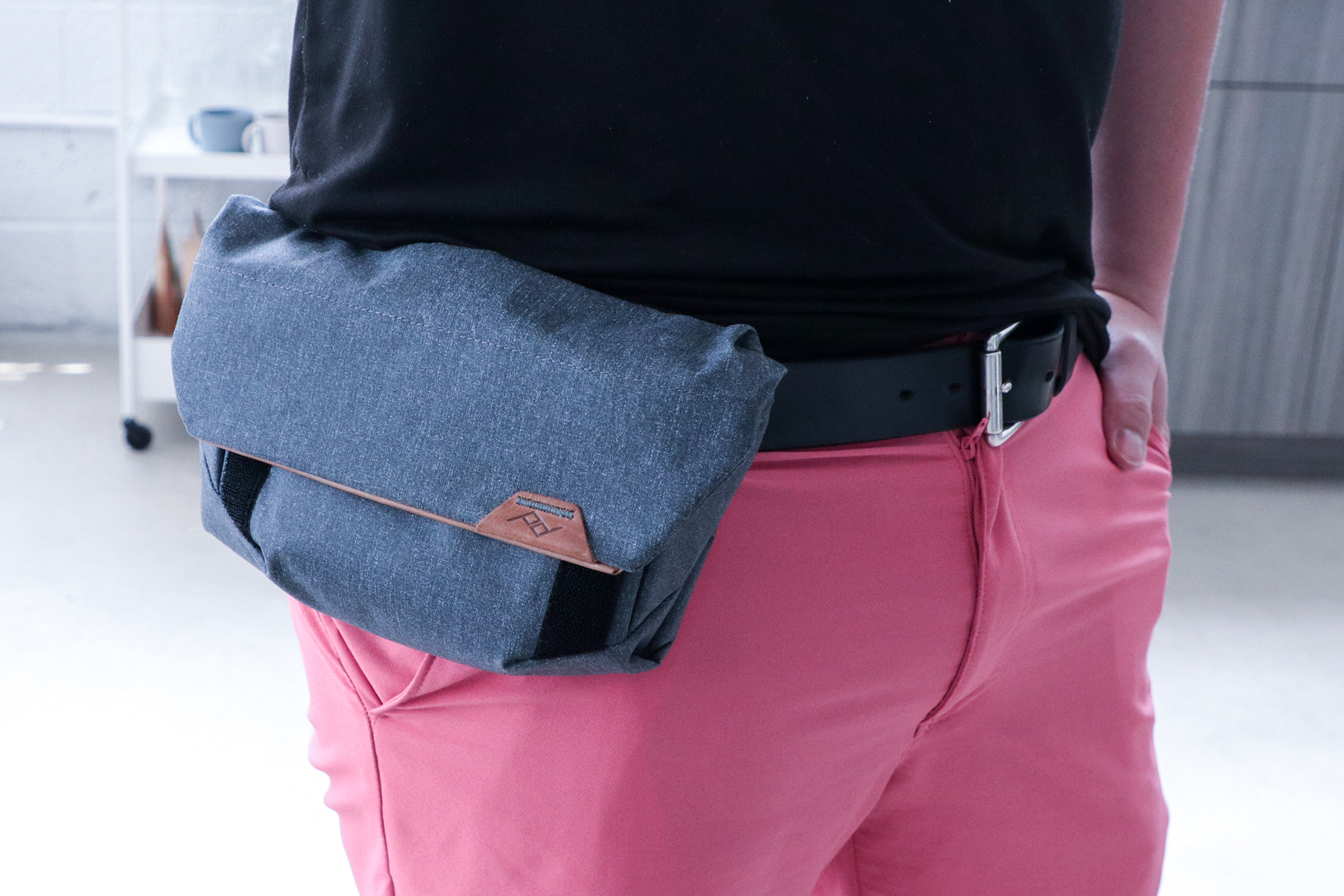 If there's anything we want to add to the Field Pouch V2, it would probably be a grab handle. Overall, the pouch is small enough that it's easy to "palm" or grab with your hand, but we've noticed this feature on similar slings. Pouches like the WANDRD Tech Bag (Medium) or slings like the Moment Rugged Camera Sling 6L come with a handle so you can carry them comfortably by hand. As versatile as the strap and belt pass-through options are, a simple handle would up the versatility of the Field Pouch even more—up to you if not having that feature is a deal-breaker!
Inside The Sling
Another missing feature you may notice with the Field Pouch V2 is a quick-grab pocket. Whereas some slings have a front or rear pocket, the Field Pouch V2 has none. In its place is the aforementioned belt pass-through. Though it's missing external storage, the main compartment is easy to open and close for quick access to gear.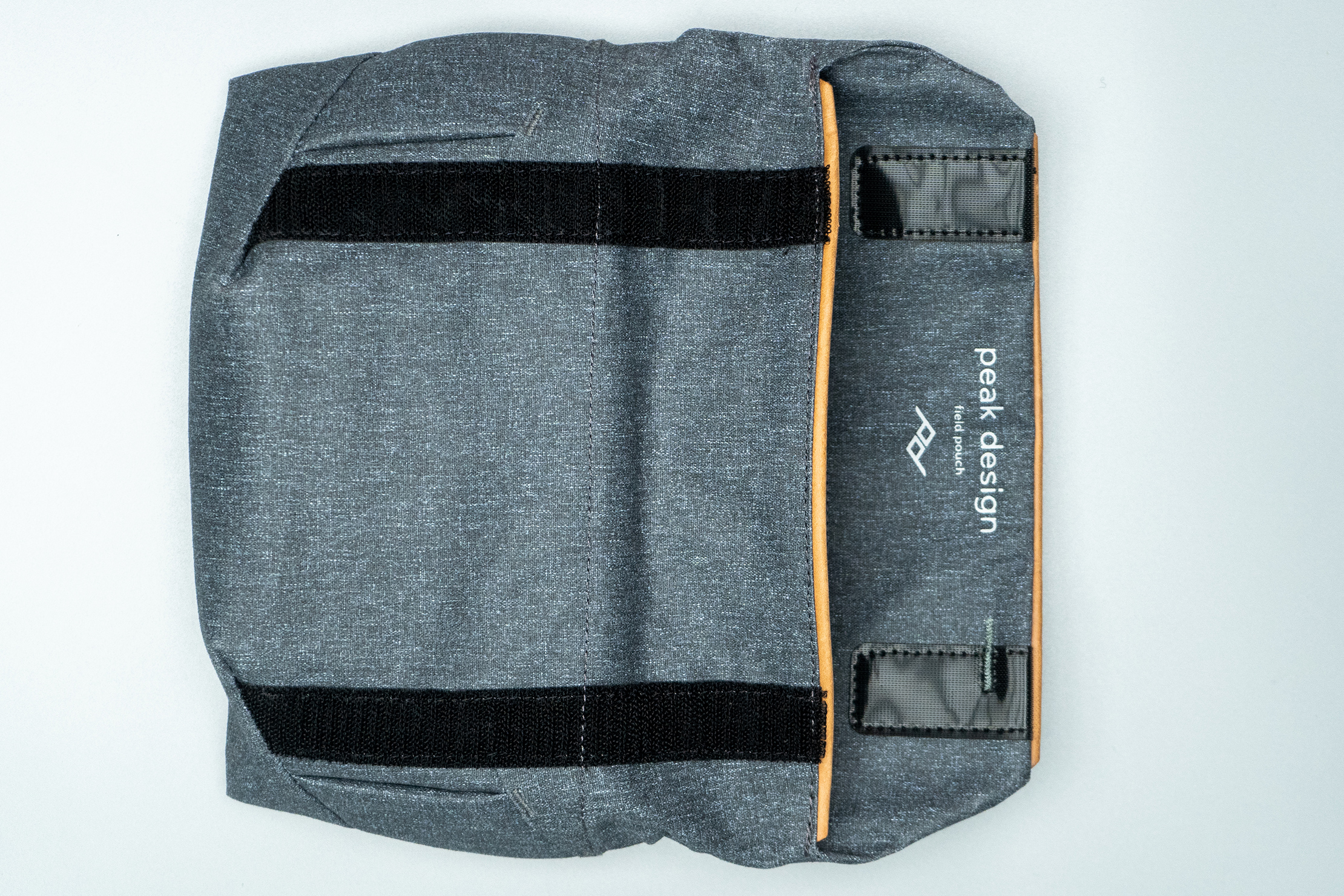 Like its predecessor, the Field Pouch V2's flap opens and closes via velcro. There are two strips of loop-side velcro on the body and two patches of hook-side velcros on the flap itself. This way, the flap can adjust up and down depending on how much space is needed. On the flip side, it's not the most secure opening on a pouch, much less a photography-focused pouch.
It's one of the few areas where we were expecting a bit more from a second iteration in terms of innovation. Perhaps some magnets or a lockable zipper would be good additions for a future V3. However, we can at least praise the Field Pouch V2's excellent accessibility. Open the flap, and the entire interior space is immediately visible with no blind spots to speak of. Try as they might; none of your dongles will escape your grasp with this kind of wide-opening access.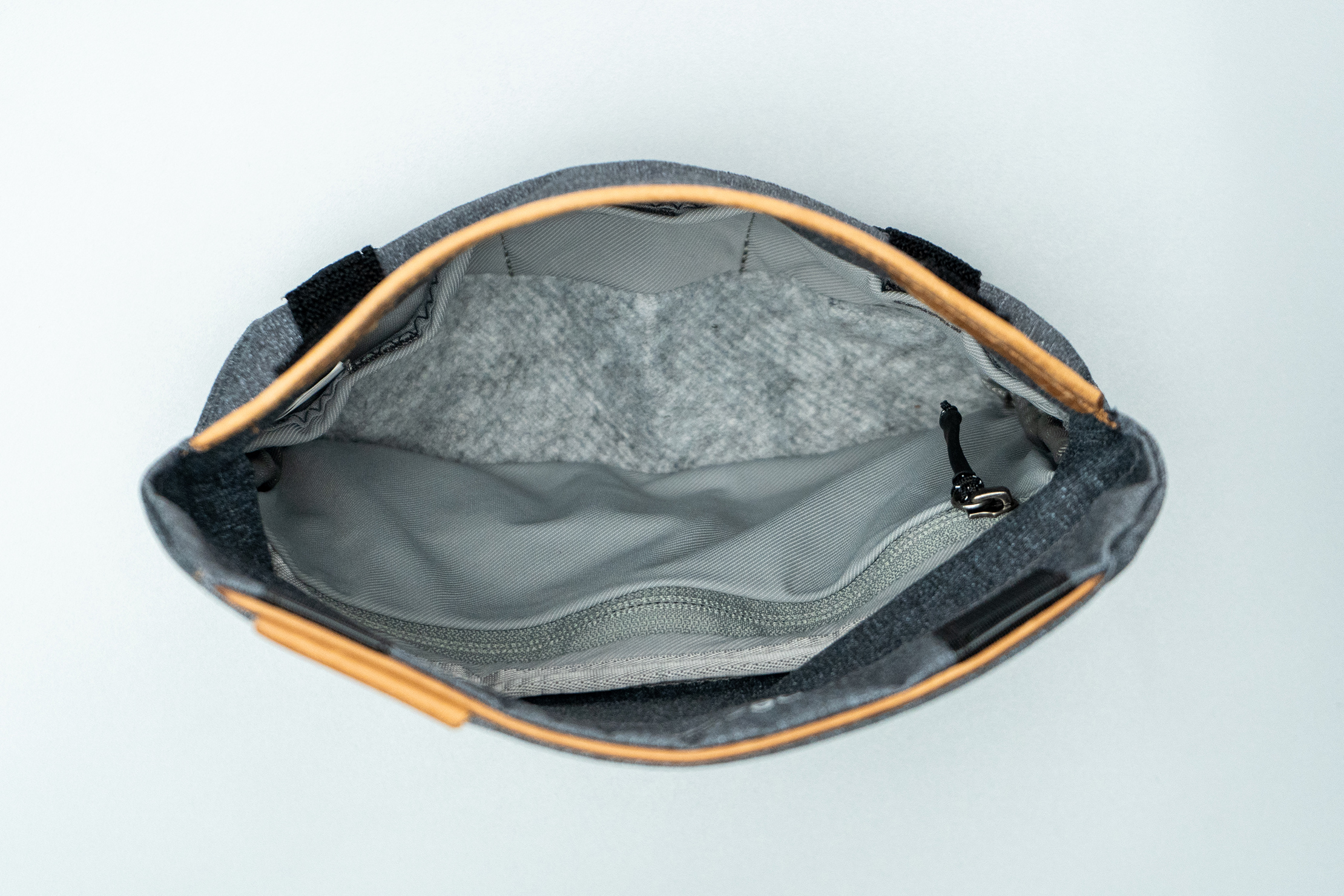 Inside the main compartment, Peak Design has cleaned the organization up a bit, instead opting for three stretchy mesh pockets along the front side of the interior. That's one less pocket than the two-by-two stacks of the original Field Pouch, but it frees up more of the space in the middle.
On the rear side is a zippered pocket where smaller items like adapters, cables, card readers, and memory cards will go. In fact, Peak Design has stitched in an array of SD card slots along the top of this compartment, five in total. They hold cards in place well enough that they won't eventually fall into the shuffle of the space below. Rest assured, you won't be fussing too much when you need to swap our memory cards.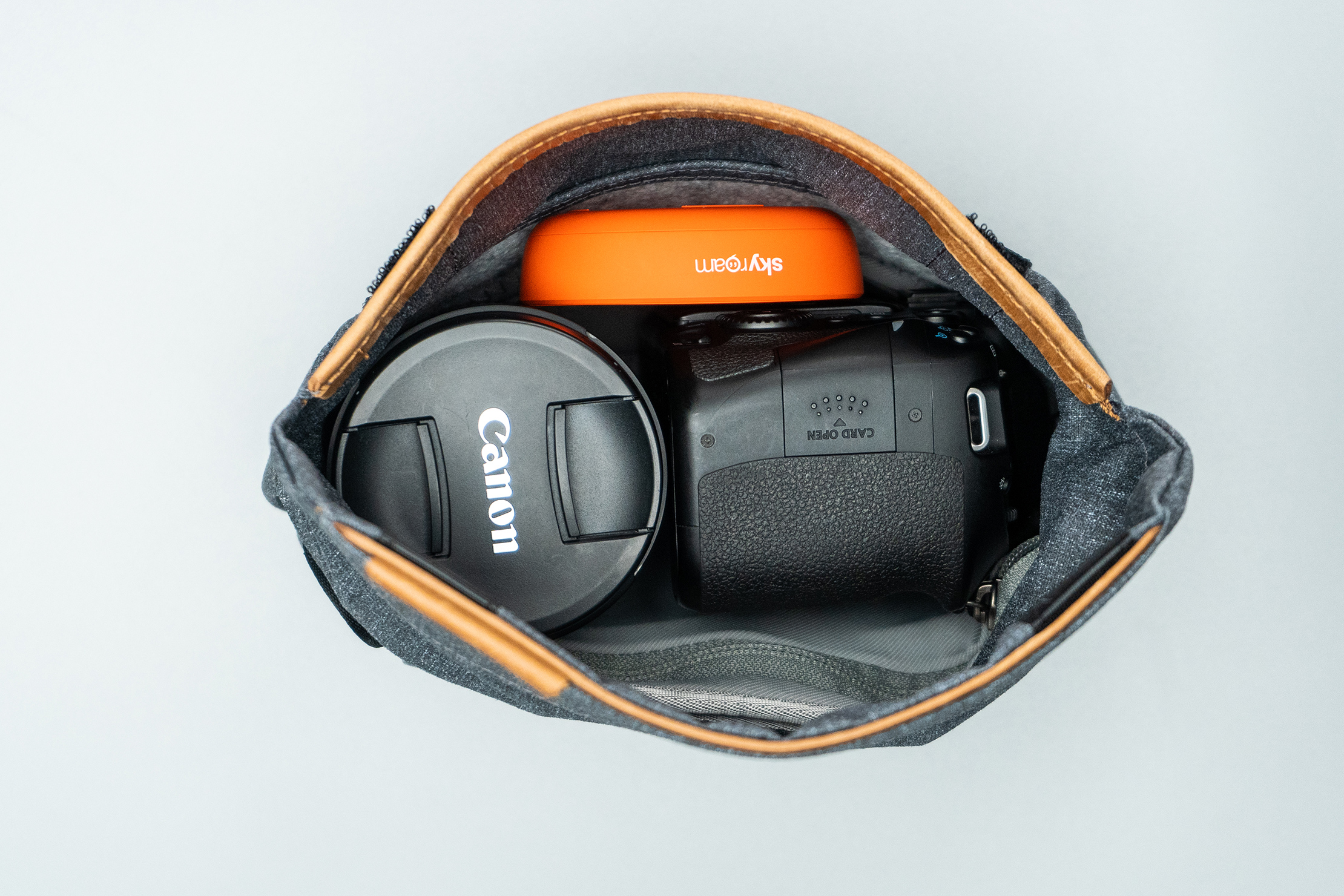 Overall, space and organization in the Field Pouch V2 are better than the original. Despite having one less pocket, the extra space gained from not stacking pockets netted more room to move bigger gear inside. The liner fabric appears to be much brighter as well, and fishing stuff out and finding dongles was a cinch.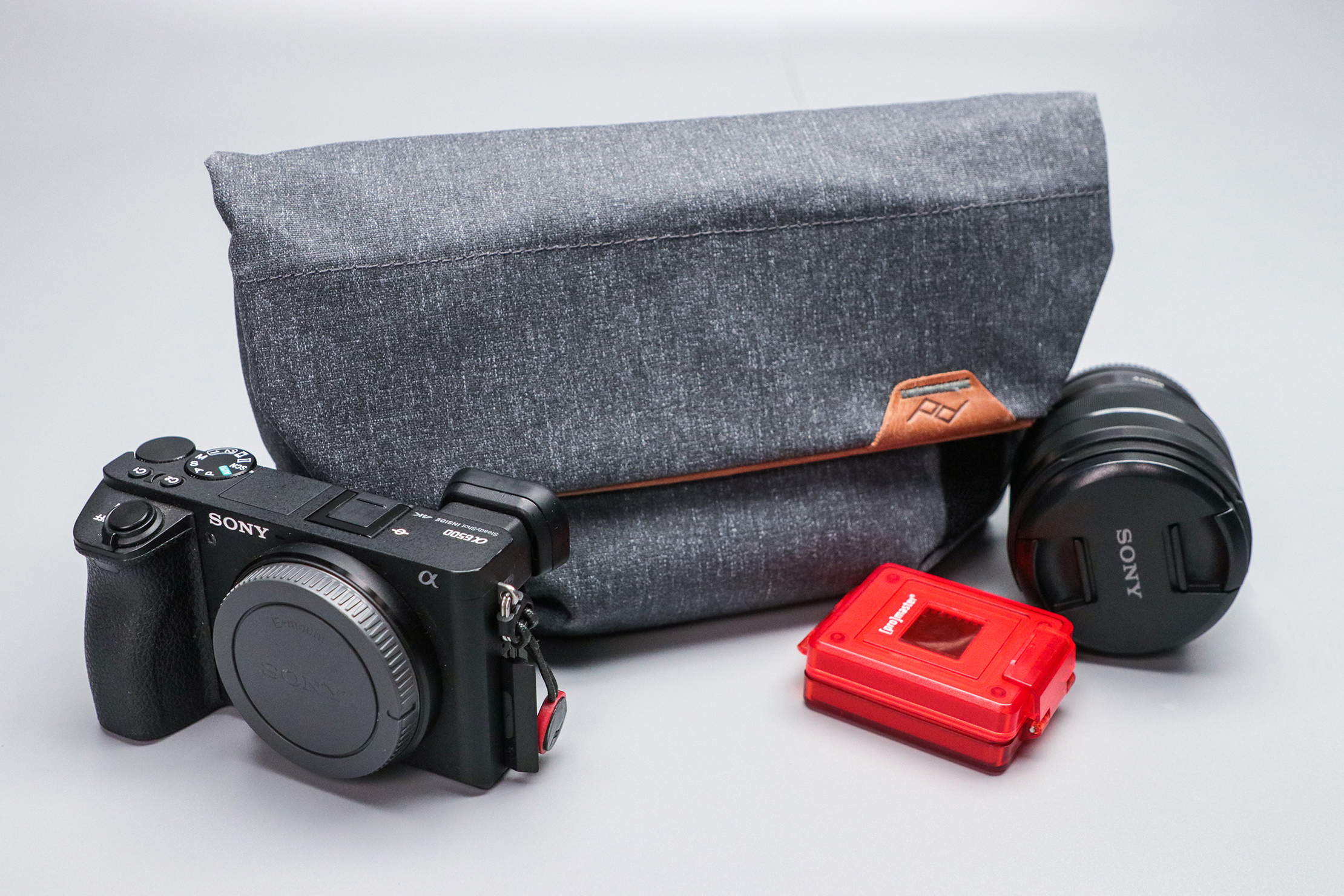 The small upgrades the Field Pouch V2 has over the original make it undoubtedly a better pouch. To those looking for a clear upgrade of the original Field Pouch, you may not be swayed or blown away by the V2's minor changes. But for those who are starting from scratch and are interested in a pouch aimed squarely at photographers, the Field Pouch V2 offers a proven design made a little bit better.
Usage Timeline
Initial Usage
Condition: Excellent
There's an included strap so you can carry it like a sling
The top expands for greater internal capacity
Has integrated loops for attaching to a hip belt
2 Weeks of Use
Condition: Excellent
Really dig that the attachable strap adjusts quickly from crossbody to sling mode
No external pockets for organization which didn't bother us too much, but it may bother you
Internal organization is just right
Access the Pro Community Discussion
Get your questions about the Peak Design Field Pouch V2 answered from our team and the Pro Community right here on the page. Plus, join discussions with other members about gear, guides, and more.
Other Organizers & Pouches Reviews