Peak Design Field Pouch Review
The Peak Design Field Pouch has become a staple in our camera travel kit. Perfect for accessories and smaller items, although not ideal for cameras themselves.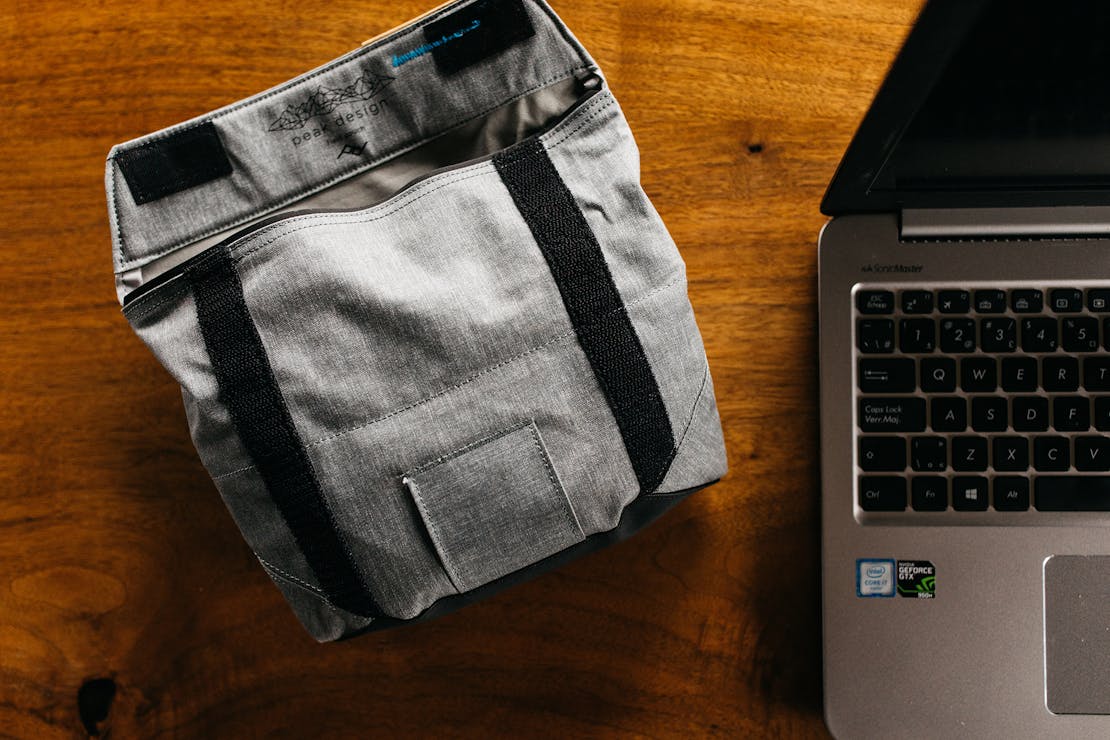 Our Verdict
Unlock the Pro Summary
Save time. Get access to brief summaries of our reviews so you can browse and make decisions more efficiently.
Pros
You can really fill the bag to the brim (or more) and still close it.
We love being able to take the strap off quickly and safely for smaller storage.
The compartments inside the bag are very well thought out.
Cons
Doesn't fit medium to large sized cameras very well.
Not quite enough padding to protect a camera or lenses.
When attached to the Capture Clip, your camera feels a bit prone to accidents.
Recent Pack Hacker Video
Technical Details
Capacity

3l

Weight (oz)

5.5 oz (155.9 g)

Denier

400D

Dimensions

10.25 in x 8 in x 5 in (26 x 20.3 x 12.7 cm)

Notable Materials

Nylon, DWR Coating, Hypalon®, VELCRO®, Felt

Warranty Information
Buying Options
$49.95

$39.95
Full Review
Get up to 10% off Peak Design • Join Pack Hacker Pro
Peak Design has a knack for making well thought out and well-designed gear, and the Field Pouch is no exception. The Field Pouch is a small accessories bag that can also double as a small camera bag. Having an accessories bag may not be on your radar, but it should be… Here's why.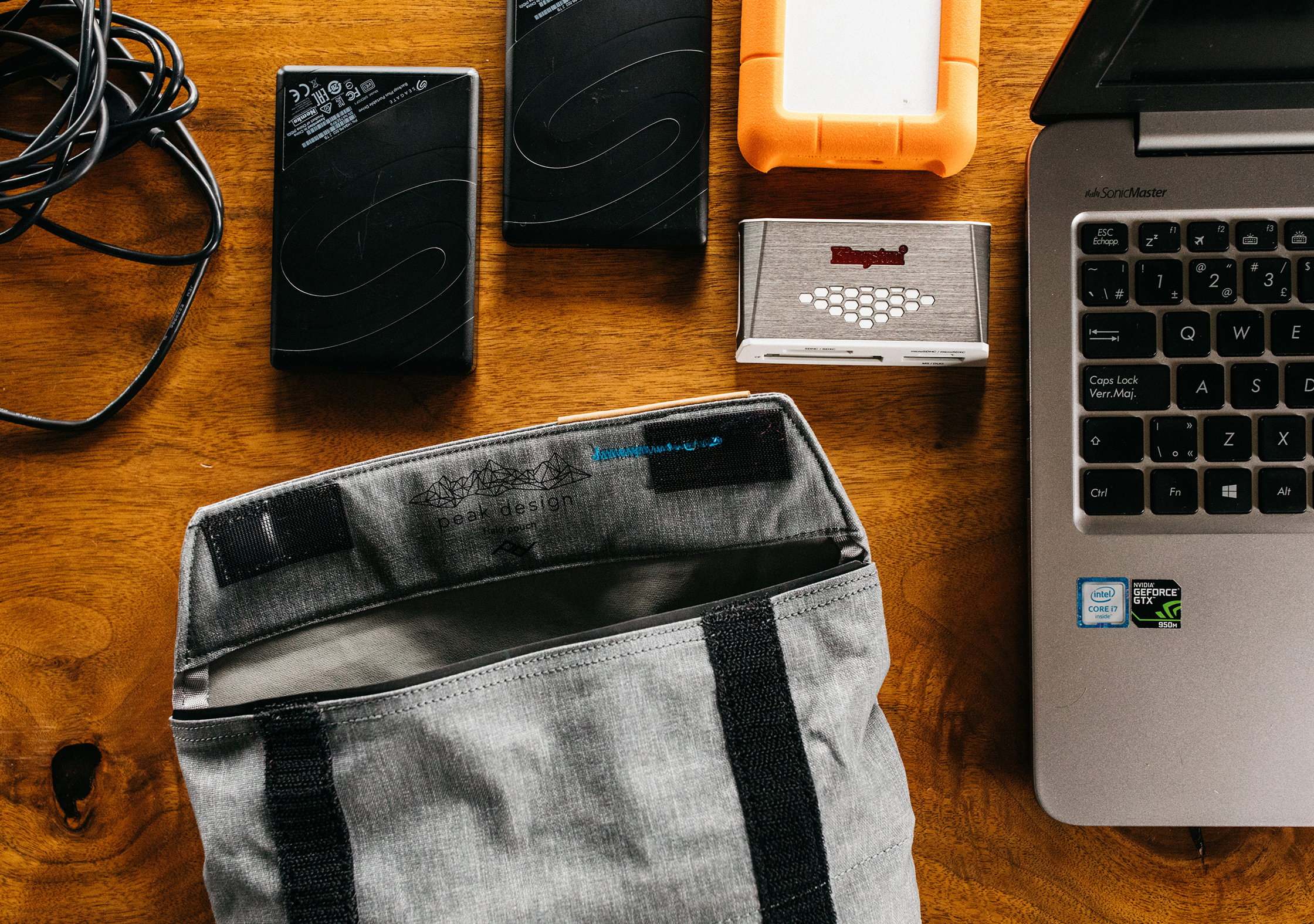 The main focus of the Field Pouch is not to replace a bag you already have—like your everyday messenger or camera pack—but to compliment it. Think of it like a piece of sharp cheddar with your apple pie. The apple pie is delicious on its own, but add that sharp cheddar and BAM! Taste explosion. You didn't even know you needed that cheddar, but now you probably won't want apple pie without it. This bag is designed to keep any of your smaller items in one space so you can quickly and easily move it from one bag to another, or just keep things tight and organized. This is where the bag really shines.
(To any of the apple pie and cheddar skeptics out there, just try it. Trust us.)
Materials & Aesthetic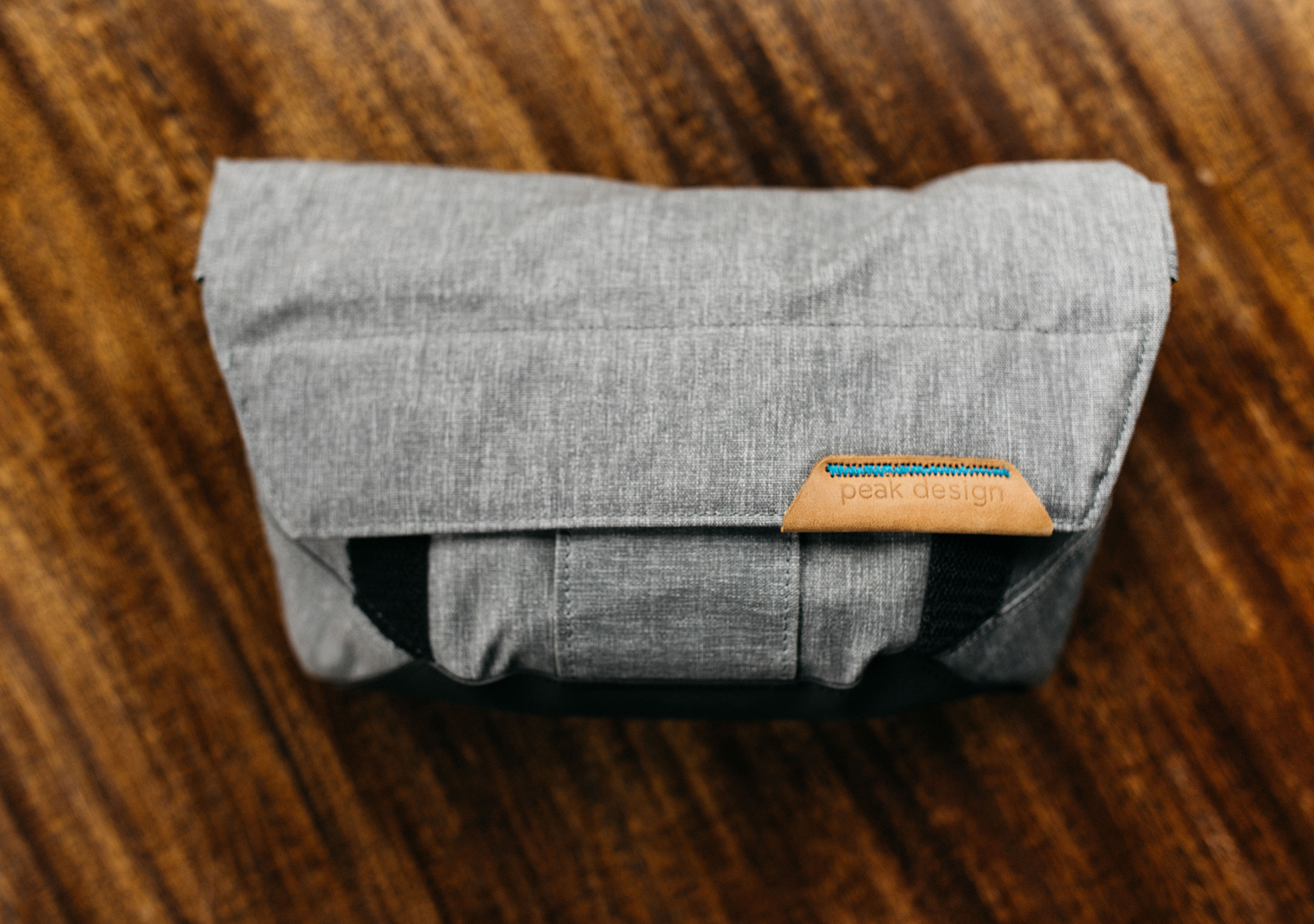 The overall appearance of the Field Pouch fits with the aesthetic of Peak Design. It looks rugged and adventurous and does not advertise what types of items it could be carrying. (The last thing you want is to be a walking "I HAVE CAMERA GEAR" billboard while you're traveling.) The color options are sleek, and it comes with a clean and simple exterior.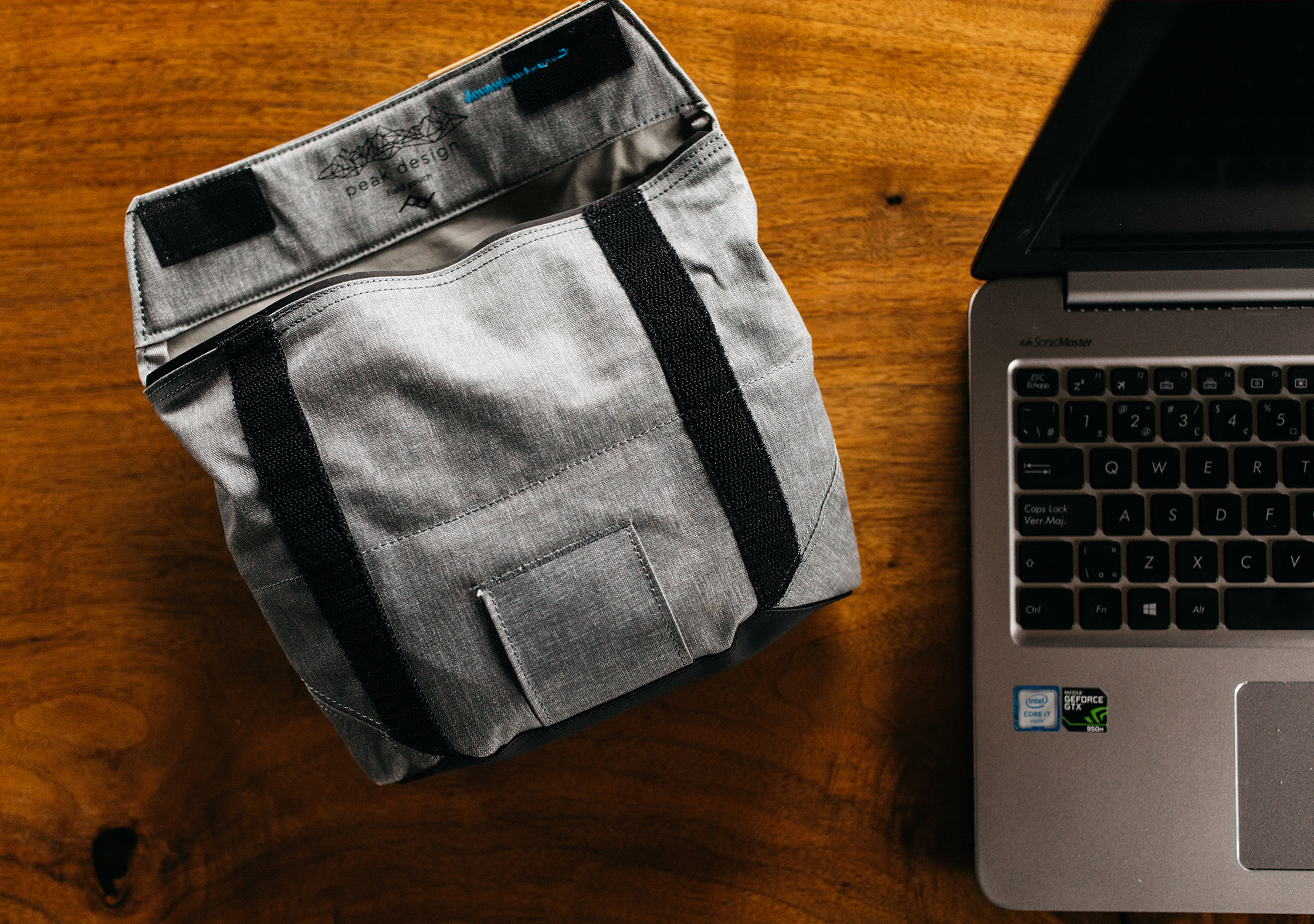 The main compartment uses two strips of velcro as its closure. These run almost the full length of the bag, which seems a little odd until you realize it's there to give you extra space. The top flap folds over and you can close it at any length of the velcro, depending on how much or how little you're carrying.
The bag is only 10.25" x 5.4" x 5" but can be expanded out to 10.25" x 8" x 5" when it's completely full. We've found that extra space comes in handy from time to time, especially when using it as a camera bag.
The Field Pouch is made with 400D Nylon Canvas and coated with DWR to keep it weatherproof—the material has a bit of a texture to it and feels like waxed canvas. The connection points for the anchors or the camera clip are made with Hypalon, which is a synthetic rubber. Hypalon is known for its strength and resistance to extreme temperatures and UV light, which is a great feature for these areas because they are going to be stressed more than the rest of the bag.
External Components
Peak Design has come up with a fantastic quick connection system to reuse straps from one item to the next without the annoyance of spending a ton of time fastening and unfastening. The anchor links are made of thermoplastic, which won't scratch anything of importance. These disks are also smaller than a penny so they won't annoy you if you keep them attached to your camera or your Field Pouch. Although we haven't tested this extensively, Peak Design claims the anchors can hold over 200 pounds, so (in theory) you can use this with your DSLR and a decent sized lens, a bag of rocks, an average-sized human being or…pretty much anything!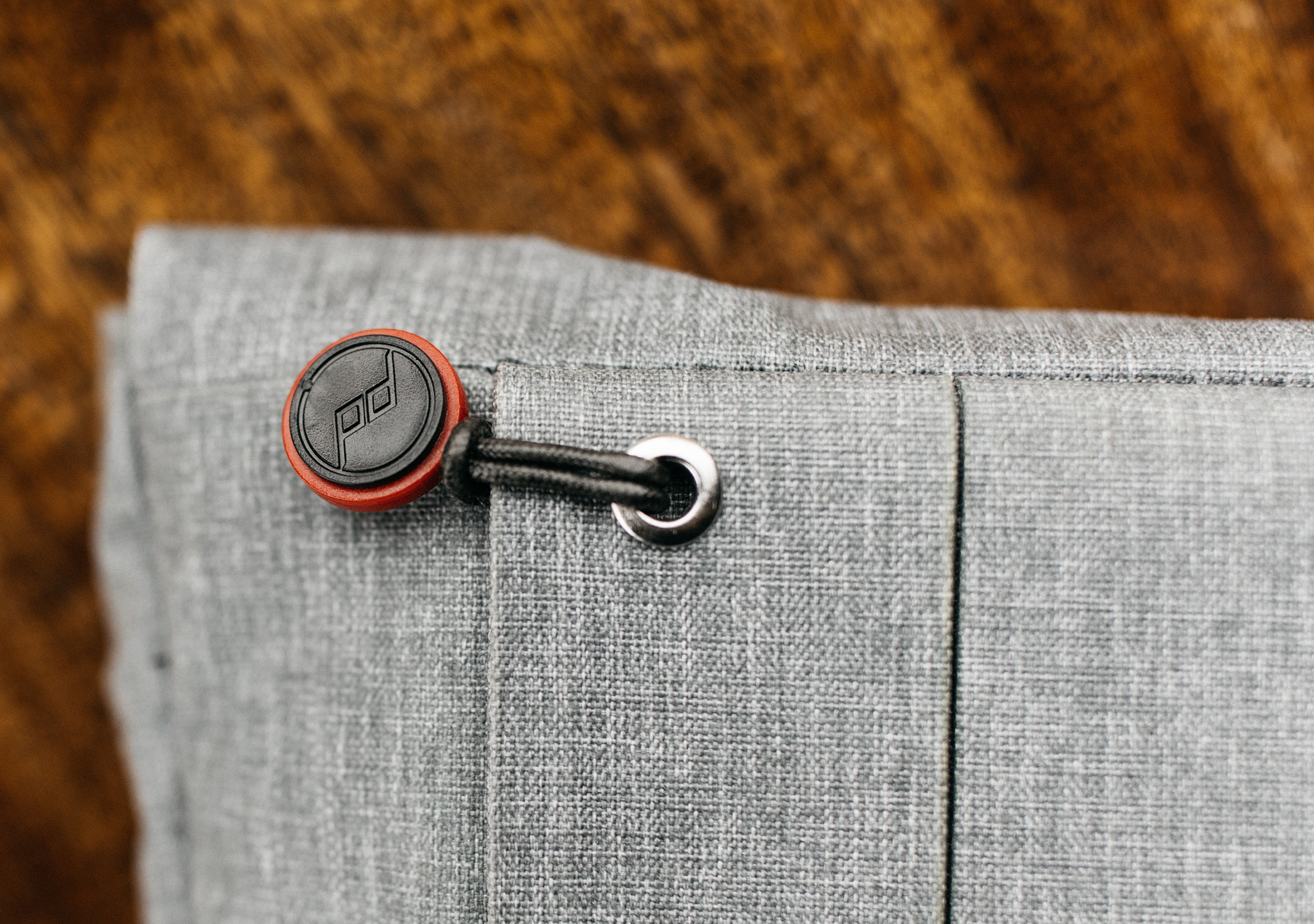 These anchor links can be used with all Peak Design straps and come with the Field Pouch. This allows you to take the straps off easily and switch them onto other bags or your camera. You won't always need the strap on your pouch, as it is easier to pack within another bag if the strap is removed. On the back of the bag where the belt loops are, there are two metal rings to secure your anchor links into.
We're big fans of this anchor link system. It feels secure and there's an obvious click that lets you know it's firmly in place, so you'll never have to worry about something coming undone.
We're also happy to say that the Field Pouch is no slouch when it comes to versatility—there are three ways to carry this thing. As a clutch, shoulder bag, and belt pouch. The first one is obvious, just grab and go, no add-ons required. To turn this into a shoulder bag, you can grab the Wing Bag Bundle—and once you have it, you can simply clip the strap onto the quick anchor system and your pouch is now a cross-body shoulder bag. For the super trendy fanny pack look, the back of the bag features belt loops made of Hypalon. Just slip your Field Pouch onto your belt and you're good to go! (Whether you think fanny packs are in style or not is entirely up to you.)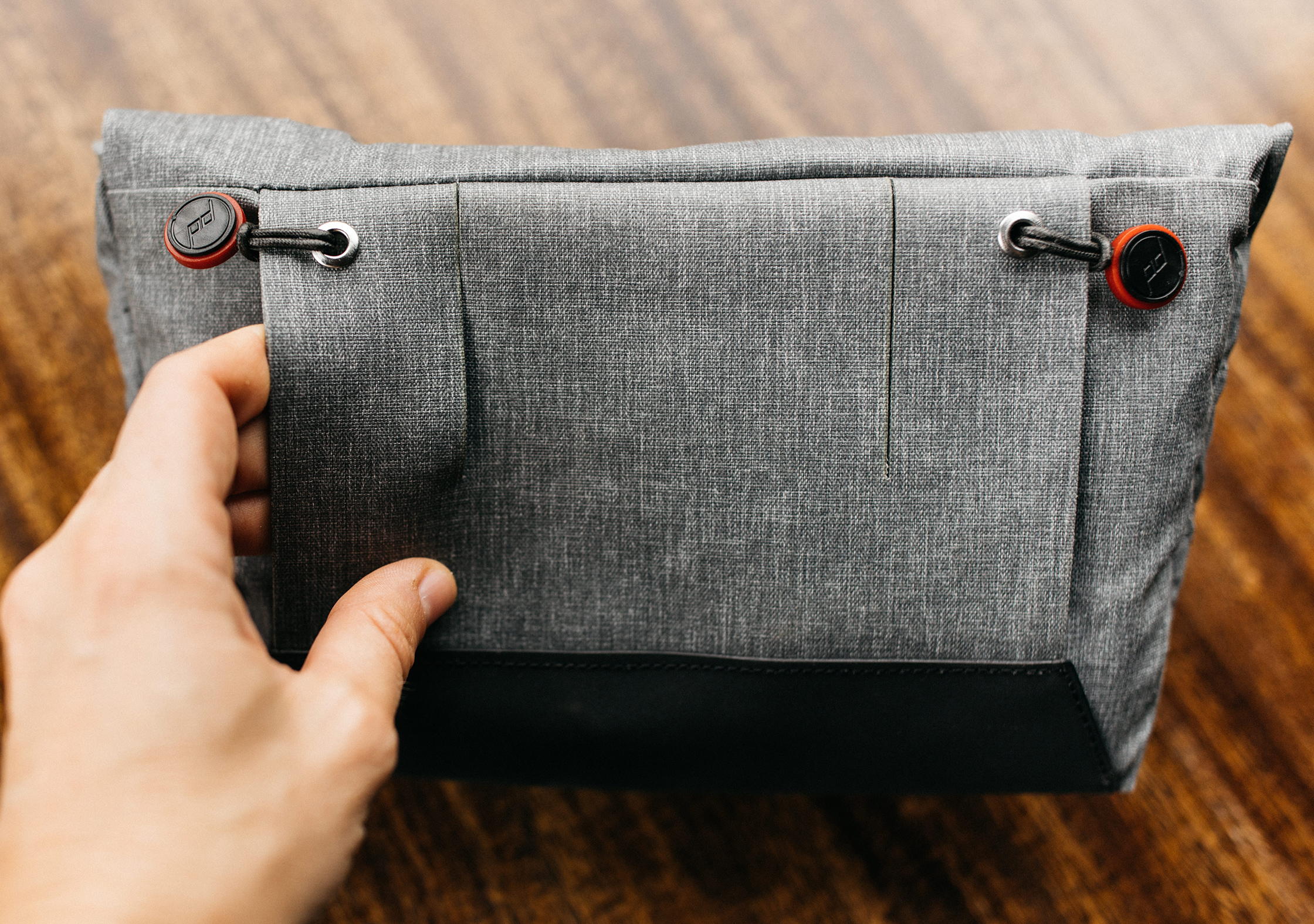 The belt loop carrying system comes in handy, but beware of putting too much gear inside your fancy new fanny pack. The belt loops on the bag itself are quite sturdy, but it can put a lot of extra pressure on your belt loops and pull at your pants a little. You'll really have to be careful of how well-built the belt loops on your pants are. They aren't always the most structurally sound area of your garments, and might not be up for the task of holding much of anything.
Another great external feature of this little pouch is the Hypalon loop in the front, which you can use to secure your Peak Design Capture Clip. This clip gives you another way to attach your camera for easy access while you're out and shooting. The low profile of the clip also allows you to leave it attached to your Field Pouch without adding too much bulk.
Inside the Pack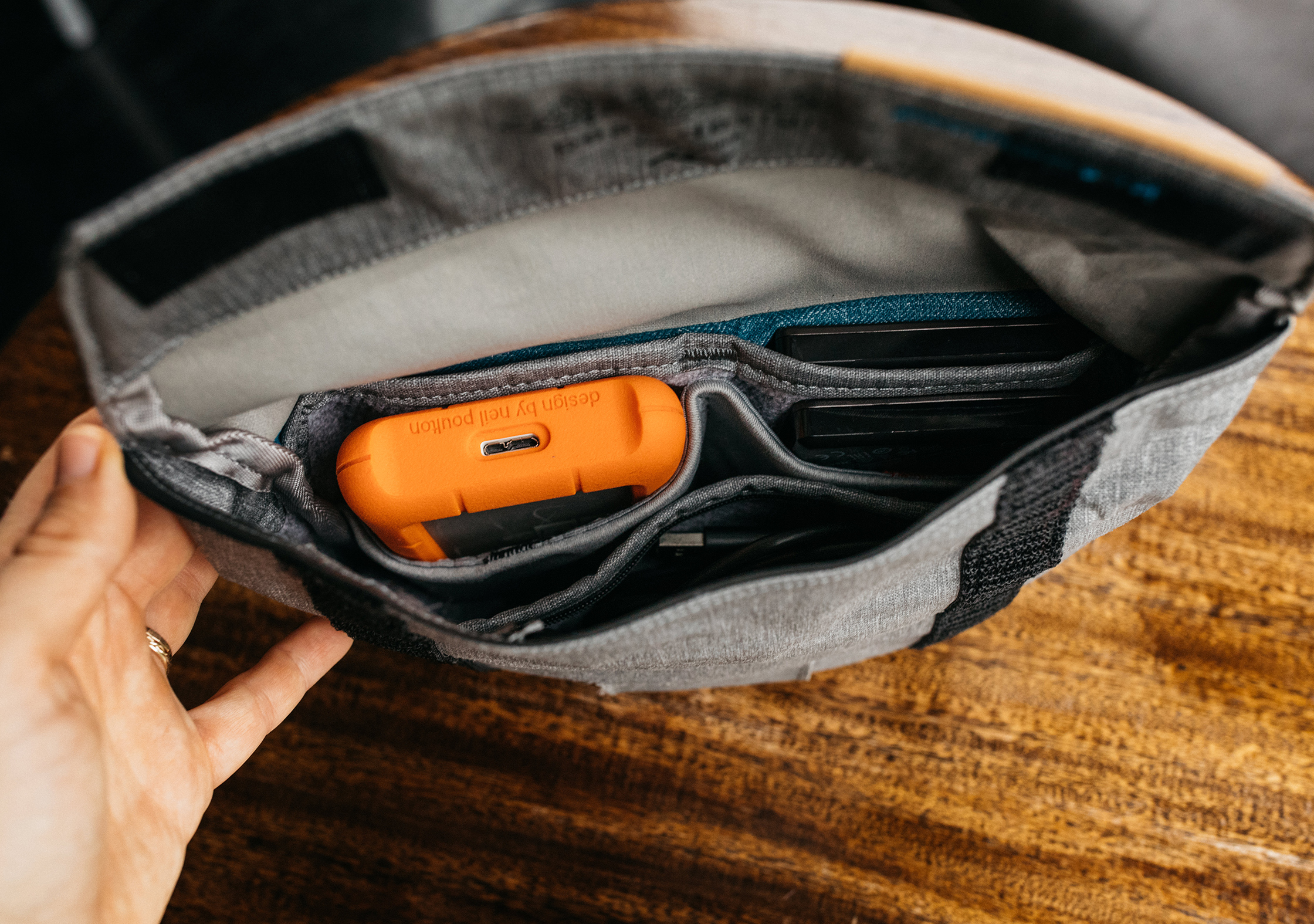 From the look and size of the pouch, you're probably expecting very little in the way of organization, right? Surprise! This is where the Field Pouch really excels. There are a number of pockets inside to help keep everything organized and tucked away securely.
The main pocket is lined with felt, to give your gear a little bit of padding and a soft surface to rub up against. This is especially great if you're planning on tucking your mirrorless or film camera in here. No one likes a scuffed camera lens. We've found that this compartment is big enough to carry a mirrorless camera with a low profile lens. It was, however, a bit of a tight fit with the Fuji XT-2, the 35mm, and a lens hood. Without the lens hood, the camera fit just fine.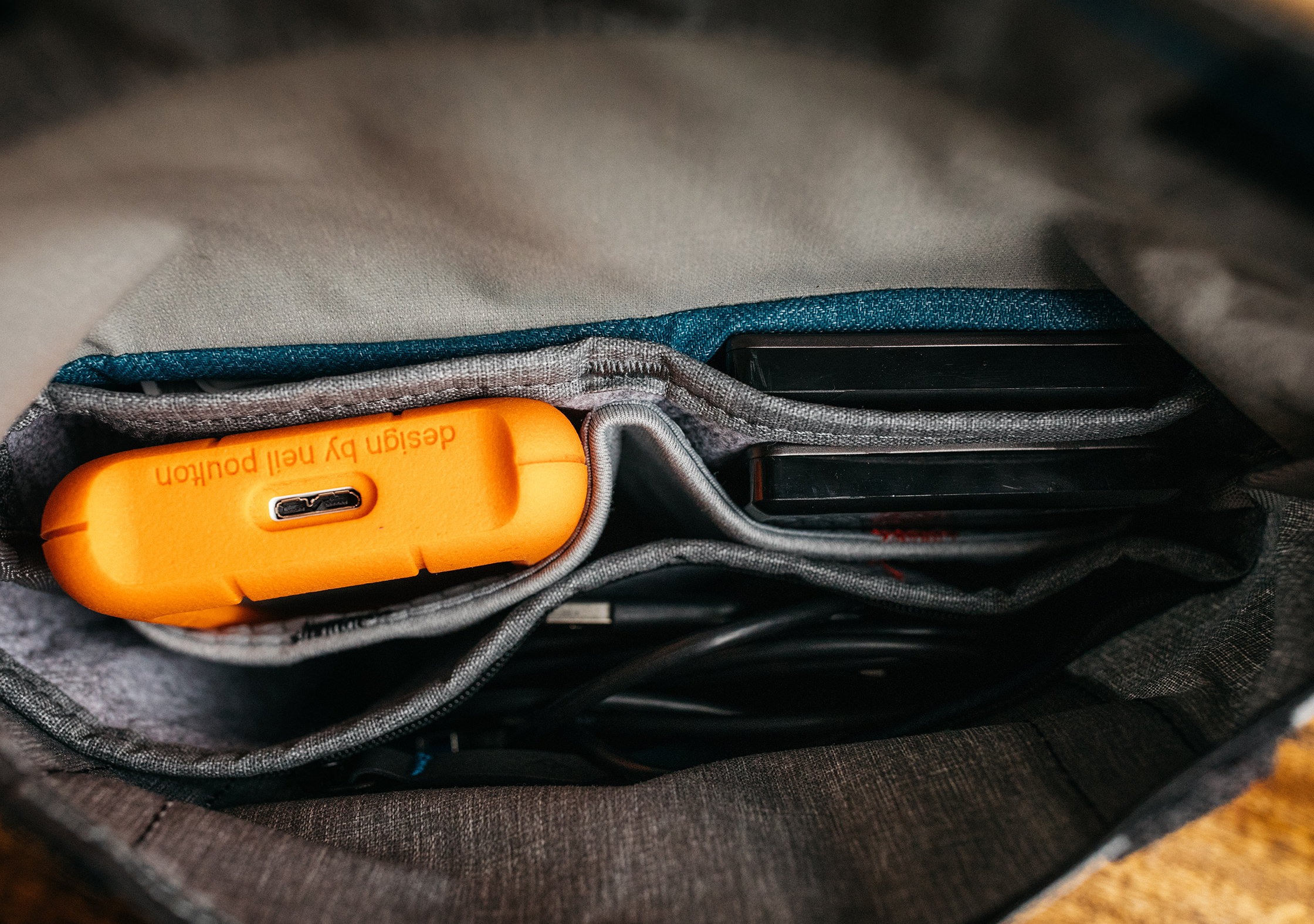 Next to the big compartment are two mesh pockets. With elastic up at the top of these pockets, they make a great space for a thicker hard drive like your Rugged Lacie, or a small lens like your Canon 50mm 1.8. The elastic does keep them snug enough that you can flip your pouch upside down and not worry about your lens falling out. We've tried this so you don't have to. …Please don't try that if you can help it.
Behind the mesh pockets are two thinner, but taller pockets that are perfect for your portable external hard drives, a memory card reader, or some cords.
Opposite these small pockets is a camouflaged zippered pocket which runs the length of the bag. We say camouflaged because it took a couple months to realize it was there. This little zippered pocket is perfect for things like money, keys or memory cards… We had been wishing there was a pocket like this on the pouch for a while—turns out it was there all along! Well played, Peak Design… Well played.
Durability & Testing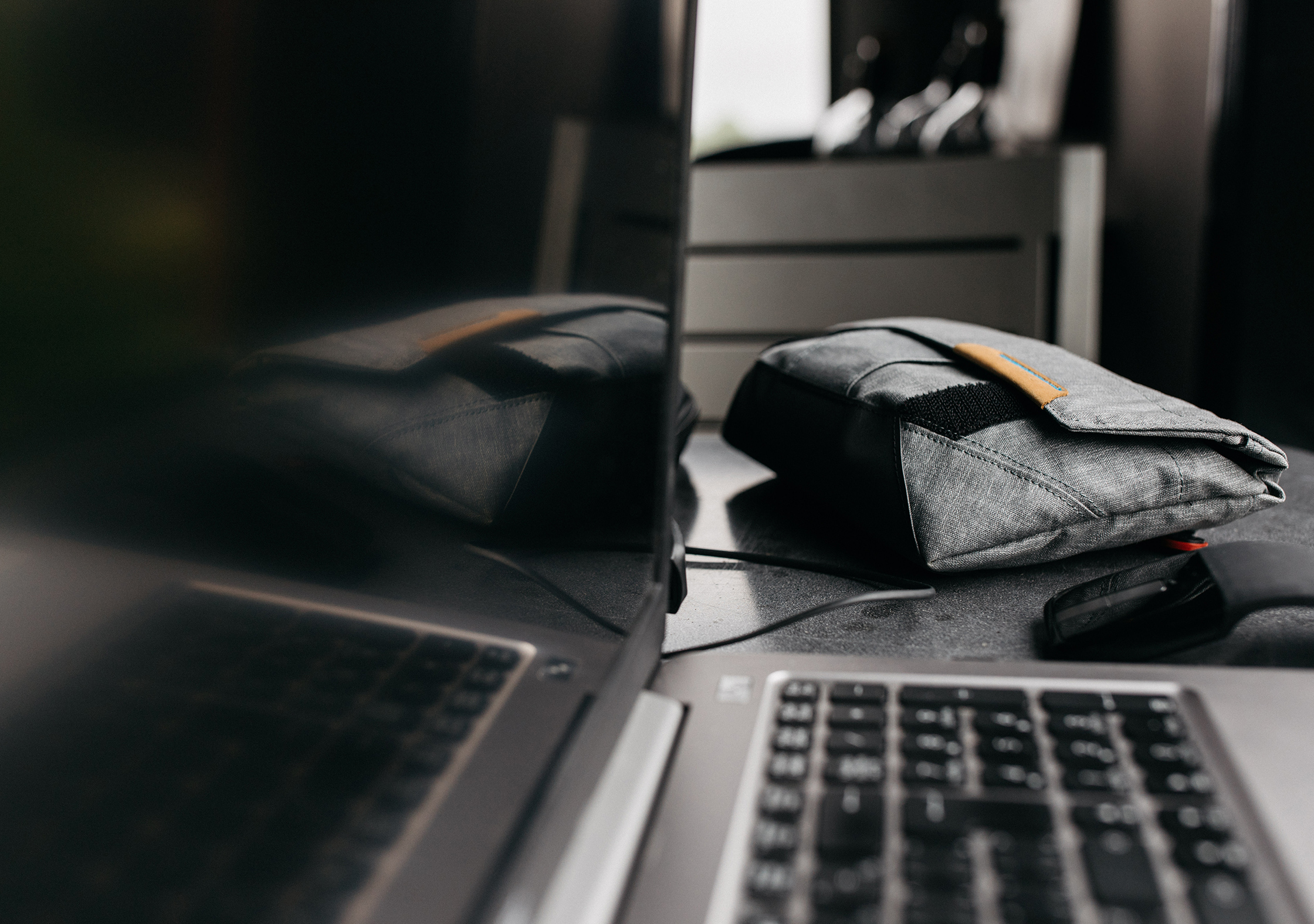 So right off the bat, we have to mention that the Field Pouch took a little while to get used to. Initially, we wanted to use this for a versatile mirrorless camera bag but found the fit with the Fuji XT-2 and a 35mm was a little too snug, especially with a lens hood on. The flexibility of the pouch itself is great for use as a bag inside a bag, but as a camera bag, the lack of structure made it feel a little clumsy while in use.
The felt liner is a great touch and provides a little bit of protection against scratches, and also impact, but it's not quite padded enough to fully trust this to protect your camera against a drop or any sort of major impact.
As an accessory bag, the Field Pouch is where it's at. The pockets are well thought out and well placed. If you tend to switch bags regularly and often catch yourself moving smaller items from bag to bag, the Field Pouch is going to become your new best friend. Tuck memory card readers, hard drives, power cords, emergency cash, and an energy bar in there and just transfer it to whichever larger bag you're taking with you that day. It will help prevent you from having to dig at the bottom of your bag for a cord, or realizing you forgot to transfer over your hard drive when you switched from your backpack to your messenger bag that morning.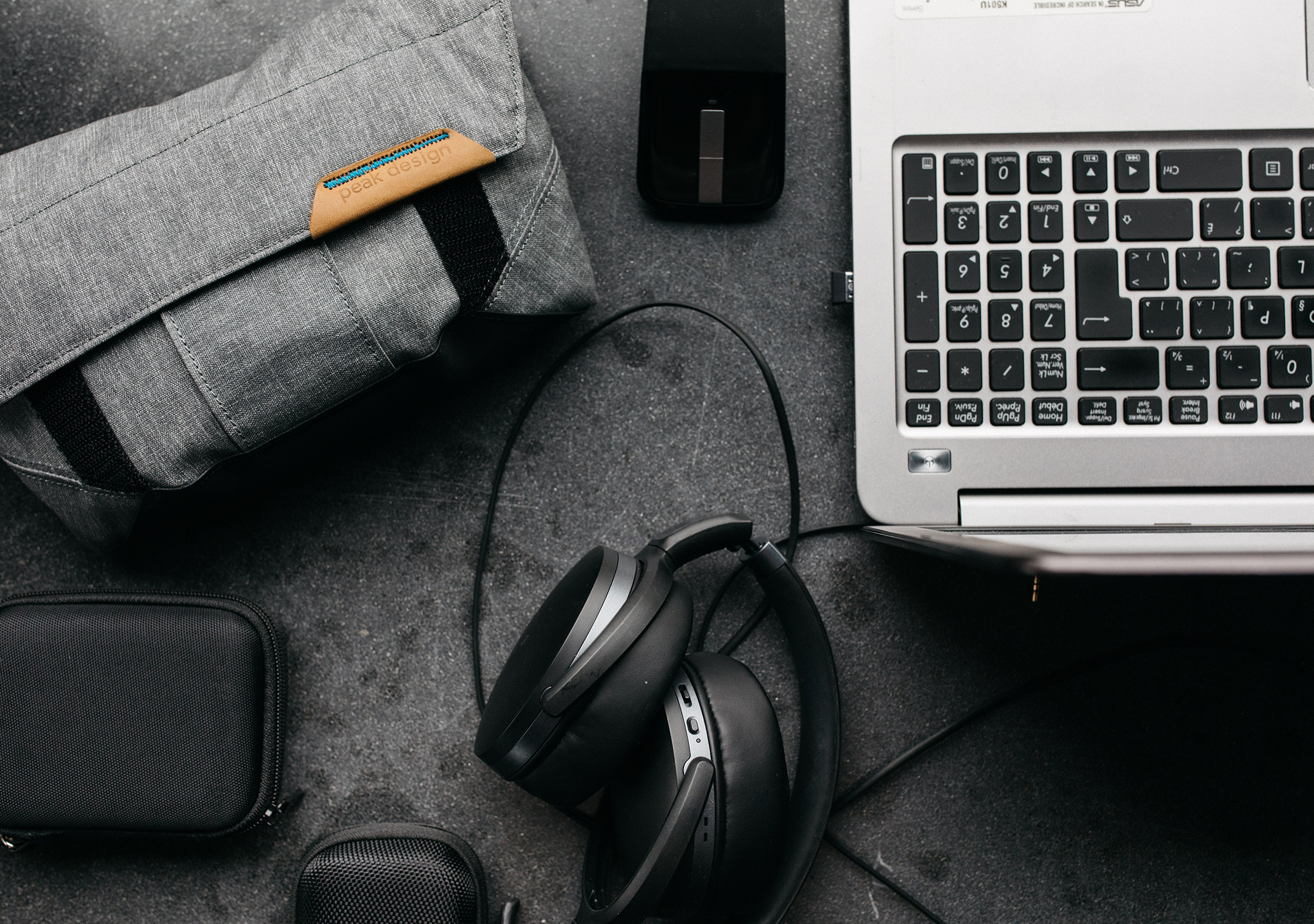 At first glance, the velcro closure was a little curious, but in the field, this was a design feature we loved. Having the ability to expand the bag to carry larger or more items gave the Field Pouch an extra level of flexibility. The strips running down the front of the bag also look like a design element and not just a practical bit of material, which we like.
The space for the Capture Clip is also a great added feature for those who want quick access to their camera in the field. It feels well built and sound, and keeps a low profile so it's not in your way. It does, however, leave your camera feeling a bit prone when it's clipped to your bag. Having your camera attached to the Field Pouch rather than just to a strap makes you a bit wider, and that could lead to a clumsy move if you're not careful.
After getting over our initial frustration and disappointment with the Field Pouch for not being the perfect mirrorless camera bag, we've really fallen in love with this little bag. It has become a staple in everyday life and especially while traveling—holding hard drives, memory card readers and wires.
Usage Timeline
Initial Usage
Condition: Excellent
No complaints, but having a hard time seeing the use for it.
1 Month of Use
Condition: Excellent
Working really well as a hard drive bag for travel.
2 Months of Use
Condition: Excellent
Keeping hard drives and cords organized on the road.
3 Months of Use
Condition: Excellent
Really pleased with this little bag!
6 Months of Use
Condition: Excellent
Still nothing to complain about. No major durability issues.
Access the Pro Community Discussion
Get your questions about the Peak Design Field Pouch answered from our team and the Pro Community right here on the page. Plus, join discussions with other members about gear, guides, and more.
Other Organizers & Pouches Reviews