Peak Design Everyday Totepack 20L (V2) Review
Versatile and sleek, the Peak Design Everyday Totepack 20L (V2) works well as both a tote and backpack—although the quick-grab pocket feels a little small.
Our Verdict
Unlock the Pro Summary
Save time. Get access to brief summaries of our reviews so you can browse and make decisions more efficiently.
Pros
Convenient side access on both sides of the bag
Customizable interior organization
Comfortable carry in both backpack and tote mode
Cons
The quick-access pocket is snug and can be difficult to access when the main compartment is full
The FlexFold dividers are showing wear after a couple of weeks of testing
The top access feels tight
Recent Pack Hacker Video
Technical Details
Capacity

20l

Weight (lb)

2.31 lb (1 kg)

Without dividers

Dimensions

18.1 in x 15.0 in x 6.69 in (46 x 38.1 x 17 cm)

Notable Materials

Recycled Nylon, DWR Coating, Polyester, Polyethylene, Polyurethane, YKK Zippers, Aluminum, Leather, Zoom Zippers, Hypalon®

Manufacturing Country

Vietnam

Laptop Compartment Size

15"

Warranty Information
Full Review
Get up to 10% off Peak Design • Join Pack Hacker Pro
Let's start this review with a fun fact, shall we? The Peak Design Everyday Totepack 20L (V2) is the first bag from Peak Design to be designed by a woman. Of course, this fun fact has little to do with anything, but we wanted to be sure to point it out.

The Peak Design Everyday Totepack 20L (V2) is a solid commuter bag with all the sophistication of a tote and practicality (and comfortable carry) of a backpack. Throw it on your back when you ride your bike to that very important meeting and walk into said critical meeting carrying the totepack in your hands. And—as per usual with Peak Design—the Everyday Totepack works well for EDC and particularly well if your EDC setup involves a camera and camera gear.
We've been testing the Peak Design Everyday Totepack 20L (V2) for a couple of weeks around Essex, England. As always, we have a lot to say. So let's get to it.
Materials & Aesthetic
If you're familiar with any of the gear across the Peak Design Everyday Line (V2) then you're not going to be surprised with anything we discuss in this section.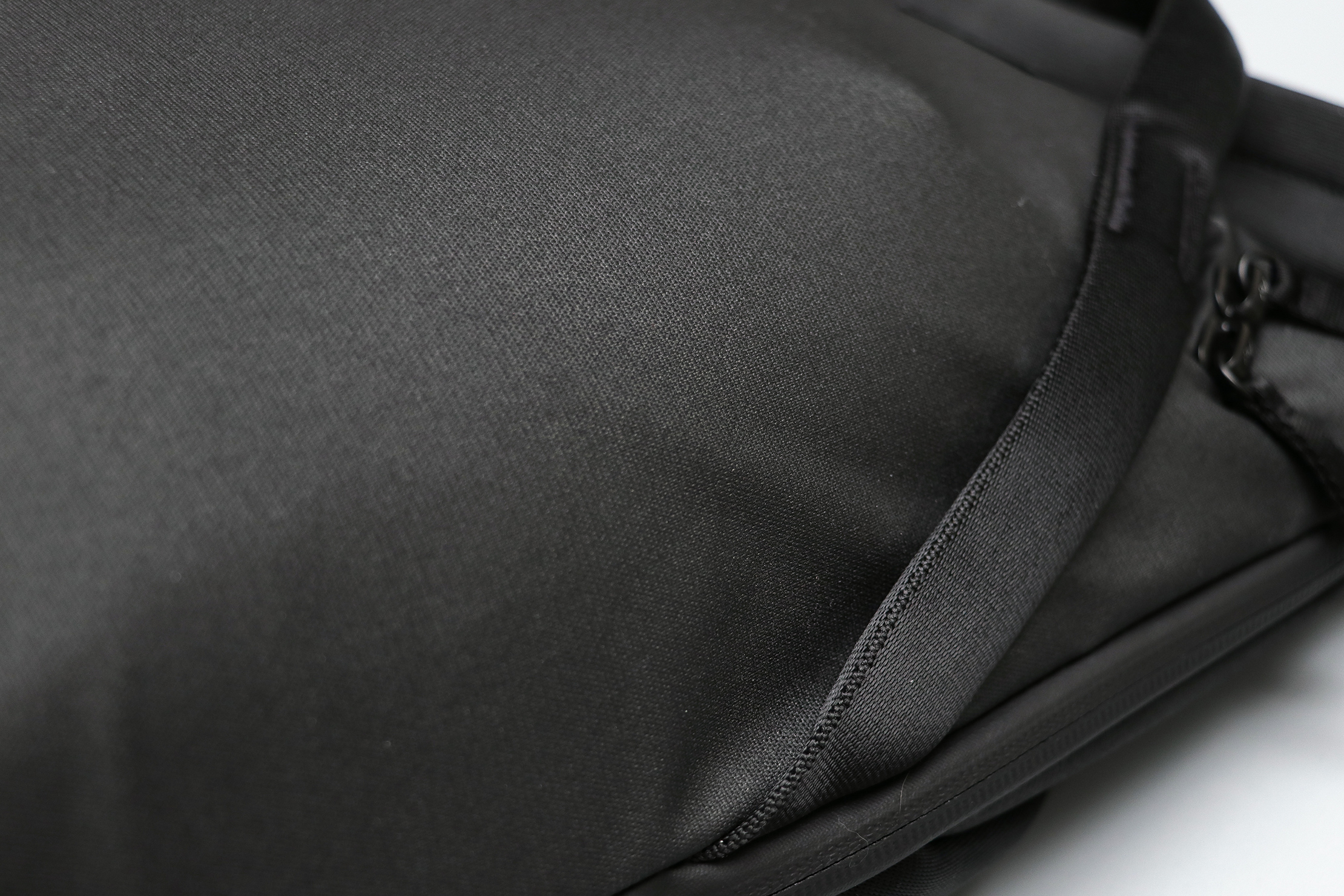 The main material of the Peak Design Everyday Totepack 20L is a 400D Double Poly-Coated DWR Impregnated Nylon Canvas. Say that ten times fast. The DWR coating gives the fabric a slightly rubbery feel and helps with weather-resistance. It also feels nice in the hands.
At the time of this review, the Peak Design Everyday Totepack 20L (V2) is available in two colorways—Bone (white) and Black. We've tested numerous products across Peak Design's Everyday line and have experienced few aesthetic dings or blemishes in the fabric. That said, we've noticed that the Bone colorway does show wear and tear more easily (as you would probably expect). So keep that in mind. A white totepack is only a good idea if you're a certain type of person.
Both of the colorways are made with recycled materials, but the Bone version is also bluesign®-approved.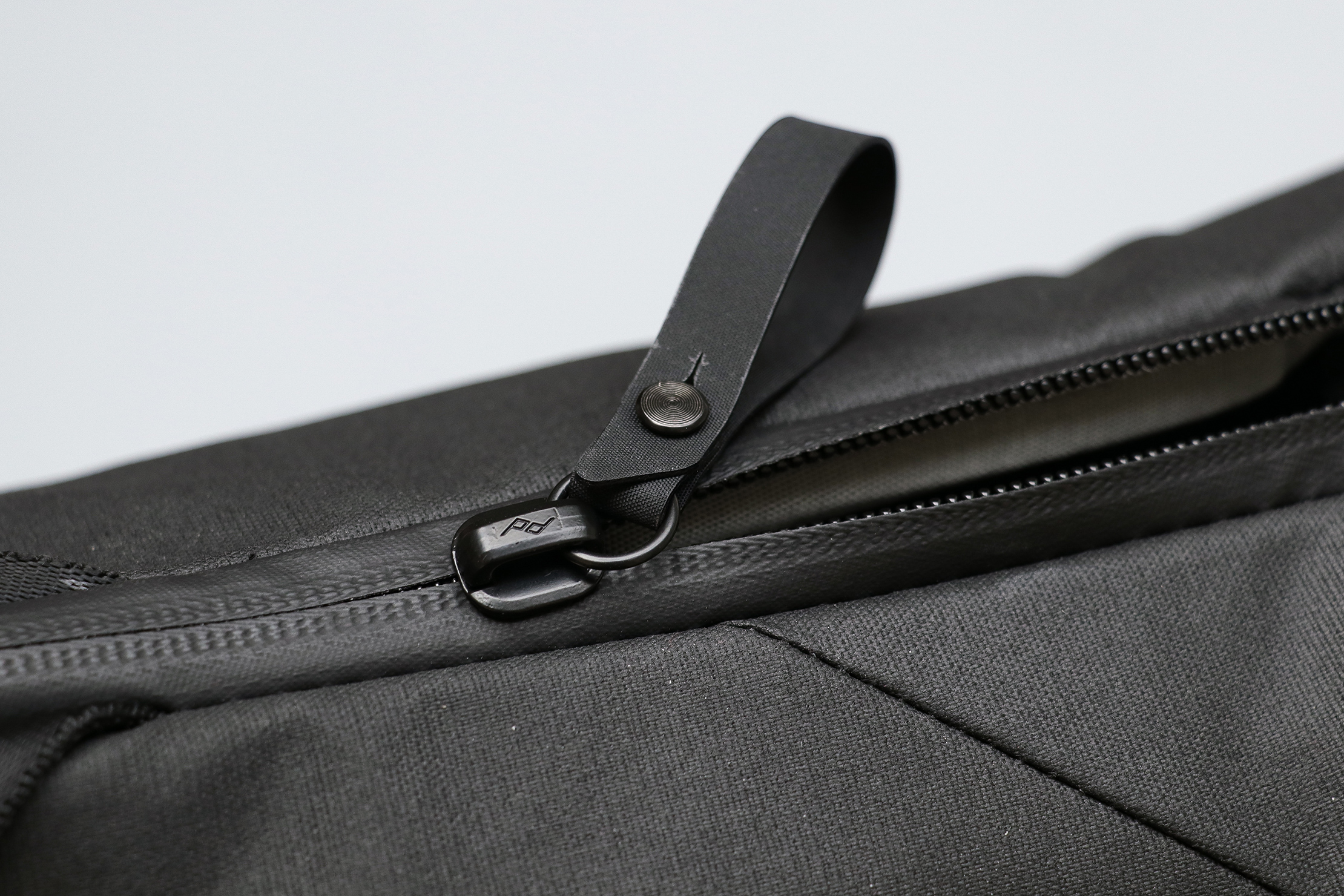 The external zippers are UltraZips, which were created out of a collaboration between Peak Design and Zoom Zippers. As we've mentioned before, we've tested several Peak Design products across the Everyday Line that feature these zippers. We've experienced no durability problems thus far. So, we're fairly confident that you shouldn't encounter any issues. They also glide really well and are water-resistant to help protect your gear.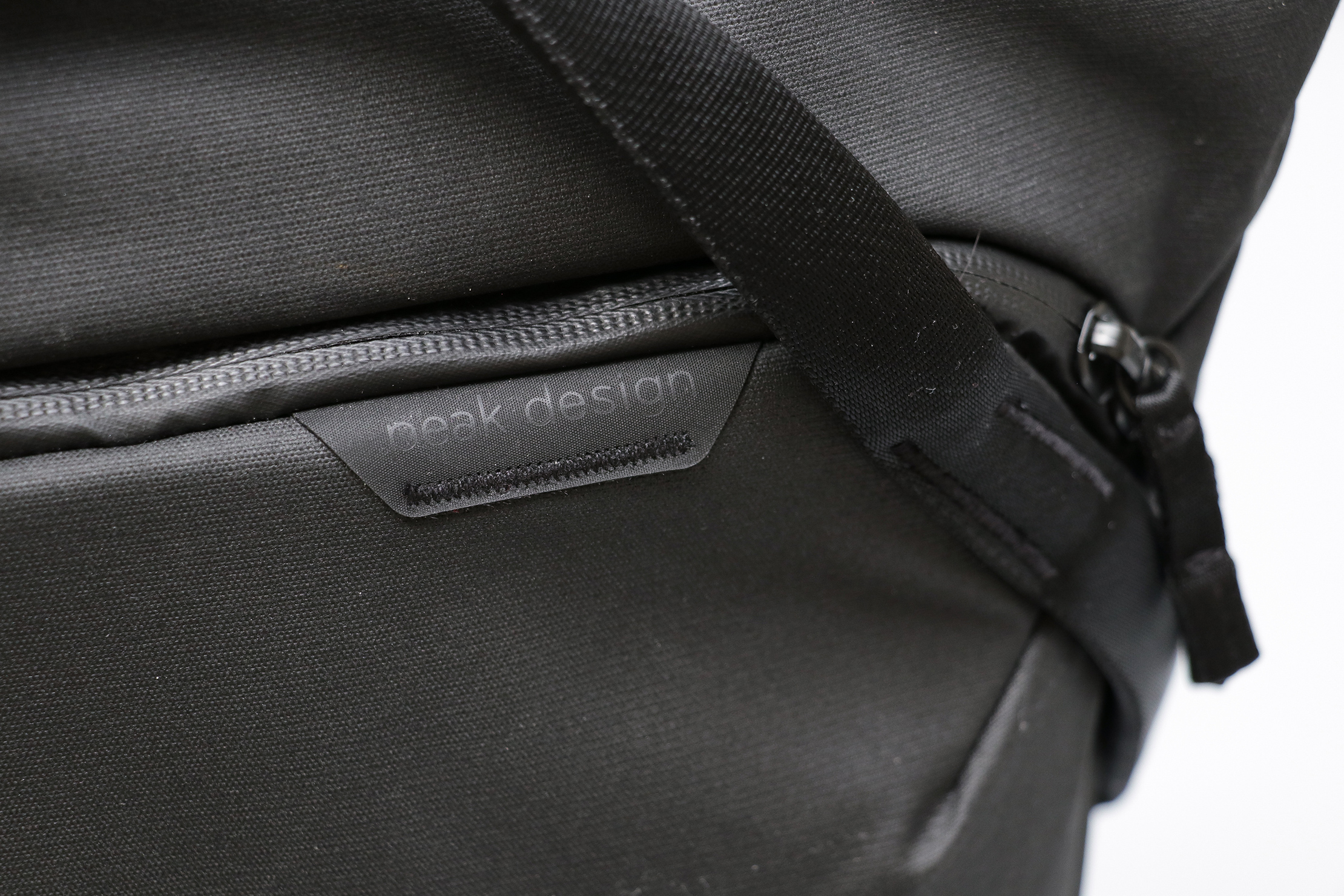 The branding is super subdued on the Black colorway we've been testing. There are black-on-black logos on some of the hypalon accents around the bag. (Note that the accents on the Bone colorway are leather instead of hypalon.)
Overall, the Peak Design Everyday Totepack 20L (V2) has the same techy look and feel as the rest of the Everyday line. It's also clean and minimal, which is an aesthetic that most of us here at Pack Hacker dig. But don't take our word for it. As per usual, we polled our Instagram audience to see if they're digging its look—and about 51% gave this bag their approval. Make sure to give us a follow if you want to take part in future polls.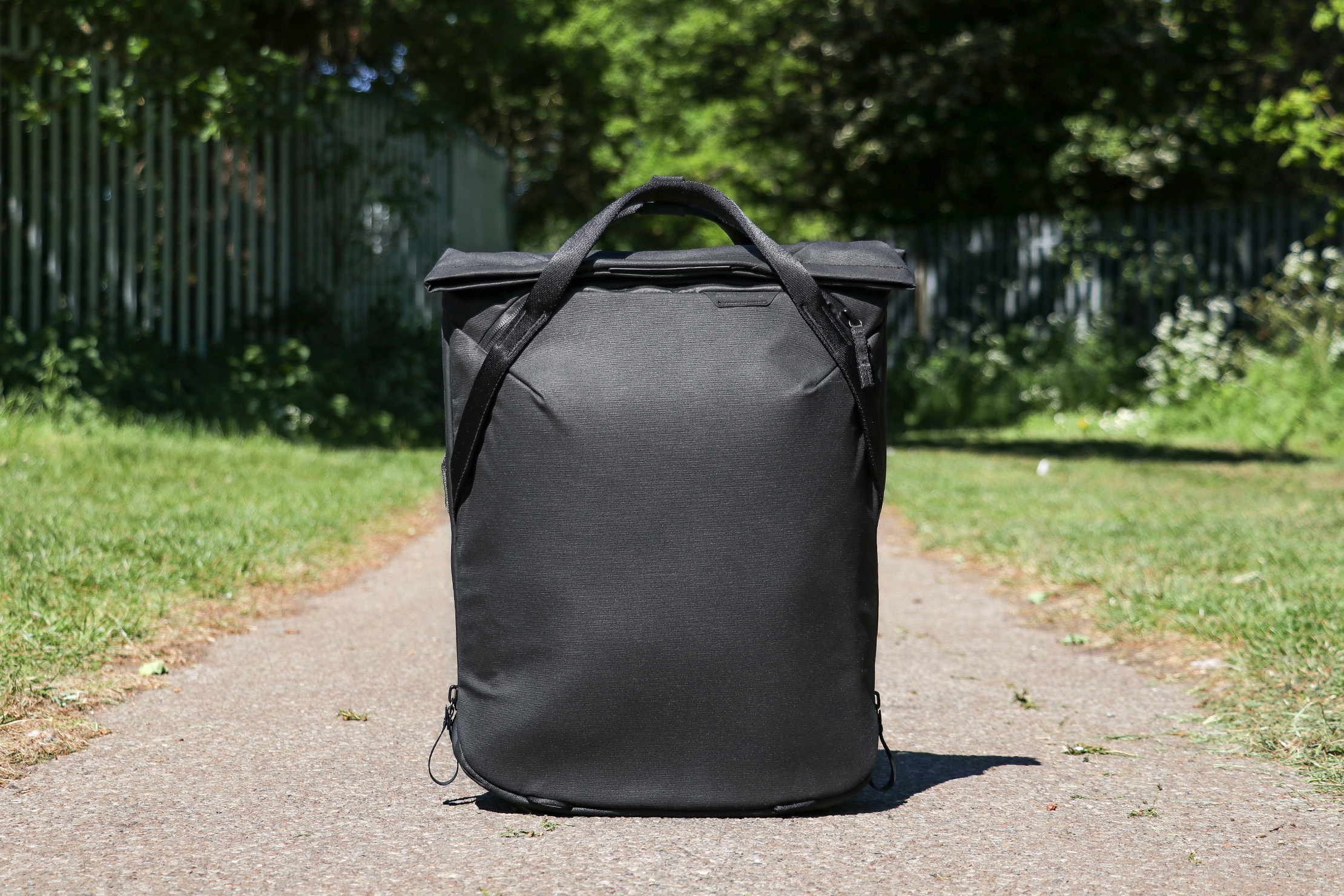 Finally, we want to point out that the Peak Design Everyday Totepack 20L (V2) is highly structured and engineered—and you can feel that. It's super stiff with a lot of padding, so it feels a little bit cumbersome. It's not a big deal, but something to keep in mind. On the plus side, the structure means that the pack stands up on its own and helps protect your fragile gear.
External Components
While the Peak Design Everyday Totepack is both a tote and a backpack, it's been engineered to skew a little more toward the backpack side of things. So let's start there.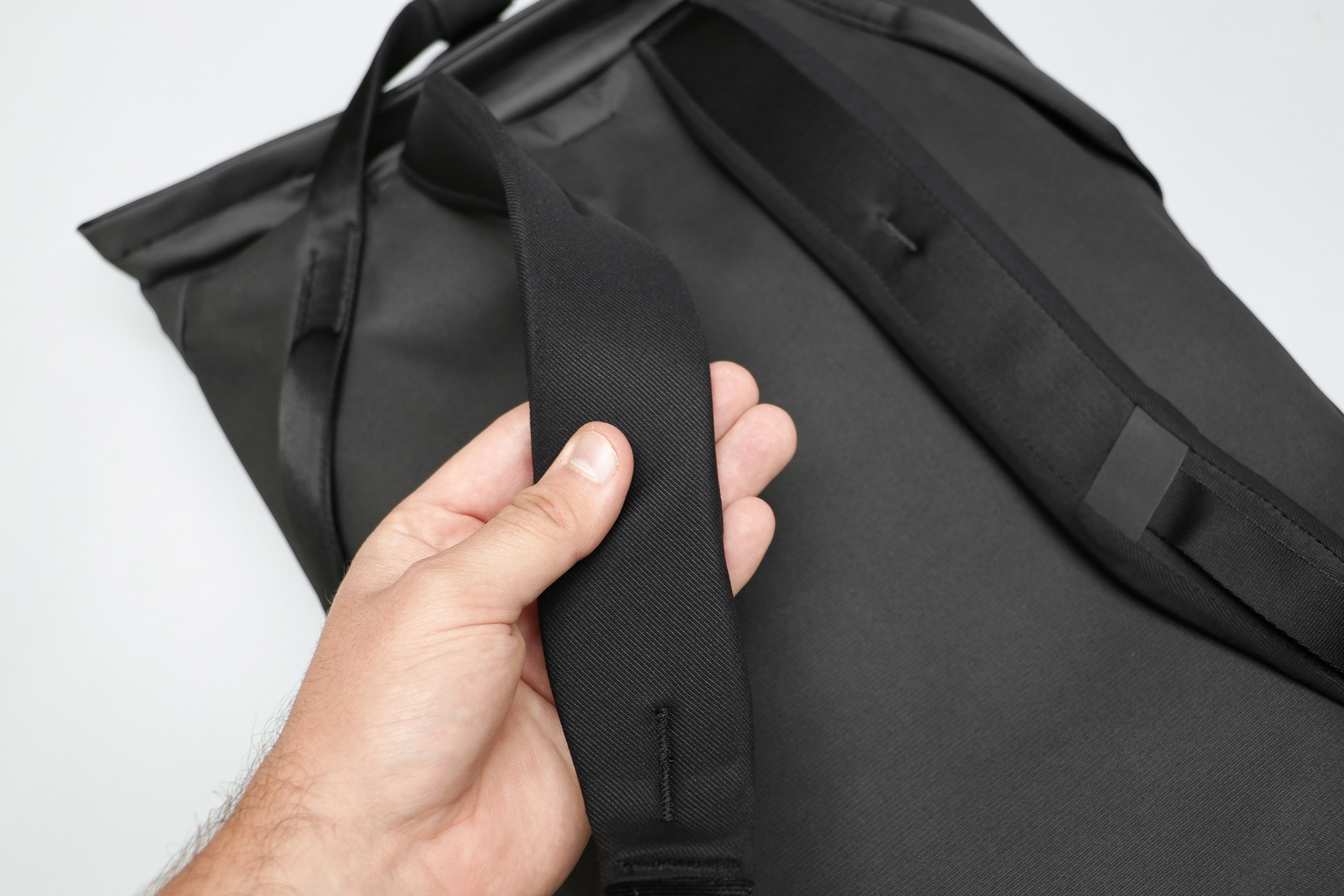 The backpack straps feature a solid amount of foam padding. They're narrower than most backpack straps we've come across, but they work fine for a pack of this size. The tops of the shoulder straps are attached in a way that let them swivel and rotate, moving with your body. These attachment points also help you easily swing the bag forward to the front of your body for quick and easy access (we'll discuss this more in the next section of this review).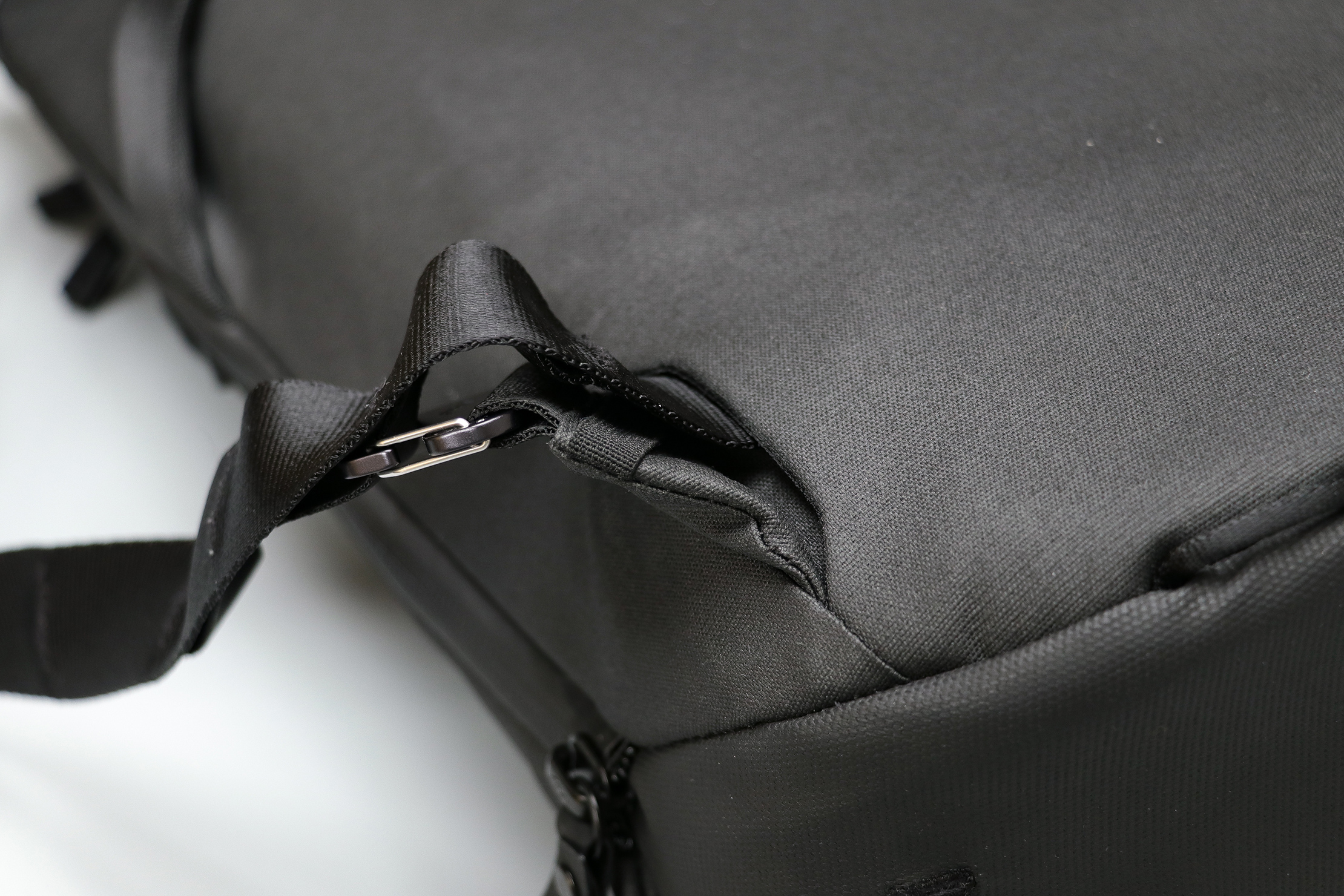 The shoulder straps are also stowable. That way, when you're carrying this thing in tote-mode, you can have a nice, clean look. We like that the sleeve the shoulder straps tuck into closes with a magnet to prevent the straps from slipping out.
To attach or detach the shoulder straps, simply hook them into the G-hooks that sit at the bottom of the back panel. Converting the pack from a tote to a backpack and vice versa is a relatively smooth process—although not seamless. It can be a little finicky to work the G-hooks, but you get used to it (at least, we have throughout testing).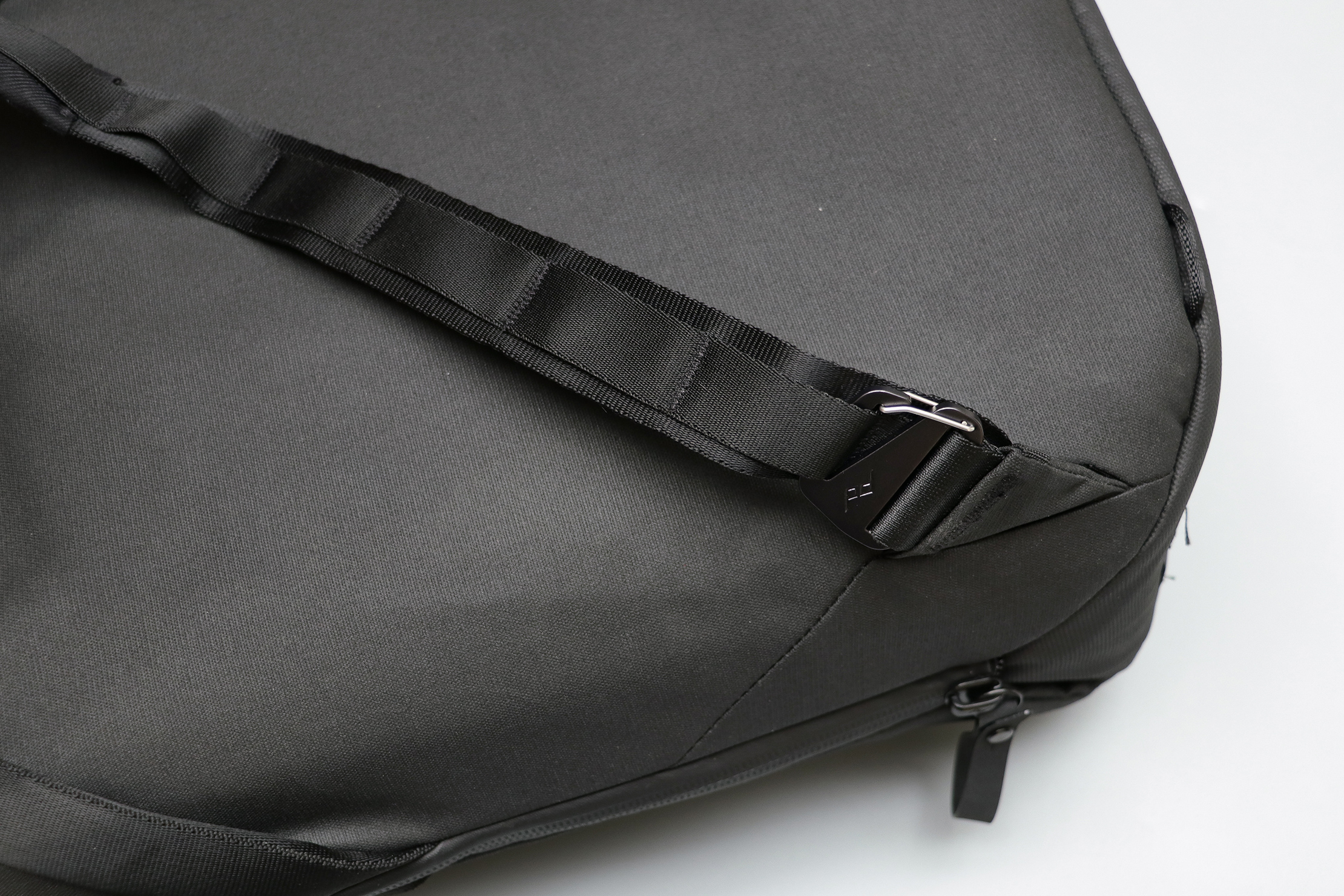 The shoulder straps are also adjustable—as most shoulder straps are—but in a unique way. Instead of tightening or loosening the straps along a track, there are several mounting points (a.k.a loops of fabric) that you can secure to the G-hook when you're attaching the straps to the bag. So you can make the straps as tight or loose as you need to. You can tuck away any excess strap into a small pocket for that coveted #DangleFreeExperience. The G-hook tucks away into this same pocket. It can be difficult to get the G-hook in and out of the pocket. But, we suppose, that's actually a good thing because the G-hook isn't likely to fall out on its own.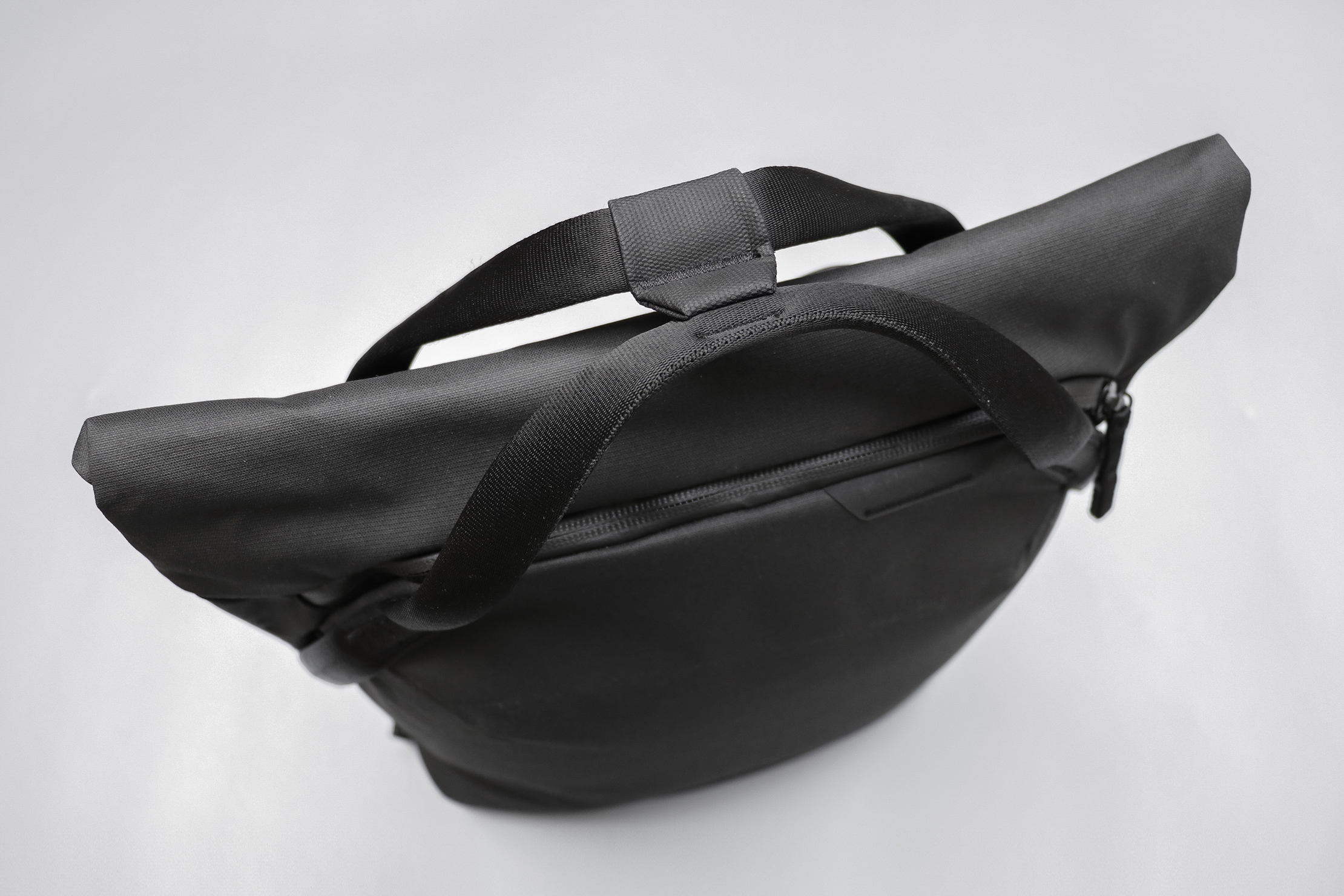 And that brings us to the tote handles. These handles are just that—handles. They are not long enough to throw over your shoulder. They feature a little bit of padding for a comfortable carry, but we tend to think that holding any bag in the hands is only comfortable for so long. You should be just fine walking from the bus stop to the co-working space, but you may start to get uncomfortable on a day out exploring the city.
That's kind of the entire point of the Everyday Totepack. You can rock it as a tote during those moments you want to come across as a sophisticated professional. But you have the option to wear it as a backpack when you desire a more comfortable carry.
Anyway, the handles also have a magnetic clasp. This magnet doesn't hold the handles securely together—like a snap button or velcro would—but it's a nice way to manage them.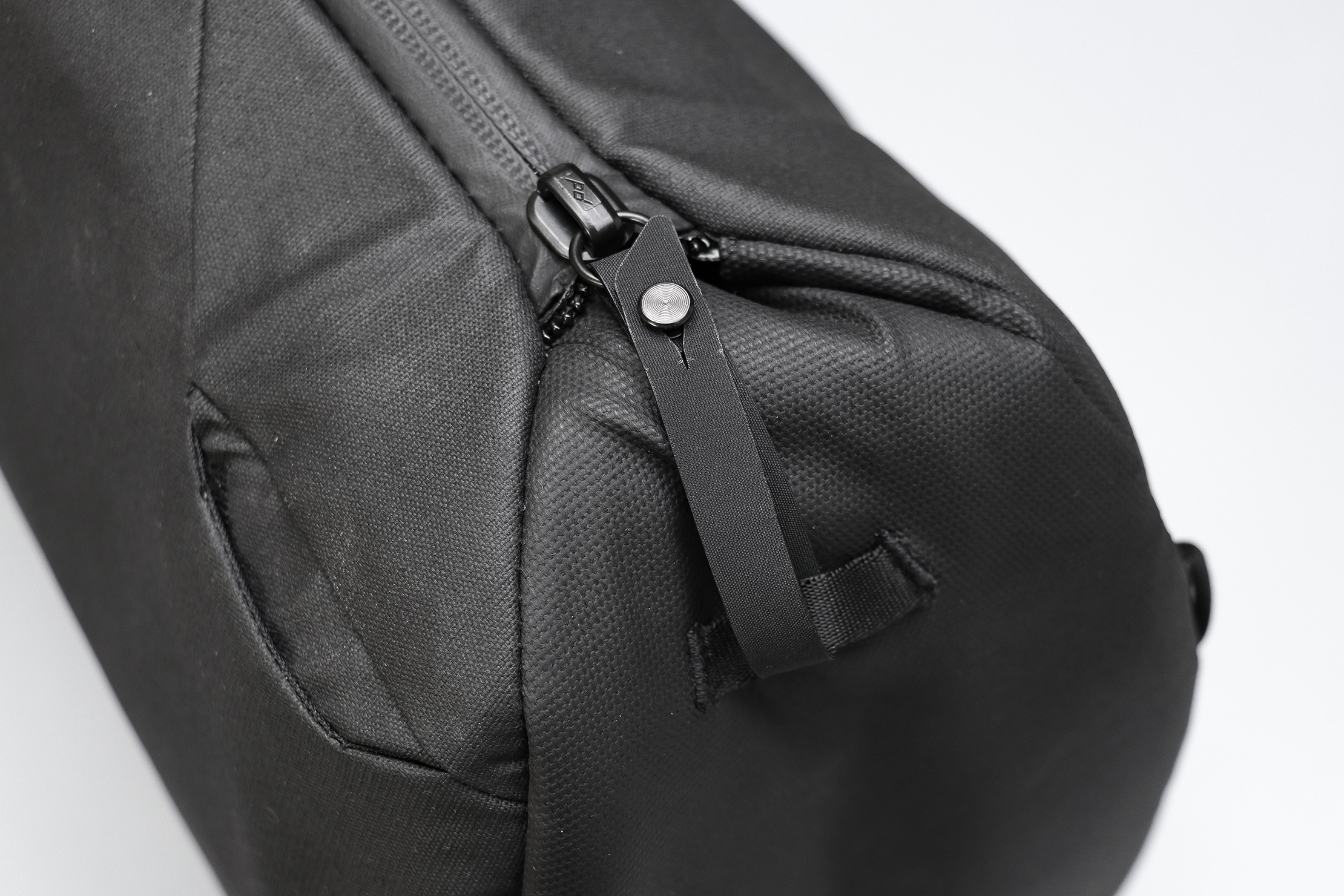 For added security and peace-of-mind, you can loop the side-access zippers to the pack itself (we'll talk more about the side access in a bit). It's a clever, albeit small addition that can help prevent wrongdoers from getting their fingers inside of your bag.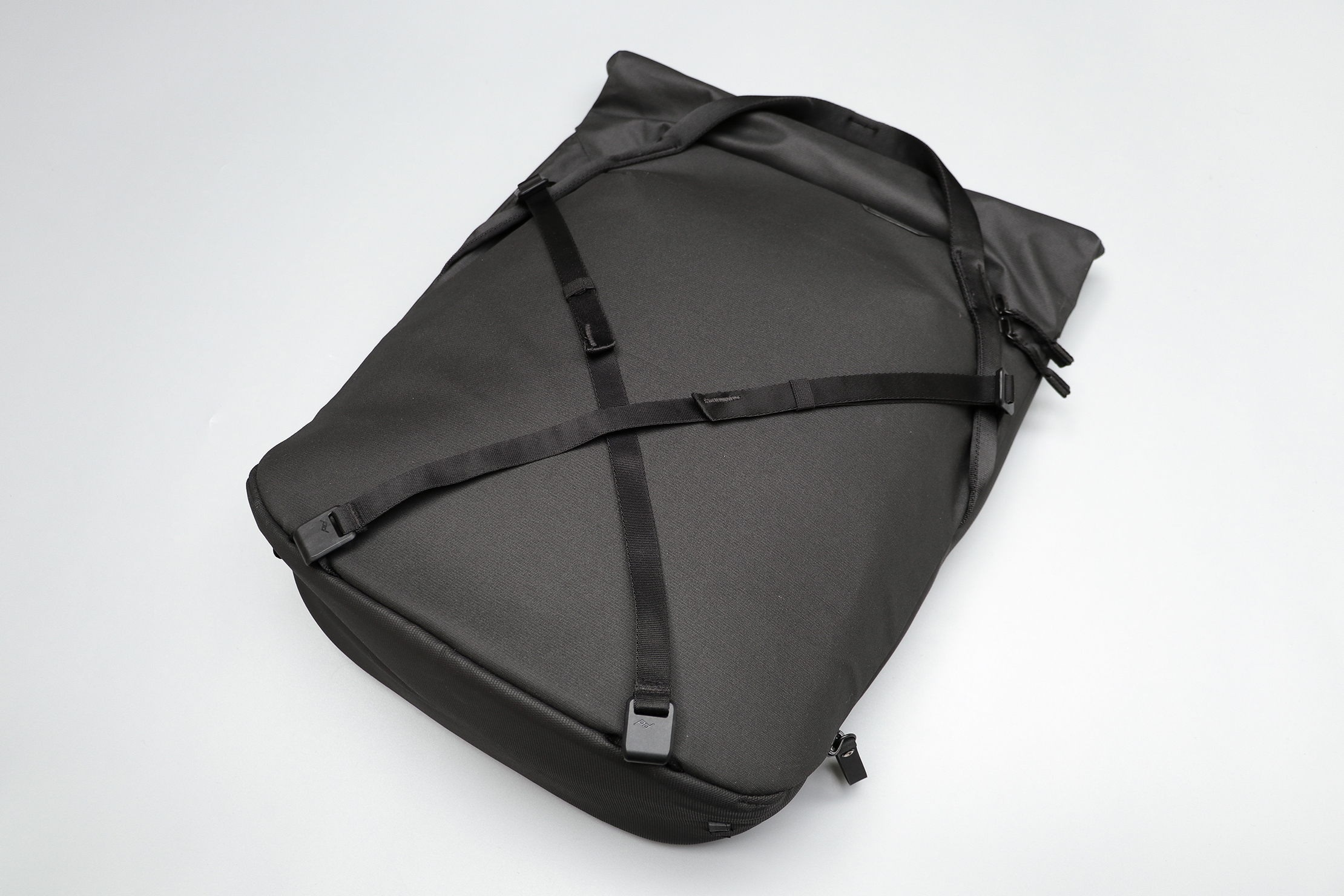 Two lash straps come with the Everyday Totepack. And there are a total of eight lash loops you can attach them to: two on the front, two on the back, and four along the bottom. You can hook the lash straps in various configurations to suit your needs. Say across the bottom of the tote or crisscrossed on the face of the bag. Either way, they allow you to carry gear externally—like a tripod, yoga mat, or jacket. And you can remove them, meaning they won't get in your way if you don't want/need them. You can also use the lash loops to attach a carabiner, light, or other accessories.
Phew, we made it. Ready to zip this thing open? Let's go.
Inside the Pack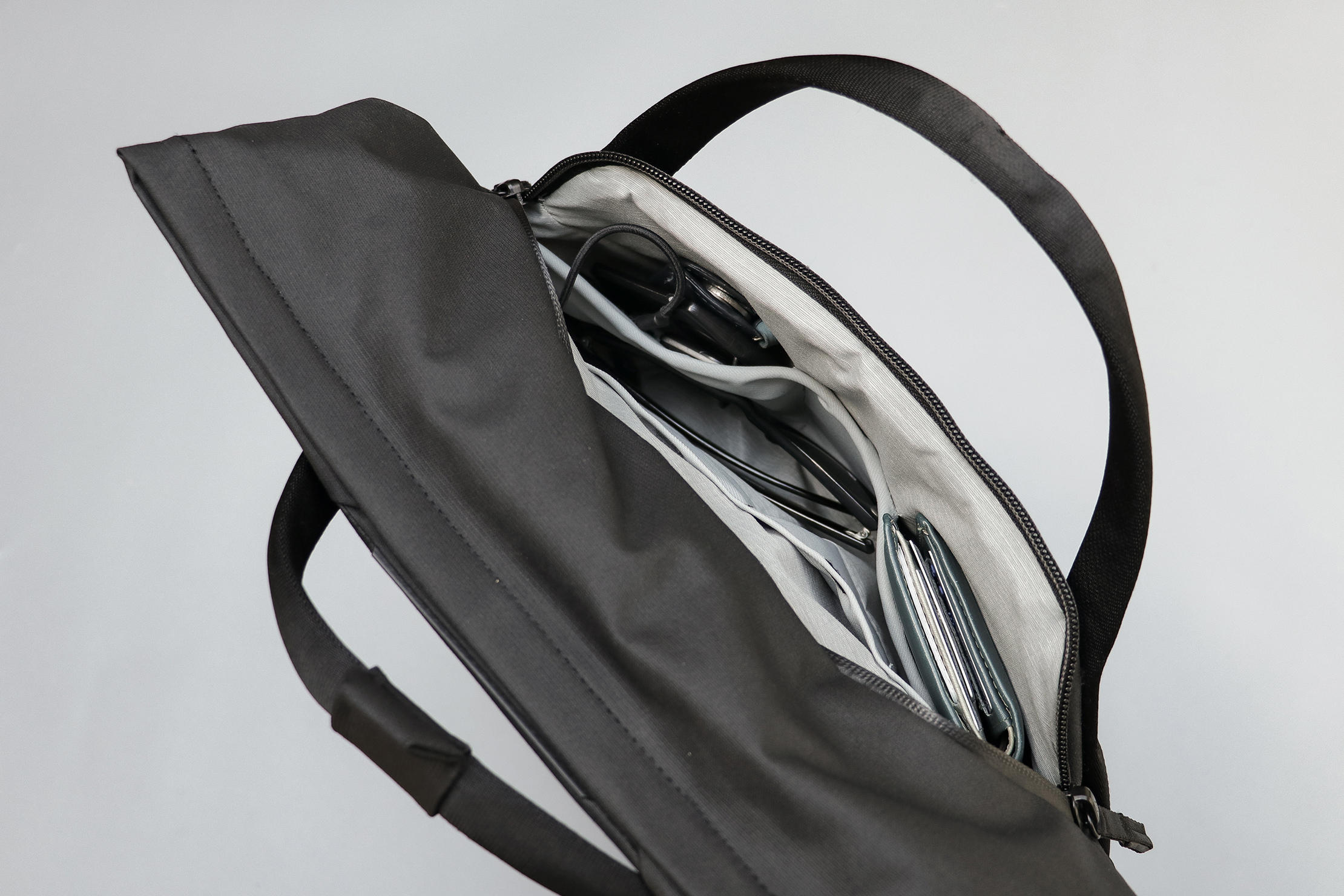 There's a small quick-grab pocket on the front of the pack for all of your quick-grab items—cell phone, wallet, Tide-to-Go pen, etc. You have to pull down the front tote handle to access this pocket, which isn't a huge deal but is also kind of annoying when you're in and out of it frequently.
Inside, there's an elastic key tether. It works decently well—it's stretchy enough you may be able to put your key into a lock without having to unclip from the bag—but it doesn't have the same premium feel as the other components of this tote (we've pointed this out before with Peak Design's Everyday line and it's true here too).

There are four divider pockets along the back of the quick-grab pocket. They're quite small—designed for SD cards or camera batteries. So if you plan to carry SD cards and camera batteries, you'll be good to go. But they're a little too small to fit most standard quick-grab items (the aforementioned cell phone, wallet, etc). Two of the pockets have black stitching and two of the pockets have gray stitching. You can use this to create a color-coded organizational system. Say black for fully charged camera batteries and gray for dead ones.
On the opposite side of the quick-grab pocket there are three more divider pockets. Two of them are large-ish (think battery bank or wallet), while the one in the center would work well for pens/pencils.
Keep in mind that the overall footprint of the quick-grab pocket is small. And, when the main compartment is full, it eats into the space of this pocket, making it more difficult to use the space and access the pocket.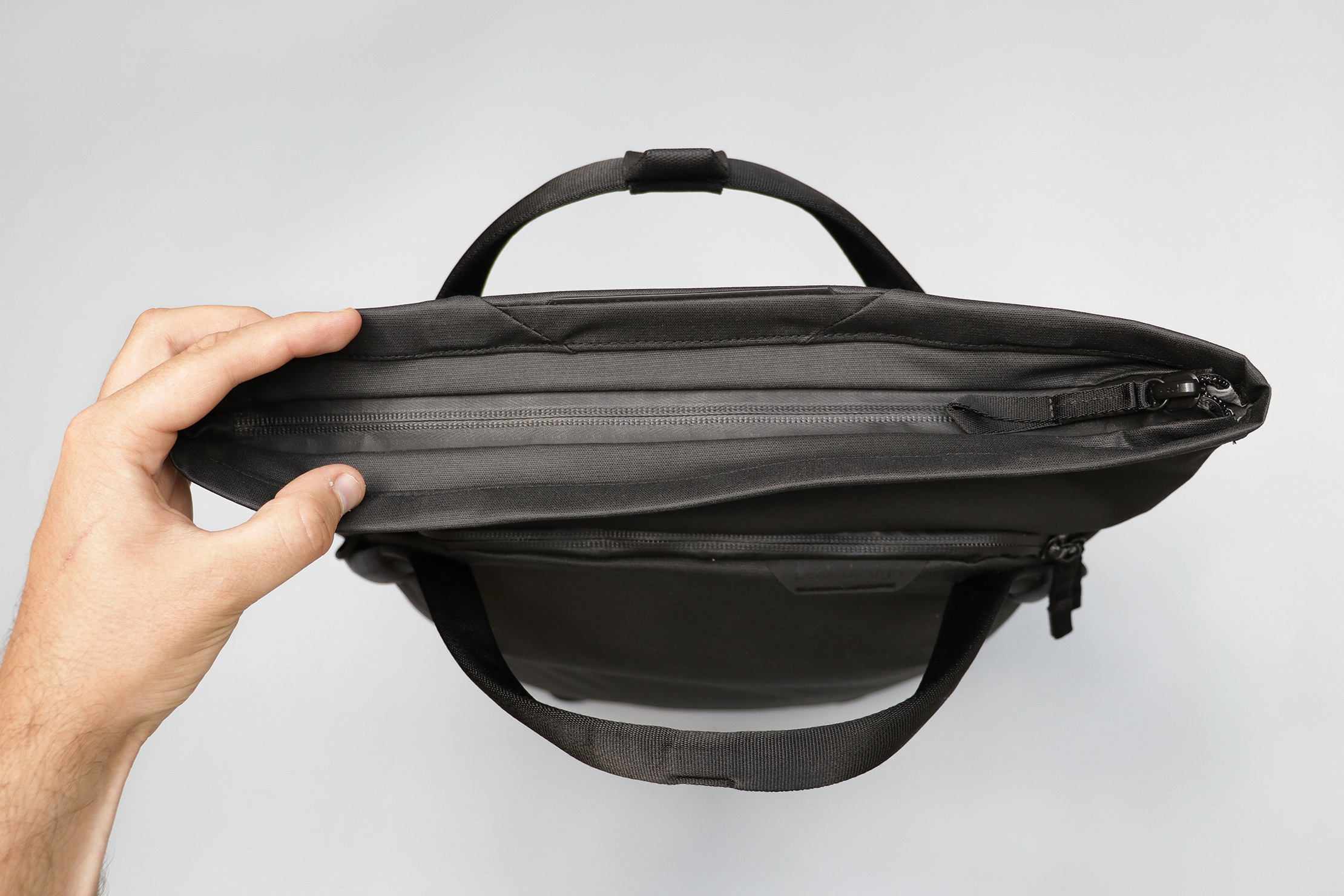 Alright, we've reached the moment you've all been waiting for. Yes, it's time to talk about the main compartment. It closes with both magnets and a zipper. You can leave the zipper open for faster access or zip it up for weather protection and/or extra security. You can also have the roll top extended to increase the capacity of this totepack from 20L to 25L.
The folks at Peak Design say that the main compartment has an "extra wide top access." We disagree. The access is actually rather tight. You have to pull and hold it open with your hand to see what's going on inside. It's not a deal-breaker, but since Peak Design touted the wide access as a feature, we wanted to point out our experience.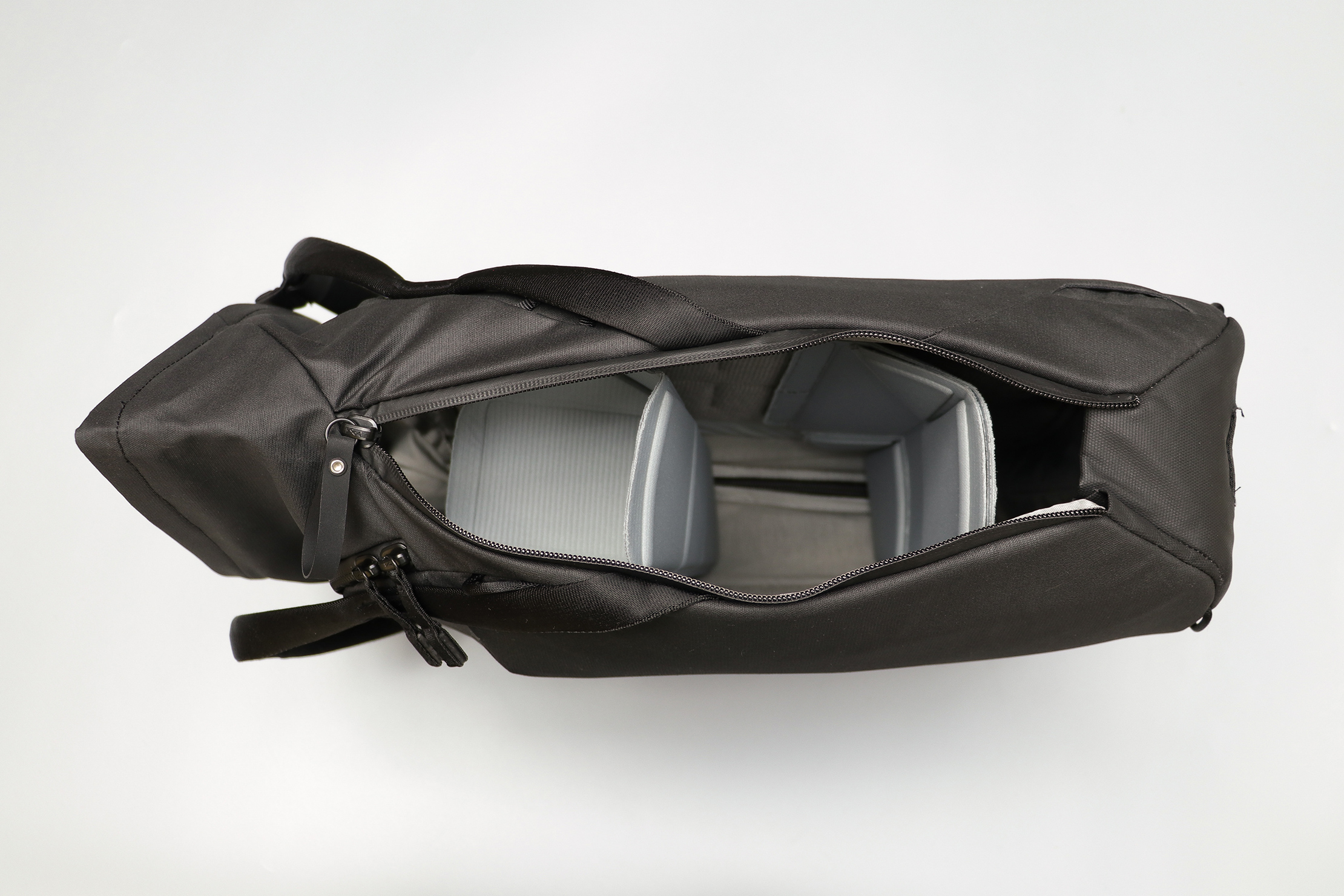 If you're a fan of Peak Design, then you won't be surprised by the two soft FlexFold dividers that are tucked inside the main compartment. These dividers allow you to customize this space. You can origami them in a few different ways to work with whatever setup you have—using them as dividers, shelves, or some combination thereof. The main two ways to set up the dividers are horizontally (creating a shelf) or vertically (dividing the space down the middle). We've enjoyed the horizontal setup, putting the stuff we access frequently on top of the shelf with jackets and the like on the bottom. But you do you. The dividers attach to the interior of the pack via velcro.
You can also remove one or both of the dividers or even buy more from Peak Design if you go wild for FlexFold dividers. Overall, we are huge fans of the FlexFold dividers. They're a great way to compartmentalize your stuff in a way that makes sense for you.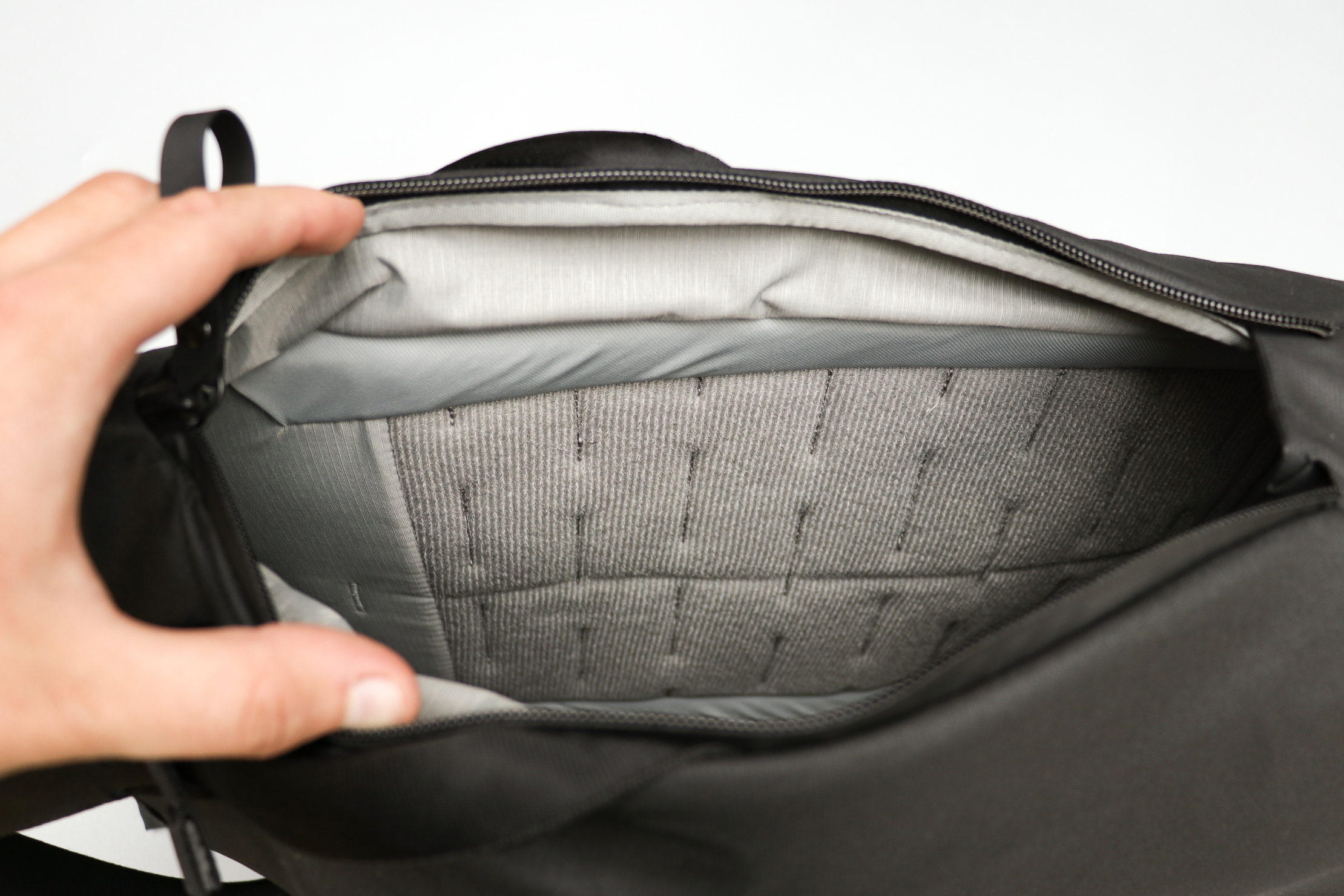 Note that Peak Design has included a few design elements to help you properly align the FlexFold dividers along the velcro. There are markings on the velcro as well as bartack stitching on the dividers that you can line up to make sure the dividers are straight and in the middle of the bag.
The main compartment also has a laptop sleeve designed to fit up to a 15'' laptop. It has plenty of padding as well as a small false bottom to help protect your expensive machine from unexpected drops.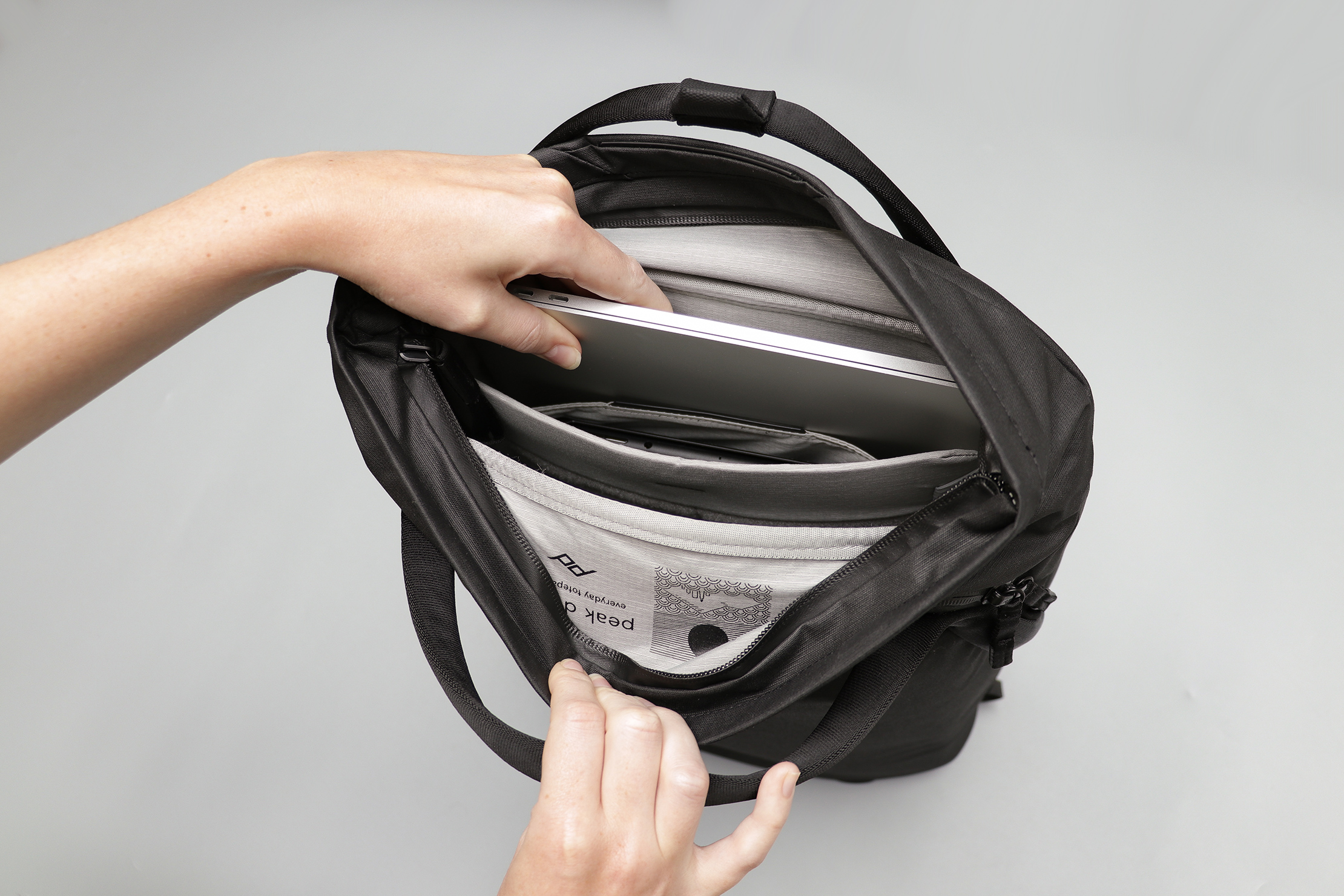 In front of the laptop sleeve is a tablet sleeve that will fit larger tablets (like a 12.9" iPad Pro) and closes with a magnet at the top.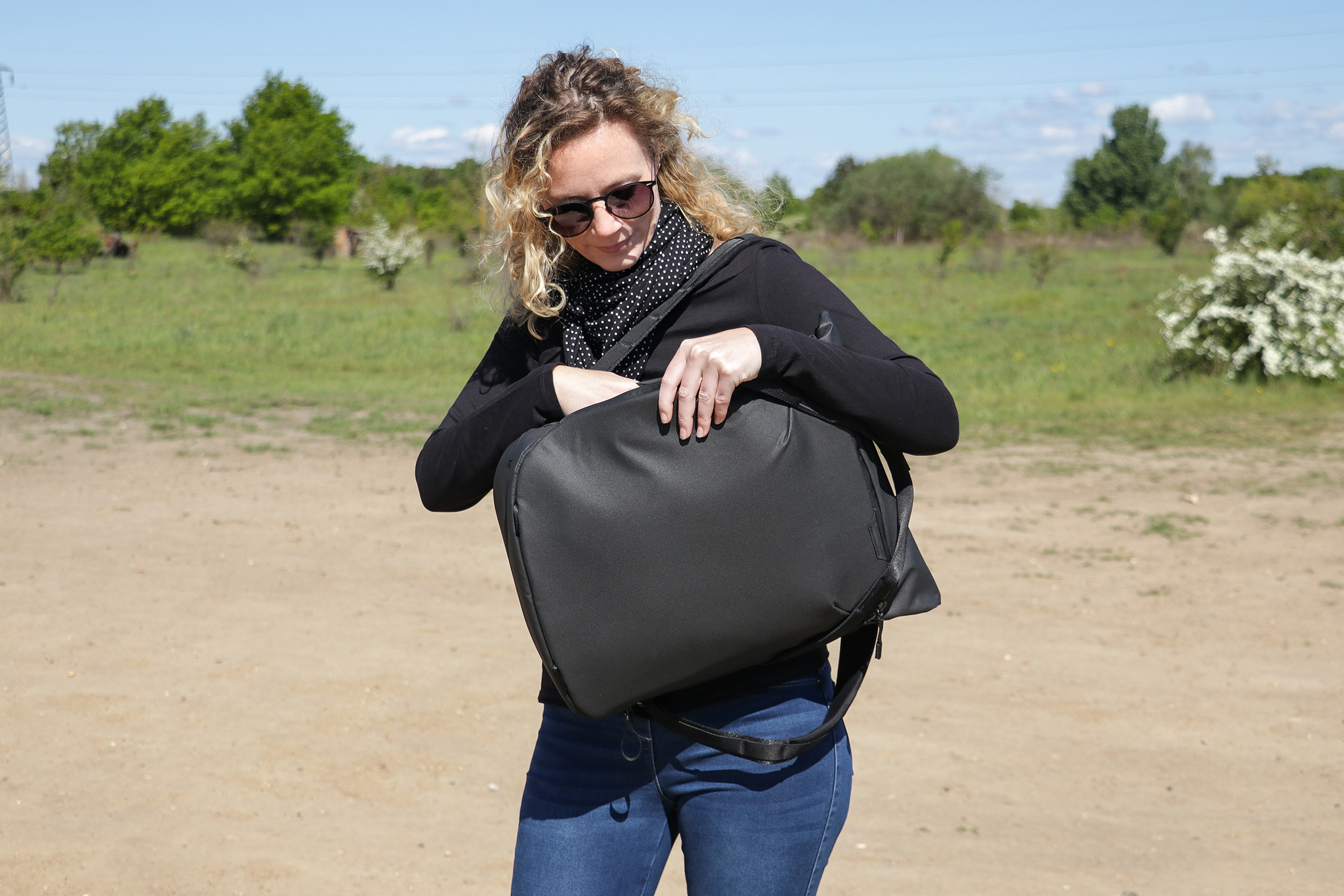 One really clever thing going on with the main compartment are the side access points. You can access the main compartment from both sides of the bag, which is an awesome feature we've enjoyed throughout testing. The side access points allow you to swing the pack off of one shoulder and quickly get inside of it. They also work well with the FlexFold dividers as you can easily access the places you've sectioned off (say the stuff beneath the first FlexFold divider if you have them laid out horizontally). However, you cannot access the laptop and tablet compartments from the side access points.
Durability & Testing
We've been testing the Peak Design Everyday Totepack 20L (V2) for a couple of weeks in Essex, England. We've thoroughly enjoyed testing it as both a tote and a backpack. Overall, it's a good, versatile bag. You can put your tech stuff at the top and gym stuff at the bottom for those days when you hit the gym after work. We've also found the side access to be really useful in testing; it's nice to have an alternative to the standard top access.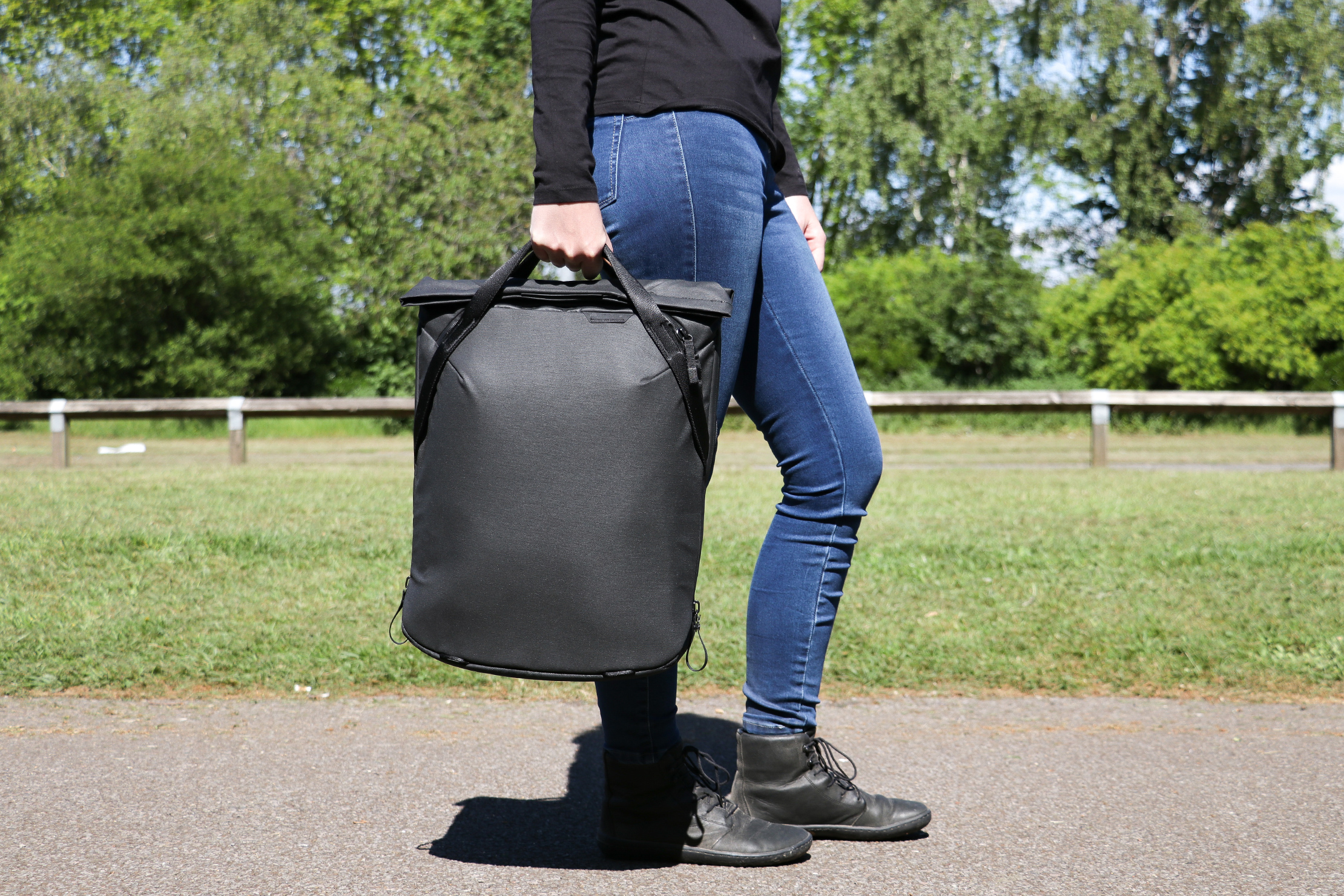 As a whole, the bag is holding up quite nicely. That said, the FlexFold Dividers have a good amount of wear for only a couple weeks of testing. There's some shoddy stitching and loose threads abound. And this issue isn't unique to the Peak Design Everyday Totepack 20L (V2). We've found that Peak Design's FlexFold dividers tend to get chewed up after short amounts of testing on the other Everyday Line (V2) products we've tested. It's frustrating, to say the least.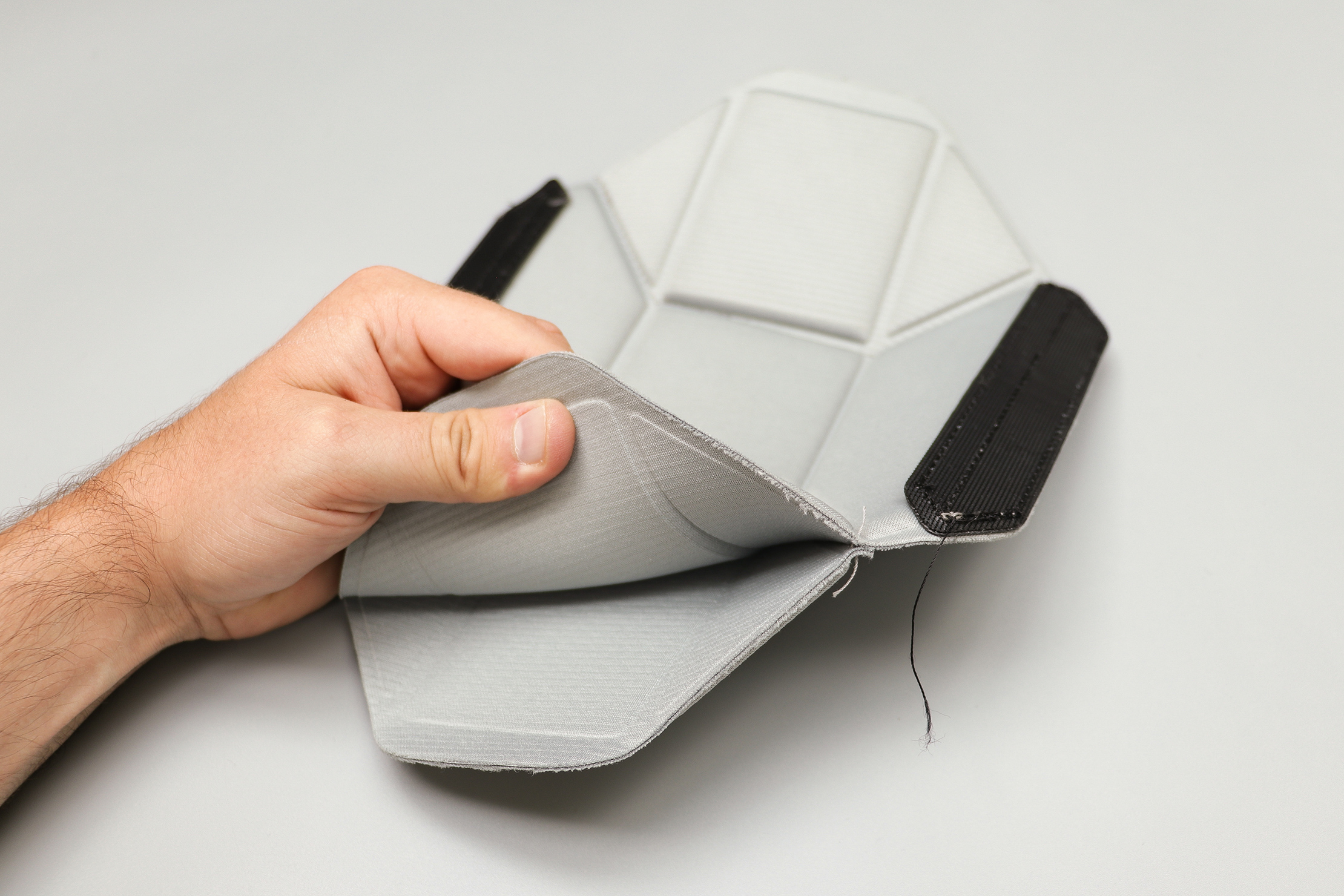 Usage Timeline
Initial Usage
Condition: Excellent
Main zippered access on top, left, and right sides of this bag allow it to be accessed from any angle
Great internal organization including 15-inch laptop sleeve and dedicated sunglasses pocket
Can be carried as a backpack, or shoulder straps can be stowed away for tote handle carry
2 Weeks of Use
Condition: Excellent
We've found the side access to be really useful when we're out and about, and we really like that you can secure the zip to the bottom of the bag for extra security
The external pocket can be tricky to access when the main compartment is full and takes up most of the space
It works really well as a totepack, and we've enjoyed carrying it as both a tote and a backpack
The structure of the bag can make it cumbersome at times but we do like that it stands up on its own
Access the Pro Community Discussion
Get your questions about the Peak Design Everyday Totepack 20L (V2) answered from our team and the Pro Community right here on the page. Plus, join discussions with other members about gear, guides, and more.
Other Bags & Luggage Reviews