Aer Slim Pouch Review
The low profile Aer Slim Pouch will keep the mess on your desk at bay and your tech gear organized, though we wish some pockets were stretchier.
Our Verdict
Unlock the Pro Summary
Save time. Get access to brief summaries of our reviews so you can browse and make decisions more efficiently.
Pros
Durable choice of materials
Wide opening zipper makes access and visibility convenient
Auto-locking zipper is useful when routing a cable externally
Cons
Liner pockets do not secure items very well
Prone to tipping over if packed irregularly
Jingly zippers (like most Aer products)
Recent Pack Hacker Video
Technical Details
Capacity

1.5l

Weight (oz)

5.47 oz (155.1 g)

Denier

1680D

Dimensions

5 in x 9 in x 2 in (12.7 x 22.9 x 5.1 cm)

Notable Materials

Ballistic Nylon, YKK Zippers, Polyester

Manufacturing Country

China

Warranty Information
Full Review
Get up to 10% off Aer • Join Pack Hacker Pro
Here at Pack Hacker, we're no stranger to Aer and their assortment of bags, packs, slings, and things. A quick gander around their website reveals no less than five collections. That's probably enough unique products to kit out your family, immediate relatives, and the dog.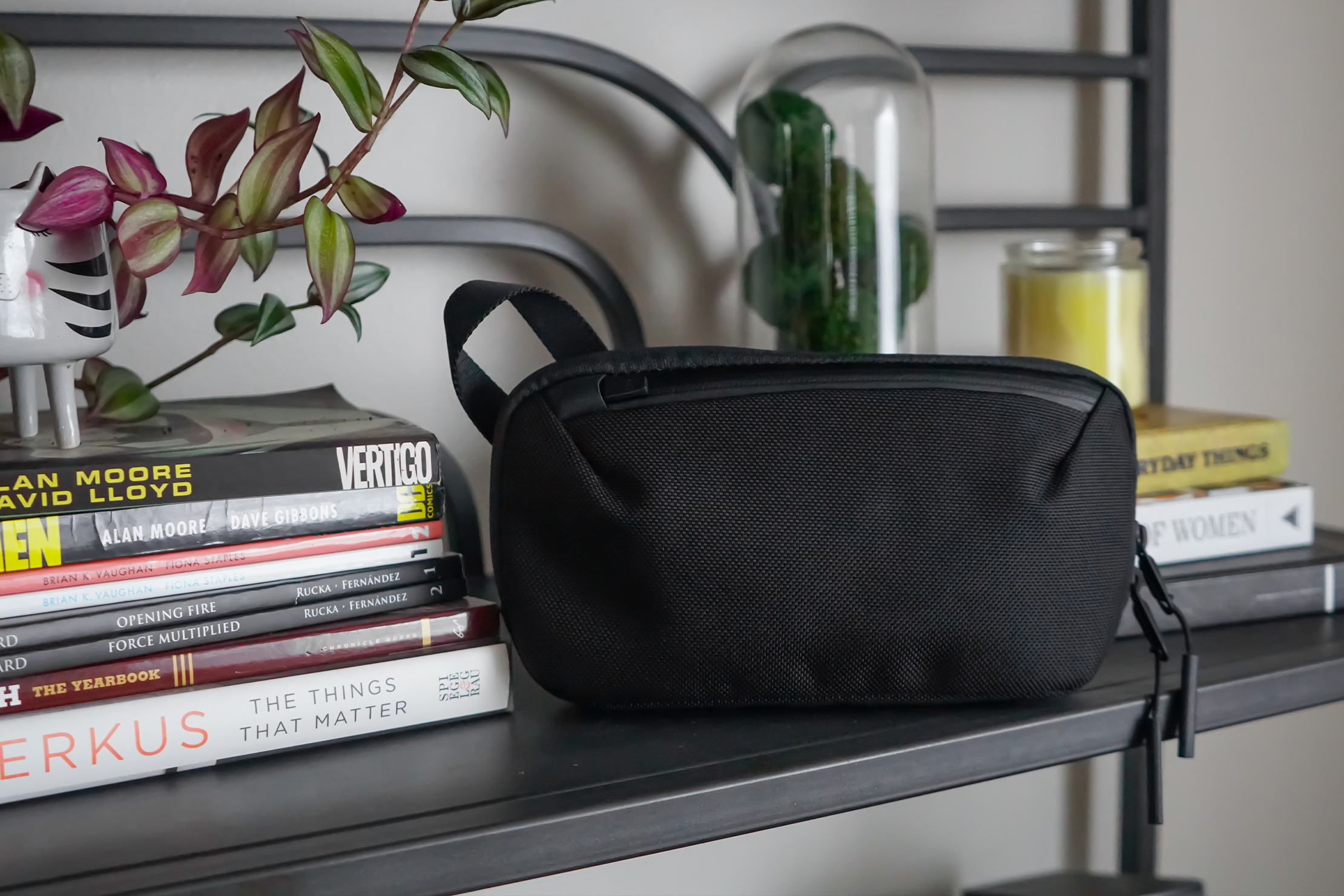 So today we arrive at yet another branch of the Aer family tree: the Aer Slim Pouch. As the name implies, this pouch comes at a slimmer profile compared to Aer's other pouches, such as the Cable Kit 2 and Sling Pouch. Unlike those two though, the Slim Pouch is aimed squarely at your desk without taking up too much space.
Materials & Aesthetic
Yes, we can hear you all the way in the back going, "But Pack Hacker, it's Aer. We already know it's going to be a shade of grey or black". Ah, but not so, because this time Aer has dabbled in the taboo arts of the visible light spectrum and introduced an Olive color into the mix. This is a change we welcome amongst the sea of black and grey in their catalog. But for those who prefer the subdued looks that Mr. Grey does, the usual black and grey are still available (which are still our favorites).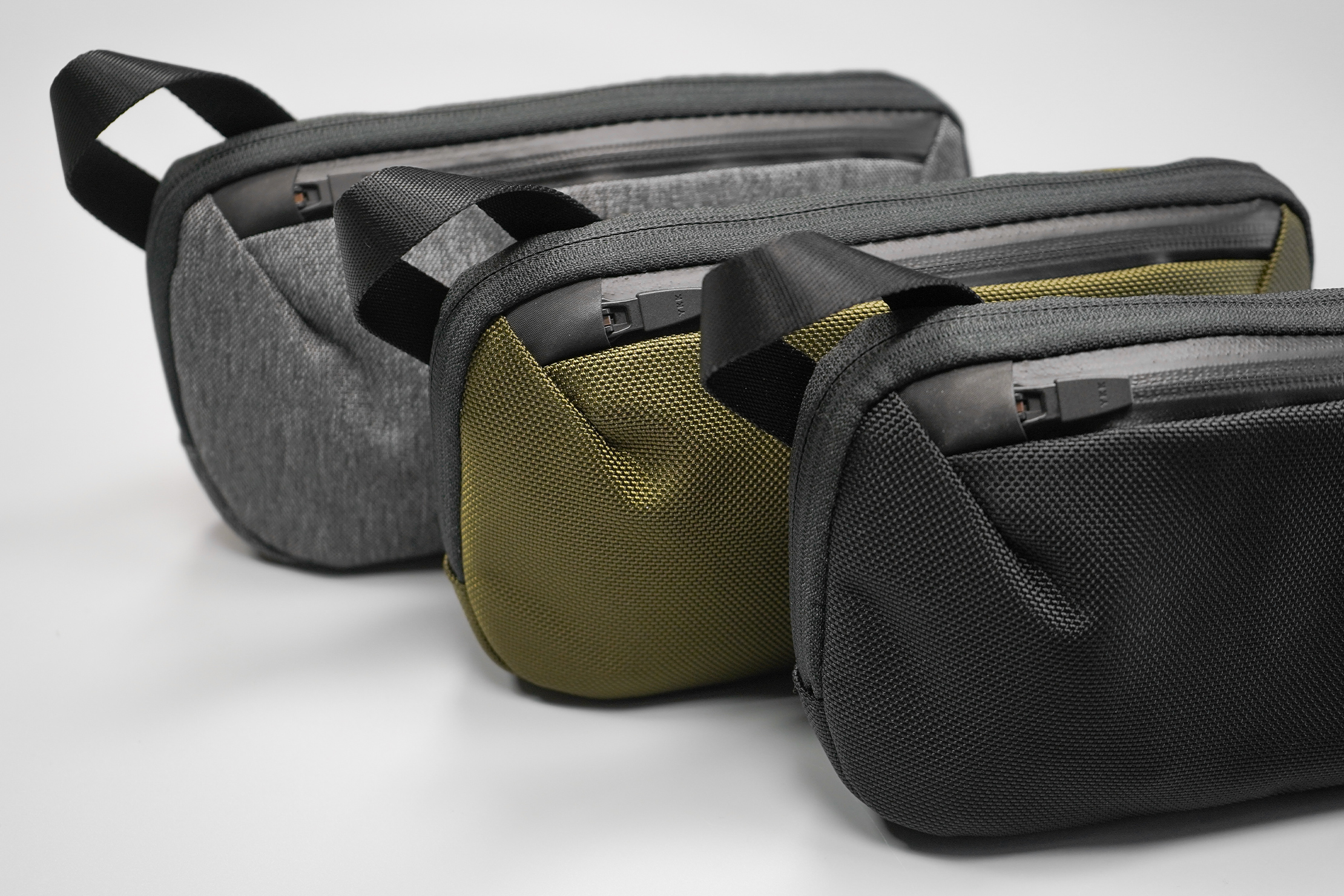 The Slim Pack is also available in two materials. If you go for the Black or Olive color options, the material is 1680D ballistic nylon, while the Heathered Gray comes in 900D polyester. Whichever of the three colors or two materials, the Slim Pouch feels durable and well-made in the hand. The fabric used feels top-quality, and the YKK zippers slide up and down without issue.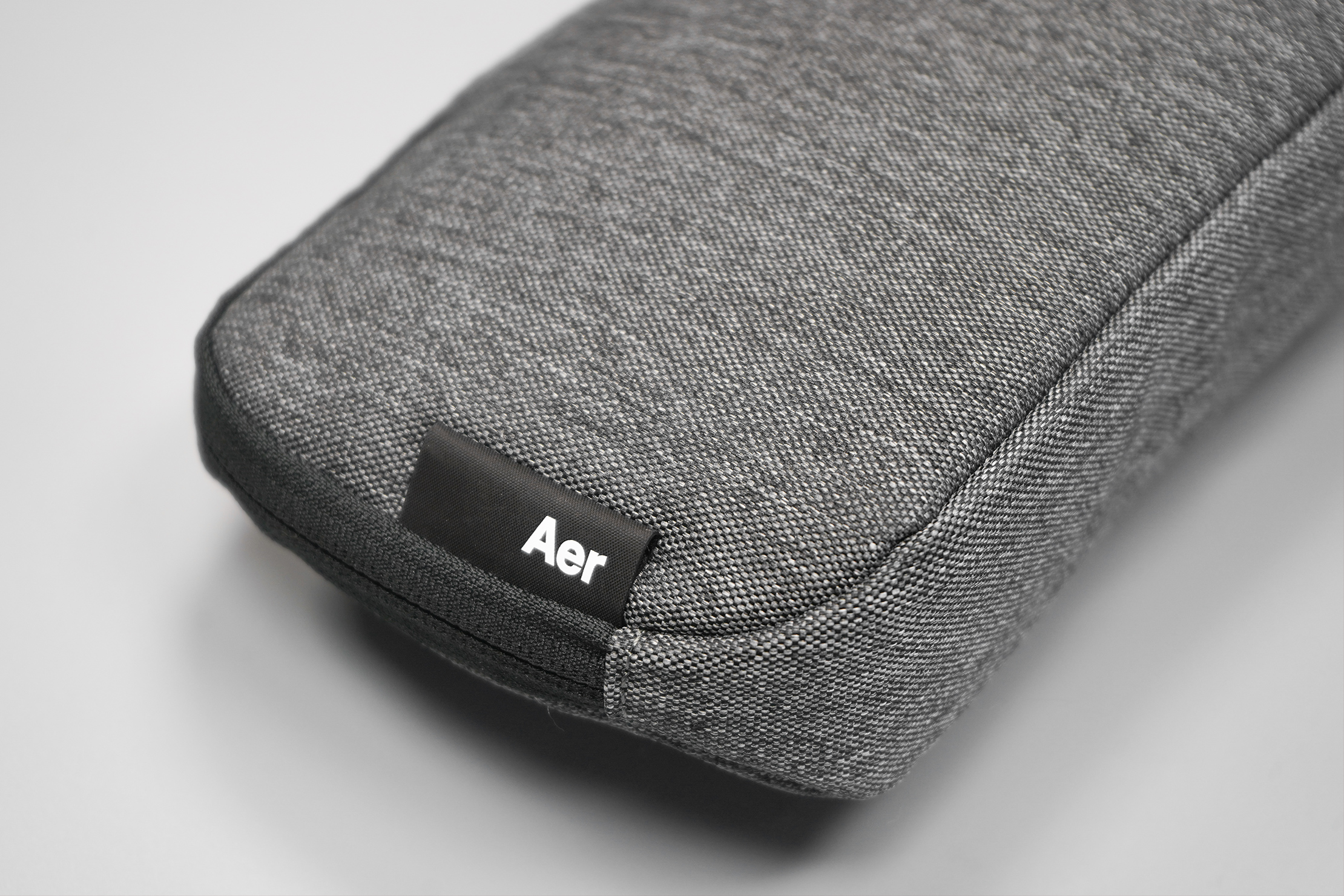 Unsurprisingly, Aer has kept the branding to a minimum. A lone, small hypalon tab carries the Aer name outside, and a standard regulation tab for the inside. Aer hasn't deviated from their design language for the Slim Pouch, but we'll give them extra credit for introducing the Olive colorway option.
Organization & Usage
On the front of the Slim Pouch is a pocket sealed by a self-locking YKK aquaguard zipper. The pocket itself is big enough to fit an assortment of pens and writing material. But the self-locking zipper proposes an interesting use case. Namely, you can leave a slim power bank or an external storage device inside the pocket and route the connector through a small opening. With the self-locking zipper, you won't have to worry about the opening enlarging unnecessarily and its insides spilling out.

For the main compartment of the pouch, you'll find a more standard reverse coil zipper. This is a type of zipper that's more commonly found on travel bags. The pair of zippers come with Aer's usual zipper pulls which we found to be prone to jingling. Not a huge issue, but this can be somewhat annoying if you like to keep things quiet. In which case, these pull-tabs can be replaced with paracord and a little DIY spirit.
Inside the Slim Pouch is a plethora of pockets and compartments with their own uses. There are mesh pockets meant for small, loose items like small USB adapters, flash drives, or SD cards. The mesh material has decent elasticity and can generally hold items snuggly, preventing them from getting loose and spilling over. The same cannot be said of the pockets on the opposite side. The liner pockets across the main compartment seem to have some elasticity at the lip, but the main fabric does not.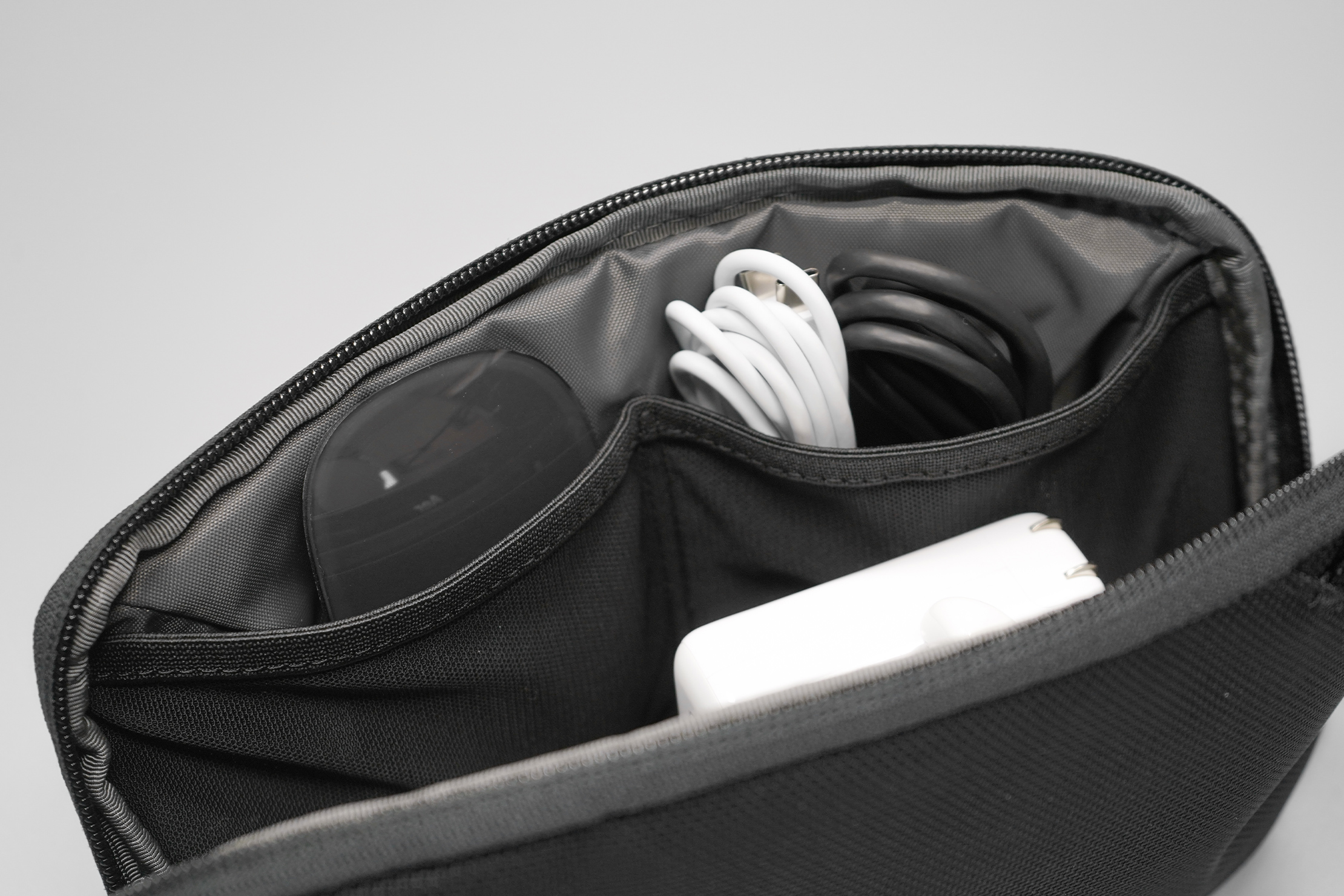 These work fine in a static use case, but they are not secure when things move around. If the pouch is shaken, the contents of those pockets inevitably come loose and mix into the main compartment. This wouldn't be an issue if the mouth of the pockets were somewhat up against the ceiling of the pouch, much like the pockets in the EVERGOODS CAP2L, thus prevent any spill-over. But since they aren't, we can only recommend using these pockets for items that are bulky enough that they will remain in place due to their large size.
The main space itself is large enough to accommodate anything you'd reasonably want inside a pouch, including, but not limited to, a smartphone charger, the bulkiest of wireless earbuds cases, or even one or two external storage devices.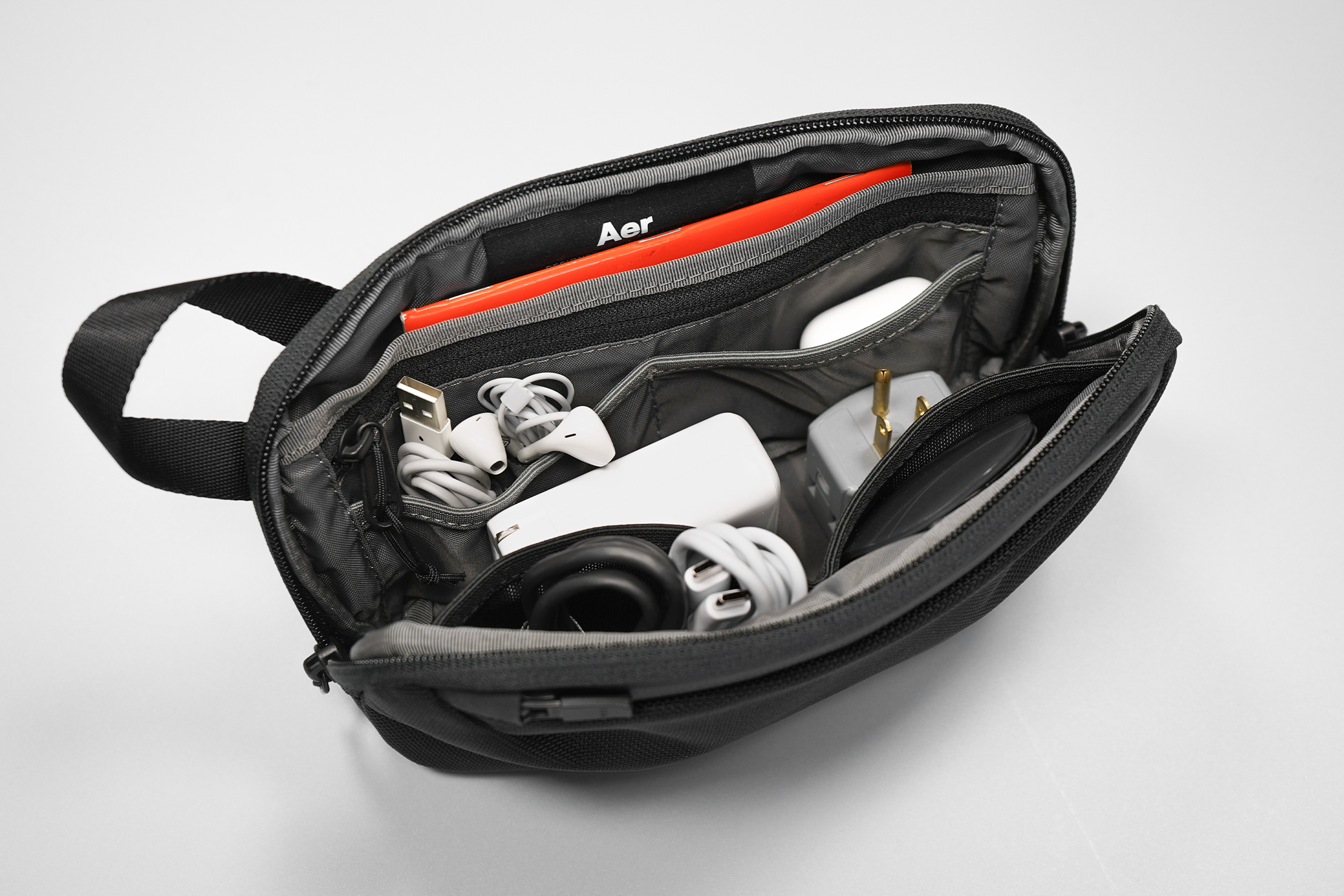 There's also a zipper pouch within for small items like dongles. It's frustrating whenever these things go wherever they please, so having a zipper-sealed pocket goes a long way to keep things sorted. We like to use this for loose wires and charging cables we carry around as well, though the usual spare memory card and adapter will make their way here too when we don't feel like being super organized.
Lastly, a token extra space is located towards the rear-most section of the pouch. This is best saved for the slimmer stuff such as booklets, pads of sticky notes, or a small notebook.
The bottom of the Slim Pouch has a flat design and is stiffer compared to the rest of the body. When emptied, the pouch can even stand on its own thanks to the stiff floor. It's even better once you've filled the main compartment as the pouch gains some center of gravity at its lower regions. Physics lessons aside, this simply means the Slim Pouch can be left standing on its own at your desk. Be careful though, because once you start taking stuff out, an imbalanced load might tip the weight to one side and knock over the pouch.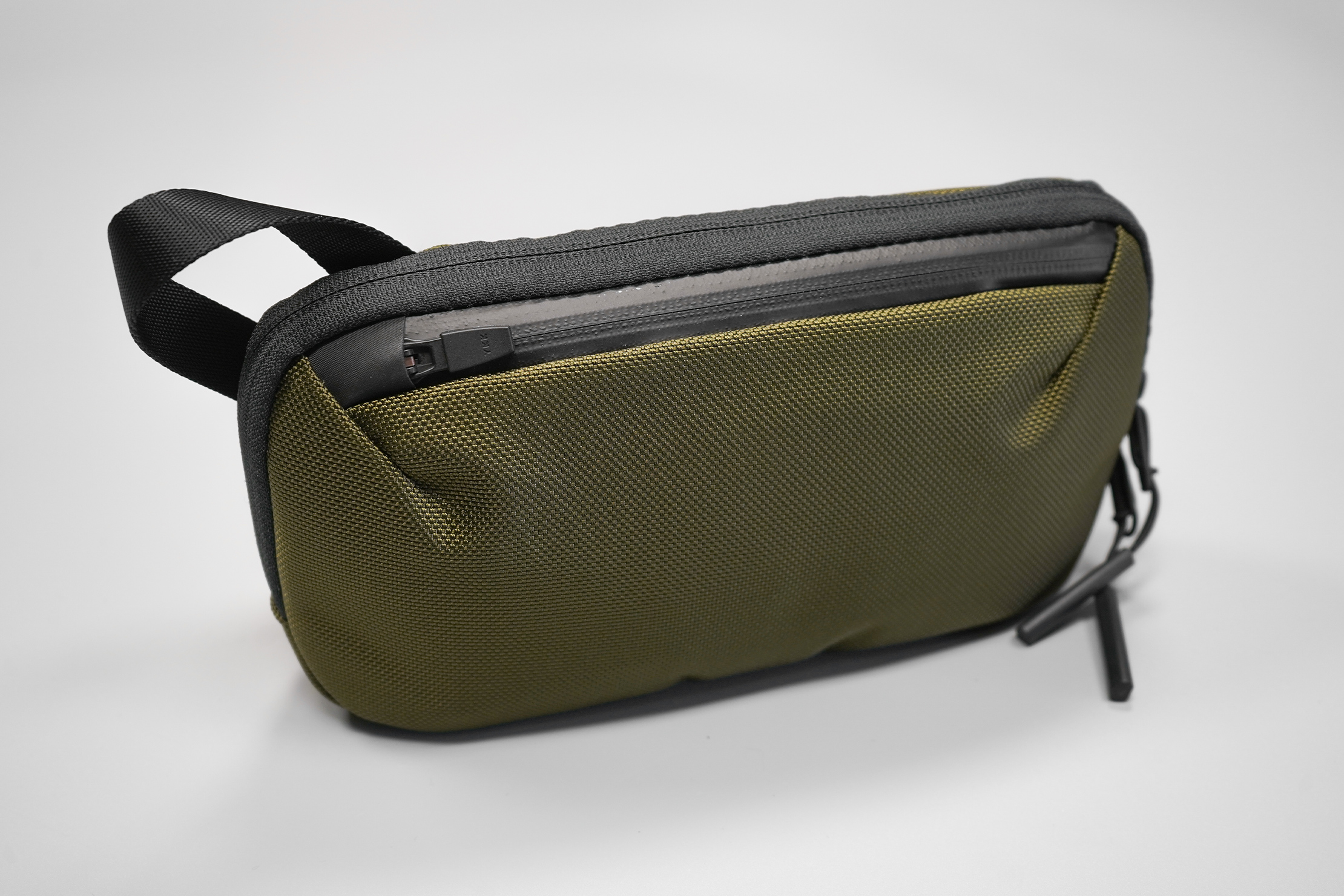 As part of Aer's extensive collection, the Slim Pouch is one of the most compact of the bunch. Thus, it's by no means an all-in-one solution, however. As a tech pouch, it quite literally lives in the shadow of its bigger brother, the Cable Kit 2 and other much larger pouches. For stand-alone pouches, Aer's own Sling lineup offer better portability.
Still, that shouldn't take away any potential the Slim Pouch has a tech pouch, and we'd have no problem fitting it into our Digital Nomad Packing List if we were writing that now. So if you just need something that fits easily inside your bag, holds all of your compact tech goodies, and will not hog all your desk space, then the Slim Pouch is the Aer for you.
Usage Timeline
Initial Usage
Condition: Excellent
Slim, portable design but still has great organization for your EDC tech gear
Quick-grab webbing loop for carrying or hanging
Stands up for easier access
2 Weeks of Use
Condition: Excellent
Love that it stands up on its own and takes up less real estate on a desk or table than a standard tech pouch
Similar concept to the Bellroy Standing Pouch—another great option
Wish the internal divider pockets had more "grip" on items
Internal zippered pocket is great for small items and dongles
External pocket for pens is a nice touch
Access the Pro Community Discussion
Get your questions about the Aer Slim Pouch answered from our team and the Pro Community right here on the page. Plus, join discussions with other members about gear, guides, and more.
Other Organizers & Pouches Reviews