Bellroy Standing Pouch Review
The Bellroy Standing Pouch incorporates stylish looks with simple, ingenious functionality, though we wish there were a couple more options for organization.
Our Verdict
Unlock the Pro Summary
Save time. Get access to brief summaries of our reviews so you can browse and make decisions more efficiently.
Pros
Takes up a small footprint on desk
Folds flat thanks to gusseted bottom
Uses 100% eco-friendly recycled polyester
Cons
Zipper leaves a tiny but noticeable gap when closed
Could use an additional pocket or two
Material can pick up dust & fluff
Recent Pack Hacker Video
Technical Details
Dimensions

6.3 in x 7.87 in x 2.75 in (16 x 20 x 7 cm)

Notable Materials

Polyester, Nylon, YKK Zippers, Leather

Manufacturing Country

Vietnam

Warranty Information
Full Review
As the whole work-from-home trend accelerates with each passing day, more people now find themselves compressing entire workspaces from their offices onto spare tables at home. But getting things messy and disordered is too easy if you decide to dump your work stuff on the table. Trust us, we've worked through our fair share of WFH blues as well. Why not a pouch to keep things orderly then?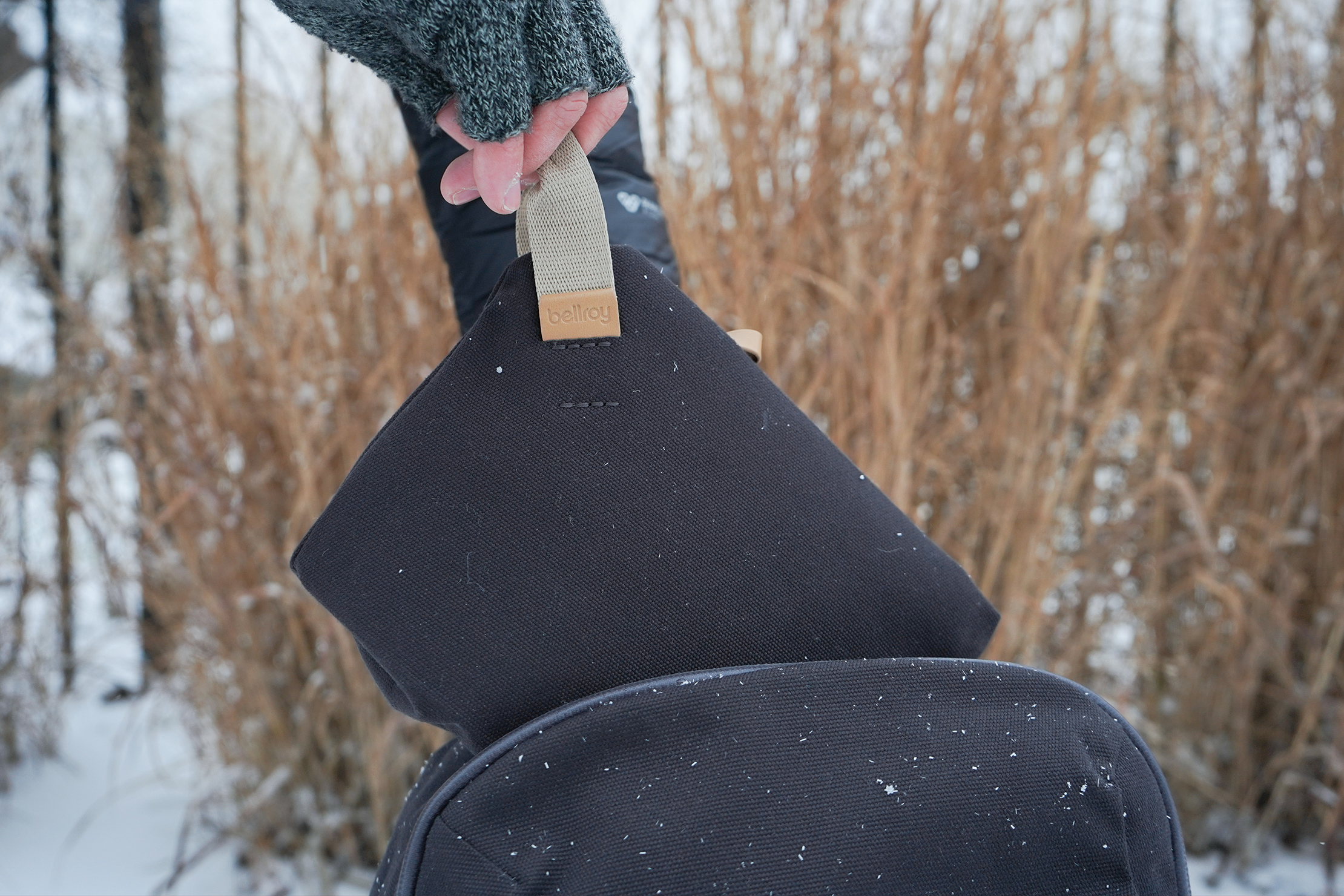 The Bellroy Standing Pouch holds your things when you don't need them but keeps them within arm's reach. It's a no-nonsense pouch with sufficient organization that doesn't go overboard with zippers and a fleet of pockets. Also, since this is a Bellroy product, it's a lot chicer than most utilitarian-style pouches. Who said no-nonsense couldn't be pretty?
But Bellroy doesn't have the only pouch game in town. To see if the Standing Pouch has what it takes to earn its spot on your desk, do read on.
Materials & Aesthetic
Looking at it from its standing position, the pouch lands on the more stylish side of the fence. It has a tall and inverted, slightly trapezoidal profile, only interrupted by a handle located at the pouch's upper-left corner. This handle is embellished with a small Bellroy logo, located near the stitching point. It's a relatively simple design with no significant detractions from the usual Bellroy design language.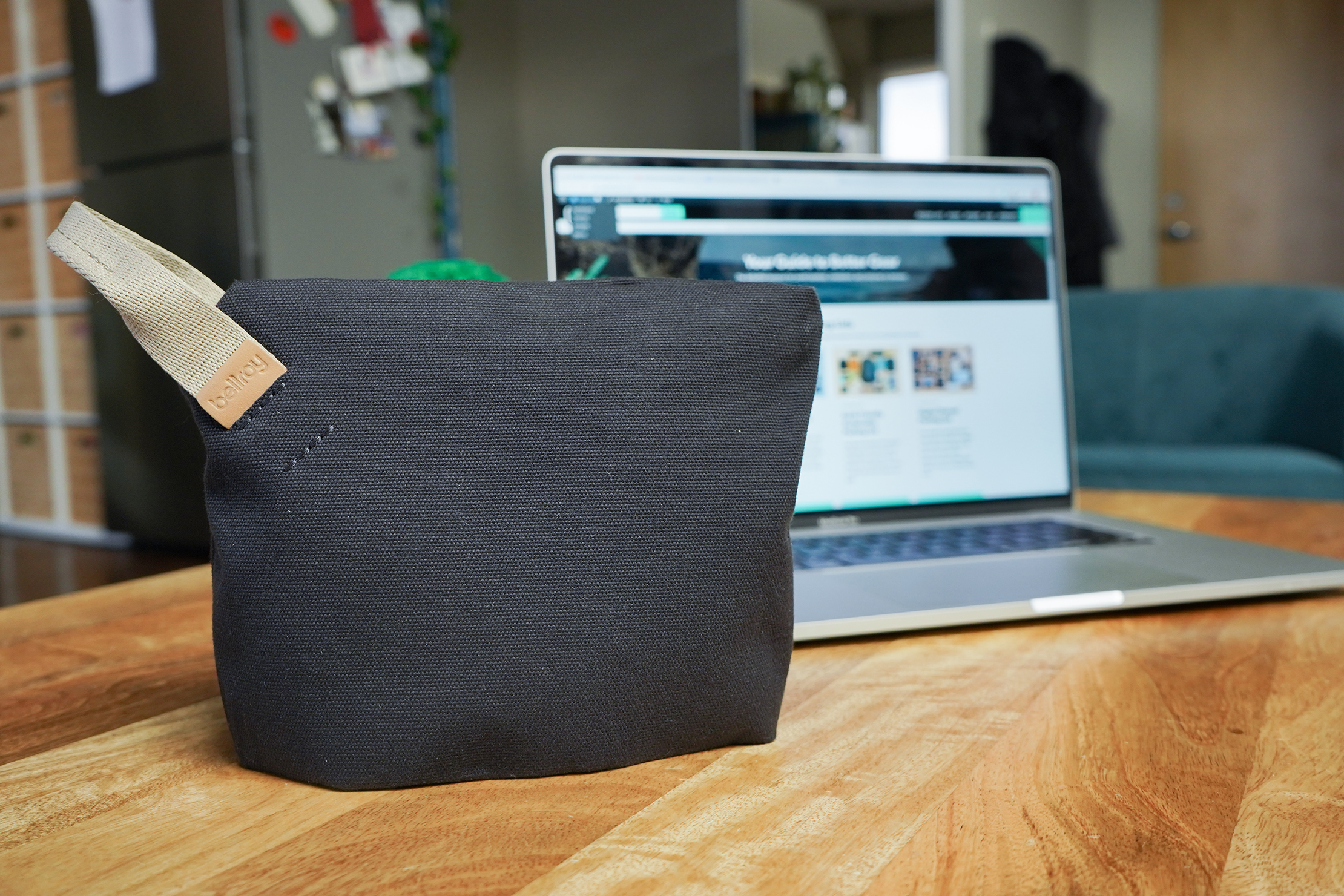 There are five colorways to choose from at the time of writing: Charcoal, Melbourne Black, Marine Blue, Gumnut, and Smoke Blue. Of course, here are the respective Pack Hacker translations: dark grey, black, blue, grey, light blue.
For most of those options, save for the Melbourne Black and Marine Blue ones, the corner handle acts as a nice contrasting accent piece. We can't help but dig the simplistic metropolitan aesthetic. It has a vibe that makes us want to work on our novel from a coffee shop located right across from a gallery downtown. Try not to knock it down to the floor, though, as the material is susceptible to picking up dust and fluff.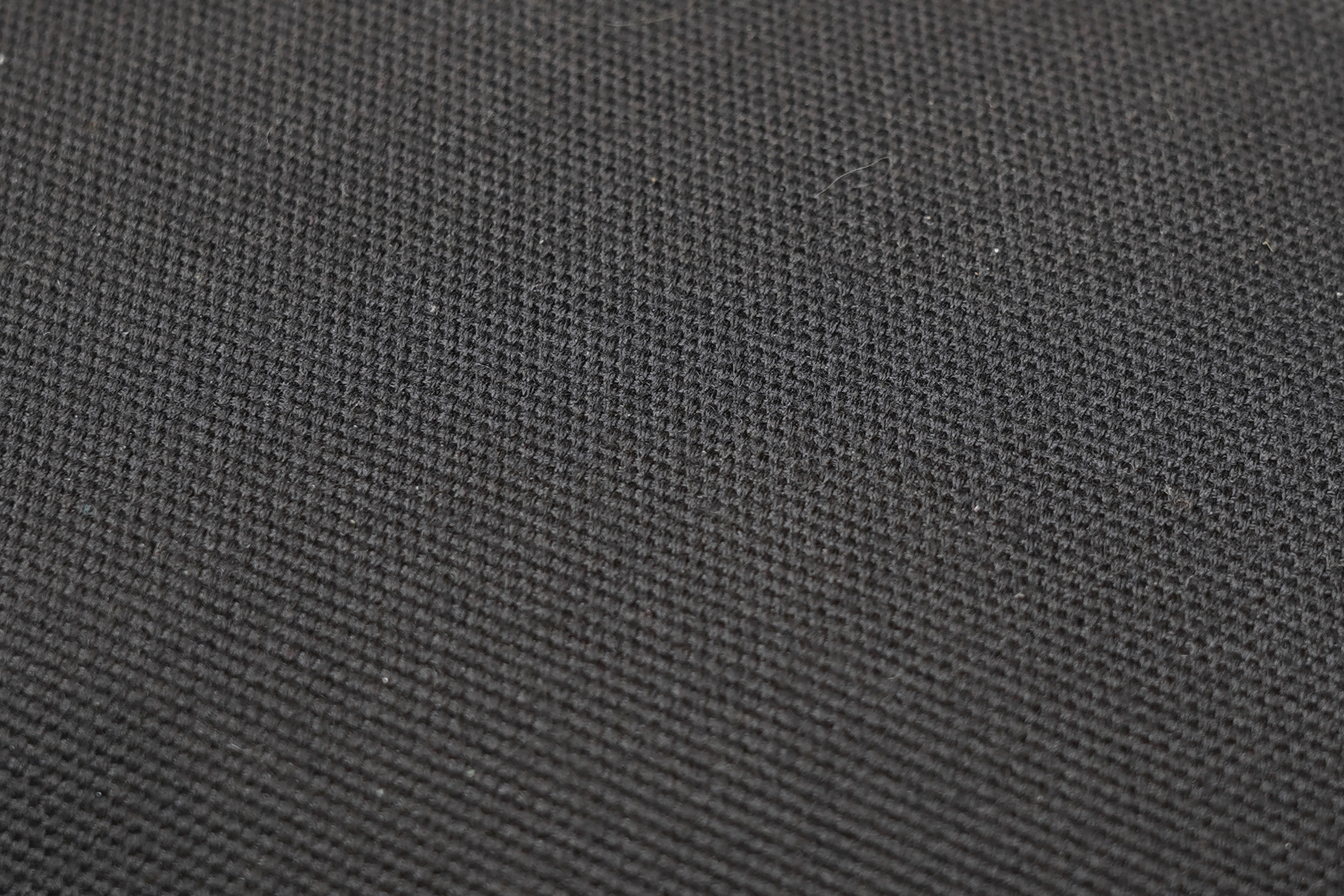 As a bonus, the environment-conscious among us will be delighted to know that the Gumnut and Smoke Blue are leather-free and made from "sustainably harvested wood pulp and upcycled cotton offcuts." We're not exactly textile manufacturing experts, but we'll take Bellroy's word for it when they say it's sustainable.
Usage
As far pouches go, the Standing Pouch is very simple in its design and use much like its aesthetic. Compared to other pouches we've tested, such as the Peak Design Tech Pouch or Tom Bihn Handy Little Thing Pouch, Bellroy has kept things to a minimum for the Standing Pouch.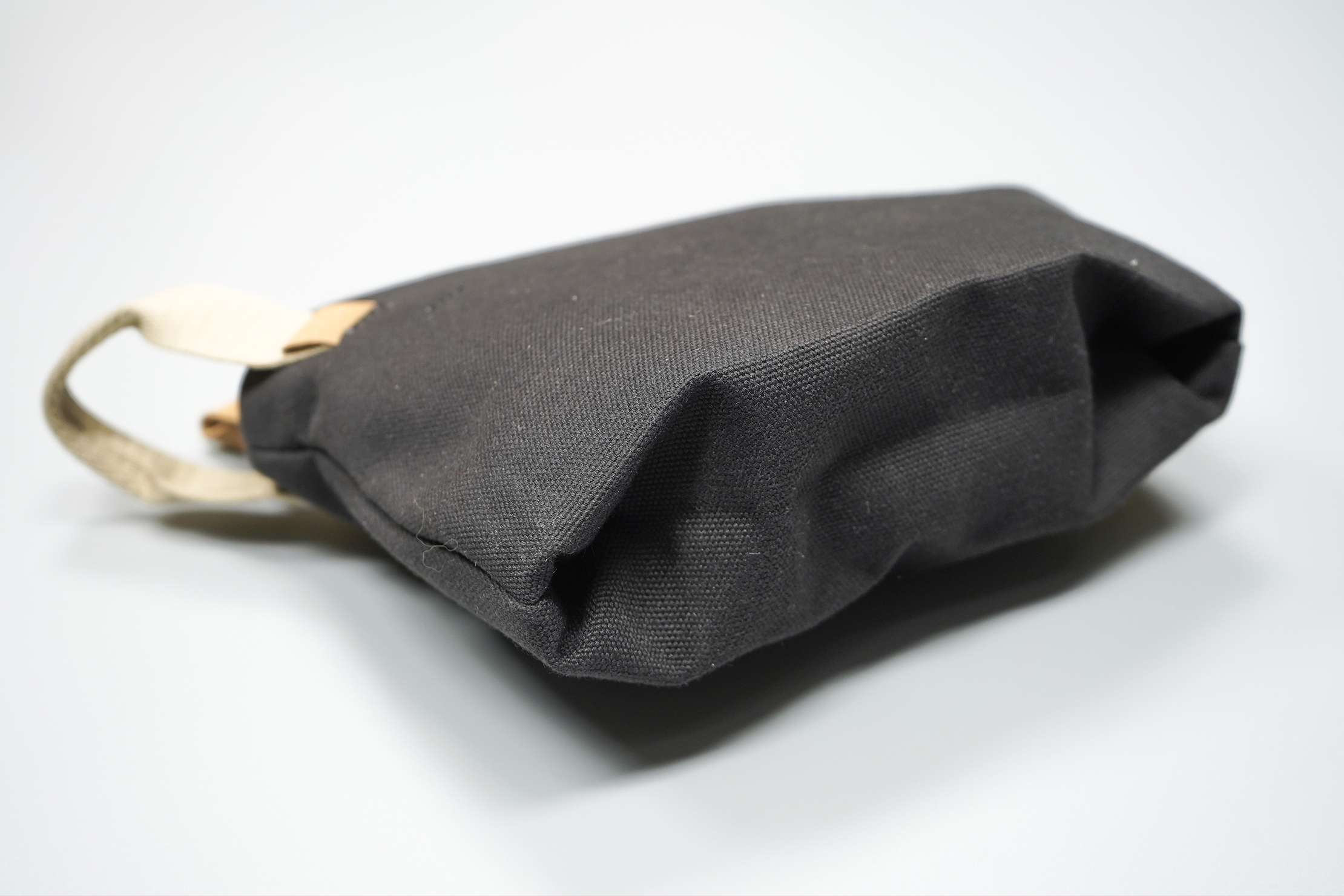 As the "Standing Pouch," it first and foremost has to be able to stand on its own, and indeed it does. Thanks to the gussets, the bottom can expand and form a flat floor to stand on. The slim design makes sure that the Standing Pouch also doesn't take too much space on your desk. It sits or instead stands, nicely beside your laptop or whatever it is that you're working on and doesn't get in the way. When not in use and emptied of its contents, the pouch folds almost entirely flat so that you can stow it away even between articles of clothing in your luggage.
The Standing Pouch is pretty bare from an organizational aspect. We've had a few pouches come and go recently here at Pack Hacker, and we have to say that we've been spoiled by the number of pockets those offer over the Standing Pouch.

There are no external pockets to speak of, so you'll instead be relying solely on the main compartment. And while we dig the pouch's clean look, we wouldn't mind trading a bit of the clean look for another pocket for better separation and easier access to items.
On that note, we did notice something with the YKK reverse coil zipper. When fully closed, there's a small gap that the zipper can't fully seal. Given the right conditions, say when you're in a hurry to leave and haphazardly close the zipper, a dongle might push its way through if jostled severely around inside your bag. This isn't a big deal as nothing will fall out of it 95% of the time. But it does mean you have to make sure to close it up as best as you can to prevent further exacerbating a potential problem. Either way, there's no separate internal zippered pocket, so your small dongles will fly around inside the pouch even if they don't fall out.
Inside the main compartment are two mesh pockets, the main space and a secondary pocket. The mesh pockets are stretchable, and the excellent elasticity of the fabric means you don't have to worry too much about items getting misplaced or being buried in the middle.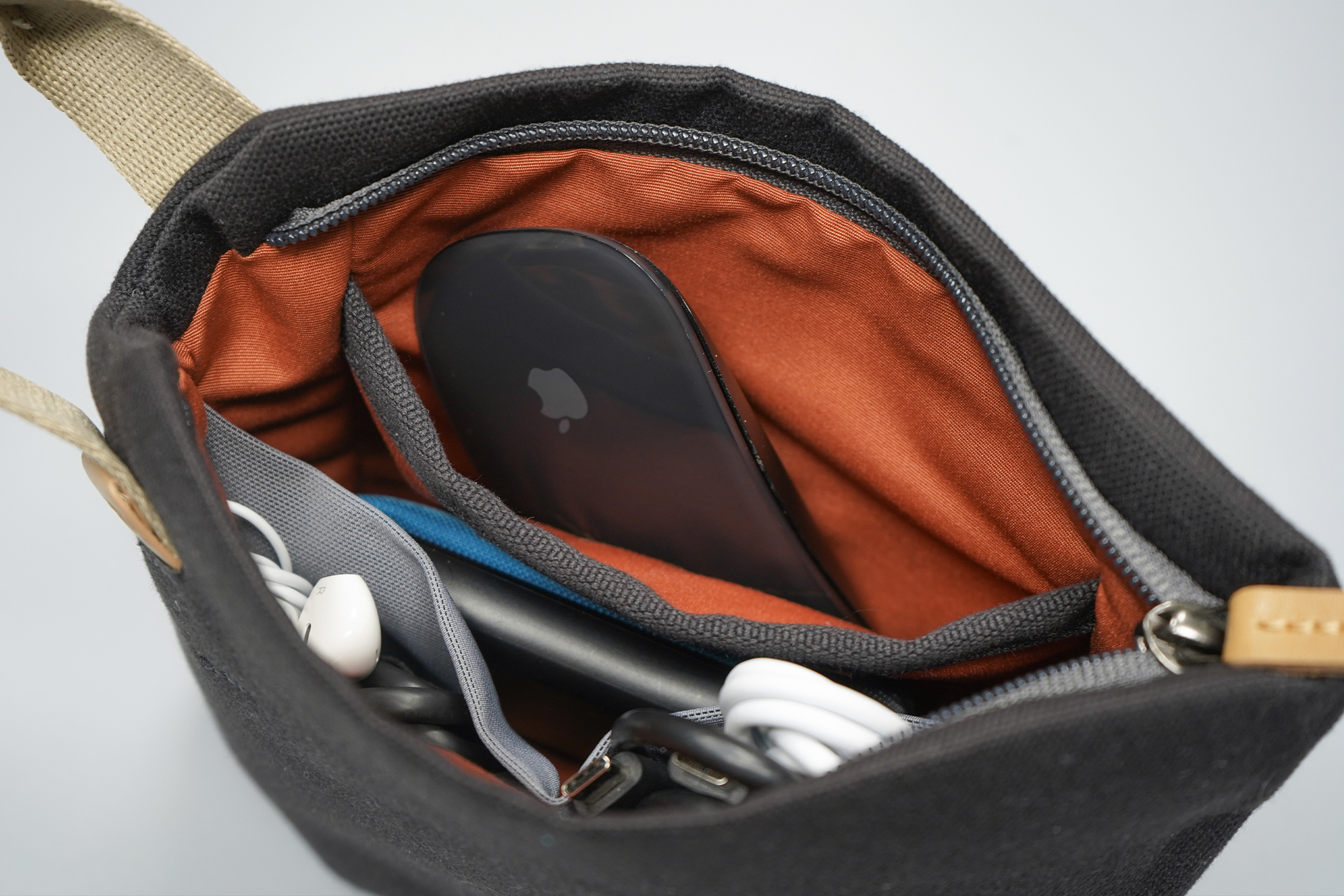 The main space in the middle is spacious enough to accommodate thick items like high-capacity power banks, external hard drives, or a small pill organizer. Likewise, the secondary pocket is also quite roomy, but this is more appropriate for markers, pens, and pencils. Bellroy seems to have intended the Standing pouch for more general-purpose usage, eliminating any feature that can be considered too niche or excessive.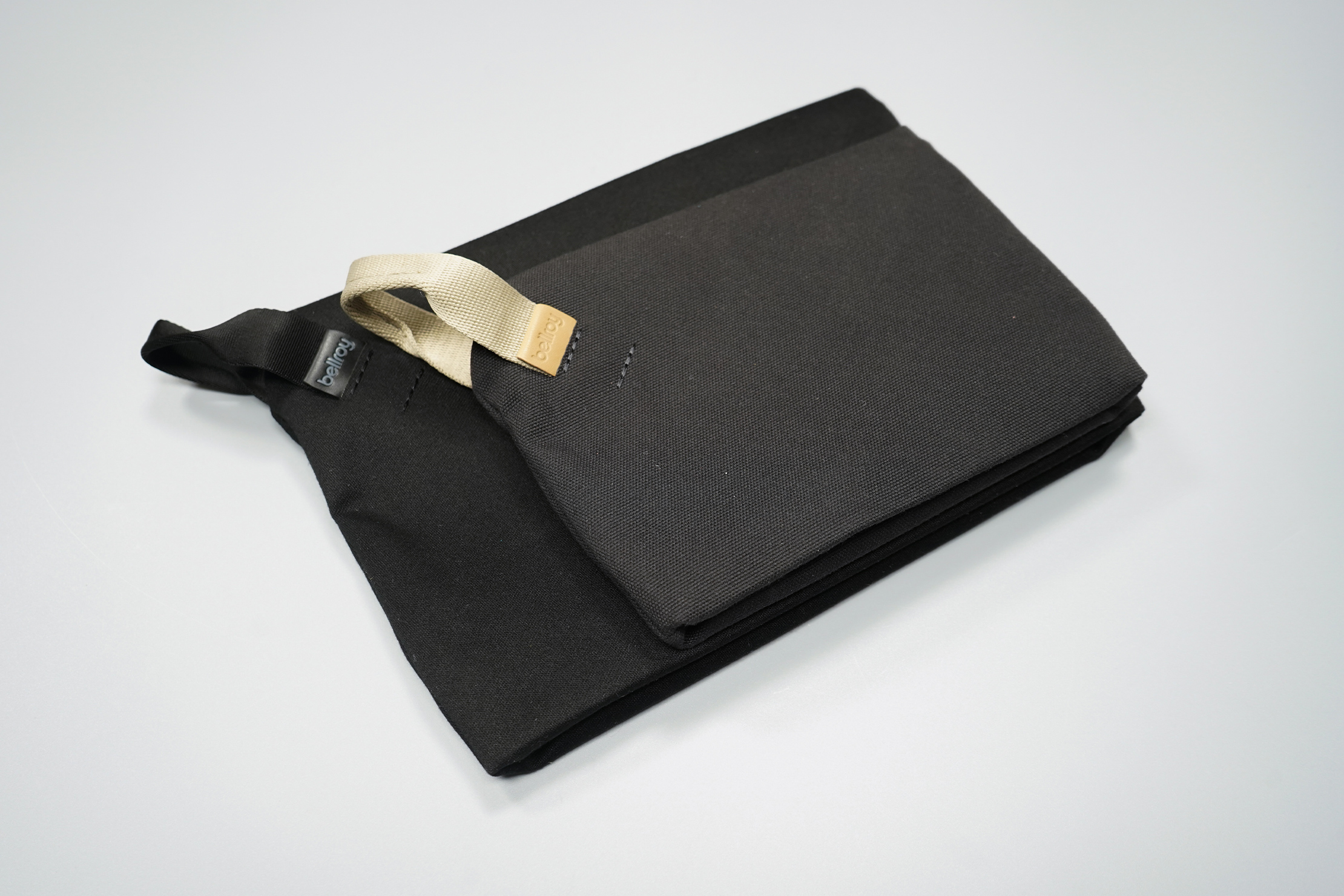 As simple as Bellroy's approach to its Standing Pouch is, the only worry worth noting here is the aforementioned zipper gap. We did not find the total of four pockets to be too lacking during our testing, though we did opt to use an additional small pouch for easily misplaced, tiny dongles to augment it. But those looking for a bit more granularity when it comes to storage need to look elsewhere.
There are more suitable ways to keep your tech gear organized in a similar form factor. The Bellroy Tech Kit, for example, has more tech-oriented features such as elastic loops for cables in addition to mesh pockets. That being said, the Tech Kit doesn't stand, occupies more space, and is more geared towards techies.
We do have to commend Bellroy for the healthy lineup of colorways they are offering for this pouch, plus the use of eco-friendly materials. This is something that other makers are starting to notice and have started to implement. So do consider holding up your current bag right next to your screen and try to match its fabric to Bellroy's color offerings. You might like what you see.
Usage Timeline
Initial Usage
Condition: Excellent
Gusseted design expands as you fill it
Pouch stands upright for easy access
Internal mesh sleeves can stretch to fit larger tech
2 Weeks of Use
Condition: Excellent
The best thing about this pouch is how little table or desk real estate it takes up when placed on a table
Noticed that the top zipper doesn't close all the way and leaves a very small space at the top where something really small—like an Apple Lightning to Micro USB Adapter—could slip out
There's enough organization without going overboard
Access the Pro Community Discussion
Get your questions about the Bellroy Standing Pouch answered from our team and the Pro Community right here on the page. Plus, join discussions with other members about gear, guides, and more.
Other Organizers & Pouches Reviews