How To Work From Home (Or Just About Anywhere)
Ahh… the joys of working from home. While working remotely gives you plenty of freedom and flexibility, it can be difficult to adjust to if you're used to going into a more traditional office every day.
For us, it's nothing new. We usually work remotely and several of us have traveled the world as Digital Nomads on trips that have lasted years—carrying everything we need to work full-time jobs while on the go. Plus, at the time of posting, our whole team is working from home (as are many of you).
So, what we're trying to say is, we have a ton of experience with the challenges of working from home, working remotely, and working with a team that's in different places and different time zones.
Over the years, we've learned a thing or two. And, in this post, we're going to cover ten tips that we find useful to turn those WFH challenges into advantages.
We have a lot to cover, so let's get to it.
Keep A Morning Routine
If you're used to going into an office, get up at the same time you normally would and go through your typical morning routine.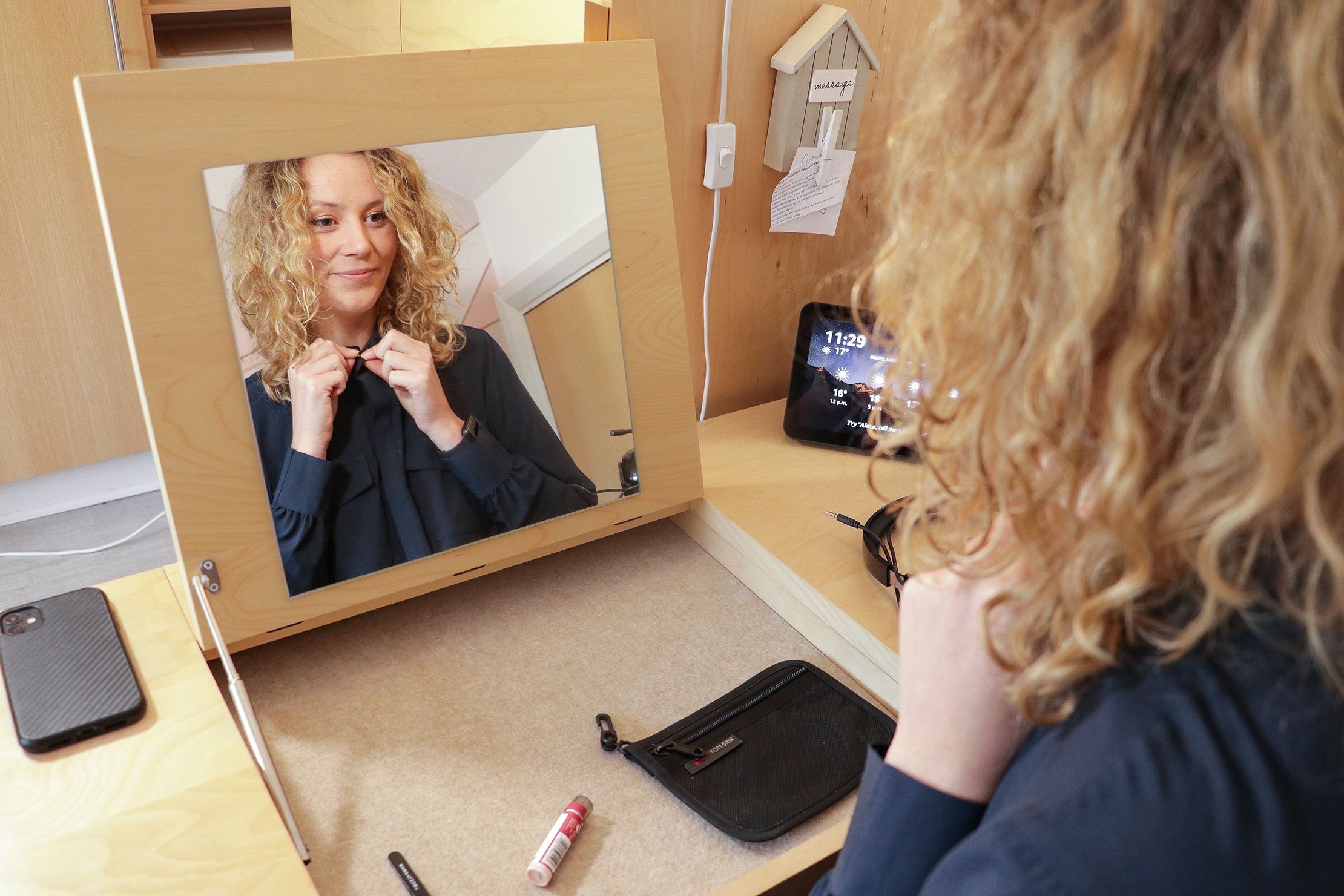 It doesn't have to be anything elaborate. Get up, shower if you're a shower-in-the-morning person, get dressed, and head to the kitchen table or home office for a day of work. Of course, how comfortable you want to dress is up to you, but we've found that getting dressed as if we're leaving the house—including putting on shoes—can help us feel more productive throughout the day working from home.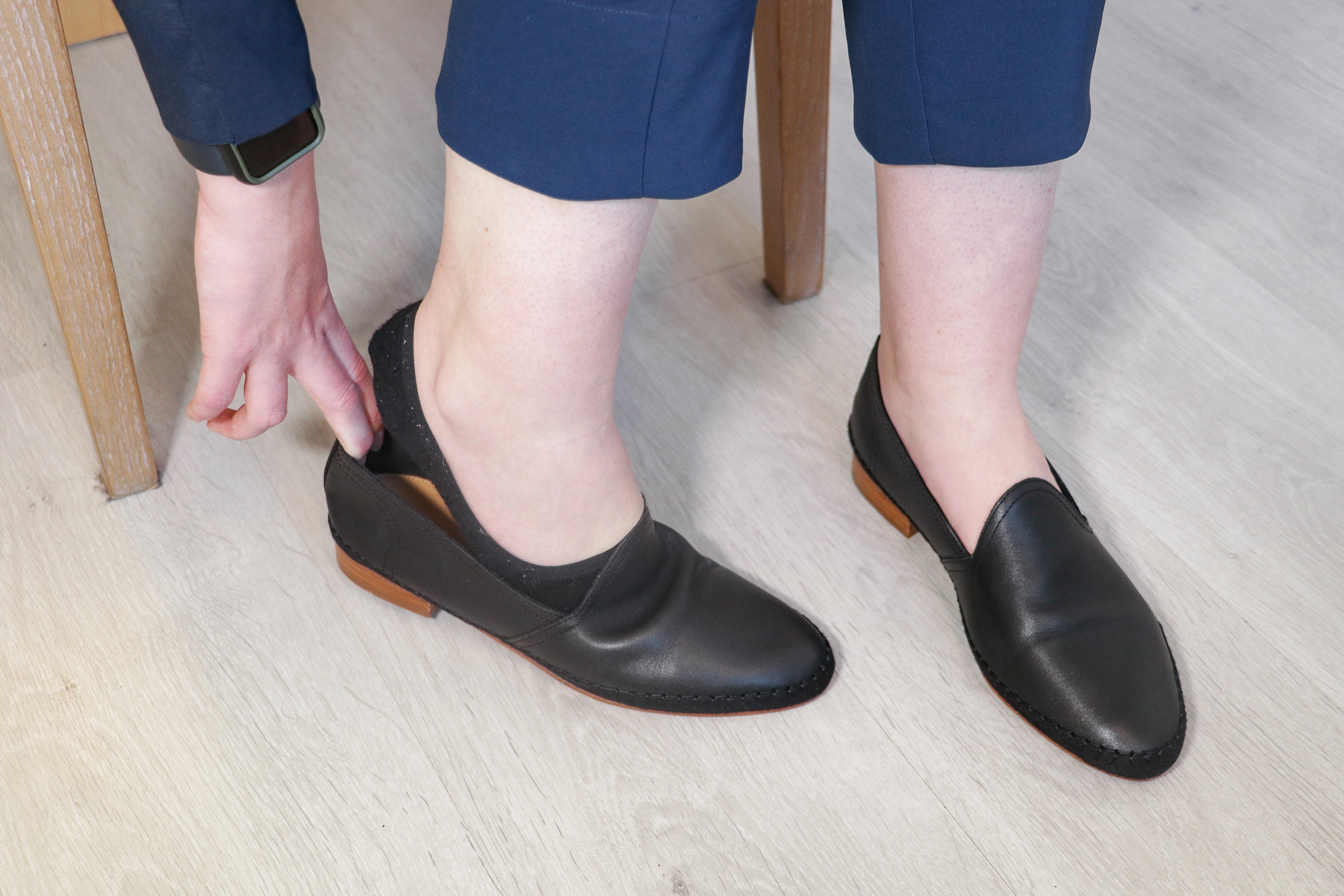 As a bonus, you'll probably have extra time in the morning since you don't have to factor in a commute. Take that time to do something other than sleeping in. Learn a new language, go for a run, watch a YouTube video (Pack Hacker's, of course), work on that model airplane you've been trying to glue together for the past six months, whatever. Starting the day with a little bonus time can put you in a good headspace so you feel ready to take on the day.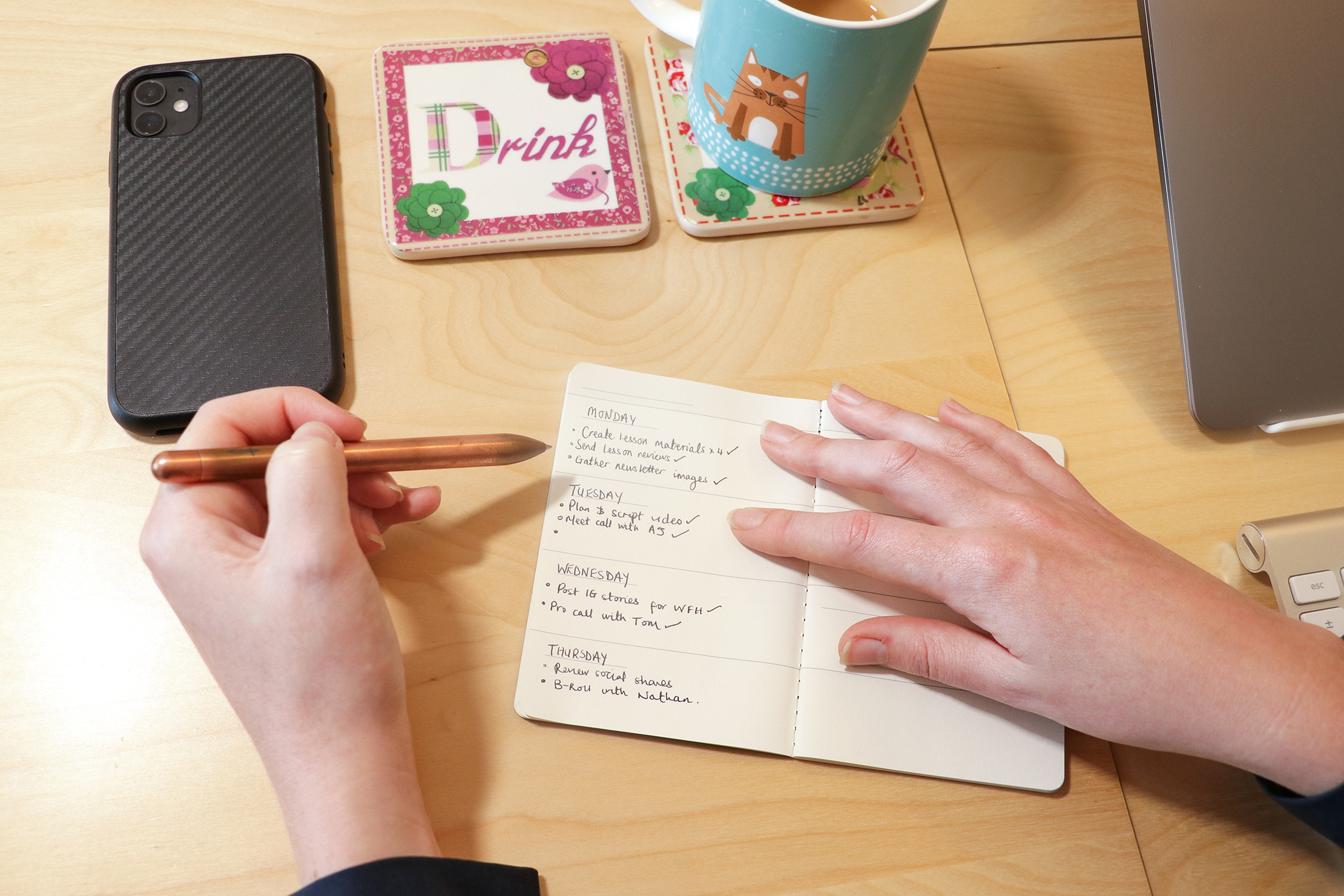 Or, if the morning is when you're most productive, start work earlier. The mornings are usually quieter and free of interruptions from your coworkers, so you may be able to get those bigger tasks done before anyone else signs on. Plus, it can make your afternoon less hectic—start with a busy, action-packed morning and taper off the afternoon nice and easy (in theory). If you're a morning person, you probably know this already.
Now, keeping a routine applies to the evening as well. If you have regularly scheduled plans or activities you do after work, try to keep those routines as well. (More on this in a bit.)
PRO TIP: If you can, plan your next day the night before for a clearer morning.
Emphasize Communication
When it comes to working from home, or working remotely in general, over-communicating tends to be better than under-communicating in just about every situation. At Pack Hacker, we have team members scattered in different places and time zones—and have worked at several other places with the same setup. Over-communication has become our default way to go.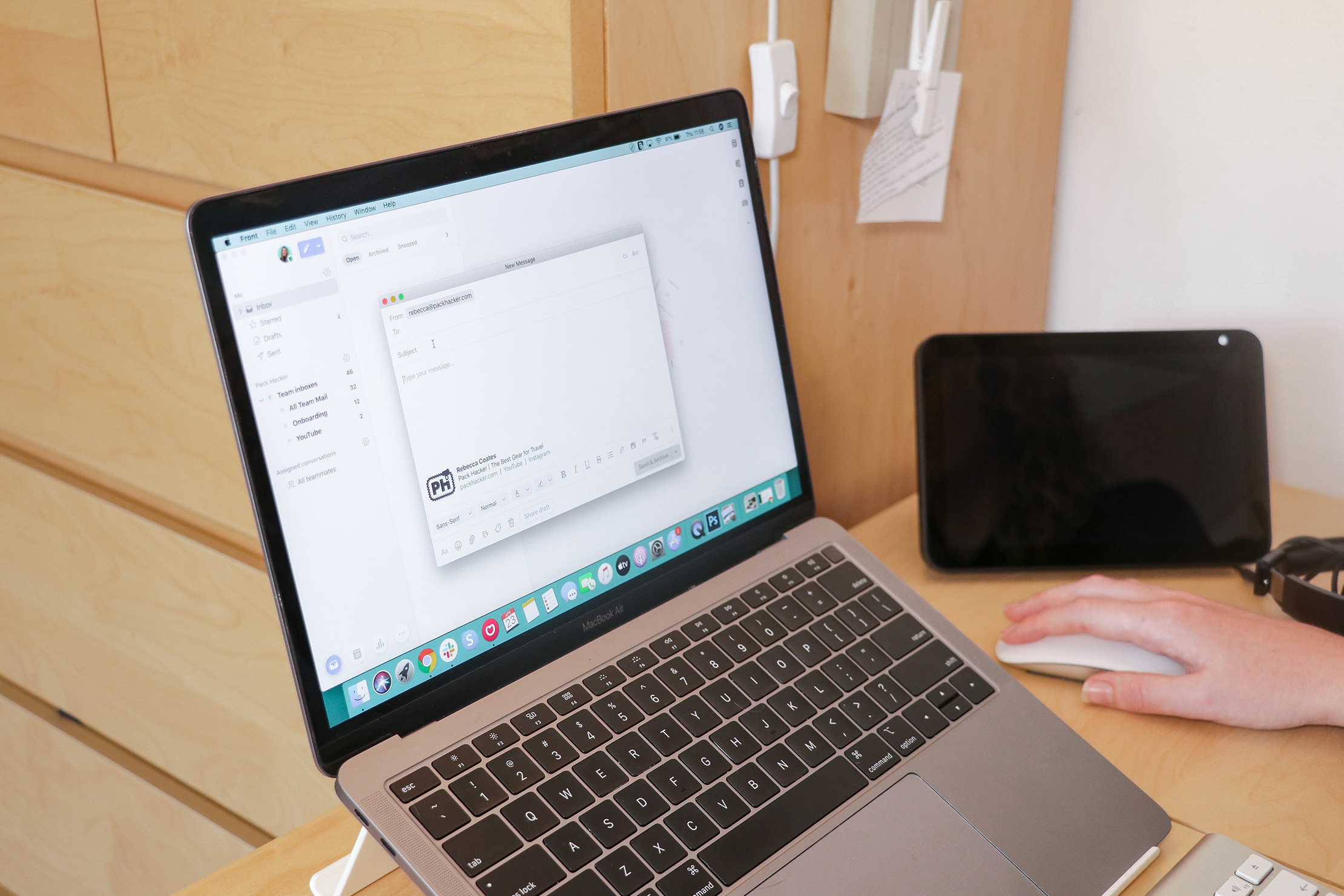 Before starting a new task or project, we've found that giving coworkers all the information (and then some) generally creates the best outcomes. If you can anticipate questions they might ask or areas they may get hung up on, try to preemptively provide answers or direction. Provide enough details and your coworkers will be set up for success, not stuck waiting for a response from you while you're busy on another task.
Heck, it may even be a good idea to communicate when you're taking a break for lunch away from your computer. That way, you can set expectations and no one is wondering why you're not responding to their Slack.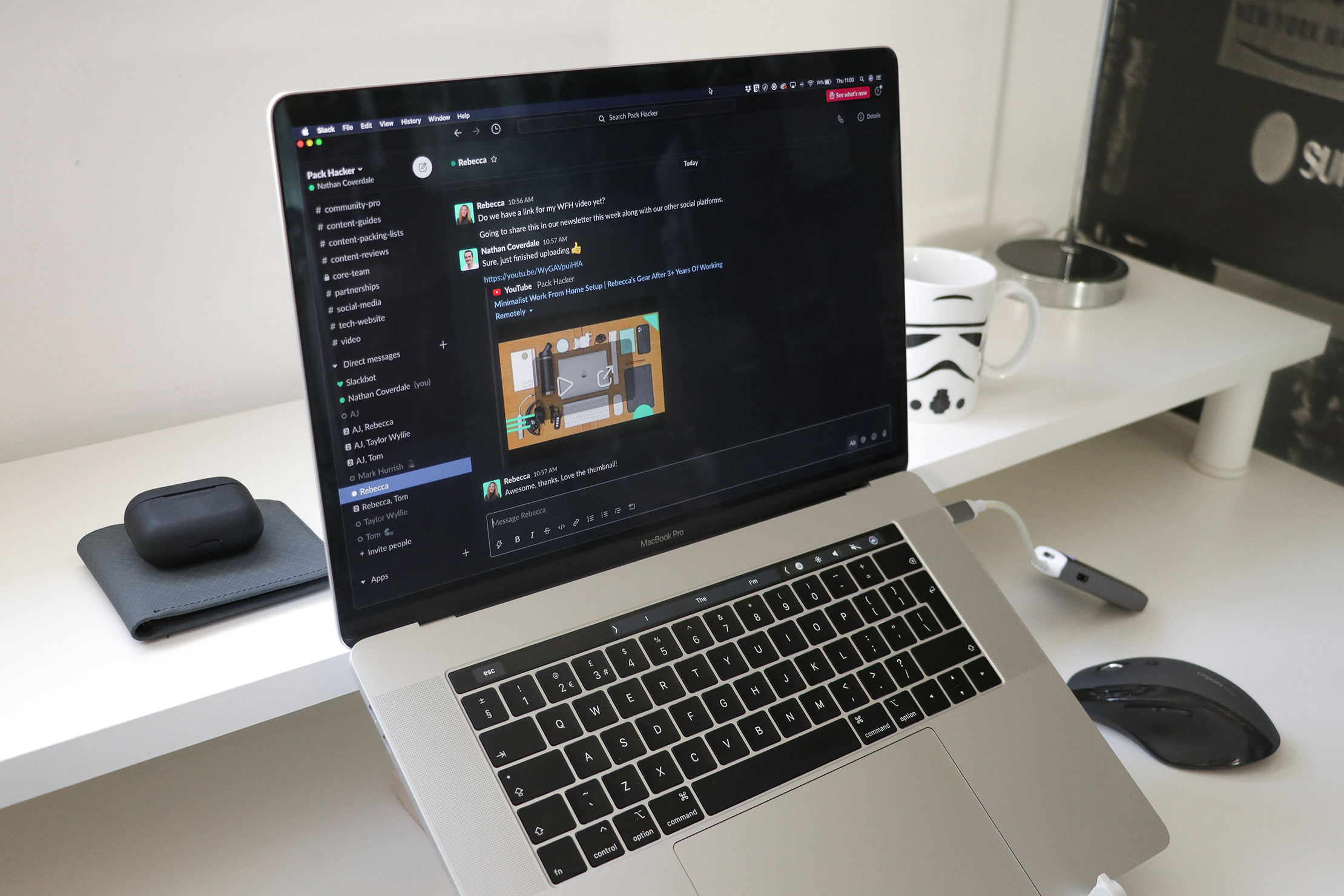 On the other side, the receiving end, if you're in doubt about something—ask. Don't assume you know the answer. We've found it's better to take a couple of minutes upfront to ask any clarifying questions you have, no matter how small they seem. Otherwise, the whole thing you're working on can turn out wrong which is both a waste of time and frustrating.
PRO TIP: Type someone's request back to them as confirmation to make sure you're both on the same page.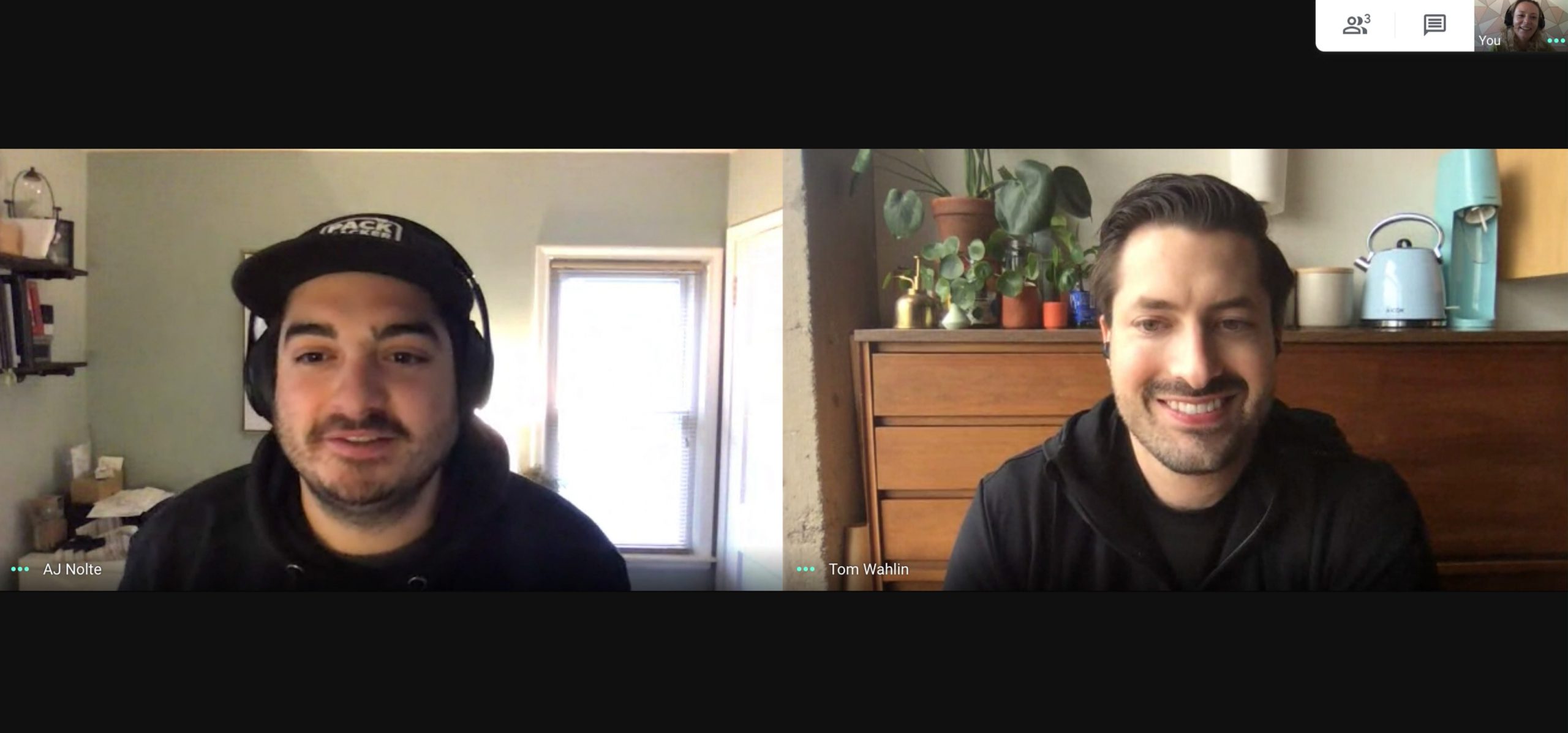 Last but not least, take advantage of video communication services like Zoom, Google Hangouts, etc. Fire up a chat spontaneously! Some things are just easier to communicate verbally and there's no need to wait for scheduled meeting times to chat face to face with a coworker when everyone's working from home. Plus, you can share your screen and show them exactly what you're talking about which usually saves time and confusion.
Be Prepared
When working from home, a ton of small (or not-so-small) things can go wrong. So be prepared. Especially for meetings.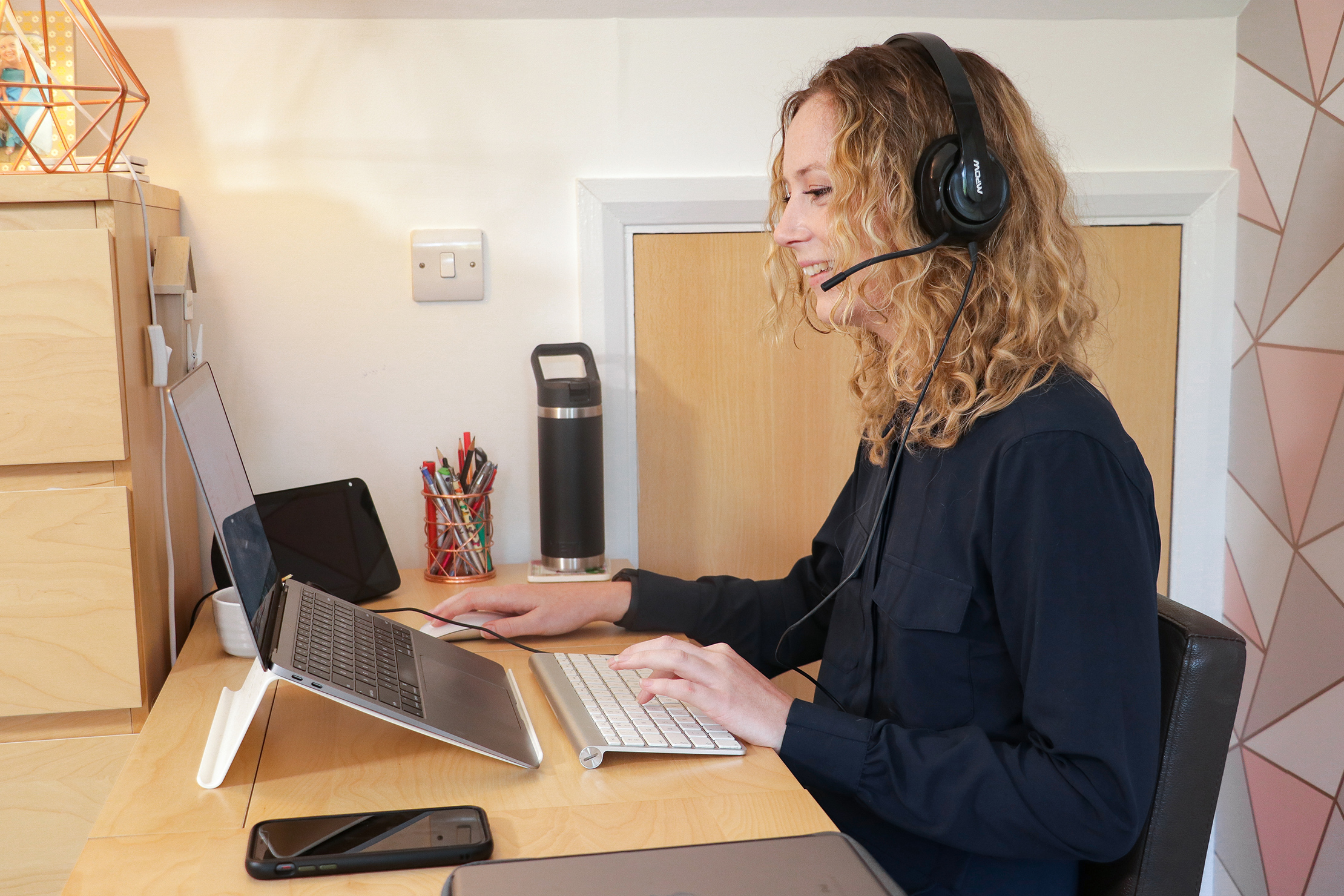 There are a bunch of video call services out there and we're fans of several—Google Meet/Hangout, Zoom, Facetime, Slack to name a few. Occasionally, one may be performing less optimal than another. Since you don't want anything to interfere with your meeting, we've found that having multiple video communication options at the ready means you can seamlessly transition a meeting to a different service if another is lagging. Some require you to download specific software, so keep that in mind and try to stay updated if you're using one of those platforms.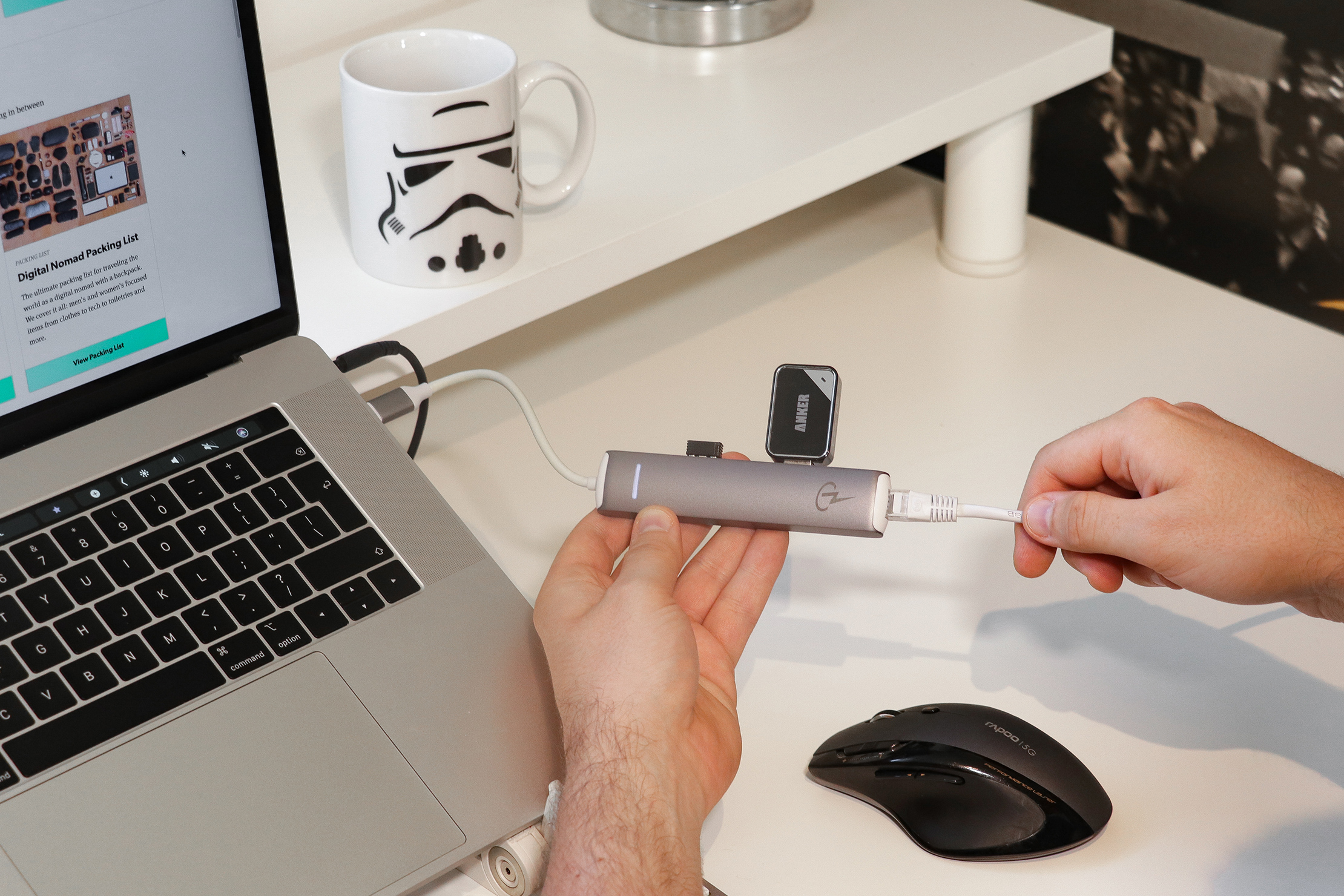 Another great way to be prepared is to plug directly into your modem or router with an ethernet cable. This hardline connection can boost your internet speeds and give you a more stable connection. It's almost a must for those really important meetings or if you're transferring, uploading, or downloading large files. We like keeping the Cable Matters Retractable Ethernet Cable around because it's much more compact and tidy than a traditional ethernet cable. We've written a whole post about gear we find helpful while working from home, so we won't go into much detail here.
If your connection goes down altogether, don't panic. There's usually a dial-in number for video meetings so you can join via phone. Keep your phone close by so you can quickly hop back on the call over your cellular network.
PRO TIP: Go to the bathroom and get a beverage ready before meetings—sometimes video calls can last a long time!
Maintain Office Habits
Sticking to some of your office habits can help make your WFH day run more smoothly. You'll feel more like you're at work—and ready to take care of business—than lounging around the house.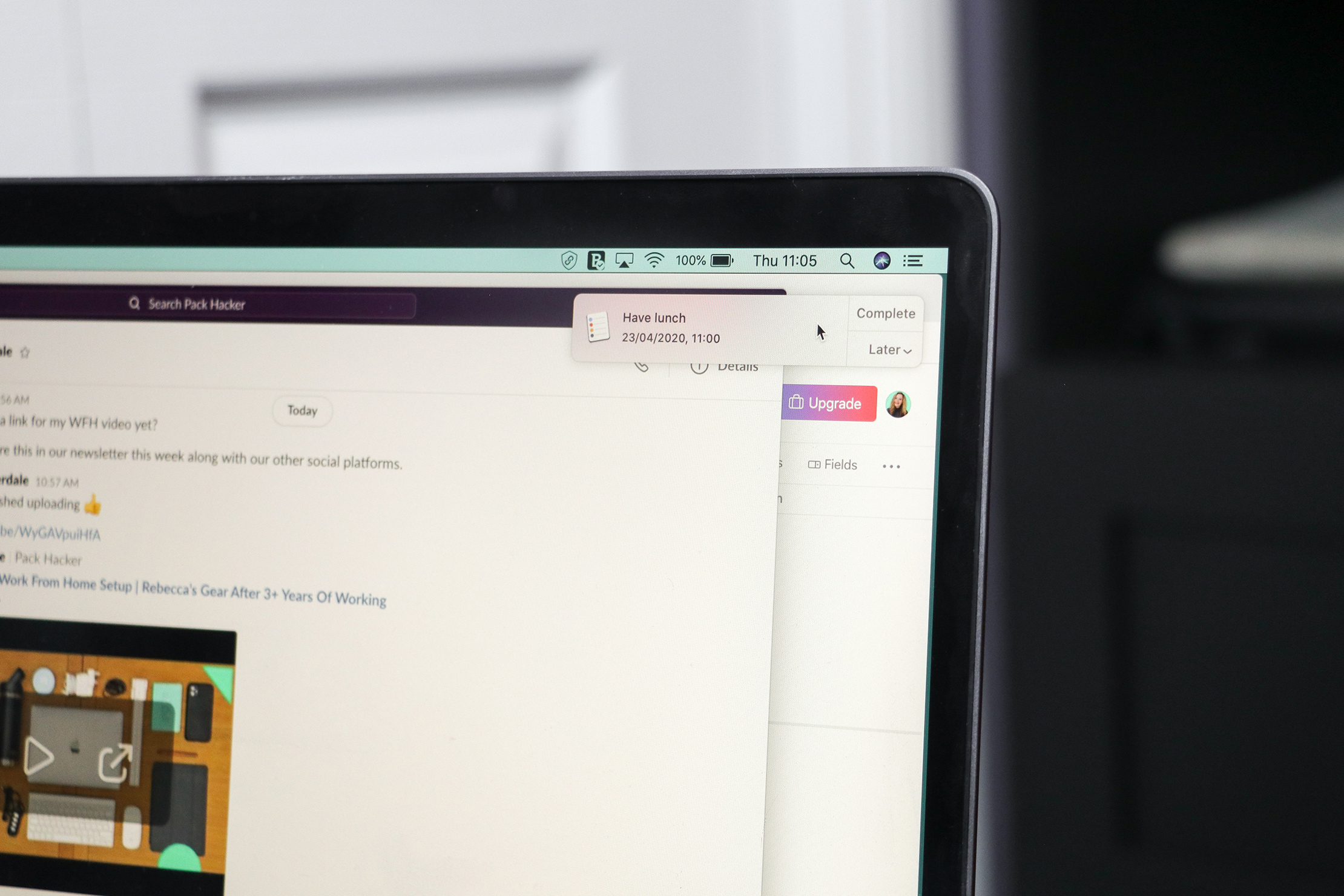 We've all had those days where you get busy and all of a sudden it's three o'clock and you've forgotten to eat lunch. Well, it can be easier to slip into that routine when working from home. Partially because your coworkers aren't around to remind you it's time to eat. We've found that scheduled breaks can help make sure the day doesn't slip away. Set alarms on your phone or your calendar to make sure you know when to take a break.
Try to avoid excess snacking. We love snacks just as much as the next, but sometimes it's best to avoid them if possible—just like when someone brings that box of donuts to the office. And, it can be easier to snack all day when you're at home with cabinets full of goodies. So hide the snacks you don't want to eat frequently. Even moving them to the back of the cupboard or to a higher shelf may be deterrent enough.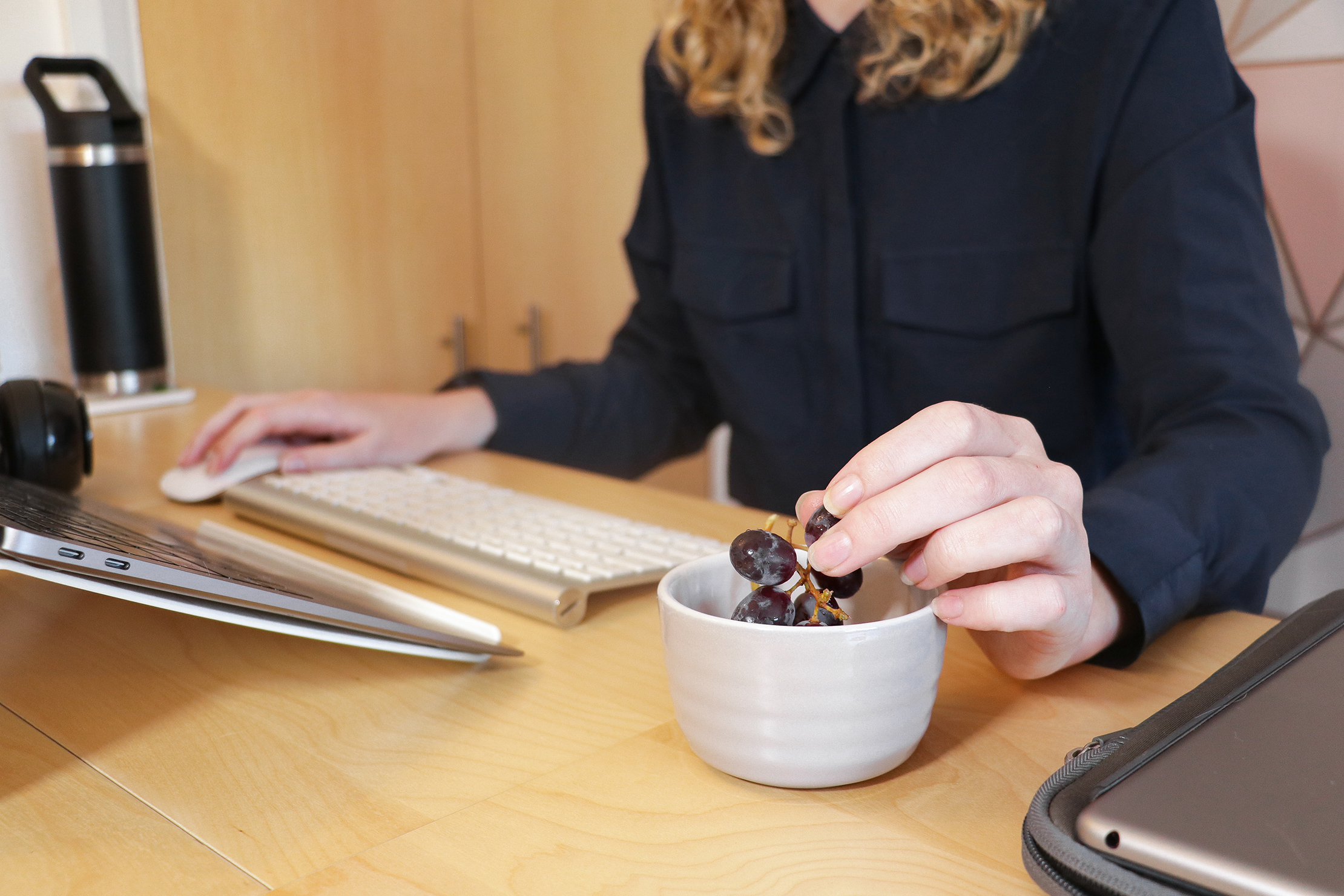 PRO TIP: If you want to snack, leave out something healthy like vegetables so you can graze throughout the day guilt-free.
Just like you leave the office, you can also "leave" your workday at home. Since you're not physically leaving your house when you're done working, finalizing the day is pretty important for work-life balance. Otherwise, you'd just be working all night (and no one wants to do that).
If you have a dedicated place you work at home—like a home office—you can leave the room at the end of the workday. Having that separation, or "commute" is a good signal that when you leave the home office for the night, the work ends.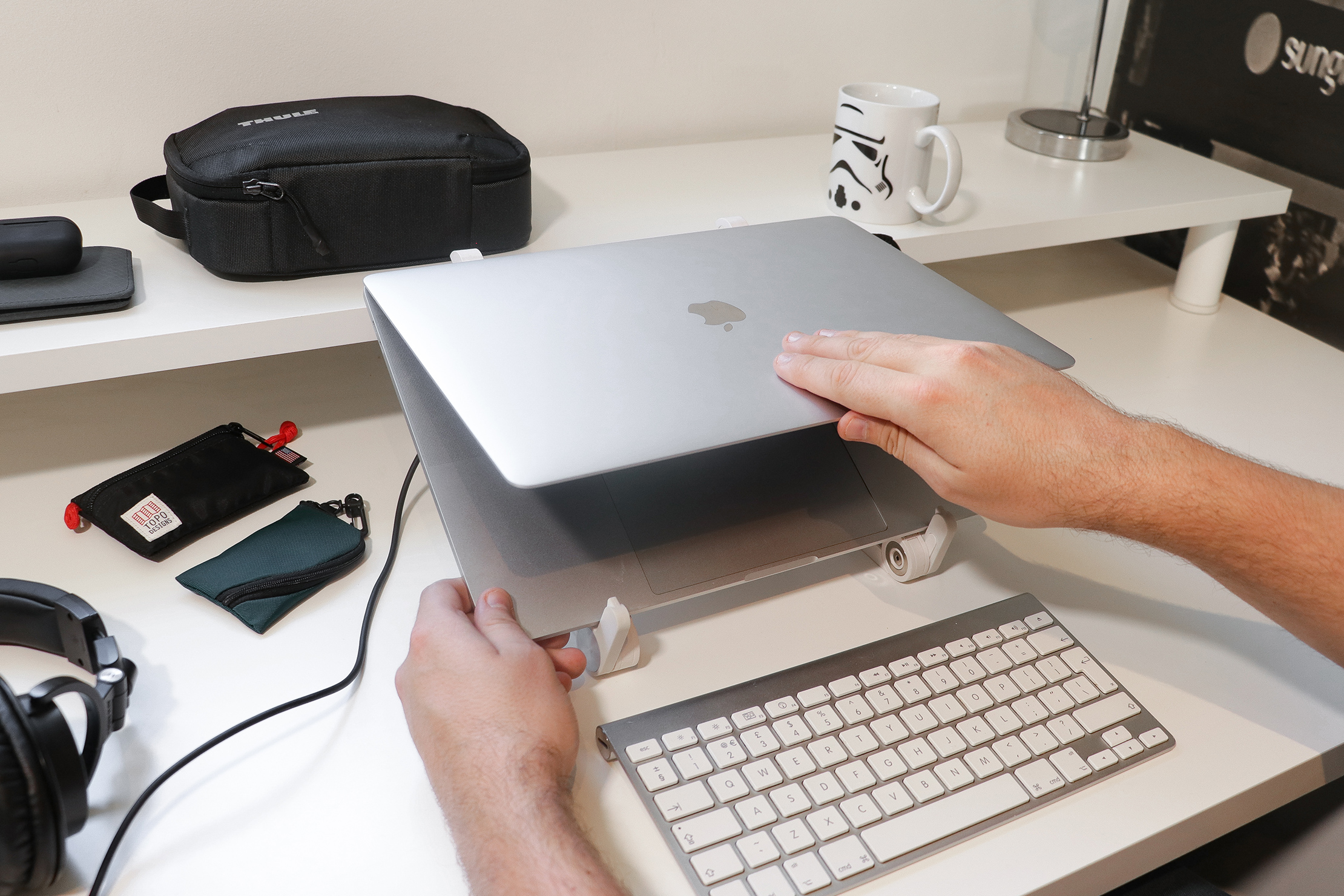 You can also close your laptop or shut down your computer at the end of each day to signal to yourself that work is over. We know folks who close their laptops every day at 6PM sharp. It may sound a little extreme, but it does provide a clear separation between work and life. Plus, it may keep you efficient—all your work for the day has to get done by 6PM, or it will wait until tomorrow. We've also found that packing up your mobile office is a good way to make sure the workday actually ends. Pack your laptop and all the tech accessories you use throughout the day into your backpack just like you would if you were commuting to and from an office.
Also, try ending each day with an activity like going for a run or watching a video to create a buffer between work and play.
Reduce Distractions
Working from home can create a whole new list of distractions that you don't have at an office (should we do a load of laundry real quick?). And, reducing those distractions is even more important while you're at home since there's typically no one else there to keep you on task. A lot of the same tactics you might use to stay focused at the office work while you're at home too.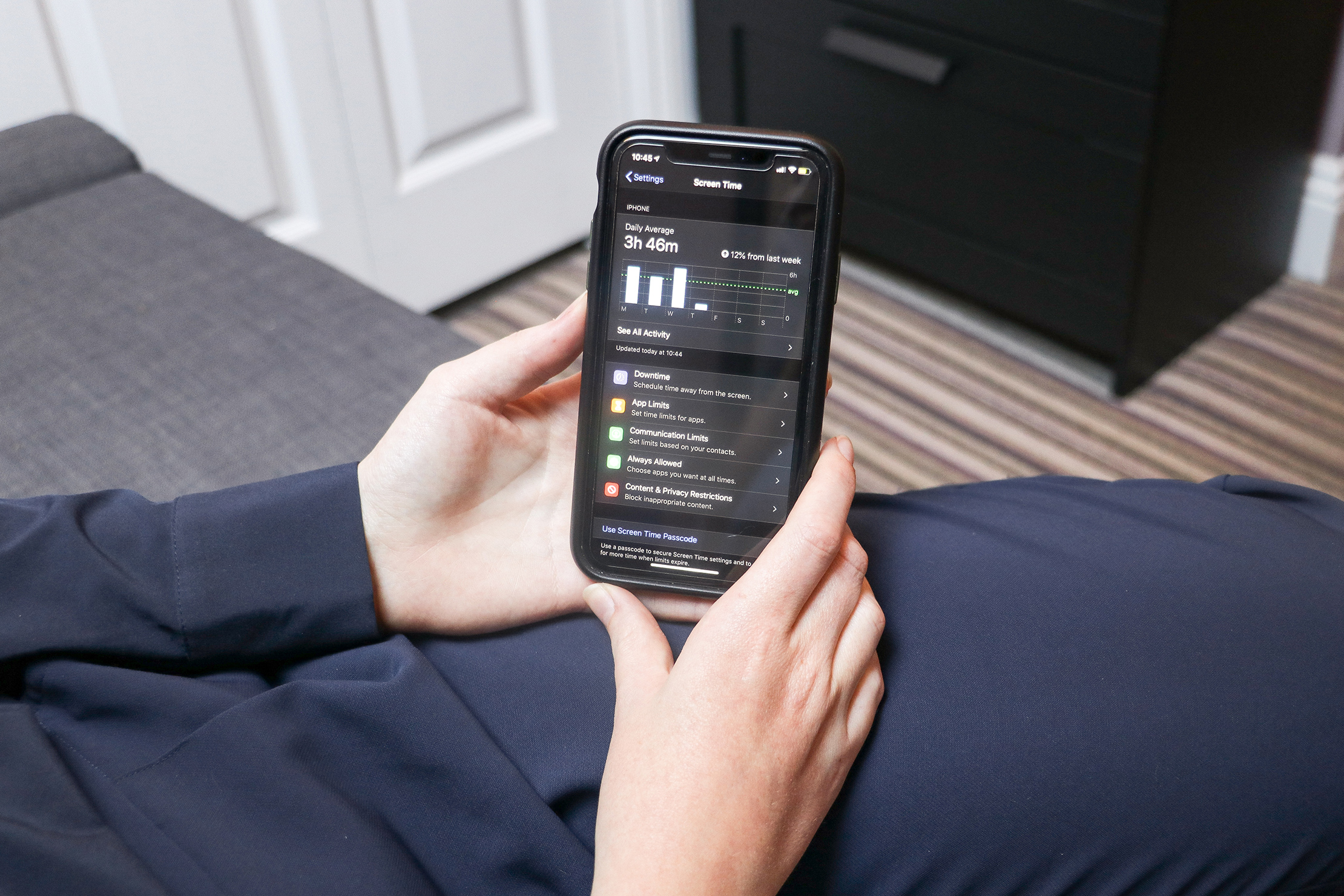 If you're easily distracted by social media or certain apps, hide them in a folder, block them with browser extensions, or remove them from your phone. You can also use apps like Apple Screen Time to get data on how often you use your phone and what apps you use.
If your phone is the problem in general, silence it and place it face down. If that's not enough, try putting it out of reach on a different shelf or table, or in another room. Adding physical distance may be enough to curb your need to check for new notifications.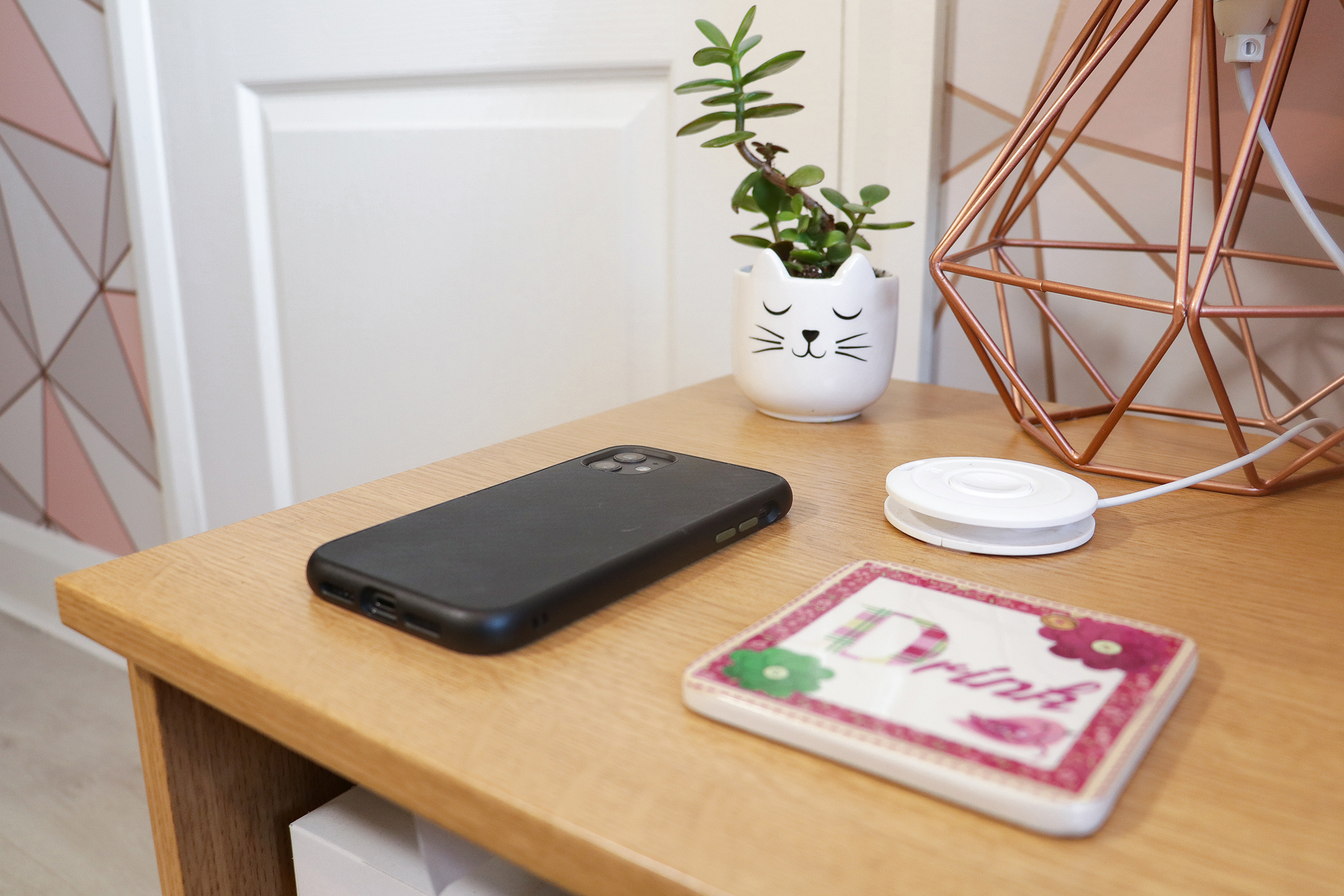 Set specific times to check emails and other communications and snooze notifications in between those times. Now, this may not be practical, or possible, depending on your position—for example, it's often unavoidable for managers of large teams. But we've found that carving out time for concentrated work is almost always better than jumping from one notification to the next throughout the day.
Another great way we get in the groove is with music. Music without lyrics seems to be less distracting and helps to get us in the zone when writing reviews or blog posts like this, creating new videos, coding new features on the website, etc. We're big fans of lo-fi beats here at Pack Hacker.
PRO TIP: Don't turn on the TV, even if it is "just for background noise." You'll likely end up watching whatever you've turned on more than you think.
Set Boundaries
Let's be real: things can get pretty casual when you're working from home. If you're at home with family, they may feel like they can pop in whenever. Or your friends may feel like they can call and chat just because you're not in a traditional office. Setting boundaries around your work hours and communicating them with friends and family can help minimize those unexpected interruptions and keep you focused throughout the day.
Now, communicating these boundaries is an important part here. If you want to take an hour-long nap in the middle of your day to recharge, go for it. Just make sure to communicate that with the folks you live with (and your team, of course) so the expectations are set.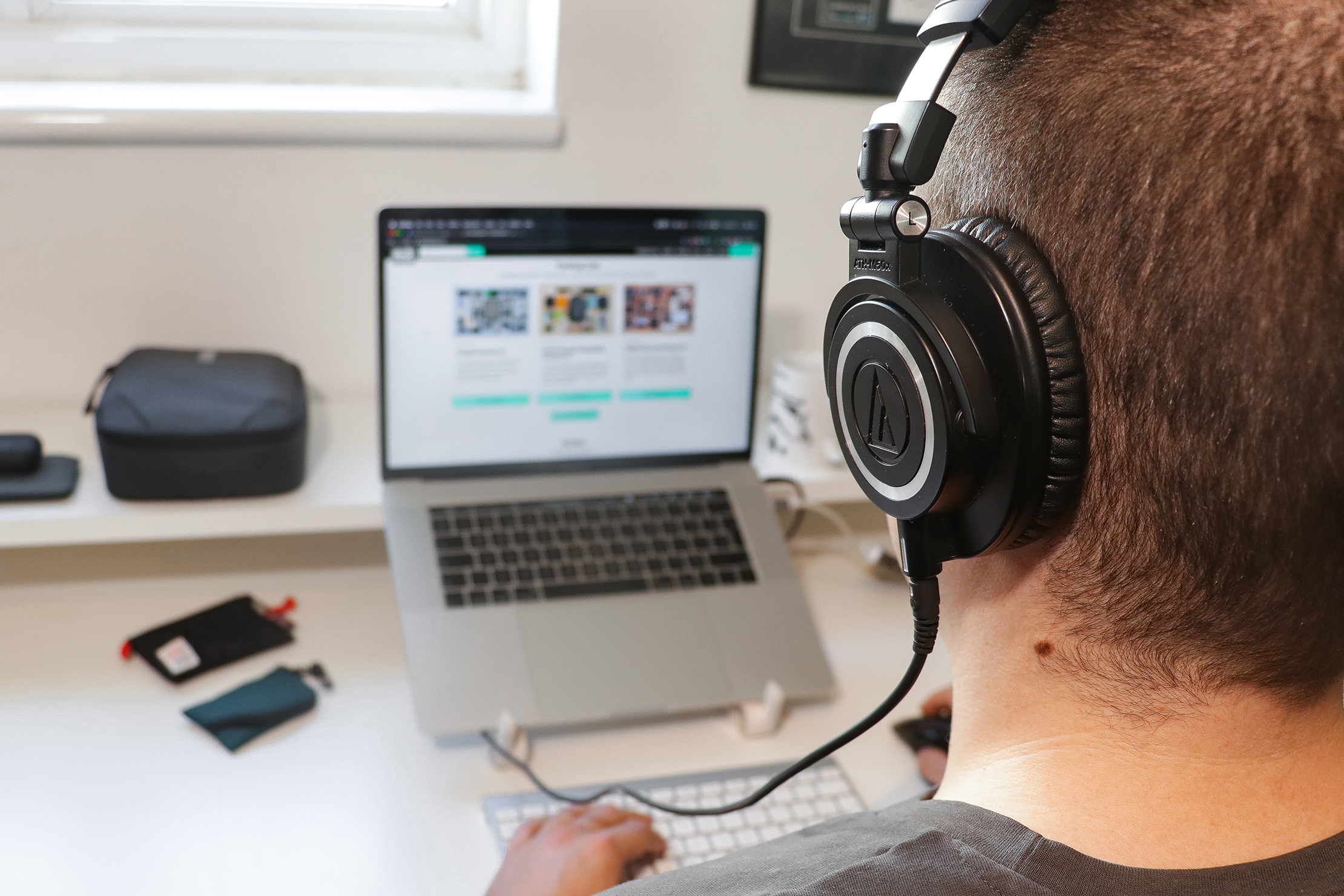 Also, when sharing your WFH space with a partner, your family, or roommates, having your own space to setup is great. Try to find a physical space away from the others in your home—even if it's just opposite corners of the same room.
Of course, if you're working from home with kids, some of this may be easier said than done. At the time of posting, none of the Pack Hacker team has kids, so we don't have many tips in this section for you professional parents.
PRO TIP: Use headphones to signal to people when you're busy. Communicate with the folks you live with that when you have your headphones on, you're in work mode.
Invest In Your Setup
Working from home doesn't have to mean slumping over your laptop on the couch all the time. Don't get us wrong, working on the couch can be a solid perk, but one of the great parts of working from home is being able to switch up where you work throughout the day. You may be able to optimize different setups sitting at the dining room table, standing in the kitchen, or lounging on the couch.

Over the years we've had to create and optimize different workspaces both at home and on the go. And, we've found that investing a little in your setup can go a long way to make it more ergonomic and you more productive.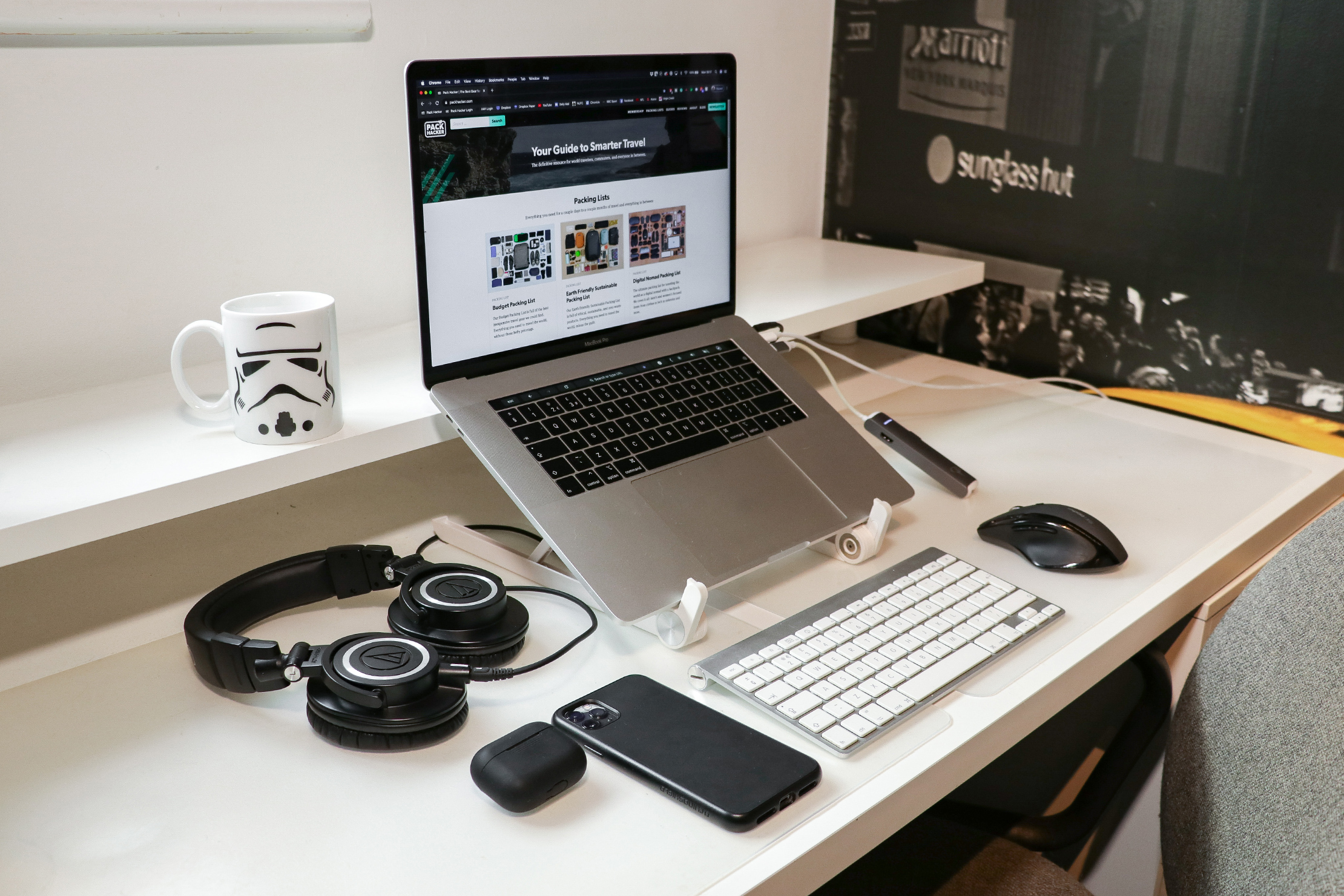 Laptop stands can help improve your posture since they raise the screen of your laptop to a more level eye-line. The Roost Stand and Nextstand K2 are two popular, portable, options.
Along with a laptop stand, we generally recommend getting a mouse and keyboard. There are a ton of options out there, so just make sure to find one that works for you. Not only will the laptop stand, mouse, and keyboard be good for ergonomics, they can also make your remote work setup feel more official.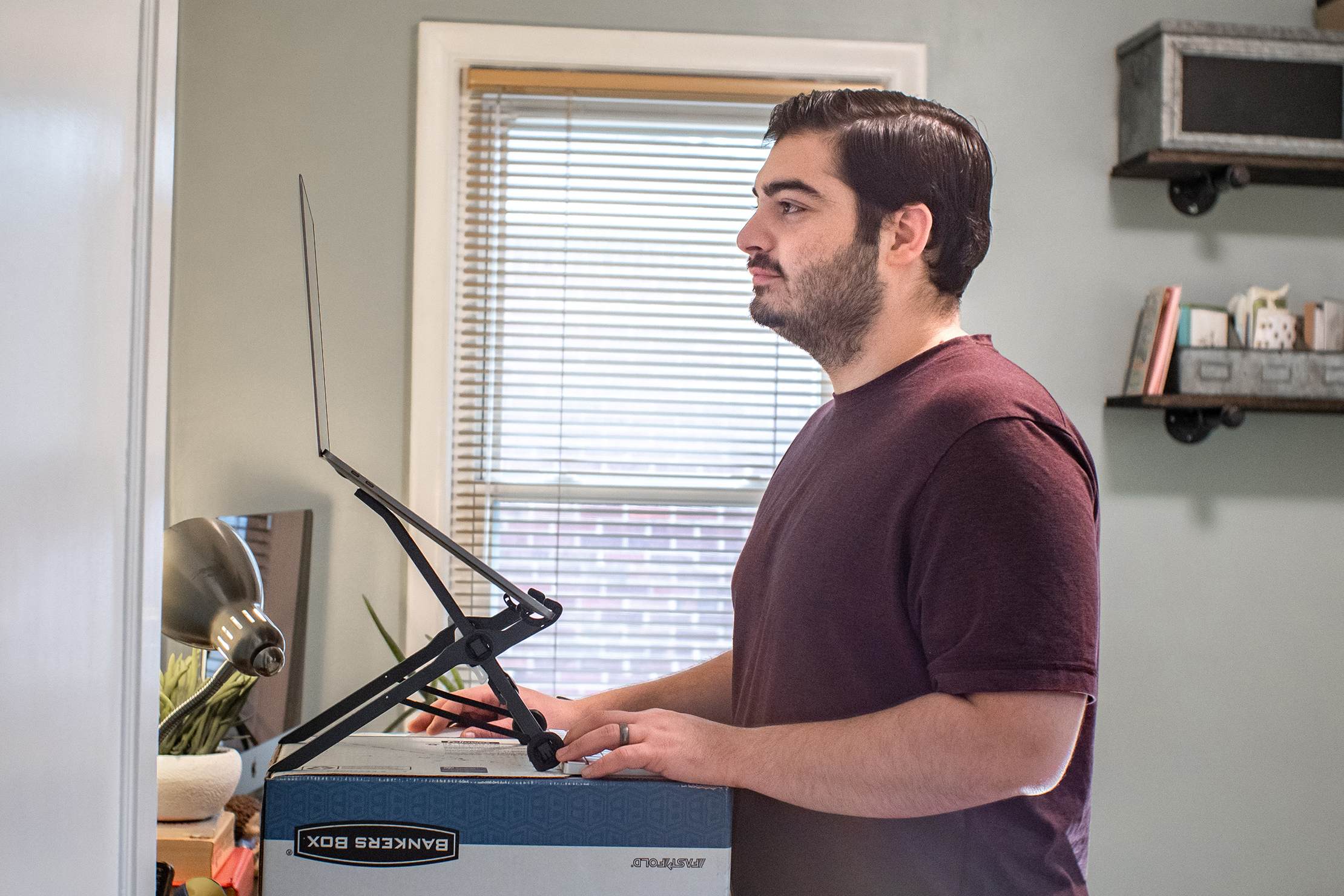 A standing desk is a great way to get you on your feet instead of sitting all day. You can buy a standing desk, which looks and feels great, but they tend to be expensive. You can also create a makeshift standing desk wherever you are by grabbing a box or chair and setting it on top of your regular desk or kitchen table.
Stay Active
You knew this was going to come up sooner or later, didn't you? Working from home can make you feel sedentary or sluggish since you're often sitting in the same place all day, multiple days in a row. So try to stay active if you can. That doesn't necessarily mean doing a full-blown leg day at lunch (although you could).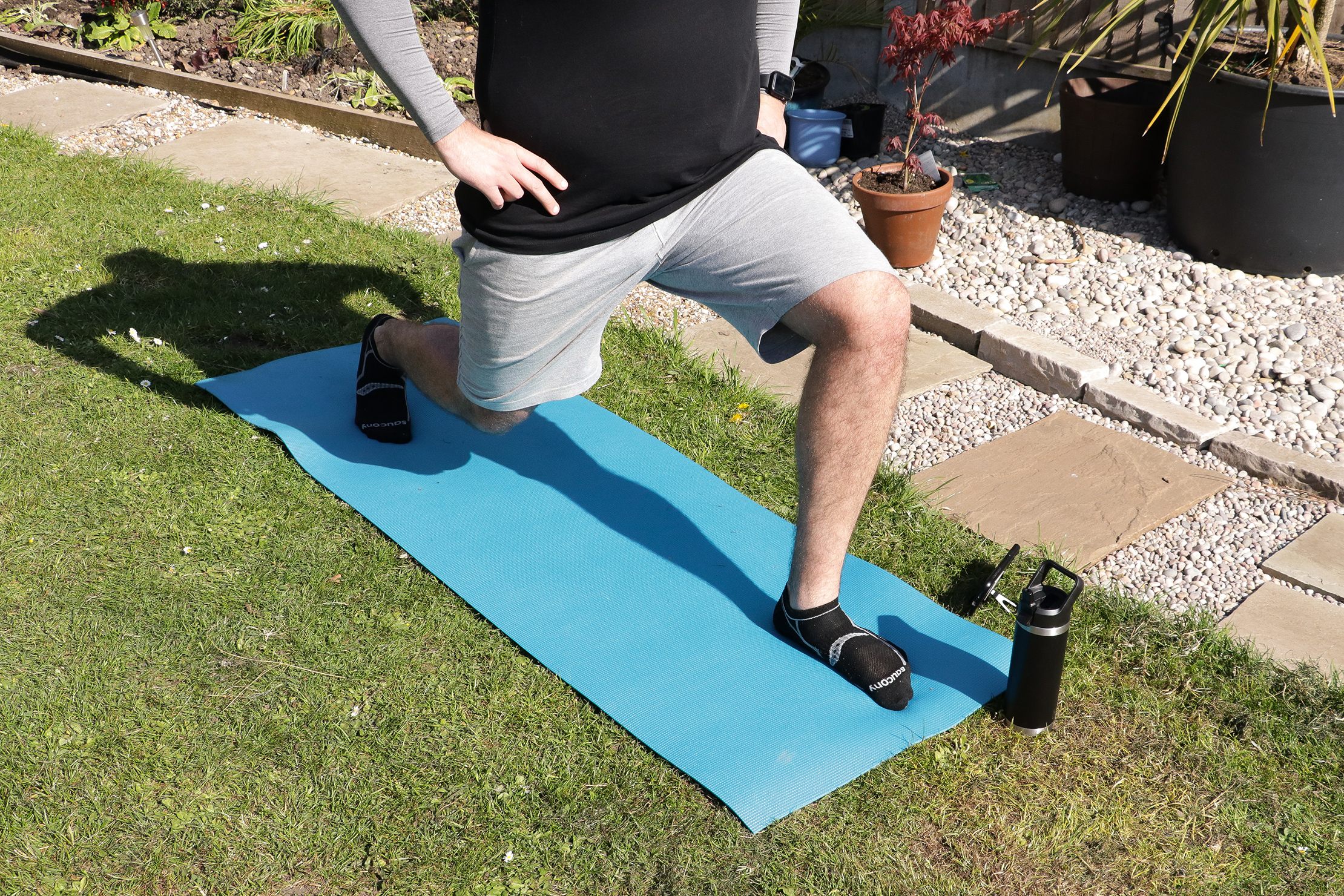 One easy way you can get moving throughout the day is to get up in between tasks. When you've finished one task, stand up, stretch, maybe do a lap of your apartment, before jumping into the next to-do.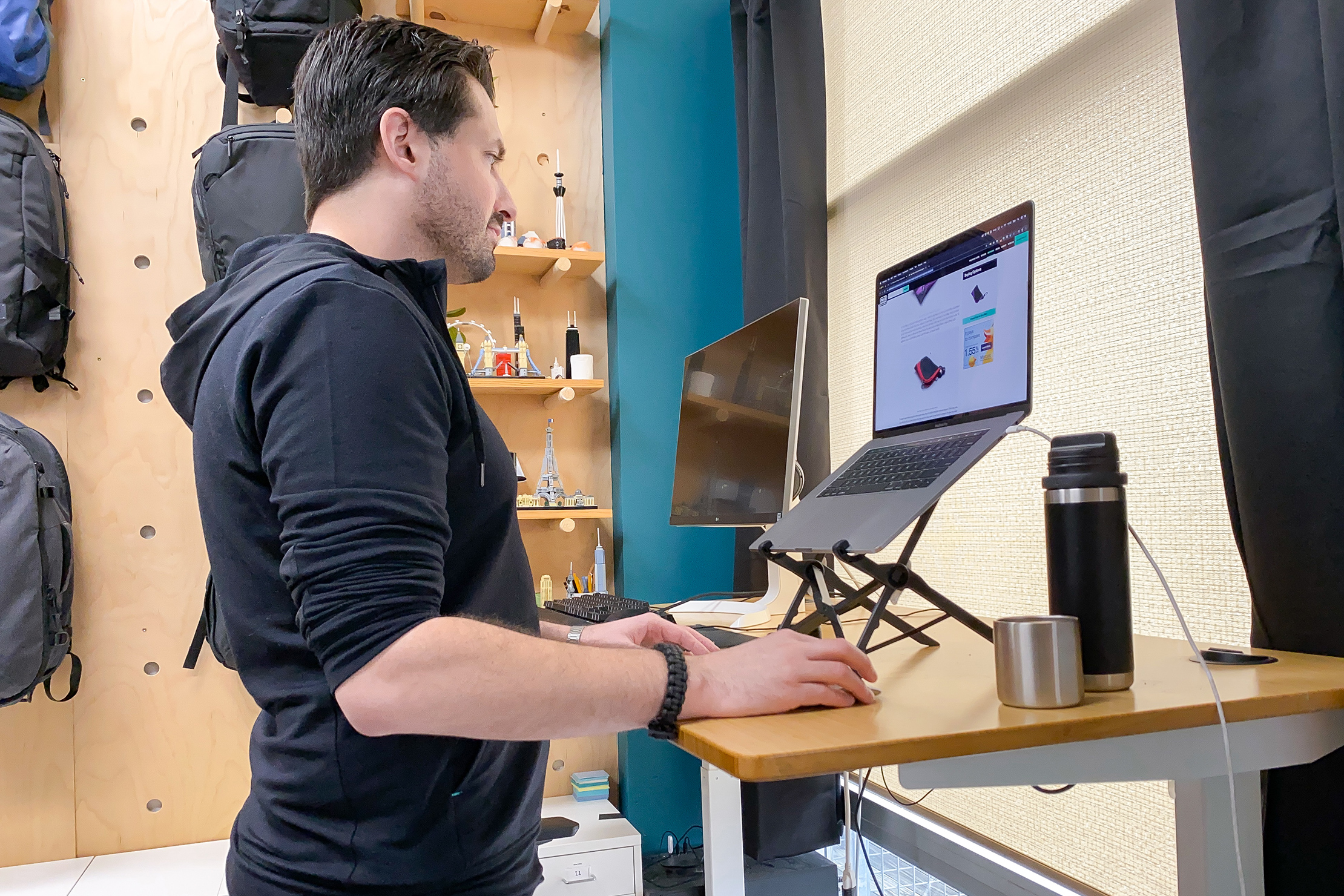 Standing up is a solid hack for engaging your body a bit which can help you feel more active and energized. Switch to your standing desk set up for video calls or times where you're doing more reading and less typing/mousing—especially if you're working with a makeshift setup (like we talked about earlier) where the ergonomics may be less than ideal.
Some of us on the Pack Hacker team are fans of exercising before work. It makes for a productive morning routine and creates some separation between your work life and home life. If you're anything like us, getting motivated to exercise at home or on the go when you don't have access to a gym can be tough. And it can get even tougher if you wait until the end of a stressful workday. Don't worry. We've got you covered with tips on how to work out when you can't get to a gym.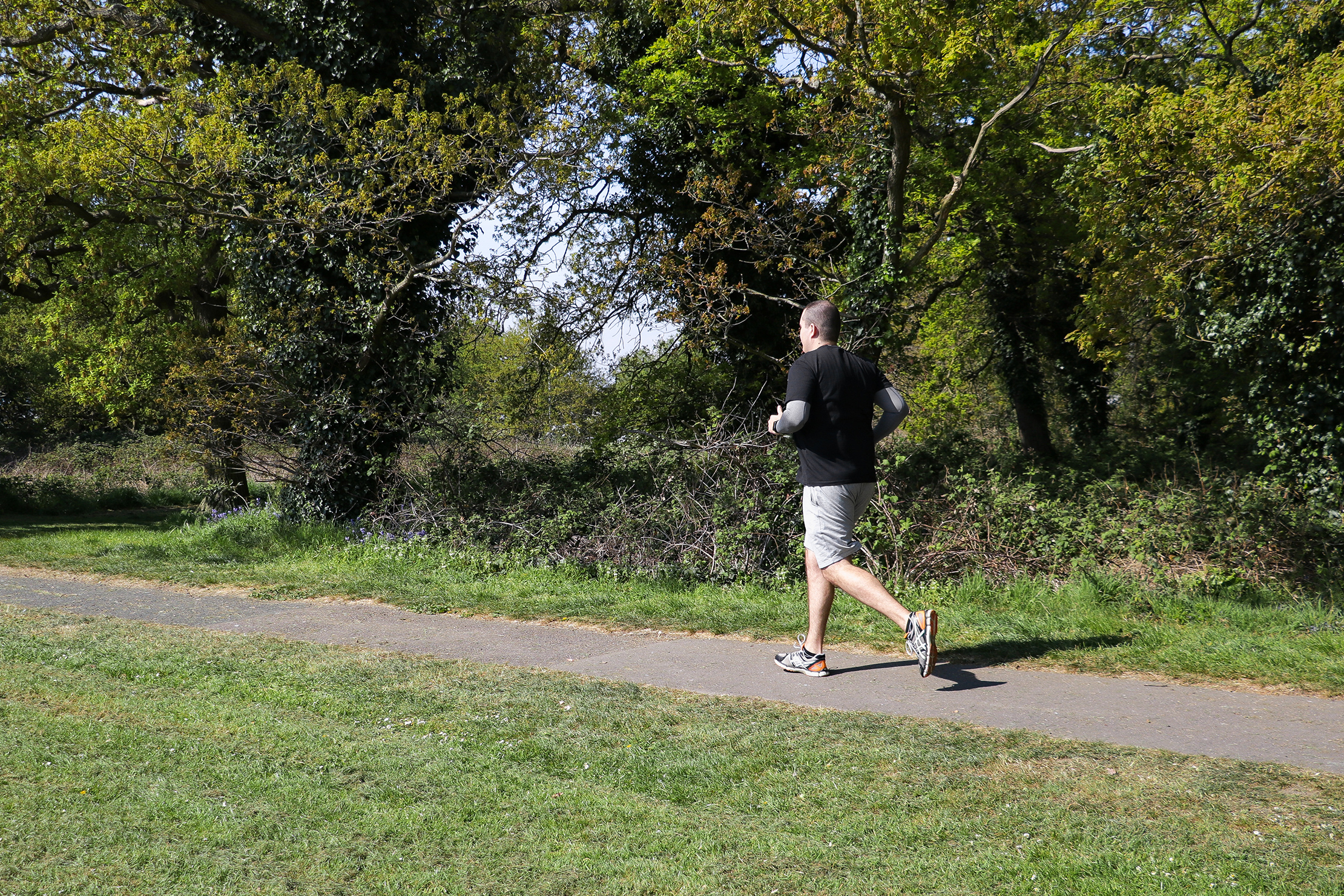 You can also use your scheduled lunch break to get outside for a walk. Getting some fresh air and stretching your legs can be a great way to recharge for the afternoon. Just make sure to set those expectations and communicate them with your team.
PRO TIP: If you drink a lot of water throughout the day, you'll stay hydrated, and you'll be forced to get up and go to the bathroom often. Bonus forced walking!
Get Social
Working from home can get lonely—we often forget there's a whole world out there! If you're stuck inside and beginning to feel cooped up, plan little breaks to chat on the phone or set up video calls with friends. You can even schedule a video lunch with friends. Plop down in front of your computer with last night's leftovers at 1PM, eat lunch together, and catch up.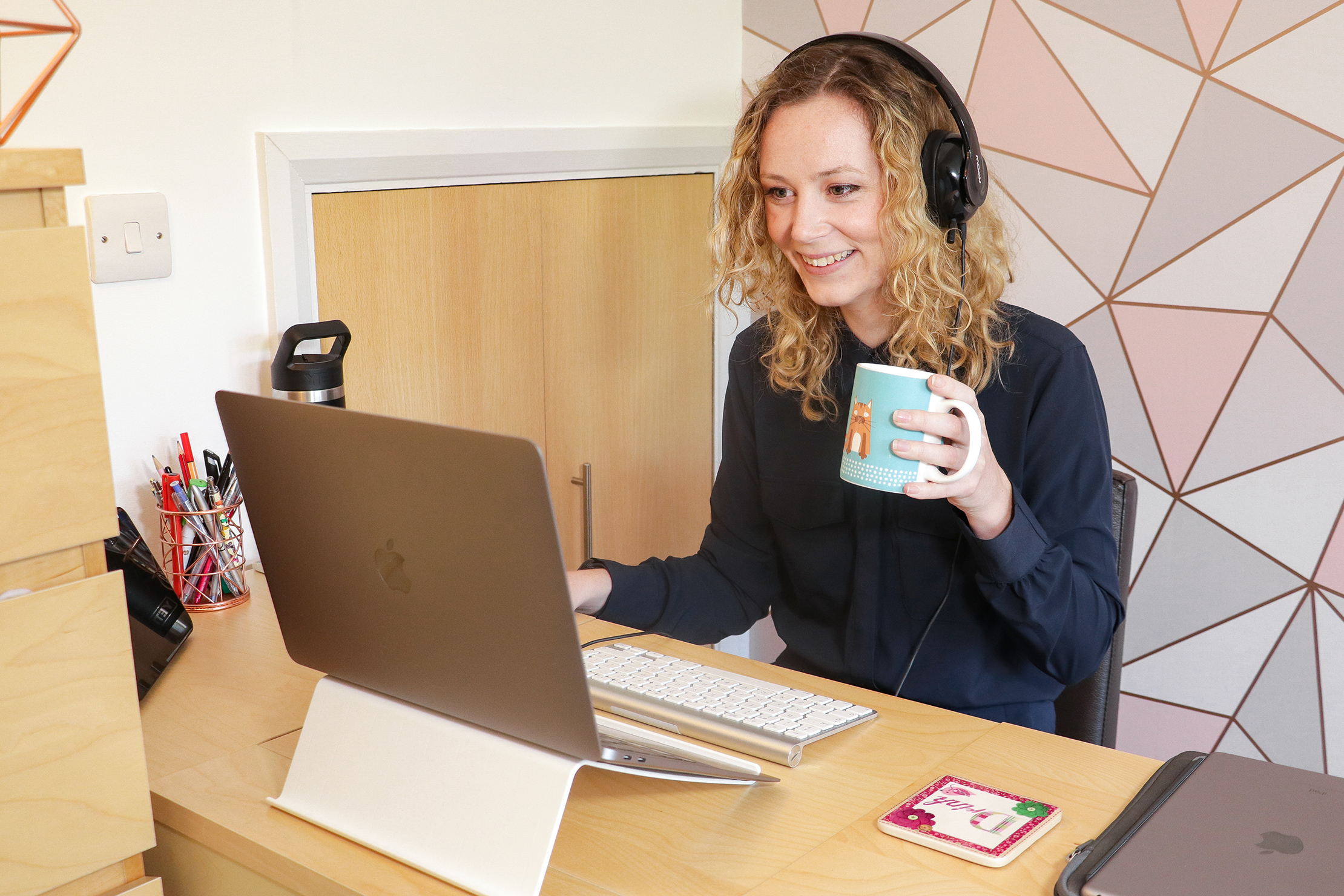 You can also schedule virtual networking opportunities. Plan a time to "grab" coffee with that contact you've been wanting to meet for a while. Finding 15 to 30 minutes to spend networking is much easier if you don't have to factor in time commuting to the coffee shop then waiting in line (it's always long when you're on a time crunch, isn't it?). Plus, if things start to get weird, you can hang up and blame it on a bad WiFi connection (not that we've done that or anything…).
Be A Great Team Member
Remember: we're all in this working from home thing together. Especially at the time of posting. Be flexible with your team and they'll be flexible with you.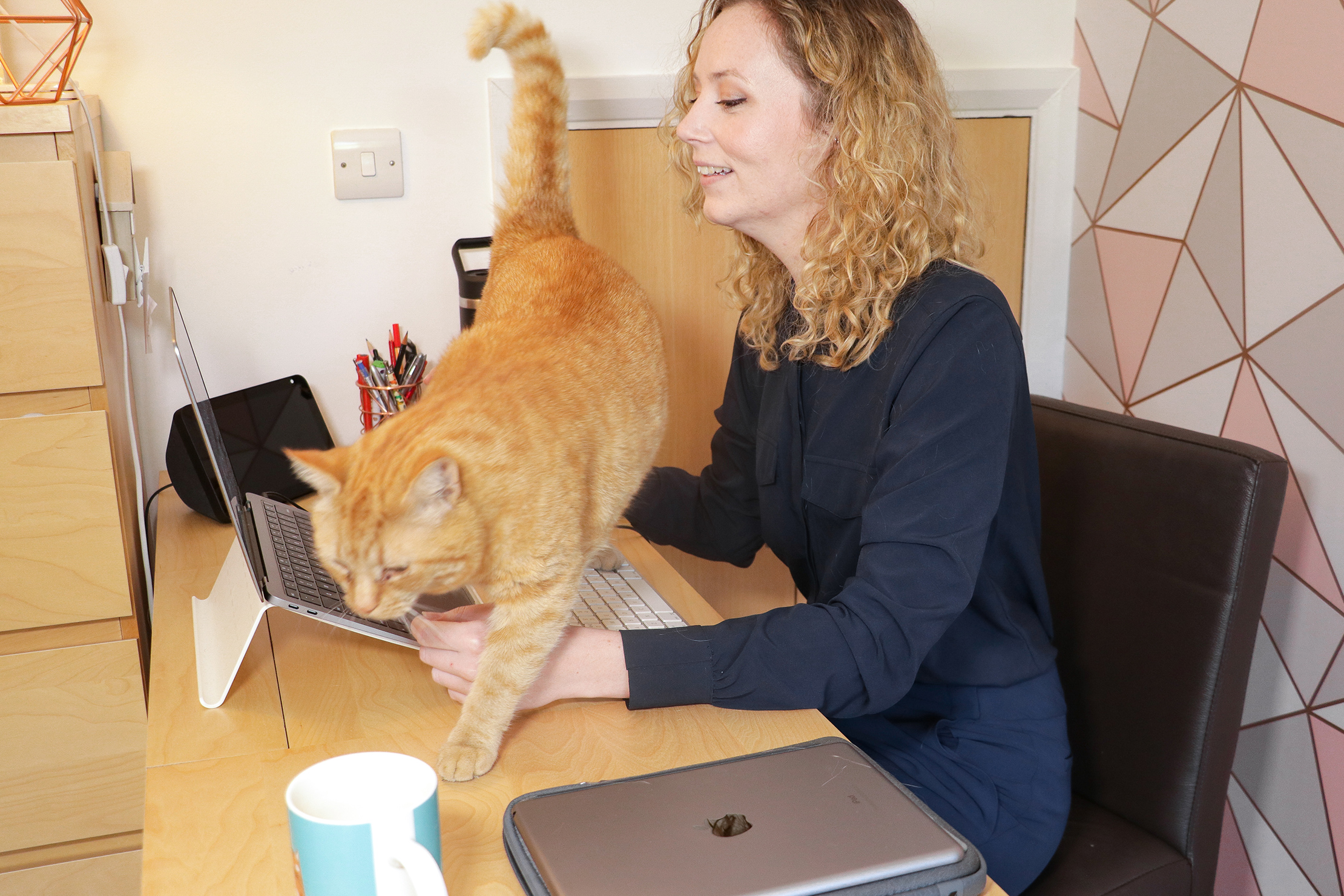 Everyone's work from home situation is different. You may be sharing your workspace with a partner, roommates, a curious cat, kids, dogs, a large exotic bird…you name it. So be understanding if someone's dog is barking in the background or their cat insists on walking in front of the camera on a video call.
Of course, if things are getting loud on your end, mute yourself. (If you're not in the middle of a sentence.) It's a simple gesture that not only can keep the conversation on track, but also shows that you're looking out for the team.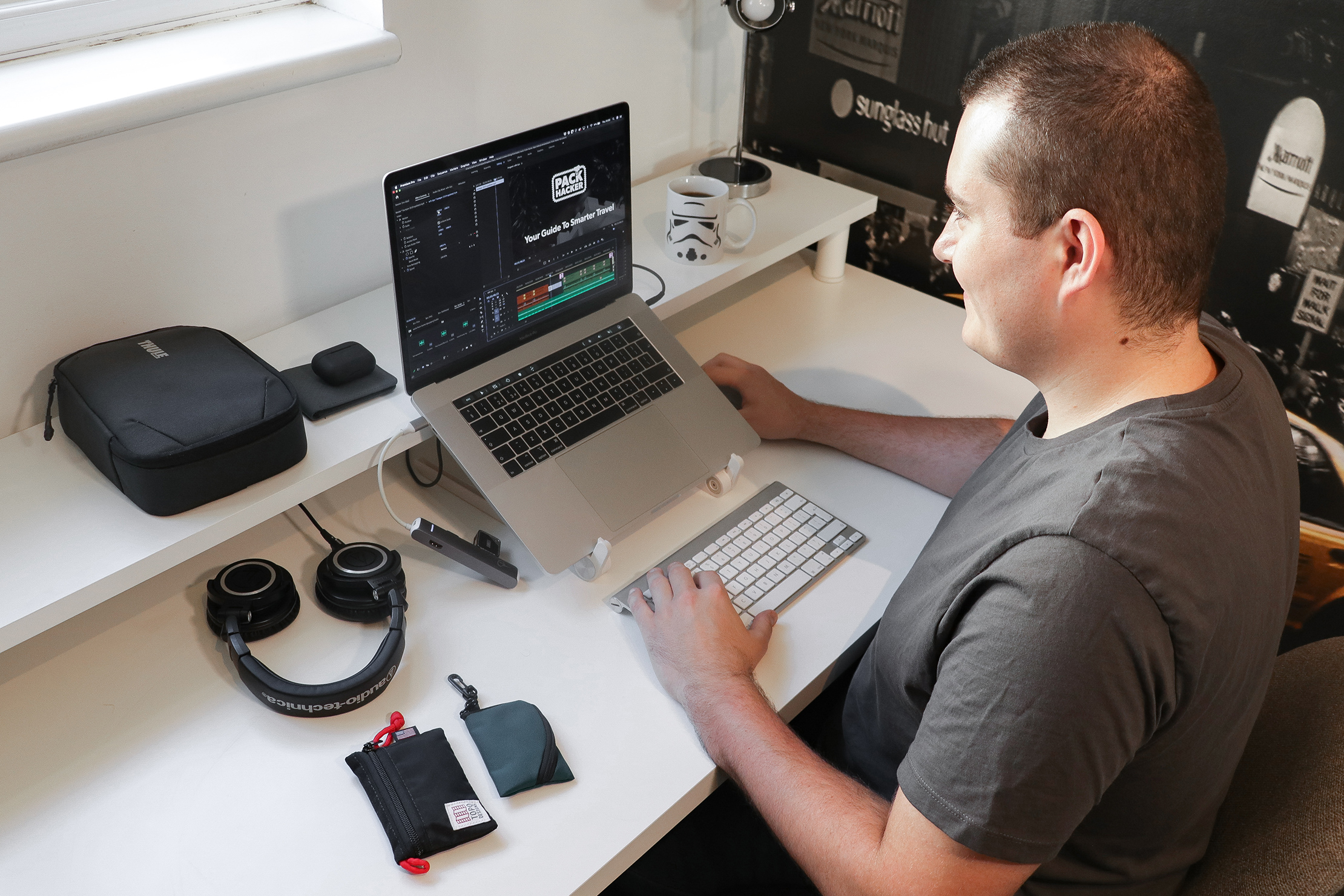 Now, working from home (or working remotely in general) comes with great responsibility. If you're being proactive, getting your work done on time, and communicating clearly, your manager and colleagues will notice. And it's okay to go above and beyond every now and again—come up with new ideas, etc. Your boss should start to see that you're a team player who doesn't need their every move monitored.
On the flip side, if you start to slack, people will also notice. It's typically easier to identify someone who is slacking while remote versus someone who's at an office every day.
You're Ready to Work
So there you have it—ten tips we find useful when working from home. We hope that these tips will help you navigate through the challenges of working from home, become a better remote worker, and allow you to enjoy the freedom and flexibility it can provide. Now, break's over—get back to work!