Bellroy Tech Kit Review
The Bellroy Tech Kit is a sophisticated, structured pouch for storing your tech accessories. Although we wish it had a zippered pocket for smaller items.
Our Verdict
Unlock the Pro Summary
Save time. Get access to brief summaries of our reviews so you can browse and make decisions more efficiently.
Pros
Efficient organization
Opens flat for easy access
Modern, techy look
Cons
No elastic or zippers on internal pockets so small stuff can slide out
Elastic loops have begun to lose their shape
Boxy shape makes it bulky inside your pack (compared to some other tech pouches we've tested)
Recent Pack Hacker Video
Technical Details
Weight (oz)

7.3 oz (207 g)

Dimensions

5.11 in x 9.05 in x 2.83 in (13 x 23 x 7.2 cm)

Notable Materials

Polyester, Nylon, Elastane, Leather, OOK Zippers

Manufacturing Country

India

Warranty Information
Full Review
A crucial (and often overlooked) step to living a modern digital life is keeping all your chargers, cables, flash drives, dongles, and whatchamacallits, neat and organized. Especially if your work involves using a computer everyday.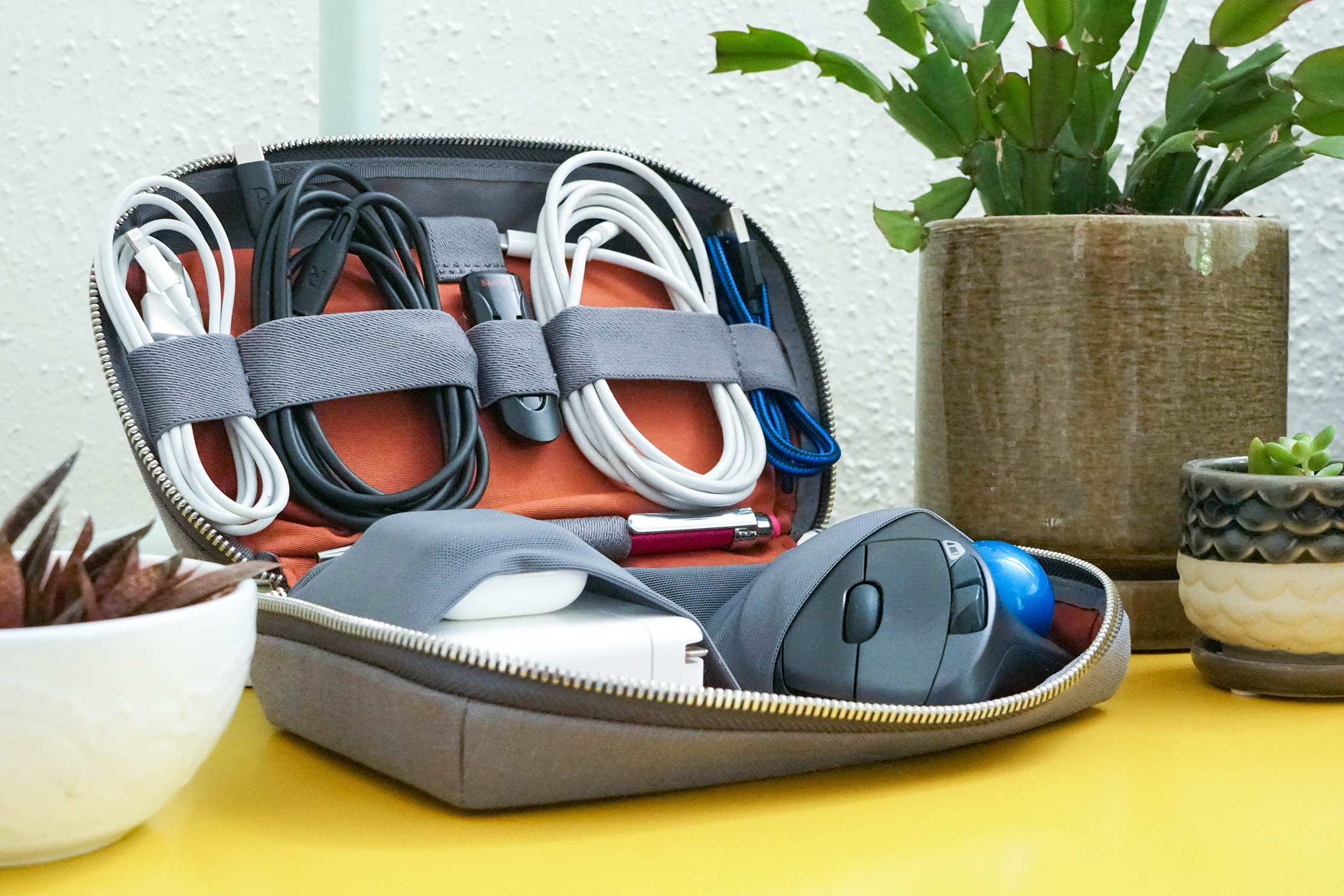 That's where the Bellroy Tech Kit comes in. It has enough room to store your daily tech essentials. And, it keeps them all organized so you're not digging through your bag when you need something—just unzip, grab, and go.
We've been testing in the Bellroy Tech Kit for about two weeks—stashing all of our most-used tech gear—and we're ready to tell you what we think.
Shall we?
Materials & Aesthetic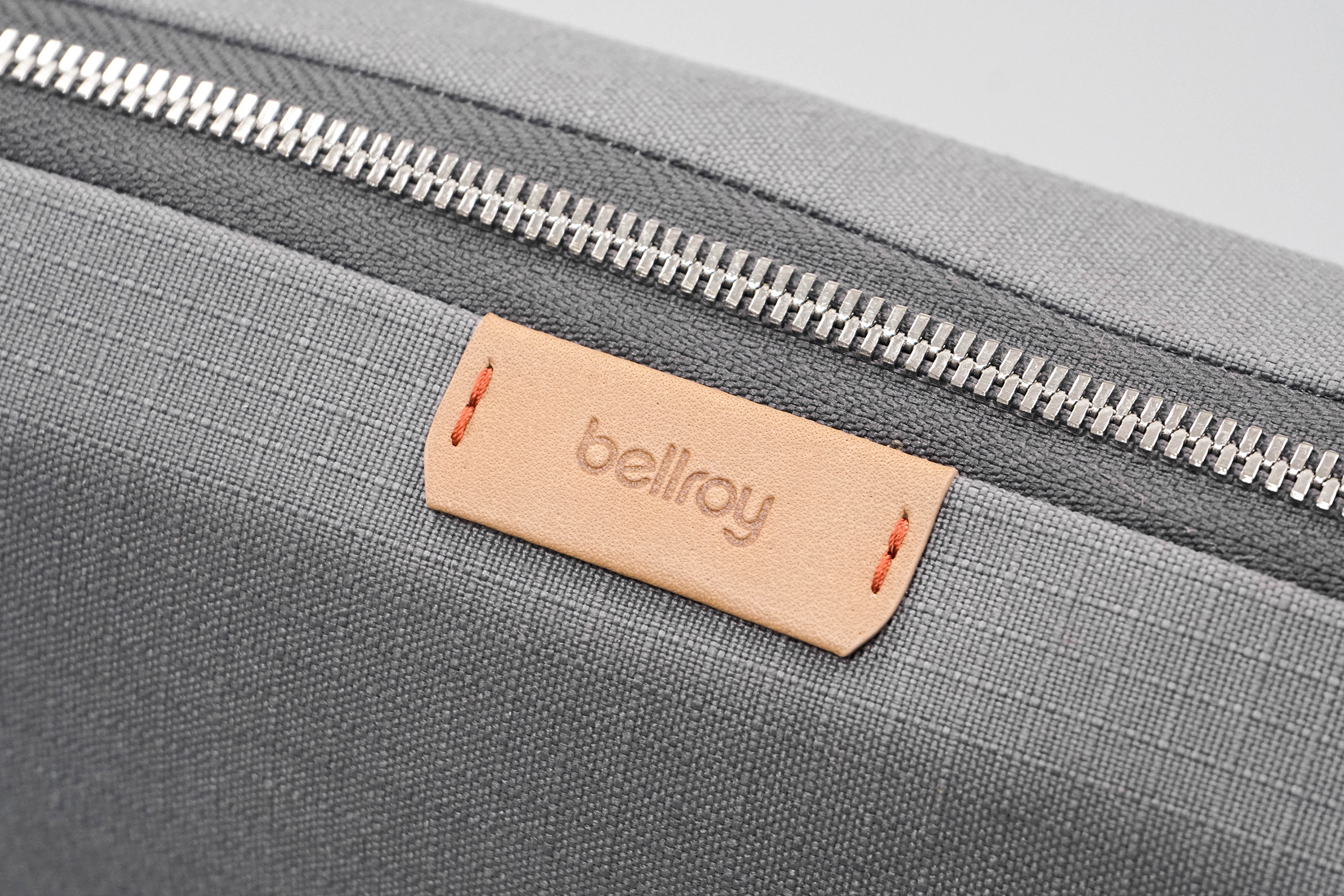 The first thing you'll notice is the Tech Kit's classy aesthetic. Both the leather accents on the zipper pull and logo front and center on one side of the pouch are subtle and refined.
Also adding to the premium look and feel of this organizer is the single, metal OOK zipper. While we typically prefer a reverse coil zipper, this adds to the pouch's high-class look. And it's been working pretty smoothly in our testing so far—so no complaints there.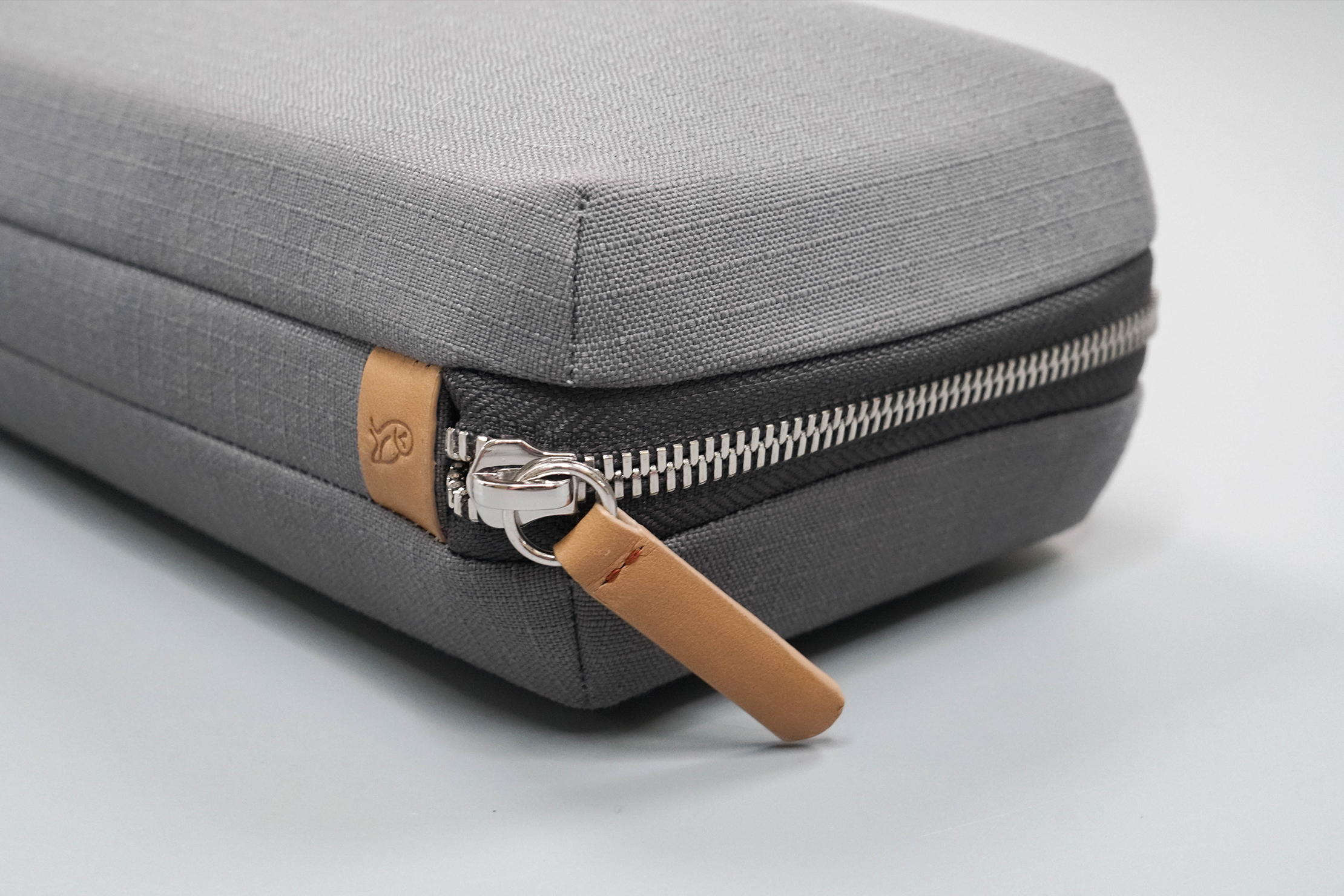 Now, if you're familiar with Bellroy, you're probably not surprised by this sophisticated design. However, thanks to the material, the Tech Kit does have a more (dare we say it) techy vibe—especially with its grid-like pattern. At least compared to other Bellroy gear.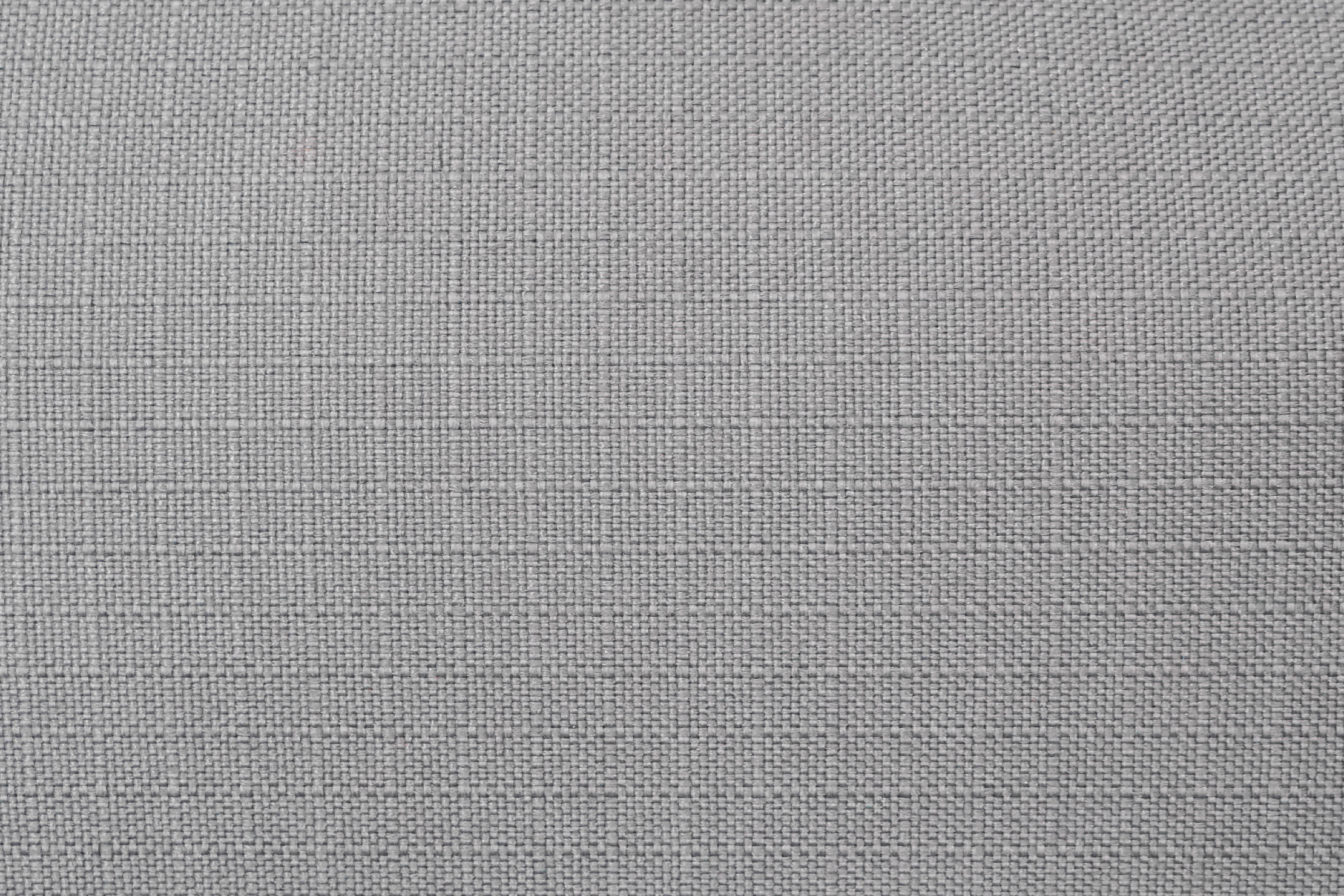 The main material is polyester made from recycled plastic water bottles. So now you can store all of your tech gear, and help out Mother Nature at the same time! #Multitasking. Seriously though, we appreciate when brands use recycled fabric for their gear. Plus, the material has proven to be pretty durable in our testing, as we don't have any scratches or scuffs to report. And at the time of this review, the Bellroy Tech Kit is available in three colorways—Black, Marine Blue, and Light Grey. We've been testing the Light Grey colorway and we're digging it.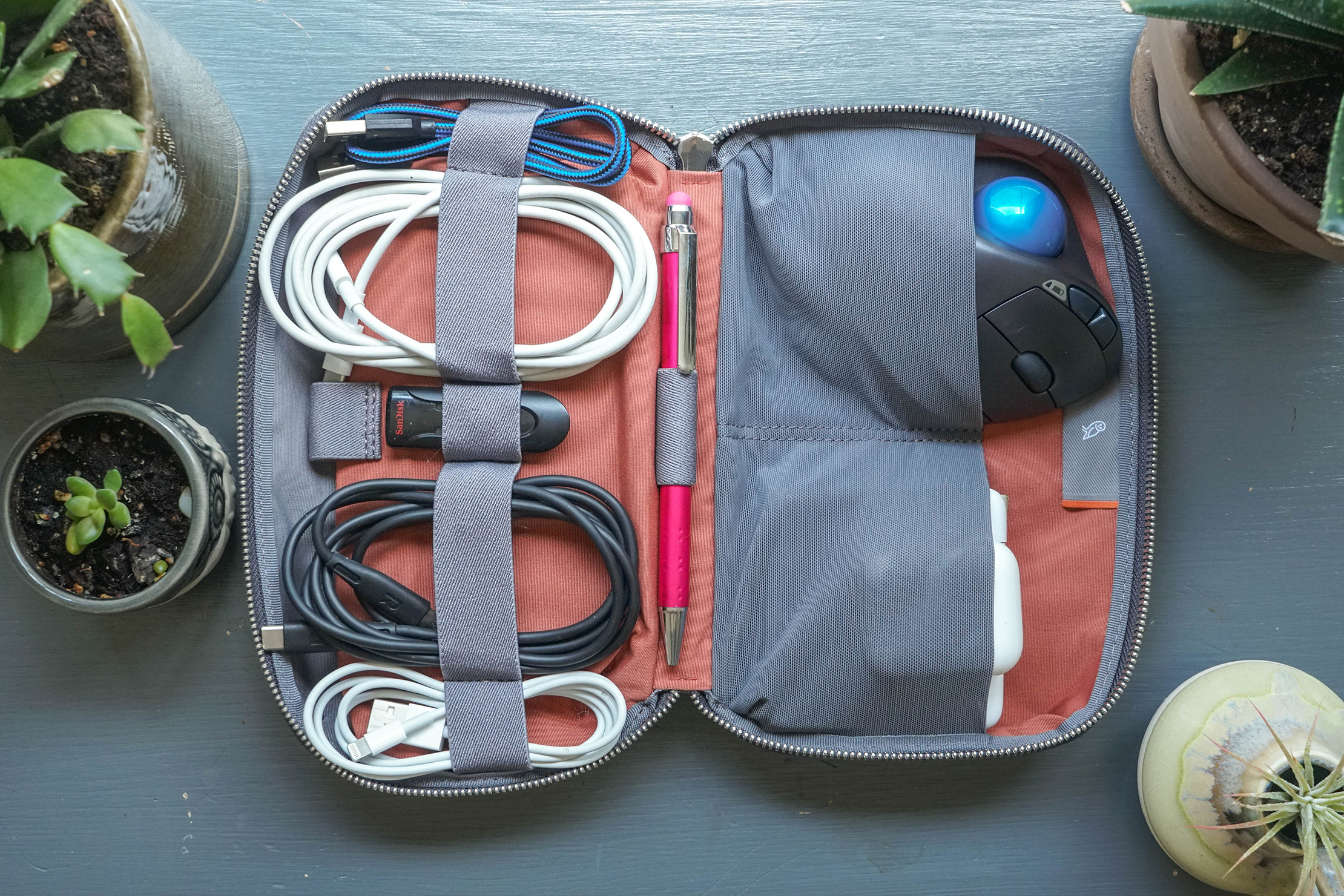 As for its structure, the Bellroy Tech Kit has some foam padding built into it that keeps it sturdy. But also pretty boxy. Because of that, it's not very compressible—for the most part, the kit holds its shape no matter how full it is. There's some flexibility but not much. For reference, it's more flexible than the Peak Design Tech Pouch, but definitely not as floppy as something like the Topo Designs Accessory Pouches. So if you're planning on storing it in your pack it's just going to take up a little more space, even when it's not full.
Inside the Pouch
This pouch opens up fully in a clamshell-style, which means it'll lay flat on your desk. You can see everything inside and it's all nicely organized, so you can grab whatever you need quickly and easily—no more hunting for your charger or having to track down a flash drive.
Plus, the orange color on the interior offers more visibility making it easier to see what you're looking for. Something we appreciate in packs and pouches of all sizes. There's also a fair amount in the way of organization for its size—let's check it out.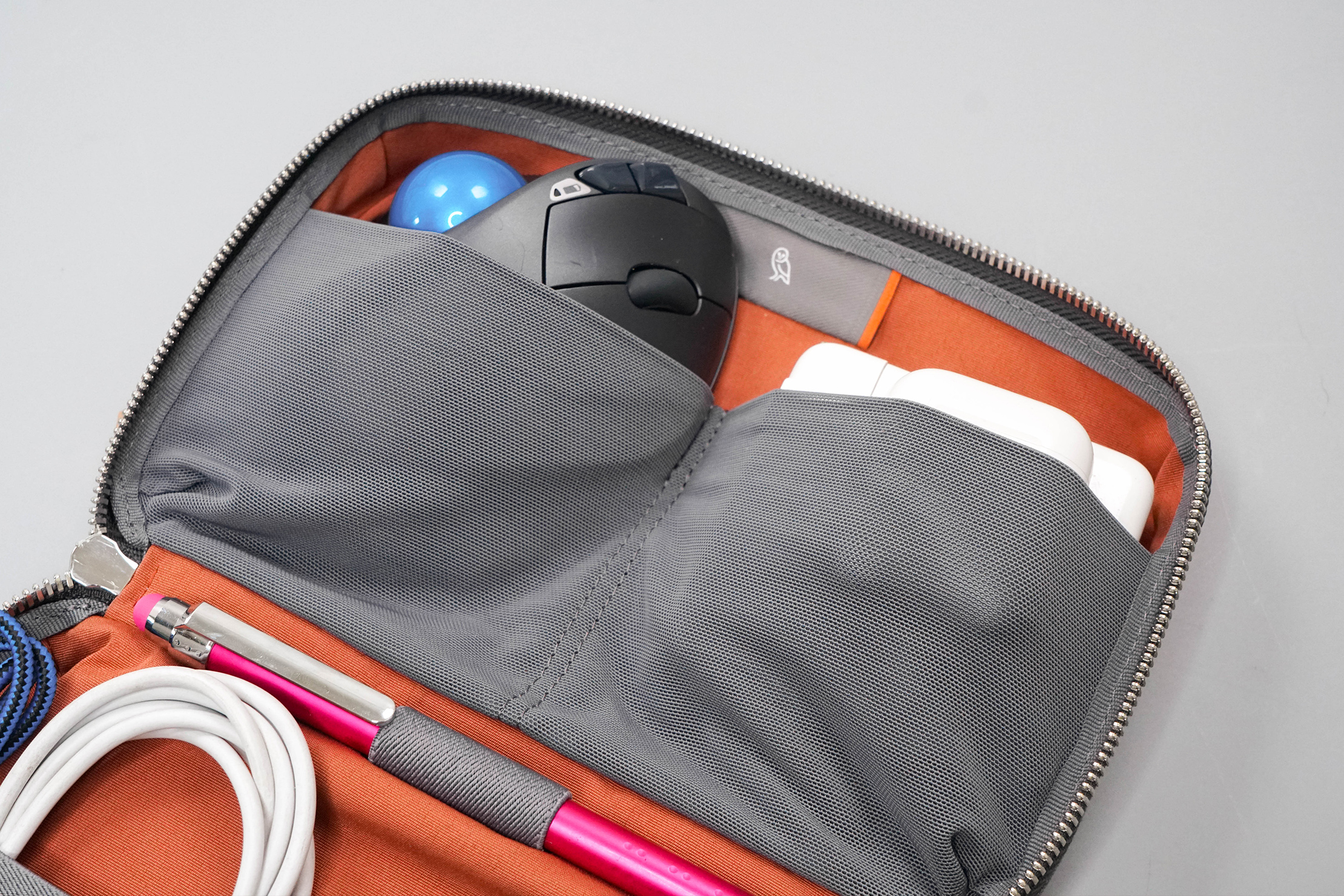 Starting with the mesh pockets, there are two on one side of the kit. Either one is a decent size for holding a MacBook charging brick, an Apple Magic Mouse, or other similar accessories. This mesh material is stretchy and feels great to the touch—it's the same mesh used in the Bellroy Classic Pouch, which we dig. However, there's no way to secure the top. This isn't an issue in the Classic Pouch due to its size and shape, but in here, your stuff is likely to bounce around/out of the pocket. This could be solved with some magnets or latch of some kind, but it isn't a deal-breaker for us as is—at worst, your stuff may be free floating inside the kit from time to time—just something to note.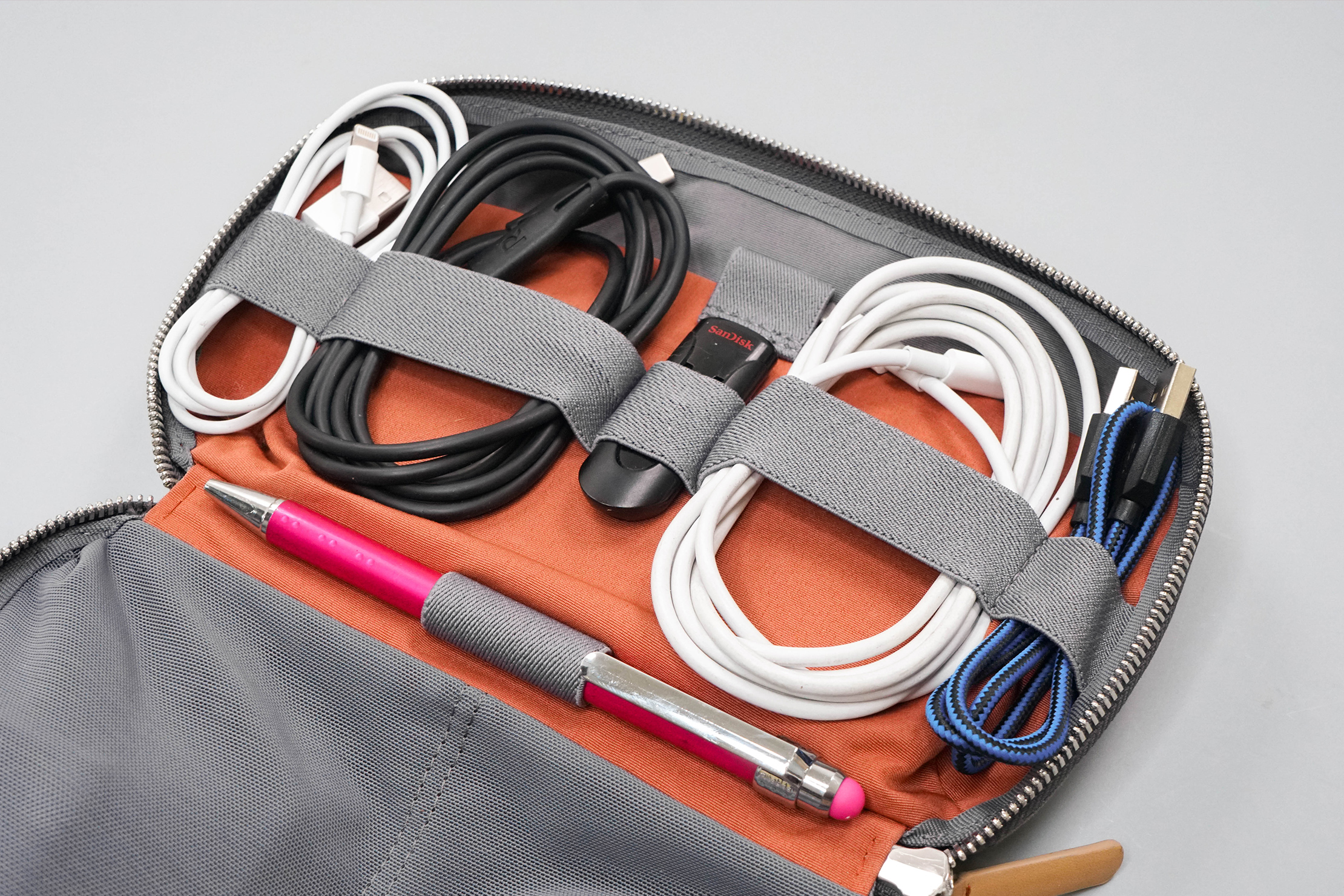 On the other side, you'll see a series of elastic loops—two larger, and three smaller. The smaller loops fit things like USB cords or earbuds, while the larger ones are convenient for laptop or cellphone charging cords. They stay snug in their spots and don't flounce around or get all tangled together.
There's also another bonus loop (woop, woop!) that you'll see at the bottom of the kit along the binding. We like the thoughtful design—it would be a waste of space if not used, but now it's a handy spot for a pen, pencil, stylus, marker, small magic wand, you name it.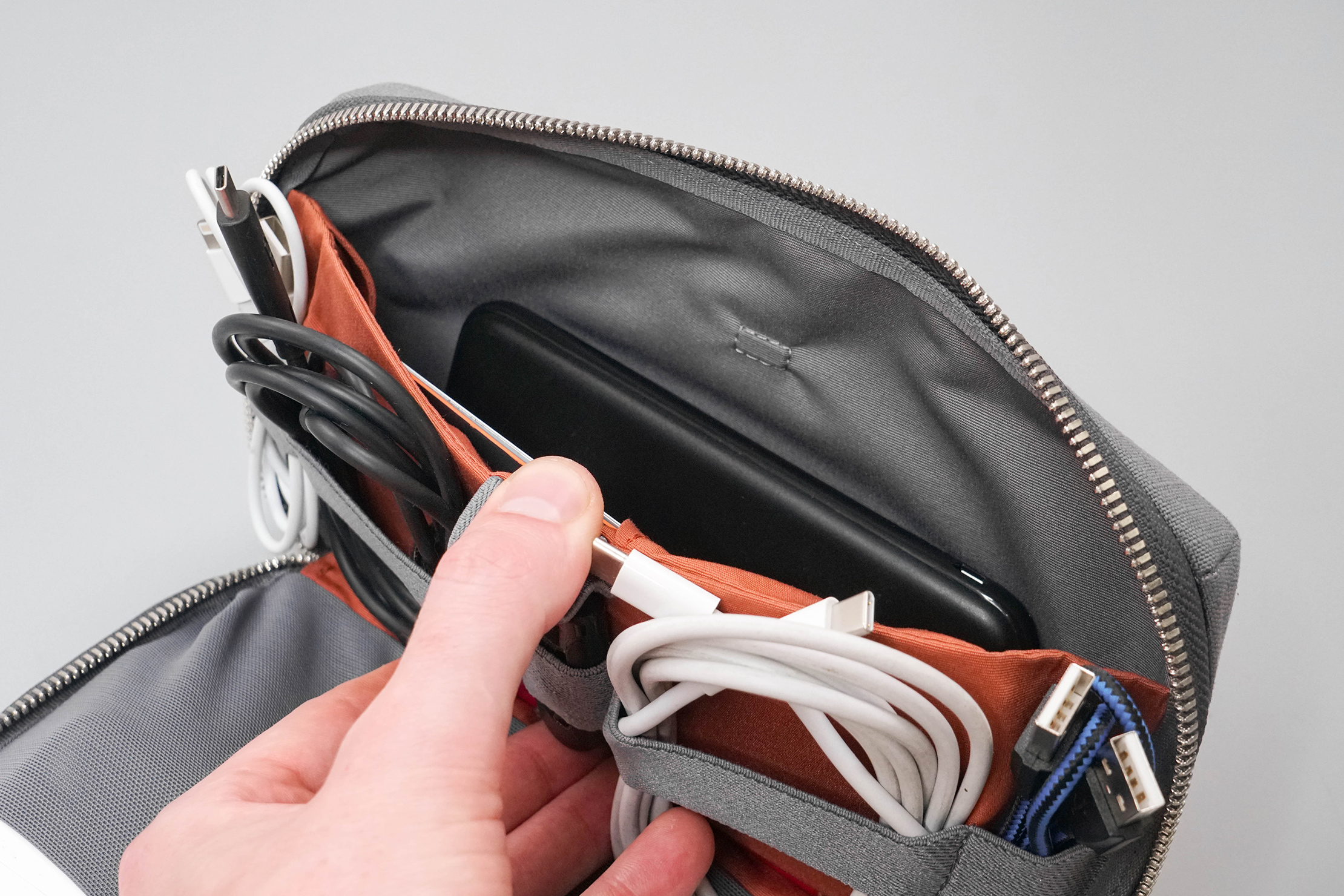 Behind those main loops, there's a somewhat hidden magnetic slip pocket. Pull it open by the elastic tab to reveal a good amount of space. We've been keeping an Anker PowerCore II 10000 power bank in here, and there's plenty of room for a larger one.
Inside of the pocket, there are two smaller pockets stitched in—a card sleeve, and another slot for SD cards. Of course, you can store any small items you want to keep organized in here. These pockets don't have any sort of elastic or closure, so there's not much keeping whatever you've stashed inside from slipping out into the larger pocket. A zipper on one or both of these would help ease our minds, but because the magnetic closure is nice and firm on the compartment as a whole, whatever you store in here should stay inside the enclosed area and not mixed in with your other stuff.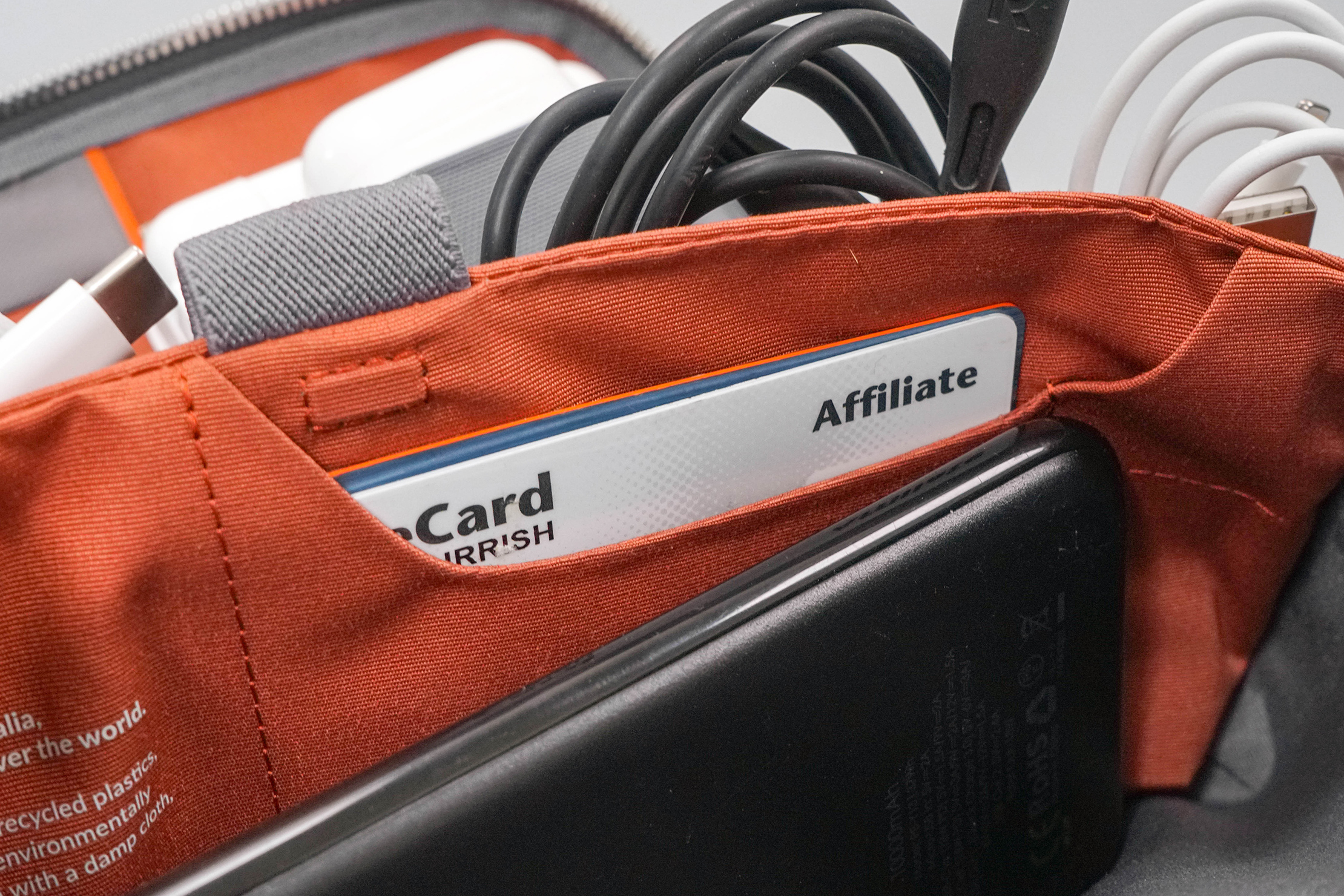 Durability & Testing
As we've said, we've been tucking all of our tech accessories into the Bellroy Tech Kit for two weeks in Detroit, Michigan. It keeps everything is organized and easily accessible—grabbing our USB is now as simple as A, B, C. (Or 1, 2, 3…Do, Re, Me…you get the idea) We have noticed that one of the elastic loops has stretched out, even when nothing's in it. Not the end of the world as it's still functional, but not a great sign after only two weeks of testing.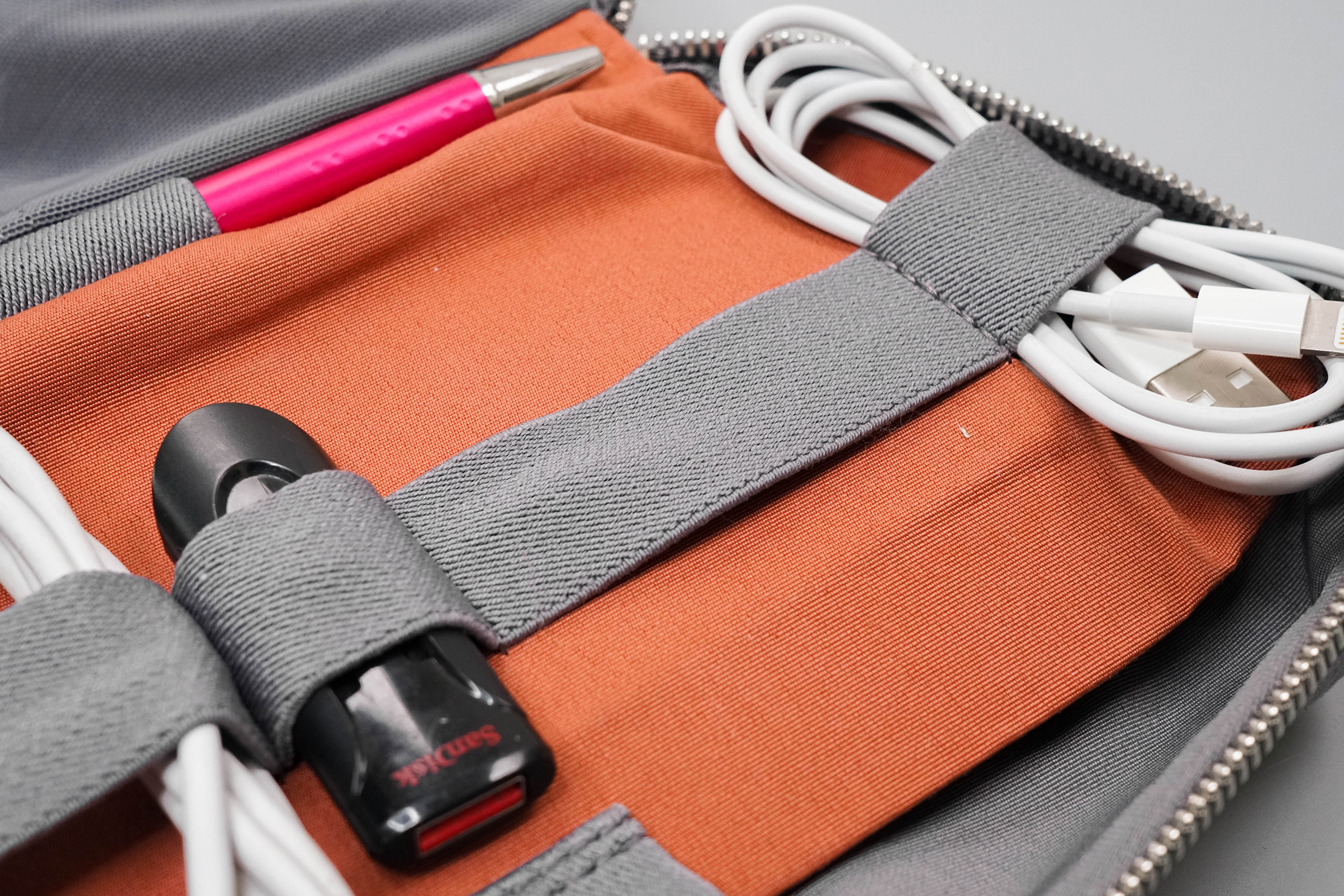 Usage Timeline
Initial Usage
Condition: Excellent
Great variety of organization for all sizes of tech gear
The elastic loops work great however we could have used a small zippered pocket for our smallest tech gear
Opens fully clamshell for easy access
2 Weeks of Use
Condition: Excellent
Still digging the premium look and feel
Like the way the Tech Kit lays out neatly on a desk or table—everything is accessible and organized
Heavier items can easily jostle around in the mesh pockets. We like the feel of them, but they're loose for smaller tech gear items
Noticing some stretching on the elastic loops. Everything is still functioning as expected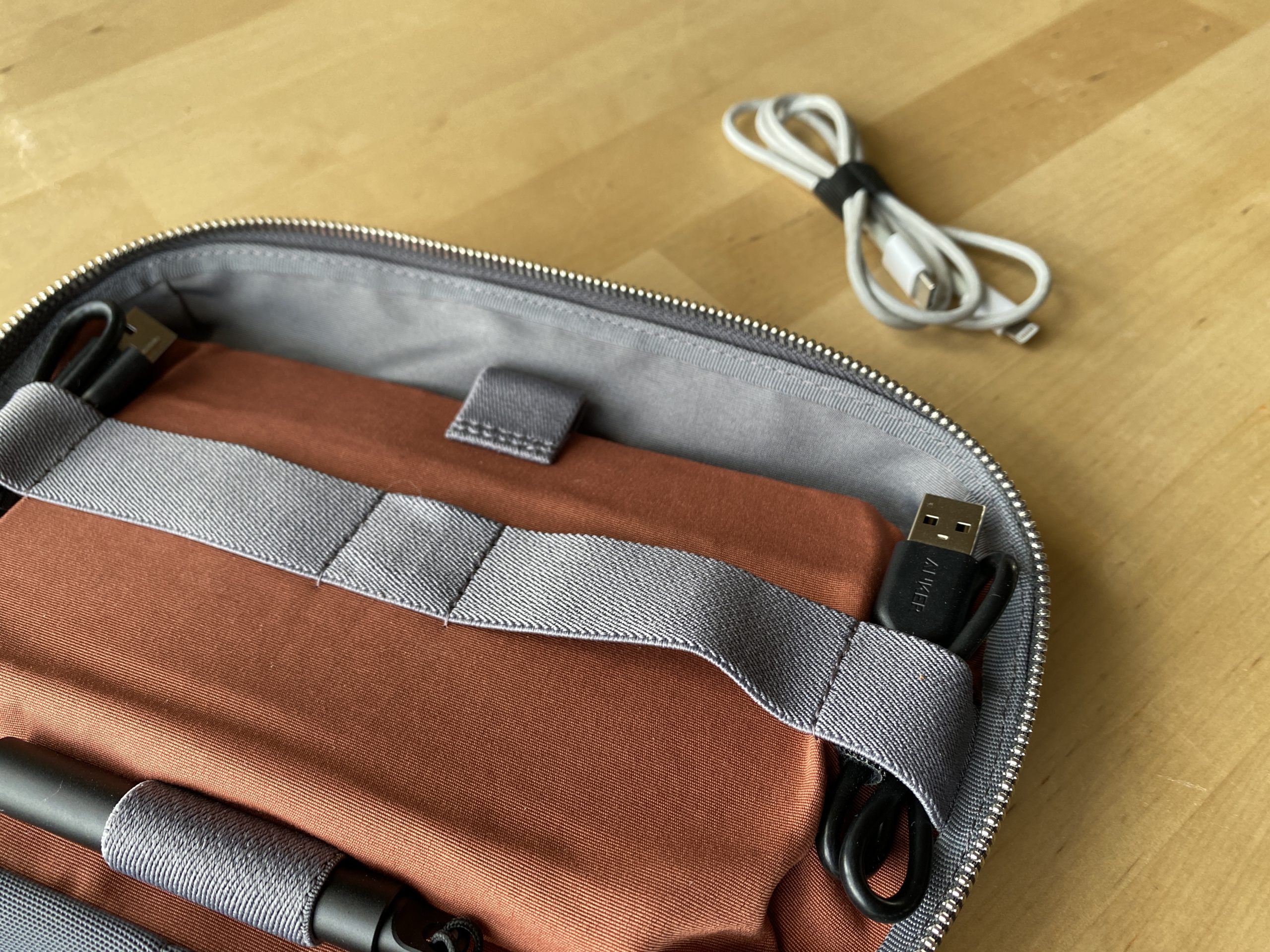 Access the Pro Community Discussion
Get your questions about the Bellroy Tech Kit answered from our team and the Pro Community right here on the page. Plus, join discussions with other members about gear, guides, and more.
Other Organizers & Pouches Reviews