Bellroy Classic Pouch Review
Although we have a few small nitpicks, the Bellroy Classic Pouch is a solid organizer with a classy aesthetic and an ideal amount of interior pockets.
Our Verdict
Unlock the Pro Summary
Save time. Get access to brief summaries of our reviews so you can browse and make decisions more efficiently.
Pros
Made of durable, quality materials
Premium look and feel
An ideal amount of organization
Cons
Magnetic closure doesn't stick well
No grab handles to hang the pouch up or secure it to your pack
Leather accents aren't suitable for those avoiding animal products
Recent Pack Hacker Video
Technical Details
Dimensions

5.51 in x 8.6 in (14 x 21.8 cm)

Notable Materials

Polyester, Nylon, Leather, YKK Zippers

Manufacturing Country

India

Warranty Information
Full Review
We're going to kick off this review with a warning: Once you have a solid organizer pouch, it's hard to go back to the days of throwing your gear into a backpack all willy nilly. Some might say, it's impossible.

And the Bellroy Classic Pouch is one solid organizer.
So if you're not ready to commit to using a pouch—or multiple pouches—for the rest of your life click away now. You've been warned.
For those of you still with us, the Bellroy Classic Pouch can be used to organize a myriad of things: tech, stationery, cosmetics, whatever. It can also be used for toiletries, but if that's going to be your primary use-case we suggest checking out the Bellroy Dopp Kit. The Dopp Kit is similar to the Classic Pouch, only it has a water-resistant lining for easy cleaning and a pocket designed specifically to hold a toothbrush.
But we're not talking about the Dopp Kit today, we're talking about the Classic Pouch. So let's get into it.
Materials & Aesthetic
For those of you familiar with Bellroy—a company known for designing sophisticated leather goods and travel accessories—then you won't be surprised to learn that the Bellroy Classic Pouch is best described as suave. Pull it out on a first-class flight to Paris and everyone will ooo and ahhh over your beautiful pouch. (Well, maybe not everyone, but we would.)

At the time of this review, it's available in seven colorways. What colorway you choose dictates what the exterior material is made out of. It'll either be recycled polyester (made from recycled plastic bottles), polyester, recycled ripstop fabric, or nylon. They're all solid fabrics that should keep up with your adventures—though if you're really adventurous you may want to go for the ripstop.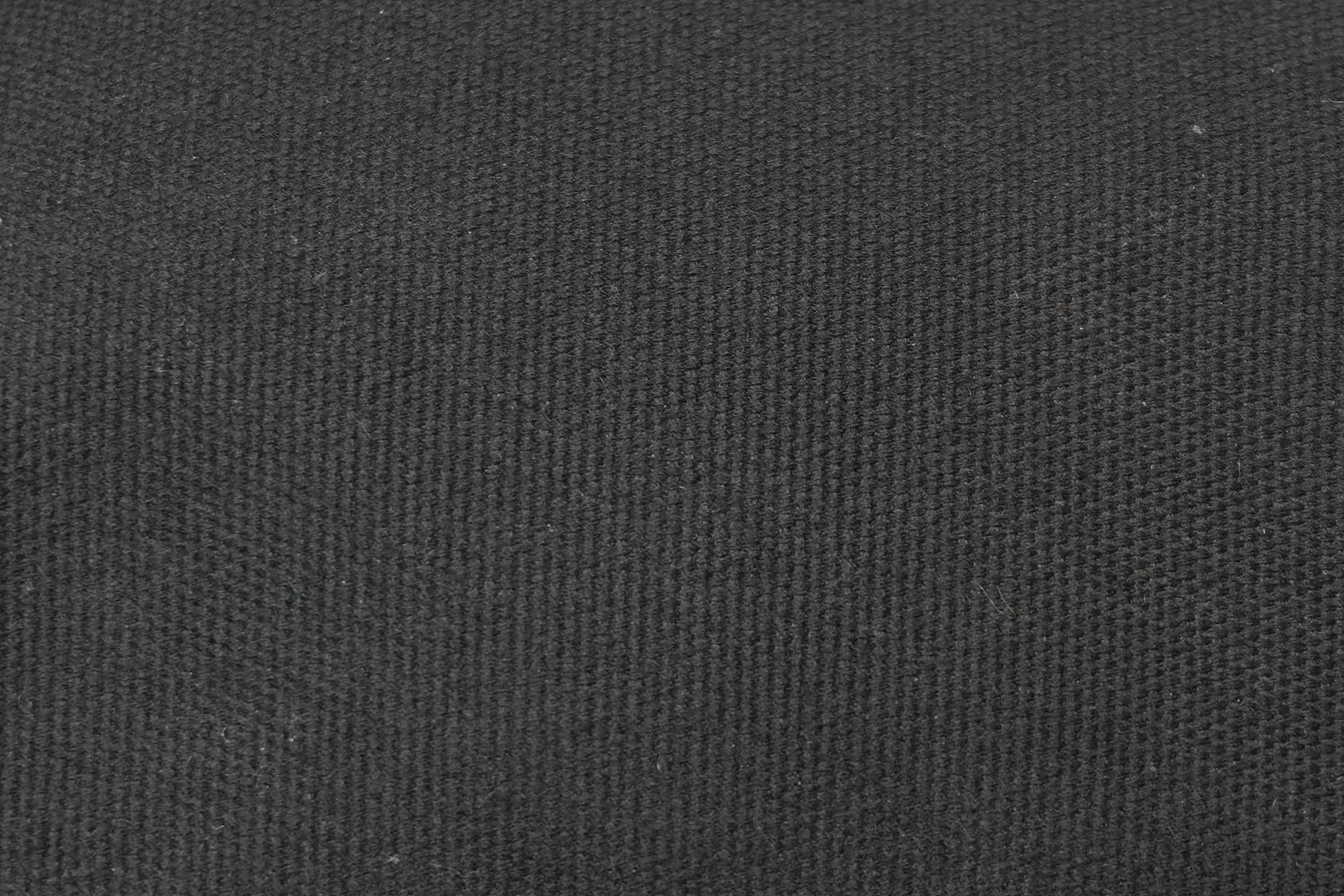 We've been testing the black colorway, which is made from polyester. The fabric is soft and feels premium—even more so coupled with the leather logo tag and zipper pull. The chunky, silver zipper also adds a pop of style that completes the overall classy aesthetic.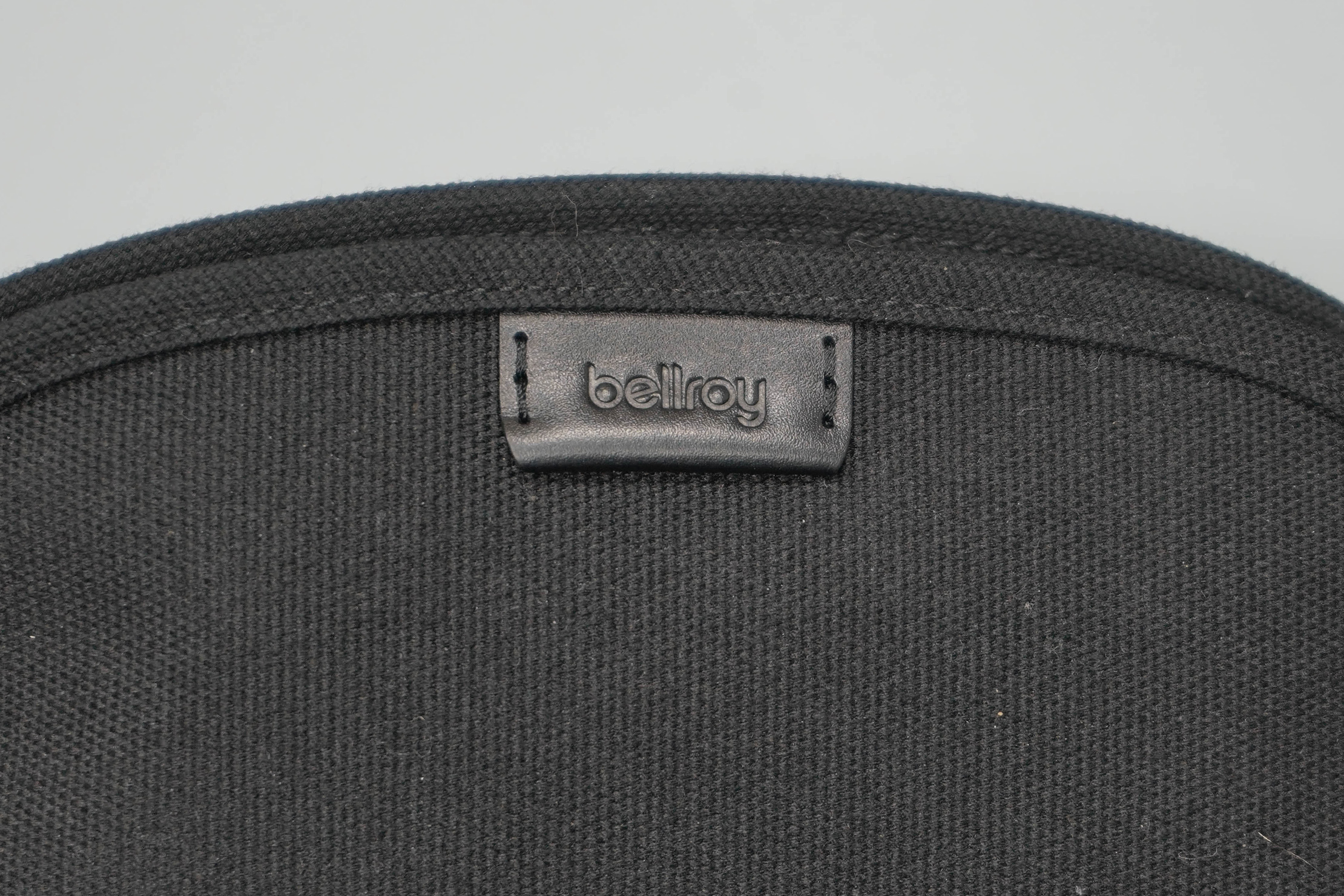 Inside The Pouch
The interior of the pouch has a good amount of organization and space, without being overkill.
On one side, there are two mesh pockets. There is something so nice about these pockets—between their supple feel and perfect-amount-of-stretch, they put us in a good mood. Using these pockets releases the same amount of dopamine as watching hilarious cat videos on YouTube (probably—we haven't actually tested this in a lab or anything).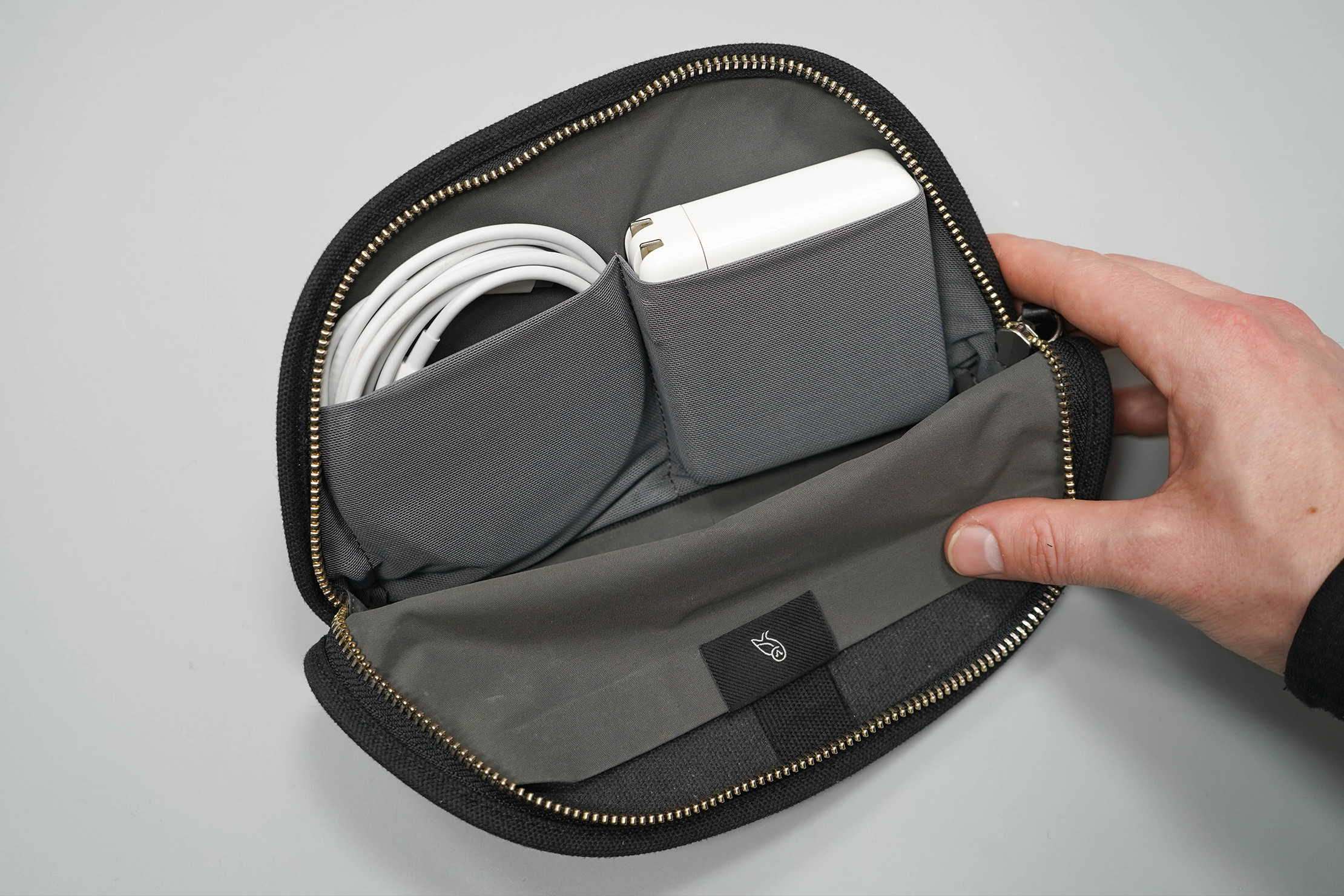 We've been primarily testing the Classic Pouch as a tech organizer, so we've used one of the pockets to hold an Apple Magic Mouse and the other to hold miscellaneous cords, dongles, and SD cards.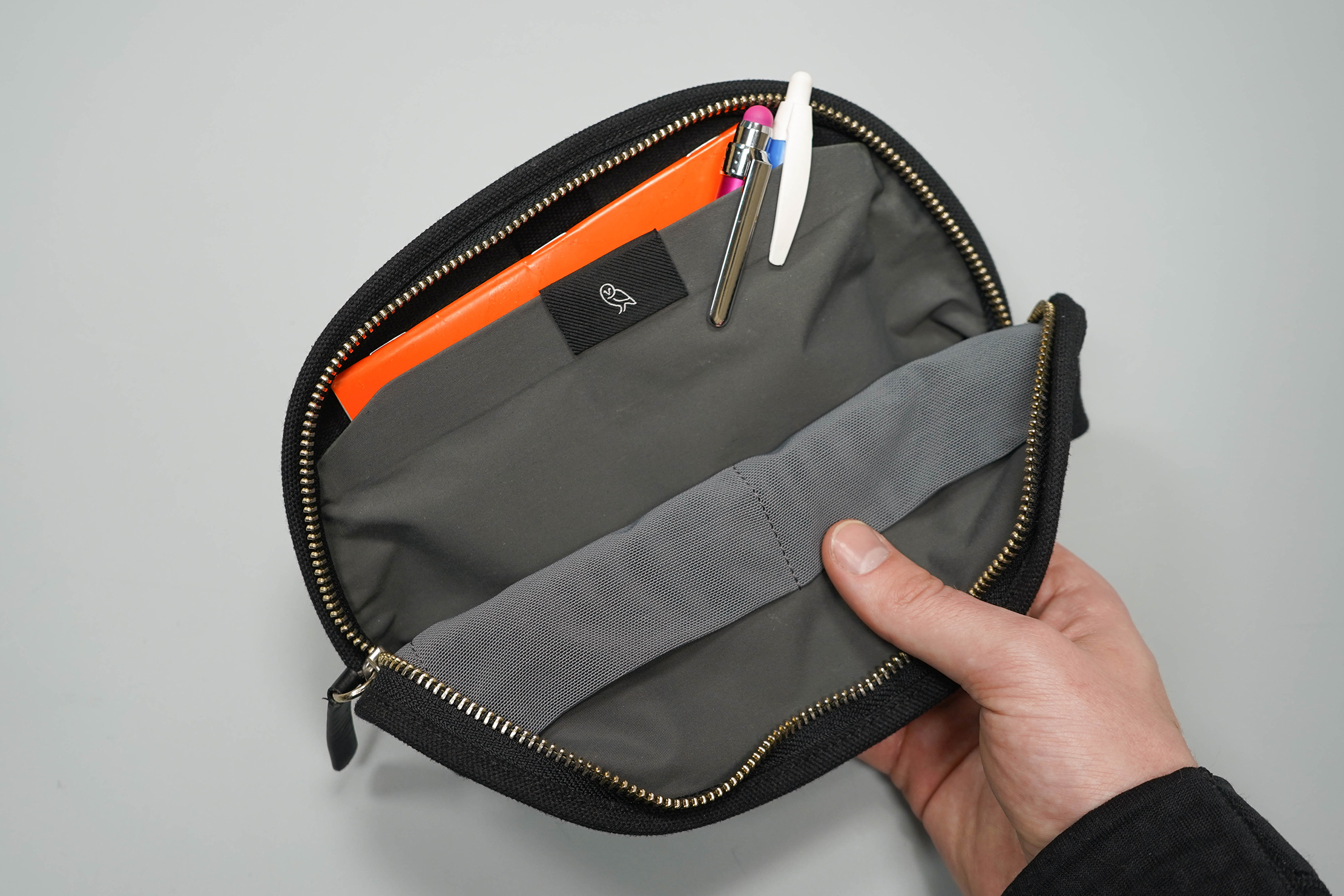 On the other side, there is a liner pocket that closes with a magnet. Now, this magnet isn't strong and doesn't stick well—while the pocket isn't loosey-goosey, it's also not super secure. We're not sure if this is a problem exclusive to our pouch or if it's due to the overall design of it. There's a similar magnet closure on the toothbrush pocket of the Dopp Kit, which works slightly better.
Either way, it hasn't been a problem in testing. We've used this pocket for headphones, a microfiber cloth, and other random tech accessories.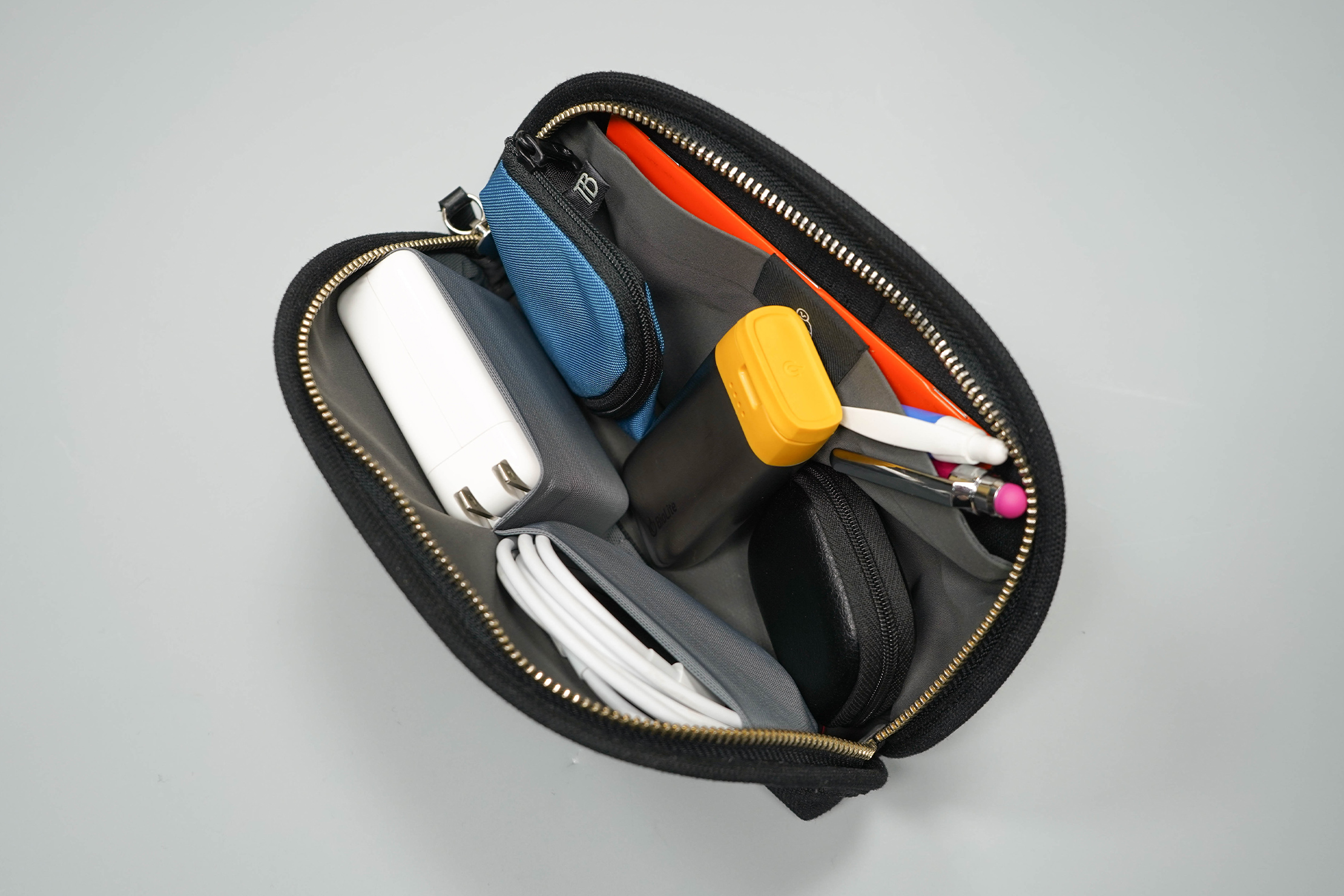 The main capacity holds a MacBook charging brick perfectly.
Of course, as we said earlier, you can use this pouch for whatever you want/need to. The only limitation is your imagination.
Durability & Testing
We've been testing the Bellroy Classic Pouch for a month in Detroit, Michigan—and we've been really digging it. It's compact but holds all the tech essentials we've needed on the daily. The curved shaped easily slides into whatever nook or cranny you have open in your backpack. And, when you get to the office or the co-working space, you can pop it on the table and be set for the workday.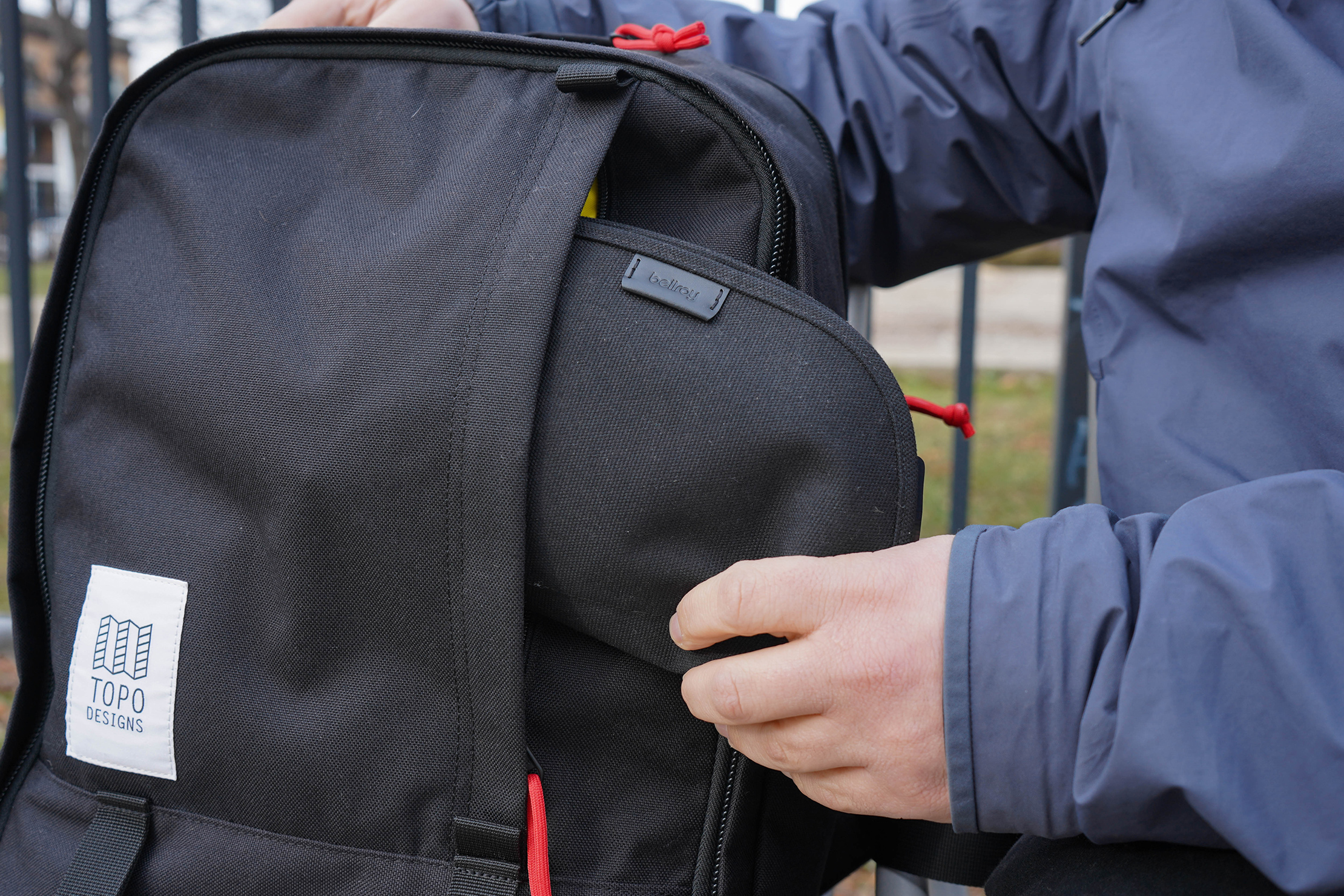 Unlike the Bellroy Dopp Kit, there are no grab handles. In testing, this hasn't been an issue, but we wanted to point it out as there's no way to hook this pouch to your pack.
As we mentioned earlier, the Classic Pouch is made of some nice materials that should last a while. We have no durability issues, major or minor, to report.
Usage Timeline
Initial Usage
Condition: Excellent
We're digging the minimal classy vibe
We like the smooth action of the zipper
Materials feel solid throughout
1 Month of Use
Condition: Excellent
Access the Pro Community Discussion
Get your questions about the Bellroy Classic Pouch answered from our team and the Pro Community right here on the page. Plus, join discussions with other members about gear, guides, and more.
Other Organizers & Pouches Reviews