Aer Travel Pack 3 Small Review
The Aer Travel Pack 3 Small takes key features from its bigger sibling and puts them in a smaller package built for shorter trips smaller frames.
Our Verdict
Unlock the Pro Summary
Save time. Get access to brief summaries of our reviews so you can browse and make decisions more efficiently.
Pros
Load lifters help center the weight
Has a dedicated pocket for a smart tracker
Size fits better for smaller-framed users
Cons
Compression straps lack some functionality
Zipper pulls can be difficult to keep straight
Magnetic buckles sometimes come undone
Recent Pack Hacker Video
Technical Details
Capacity

28l

Weight (lb)

4.28 lb (1.9 kg)

Dimensions

19 in x 13 in x 7.5 in (48.3 x 33 x 19.1 cm)

Notable Materials

CORDURA® Ballistic Nylon, YKK Zippers, Duraflex Hardware, Woojin Hardware, X-Pac, CORDURA® Nylon

Manufacturing Country

China

Laptop Compartment Size

16"

Warranty Information
Full Review
Get up to 10% off Aer • Join Pack Hacker Pro
To say that we like travel backpacks may be the best example of an understatement we can give. And, the bigger they are, the more features and functions we can explore along with you. Sometimes though, bigger isn't always better, and in those cases, we need to step it down a bit.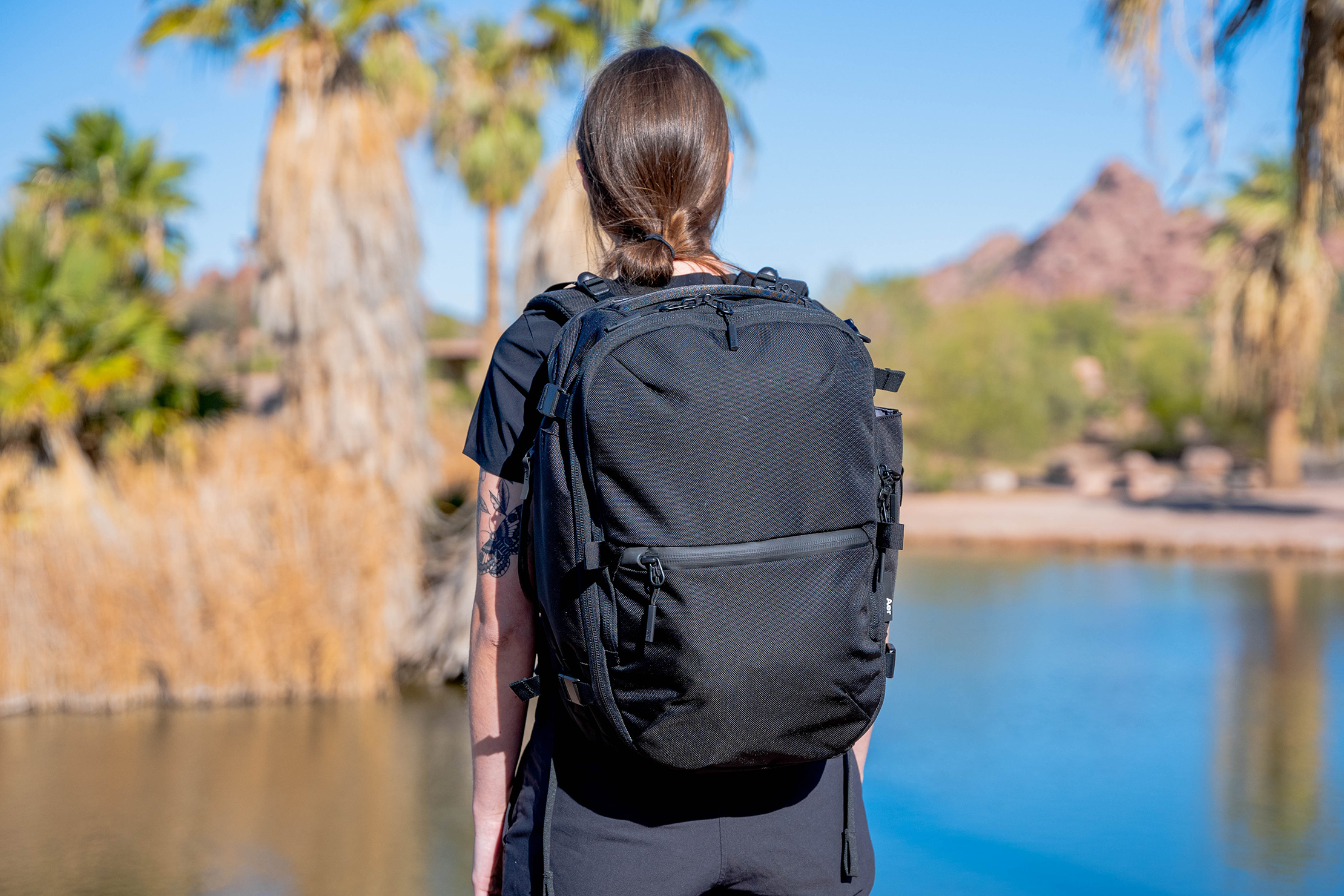 Fortunately, that doesn't always mean a step backward in functionality as well. The Aer Travel Pack 3 Small is exactly what it sounds like: it's a slightly smaller version of the Travel Pack 3. Yes, it doesn't have as much space as its bigger sibling. But at the same time, its size is a much better fit for those with smaller frames, and it's friendlier to carry-on compliances.
Plus, all of the features that we like on the bigger version, such as the load lifters, built-in smart tracker pocket, and big bucket-style main compartment—they're all still there. If you're looking at the Travel Pack 3 thinking it's just a bit too big for your needs, let's see if this one hits the Goldilocks Zone.
Materials & Aesthetic
We say that the Travel Pack 3 Small is a "slightly" miniaturized version of the original because, at 28 liters, this bag is by no means minuscule—in this case, "small" is a relative term. We'd say that this bag can be better described as "condensed" because, on the surface, it seems to have inherited all the bells and whistles of its bigger brother.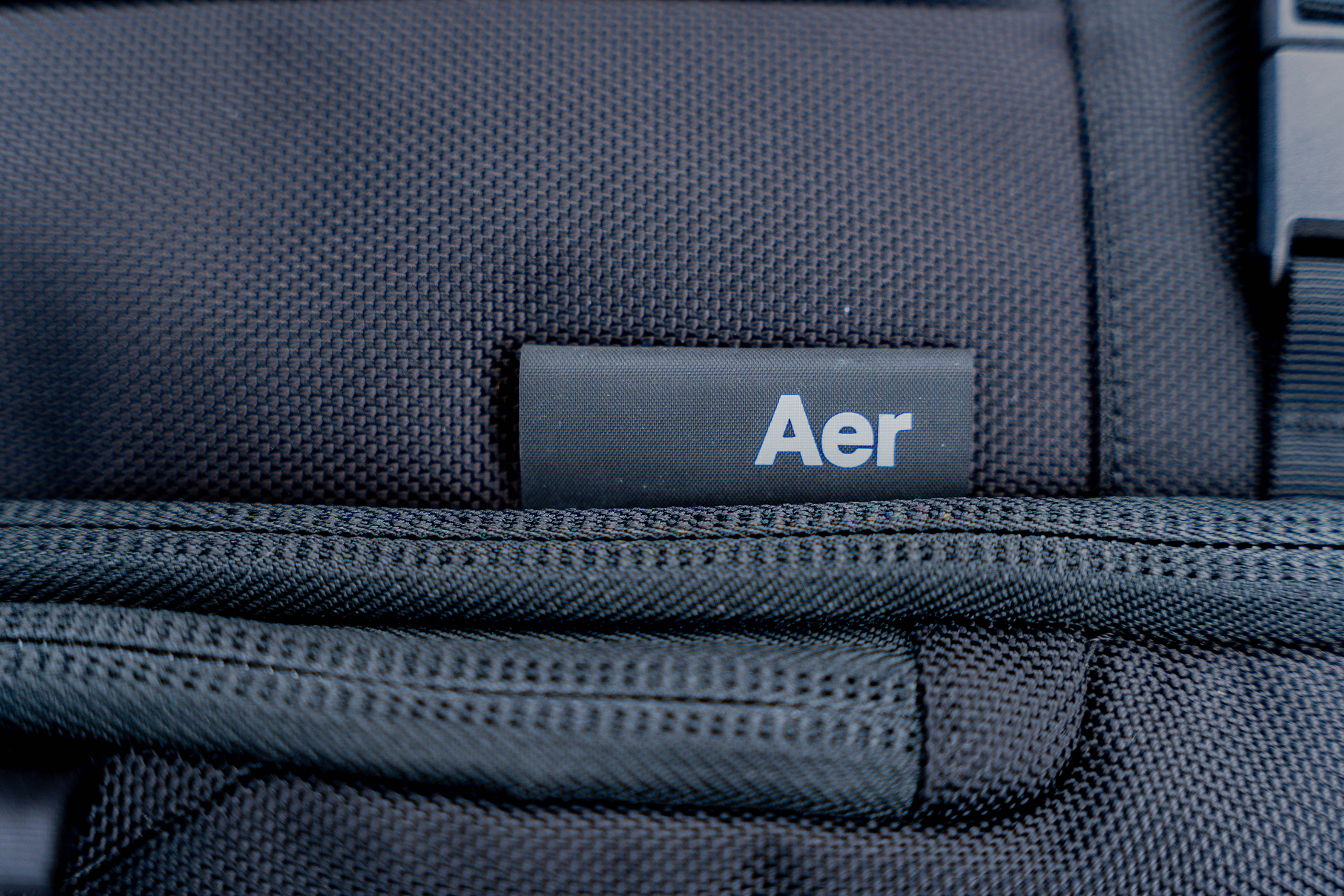 It features the same rounded rectangular shape with the signature zippered opening running across the front. Straps, seams, and zippers are scattered all across the different areas of the bag. However, the Travel Pack 3 Small still maintains Aer's more reserved and minimalist styling that goes oh-so-well with the sleek all-black aesthetic we've come to know them for.
Compared to the older Travel Pack 2 Small, the Travel Pack 3 Small looks cleaner in some respects while gaining additional elements in others. All of that said, regardless of whether you're comparing the Travel Pack 3 Small to its bigger sibling or to its predecessor, Aer's consistent design language ensures that there's nothing visually drastic between any of them. Put another way, there's a good chance people won't know you've switched bags unless you tell them otherwise.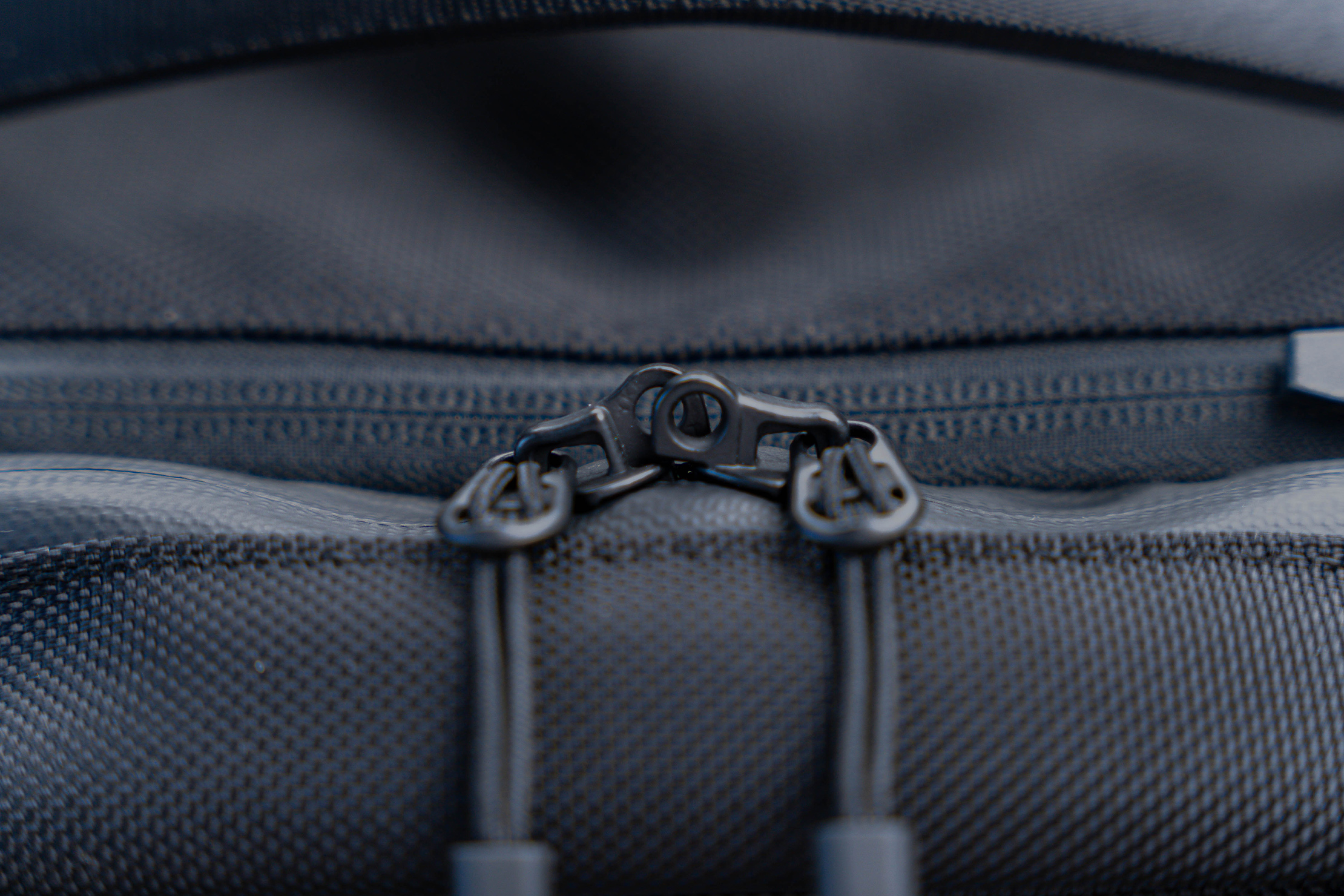 The main material is still Aer's fabric of choice: 1680-denier CORDURA Ballistic Nylon, a highly abrasion-resistant fabric that holds up well against daily wear and tear. That's one of the main perks of a heavy denier nylon-based fabric like this one. However, if you want a bit more protection against splashes, you'll want to go with the X-Pac version—a similarly durable material with a higher focus on water resistance.
However, both the X-Pac and CORDURA Ballistic Nylon versions are all-black. If you want something that's a bit more eye-catching, consider the Heathered Gray colorway option, which uses 700D CORDURA. It's a lighter fabric, courtesy of the lower denier, but it's still sufficiently strong even for everyday carry duties.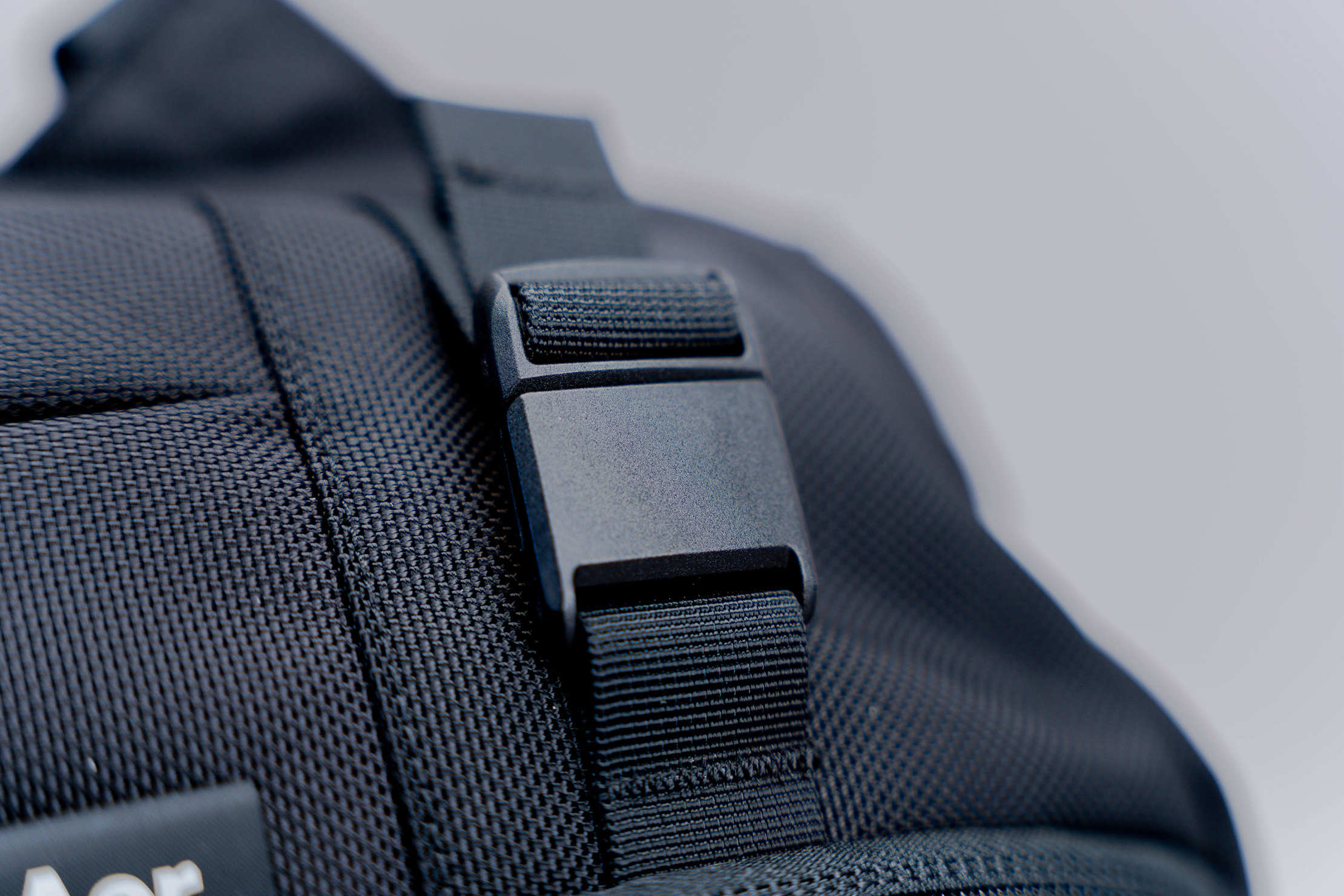 The list of high-quality materials doesn't stop at just the fabrics. All of the zippers on the Travel Pack 3 Small are YKK-branded, which is pretty much the gold standard for zippers. The accompanying metal pulls appear shorter than the old ones, but they're also noticeably wider, which minimizes metal-on-metal contact between them. To top it off, cord pulls are also attached to the metal ones, which dampen any jingly noises.
The plastic strap adjusters are from Duraflex, while the magnetic buckles are from Woojin. Both brands are as reputable as YKK, and we do see all three names pop up in one bag from time to time. And yes, new to the Travel Pack 3 Small is the use of magnetic buckles, which we'll discuss more in the next section.
External Components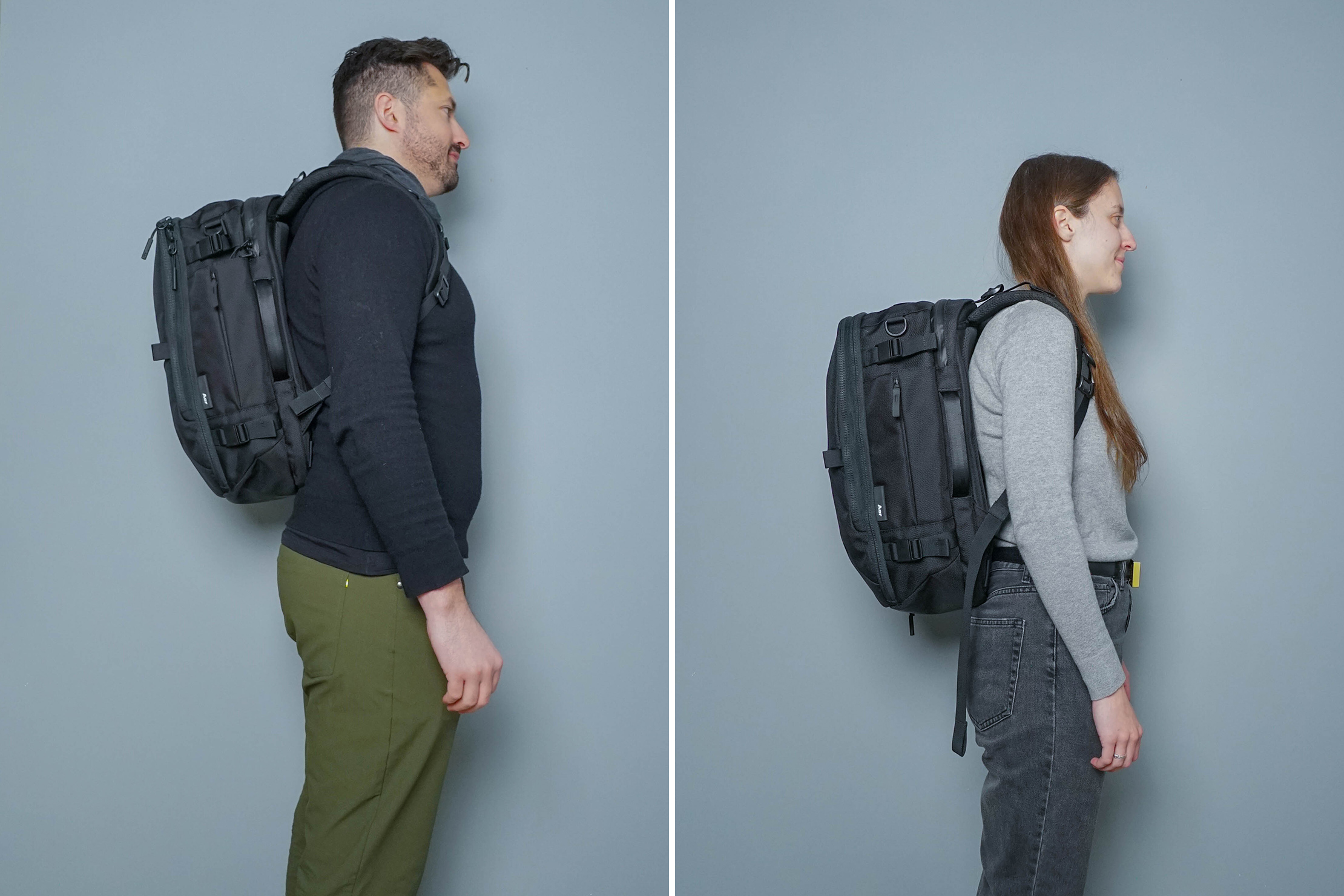 Aer didn't hold back with the Travel Pack 3 Small's harness system. All of the goodies on the bigger version are here, from the standard well-padded shoulder straps down to the magnetic compression straps. We're glad to see this because the "small" version of regular gear often gets stigmatized as the cut-down, budget version, which is clearly not the case here.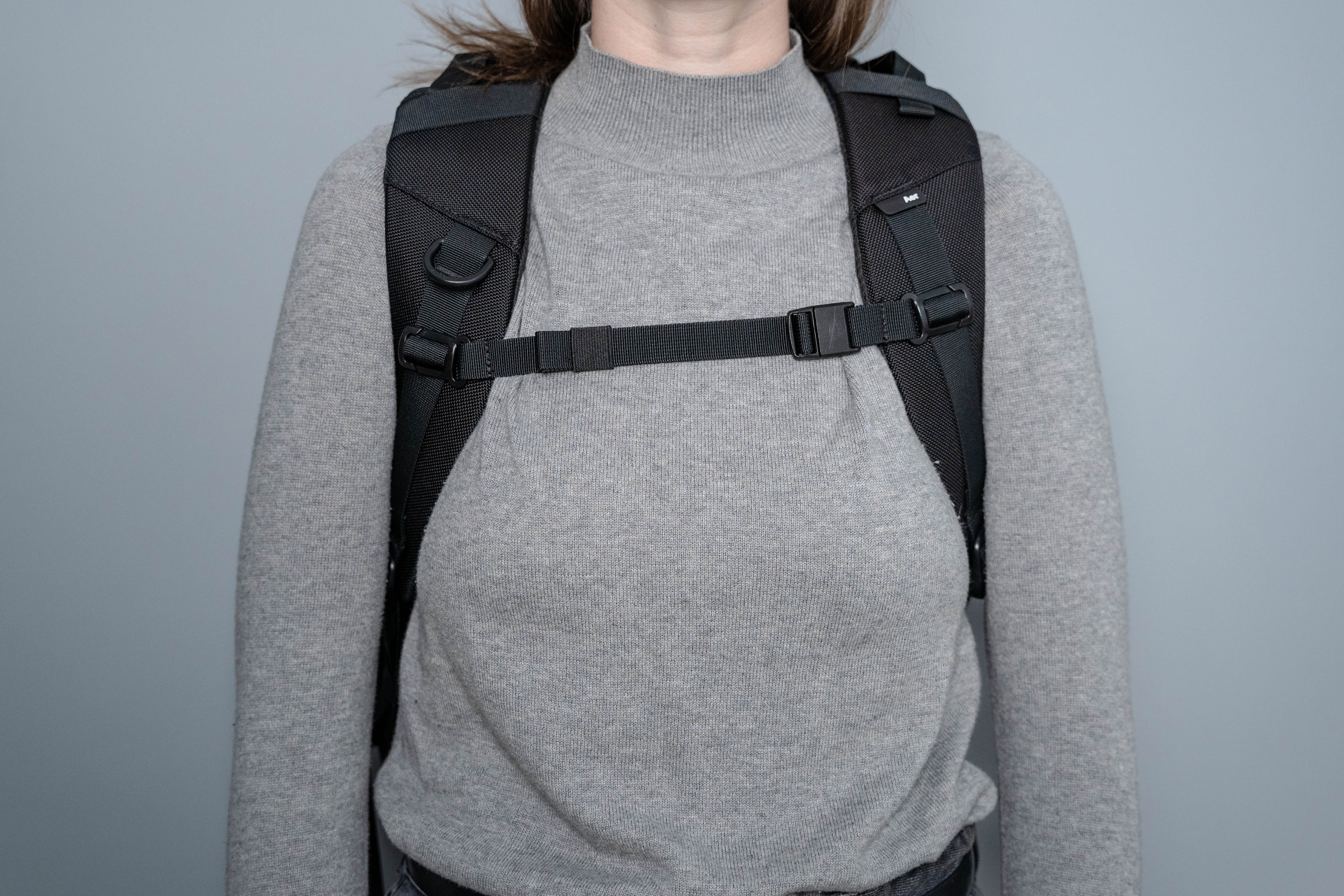 The shoulder straps have enough width and padding to spread out the potentially enormous weight that can be loaded into the 28-liter capacity. The straps are slightly wider than the old version's, but the bulk of the difference can be traced to the newly-introed load lifters. These straps make a welcome return on the Travel Pack 3, where they have a substantial impact on carrying comfort. The good news is that they also have the same helpful effect on the Travel Pack 3 Small.
In a nutshell, the job of load lifters is to pull the bag closer to your shoulder area, effectively minimizing the saggy or being-pulled-back feeling. Tightening the load lifters on the Travel Pack 3 Small achieves this and better centers the weight of the bag, resulting in a more balanced carry. Oh, and fans of the dangle-free look will be happy to know that there are strap keepers built-in directly near the top of the shoulder straps to keep the load lifters' slack tamed.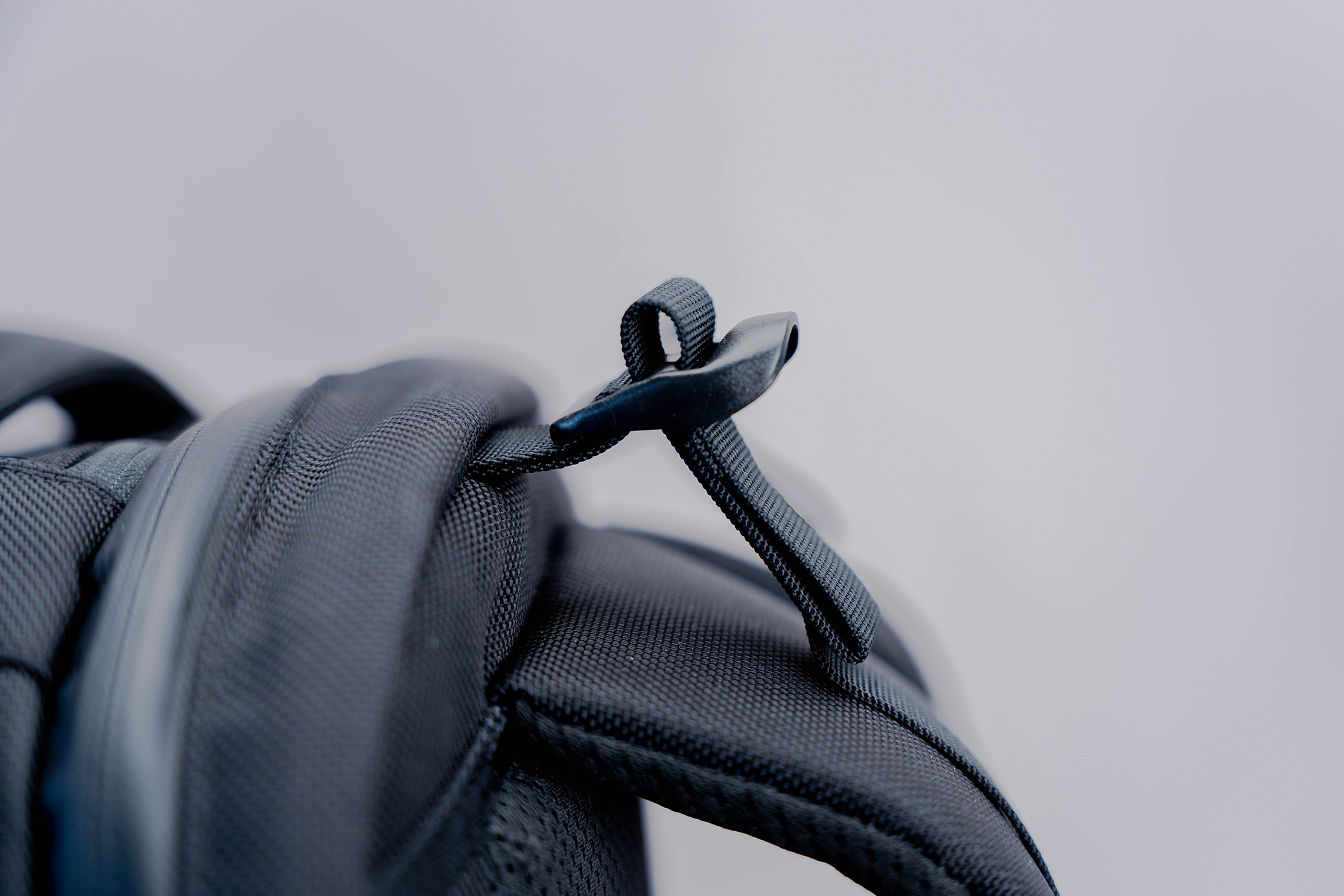 The shoulder straps themselves have a few other built-in features apart from those already mentioned. They're length adjustable (as expected), but they also come with elastic strap keepers to preserve the bag's clean looks. There's a lone D-ring on the right shoulder strap for attaching additional accessories. On the opposite shoulder strap, there's only a small Aer logo on a Hypalon tab—not functional, just decorative.
Of course, the shoulder straps also come with a removable sternum strap for added support (this is still a big bag, after all). It's the kind we like, too: the type that slides along a rail and has a fine degree of adjustment. What we're not fans of, though, is the magnetic buckle.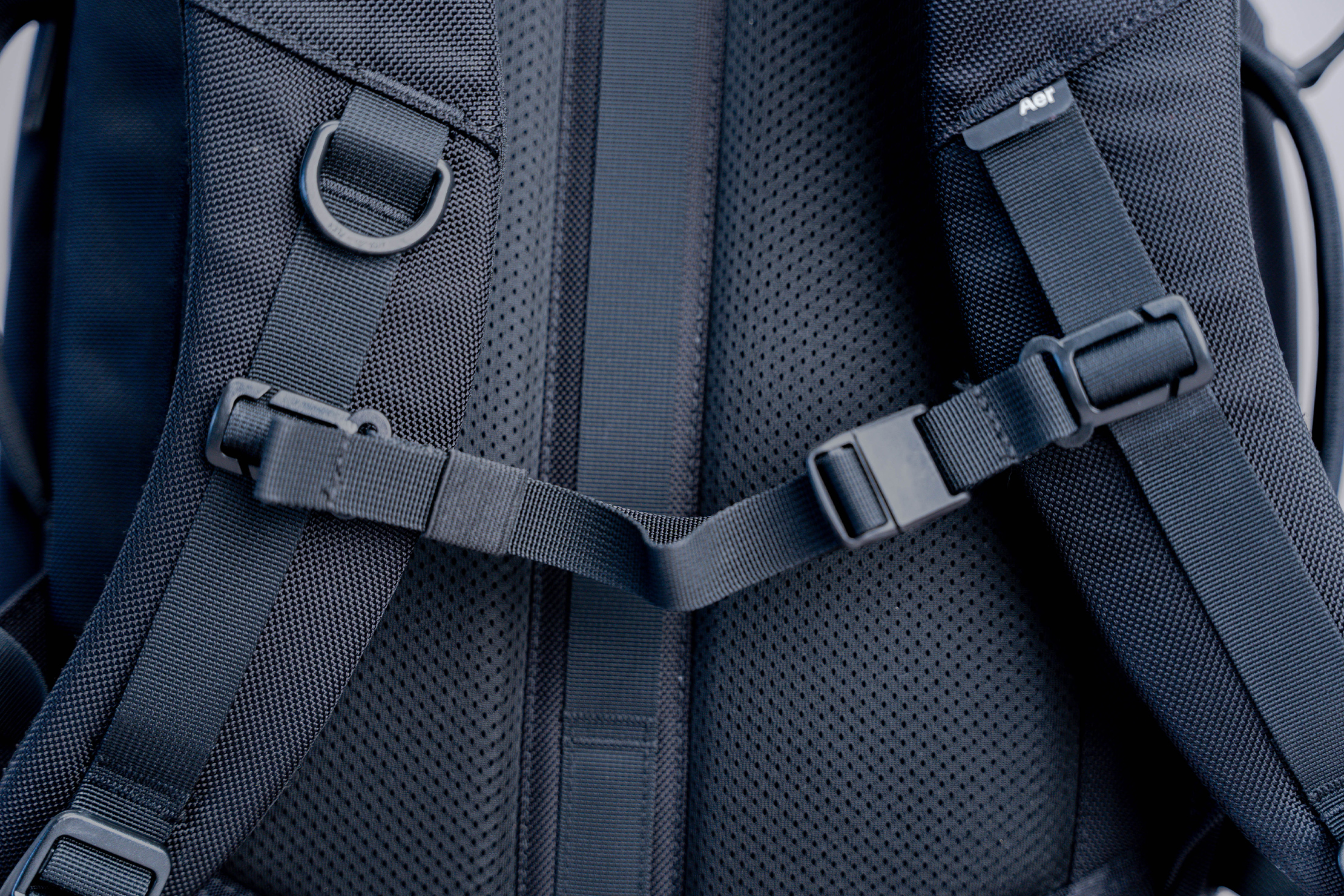 Yes, the hardware is from Woojin, a brand we typically like. However, we think magnetic buckles are a bit unnecessary in a sternum strap. Side release buckles clip on and off very easily. On the other hand, magnetic buckles need to be slightly but noticeably pushed together to unclasp. When you already have a sternum strap well-fitted, pushing them together can be somewhat discomforting. Plus, it's harder to undo with one hand, which is inconvenient if you're holding a pre-flight coffee but want to set your bag down.
That said, we don't want to over-exaggerate this nitpick. The magnetic buckle gets the job done with the added benefit of the satisfying tactility unique to magnets. It just feels like more of a sidegrade than an upgrade.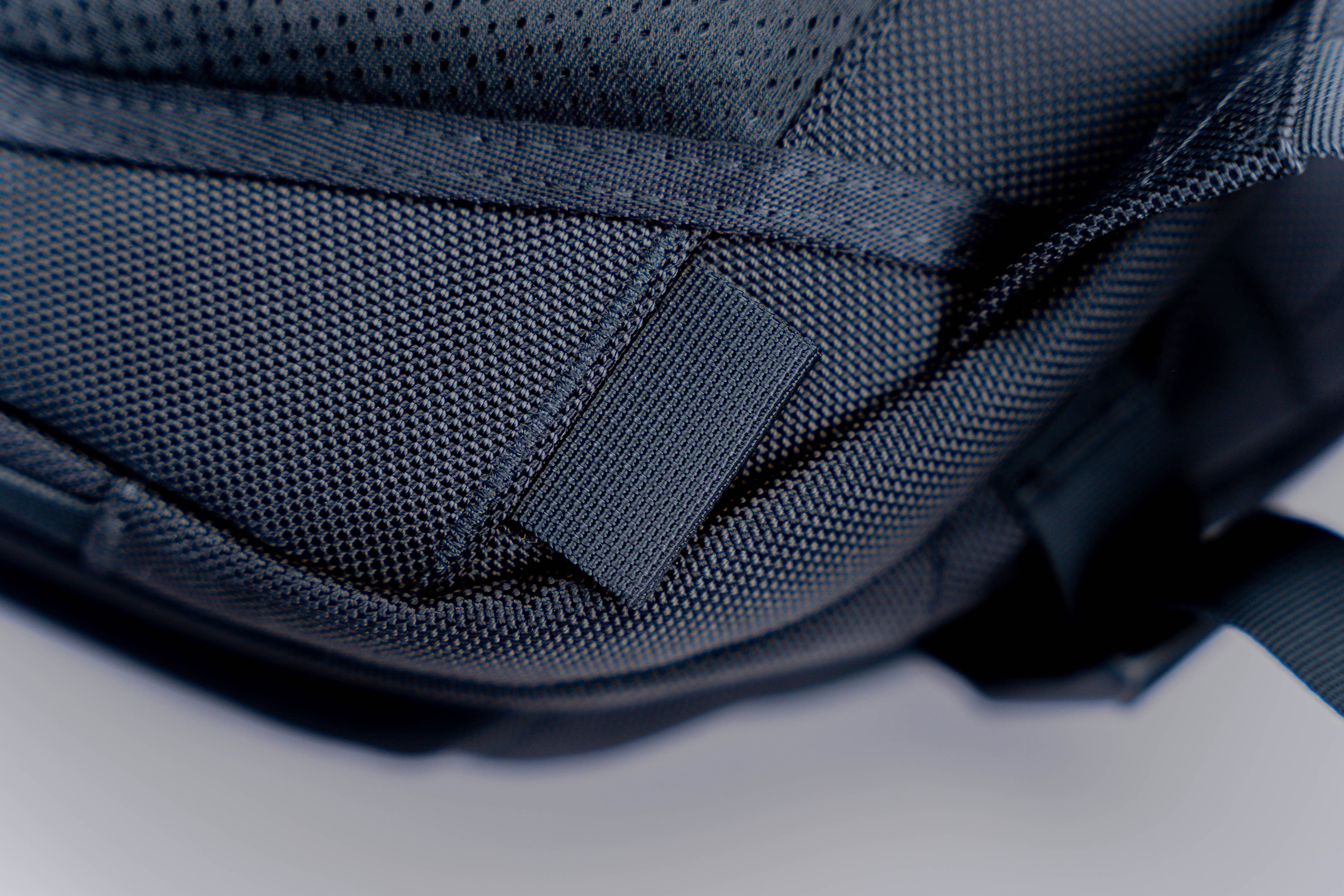 In case you absolutely need more support on top of the load lifters and sternum straps, there is an option to attach a hip belt. Aer sells their own hip belt, but since the attachment points are simple nylon loops, it's fairly easy to find third-party accessory straps that can fill the role. All of that said, we only feel the need to use one when the bag is extra heavy. Otherwise, the load lifters do a more than adequate job of balancing the weight.
What good are shoulder straps without a supportive back panel? The foam padding on this pack feels a bit stiff out of the box, but that should get better over time as the material breaks in, and it's not uncomfortable by any means. The two foam panels form a central air channel where a luggage pass-through sits flush. With its orientation, the Travel Pack 3 Small sits horizontally on a roller—not ideal if you have a lot of loose items inside that can get tossed around. Fortunately, we use packing cubes all the time, so that's not an issue.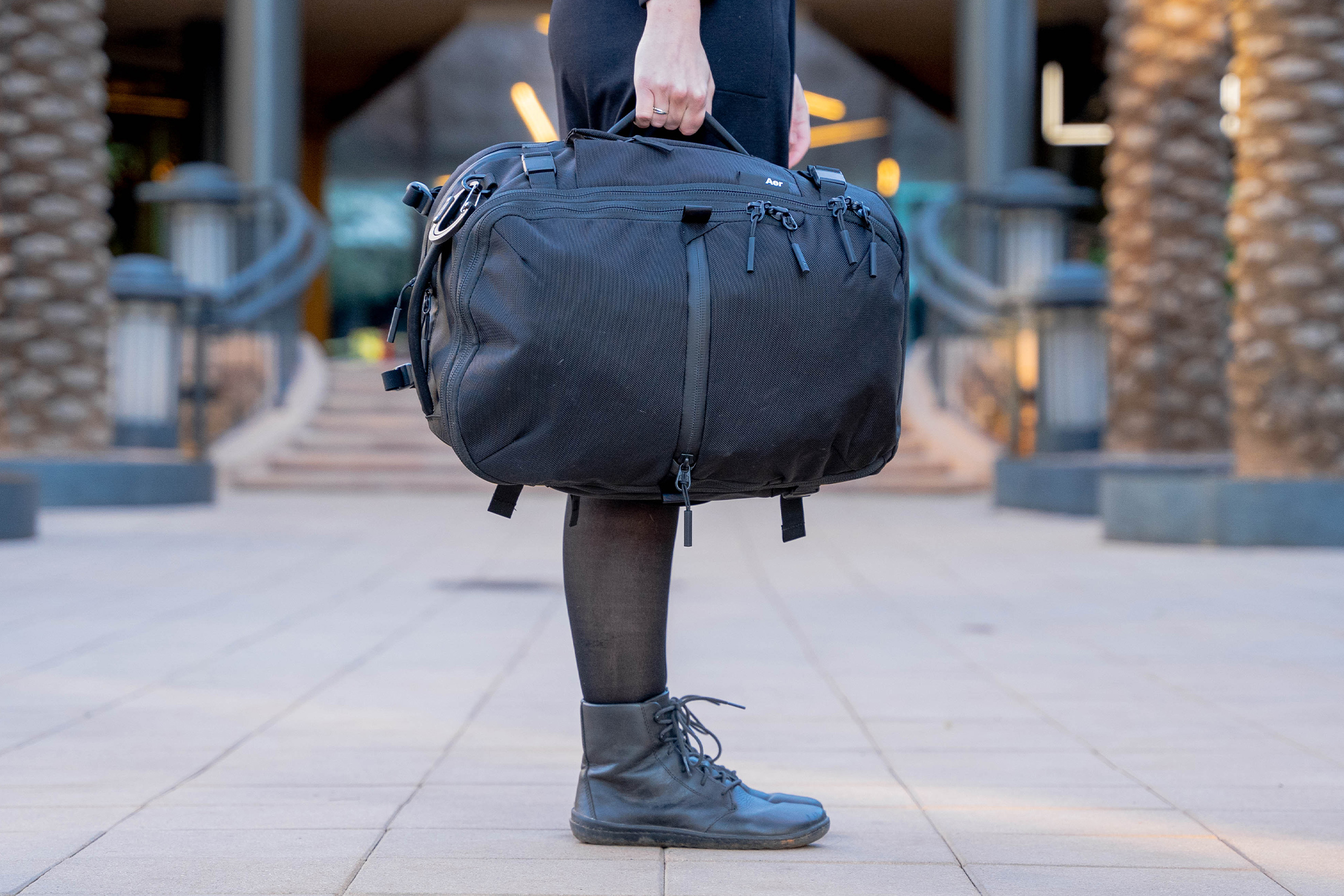 The Travel Pack 3 Small's back panel has an interesting characteristic that's fairly easy to miss. Looking closely around the top section from the side, you'll notice that it wedges out quite a bit. This allows the back panel to contour around the shoulder area in conjunction with the load lifters. It's a neat attention to detail we also notice with the Travel Pack 3—well done, Aer.
The Travel Pack 3 Small also has a complete set of handles for quick-grab duties. There's one at the top, one at the bottom, and one on both sides. You can also technically use the luggage pass-through at the back as a handle, though we'd rather use one of the others first.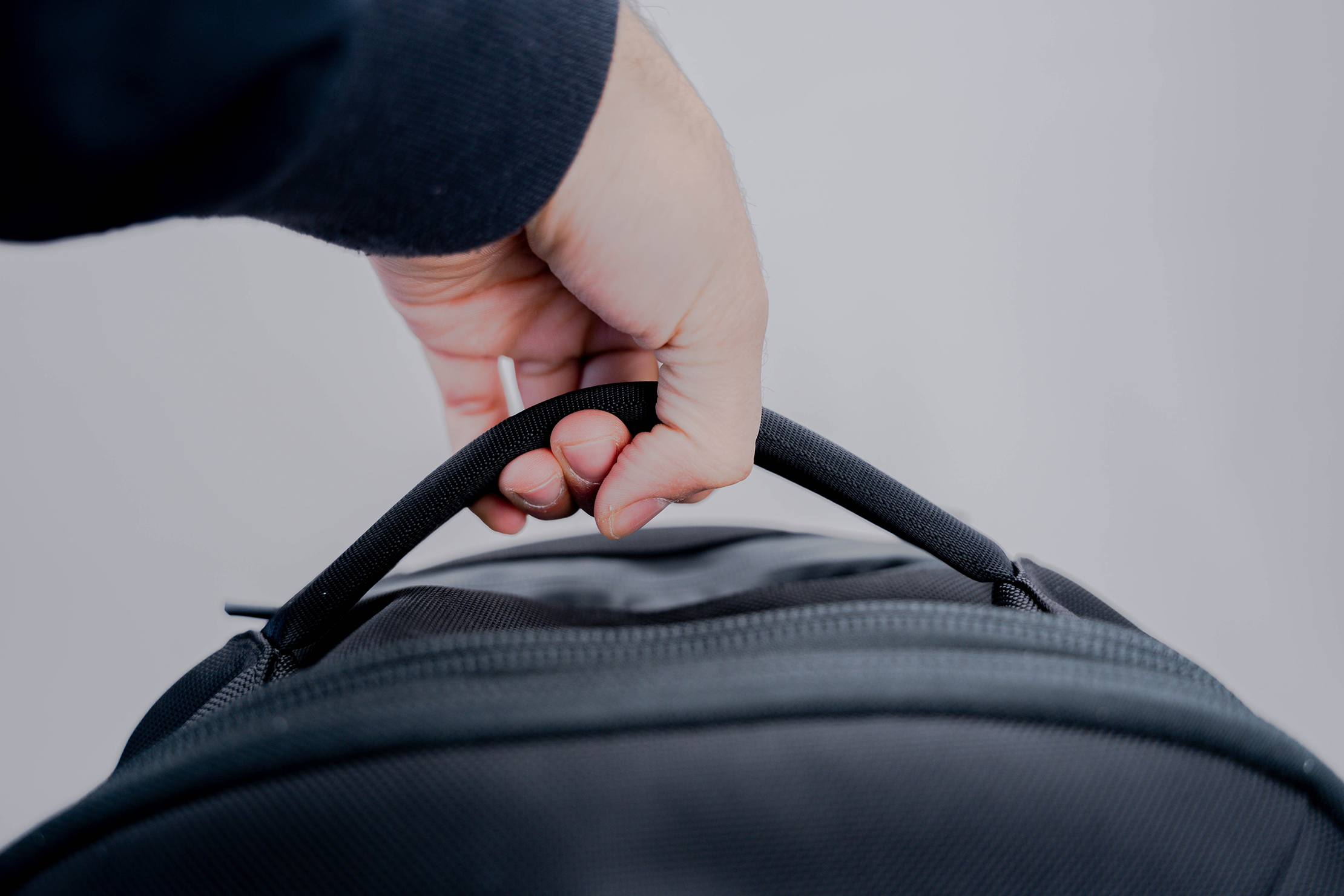 Interestingly, the top handle is significantly thinner than the one in the Travel Pack 2 Small, which is a good thing. The previous version's handle is a little too beefy for its size, and the Travel Pack 3 Small's top handle is much more proportional. Meanwhile, Aer elected to make the bottom handle simple and thin.
The side handles have a slick seatbelt-like texture and are somewhat padded for comfort. However, they do stick out of the sides quite a bit, enough for them to get caught on a doorknob in one instance. Thankfully, no one was hurt in that incident, including the door.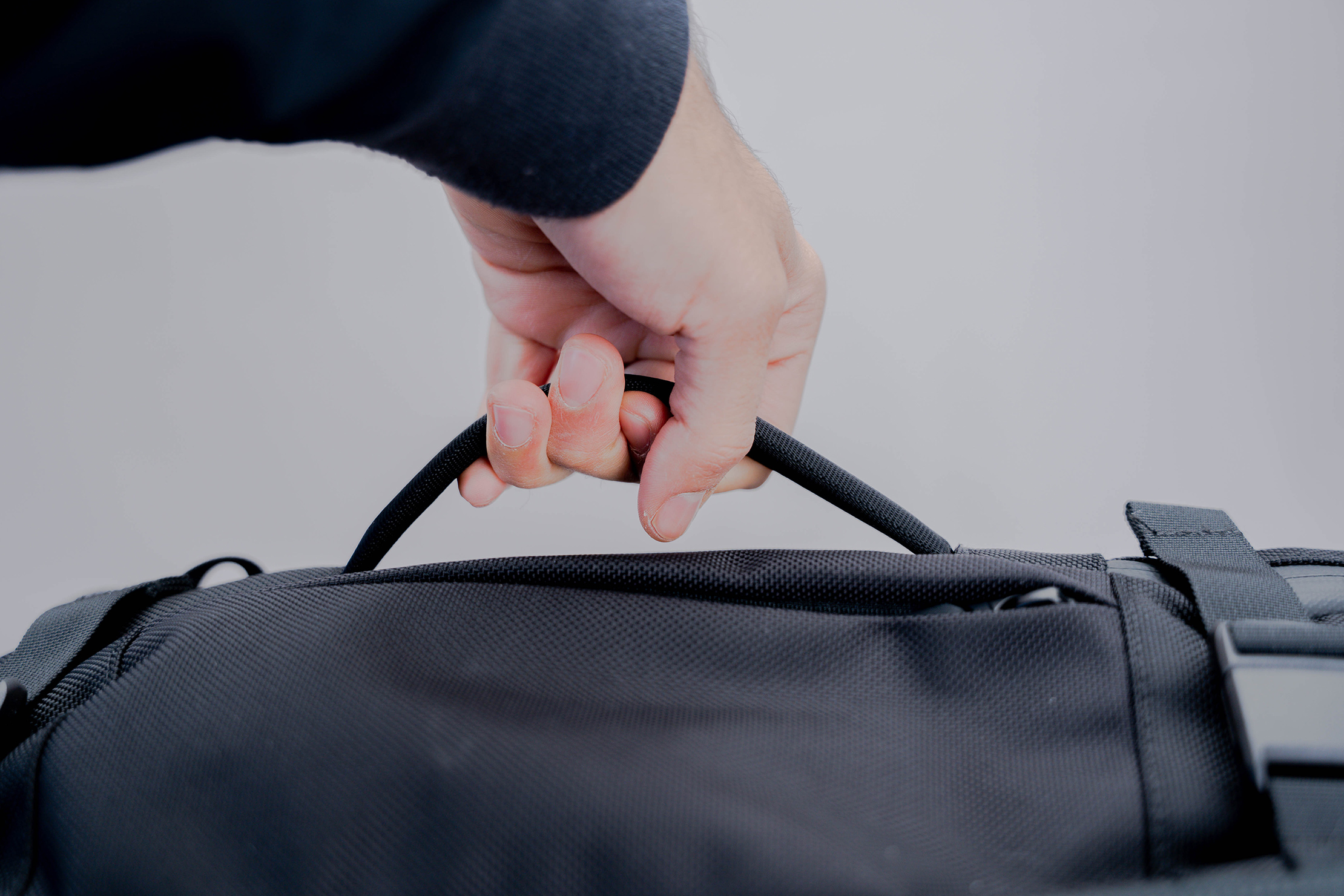 Another thing to note is the addition of compression straps on the Travel Pack 3 Small, which are lacking on the Travel Pack 2 Small. This allows you to tighten it down for easier everyday carry.
We don't find them super necessary in keeping the bag's weight compressed. Again, the load lifters do a good enough job on their own. On the other hand, the compression straps help the bag maintain a slimmer profile when it's empty. At 28 liters, it's a lot more everyday carry-able than its larger sibling, but your mileage may vary depending on your preferences.
We have to note that the compression strap below the right side water bottle pocket tends to disengage on its own, most likely due to a momentary loss of tension and sudden jolt on the strap.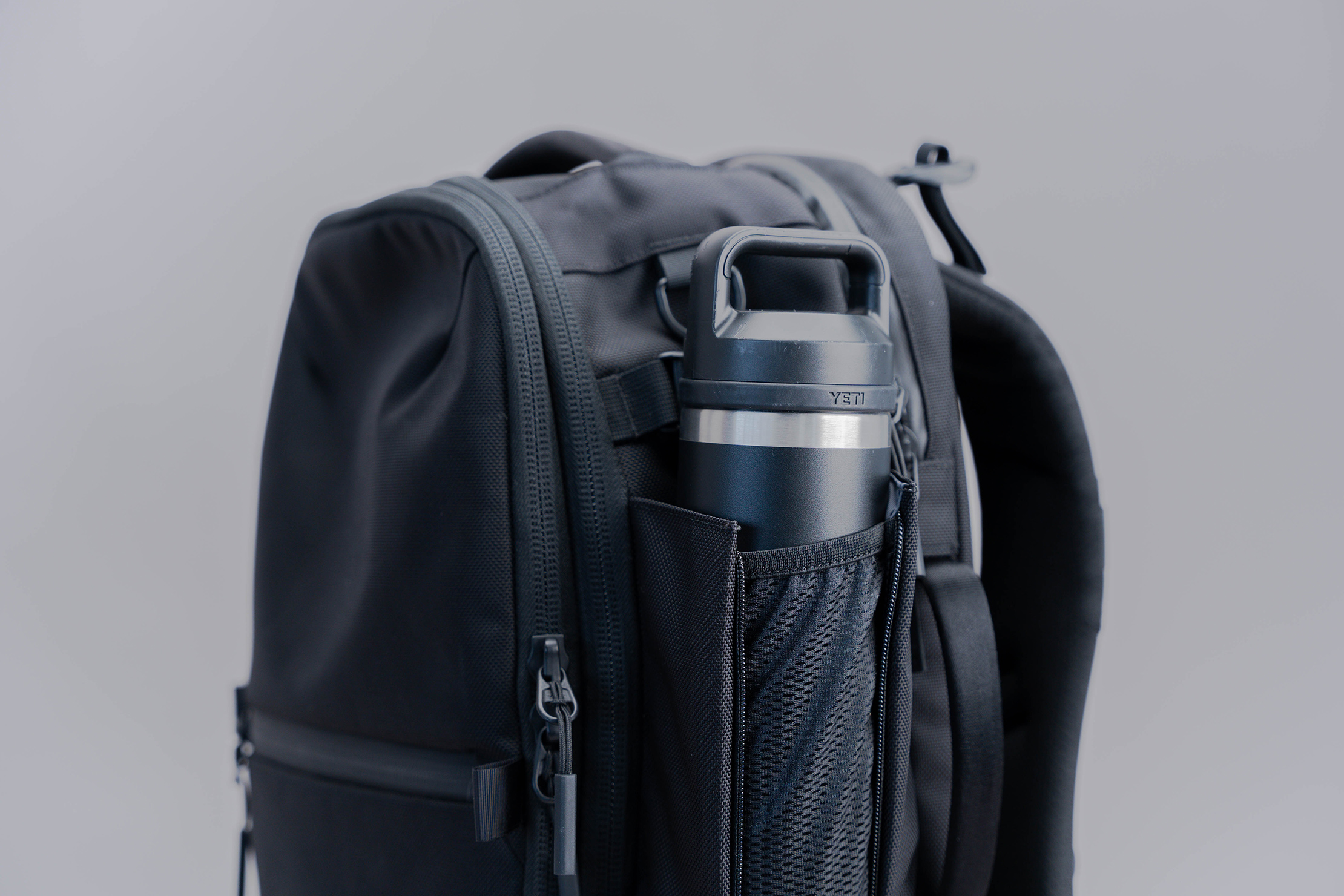 Lastly, there's a fold-flat water bottle pocket on the right side. It expands by undoing the zipper that runs down the middle, which reveals the stretchy mesh material. The pocket is large enough to fit an 18-ounce bottle like a YETI Rambler, but anything larger may struggle to fit. The elastic doesn't really maintain a firm grip, so we recommend utilizing the D-ring or the compression strap just above to anchor your bottle's handle (if it has one).
Inside The Pack
On the opposite side of the bag is a quick-grab pocket where we put some handy small accessories. These include wireless earphones, a wallet, and a packable bag. Do note that by packable bag, we don't mean relatively big ones like the WaterField Designs Packable Backpack. We mean more along the lines of Matador's Droplet Packable Dry Bag and BAGGU's Standard Baggu Tote—very small, very simple packable bags.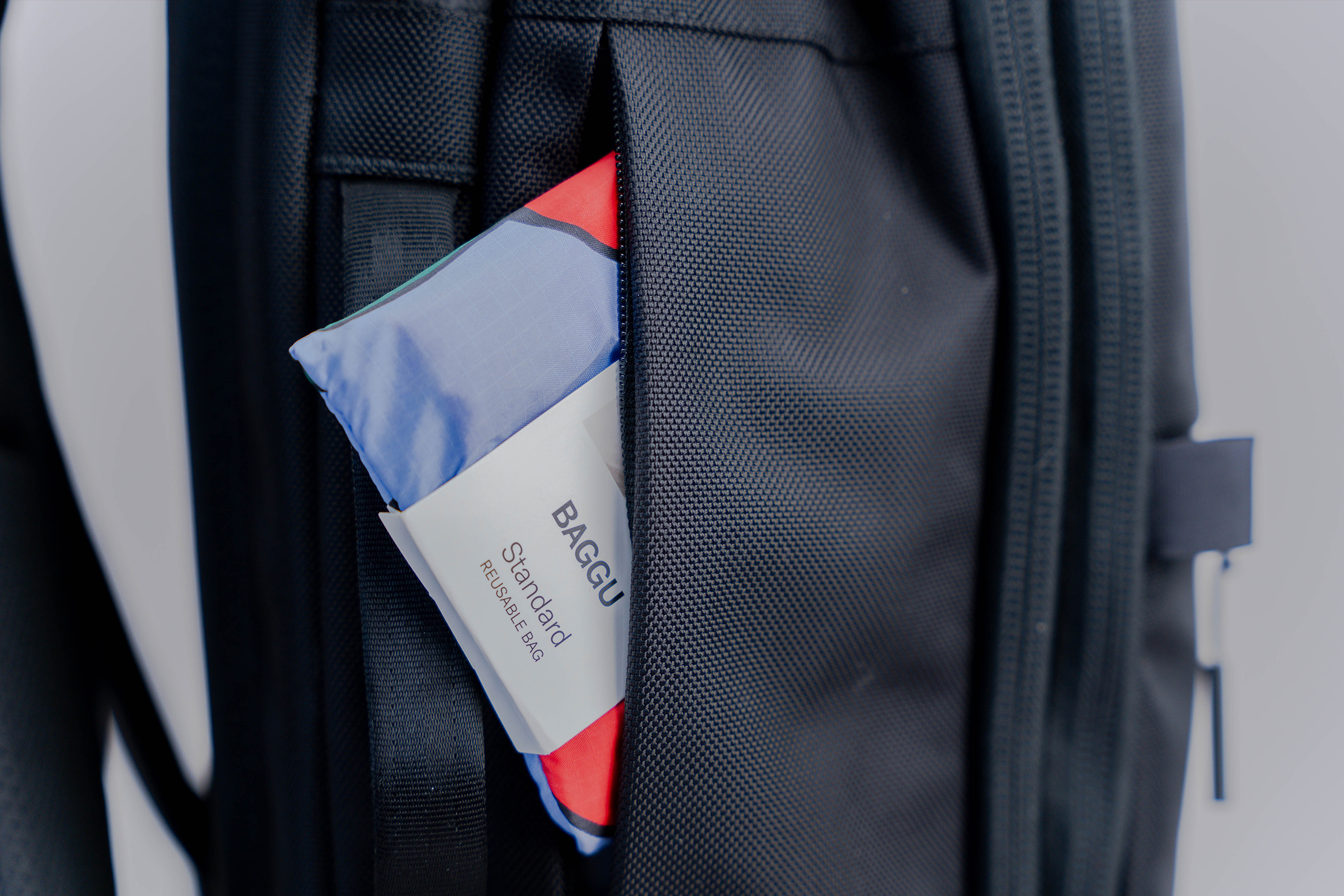 Up at the top is Aer's soft-lined pocket for easily scratched items like sunglasses and smartphones. We typically have our sunglasses in a separate protective case, but this is a nice inclusion for those who want to make do without one. Take note that this pocket has an all-black interior, whereas the rest have gray liner fabric. Smaller accessories like memory cards (which are often black) easily blend with fabric like that.
Next up is the front pocket. While the opening makes it seem like a split-type pocket, all of the space is in the lower half. There are no additional pockets inside despite all of the available space. It's effectively a huge dump pocket where you can place something as large as a compressible jacket. There is a built-in key strap that's fairly long with a robust-feeling clip—a far cry from the flimsier plastic ones on some of Aer's earlier gear.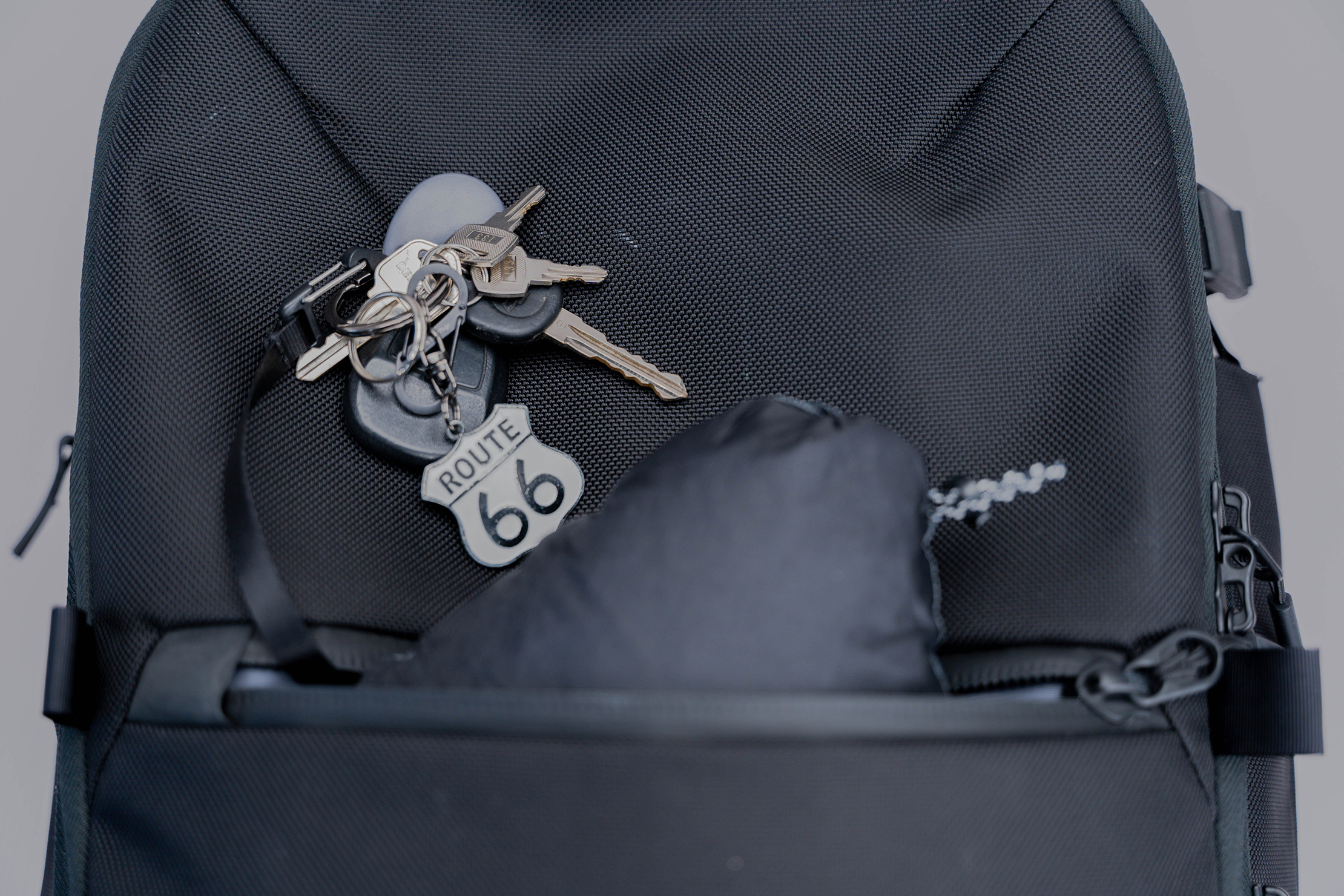 Some of you who are looking to upgrade from the Travel Pack 2 Small may be disappointed to learn that the Travel Pack 3 Small omits the shoe compartment. To be honest (and we always are), that feature takes up a lot of space even when stowed away—space that could otherwise be used for something else. It's not a huge loss for us, and it can be mitigated by using a separate shoe pouch from a brand like WANDRD or Peak Design. It's an additional purchase, yes, but the amount of space saved is well worth it.
The vast majority of the Travel Pack 3 Small's organization can be found in the front compartment. Here, you get an entire admin panel worth of pockets. Starting from the top, there's a tablet sleeve, a zippered pocket that goes halfway down, two liner pockets with a pen silo in between, a mini stretchy mesh pocket, and two additional liner pockets. That's more than enough to get most of our tech accessories organized, which includes our travel-sized mouse, charger, keyboard, memory cards, thumb drives, data cables, and laptop stand. Additionally, the compartment has more than enough independent volume that we can utilize the space in front of the pockets for fairly sizeable pouches, provided that they're packed strategically.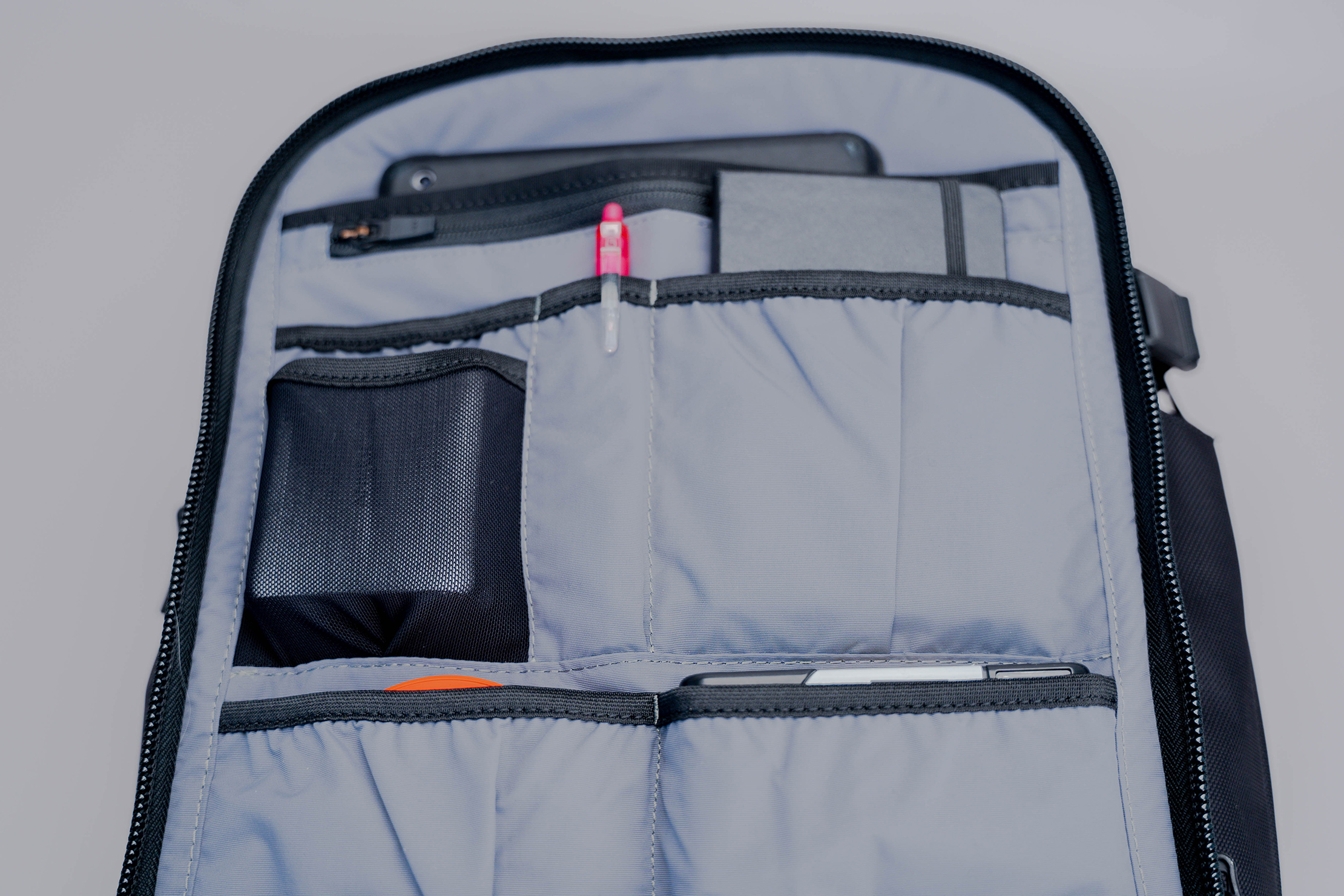 When looking at this bag side by side with the Travel Pack 2 Small, it's evident that Aer did a lot of cleaning up in terms of design. A lot of the stitching and seams are now less visible, lessening the overall visual noise inside the compartment. The liner fabric itself is less wrinkly and looks a bit bluer.
Just behind the front compartment is the main compartment. Much like the Travel Pack 3, accessibility here is relatively fast and easy since none of the compression straps go over the zippered opening. To note, it wasn't an issue before in the Travel Pack 2 Small either since that didn't have any compression straps to begin with.
Unfortunately, the zippers of both the front and main compartments can sometimes get caught up with each other. For example, if we have the bag lying on its back, the front compartment's zipper pulls sometimes fall into the main compartment's opening, which can be a bit annoying if you're trying to quickly open your bag.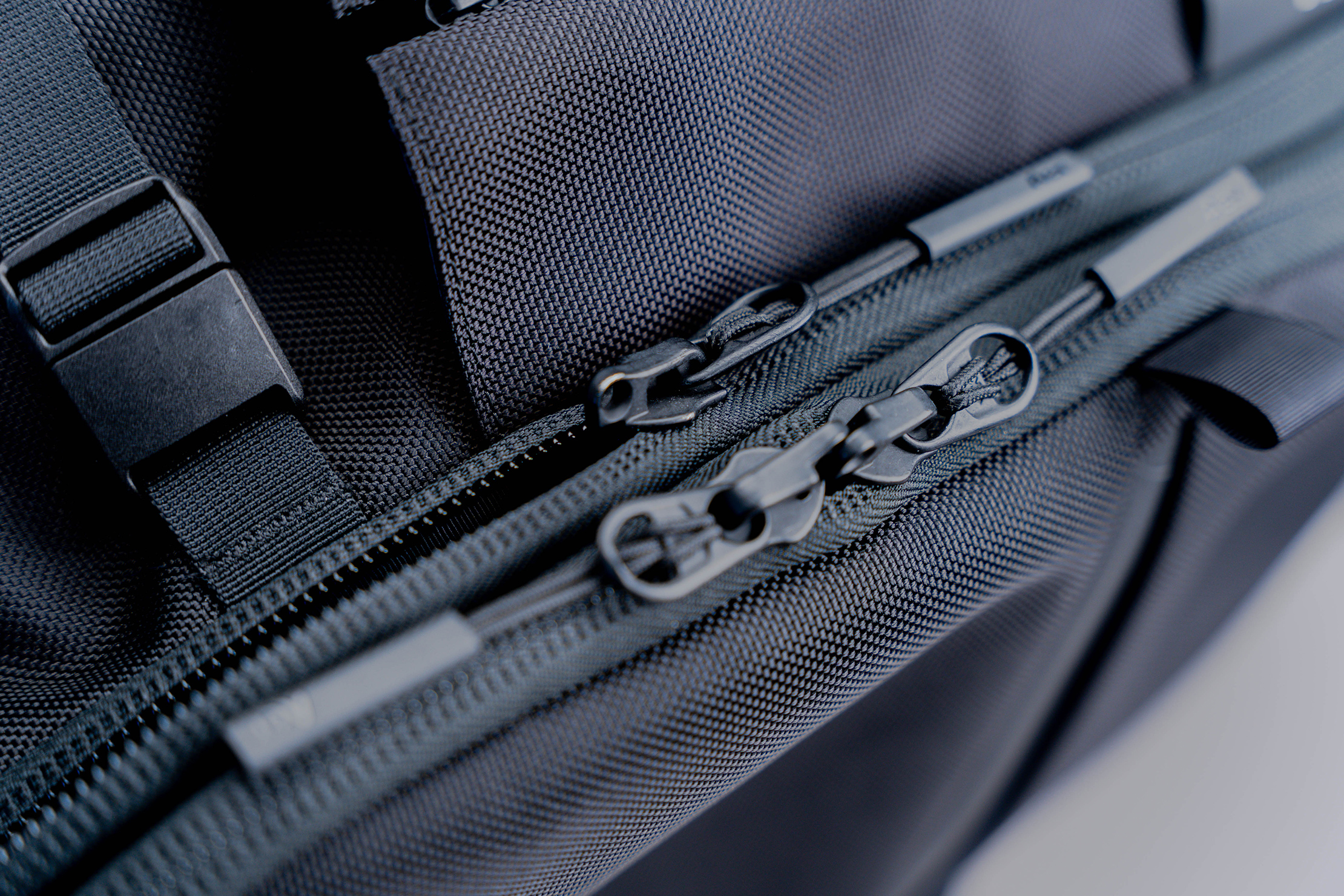 Having both compartments' openings close to one another along the forward-most edge is worth the minor nitpick, though. It maximizes the main compartment's volume by having the outer walls as high as they can be, therefore making packing a lot easier.
In terms of space, the Travel Pack 3 Small's main compartment makes full use of the rated 28-liter capacity. There's enough room for two large packing cubes plus a toiletry bag, though your mileage may vary depending on what packing cubes you use. Packing cubes are somewhat of a necessity to keep clothes organized. The main compartment lacks any built-in hold-down straps, so clothes can shift around if they're loosely packed. All in all, the Travel Pack 3 Small is big enough for a week-long trip if you plan your packing list right.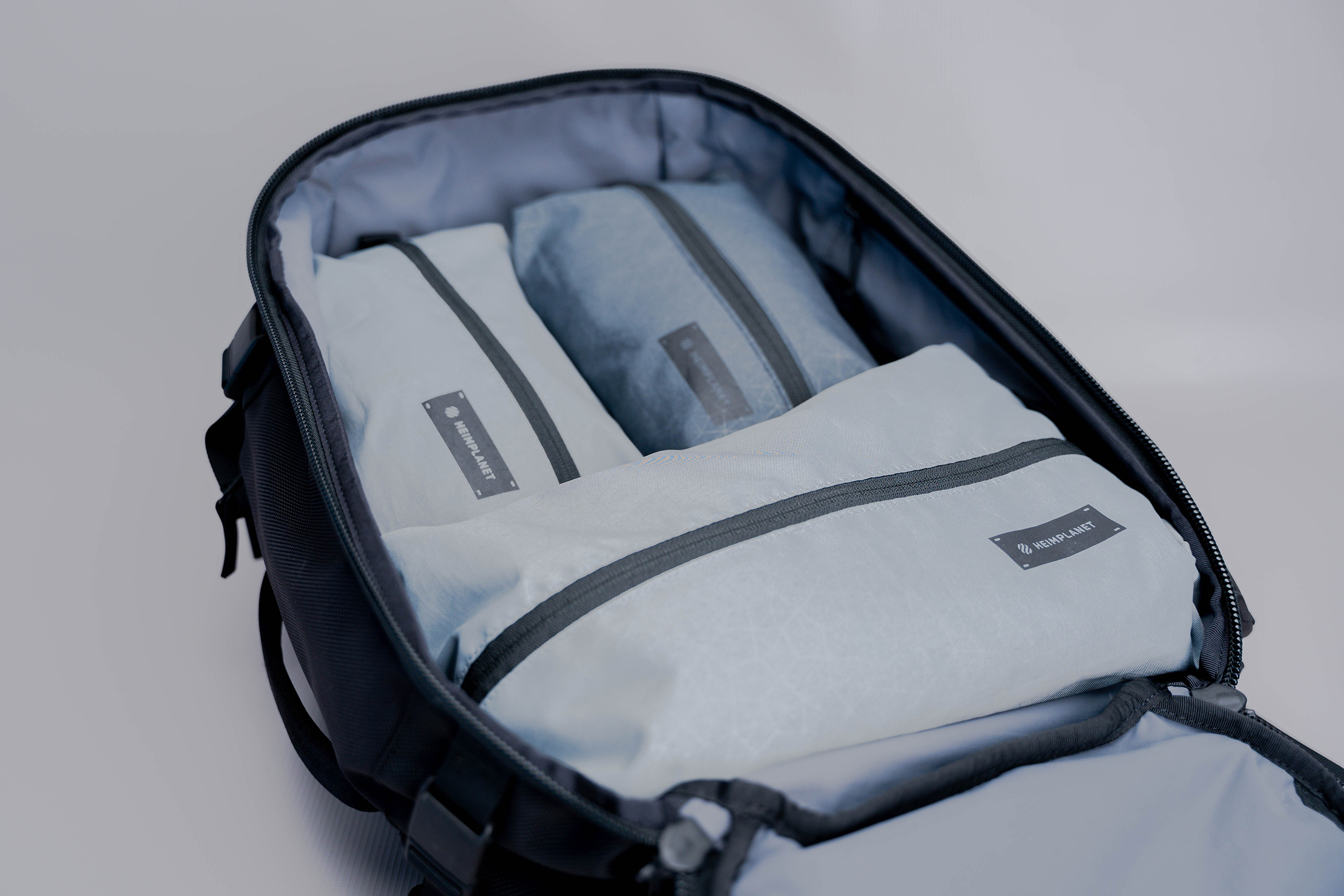 Before we forget (because it's so easy to miss), there's a built-in smart tracker pocket hiding behind the top pocket's liner. It's a nice feature to include and makes the Travel Pack 3 Small feel like a bag fit for the decade we're currently in.
The main compartment's lid has a few organization options handy as well. There's a wide zippered mesh pocket that we use as a catch-all space for semi-quick-grab items like extra toiletries that we might need in transit. Because it uses stretchy mesh, it has some room to expand for bulky items like socks or wool gloves.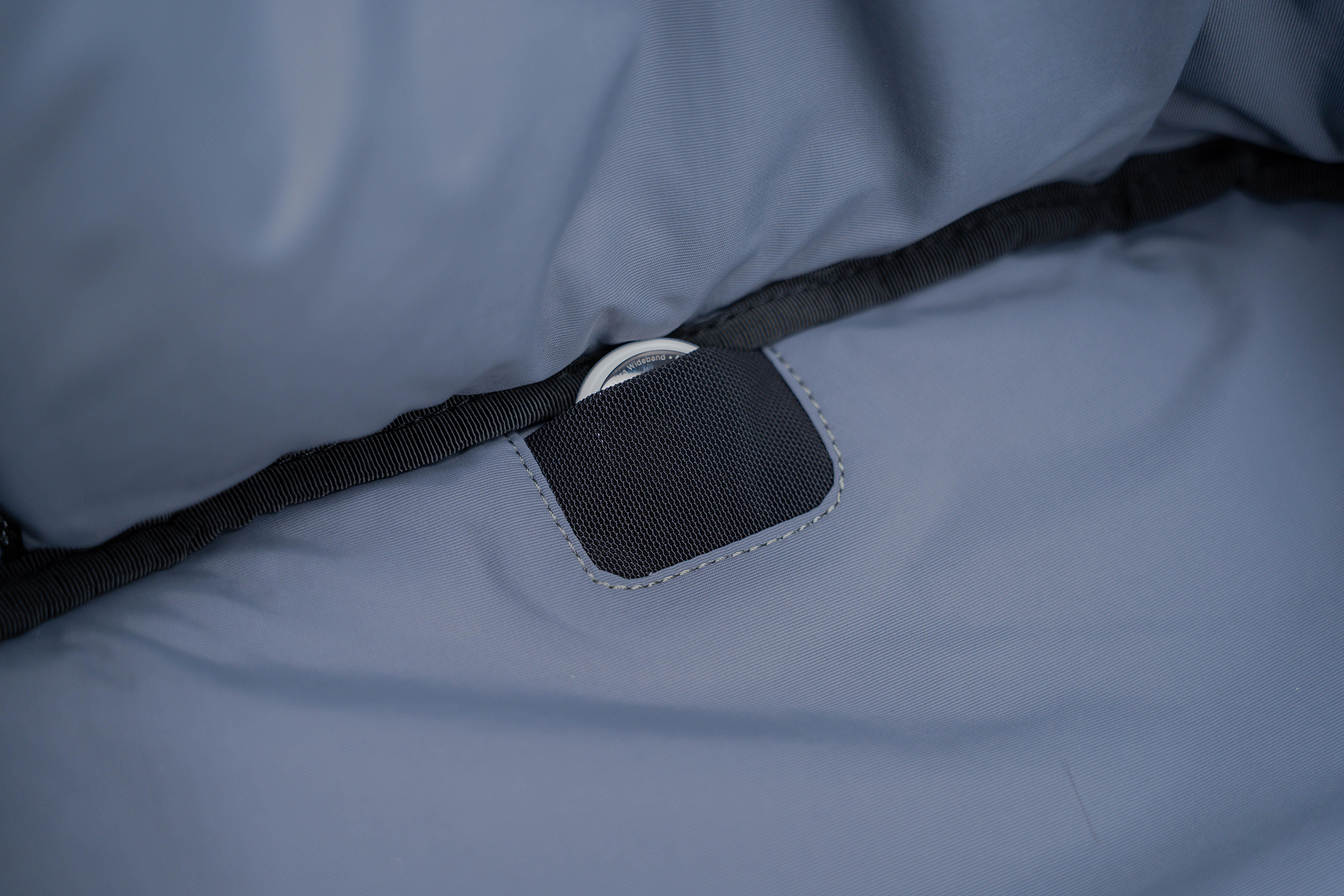 Behind the mesh pocket is a wide and very stealthy zippered compartment that covers almost the entire area of the lid. The limited depth limits its use for bulky items like a jacket or thick towels. Because of that, we opt to use the space as a dump pocket for extra straps, accessories, and items that we want out of sight for most of our trips but couldn't exactly leave at home—everyone has one or two of those, right?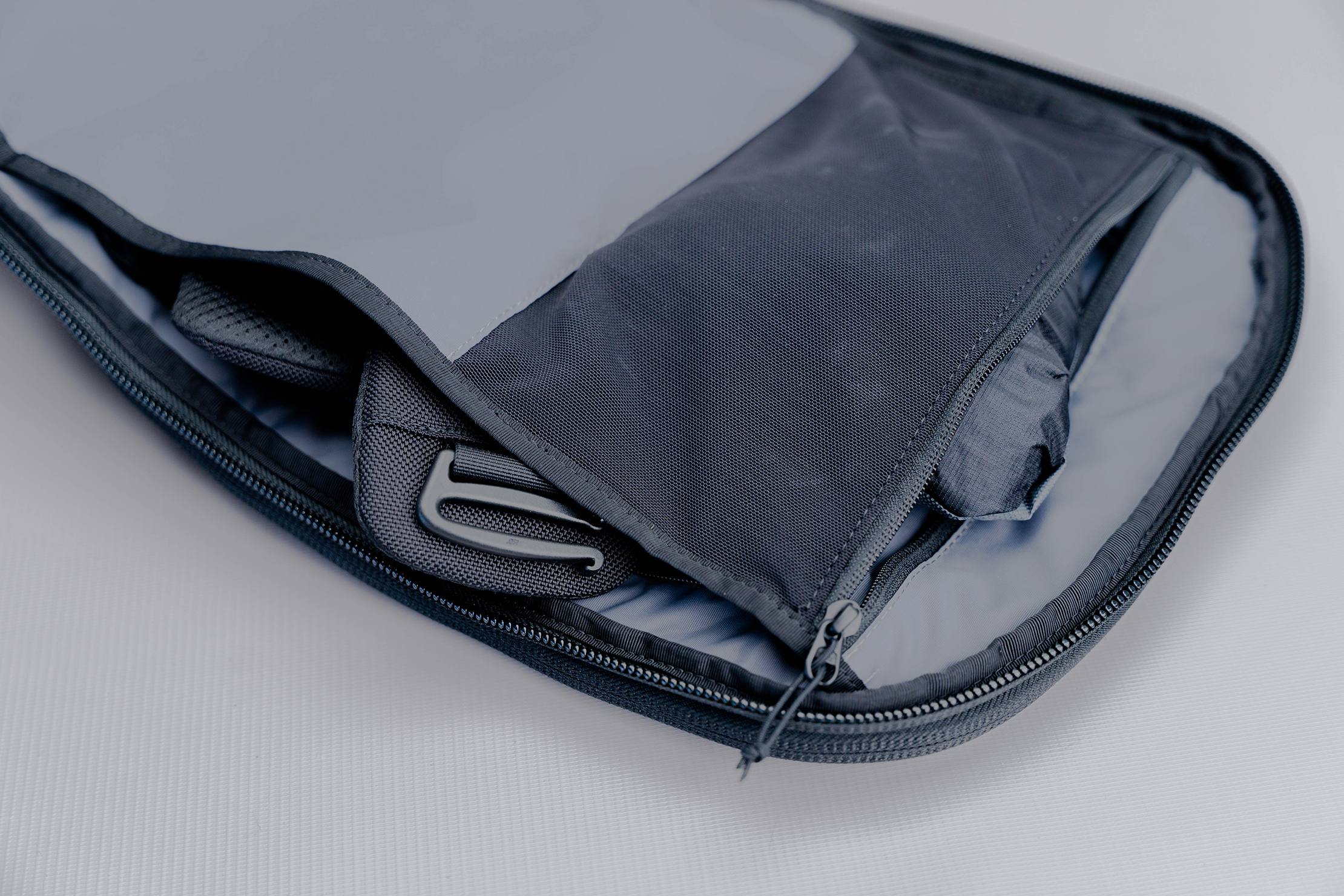 The last of the compartments is the laptop compartment. It's good for laptops up to 16-inches—our 16-inch MacBook Pro fits with room to spare while our 13-inch MacBook is practically swallowed whole. Fortunately, there is a sleeve with a false bottom and cushioning at the back and front side for protection. If you're not the type to carry around a tech pouch—or if the front compartment's numerous pockets aren't enough already—there is a zippered pocket at the top. This is a prime spot for a beefy laptop charger, but we mainly use it as a top-side pocket for our packable hat.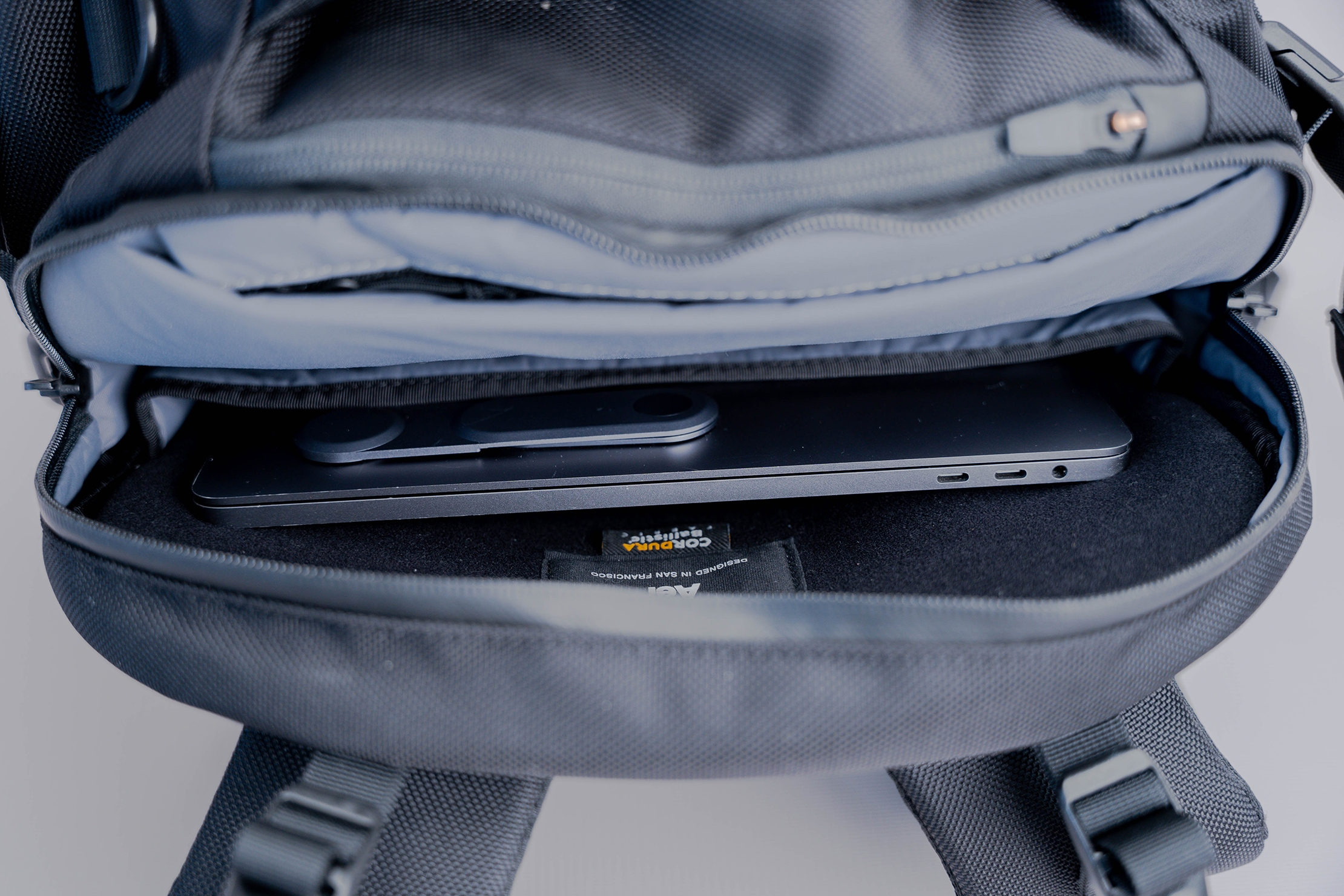 Our key takeaway from the Travel Pack 3 Small is how uncompromised it is as a smaller version of the Travel Pack 3. It still has all of the features we like on its bigger sibling (and a few ones that we didn't like as much), while its smaller size means it's a better fit for users with smaller frames. If you find yourself liking the Travel Pack 3 but looking for something that's easier to wield, look no further.
Usage Timeline
Initial Usage
Condition: Excellent
It's more or less the Travel Pack 3, only smaller (35L vs. 28L)
Also has the load lifters that made a comeback in the Travel Pack 3
Feels more manageable thanks to its smaller size
2 Weeks of Use
Condition: Excellent
Load lifters make a huge difference in carry comfort
Zipper pulls can get jumbled and it's easy to grab the wrong compartment's
Compression straps are a great add, even if they're not super necessary all the time
Size is great for short trips and better doubles as a daypack, though it's still on the large side for daily use
Access the Pro Community Discussion
Get your questions about the Aer Travel Pack 3 Small answered from our team and the Pro Community right here on the page. Plus, join discussions with other members about gear, guides, and more.
Other Bags & Luggage Reviews