Aer Travel Pack 2 Small Review
While we don't love the Aer Travel Pack 2 Small as much as the larger version, it works better for small body types or travels on stringent airlines.
Our Verdict
Unlock the Pro Summary
Save time. Get access to brief summaries of our reviews so you can browse and make decisions more efficiently.
Pros
Laptop pocket has a false bottom
Smaller size will work for smaller body types
Carry-on compliant across more airlines than the 33L version
Cons
Shoe bag takes up way too much space in the main compartment (though it's now stowable)
Top handle a little too beefy for the size of the bag
Not as cohesive as the 33L version
Recent Pack Hacker Video
Technical Details
Capacity

28l

Weight (lb)

3.3 lb (1.5 kg)

Denier

1680D

Dimensions

19 in x 12.5 in x 7.5 in (48.3 x 31.8 x 19.1 cm)

Notable Materials

CORDURA® Ballistic Nylon, YKK Zippers, Duraflex Hardware

Manufacturing Country

China

Laptop Compartment Size

15"

Warranty Information
Full Review
Get up to 10% off Aer • Join Pack Hacker Pro
You've all probably been wondering what would happen if you took a shrink ray to the Aer Travel Pack 2. Our team has certainly lost sleep pondering this very important question.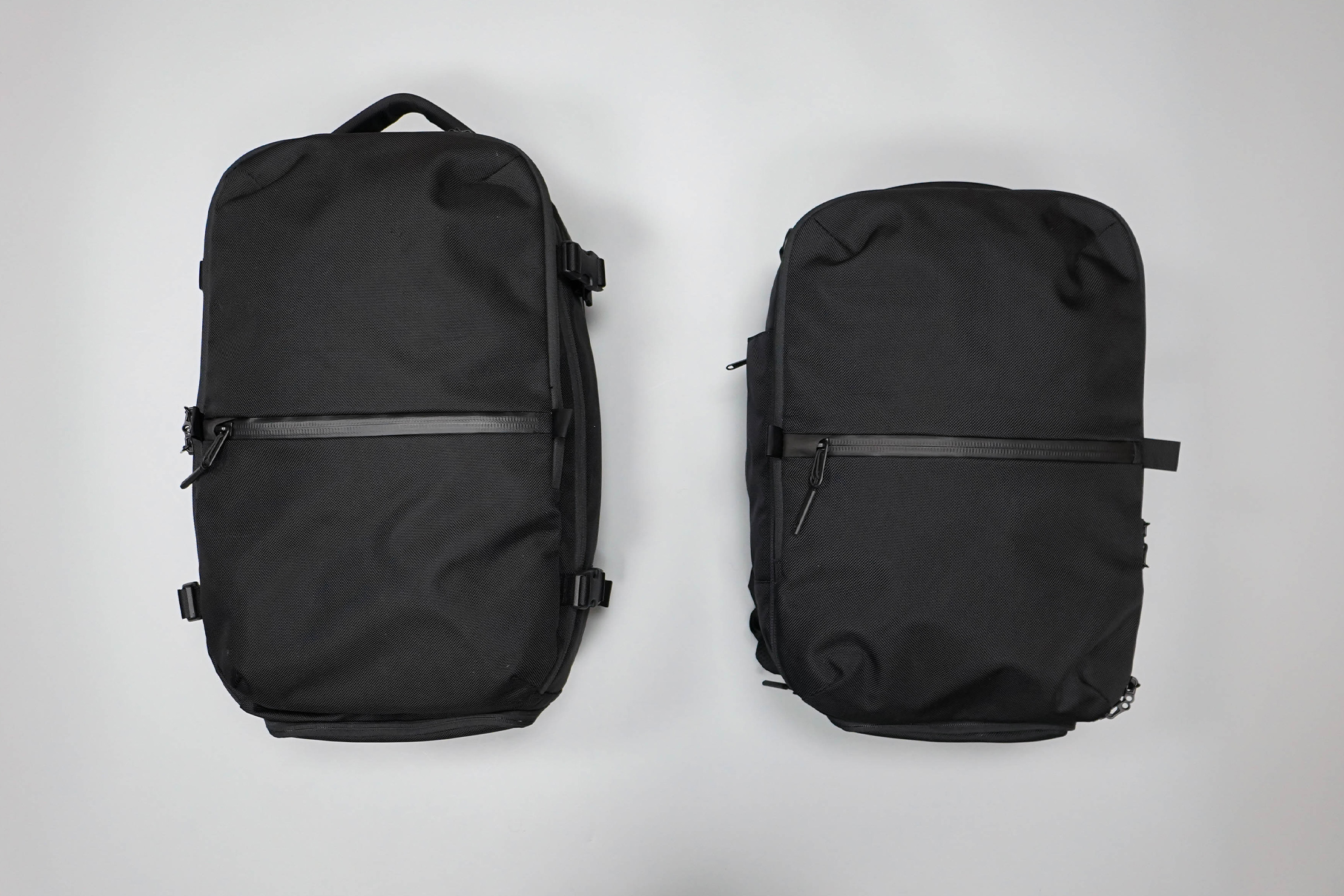 Well, you can stop speculating because the Aer Travel Pack 2 Small is here. And, yes, it's basically the Aer Travel Pack 2 miniaturized. The folks at Aer took an inch off of every side, and the internal capacity is 28L, as opposed to the 33L capacity of the original Aer Travel Pack 2.
There are a couple of new features as well, but these features aren't exclusive to the small size—they're also in the updated version of the Aer Travel Pack 2.
Everything else is pretty much the same. So if you'd like to get into the nitty-gritty about the materials, the harness system, and internal organization, check out our full review of the Aer Travel Pack 2.
In this review of the 28L version, we'll be focusing on how the pack works as a smaller size and discussing the new features.
Now, the larger Aer Travel Pack 2 is one of the highest-rated travel backpacks on our site, so spoiler alert, we're digging this one too. Although it's slightly overshadowed by its older sibling. Why?
Let's get into it.
Materials & Aesthetic
Not much to say here as the Aer Travel Pack 2 Small looks exactly like the Aer Travel Pack 2…only, you know, smaller. It's made of the same ultra-durable, water-resistant CORDURA® ballistic nylon that we have raved about on our reviews of basically every single product from Aer.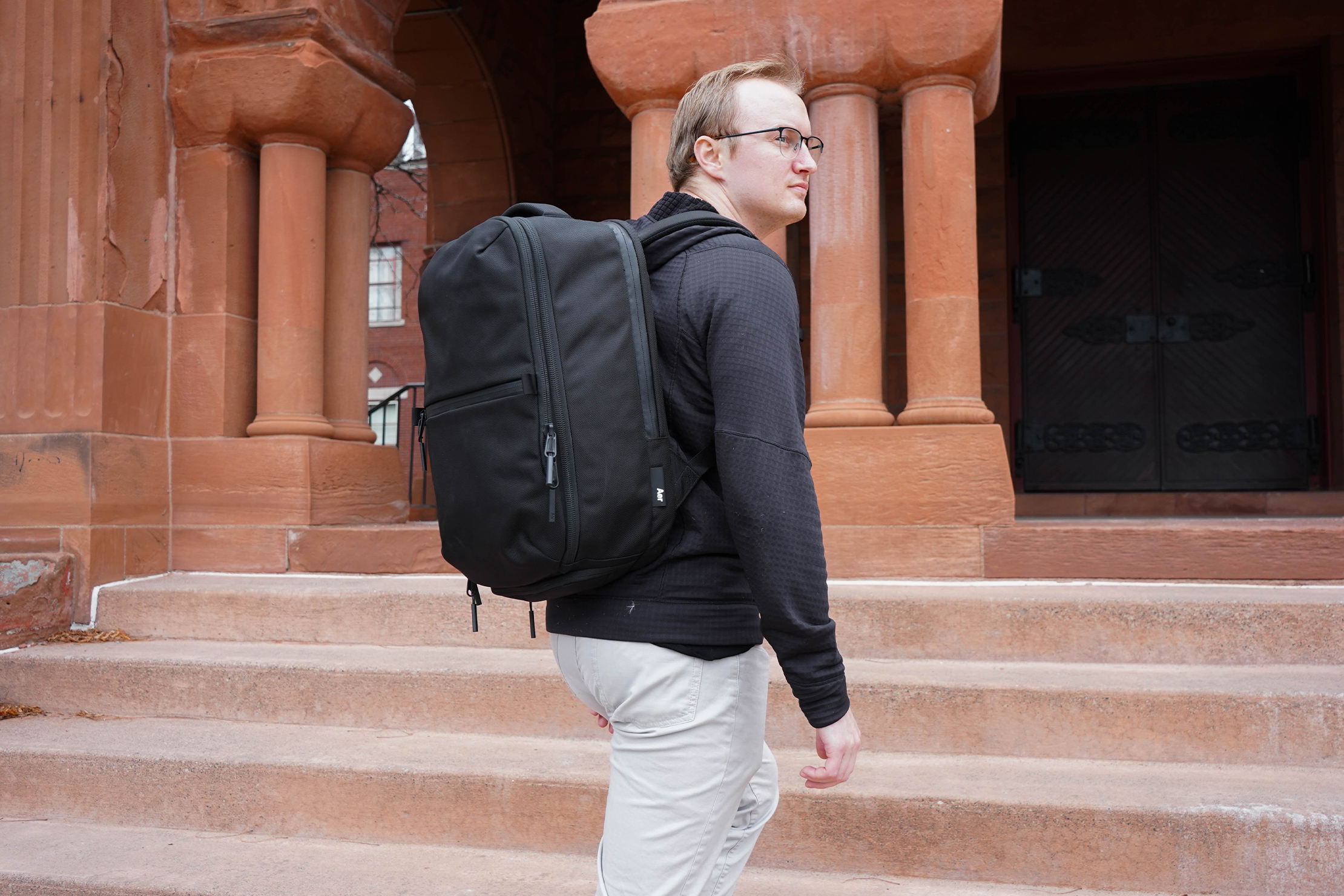 This durable fabric, coupled with the beefy buckles, zips, and handles, means that this pack is heavier than some other packs of the same size—clocking in at 3.3lbs (.4 lbs lighter than the regular size). Based on comments we've received, this weight seems to be a concern for some people, but we've been okay with it.
Of course, your preference for how much weight you want to carry, the weight of the gear you'll be packing, and the airlines you'll be traveling on weighs into whether or not this will be a problem for you.
Speaking of airlines. One benefit of the Aer Travel Pack 2 Small is that it's carry-on compliant on more airlines than the 33L version. At the time of this review, we've pulled data from 162 airlines worldwide and found that the Aer Travel Pack 2 Small will be accepted on 88% of these airlines, while the Aer Travel Pack 2 is accepted only on 56% of them. (Your mileage may vary.)
Obviously this is a major plus, especially if you'll be traveling to countries known to be more stringent about carry-on sizes. If you have a specific airline that you're worried about, check out our Carry-On Compliance chart on this page to see if the Aer Travel Pack 2 Small will work for that airline.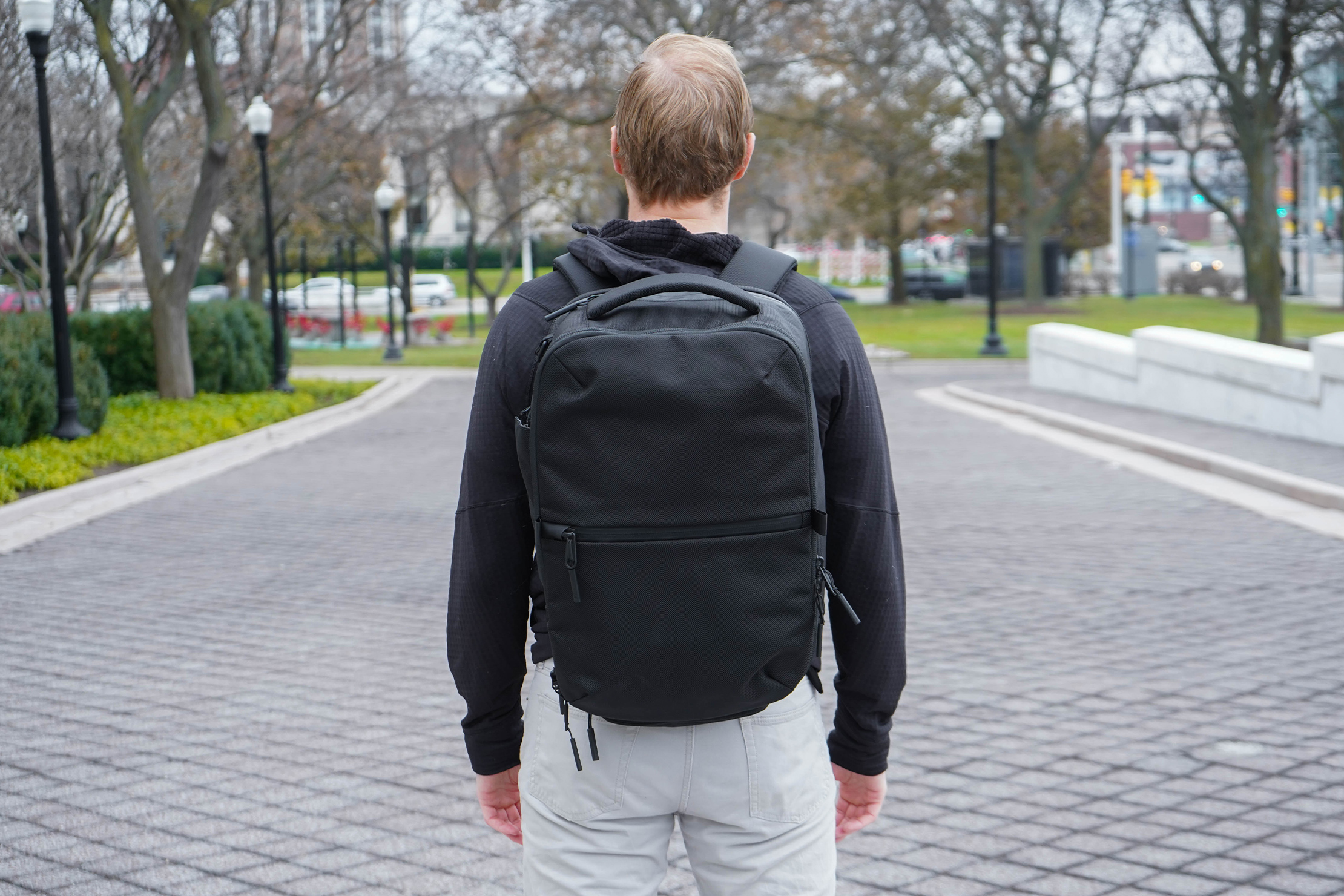 The last thing worth discussing here is that this smaller pack works better for people with smaller body types. Because of the overall slimmer package, the bag fits your frame more comfortably. For smaller framed folks, this could be enough reason alone to choose the Aer Travel Pack 2 Small.
External Components
Externally, the one difference between these two packs is that the Aer Travel Pack 2 Small lacks compression straps. Since the Small is approximately 15% smaller than the regular size, we don't think the compression straps are needed. Plus, it has a cleaner, sleeker look without them.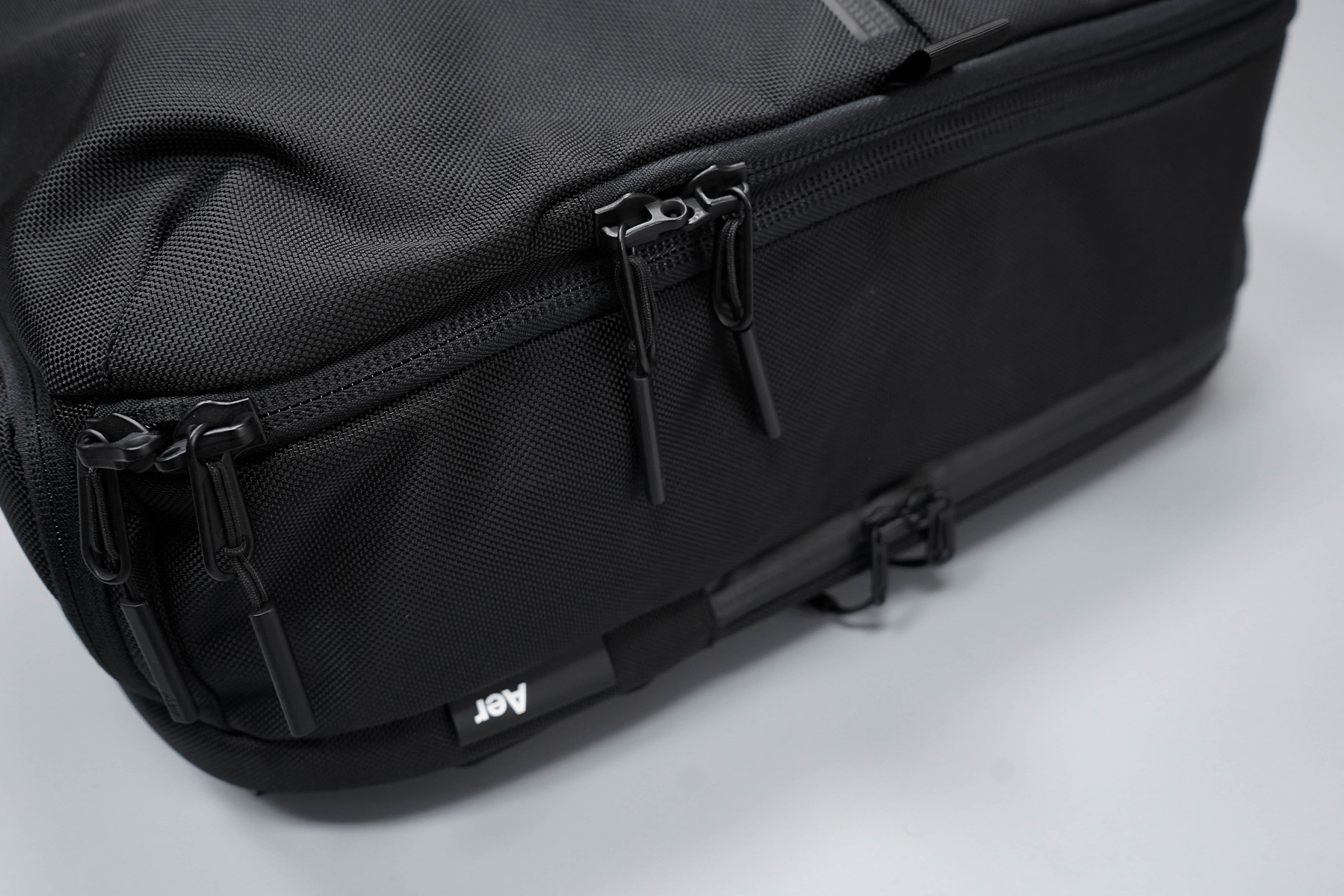 That said, the lack of compression straps means that this pack isn't ideal for EDC. It's a little too big for our preference—both in terms of looks and its interior capacity—but everyone is different. If you like some extra space in your daily pack then this one may work well for you.
We're also not huge fans of the thick, beefy top handle. It's the same size as the handle on the 33L pack, so it looks comically big here and seems unnecessary.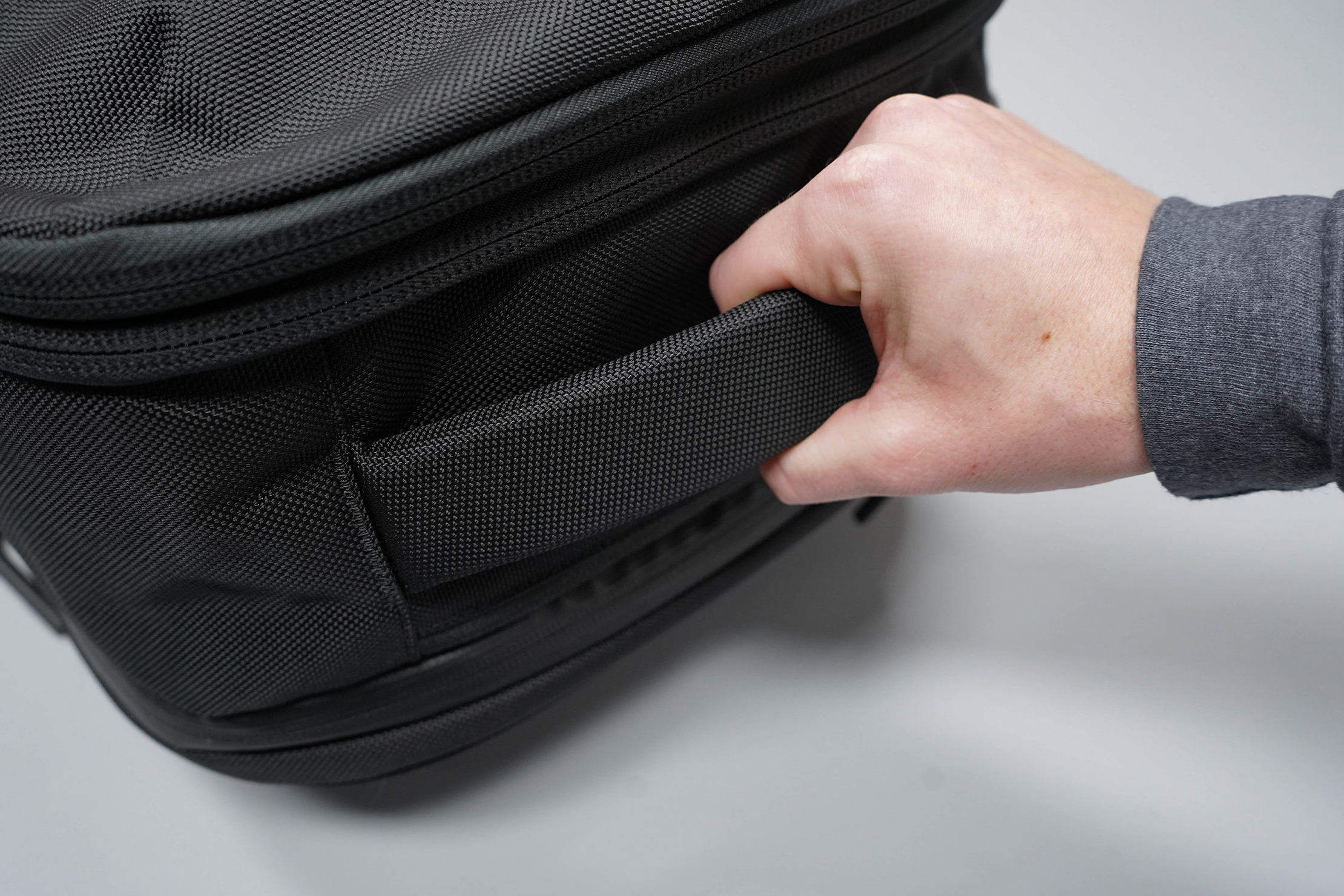 Inside the Pack
This inside of this pack is where things get interesting. Why? Both of the updates to the bag involve the interior of the Aer Travel Pack 2 Small.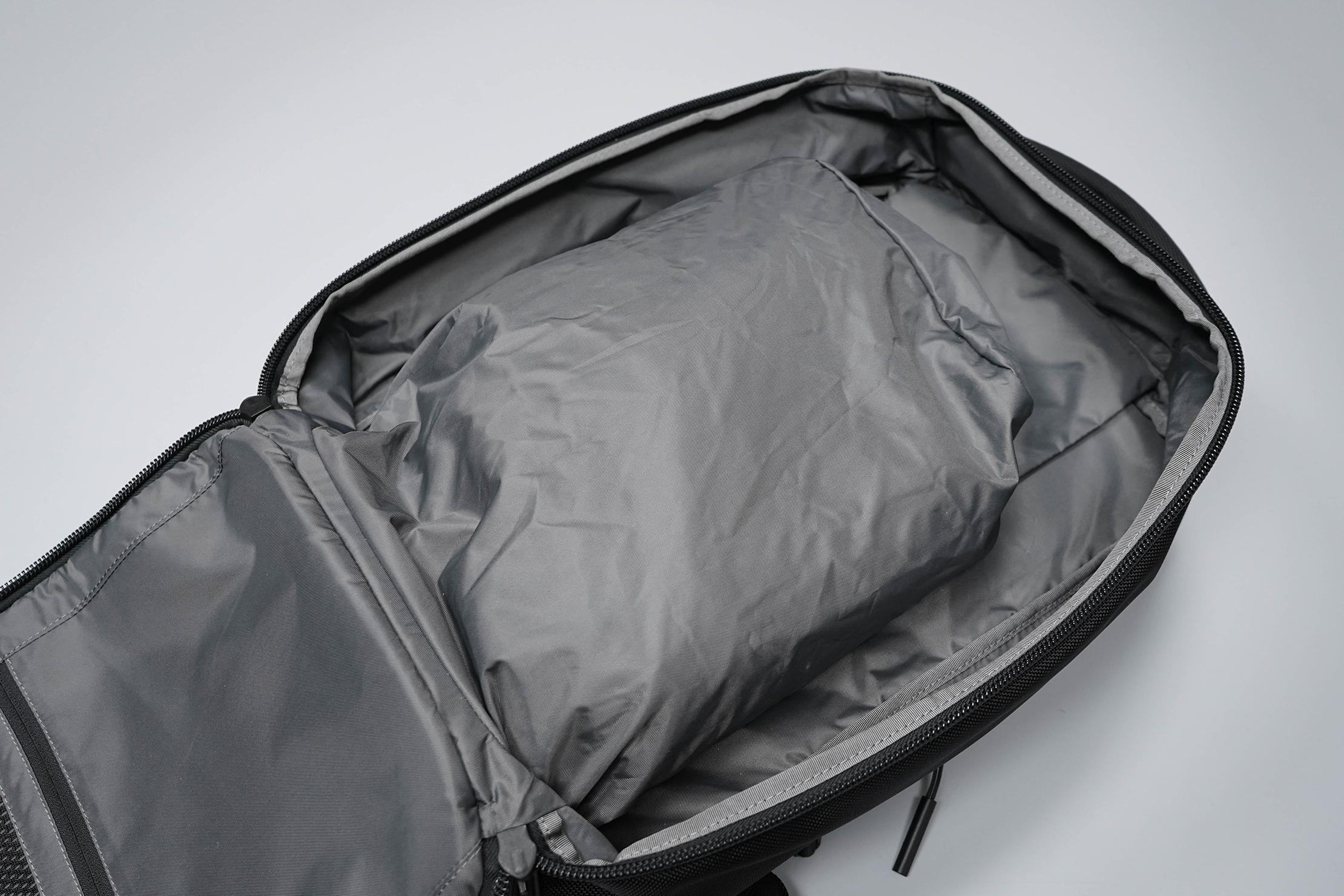 First up, we've got the shoe bag. This thing is massive and appears to be the same size as the shoe bag in the 33L version. Which means it takes up even more of the pack's internal capacity.

Luckily, the folks at Aer made this shoe bag stowable, so when not in-use it won't get in your way. We love this addition! That said, we still believe it's too large. The shoe compartment fits better in the 33L size because you have more capacity overall, so it eats up less of the bag's space when you're using it.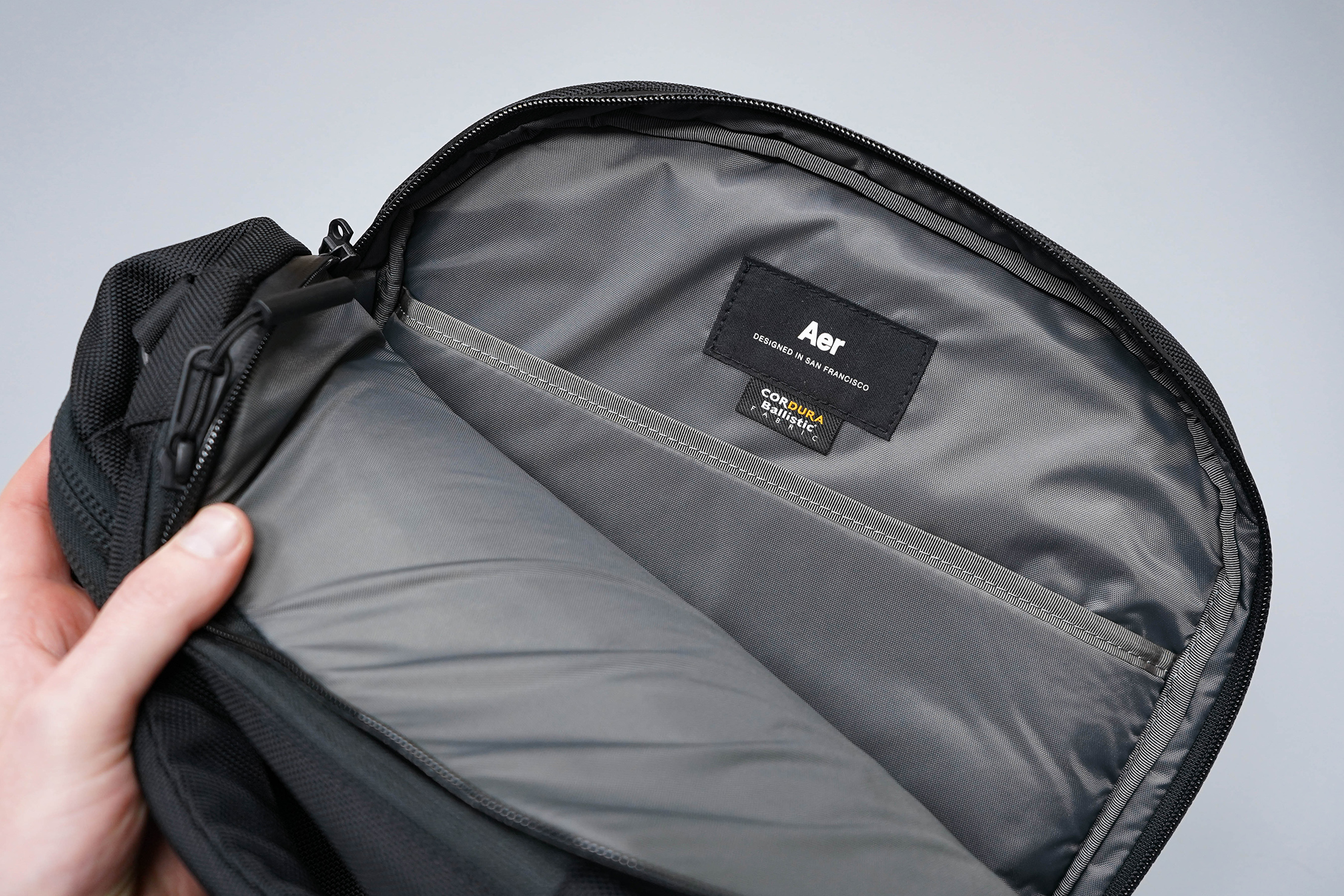 The second update Aer made was to the laptop compartment. It now has a false bottom (and the crowd goes wild!). For those of you unfamiliar, a false bottom helps protect your laptop from damage as it won't come in contact with the ground if you drop your bag.
This was the thing we harped on the most in our review of the 33L Aer Travel Pack 2. Let's just say, we were not shy about sharing our disappointment. As laptops usually cost a chunk of change, we take our laptop protection seriously and prefer bags with a suspended laptop sleeve and appropriate padding.
So we're really, really glad to see this improvement.
While the laptop sleeve will only fit up to a 15'' laptop, the laptop compartment will hold a massive 17'' laptop—much to the delight of Pack Hacker team members who lug such a monstrosity around on the daily. But sticking your laptop in the compartment doesn't give you the benefit of the false bottom we love oh-so-much.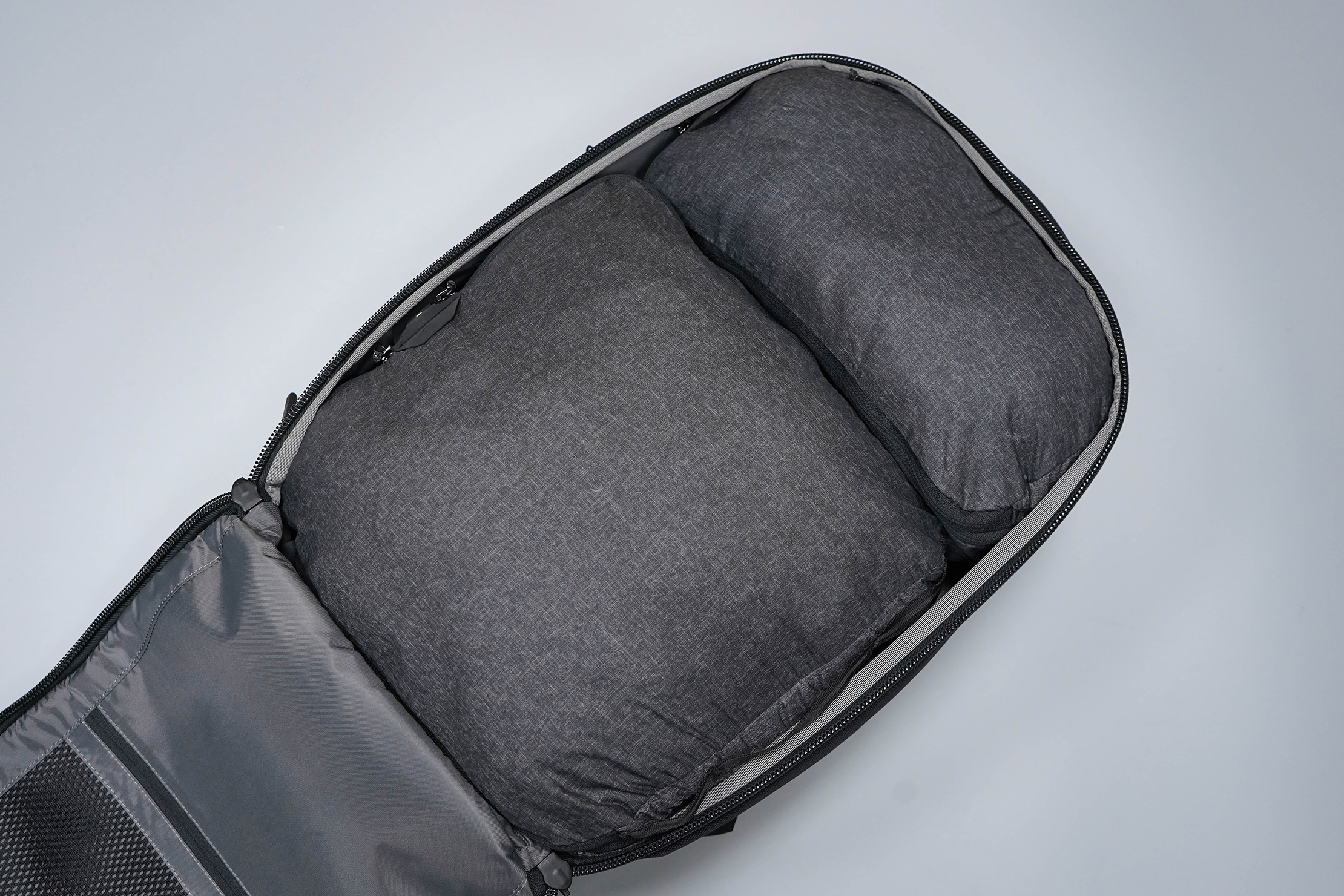 The interior capacity of the Aer Travel Pack 2 Small is 5L smaller than the original Aer Travel Pack 2, but we've found that the main compartment holds a similar amount of packing cubes. Depending on whether or not you use the shoe bag.
One last thing of note, if you've packed this pack correctly, it will stand up on its own.
Durability & Testing
We've been testing the Aer Travel Pack 2 Small for approximately two weeks in Detroit, Michigan. As we've come to expect, this pack still looks brand new. The ballistic nylon is no joke and should last you a very long time.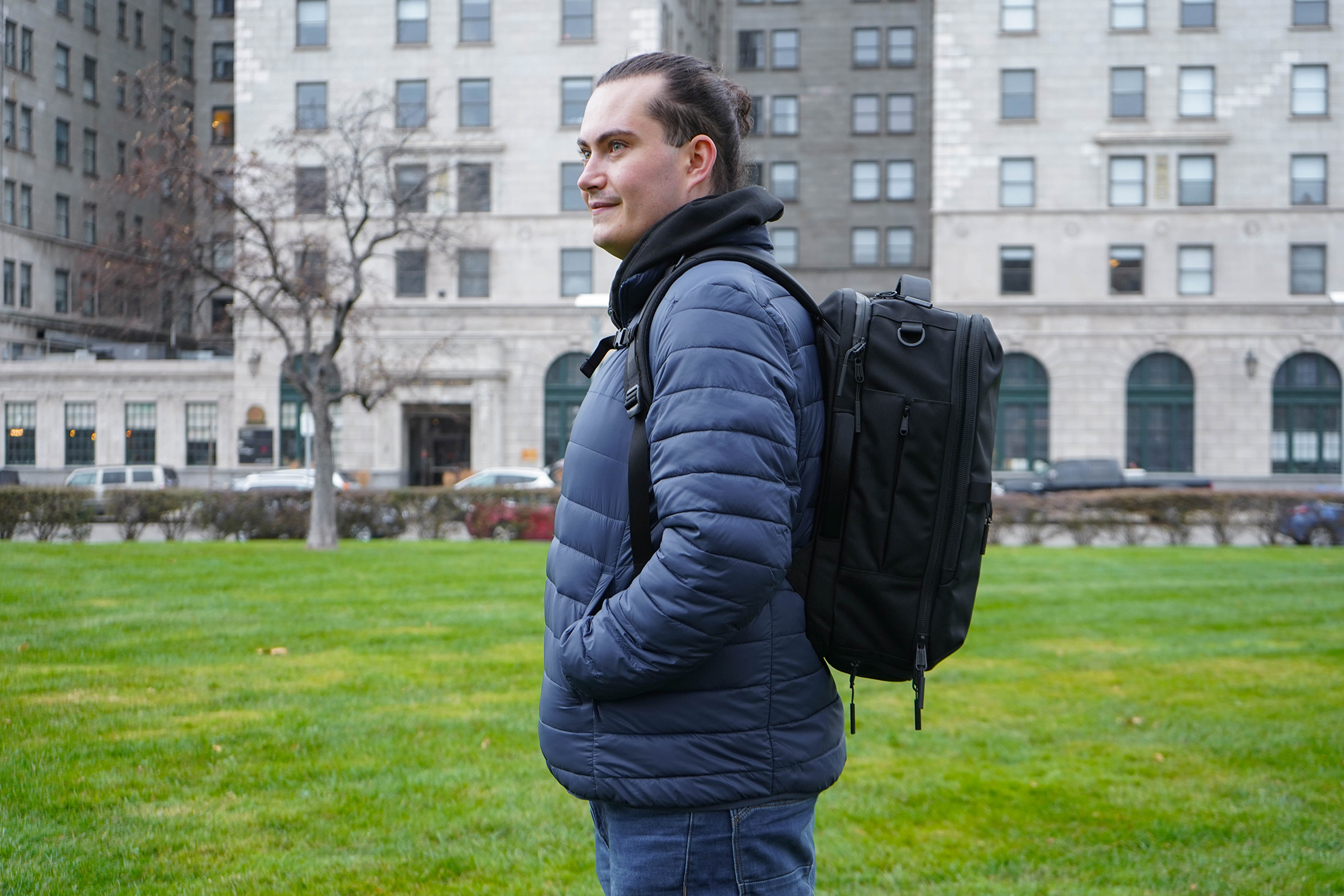 At the beginning of this review, we mentioned that while we like the Aer Travel Pack 2 Small, we prefer the 33L size. And that's because the design seems to be more cohesive on the larger version. It appears that while Aer shrunk the overall pack, they didn't shrink the individual components, which makes the pack feel a little off. Plus, we've found that 33L is a really solid size for one-bag travel.
That said, if you have a smaller frame or will be traveling on airlines with stringent carry-on policies, the Aer Travel Pack 2 Small should treat you well.
Usage Timeline
Initial Usage
Condition: Excellent
Smaller size makes it better for airplane travel
Same great materials as the larger Travel Pack 2
We're digging that you can hide the shoe compartment when not in use
We like that the laptop sleeve is updated with a false bottom
2 Weeks of Use
Condition: Excellent
While we're not digging this pack as much as the larger Aer Travel Pack 2, it's still a quality pack that's been doing us well so far.
Access the Pro Community Discussion
Get your questions about the Aer Travel Pack 2 Small answered from our team and the Pro Community right here on the page. Plus, join discussions with other members about gear, guides, and more.
Other Bags & Luggage Reviews