Matador Droplet Packable Dry Bag Review
The Matador Droplet Packable Dry Bag takes a bit of effort to pack up, but having a toy-sized leak-proof bag ready for use is compelling.
Our Verdict
Unlock the Pro Summary
Save time. Get access to brief summaries of our reviews so you can browse and make decisions more efficiently.
Pros
Very compact size that's easy to store
Bag's material is completely waterproof
3-liter capacity is roomy for holding wet gear
Cons
Not completely submersible
We feel the bag could unravel from the pod
Stuffing the bag into the pod is a challenge
Recent Pack Hacker Video
Technical Details
Capacity

3l

Weight (oz)

0.5 oz (14.2 g)

Dimensions

10.5 in x 9 in (26.7 x 22.9 cm)

Unpacked

Notable Materials

Ripstop Polyester, Silicone, Stainless Steel

Manufacturing Country

China

Warranty Information
Buying Options

$16.99

$15.00
Full Review
Get up to 20% off Matador • Join Pack Hacker Pro
Imagine sitting in a variety show while you're on vacation. What's the worst thing the host could possibly say? The shy among us might say, "Can I get a volunteer from the audience?" Or for the daredevils, maybe it's "Do not try this at home." But one of the few sentences that can really strike fear in us is "The first three rows will get wet." It's in that situation where not having a change of clothes or something to shield yourself with is inconvenient at best, day-ruining at worst.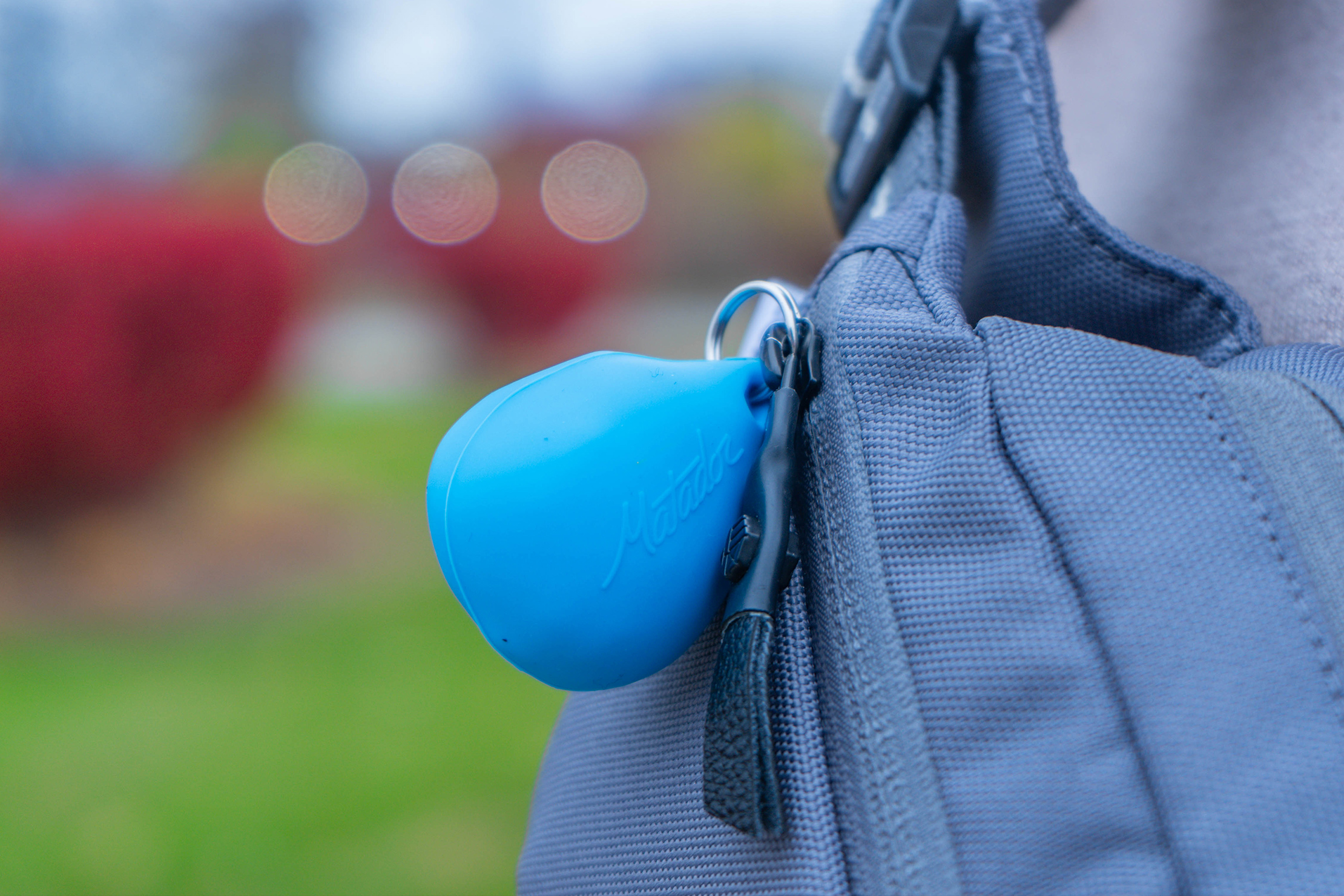 Worse still, carrying damp clothes around after the fact is quite the hassle. Enter: the Matador Droplet Packable Dry Bag. In its compressed state, it's about the size of a Tamagotchi (raise your hand if you're old enough to know what that is) and even shares a similar shape to the popular toy. Having a packable bag like this is super handy for times when you have to carry something separately. At this size, though, there is a caveat or two to watch out for.
Materials & Aesthetic
As the name suggests, Matador styled the Droplet's pod after a water droplet. It's an adorable little thing to hang off a backpack, especially in the Lightblue colorway we have for this review. We could probably even dangle it in front of a baby to keep it entertained for a while. But if the baby blue isn't your style, the Droplet also comes in Matador's usual flavor of Black.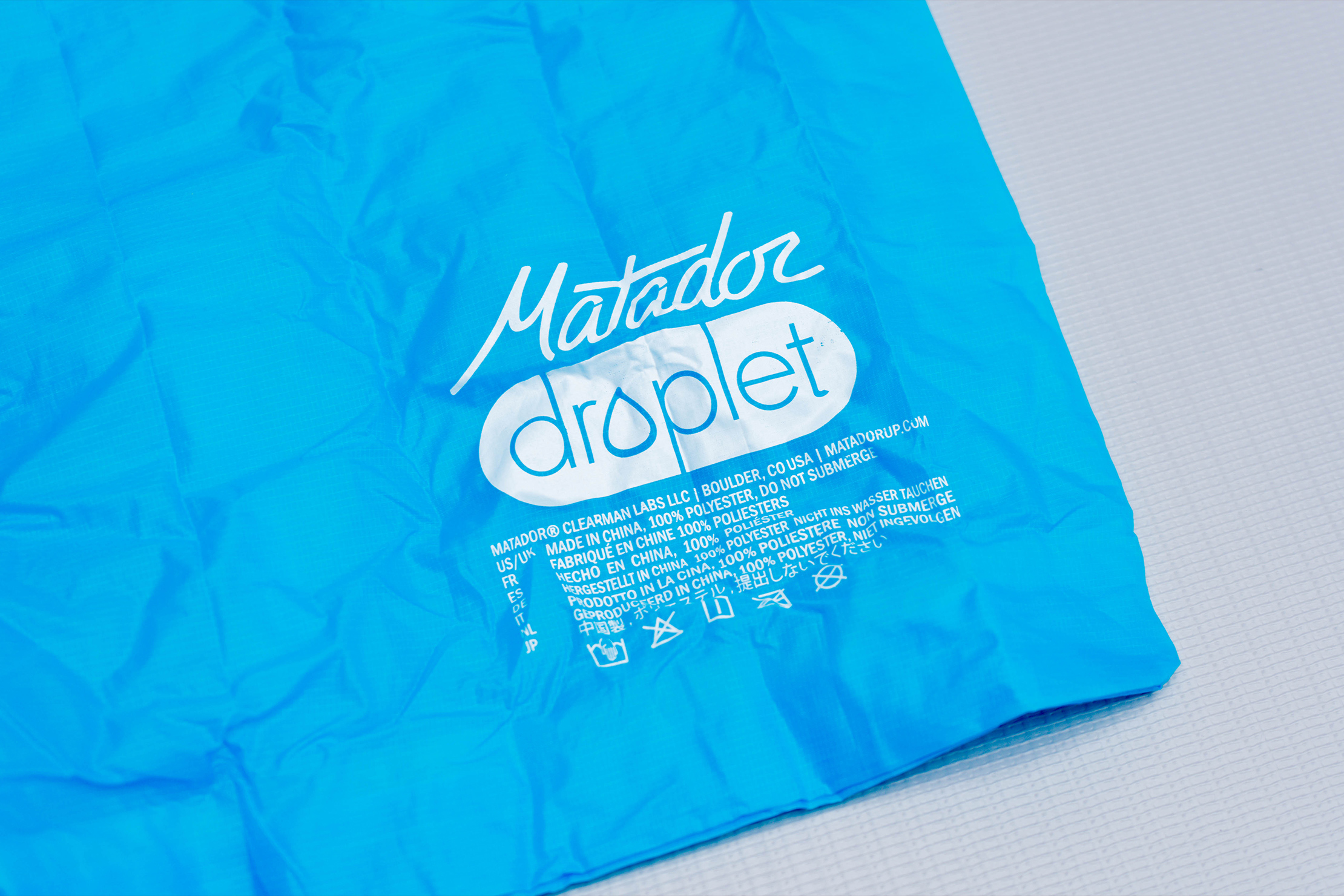 The silicone pod of the Droplet has fairly thick walls, with just enough give that allows it to stretch. The hole where the keyring is attached is also quite thickly walled. It's not uncommon for cheap silicone-based accessories to have very thin protruding loops, so it's encouraging to see this level of robustness with the Droplet.
The bag itself is made from polyester. But this isn't the kind of polyester that's threaded and permeable. Instead, it's a slick and smooth material that's completely waterproof. After a few weeks of use, there's only a slight stain or two on the fabric, one of which was our fault as we spilled some nail polish on it. The seams around the bag are completely sealed as well, so there's no potential for leaks there. Keep in mind, though, that despite the waterproof material, this bag isn't completely submersible.
Usage & Features
That's because a drawstring closure secures the Droplet's main opening; no matter how much you tighten it up, gaps are inevitable. The drawstring itself is quite thin. In fact, we were a bit apprehensive about its durability because it doesn't look very robust. Fortunately, it's held up pretty well. Plus, it's thin for a reason.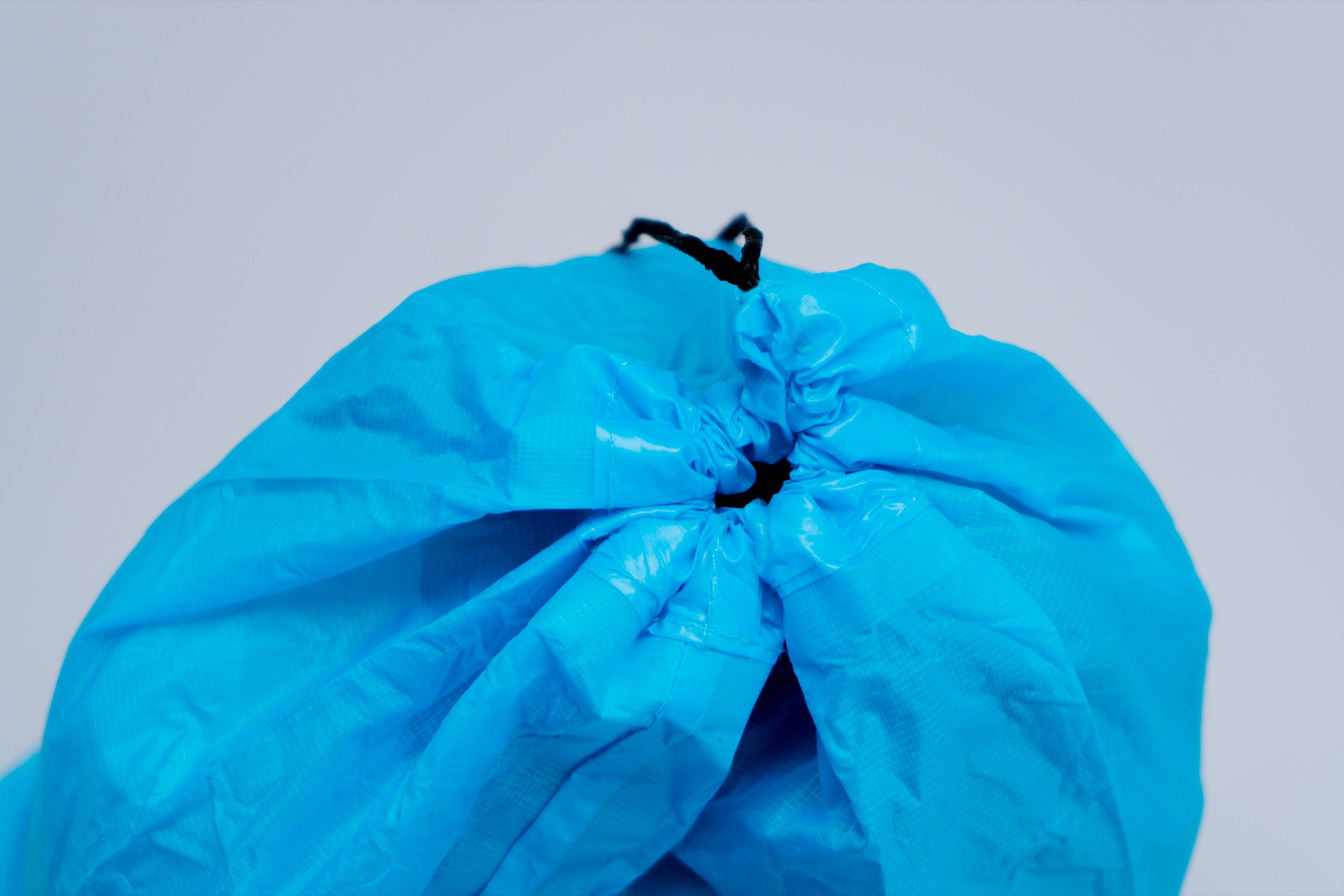 Packable bags need to be made from thin materials for them to compress as much as possible. With its 3-liter capacity, the Droplet isn't a small bag considering it packs into a small pod. Thus, to save a bit more space, even the drawstring closure is put on a diet.
In terms of capacity, the 3-liter bag holds quite a bit for personal use. For trips to the beach, there's enough space to fit our own damp swimwear. We're also able to fit our medium-sized hoodie inside. There is a bit of wiggle room to also fit a few accessories like a smartphone, wallet, watch, etc. Just remember to keep them in a sealed bag to separate them from damp clothes since there are no additional pockets for organizing items inside.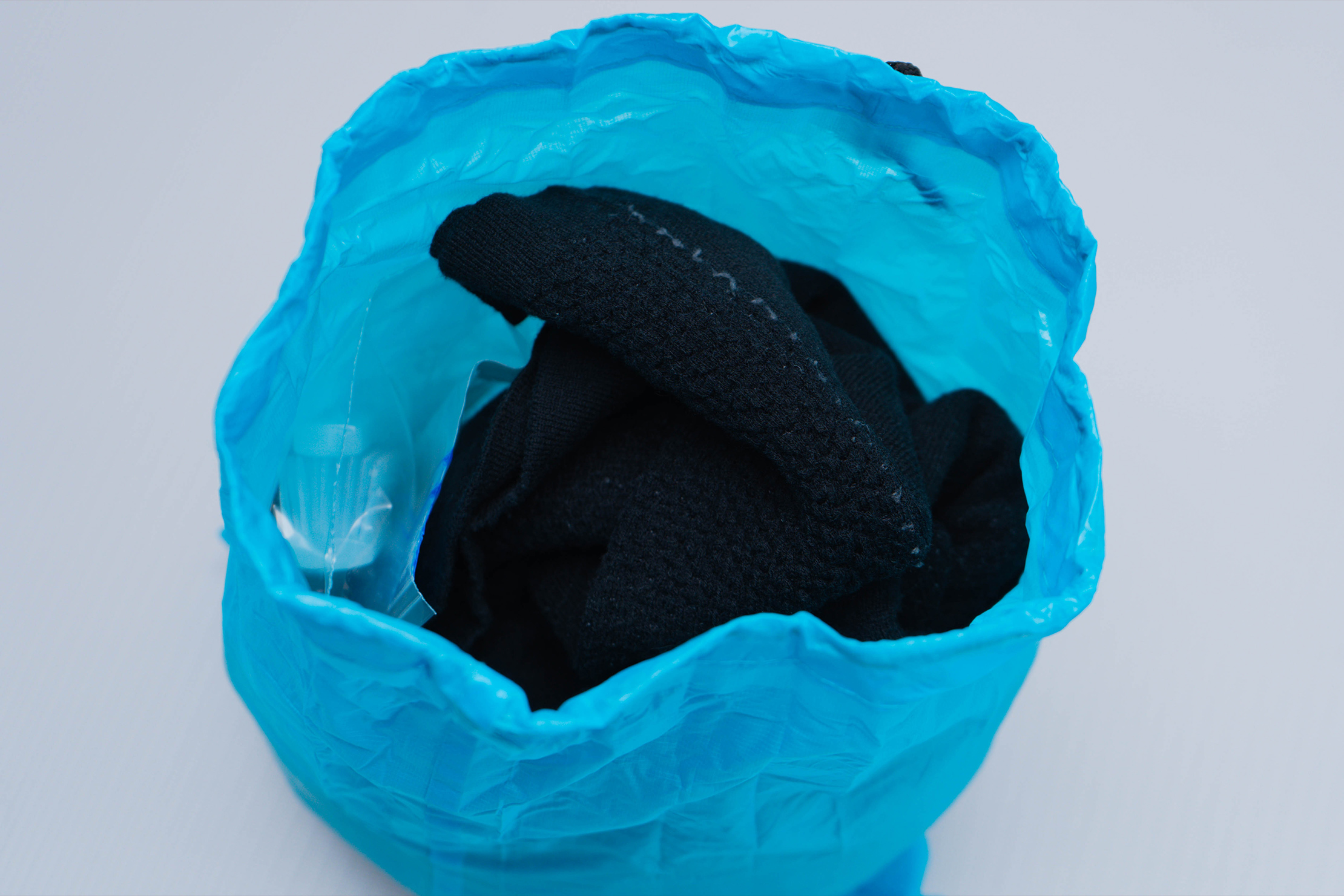 We observed no leaks with our damp clothes inside, and we further confirmed this by filling the bag with water. As expected, the water stayed in like it would with a silicone bag such as the Food Bunker Silicone Containers. Mind you, this isn't to say that the Droplet is designed as a food container.
Compressing the Droplet is quite tricky in our experience. As mentioned earlier, the pod is very small, with only a small vertical slot to stuff the bag into. We're still learning the fastest and easiest way to compress and stuff the bag, but we have learned a trick or two.
Our method is to fold the bag lengthwise three times, fold it crosswise once, then roll it. Assuming that the bag was completely dried out before all that folding and rolling, you should end up with a coin-sized roll. It is a bit tricky to keep it from unraveling even before trying to stuff it into the pod, so you have to be extra careful.
We point the side of the roll with the seam toward the pod's slot. From there, we start pushing while simultaneously stretching and prying the silicone of the pod to make things easier. Even then, it's still quite challenging to do, more so when it's just after a day of swimming and you're fully fatigued. The tolerances are tight enough that we're slightly worried that the bag might pop out of the pod if we left it hanging from a keychain. Thus, we keep the Droplet inside our bag most of the time.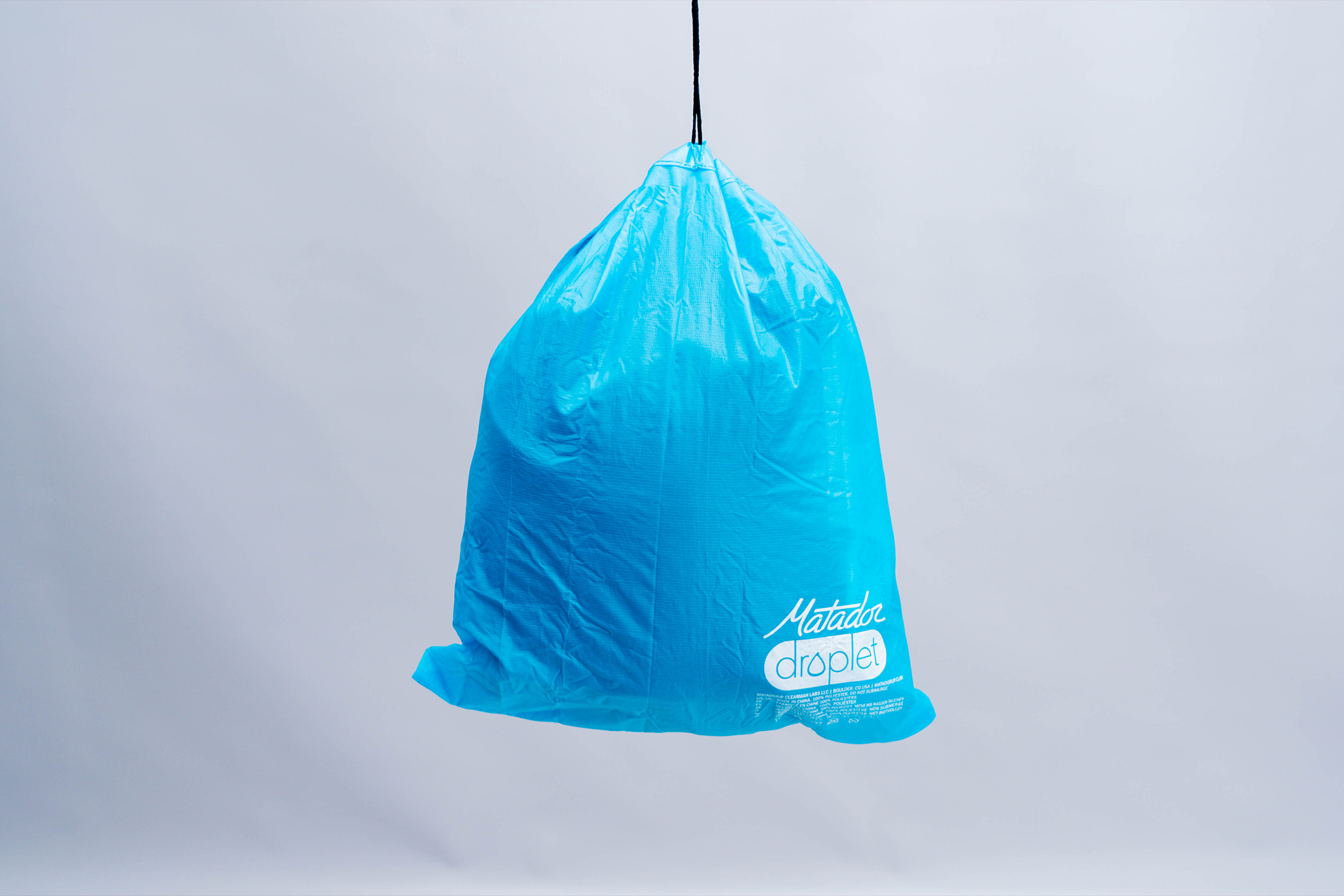 The tricky compression shouldn't really take away from the convenience of having a dry bag handy. As we said, there are just situations where having a dry bag can pay dividends. Ultimately, it's up to you whether the Droplet's very compact size is worth the effort the compression takes. As for us, we wouldn't mind if the pod was a little bigger if it meant easier compression.
Usage Timeline
Initial Usage
Condition: Excellent
Not the size of a droplet, but it is quite compact for a 3-liter cinch bag
Compression may take some practice to perfect
Easy to hang keychain-style
2 Weeks of Use
Condition: Excellent
Difficult to get it back into the silicone carry container
Cinch cord is super thin—no major issues yet, but we wouldn't be surprised to see it fraying with extended use
However, the cord did escape from the cinch mechanism and came out of the bag—that said, it was easy to attach a safety pin and feed it back through
Dry bag material has collected a few stains, though none impact performance
Bag does a really good job at keeping moisture from seeping out; it doesn't come through the material or seams
Access the Pro Community Discussion
Get your questions about the Matador Droplet Packable Dry Bag answered from our team and the Pro Community right here on the page. Plus, join discussions with other members about gear, guides, and more.
Other Organizers & Pouches Reviews