Food Bunker Silicone Containers Review
The Food Bunker is a compressible silicone food container for your travels, pantry, or lunch. We dig the no lid system, but it attracts a lot of dust.
Our Verdict
Unlock the Pro Summary
Save time. Get access to brief summaries of our reviews so you can browse and make decisions more efficiently.
Pros
Stands up on its own when filled
Rolls up for easy storage
Microwave and dishwasher safe
Cons
Silicone material attracts dust
Takes up space in your bag when filled
Can be prone to leaks with enough pressure
Recent Pack Hacker Video
Technical Details
Notable Materials

Silicone, Plastic

Manufacturing Country

China

Warranty Information
Full Review
"You need the Food Bunker," a snappy video ad proclaims as a guy who is just totally over it tosses ordinary plastic containers off a countertop. It's a bold claim right out of the gate, and the whistling tune in the video is pretty catchy. We will vouch for these silicone food containers since they can hold everything from soup to rice to trail mix. Plus, you won't have to worry about an impending avalanche as you search your cabinets for a Tupperware lid—these just snap closed. That much is true, but we found they attract a lot of dust and hair. And if you squeeze it tight enough, liquids can sometimes leak out.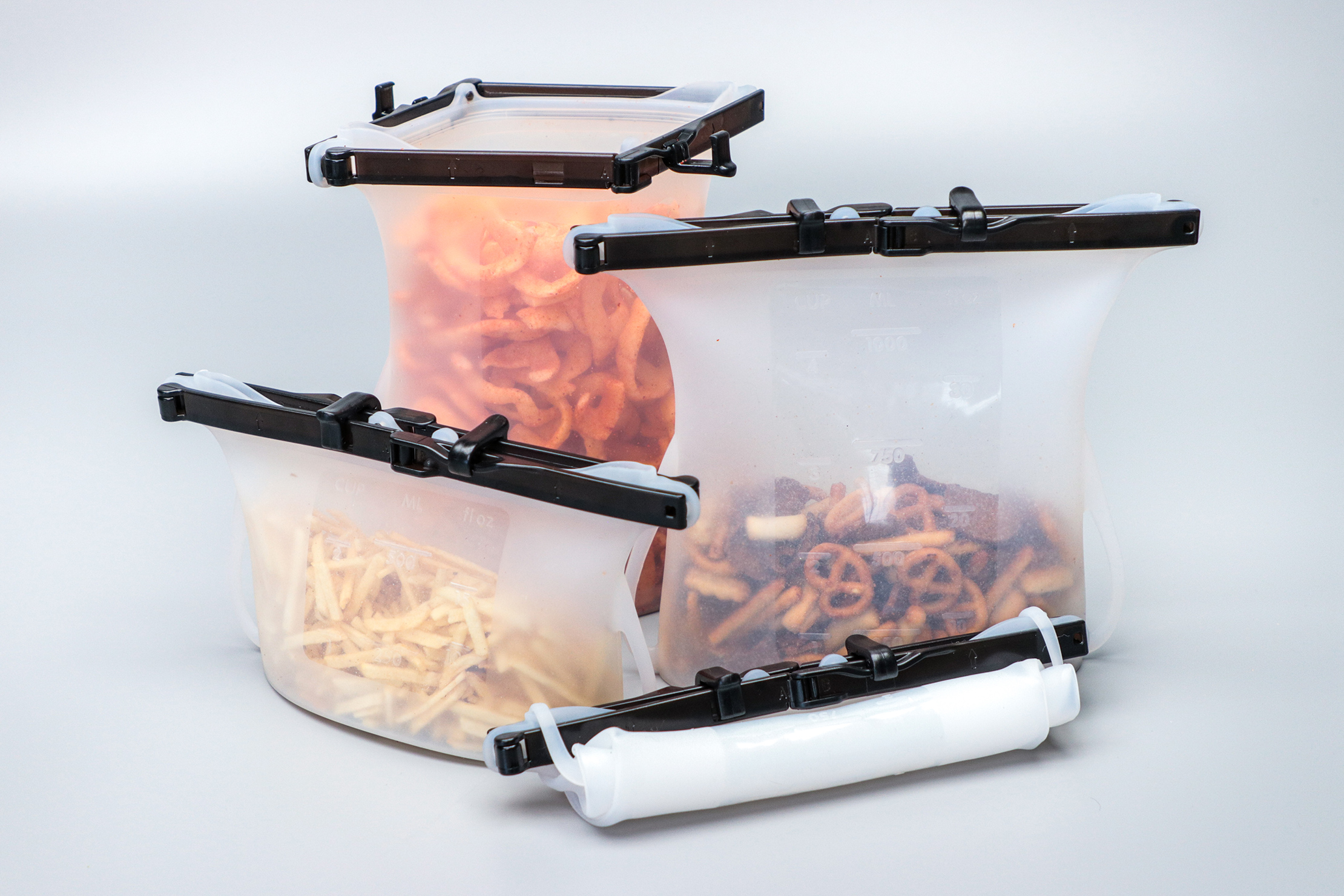 The Food Bunker offers a smart solution to food storage aiming to completely replace Ziploc bags and plastic containers. We tested them in several capacities for over a month and can confirm they are microwave and dishwasher safe. Beyond packing your lunch or road trip snacks in them, they're excellent for storing food in your pantry or leftovers in your fridge.
At first, we thought they were similar to the Stasher Reusable Silicone Bags, which we've had great results with. There are a few key differences, though. Stasher Bags are flat and better at holding sandwiches, snacks, and even toiletries while traveling. Food Bunkers are deeper tub/bag hybrids and thus better at holding liquids or dry pantry items. If you're going on a camping or road trip and want to bring some chili, for example, the Food Bunker is a better option. They can also stand up entirely on their own when full, which is convenient for mindlessly snacking at your desk. We're totally doing that right now, by the way.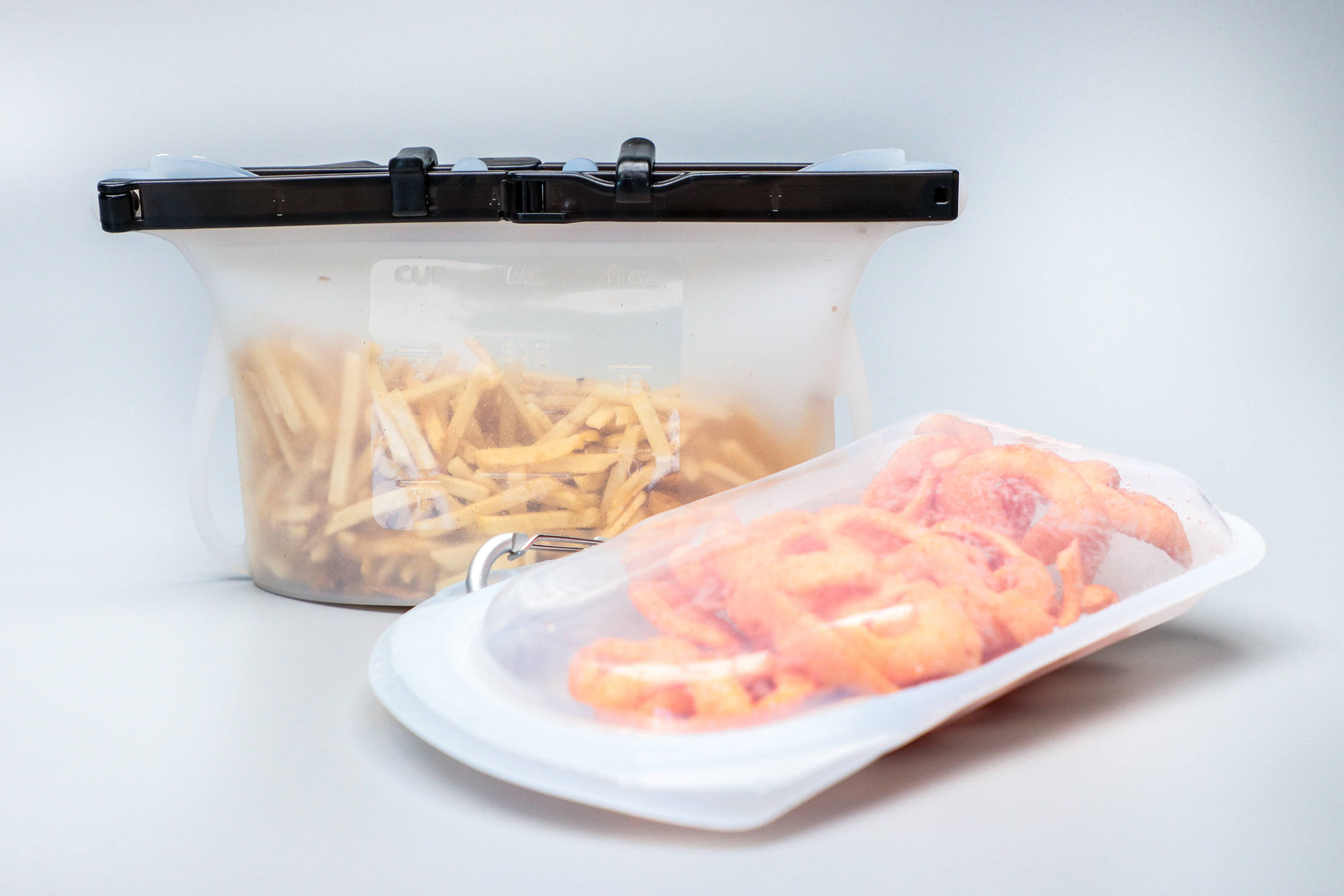 We opted for the three-pack of Food Bunkers which includes a small, medium, and large size. The small is 17 ounces, the medium is 34 ounces, and the large is 51 ounces. They come in soft colors reminiscent of spring like pink, light blue, and green. We went with white because that's more our thing.
When it comes to holding liquids, the Food Bunker surprised us as we were skeptical that they were actually leakproof. First, we did a simple test with water so that our precious food wouldn't be wasted if the Food Bunker burst open. With enough force—and by enough, we mean squeezing it like it was our worst enemy—some water did shoot out of the top. It only happened again once during testing when we grabbed one full of soup out of the fridge, haphazardly squeezing it while it was turned upside down.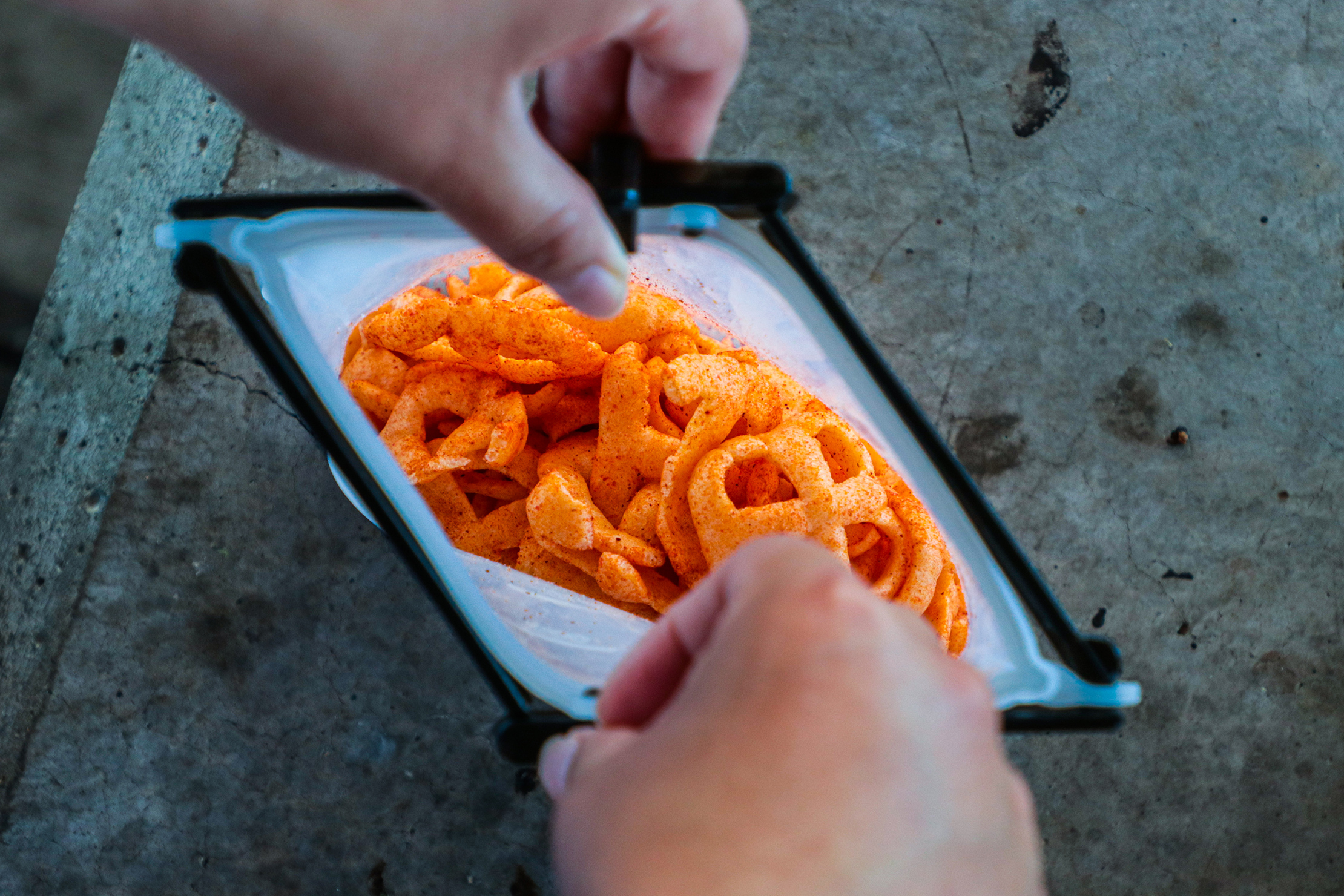 We didn't have any issues when we filled the Food Bunker with thicker liquids like stews and chili. The only concern was whether it would burst inside our bag when packing it between other, heavier items. Some strategic (and common sense) packing is necessary here. We'd hope you don't plan on smashing them down at the bottom of your bag underneath your laptop and books. So, the answer to whether the Food Bunkers can hold liquids without incident is—for the most part, yes. Especially since it's probably unlikely that you'll squeeze yours as hard as we did during actual usage. We just like to test products to their limits.
Features & Usage
Food Bunkers are made out of Food Grade Silicone. That means they're safe to microwave and eat out of. Although eating out of one that's full of soup is not really recommended for a few reasons. For one, the Bunkers get pretty hot in the microwave, so not fun to touch. And for two, even though the bottom half is more tub-shaped, getting a spoon in and out of it is pretty awkward. When it comes down to getting the last bit of soup out, you can't really bring the bunker up to your face and slurp it. Unless you want to get soup on your shirt. In that case, go right ahead.

Each Food Bunker has lines on it to help you measure cups, ml, and fluid ounces, which makes them look like massive silicone measuring cups. It's a good idea to think of these as max fill lines too. If you fill the Food Bunker all the way to the top (past the line), your food can spill out when you clasp it together to close.
Sealing them is easy, though. Just press the bunker closed at the top and snap the clasps together. Even when turned upside down, the seals are pretty tight (minus the one-off soup incident we mentioned earlier). We're huge fans of this system, especially since we frequently pack a lunch for work and other social outings. It's what happens when you're tracking all of your daily calories in hopes of losing a few pounds so your clothes can fit better. That's a story for another day. The point is that we have a lot of Tupperware with misplaced and deformed lids, so it was nice to just dump our food in a bunker, snap it up, and go.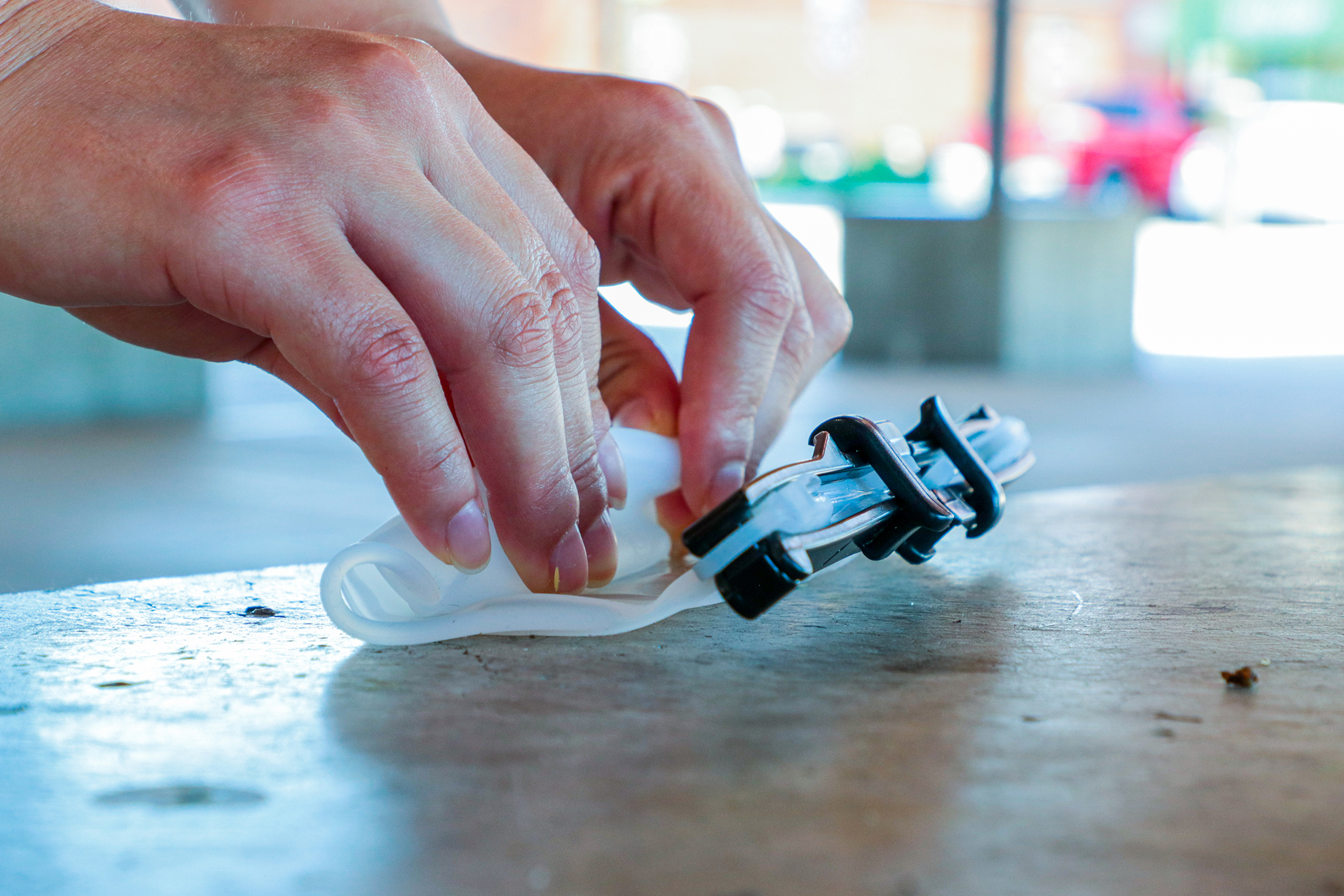 The only slight downside of this airtight snap system is that the Food Bunkers tend to hold in smells. Almost like they absorb the scent of whatever food you've put inside after using it. It also depends on what you use them for. It took two or three hand washes to get the miso soup smell out. Also, putting kimchi in here is not recommended—both for the lingering smell and because it's difficult to clean all the nooks and crannies. If you have a dishwasher, it's no problem as just one washing cycle does the trick. When you're done with the Food Bunker, it rolls up neatly for storage, taking up a quarter of the size of a plastic Tupperware container.
Like most silicone products, the Food Bunker has an uncanny ability to attract dust, as we mentioned earlier. We used the medium size to hold rice in our pantry for almost the entire month of testing, and the dust was never-ending from literally the first moment we opened it up. There's really no getting around this, unfortunately, but being able to pack soup for lunch and not worry about it spilling inside your bag is pretty boss.
Usage Timeline
Initial Usage
Condition: Excellent
The snapping lid feels very secure even with sauce and stew
Rolls up well for storage inside kitchen drawers when not in use
1 Month of Use
Condition: Excellent
Silicone material attracts dust which can get inside easily
Bunkers are useful for storing dry goods like rice in your pantry
Stands up well on their own
Does okay at containing soup and stews, but can be prone to a few leaks with thinner liquids
Access the Pro Community Discussion
Get your questions about the Food Bunker Silicone Containers answered from our team and the Pro Community right here on the page. Plus, join discussions with other members about gear, guides, and more.
Other Organizers & Pouches Reviews