Unbound Merino Compact Travel Hoodie Review
Simplicity is the Unbound Merino Compact Travel Hoodie's core strength, with few frills to weigh it down and lightweight Merino wool to keep you warm.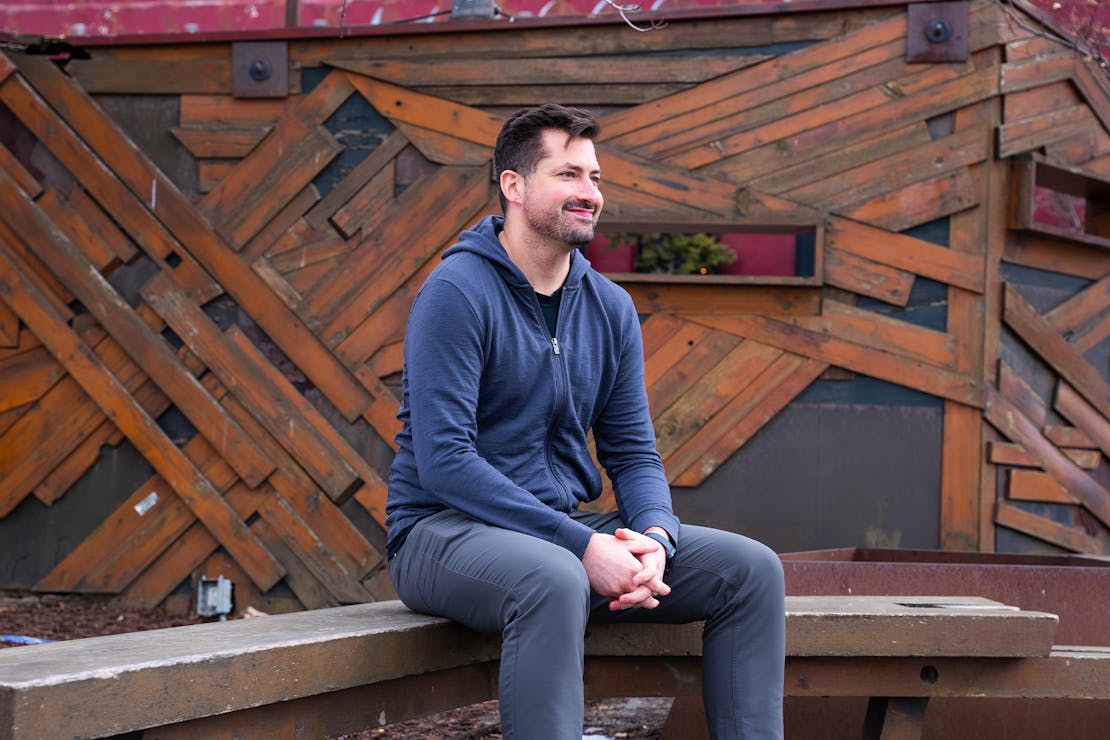 Our Verdict
Unlock the Pro Summary
Save time. Get access to brief summaries of our reviews so you can browse and make decisions more efficiently.
Pros
Good warmth for its weight and minimal thickness
Extremely packable soft fabric
No frills design is easy to put on and use
Cons
Heavy items stretch the pockets
Hanging loop feels thin for its purpose
Little to no adjustability
Recent Pack Hacker Video
Technical Details
Grams Per Square Meter

250gsm

Weight (lb)

1.07 lb (0.5 kg)

Notable Materials

Merino Wool, Elastane, YKK Zippers

Manufacturing Country

China

Warranty Information
Full Review
Get up to 15% off Unbound Merino • Join Pack Hacker Pro
When it comes to travel clothing, Merino wool is one of our favorite materials since it's light, soft, well-insulated, and moisture-wicking. Simply put, it's the ideal material to use for socks, gloves, and lightweight jackets, such as the one in this review: Unbound Merino's Compact Travel Hoodie.

It's not the complete solution to every cold weather condition, yet it's a good addition if you're layering up. Its thin composition and soft material make it easy to compress, though also stretchy—not good if you're putting heavy items in the pockets. It's also quite basic, lacking drawstrings to adjust the hood or hem.
The Rundown
Unbound Merino went for an almost no-frills design with the Compact Travel Hoodie. It's primarily ultra-fine Merino wool, with the only real hardware and feature being the zipper. We're a bit confounded that the zipper is on the left since this is a men's hoodie. You'd typically find them on the right for men's clothing and the left for women's. Then again, we've seen one or two men's jacket have their zippers on the left before.

The reason for this is up for debate, as you'll find varying reasons from different sources. In practical terms, though, either side works fine. More importantly, the zipper is a beefy one from YKK. It's easy to latch to the other side, and we generally have no problem engaging and zipping it when we need to.
The outside really shows the ultra fineness of the Merino wool they use, giving it a clean and sleek look. It's a look that goes well with the digital nomad lifestyle. If that sounds a bit subjective, that's because it is.

The inside of the jacket has a different texture that looks and feels similar to terry cloth, so it's comfortable to wear. You have two deep pockets on each side; both are deep enough to stuff a buff or gloves when you're not using them. Of course, there are also two external hand pockets to keep your hands toasty.
While the pockets are relatively large, keep in mind that the Compact Travel Hoodie is thin and stretchy. Hefty items like a high-capacity battery bank or a max-size iPhone in a case weigh the pockets down. It's a shame since the inner pockets are large enough to fit a small insulated bottle, should you wish to bring along a hot drink.

There's also a loop near the collar so you can hang the Compact Travel Hoodie on a hook or a coat rack. While it does get the job done, we're not too enthused by how thin it is. It's just a narrow strip of fabric folded in half to make it thicker, although it's a step up over cheaper jackets that use a brand tag as a loop.
The hood has no frills whatsoever; pull it over your head, and it's set. There are no pull cords to play with, which means zero adjustments. On the other hand, this is a big reason why the Compact Travel Hoodie is so lightweight; it's solely Merino wool with a YKK zipper.

It's worth noting that, based on our travel experience, a zip-up hoodie style like this is easier to wear as an extra layer on a trip. There's typically not a lot of room to move when you're seated in economy class, so squeezing into a pullover can be rather tricky. Getting into a zip-up hoodie can be easier, and you can leave the zipper open when you want to cool off. In other words, the zipper grants you some control over how hot or cold you want to be.
Packability
The Compact Travel Hoodie isn't a packable travel jacket like the ones we typically use on trips. Compared to the Patagonia Nano Puff, it's definitely larger. That said, it's also quite easy to roll up and squeeze because of how soft Merino wool is. Oh, and did we mention it's quite lightweight? We have?

Well, it's worth repeating since it's a weight you'll have to carry around. Really, the main downside, in terms of packability, is the volume the Compact Travel Hoodie occupies in a travel backpack. For context, here it is inside the Aer Travel Pack 3, which has a capacity of 35 liters. Even if you roll it into its hood like a makeshift pouch, it still takes up a decent amount of space. You can also just carry your jacket around by tying it to your waist most of the time.
Fit Notes
A huge reason why we like Merino wool is because of how soft it is. In jacket form, like the Compact Travel Hoodie, that translates to comfort, which we can wear all day (so long as it's cold enough). In terms of ergonomics, the hand pockets are a little high for those with big torsos or long arms, but it's not a big deal.

As for thermal comfort, the Compact Travel Hoodie is a good layer over a T-shirt if you're in a cold airport terminal, though it won't be enough for freezing environments. If you find yourself in that low of temperatures, the Compact Travel Hoodie works well as another layer between a sweater vest and a down jacket.
Quick Comparison
Check out the Compact Travel Hoodie compared to the compressed Patagonia Nano Puff and Western Rise Meta Shell. This comparison is less about thermal performance since they each have different design philosophies (the Nano Puff is like a down jacket, the Meta Shell is a rain shell, and the Compact Travel Hoodie is—well—a hoodie). It's more about comparing sizes.

The Nano Puff is considerably smaller than the rest of the jackets here. However, the Meta Shell transforms into a sling when it's compressed. Meanwhile, the Compact Travel Hoodie is the least packable, though its Merino wool construction makes it lighter weight and more comfortable to wear.
Usage Timeline
Initial Usage
Condition: Excellent
Material is thin and flexible
Has more of a wool feel, though still soft
Hood is on the smaller side but stays low-profile
2 Weeks of Use
Condition: Excellent
3 Months of Use
Condition: Excellent
Still going strong—such a great packable hoodie for travel.
6 Months of Use
Condition: Excellent
The zipper is convenient—so nice for regulating temperature or taking it on and off in space-constrained areas like an airplane seat.
1 Year of Use
Condition: Excellent
After countless international and domestic trips, it's safe to say this one is a keeper.
Access the Pro Community Discussion
Get your questions about the Unbound Merino Compact Travel Hoodie answered from our team and the Pro Community right here on the page. Plus, join discussions with other members about gear, guides, and more.
Other Clothing & Accessories Reviews