Western Rise Meta Shell Review
The Western Rise Meta Shell is a stylish and functional rain jacket that packs into a comfortable sling—although it's not very compact.
Our Verdict
Unlock the Pro Summary
Save time. Get access to brief summaries of our reviews so you can browse and make decisions more efficiently.
Pros
Soft and comfortable fit for a rain shell
Sling mode doesn't feel like an afterthought
Warmer than thinner rain shells
Cons
Not very compact for a packable jacket
Non-removable buckle can poke you
Main zipper occassionally gets off track
Recent Pack Hacker Video
Technical Details
Notable Materials

Polyester, CMZ Zippers

Manufacturing Country

Indonesia

Warranty Information
Full Review
Get up to 15% off Western Rise • Join Pack Hacker Pro
If you want something done right, do it yourself. That appears to be the case with Western Rise and their apparent beef with rain jackets. They seem to think many of them are too cumbersome and unappealing to carry around, describing them as hot, crinkly, and uncomfortable. Thus, they made the Meta Shell. Based on the name alone, they apparently want it to be a definitive rain jacket.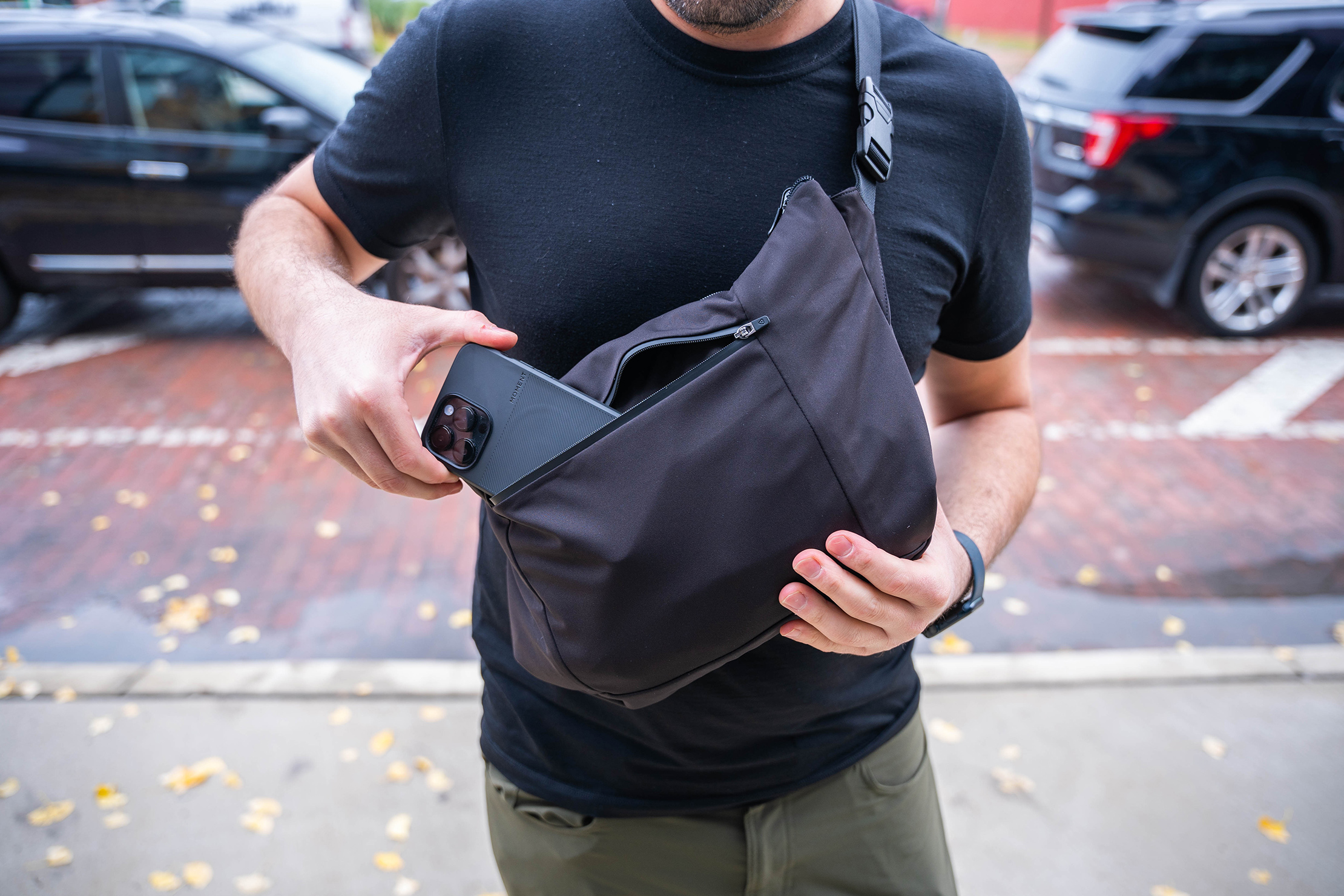 Instead of bulky, steamy, and crunchy, Western Rise is going for the opposite with the Meta Shell. We'd love to see if it's possible. However, there's nearly always a tradeoff when trying to solve too many problems at once. So let's talk about that.
The Rundown
Okay, let's first address the elephant in the room: the looks. That may be an inappropriate idiom because the Meta Shell does not stand out. It's sleek, it's stealthy, and it looks very classy. It doesn't shout at everyone else with bright and punchy colors like other rain jackets. Of course, colorway choices are purely subjective, and you can get other jackets in black, too, but the Meta Shell's execution sets it apart.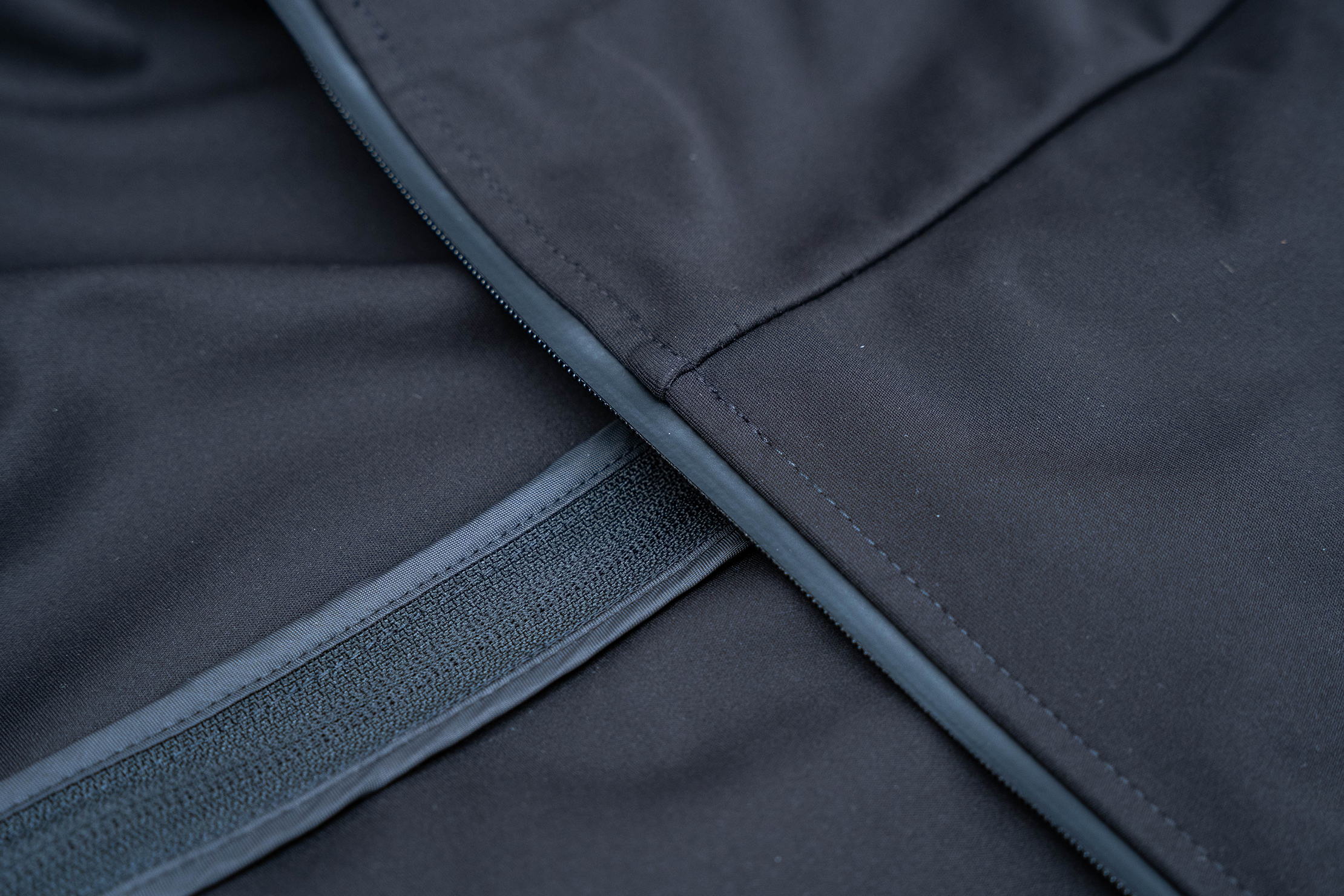 That said, Western Rise did a good job complementing the matte black color of the Meta Shell with a very clean silhouette. Some inner seams make slight outlines on the exterior, but they're pretty subdued by the black polyester. This rain jacket has a softer look and feel like a hoody, so we think it's a little more aesthetically pleasing than other rain jackets.
Now let's talk about the more practical aspects of the Meta Shell, starting with the CMZ zippers. Although we wish they were the industry-standard YKK we've come to like and respect, they do work okay for the most part. Sometimes the primary closure's zipper gets off track, though it's easy to correct, so we'll give it a pass.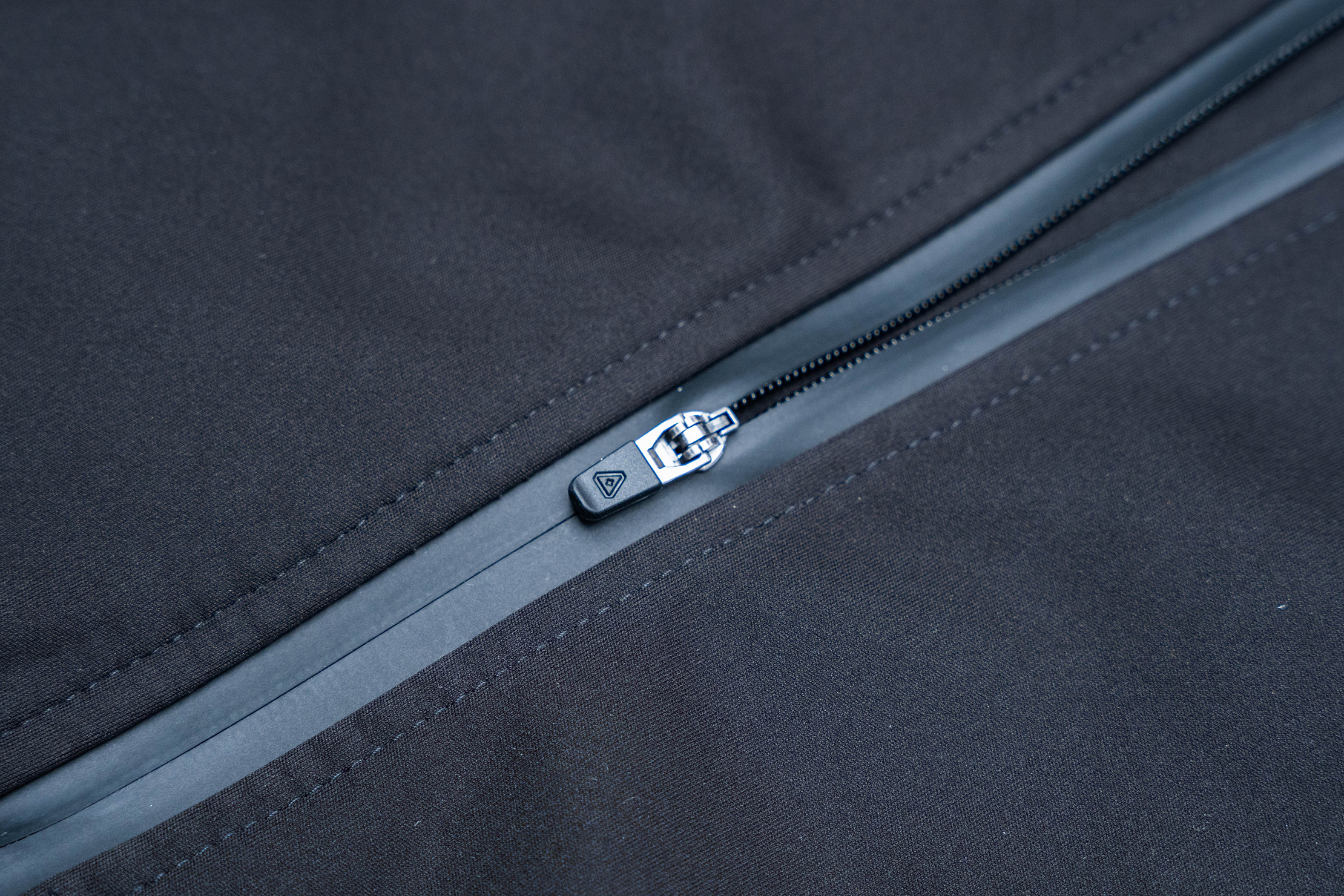 There's a water-resistant reverse coil zipper track for the front main closure where it's necessary. The two hand pockets on the side don't have that, although they have lockable zippers and fabric welts to shield them from the elements. Those welts also help preserve the Meta Shell's sharp looks by obscuring the zippers' teeth.
The hood has one bungee at the top that you can use to cinch it down when it's not in use. Plus, there are bungees on either side at the base that you can pull for a tighter fit. Like the rest of the Meta Shell, the bungees are low profile and understated. You don't get that dangly look that plague other jackets—and if you know us, you know how we feel about dangly straps and cords (we hate them).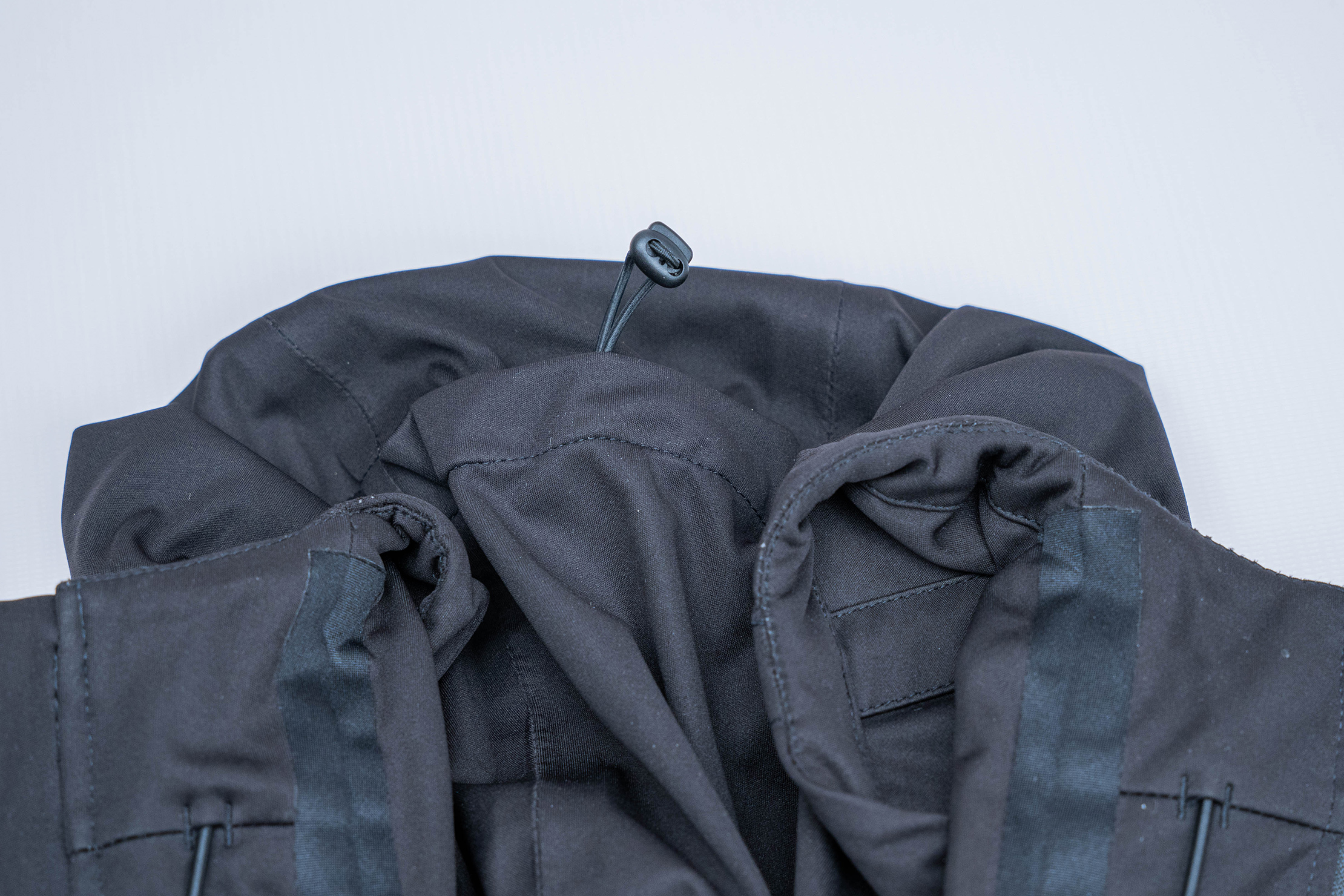 We really like the magnetic snap fasteners on the cuffs. Magnets have found their way onto the hardware side of a lot of travel gear, and they can get overused sometimes—not the case here. They feel secure and tactile, and we wouldn't be surprised if users enjoy fidgeting with them.
We want to point out that our sample is a pre-production unit. It's important to keep this in mind because one of the inner seams is starting to peel off. We're chalking that up to the pre-production status, and hopefully, Western Rise will get that sorted out when they start shipping.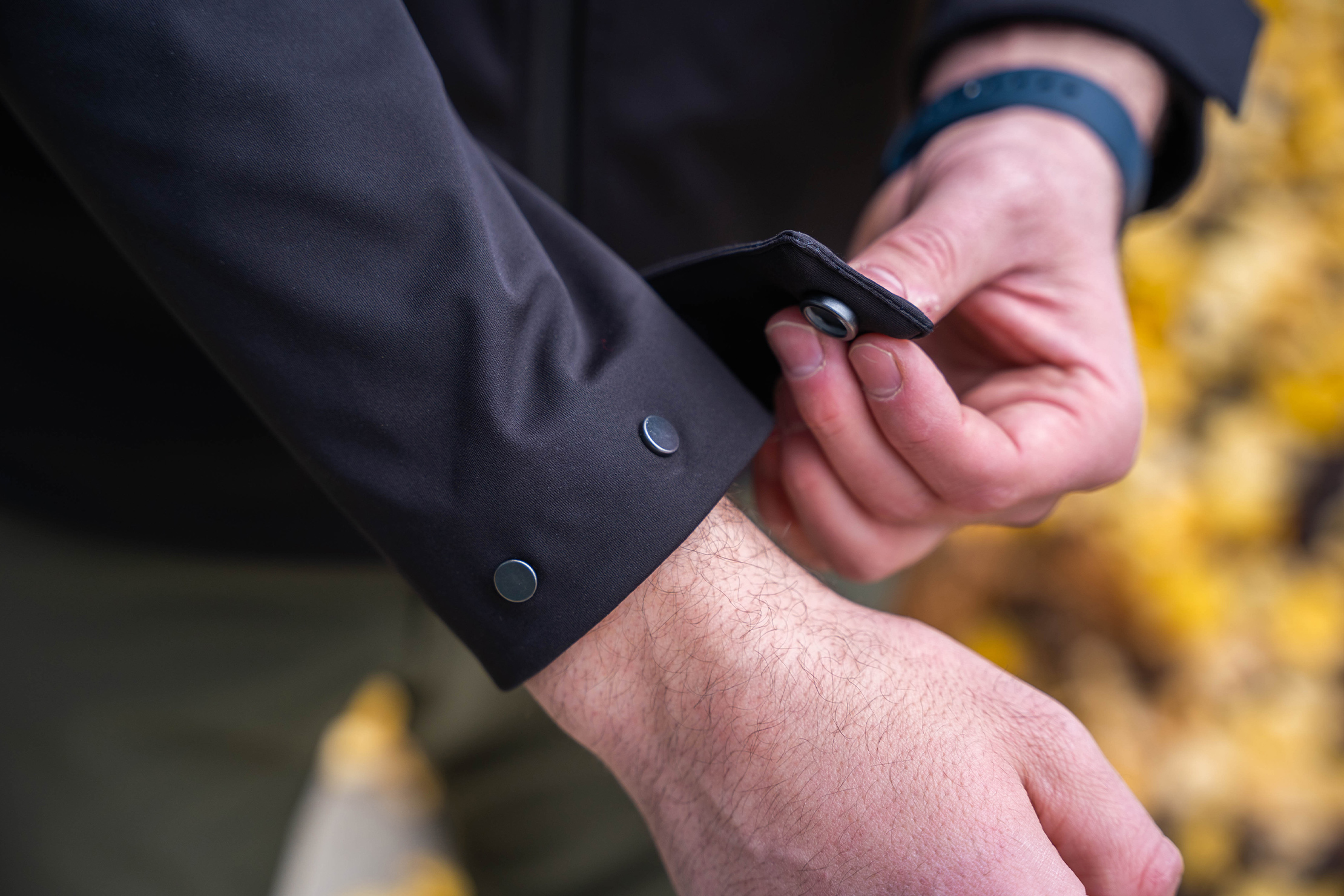 We're also not a fan of the rather flimsy loop on the inside. Western Rise includes it so you can hang the Meta Shell on a coat rack or a hook, but it's super thin and ribbon-like. The rest of the Meta Shell feels superb, but this one is an afterthought. It gets its job done, but longevity-wise, it's not exactly confidence-inspiring.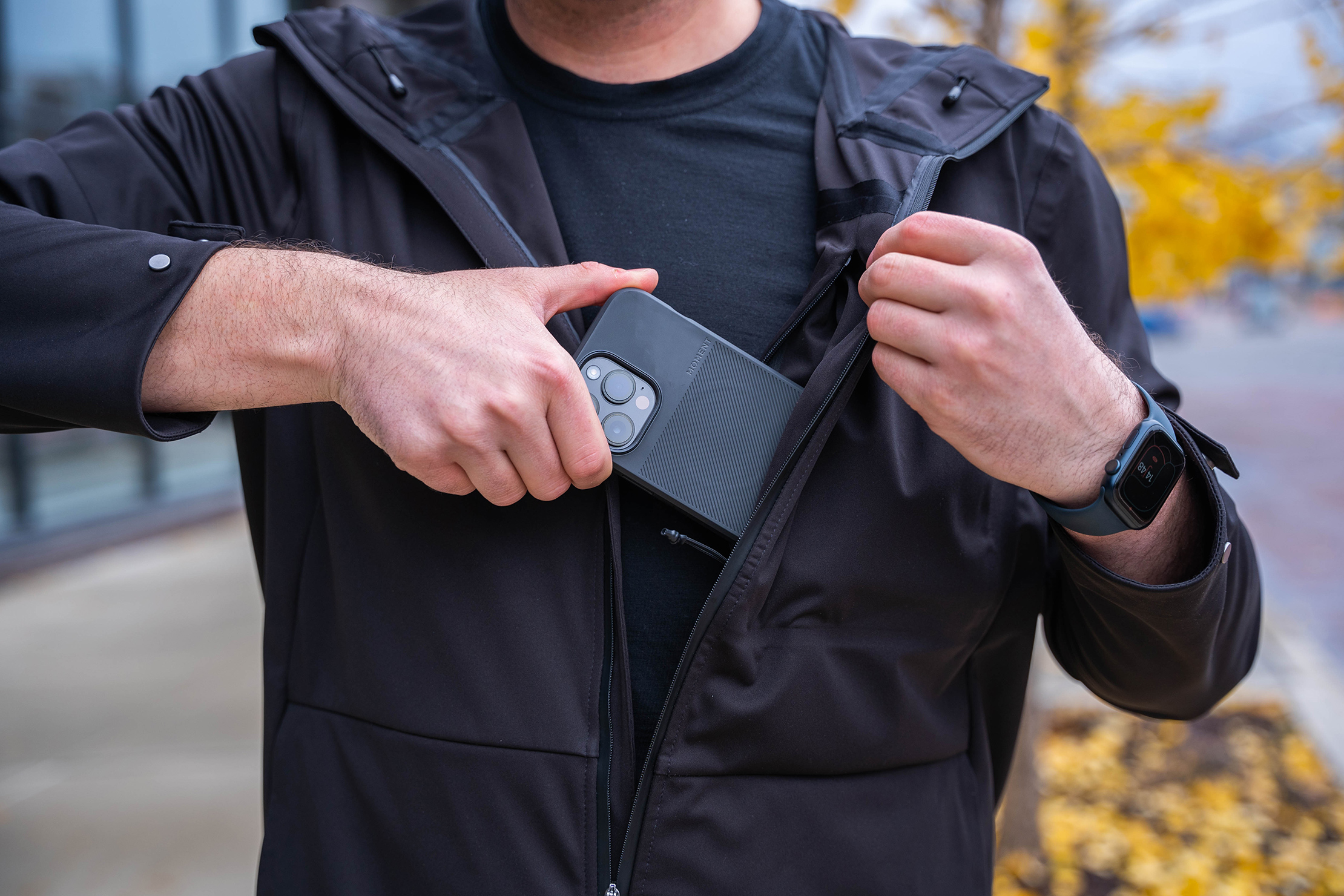 As for pockets, you get four on the Meta Shell. The two hand pockets on the outside are useful for everyday carry items. For items you want to be more secure, there's a chest pocket that's big enough for an iPhone 13 Pro Max. Last but not least is the back pocket located in the interior. Why is it there? Let's find out.
Packability
In terms of packability, Western Rise takes a different approach than other packable jackets—most of these stuff into a separate pouch or one of their own pockets. We dig the latter style because it's one less container to keep track of, but Western Rise takes it a step further: The Meta Shell packs into its own sling.
When you want to pack the Meta Shell, fold it lengthwise from the back and then stuff it into the interior back pocket by turning it inside out. The straps come out of the pocket to create a sling. Then you don't have to swing your jacket over your shoulder or tie it around your waist if you don't have room to stuff it in your backpack. Plus, the sling option has the added benefit of having pockets where you can put some everyday items.
Fit Notes
So how does the Meta Shell feel when you're wearing it? The Meta Shell doesn't wear like a rain jacket; it's more like a soft mid-layer. In other words, it's a comfortable fit that looks really good to boot.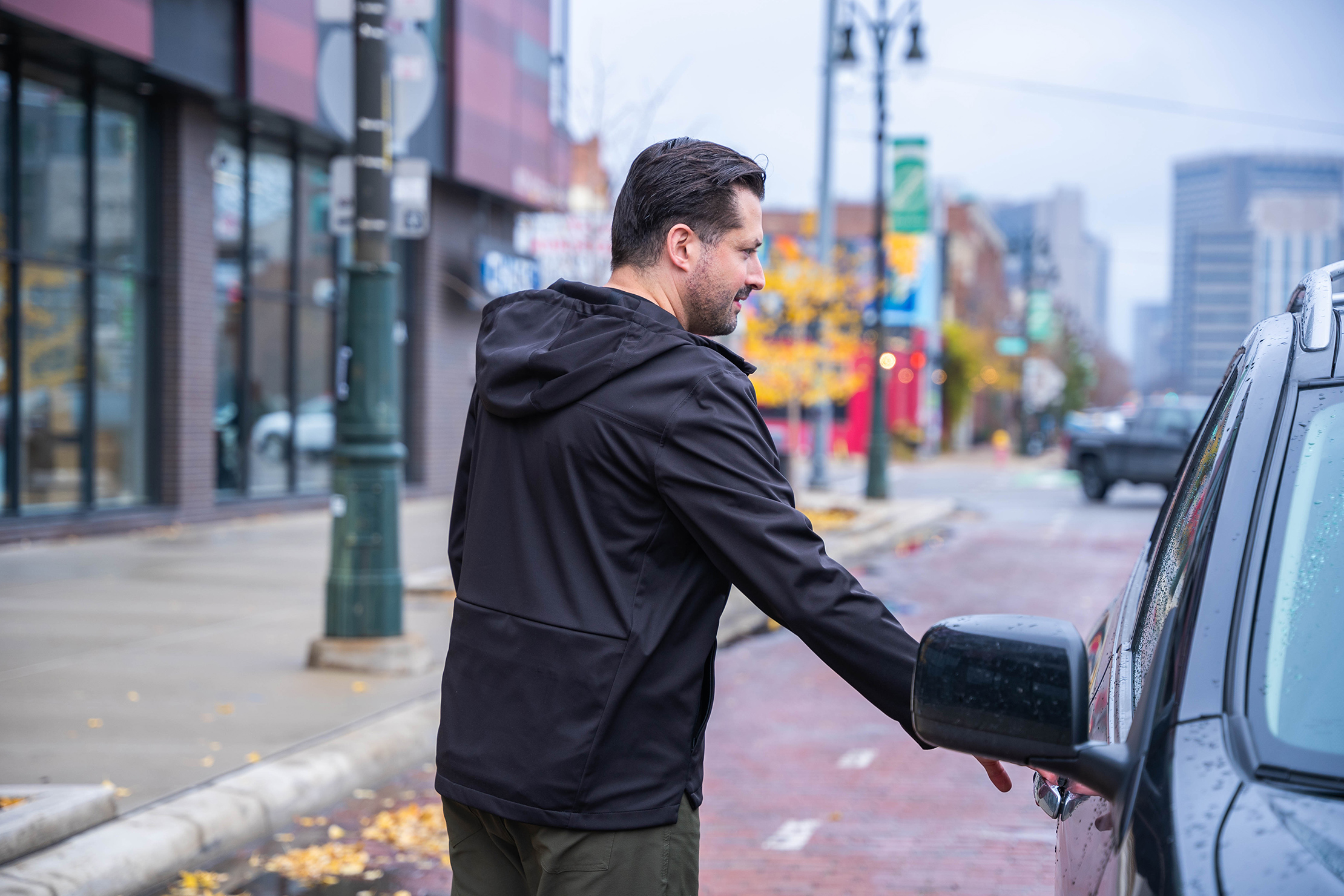 It's worth noting that the non-removable sling strap built into the Meta Shell is noticeable when you're wearing the jacket. You can shift it around by undoing the buckle, but you'll always know it's there. Still, it's more of a nitpick than a deal-breaker.
Since the Meta Shell packs into a self-contained sling, it's worth talking about how it carries. It wears comfortably and doesn't feel like an afterthought, so kudos to Western Rise for their design. Bonus points: the strap even has a YKK buckle, so you can quickly release the sling. Nice.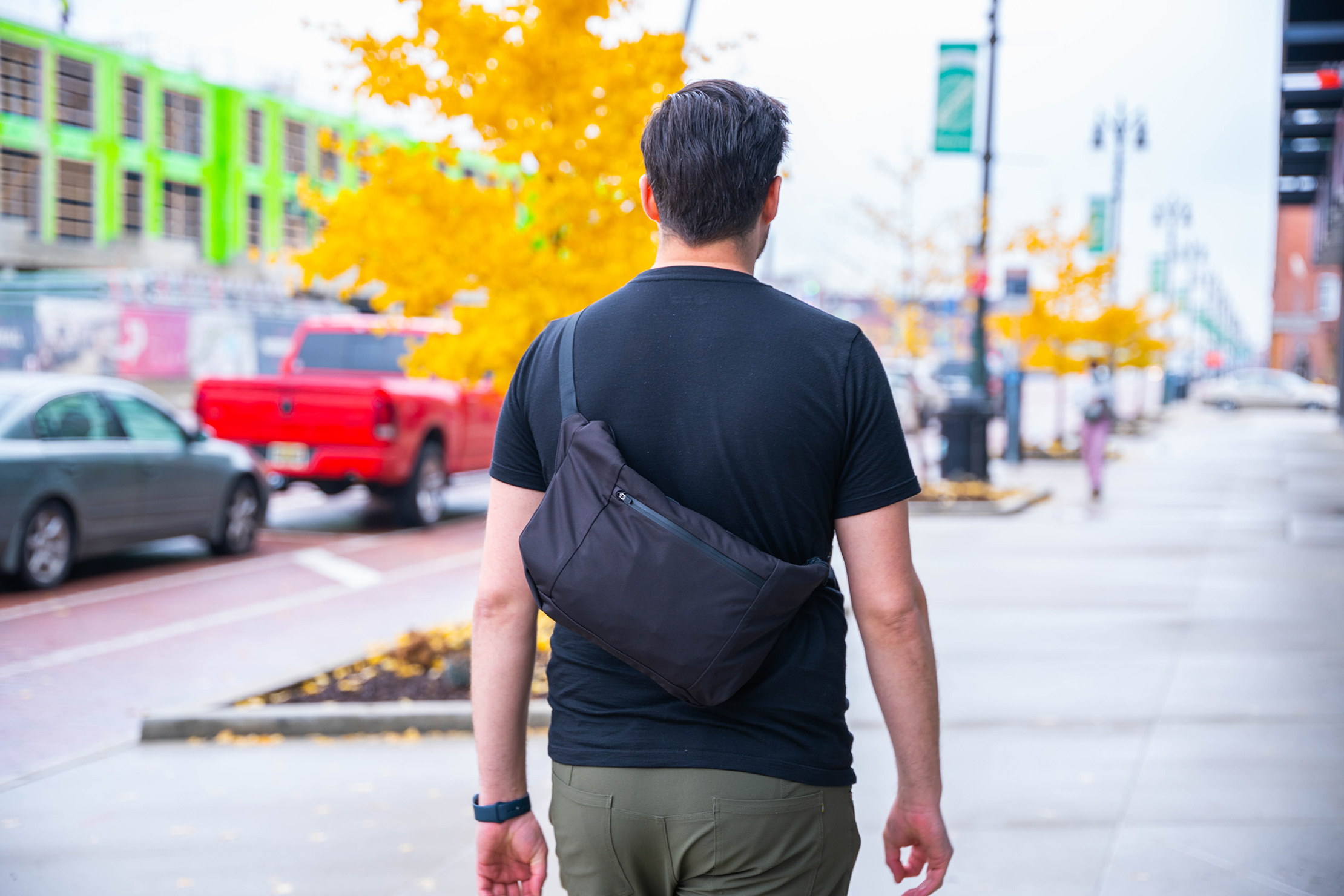 Part of the reason for that comfort is that it transforms into a sling that's already filled, so its structure is more or less controlled, preventing any unwanted sagginess. Of course, that also means you have a bare minimum of available space inside, just enough for a smartphone and wallet, and maybe one or two other everyday carry items.
Quick Comparison
Being able to carry the Meta Shell as a sling does come with a caveat in terms of packability. In short, it's not very compact, and that's a big deal when you're trying to travel with just one bag. Compression isn't its strong suit, which makes sense, given that there's still room to put a smartphone and wallet inside.
The Meta Shell is a packable jacket designed for carrying separately. In this regard, it's more suitable as an everyday jacket and less as a travel jacket. For context, we've lined up a few packable jackets to compare. Take note of how small a jacket like Patagonia's Nano Puff compresses compared to the Meta Shell.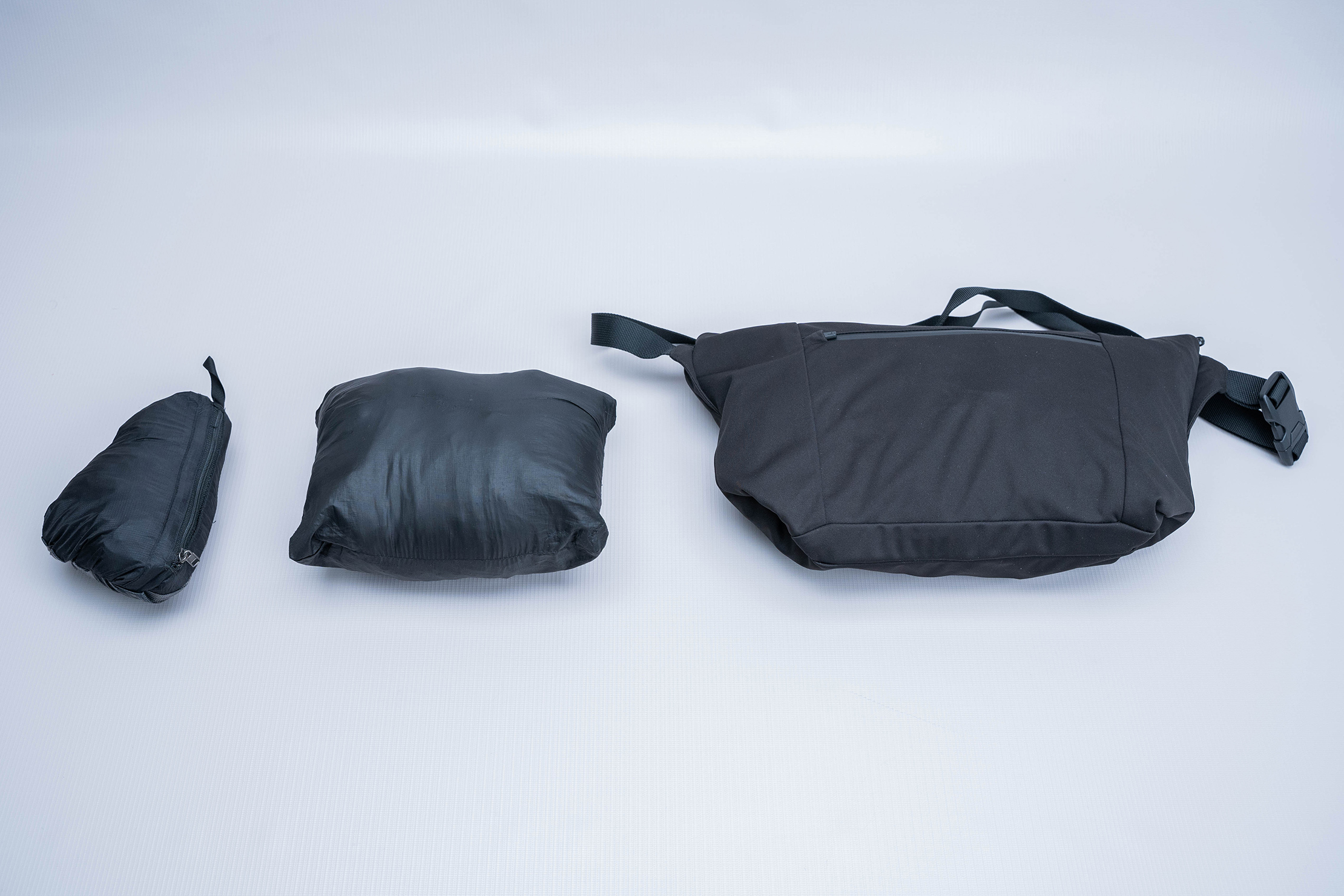 We also have the Patagonia Storm10 and Rab Phantom Waterproof Pull-On Jacket, which are smaller than the Meta Shell. Unfortunately, we do not have the latter in the studio at the time of writing, but trust us when we say it packs up into a small cantaloupe-sized ball.
As a jacket, the Meta Shell feels different from the rest. It's arguably the most stylish, able to maintain a uniform and non-wrinkly appearance with its fabric. The Rab Phantom feels particularly crunchier than the other jackets here, and it's the closest to being like a "trashbag." That's not to say that the Phantom is trash, though, because its thinness pays dividends in terms of lightness, the area where it beats the Meta Shell.
Performance
Along with good looks, the Meta Shell has substance. We poured water over the different parts of the jacket and even put the sleeve under a running faucet for nearly a minute. In the end, there was some dampness in the interior, but it's within expectations of a rain shell—it's not a scuba suit, after all. We can confidently say that everything this jacket covers will stay dry in the rain.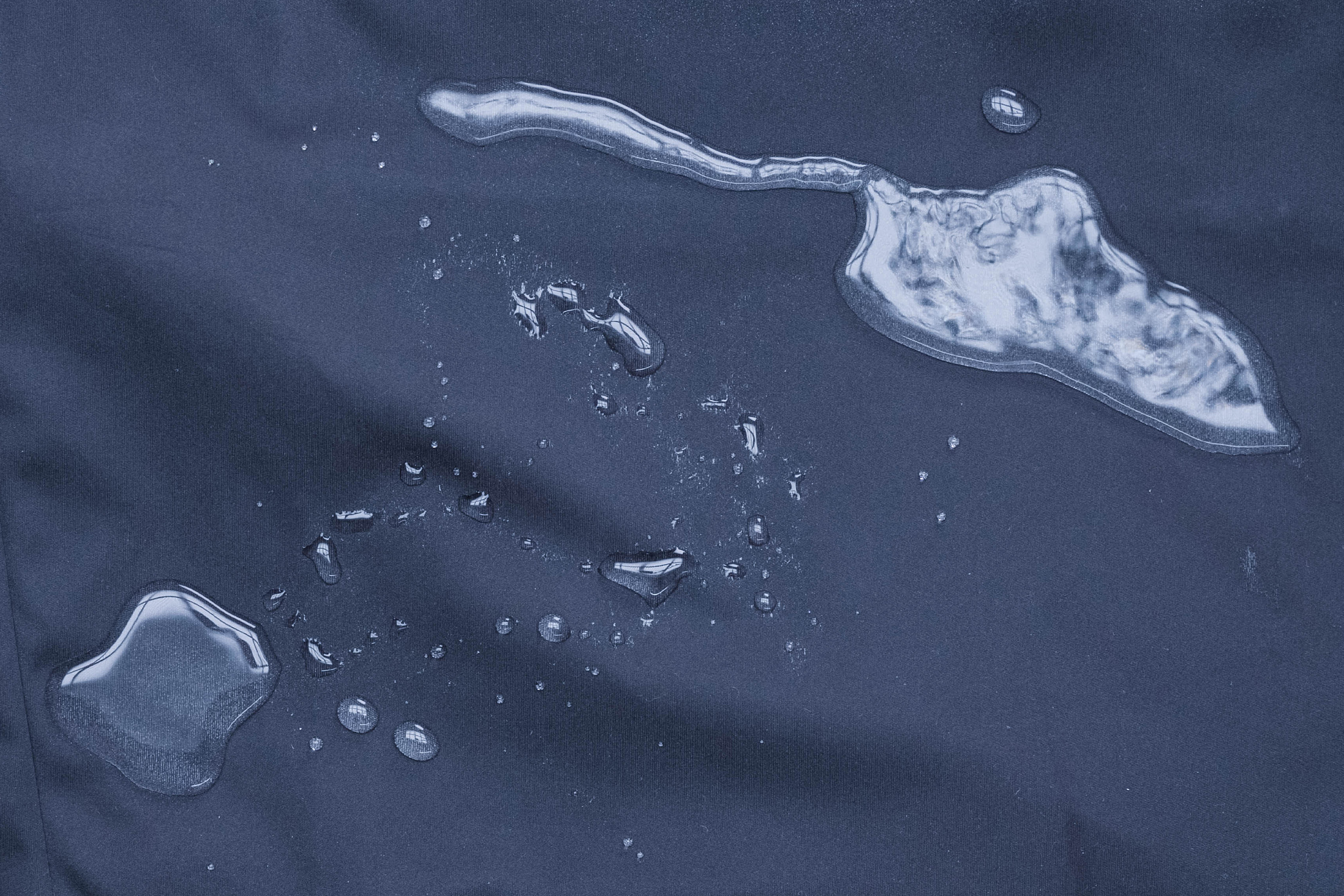 As for thermal performance, the Meta Shell can keep us warmer than thinner rain jackets would otherwise. It's no down jacket, and the Meta Shell isn't a replacement for one, either. At the same time, Western Rise's claim that it's more breathable than other rain jackets does hold true. It doesn't feel stuffy after a long period of wear, which is good because constantly taking a jacket on and off isn't ideal, even under the best circumstances.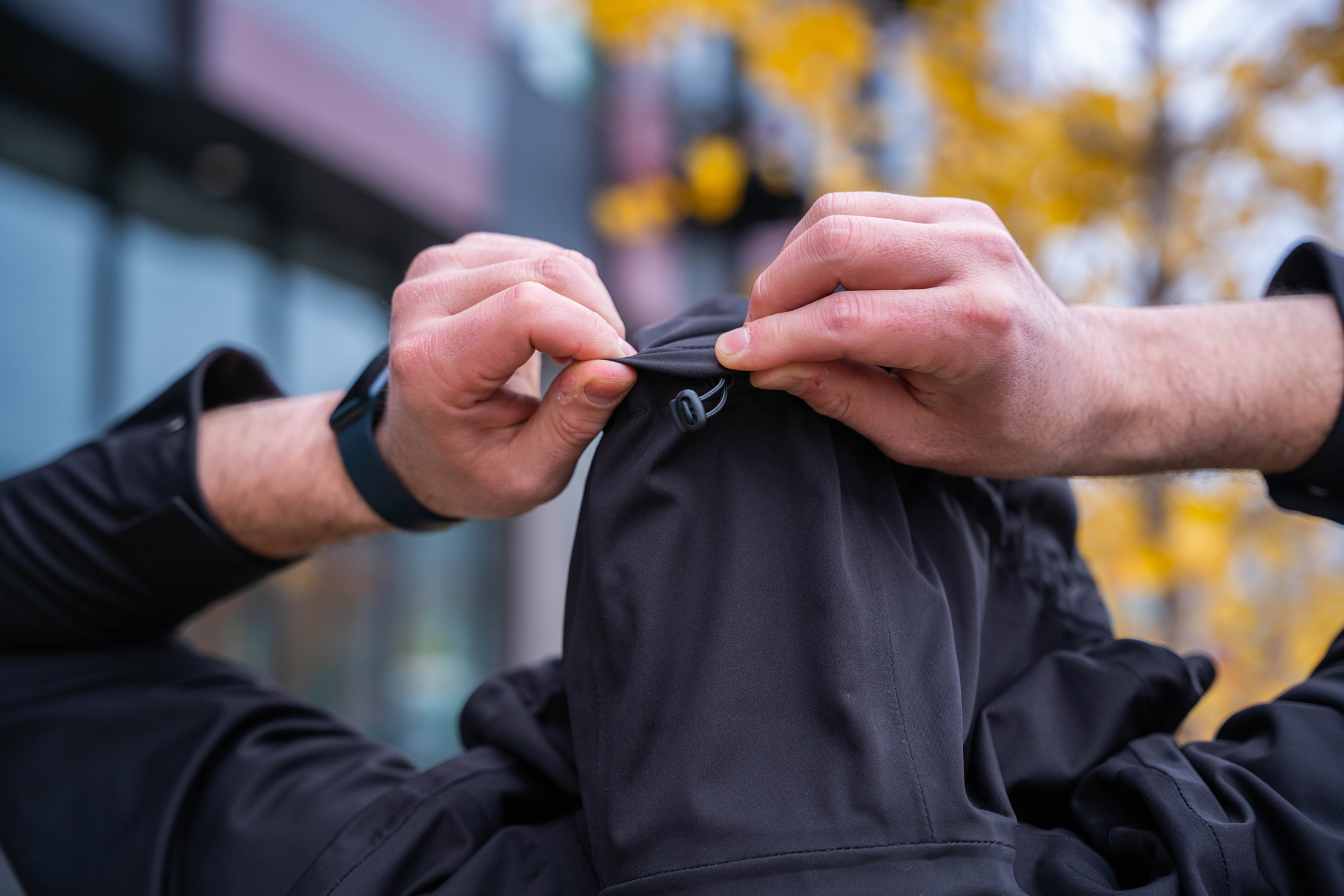 Western Rise deserves props for achieving what they set out to do with Meta Shell. It's stylish, it's very resilient against rain, and it's comfortable to wear too. We certainly enjoyed using it and even got compliments from others who liked the sleek looks. Mind you, it's not the most compact packable jacket to travel with, though its pros make it all the more tempting to take.
Usage Timeline
Initial Usage
Condition: Excellent
Super stretchy fabric that feels great in the hand
Packing into a sling is an interesting concept, though you don't get a lot of capacity as it's full of jacket (though there's more room if you take the time to tuck it in neatly)
Looks sharp
2 Weeks of Use
Condition: Excellent
Great profile and looks great to wear
An interior taped seam is coming undone, but hopefully, it's because we have an early sample pre-Kickstarter production
Finding that it's easy to feel the strap on your back while the jacket is on
Access the Pro Community Discussion
Get your questions about the Western Rise Meta Shell answered from our team and the Pro Community right here on the page. Plus, join discussions with other members about gear, guides, and more.
Other Clothing & Accessories Reviews