Patagonia Storm10 Jacket Review
The Patagonia Storm10 Jacket is a packable rain jacket that will keep you dry when you need it without feeling bulky while doing outdoor activities.
Our Verdict
Unlock the Pro Summary
Save time. Get access to brief summaries of our reviews so you can browse and make decisions more efficiently.
Pros
Lightweight and packable
Crafted from recycled and durable materials
Adjustment hardware is easy to use
Cons
Small zippers can be hard to grab
Jacket can be difficult to stuff
Hood adjusters are small and can be awkward to use
Recent Pack Hacker Video
Technical Details
Weight (oz)

8.3 oz (235.3 g)

Notable Materials

Ripstop Nylon, DWR Coating

Manufacturing Country

Vietnam

Warranty Information
Buying Options

$329.00

$329.00

$329.00
Full Review
When looking for a raincoat, it can be hard to strike a balance between a super thick jacket that doesn't let any moisture through and a uber thin model that looks nice and is comfortable but doesn't do the best job keeping water out. We've had good luck with Patagonia gear in the past, and on paper, the Storm10 looks like an excellent choice for minimalistic travel. We put this one through its paces to find out, so let's dive in!
Materials & Aesthetic
Starting things off with the most important spec of all: the materials. This jacket is crafted with recycled nylon made from post-industrial waste from weaving mill discards and consumer fishing nets. Sustainability is par for the course from Patagonia, so no surprises here. The material looks nice on the trail but doesn't look half bad in the city, either. It does have a bit of a 1990s wind-pant noise to it, but we haven't been able to find any quality rain jackets that don't, to some degree, make that noise.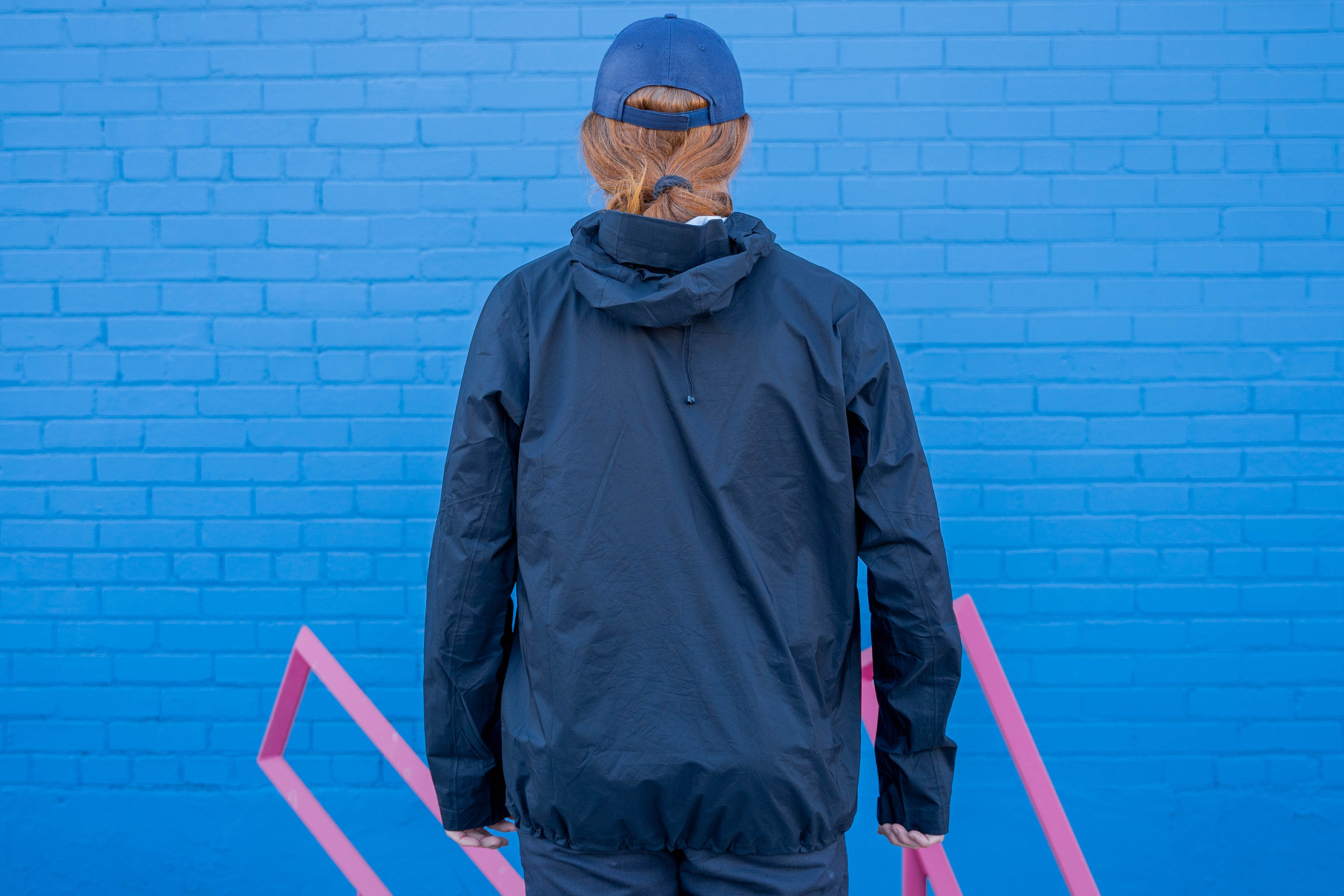 The fabric's exterior has a fluorinated DWR coating, which we were initially a little bummed to see contains perfluorocarbons. That said, Patagonia is currently in the process of removing as many PFCs from their products as possible, though it's hard to do because they've been an industry staple for decades. We appreciate Patagonia's effort and look forward to seeing their progress on this front in later installments of this jacket and others like it. It'll only get harder to explore the world if we keep pumping it full of chemicals, and seeing transparency like this from one of the biggest names in adventure attire is a breath of fresh air (literally).
At the time of writing, the Patagonia Men's Storm10 Jacket is available in Metric Orange, Superior Blue, Plume Grey, and Black colorways. There's a women's version as well, which we think is a great shout for those with different body types. Apart from the colorways available and the cut, the jackets appear to be the same. At the time of writing, the women's version comes in Paintbrush Red, Smolder Blue, and Stellar Blue.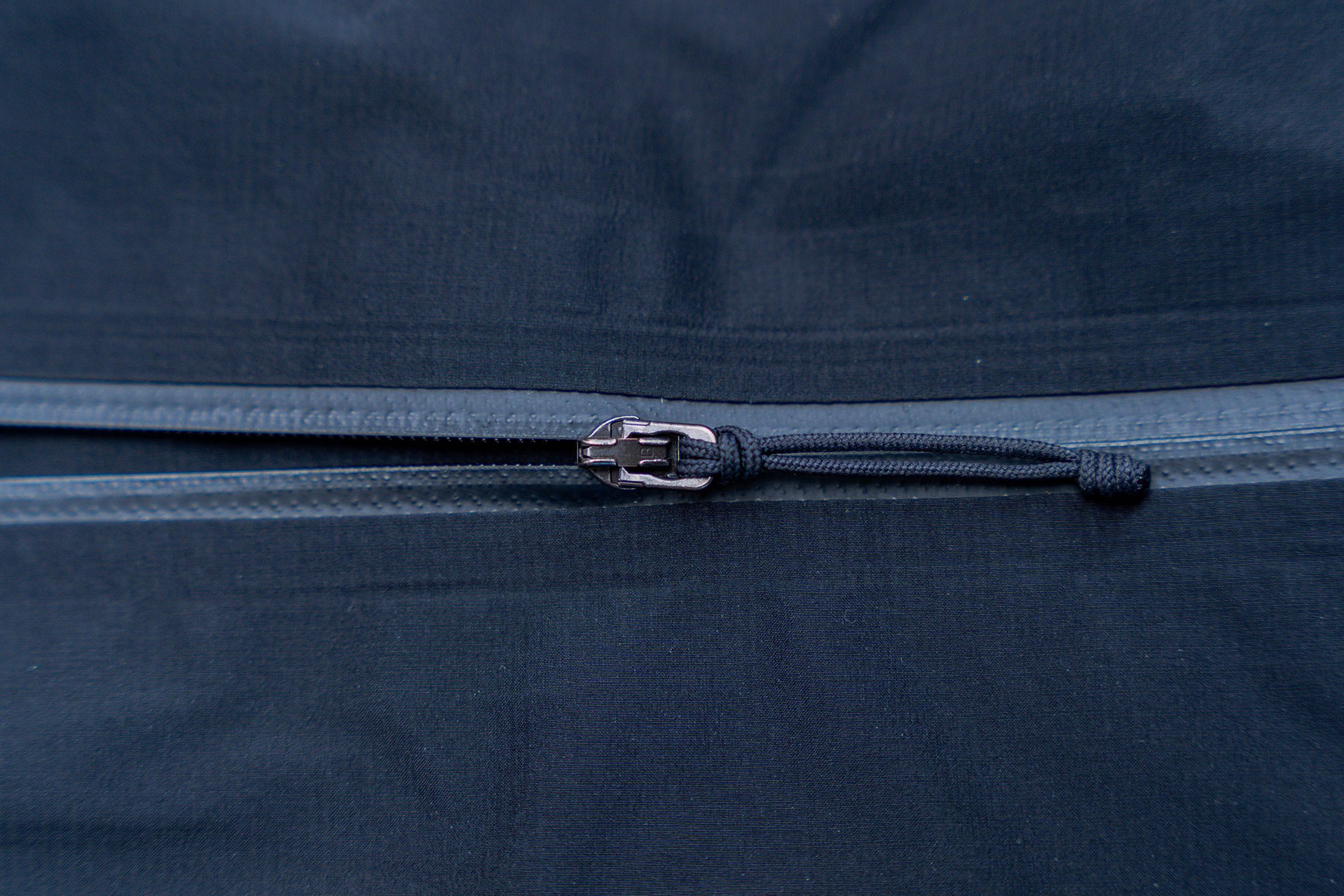 Moving on to hardware, all four zippers on this pack are YKK #3C AquaGuard models, which can be a little tricky to manipulate if you have larger hands, but it's quicker once you get the hang of things. The AquaGuard finish on the zipper track is great at keeping water from permeating the zipper's teeth, and we've had no issues with water getting through any of the zippers in use. A larger zipper would have been easier to find and use, but this small zipper looks much more subtle and is great for saving weight.
Speaking of weight, this thing is wicked light. Ours is a size large, and it comes in at 9.2 oz (260.8 grams), which is a lot lighter than your typical everyday jacket. There isn't as much to keep you warm if the temperature drops radically, but when layered correctly, you can get by with just the Storm10 in most non-winter weather conditions.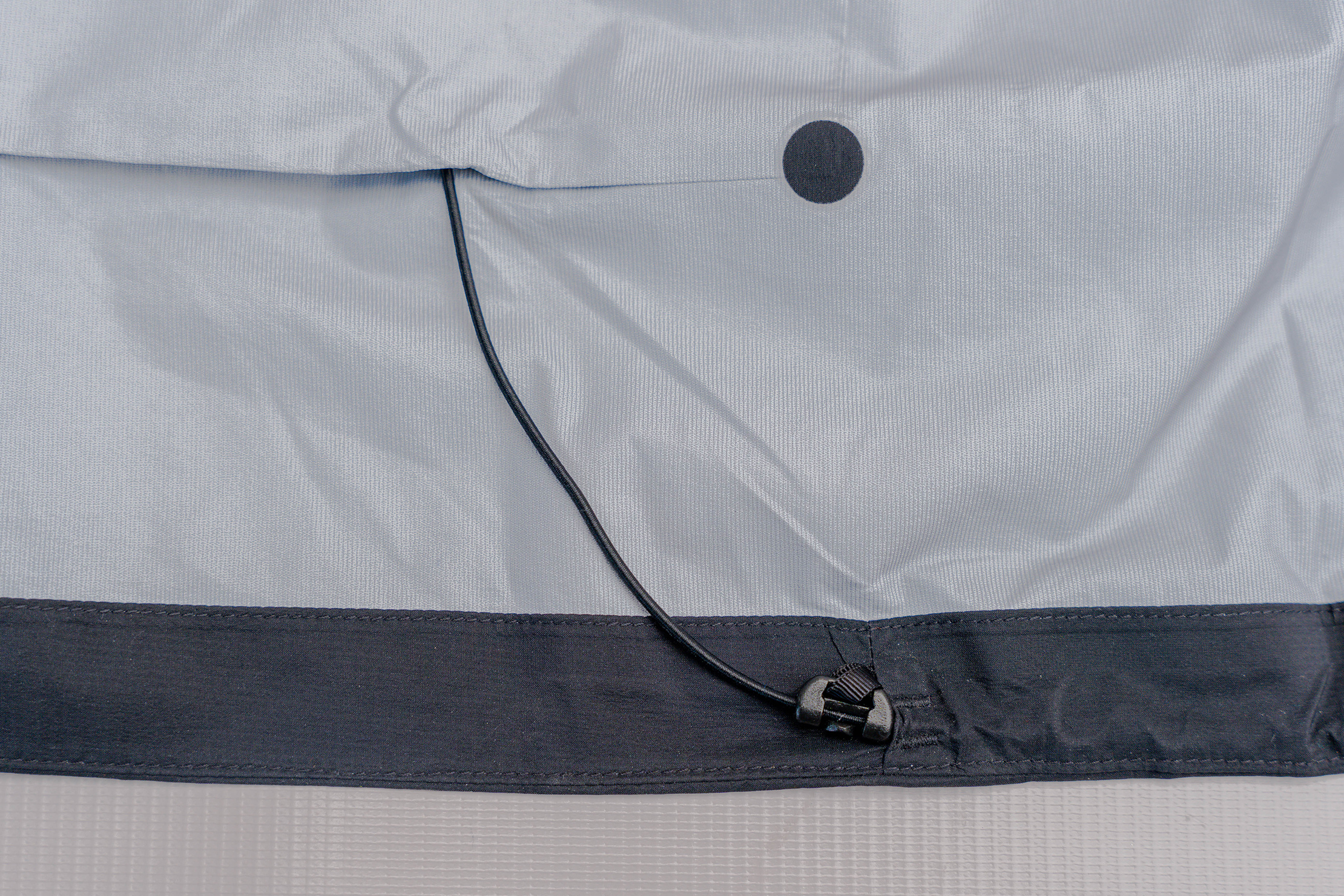 Moving back over to hardware, we have all Duraflex hard plastic adjusters for the elastic on the waist and hood of the jacket. We like how ultralight both fasteners are, but their small size can, again, be a little difficult to use. The waist tightener is a simple pull-through design; if you want more slack, just pull the Duraflex adjuster away from your body. When you want to tighten things up on a windy day, just pull on the elastic cord, and you're all set.
The hood adjuster is a little more complicated in comparison but is easy enough to figure out. There are two pieces of hard plastic, one that is fixed on the end of the looped elastic and one that slides to and fro on the elastic. Grab both pieces and move the sliding piece closer to your head to tighten the hood. You'll feel it tightening around your noggin, and once it's in the correct position, stop sliding and let go. If you tightened it too much, loosen it by pulling the sliding piece back a little.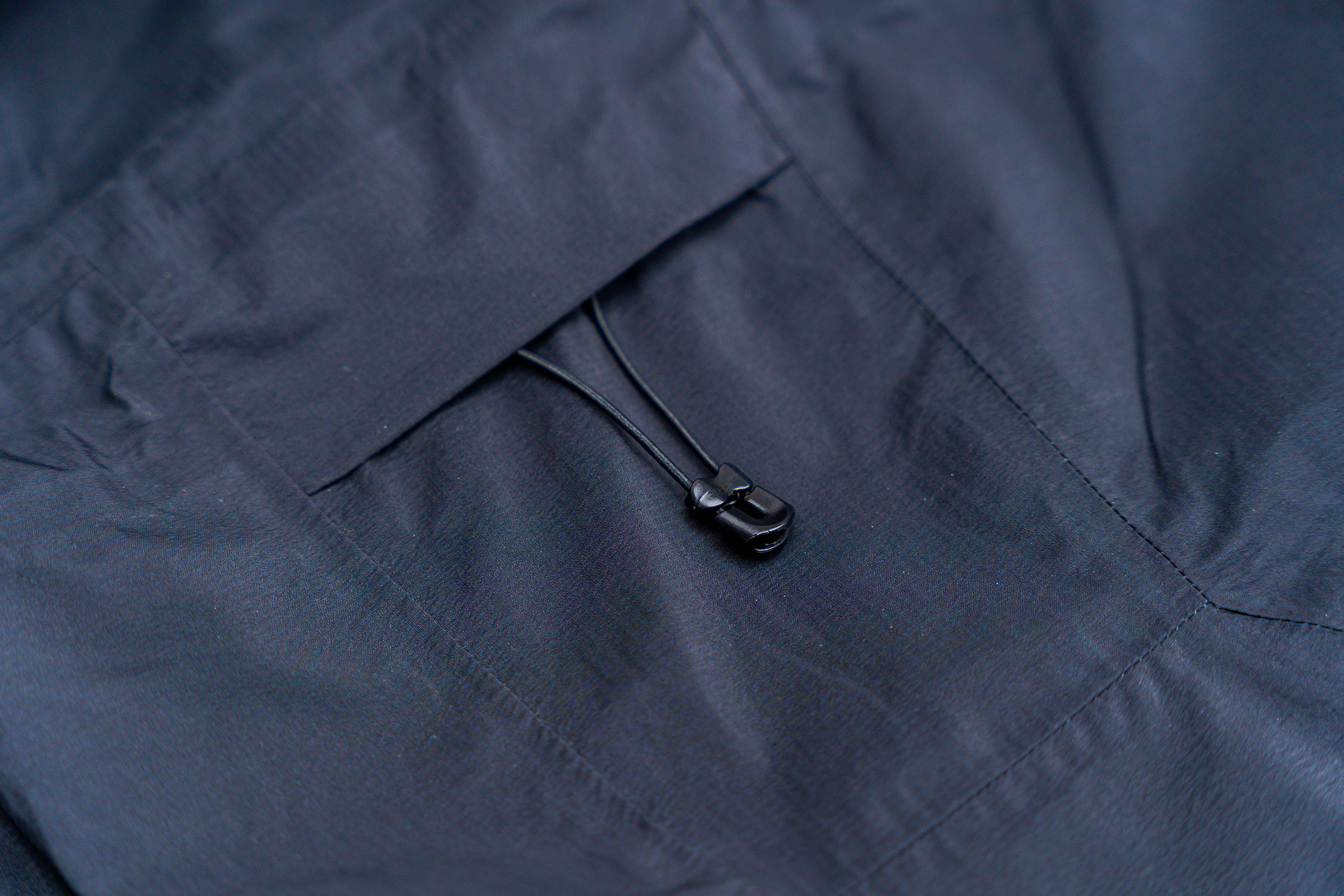 We think it's worth noting that those with range of motion issues in their arms may struggle to reach the hood adjustment tabs. They're located near the top of your head on the backside, so reaching them can be difficult. You can adjust it before you put it on, but that isn't the easiest thing to do properly as your head won't be in the hood to get a good fit. However, once you have the right fit, you can leave it tightened.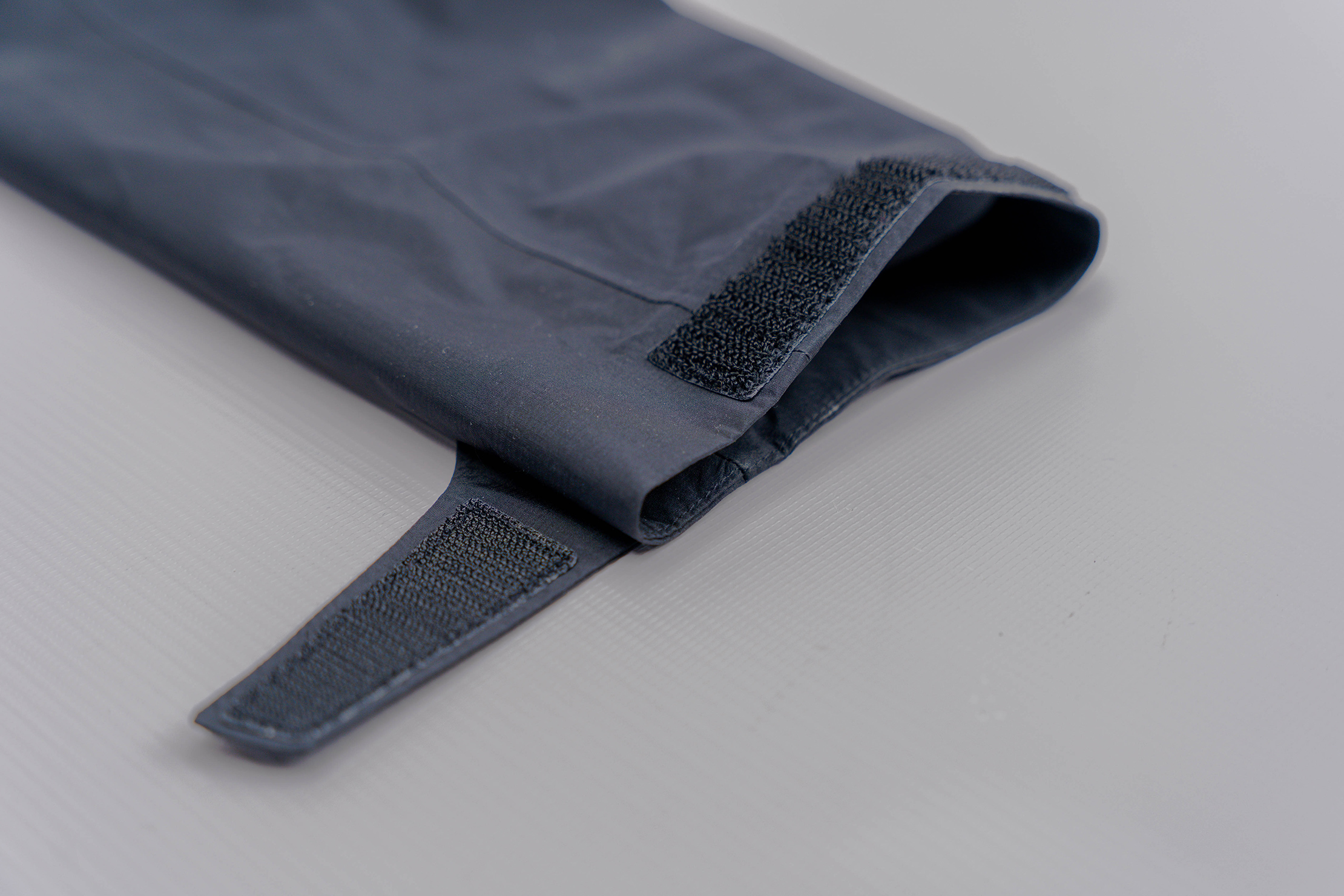 The wrists have a hook and loop fastener to adjust how tight the fit is around your wrists. We like how long the fastener is because this gives you more options for how tight or loose it is. If you're wearing a thick sweatshirt underneath the jacket, you can still tighten it up. If you have skinnier wrists, there's enough length to tighten nicely, too.
Usage & Features
Moving on to the interior of the…backpa…erm…jacket, we have three pockets to cover. There are two twin pockets on each side of the bottom of the jacket that are roughly at hand level when you bring your hands toward your stomach. These pockets are pretty large and can easily fit everyday items like a wallet, keys, and a phone. We could even fit a smaller camera inside, which is great when you get caught in a surprise rain shower.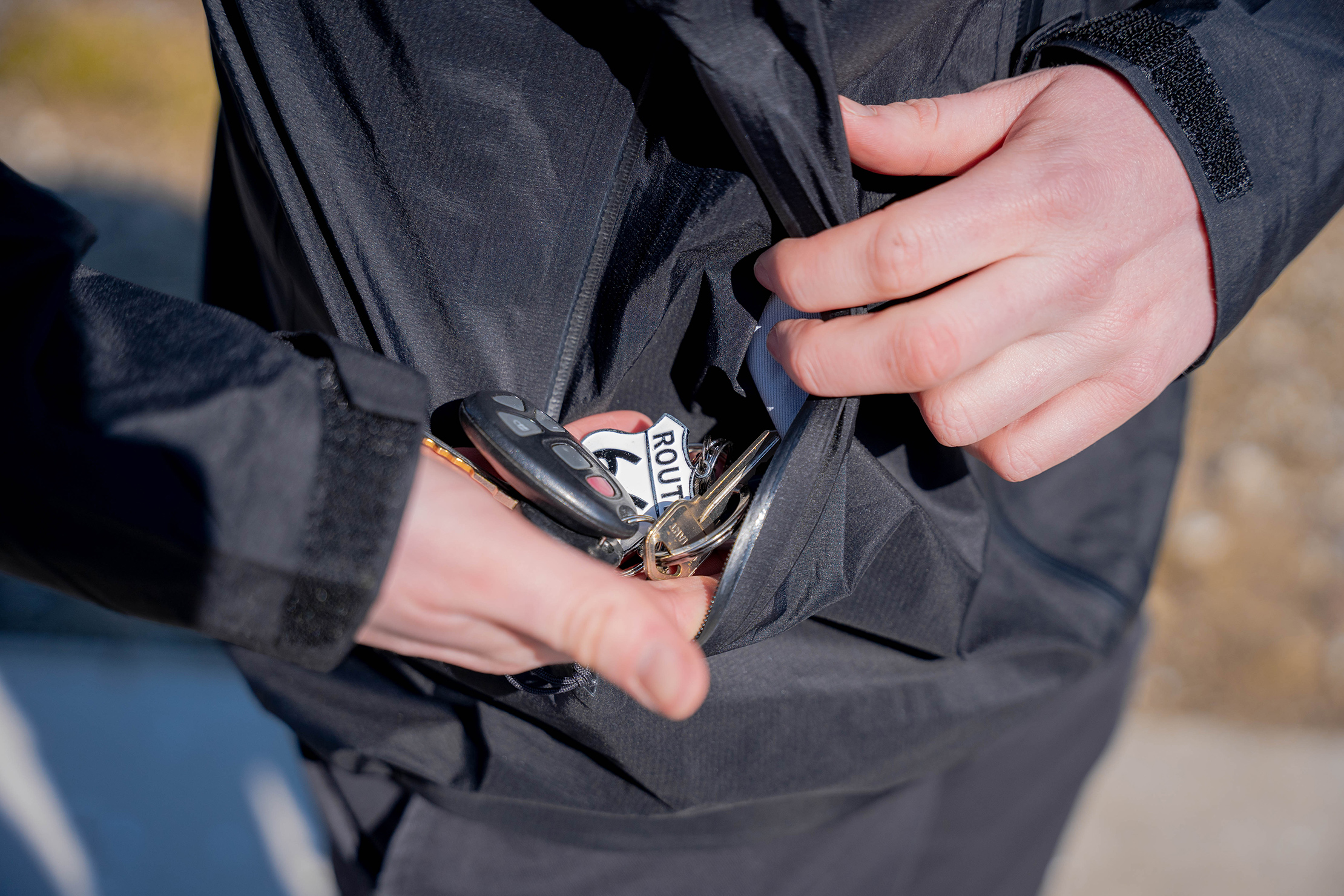 These two pockets can be a little award to stow heavier items inside, especially when you don't have the jacket zipped. Gravity takes its toll on the lightweight recycled nylon, so added weight in the pockets can give it a saggy lookThis isn't as big of an issue when the jacket is zipped, as the zipper holds the fabric in place, holding the pockets up. Larger items will bulge a little, but we don't mind this too much when it's the difference between a wet camera and a dry camera.
Moving upward, we find ourselves at the chest pocket. This pocket is perfect for a cell phone like the iPhone 11 and 13 we have in the office. Bulky items don't do well here, as the pocket lays flat on your chest, but it's doable in a pinch.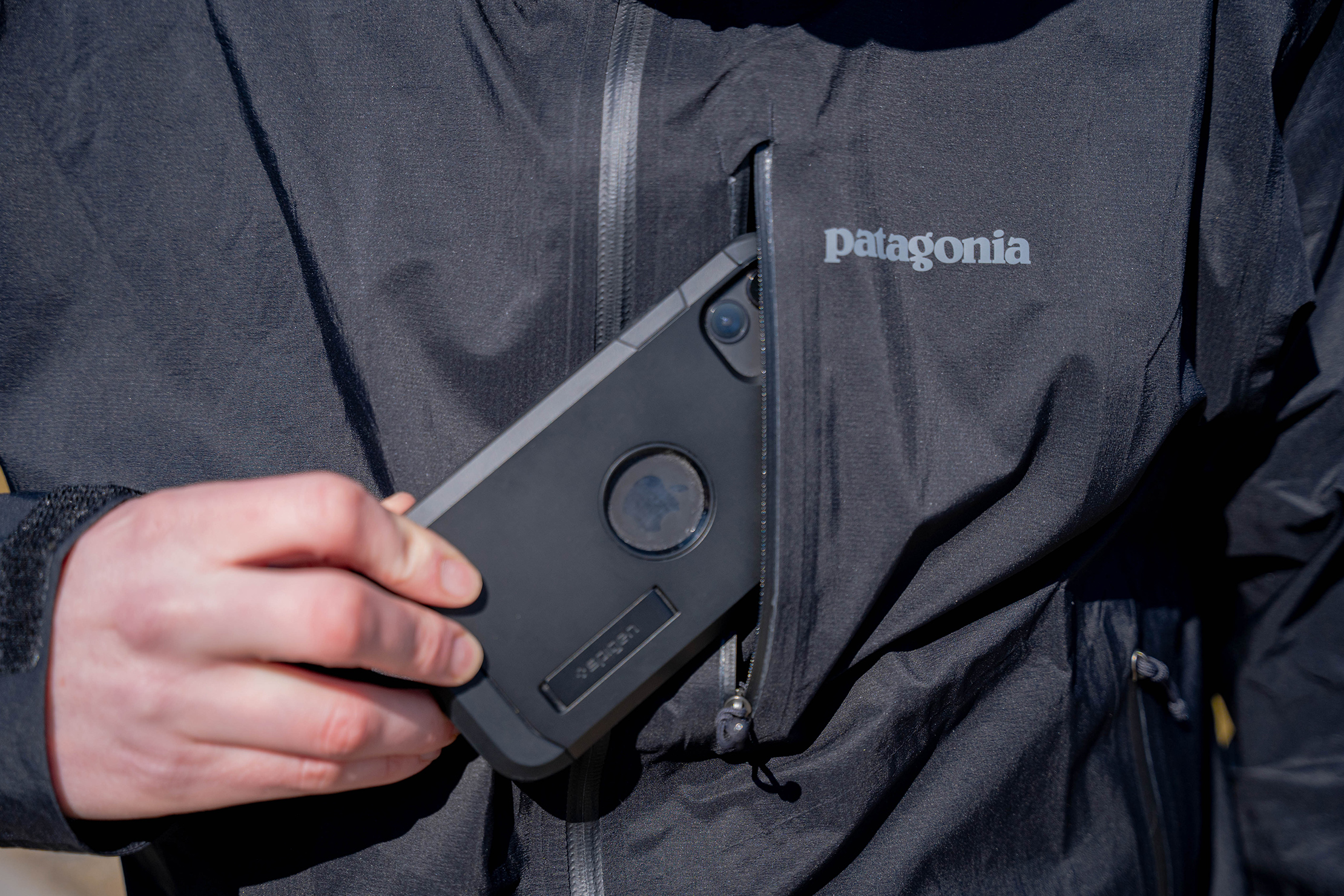 The chest pocket is also the stuff sack to stow the jacket when you want to pack it away. The YKK zipper is two-sided, so you can stuff the jacket from the inside and still zip it. Stuffing it can be a little tedious, but it gets a lot easier after a few tries. Once stowed, it fits into the palm of your hand, the water bottle pocket on your daypack, or in a sling like the Aer Day Sling 3.
The inside of the jacket is complete with seam tape to cover any stitched nook and cranny. The recycled nylon paired with the DWR coating does a great job keeping water at bay, but there's always a chance it could creep in where the pieces are sewn together. The seam tape puts a stop to that happening and is a great reminder every time you see it that you're protected if the weather takes a turn.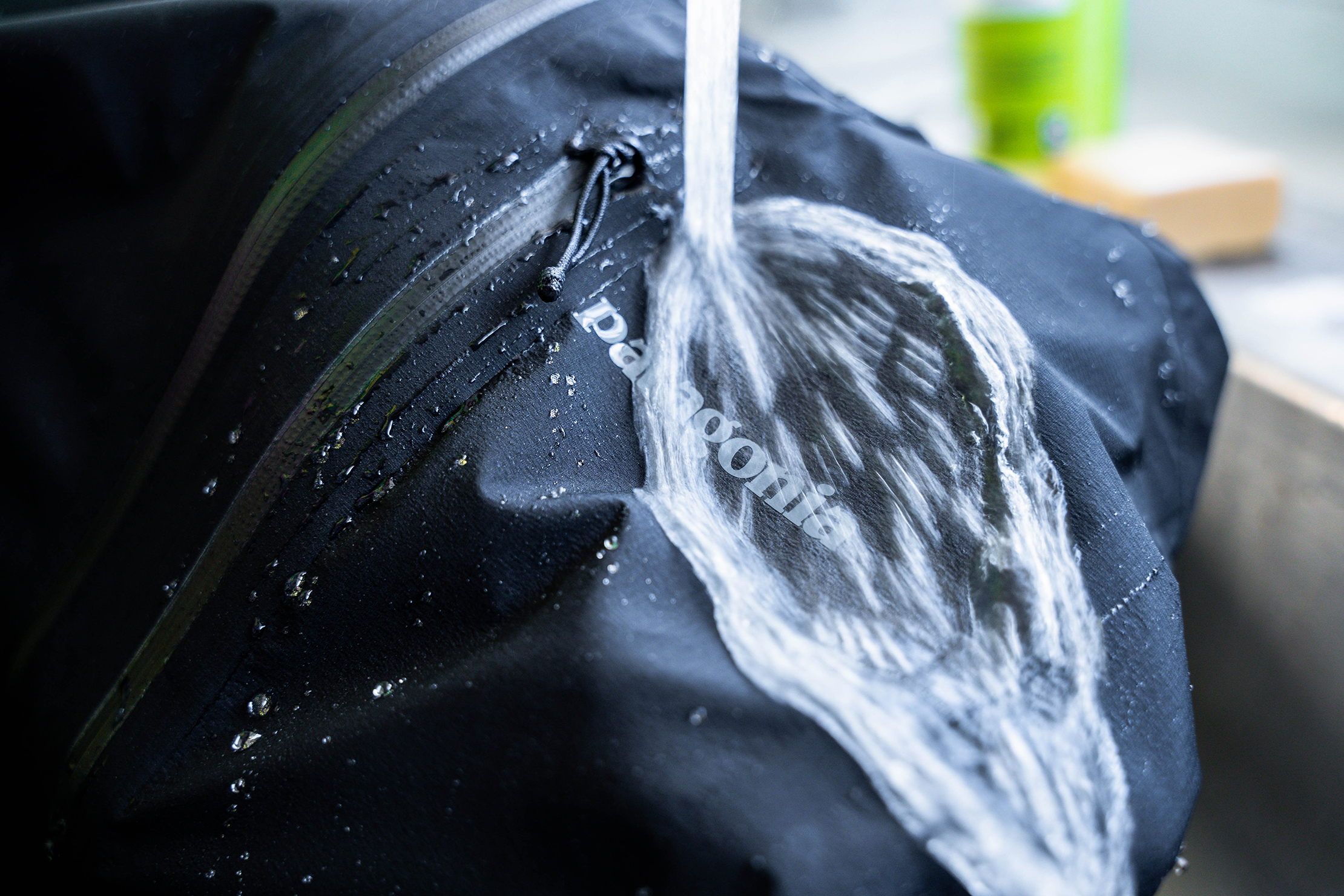 Since we're on the topic of water resistance, we might as well round up all the different things that this jacket is doing to keep you dry when the clouds start crying. We've already mentioned all of these features, but not in tandem with one another and not necessarily in reference to water resistance. Buckle up—things are about to get wet.
If it starts lightly sprinkling, the recycled nylon and DRW coating will do a pretty good job at keeping you dry once you throw the jacket over your body. If it starts actually raining and you zip the jacket up, the AquaGuard protection on the zippers keeps you and whatever you've stowed in your pockets dry.
As it continues to rain, water may begin to pool in various places around the jacket. Even if it's pooling over a seam, the seam tape on the jacket's interior will ensure that water isn't permeating the jacket's shell.
Oh boy, it's started pouring now—time to put your hood up. There's a little brim on the front of the hood that ensures rain isn't falling directly onto your face when water runs off the hood, which is especially nice if you're out for a run or are moving quickly.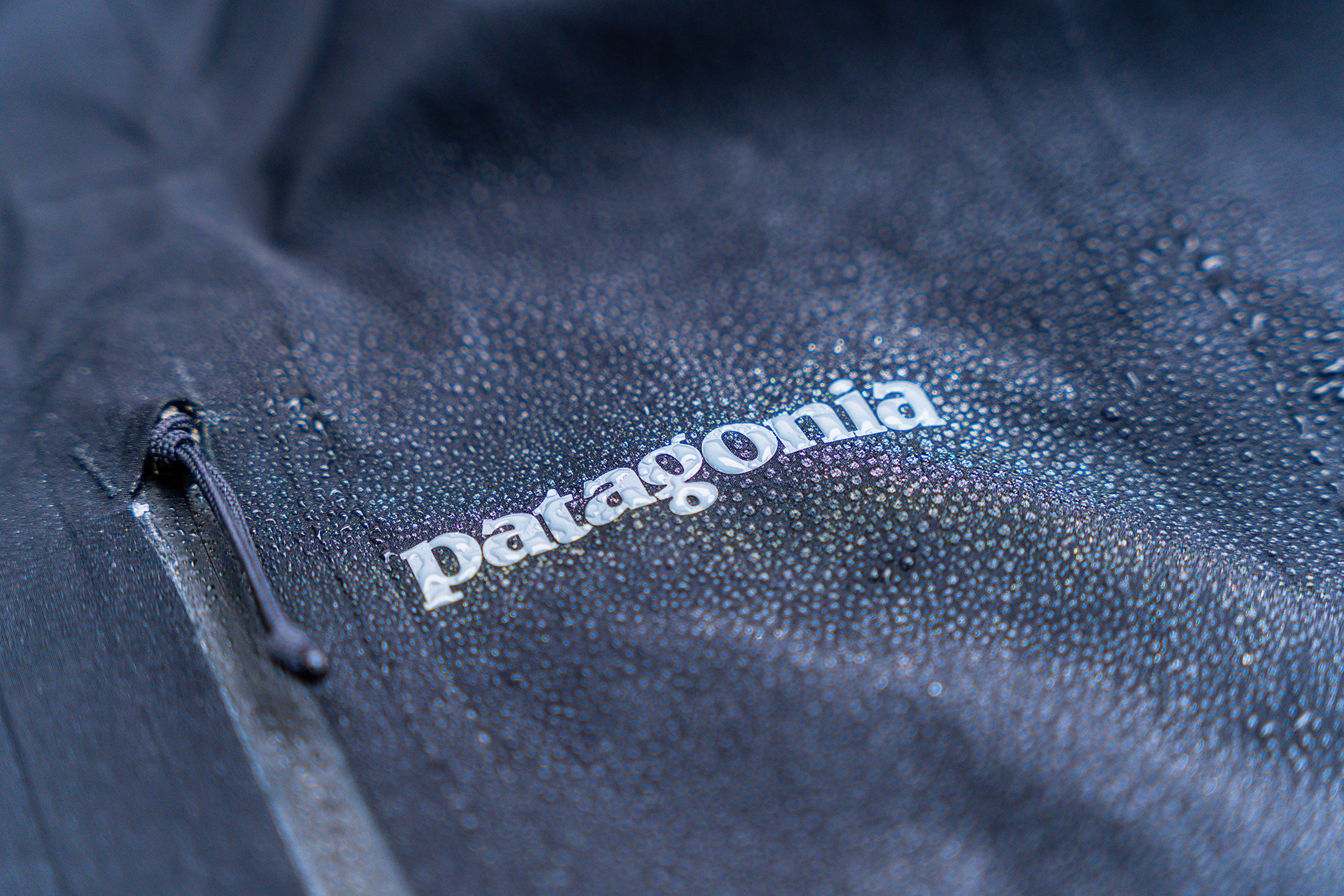 Oh goodness, your run has led you to the little bridge over a shoot-the-chute style water ride at an amusement park, and a car is about to come down the track and soak you from every angle. Time to cinch the elastic on the waist and hood and tighten the hook and loop fasteners on your wrists!
That example might be a bit of stretch, but when the rain is coming down hard, tightening all the access points where water may get inside the jacket helps a lot. The hood can feel a little strange when tightened, almost like you wanted to wear a headband but didn't have one so you pulled the plastic adjuster out of a garbage bag and tied it around your head, but it's well worth staying dry, we think.
We like this jacket when we're on the move exploring a new place or while exercising or cycling. There isn't any extra material that gets in the way, and that's usually one of our biggest concerns. We want a jacket that keeps us dry but doesn't give us anything else to worry about, and the Storm10 hits the nail on the head. Plus, we find that it breathes very well too, even in warmer weather. Things might get a little sweaty if you're taking a hike in it, but it performs wonderfully for everyday use.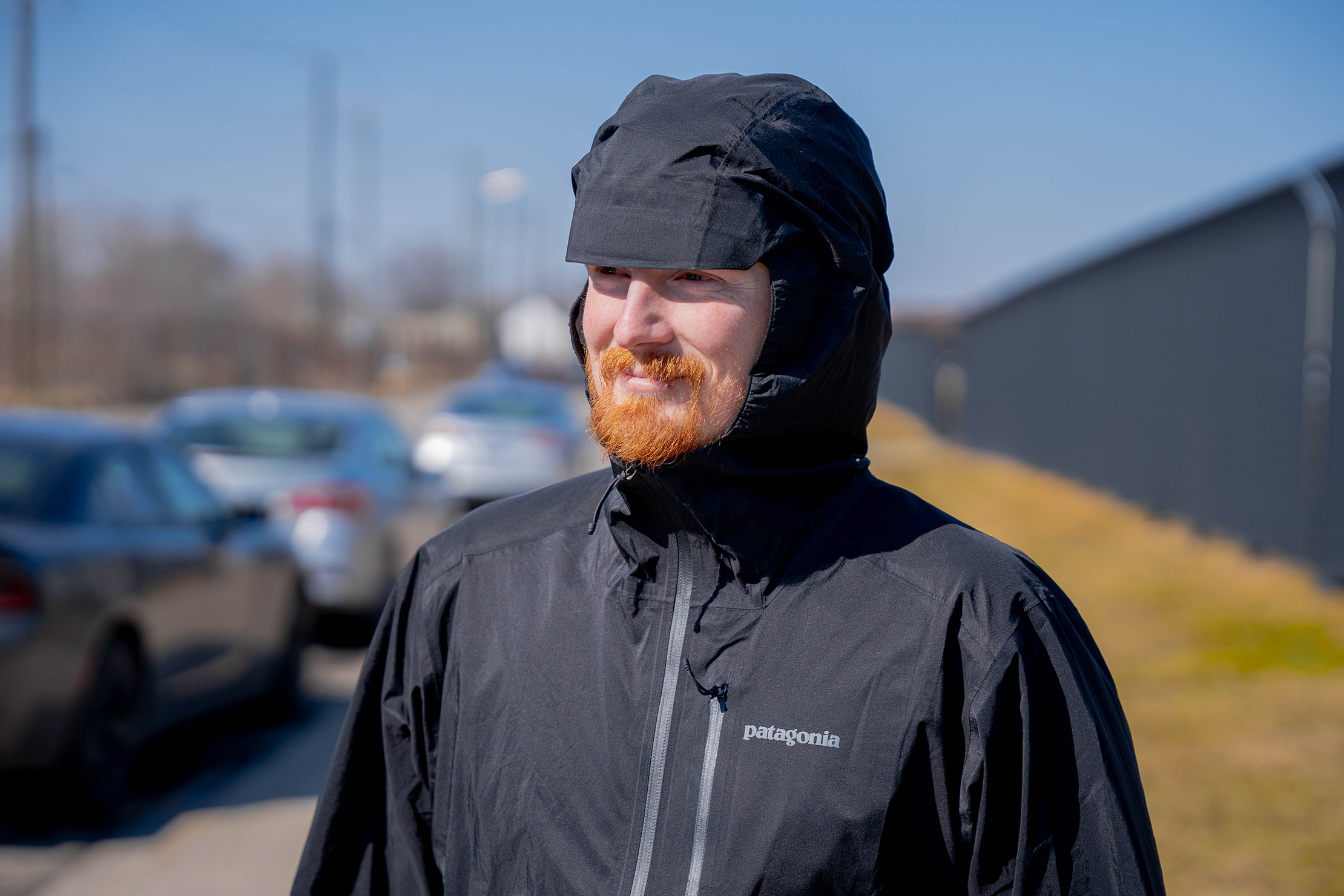 When it comes to wind, the Storm10 isn't perfect, but we found it adequate in most situations. If you're heading to high altitudes or somewhere where heavy wind is the norm, you might want to opt for something a little more windproof.
Overall, we're delighted with how the Patagonia Storm10 jacket performed. Whether you're looking for a daily driver to keep you dry on your commute or an adventure companion to take you from the rain in England to the rain in Colombia, the Storm10 has you covered!
Usage Timeline
Initial Usage
Condition: Excellent
Sleek lines fly under the radar
External chest pocket great for storing quick-access gear
Structured bill on hood falls easily over face
2 Weeks of Use
Condition: Excellent
DRW coating keeps water out even after extended exposure to rain
Zippers are small but solid and water-resistant
Hook and loop fastener on wrists is sturdy
Access the Pro Community Discussion
Get your questions about the Patagonia Storm10 Jacket answered from our team and the Pro Community right here on the page. Plus, join discussions with other members about gear, guides, and more.
Other Clothing & Accessories Reviews