Matador Waterproof Travel Canisters Review
The aluminum Matador Waterproof Travel Canisters are TSA-compliant—though somewhat heavy, they're a good pick if you need something truly waterproof.
Our Verdict
Unlock the Pro Summary
Save time. Get access to brief summaries of our reviews so you can browse and make decisions more efficiently.
Pros
Durable aluminum body
Food-safe silicone lid makes these truly waterproof
Versatile storage for small items
Cons
Heavier than most travel containers
Lid can be tricky to pop off
Size can be a bit off for some common items
Recent Pack Hacker Video
Technical Details
Capacity

3.4oz

Flat canister (Tall canister 1.35 oz)

Weight (oz)

2 oz (56.7 g)

Flat canister (Tall canister .6oz)

Dimensions

3 in x 1.3 in (7.6 x 3.3 cm)

Flat canister (Tall canister 2.7in x 1.3in)

Notable Materials

Aluminum, Silicone

Manufacturing Country

China

Warranty Information
Buying Options

$10.00

$18.00
Full Review
Get up to 20% off Matador • Join Pack Hacker Pro
They say good things come in small packages. We agree, and might we add that it can be made even better when aluminum is added to the equation. A good example would be Matador's Waterproof Travel Canisters, whose metal body and classy branding really take the quality up a notch.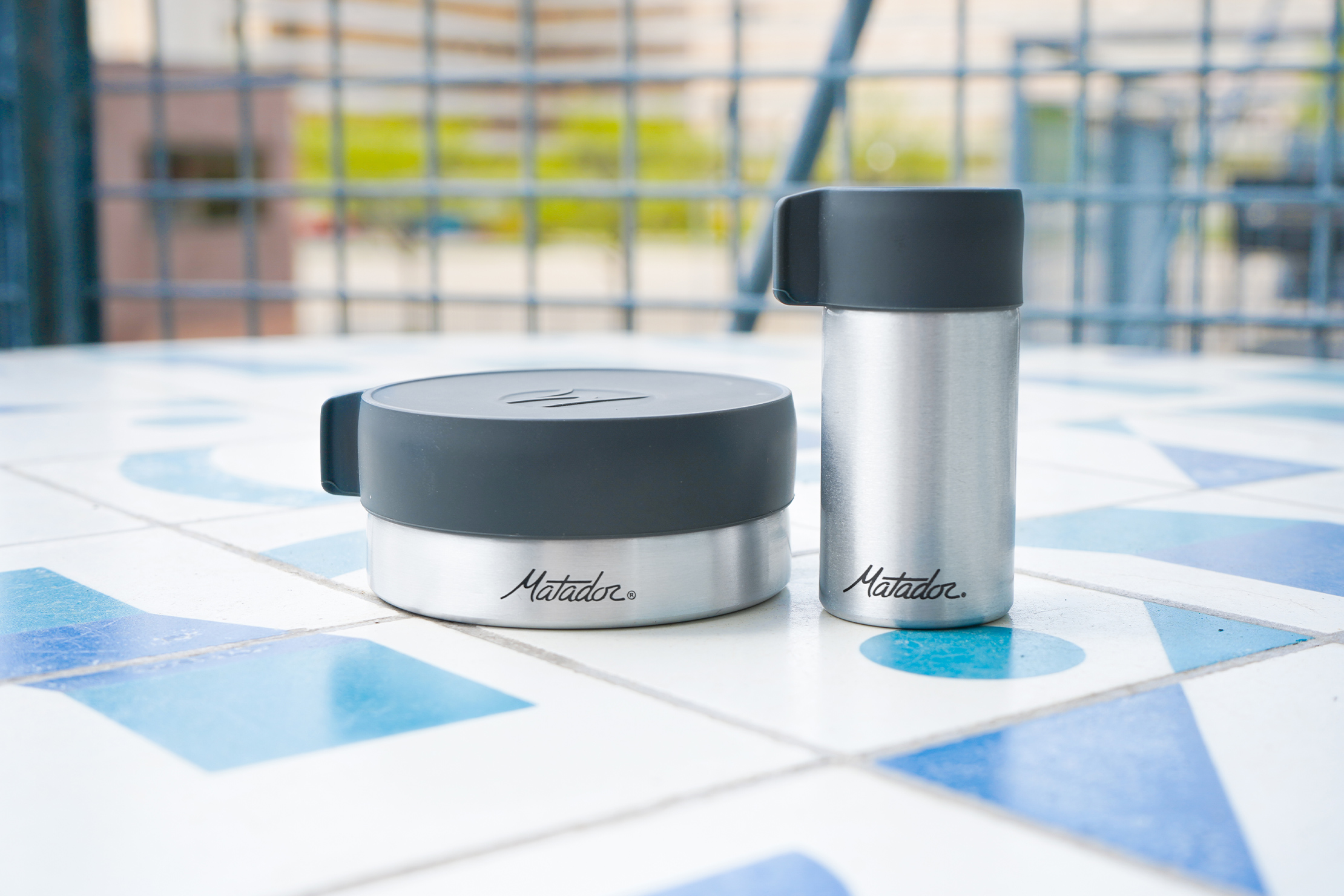 Beyond the looks, the aluminum construction and silicone lid are purposefully designed and offer good versatility thanks to the level of protection they give. Though not without their own drawbacks, they work really well for small items like toiletries, candies, and more if you find other uses for them.
Materials & Aesthetic
While most small travel containers are created with plastic, Matador has decided that metal is the way to go. If you want to make something look ten times more high quality, then having a shiny metal finish is a sure-fire way to achieve it. To no one's surprise, these aluminum mini canisters feel solid in hand and are similarly lightweight to their plastic-made counterparts, though the solid silicone lid adds to the overall weight.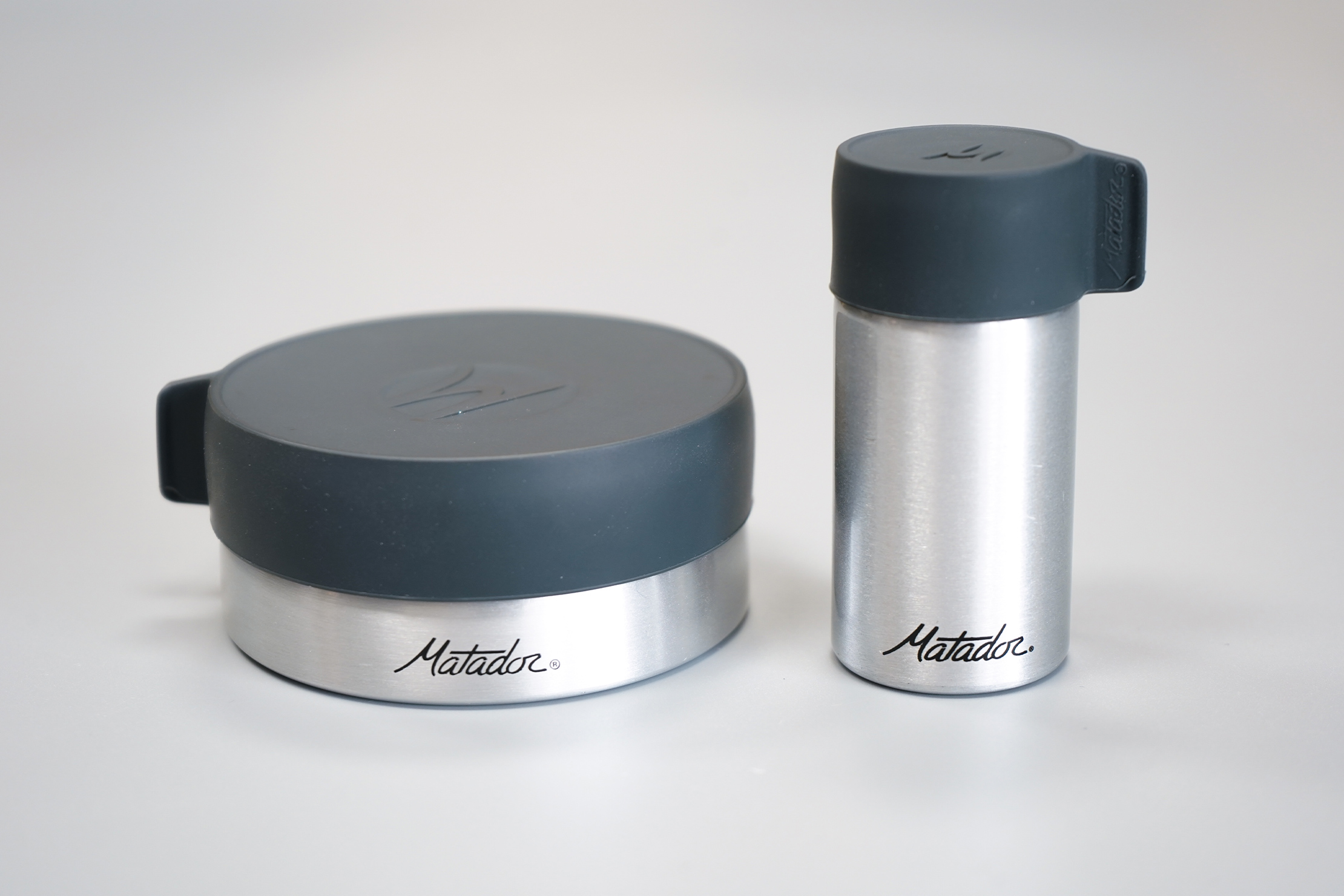 In charge of keeping the precious stuff inside safe is a silicone lid. One advantage of using solid metal for the body is that it doesn't flex or buckle. Therefore, you can use stretchy materials like silicone to make tight seals around the opening and even qualify for IPX7 waterproof certification. Translation: submersible up to one meter for 30 minutes.
As small as the Travel Canisters are, both the 100 ml and 40 ml sizes look aesthetically pleasing. Even when you don't know if they contain candy or medicine, the metal finish makes them all the more intriguing. They even kinda make taking bitter medicine something to look forward to. Either way, the canisters look classy and tasteful in any setting, in addition to looking interesting.
Usage
Fortunately, we rarely have to take medicine these days (if at all), but that didn't stop us from enjoying our time with the Travel Canisters. Though that may sound like an overstatement considering these are "mere" canisters, anyone who needed to keep small things in check while traveling would tell you otherwise.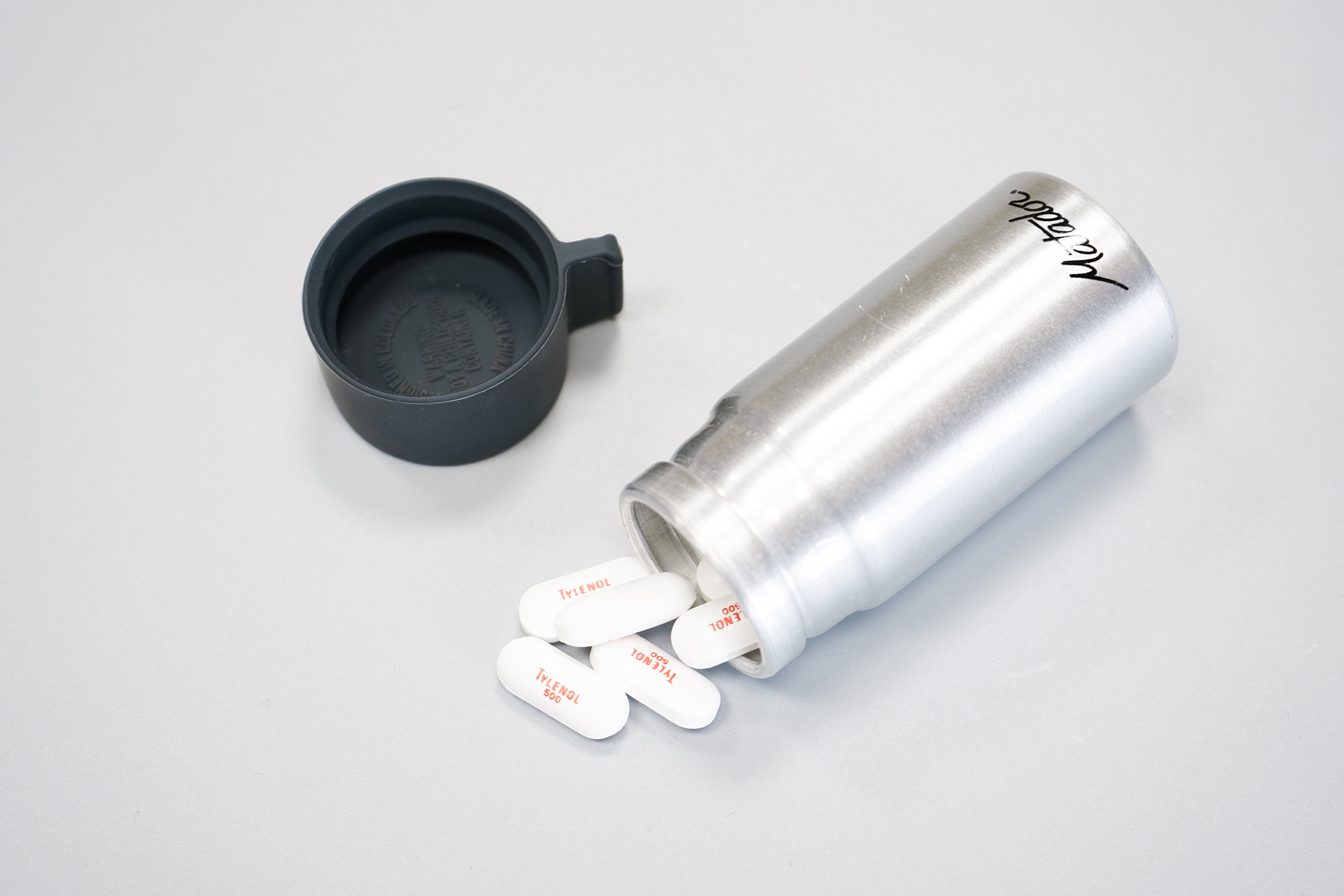 One of the things that you'll find in common between our Digital Nomad, Road Trip, and Earth Friendly Sustainable packing lists is the humangear GoTubb. Small containers like that are super handy for small pills or liquid toiletries you'll definitely want on your trips. For this purpose, Matador's Travel Canisters are sturdier at the cost of weighing more than the GoTubb. On closer inspection, the additional weight stems from the silicone lid. The weight difference between the two is noticeable, but not enough that it negatively impacts the user experience.
While the plastic construction of the GoTubb isn't flimsy by any means, the aluminum body of the Travel Canisters is just that much more durable. Stuff can get knocked around and jostled in transit, and if a heavier bump does happen, metal should hold up better than plastic. The catch? Metal isn't see-through, so you'll have to label the Travel Canisters using a permanent marker or stick a label from a label maker if you want to keep track of what's inside. If you want a bit more personalization, you can even have the aluminum laser engraved if you so desired.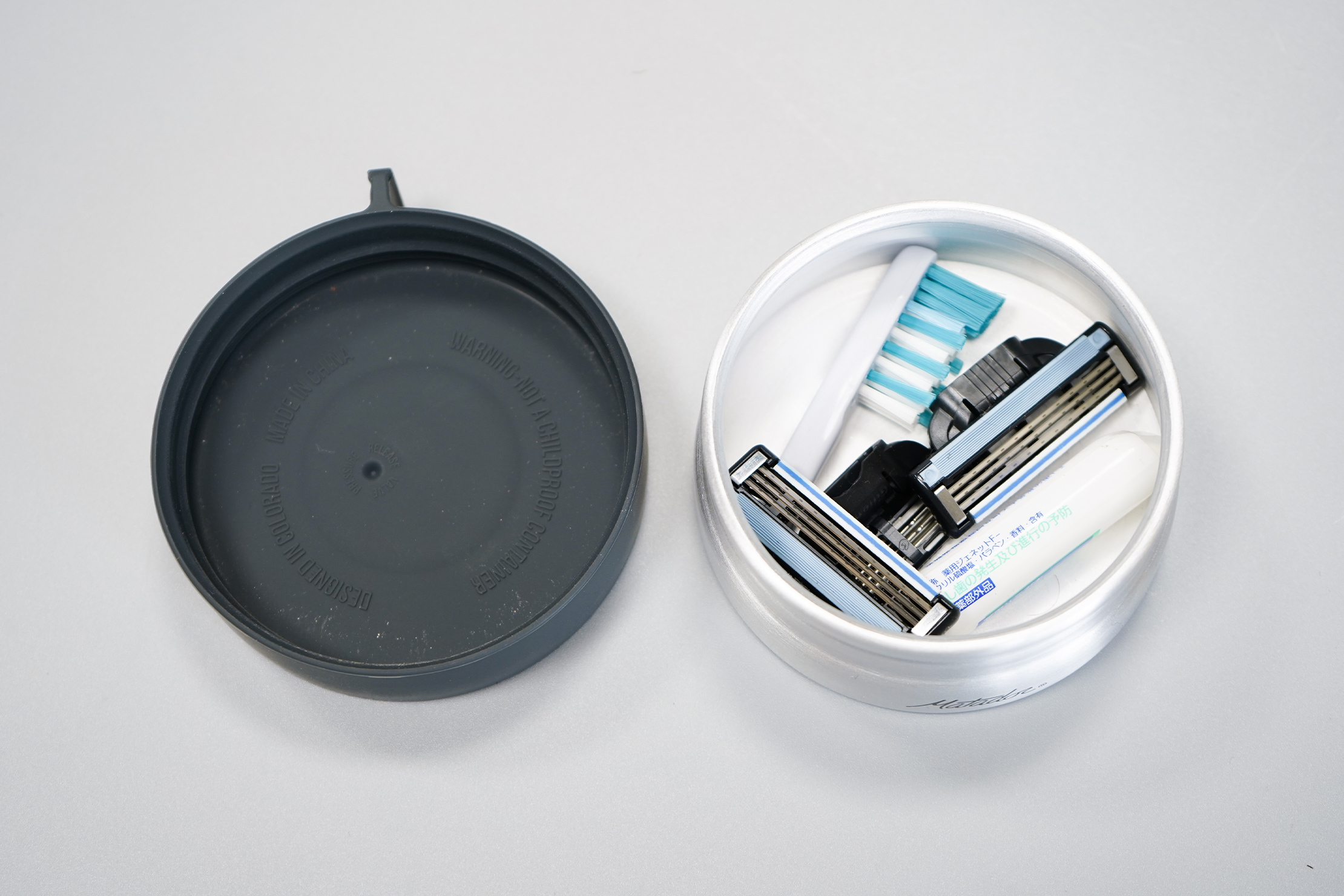 As for the lid, the silicone material's tight seal around the body ensures that nothing can get in—or out—without your permission. On the flip side, we found that the tight seal can be a tad tricky to undo, especially if there's a bit of moisture around the lip of the opening. Fortunately, there's a tab to aid you in taking off the lid.
In terms of volume, you get a choice of either 100 ml or 40 ml—both of which are TSA-compliant. The larger 100 ml is shaped similarly to what you'd typically associate with hair cream. In contrast, the smaller 40 ml canister is reminiscent of those old photo film canisters or those small complimentary shampoo bottles hotels give out.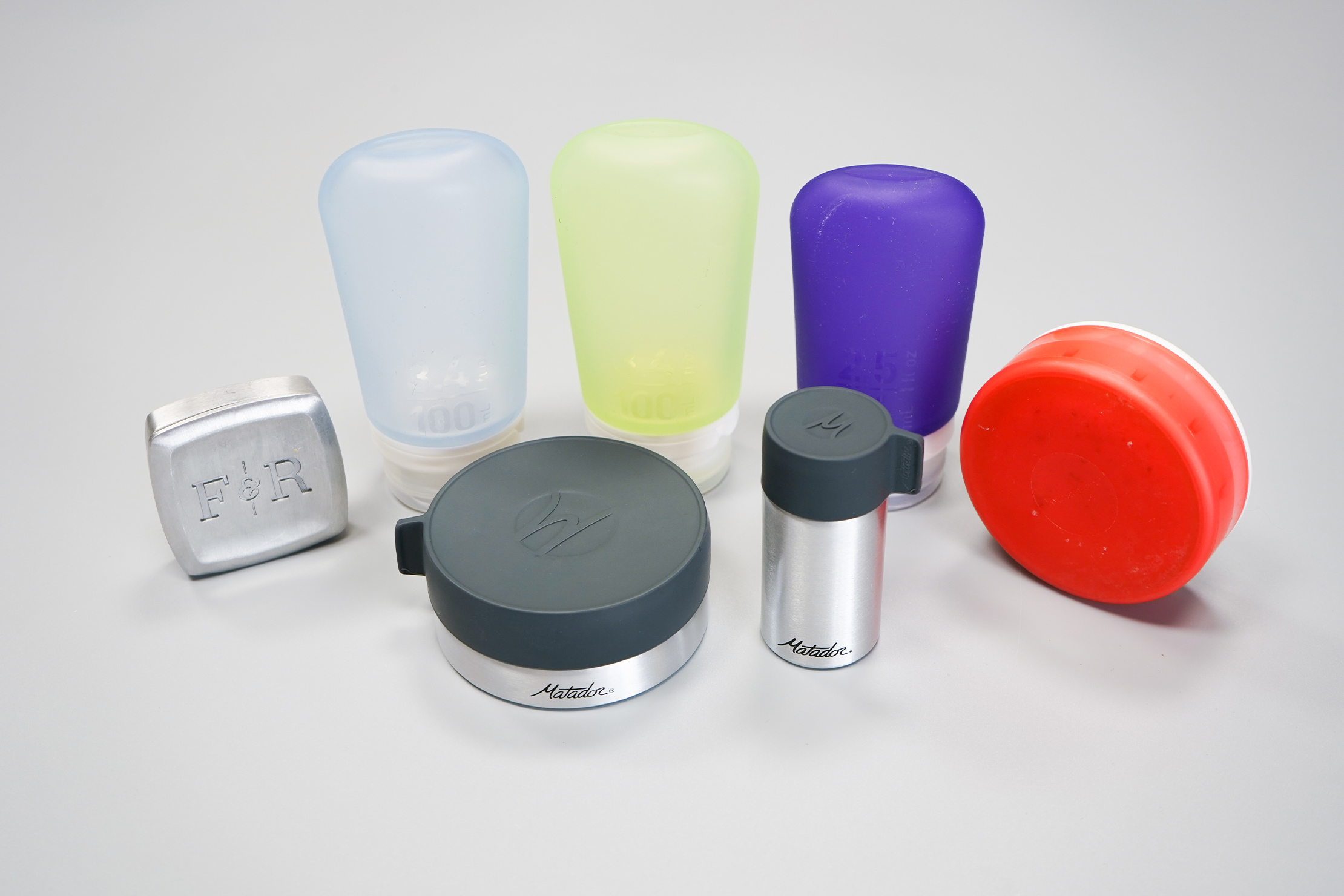 These are almost the perfect size for traveling—almost. We generally didn't have trouble fitting in small pills of ibuprofen or paracetamol inside even the smaller 40 ml canister. But taller items like our reusable swab and tweezers are just a wee bit taller, even at an angle. For items like these, we can still get the lid on, albeit it doesn't go all the way down.
Interestingly, the flat 100 ml canister's width is greater than the 40 ml's height, so it's something to consider if you're on the fence about which size to get. For either size, they'll fit most dopp kits, pouches, and quick-grab pockets without issue. Ultimately, which size suits you best depends on what you're packing and where you're packing them, but we found having one of each size offers good flexibility.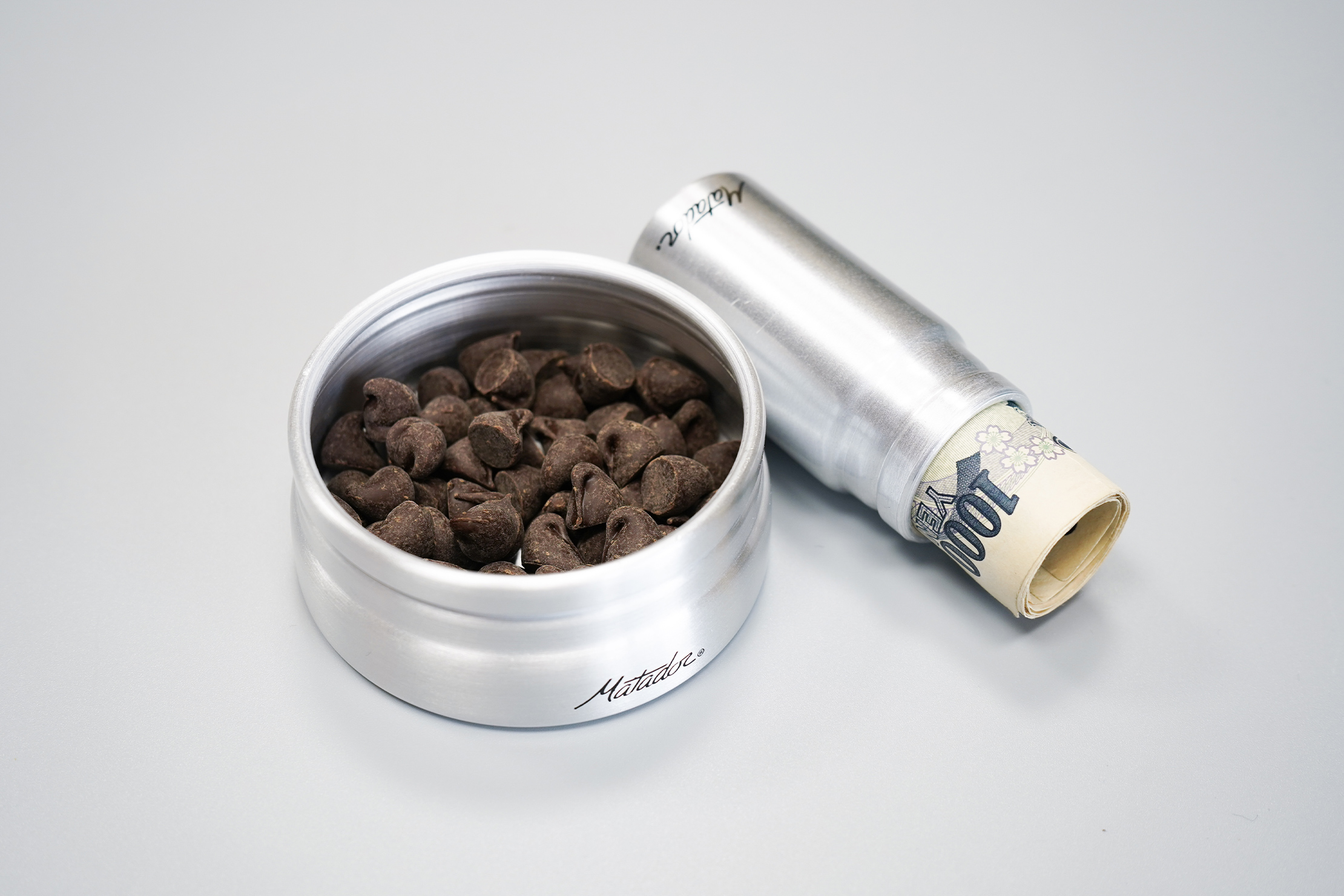 Aside from medicine and personal care products, the canisters are completely safe for food. If you ever feel like swapping your aspirin for M&Ms or Skittles, you can totally do that, so you have something to snack on during flights. Or if you're feeling more handy, spare screws or screwdriver bits also fit inside no problem. Really, the bottom line is if it fits, it will be well cared for inside.
Wrap Up
Packing all the way down to the smallest level can be a satisfying exercise in and of itself because of the granularity of organization you might want. Small containers like the Matador Waterproof Travel Canisters are on the level of personal care and toiletries, and these particular canisters do the job well and then some.
Thanks to the high-quality aluminum and IPX7 waterproof rating, you can even take them to the beach and leave cash inside without worrying about them getting soggy. That is but one of the many use cases for the Matador Waterproof Travel Canisters, and that's the kind of versatility afforded by their excellent build quality.
Usage Timeline
Initial Usage
Condition: Excellent
Durable aluminum construction keeps contents safe and dry
Perfect size for pills, snacks, or jewelry
TSA compliant volume
2 Weeks of Use
Condition: Excellent
Tab to pull off the lid could get in the way if you really optimize your packing
The majority of the weight comes from the lid, not the aluminum body
Nicely sized for TSA compliance—especially the 100ml version
Access the Pro Community Discussion
Get your questions about the Matador Waterproof Travel Canisters answered from our team and the Pro Community right here on the page. Plus, join discussions with other members about gear, guides, and more.
Other Organizers & Pouches Reviews