Tooletries Face & Body Scrubber Review
The Tooletries Face & Body Scrubber's soap-lathering abilities don't quite match up to a washcloth, but it makes up for it by being more suitable for travel.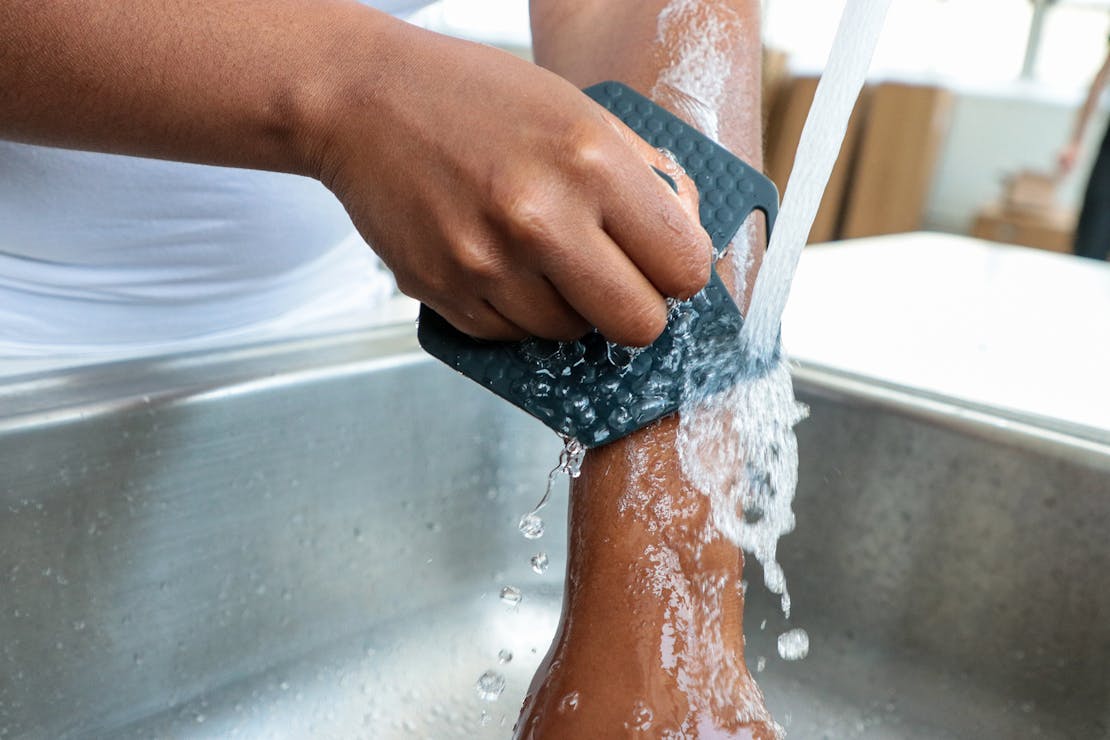 Our Verdict
Unlock the Pro Summary
Save time. Get access to brief summaries of our reviews so you can browse and make decisions more efficiently.
Pros
Can be quickly dried with a towel
Face scrubber is a great travel-sized solution
Scrubbing feels similar to a regular washcloth
Cons
A bit slippery to use
Not too flexible for hard-to-reach areas
Doesn't hold and lather soap as well as a washcloth
Recent Pack Hacker Video
Technical Details
Weight (oz)

0.60 oz (17 g)

Dimensions

5 in x 4.5 in (12.7 x 11.4 cm)

For Body Scrubber; 2.3 in x 2 in Face Scrubber

Notable Materials

Silicone

Manufacturing Country

China

Warranty Information
Full Review
A cool and refreshing shower is one way to unwind after a long day of touring a new city, and a good scrub is like a reset button before the next destination. Washcloths are a staple of a lot of household bathrooms, and it's a good way to achieve that clean and refreshed feeling. Unfortunately, washcloths aren't the most travel-friendly items as they need to be completely dry in order to be packed up properly.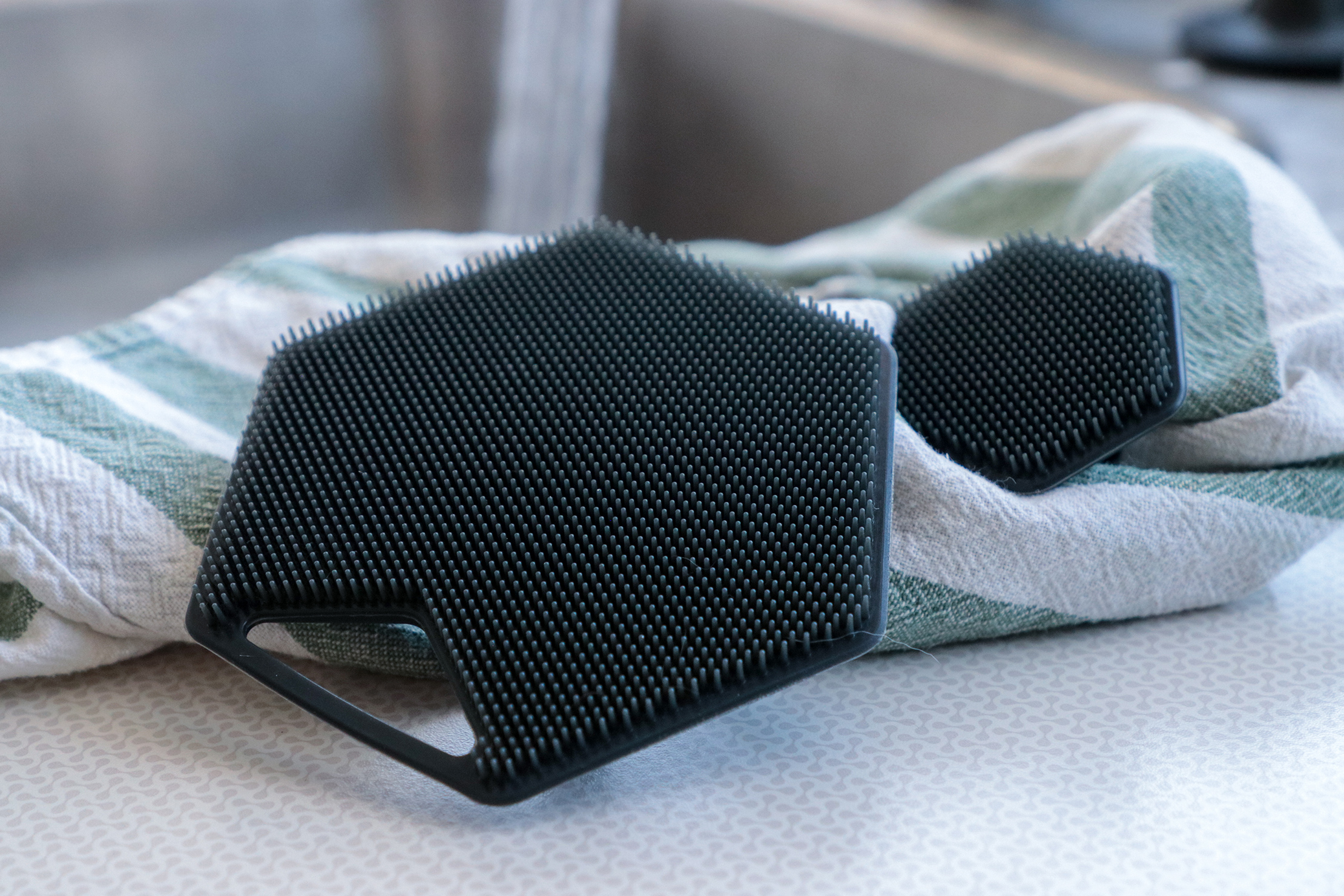 Because of this, other types of scrubbers exist, and the ones we have in this review are made out of silicone. The Face & Body Scrubber from Tooletries is much easier to dry and pack up after use. They give a familiar scrub similar to washcloths, but there is a trade-off for going with silicone, as you'll see later on.
Materials & Aesthetic
Right off the bat, the Face and Body Scrubbers make a good impression with their geometrical looks. The shape is eye-catching, but the branding is subtle, with just a debossed Tooletries logo on the suction cup handles. We couldn't quite remember what the hexagonal shape reminded us of at first. But then it hit us: they look like the wings of a TIE fighter from Star Wars. Obviously, we had our fun pretending to be TIE fighters in the shower, and we dig the futuristic style these scrubbers have.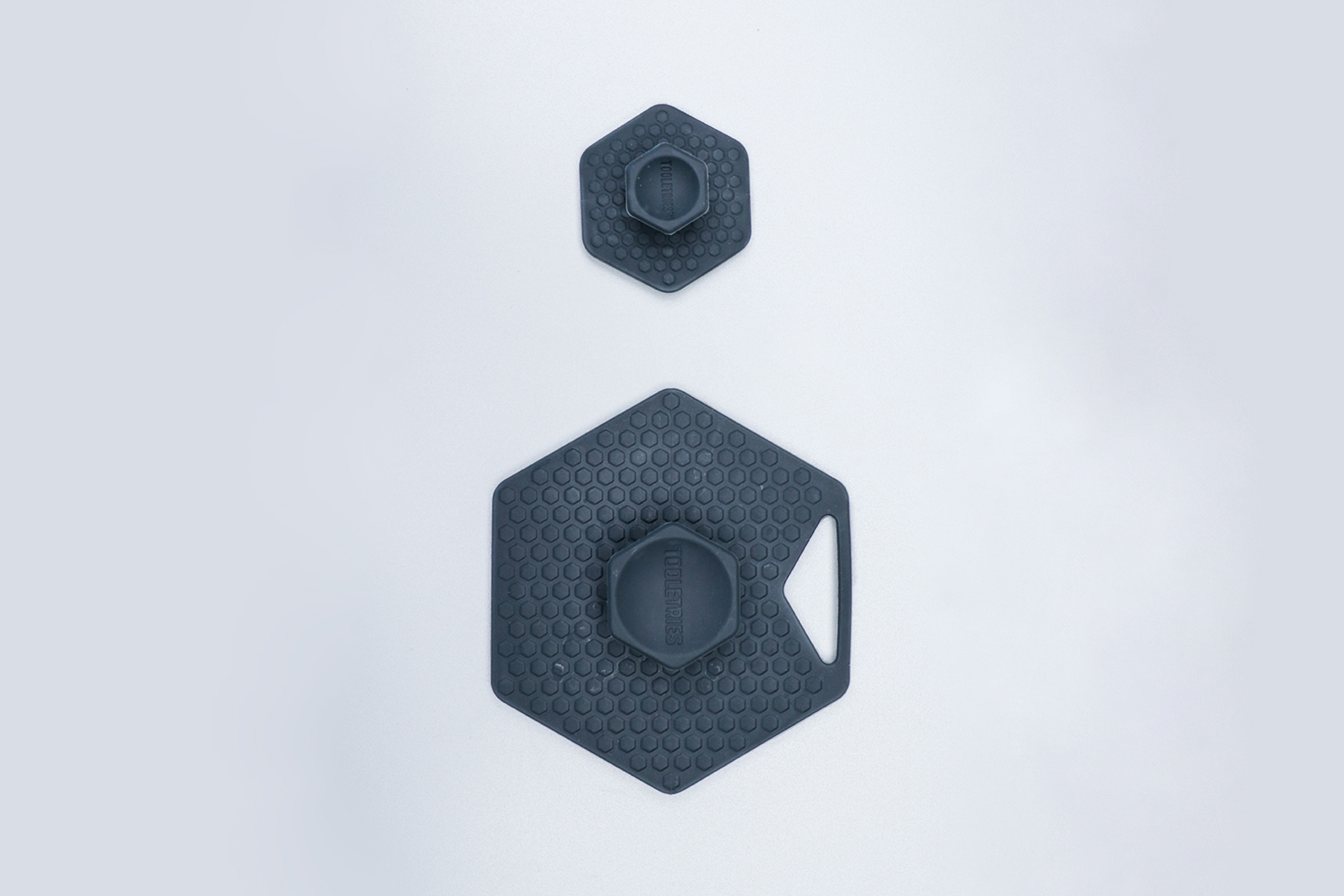 Unlike TIE fighters, however, these scrubbers are made out of humble silicone. Soft and flexible, it's a good material for the job, but not perfect. Silicone does get slippery when it becomes wet, especially with soapy water, so it's something to watch out for. In terms of flexibility, both scrubbers have a fair bit of thickness, making them more rigid than one might think.
Overall, these scrubbers feel nice and high-quality, like they won't tear and crease easily even after extensive use. Bonus points, if you want something other than black, these scrubbers also come in Grey, Burgundy, and Army Green colors to match your toiletry kit.
Usage
We'll start with the handles, which come with a rather clever design. They have a built-in suction cup that you can use to stick the scrubbers onto a wall when you're not using them. Simply moisten up the tip of the handle with some water and push it onto a smooth surface. This is quite a subtle-yet-handy feature to have if the shower you're using doesn't have much counter space available. The larger Body Scrubber also comes with a triangular loop so it can be hung up.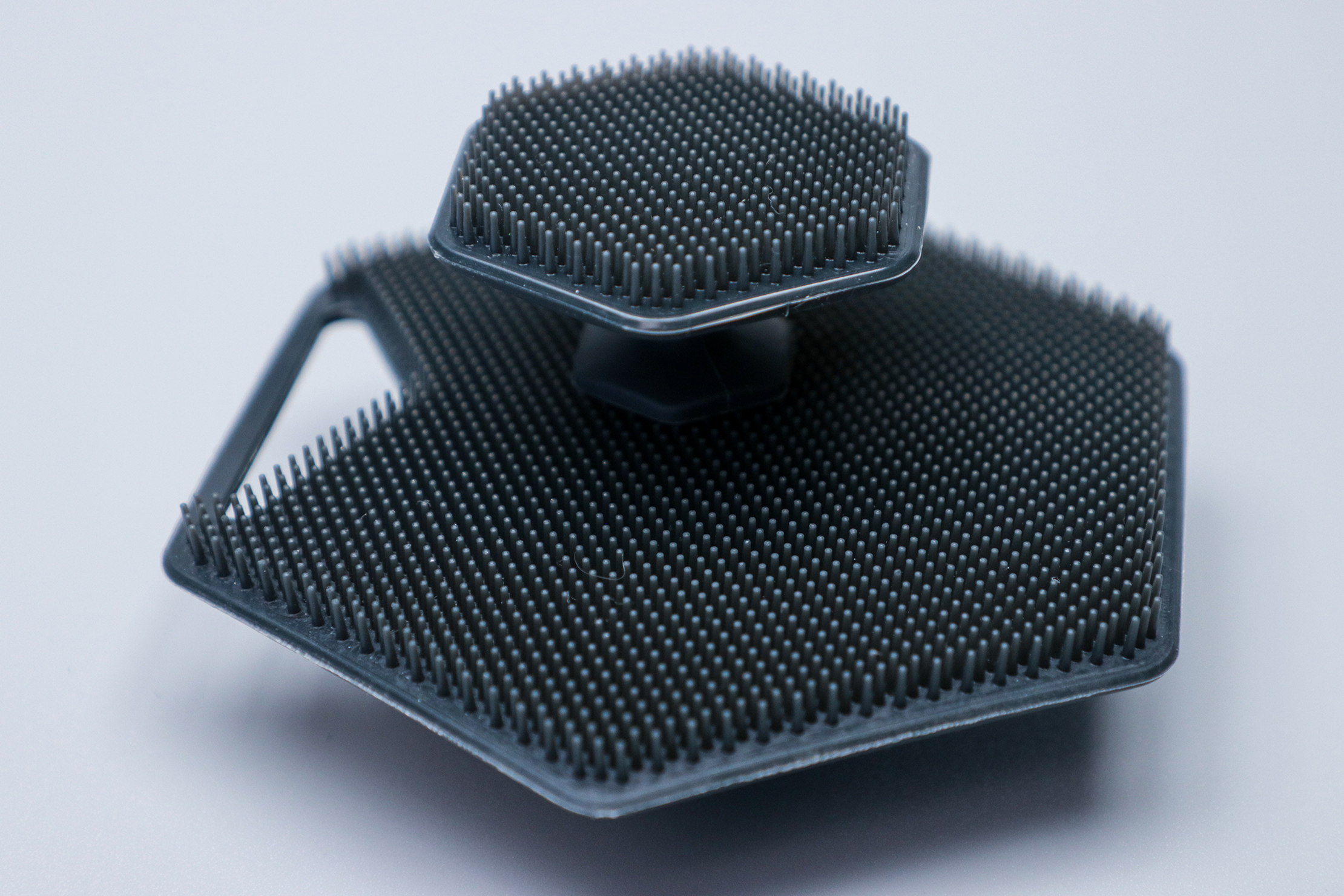 So what's it like to use the Face & Body Scrubber? Handling-wise, as previously mentioned, the silicone does get slippery during use, so you need to have it gripped between your fingers well. Despite that, the larger Body Scrubber rarely slipped out of our hands, and the Face scrubber didn't either. Small hexagonal texturing on the back side of the scrubbers helped us maintain our grip at all times. If you're switching from a regular washcloth, the learning curve is fairly minimal, and we had little to no trouble using either scrubber after a few showers.
The Face and Body Scrubbers share the same bristles, and these feel similar to our usual washcloth. We understand that washcloths come in all shapes and sizes, so it's tricky to relay how coarse or fine bristles are since we all have different experiences and preferences. What we can say is that using both scrubbers left us with a good feeling of cleanliness. In other words, we didn't feel they were lacking in scrubbing prowess in any way.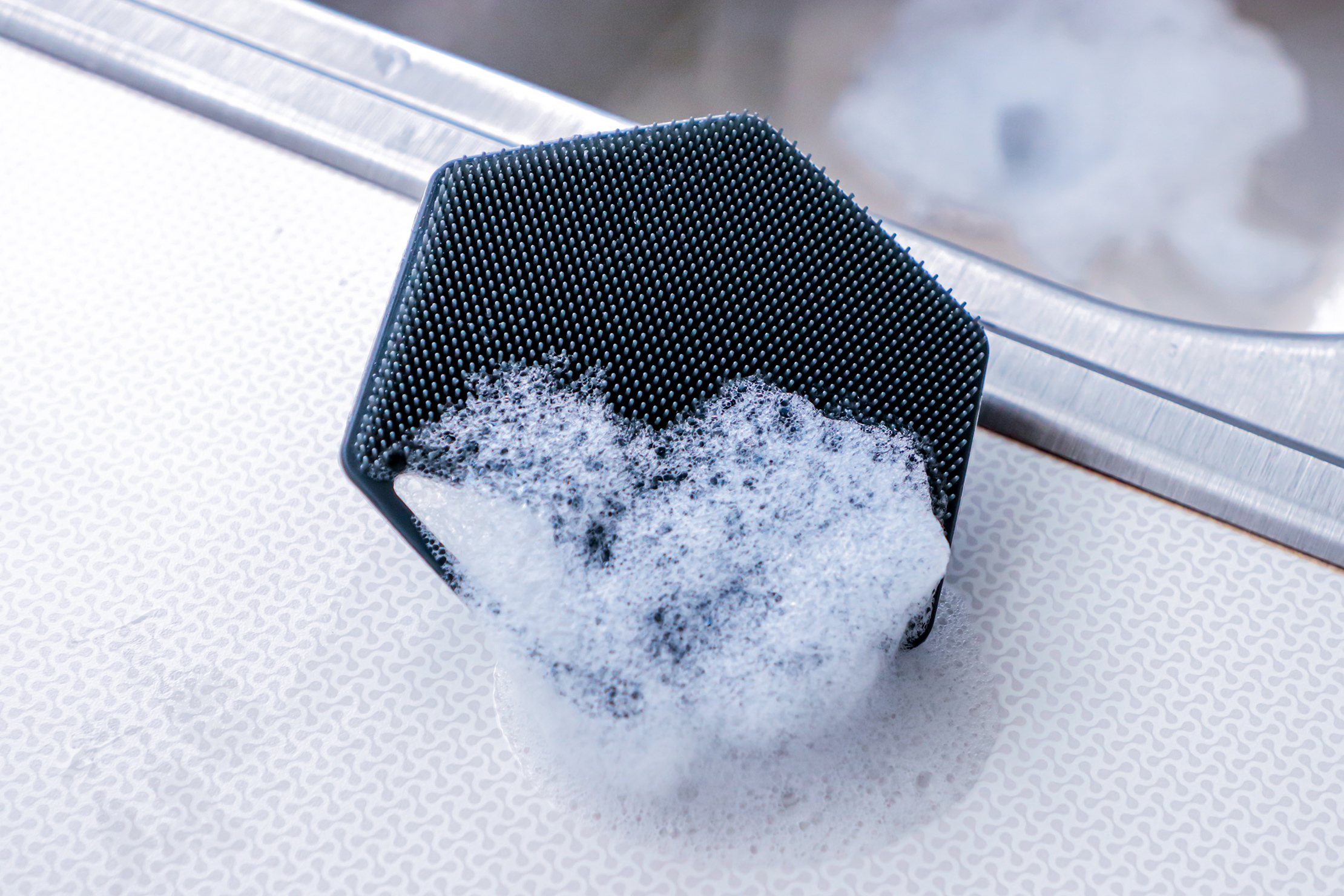 One key difference between a silicone-based scrubber and a washcloth is how well soap lathers with the material. The silicone can lather our body wash, but it requires more vigorous scrubbing to achieve the same effect as a washcloth. The silicone also has a more difficult time keeping up the lather, leading us to use more body wash than usual. It's definitely something to consider if you're trying to squeeze the value out of every ounce of body wash you pack.
Flexibility-wise, we did have trouble bending the scrubbers for hard-to-reach places like behind our ears. If it were a washcloth, you could simply wrap the cloth around your finger to get into those nooks and crannies. The scrubbers have a good amount of flexibility, but not as much as a washcloth.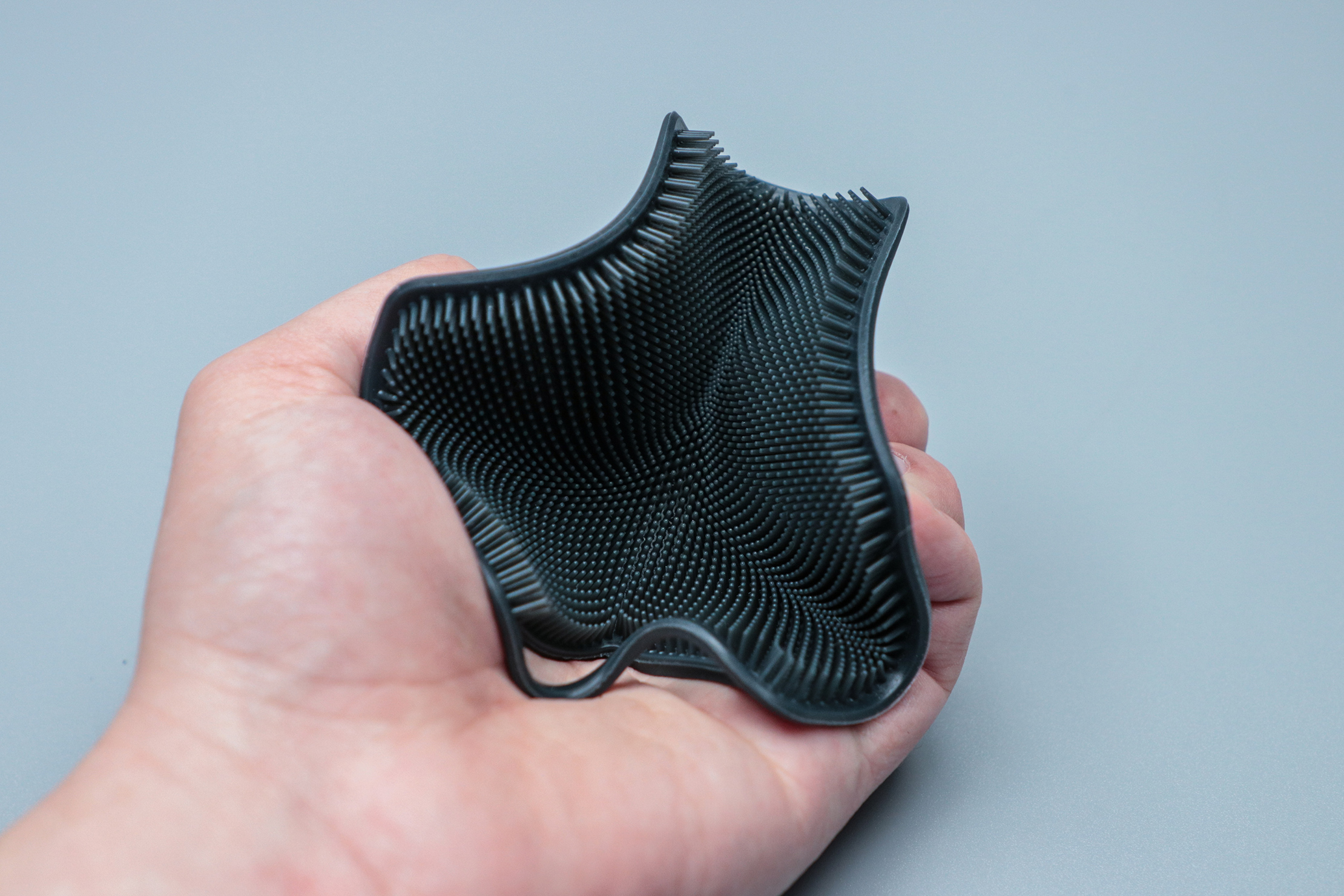 Where silicone does shine is in how quickly it dries. Compared to a washcloth that needs to be wrung and dried for a considerable amount of time, both the Face and Body Scrubbers need only to be rinsed, wiped with a dry towel, and they're good to go. This makes them great for travel purposes where you don't necessarily have the time or convenience of waiting for stuff to dry. Speaking from experience, tossing a moist washcloth in your bag is a good way to accumulate odor.
One small hack we came up with is only packing the Face Scrubber if you wish to save a bit more space in your bag. Not that the Body Scrubber is too big by any means, but since both scrubbers share the same type of bristles, they both have the same cleaning capability. Granted, you'll be scrubbing for longer with just the smaller Face Scrubber, but that's a trade-off we think is worth considering.
The Face and Body Scrubbers have good utility in the context of keeping one fresh and clean on the go. They don't quite match up to washcloths in some ways, like lathering soap, but the convenience they offer with how quickly they can be packed up is difficult to pass up on. It takes some adjustment to make the most out of these scrubbers, but we think they're seriously convenient once you do.
Usage Timeline
Initial Usage
Condition: Excellent
The thin bristles can hold thick body wash fairly well
The tips are not too hard or soft for scrubbing
2 Weeks of Use
Condition: Excellent
Dries incredibly fast
The smaller face scrubber is great to travel with as a backup if no washcloth is available
The pressure and scrubbing ability feels only slightly harder than an ordinary washcloth even though it looks like it may have the same abrasiveness as a loofah
You end up using more soap with this as it can't soak into the silicone
Access the Pro Community Discussion
Get your questions about the Tooletries Face & Body Scrubber answered from our team and the Pro Community right here on the page. Plus, join discussions with other members about gear, guides, and more.
Other Toiletries & Personal Care Reviews