Matador Ultralight Travel Towel Review
The Matador Ultralight Travel Towel is compact and more convenient than a traditional towel. It doesn't dry as fast as we'd like, though, and can get funky in your bag.
Our Verdict
Unlock the Pro Summary
Save time. Get access to brief summaries of our reviews so you can browse and make decisions more efficiently.
Pros
Small and compact
Nylon loop is nice for hanging to dry over a towel rack
Hypalon tabs for attaching to the outside of a bag with a carabiner
Cons
Takes longer to dry than expected
Can get smelly inside your bag even with the mesh storage pouch
Large size is still pretty small to use efficiently
Recent Pack Hacker Video
Technical Details
Weight (oz)

2.82 oz (79.9 g)

Dimensions

47 in x 24 in (119.4 x 61 cm)

4.3 in x 2.2 in when packed

Notable Materials

Nanofiber, Hypalon®

Manufacturing Country

China

Warranty Information
Full Review
Get up to 20% off Matador • Join Pack Hacker Pro
Who doesn't love a good beach trip? Pristine water, tans, and ice-cold drinks? Yes, please. Sign us up, but leave out the crusty beach towel with pockets of dry sand that's starting to smell like mildew. Thanks. What's that? Did we hear someone mention the Matador Ultralight Travel Towel? Why, yes, that's certainly an option to avoid having soggy, damp towels in your bag after a trip to the beach. It's also a fraction of the size of a traditional towel, so it will take up less space in your bag.

At the time of this review, the Matador Ultralight Travel Towel comes in two sizes—large and small. The large size is 47x24in and can be used as a standard towel, while the small is 15x15in and is more like a handkerchief to dry your hands on. We found that the small towel also came in handy to wipe away sweat on a hot day or to clean up on a road trip. Both are available in classic charcoal.
The Matador Ultralight Travel Towel comes in a nifty Powermesh pouch for convenient packing and storage, and the paracord drawstring closure makes transporting it easy. There's also a strip of Hypalon on the back that's been divided into loops so you can use a carabiner to attach it to the outside of your bag. This is a great way to let the towel air dry, too, but we'll get more into that later.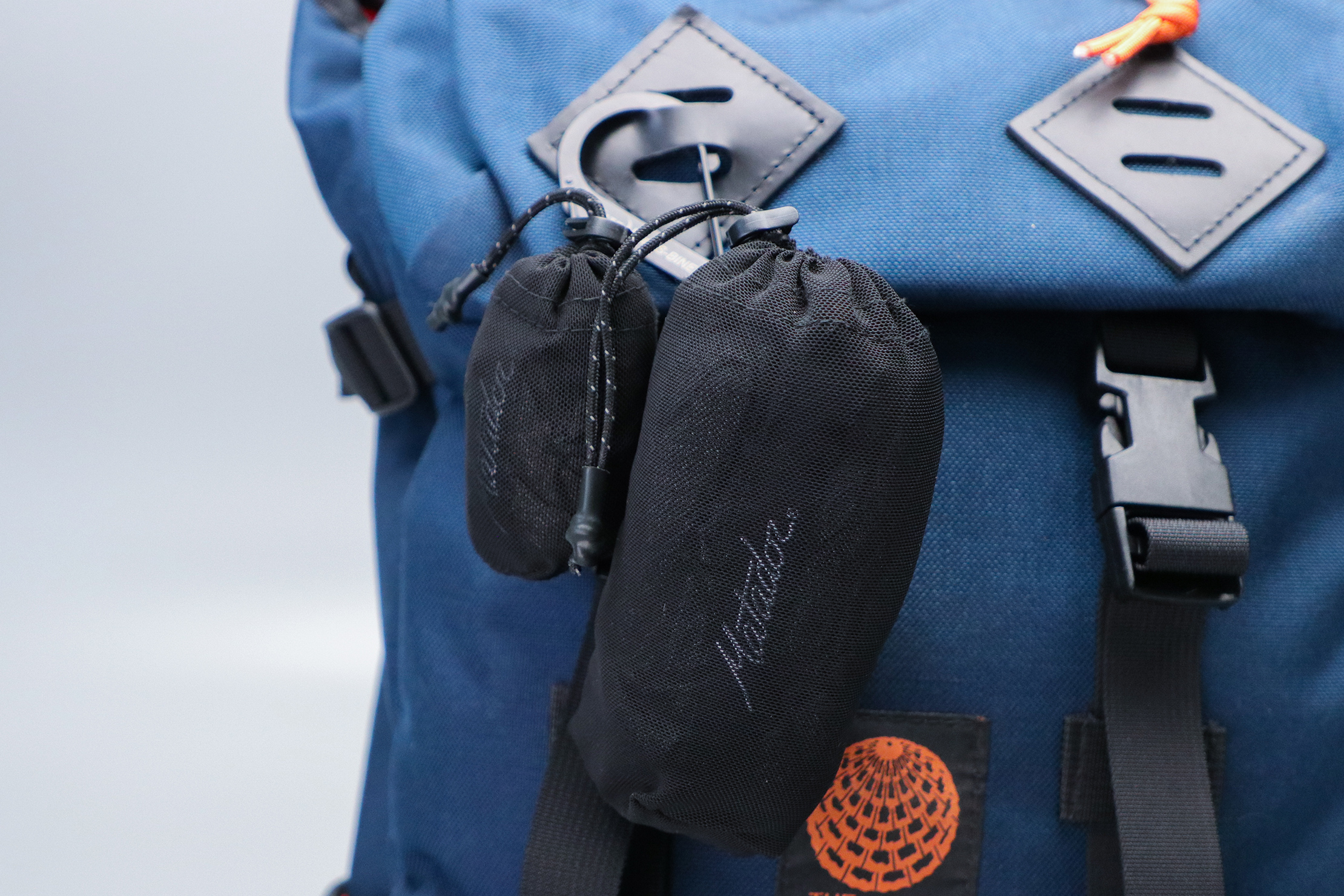 While we dig the mesh carry bag and its convenience, we were disappointed to see loose threads develop so quickly. On the large Ultralight Travel Towel, we got a couple of busted seams around the drawstring opening of the bag. While it's only cosmetic, of course, we expect a product in its price range to last longer—we only tested it for two weeks. We suspect the broken seam is a result of vigorously pulling on the drawstring opening. You may want to be a bit gentle with it when taking the towel out of the bag to prevent this.
Features & Usage
The Matador Ultralight Travel Towel is made from a nanofiber material that was developed by Matador in-house. It's a combination of polyester and polyamide and feels pretty similar to a microfiber cloth that you'd use to clean your laptop or phone screen. So it's more like a piece of cloth fabric than the soft material you probably think of when you hear the word towel. The ridges around the edge of the towel (cloth?) add a kind of funky look, too.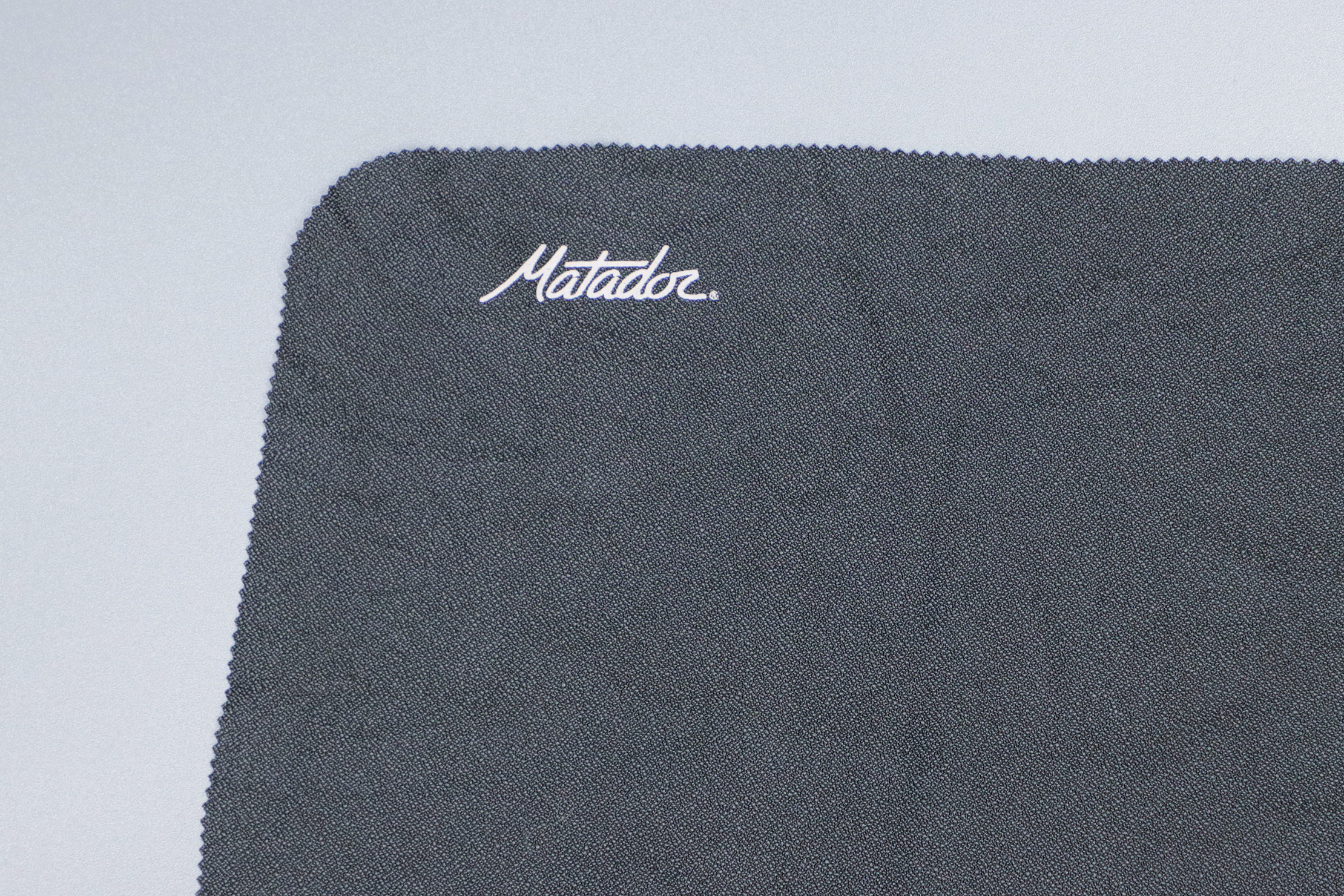 Besides the Matador logo, a list of the materials, and the manufacturing country, you'll find a short nylon loop with a buckle on the towel itself. This is so you can hang it up to dry on a towel rack at your Airbnb or hotel. It's a bit weird, though, since you can't adjust the buckle at all, and the nylon loop is kind of small. So it'll fit over thin towel racks but will have a hard time getting over a thicker one or a doorknob, for example.
These towels are supposed to be compact, absorbent, and quick-drying. This is somewhat true, but they do take longer than we expected to dry completely. On their website, Matador shows people using the Ultralight Travel Towel at the beach, so we figured we'd try it out in that capacity too. It will take longer to dry you off entirely, and because of the smaller size, it can't really double as something to lay on. That's not really a problem because we didn't expect it to in the first place, but it stayed wet for a while after packing it into our bag in the mesh pouch.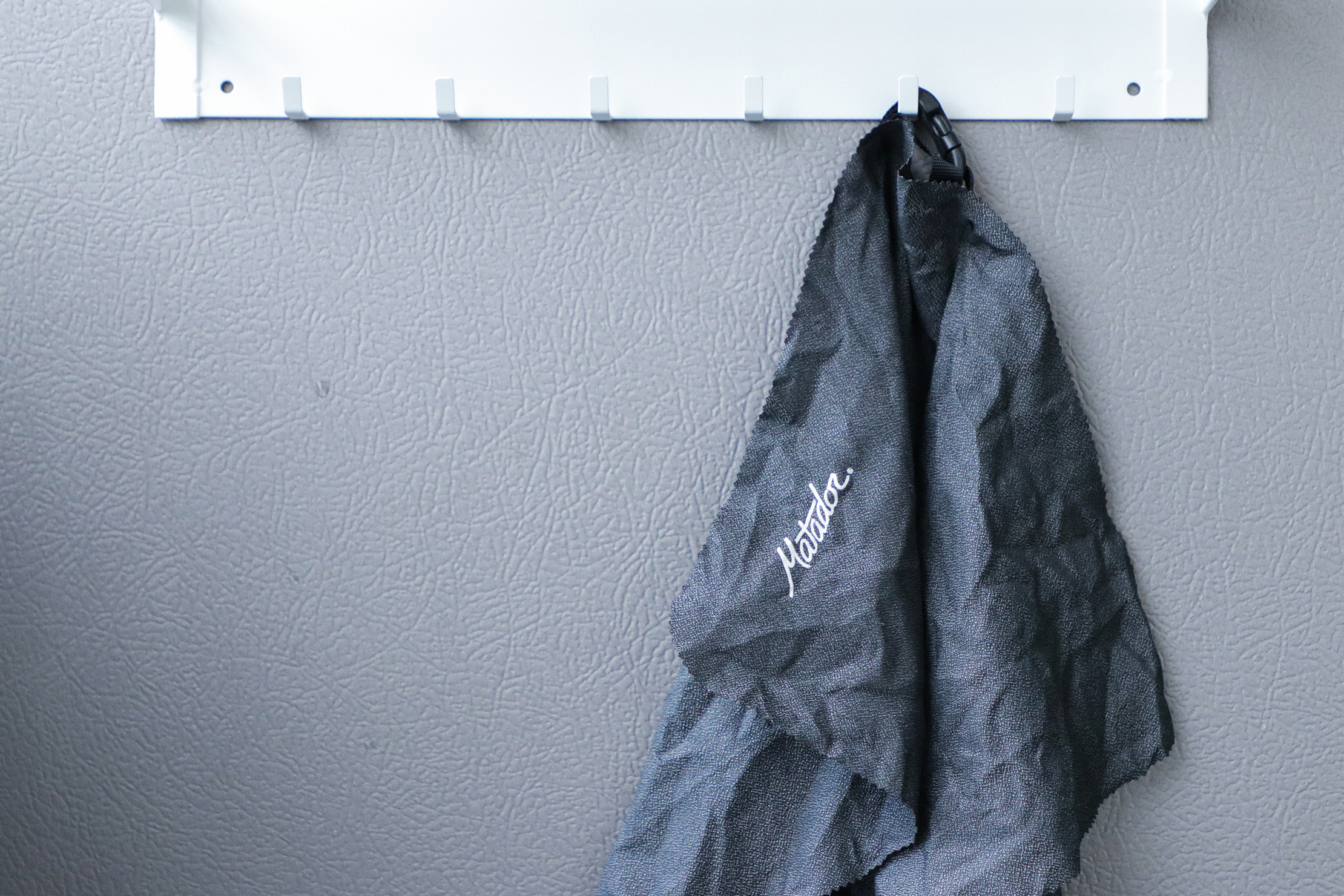 We found that the towel does best when you either hang it up by the nylon loop or clip it to the outside of your backpack by putting a carabiner through one of the Hypalon loops on the mesh carry bag. If you're in a hurry, don't have a carabiner on hand, and just throw the towel in your bag, it's going to get funky. It did for us, anyway. Though the mesh pouch allows it to breathe, it doesn't do any good if it's hanging out down at the bottom of your bag. Using a carabiner to clip it onto the outside allows it to air dry, which means a lower chance of mildew smells.
We also found that wringing it out before putting it back in the mesh pouch helps. The first time we tried it at the beach, it absorbed a lot of water but didn't dry fast enough, leading to some gnarly smells by the time we got back to our accommodation and hung it up. After that, we decided to wring it out for future trips, and that definitely helped. When they say the Matador Ultralight Travel Towel is absorbent, they aren't lying. It may take a while for it to dry you off entirely, and it feels kinda weird against your skin—like drying off with a giant piece of paper towel—but it gets the job done.
Usage Timeline
Initial Usage
Condition: Excellent
Comes with its own small bag for storage
Compact enough to fit inside a small pocket
2 Weeks of Use
Condition: Excellent
Mesh bag with Hypalon loops for a carabiner allows you to air dry the towel by clipping it to the outside of your bag
We used the towel to dry off at the beach, and it didn't dry super fast
Gets smelly in your bag if you don't hang it up to dry first
Small version is convenient to use as a handkerchief for sweat on hot days
Access the Pro Community Discussion
Get your questions about the Matador Ultralight Travel Towel answered from our team and the Pro Community right here on the page. Plus, join discussions with other members about gear, guides, and more.
Other Toiletries & Personal Care Reviews