Rolling Square inCharge 6 Review
Rolling Square's inCharge 6 offers a versatile set of connectors in a portable size that's easy to carry—though it can be a challenge to use in some situations.
Our Verdict
Unlock the Pro Summary
Save time. Get access to brief summaries of our reviews so you can browse and make decisions more efficiently.
Pros
Compact and can simply hang off a keyring
Magnets snap together solidly
Versatile set of connectors
Cons
Too short for some use cases
Picks up scratches quickly
Only rated for 15W at 5V/3A charging
Recent Pack Hacker Video
Technical Details
Weight (oz)

0.9 oz (25.5 g)

Dimensions

2.8 in x 0.5 in x 0.2 in (7.1 x 1.3 x 0.5 cm)

Notable Materials

Zinc Alloy, Aluminum, Copper, Thermoplastic Polyurethane (TPU), Nylon

Manufacturing Country

China

Warranty Information
Full Review
Get up to 20% off Rolling Square • Join Pack Hacker Pro
If there's one tech item that always seems to be missing when you need it the most, it's a cable with an appropriate connector. It's a scenario we know all too well during the few instances when all our cables were in a tech pouch too far away. Or one of those times where you're the only one who needs a USB C cable in a room full of Lightning connector users.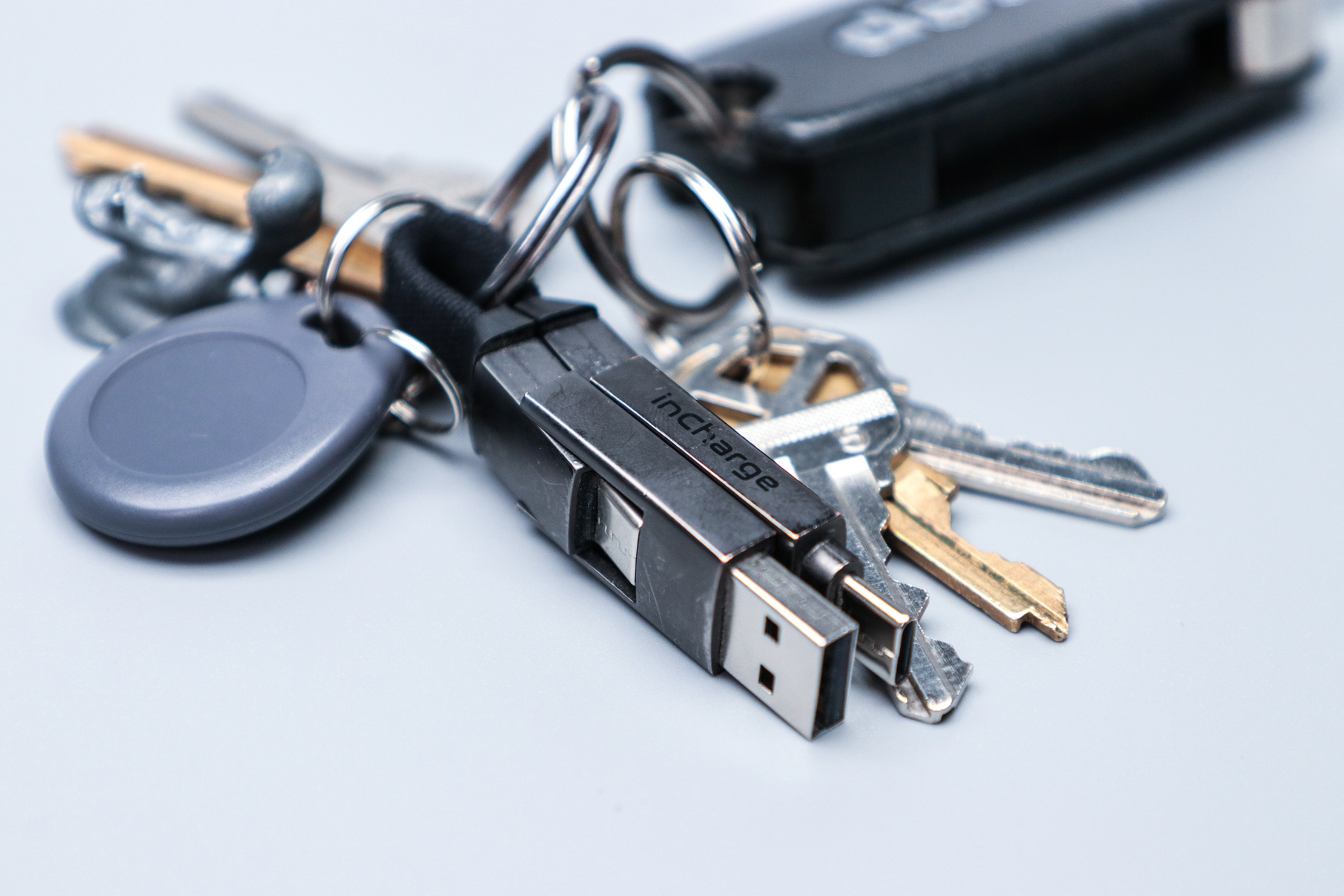 In those situations, having a compact cable with you can be a lifesaver. But how do you carry a cable around conveniently? Rolling Square's take on it is a keychain-style cable that blends in with your keys and other accessories. The inCharge 6's length probably won't wow you, nor will the scratch-prone finish. But the versatility its various connectors offer might be compelling for those looking for a cable that's easy to carry around and just gets the job done—or even as a neat little gift idea for the techy person in your circle.
Materials & Aesthetic
The inCharge 6 is very short, spanning just under 3 inches when folded. It's very compact, and we think they nailed the length just right so that it behaves more like a keychain accessory rather than a lengthy cable hanging off your keyring.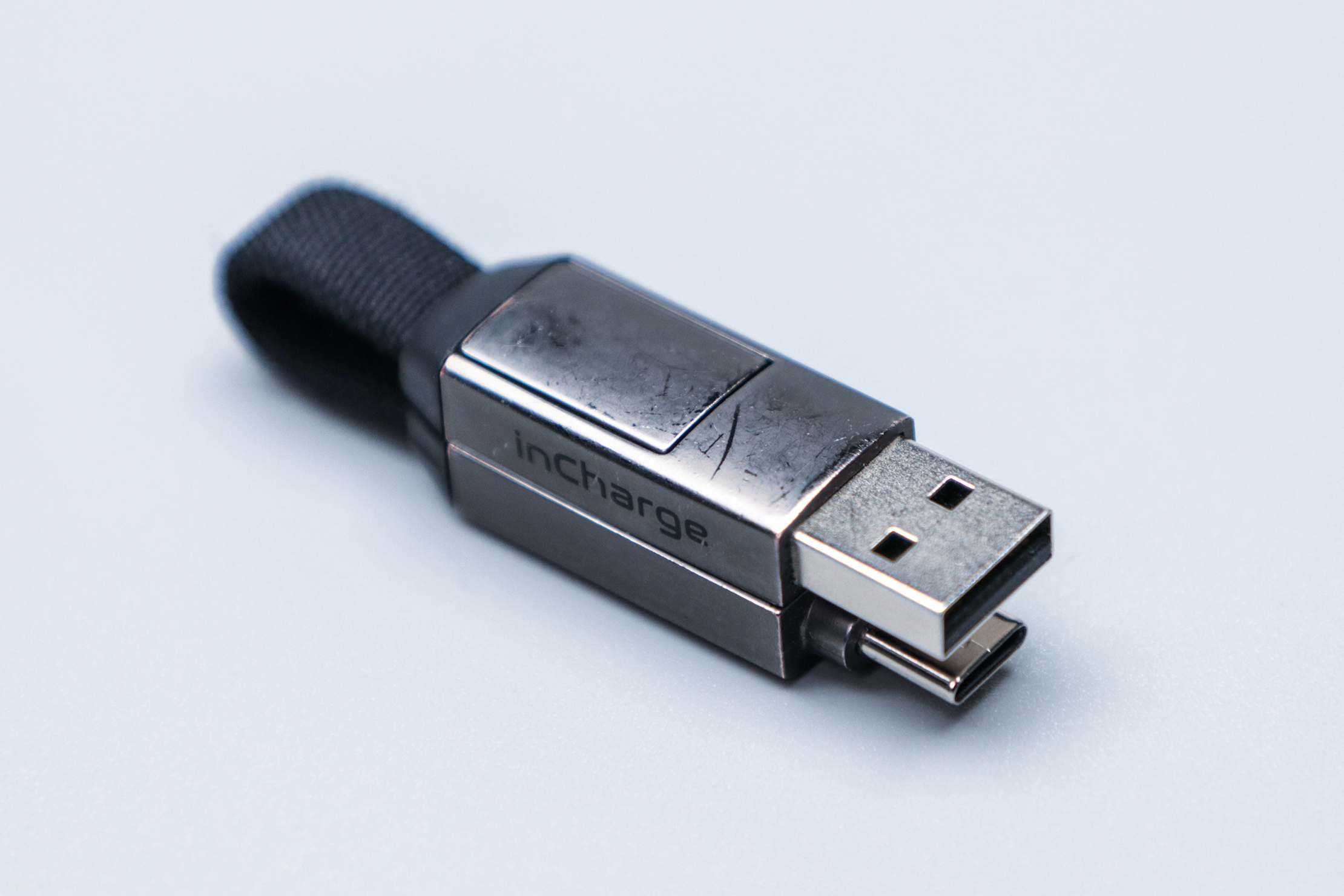 Despite the compact form, the construction feels very solid. There's no noteworthy give whatsoever on the metal housing at the connectors, nor where the cable meets the housing. The flat nylon cable itself also feels a touch more premium than the typical rubber-insulated charging cable. The adapters on each end snap on and slide without issue, and they don't feel like they're going to break or snap when you pull on them.
Speaking of the adapters, let's talk about the connectors. One end has a USB C connector, while the other has a Lightning/Micro USB connector. Those, in turn, adapt into USB A and USB C, respectively. Simply put, it's a very flexible set of options.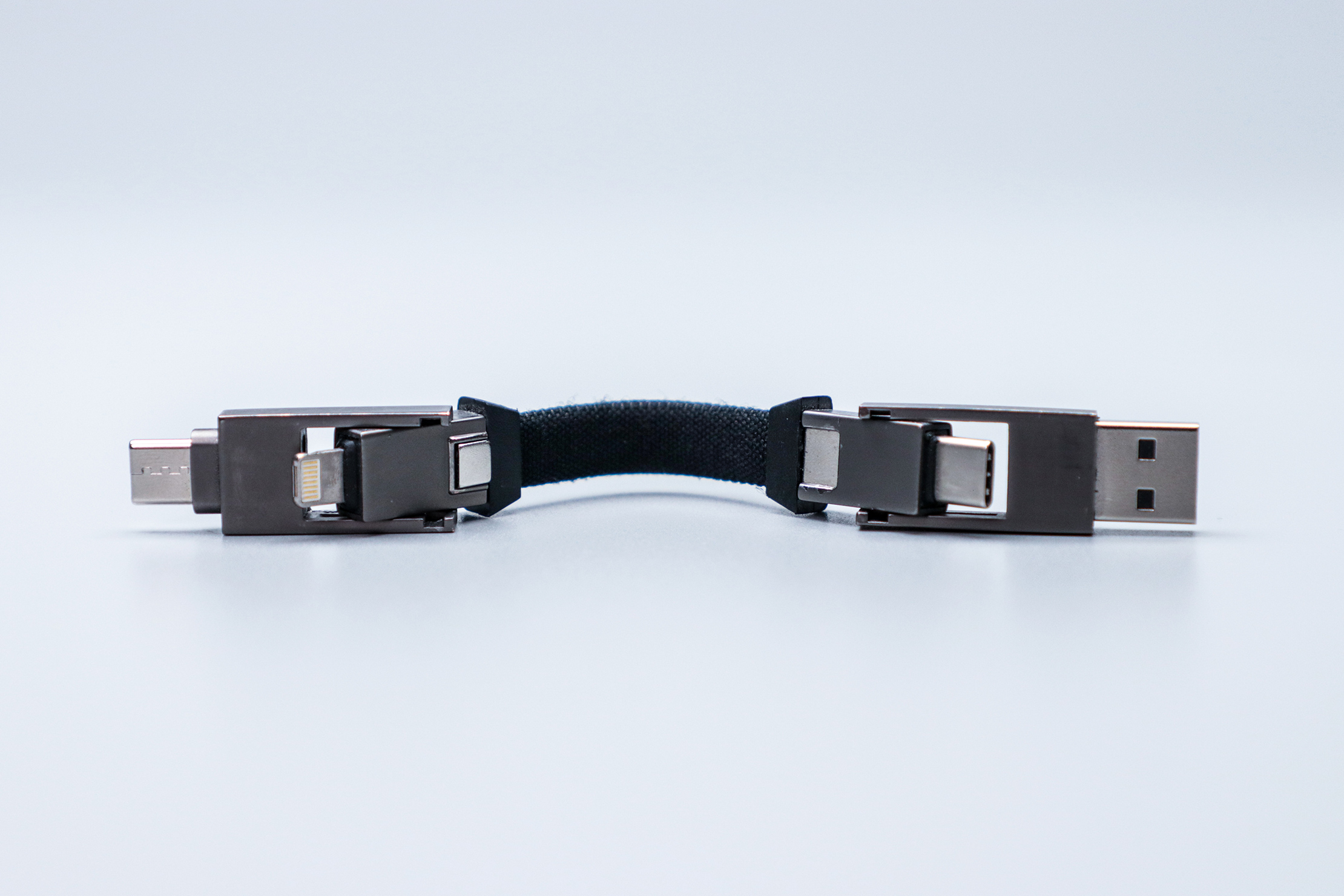 The one kink in the metal armor of the inCharge 6 is its finish. Our sample here gathered a lot of noticeable scratches and marks from being acquainted with our keys throughout a two-week test period. It doesn't affect usability or performance, just the aesthetics. Whether you mind that or not, that's down to you, but once you throw this in with a bunch of keys, expect it to get scuffed.
Usage
Did we miss anything? Oh yeah, the magnets. They're fairly small and are located near the base of the metal housing on each connector. These are pretty strong magnets, and we were pleasantly surprised at how well they snapped together. We were a bit worried before that the magnets were not going to be up to the task. But after trying them out of the box, all doubts about the magnets were quickly dispelled.
We placed the inCharge 6 on our keyring as intended. Among our various keys, tags, and keychain accessories, it blends well and doesn't stick out like it doesn't belong. It's not heavier than most accessories either. If you already carry a bunch of accessories like it, then the inCharge 6 will fit in like any other.
You may want to pick up a larger keyring, however. The connectors' metal housings are fairly chunky, so you might have trouble threading the inCharge 6 through small keyrings or if you have a crowded one. Something like a carabiner might work better for you, but the inCharge 6 loops in easily through holes, so you have tons of options if keyrings don't work for you.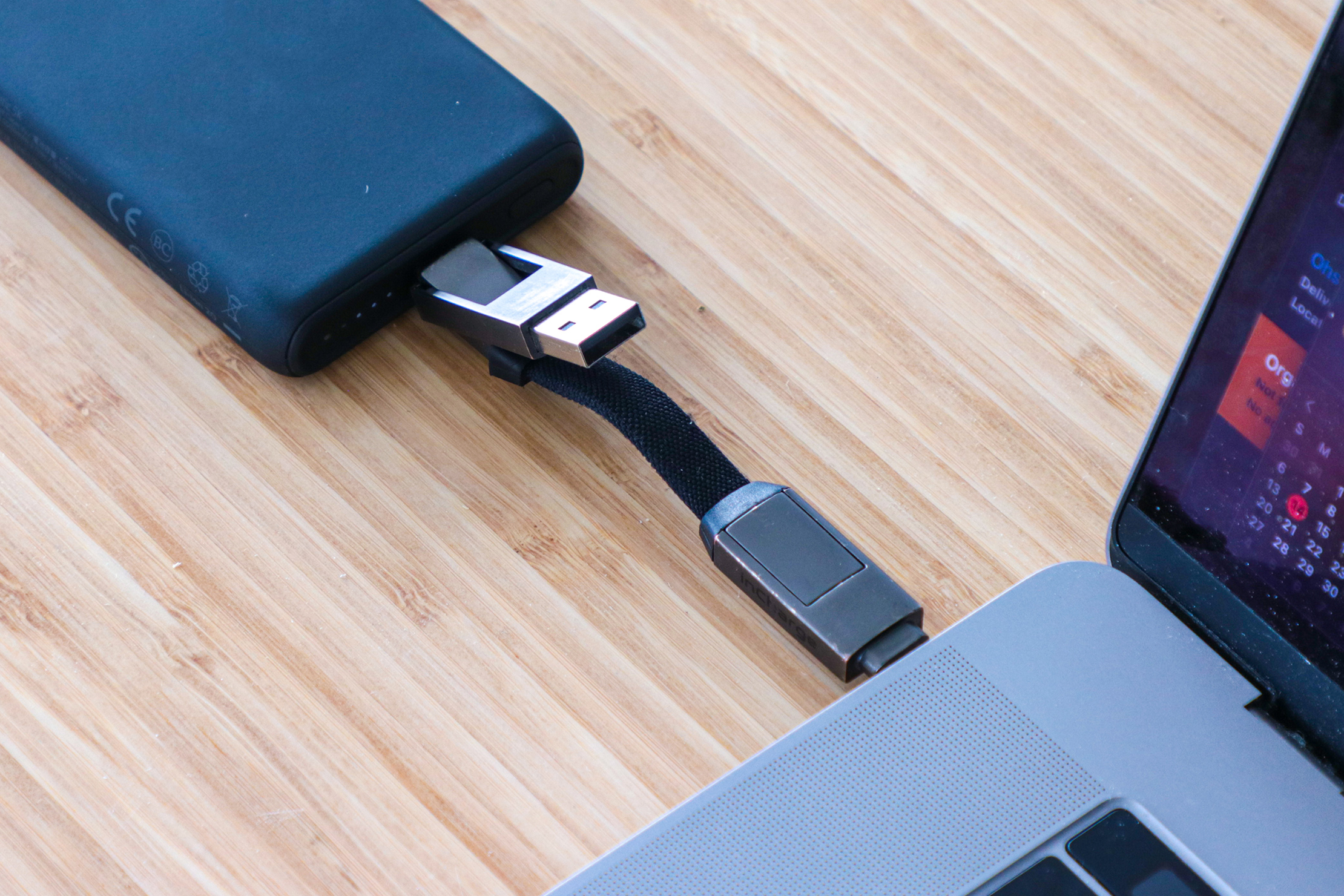 The first real caveat of the inCharge 6 is the length. Since it's so compact, length was always going to be limited as expected. We use a laptop cooling pad on our MacBook Pro to keep things nice and cool, and using the inCharge 6 to connect our devices meant they hung off awkwardly at the side.
There are other situations where a short cable like the inCharge 6 may not be suitable—charging off a wall adapter that's high off the ground without a surface for your device, for example. There are also PCs where the USB ports are in front of the case, where a short cable might not be long enough for you to place your device on a safe surface.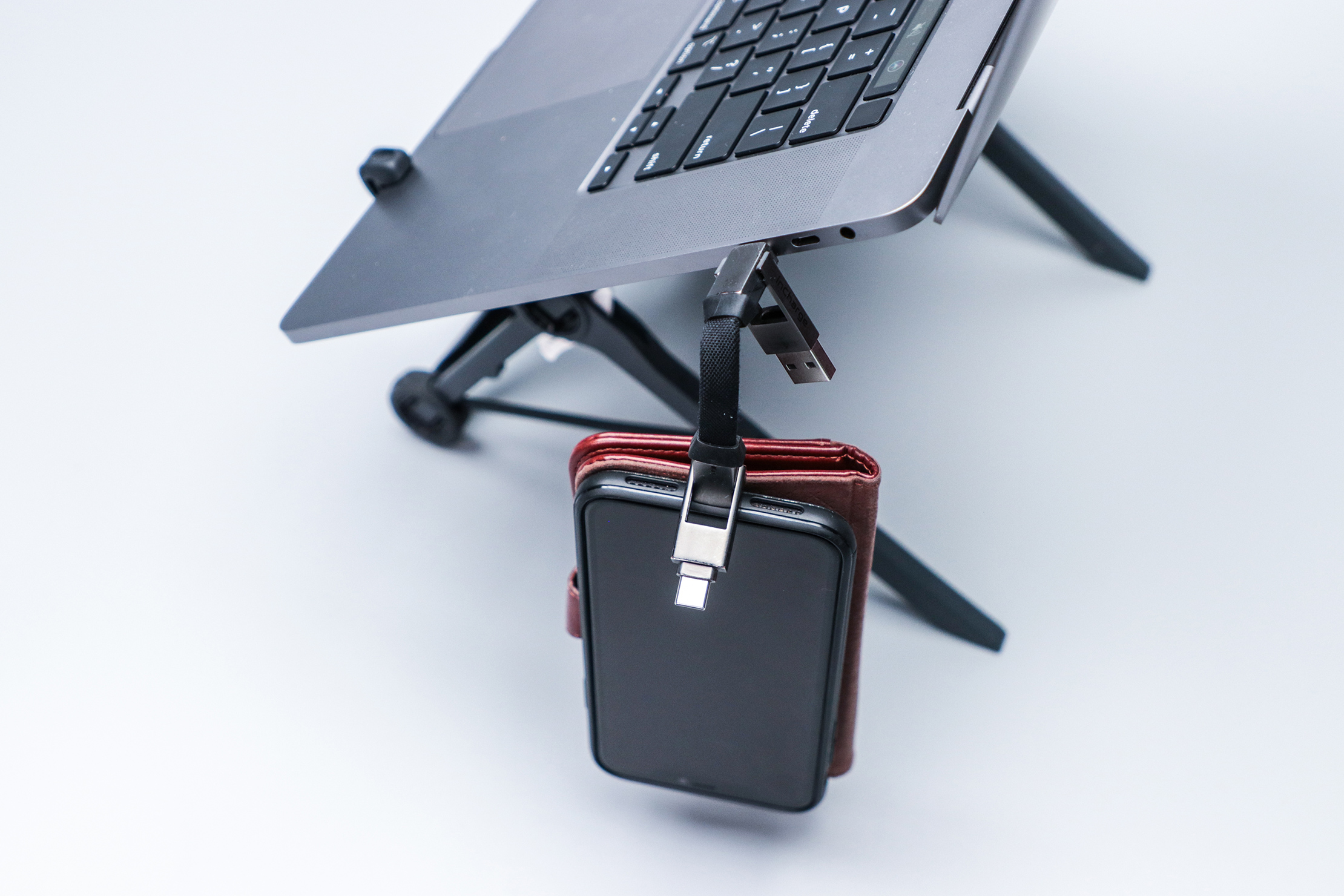 If length isn't an issue, then the inCharge 6 offers a ton of flexibility when it comes to connectivity. On one side, you have a Lightning/Micro USB connector with a USB C adapter, and on the other, you have a USB C that adapts to USB A. With that kind of lineup, most iOS, Android, and Windows devices are covered, with the notable exception of older devices that use Micro USB.
Here's a pro tip: the adapters can get in the way when you're using the cable in USB C to Lightning mode. You can get around this by flipping over the cable and making sure the adapters stick up rather than down.
In terms of performance, the inCharge 6 behaves like any other USB or Lightning cable. Your mileage will vary depending on what devices you're connecting, what transfer speeds, and the charging standards they use. For charging, Rolling Square only rates the inCharge 6 at a maximum of 15W at 5V/3A, so there are no guarantees that it will support your device's fast charging feature. At the very least, it will charge your device at a regular speed, again depending on your charger and device.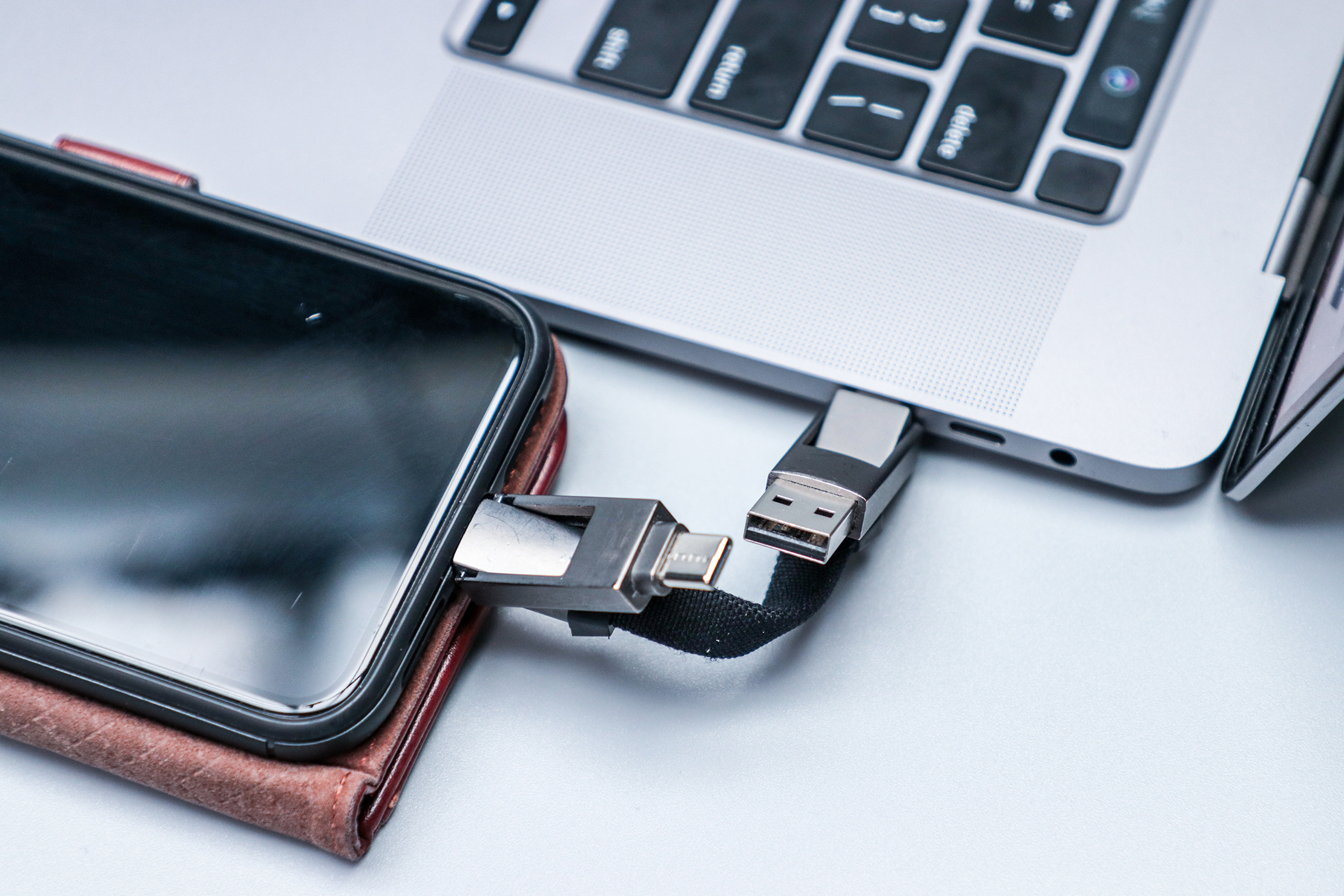 For file transfers, we didn't notice a difference between the inCharge 6 and the usual cable we use for transferring photos from our iPhone 12 Pro Max to our 15" MacBook Pro. Furthermore, there were no annoying connection dropouts or disconnects. We think the latter is a crucial aspect of any cable. The last thing you'd want during a long file transfer is it suddenly disconnecting and potentially corrupting valuable data.
The inCharge 6 was always nice to have around, even when we didn't necessarily need it. It's one of those "just in case" types of things that's convenient to have for a digital nomad, as long as you're mindful of the limitations. In the case of the inCharge 6, it's primarily the length you'll have to consider if you're looking to pick it up. Once you've considered that, there's a good amount of versatility to be had with the inCharge 6.
Usage Timeline
Initial Usage
Condition: Excellent
The magnetic connectors snap well and feel secure on a key ring
The short length is best suited for working on a small desk
The flat braided cable adds to the aesthetic but also feels durable
2 Weeks of Use
Condition: Excellent
Quite a few scratches have developed from keys on a keychain
after 2 weeks of use
The metal converter pieces can be awkward when dangling off the cord
Magnets are stronger than we thought they'd be—this thing stays closed well
Overall, it's a nice piece of kit to have handy if the conversions fit your needs
Access the Pro Community Discussion
Get your questions about the Rolling Square inCharge 6 answered from our team and the Pro Community right here on the page. Plus, join discussions with other members about gear, guides, and more.
Other Productivity & Tech Reviews