Rolling Square inCharge XL Review
Rolling Square's inCharge XL adds length to their formula of compact all-in-one cables, making it more flexible for travelers who need that extra reach.
Our Verdict
Unlock the Pro Summary
Save time. Get access to brief summaries of our reviews so you can browse and make decisions more efficiently.
Pros
Adapters detach for less bulkiness
Solidly built from end to end
Less constraining than shorter inCharge cables
Cons
Cap tends to slip off
Hook & loop tie is low quality & already broke
Summit Yellow colorway's shiny metal catches fingerprints
Recent Pack Hacker Video
Technical Details
Weight (oz)

1.2 oz (34 g)

For the 1ft version

Dimensions

11.8 in (30 cm)

Also available in 6.5 ft and 10 ft lengths

Notable Materials

Zinc Alloy, Thermoplastic Polyurethane (TPU), Nylon, Aramid Fiber, Copper

Manufacturing Country

China

Warranty Information
Full Review
Get up to 20% off Rolling Square • Join Pack Hacker Pro
Rolling Square has made a name for themselves with their all-in-one inCharge cables. They adapt, they fold, they hang, and they have magnets. You can check out our reviews of the inCharge X, inCharge Mini, and inCharge 6 for more comprehensive information. The gist of it, though, is that they're—supposedly—the only all-in-one cable you'll need, and they're easy to carry around.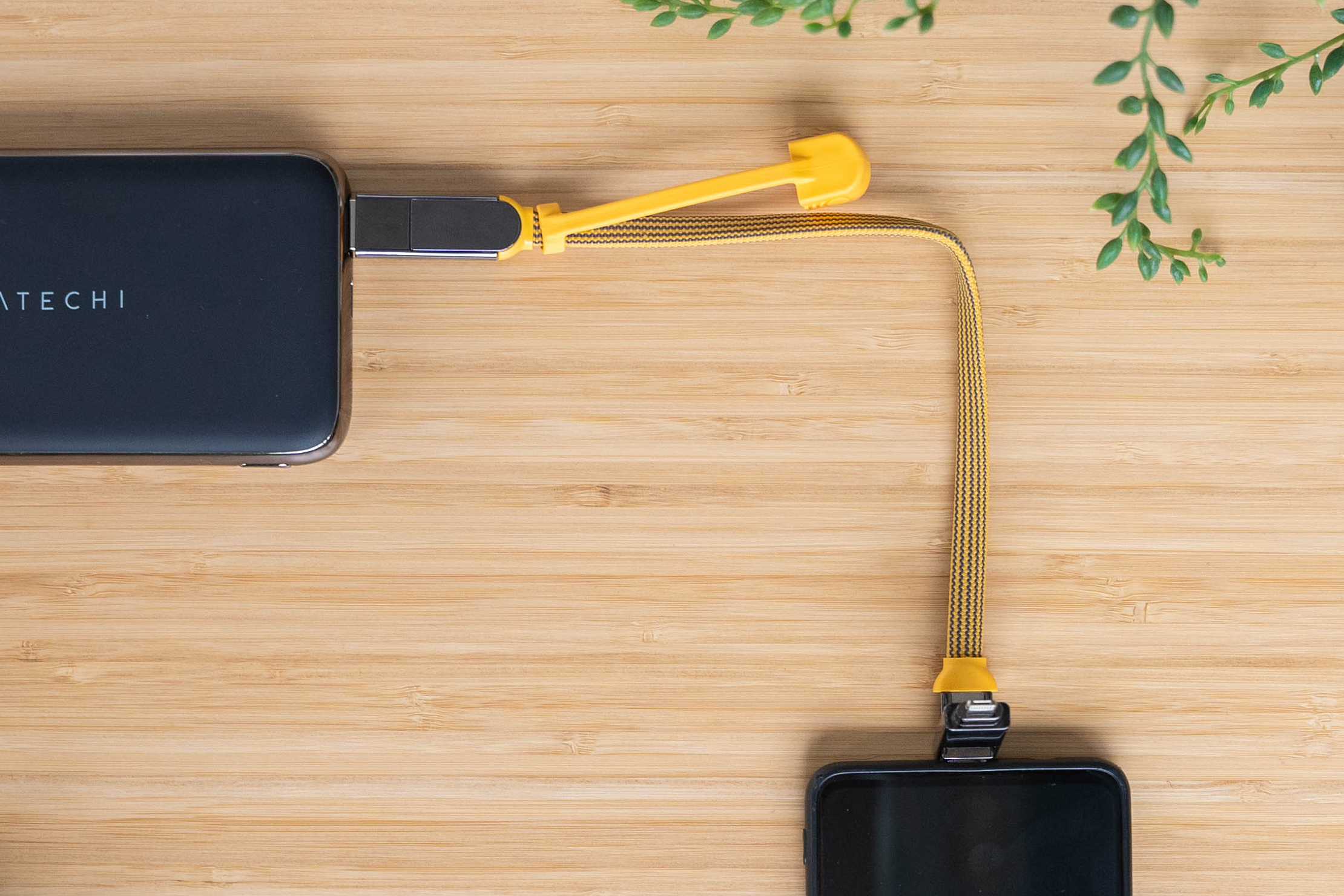 The inCharge XL can do all of that, just with more length. In fact, it comes in three sizes: 1 ft. (30 cm), 6.5 ft. (200 cm), and 10 ft. (300 cm). Rolling Square also took the time to rework the hinge to make the inCharge XL more convenient to work with. The question is, how have all these changes affected the travel-friendliness we've come to know the inCharge lineup for? Let's find out!
Materials & Aesthetic
Quality is one of the more subtle aspects of Rolling Square's pitch for the inCharge lineup. To back this up and to put your mind at ease, they detail pretty much everything about the materials they use. You'll find some impressive-sounding names here, such as the Zinc aluminum alloy for the connector's housing, and Aramid fiber for the cable's exterior. That's coupled with nylon and TPU protection, by the way, the same kinds of materials we're used to seeing in durable travel backpacks.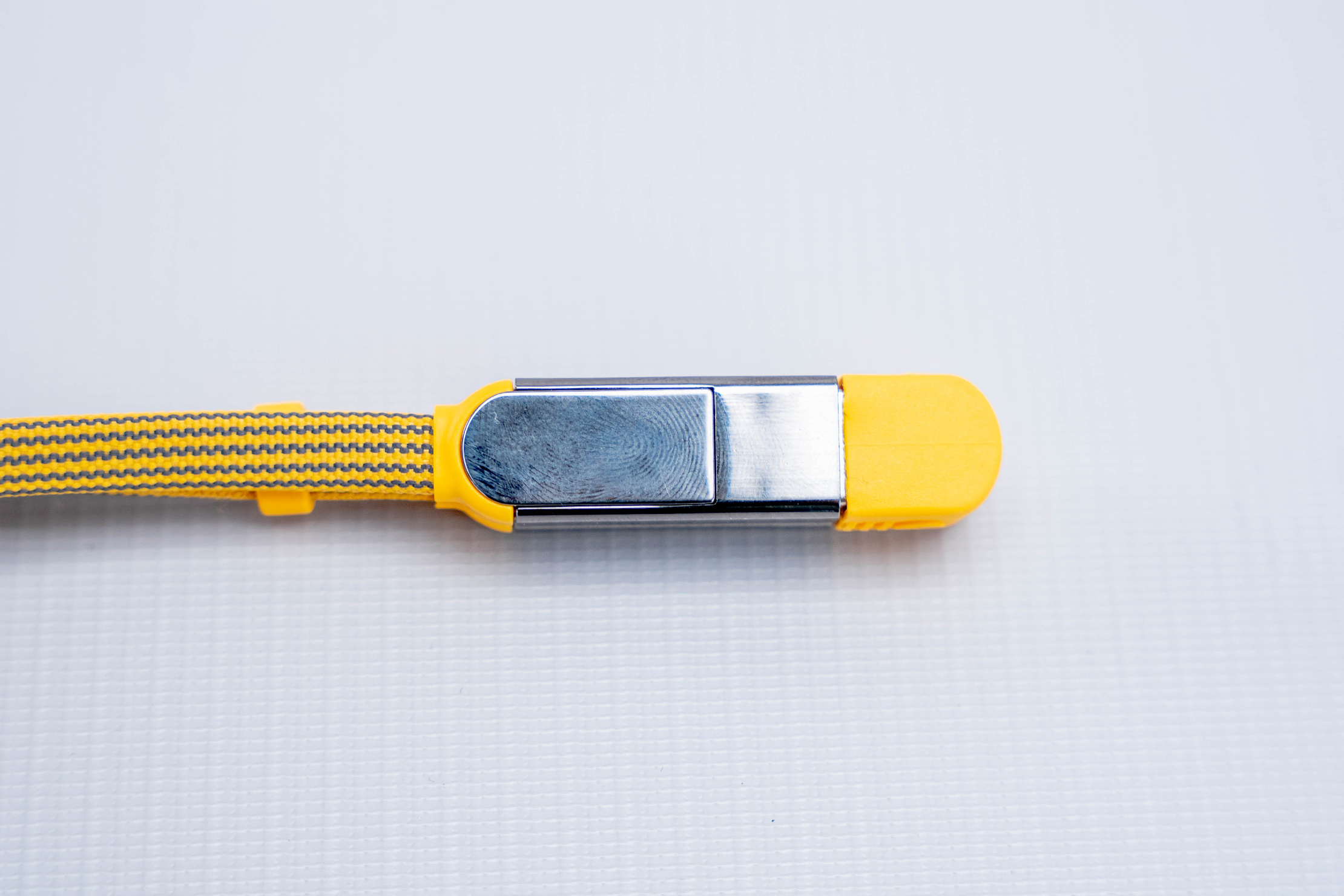 The result? Unsurprisingly, the inCharge XL feels tough and premium in hand. Out-of-the-box stiffness is definitely there, and, unfortunately, since the cables came folded, they've maintained the creases even after a month. Still, the quality is a far cry from the typical rubber-insulated data cables that come as standard with devices. The N52 magnets feel as tactile and strong as we've previously seen. We will come back to them later, as the inCharge XL's size does affect them.
At the time of writing, the inCharge XL is only available through Rolling Square's Kickstarter campaign, with three colorway options: Summit Yellow, Glacier White, and Urban Black. Suffice to say, we're fans of black colorways, but we're not too keen on the Summit Yellow. The yellow exterior is okay, but the connectors' shiny housing is a bit too bling for our taste, and they're fingerprint magnets as well.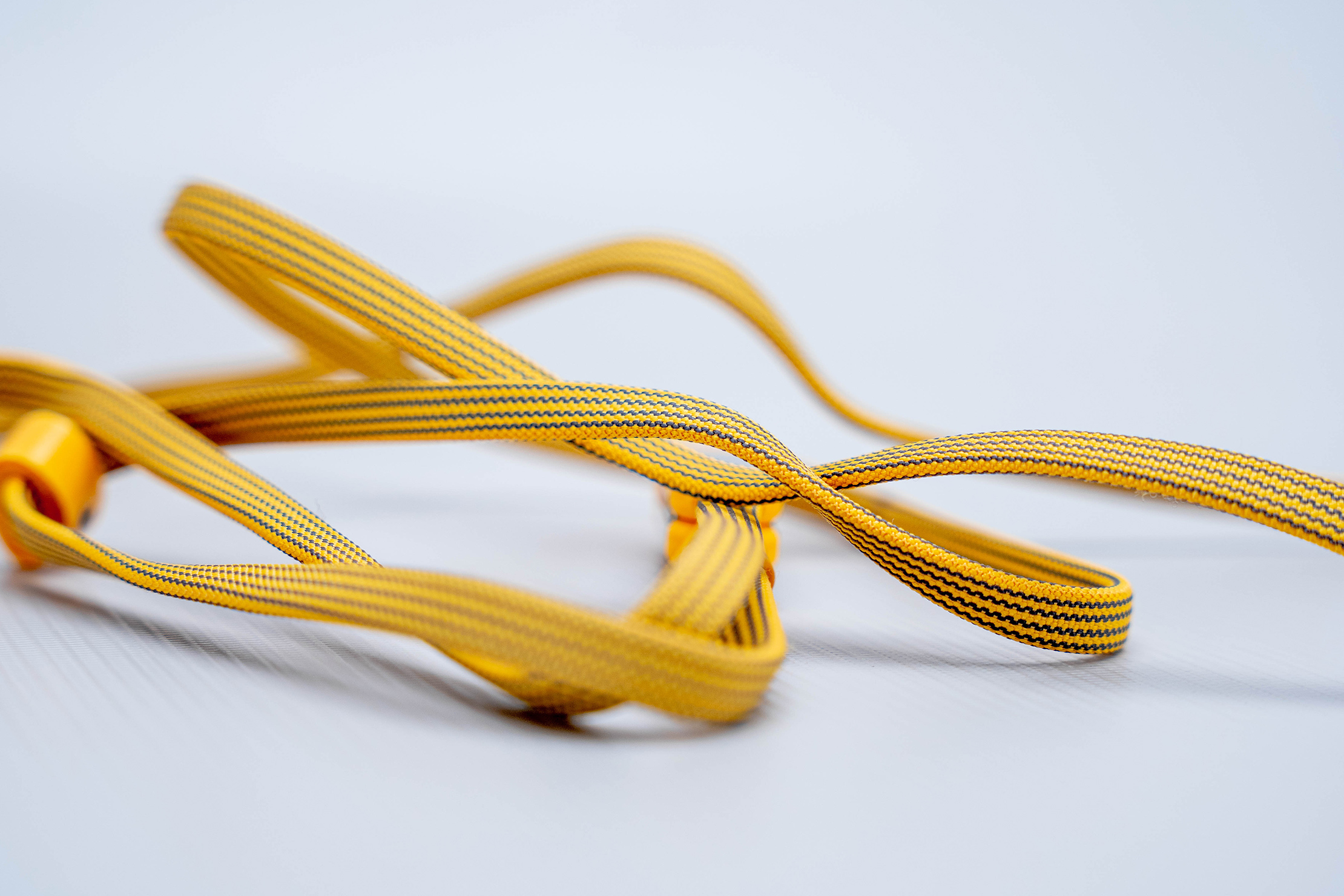 Overall though, the inCharge XL more or less has the same aesthetic and quality as Rolling Square's other cables, just with lengthier reach. There's more to it than meets the eye, though, so how is it in day-to-day use?
Usage & Features
As we mentioned earlier, we've focused our attention on the 1 ft. version since we think this is the sweet spot among the three sizes. Coming from the likes of the inCharge Mini, inCharge X, and inCharge 6, our common disclaimer with those is how short they are. It's a love-it-and-hate-it kind of thing. On the one hand, their small size makes them very travel-friendly. On the other hand, they can feel constrained for anything other than tabletop use.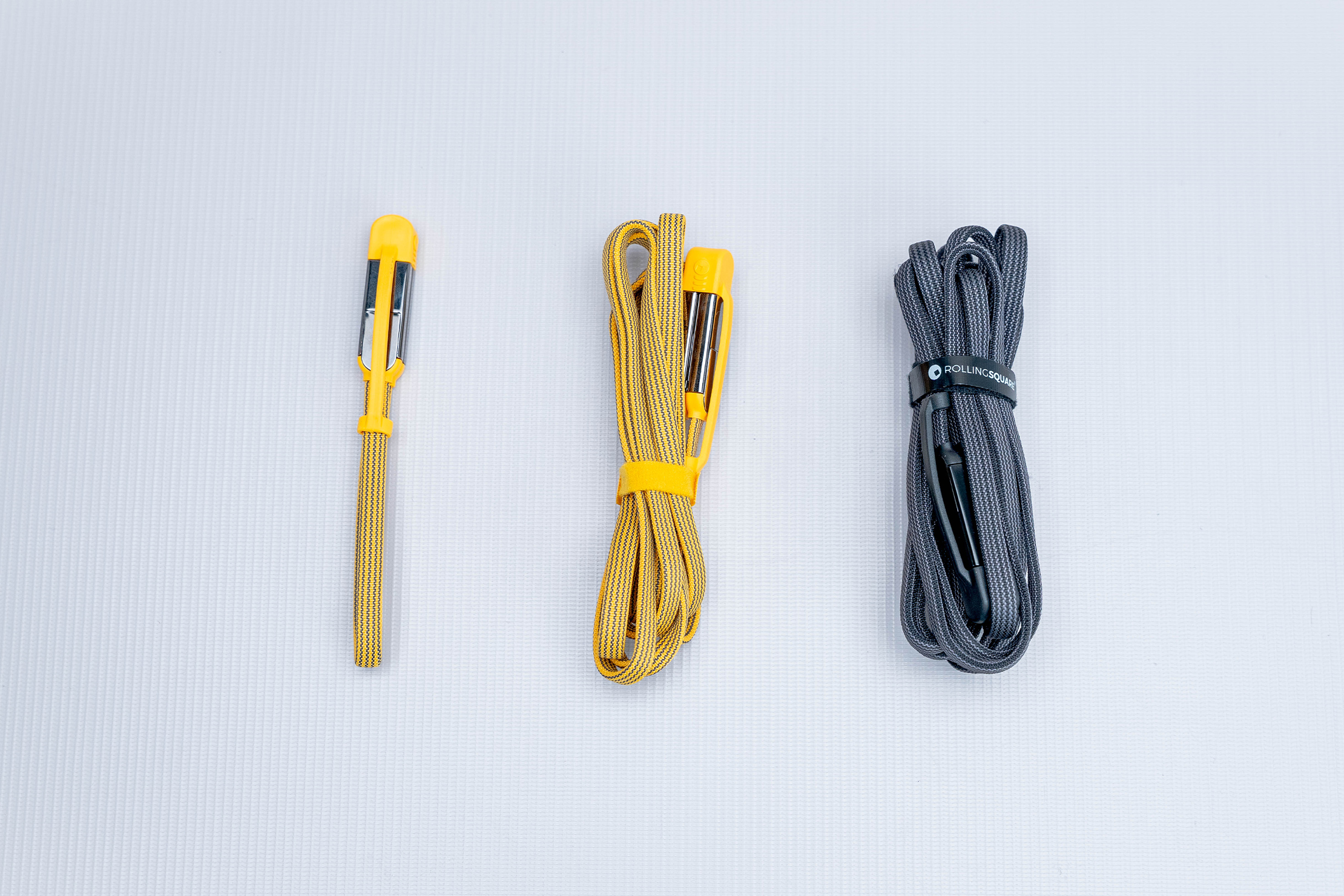 The 1 ft. inCharge XL still retains that compact, travel-friendly size we liked about the others. Yet, it's also long enough that, in case we need to move our iPhone from beside our MacBook, it's easy enough to do. If you need more length, the 6.5 ft. and 10 ft. versions are there, though a part of us feel like the jump from the 1 ft. to the 6.5 ft. version is a bit too big.
Another trait of the 1 ft. version we dig is that it's still keychainable—kind of, sort of; let us explain.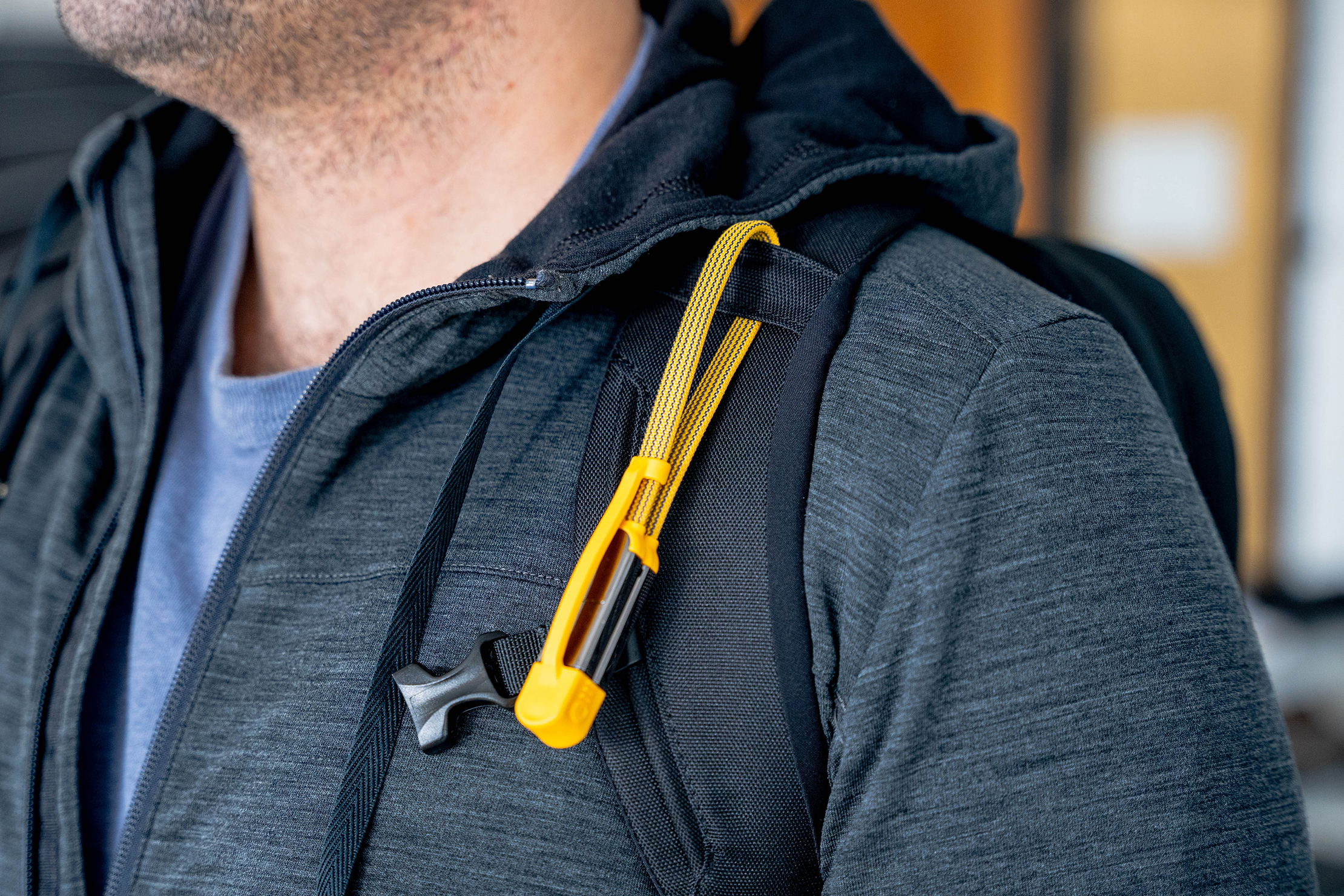 Being able to hang an inCharge cable off a keychain or a bag's external attachment point has been a great "forget-it-'till-you-need-it" convenience for us. While it is still technically doable with the 1ft. inCharge XL, the cap's ever-so-slight tendency to slip off may cause it to detach. Yes, the N52 magnets are strong, but the cable's size and the metal housing's slickness leave us a bit wary of the risk.
Really, the ideal way to store the inCharge XL, regardless of which size you have, is in a tech pouch or your backpack's designated tech pocket. Depending on which size you go for, there is a corresponding bulkiness. That said, the inCharge XL doesn't feel too bulky for the amount of length it has.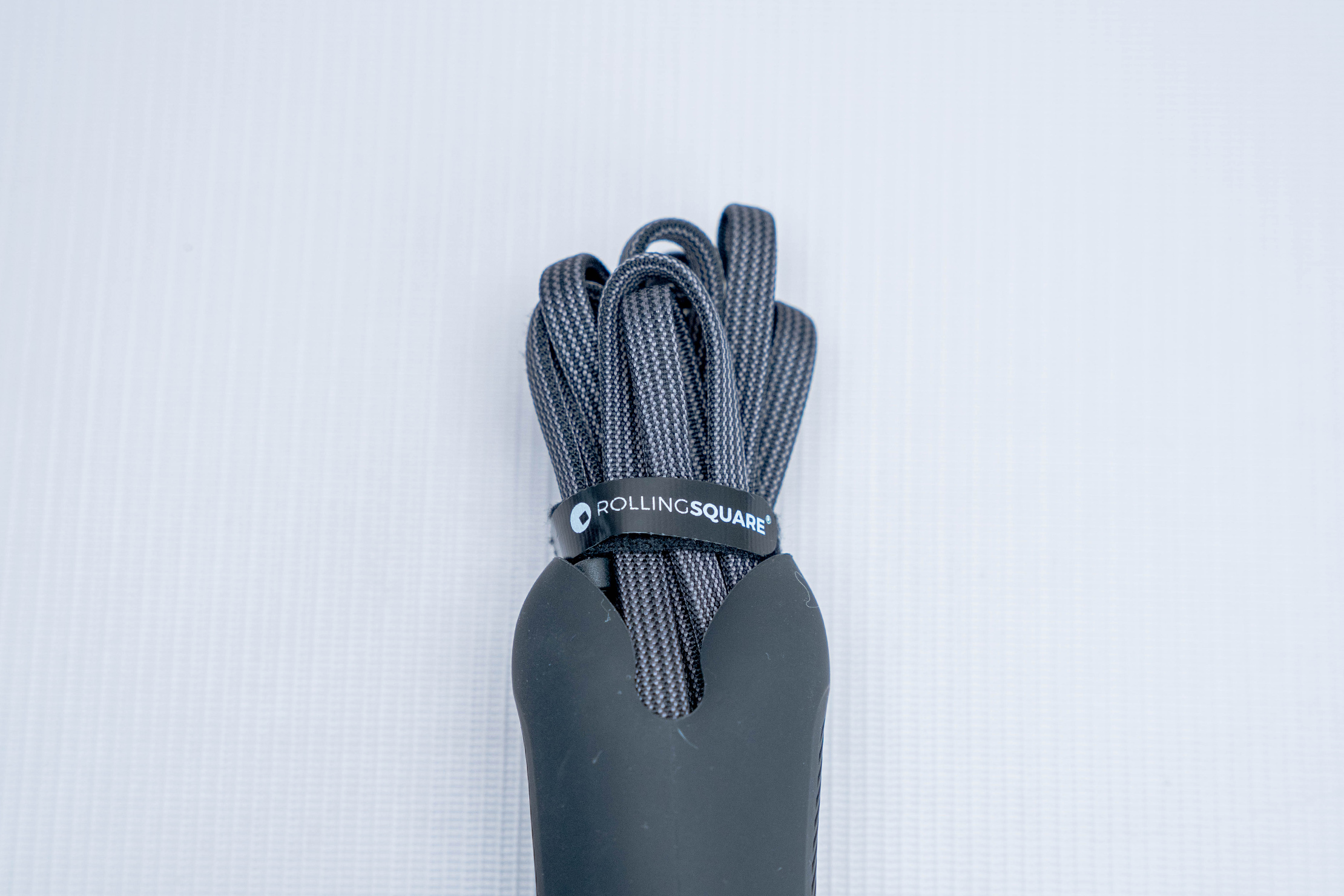 Alternatively, Rolling Square also provides a Cable Case for the 6.5 ft and 10 ft versions. It's a pill-shaped silicone pouch that has openings on one end where you can stuff the bundled-up cable into. It's a simple design if a bit of an after-thought.
From a traveling perspective, we think the Cable Case is just a bit extra in terms of bulkiness. We do recognize that the lengthier versions of the inCharge XL are quite chunky. However, if, like us, you're already traveling with a tech kit that has room to spare, stuffing it there and leaving the case at home is the way to go.
Now that we've talked about how the inCharge XL can be carried around, let's get into the nitty-gritty details of the cable itself.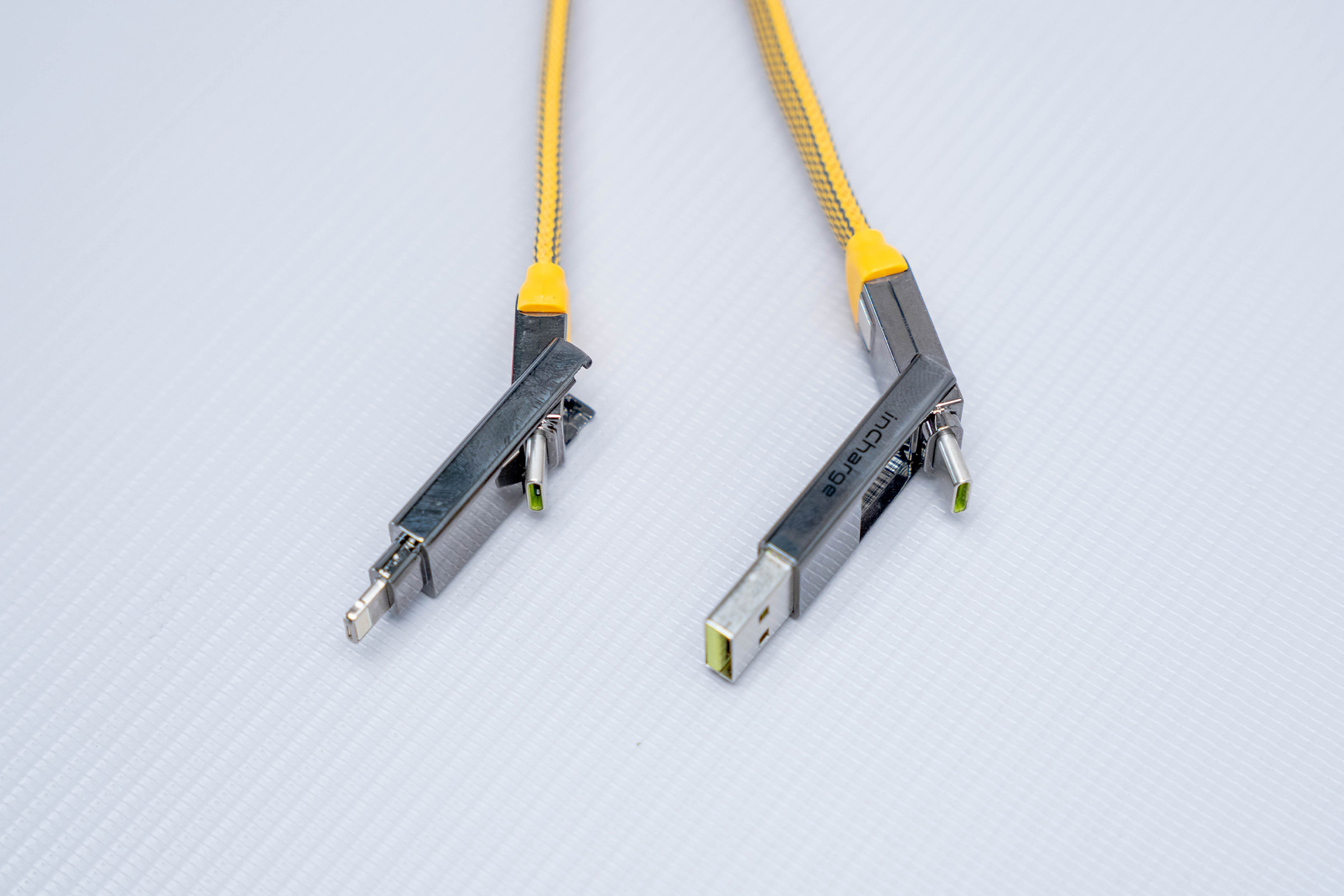 First up are the connectors. The inCharge XL has USB-C on both ends, with one adapting into USB-A, while the other adapts into a Lightning/Micro USB combo connector. Data transfer speeds are rated at 480 Mbps / 60 MBps, and charging speeds tops out at 100 watts. As per usual, your mileage (compatibility) may vary depending on which devices and/or chargers you use.
The adapters (that's the USB-A and Lightning/Micro USB parts) swing in and out on hinges. Compared to the inCharge X, the adapters fold back at a less steep angle, meaning it should less likely interfere with neighboring devices plugged in. Furthermore, the adapters are fully removable in case you need to minimize obstructions as much as possible.
Removing the adapters is an entirely tool-less process. Just pull the adapter at the right angle, and it comes off tactilely. It's worth noting that while they may seem too easy to pull off, none of the adapters came off unless we wanted to. Overall, the hinge is definitely an improvement over the inCharge X's, though we didn't have any major complaints about the predecessor either.
Next up is the cap. Singular, because there's only one for both ends. It's meant to be used once the inCharge XL's folded up and ready to be packed away. The cap is thankfully captive because one of our nitpicks about the inCharge X is how (potentially) easy it would be to misplace the cap since it was untethered. This time, the cap is looped onto the cable by a relatively long and flexible stem.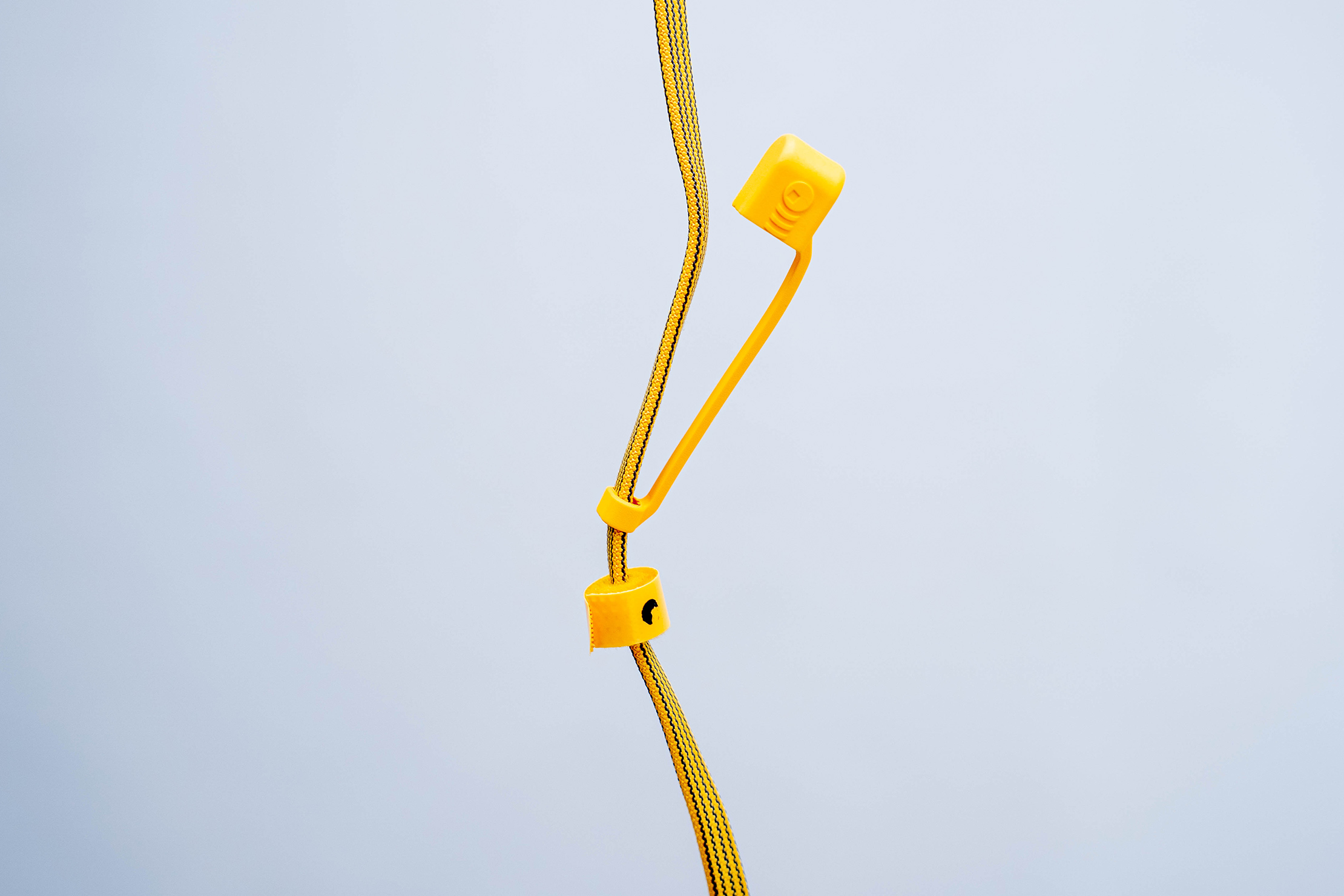 It's still not perfect, however. The cap can get buried within the cable if you forget to cap the connectors first before you bundle the cable. Additionally, the cap slides along the cable freely, meaning it can be somewhere in the middle, and you'll have to hunt for it. It's not a huge deal for the 1 ft. version, but definitely not ideal for the 6.5 and 10 ft. versions.
Since length is the inCharge XL's selling point among Rolling Square's lineup, it's almost a given that a fastener of some sort is in order. The 6.5 and 10 ft versions come with a captive hook & loop cable tie, and they're sufficiently long that it doesn't feel like a struggle each time we need to pack up and bundle the cable. Like the cap, the hook & loop cable tie also slides freely along the cable, so you may have to hunt for it from time to time.
At first, all seemed normal with the hook & loop cable ties. That changed when one day the hook portion separated from the loop portion of the cable tie on the 6.5 ft version. Furthermore, the logo rubbed off, so now it looks very scuffed. Needless to say, the quality of the cable tie doesn not match the quality of the rest of the cable.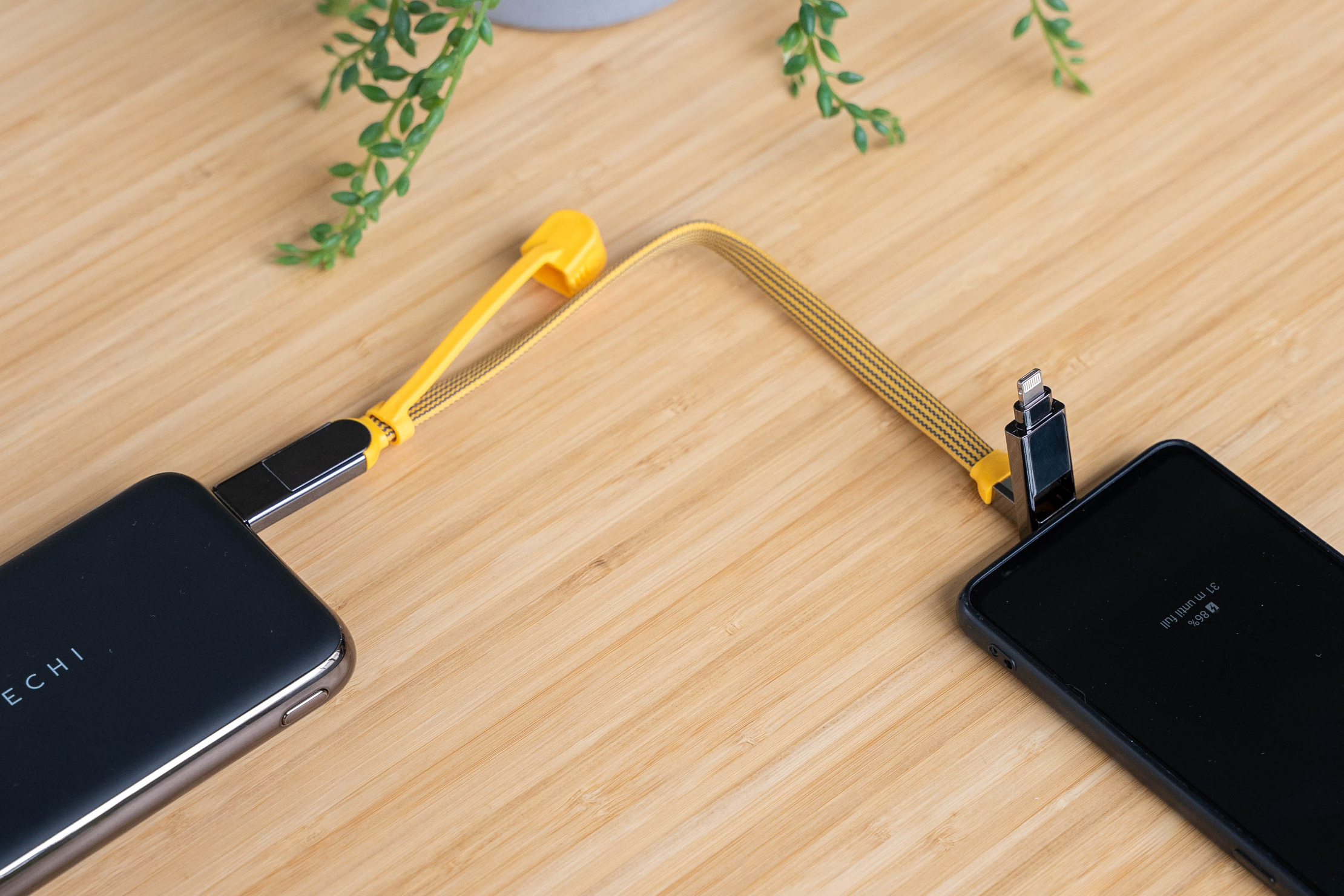 Last but not least is the cable itself. It's thick, but the flat shape means it's still relatively packable. The braided exterior has held up well over our one month's use of it, which is notable given that it's yellow and basically covered in fabric. There's no major discoloration, nor are there any loose fibers to speak of.
Before we forget, there is also a Cable Organizer accessory designed for the 6.5 and 10 ft. versions. As the name suggests, they're clips you stick onto your desk where the cable can then be anchored around. There's a built-in magnet too, so when you're done using the cable, you can dock the unused end there. It's not going to be particularly for travel purposes, but it can be if you're also using the inCharge XL somewhere permanent like your home or office.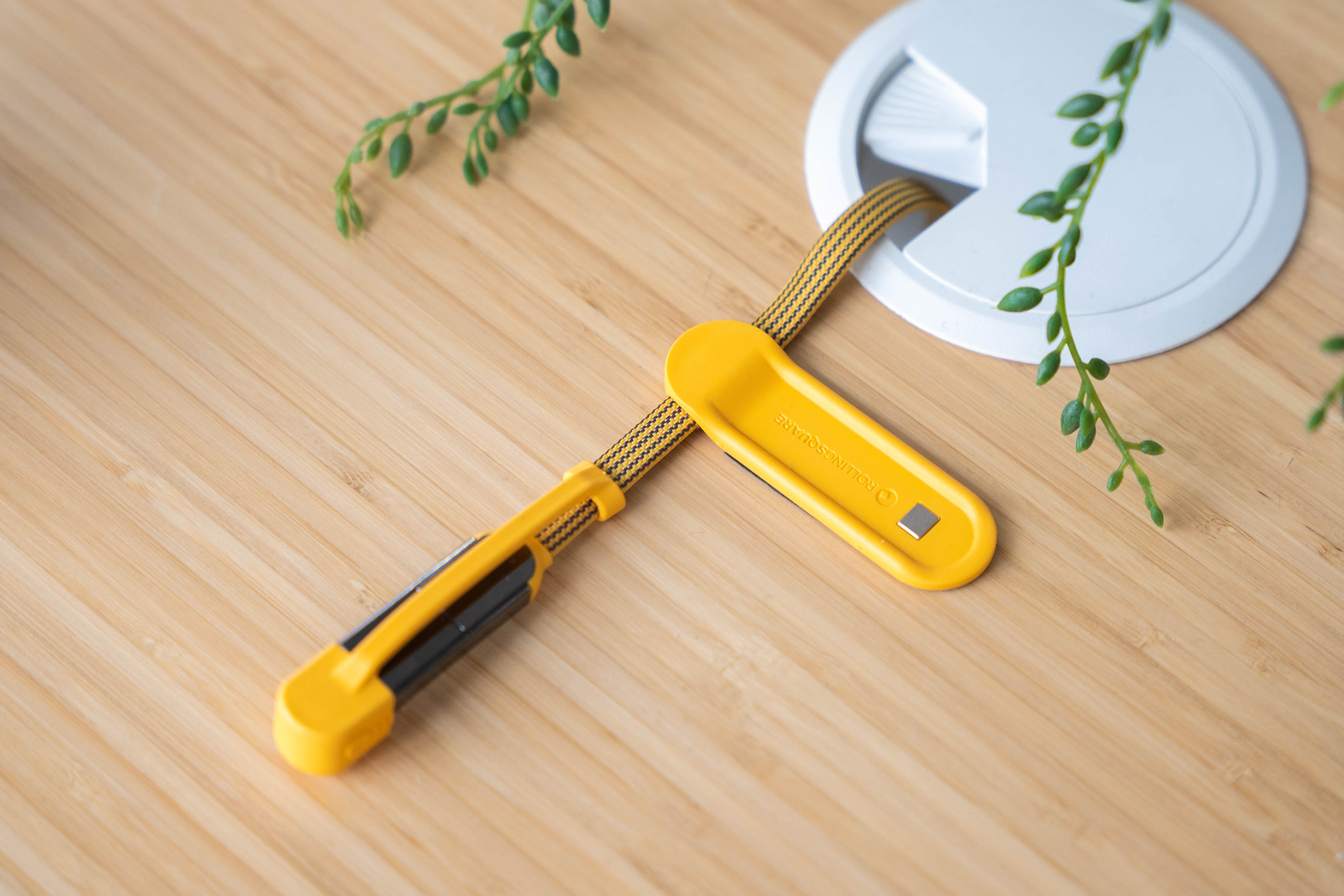 We've held ourselves back with the shorter inCharge cables. They're fine for those situations where you just need a cable. Quickly. The 1 ft. inCharge XL preserves most of that while being long enough to be used without our iPhone feeling like a dog on a short leash. Rolling Square's ambitious claim of the inCharge XL making all other cables obsolete may not be outright true, but they're getting closer.
Usage Timeline
Initial Usage
Condition: Excellent
Shinier material marked up with fingerprints pretty fast
Attached cap is an excellent solution compared to the previous iteration
Silicon sleeves came out of the bag slightly dusty – wondering if they'll stay clean through use—also, it's kind of bulky
Really dig the form of the smaller one—gives just enough length without being bulky—a little longer than the inCharge X
Braided and flat cable looks nice to manage
2 Weeks of Use
Condition: Excellent
These can get a bit fingerprint-y but it doesn't affect the functionality
Flat cable is nice for packing, though the cable is slightly bulky compared to some others we've tested—especially with the silicone case
Has been charging devices and transferring data quickly
1 Month of Use
Condition: Excellent
Brought this down on a trip to Florida and it's still working like a charm. Two cables easily fit into a multi-port USB wall adapter without the converters getting in the way of one another. Also, we're still surprised one of the adapters hasn't fallen off on its own—they stay on well unless you pull them hard at a specific angle.
2 Months of Use
Condition: Good
The cord is in great condition, but the hook & loop fastener hasn't been great—the logo rubbed off and the "hook" portion detached from the "loop" portion.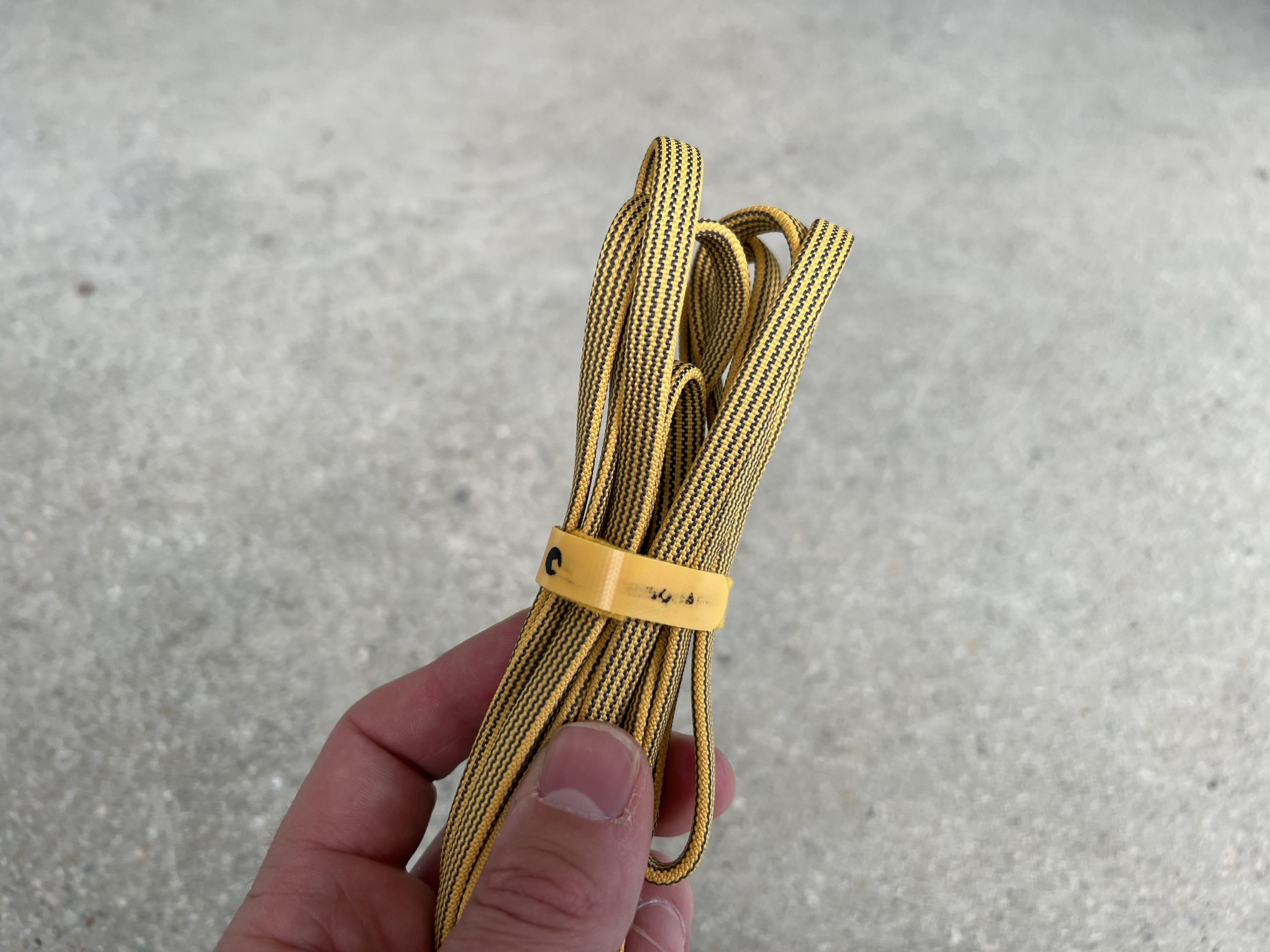 Access the Pro Community Discussion
Get your questions about the Rolling Square inCharge XL answered from our team and the Pro Community right here on the page. Plus, join discussions with other members about gear, guides, and more.
Other Productivity & Tech Reviews