Eagle Creek Pack-It Reveal E-Tools Organizer Mini Review
There are plenty of spots for small accessories in the Eagle Creek Pack-It Reveal E-Tools Organizer Mini, though you'll have to use the space wisely to fit it all.
Our Verdict
Unlock the Pro Summary
Save time. Get access to brief summaries of our reviews so you can browse and make decisions more efficiently.
Pros
Hidden pocket great spot for a mouse or phone
Plenty of straps for multiple types of gear
Small profile fits in most bags
Cons
Elastic straps too tight for bulkier cords
Internal pockets small for a mouse
Hard to zip when full of too many bulky items
Recent Pack Hacker Video
Technical Details
Capacity

0.8l

Weight (oz)

2.2 oz (62.4 g)

Dimensions

4.5 in x 7.5 in x 1 in (11.4 x 19.1 x 2.5 cm)

Notable Materials

Recycled Polyester, Polyethylene

Manufacturing Country

Indonesia

Warranty Information
Buying Options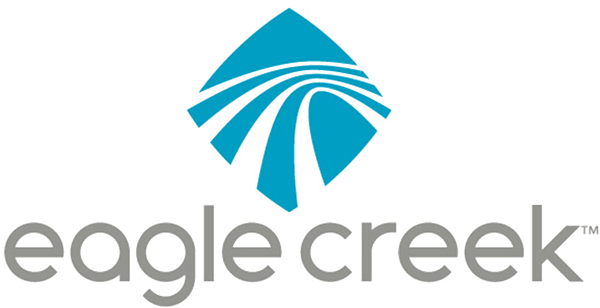 $24.95
$35.00
Full Review
Get up to 20% off Eagle Creek • Join Pack Hacker Pro
Digital nomad or not, we can always make a case for using a pouch to prevent cords, headphones, and dongles from getting tangled at the bottom of a backpack. There's nothing worse than reaching for a power cord, only to find that our headphones have become hopelessly entangled with it.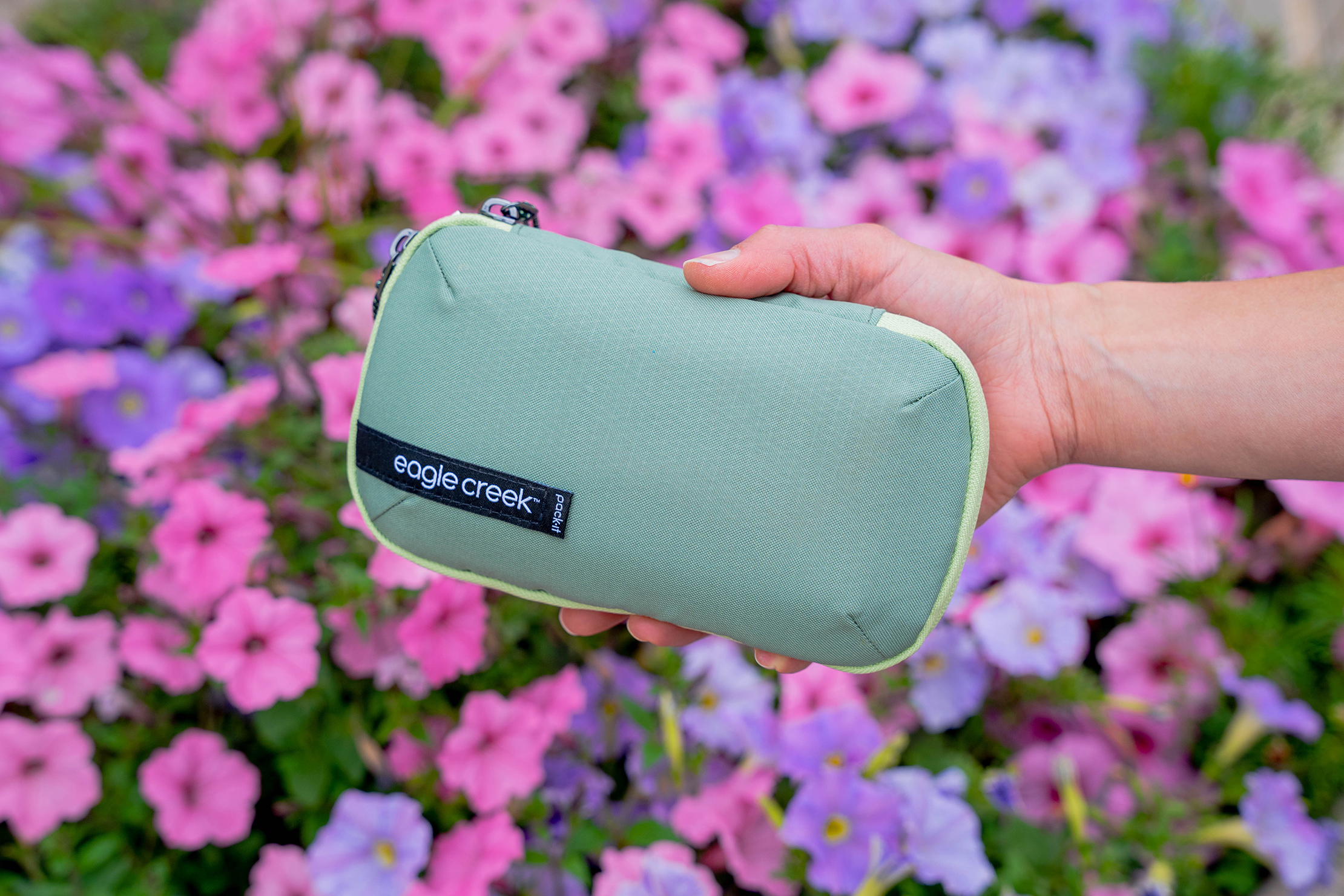 That's where the Eagle Creek Pack-It Reveal E-Tools Organizer Mini comes in—it's a handy spot to keep everything contained and easy to access in a pint-size package. We like that its small size fits into the smallest bag, though depending on the accessories you reach for daily, the diminutive size might be an impediment instead of an asset. Let's take a look, and you can decide for yourself.
Materials & Aesthetic
The two-tone Eagle Creek Pack-It Reveal E-Tools Organizer Mini is made with 300D recycled polyester. The exterior fabric has a sheen and a muted pattern we like. We tested the Mossy Green colorway, which features a soft green surrounded by a lighter green zipper. It has an earthy feel that's fun without being too flashy. If you're looking for another option, it comes in AZ Blue with a gray zipper accent, Sahara Yellow with an orangey-red accent, or black on black for the minimalists among us.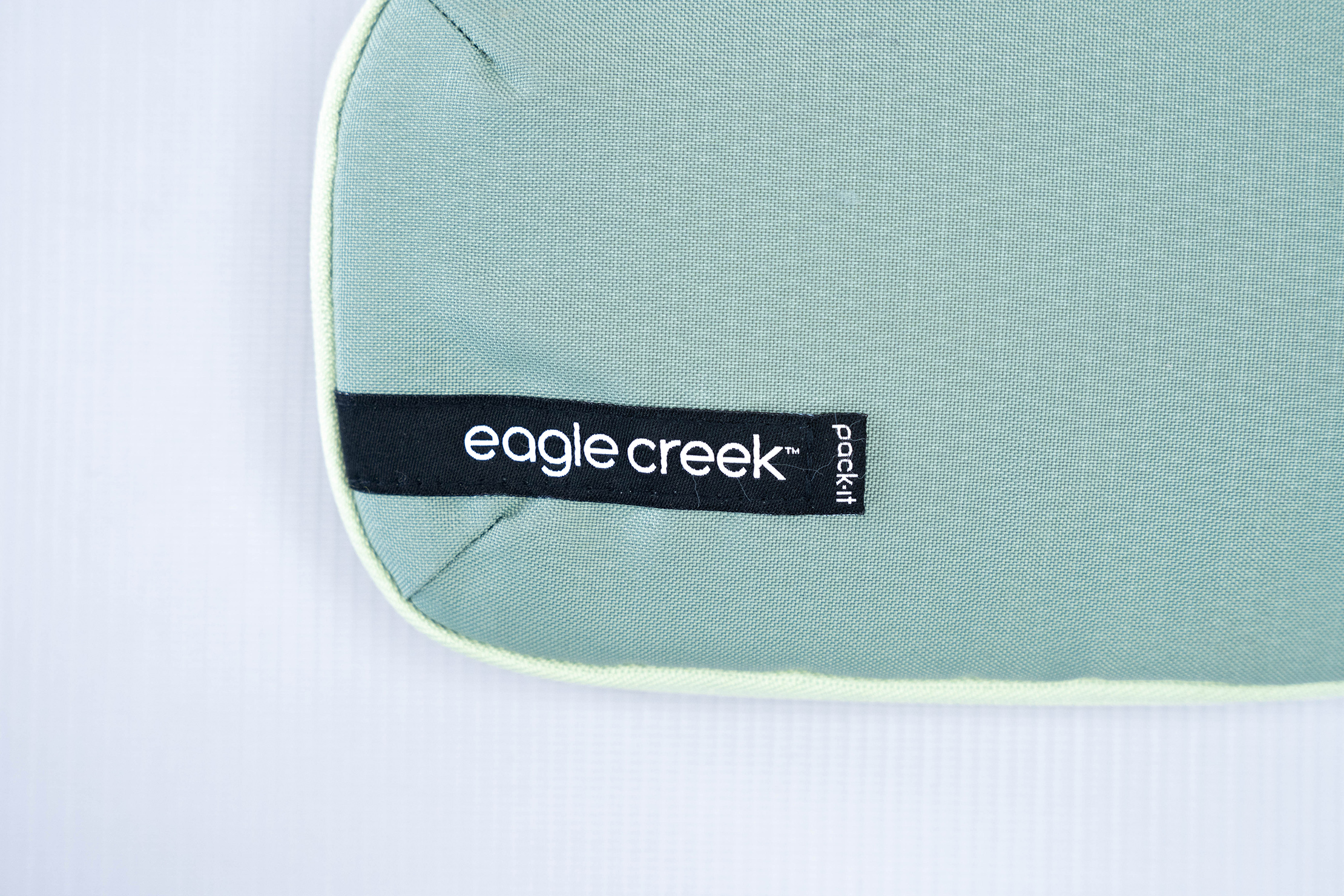 There's branding on the bottom corner of the organizer in the form of a narrow three-inch-long black fabric label sporting the Eagle Creek name. A tiny tab at the top of that label calls out the Pack-It product line. While the branding stands out, depending on the colorway we choose, it matches the aesthetics of the pouch.
A polyethylene foam padding protects the gear inside, and it also gives the pouch a pleasantly soft feel when we grab it. On the back side, a thin webbing loop runs across the top. It's handy for hanging it on a hook or attaching it via carabiner to another bag.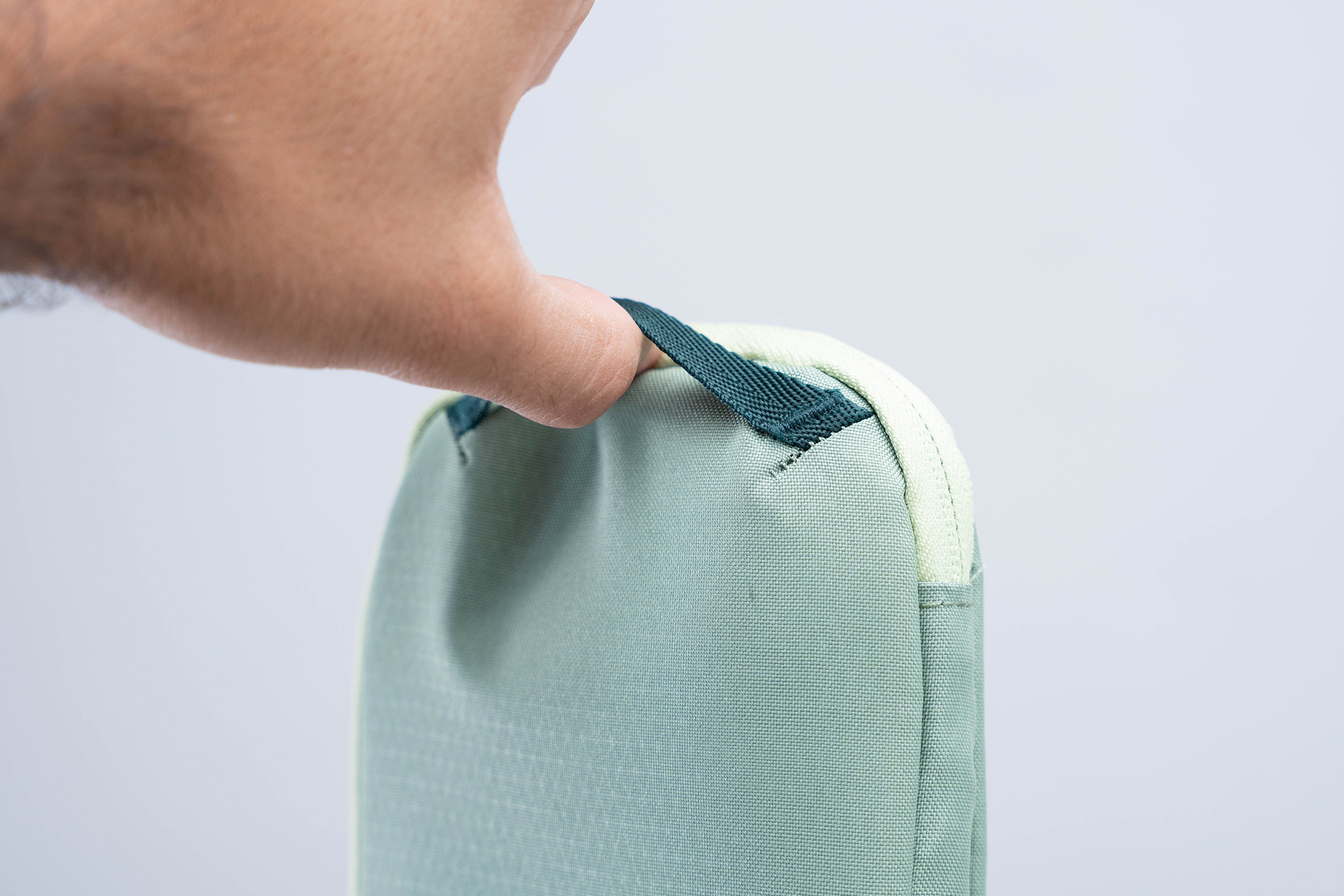 While we prefer to see name-brand zippers (like YKK) on our gear, Eagle Creek uses unbranded zippers on the Pack-It Reveal E-Tools Organizer Mini. A dual-sided zipper wraps in a C shape around the pouch, making it easy to open and lay flat for complete access to our gear when we're ready to get down to business.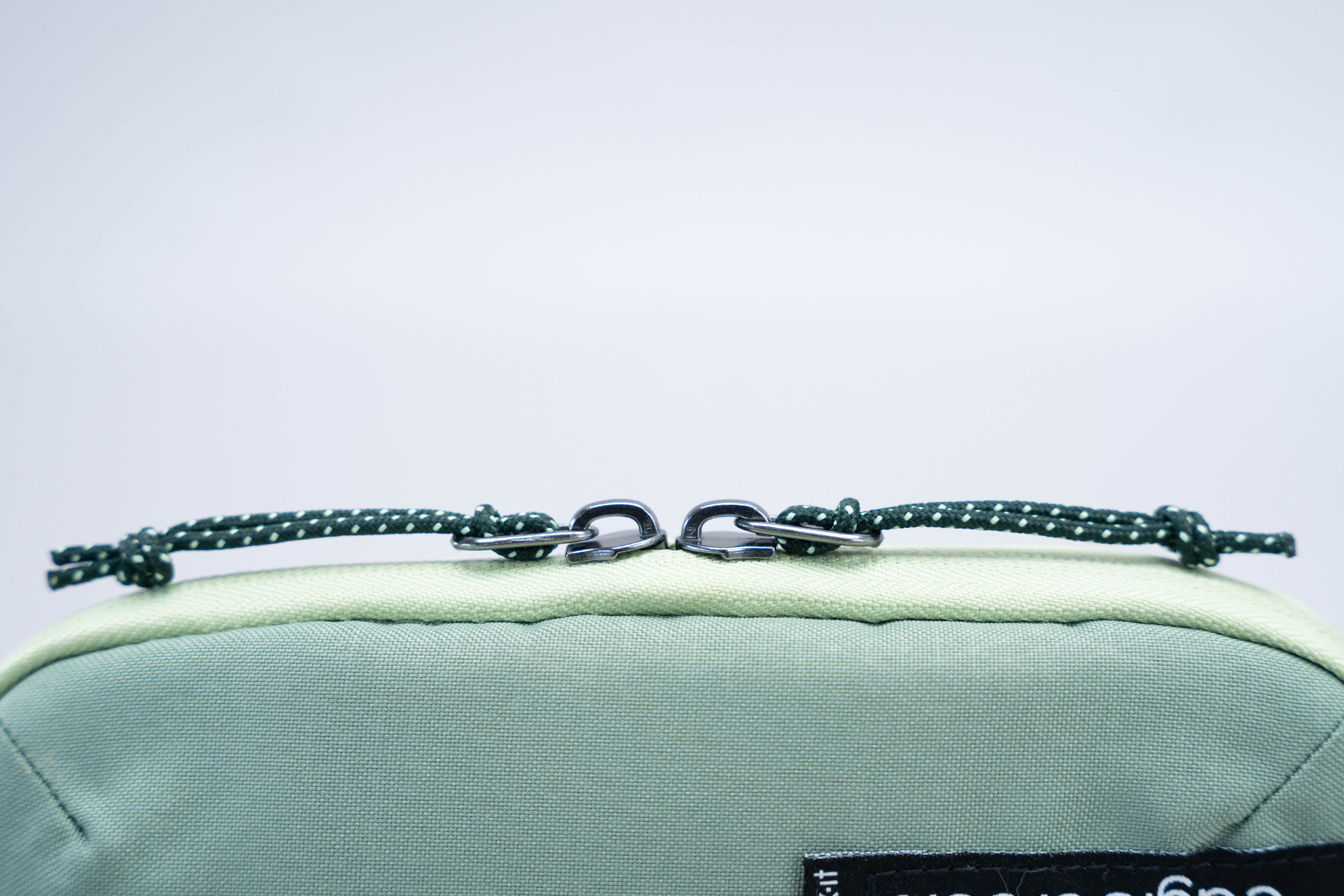 We've found the #5 self-repairing zipper works well throughout the month we've been testing this pouch, and it hasn't split despite our over-stuffing the organizer. (More on why we stretched it to its capacity later.) Two-inch cords are attached to the zipper pulls. They're easy to use and another way to grab the bag.
Now, let's take a look at this pouch's perks—and its drawbacks.
Usage and Features
A lot is happening in the small space of the Eagle Creek Pack-It Reveal E-Tools Organizer Mini.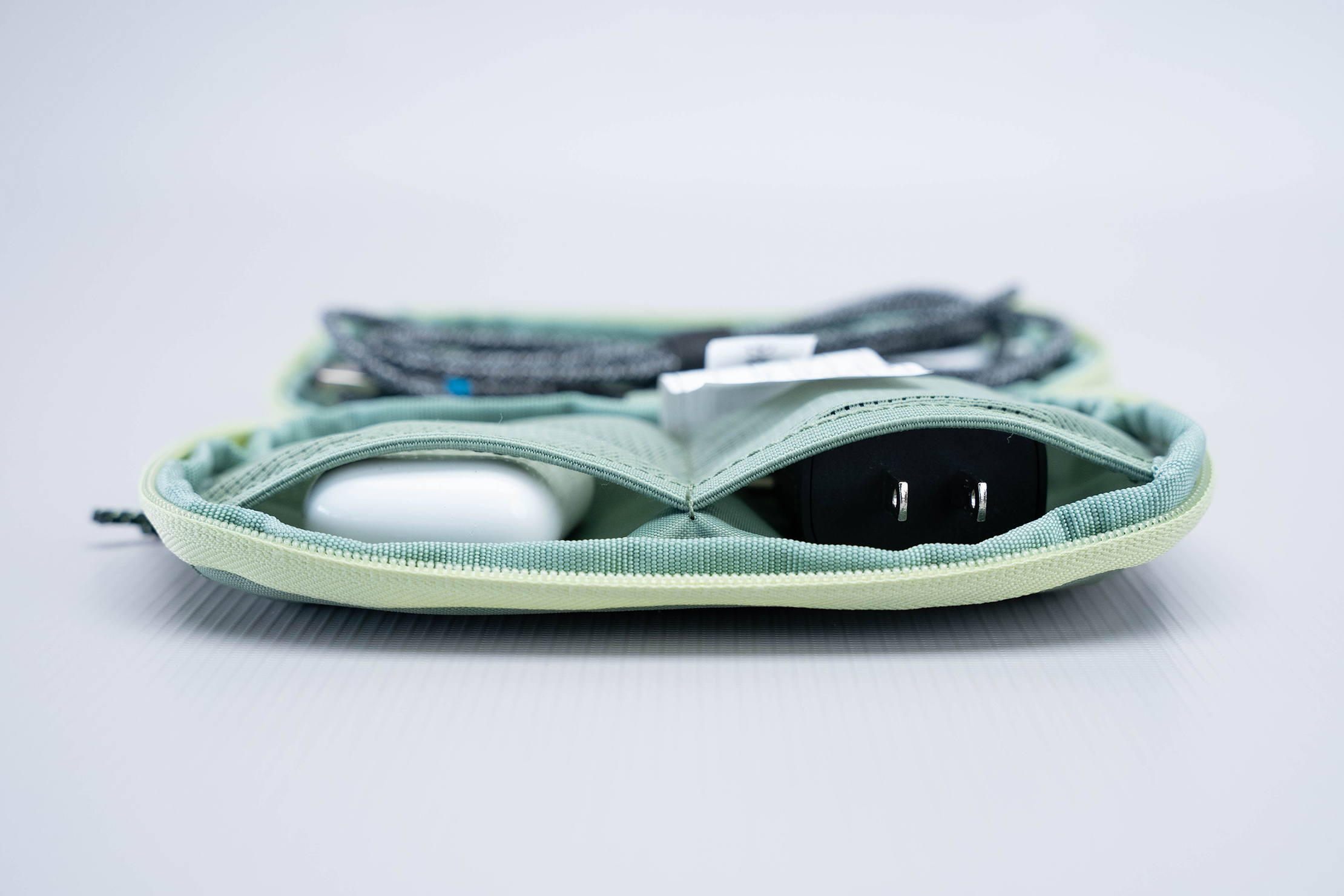 Two mesh pockets topped with stretchy elastic can hold some cords, AirPods, and small charging blocks on the back panel. Unfortunately, they're not quite big enough for a mouse—PC or Apple—which seems like a bit of a miss in a tech pouch. We can stretch the zipper around a mouse where it sticks out of the pocket, but it pushes against the side, creating an awkward bulge.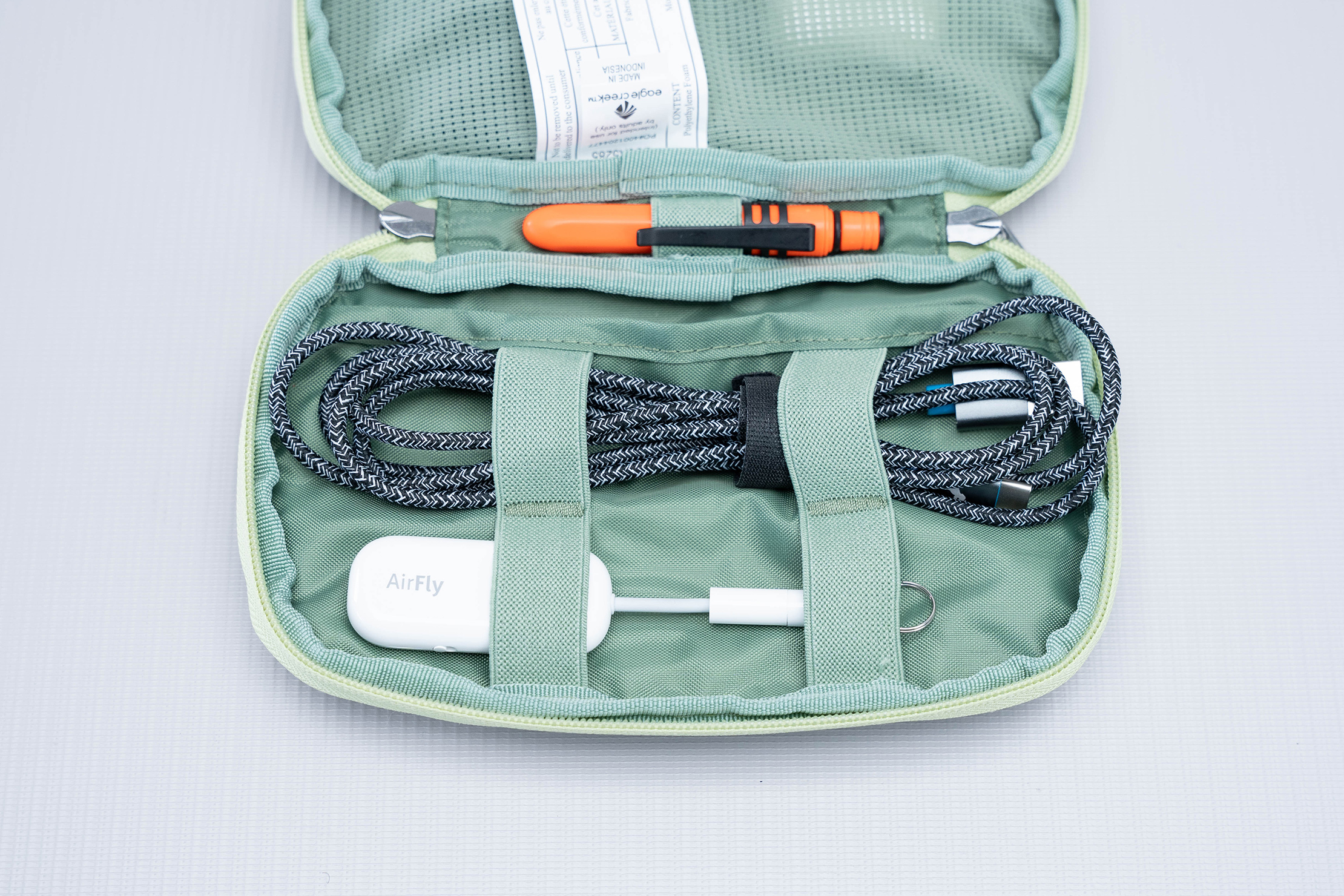 The front side features four elastic loops for cords, pens, and headphones. These work well for thinner phone and keyboard cables and headphones, though they're too tight for every type to fit; power cords for MacBooks and other laptops are too thick for the tight space.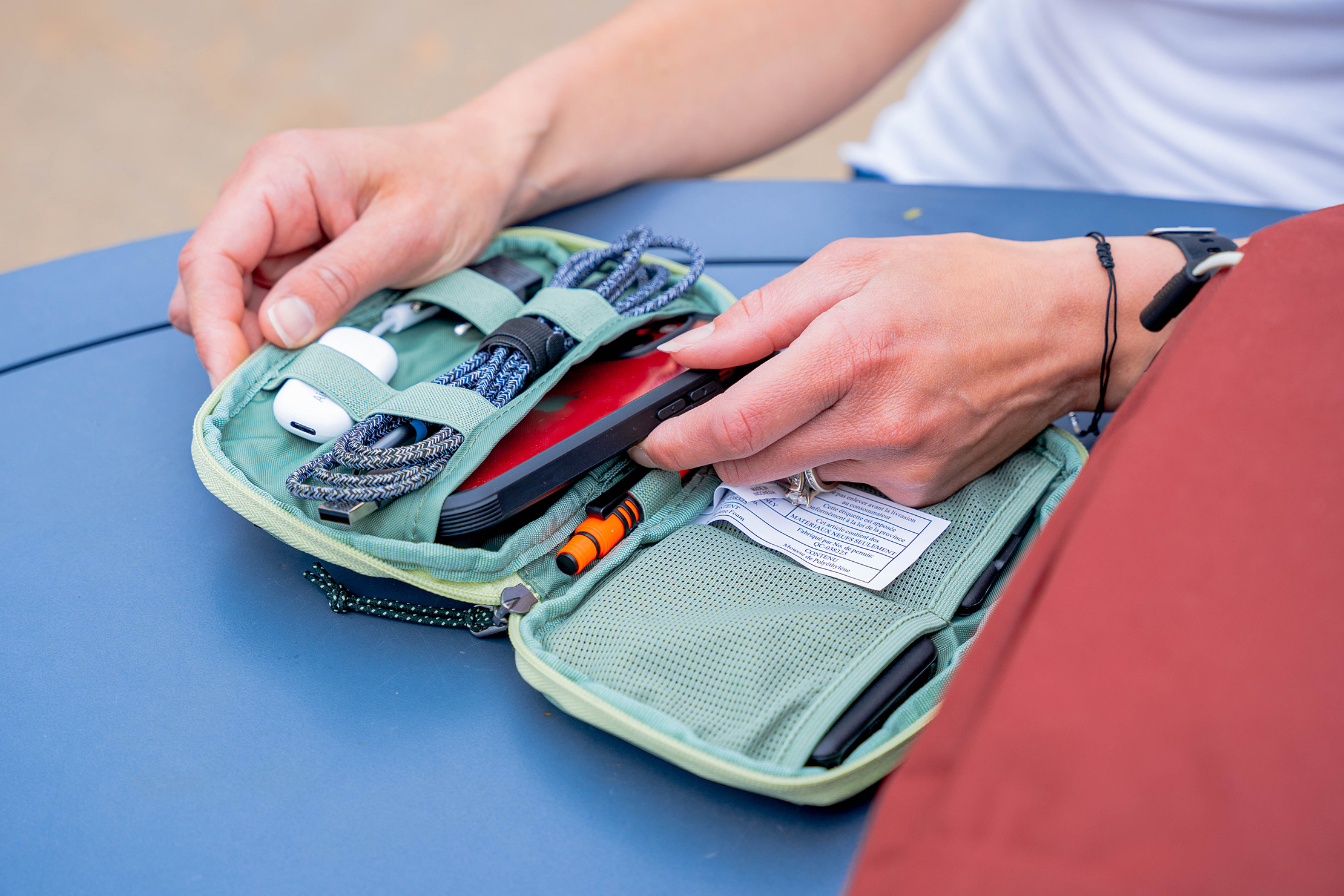 They're attached to a hidden pocket, which can be useful depending on what we've stashed in the mesh pockets on the other side. We use it for thicker cables, a mouse, or even a phone, but putting too many thick items on either side of the pouch makes it difficult to zip up. When we're traveling, it's also a good spot for a passport or credit card to purchase in-flight snacks.
There's one more elastic loop between the two panels where we can slide a pen, but not much else. It's nice to have handy for jotting a note or filling out customs and immigration forms, and it takes advantage of otherwise unused space between the two panels.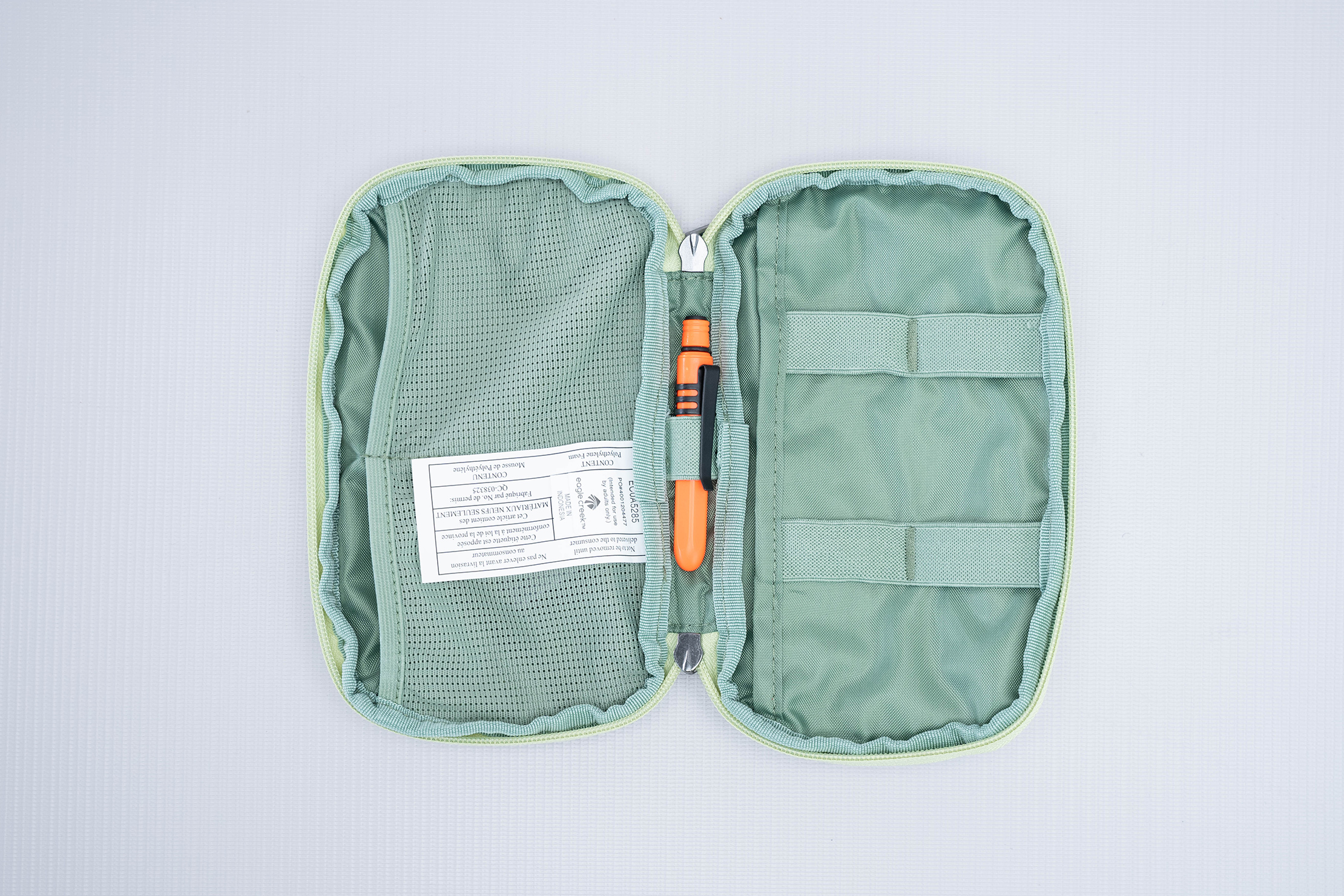 While the pouch has held up well over nearly a month of testing, we have managed to get a few spots on it that need more than just a little scrubbing to remove. The water we used to clean it didn't seem to penetrate the interior, so that's a point in favor of the Pack-It Reveal E-Tools Organizer Mini.
All of this combines into a package that works for a casual tech user but may be too small if you're trying to cart your entire office with you wherever you go. Can you get away with just packing headphones, one power cord and charging block, a phone cord, and a pen? If so, this could be the organizer for you. Otherwise, check out the Pack-It Reveal E-Tools Organizer Pro for more space.
Usage Timeline
Initial Usage
Condition: Excellent
Hidden pocket fits a dongle or battery pack
A pen fits in between the organizer's two sides
Padding protects tech gear
2 Weeks of Use
Condition: Excellent
Fabric can be hard to spot clean
Straps prevent tech from slipping out
Doubles as a Dopp kit
1 Month of Use
Condition: Excellent
Zipper stretches to fit larger accessories
Digging the colorways
Easy to squeeze in anywhere, even small bags
Access the Pro Community Discussion
Get your questions about the Eagle Creek Pack-It Reveal E-Tools Organizer Mini answered from our team and the Pro Community right here on the page. Plus, join discussions with other members about gear, guides, and more.
Other Organizers & Pouches Reviews