The Ridge Bolt Action Pen Review
While The Ridge Bolt Action Pen looks professional and is satisfying to retract, the titanium version is a bit heavy and takes a while to get used to.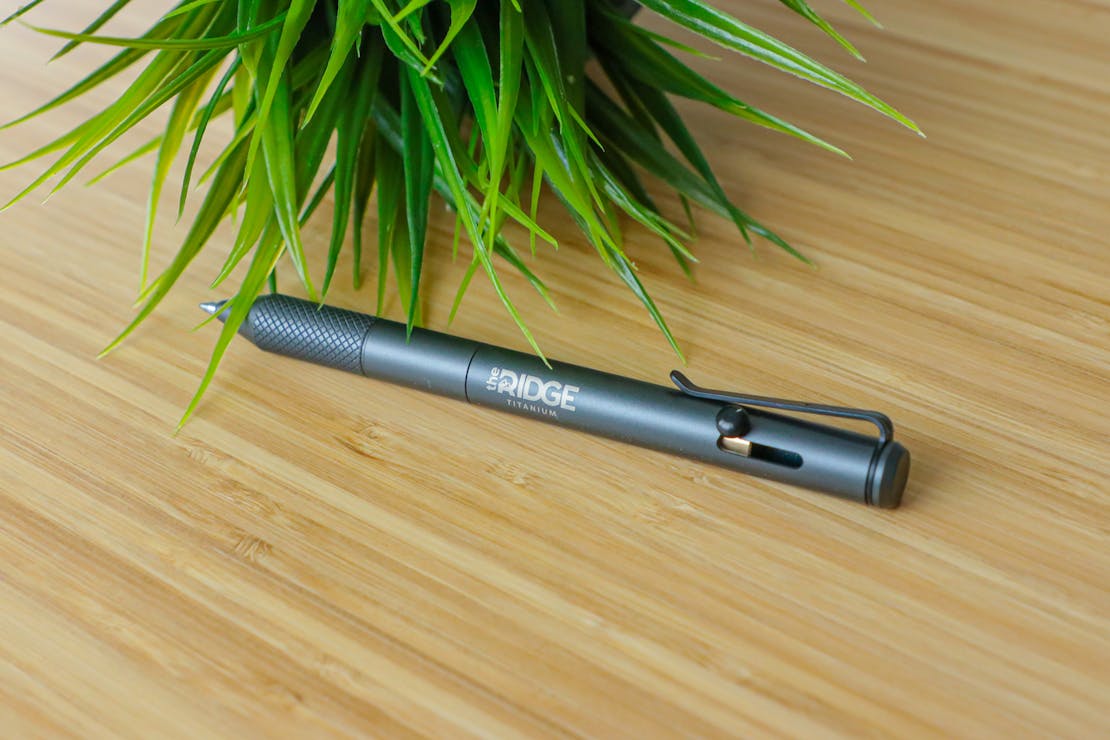 Our Verdict
Unlock the Pro Summary
Save time. Get access to brief summaries of our reviews so you can browse and make decisions more efficiently.
Pros
Textured area helps with grip
Bolt action is less likely to release in your pocket
Sleek and professional look
Cons
Titanium is heavy compared to regular pens & adds weight to bag
Ink can sometimes come out too thick
Weight takes some time to get used to when writing
Recent Pack Hacker Video
Technical Details
Weight (oz)

1.5 oz (42.5 g)

Dimensions

5.3 in (13.5 cm)

Notable Materials

Steel

Manufacturing Country

China

Warranty Information
Full Review
We don't have to tell you how useful a pen is while traveling. We've learned not to count on the airline or airport to have them on hand for custom forms when flying internationally. Or maybe you're the poetic type, and traveling across mountains, oceans, and time zones inspires you to write some prose. It's also handy in case you want to write your phone number down and give it to someone you meet along the way. That's still a thing that people do, right?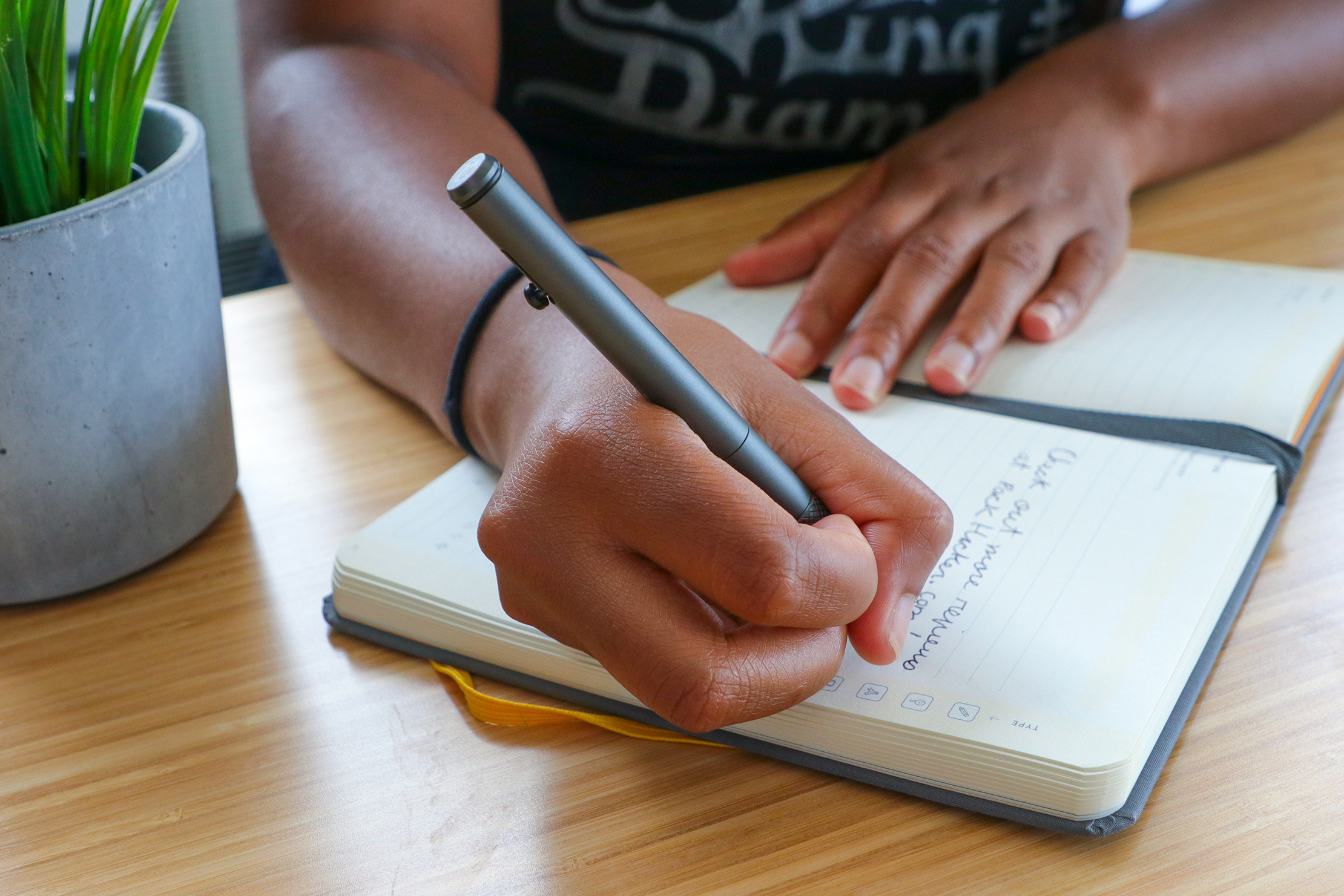 Okay, so we just told you how a pen can be useful while traveling even though we said we wouldn't. Sorry about that. If you're in the market for a travel pen, though, the Ridge Bolt Action Pen could be a solid choice. It has an incredibly sleek design and a professional look. Looks aside, one huge caveat is its hefty price tag. If you're going to pay a pretty penny for a pen, then it better be mind blowing. After testing the Ridge Bolt Action Pen for two weeks, we can't really confidently say it's amazing enough to warrant such a price tag, but it does have some benefits.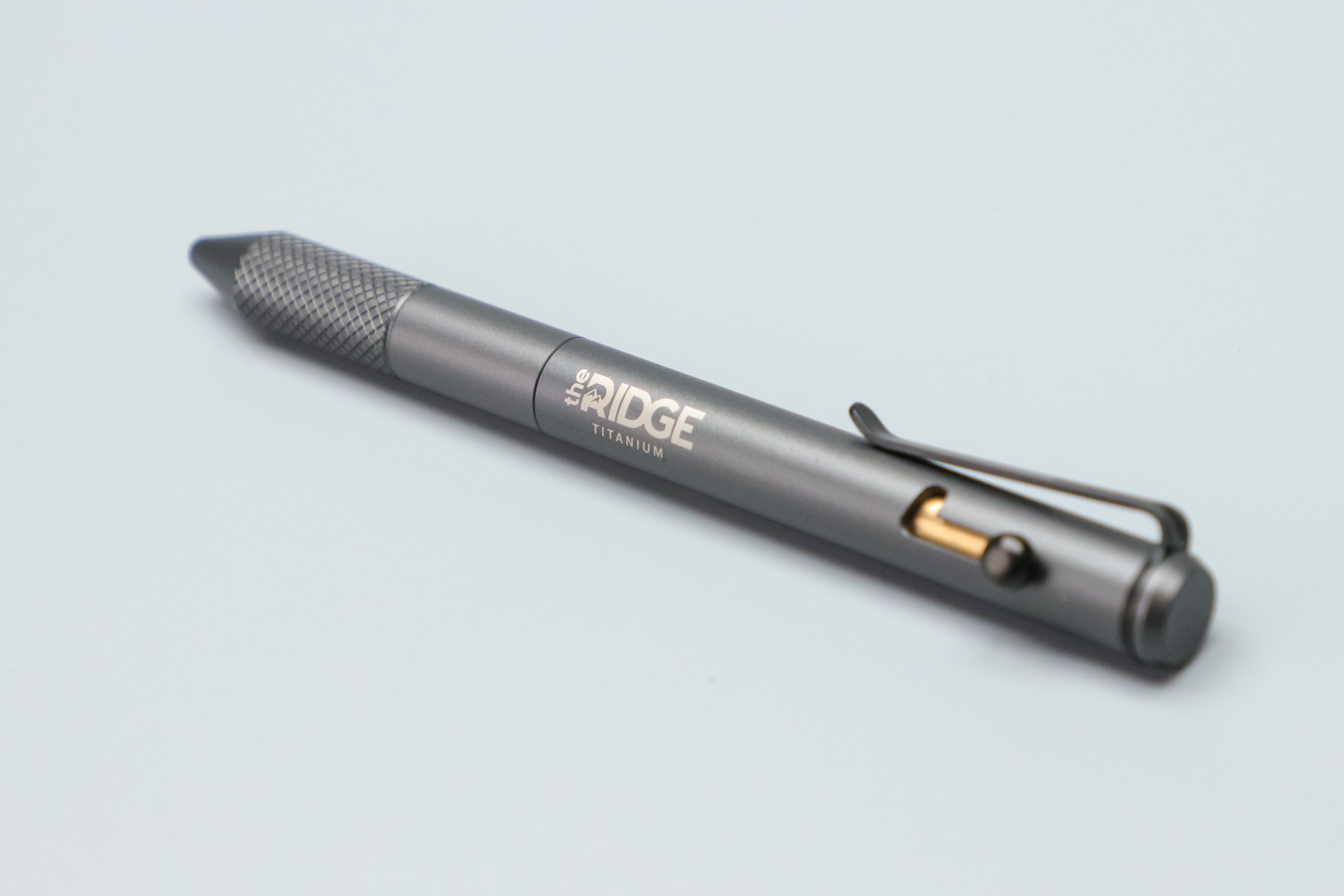 In case you aren't familiar with the brand, The Ridge makes mostly everyday carry gear and accessories from backpacks to phone cases, but they're most known for their minimalist wallets. They also make some travel gear, and since pens can fall within both categories, it makes sense that they would offer them as well.
Before we get into all the details of The Ridge Bolt Action Pen, just note that it's available in two different materials. It comes in a titanium version that's gunmetal grey, and an aluminum version that's black. The aluminum version is slightly cheaper than the titanum, though the features are otherwise the same. We'll be focusing on the performance of the titanium, as that's the version we tested for two weeks.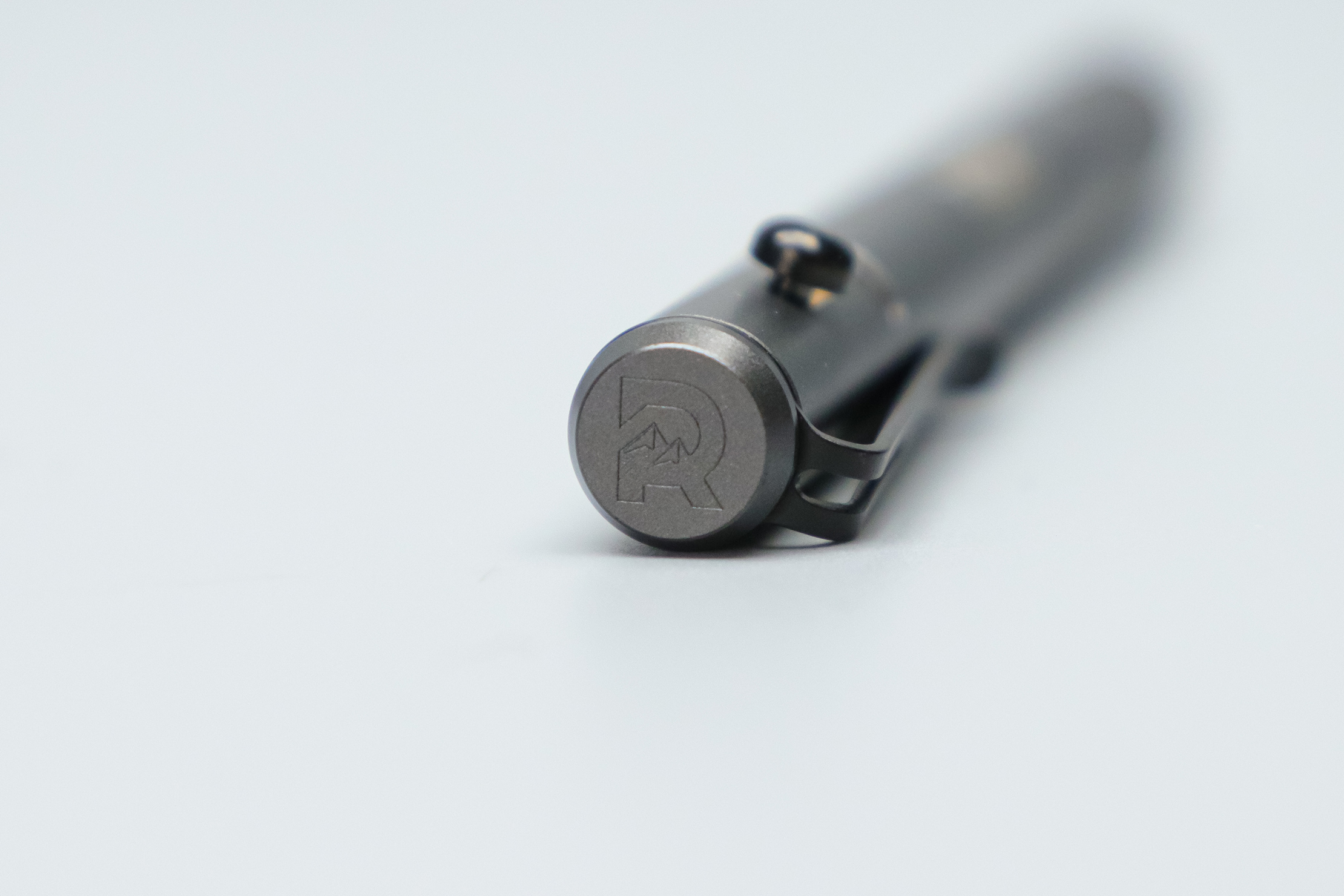 The titanium version actually has "titanium" etched onto the front, so everyone who sees you writing with this pen will know what you're working with. In terms of branding, we felt this was a bit unnecessary and (along with The Ridge logo) disrupts the minimal, professional look of the pen. There's a sneaky "R" logo on the tail end of it that we feel would have sufficed in keeping with the minimalist aesthetic. Otherwise, the titanium feels smooth in hand and looks pretty suave.
Features & Usage
Now, you may be wondering, what the heck is "bolt action?" Basically, it has an L-shaped mechanism to deploy the ink refill. Not only is it a smooth movement, but it also helps reduce the chance of it clicking into place accidentally while in your pocket or bag.
In short, it's incredibly satisfying to use, from the fluid motion to the snappy clicking sound it makes when you activate and retract it. So if you're bored and fidgety while you're waiting at the airport or train station, you'll have something to occupy those restless fingers. At least until the person next to you gets annoyed.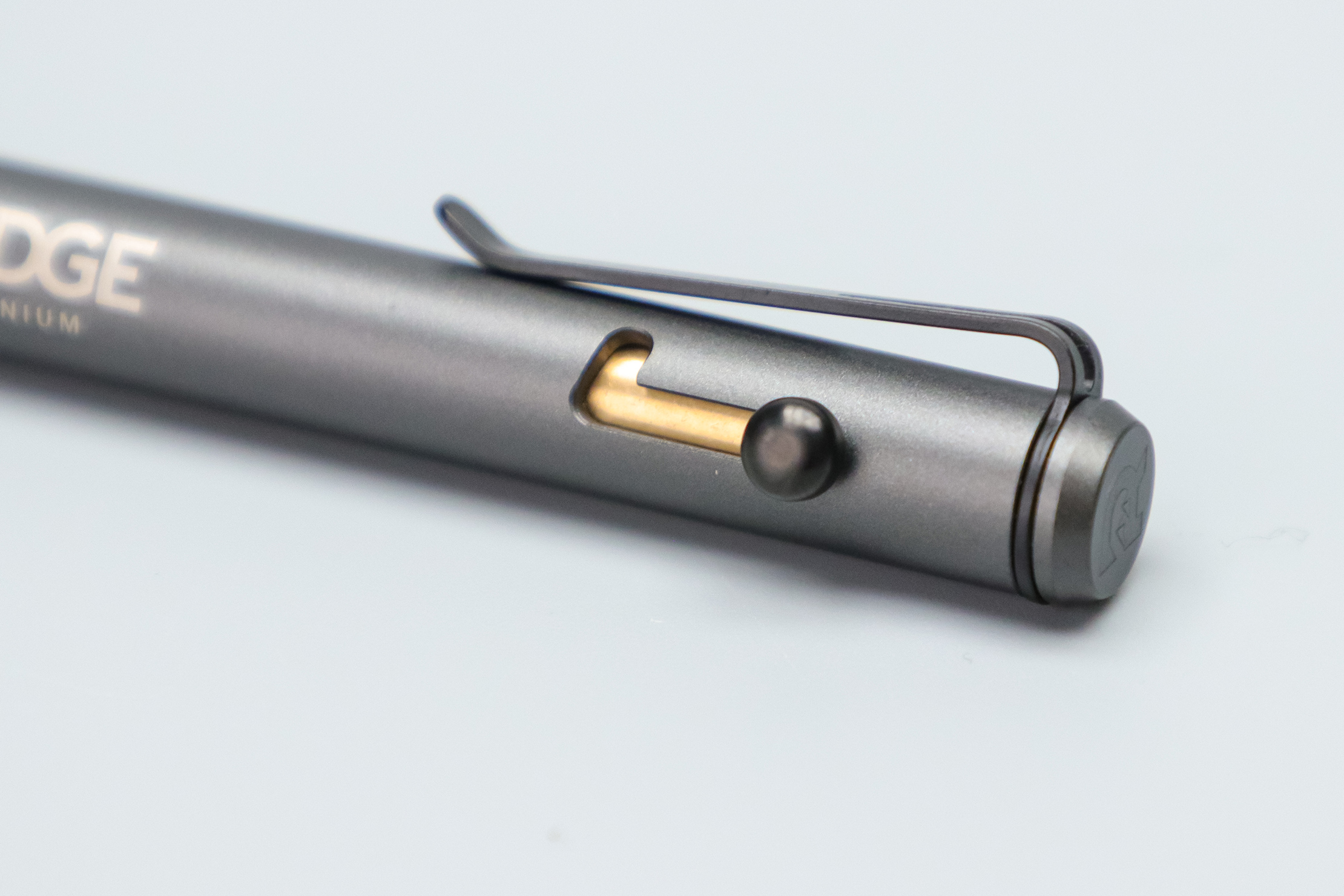 While that's the main feature, and the best thing about this pen in our opinion, there's a few other things that set it apart. Both the bolt action knob that you use to deploy the ink and the spring steel clip on the side help keep it from rolling away on the table. We've had issues with runaway pens with others we've tested like the Baronfig Squire Rollerball Pen, so we're glad that's not a problem here. Having an expensive pen roll off the table and into oblivion is not fun.
Near the tip is a textured area that helps you get a good grip on the pen while writing. To be more specific, it's a CNC Lathe Knurled Textured Grip according to The Ridge's website. While that feels a lot like marketing jargon, it actually is helpful since the smoothness of the titanium can be otherwise slippery.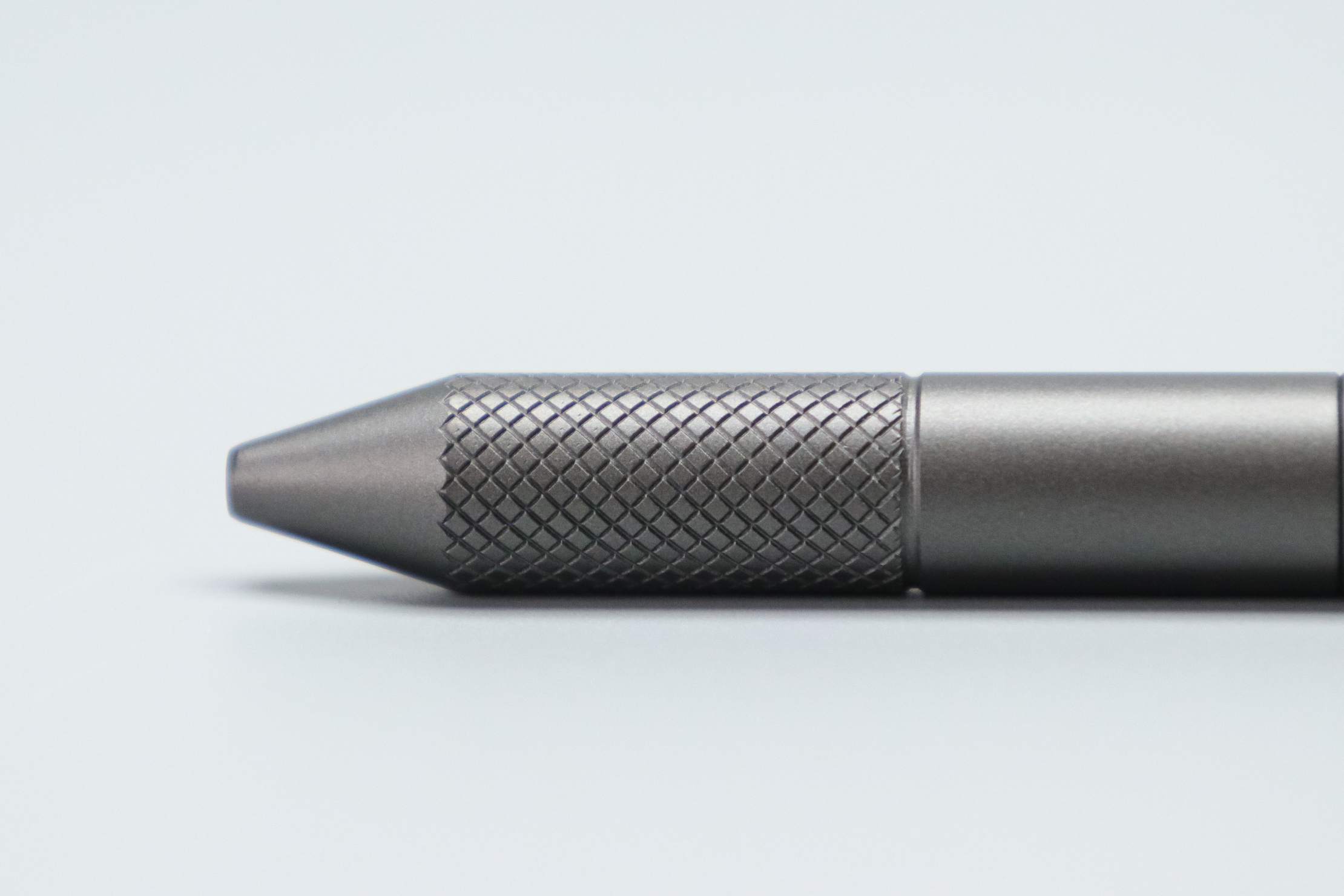 The Ridge says that the weight of the pen is evenly distributed to make for a flawless writing experience, but we didn't find this to be entirely true. To be straight up, the titanium version of this pen is heavy. That means not only will it add weight to your bag, it feels a bit unwieldy and clumsy to write with. We found that it sort of weighs down in your hand and it takes some time to get used to writing with something so heavy. The ink itself sometimes comes out a bit thick and practically glides across the page. While this is not necessarily a bad thing, when coupled with the sheer weight, it can make for some sloppy handwriting as you get accustomed to controlling it.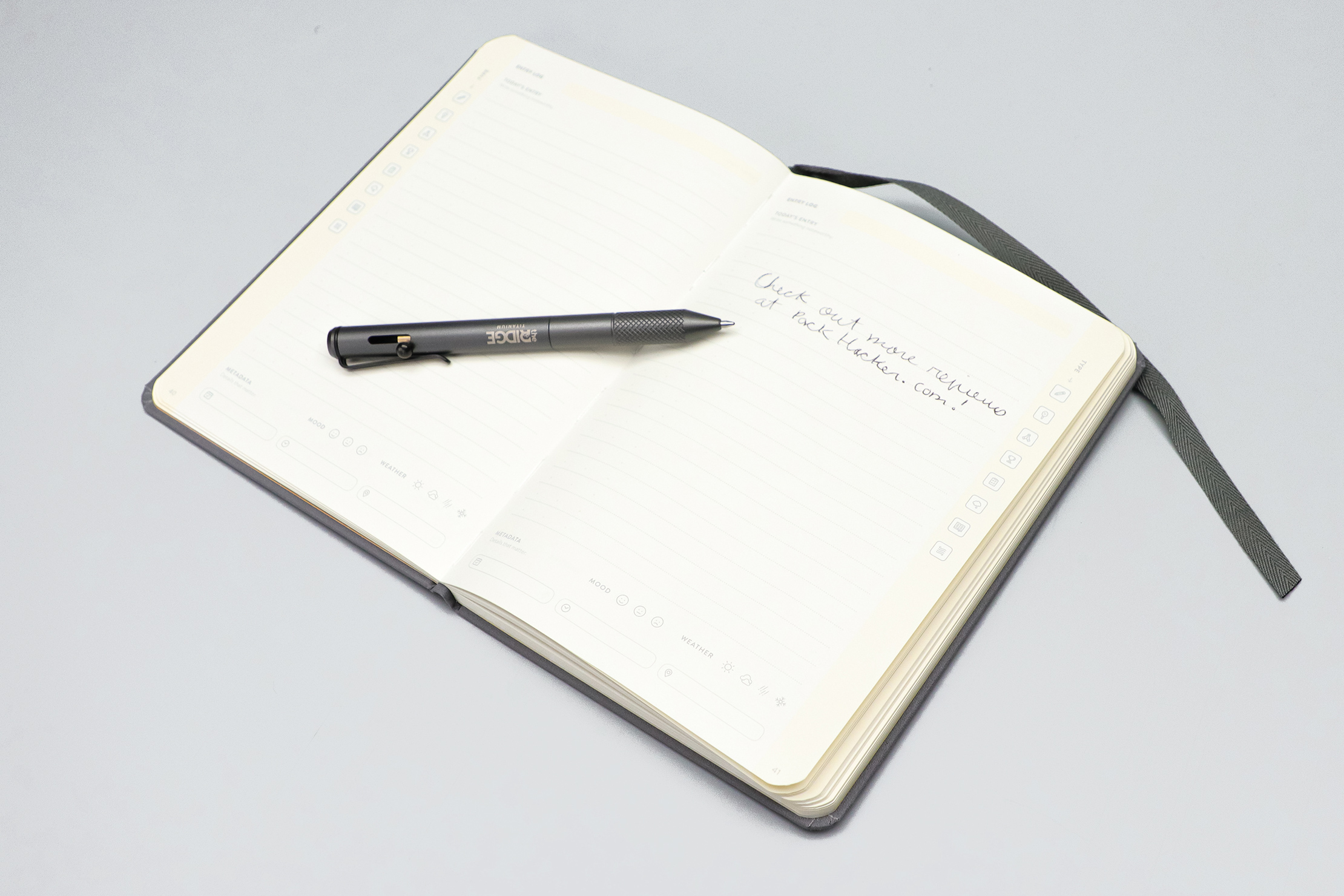 Apparently, the pressurized ink refill has a 100 year shelf life. We cannot vouch for this, for obvious reasons, but maybe our children's children can update the usage timeline at the bottom of this page if it becomes an everlasting family heirloom.
Overall, The Ridge Bolt Action Pen is satisfying with a professional aesthetic. It does take time to get used to writing with such a heavy pen, however, and we can't confidently say that it lives up to its lavish price tag for us.
Usage Timeline
Initial Usage
Condition: Excellent
The pen's diameter is relatively thick
Has a textured surface for gripping
A bit weighty for a pen, but does feel sturdy
2 Weeks of Use
Condition: Excellent
Textured area actually does help you grip the pen easily
It is quite heavy, and due to the weight it doesn't always write the smoothest
Lever is incredibly springy, and the pen has a sleek profile overall
Access the Pro Community Discussion
Get your questions about the The Ridge Bolt Action Pen answered from our team and the Pro Community right here on the page. Plus, join discussions with other members about gear, guides, and more.
Other Productivity & Tech Reviews