Moment MTW Tech Organizer Mini Review
The Moment MTW Tech Organizer Mini is an everyday tech pouch with a minimalist design, though some gear jostled out of the pockets during use.
Our Verdict
Unlock the Pro Summary
Save time. Get access to brief summaries of our reviews so you can browse and make decisions more efficiently.
Pros
Small size is great for daily use & minimalist travel
Flexible material helps it fit in tight bags
Nests into regular size MTW Tech Organizer Mini
Cons
Easily collects fuzz and pet hair
Lack of structure makes zipping difficult
Pocket elastic is a little loose
Recent Pack Hacker Video
Technical Details
Weight (lb)

0.18 lb (0.1 kg)

Dimensions

5.2 in x 8.75 in x 1.6 in (13.2 x 22.2 x 4.1 cm)

Notable Materials

Kodra Nylon, Polyester, Polyethylene, YKK Zippers

Manufacturing Country

Vietnam

Warranty Information
Full Review
Get up to 20% off Moment • Join Pack Hacker Pro
You know that frustrated feeling you get when you have just enough cord action on a day-to-day basis to be annoying, but you're not quite at the point where you need a full organization kit to keep everything straight? That's where the Moment MTW Tech Organizer Mini comes in.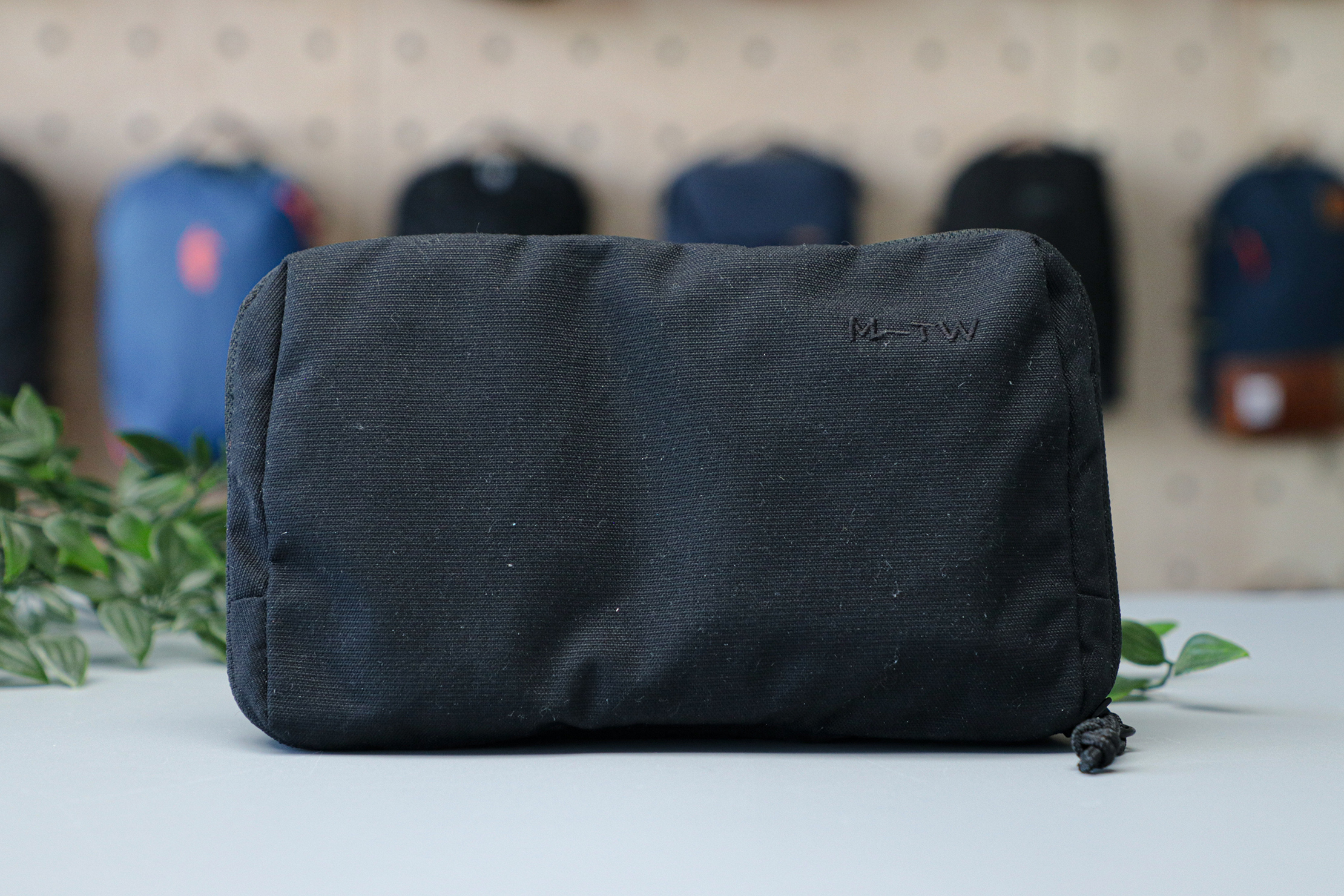 Whether you're going to and from the office or taking a longer trip where you'll be working on the go, this tech organizer keeps things as basic as humanly possible so that your pack doesn't get taken over by errant charging cables or a bulkier-than-necessary pouch.
But, is there such a thing as too simple? We wondered the same thing, and here's what we found.
Materials & Aesthetic
This EDC-friendly pouch is just under 8.5 inches long and made with flexible Kodra nylon. It's less thick and structured than the regular size MTW Tech Organizer, which means it's easier to wiggle it into oddly-shaped pockets or shove it into the last few inches of precious space in your duffle. Its flexibility also comes in handy if you've got bulkier cords because the pouch easily expands to accommodate larger gear.
At the time of writing, this tech pouch comes in a single colorway—the black exterior and creamy interior. Though we're the first to say that we love a solid monochrome look, it's worth noting that there aren't any other options to really let your personality shine. That being said, the Kodra nylon has a matte-like finish that we thoroughly enjoyed. It did pick up lint, dust, and pet hair pretty quickly, but we were able to get any blemishes off with a lint roller or damp rag without issue.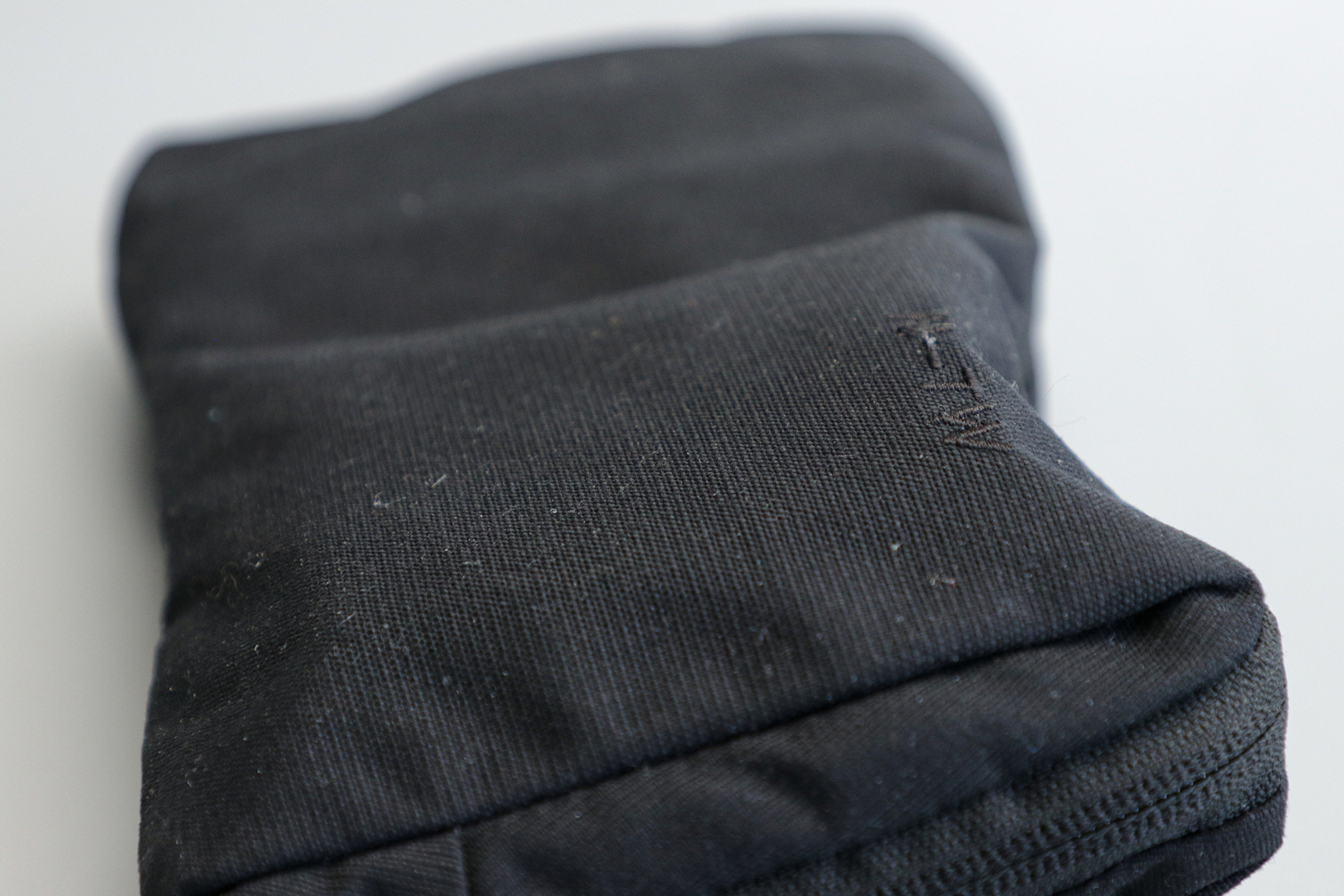 However, because of this more scrunch-able fabric, we found that it takes a little more effort to close the pouch. The YKK zippers are as reliable as ever, but the material can buckle as you zip around the corners. This is an easy fix—all you need to do is shift your hand for some added support—but it does make one-handed zipping difficult.
There's also a waterproof coating, which we didn't have to rely on in a real-world setting, though it stood up to some pretty solid faucet action. When we put it under a steady stream for about 10 seconds and held it down in a few inches of sitting water, the shell had a 50/50 reaction to absorbing and shedding moisture. Any water that did soak in didn't make it through to the liner, so although we wouldn't recommend leaving your tech out overnight in a rainstorm, it's probably safe if you drop it in a shallow puddle.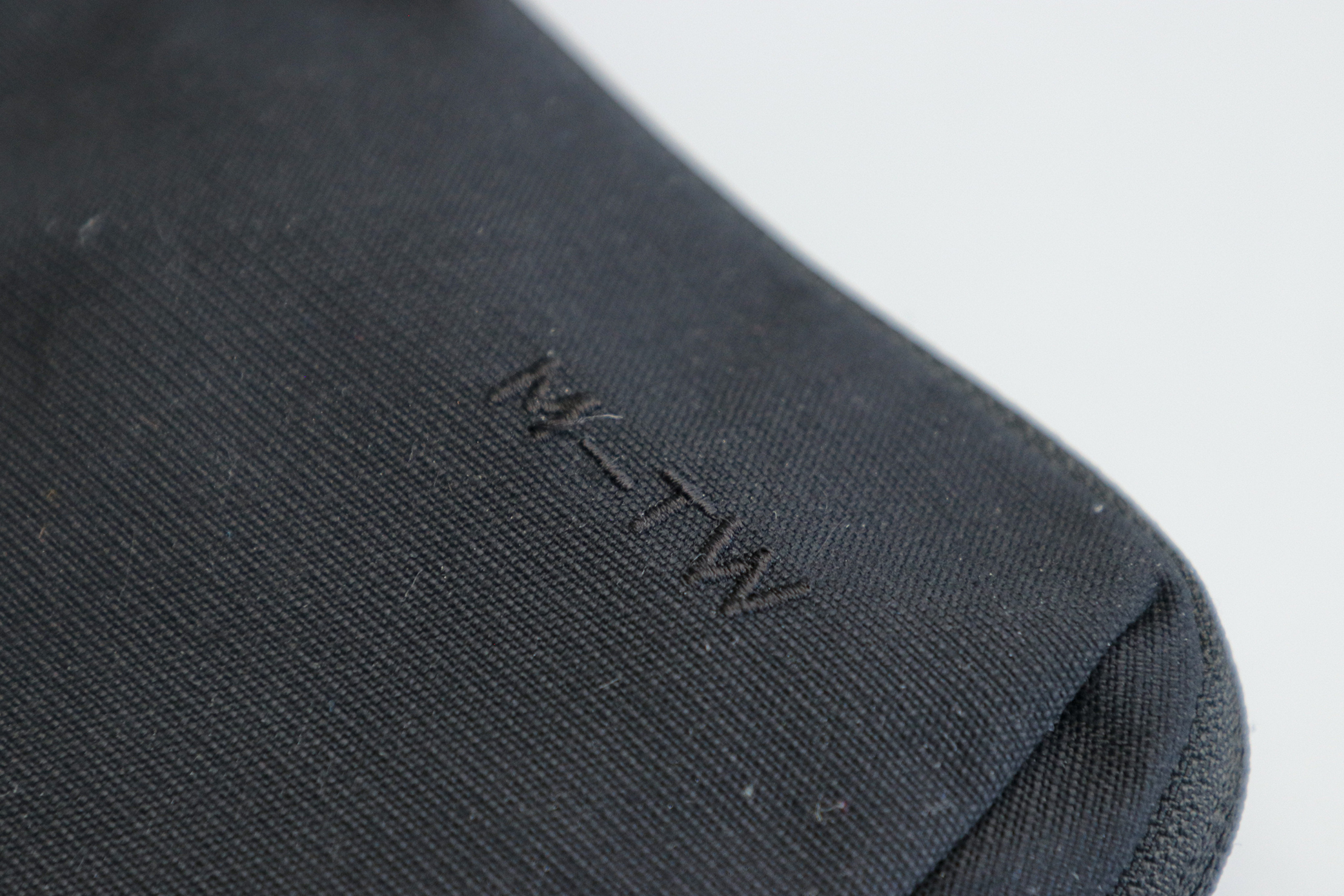 Moment took a minimalist approach to the design, adding no branding to the exterior beyond the embroidered M-TW on the upper right corner. With black-on-black threading, we hardly even remembered it was there. Unfortunately, a small thread started coming loose over three weeks of testing, though it's barely even noticeable because it blends in so well with the shell.
As for the interior, the polyester interior lining is a sort of hybrid cream/grey/greenish color that changes depending on the light. We like the contrast that the color adds to the exterior and that it makes it easy to see what's inside, even in low lighting. There's a little black patch of Moment branding on one of the pockets, which is a nice contrast to the otherwise solid color liner.
Overall, this pouch is aesthetically pleasing and simple, which is a welcome change from other tech pouches that take a more technical design approach. Being useful in real-world settings, however, is even more key.
Features & Usage
Unlike the regular size MTW Tech Organizer, which also has a clamshell opening, the Mini lays completely flat when it's open. Its big sibling has gussets and a wider base to keep it standing up, but this one has nothing to help support the weight of your gear in the pockets on either side, so it'll fall open every time.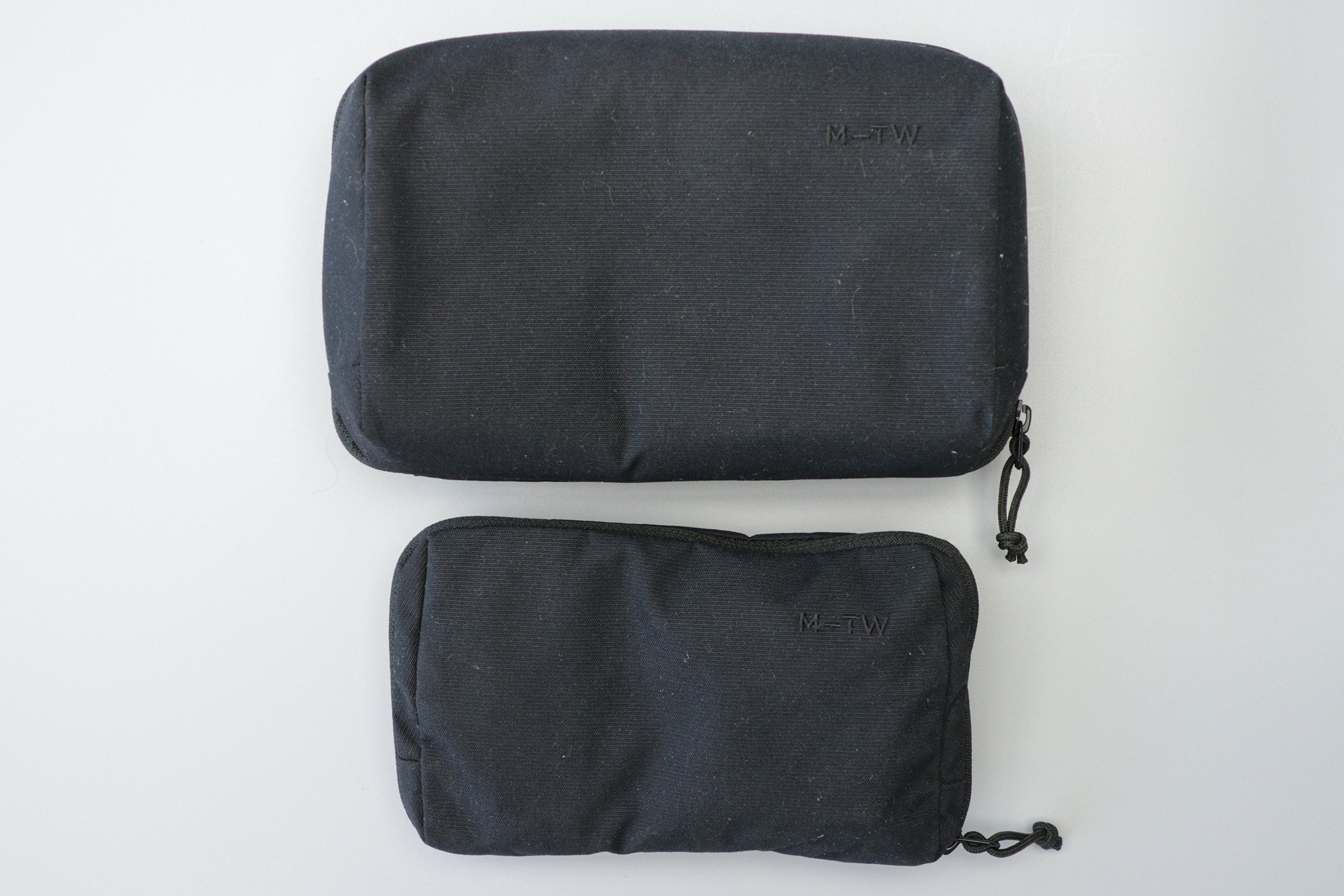 The only thing that slightly increases support is when you put a pen in the center loop, though it's not enough to keep the bag up on its own. This loop keeps your pen snug in place, and we had no issues closing the pouch while it was in there, even with bulky gear packed.
With five total pockets—three equally sized on one side and two slightly staggered sizes on the other—you've got a range of choices when it comes to packing things in. The three small pockets are great for wrapped-up charging cables, wired and Bluetooth headphones, and any other small trinkets that you want to keep on hand. The other side features a pocket that easily fits a USB-C power adapter and a slightly smaller pocket that can hold the charging cable itself.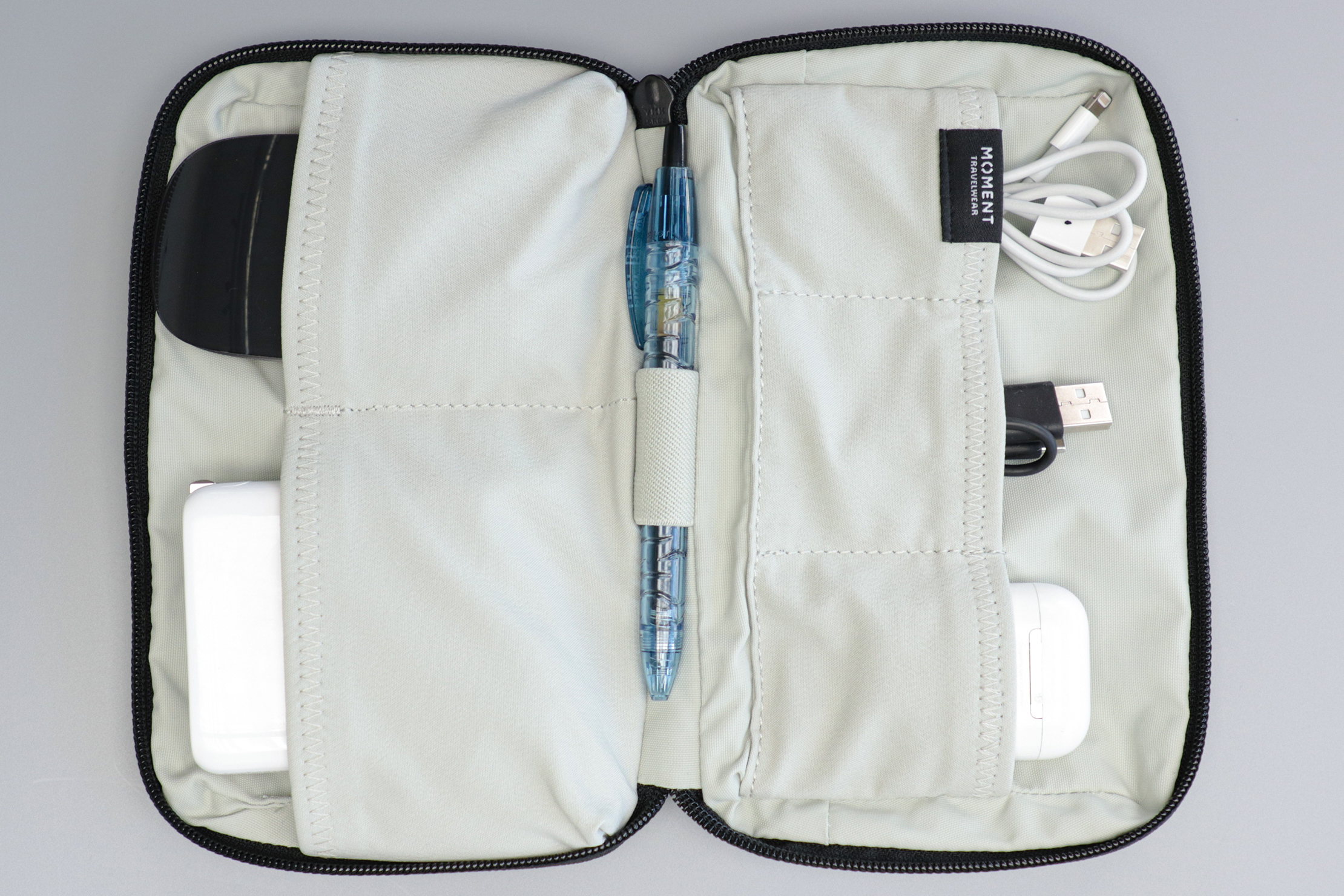 Each pocket has elastic at the top hem, but it's not particularly tight, so it doesn't do an incredible job at really locking things in place. We can definitely see it stretching out over time if we take too much advantage of the pockets' expansion abilities.
We had no major issues with our stuff entirely falling out, but smoother items like an AirPods case or Magic Mouse moved around quite a bit and would sometimes wiggle a little too far out for our comfort. Cables, however, fit in nice and snug and stayed that way.
Though there aren't many pockets, it gave us just enough space for day-to-day usage. There was room left over to throw in errant cables if we had extras that needed to come along, and it still easily zipped closed. Was it pretty? No. Did it work great for short trips when we needed to fit in one or two more cords? Definitely.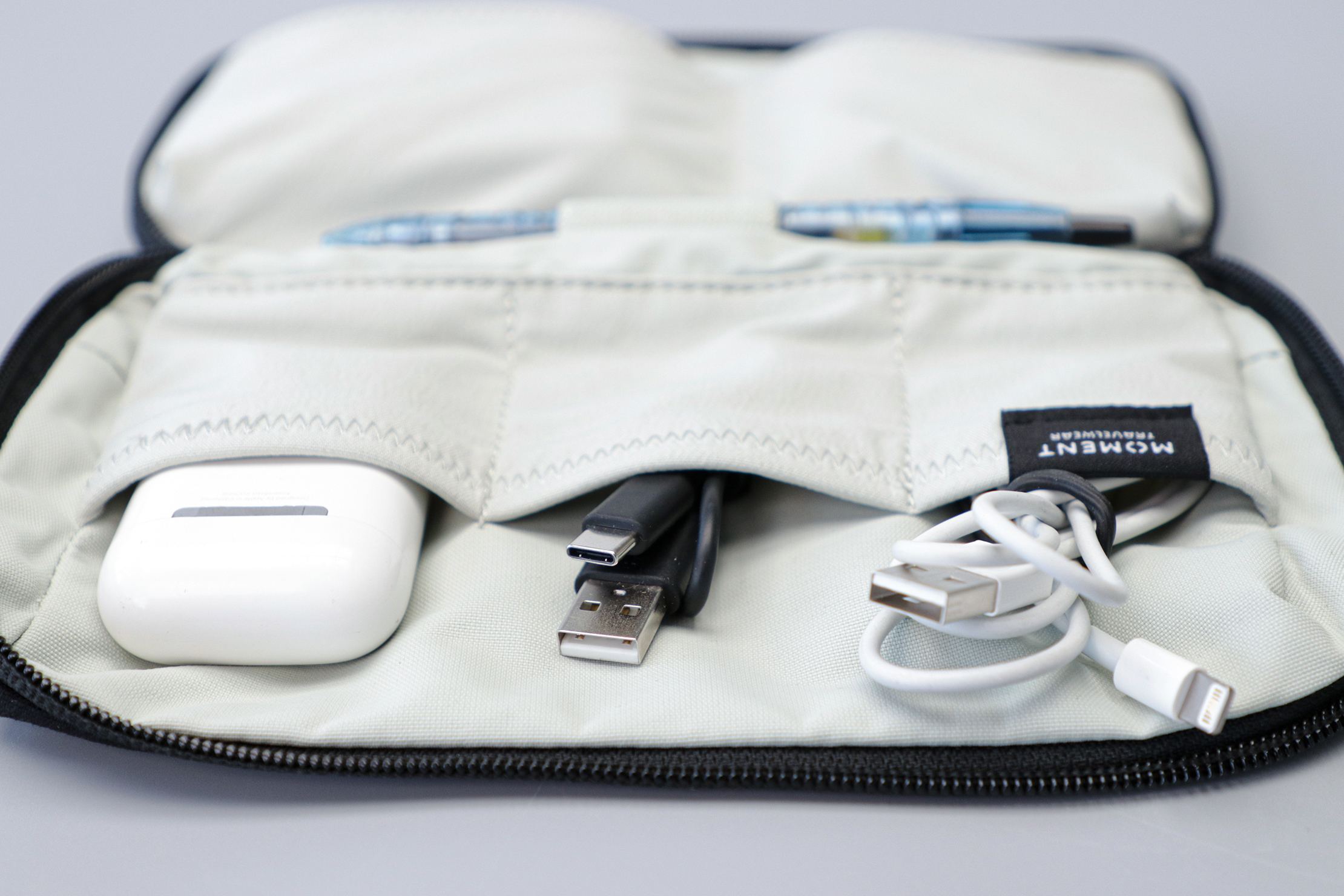 We didn't feel like we were ever missing out on cord storage with this Mini, but if you're into maximizing space like we are, do we have some excellent news for you! Moment designed the MTW Tech Organizer and MTW Tech Organizer Mini to integrate, meaning that the Mini fits within the regular size pouch. It nests in on either side of the divider, though we found that if both pouches were full, it was nearly impossible to close the larger pouch around everything inside.
This means that you have to sacrifice the three loops on one side of the divider or some of the outer pockets in the larger pouch. However, the Mini has five pockets, and there are only three elastic loops on the divider, so you still make out with a little more space than before. Because math.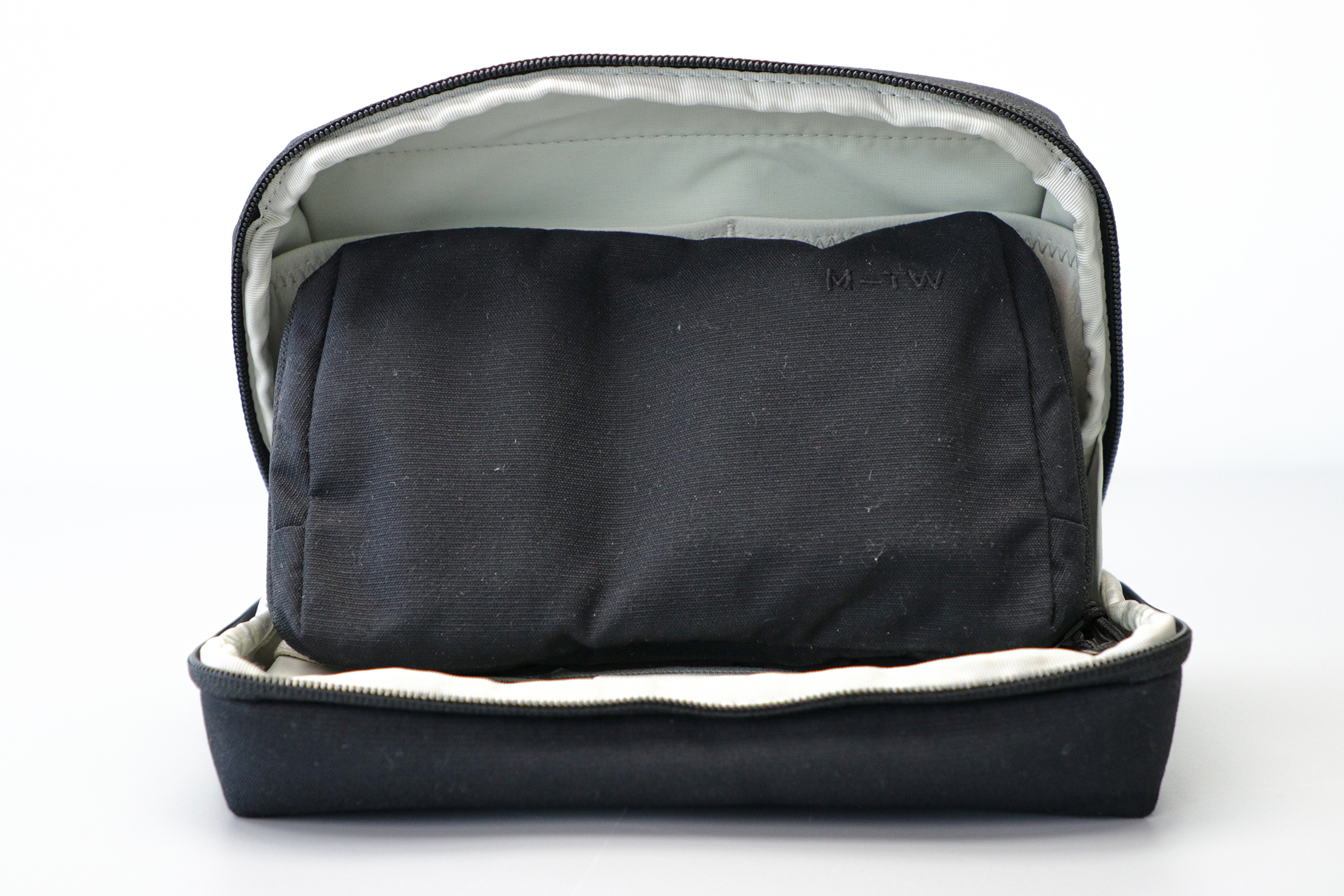 It's also great if you're on the go in big and small ways because you can bring both sizes on your trip. Stick the empty Mini inside the regular size one as you travel, and then use the Mini to carry items on the daily rather than lugging around a large pouch in a daypack. You'll still have all your gear back at your lodging, but you can bring the essentials along in a more convenient smaller carrying case each day. Three cheers for optimization!
Overall, we really enjoyed our time with the Moment MTW Tech Organizer Mini. Whether you work remotely or commute to an office every day, chances are you've got a handful of cords that need to come with you. Though this pouch may not be great for people who are basically a walking Best Buy, it's great for keeping your charging cables, headphones, and other small tech close at hand for easier access while leaving room for other more important gear you need to pack. If minimalism is what gets you going, this pouch is the tech-organizing companion for you.
Usage Timeline
Initial Usage
Condition: Excellent
This has a really clean cream interior that helps keep everything easy to see
Opens flat for easy access
Stretchy pockets hold things in place well
2 Weeks of Use
Condition: Excellent
Quickly collects dust and pet hair, but it comes off easily
Smaller size is great for daily use
Material is nice and flexible
Good range of pocket sizes with plenty of space for the basics
Pocket openings are a bit loose
We like that it integrates in with the regular size Moment MTW Tech Organizer
Access the Pro Community Discussion
Get your questions about the Moment MTW Tech Organizer Mini answered from our team and the Pro Community right here on the page. Plus, join discussions with other members about gear, guides, and more.
Other Organizers & Pouches Reviews