Travelon Tech Accessory Organizer Review
The Travelon Tech Accessory Organizer's mesh pockets visibly lay out all of your tech goodies, but its thin structure lacks any significant protection.
Our Verdict
Unlock the Pro Summary
Save time. Get access to brief summaries of our reviews so you can browse and make decisions more efficiently.
Pros
Lightweight materials don't take up too much space
See-through mesh pockets lay out everything visibly
Can expand or compress depending on the gear inside
Cons
Overall build quality doesn't feel very durable
Three-part design takes up relatively large space on a desk
Middle pocket not very secure for smaller accessories
Recent Pack Hacker Video
Technical Details
Weight (lb)

0.1 lb (0 kg)

Dimensions

6.75 in x 4.75 in x 0.75 in (17.1 x 12.1 x 1.9 cm)

Notable Materials

Ripstop Polyester

Manufacturing Country

China

Warranty Information
Full Review
In 1999's The Mummy, there was a scene where Rick O'Connell (played by Brendan Fraisier) laid out all of his gear on a table by unrolling his bag. This was immediately followed by Evelyn's (played by Rachel Weisz) question of, "Are we going into battle?" To which we say, yes! Because just like Rick, we believe in being prepared, and one way to achieve that is through an organizer.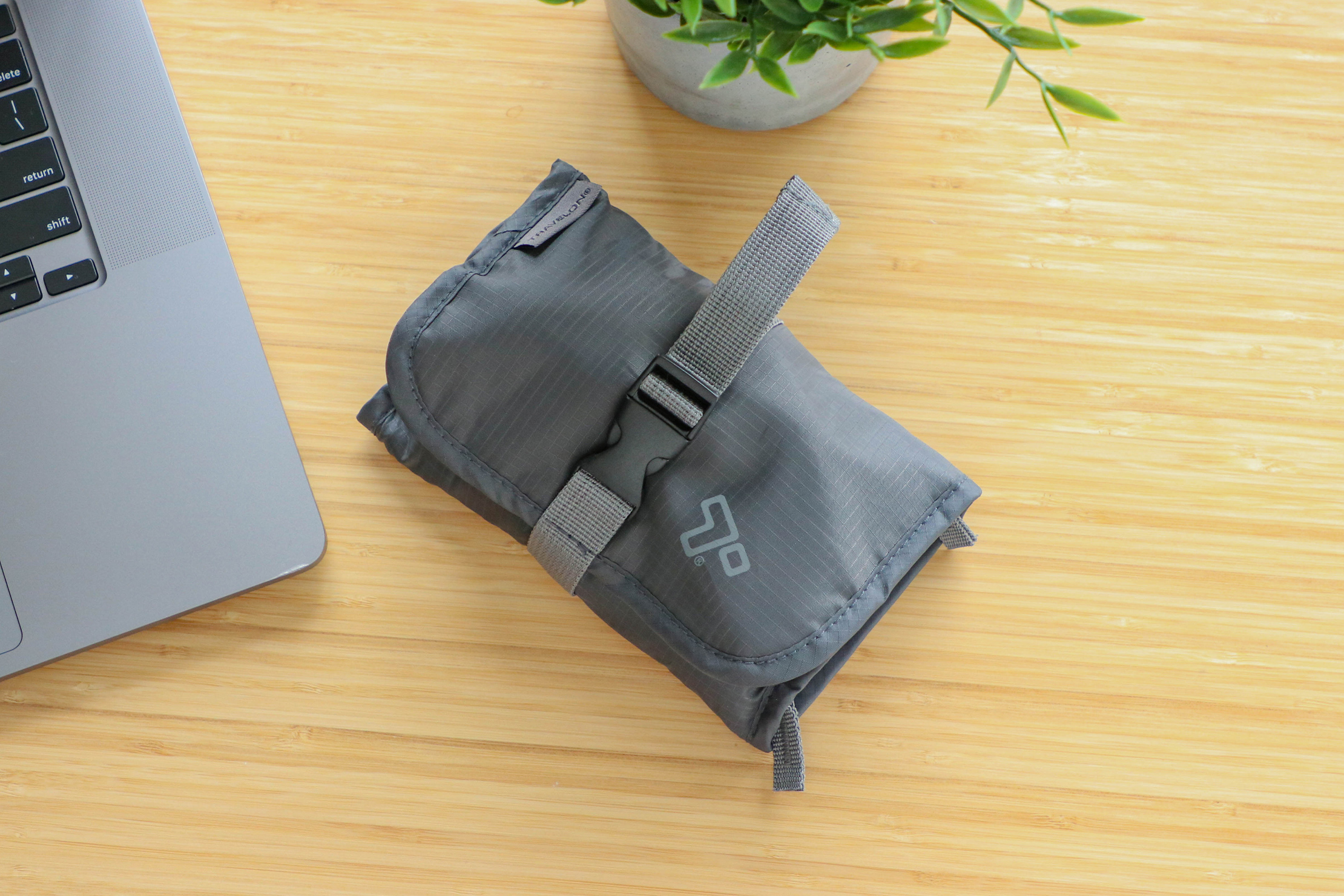 A Tech Accessory Organizer, to be more specific. This is a folding pouch that you can lay flat, much like Rick's bag, and everything inside is readily visible inside the mesh pockets. It's not the most well-protected, solidly-built tech organizer out there, though. It's more of a budget option and is compelling, depending on what compromises you're willing to make. Read on to find out what they are.
Materials & Aesthetic
There are some styles that match oh-so-well with the intended purpose of the gear. It's kind of like wearing a hula shirt to sit on the beach; you just blend in with the scenery. In the Tech Accessory Organizer's case, this Charcoal colorway skews the styling towards its techy side. The gray fabric has some sheen going on that really brings out the ripstop's grid pattern—there's little doubt that our many dongles are in there.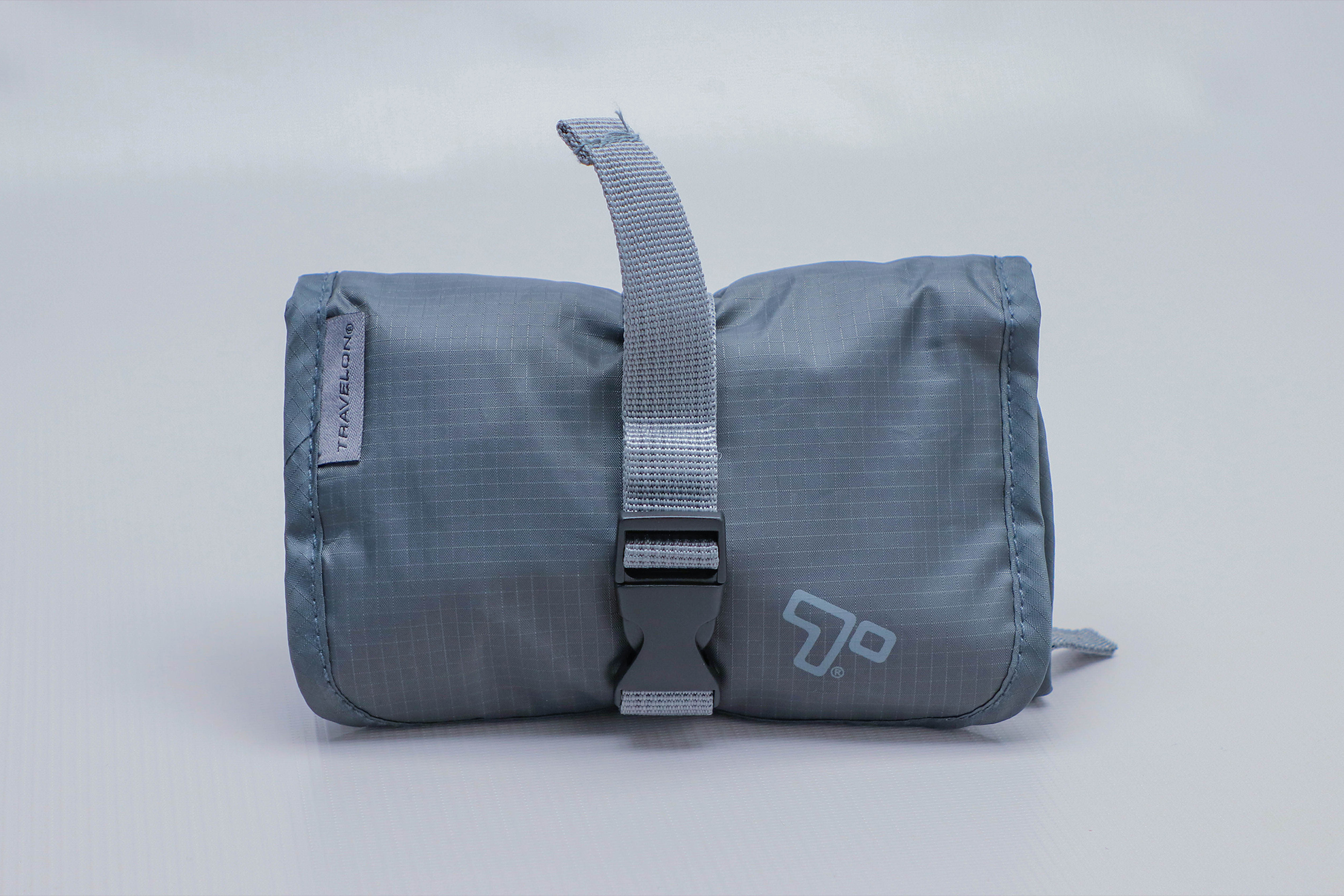 At the front, Travelon has two logos, an icon, and a tab with their name on it. They're not very subtle, but we still don't consider them too in-your-face since they're both gray. There are other colorways available at the time of writing, including Lime, Royal Blue, and Mosaic Tile. That last one is particularly eye-catching with its teal blue fabric and circular patterns. It's a bit retro, and it has a hint of 90's-ness to it that we can't quite explain.
In terms of overall quality, this is a budget organizer, so we weren't expecting top-tier tough-as-nails durability. As mentioned, the fabric is ripstop, but it's polyester ripstop, which feels noticeably lighter than nylon ripstop. There's also little to no padding, so protection is minimal at best. That said, the trade-off is that the Tech Accessory Organizer feels less bulky and is easier to bend and contour around the gear it contains.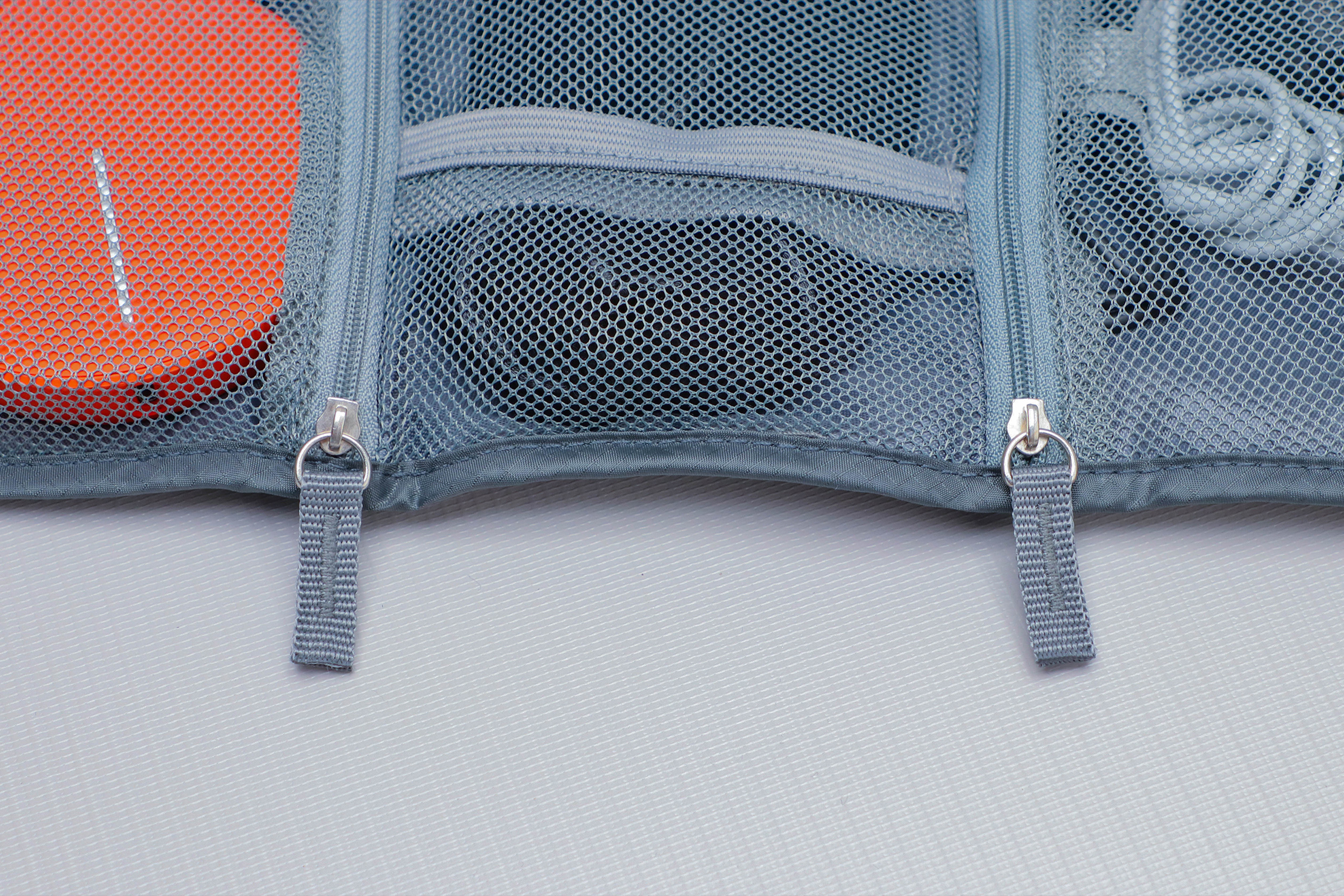 Neither the buckles nor the zippers are branded, so we're not entirely sure how they'll hold up in the long run. On the flip side, they get the job done well enough that we don't feel frustrated while using them. All in all, the entire organizer hasn't produced a loose thread, jammed zipper, or snapped buckle worth noting.
Usage & Features
One of the biggest worries we have with the Tech Accessory Organizer is its form factor. Unlike standing pouches like the Aer Slim Pouch or the Moment MTW Tech Organizer, this one takes up a relatively huge amount of space on a table. The tri-fold design means there's about 50% more area compared to a similarly-sized pouch. For context, here it is next to a fully opened Bellroy Tech Kit.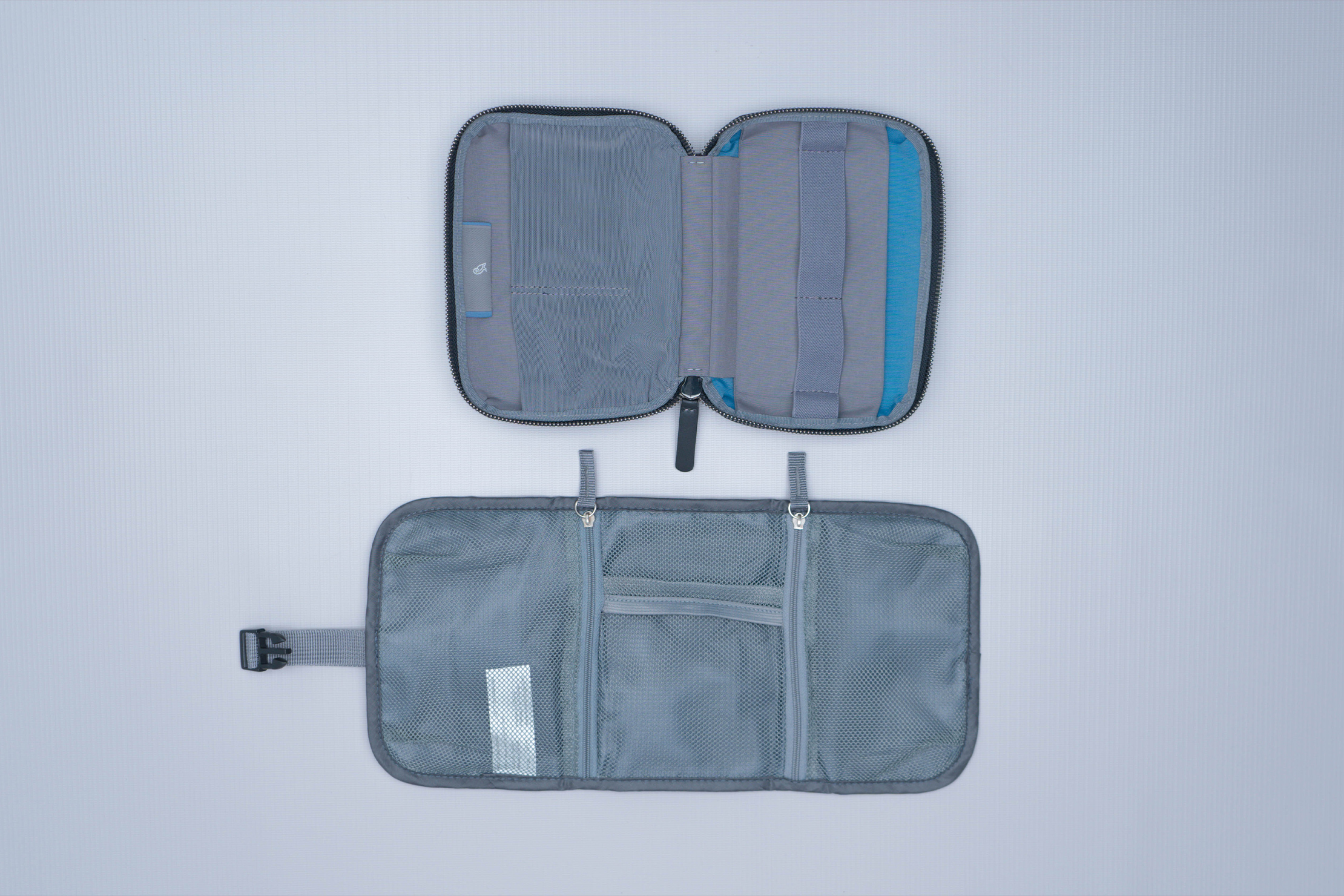 This can pose a problem if, like us, you're the type to frequently work remotely, thus not always having the luxury of a big desk. We typically go to cafés and small establishments where the tables are usually small or oddly shaped, and these are the places where we especially feel every square inch is precious.
The good news is that fully-opening and lay-flat organizers like the Tech Accessory Organizer have their merits too. Chief among these advantages is excellent accessibility. Simply unfold the organizer down, and all of the gear inside is immediately visible—no need to fish around for that one dongle that's hiding in the corner.
In contrast to the amount of space the Tech Accessory Organizer takes on a surface, it folds and compresses rather well. Thanks to its use of light materials, there isn't much structure to add to its overall bulk. Once it's folded, the strap wraps around, buckles at the front, and you can really tighten it down to squeeze out every last ounce of free space. Really, the biggest factor in its compressibility is how bulky the gear inside is.
Inside the Tech Accessory Organizer, you can actually pack a lot despite the thin structure. There are three main sections, starting from left to right: a zippered mesh pocket, an open mesh pocket, and another (narrower) zippered mesh pocket. Yep, all of the pockets use mesh material, and it really takes advantage of the Tech Accessory Organizer's open design, making everything readily available.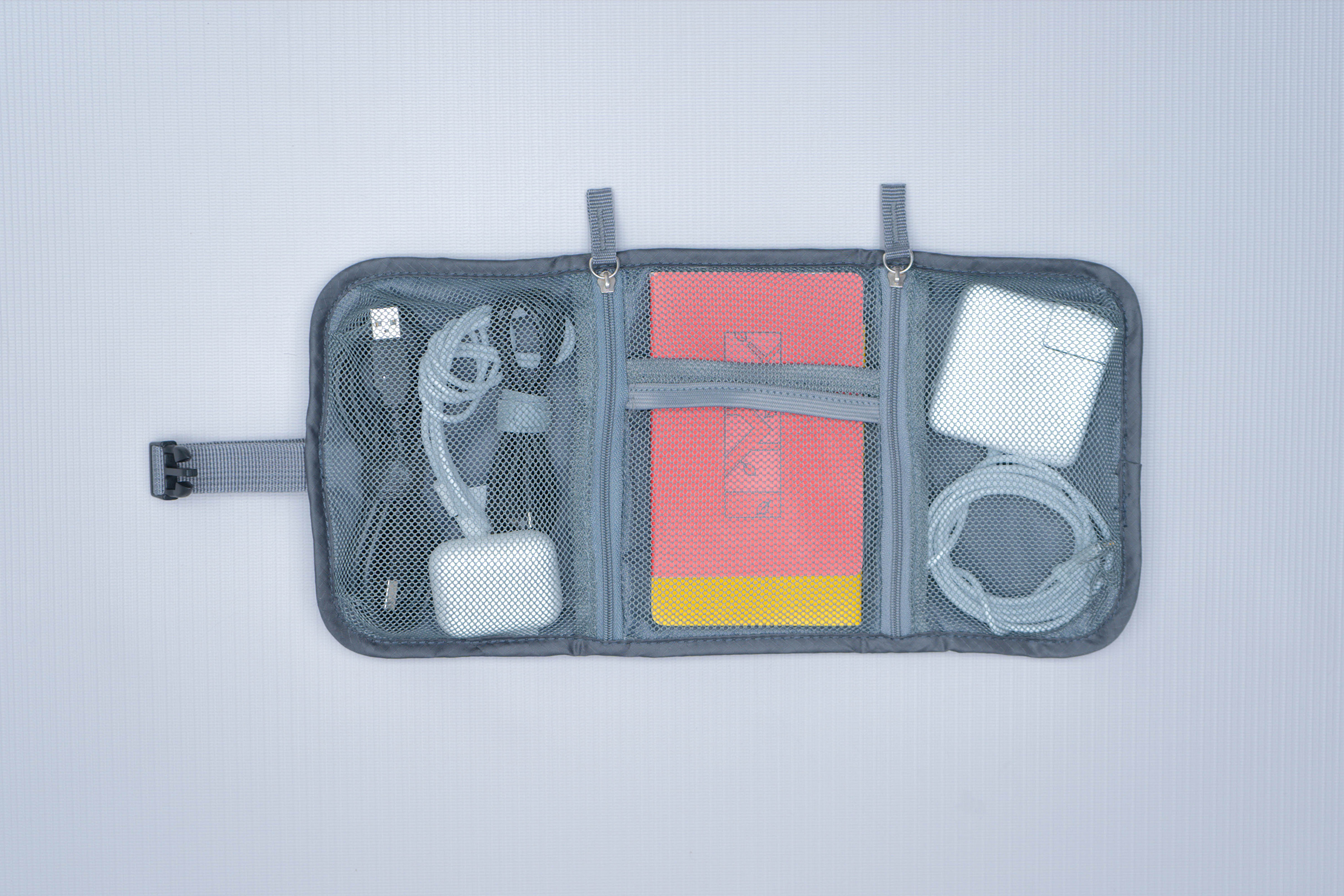 Okay, "readily available" may not be 100% appropriate because there are some accessibility hiccups. These are fairly minor in the grand scheme of things, but they are worth mentioning. First, the soft structure means that there is a tendency for the entire organizer to be pulled forward as you're zipping along. Next, the middle pocket requires some maneuvering for bulky items since the opening overlaps the top and bottom mesh. With all of that said, these two are really more of minor observations than major flaws.
As for the capacity of the pockets themselves, the leftmost pocket is the widest out of the three, so that's where we put our MacBook Pro's charger. Part of the mesh is folded to provide gussets for expandability and volume. Chunky items like chargers, portable drives, or travel mice go well inside here.
On the opposite side of the Tech Accessory Organizer is a similar zippered pocket, only narrower. This is where we opted to put most of our small accessories like dongles, earphones, memory cards, and short USB cables. We generally recommend putting smaller items like those inside zippered compartments just to ensure there's no chance of them getting out.
Lastly, the middle pocket's overlapped opening makes it more suitable for large items like a power bank or smartphone power adapter. The edges of the opening are elastic, so it's not too difficult to get even our MacBook Pro's charger inside. Both the middle and leftmost pockets are good candidates for large items, though your mileage may vary depending on what gear you're running with and how frequently you use them. For example, we use our charger a lot more than our travel mouse, so we prefer to put it in the more easily accessible zippered pocket.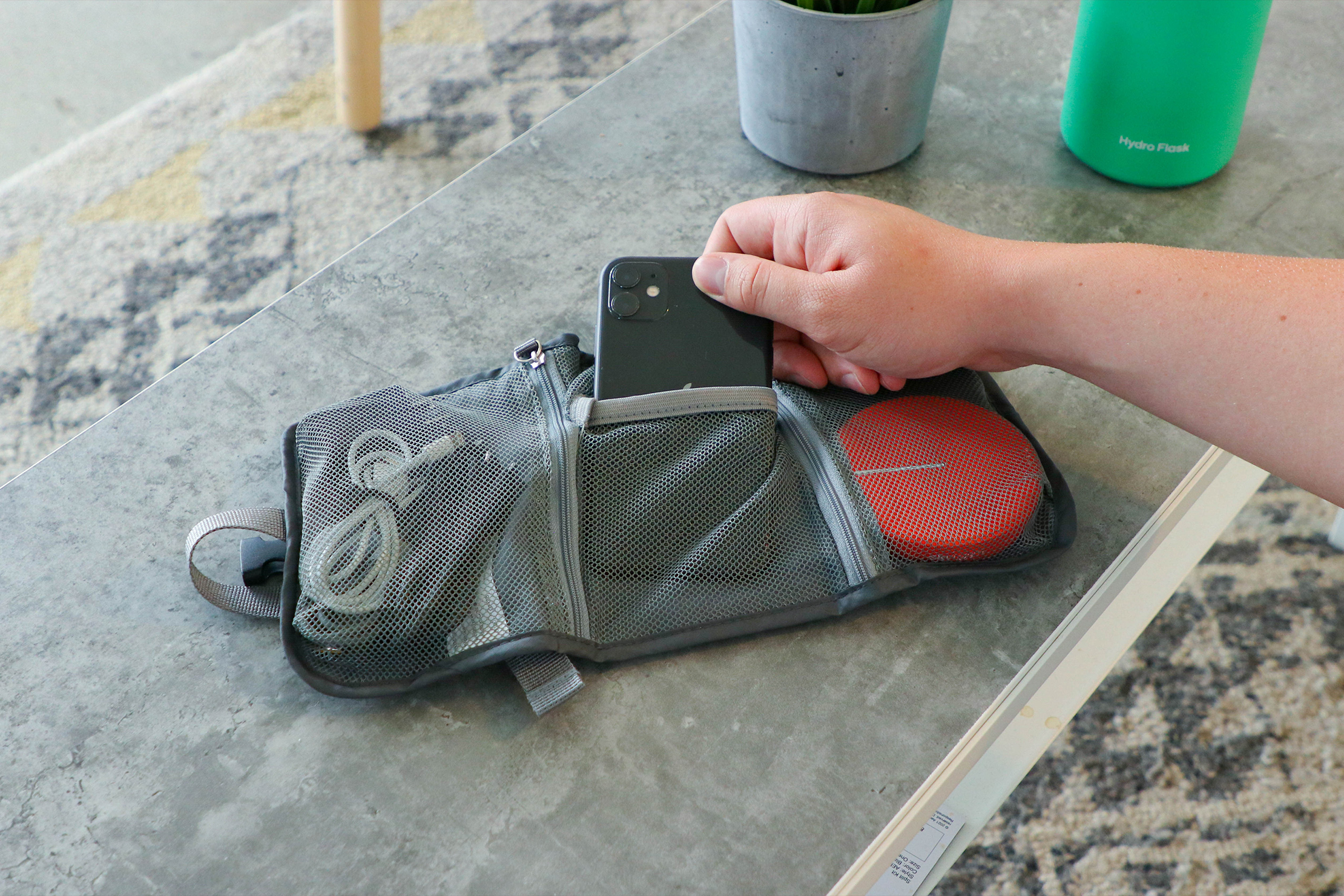 Travelon's Tech Accessory Organizer isn't the most solid-feeling, well-protected way to get your tech organized. But as a budget option, it takes advantage of an open design really well with a wide range of mesh pockets. If you're willing to trade in desk real estate for accessibility, the Tech Accessory Organizer has good bang for your buck.
Usage Timeline
Initial Usage
Condition: Excellent
Trifold design has three compartments inside
The wrap-aroudn buckle strap puts the pressure on the middle
Ripstop material feels lightweight and easy to fold
2 Weeks of Use
Condition: Excellent
The folding & buckle style is nice for helping to size the organizer based on what's inside
Not super confident in the materials used, however, this is a pretty good budget option
Middle pocket can be hard to utilize—it's not enclosed with a zipper so smaller items can fall out
Access the Pro Community Discussion
Get your questions about the Travelon Tech Accessory Organizer answered from our team and the Pro Community right here on the page. Plus, join discussions with other members about gear, guides, and more.
Other Organizers & Pouches Reviews