Bellroy Desk Caddy Review
Bellroy's Desk Caddy combines a pouch's portability with a caddy's ergonomic layout—all wrapped in the brand's signature style.
Our Verdict
Unlock the Pro Summary
Save time. Get access to brief summaries of our reviews so you can browse and make decisions more efficiently.
Pros
Desk caddy layout puts gear at a more viewable angle
Varied and well-thought-out organization options
Has some compressibility for easier packing
Cons
Limited open area for truly bulky gear
Pen loop's position can obstruct bulky gear at the bottom
Rolled-up cables can shimmy out of elastic loops over time
Recent Pack Hacker Video
Technical Details
Weight (oz)

5.2 oz (147.4 g)

Dimensions

9.45 in x 5.91 in x 3.15 in (24 x 15 x 8 cm)

Notable Materials

OOK Zippers, Elastane, Leather, Recycled Nylon, Recycled Polyester

Manufacturing Country

India

Warranty Information
Full Review
As diverse as Bellroy's lineup of pouches is, there's room for at least one more. While the stylish looks are more or less what you'd expect out of the brand, the unique features are what sets it apart from its siblings. Okay, we won't pretend it's hard to deduce what this unique feature is based on the name alone, but that won't stop us from enlightening you further with this review.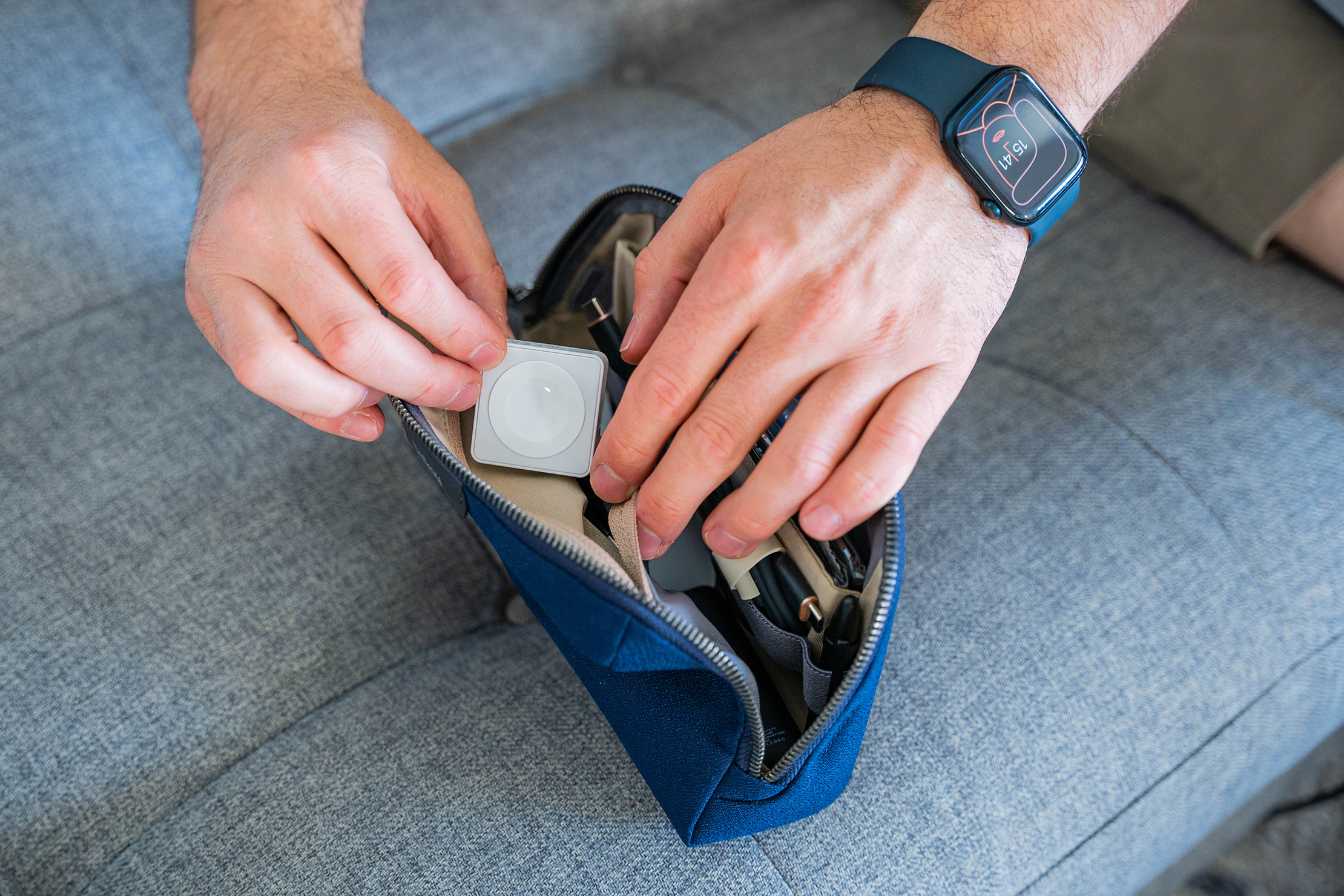 In a nutshell, the Desk Caddy is half-pouch, half-desk caddy. You know—the sort of desk caddy you'd use on your workspace to organize stationery. To achieve this, the front part folds out, and presto! All of your gear is within sight, with none of the looking-down-from-above we're used to doing with typical pouches. This way, the Desk Caddy can sit comfortably on the table without you having to bring it closer for better viewing.
The question is, can it earn that spot on your table? Let's find out.
External Components
We begin our tour with the exterior of the Desk Caddy. Aesthetics is a huge characteristic of Bellroy products, as they have some of the more eye-catching designs out there (subjectively speaking, of course). We can discuss the looks all day; however, let's move on to the aspects that matter.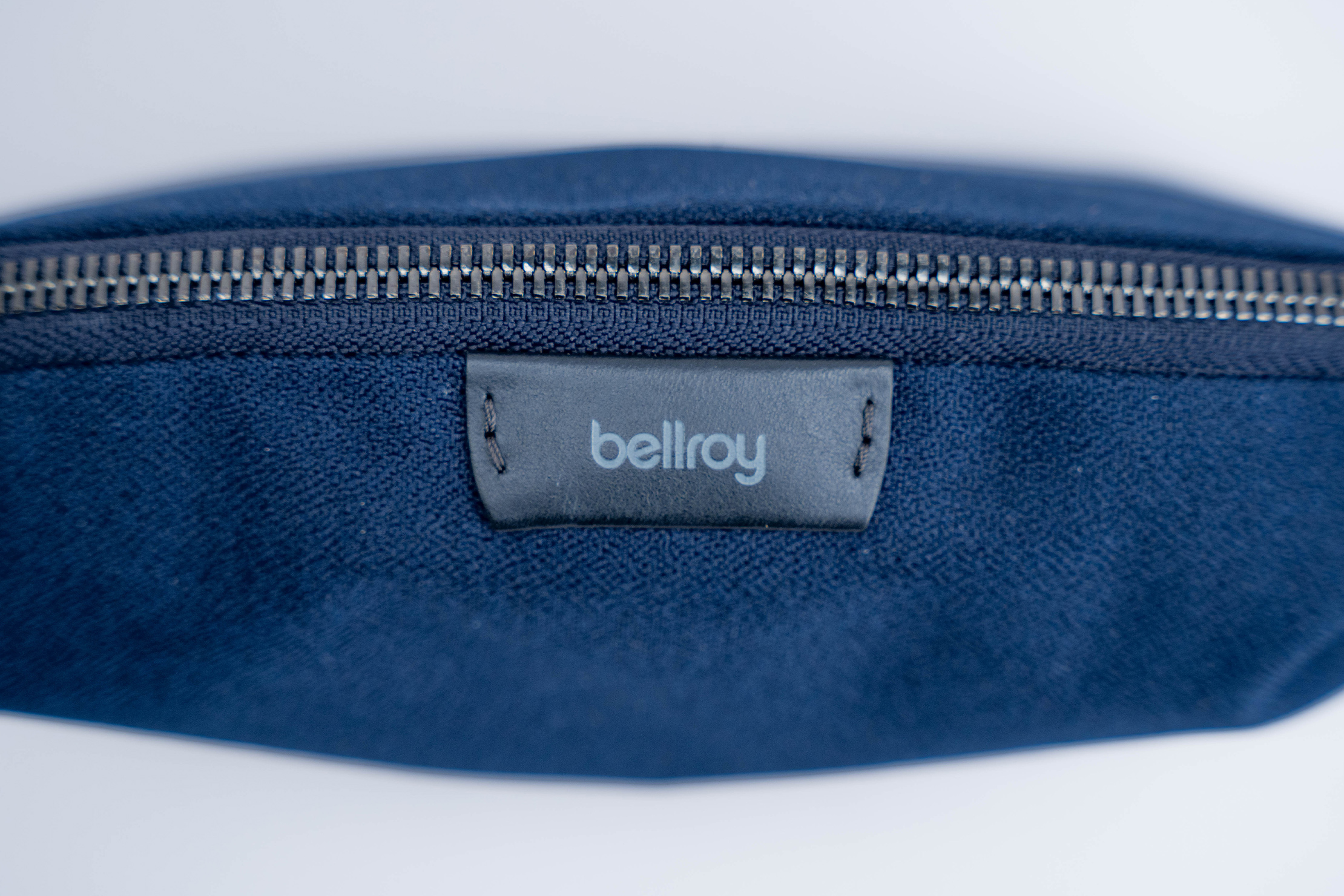 The outer nylon fabric is made out of recycled nylon. Don't let the flashy colorway fool you; it feels pretty solid and nice in hand, so it's not all looks and no substance. The Desk Caddy also has a fair amount of structure thanks to the foam underneath the fabric, with the exception of the front side. This allows the front to be compressed when the Desk Caddy is empty, thus making it easier to pack inside a bag.
Meanwhile, the lone zipper is from OOK—and nope, that's not a typo of YKK. We're more used to seeing Bellroy use YKK zippers, so we're somewhat surprised to see OOK make an appearance once more. In case you're wondering, the other Bellroy products that use OOK zippers at the time of this review are the Tech Kit and Tech Kit Compact.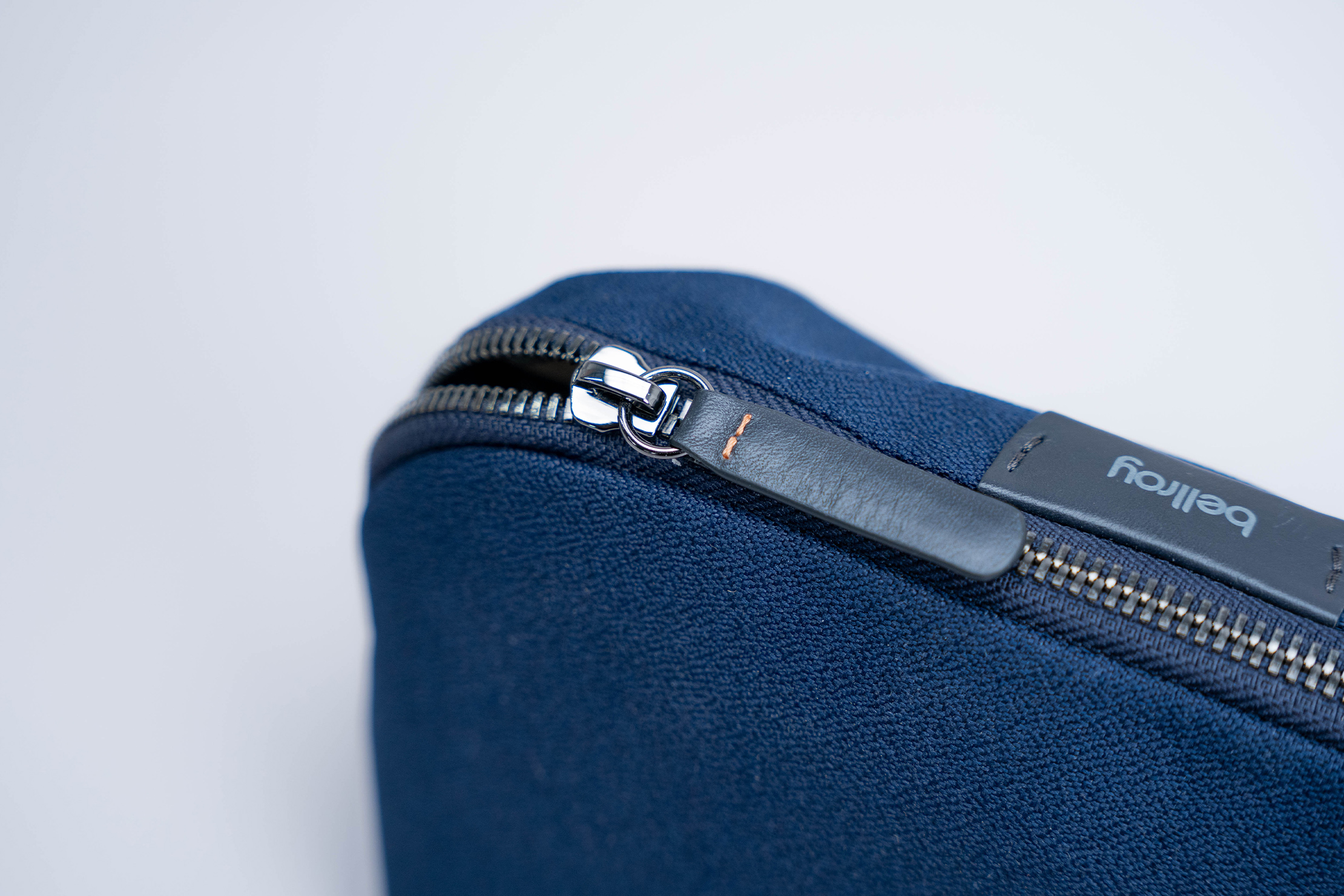 In all three examples, the zippers work just fine, though only long-term testing will reveal if they can stand the test of time. We do dig the toothy metal appearance of the zipper track; it works as a nice accent piece against the fabric. Speaking of accent pieces, the logo and zipper pull are made out of leather. All colorway options at the time of writing feature leather, so there are no vegan-friendly options here as of this review, unfortunately.
As we've said, Bellroy already has a ton of pouches in its lineup, like the Standing Pouch, Tech Kit, and Classic Pouch. So, what exactly makes the Desk Caddy unique among its many siblings? Well, it can do this:
The front folds down, giving you a more direct view of the gear inside. Compared to others where you're either looking down or from a steep angle, this makes more sense for convenience and ergonomics. Hence why this isn't just a pouch—it's a desk caddy, an organizer that feels at home on your work table.
Inside The Pouch
Now that we have the Desk Caddy in its intended mode let's dive into its finer feature, starting with the now-inverted zippered mesh pocket at the front.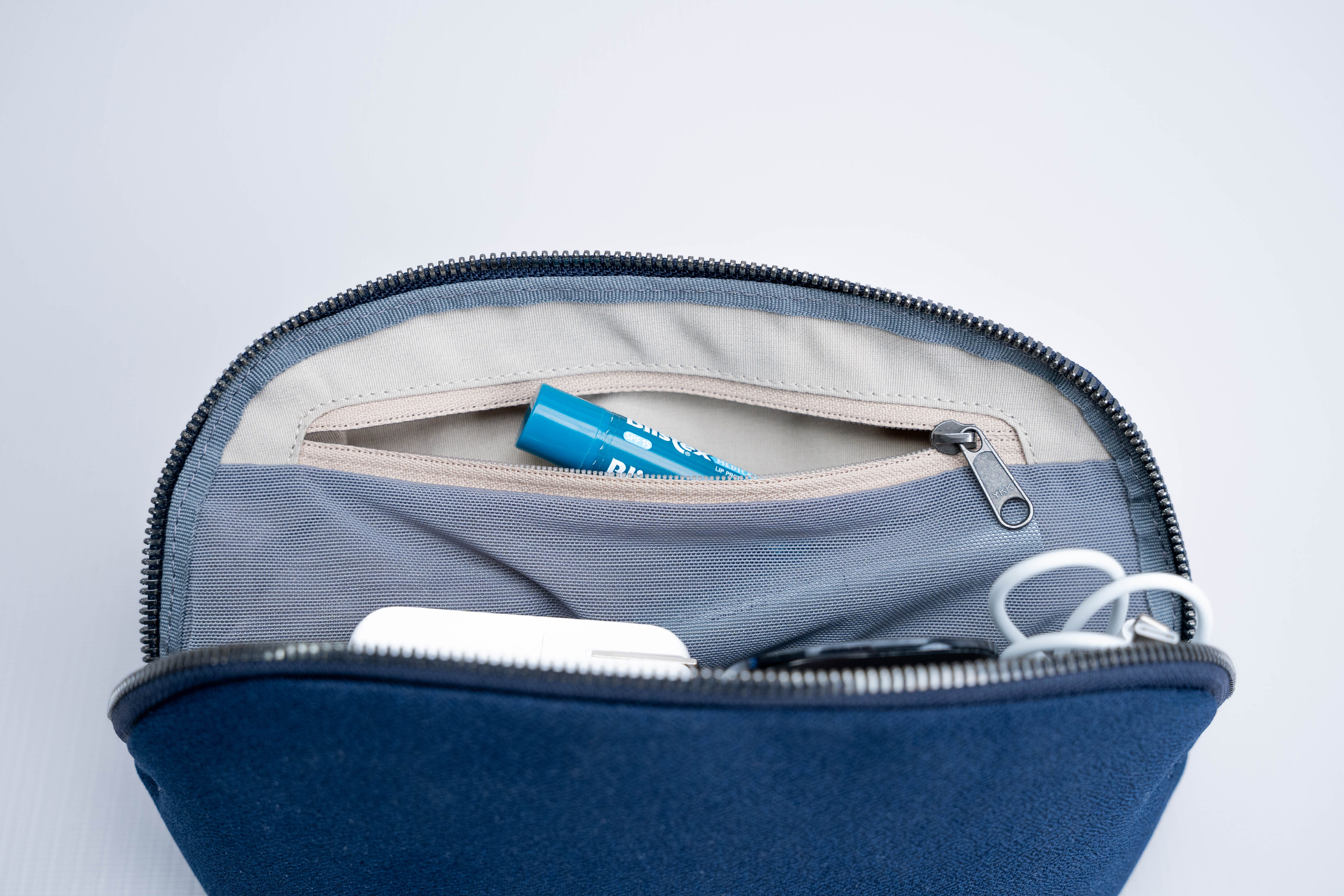 Inverting the pocket like this seems strange at first since that would mean the gear inside can fall out once we've unzipped it. However, a lip along the zipper can catch your items, so long as they're not too heavy. We can't say for sure whether this is an intentional design choice or a happy coincidence, but it's there, and it works. Our pro tip is to turn the Desk Caddy upside down so your accessories fall prematurely into the lip before you unzip it.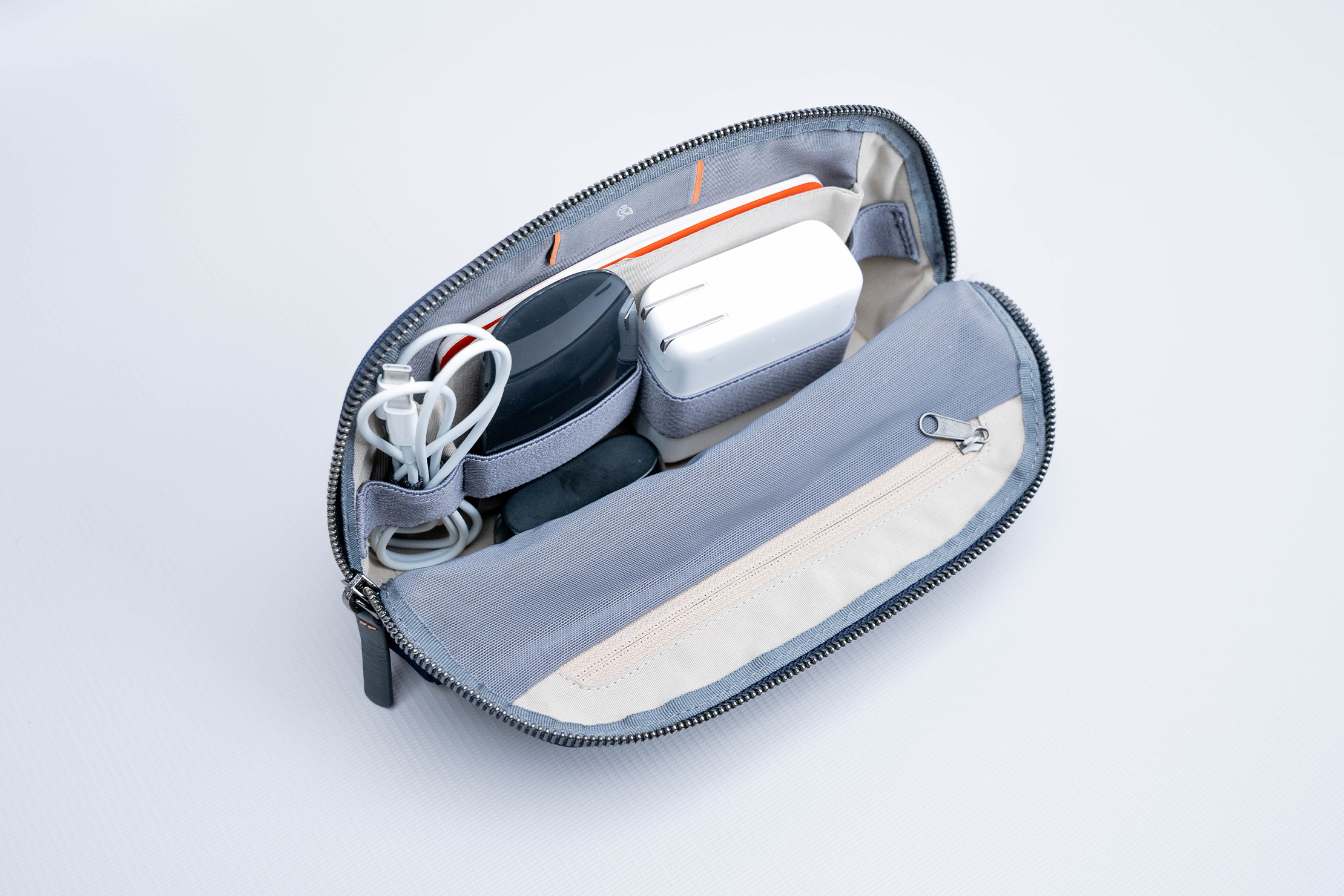 The main area in the middle of the Desk Caddy isn't too spacious, though it's enough for a row of adapters or a lengthy mid-sized power bank. Either way, anything that has some height to it may obstruct your view of the elastic loops.
Two main loops in the middle are ideal for short cables measuring in the one-meter ballpark. Towards the sides are two smaller loops, and these are best suited for small dongles and thumb drives. An odd quirk we've noticed is that a rolled-up cable inside the main loops can shimmy up over time, so we have to push them back in. We like to roll up our cables in this fashion to avoid damage from kinking. However, you may get better results if you go for a folded bundle or some other style.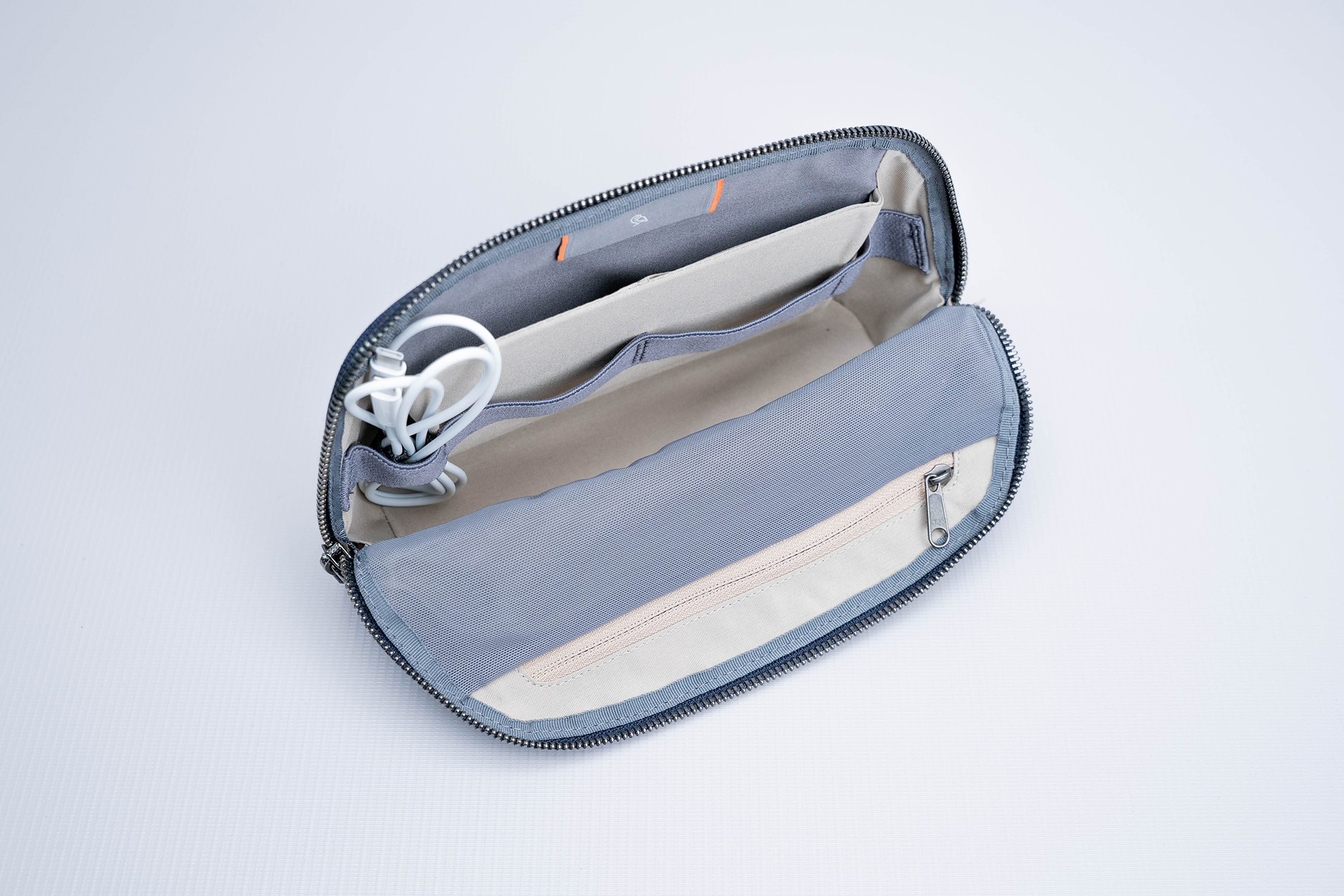 Last but not least is the drop pocket at the very back of the Desk Caddy. The area has a sizeable amount of space that's more than enough for our super lengthy three-meter USB-C cable. There's even enough leftover room for some of our sick Pack Hacker stickers in a folded-up Ziploc Quart Sized Bag. We dig how Bellroy gives this pocket some structure and gussets for volume and a rectangular shape. It'd be less neat-looking if this were just a loose liner or mesh pocket. Well, that and the loops would have no solid foundation.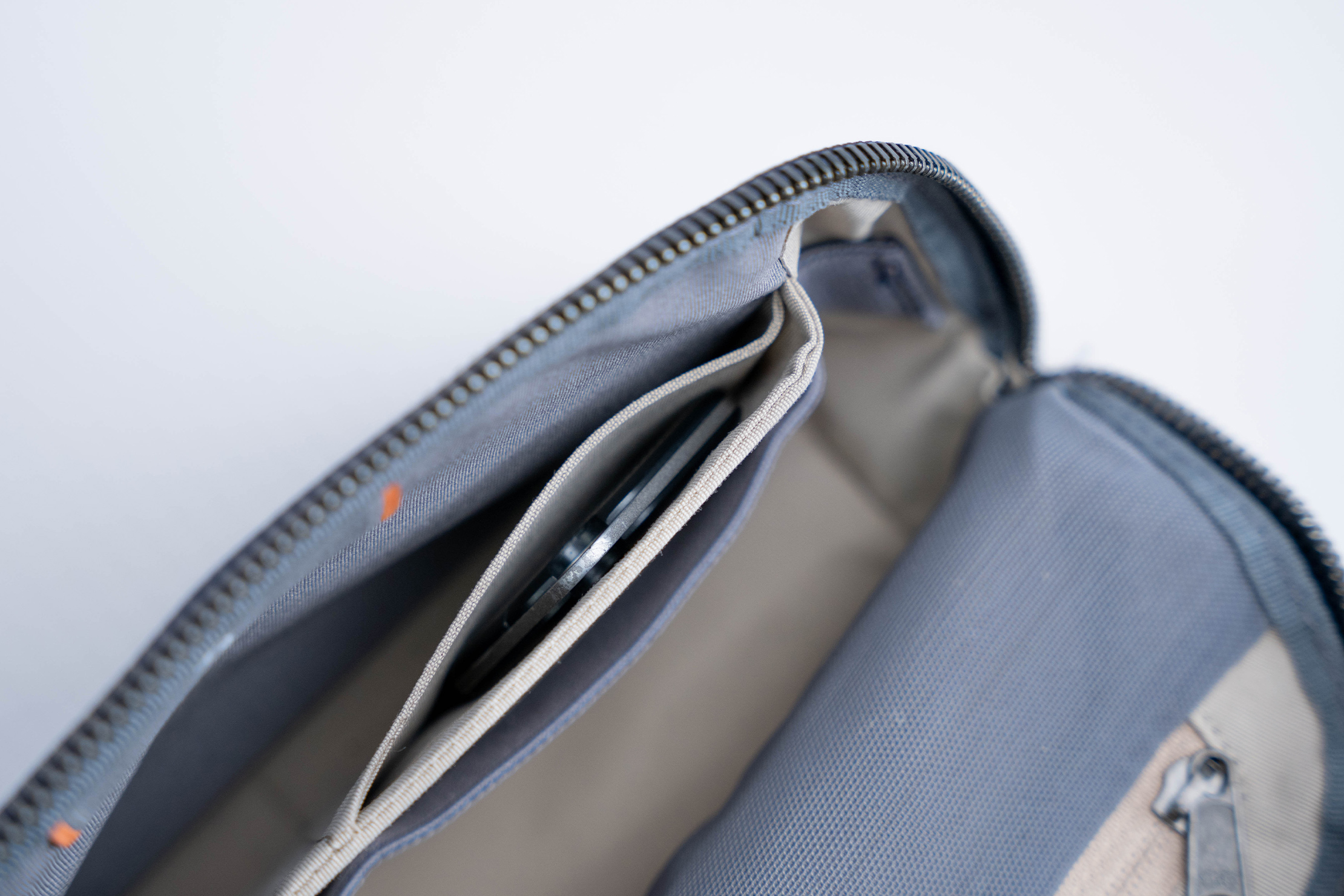 If you look closer, there's also a very stealthy slip pocket on the right side. Despite this pocket's rectangular shape suggesting it's meant for credit cards, it's too small to hold them. This is best left as a dedicated pocket for a smart tracker like a Tile Mate or Apple AirTag.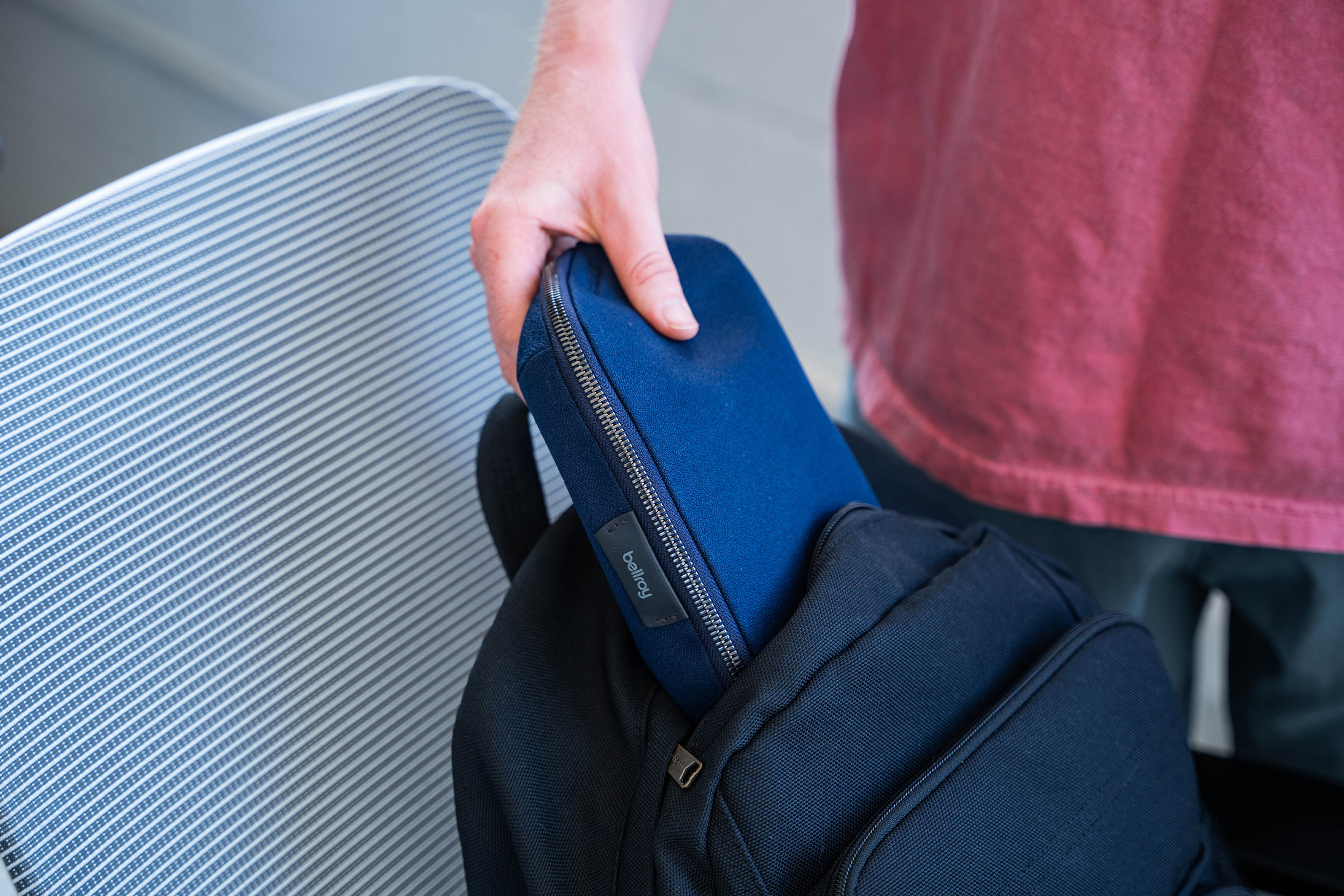 While Bellroy may already have a stacked lineup of pouches, we dig that the Desk Caddy is able to carve out a niche for itself. Mind you, it's not a niche it occupies exclusively, as we can think of at least one competitor that's arguably more functional: EVERGOODS' Civic Access Pouch 2L (CAP2L), a pouch we've also dubbed a desk caddy. Then again, that's a behemoth of a pouch compared to Bellroy's solution, so it may not fit your needs in terms of packability. This Desk Caddy is functional, easy to bring, and stylish to boot—a worthwhile consideration for any digital nomad.
Usage Timeline
Initial Usage
Condition: Excellent
Curious to see how the lower pen loop feels in use—you can fold down the zippered side, but not sure if that'll be enough for easy access
Dig that this thing has structure, but it's not padded like some other Bellroy pouches (compresses into a travel bag easily)
Always dig the premium look of OOK Zippers
2 Weeks of Use
Condition: Excellent
The padded back and malleable front of the pouch work really well—easier to pack by compressing the front but stays structured in "caddy mode"
Zippers can get slightly sticky on the sides while zipping and unzipping
Cables have kind of popped up out of the elastic bands in use
Enjoyed using overall—keeps things organized and packs well
Access the Pro Community Discussion
Get your questions about the Bellroy Desk Caddy answered from our team and the Pro Community right here on the page. Plus, join discussions with other members about gear, guides, and more.
Other Organizers & Pouches Reviews