Bellroy Tech Kit Compact Review
The Bellroy Tech Kit Compact is small but densely packed with organization. However, we wish the compartment for small memory cards and dongles had a zipper.
Our Verdict
Unlock the Pro Summary
Save time. Get access to brief summaries of our reviews so you can browse and make decisions more efficiently.
Pros
Compact size
Elastic loops hold well
Clamshell opening makes for easy access
Cons
Small for lengthy cables
No zipper pockets for small gear
Bulky items can affect the shape
Recent Pack Hacker Video
Technical Details
Dimensions

5.12 in x 6.69 in x 2.16 in (13 x 17 x 5.5 cm)

Notable Materials

Polyester, Nylon, Leather, DWR Coating, OOK Zippers, Elastic

Manufacturing Country

India

Warranty Information
Full Review
There was a time when we could get away with just relying on our backpack's built-in organization for our tech accessories. But for anyone like us who's slowly slipping into the world of working remotely, finding more accessories to fit the digital nomad lifestyle is a sure way to grow out of built-in pouches. Thus, tech pouches exist—like Bellroy's Tech Kit Compact.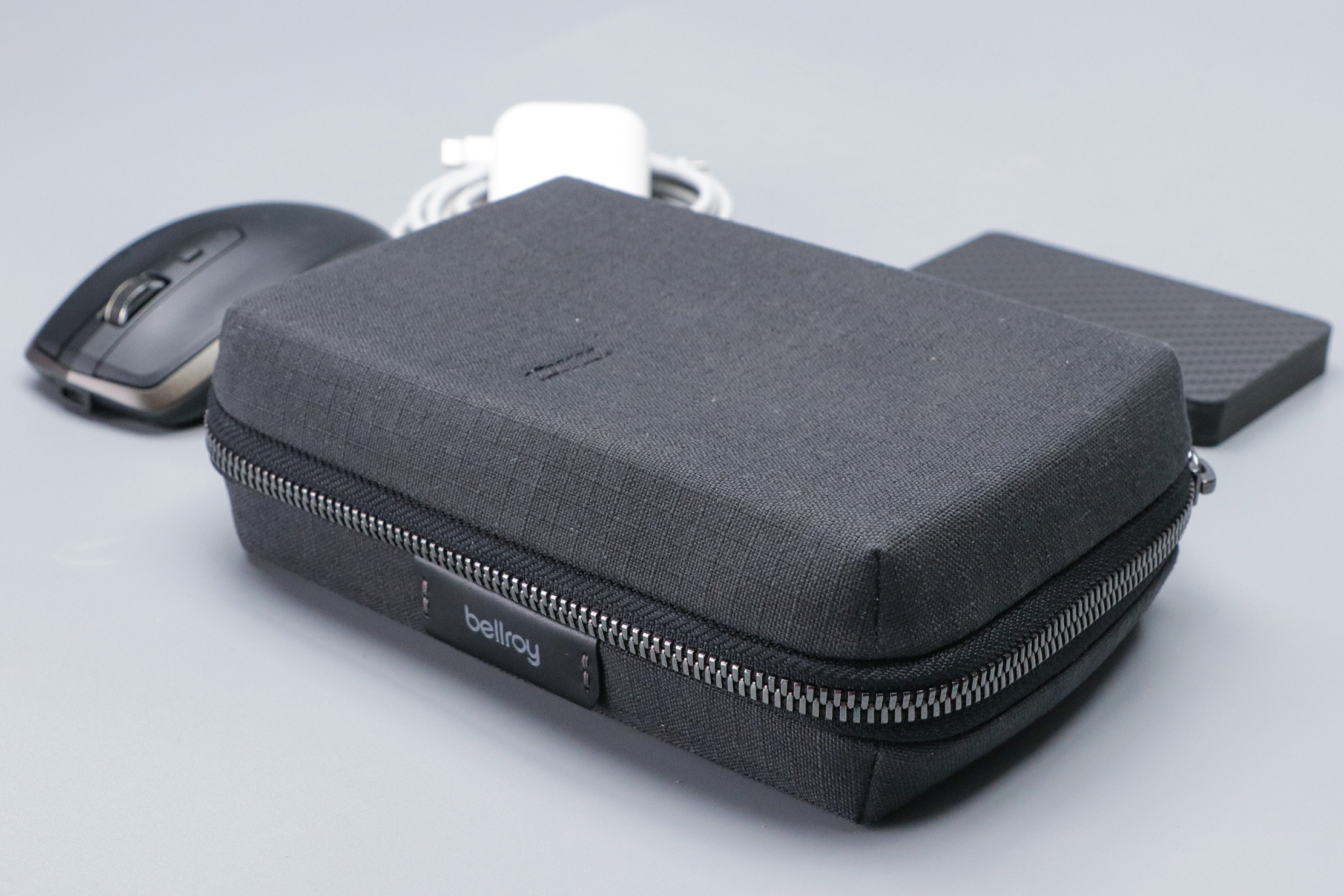 Not to be confused with its bigger sibling—the Tech Kit—the Tech Kit Compact is a much more condensed version. You lose a loop here and there, but it's the same familiar pouch for the most part. Unfortunately, it also inherits the lack of a zippered pocket. For the juicier details, read on and see if this tech pouch is the perfect fit for you.
Materials & Aesthetic
As per the usual with Bellroy's products, their winning formula boils down to the following: a healthy selection of colorways, quality fabric and zippers, and a sprinkling of leather. For the Tech Kit Compact, Bellroy's sticking to that script, with a design that, for the most part, is a shrunken down version of the bigger Tech Kit.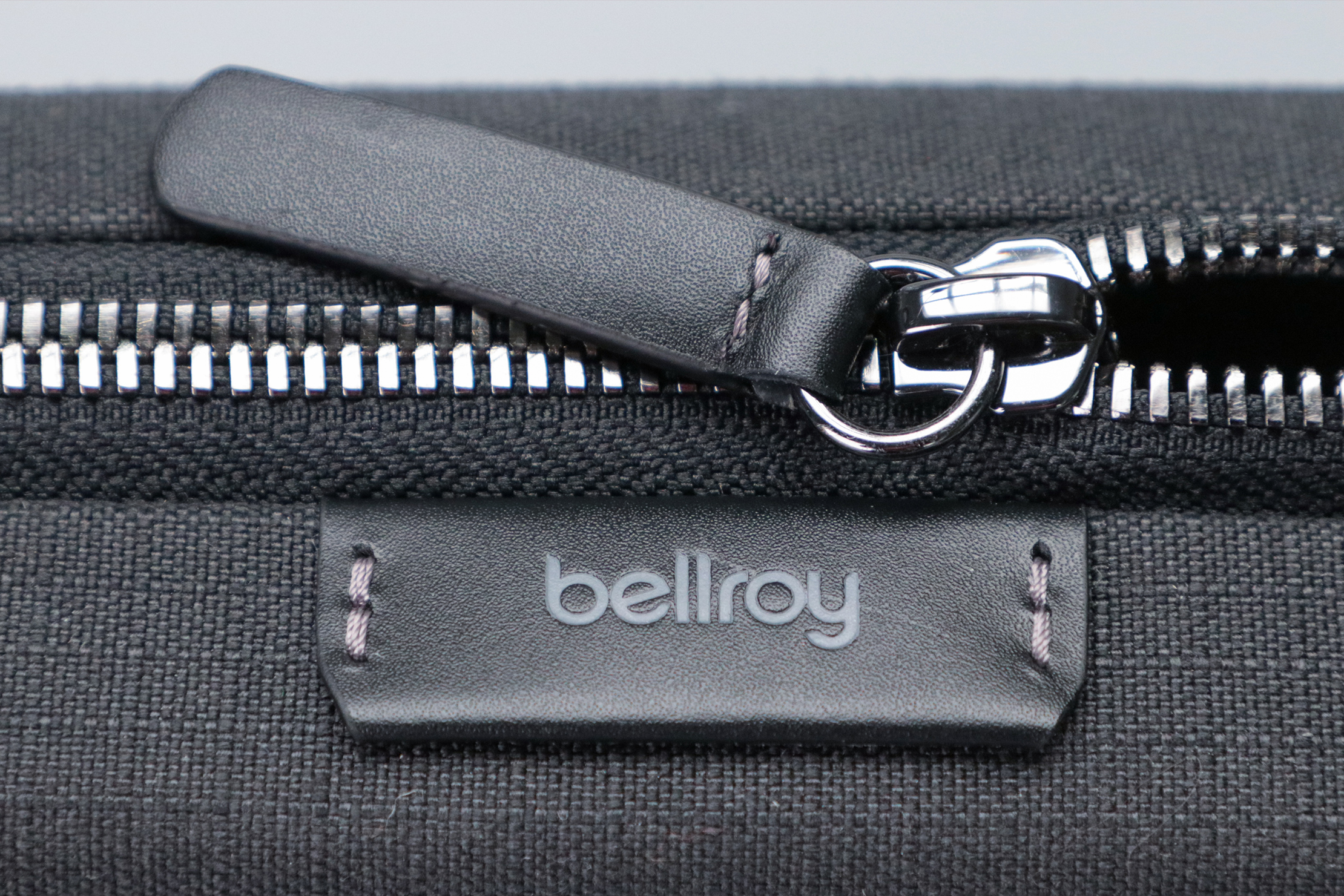 The sample we have for this review is in the Midnight colorway, made from recycled Canva Ripstop. The fabric feels rather good in the hand, and it complements the semi-squared look of the pouch. The Tech Kit Compact has good structure and shape when it's empty, though it loses some of the uniformity when bulky items stack and bulge out.
With the all-black leather trim on the logo and the zippers, the Tech Kit Compact gives off a discreet and techy vibe. The zippers are OOK—not to be confused with the more familiar YKK-branded zippers. They work just fine, with no annoying snags or hitching to speak of over the course of testing. Bonus points: the exposed zipper elements add a nice classy touch, especially under the right lighting. As far as zippers go, these OOKs are A-OK.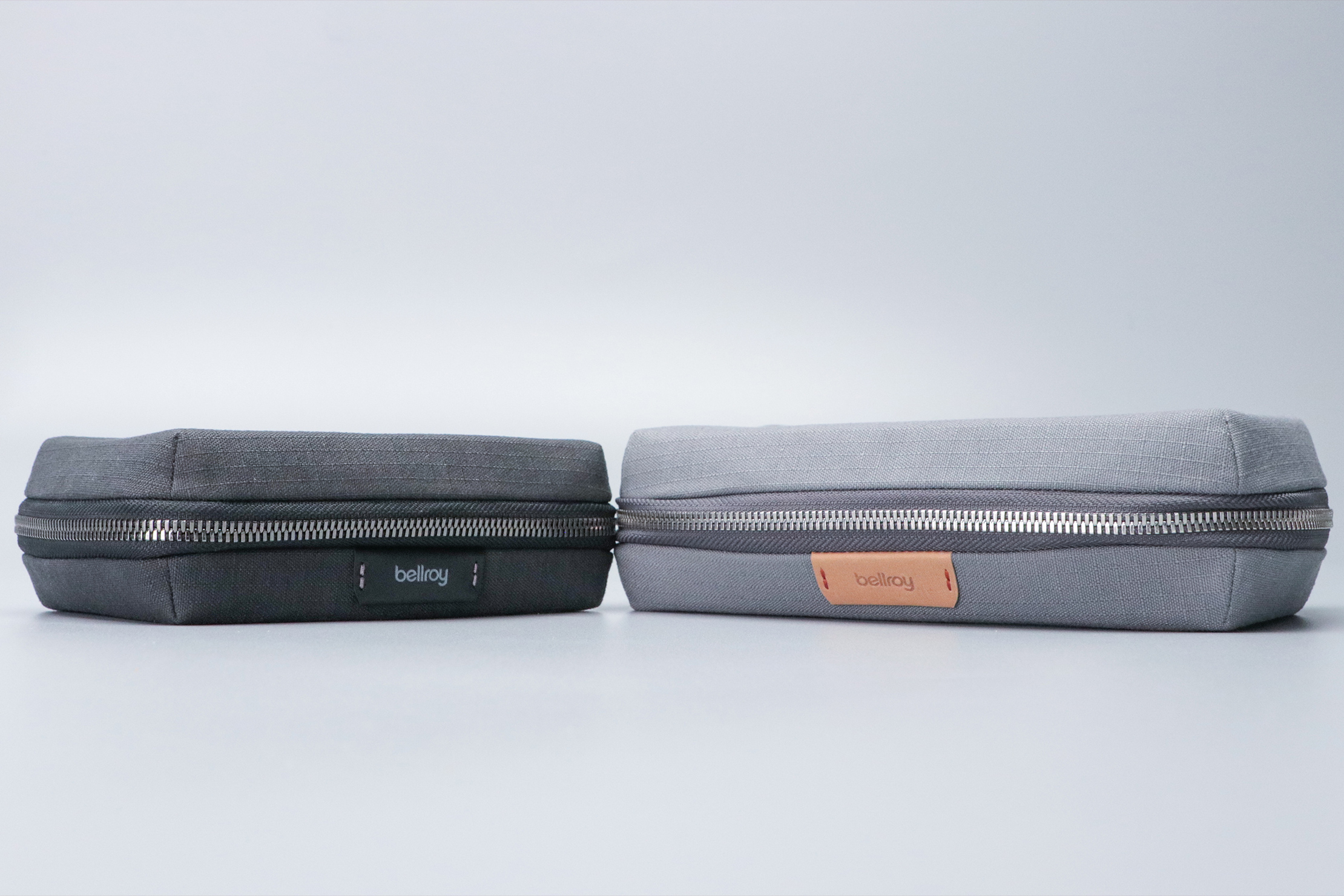 The Tech Kit Compact also comes in other colorways. If you want a hint of blue that's still discreet, there's the Basalt colorway with HeiQ V-Block antimicrobial technology, made from 100% recycled PET bottles. For vegans, Limestone is leather-free and has more pop, courtesy of the orange trim pieces. Lastly, there's the Marine Blue, which easily reminds us of a Mediterranean marina.
Inside The Pouch & Usage
There's only one zipper to undo, which is frankly enough for a tech pouch of this size. The whole Tech Kit opens and lays flat on a surface, taking a bit of space on a desk. Normally, this would be a point of concern, as desk real estate is a huge deal, especially when you're working remotely. But since the Tech Kit Compact is smaller than the Tech Kit, we're more than happy to trade in a bit of space for the unparalleled accessibility a flat-lay offers.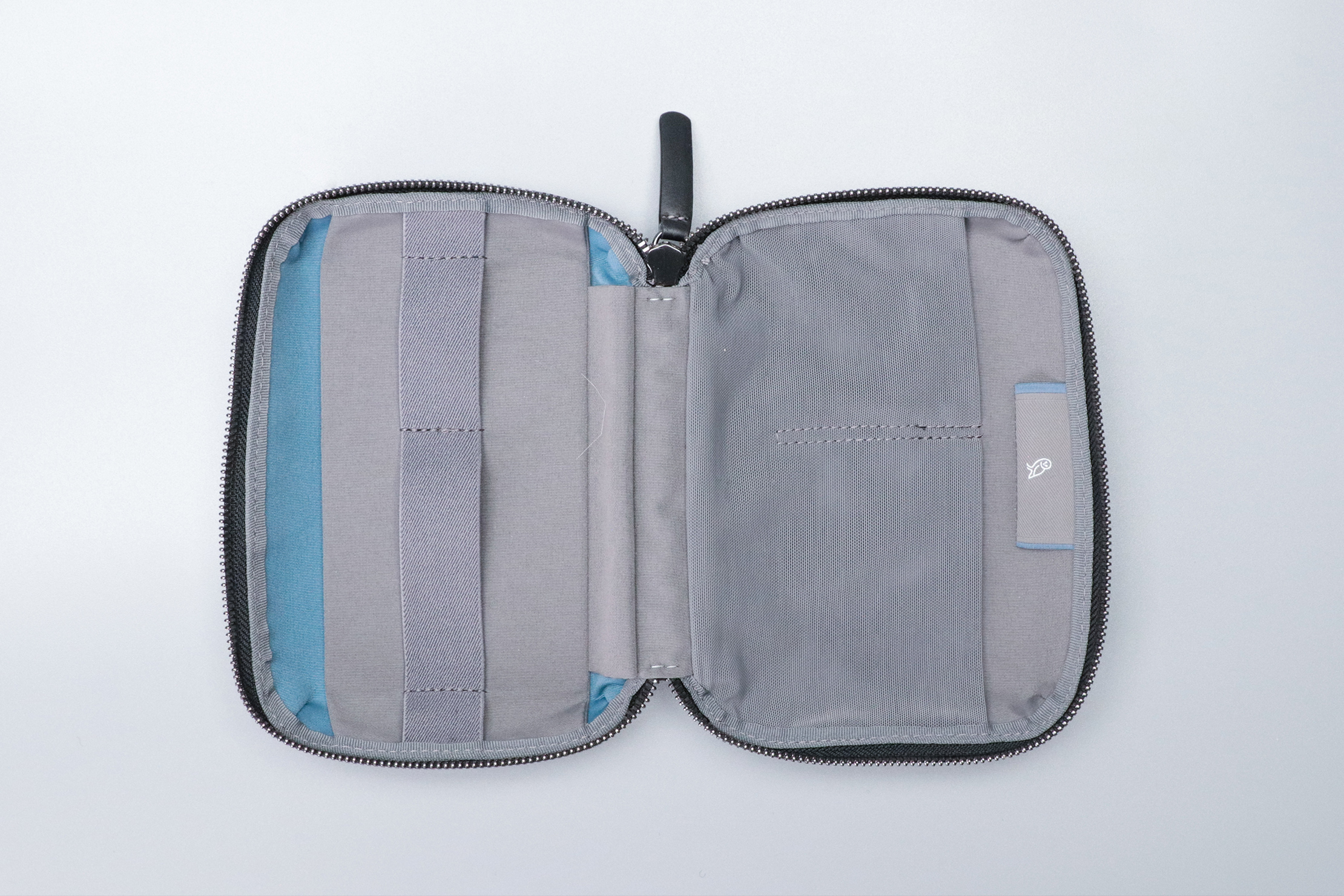 As small as the Tech Kit Compact is, it's not actually that different from the Tech Kit in terms of organization. There's still a healthy mix of loops and pockets in here, though it unfortunately also inherits a missing feature.
On the top half are two mesh pockets—and yes, it's the same stretchy mesh material we've praised on other Bellroy products. These two pockets are unevenly sized for a good reason. A quick hop on the Bellroy website reveals that they are perfectly sized for an Apple Magic Mouse and a MacBook charger, which we found to be true. Of course, you're not limited to those products specifically, but it should give you an idea of what can fit inside.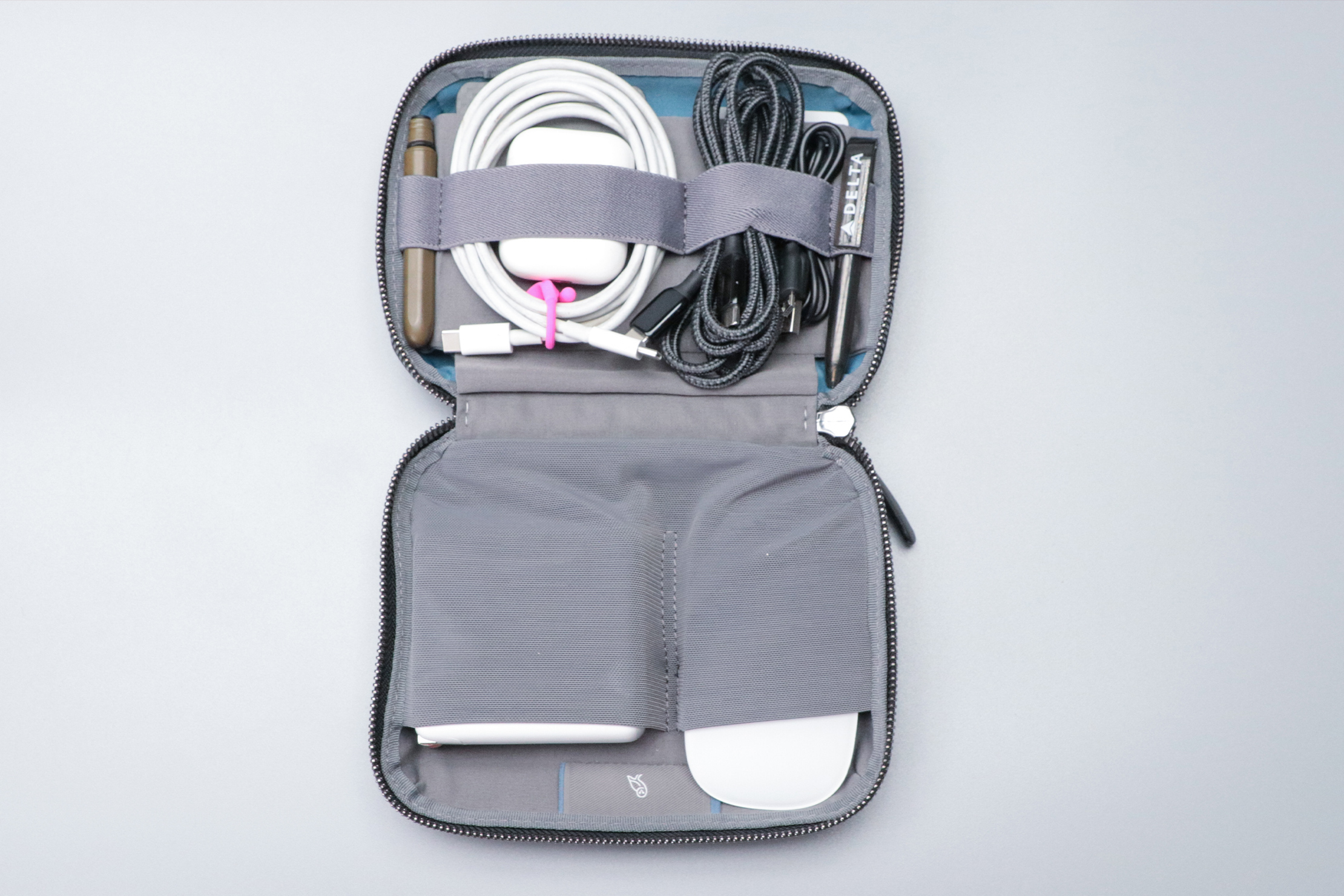 The bottom half is arguably the busier side of the seam. Over here are elastic loops at the front, arranged as follows: slim, wide, wider, and slim. The slim ones are sized for pens, but since the Tech Kit Compact is so short, it's better for small cables, like a Lightning to 3.5mm adapter. The wide and wider loops are differently sized, almost a mirror image of the mesh pockets previously mentioned, but in loop form. The narrower of the two loops is a good match for an AirPods case, while the wider loop is more for a single rolled-up cable or three folded cables side-by-side.
These loops are effective in holding down cables, adapters, and really anything that would reasonably fit inside them. When it comes to performance, half the story is a good elastic, while the other half is the material it's attached to. On the Tech Kit Compact, the magnetic slip pocket where the loops are attached has a solid structure and decent enough rigidity. We've seen cheaper tech pouches where loops are attached to soft fabric which bows and buckles when you put something inside, so we're glad that's not the case with the Tech Kit Compact.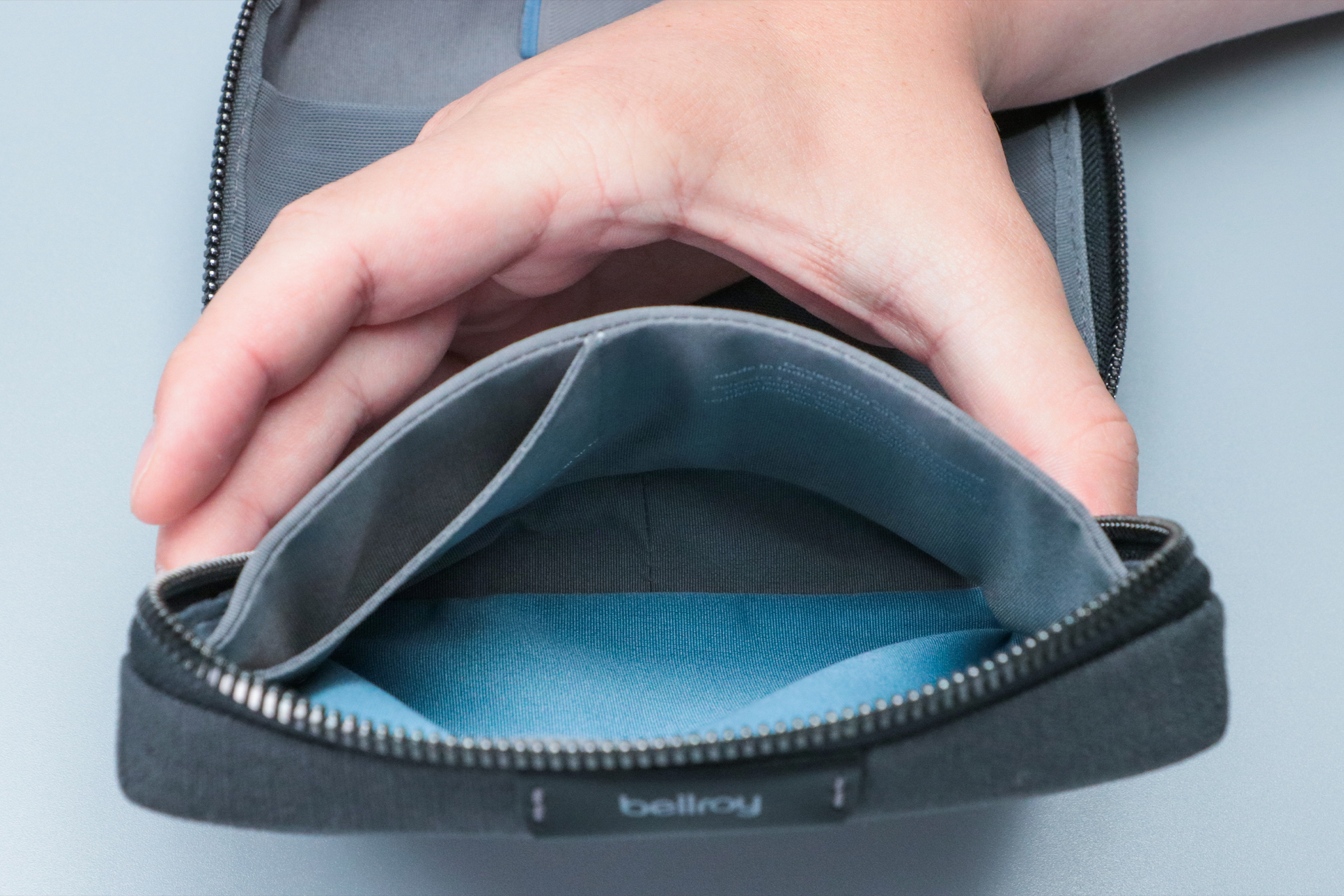 Now to bring your attention to a feature we previously skimmed over: the magnetic slip pocket. This is one of the more satisfying features of the Tech Kit Compact because of how well our Anker PowerCore Slim 10000 and travel notebook fit alongside each other. It's like putting on the last pieces of a pouch-shaped puzzle.
So what's the catch with the Tech Kit Compact? Thankfully it's a small one, albeit literally. There's no zippered compartment for small items like memory cards and port adapters. It's the same flaw the Tech Kit has, and it makes its way here. The Tech Kit Compact has a small and shallow pocket inside the magnetic slip pocket for small items. Since it's shallow and raised up, we often found adapters and memory cards spilled out, making their way to other pockets.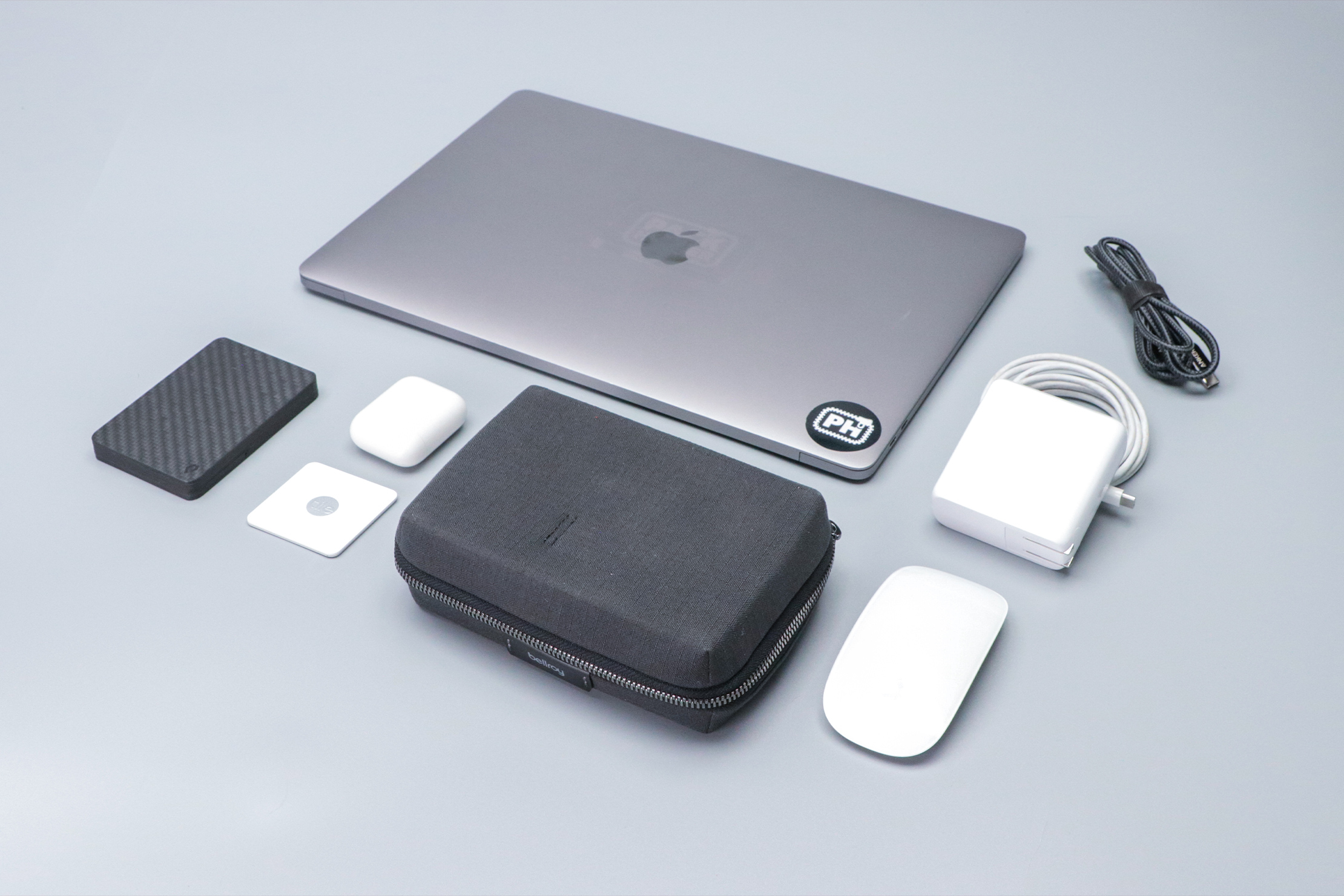 The Tech Kit Compact's size is also fairly minimalist in its approach. Standard length USB and Lightning cables measure at about one meter, and anything longer than that might prove a challenge to fold or roll to fit inside. Your mileage may vary depending on what kind of cable and what material it uses, but needless to say, beefy HDMI cables are a no-go.
For those looking for more space for their many tech accessories, the Tech Kit Compact may prove too small. It's certainly not a catch-all solution for users who travel with a cabal of gadgets, each with its own party of accessories. But for those with a basic kit or going down the minimalism route, the Tech Kit Compact is quite more than just the basics.
Usage Timeline
Initial Usage
Condition: Excellent
Great tech pouch with a smaller footprint than the Bellroy Tech Kit
Elastic bands keep everything in place and give good flexibility
Lays flat or easy access to your tech gear
2 Weeks of Use
Condition: Excellent
We like the structure of the pouch
This compact offering seems more well-suited for minimal travel than the ordinary Tech Kit, but the sizing can be finicky with certain items being a tad too large for comfort
As usual, we dig the mesh material Bellroy uses
Access the Pro Community Discussion
Get your questions about the Bellroy Tech Kit Compact answered from our team and the Pro Community right here on the page. Plus, join discussions with other members about gear, guides, and more.
Other Organizers & Pouches Reviews