Trakke Laggan Mini Accessory Organiser Review
Trakke's Laggan Mini Accessory Organiser is densely packed with pockets for organizing accessories, though they're lacking in grip.
Our Verdict
Unlock the Pro Summary
Save time. Get access to brief summaries of our reviews so you can browse and make decisions more efficiently.
Pros
Good interior visibility thanks to orange liner
Zippers smooth to operate around square corners
Lots of organization options inside
Cons
Gear can fall out of the exterior slip pocket
Internal liner pockets lack grip
Ring pulls potentially have long-term durability issues
Recent Pack Hacker Video
Technical Details
Capacity

0.88l

Weight (oz)

4.59 oz (130.1 g)

Dimensions

6.69 in x 5.12 in x 1.57 in (17 x 13 x 4 cm)

Notable Materials

YKK Zippers, Cotton, Canvas, Stainless Steel

Manufacturing Country

United Kingdom

Warranty Information
Full Review
Get up to 15% off Trakke • Join Pack Hacker Pro
Small pouches can fit a surprising amount of gear if you try hard enough—that's what we're able to do with Trakke's Pencil Case. The pink sausage-shaped pouch's versatility comes courtesy of its largely empty interior. It's basically a dump pocket, and it works well if that's what you're looking for. However, if you're looking for a logical upgrade where organization is a priority, the Laggan Mini Accessory Organiser may be worth considering.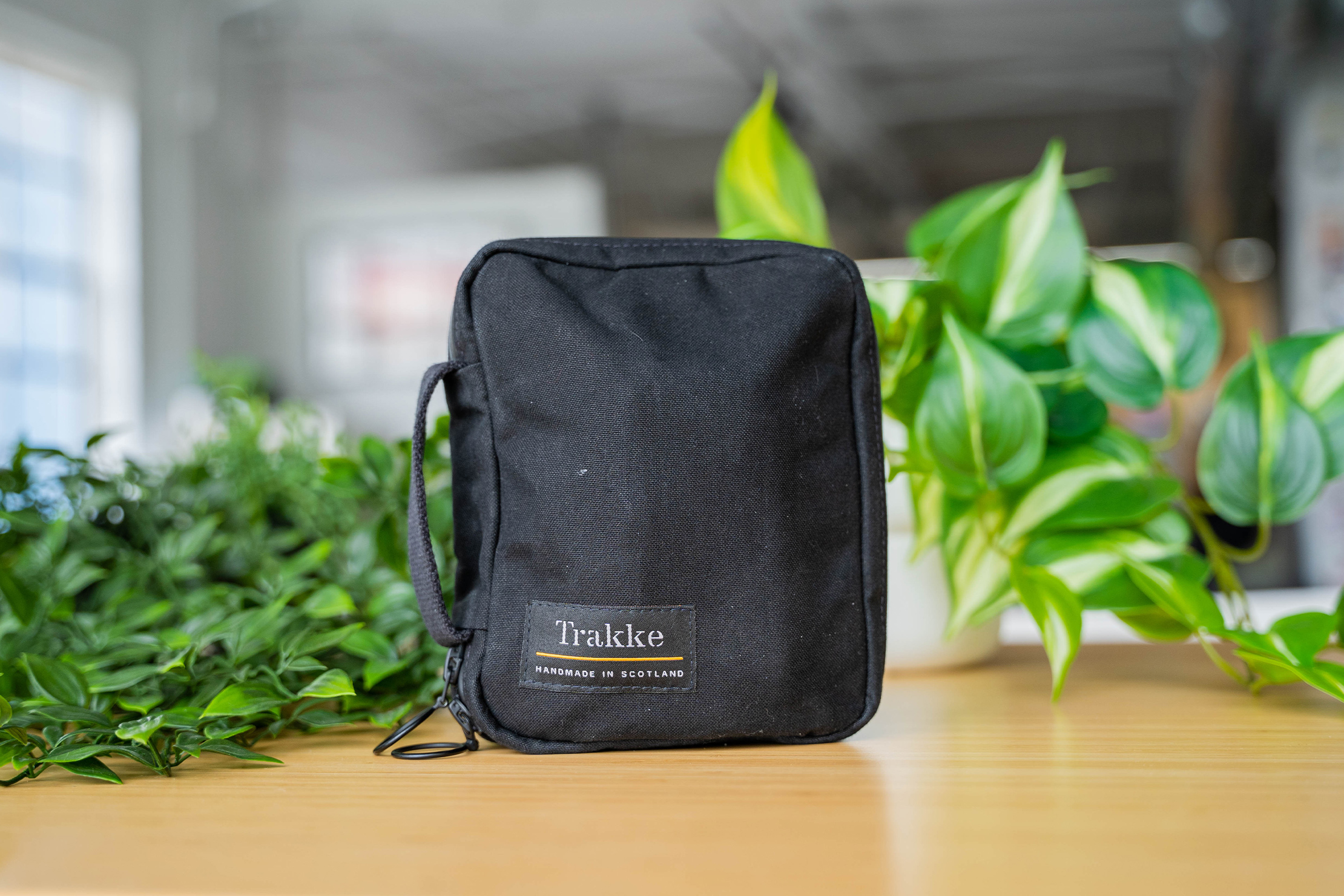 Far from just an empty pouch, this clamshell-style organizer packs a dense amount of pockets, loops, and probably the beefiest metal ring in its weight class. While it is an impressive amount of organization for its size, we still ended up putting a smaller pouch inside. Why? Well, let's find out.
External Components
First things first: if this is your first introduction to Trakke's gear, then the sample of the Laggan Mini we have may not clue you into their usual aesthetic. What you see here is an all-black square pouch—nothing particularly stand-out among a vast sea of all-black square pouches. However, if you look at their other creations, like the Canna, Bannoch, or Pencil Case, you'll see that Trakke puts out some pretty colorful gear.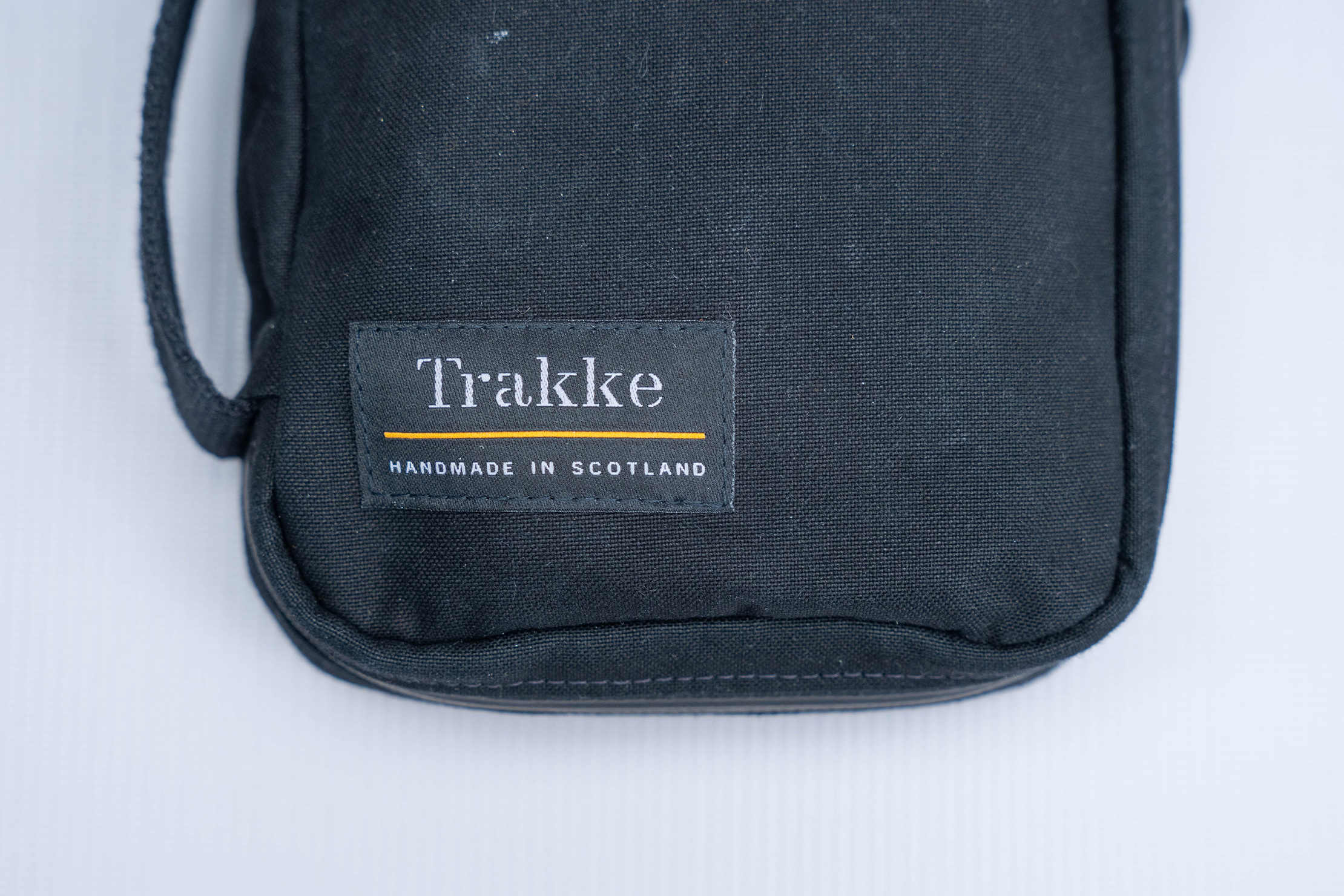 Now, take a closer look at the Laggan Mini we have, and you'll start to see the resemblance. The main fabric is waxed canvas, which gives it that heritage look and feel we associated with some of the brand's other bags. While black may not be the most eye-catching color out there, it does hide some of the waxed canvas' patina—a plus if you're the sort who doesn't like patina, a con if you do. Fortunately, there are other colorways to choose from at the time of writing.
The zippers are courtesy of YKK and appear to be of the AquaGuard variety. Regardless, they are reverse-coil, so they're quite resistant to splashes, though still not completely waterproof. They zip rather smoothly, too, despite the Laggan Mini's relatively sharp corners. We've seen other pouches with stiffer zippers have trouble with this, even when they have more rounded corners. That said, these zippers do have a potential Achilles' heel: the zipper pulls.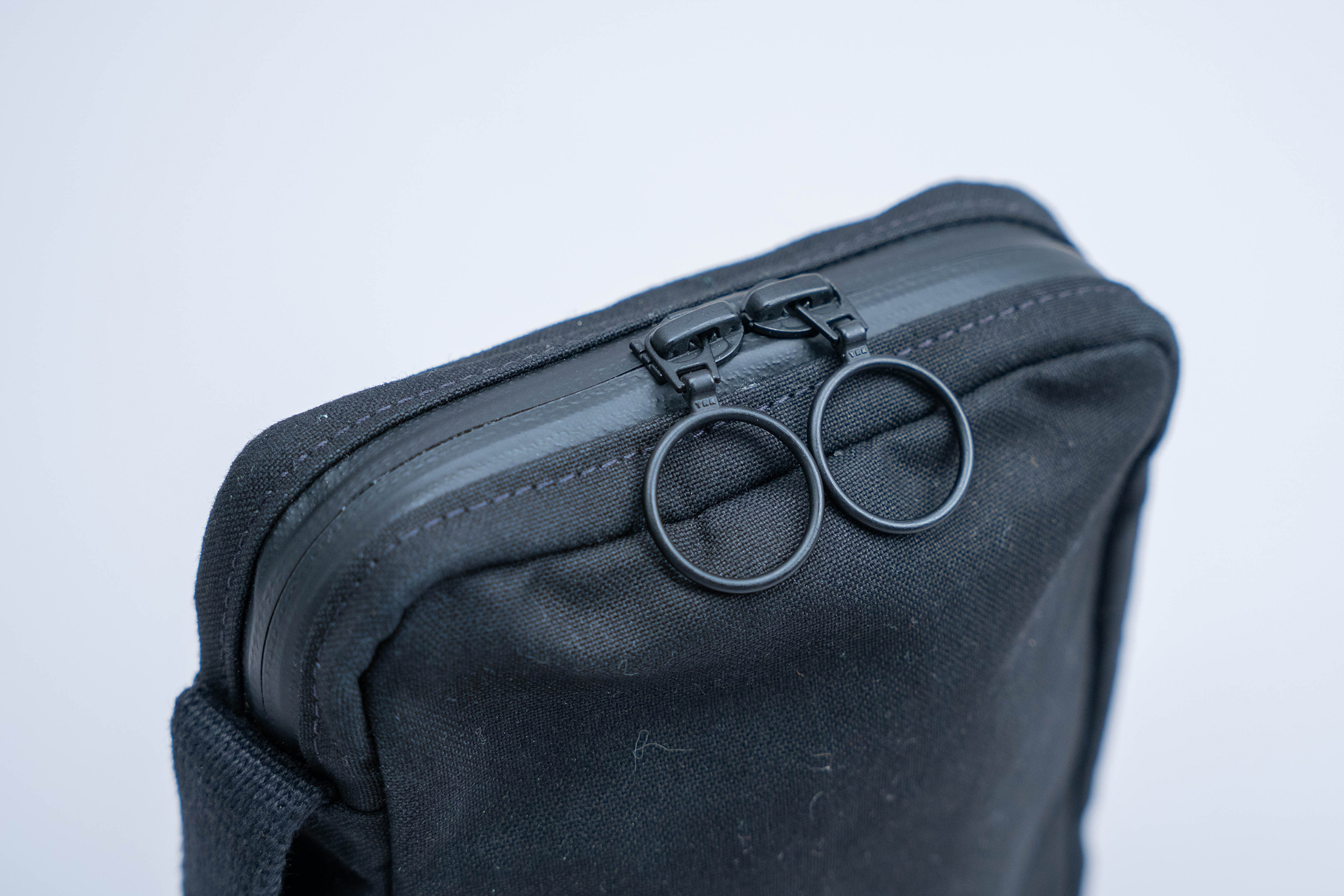 Admittedly, we think the ring pulls are aesthetically pleasing. Moreover, they're easy to grab and pull even with thick gloves on. In the long term, though, we've seen these break off on Trakke's other bags, so we're keeping an eye on these ones. Fortunately, the YKK zippers themselves will still function even without the pulls; you just may need to get a little creative.
For what it's worth, the pulls on this sample haven't broken off over the course of testing. Furthermore, if your use case for the Laggan Mini puts it primarily inside another bag, then the pulls should be less likely to take damage, and that may prolong their life.
The Laggan Mini is, first and foremost, a pouch, but that doesn't mean you have to clutch it everywhere you go. Apart from putting it in another bag, there's also a handle at the side you can grab. As comical as it sounds, we're calling this method the Laggan Mini's "briefcase mode" because that's what it basically is, only smaller.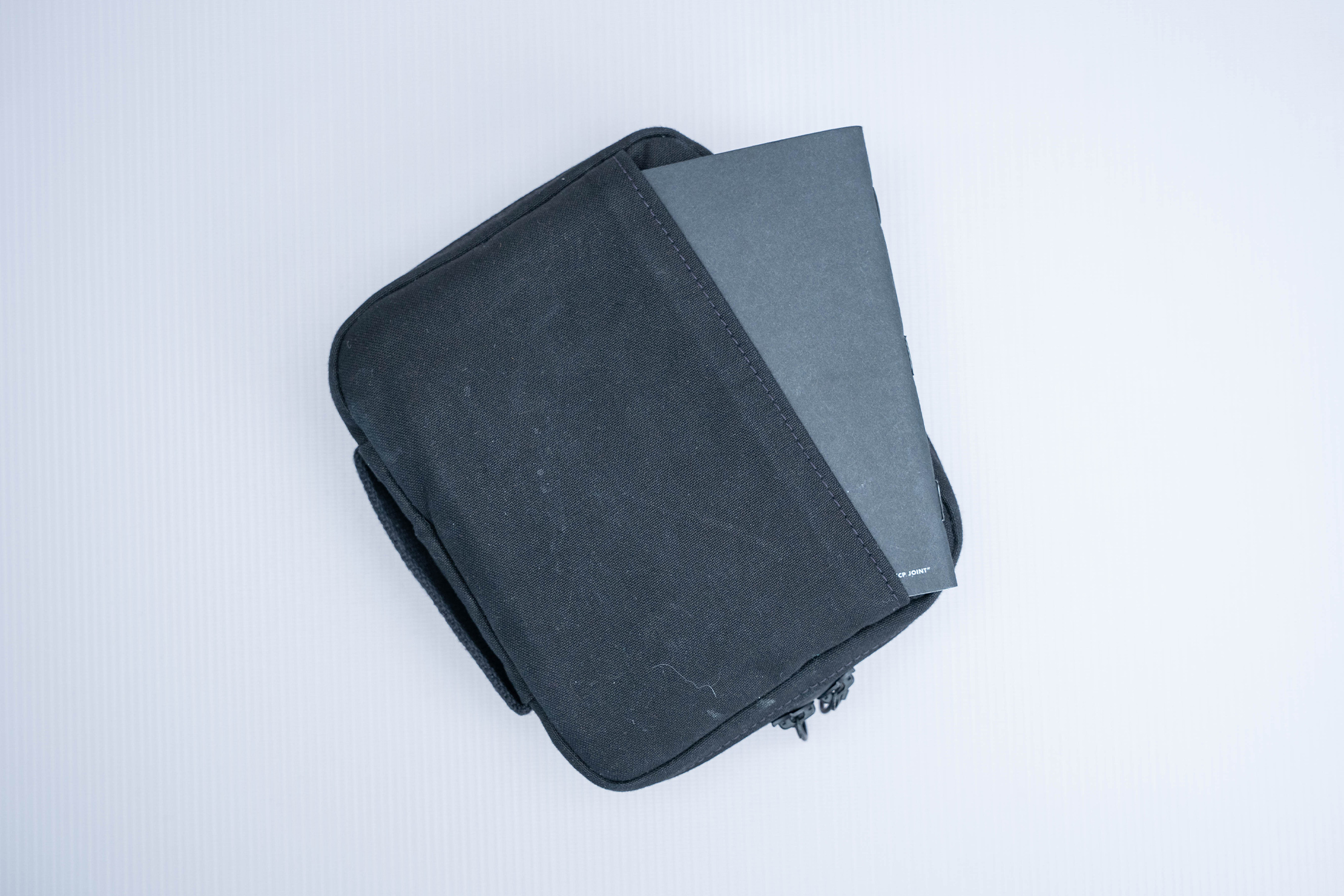 There's also an open slip pocket at the back that's wide enough for a passport. The bad news is that its opening faces down when you're carrying the Laggan Mini by the handle, so there's the potential for gear inside to fall out. Once the main compartment is packed tightly, though, this pocket also gets tight, so anything inside is held more firmly—but it's still a risk nonetheless.
Inside The Pouch
The Laggan Mini opens up fully like a clamshell, which gives you a large degree of access to the many pockets inside. There are three liner pockets and six loops—that may not sound a lot, but it's relatively dense for how small the Laggan Mini is.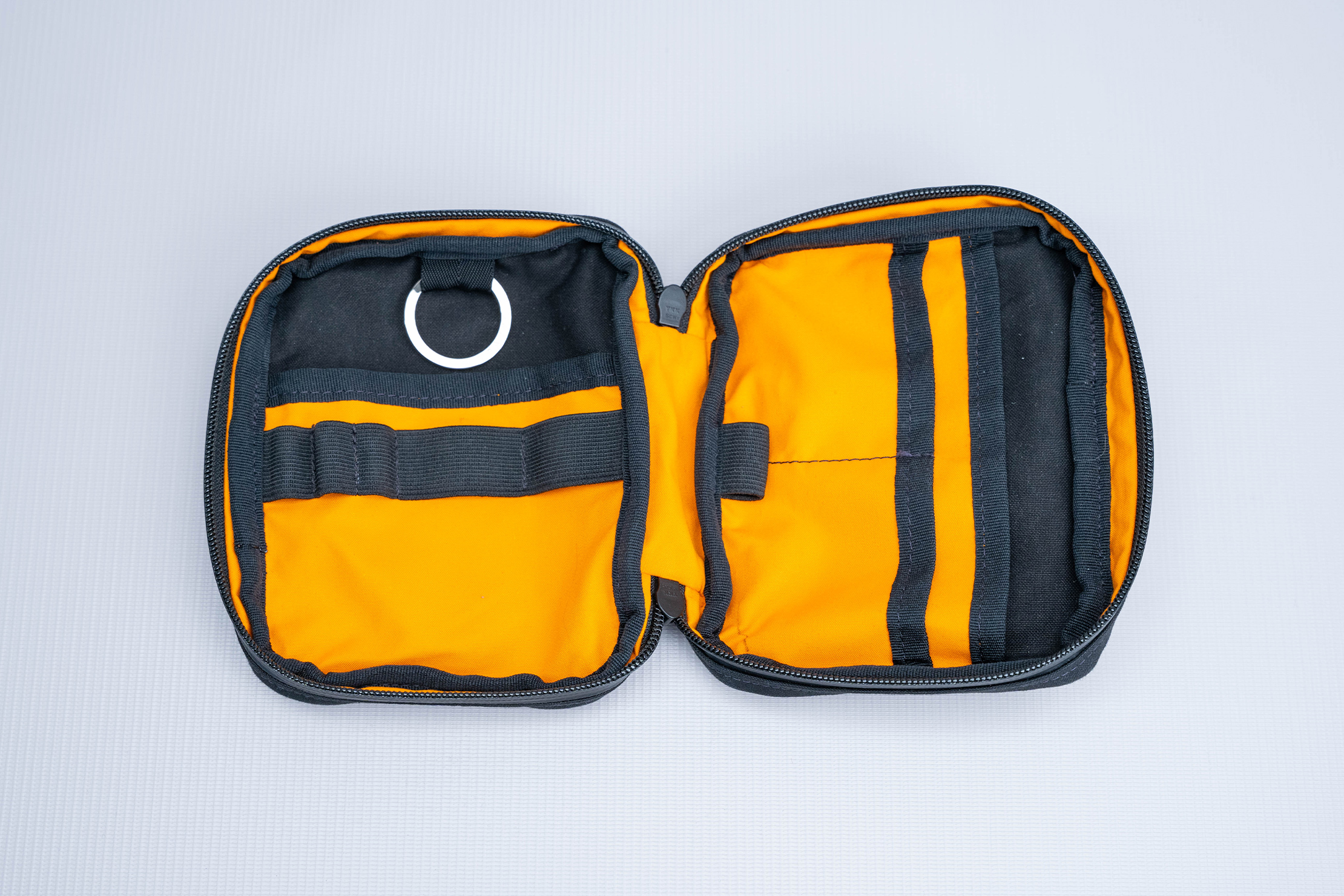 On the right, there's a wide slip pocket and two liner pockets in front of it. All three of these have their openings facing out. Our gripe with these pockets is that they lack grip. The black trim isn't elastic, unfortunately, so there's nothing to stop accessories from getting loose. An Anker charger, which is fairly chunky, slips out from time to time whenever we open the pouch. A cable stays in place, but that's because it's tall enough to be held in by the shallow sidewall.
There's a total of six elastic loops. The first one on the right half of the Laggan Mini fits a full-size pen without a hitch. The loops on the left side, though, are in front of a liner pocket, meaning anything too tall in them can interfere with what's behind. Since they're elastic, they have a fair amount of grip to hold small rolls of cable in place. The three small loops on the far left are more for travel-sized pens or similarly-sized tools.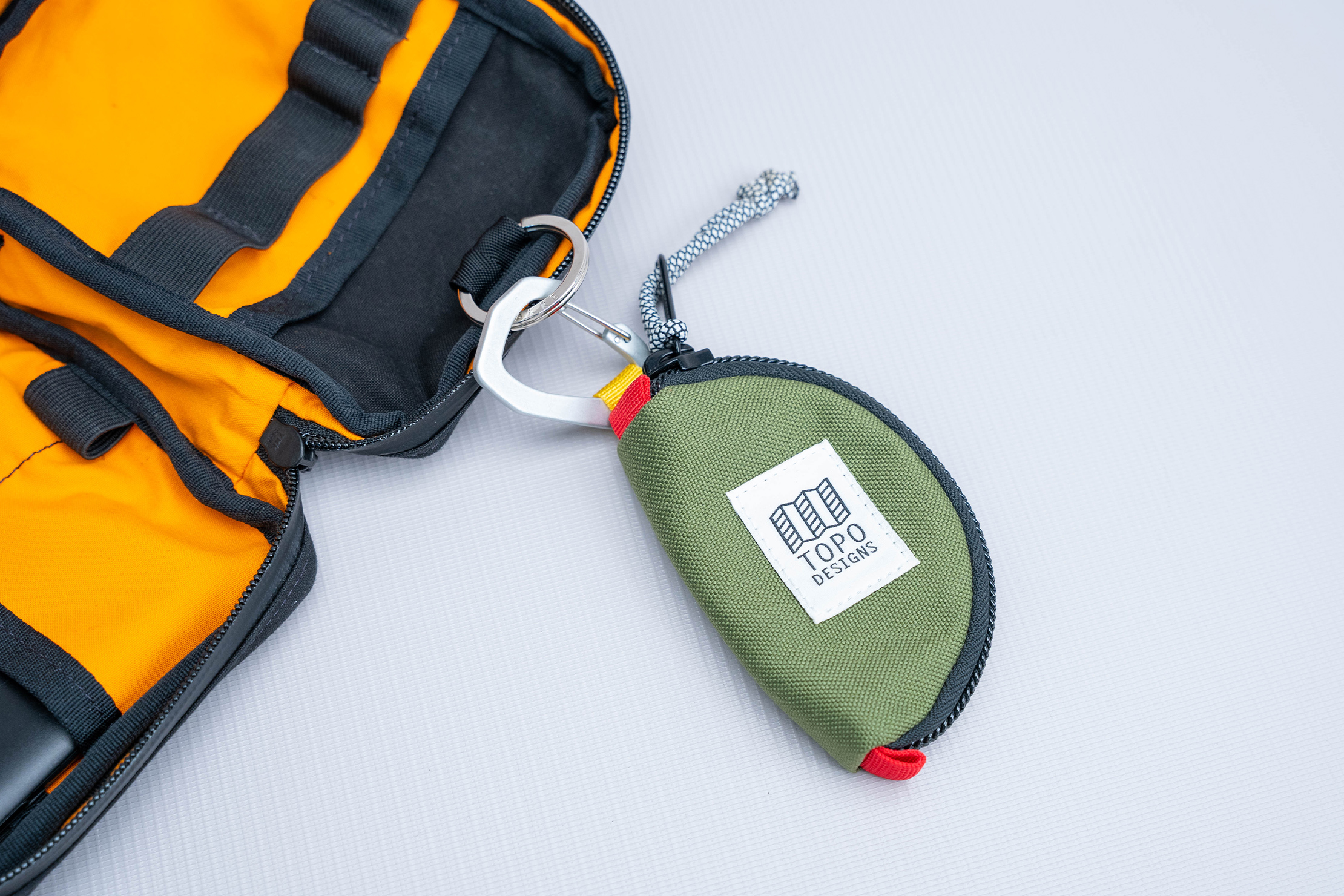 Lastly, there's a large, almost disproportionally-sized metal ring hanging above the upward-facing liner pocket. Even though it looks overkill, we dig how beefy it is—it feels reassuringly tough. You can use this to hang an Apple AirTag or some form of identification tag in case you lose the Laggan Mini. We use it to hang an additional pouch to organize tech accessories even further.
It's worth noting that you can also use the handle to hold onto the Laggan Mini more securely while you peruse its contents. This is particularly handy when you're trying to access gear while on the go, like when you're standing inside a bus or a train or maybe while climbing up a steep cliff. Regardless, we dig the extra security as much as we like using the handle for carrying the Laggan Mini around.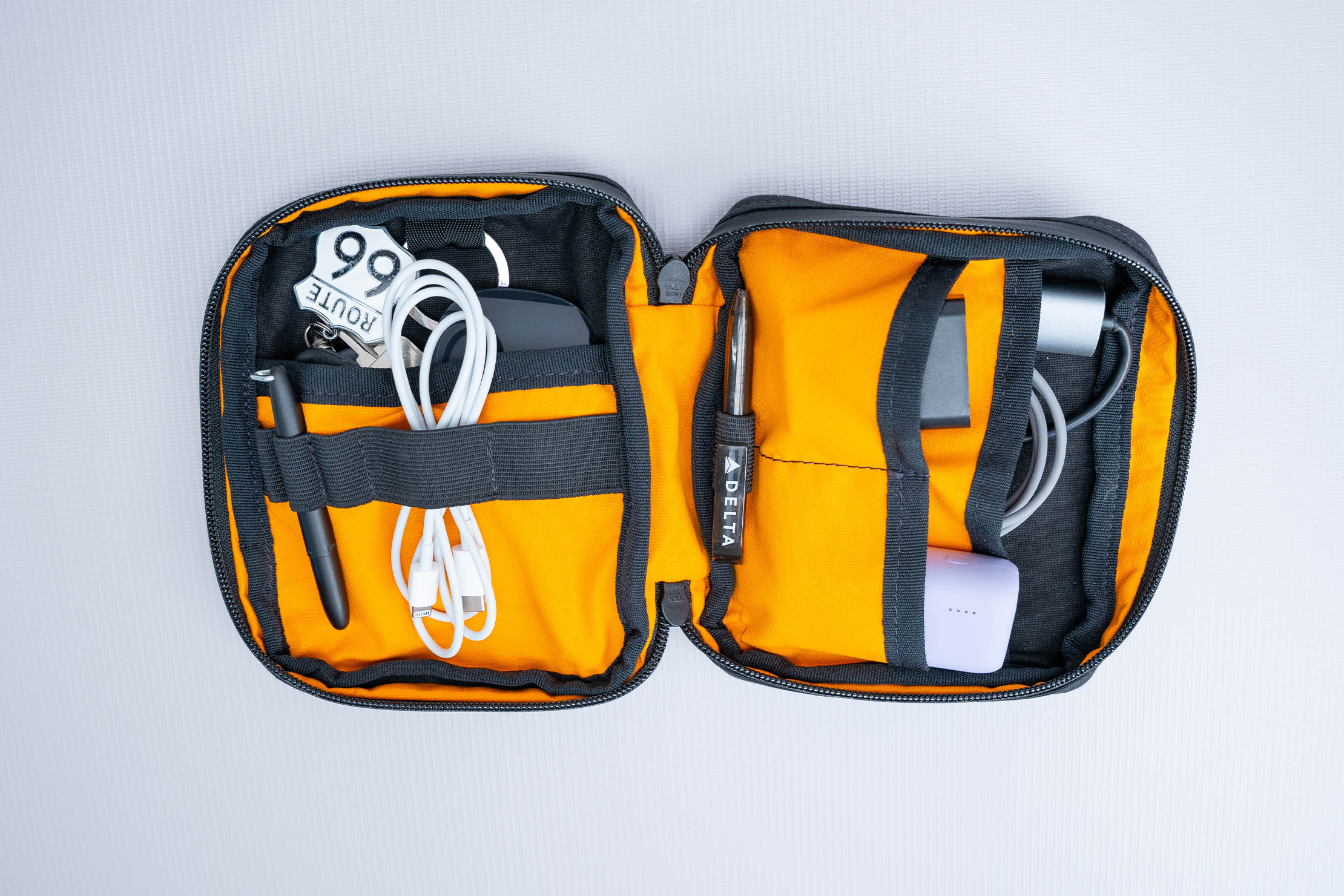 The Laggan Mini does struggle a bit in terms of space, getting buff fairly quickly once you start populating the pockets. Anything chunkier than a smartphone charging adapter may be asking too much from this small pouch. If you go the opposite route and fill it with small accessories, the Laggan Mini is, thankfully, lined with orange fabric, so sifting through them shouldn't be too hassling.
Still, the liner pockets' lack of grip can lead to a lot of those small accessories scattered around the interior. In our view, this is the biggest con of the Laggan Mini since it makes using an additional smaller pouch a necessity. There are a good amount of pockets for getting gear organized, though it's a bit lacking in terms of maintaining that organization.
Usage Timeline
Initial Usage
Condition: Excellent
Waxed canvas feels great in hand—you can tell this is a quality piece of gear
Liner pockets don't have any stretch, so finding the correct-sized gear to put inside is important
Interior stainless steel ring is a little large compared to the pouch, though we dig it for attaching smaller pouches or keys
Pen loop inside the pouch is a nice touch
2 Weeks of Use
Condition: Excellent
Waxed canvas feels so great in the hand
Items can slip out of the liner pockets as there is no elasticity to hold things in place
No dedicated zippered pocket to put smaller gear into is kind of a bummer—it can slip and slide around
Access the Pro Community Discussion
Get your questions about the Trakke Laggan Mini Accessory Organiser answered from our team and the Pro Community right here on the page. Plus, join discussions with other members about gear, guides, and more.
Other Organizers & Pouches Reviews