Mission Workshop Internal Tool Roll Review
The Mission Workshop Internal Tool Roll organizes all of your "tools"—whatever they may be—making your travel experience easy and efficient!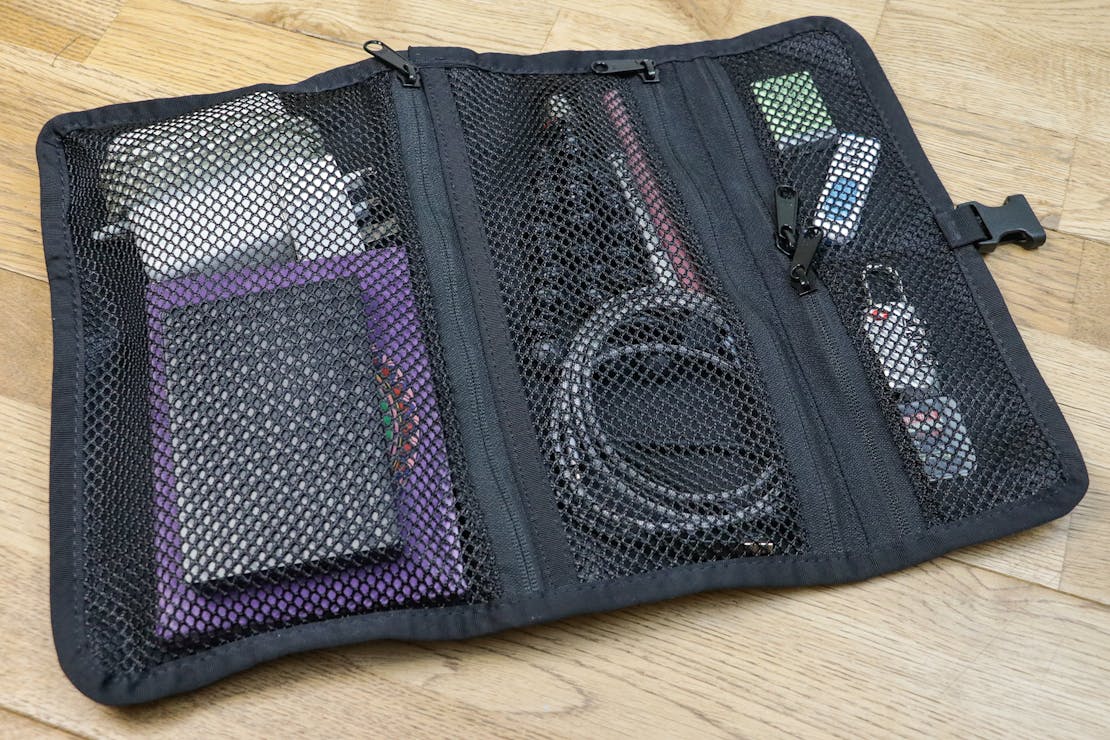 Our Verdict
Unlock the Pro Summary
Save time. Get access to brief summaries of our reviews so you can browse and make decisions more efficiently.
Pros
Made in the USA with durable materials.
Stylish and straightforward design.
Lifetime warranty.
Cons
Can't fit bulkier items inside.
Picks up fluff easy.
Recent Pack Hacker Video
Technical Details
Weight (oz)

4.8 oz (136.1 g)

Denier

500D

Dimensions

16 in x 11 in (40.6 x 27.9 cm)

Notable Materials

Nylon, YKK Zippers, Duraflex Hardware

Manufacturing Country

United States

Warranty Information
Full Review
It's no secret that we dig Mission Workshop. The style, the functionality, and the fact that they create super durable gear—backing that up with a lifetime warranty on all products—are just a few reasons why. Having previously tested their Fitzroy VX backpack, we couldn't wait to get our hands on another piece of Mission Workshop kit, so in this review, we're going to be taking a look at the Arkiv Internal Tool Roll—a cool little gadget that we've been testing for the last two months.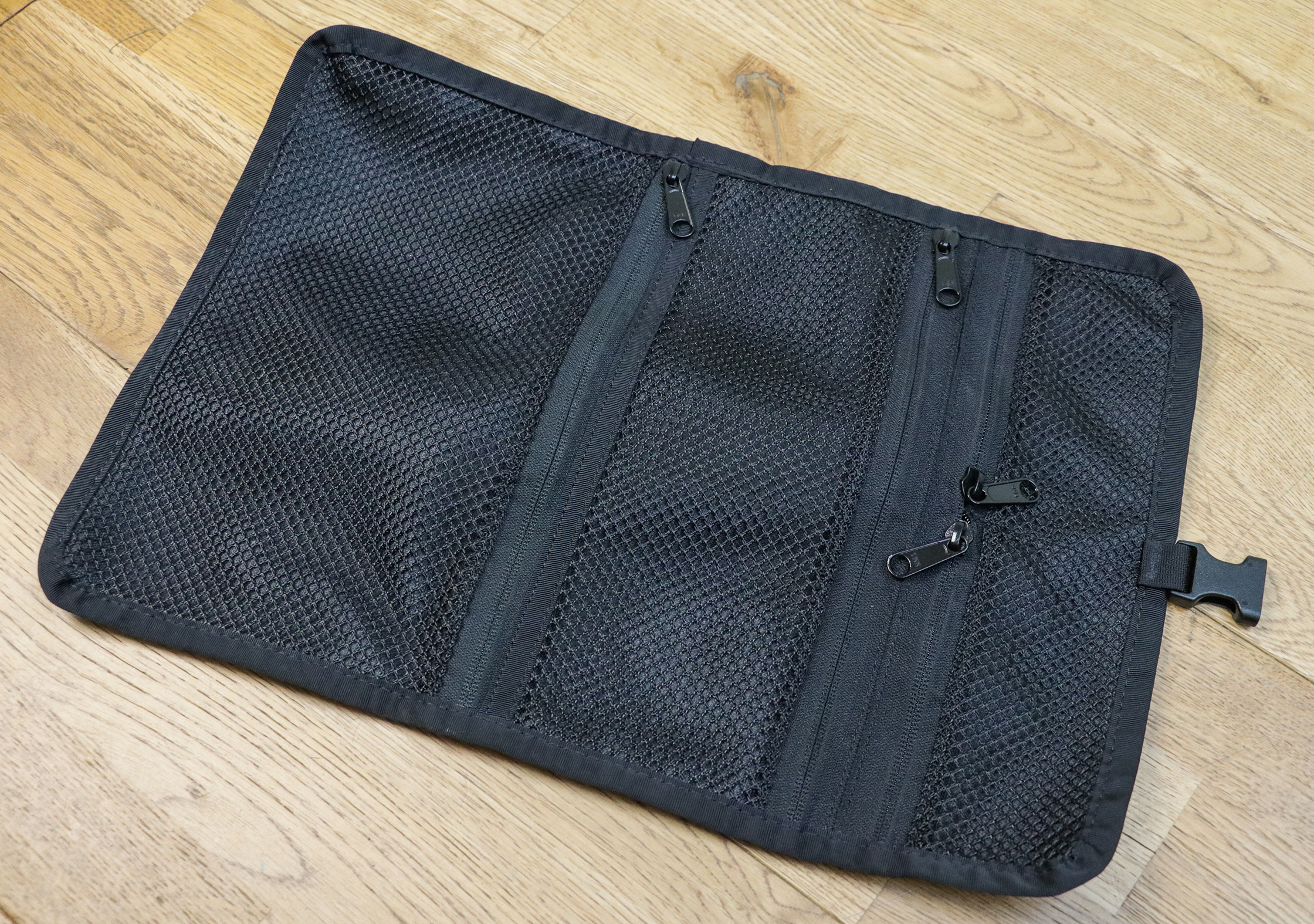 At this point, you may be wondering what the Mission Workshop Internal Tool Roll is exactly, and why you need it. Well, this piece of kit is designed to neatly organize, and conveniently roll away all of your "tools" within your pack, ready for whenever they are needed—awesome! We're big fans of added organization where we can get it, and the great thing about this is that "tools" can mean absolutely anything. If you're a digital nomad, your tools may be your laptop charger, wireless mouse, and earphones. Whereas if you're trekking up a mountain, your tools might include a multi-tool, torch, and first-aid kit.
The Internal Tool Roll is part of Mission Workshop's "Arkiv®" utility, a patented modular system that allows you to attach accessories to your pack. While most of the Arkiv® accessories are made to attach to the exterior of the pack, it is important to note that the Internal Tool Roll—keyword "internal"—is only designed to sit within your bag.
So, the question is… Does this Internal Tool Roll actually help organize your tools within your pack, or will it just end up filling otherwise valuable space? Let's find out.
Material & Aesthetic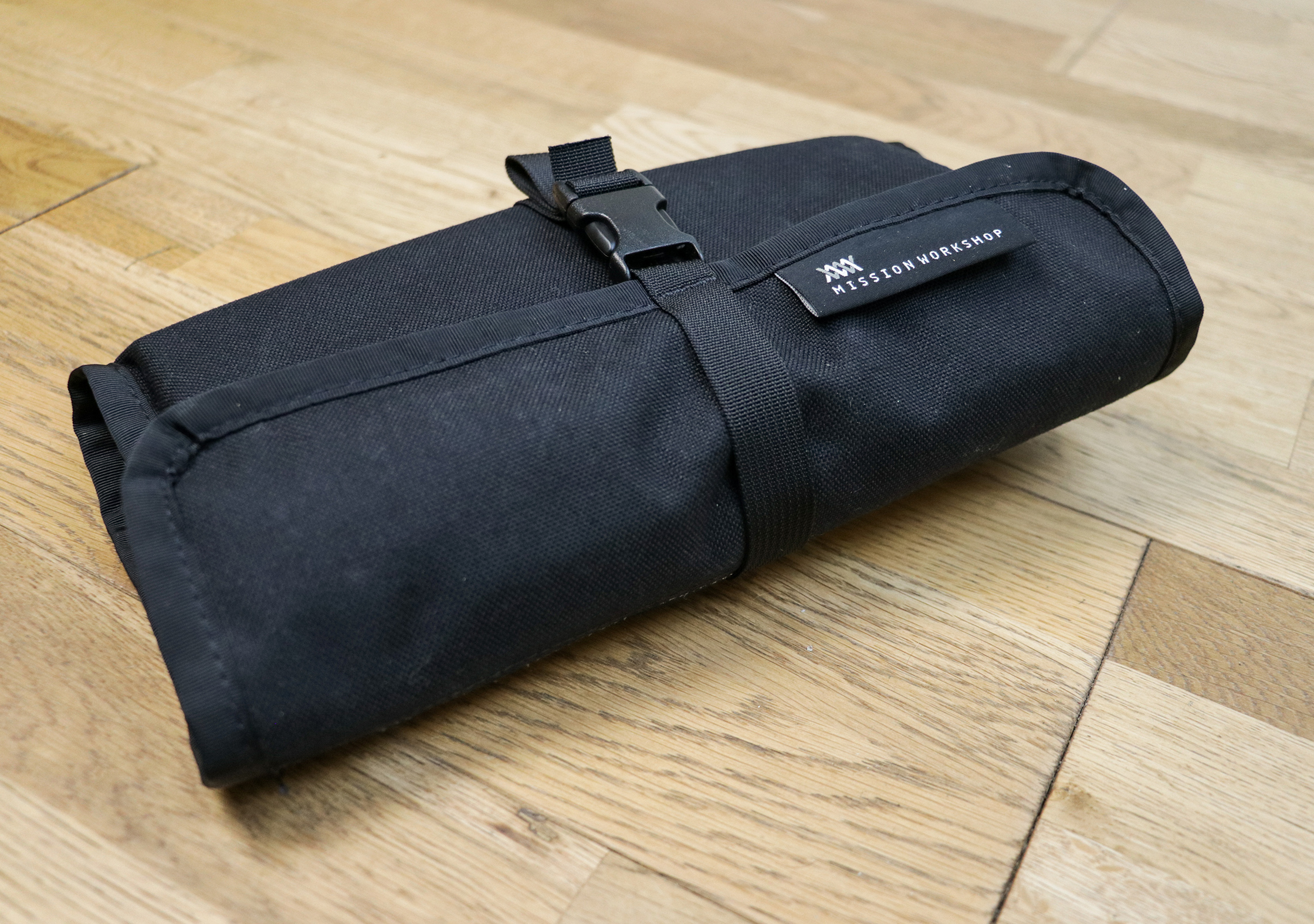 Getting straight to the point, we think the Mission Workshop Internal Tool Roll looks great. The clean, minimalist design will fit right in with any style.
The tool roll is available in four colors—black, olive, orange, and black camo. The colors are all relatively neutral and will provide you with different benefits, from the olive and orange standing out in a dark backpack, to the black camo that can—quite literally—disappear into the background.
Whatever color you end up going for, the interior stays black. We found our items inside stood out well against the black interior, so we like this decision.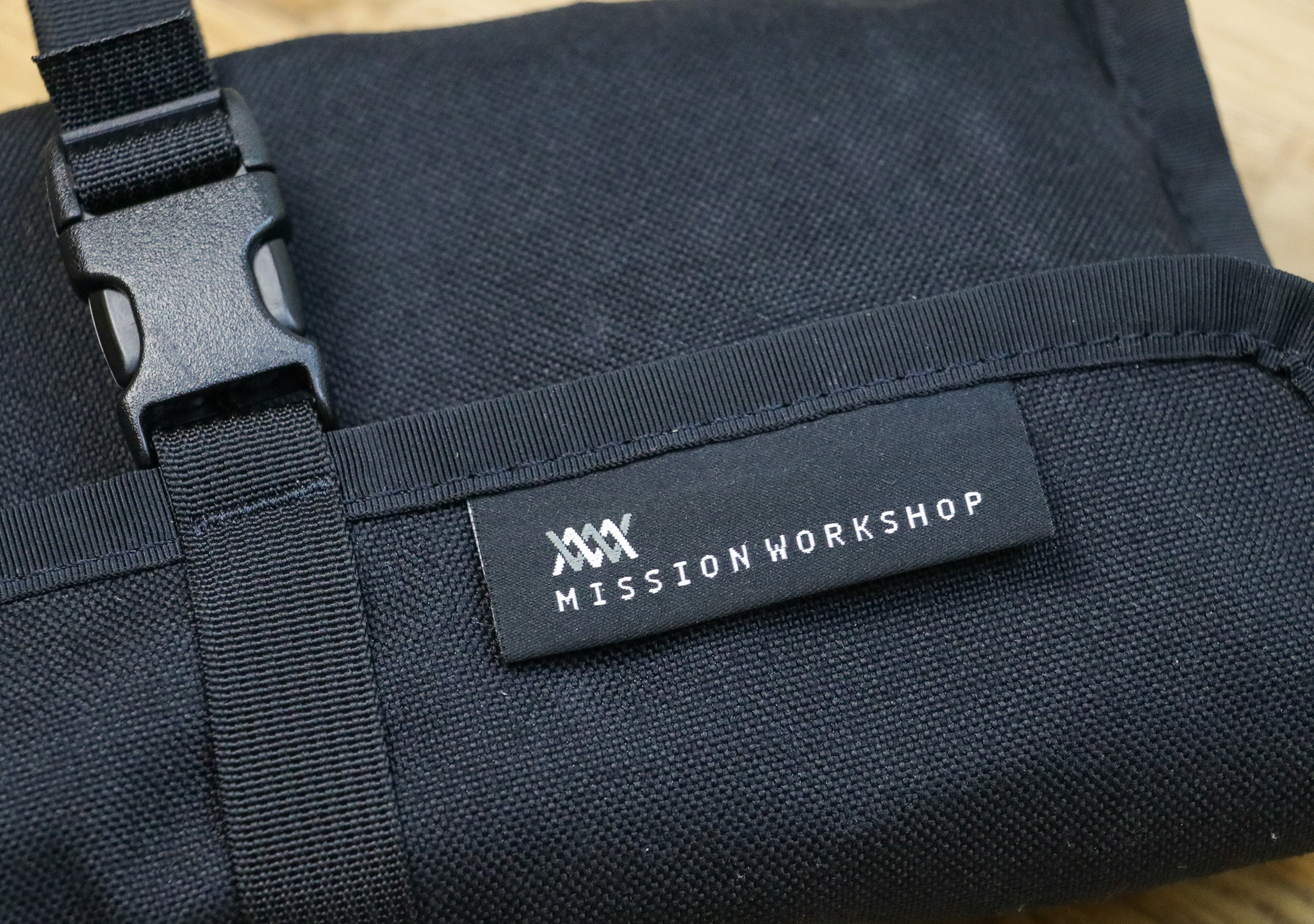 The branding on the Tool Roll is minimal and discreet, in keeping with that Mission Workshop aesthetic. Located on a tab at the front of the Tool Roll, you'll find the solitary piece of branding on this thing, the Mission Workshop logo. (Which we really dig by the way, just look at the design of the overlapping MW!)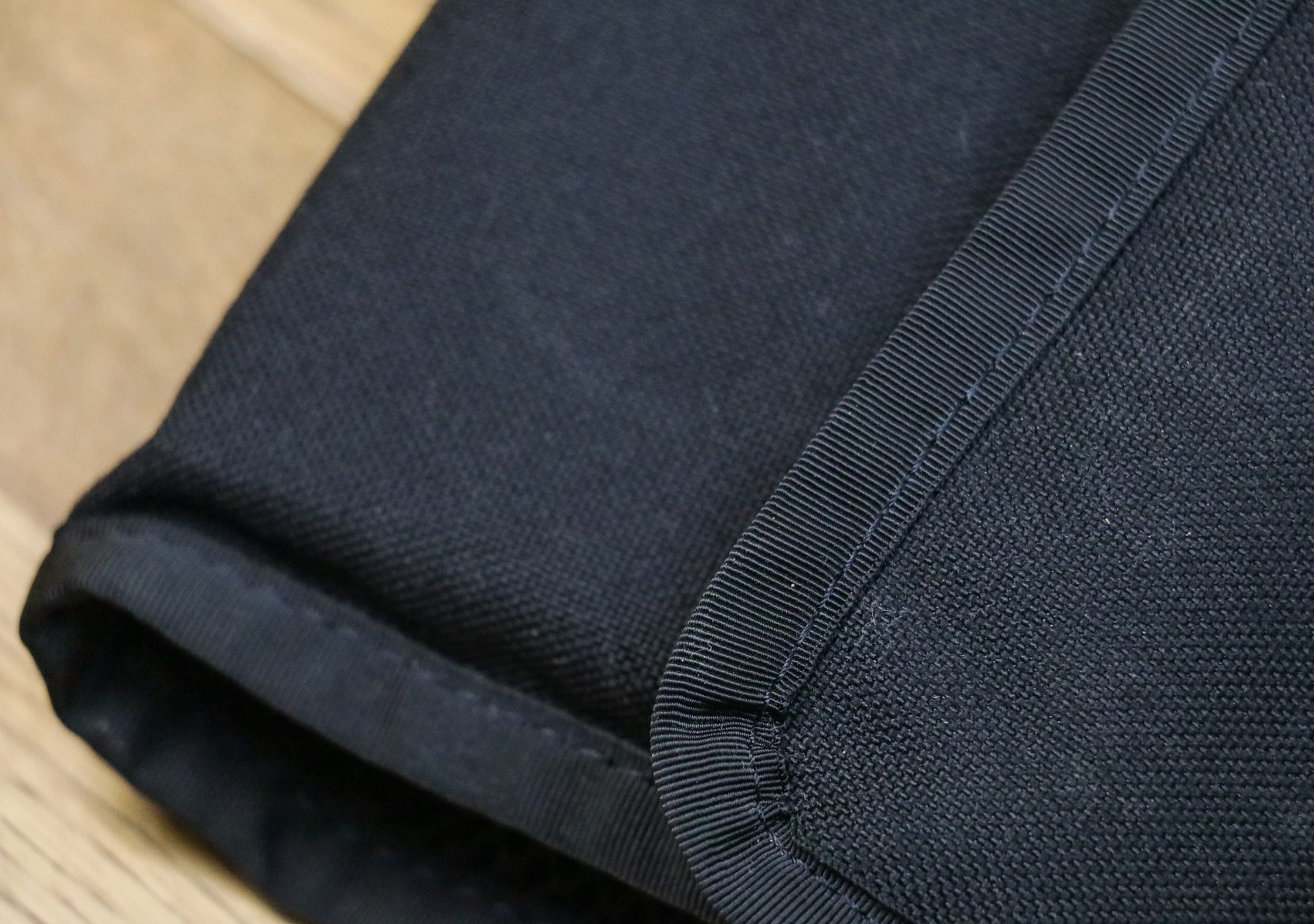 We mentioned earlier how Mission Workshop makes some of the most durable gear out there, so it will come as no surprise that the Tool Roll is made from a strong and reliable 500D Nylon material. The interior mesh isn't just any mesh either, it's heavy duty nylon mesh! That's right, this thing can handle the heaviest of duties.
Sometimes, when a product is made of reliable and quality materials, weight can suffer, so we were pleasantly surprised when the Tool Roll weighed in at only 4.8oz.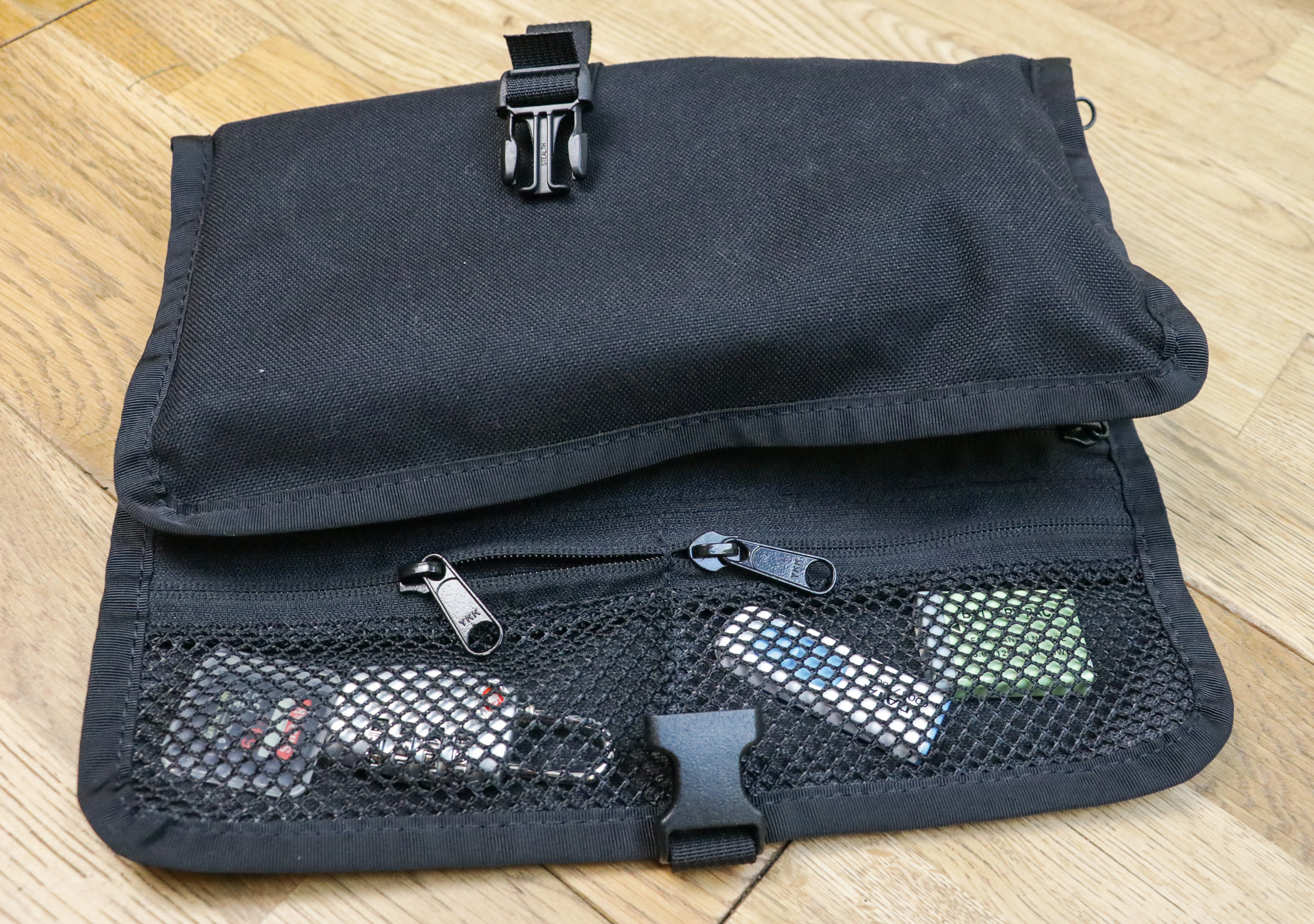 The buckle that holds this roll into place is a Duraflex® Stealth. We're not sure what the "stealth" in the title refers to, but it's a solid buckle, and Duraflex® is renowned for making quality gear, so we dig it. And wrapping up the materials, the four zips that secure each mesh compartment are all YKK 5RC. Good stuff!
To put it simply, the Internal Tool Roll is built to last, and if for whatever reason it doesn't, you can always fall back on Mission Workshop's lifetime guarantee!
Internal Organization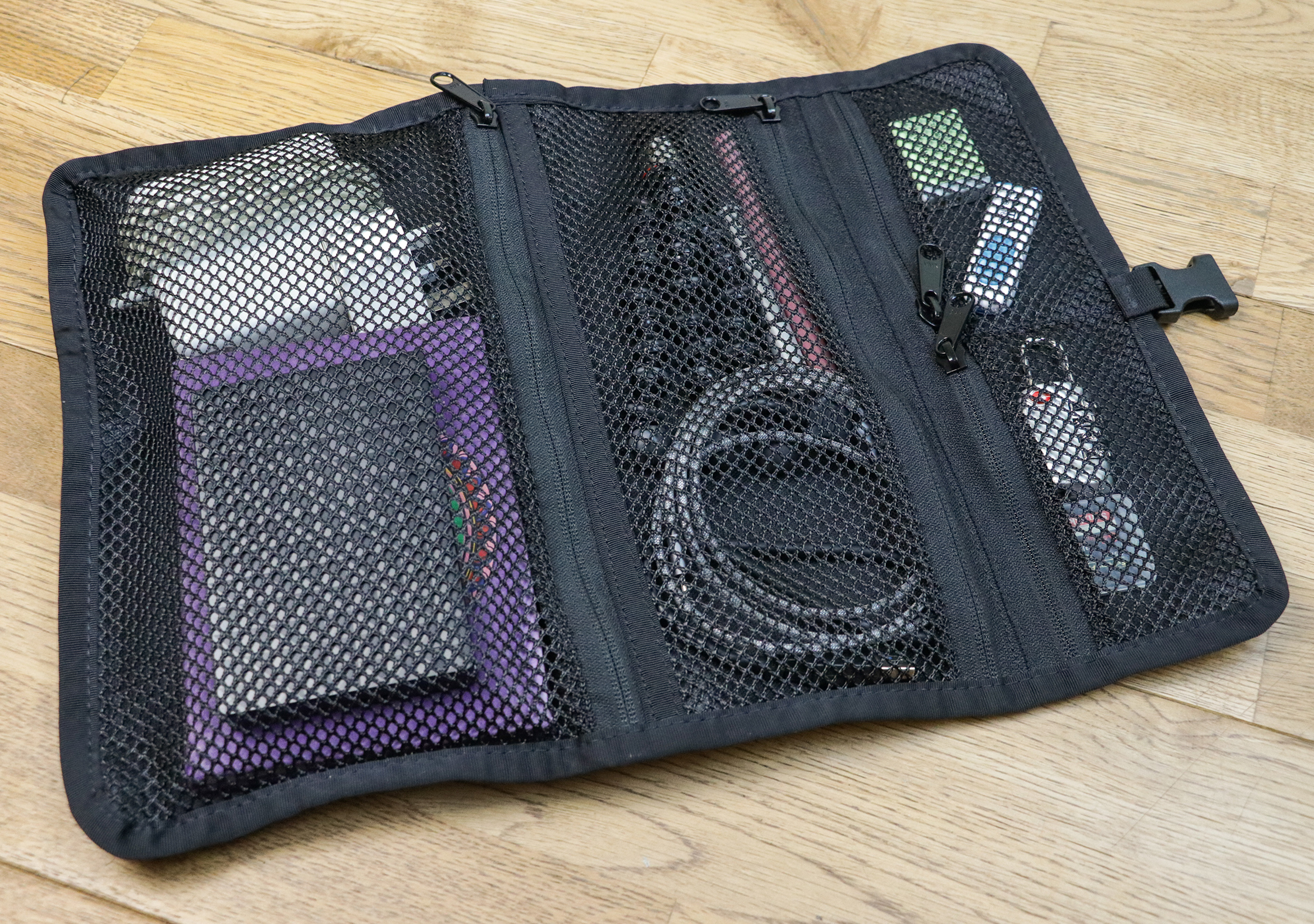 Now it's time to unroll this… roll… and take a look inside! First off, you'll be greeted by four mesh compartments that allow for some really great organization. The large pocket at the top—measuring 7" x 11"—is perfect for laptop chargers and external hard drives, basically any of your larger "tools." Next up we have the medium pocket that measures 5" x 11", which is the same width as the large pocket but a tad shorter in height. The medium pocket is great for long, slim items like pens and cables. And lastly there are two small pockets, both measuring 3" x 5.5" at the bottom. We've found these small pockets to be ideal for items like memory cards, batteries, and USB sticks.
The mesh covering on the pockets is a thoughtful addition, making everything inside easily identifiable. A great feature when you need to grab something in a rush at a busy airport or train station.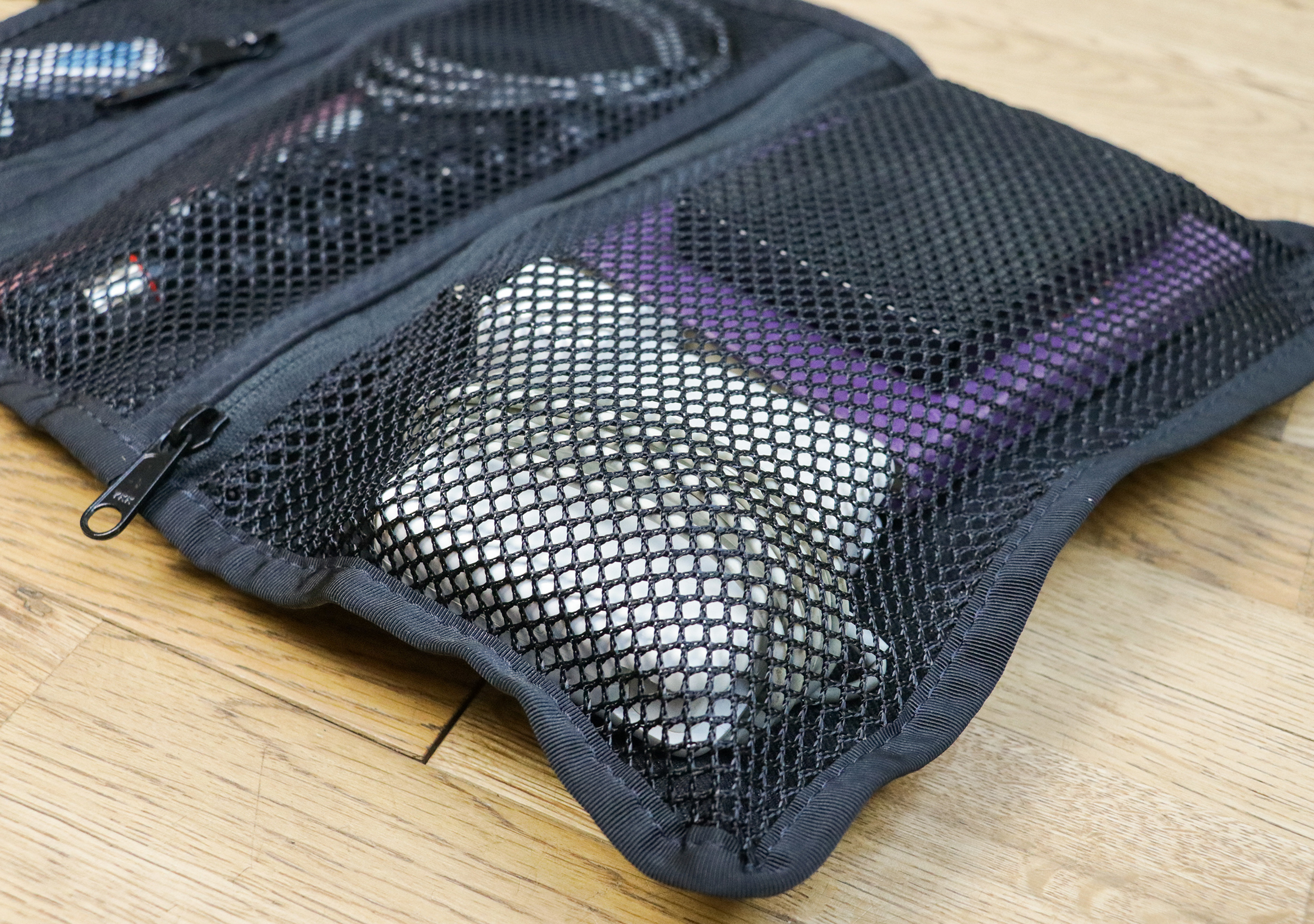 As we mentioned before, the Mission Workshop Internal Tool Roll can hold whatever you want it to—as long as it fits inside the mesh pockets of course. We may use the Tool Roll for our chargers and USB sticks, but if you need to carry items like screwdrivers and hex keys—or anything else for that matter—then throw them in. We really dig the versatility of this Tool Roll, enabled mainly by the fact that it's durable enough to hold any type of item.
Durability & Testing
We have been putting the Tool Roll to the test now for the last two months, utilizing it on trips to the USA, Spain, and the UK. From the get-go, this piece of kit was straightforward and efficient to use.
With this product, Mission Workshop has found a fix for a problem that affects so many of us out on the road—wasting time searching for a loose object in your pack that you know you have "somewhere in here." Of course, Mission Workshop aren't the only people to address this need—take a look at our reviews on the Magpul DAKA Pouch and the Cocoon Grid-It if you want to check out some other organizers on the market.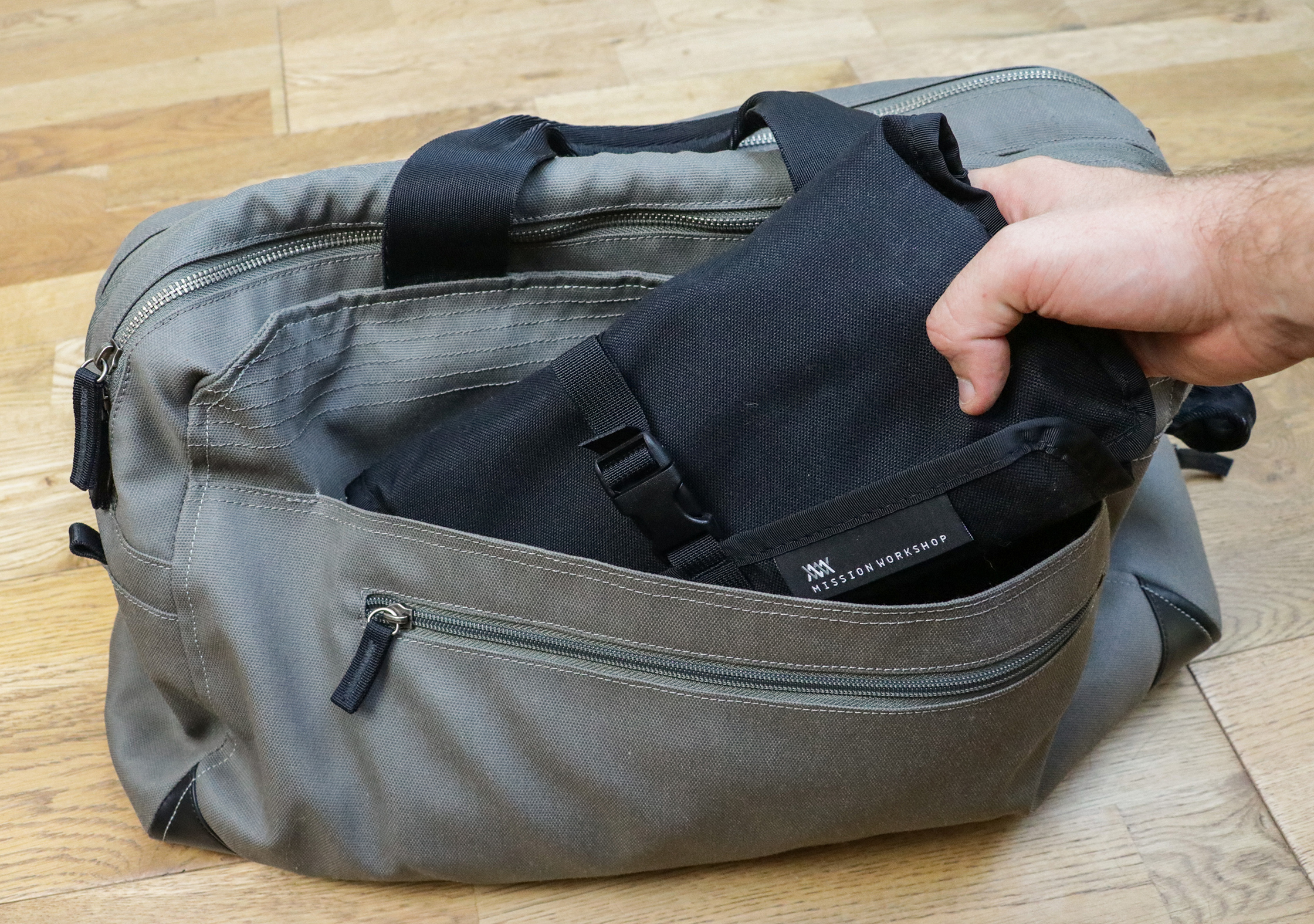 We've found that not only is the Tool Roll versatile with what you can put inside, but also with how you can carry it. We love the fact that you can quickly transfer the Tool Roll from your 40l carry-on to your 20l daypack with ease—it is a convenient piece of kit that can accompany you on whatever adventure you're about to go on.
In testing, we've found that this Tool Roll works a lot better with slimmer, less bulky items. Laptop chargers are going to be okay, but that's probably the cut-off limit. That being said, larger and bulkier items are probably fine to be put within the main compartment of your pack anyway. The Mission Workshop Internal Tool Roll is designed to organize your smaller things that would otherwise get lost inside a large compartment, and it does that very well.
The adjustable strap around the outside works well—mainly because it stops this thing from unrolling in your pack, but also because it compresses the roll. Having items that are as compressed and as small as can be is really important when you're traveling carry-on only.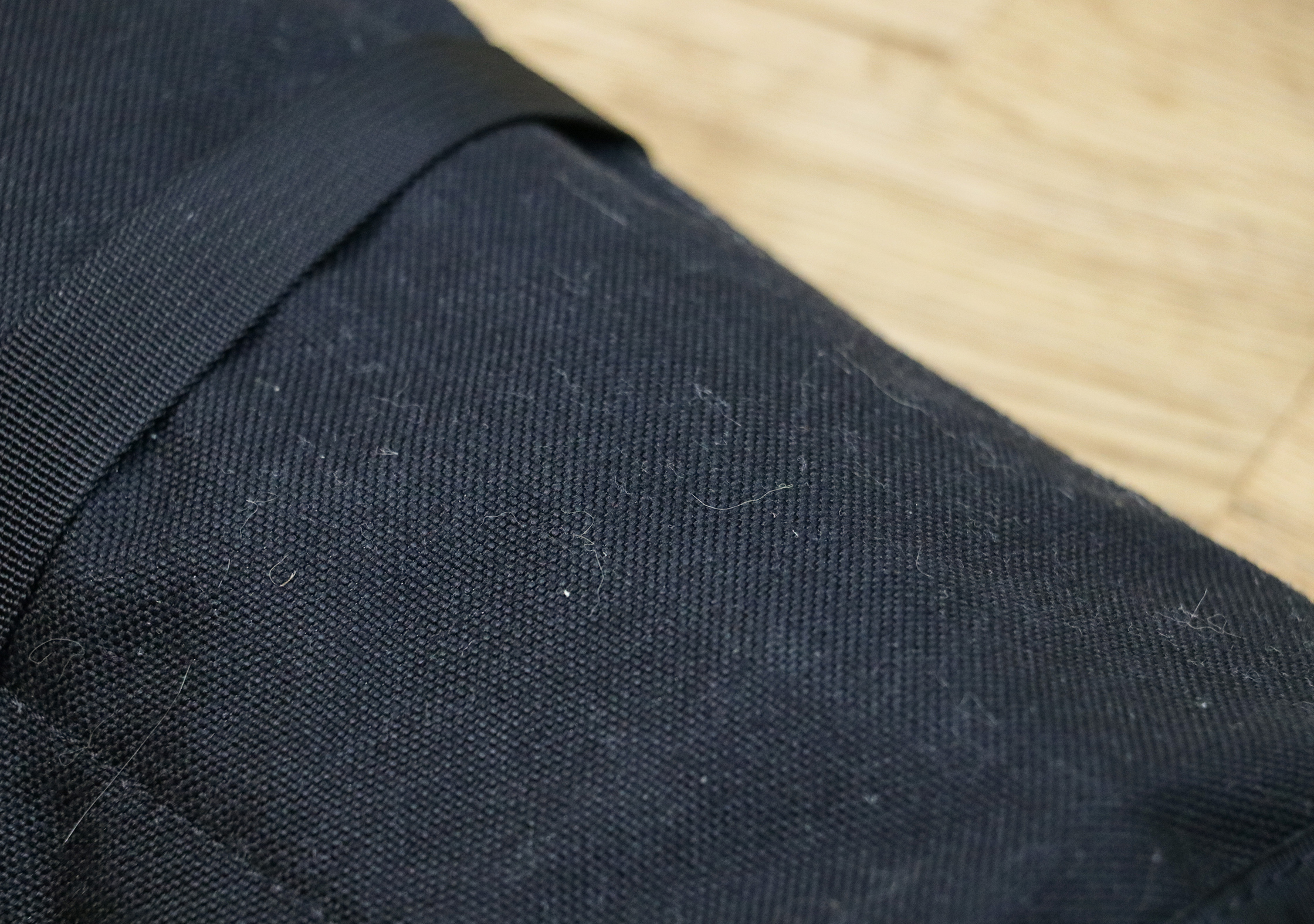 One small nit-pick is that the 500D material attracts a lot of fluff and dust. Although this is a tad annoying, it's not a huge issue—a quick brush will take it all off.
Even though we have only been testing the Internal Tool Roll for two months, Mission Workshop prides themselves on creating quality gear built to last, so we're confident this product will stand the test of time. That being said, Mission Workshop does offer a lifetime warranty across all their products, so you can be rest assured you'll be using this item for many years to come!
Usage Timeline
Initial Usage
Condition: Excellent
Love the look, feels durable and solid.
1 Month of Use
Condition: Excellent
The 500D Nylon attracts a bit more fluff than we'd like, still in excellent condition though.
2 Months of Use
Condition: Excellent
This product is really improving our packing experience.
Access the Pro Community Discussion
Get your questions about the Mission Workshop Internal Tool Roll answered from our team and the Pro Community right here on the page. Plus, join discussions with other members about gear, guides, and more.
Other Organizers & Pouches Reviews