Pakt One Travel Bag Review
If you've been on the look out for a duffel style bag that features a clamshell opening, then the Pakt One may be just what you're searching for.
Our Verdict
Unlock the Pro Summary
Save time. Get access to brief summaries of our reviews so you can browse and make decisions more efficiently.
Pros
Unique clamshell design.
Useful external pockets.
Works as a daypack and a travel bag.
Cons
Not the most durable materials.
Fully loaded weight-wise, it is heavy to carry on just one shoulder.
Poor stitching within the pack, loose threads can be found everywhere.
Recent Pack Hacker Video
Technical Details
Capacity

35l

Weight (lb)

3.25 lb (1.5 kg)

Dimensions

11 in x 20 in x 10 in (27.9 x 50.8 x 25.4 cm)

Notable Materials

Canvas, DWR Coating, Polyester, Nylon, Polyurethane

Manufacturing Country

Vietnam

Laptop Compartment Size

15"

Warranty Information
Buying Options
$295.00

$295.00
Full Review
Get up to 10% off Pakt • Join Pack Hacker Pro
When a company crowdfunds nearly 2 million dollars for a pack they claim is "the only travel bag you'll ever want," we take note. And fortunately, we were able to get our hands on it, so we can tell you if it really is as good as they say it is. In the last two months we've already put it to the test in the USA, Spain, and England, along with countless trips to the local coffee shop.
The Pakt One is a 35 liter clamshell duffel that comes from a collaboration between designer Malcolm Fontier and "The Minimalists" (Joshua Fields Millburn & Ryan Nicodemus)—who are speakers, authors, and experts in… you guessed it, Minimalism. They set out to produce the ultimate travel bag, improving on the Getaway pack that Malcolm Fontier designed in 2011—which (fun fact) was also featured in the Netflix documentary "Minimalism: A Documentary About the Important Things."
But could this possibly be the only travel bag you'll ever want? We are skeptical, as always—but let's check it out.
Material & Aesthetic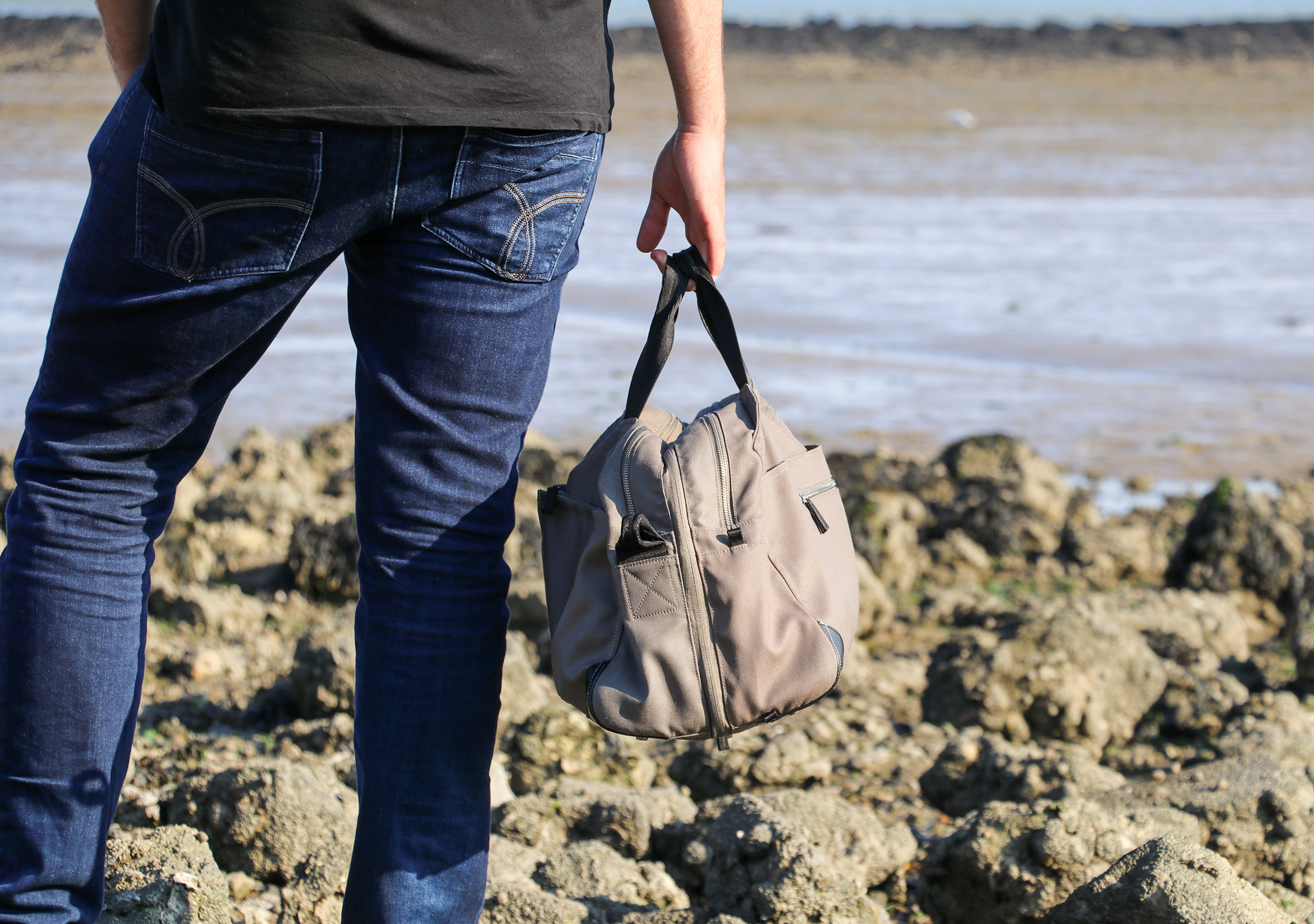 You can tell that a lot of thought and consideration has gone into the design of the Pakt One, and the outcome—in our opinion—is a great-looking bag. The professional aesthetic and duffel style will ensure no one pegs you as a tourist, which we like.
Interestingly, though maybe not surprising because "The Minimalists" had an input, you won't find any exterior branding on the Pakt One. Nothing. Not even a tiny logo that's hidden away on the bottom. We respect a company that doesn't feel the need to plaster logos everywhere—in fact, the only branding you'll find is a sweet and simple Pakt logo within the middle of the bag.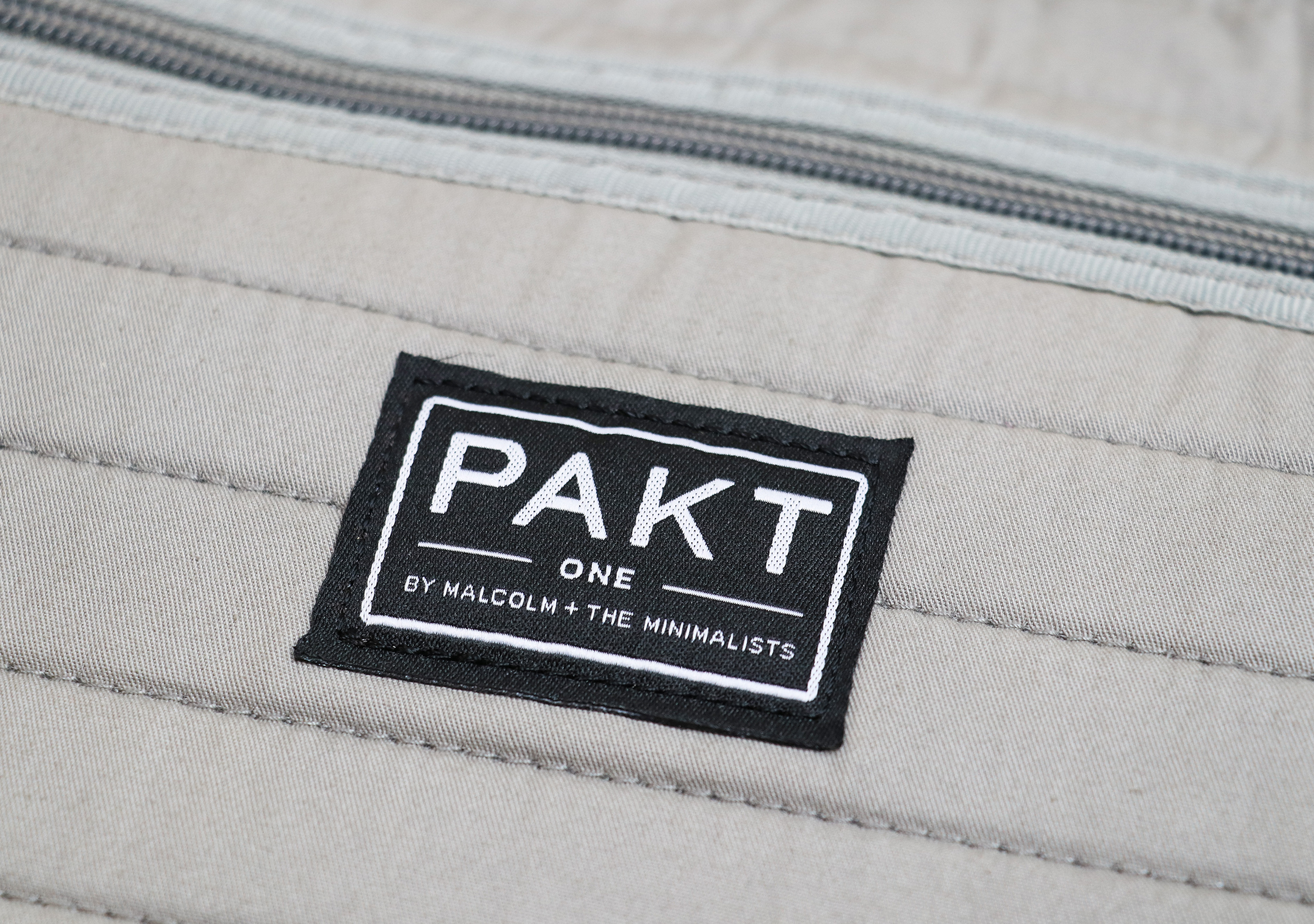 The Pakt One weighs in at 3.25lbs, which is pretty average for a pack this size, and the dimensions are a carry-on friendly 11" (28cm) high, 20" (51cm) wide, and 10" (25cm) deep.
When it comes to color, you have three options, black, gray, and navy—which all complement the professional looking aesthetic. Not all three colors are made of the same materials, though… This was an odd choice in our opinion. In the case of the Pakt, you'll have to do a bit more than just choosing your favorite color—and if you're dead set on certain materials, you may have to go with a color you don't exactly like!


The black is their rugged option, made of 420D nylon dobby, and features YKK RCPU water-resistant zippers—whereas the navy and gray packs feature coated polyester canvas and unbranded zips that lack any water resistance. Why not make all three versions out of the more durable materials? Malcolm Fontier does shed some light on the zipper decision, at least, during a Facebook live video, stating that they struggled to source YKK zips (which apparently aren't that much better anyway!) We'll get into how the coated polyester canvas and unbranded zips fared later on, in our durability & testing section.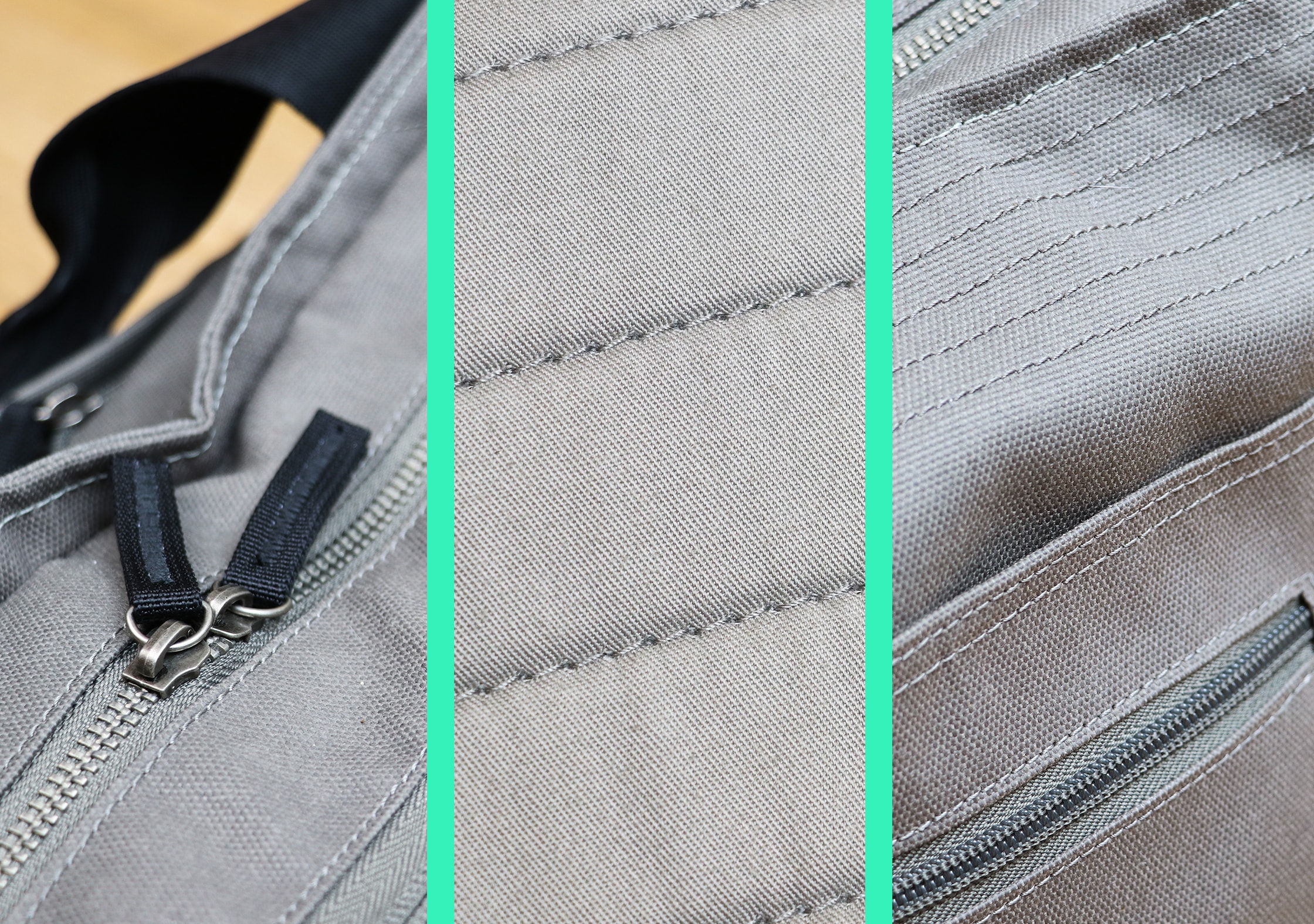 The other notable difference between the color options is the interior lining. The gray and black packs have a nylon lining, whereas the navy has a cotton lining. Fortunately, Malcolm Fontier did explain why they made this decision over at Pakt on the same Facebook video we mentioned earlier, and it's actually quite simple—they just liked the way the cotton felt and looked within the navy bag. Fair enough.
External Components
The Pakt One has a surprising amount of nifty stuff on the outside. There are plenty of external pockets and smart design features, but let's start with the most critical component on any duffel bag—the shoulder strap. You do carry all the weight on one shoulder, after all.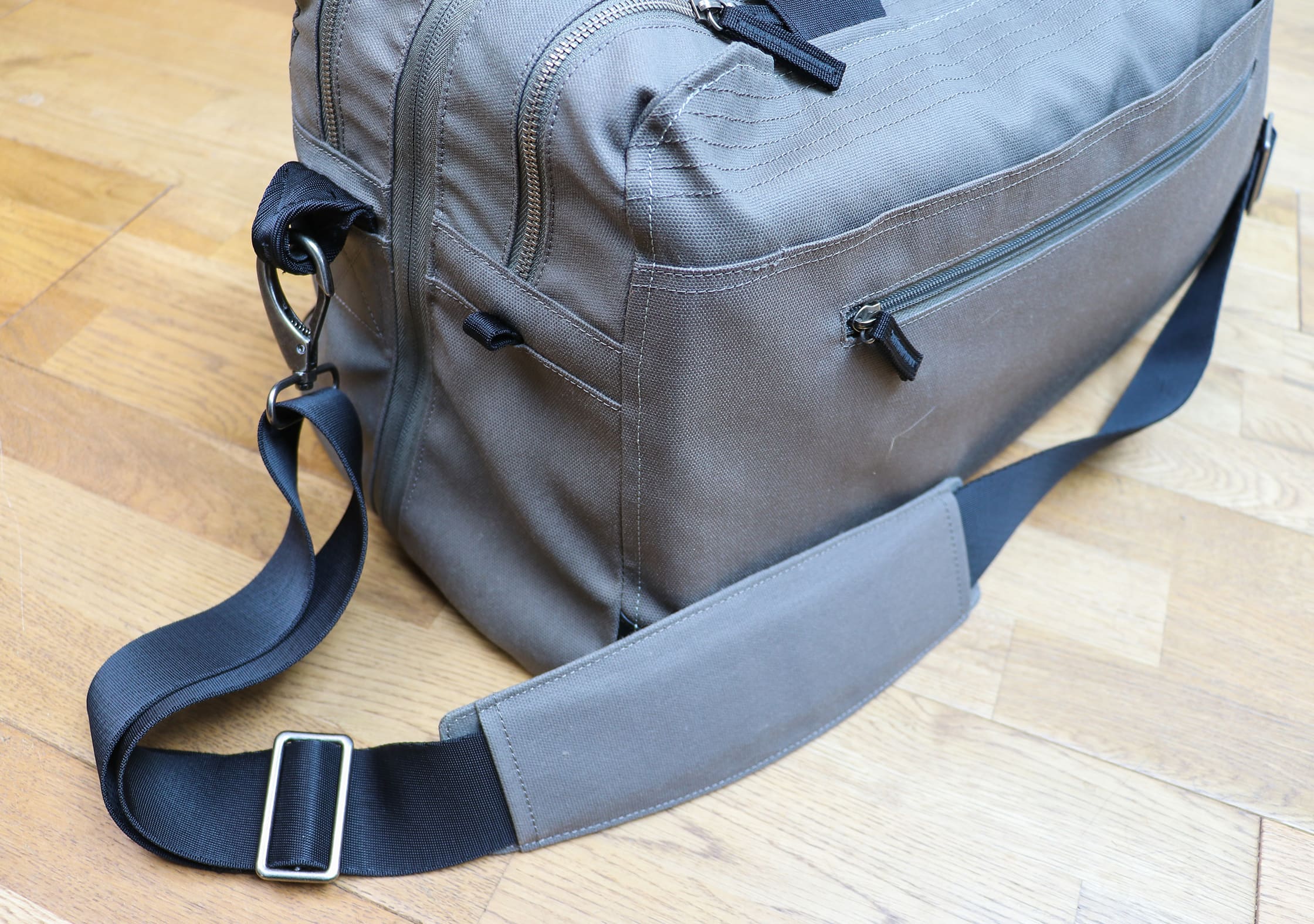 The detachable shoulder strap fits right into the overall aesthetic on the Pakt One and folds away relatively small when not in use. The metallic carabiner on the strap and loop attachment on the bag are both sturdy and durable components which facilitate a quick and easy attachment—even if you're in a rush. But what's the shoulder strap like to wear? Well, with plenty of padding it's surprisingly comfortable—delivering a decent overall carry.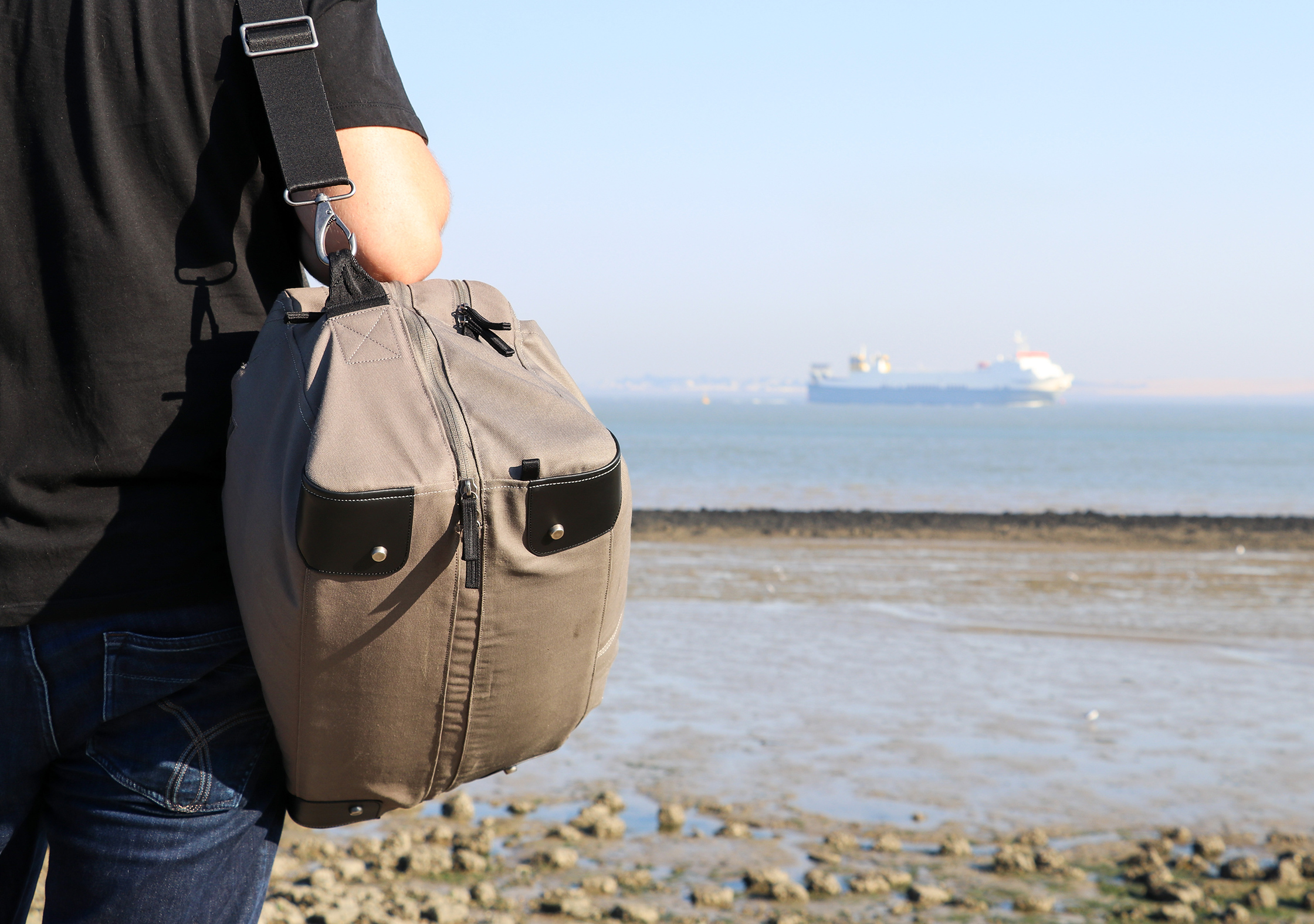 Unfortunately, if you do max this pack out weight-wise, there will eventually come a time when the strain on your shoulder will start to take its toll. Of course, regardless of what bag you're wearing, if you have a heavy load on your shoulders you will start to feel it after a while. The issue here is that you've got the full weight of your bag on one shoulder, as opposed to spreading it across both—meaning you'll start to feel that much quicker. Some people love the duffel style carry, but be aware if you're planning on loading this thing up with bulky items and/or carrying it long distances.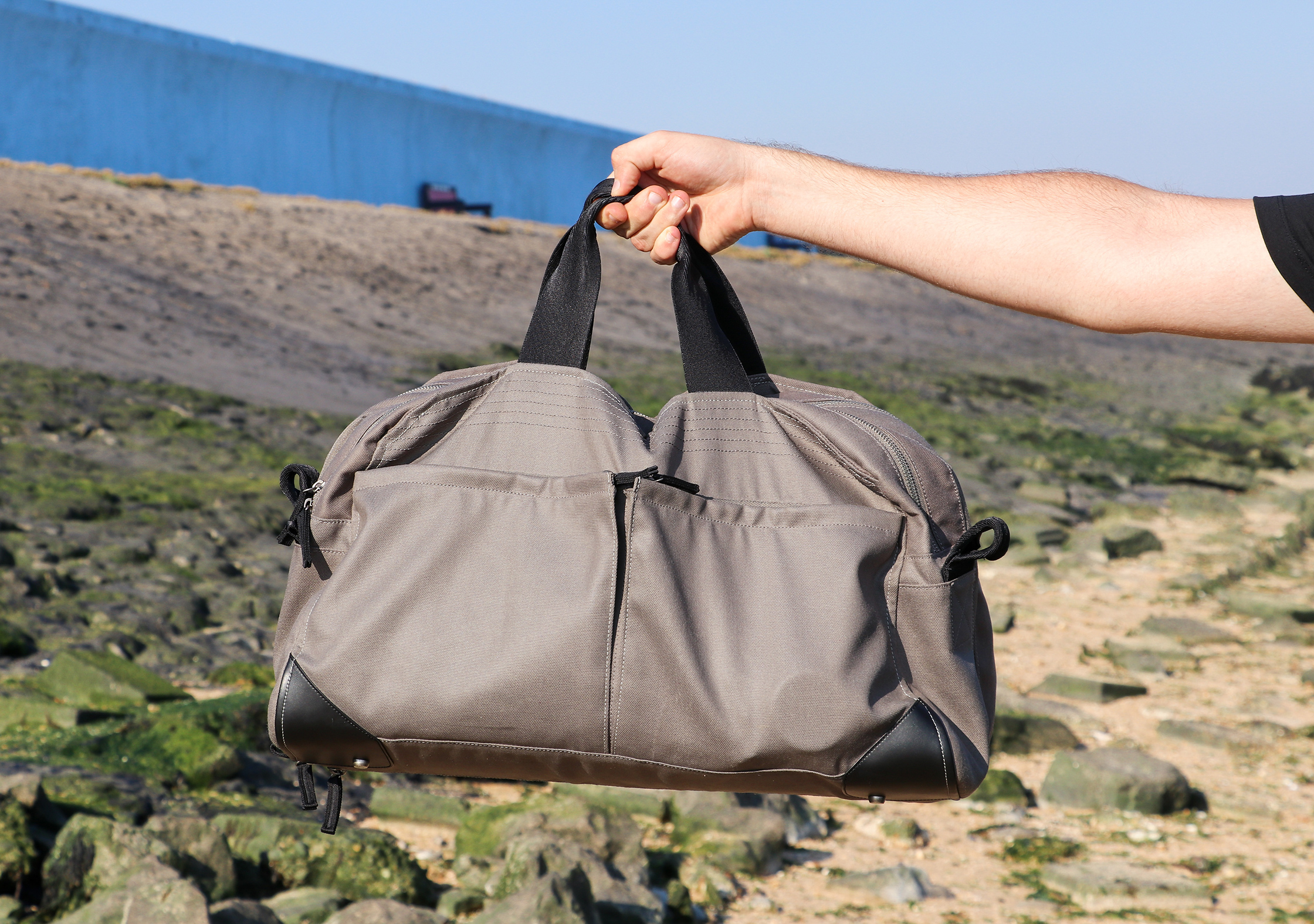 There is, however, a second way to carry this duffel—by its top handles. They feel strong, are very well made, and are also molded in a way that provides you with a tight grip. A small nitpick is the lack of any padding though, meaning the carry isn't terribly comfortable after a little while.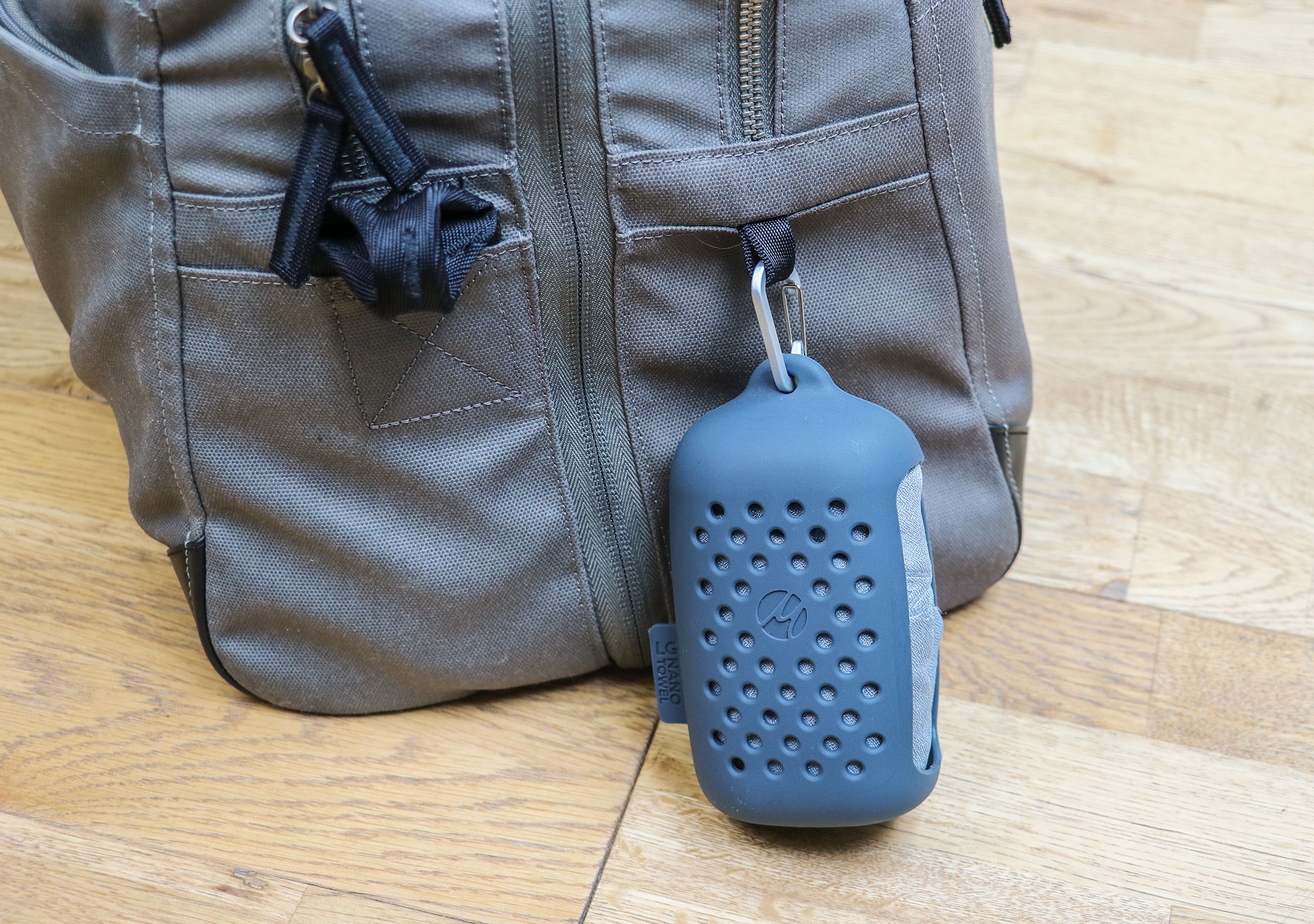 You'll find four small accessory loop attachments on this bag. Pakt says these can be used to "clip water bottles or other travel items to the exterior of the bag." Personally, we're not sure we'd appreciate something clanging around on the outside of a duffel style pack. If you do have a water bottle that can clip to loops, or a carabiner attached to other travel items you want to leave on the outside of your pack—these would handle the job nicely. Otherwise, these things are like to be left unused. In all honesty, we've never used them—which is fine since you don't really notice them anyway.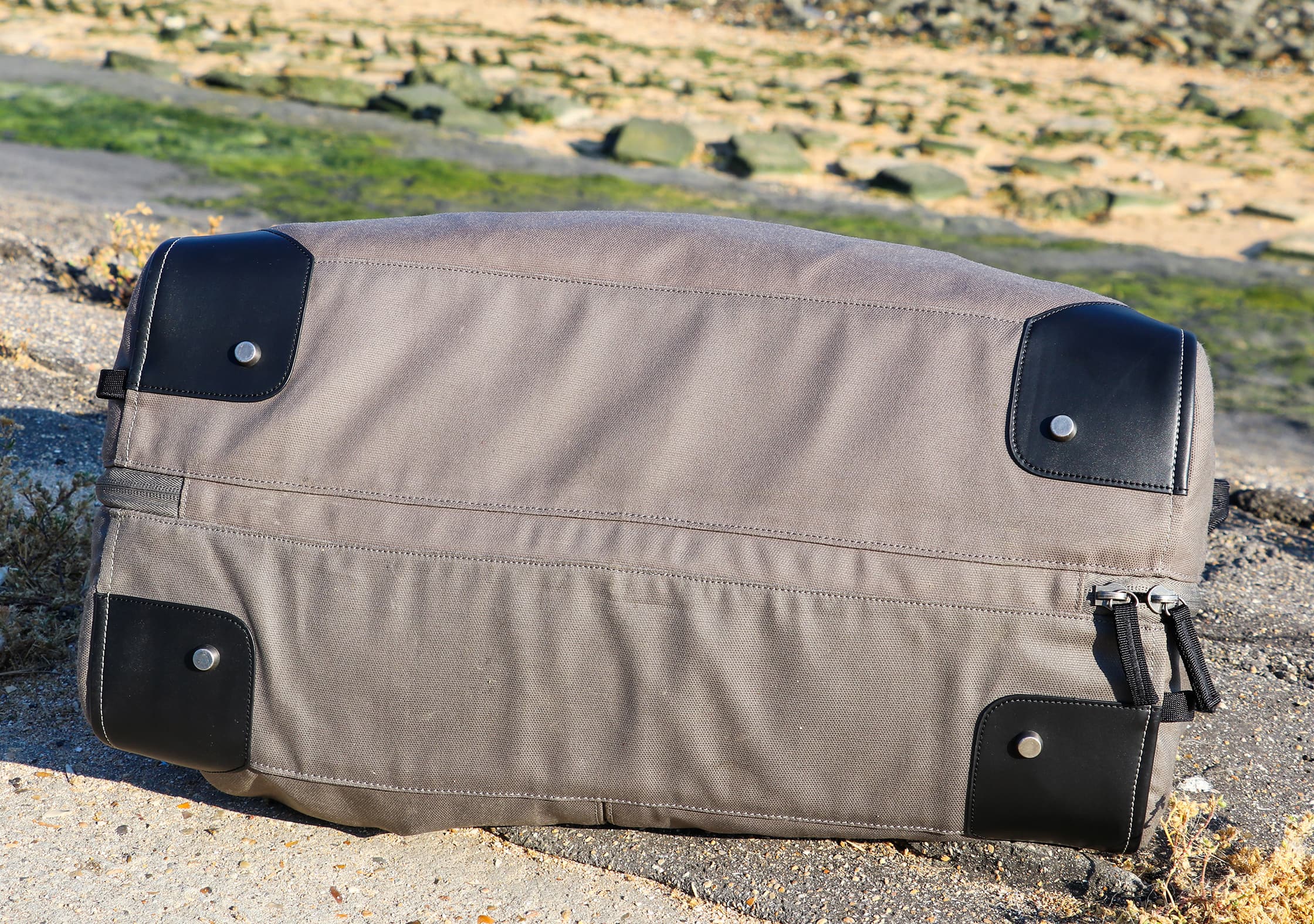 On the bottom of the Pakt One, you'll find a leather looking material on each corner, for added durability on the base of the pack. This material may look like leather, but it's actually Polyurethane and works just as well. Pakt has used this over leather because they are committed to making animal-friendly products—which gets a big thumbs up from us. And by the way, if you're interested in reading more on the subject of animal-friendly travel, be sure to check out our vegan travel guide. On each corner, you'll also find four studs to protect your bag when it's resting on the floor. Since this is a duffel, you're likely going to be laying it down a lot, so these studs are an essential addition.
Here at Pack Hacker, we dig a good external pocket. When you're on the road, it's so important to have quick access to important items—like your passport—so we were happy to find four external pockets on the Pakt One.

On one side, you'll find two square pockets sat next to each other. We like these pockets—they're by far our most used on this pack. The great thing about these pockets—and why we utilize them so much—is that even if you pack this duffel to the brim they will always have room for you, since they sit outside and are liter independent from the main compartment. The left-hand side pocket even features a metallic key clip and some card holder sleeves—not things we've used too often, but cool to have.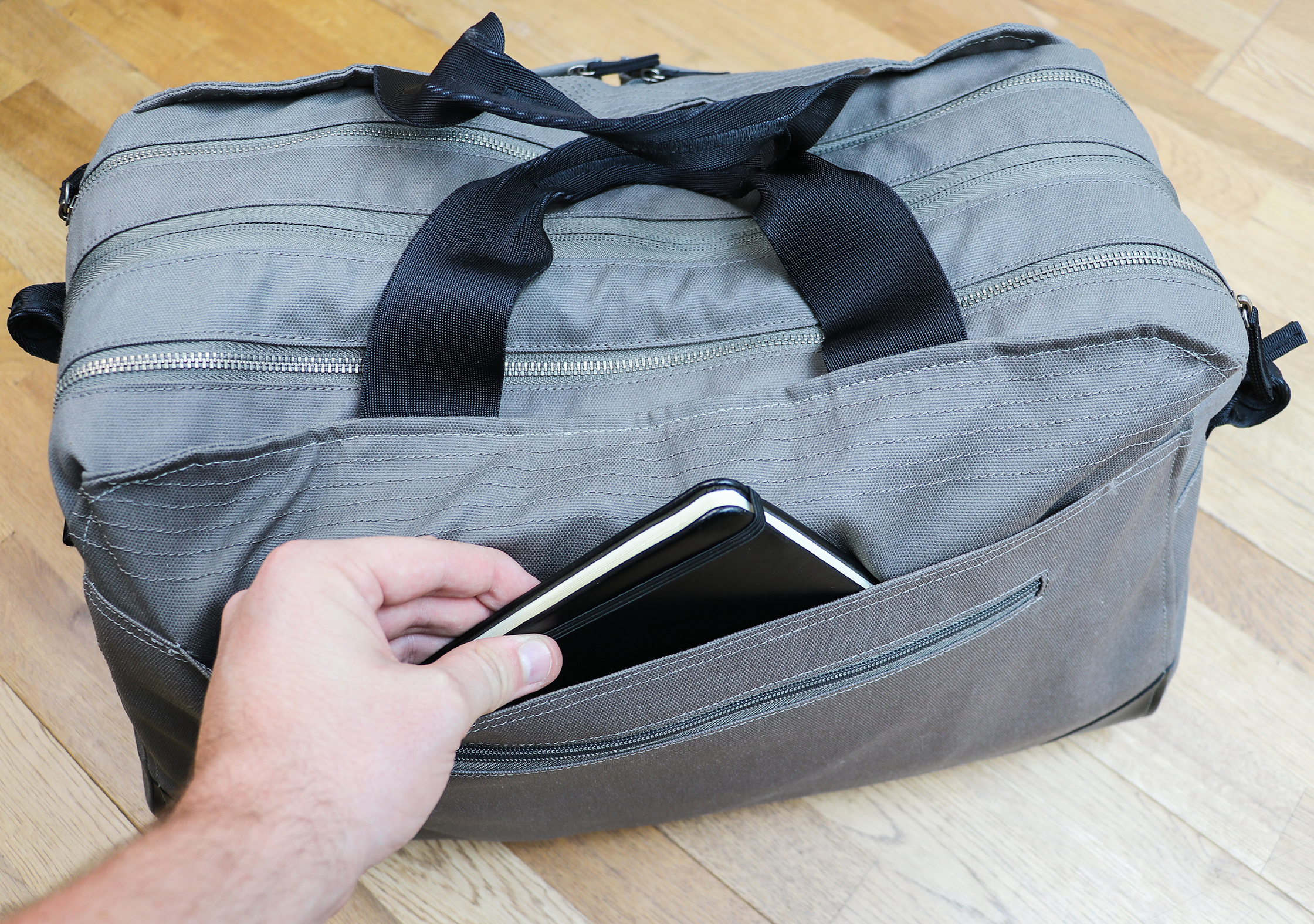 On the other side of the pack, you'll find two more pockets—the first one, a long sleeve-like compartment with a magnetic closure. This sleeve is excellent for stuffing something in if you're in a rush, but it's not a pocket you want to be putting valuables in or anything that can fall out easily. We say this because the magnetic closure didn't work too well—regardless of whether the bag was full or empty—we've just found that it comes open more often than not.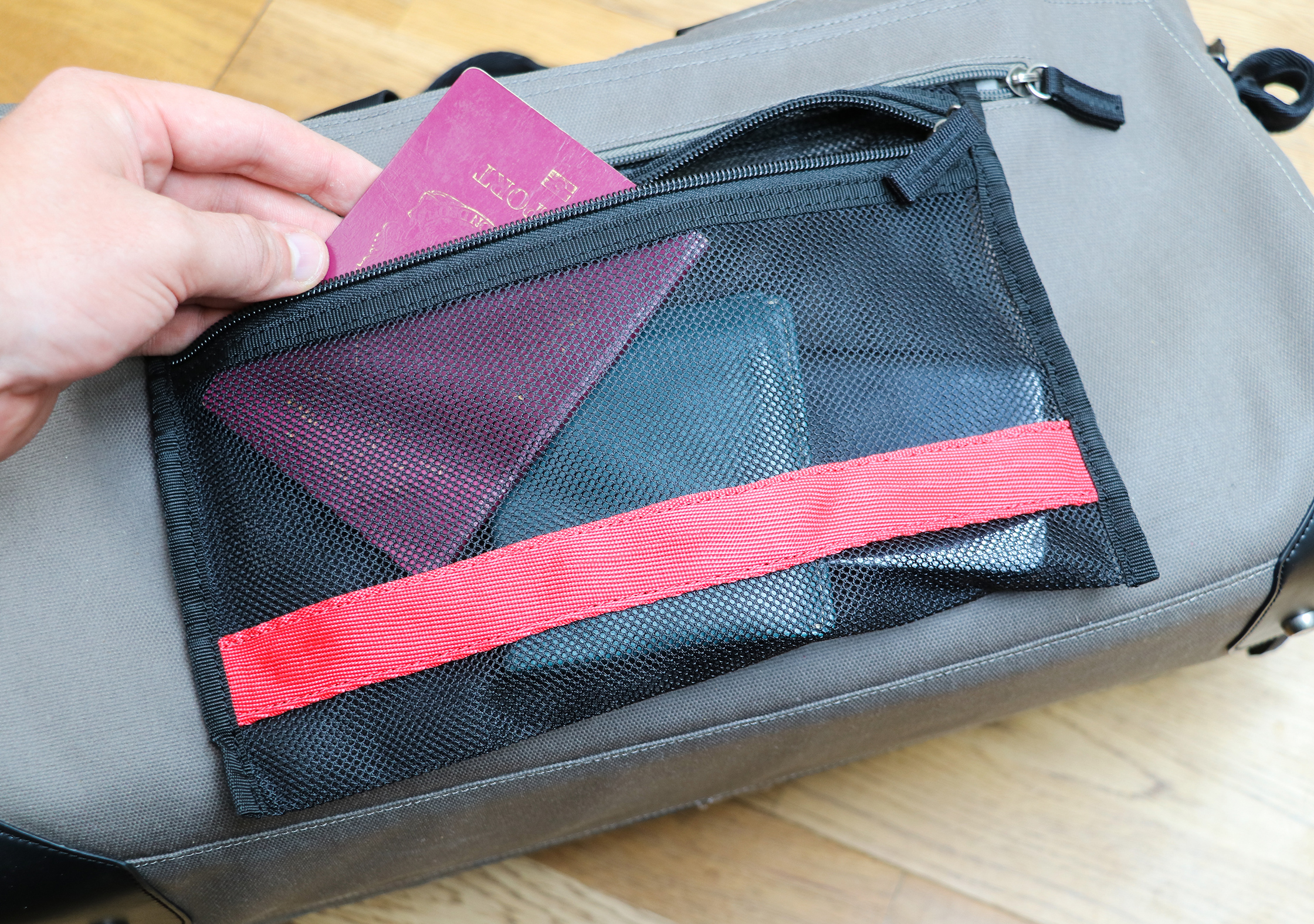 In front of the magnetic closure pocket, you'll find a long zippered pocket—which is just a standard pocket right? Not quite! This pocket houses one of Pakt's party tricks—a patent pending "TSA Pocket," that they designed for phones, passports, and wallets, as you go through security at the airport. This is a super nifty pocket, and we like the fact that Pakt has thought about how people use travel bags and what features can improve a users experience. You'll notice at the bottom of the TSA pocket there is a red label. According to Pakt, this label "serves as a reminder to grab your laptop or anything else you have to send through the X-Ray separately."
Maybe we're missing something here—does a red label symbolize this to you? Or is it some marketing gimmick? We're siding with the latter.
Inside the Pack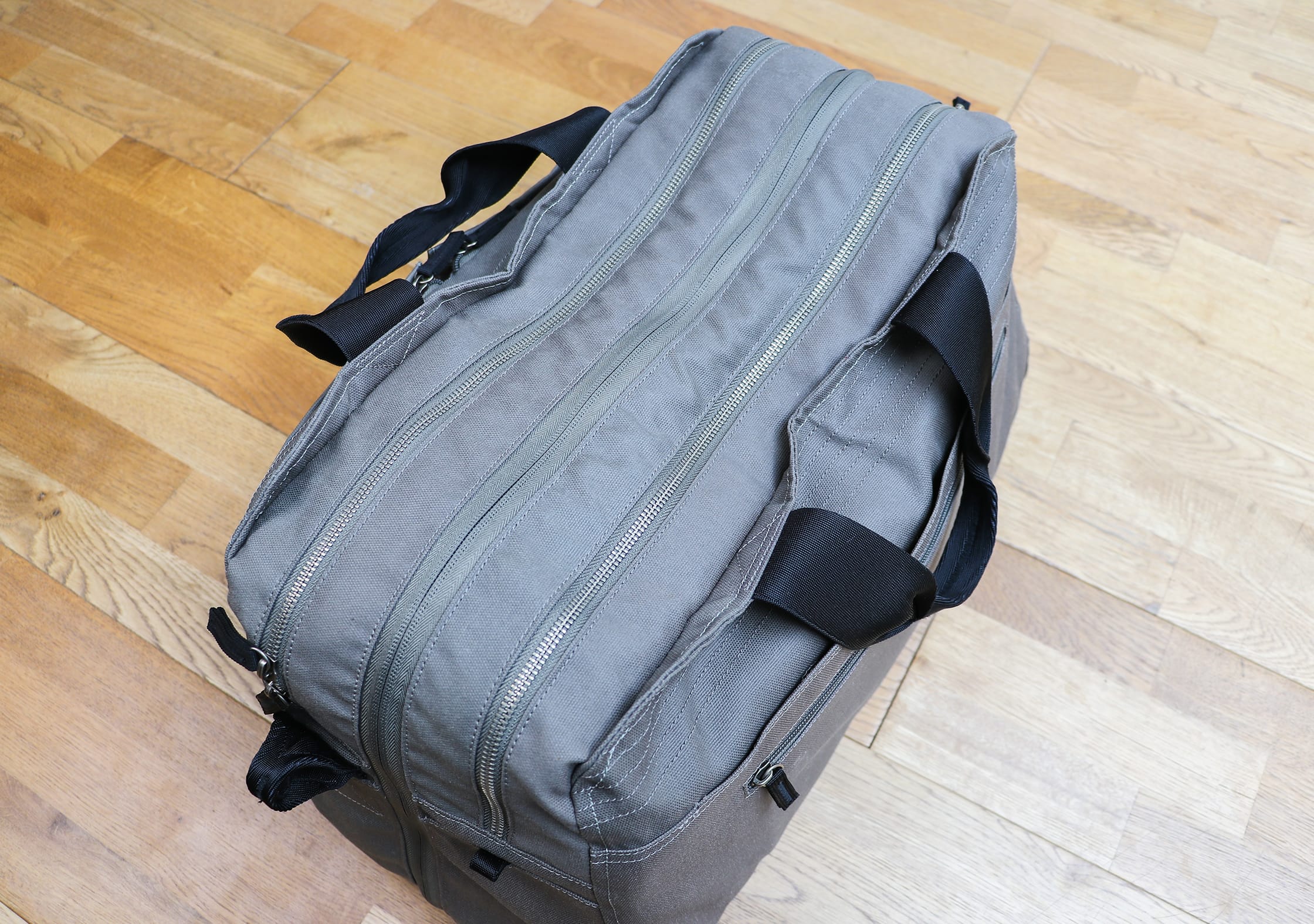 On top of the Pakt One, you'll find three openings. The left zip will give you access to the left compartment, the right zip will give you access to the right compartment, and the middle zip will… drumroll please… open up all the way like a clamshell! The clamshell opening has been a common trait in a lot of travel backpacks for a while now, but this is relatively new territory for duffel bags. We love how Pakt has brought this new feature to the duffel bag game.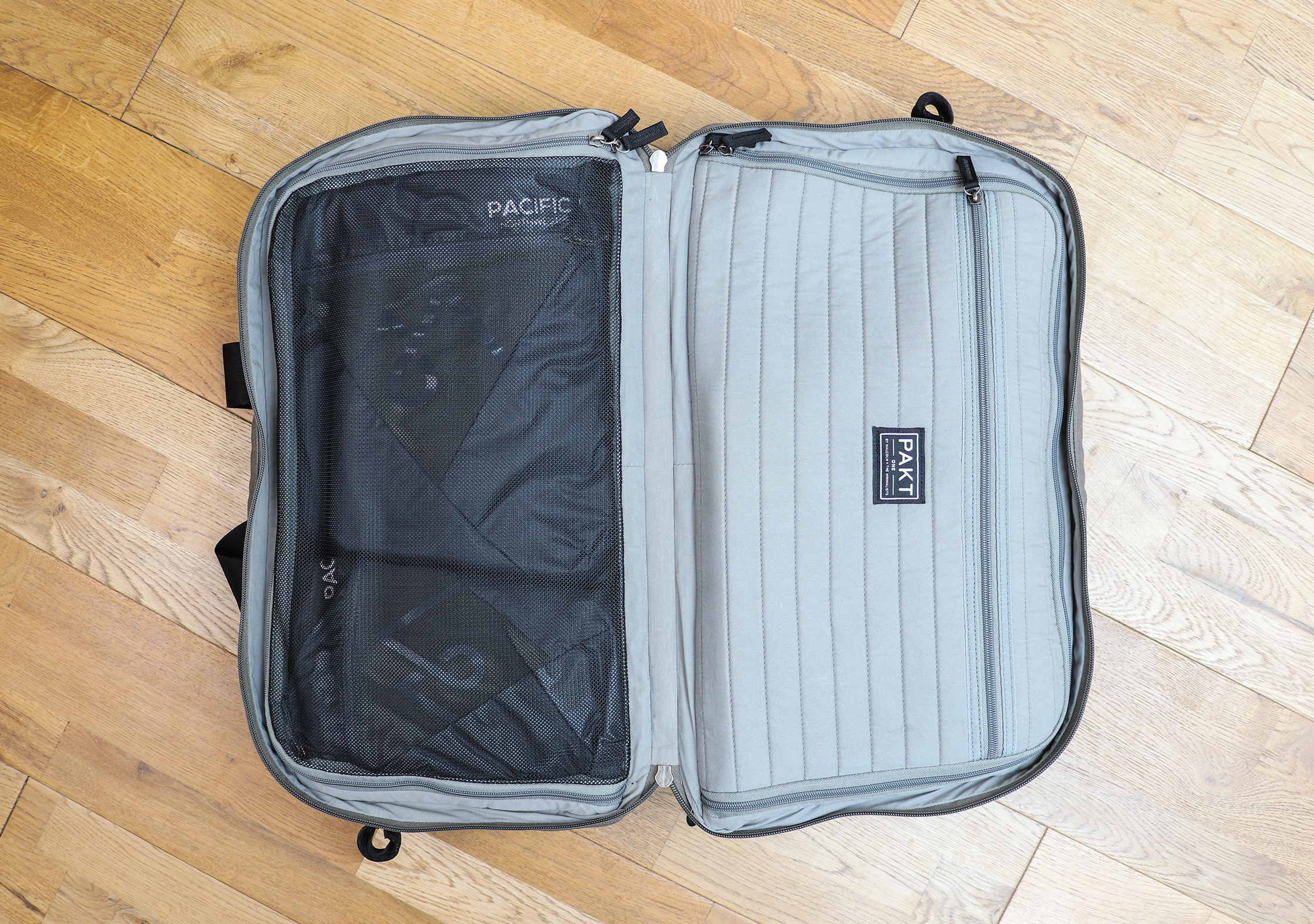 Being able to open this pack up like a suitcase, in our opinion, is its big selling point—and we're happy to report that it works incredibly well. The clamshell design means that organizing your pack—and being able to cram as much stuff in there as possible—is a straightforward and stress-free process.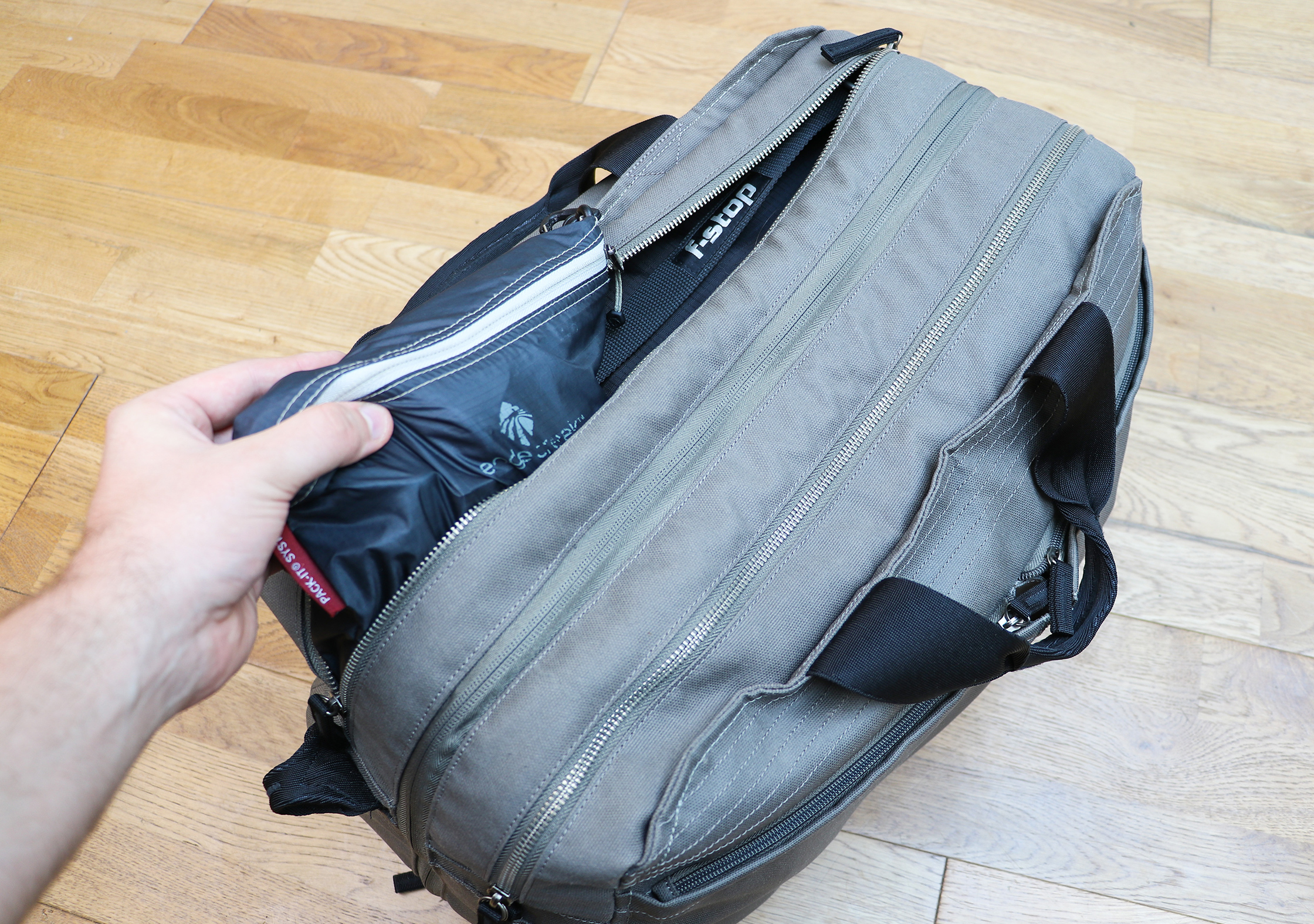 Having to open the clamshell all the way to get inside your pack would get a bit tiresome after a while though, wouldn't it? Fear not, because this is where the two additional zips on top come into play—these individual compartment zips mean you can still stick your hand in and grab something out. The fact that the Pakt One retains its core duffel function as a travel bag and can be used as a daypack if need be is something we're very fond of.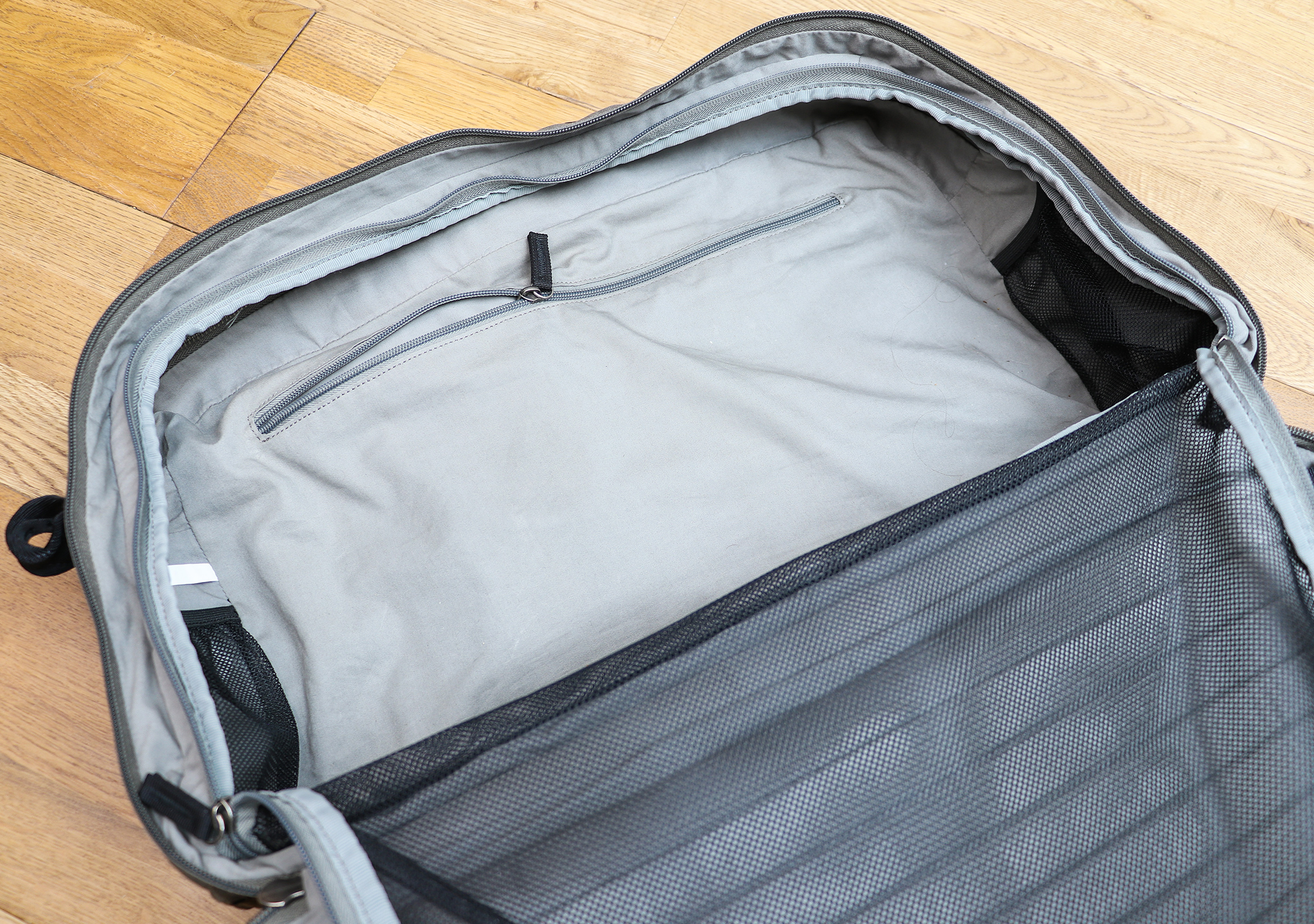 Both sides of the bag are pretty much identical. They're both the same size, feature a long zippered pocket—ideal for smaller items that would otherwise get lost inside the bigger compartment—and have two small mesh pockets either side. The only difference between the two is that one of them is covered by a mesh panel, whereas the other compartment is covered by a nylon fabric panel.
"But why?" We hear you shout. Well, because this nylon panel is also home to the laptop compartment!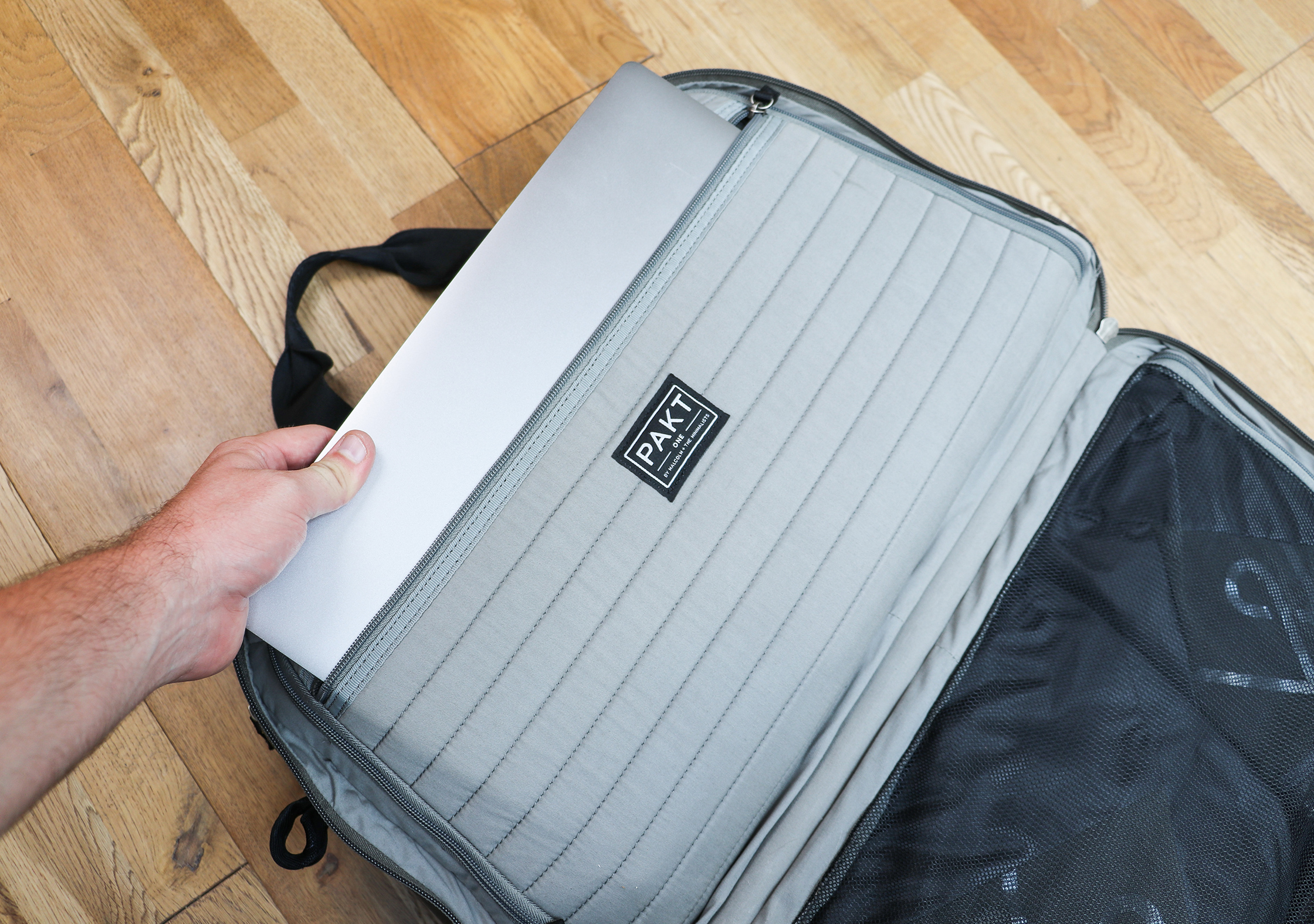 Every good travel bag needs a laptop compartment—especially the "ultimate travel bag" as Pakt claim this to be—and they have delivered us a great one here. The laptop compartment is conveniently positioned in the middle of the bag, meaning that the weight is central to the pack and distributed evenly—improving carry immensely. The main clamshell zip also gives you quick access to the laptop, so it's easy to whip it out quickly if you're at the airport. The compartment will fit a 15" laptop, but just a note—it is a bit of a squeeze. If you've got an additional sleeve or thick case on your laptop, chances are it's not going to fit.
Durability and Testing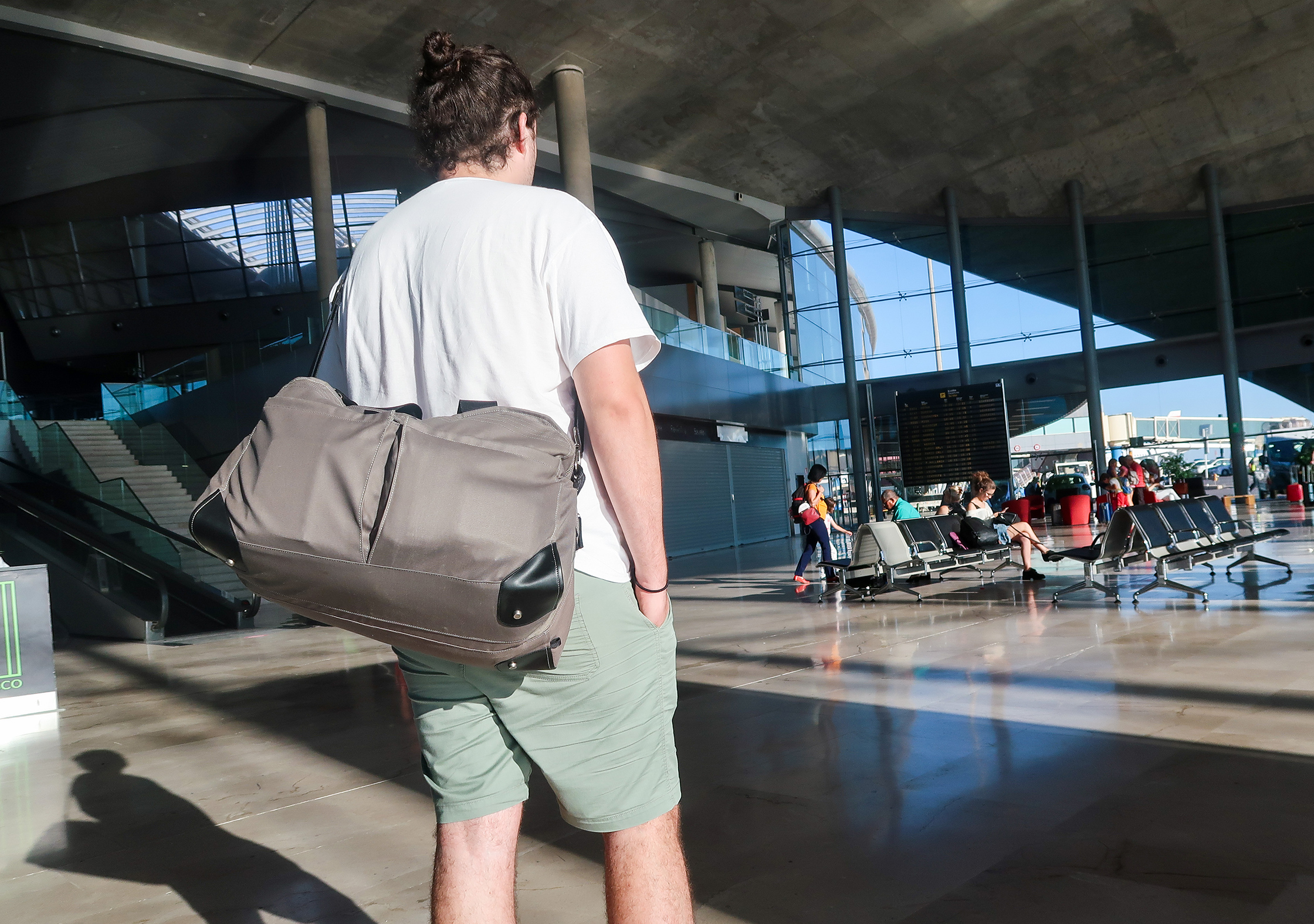 We've been testing the Pakt One for the last two months, on trips to the USA, Spain, and the UK—as well as frequent visits to coffee shops and gyms. The considered design and functionality make the Pakt One an absolute pleasure to use, and the bottom line is, we've thoroughly enjoyed testing this pack. That being said, we do hold some significant concerns in regards to durability and build quality.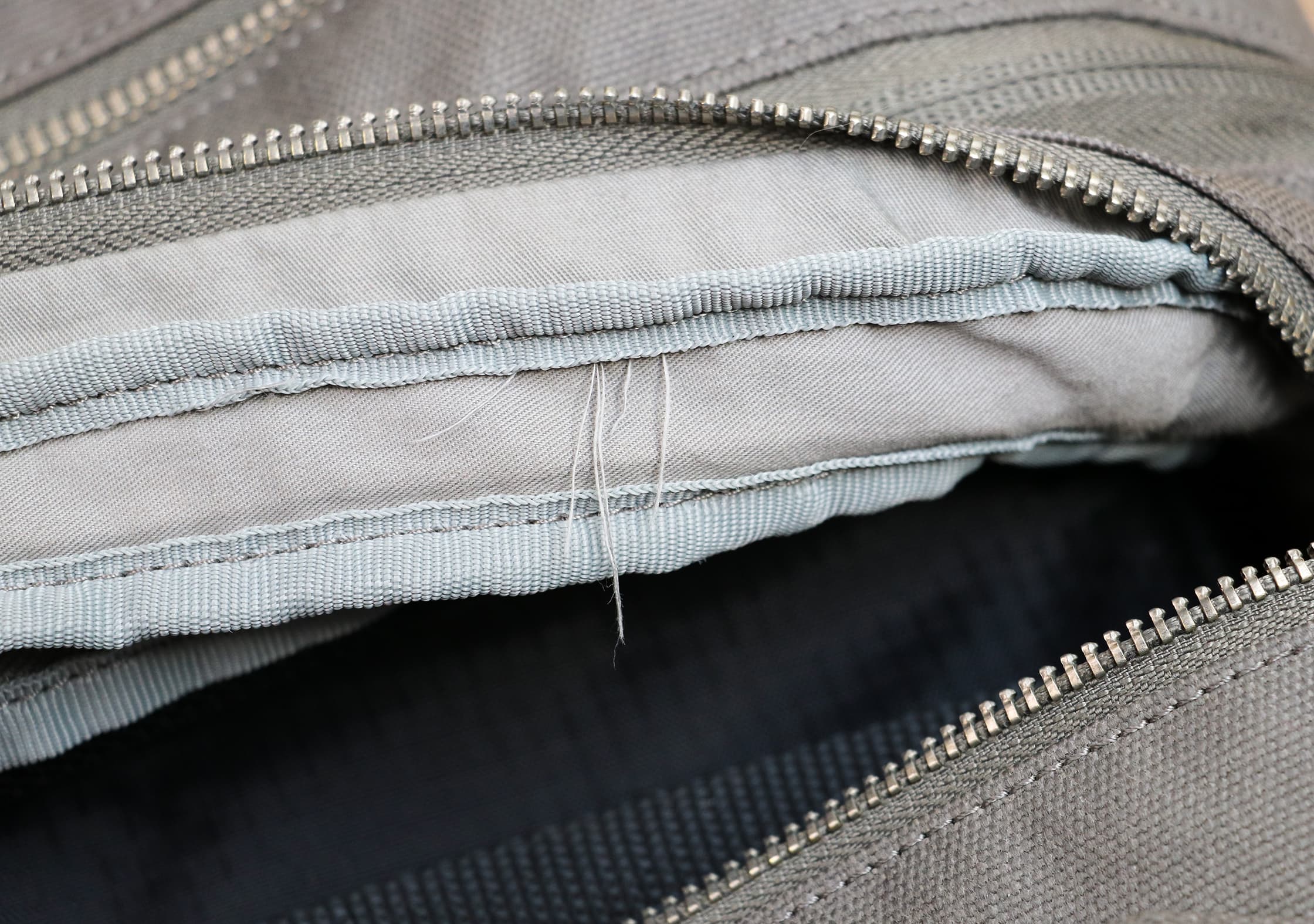 First up, the stitching is downright shoddy in places. Loose stitching and threads can be found all over the pack—and for a premium product, priced at the higher end of the market, this is frankly unacceptable. Not sure we can say much else on this, other than—please sort this out Pakt!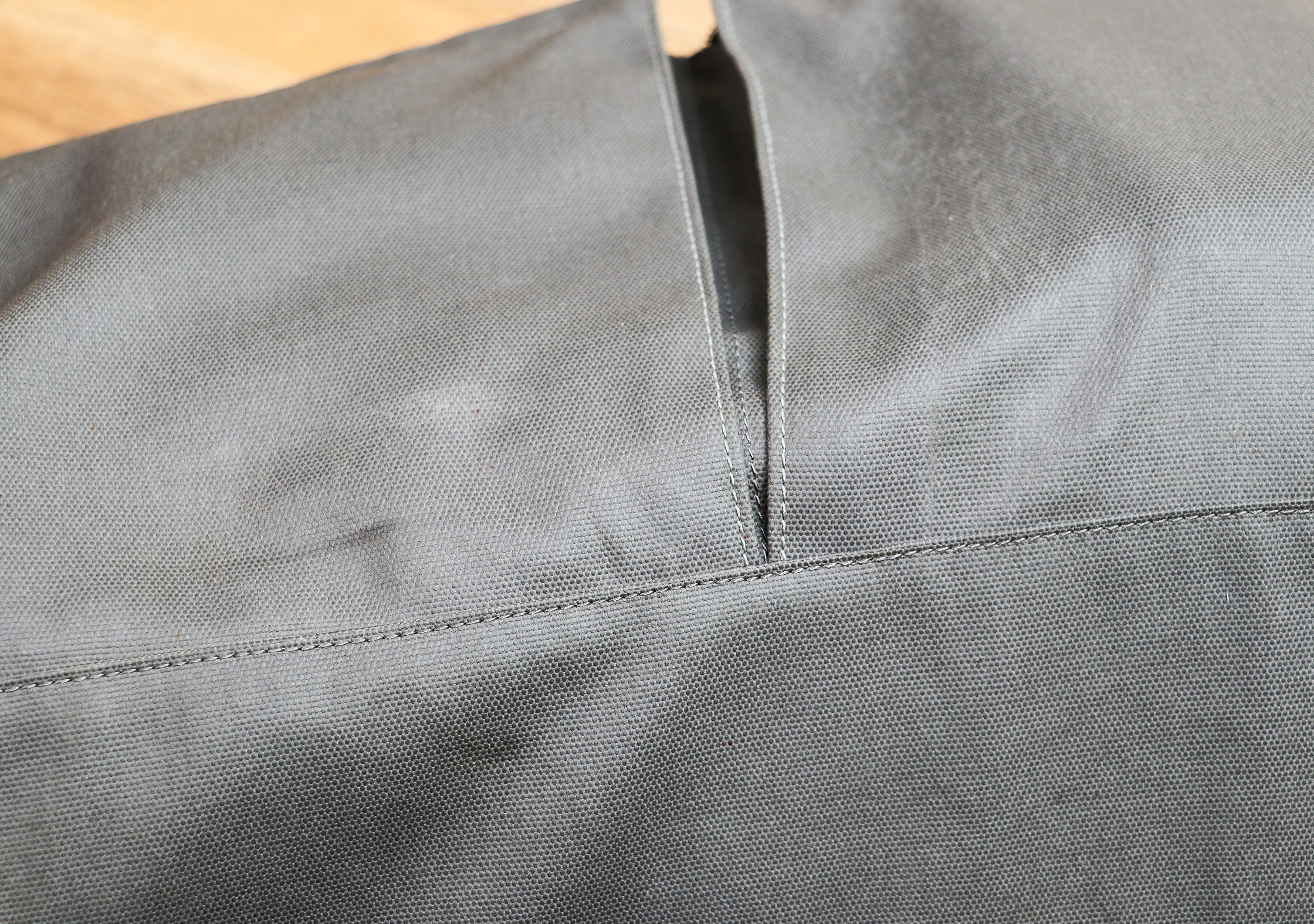 Our next two concerns over durability and quality are with the zips and coated polyester material our gray bag is made from. In only two months of use, we're already finding abrasion marks on the coated polyester material, which is not a great sign of things to come. Make sure to check out the usage timeline below to track how things progress as time goes on.
Moving on to the zips, they do still work perfectly fine for us, but being unbranded, we remain skeptical as to how long they will last. We're also constantly wary of any potential downpour, as these zips are not water resistant whatsoever. In fact, water will seep through the top zippers pretty easily. It is important to note that these two issues are likely fixed by choosing the black version, which features 420D nylon dobby and water resistant YKK zippers, but we are reviewing the gray version—and let's remember, all three colors are priced the same.


Pakt claims this duffel is "the ultimate travel bag," and "the only travel bag you'll ever want," so is it?
No, of course it's not—because the ultimate travel bag doesn't exist, and likely never will.
This doesn't mean it's a bad bag though. The fact is, everyone is different, and use cases vary from person to person. So, although it's ludicrous to claim that the Pakt One is "the only travel bag you'll ever want," there are certain people—maybe you reading this right now—that might find this to be the perfect bag for them.
In testing, we found the Pakt One to be a great-looking duffel style option for short city breaks. Unique features like the "TSA Pocket" and handy external pockets will make your journey through any airport an absolute breeze. And surprisingly, we also found the Pakt One to be a pretty good daypack. With its thoughtfully located pockets and smart organization, this duffel is a trusty companion for any trips you might make to the coffee shop, gym, or just out and about in town.
Usage Timeline
Initial Usage
Condition: Excellent
Really easy to pack this thing, loving all the pockets.
1 Month of Use
Condition: Good
Starting to see some loose threads in the stitching, nothing that will effect the integrity of the pack just yet, but we'll keep an eye on it.
2 Months of Use
Condition: Good
Some slight abrasion marks found on the outside material.
Access the Pro Community Discussion
Get your questions about the Pakt One Travel Bag answered from our team and the Pro Community right here on the page. Plus, join discussions with other members about gear, guides, and more.
Other Bags & Luggage Reviews