GORUCK Packing Cubes Review
The GORUCK Packing Cubes are as reliable and durable as we've come to expect from a GORUCK product—but the zippers can get in the way of each other.
Our Verdict
Unlock the Pro Summary
Save time. Get access to brief summaries of our reviews so you can browse and make decisions more efficiently.
Pros
Top-notch craftsmanship
Dual-sided
Fits nicely inside GORUCK packs
Cons
Long zipper pulls can get in the way
The exterior material is swishy and crinkly
Bigger than you'd expect when fully packed out (which may also be a pro)
Recent Pack Hacker Video
Technical Details
Capacity

20l

Larger size

Weight (lb)

.3 lb (0.1 kg)

20L size

Denier

200D

Dimensions

10.25 in x 15 in x 6.5 in (26 x 38.1 x 16.5 cm)

20L size

Notable Materials

Nylon, YKK Zippers

Manufacturing Country

United States

Warranty Information
Full Review
The GORUCK Packing Cubes are exactly what you would expect from GORUCK. The company's signature craftsmanship, aesthetic, and functionality are all here.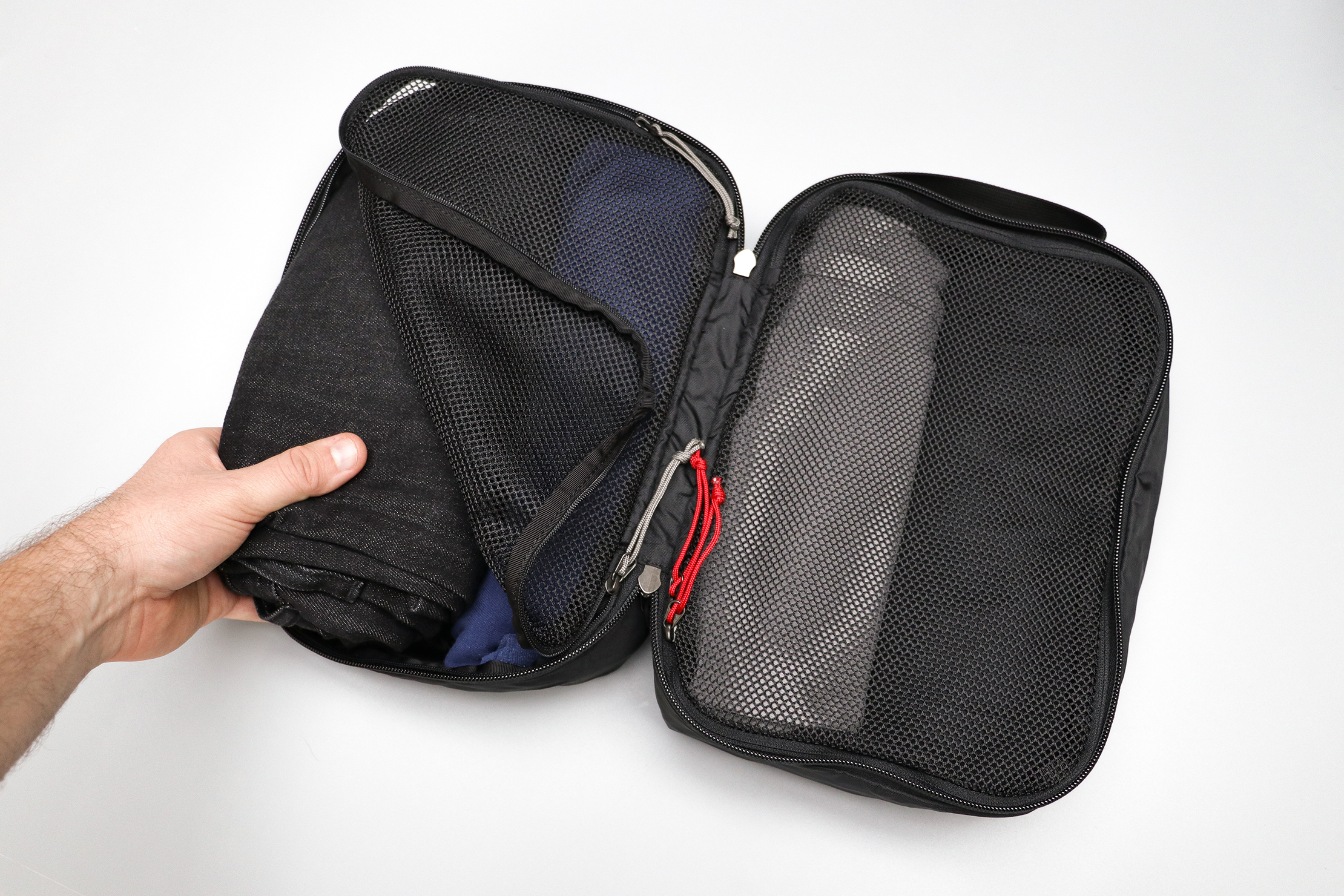 Before we check out the details, we want to be clear that we're reviewing the GORUCK Packing Cubes today. Not to be confused with the GORUCK padded Field Pockets. The Packing Cubes are primarily designed to organize your clothing, while the Field Pockets are for tech or other fragile gear.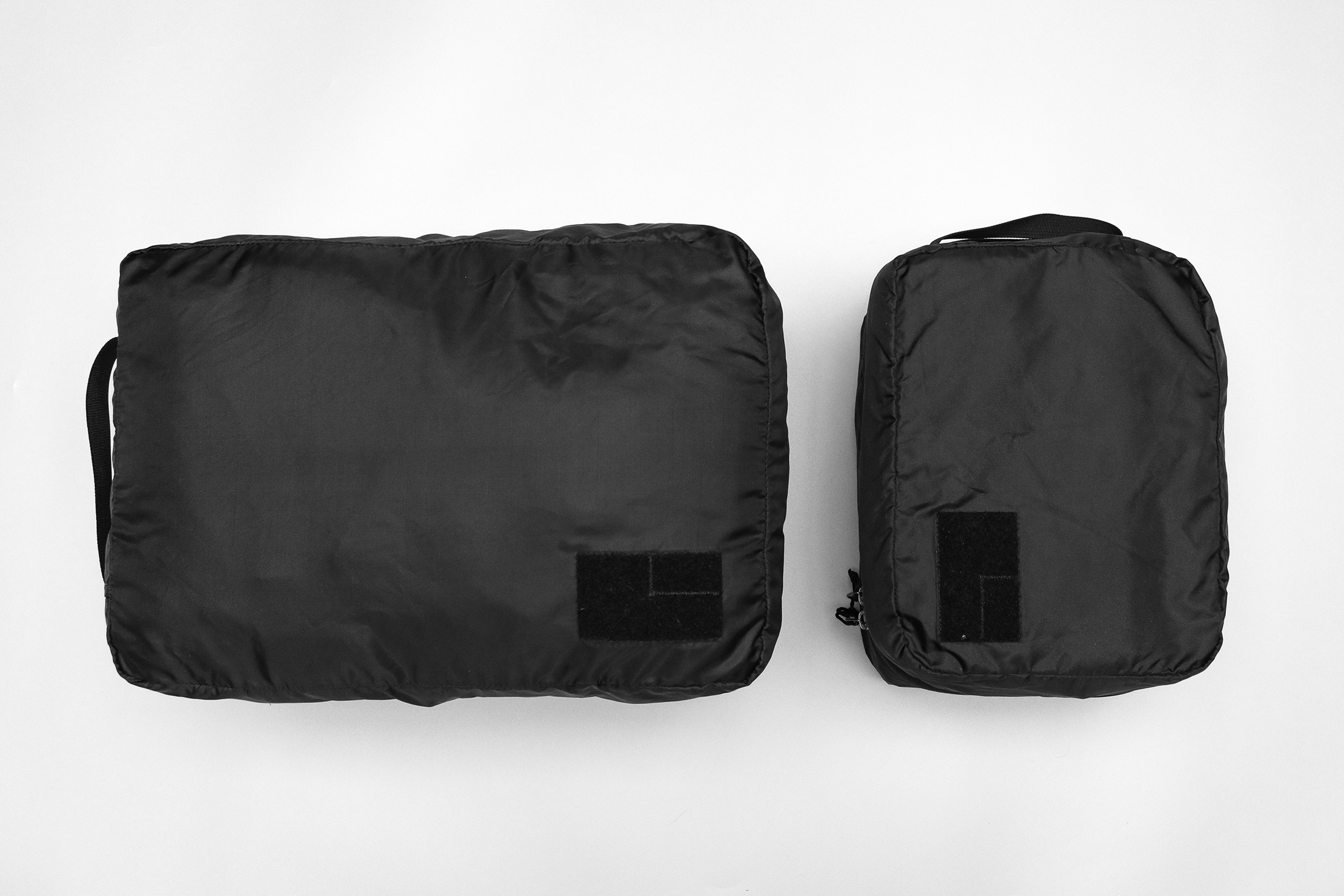 The Packing Cubes are available in two sizes—the small (with a capacity of 10 liters) and the large (with a capacity of 20 liters). Both of which are on the larger end of the spectrum as far as packing cubes go. And they have specifically been designed to work with GORUCK packs—like the GR2—although they'll work with other bags too.
So, without further ado, let's jump into the full review.
Materials & Aesthetic
At the time of this review, the GORUCK Packing Cubes are available in black and…black. If you're familiar with us here at Pack Hacker, then you won't be surprised to hear that we don't mind this (lack of) choice. The black also embellishes GORUCK's signature tactical aesthetic.
As does the velcro on the face of the packing cube. You can leave it blank, stick on a GORUCK patch, or buy some other patch that speaks to your soul for some pizzazz.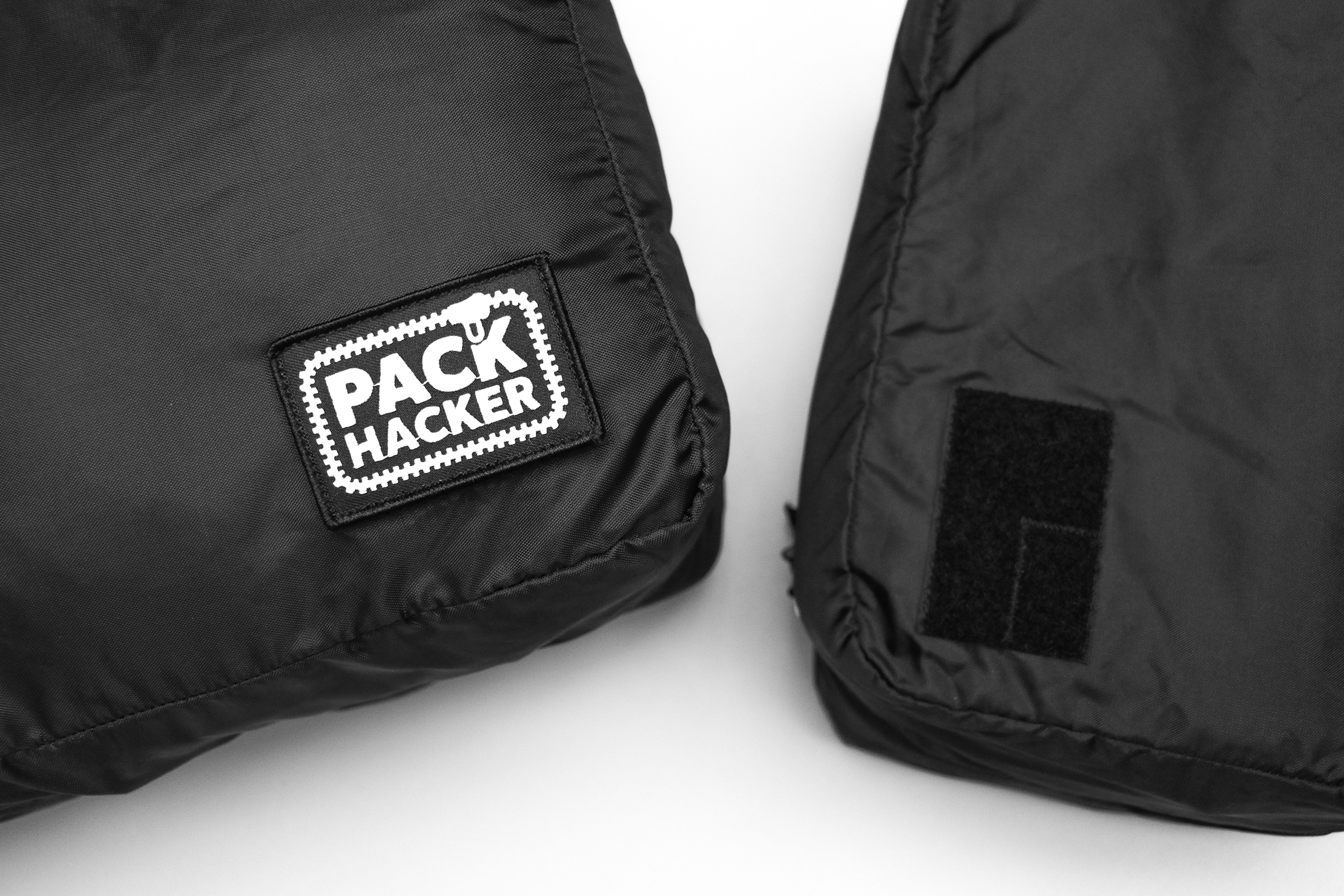 You can also use the velcro to create a modular packing system. You can purchase patches you can write on and label them to indicate what's inside each cube. The benefit of velcro means you can easily switch these labels out, so you're not stuck using each cube for the same exact thing every time you travel.
If labeling is just a little too modular for you—you can also use different patches to symbolize what's inside the cubes. For example, you can pack your lounge clothing and undergarments inside the cube with the cuddling cats patch, and your business wear inside the cube with the roaring tiger patch. You do you.
Okay, moving on.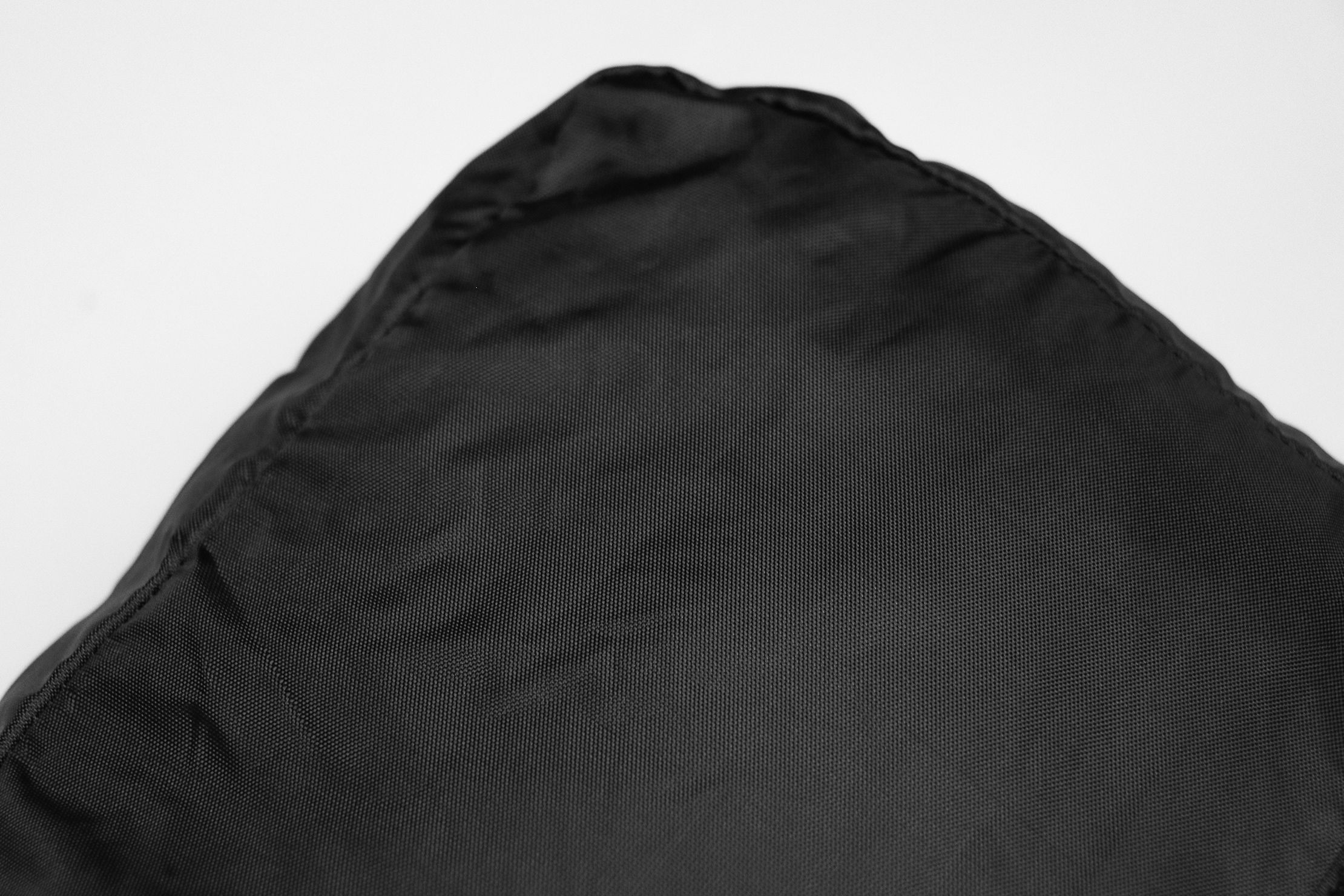 The cubes are made of a 200D nylon. We appreciate the thickness of the fabric, which adds some great durability. But note that the nylon isn't ripstop. We think this is fine because it has a higher denier than you'll see on other packing cubes, but just keep that in mind. Nylon is also lightweight.
All that said, the fabric is a little bit shiny and crinkly, which, to be frank, is a little off-putting. Crinkly fabric impacts different people differently—you may think it's a deal-breaker or you don't mind it. It's truly a personal preference.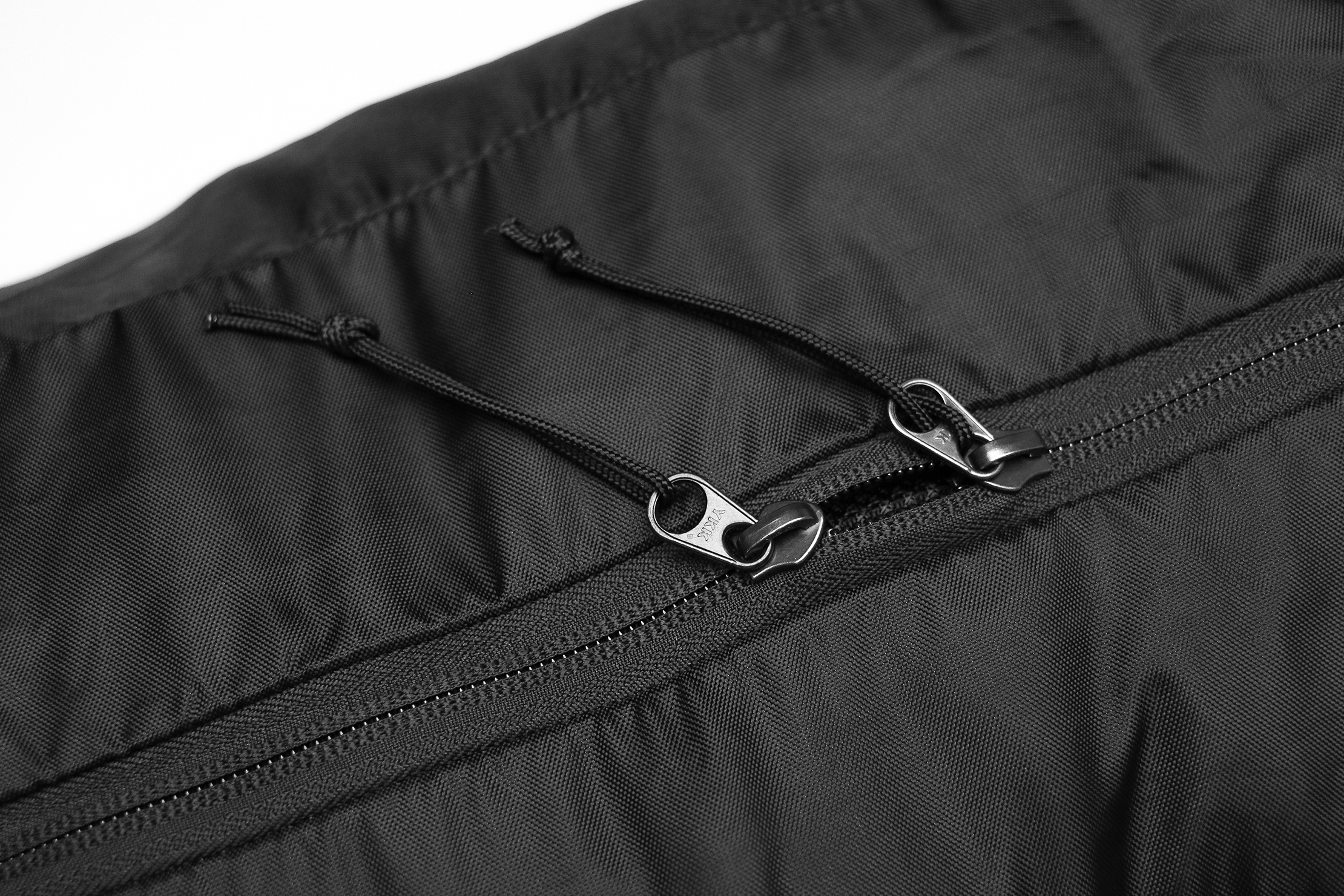 Finishing off the materials, you'll find #5 YKK zippers on the exterior and #3 YKK zippers on the interior. You should have no problems there, even when you stuff these cubes to the brim.
Features & Usage
Before we zip these things open, we want to note the two exterior handles you'll find on each cube. These handles have been surprisingly handy to maneuver these cubes around, particularly when they've been loaded up. As we mentioned at the beginning of this review, both the small and large cubes are decently big, so when you've packed them out, they can be difficult to hold by their bodies.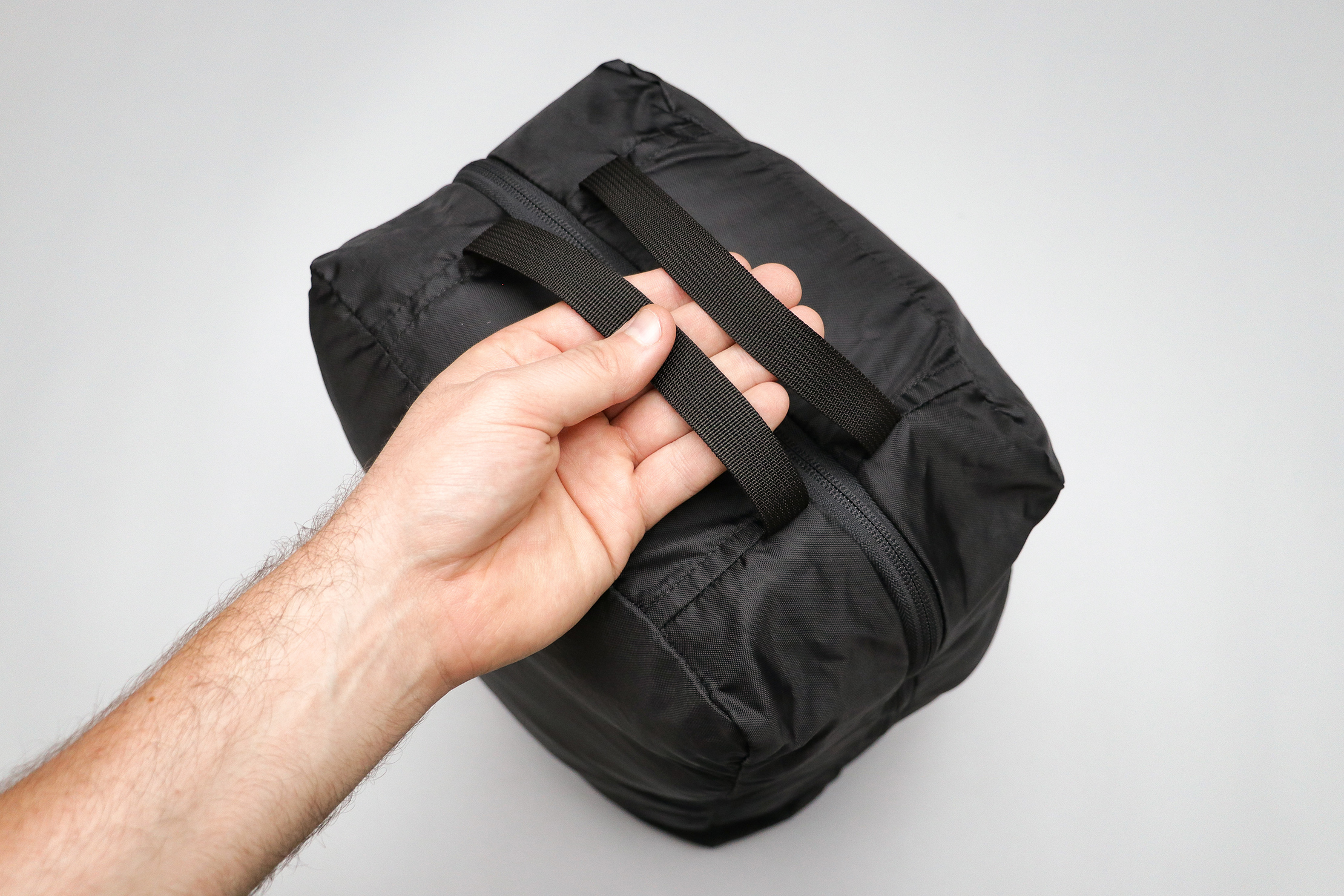 Alright, let's open these suckers up. The cubes open up in a full clamshell-style (all the way around) for easy access and packing. The interior is split into two parts with zippered mesh dividers on each side. (The two sizes of packing cubes are identical other than, you know, their size.)
We're digging the mesh, which allows you to see what's going on. The mesh isn't stretchy at all, but feels high-quality and durable.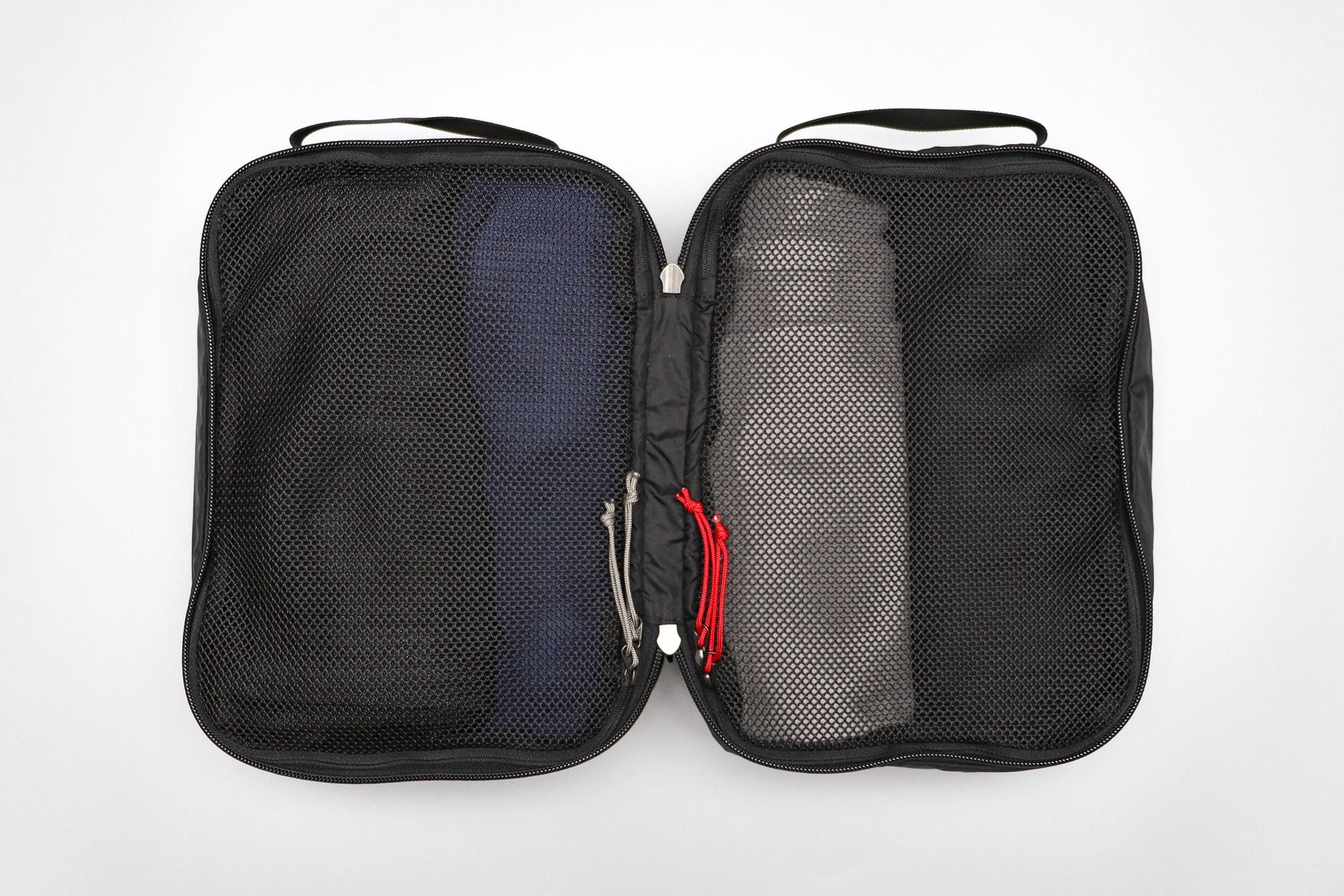 We also like that the interior is divided for primo organization. Use one half for shirts and the other half for bottoms. Or use one half for clean clothes and the other half for dirty clothes. That said, since the mesh isn't stretchy, you can't expand the capacity of one side while minimizing the capacity of the other side. Take the clean clothes/dirty clothes example—once all of your clothes are dirty, you'll probably have to split them up to take full advantage of the interior capacity.
There are different colored zipper pulls on each side—red and gray—and the exterior zipper pulls are black, which is nice, so you always know what zipper to grab.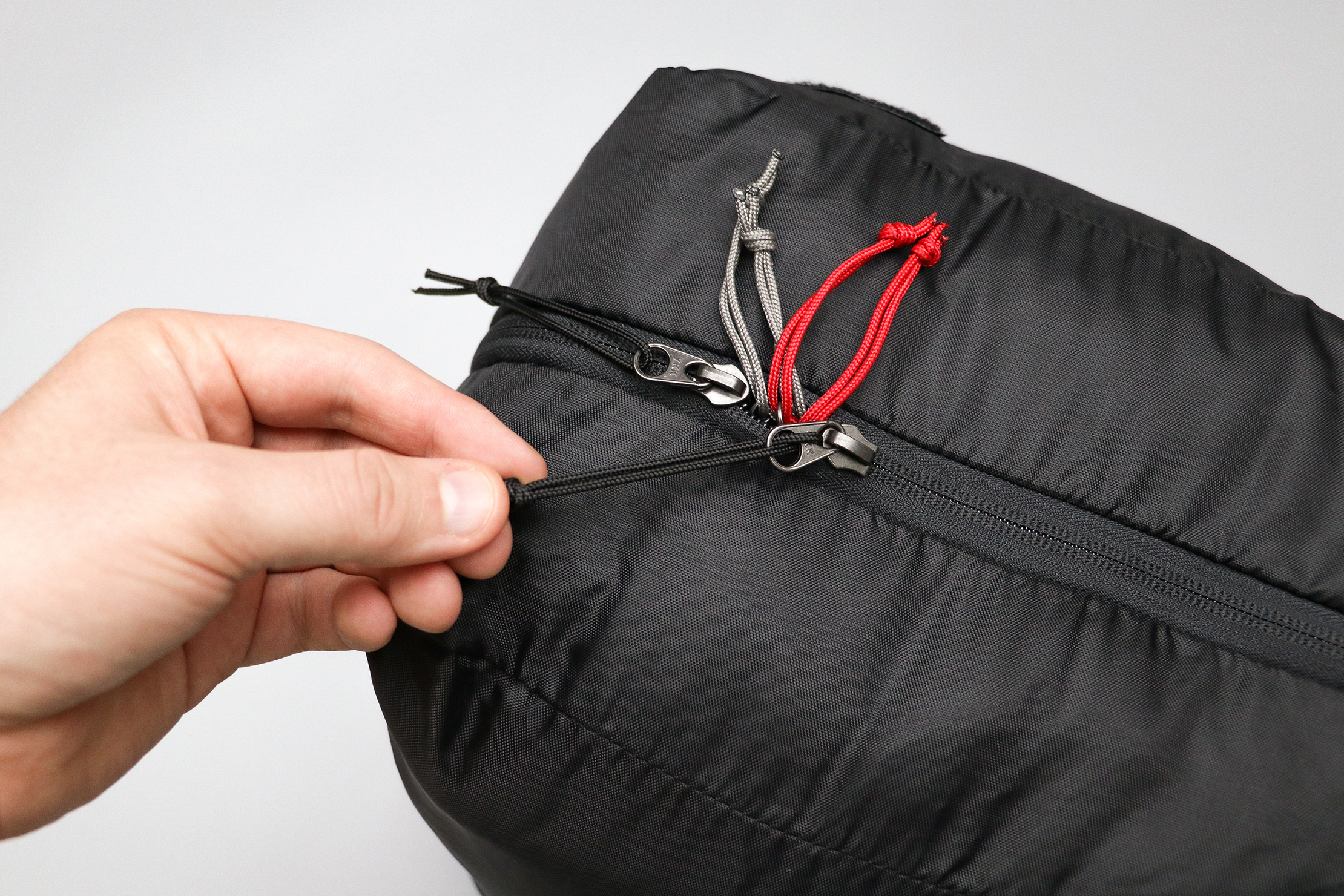 But there are a total of six (!) zippers on this thing: two on the exterior and two on each interior side. And the zipper pulls are long. On the plus side, the length makes it easy to work the zippers. But they are so long that the interior zipper pulls frequently stick out, making it difficult to zip the cubes up. It may be a small thing, but it's happened numerous times during testing and has been frustrating every single time. The interior zippers can also get stuck on the mesh when zipping up the dividers.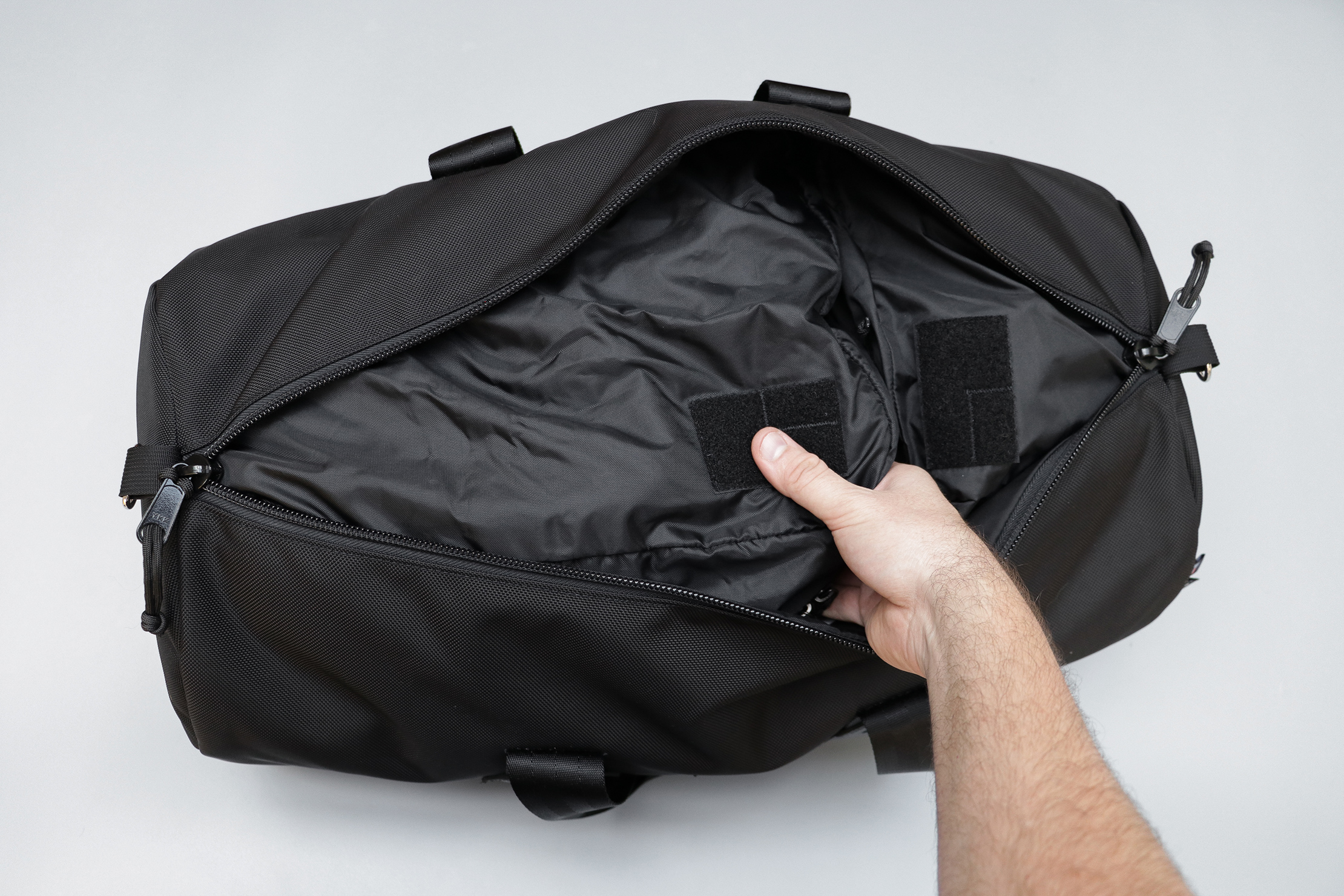 Still, it's a relatively small nitpick, and we've enjoyed testing these cubes overall. We've found that they work best with packs that essentially have a big ole bucket inside the main compartment (like the GORUCK GR2). And that's mostly due to the size of both the small and large cubes. In that same vein, they're ideal when you need to pack a load of stuff—you can cram a lot inside of each cube.
Durability & Testing
GORUCK is known for making quality gear built to last for generations, so it's no surprise that the GORUCK Packing Cubes are still going strong after a month of testing, including both domestic and transatlantic flights. The craftsmanship is truly top-notch.

All in all, we've enjoyed putting the GORUCK Packing Cubes to the test. While simple, there's some clever thinking going on that's made them a joy to use.
Usage Timeline
Initial Usage
Condition: Excellent
They are a great companion to GORUCK bags and fit snugly in the 40L bags
Mesh interior allows you too see inside without unpacking
Same great durability and construction we've come to expect from GORUCK
2 Weeks of Use
Condition: Excellent
We like that the fabric zipper pulls are different colors, but they are long and can get in the way
Not digging the swishy and crinkly material, but it's holding up well so far
The handles on the outside come in pretty handy when these things are loaded up
Access the Pro Community Discussion
Get your questions about the GORUCK Packing Cubes answered from our team and the Pro Community right here on the page. Plus, join discussions with other members about gear, guides, and more.
Other Organizers & Pouches Reviews