Nite Ize RunOff Waterproof Packing Cubes Review
We're digging the innovation on the Nite Ize RunOff Waterproof Packing Cubes—but the sticky zipper and maintenance needed mean they may not be ideal for most.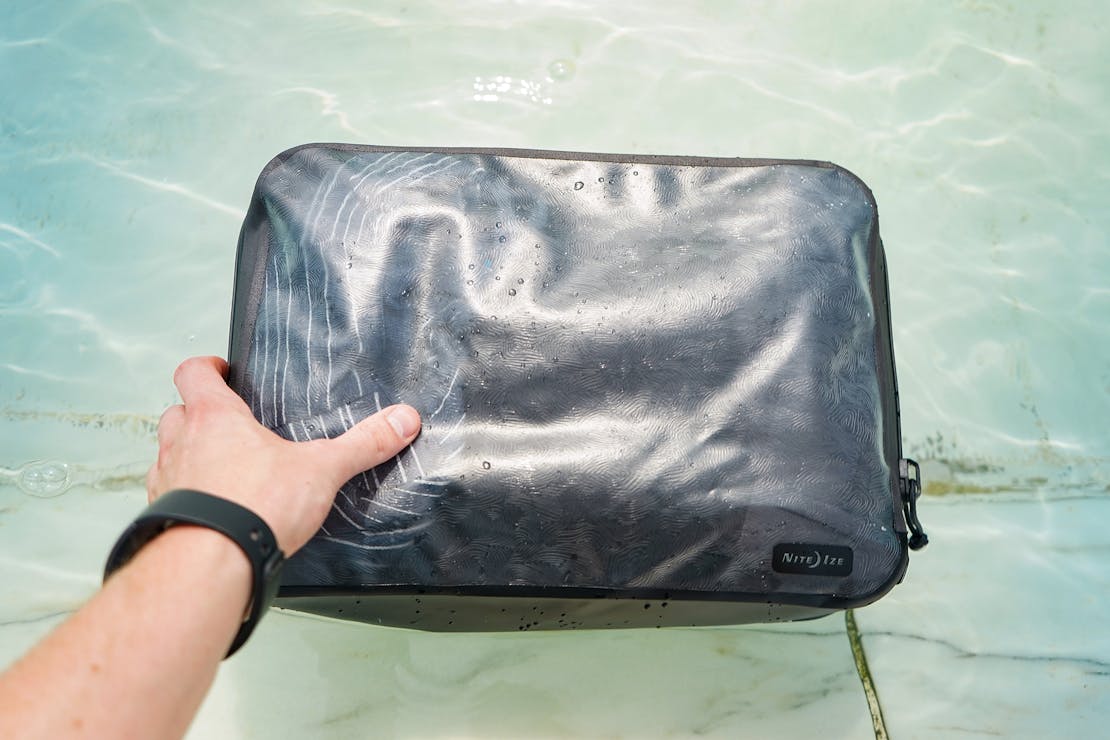 Our Verdict
Unlock the Pro Summary
Save time. Get access to brief summaries of our reviews so you can browse and make decisions more efficiently.
Pros
Waterproof (submersible)
Can compress your clothing to help you save space
The lack of zipper teeth prevents snags
Cons
Zipper can be slow and sticky to work
Requires maintenance
Concerns about longevity
Technical Details
Capacity

7.3l

Large Size

Weight (oz)

4.6 oz (130.4 gm)

Large Size

Dimensions

10 in x 14 in x 3.2 in (25.4 x 35.6 x 8.1 cm)

Large Size

Notable Materials

Thermoplastic Polyurethane (TPU), TRU Zip

Manufacturing Country

Taiwan

Warranty Information
Full Review
Do you need waterproof packing cubes? If so, you must have some pretty epic adventures. We're talking Indiana Jones level of adventures here—rafting down gigantic waterfalls and all. And you'll be happy to meet the Nite Ize RunOff Waterproof Packing Cubes.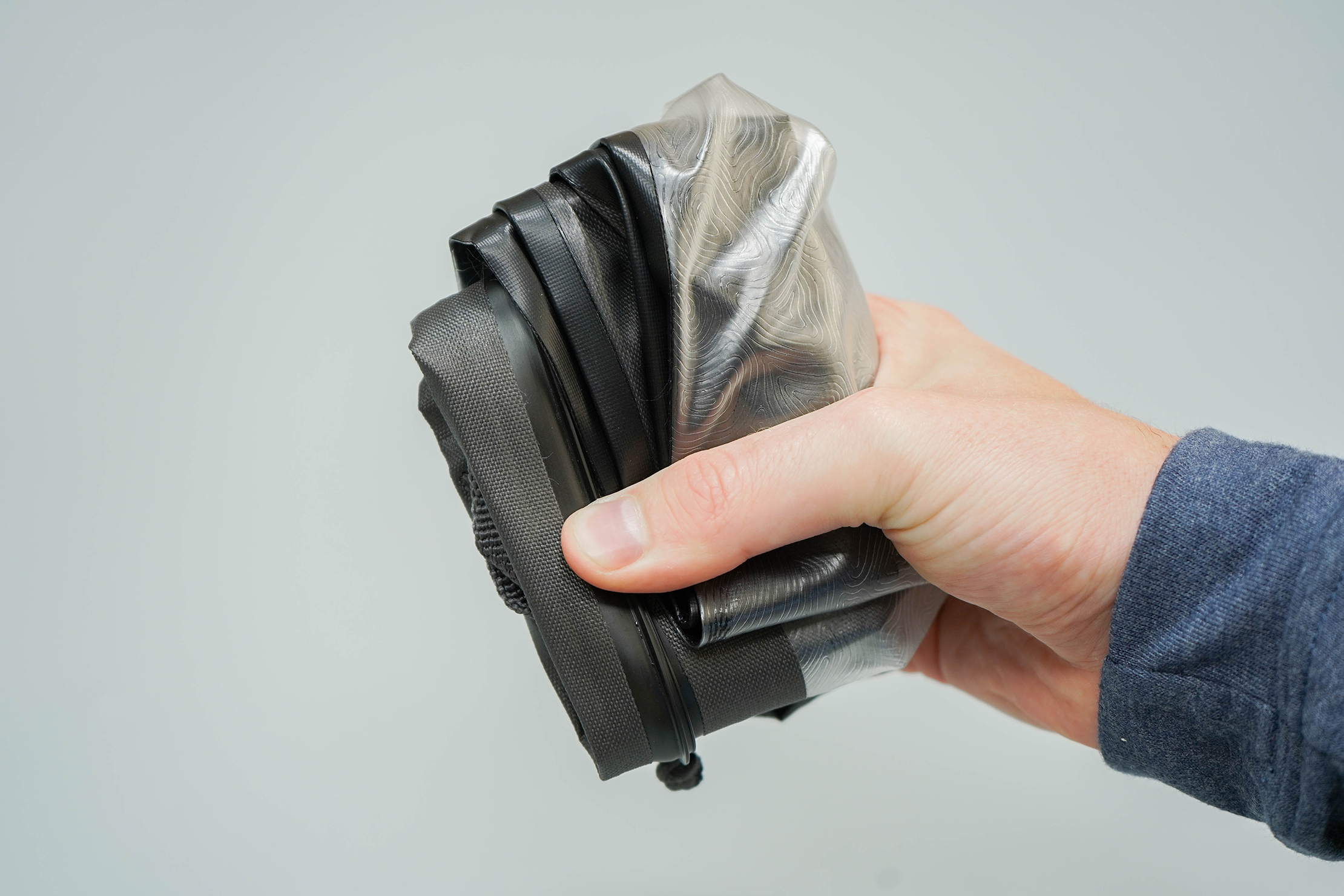 These packing cubes—available in large and medium—are actually waterproof (unlike some water-resistant packing cubes that claim to be waterproof). They'll withstand immersion in water 1M deep for up to 30 minutes.
So let's take a closer look.
Materials & Aesthetic
We wouldn't call the Nite Ize Waterproof Packing Cubes sophisticated, sleek, or ugly. They're just waterproof packing cubes.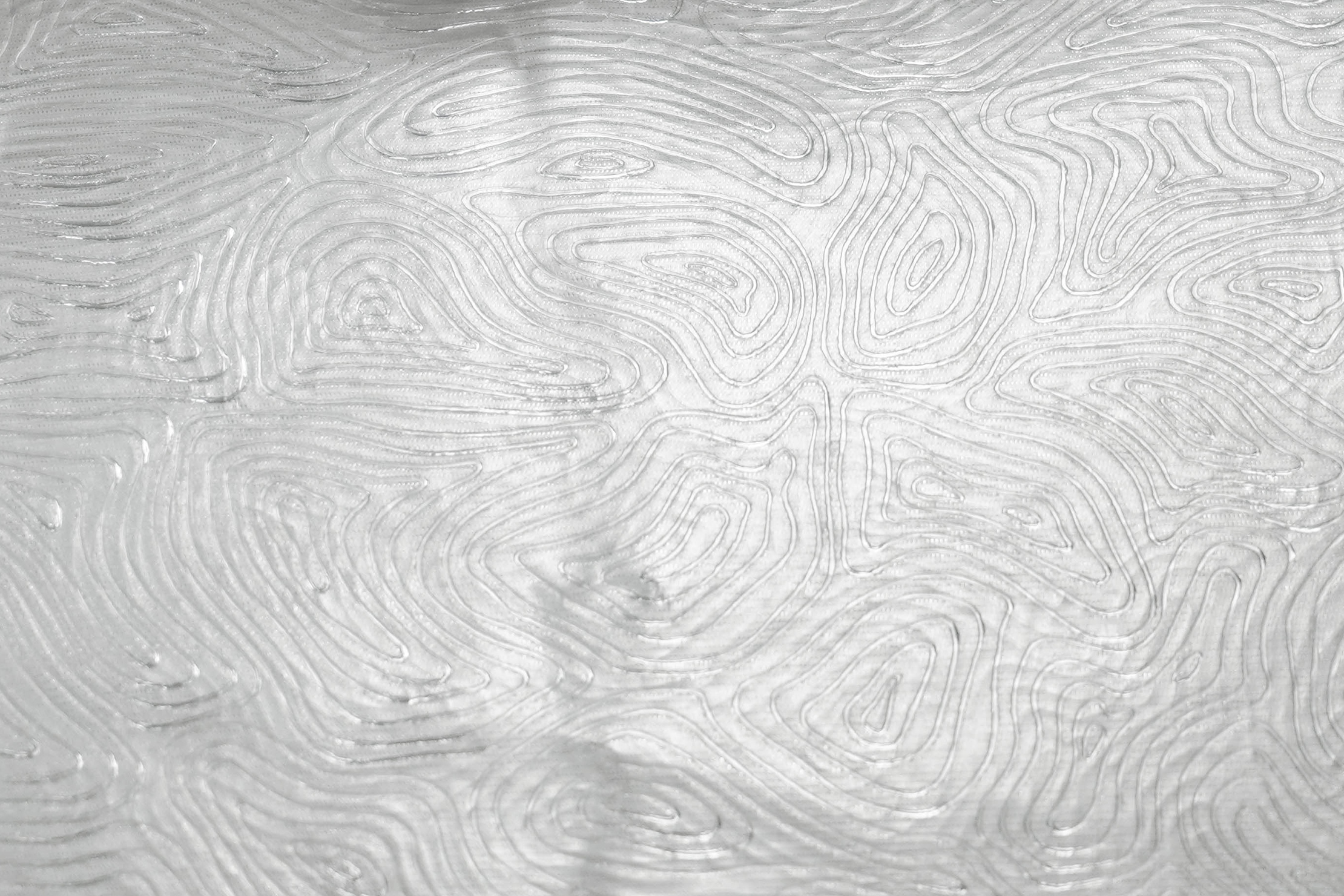 We're digging the clear window, which allows you to see what you've packed inside. And the topographical texture adds a nice bit of style. Plus it makes the cubes grippy, a handy feature for cubes often slicked with water.
Moving right along into the vastly more important aspect of these cubes—the materials.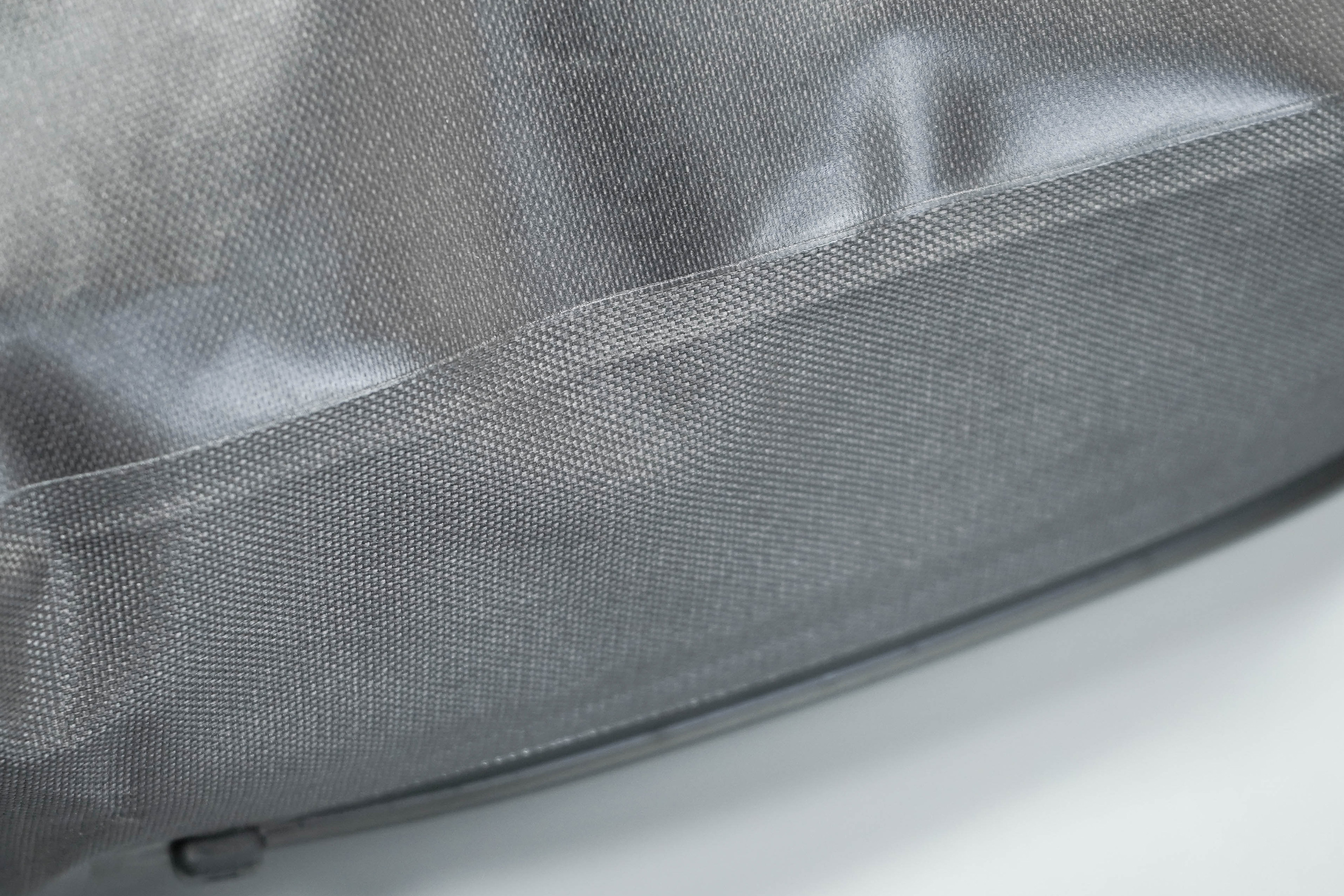 Made of durable TPU-coated fabric with RF-welded seams, these cubes are first and foremost crinkly. But not in a cheap way. In fact, we're impressed with how hardy the fabric feels. And, of course, it does the job of repelling water.
Alright, on to the main event, folks. Grab a cup of coffee, tea, or whatever beverage you like the most—it's time for Zipper Talk.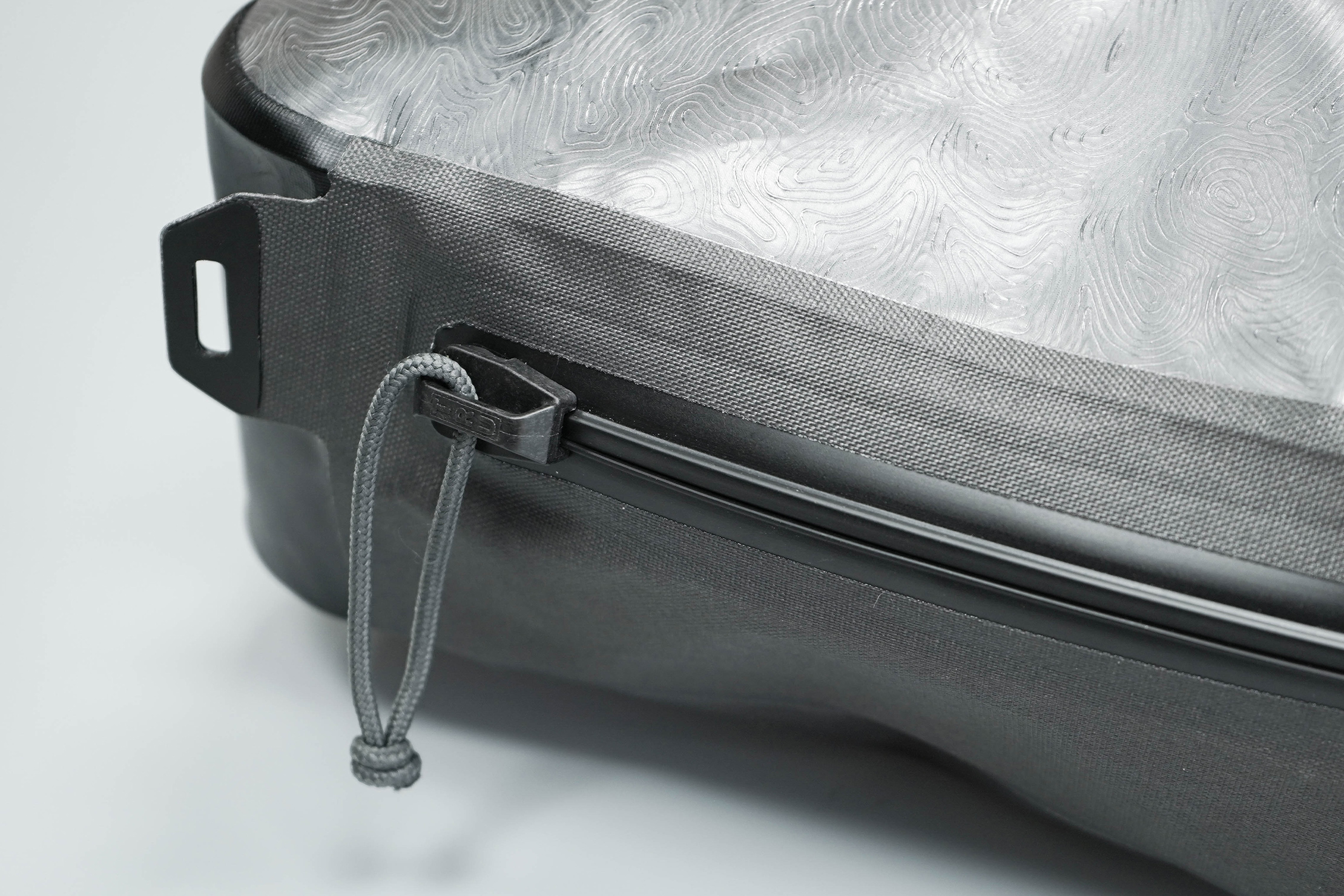 Nite Ize developed the waterproof, toothless zipper they've named TRU® Zip. We're always excited when companies try something new and innovative, so our hats off to the folks over there. And the zipper works. It prevents water, air, and dust from getting in or out (as long as you use it properly—make sure to read the instructions).
All that said, this is the first iteration of the TRU® Zip and it could use some improvements. The tech just isn't quite there, although it's a step in the right direction.
Nite Ize describes the zipper as both silent and smooth; we would describe the zipper as both silentish and smoothish. Yes, the zipper glides along the track without a sound, but you have to tug it, causing the rest of the bag to crinkle as you do. It would be difficult to get in and out of the packing cube without alerting others to what you're doing. Sorry, all you international spies out there.
The zipper has also gotten stickier with use. It can be slow to zip and difficult to work around the corners. Not great if you want to get to your clothes quickly or even semi-quickly. You also have to take care of the zipper by storing it flat and fully zipped, as well as lubricating it after cleaning or before prolonged storage.
Like we said, we appreciate that Nite Ize is innovating here. And we can't wait to test out the TRU® Zip 2.0.
Features & Usage
You might be thinking: How many features can packing cubes have? Well, let's get right into it.
The large cube measures at 10″ x 14″ x 3.2″ internally, while the medium is 6.9″ x 10.3″ x 3.2.'' So, the large is pretty massive. Almost too massive. If you have bulky sweaters or jackets to pack, you'll appreciate the size—especially since you can squeeze out air and compress it. Otherwise, you may want to stick with the medium, which is much more reasonable.
We like the lack of zipper teeth. We can't be the only ones who've gotten clothing stuck in a zipper before…right?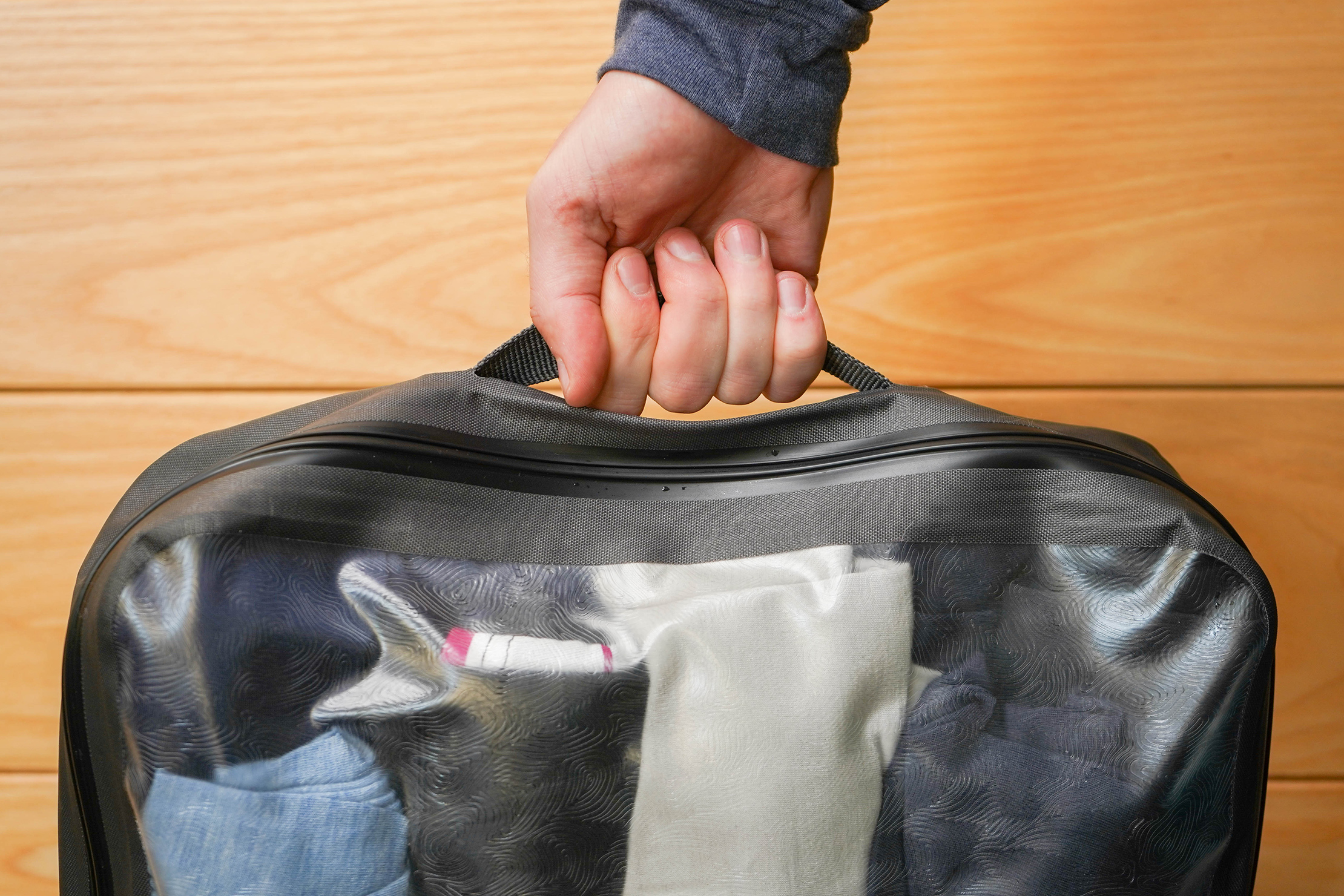 Plus, the nylon grab handle is super nice. It's durable and has a stay, allowing you to handle this thing easily.
But, of course, you can't really judge these cubes without considering their main feature. As we mentioned at the beginning of this review, most of us don't need waterproof packing cubes. To be frank, the maintenance and patience required, especially with the zipper, isn't worth it if you're a landlocked traveler. And it clocks in at a steeper price than other packing cubes on the market.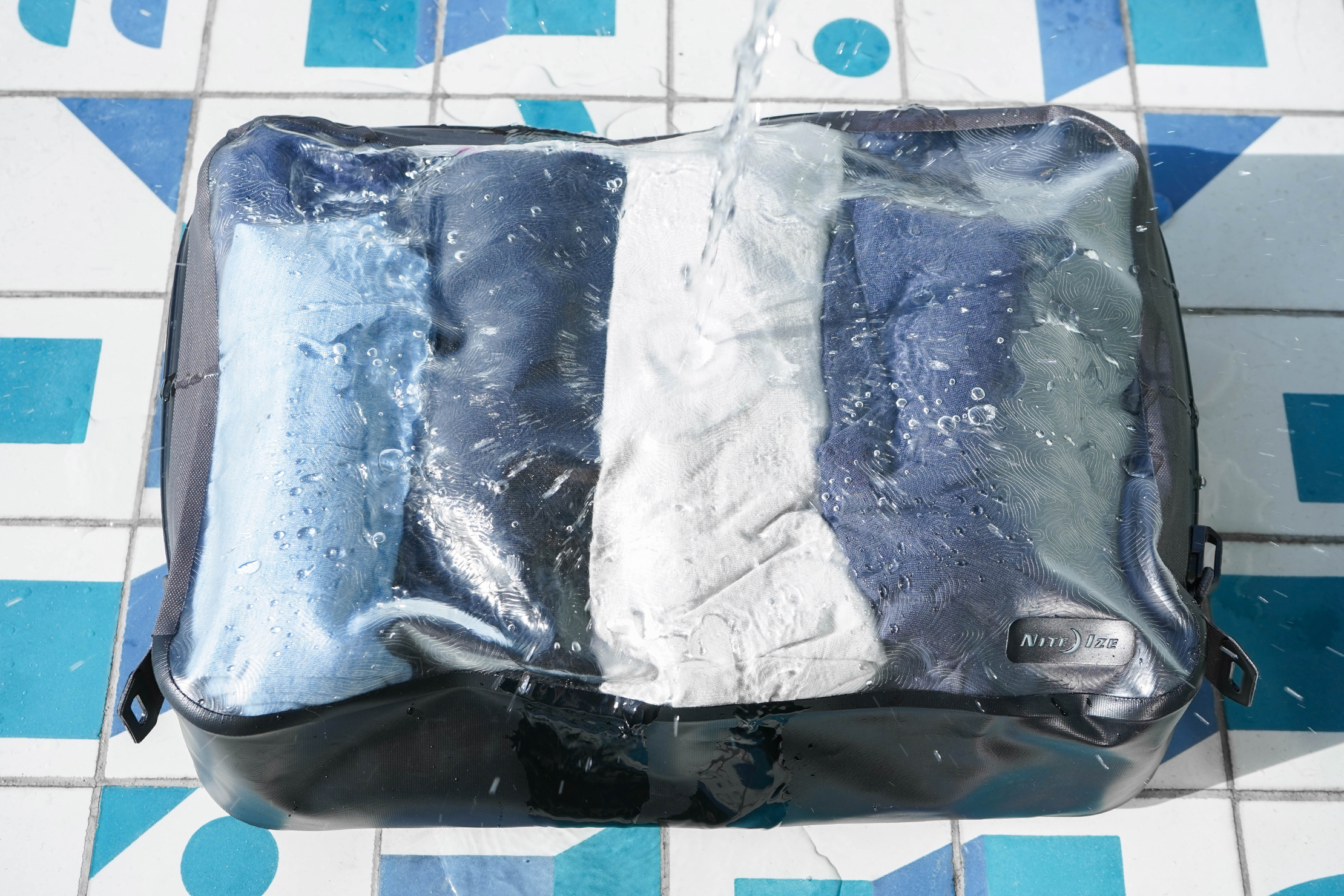 But if your travels have you sailing across the ocean or living in a submarine or dropping your packing cubes into puddles on the daily, you'll love the peace of mind these packing cubes offer.
These cubes are also dust-proof, which is handy to keep your clothes free of, well, dust. That said, there is zero air ventilation going on. Your clothes won't air out, which means smells may build up. During testing, we've often left the zipper cracked to help with this problem. But we're not sure if that's ideal for the longevity of the zipper.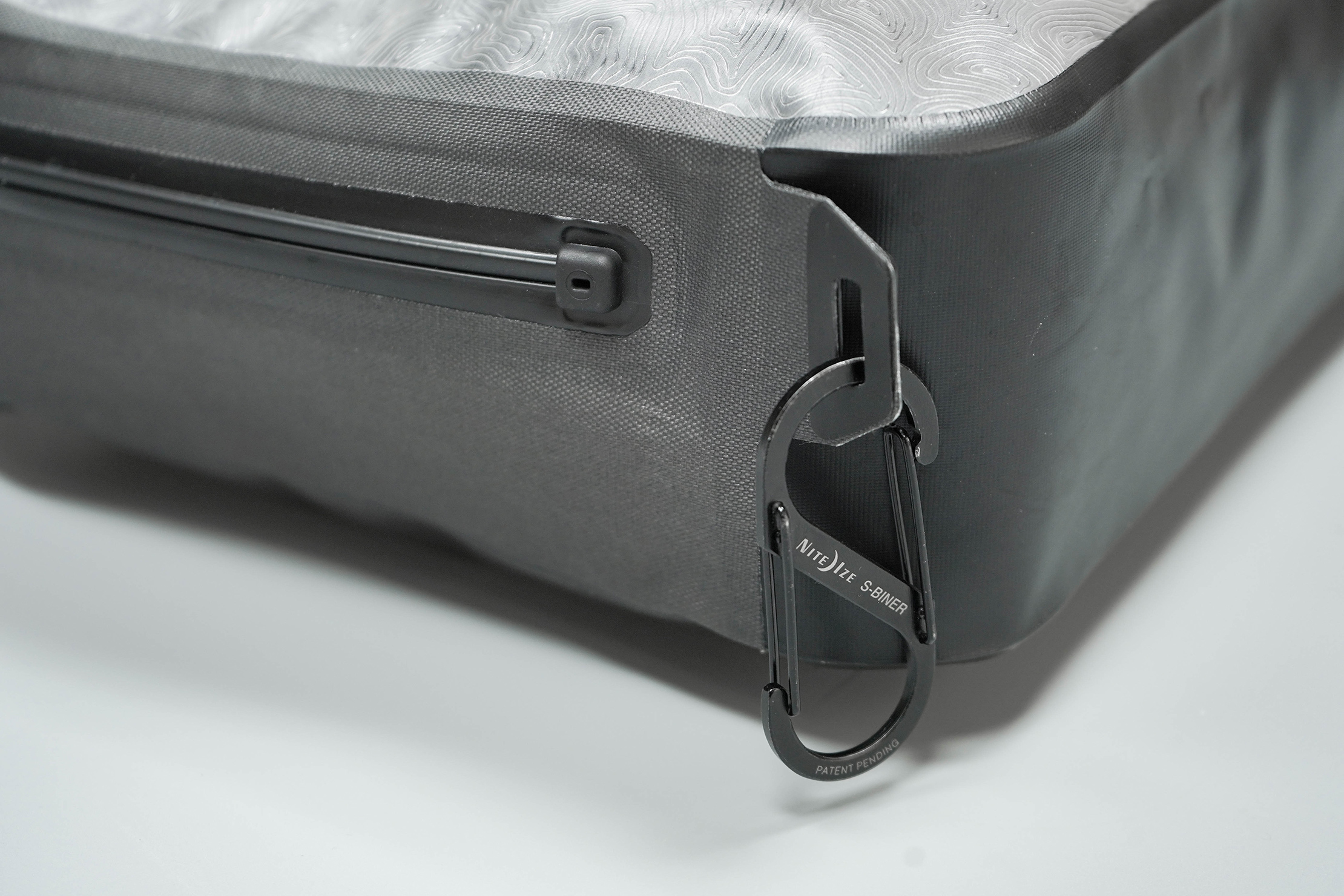 You'll find two tabs on the cubes, which work as both zipper pulls and carabiner attachment points. Having carabiner attachment points doesn't make as much sense here as on the 3-1-1 Pouch—you would definitely look bizarre with the large packing cube attached to your belt (but you do you).
And because of the aforementioned lack of air ventilation, hanging the cube off of your pack won't help much with drying anything you've got inside. Although, it will dry off the cube itself. You can also attach it to other packing cubes or pouches to keep everything together.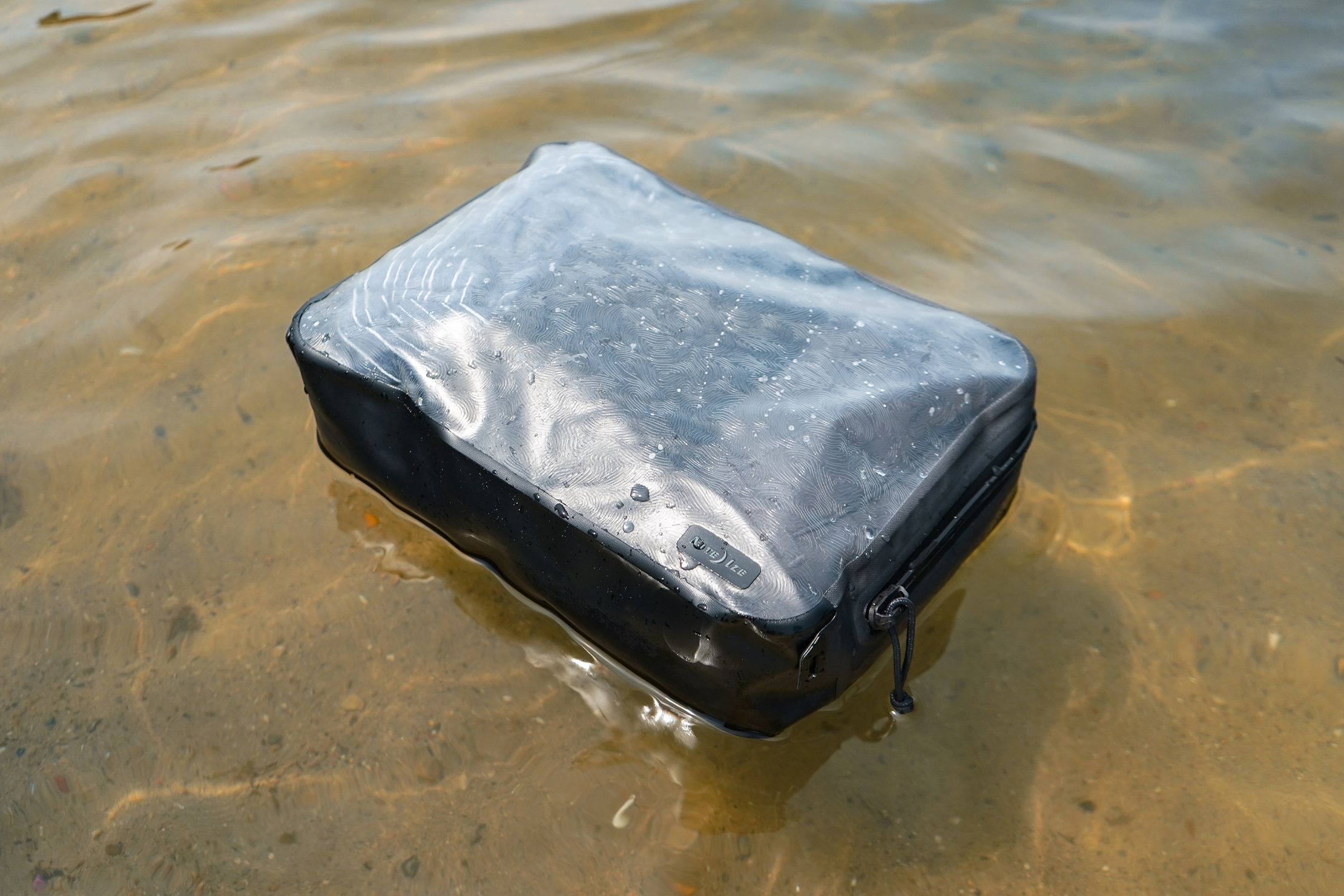 One last feature worth mentioning is the fact that these cubes float really well. Perfect for all of you river rats out there as you can hang them off of your tube and float down the river super easily.
Durability & Testing
We've been testing the Nite Ize RunOff Waterproof Packing Cubes for nearly three weeks, including on a transatlantic trip to Germany and the U.K. While everything looks okay so far—except the increased stickiness of the zipper—we're worried about long term durability. Nite Ize isn't known for exceptionally hardy gear and we could see the quality of the zipper and waterproofness degrading over time.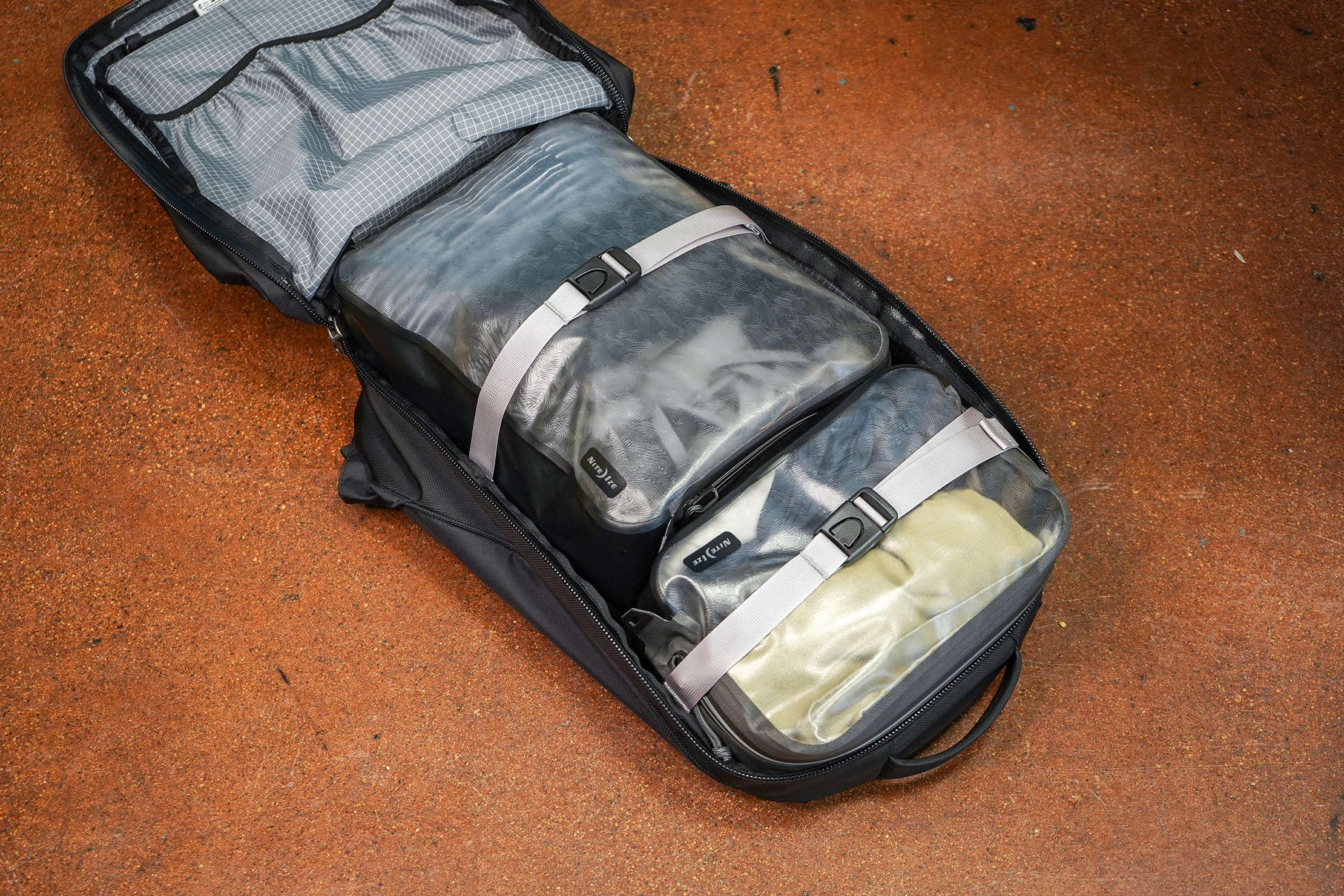 If you need waterproof packing cubes, you'll enjoy the peace-of-mind these truly waterproof cubes provide. Otherwise, you may want to look at some other options.
Usage Timeline
Initial Usage
Condition: Excellent
Completely waterproof design allows you to either keep your packed items clean and dry or pack your dirty items to keep dirt and messes contained
Attachment points allow it to be carried on its own with a strap
Quick-grab handle on top for easy carry
2 Weeks of Use
Condition: Excellent
Not sure about the large—it's a bit too big.
1 Month of Use
Condition: Good
The zippers on both sizes are getting stickier.
Access the Pro Community Discussion
Get your questions about the Nite Ize RunOff Waterproof Packing Cubes answered from our team and the Pro Community right here on the page. Plus, join discussions with other members about gear, guides, and more.
Other Organizers & Pouches Reviews