Nite Ize RunOff Waterproof 3-1-1 Pouch Review
TSA compliant, the Nite Ize RunOff 3-1-1 Pouch is ideal for air-travel—plus it's waterproof, so it'll protect your stuff from leaking toiletries.
Our Verdict
Unlock the Pro Summary
Save time. Get access to brief summaries of our reviews so you can browse and make decisions more efficiently.
Pros
Waterproof (submersible)
Compliant to TSA's 3-1-1 Liquids Rule
Tabs allow you to hook it to backpacks, your belt, etc
Cons
Zipper can be slow and sticky to work
Requires maintenance
Need to properly work the zipper for full protection
Recent Pack Hacker Video
Technical Details
Capacity

2l

Weight (oz)

1.4 oz (39.7 g)

Dimensions

5.9 in x 8.8 in x 2.4 in (15 x 22.4 x 6.1 cm)

Notable Materials

Thermoplastic Polyurethane (TPU), TRU Zip

Manufacturing Country

Taiwan

Warranty Information
Buying Options
$43.00

$35.00
Full Review
Get up to 20% off Nite Ize • Join Pack Hacker Pro
Here at Pack Hacker, we're inherently suspicious of anything that touts itself as "waterproof." But this RunOff Waterproof 3-1-1 Pouch from Nite Ize is actually waterproof. It's tested to IP67, which means you can fully submerge it up to one meter deep for 30 minutes and it'll keep everything inside dry.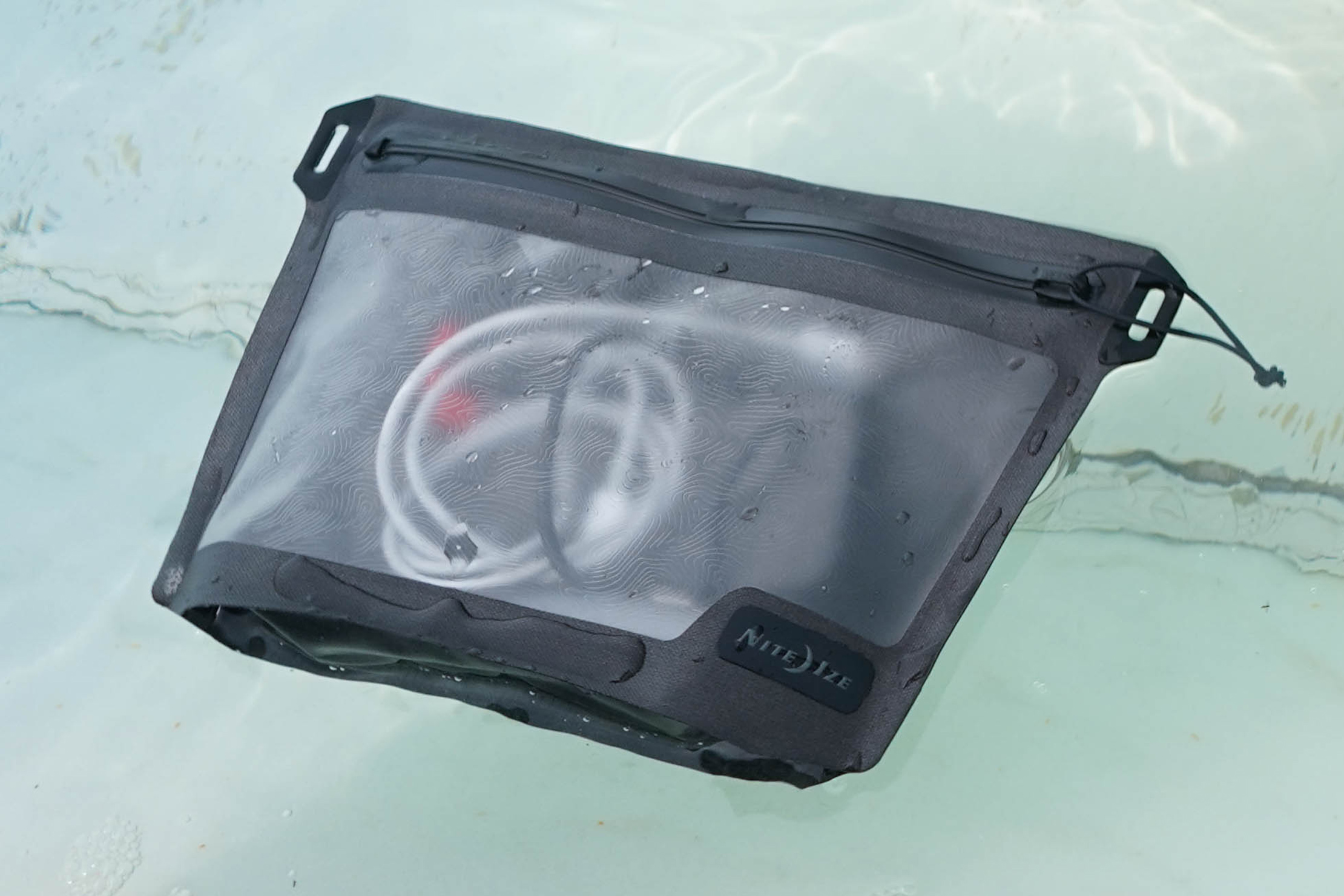 So if you're planning to travel the world on a boat, or visit a waterpark on almost every continent, read on for our full review.
Materials & Aesthetic
This may surprise you, but this waterproof pouch looks like a waterproof pouch. We're not blown away by its classy aesthetic, but we're not repulsed by its look either. We're digging the clear front panel—not only because it allows you to walk through airport security easily (more on this later), but because it allows you to see everything you've got inside. Plus, it has a fun, topographical texture that makes this pouch feel grippy.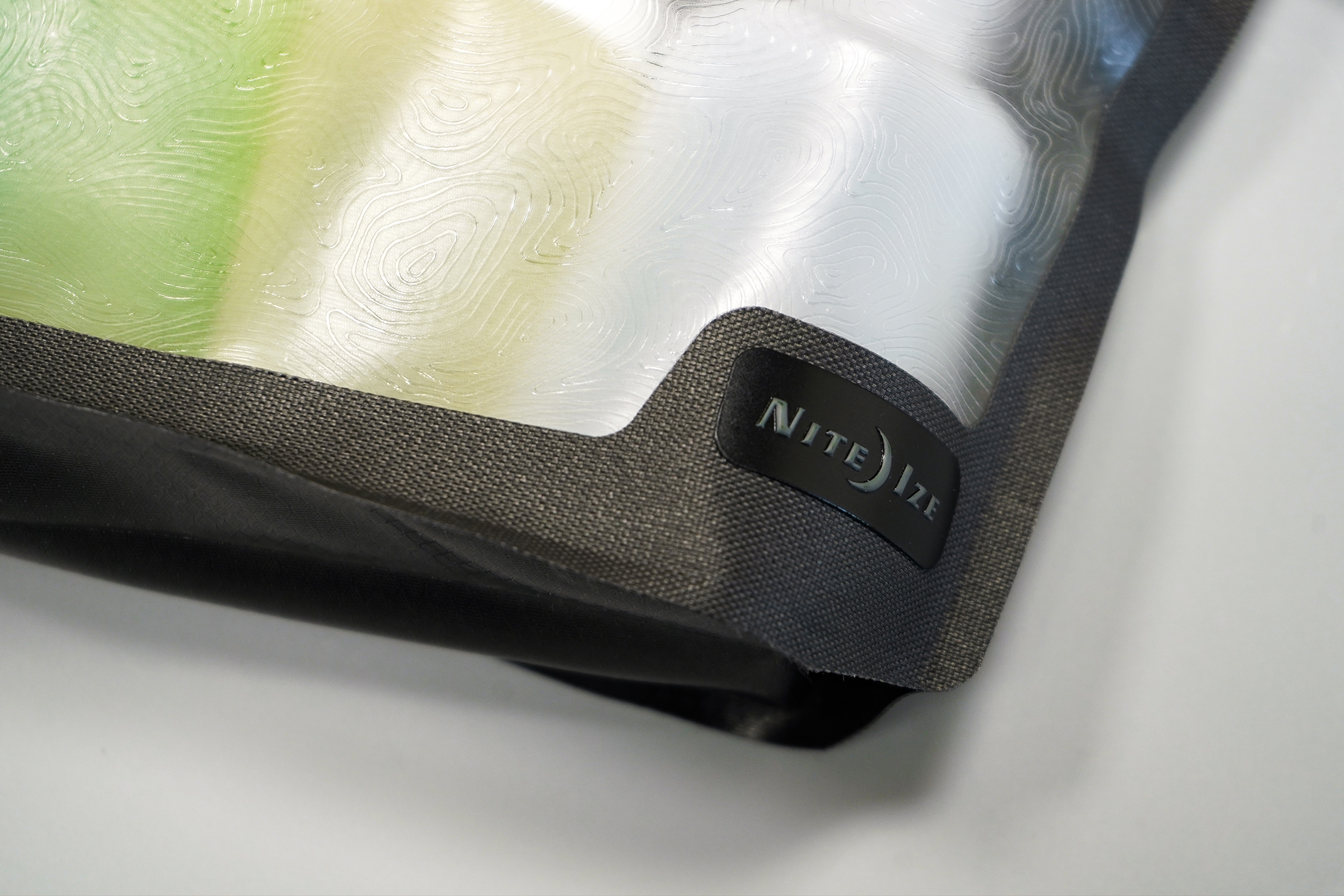 As far as branding goes, you'll find the Nite Ize logo on the bottom right, which is pretty subtle and doesn't detract from the overall simple aesthetic.
But appearances aren't nearly as important as the materials here. This waterproof pouch is constructed out of durable TPU-coated fabric with RF-welded seams and a gusseted bottom. It feels robust and sturdy if a bit crinkly. But not crinkly in a bad way. Crinkly in a this-feels-waterproof way.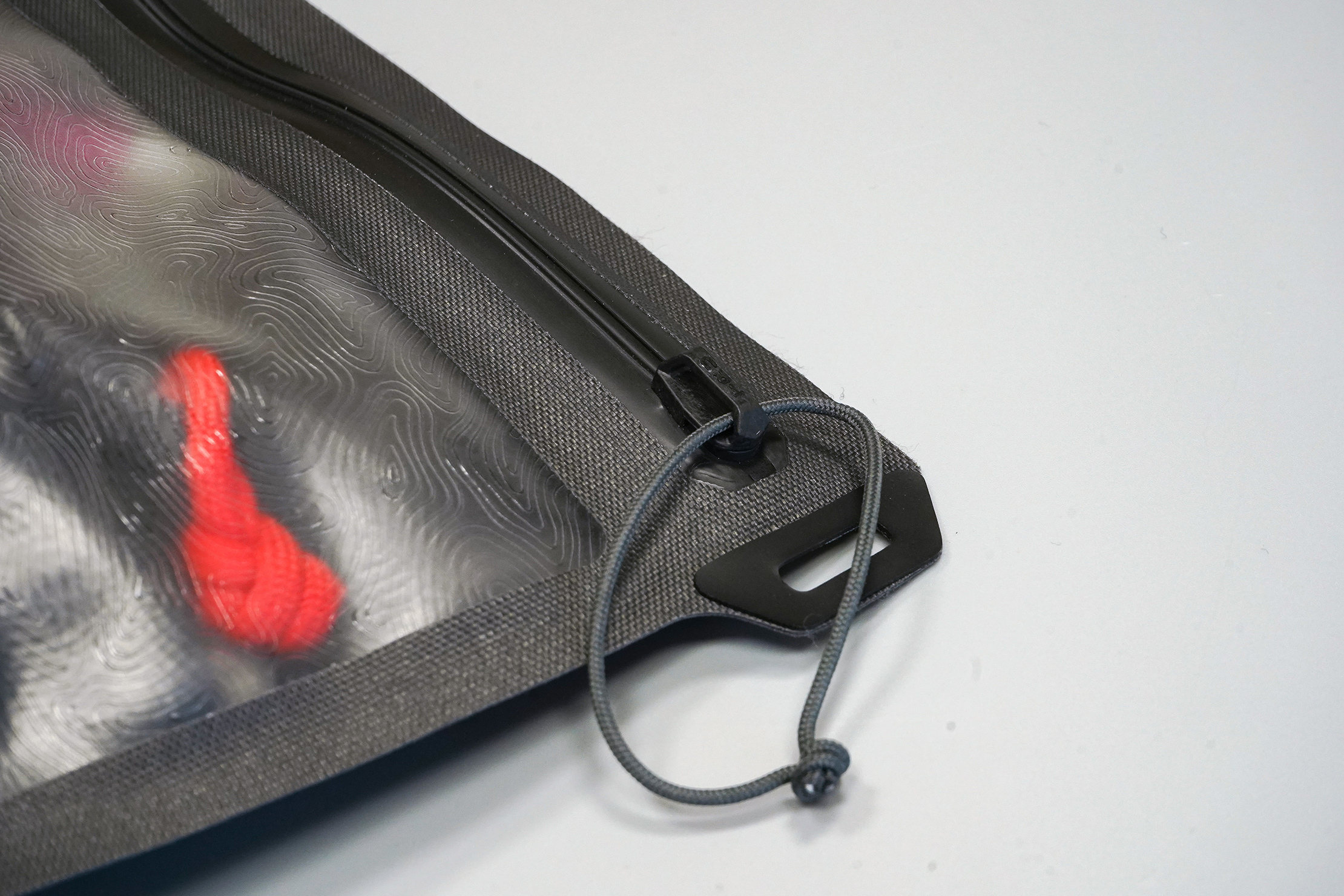 The most innovative of all the materials is the zipper—called TRU® Zip—which was developed by Nite Ize. Before we get into the details, we want to tip our hats to the folks over there for trying something new. We always like to see innovation and this zipper, which they say is the "First sliding toothless waterproof zipper on the market" is exactly that.
As long as you use the zipper correctly—pulling it firmly into the end-stop—it's fully waterproof. We've submerged this thing multiple times and water has never been able to get inside.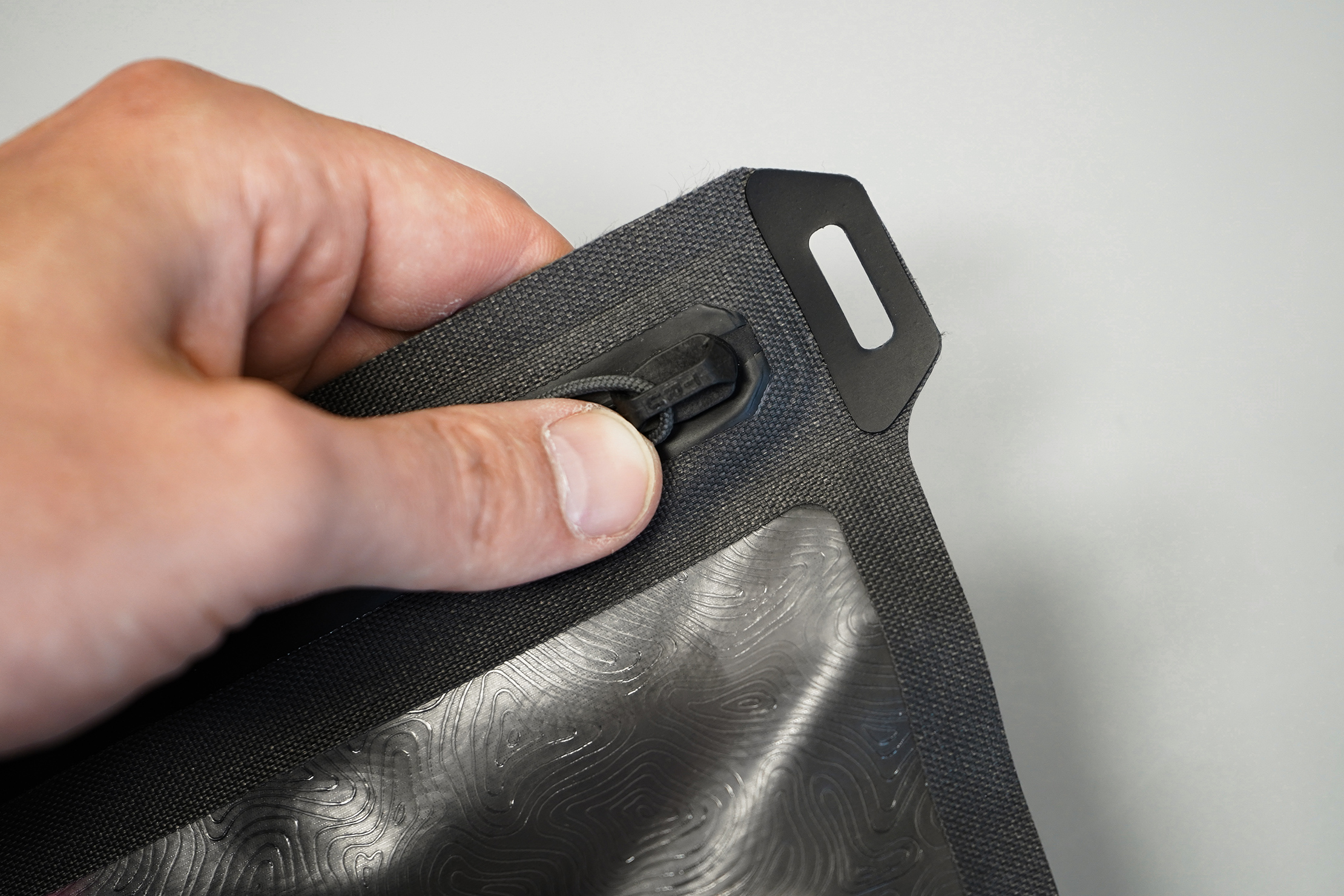 It's also dust-proof, which is great if you're in the construction world or like to roll around in sand sometimes (no judgment).
All that said, it's a bit sticky to use. You have to tug firmly and slowly. Not great if you want quick access to whatever you've got inside. You'll also need to take care of it by storing it flat and fully zipped, as well as lubricating it after cleaning or before prolonged storage.
We've noticed the zipper getting stickier the more we use it. But the TRU® Zip is new technology. We expect Nite Ize will keep tinkering with the design, every iteration better than the last.
Features & Usage
Obviously, the most notable feature of this waterproof pouch is the one we've been hammering this entire review—the fact that it's waterproof. You can drop it into the ocean or your bathtub or wherever and rest easy that whatever you've got inside is safe.
It works in the reverse too. If you fill this pouch up with orange juice—or more realistically your toiletries—you can be assured they won't spill all over the rest of your stuff. If you've ever opened your pack to a shampoo crime scene then you know how awesome this is.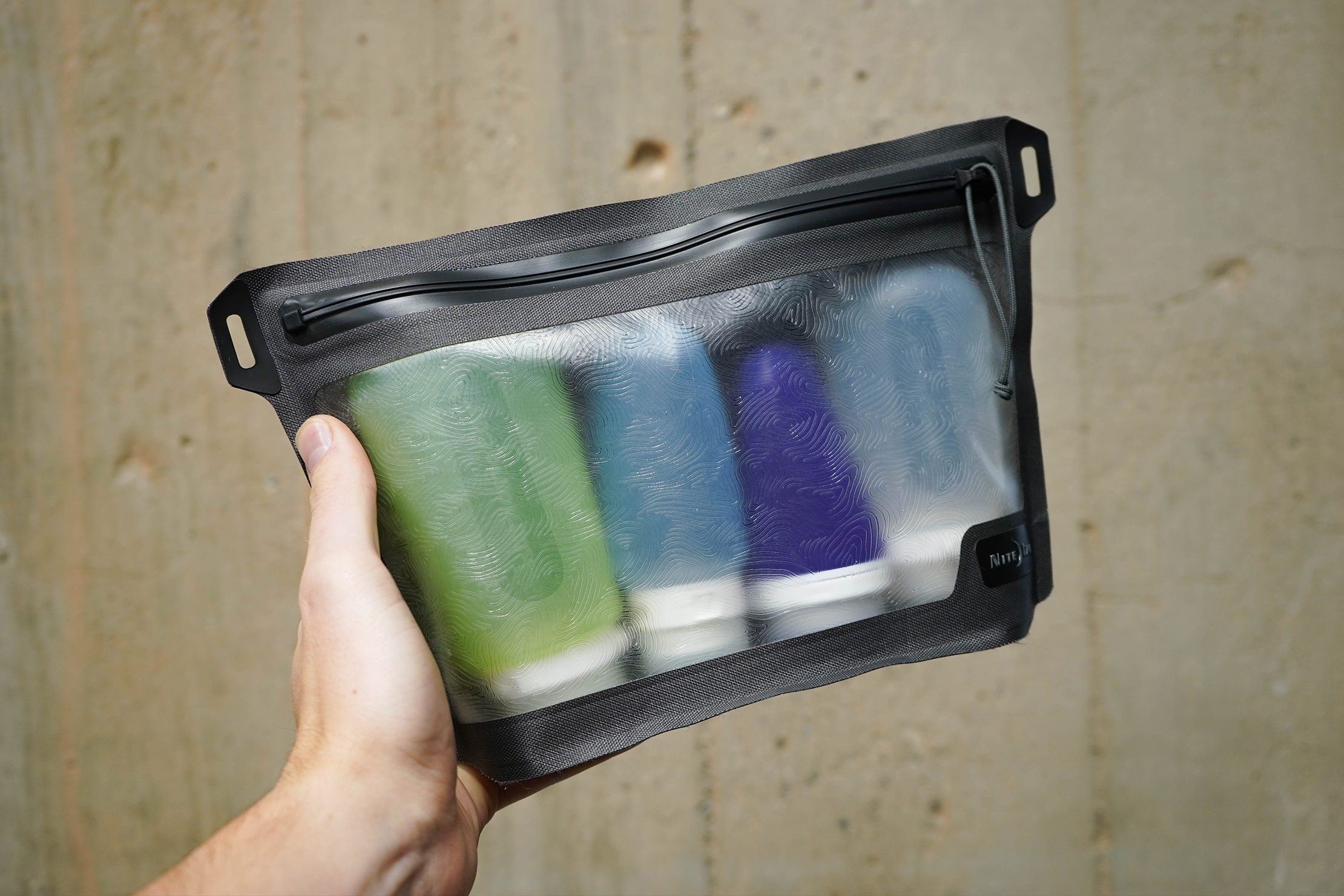 The folks at Nite Ize made this pouch compliant to TSA's 3-1-1 Liquids Rule. It's one-quart and has a translucent front. No more having to pack and subsequently throw away a Ziploc just for a trip through security, which is awesome from both an eco-groovy standpoint and a convenience standpoint.
You can fit multiple toiletry bottles inside—we're partial to the GoToob+ bottles—as well as a toothbrush, toothpaste, deodorant and whatever other toiletries you need. It holds more than it looks like it would.
But this pouch works for more than toiletries, especially since it has a 3D shape. You can use it for whatever fits—a book, cash and cards, even electronics. Although we prefer using a dedicated tech pouch for our digital gear as we appreciate the organization those offer, this works well to protect a couple of hard drives or camera batteries you want to keep especially secure.
And we love that this bag stands up on its own, making it easy to get in and out of.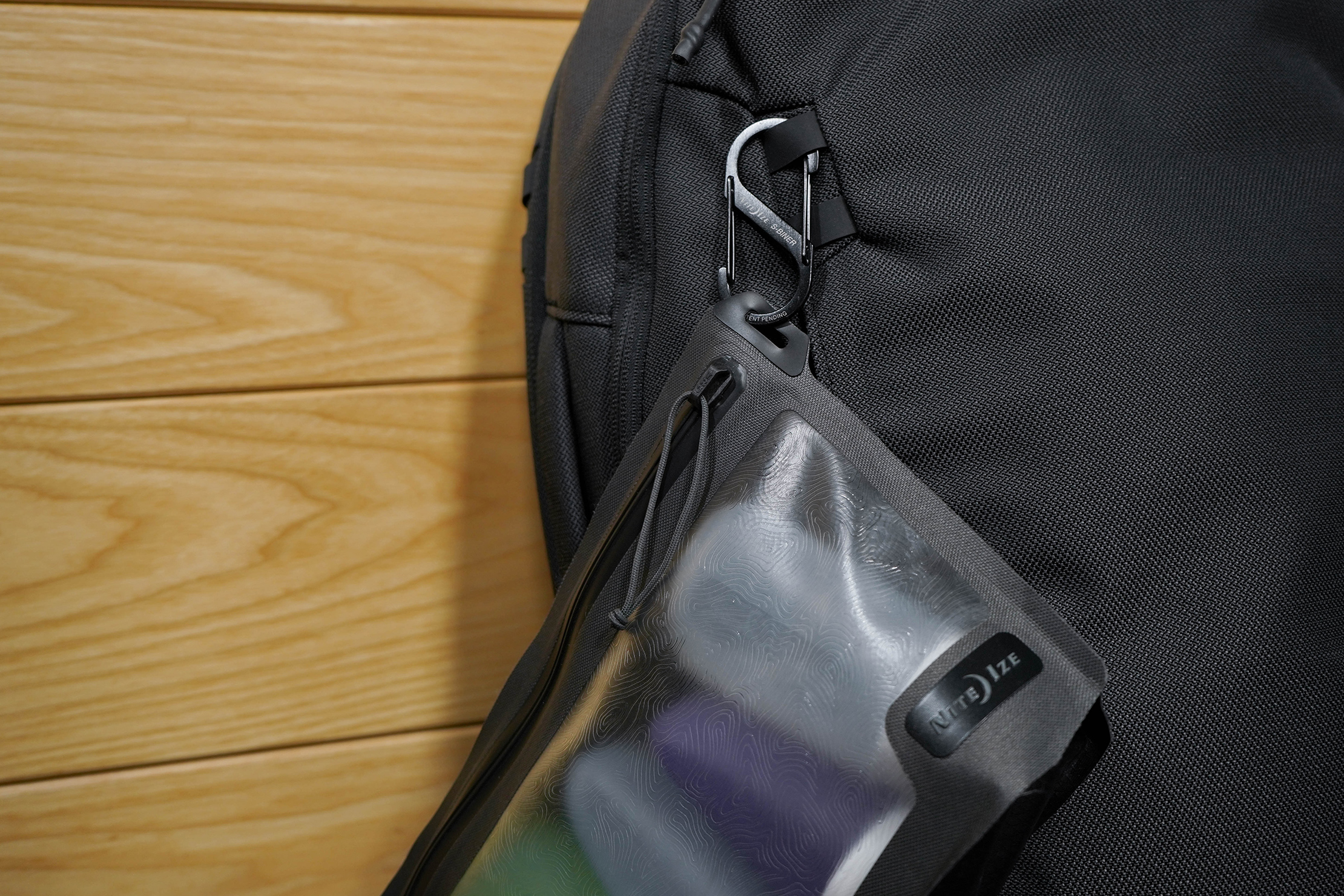 You'll also find two tabs on this thing, on either side of the zipper. First of all, these tabs help make the zipping process smoother. You can also pull a carabiner through the holes—like the Nite Ize S-Biner—and secure it to another one of the Nite Ize pouches in the RunOff® ecosystem, your backpack, or if you have confidence and style, your belt.
We should note the belt-thing actually does come in handy when you're sporting on the water. Toss your phone and some cash inside, hook it to you, and enjoy kayaking, paddleboarding, floating, or sliding down some epic water slides.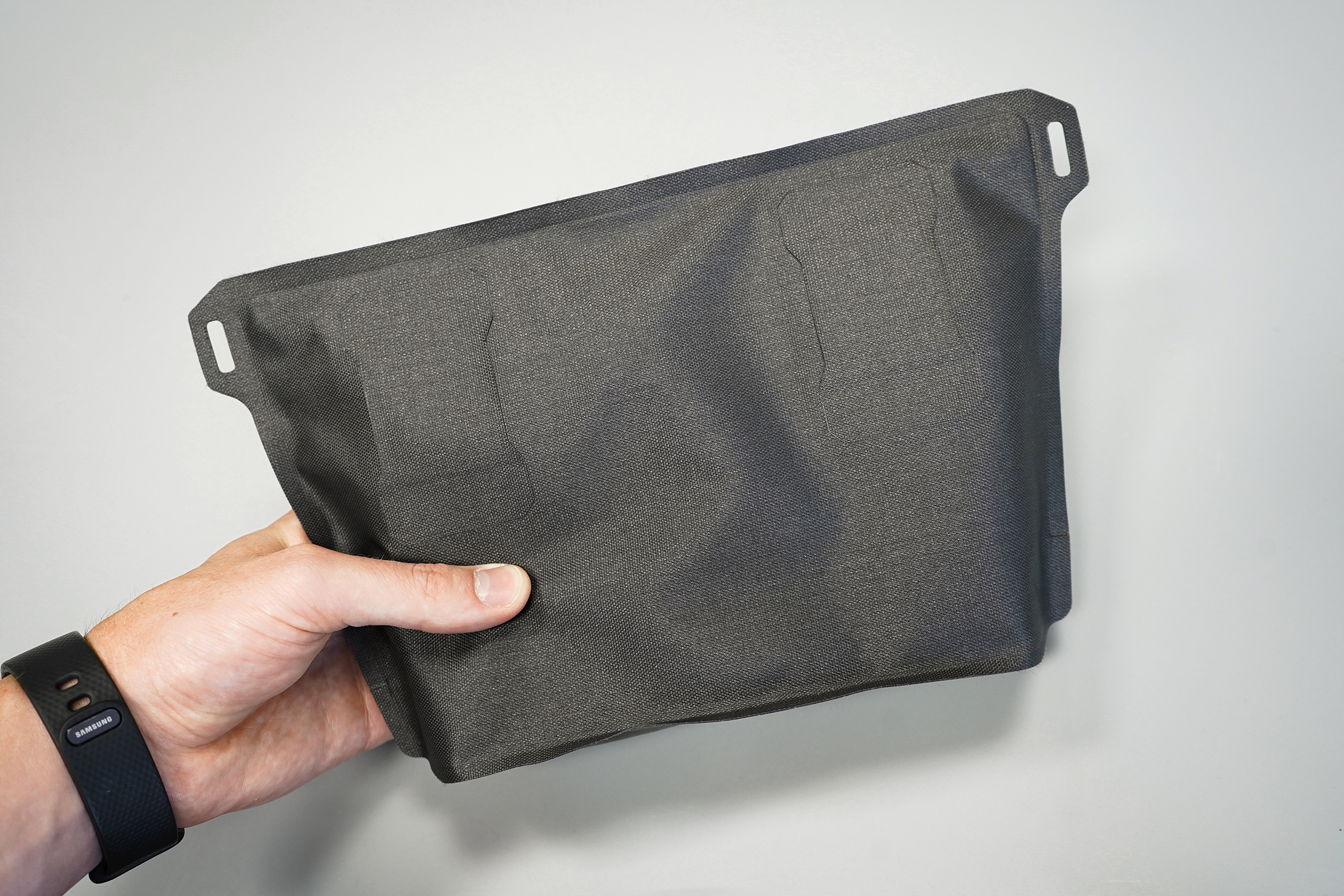 There are also belt-loops on the back of this pouch, for a different way to attach this thing to your belt or luggage.
Finally, this pouch floats. A neat trick if you were to accidentally drop it while partaking in one of the aforementioned water sports.
Durability & Testing
We've been testing the Nite Ize RunOff Waterproof 3-1-1 Pouch for one month around Detroit, Michigan. We're digging the fact that it's as waterproof as advertised. We've splashed it, submerged it, all that good stuff, and haven't had any issues. It seals airtight, preventing water from getting in or out…as long as the zipper is in the correct position. Make sure to double-check that—trust us.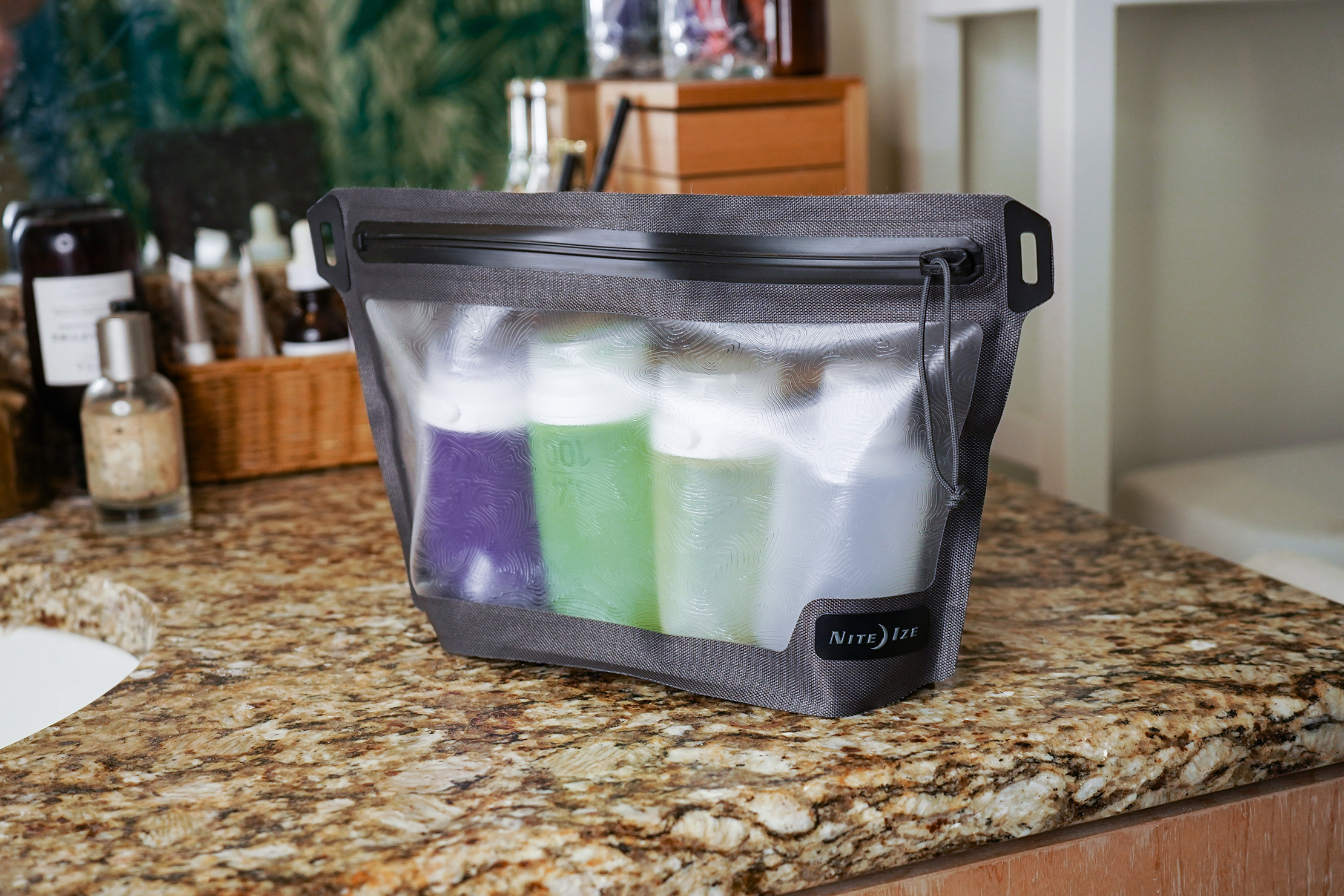 Of course, if your life doesn't involve much water other than the occasional shower and drinking of it, you don't need to invest in this 3-1-1 Pouch. The zipper may be frustrating to work, as it's slow and a little sticky. Plus, it requires maintenance. All unnecessary hardships if your travels don't involve water.
As far as durability is concerned, we have no issues to report. Everything is looking good.
Usage Timeline
Initial Usage
Condition: Excellent
Designed to adhere to TSA's 3-1-1 rule for carry-on liquids, making it perfect for air travel
Can double as a small toiletry bag because the gusseted bottom allows it to stand up on its own
Watertight seal keeps your toiletry items from messing up your carry-on bag
2 Weeks of Use
Condition: Good
Slight fraying around the edges of the pouch—this happens with a lot of"welded" TPU material.
1 Month of Use
Condition: Good
Zipper is getting stickier.
Access the Pro Community Discussion
Get your questions about the Nite Ize RunOff Waterproof 3-1-1 Pouch answered from our team and the Pro Community right here on the page. Plus, join discussions with other members about gear, guides, and more.
Other Organizers & Pouches Reviews