Osprey Ultralight Packing Cube Set Review
There's no getting around it, the Osprey Ultralight Packing Cubes rank among the best packing cubes we've tested to date. They're lightweight, easy to organize, durable, and easy on the wallet. Even though the material is a bit slick and they only have one zipper, these cubes are an ideal set for your one bag travel pack.
Our Verdict
Unlock the Pro Summary
Save time. Get access to brief summaries of our reviews so you can browse and make decisions more efficiently.
Pros
Great range of sizes.
Extremely lightweight.
Superb craftsmanship.
Cons
Only one zipper.
Material is a bit slick for our liking.
Recent Pack Hacker Video
Technical Details
Weight (oz)

2.2 oz (62.4 g)

For all three combined.

Dimensions

13 in x 9 in x 3 in (33 x 22.9 x 7.6 cm)

These are the dimensions of the large size. The small is 7.5" x 4" x 3" and the medium is 9" x 7.5" x 3.3"

Notable Materials

Ripstop Nylon, Silicone, YKK Zippers

Manufacturing Country

Vietnam

Warranty Information
Full Review
In this review, we'll be taking a look at the Osprey Ultralight Packing Cube Set. We've been testing these things for the last month, and they've seen use filled to the brim for a week-long trip, and half-empty for short overnight stays around the UK.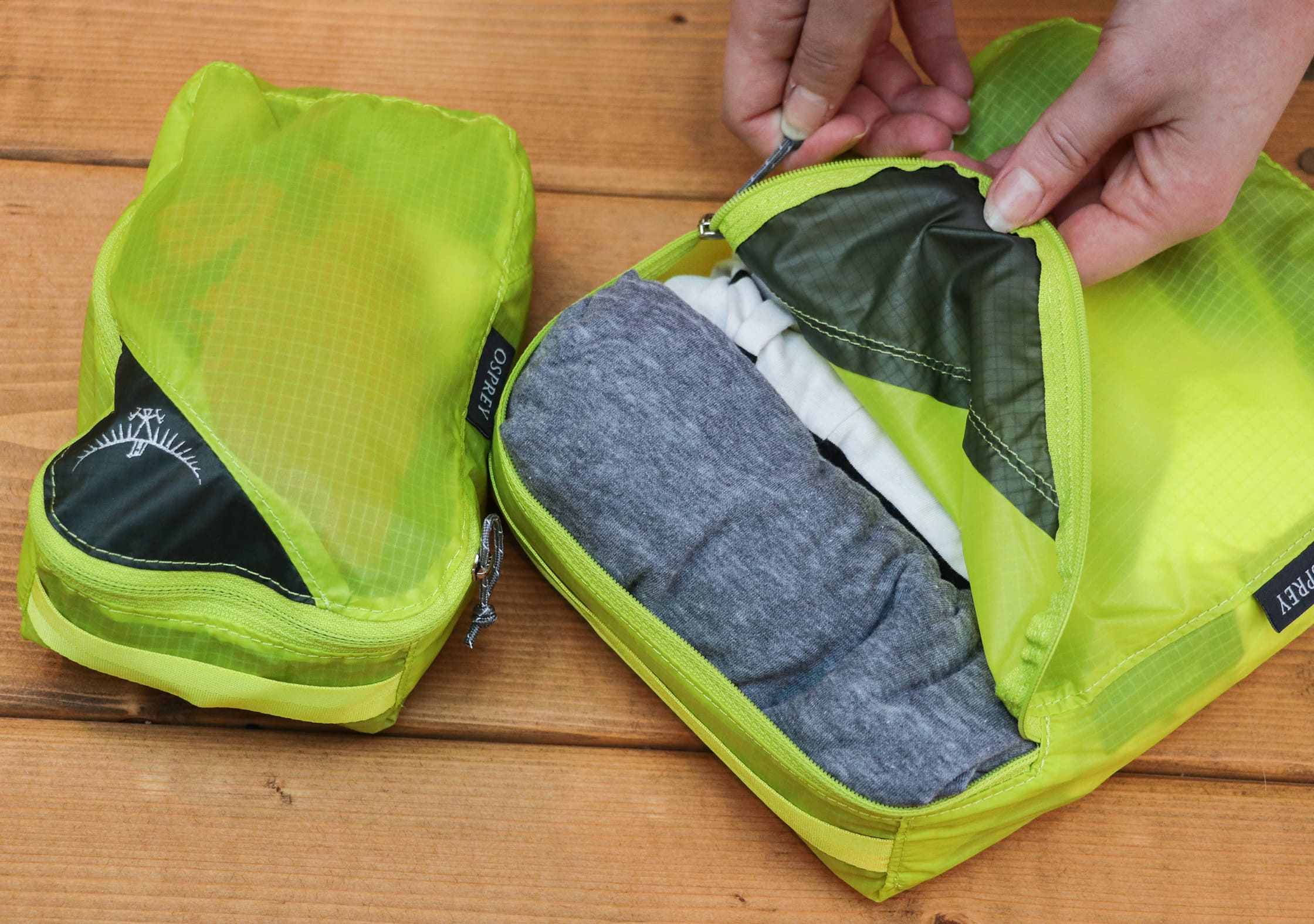 Osprey is highly regarded for making quality gear at reasonable price-points, and they're transitioning well into the travel market after starting out in the hiking and outdoors world. To date, we've been impressed with their products we've tested, such as the Daylite, Farpoint 40, Fairview 40, and Porter 46.
So, are the Osprey Ultralight Packing Cubes worthy of a place in your pack? Or are they just an average product from a big brand trying to grab a slice of the pie? Let's find out.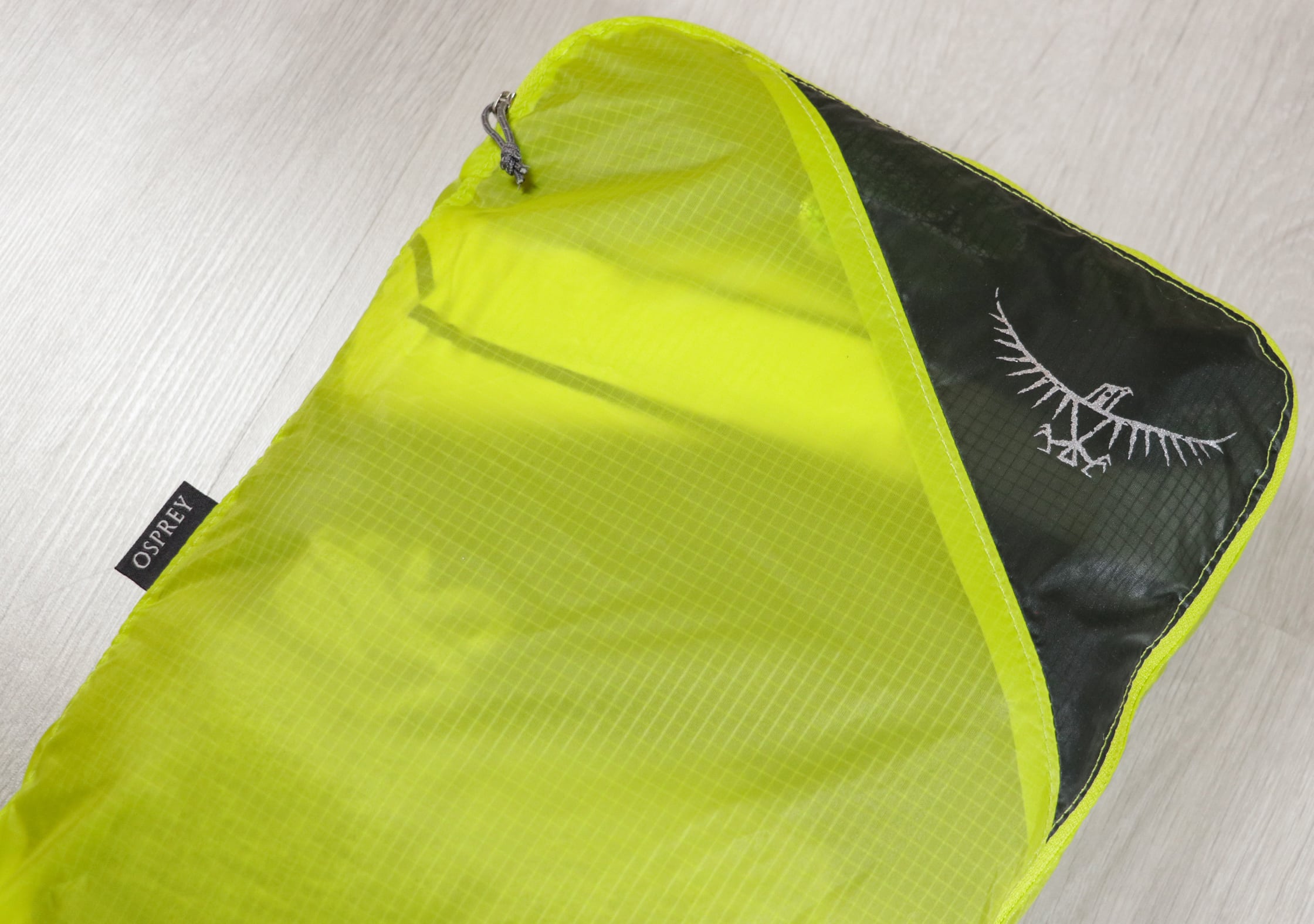 Over the years, we've noticed that Osprey has a tendency to slap their logo all over a product, but the branding on these cubes is surprisingly minimal. There is an Osprey logo on the top right and a small tab featuring the word "Osprey" on the side of each cube. The result is aesthetically pleasing, and we're digging the overall style of these packing cubes.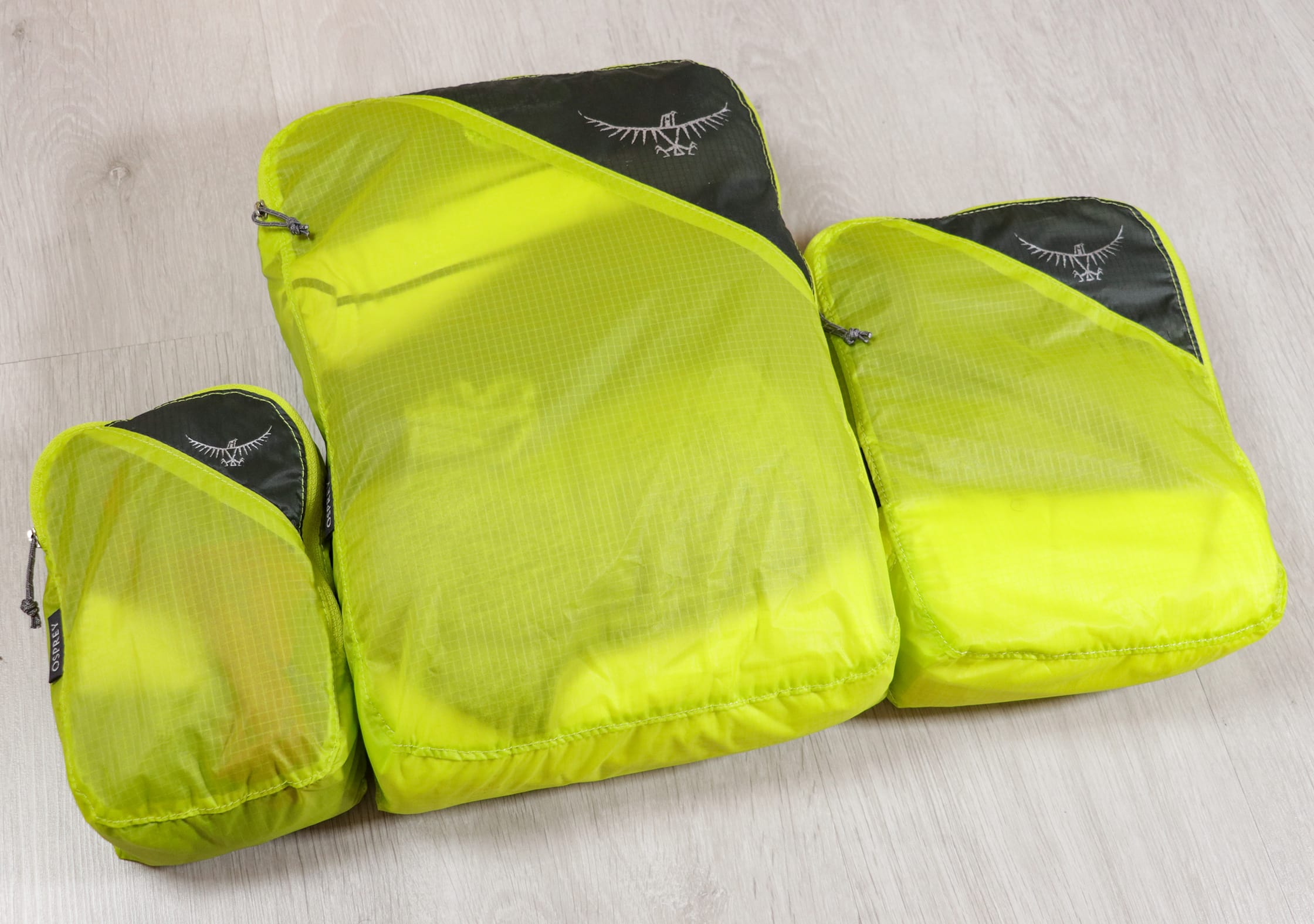 The Ultralight Packing Cube Set is comprised of three sizes—small, medium, and large. Packing cube sizes are not universal, so one brand's medium may be another's small, but we've found the size of these cubes to be an ideal variety for the average one bag traveler. The small cube is great for socks and underwear, the medium for t-shirts and shorts, and the large for pants and sweaters.
As a set, these cubes are available in electric lime and shadow gray colors. We went with electric lime because lighter colored cubes are easier to find inside your pack. That being said, these things are pretty bold—so if you're not particularly into neon colors you may want to opt for the gray. When brought individually, tropic teal and poppy orange colors are available too. We always love checking out Osprey's fancy color names when we review their gear, and they've delivered once again! We truly can't wait to see what they come up with next.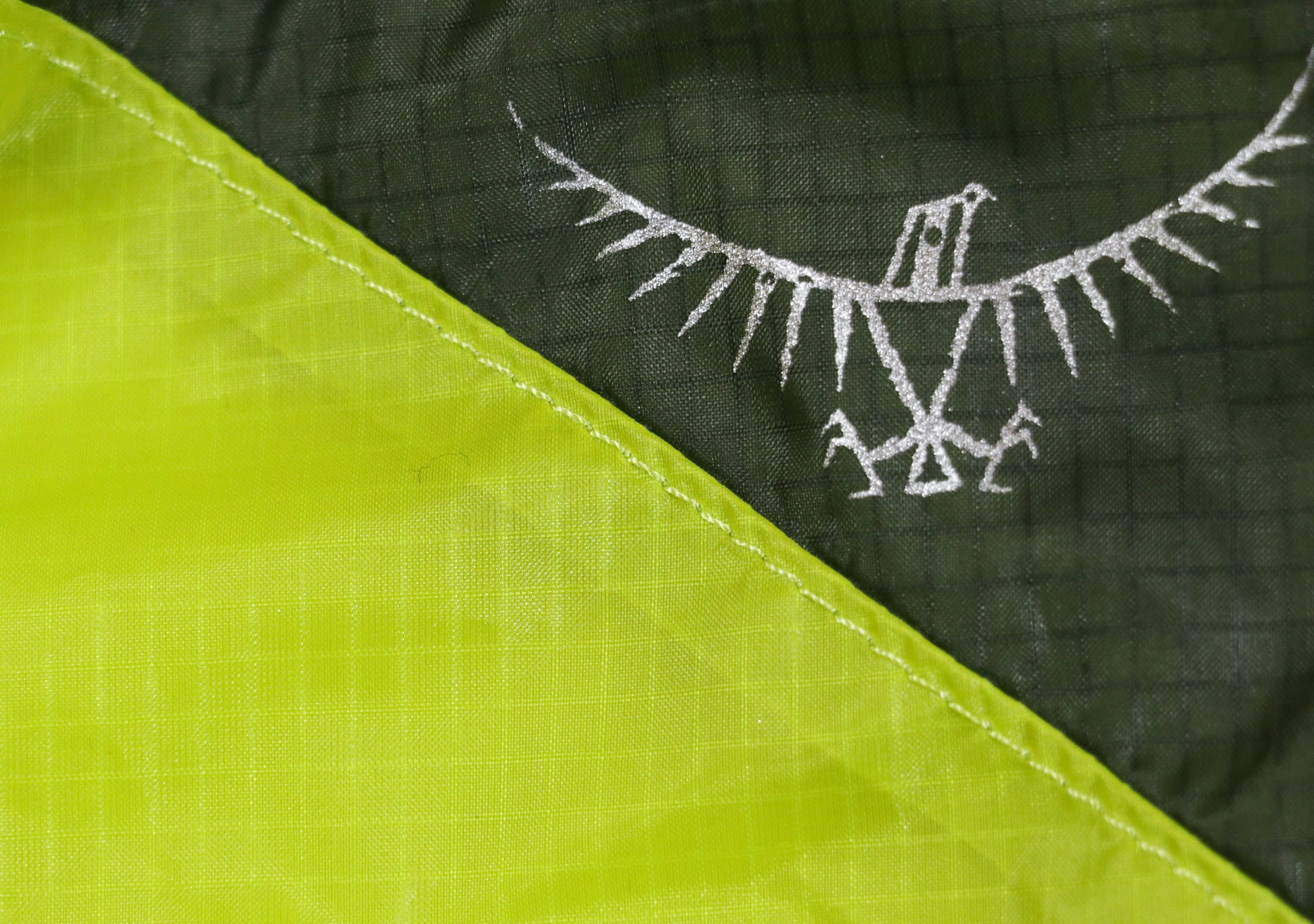 Weighing in at a mere 2.2oz combined, these ultralight cubes are certainly true to their name. This has been achieved by using a lightweight 40D Ripstop Nylon material, which is also durable and, as the name implies, resistant to rips. It's a reliable fabric that has performed well for us in testing, and we think Osprey has made a great decision here.
Additionally, Osprey has siliconized the 40D Ripstop Nylon material on these packing cubes. This creates a slick surface that makes pulling them out of your pack easy, but it does have a couple drawbacks. First, we found that these packing cubes can shift around inside your pack, which isn't necessarily the biggest problem, but it is annoying when your carefully organized layout gets all jumbled up. And second, they can be hard to grab a hold of. To be honest, we just don't like the slippery feel they've got. It's a little odd.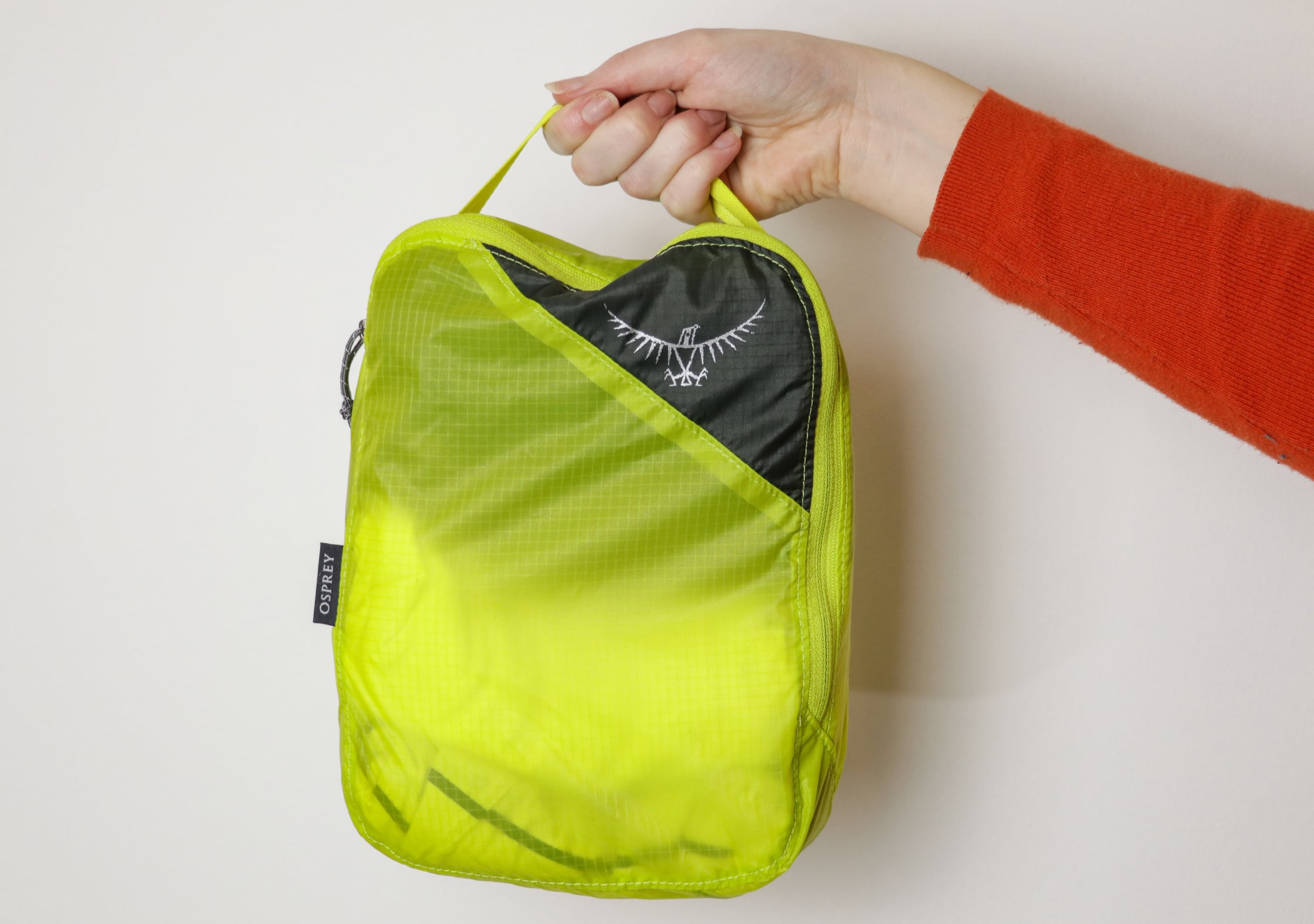 There is a nylon webbing handle on the top of each cube. We didn't find ourselves using it often, but it can be useful to pull these cubes out of your bag, especially if you've got a top-loading backpack. The handle can be used to carry the packing cube around, and helps negate the slippery material issue too. Fortunately, the handle sits close to the cube and doesn't get in the way, so it's not a problem if you don't use it.
The zippered opening on these cubes is in an interesting position, although it does work well—and it's the same opening that can be found on the Eagle Creek Pack-It Specter Cubes too. We're going to go ahead and call this an "off-center half-clamshell opening." It goes around half the bag, but it's slightly off-center, allowing more access on the right-hand side than the left. And if you're still unclear on what we're getting at here, just look at the GIF above. (See what we mean? It's a weird situation.)
We have found this style of opening to be great for cramming as much gear inside as possible, because you can push items to the bottom of the cube easily. It's also a bit easier and quicker to zip up than a full clamshell. But be warned, you'll likely need to take all of your clothes out if you want to grab something at the bottom of the cube.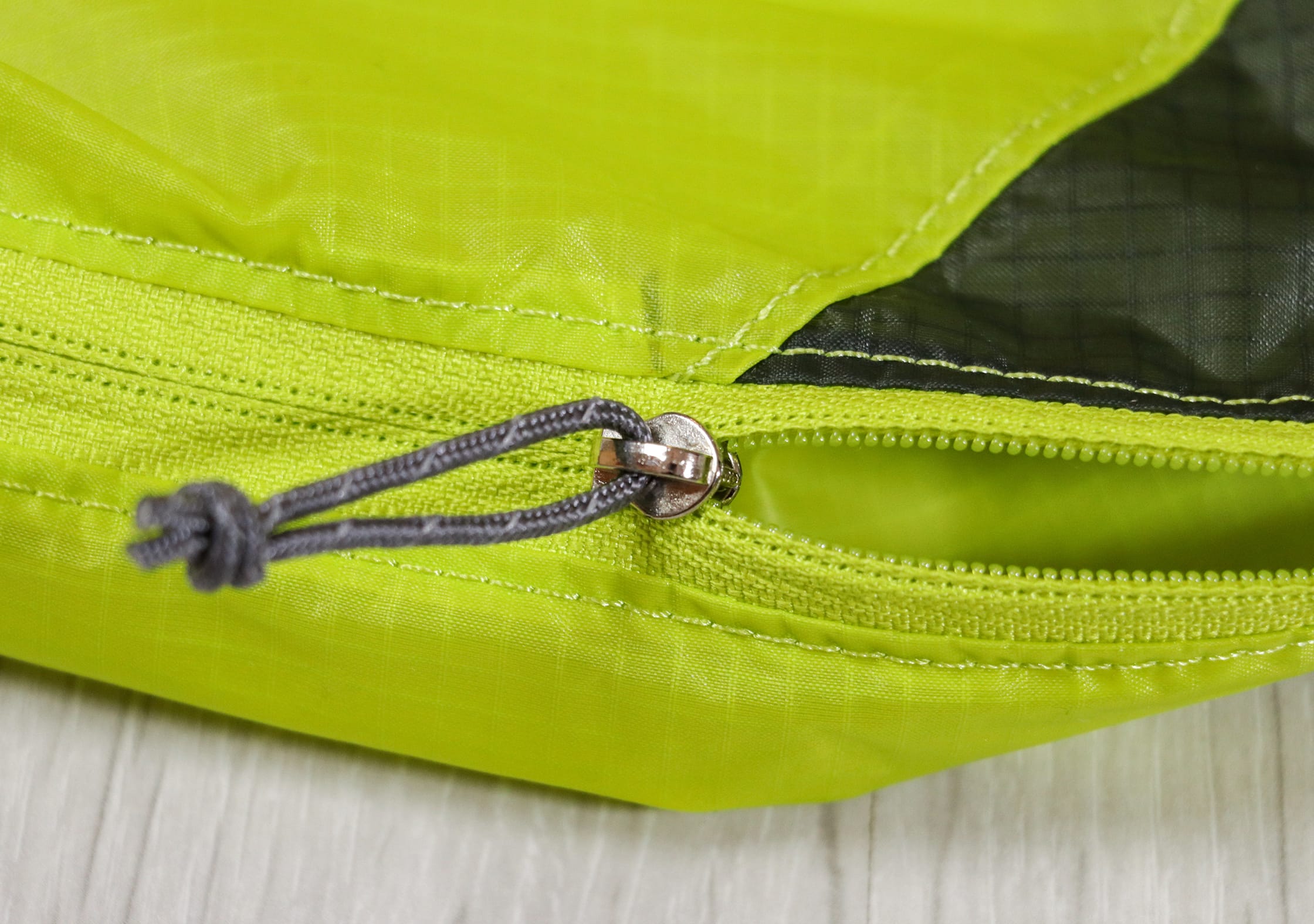 The zipper on each cube is a YKK #3, which is small but perfectly capable for a packing cube. YKK makes some of the most reliable zippers on the market, and we're confident in its durability, so all good here. However, it's important to note there is only one zipper on each opening, so if it does break (however unlikely), it will render the packing cube useless. We tend to prefer two zippers on packing cubes for this exact reason, and we've also found that it's easier to zip up with two zippers when your cube is full to the brim. On a positive note, there is a paracord zipper pull that makes opening a breeze.
Zipper Update: Osprey no longer uses YKK zippers on these cubes. We're not sure if this is a permanent change, or whether they will use YKK again in the future, but we'd recommend contacting Osprey before buying if this is important to you.
Durability & Testing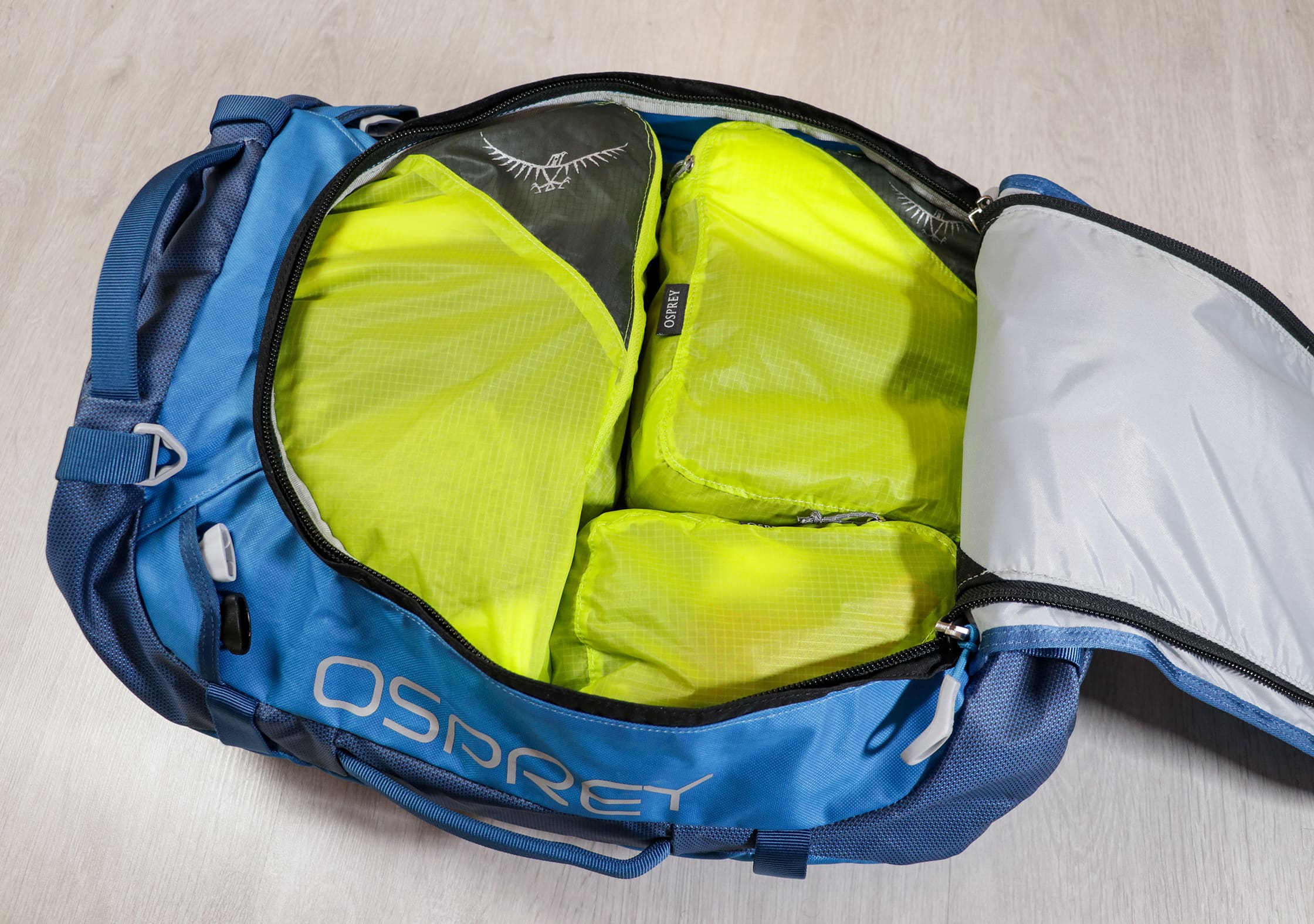 At the time of this review, we've been testing the Osprey Ultralight Packing Cube Set for just over a month. We've put them to the test in a one bag travel environment, as well as holding a change of clothes on frequent trips to the gym. All in all, we're pleased to report there's not a single sign of wear and tear.
The craftsmanship is top-notch and we hold no concerns over the durability, which is what we've come to expect from Osprey. These are a set of packing cubes you don't need to be precious about, and we like that—just shove a load of stuff in and you know these little cubes have your back (and your stuff).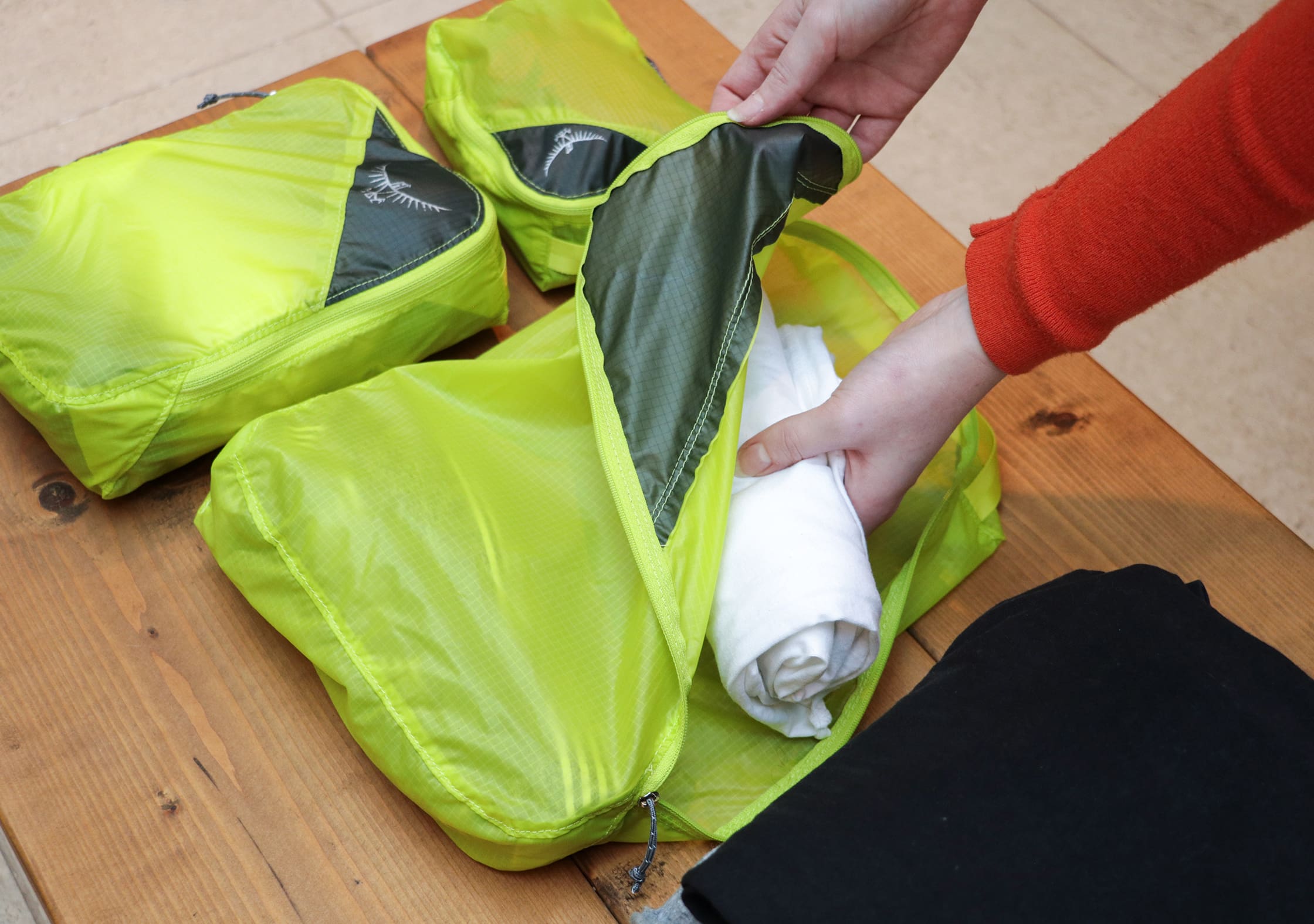 In testing, we've thoroughly enjoyed using these packing cubes. (Yeah, we really nerd out on this stuff.) They hold their shape when packed to the max, but they're also perfectly usable with just a few items. The different sizes make them easy to organize within your pack and the zipper is functional and ergonomical. We just wish they weren't so slick on the outside!
Usage Timeline
Initial Usage
Condition: Excellent
Good range of sizes and the craftsmanship is great.
1 Month of Use
Condition: Excellent
They've seen use on a one bag travel trip, as well as frequent visits to the gym. No signs of wear and tear yet.
Access the Pro Community Discussion
Get your questions about the Osprey Ultralight Packing Cube Set answered from our team and the Pro Community right here on the page. Plus, join discussions with other members about gear, guides, and more.
Other Organizers & Pouches Reviews