Osprey Farpoint 40 Review
The Osprey Farpoint 40 is a capable one-bag travel backpack loaded with features, comfort, and space, though the outdoorsy aesthetic may not be for everyone.
Our Verdict
Unlock the Pro Summary
Save time. Get access to brief summaries of our reviews so you can browse and make decisions more efficiently.
Pros
Materials are durable and water resistant
Ample size main compartment for one-bag travel
Comfortable harness system even with a full pack
Cons
Almost no internal organization to speak of
The hip belt isn't removable
No dedicated water bottle pockets
Recent Pack Hacker Video
Technical Details
Capacity

40l

Weight (lb)

3.486 lb (1.6 kg)

Denier

450D

Dimensions

22 in x 14 in x 9 in (55.9 x 35.6 x 22.9 cm)

Notable Materials

Polyester, DWR Coating, YKK Zippers

Manufacturing Country

Vietnam

Laptop Compartment Size

16"

Warranty Information
Full Review
At Pack Hacker, and for travelers across the globe, the Osprey Farpoint 40 has always been a fan favorite. It utilizes durable materials, has ample storage for one-bag travel, and doesn't break the bank.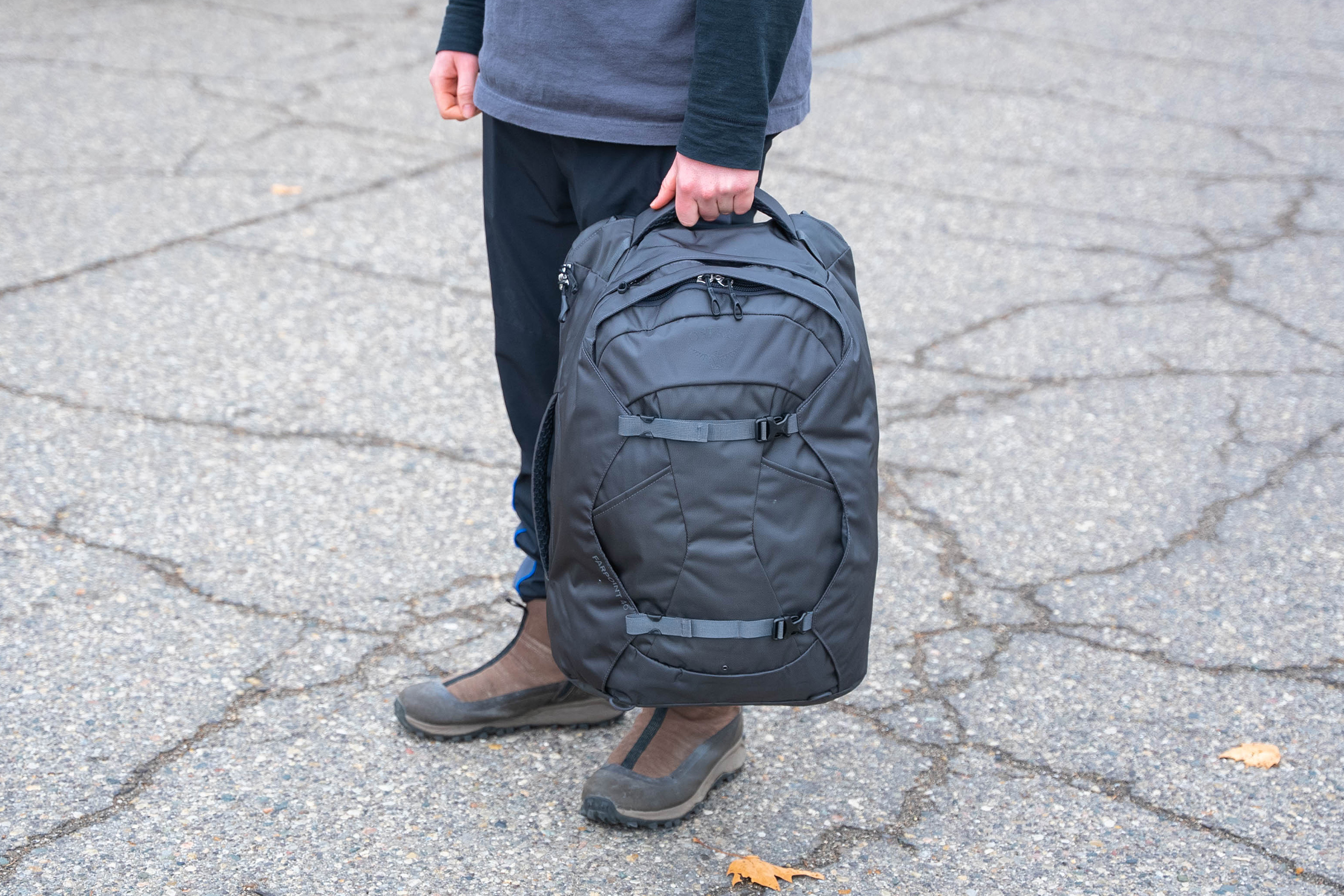 We took the first iteration of this pack to nearly 20 countries and could count on it for any trip. The new model remains in the same vein as the old—but we're curious if any changes will unsettle how much we love this pack. Buckle up; this is going to be a long one. Let's dive in!
External Components
If you've ever searched the internet for the best travel backpack or found yourself wandering around your local sporting or camping goods store, chances are you've come across the Osprey Farpoint series before. Being highly reviewed and widely available to try-before-you-buy at stores is an excellent reason to try this pack, but the Osprey Farpoint is so much more. After testing the previous version for over a year and running around with the new model for a few weeks, we like to think we know it quite well!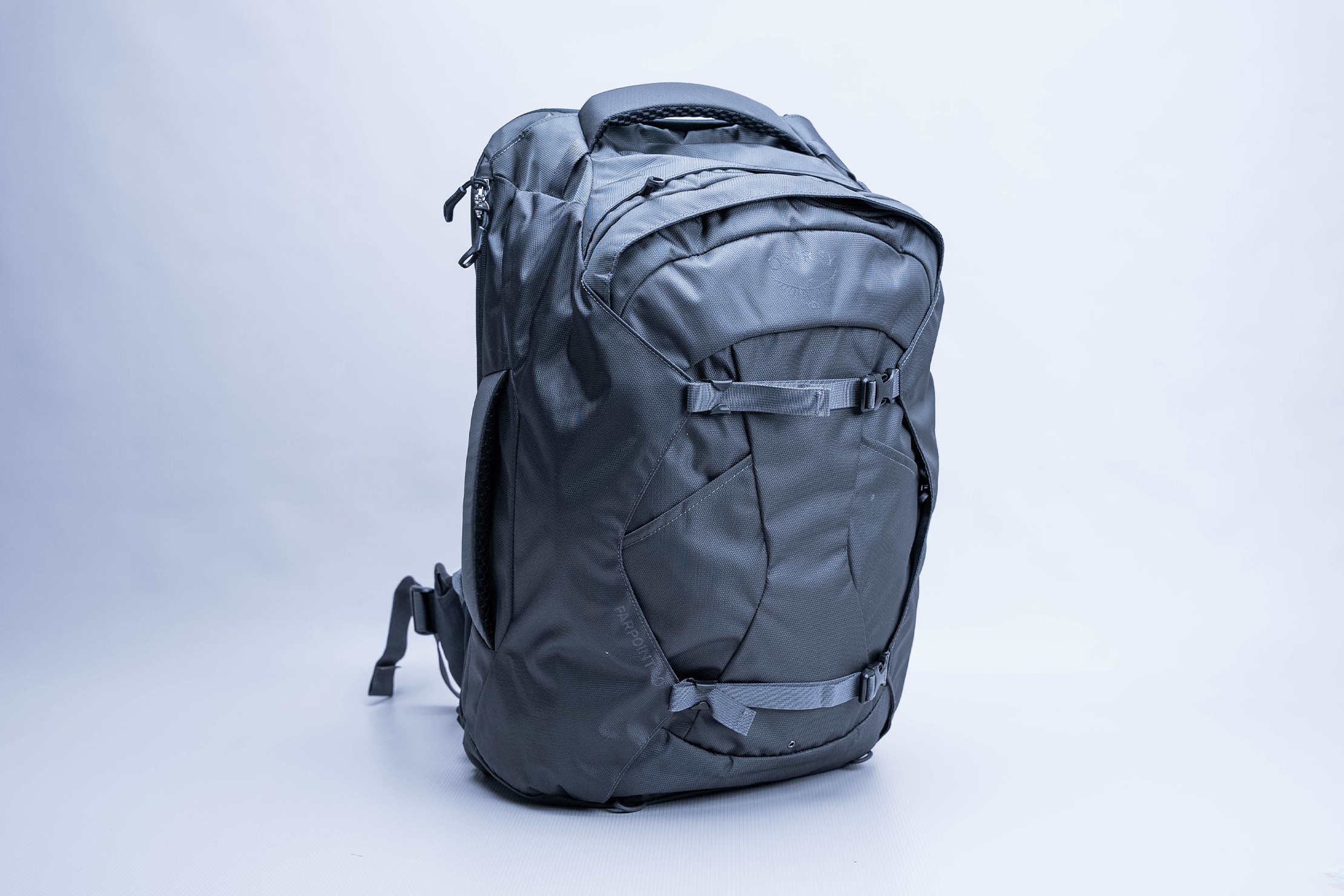 The second iteration is crafted from 450D recycled twist dobby polyester. It has a PFAS-free DWR coating, which means it's free of per- and polyfluoroalkyl substances. These chemicals break down excruciatingly slowly in the environment and are thought to cause health effects. We dig that Osprey doesn't include them in the DWR coating of this pack and many others we've tested.
In addition to removing harmful substances from our ecosystems, the main pack material on the Farpoint is bluesign approved. This means the materials are sustainably sourced, which is becoming the norm.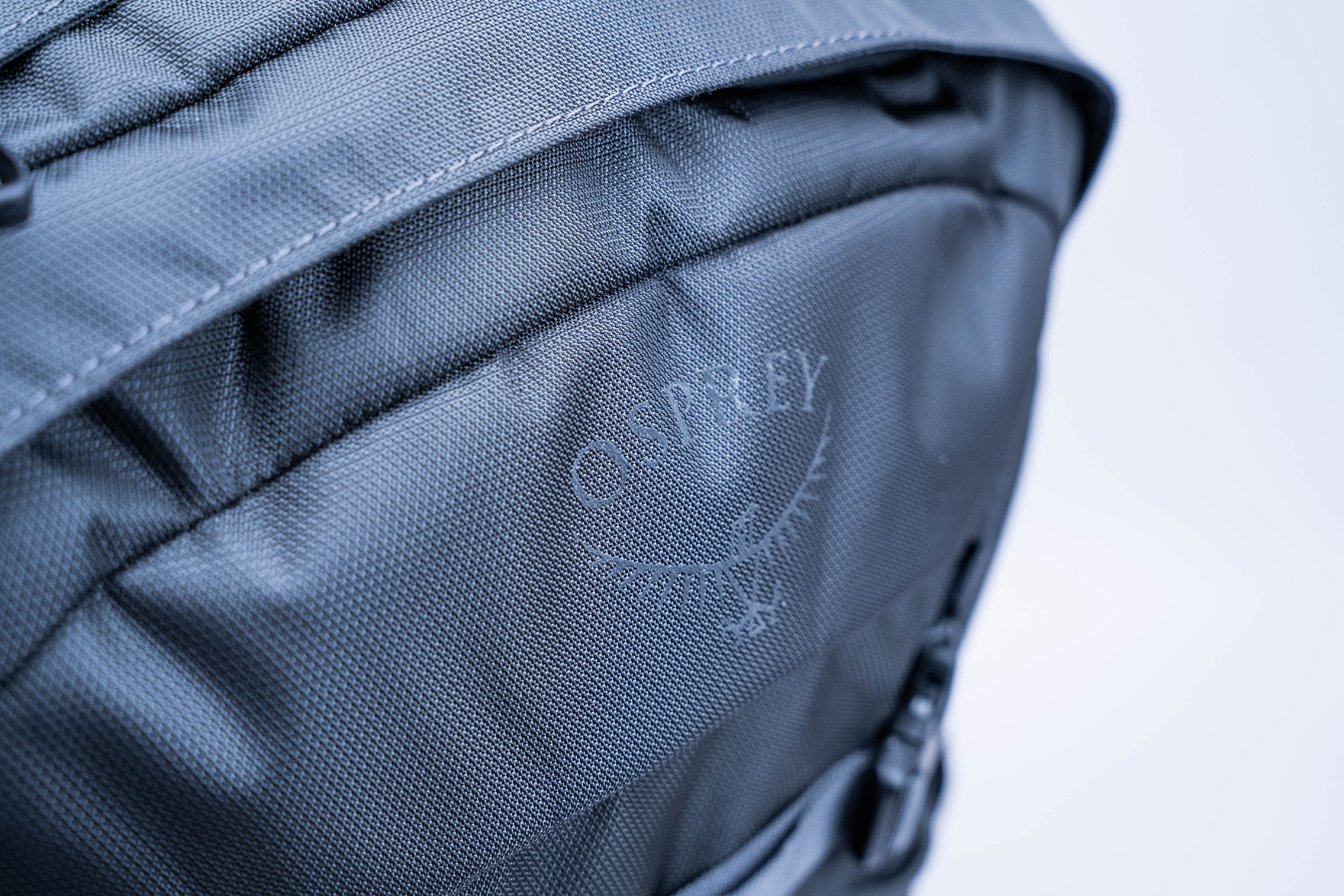 The primary pack material holds up well—we've had no issues with it puncturing, fraying, or allowing water to soak our gear. It's a transition from the 210D nylon on the first iteration, but we're happy with the update so far. If this changes, we'll modify the usage timeline below!
Now, this bag looks like a travel backpack, which is fine because, well…that's exactly what it is. It does not attempt to look like a slick modern city pack; you either like this style or you don't. It makes it easier to throw around on the back of buses or lay in the dirt when necessary. In our opinion, a travel backpack always looks best when it looks like it's been through some stuff; every splash of mud and crinkle is a story to tell.
After over a year of use on the previous model, we had no issues with the zippers. This is no surprise, though, as they're YKK, assuring quality and durability. There don't appear to be many changes from generation one to two, and one of the best things about these zippers is that they're lockable. They join together and provide a precise hole to pop a padlock through—something that gives you great peace of mind when you're chucking your bag inside the back of a bus.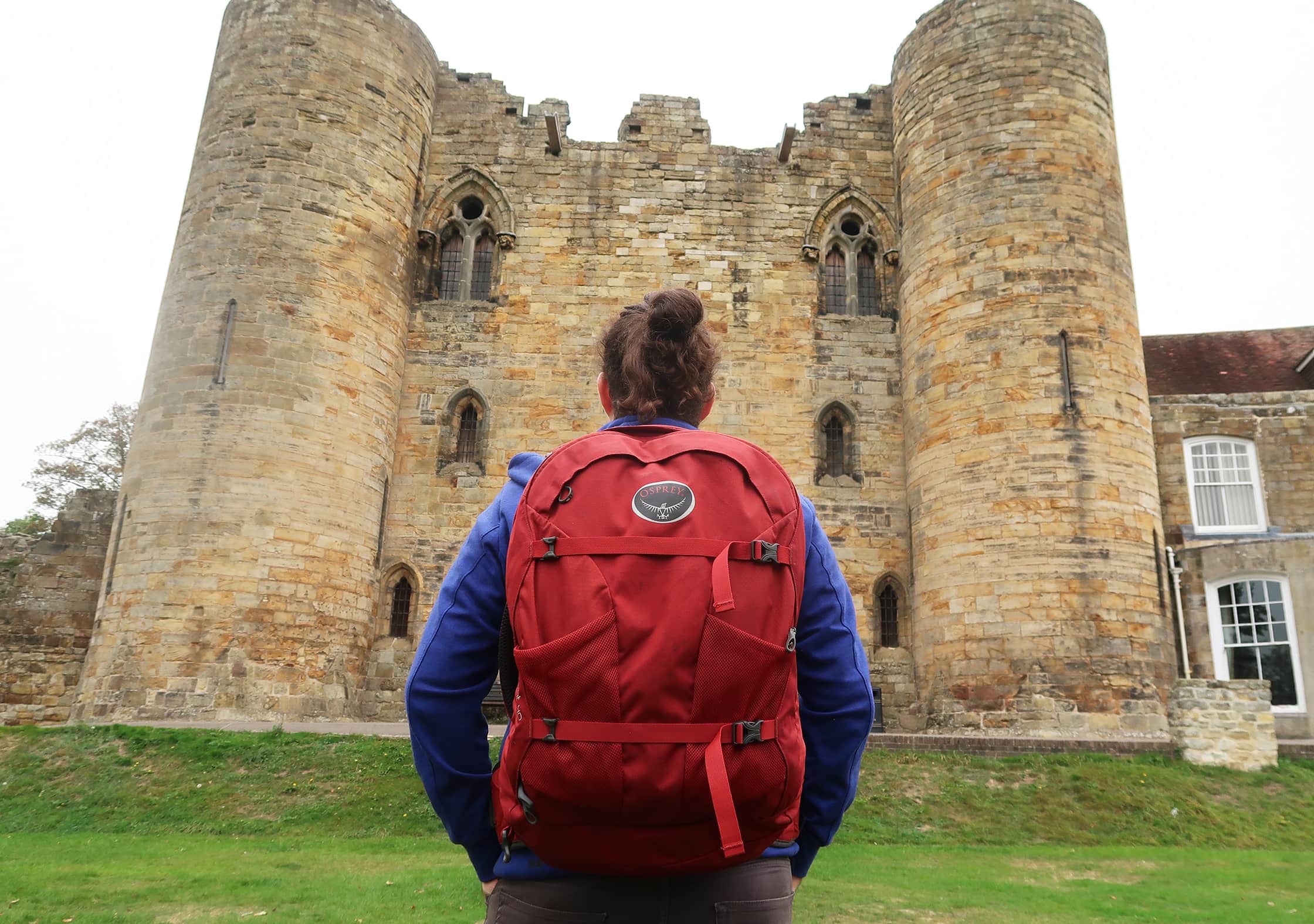 The zipper pulls start with a piece of paracord-like material and transition into an oblong chunk of hard plastic with a hole. They're easy to grasp, even in inclement weather,
On top of the lockable zippers, the compression straps on the front of the pack add security. When these are fastened, they pull the material over most of the zipper track. That means the zippers are locked and hardly even visible! Other than compressing the bag and adding security, these straps also help secure anything large in the shove-it pocket at the front. For instance, they work great with a large water bottle that may fall out otherwise.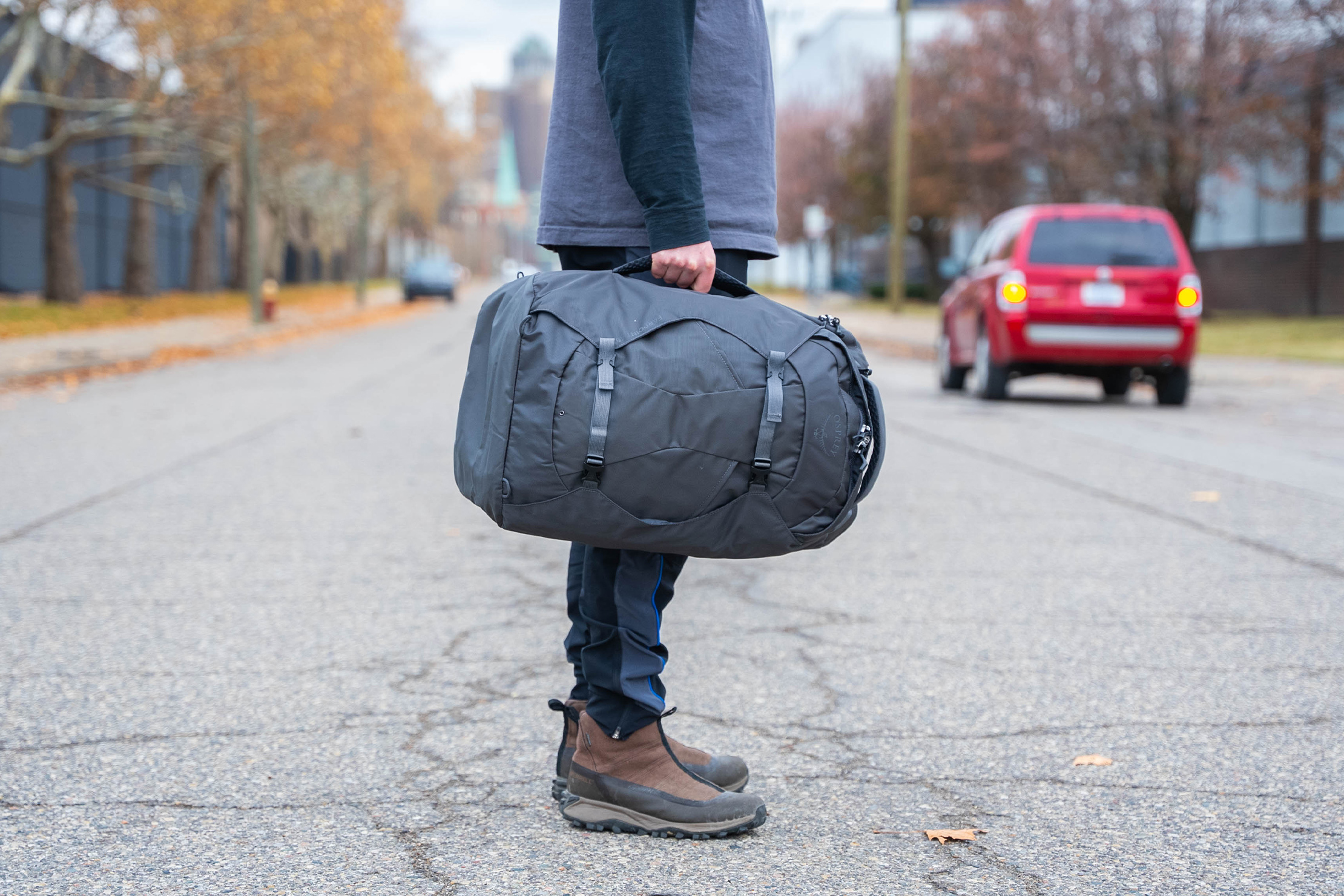 There are various attachment points and loops on the front of the pack for fastening gear, which we dig. There are four small loops on the four corners of the shove-it pocket crafted from a paracord-like material and two sturdier ones near the top handle. This is ideal for attaching a carabiner or stowing a Heroclip Hybrid Carabiner Clip for safekeeping.
As with most travel backpacks, the Osprey Farpoint has both top and side handles. However, since this bag is supposed to go on your back, you shouldn't carry it for too long using these handles. That said, they can be clutch when you're grabbing your bag from an overhead cabin locker or you're in a rush and have to grab your bag quickly. The handles are comfortable to hold and are nicely padded. They may be a bit large for those with smaller hands, but they get the job done for the most part.
Undoubtedly, one of our favorite things about this bag is that the harness, straps, and hip belt can all be zipped away at the back. If you're wondering why this would be helpful or necessary, let's walk you through an everyday scenario of the standard traveler. Let's say you're stowing your bag in the cabin of an aircraft or underneath your seat on a long-haul bus journey; being able to tuck away those pesky straps that can dangle all over and get caught on whatever is a pretty neat thing, right? It's not reinventing the wheel, and you can live without it, but it's a convenient tool to have at your disposal. There's even a spot for your ID on the top of the cover. This way, should you check your bag or lose it on a trip, the ID slot is easy to see and access, so a friendly bystander or transportation worker can return it to you.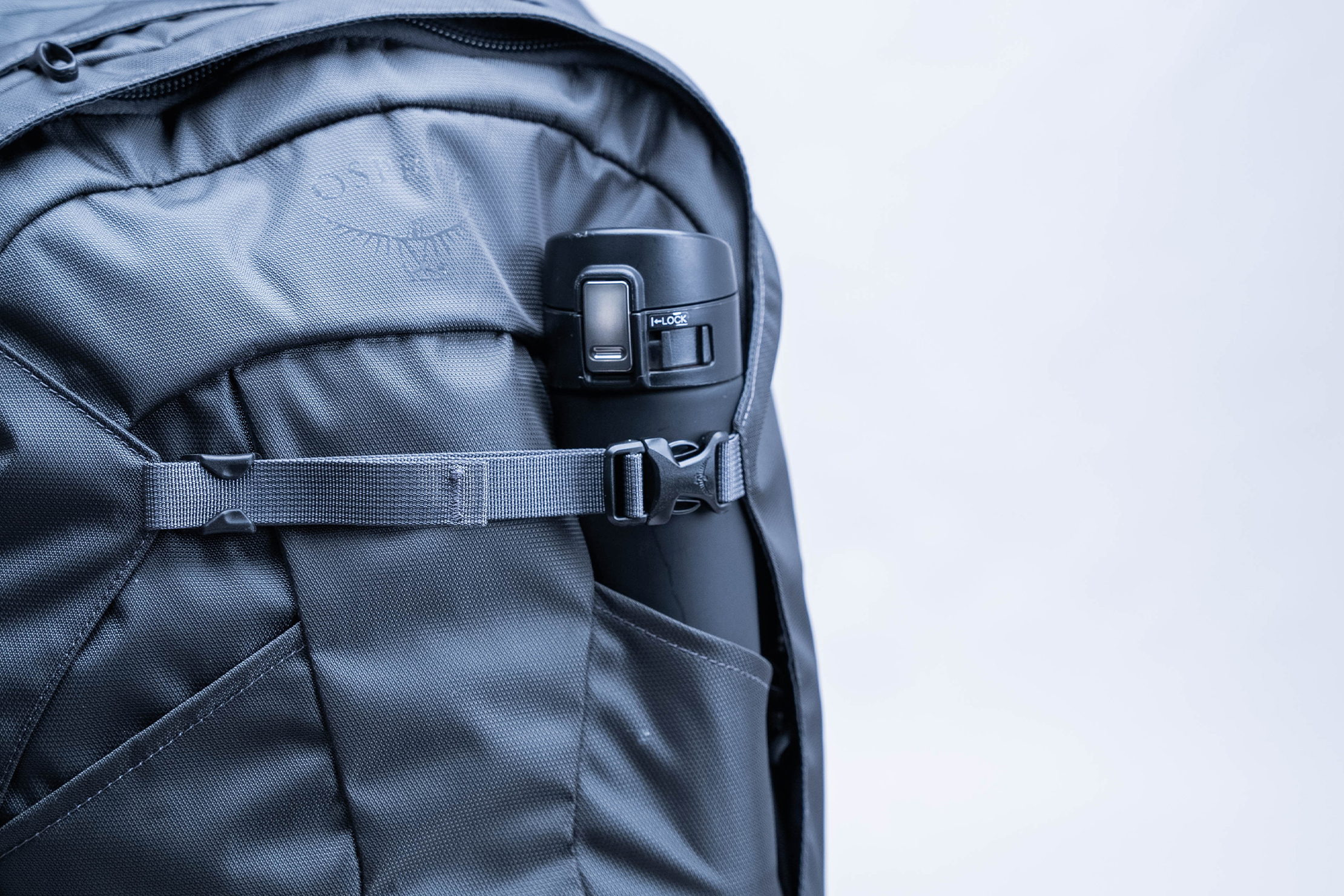 The larger versions of the Farpoint, which are 55 and 70 liters, include the Farpoint Daypack. The 40 doesn't, but similar to its larger siblings, it's still compatible with that and the Daylite if you have them already—simply attach it to the backside or shoulder straps. This feature gives you more room for gear and a smaller pack to adventure with when you arrive at your destination. With 15 liters of extra storage, bringing your capacity up to 55 liters, it's a worthy addition if those features meet your needs.
Fit Notes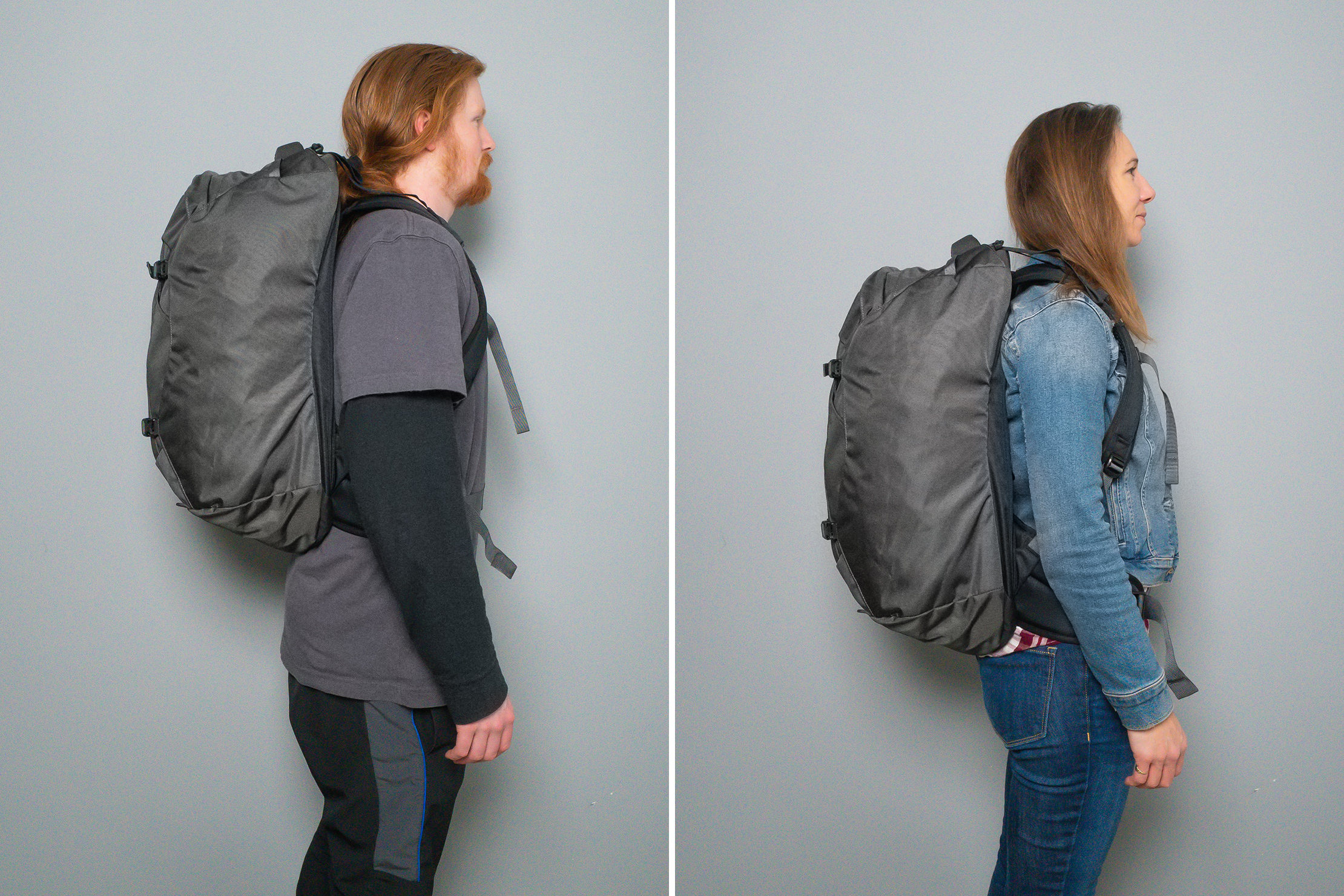 The back panel is structured but has ample padding and many airflow channels. There's a large canyon down the center of the panel and many tributaries throughout, which ensures a cool carry. There's a layer of mesh on top, too, which helps with any moisture the back panel may run into.
You can easily adjust the harness system to fit your torso. Just slide it up or down to find the perfect spot. There are pulley systems on either side of the back panel to hold it in place and a plastic adjustor on the bottom of both sides to maintain the extra strap materials. There are load lifters on the top of the straps to shift the weight around, which is helpful, but the combination makes for a lot of straps around the harness system. This pack lacks strap keepers, which means extra materials can be a bit unruly, especially if you wear the bag tight to your body. On a windy day, they feel a bit like streamers, but for the most part, you get used to it, and it isn't an issue.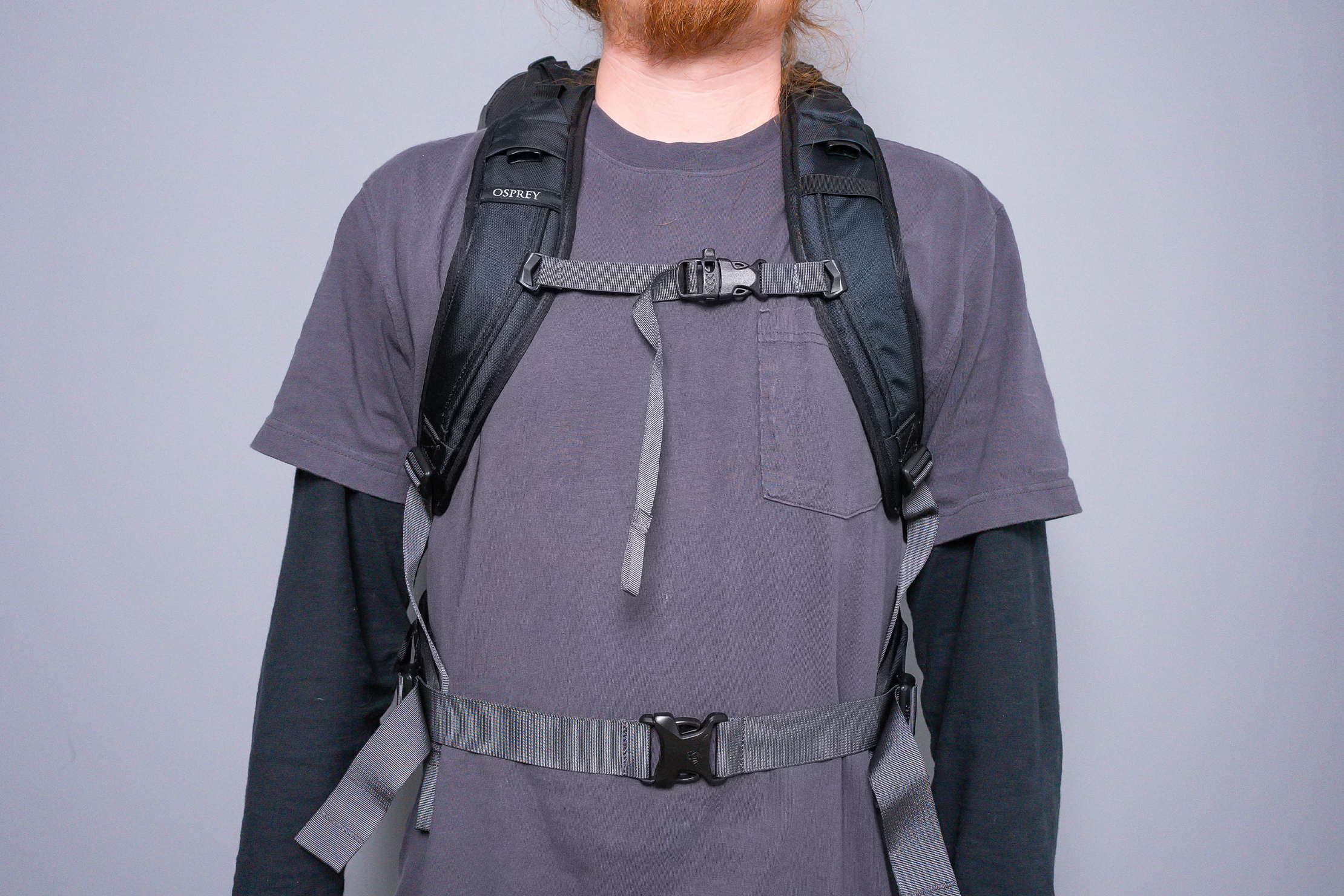 The shoulder straps are sturdy and have padding and aeration to keep things comfortable. They're curved to fit your body but might not work for everyone. If you have a shorter torso, consider the Osprey Fairview 40 instead. It's designed with a women's build in mind, so it's great for smaller frames.
The sternum strap is on a rail, so you can make micro-adjustments, and it stays in place once you've got it hammered into the perfect spot. The buckle is small but works well and has a whistle. This is ideal for getting people's attention and annoying people who make you mad. Have whistle, will blow.
The hip belt is beefy and isn't removable. It feels like what we're used to seeing on hiking packs, which isn't surprising. Osprey makes a ton of outdoor gear, so this belt was probably inspired by one of their hiking packs. While it may look out of place, we dig the inclusion. It's comfortable and helps take some of the weight off your shoulders.
A mesh pocket on the left side of the belt can fit a standard-sized iPhone. A max size won't work, and there's a chance that your standard model won't either if you have a large case. You can stow snacks here, too.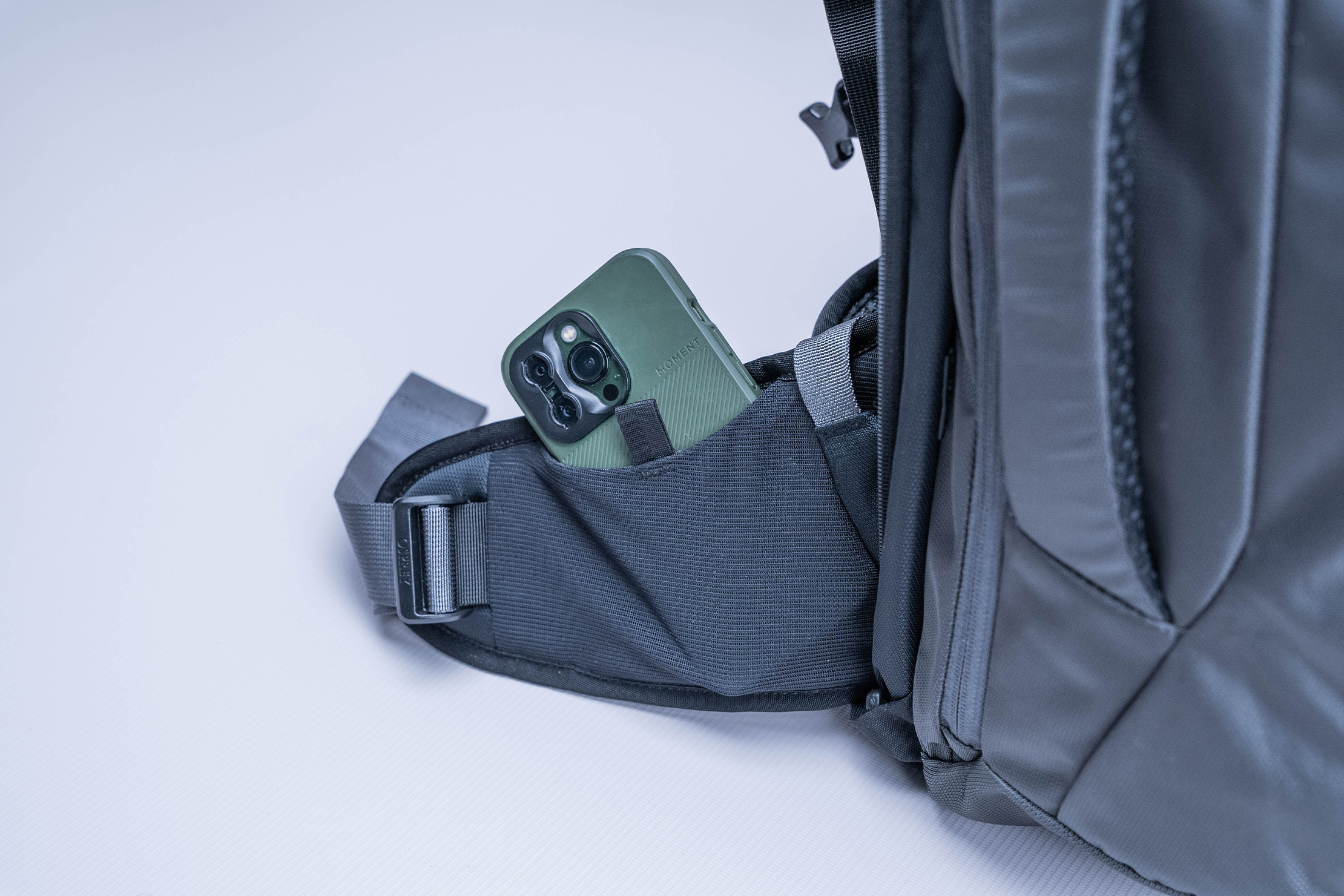 Overall, the harness system does a superb job of dispersing the weight and keeping you cool. You'll still sweat on a hot day wearing it, but less than if they hadn't included all the extra aeration and air channels.
Inside The Pack
The front of the pack has a "shove-it" pocket with no closure on the top. It can be accessed from the left or the right, and there's a small point in the center where the access is broken in half.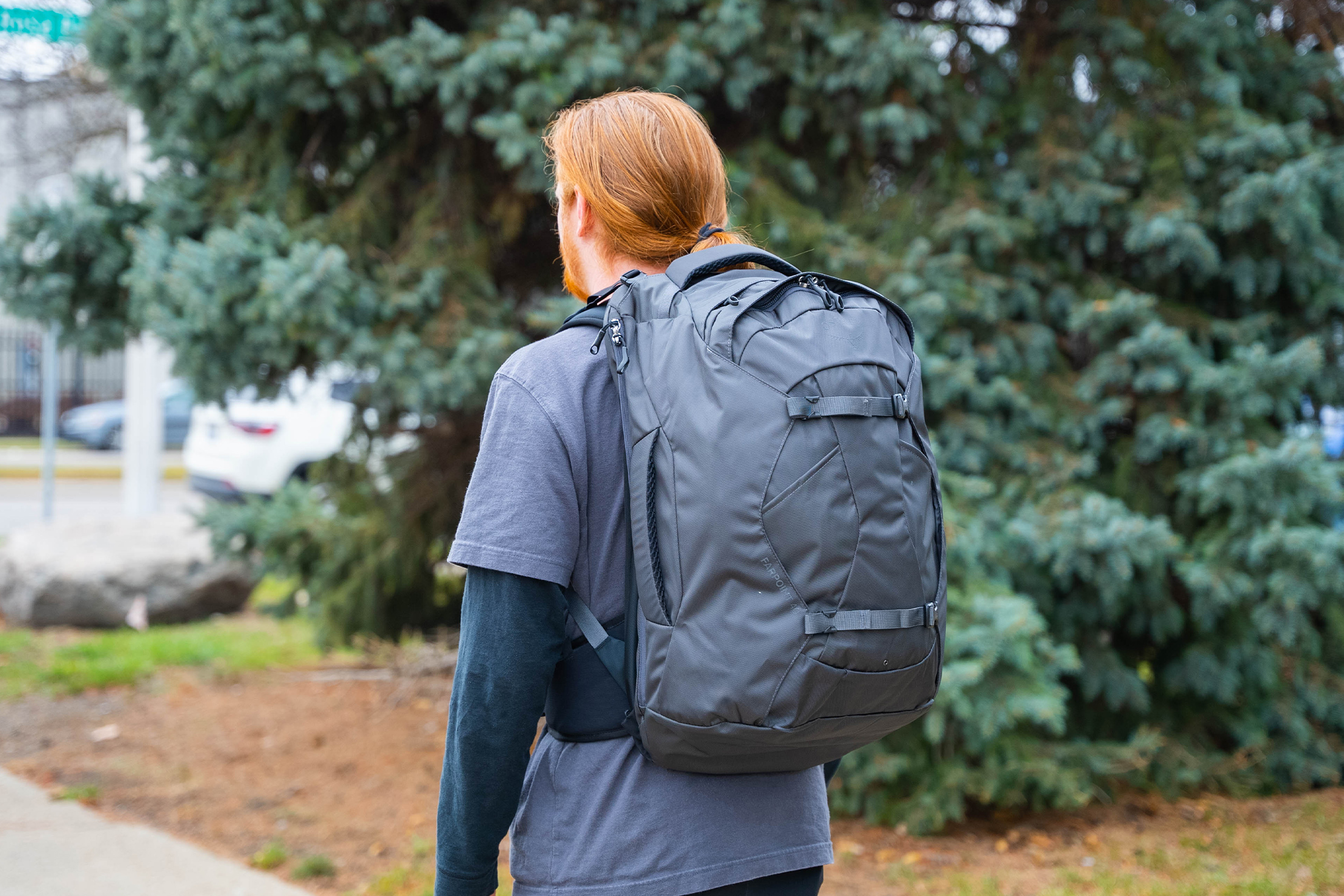 This is an excellent spot for more oversized quick-use items like a rain jacket. It also works well for a water bottle, as there aren't dedicated pockets for such an item. There's less room inside this pocket when you've got the pack fully stuffed, but even when it's jam-packed, we can still fit a 32 oz Nalgene inside. We often use the compression straps that cover the pocket to ensure gear doesn't pop out by looping it through the water bottle's handle.
There's a drainage hole on the bottom of the shove-it pocket so that if you stow something wet or your water bottle sweats, it will escape rather than soak through the fabric.
On the top of the backpack, there's a quick access pocket that Osprey says is for a toiletry pouch. This placement is because the main compartment is enormous and, quite frankly, tedious to access because of the compression straps. You don't want to dig through it when you get to airport security to remove your liquids. Instead, throw your 3-1-1 pouch inside this quick access pocket so you can remove it and replace it quickly after your rendezvous with airport security.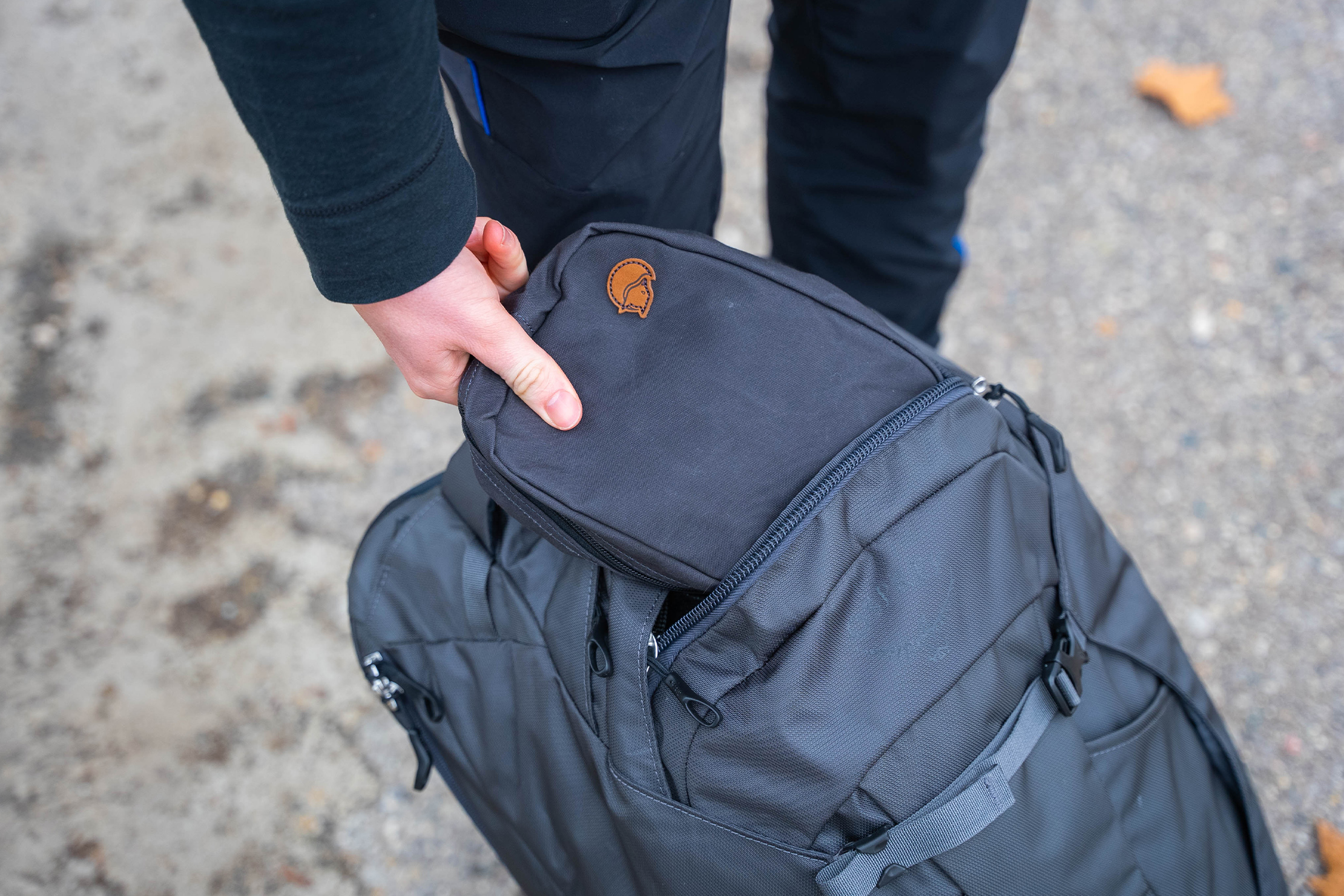 When you aren't headed to the airport, this is an excellent quick-access spot to stow a phone, sunglasses, wallet, or snack.
The laptop compartment is accessible from the side of the pack. This scares us, as we've heard horror stories about folks forgetting to close the zipper and having to watch in slow motion as their precious MacBook takes a tumble out of the pocket and crashes onto the floor. This hasn't happened to us ever, let alone with this pack, but it always gives us the heebie jeebies.
The previous version of this pack had a laptop compartment on the front. We didn't love this because it added weight away from your body and didn't offer as much protection for your digital appendages. That pocket disappeared completely—so you lose out on some built-in organization, but we like the placement of the laptop sleeve better.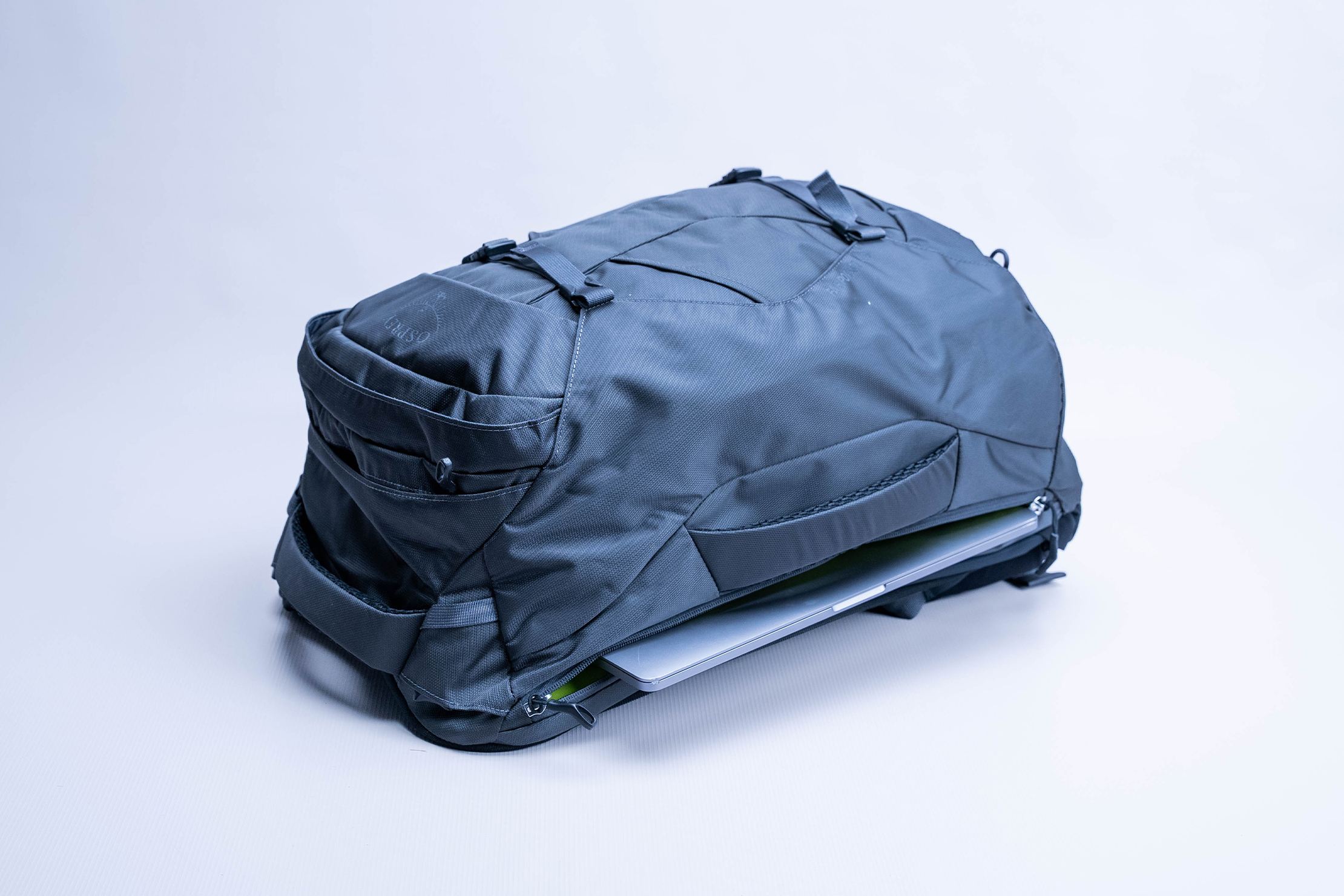 The compartment is padded and secures with two lockable YKK zippers. Having two zips is nice because you can choose where you want them to rest when the closure is secured. Do you keep the zippers on the top or bottom, and why is the only good place to stow them on the bottom? Oh, so the zipper can't accidentally slide down when you get caught in a flashmob in Brooklyn and have to do the Hokey Pokey with 1,000 strangers? Good call, friend! All that shaking it about could have done you in!
Ah, finally. It's time to chat about the main compartment!
The zipper has a clamshell-style opening, so you can see the entire compartment—or at least the items stowed on the top level. The pack has a lot of depth, so you can easily stack gear on top of other gear to maximize the space.

The tongue, or lid, has a zippered mesh pocket. It's a good spot for socks and underwear because you can easily see them to see the differences between them, but it generally works well for any item you don't have (or want) a packing cube for. Heavier items don't do so well here, as they tend to come crashing out of when it's unzipped due to how large the opening is.
Apart from that, this compartment has no other organization. Because of this, packing cubes are essential. If you don't have some way to organize your gear, it will turn into a hurricane of tops, bottoms, socks, underwear, and technology. That's a storm not even Scorpions themselves could rock!
Two compression straps inside the main compartment help you cinch down your gear to fit more inside. Depending on the size of your gear, they can accidentally fall in between the cracks of your cubes or pouches, but once you figure out a sound system, they are beneficial.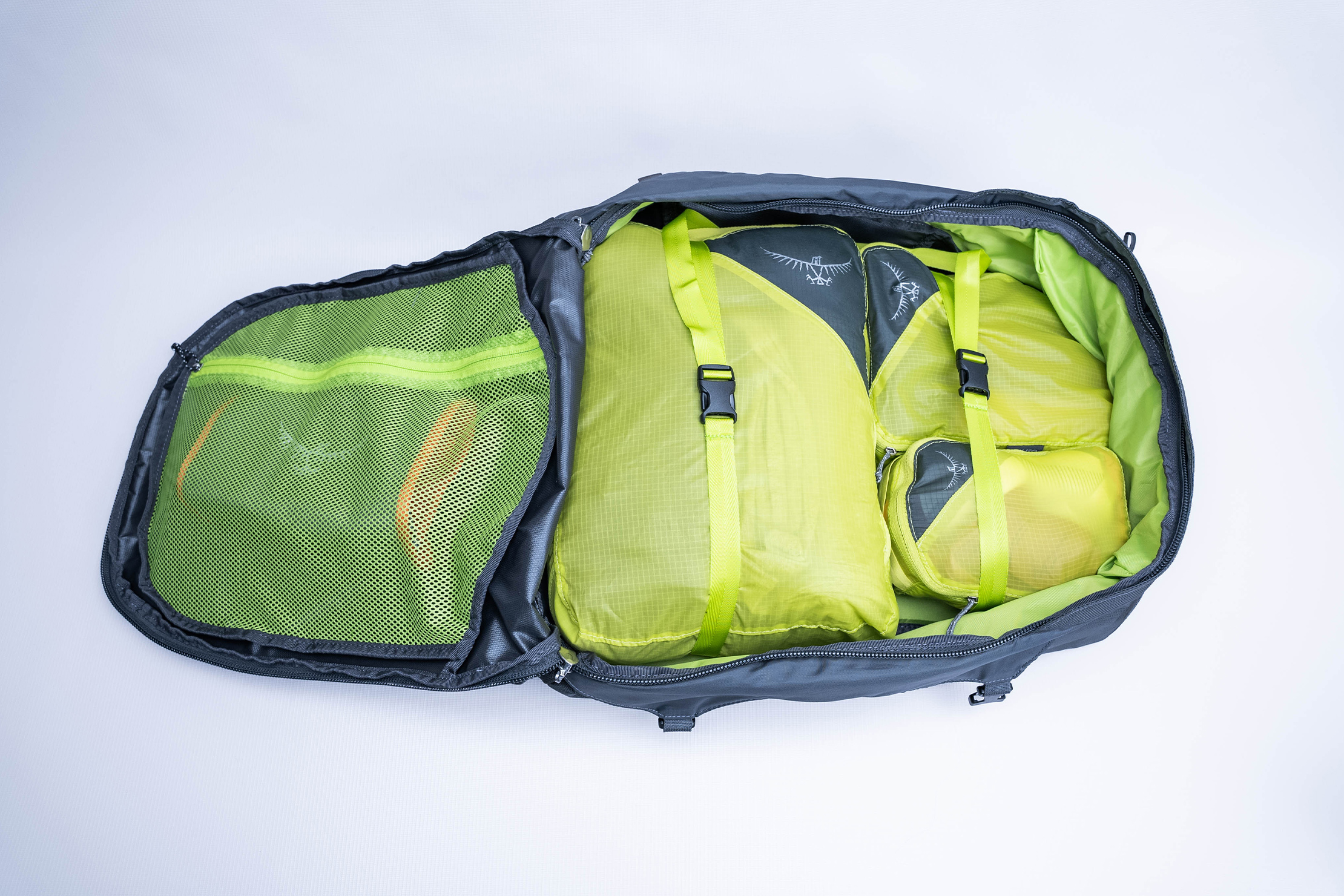 Unlike other packs we've tested, the sleeve the laptop is stored in can be found inside the main compartment, not separated by a zipper and sandwiched between it and the back panel. We aren't exactly sure why this is the case. The corners secure with a toggle to ensure that gear doesn't get underneath the slider. You can stow gear behind it if you want–it's a great place for flat documents or identification information. Once or twice, the toggles have come undone inside the pack, but for the most part, everything has stayed put.
Overall, we're amped with how this pack has performed so far. A few changes differentiate the new Farpoint from the one we used for over a year to travel to nearly 20 countries. That first pack went through the mountains of Eastern Nepal, road-tripping on the back of electric scooters in Northern Myanmar and on the beaches of Southern Cambodia—and we trusted it the entire time.
Despite a few changes, the critical parts of that pack made it into the new one: sturdy zippers, ample main compartment space, durable materials, and fine attention to detail. If those aren't the fixings for a quality remake, we don't know what is.
To see exactly how we pack this bag for any trip, check out this video. Unlock access to our entire catalog of Pro Exclusive Videos when you
sign up for Pro
.

Usage Timeline
Initial Usage
Condition: Excellent
Materials are durable and look sleek
Harness system is adjustable and amply padded
Not a ton of internal organization—we look forward to seeing how it has changed from the first version
Previous Version
Great to use straight away, doesn't need to be worked in
2 Weeks of Use
Condition: Excellent
No issues with comfort on short and long trips with the pack
Materials have held up wonderfully
Can handle water well, but in a downpour, head for cover
Previous Version
3 Months of Use
Condition: Excellent
Previous Version
When you get the straps just right, this bag is incredibly comfortable, even at full capacity—Looking good as new
6 Months of Use
Condition: Good
Previous Version
Feel more comfortable throwing this bag around now, still no signs of wear
9 Months of Use
Condition: Fine

Previous Version
Some small rips in the corner of the S/M version of the bag have appeared, we put this down to having checked this bag into the hold of a few flights
1 Year of Use
Condition: Fine
Previous Version
16 countries and counting. All buckles and zips still work as if new
Access the Pro Community Discussion
Get your questions about the Osprey Farpoint 40 answered from our team and the Pro Community right here on the page. Plus, join discussions with other members about gear, guides, and more.
Other Bags & Luggage Reviews