Topo Designs Pack Bags Review
The Topo Designs Pack Bags aren't the lightest packing cubes around. Still, durable and sturdy materials ensure they'll be your travel companion for years.
Our Verdict
Unlock the Pro Summary
Save time. Get access to brief summaries of our reviews so you can browse and make decisions more efficiently.
Pros
Materials are durable and abrasion resistant
Strong zippers can handle heavy loads
Easy to grab and carry by top handle
Cons
Zippers can damage lightweight clothing
No compression system
Large logo is hard to ignore
Recent Pack Hacker Video
Technical Details
Capacity

5l

Weight (oz)

5.15 oz (146 g)

10L Pack Bag | 4.2 oz — 10L Pack Cube | 3.7 oz — 5L Pack Bag

Dimensions

10 in x 14 in x 3 in (25.4 x 35.6 x 7.6 cm)

10L Pack Bag | 10"w x 7"h x 6"d — 10L Pack Cube | 7"h x 3"d x 10"w — 5L Pack Bag

Notable Materials

Recycled Nylon, YKK Zippers

Manufacturing Country

Vietnam

Warranty Information
Full Review
Get up to 15% off Topo Designs • Join Pack Hacker Pro
Upon initial inspection, the Topo Designs Pack Bags look like standard packing cubes, albeit with heavy-duty materials and durable hardware. We're all for using fabrics and zippers that will last—but we're curious how the extra weight will affect usage and how much we can stow inside them. Let's dive in and find out!
External Components
The pack material utilized for these bags is 400D recycled nylon. Some of our favorite packing cubes use materials that are a fraction of that denier. The Eagle Creek Pack-It Isolate Packing Cubes are 50D polyester, and the Osprey Ultralight Packing Cube Set is 40D ripstop nylon.

Using lighter materials doesn't mean they're better, but it makes them lighter and takes up less space. These cubes don't pack down as tiny but still fold up relatively small. Most people won't notice a difference when you're talking a few centimeters or ounces. Plus, these things are far more durable than their lightweight cousins. They feel as sturdy as some daypacks we test, and that's saying something.
A few colorways are available, and a reasonably large Topo Designs logo is on the front of the cubes. This might deter some minimalists; however, we don't hate it, as it contrasts nicely with the colorway.
One of the main durability perks of these packs is the zippers. Massive YKK zippers on every model ensure they won't pop open and can handle even the largest loads. However, there are a few drawbacks. They can sometimes feel cumbersome, especially if you frequently get in and out of them.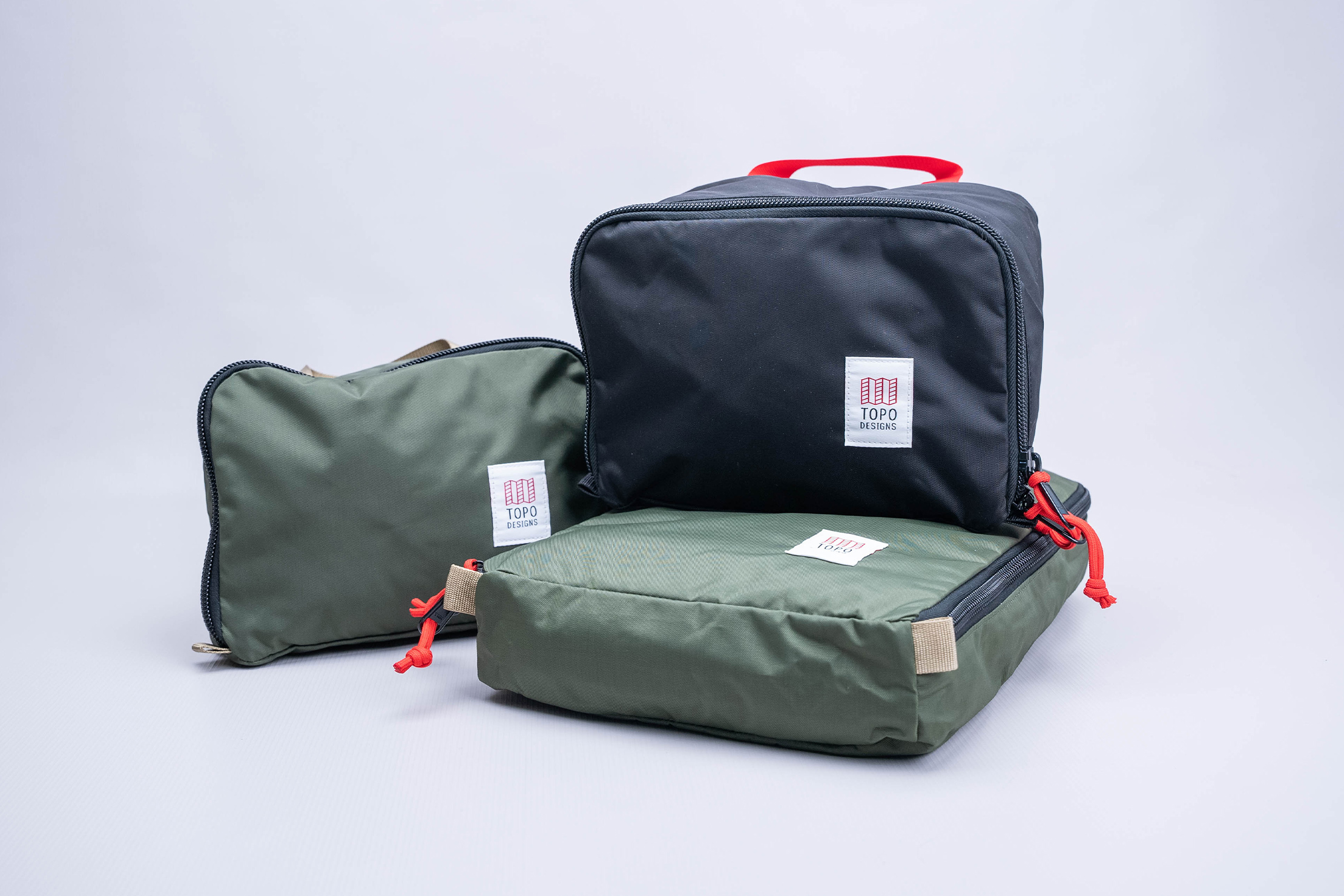 These zippers are large enough to do some damage to lightweight clothing. We have yet to have this experience, but it's a constant worry if you've packed your lucky soccer jersey to cross the globe to watch your favorite team play. You wouldn't want Manchester United to lose because the zipper on your packing cube ruined your Marcus Rashford jersey, now would you?
The zipper pulls are red, making them easy to see and find quickly. They're large and bulky, like most things about these packs. In this case, it doesn't change the weight or size much, so there isn't much to complain about unless you have erythrophobia.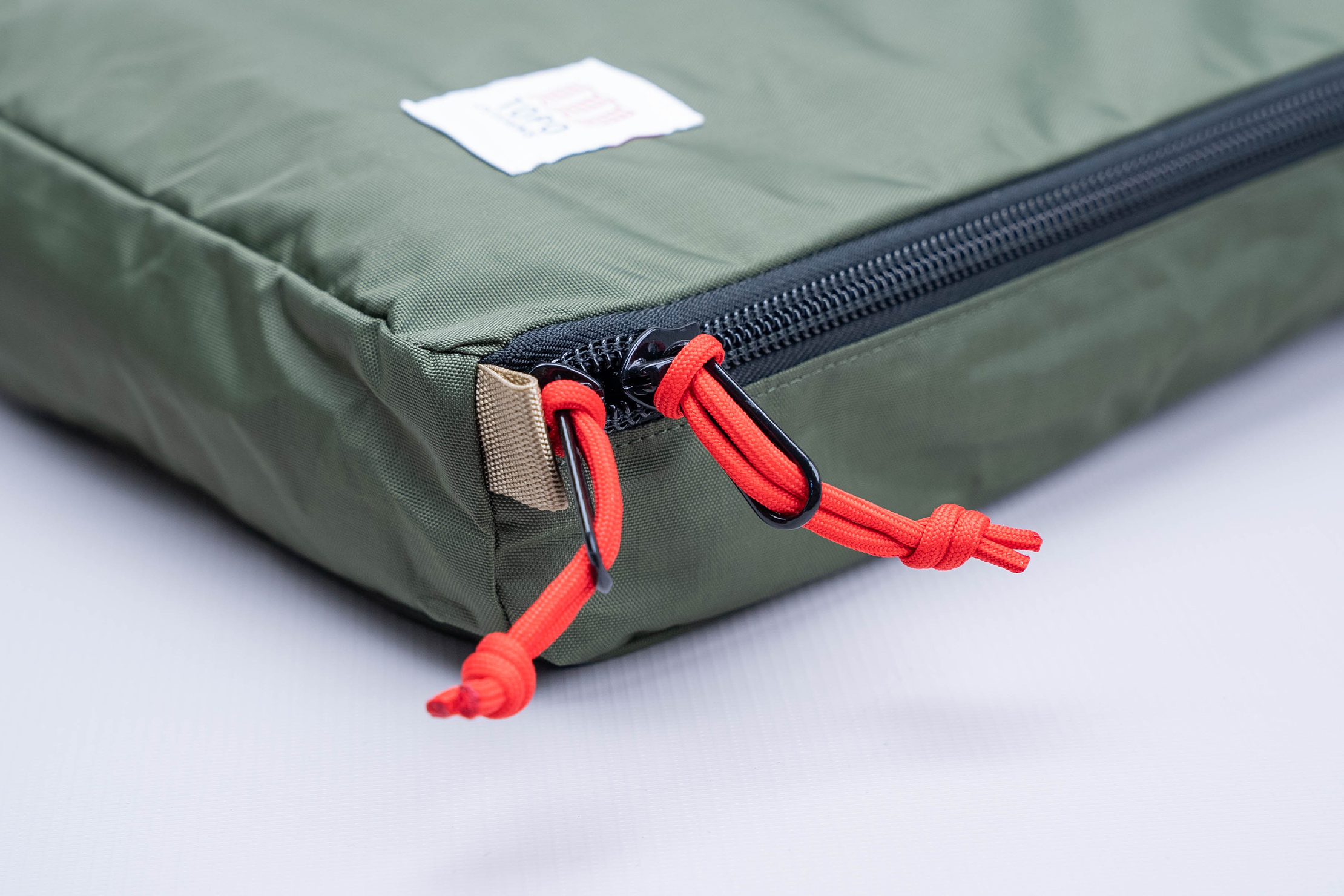 There's a handle on the top of the backside of each cube. There's no padding or mesh, but we didn't expect there to be. The handle helps you grab them out of your pack quicker and makes trips to the bathroom to change easier if you are utilizing shared accommodations.
Inside The Bags
These cubes come in a few sizes; we have two 10-liter bags and one 5-liter bag on hand. One of the 10-liter models has the same footprint as the 5-liter but is twice as tall.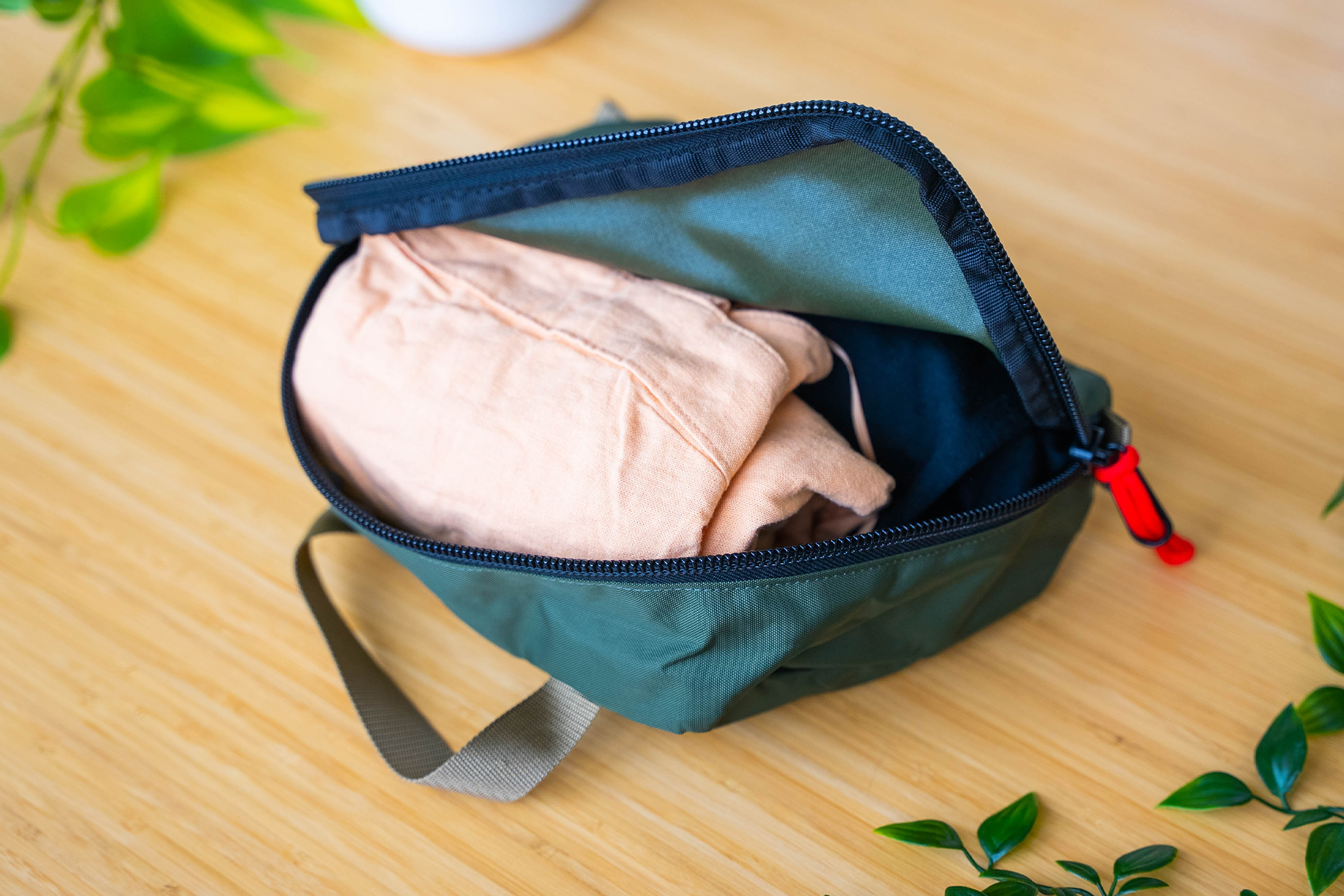 These bags utilize a clamshell opening to get into the nitty gritty of your packing experience. This is common for packing cubes, so it's exciting to see that the heavier-duty models have it too.
There's no organization to speak about on the interior, just open space. You want this from a packing cube—room for clothing, gear, or other items you need to bring along.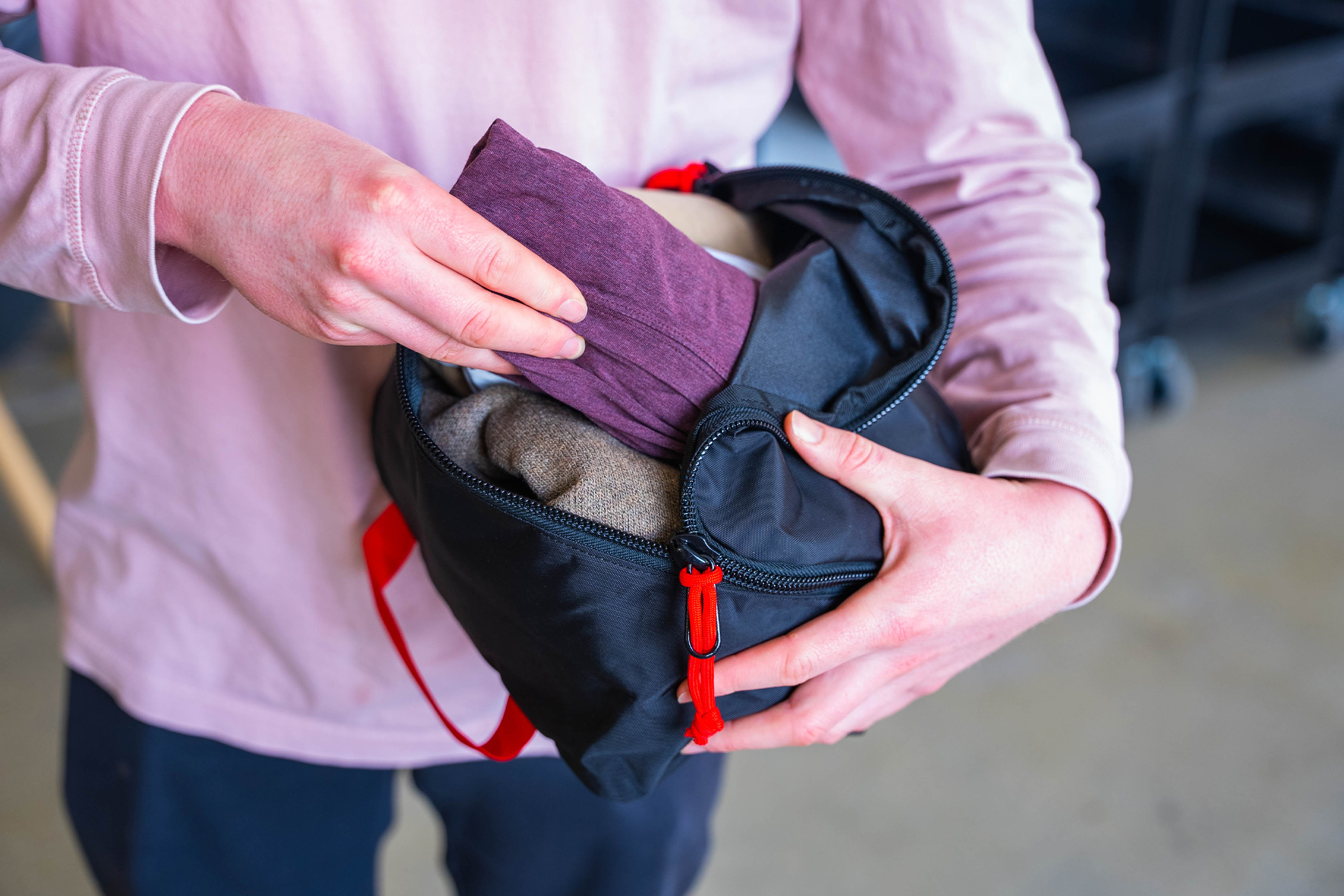 When using the taller 10-liter cube, it can be hard to find the clothing you're looking for because of the depth. There's enough room for multiple layers of clothing, so you may have to dig through to find the desired gear. Even if you packed well, you can't see below the first or second layer, so uncovering what you need can take a little while.
The other two aren't as deep, so finding what you're looking for is easy enough. There's enough space for two layers of clothing, depending on how you pack. If you want to see how we fit everything on our Packing Lists into bags, Pack Hacker Pro Members get exclusive "How We Pack It" videos (as seen on our Digital Nomad Packing List)!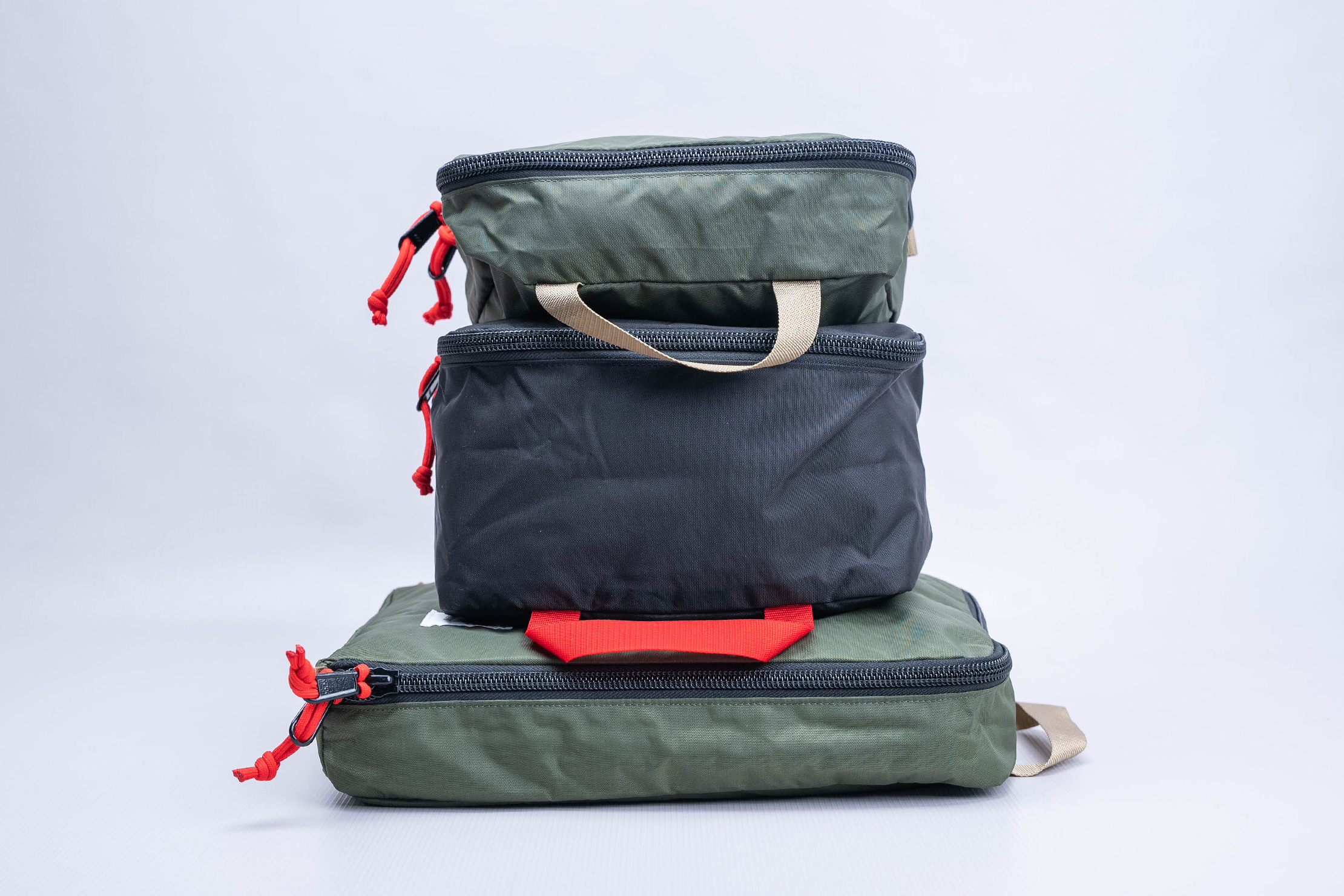 Overall, these cubes work as expected. Moving the materials and hardware can be a little slower than we're used to, but there isn't any difference in using these cubes compared to something much lighter. These bags are a great shout if you don't care as much about weight and want something more durable. They're sure to last ages due to the quality materials and hardware Topo Designs chose to use, even if they're a little heavier.
Just to be sure, you might as well pack two Manchester United jerseys. You know, for good luck!
Usage Timeline
Initial Usage
Condition: Excellent
Heavy-duty materials feel capable of far more than just clothing
Zippers are large and in charge but feel sturdy
With multiple sizes to choose from, you're never left without the right amount of space
2 Weeks of Use
Condition: Excellent
Materials are durable enough to handle the most rugged adventures
Zippers feel like overkill sometimes, but they show no signs of wear
Lacks internal organization, but that makes using them more accessible, which we dig
Access the Pro Community Discussion
Get your questions about the Topo Designs Pack Bags answered from our team and the Pro Community right here on the page. Plus, join discussions with other members about gear, guides, and more.
Other Organizers & Pouches Reviews