WANDRD Packing Cubes Review
The WANDRD Packing Cubes' Perfect Fit System simplifies mixing and matching the different cube sizes, though we wish the laundry compartment was more refined.
Our Verdict
Unlock the Pro Summary
Save time. Get access to brief summaries of our reviews so you can browse and make decisions more efficiently.
Pros
Different sizes stack well together
Separate laundry compartment
Compression zipper reduces packing space
Cons
Small size doesn't compress
Large's inner fabric has lots of slack
Fabric can snag on the zipper compression
Recent Pack Hacker Video
Technical Details
Capacity

1.5l

Small | 2.7L Medium | 4.75L Large

Weight (oz)

1.1 oz (31.2 g)

Small | 2.6 oz Medium | 4.75 oz Large

Denier

70D

Dimensions

6 in x 6 in x 2.5 in (15.2 x 15.2 x 6.4 cm)

Small | 6 in x 11 in x 2 in Medium (4.5 in depth expanded) | 12 in x 11 in x 2 in Large (9.7 in depth expanded)

Notable Materials

Nylon, YKK Zippers

Manufacturing Country

Vietnam

Warranty Information
Full Review
Get up to 15% off WANDRD • Join Pack Hacker Pro
We've long since advocated for the use of packing cubes, especially for bags that feature more of a bucket-style main compartment. Folding clothes neatly and gently placing them inside only to find them mixed up like dirty laundry after a 12-hour flight is not a sight to behold—not even in a fancy 5-star hotel. A lot of companies are getting in on the action, and the subject of this review is WANDRD's entry: the aptly named WANDRD Packing Cubes.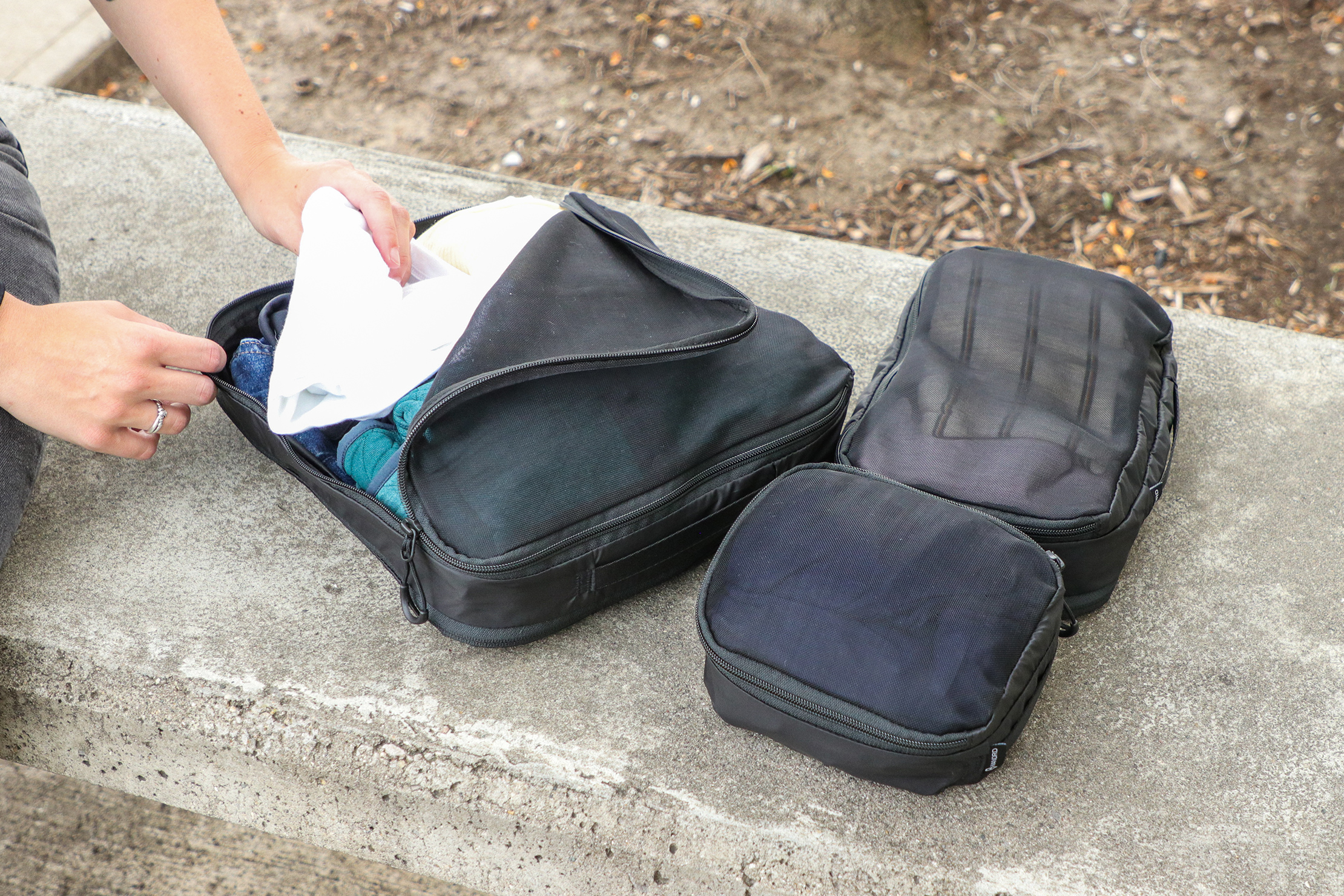 They've gone for a more pragmatic and practical approach, which would also explain the no-nonsense naming. It's just three reasonable sizes, minimal frills, see-through mesh for eyes on what's inside, compression zippers, and a laundry compartment for keeping dirty clothes separated. There are one or two hiccups during testing, as these cubes are by no means perfect, and we definitely have thoughts on those as well. So join us and see how well WANDRD's own Packing Cubes fare after we put them through their paces.
Materials & Aesthetic
Packing cubes spend most of their time in bags, hotel rooms, campsites, or wherever else you're staying. With this in mind, it's not surprising that WANDRD would take a more pragmatic approach to styling by doing away with the frills and focusing instead on what matters: making good packing cubes. For the most part, all three sizes are black cuboids with minimal branding. The black fabric hides most of their lines and textures, but its mesh material lets you see what's inside.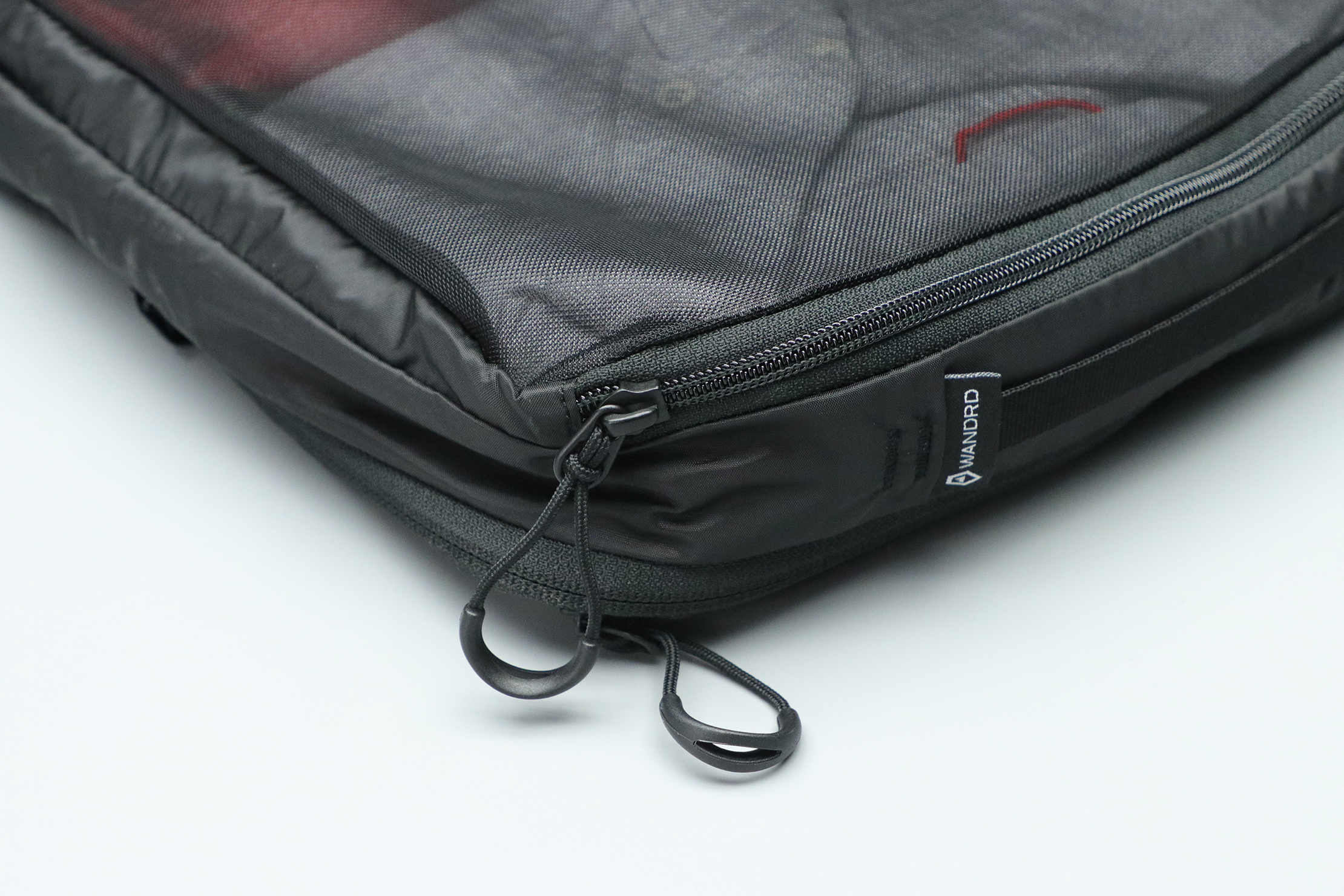 Okay, that's a long-winded way of saying that their packing cubes are not the most stylish ones out there, but it's honestly something we can gloss over in favor of more practical features. We'll get into what those features are in a minute, but let's take a moment to examine the materials and build quality here first.
Each of the three sizes features the same materials and hardware: YKK zippers, 70D Nylon for the shell, and mesh material for the top cover. WANDRD has kept the ingredients list short here, and for a good reason. Packing cubes do add to the overall volume of what you're packing, so keeping the fabric's denier light, for example, is important to save space and weight. Mind you, this doesn't mean durability suffers for lightness' sake.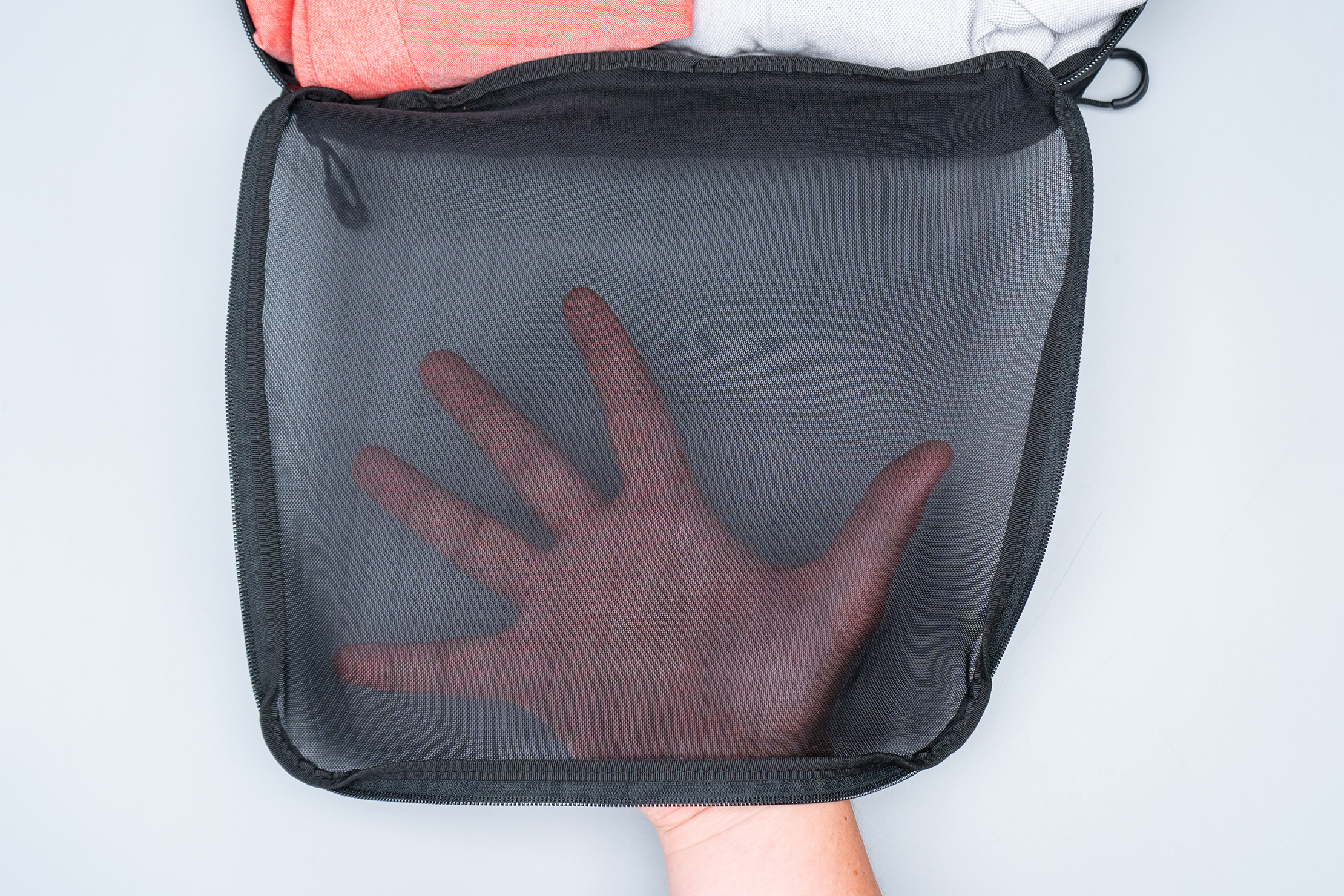 All three cubes are holding up extremely well, even through the frequent ins and outs from our luggage. Sometimes it's unavoidable for clothes and pouches to snag on zipper elements, a common cause for loose threads on gear. We've yet to see any stray threads on ours or signs of wear on the mesh. The zippers haven't failed either, though there were some hiccups along the way.
Usage & Features
As mentioned, WANDRD's packing cubes come in three sizes: small (1.5L), medium (2.7L), and large (5.6L). Each follows the same basic template: front mesh material, a single zippered clamshell opening, and a simple nylon handle for short stints to and from laundry rooms. However, there are also key differences between the three apart from their sizes.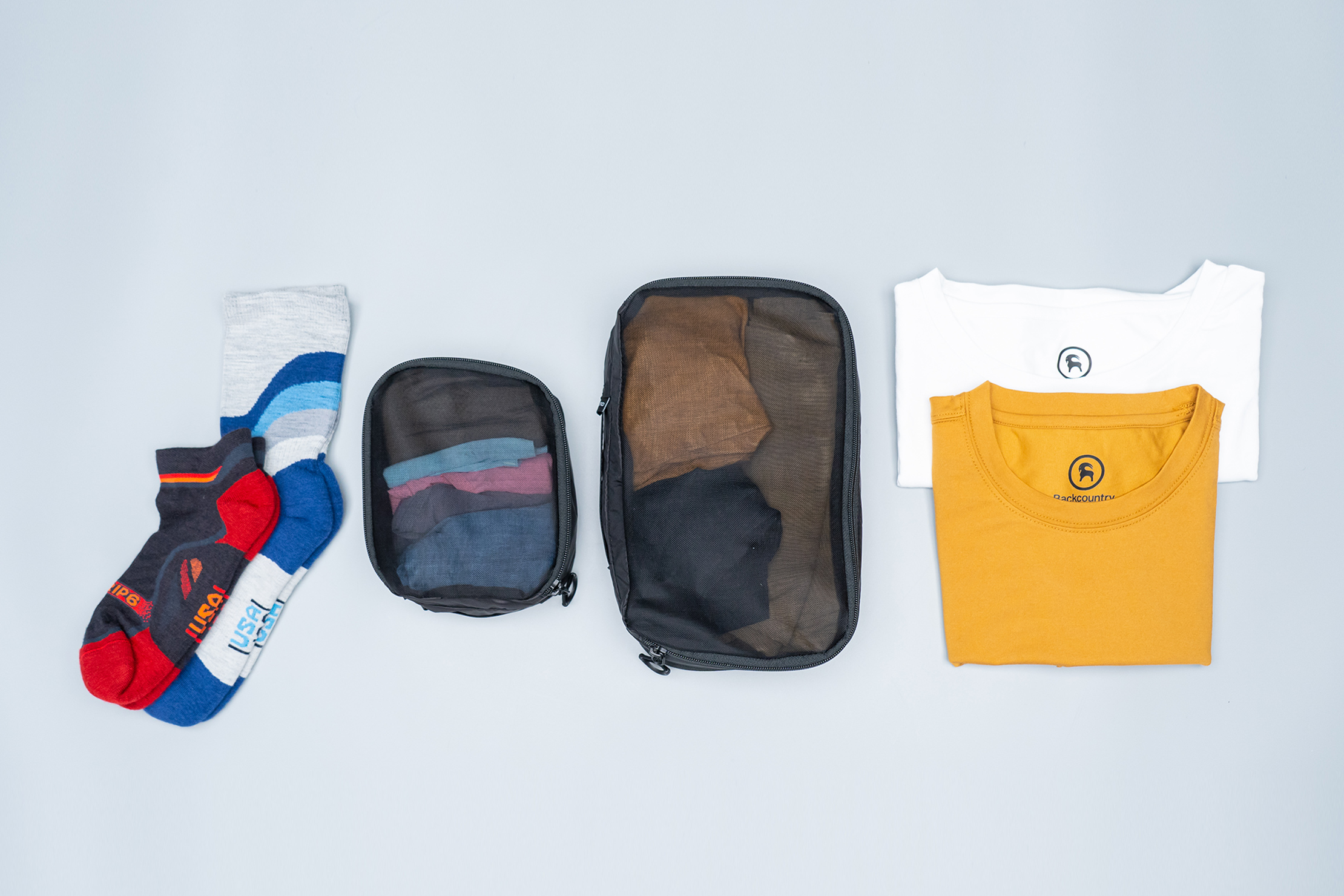 We use the small cube to store undergarments and/or swimwear. At its small size, we found it best for small articles of clothing, including socks and gloves. Of course, your mileage may vary, and it's up to you how to best pack your cubes. Unfortunately, the small cube is missing a compression zipper like the other sizes. It would help squeeze out a few extra ounces, so the option would have been nice.
The medium steps it up in both terms of size and with the inclusion of the compression zipper. For easy packing, you undo this zipper to expand the cube and fit as much clothing as you can. We found the medium most suited for thin shirts like tank tops and everyday cotton t-shirts. Our technique is to roll shirts and arrange them like spring rolls inside the cube; then, we let the zipper take care of the actual compression afterward.
One thing to note about compressing both the medium and large cubes is that the inner fabric tends to spill out snag on the zipper. We have to lead the zipper with a finger in front to keep the fabric inside whilst we compress the cube.
Last but not least is the large packing cube, and this is where the bulk of our clothes go. Bulky clothing like pairs of jeans, puffy jackets, thick collared shirts, and towels fit in here perfectly. Apart from its size, it has another leg-up from the other two sizes: a laundry compartment. This is something we've seen before, most notably on the Aer Packing Cubes (V2).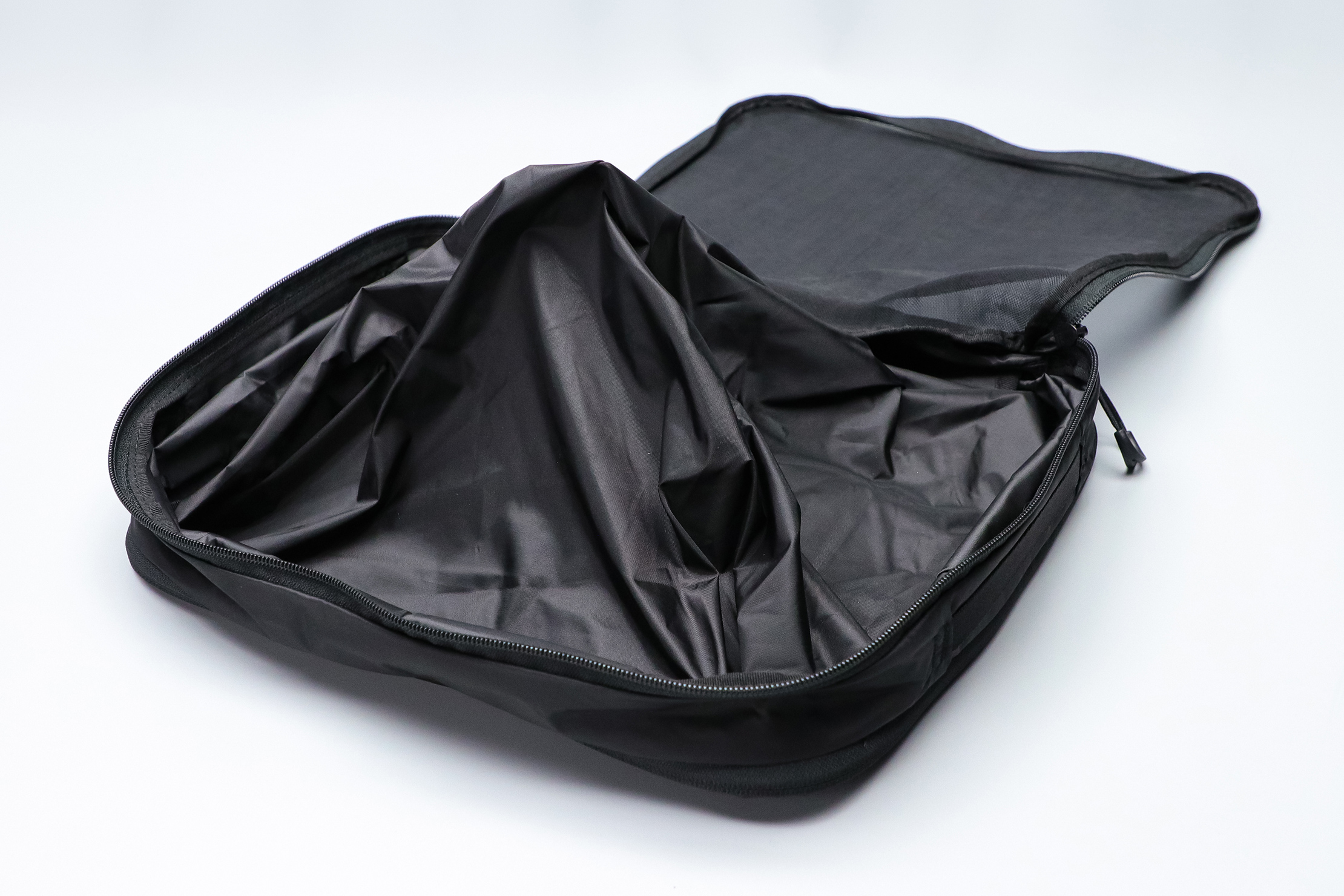 A diagonal zippered opening is at the back of the large packing cube, offering a very wide entrance to work with. The floor has a lot of slack to balance the space between the main and laundry compartments, so you can easily stuff clothes into unoccupied spaces. However, WANDRD's laundry compartment solution has two caveats: First, quickly closing the laundry compartment may cause an air pocket to form, so you have to puff it out before completely closing it. Puffing it out later rather than sooner will only build up the odor if you already have dirty laundry inside—gross.
The second is that the amount of extra fabric the floor has is almost too much. It bunches up and flops around, making packing somewhat tricky. Which is a shame, considering that all three cube sizes are structured enough for packing clothes in easily, and this floppy floor is the only major complaint we have when it comes to packing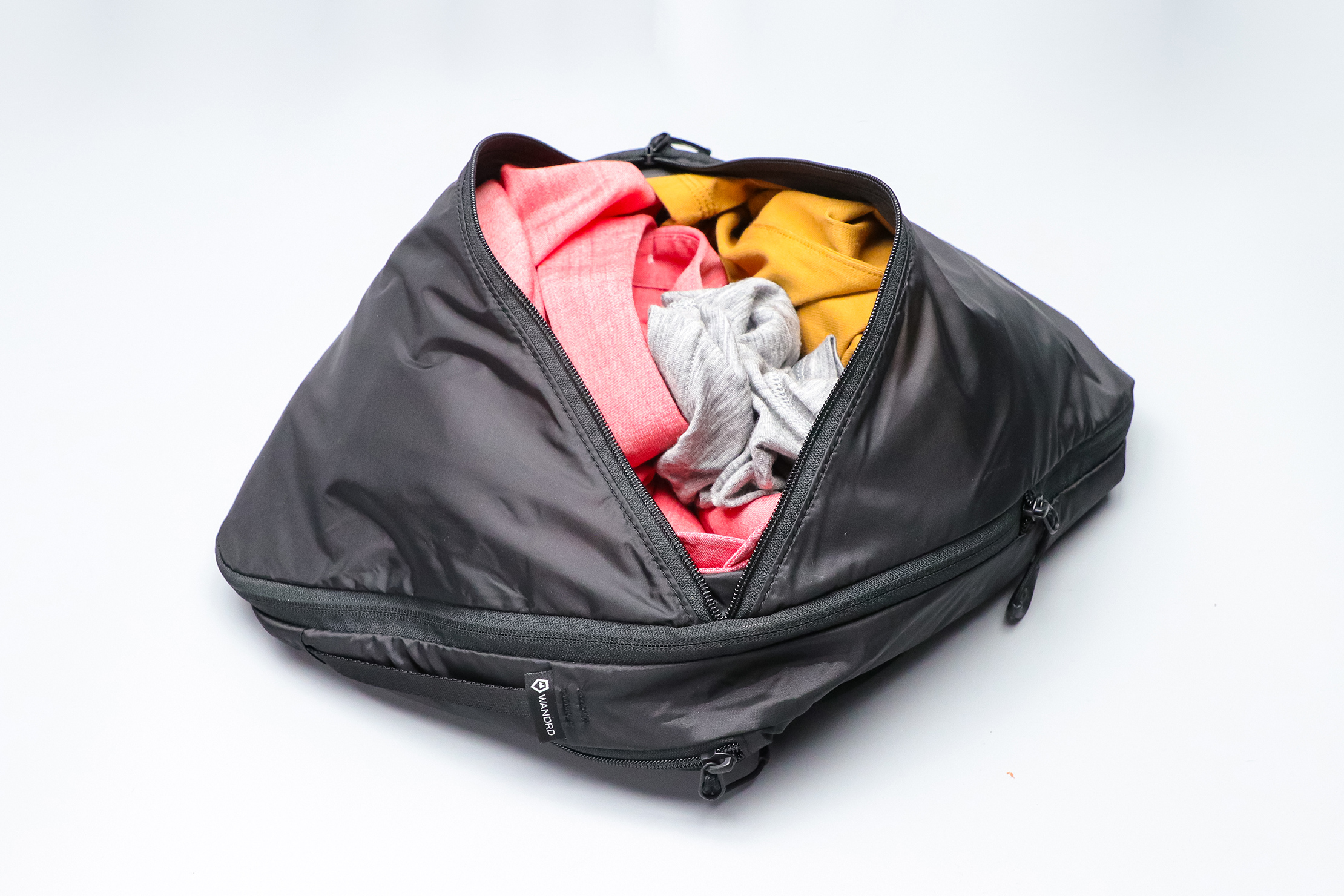 Packing cubes are pretty much Legos filled with clothes for your bag, so it makes sense for them to stack and sit next to each other like bricks. WANDRD has thought about this; thus, they made their packing cube's size scale with one another. The large cube is the size of two mediums, while the medium cube is the size of two small ones—it's their Perfect Fit System. For those wondering, the compression-less small cube's thickness is the same as the large and medium cubes once those are compressed.
We tested the WANDRD Packing Cubes with the Gravel Backpack Travel System, which includes a 42L travel backpack. It's large capacity backpacks like these that are prime candidates for use with the large packing cube. Of course, each packing cube size is available as separate purchases, so you can mix and match depending on how big or small your needs are.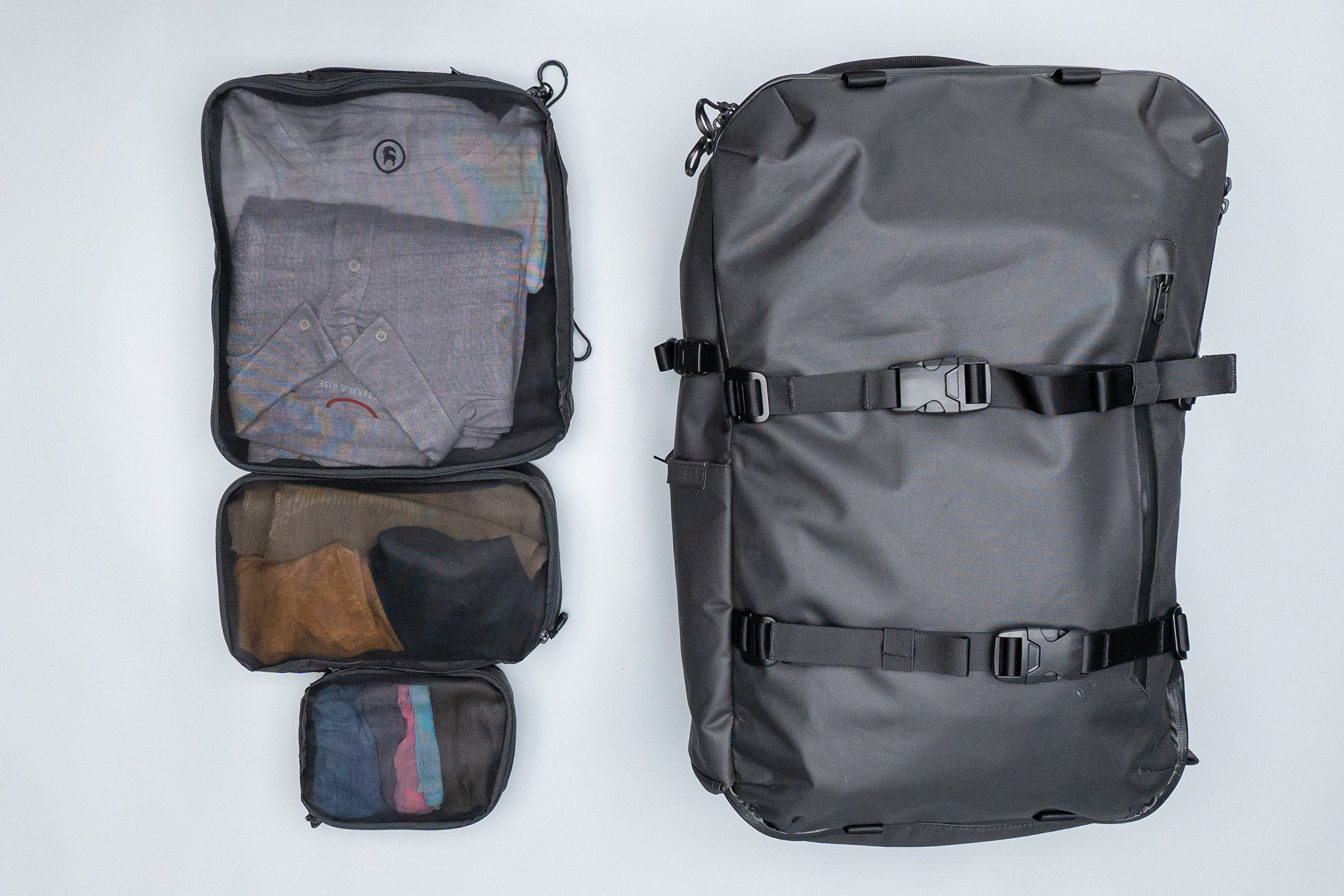 We have no trouble packing our bags with these packing cubes, thanks to the Perfect Fit System. The zipper pulls are large and easy-to-grab loops, though it must be noted that there's only one zipper per opening. The see-through mesh material also made it easy to tell which cube contained what. It's not a big deal if you only have one of each size. But, suppose you have multiple small cubes—it might be confusing if you couldn't see what each of them contained.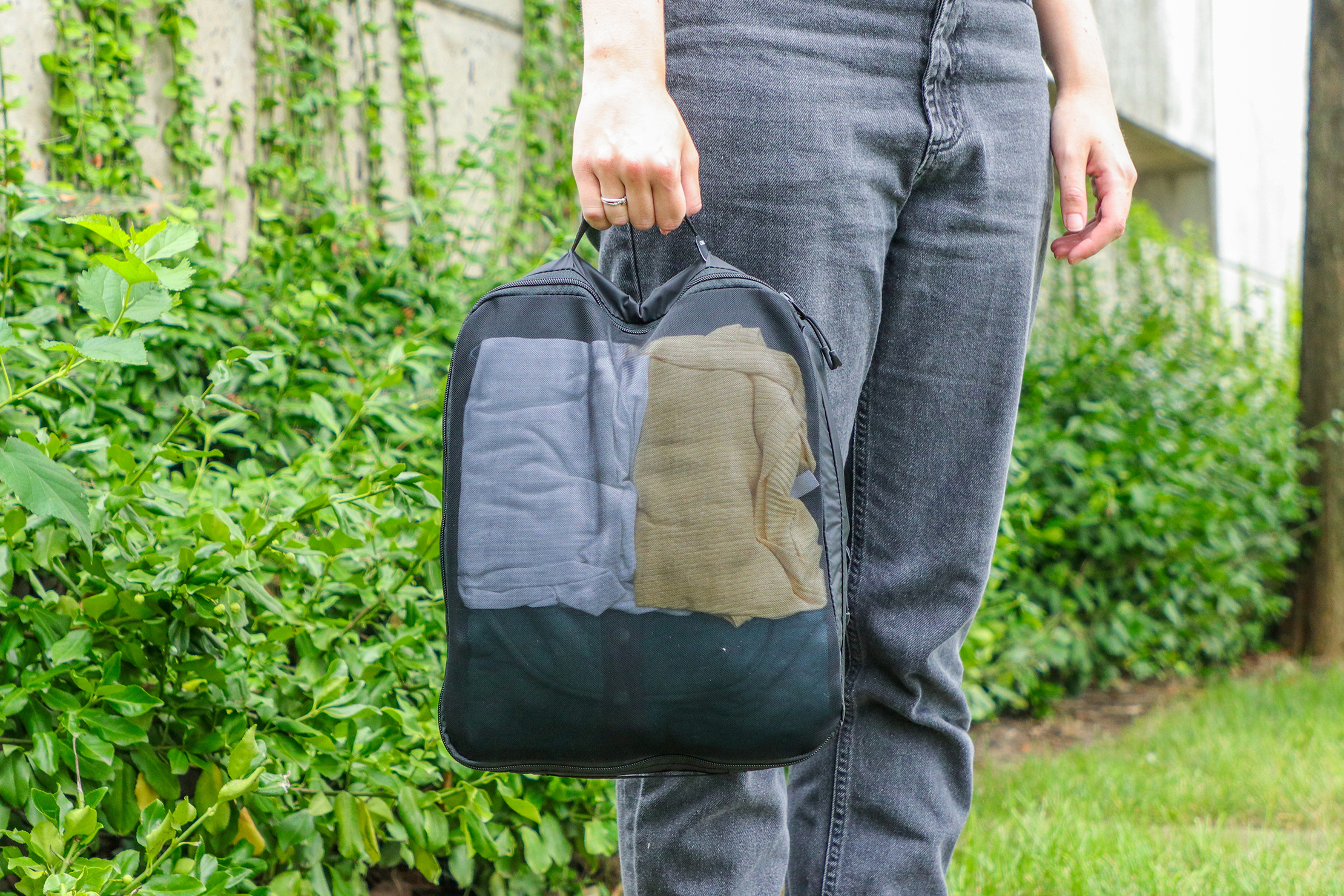 We found WANDRD's packing cubes very helpful over the course of testing. Their varied sizes that also fit well together made packing a simpler task. It takes some guesswork out of the packing process, so it seems more like playing with Tetris pieces rather than a jigsaw puzzle. The compression system needs a few tweaks, and we wish the small cube had it as well. Plus, the large cube could use less extra fabric for its floor. However, that's nothing too major, making these packing cubes a worthwhile consideration.
Usage Timeline
Initial Usage
Condition: Excellent
The medium and large cubes can expand or compress
The small cubes are half the size of the medium, and the medium is half the size of the large
There's a laundry pocket inside the large packing cube
2 Weeks of Use
Condition: Excellent
Laundry pocket material doesn't lay flat and can make packing awkward on the large packing cube
We wish the small came with a compression zipper as well
Nylon shell can get caught in compression zipper, but it's easy to avoid if you're careful
Grab handles are low profile, so they don't get in the way
Access the Pro Community Discussion
Get your questions about the WANDRD Packing Cubes answered from our team and the Pro Community right here on the page. Plus, join discussions with other members about gear, guides, and more.
Other Organizers & Pouches Reviews