GORUCK GR3 Review
The GORUCK GR3 is a massive, maximum legal carry-on travel pack that carries well, looks great, and will undoubtedly stand the test of time.
Our Verdict
Unlock the Pro Summary
Save time. Get access to brief summaries of our reviews so you can browse and make decisions more efficiently.
Pros
Highly durable & amazing warranty
Minimal look & functional features
Customizable & extendable
Cons
Not carry-on complaint for all airlines
Tricky internal organization
Compression strap design isn't ideal
Recent Pack Hacker Video
Technical Details
Capacity

45l

Weight (lb)

4.59 lb (2.1 kg)

Without hip belt

Denier

1000D

Dimensions

22 in x 14 in x 9 in (55.9 x 35.6 x 22.9 cm)

Notable Materials

CORDURA® Nylon, Duraflex Hardware, MOLLE Webbing, YKK Zippers, Paracord

Manufacturing Country

United States

Laptop Compartment Size

17"

Warranty Information
Full Review
In this review, we are excited to finally check out the GORUCK GR3! We've put the GORUCK GR2 through some extensive use over the past couple years and it has held up as one of the most durable packs in our arsenal. We're curious to see what changes GORUCK has made with the GR3 and how they could improve a bag that we've found to be fairly close to flawless.
Materials & Aesthetic
GORUCK's tagline for the GR3 is "The Largest Possible Carry-On," and they are not kidding. This thing is massive, coming in at a whopping 45 liters and just barely fitting into the one bag carry-on travel category. The official dimensions are 22" high by 14" wide by 9″ in diameter. It's not going to be carry-on compliant for all airlines—especially outside of the U.S.—so we'd recommend doing a bit of research with your airline before you get to the airport.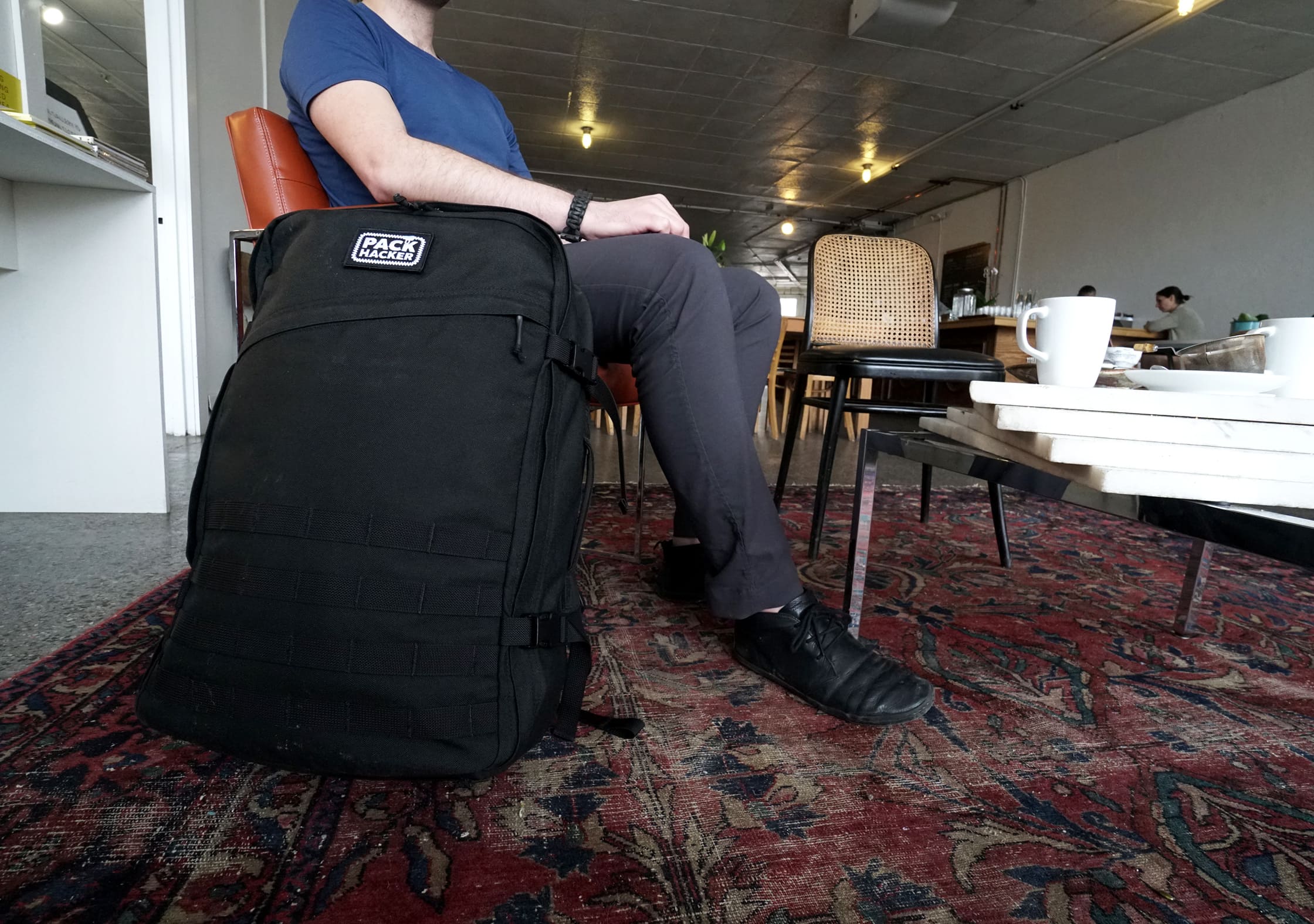 In addition to being large, the GR3 is also quite heavy when empty—5.15 pounds with the hip belt and 4.59 pound without. Yes, the hip belt weighs half a pound. We'll get into specifics later, but that thing is no joke.
As far as materials go, GORUCK says that the materials they choose "are proven to thrive in war," which is as equal parts impressive as it is slightly terrifying. This thing is made of 1000D CORDURA® ballistic nylon, which is just about as good as it gets when it comes to backpack materials. Besides being ridiculously strong, it's also highly resistant to scrapes and abrasions, which is great. We've noticed that the stitching on this bag looks really sturdy and durable as well—the handles and seams feel really solid.
In addition to the sweet ballistic nylon, this thing is covered in heavy-duty YKK zippers. Given the materials and our previous history with GORUCK packs, we're pretty confident this pack will hold up for a long time.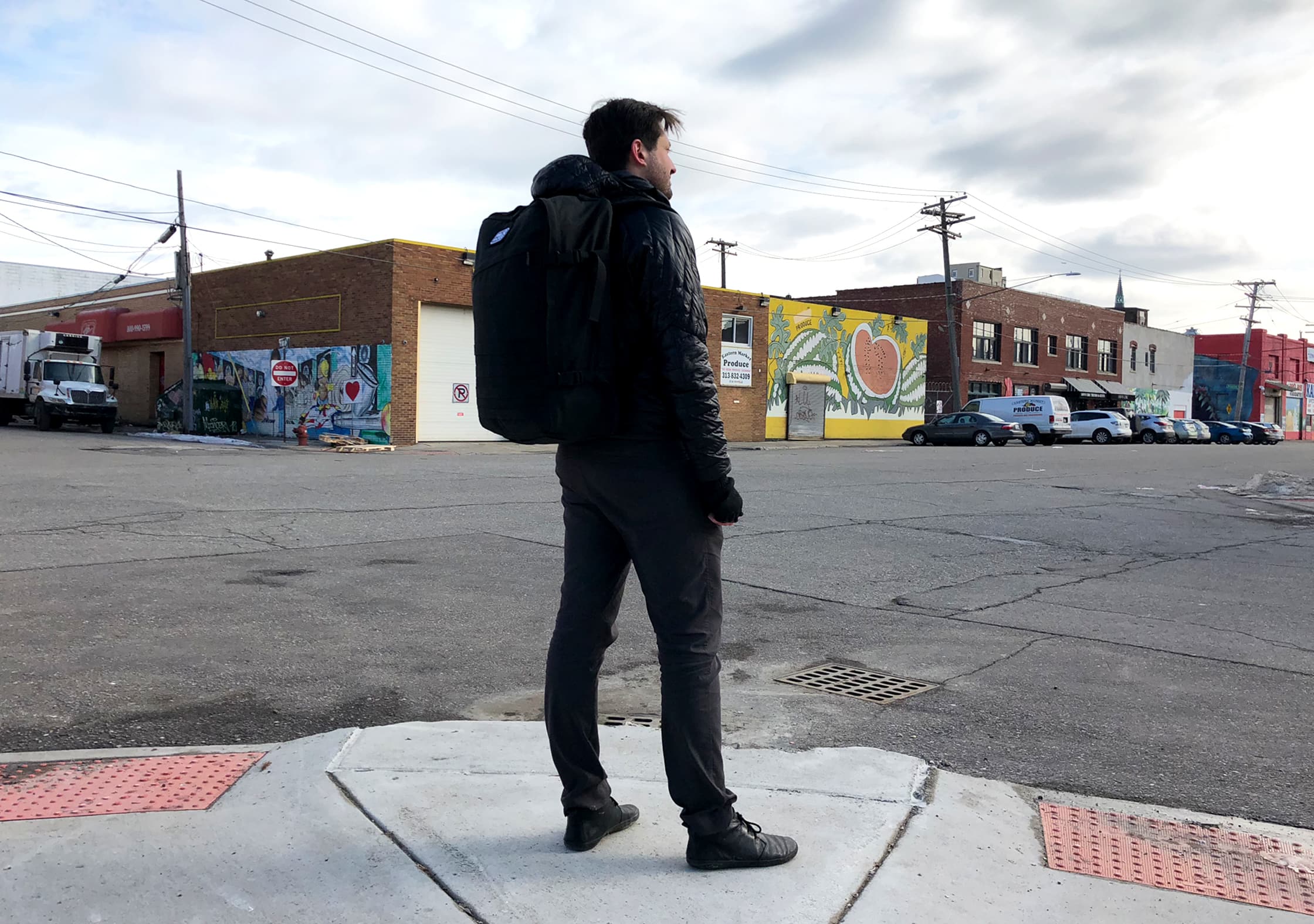 As far as aesthetics go, the GR3 looks very similar to the GR2. It has a minimalistic/tacticool look, depending on whether you opt for the slick or MOLLE version. It does have a bit of a boxy feel, but it's not quite as boxy as something like the Chrome Macheto we tested in the past. Given the capacity on this bag, it actually looks pretty slim and doesn't stick out on your back too much, which is always a plus. It still feels like a backpack, versus having a roller suitcase strapped on your back.
External Components
The outside of this pack is fairly bare-bones, but GORUCK does have the essentials covered. First up, the harness system. The shoulder straps are super beefy, which is great. Fair warning though, we did find that they take a few weeks—possibly months—to really "break in." They might feel a bit uncomfortable at first, but give them some time and they'll actually conform to your shoulders nicely.
There are no load lifter straps on this pack, which isn't too much of a problem. Although this bag is fairly massive, it's got a pretty low profile which mostly eliminates the need for load lifters. It stays tight to your back due to the stiffer frame sheet and the way the straps are positioned on the pack.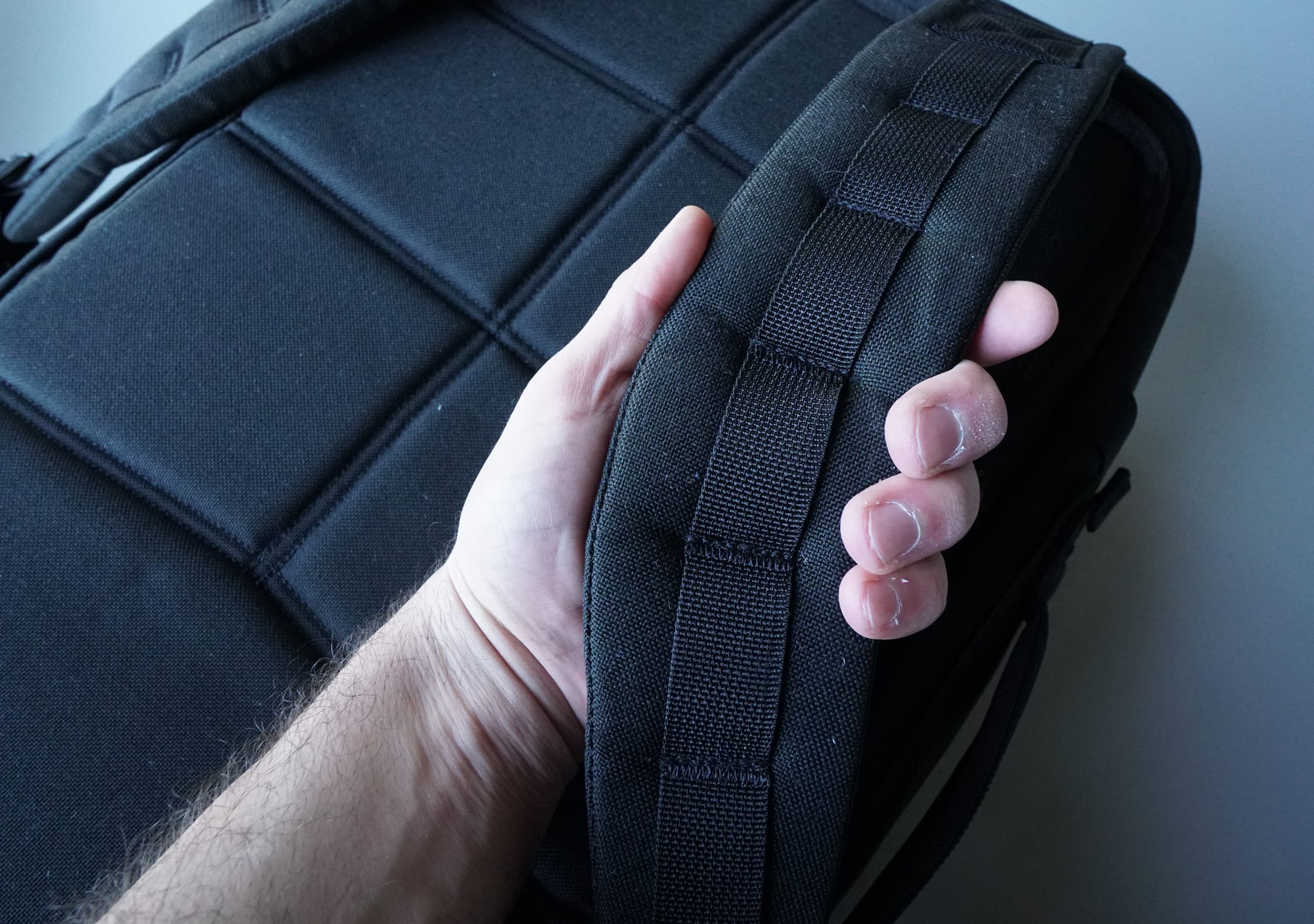 There is a long row of MOLLE that extends along each shoulder strap, which you can use to attach a sternum strap if you so desire. We haven't been using a sternum strap on this as the straps plus the hip belt are pretty substantial, but we may look into it in the future. We'll update the usage timeline at the end if we do.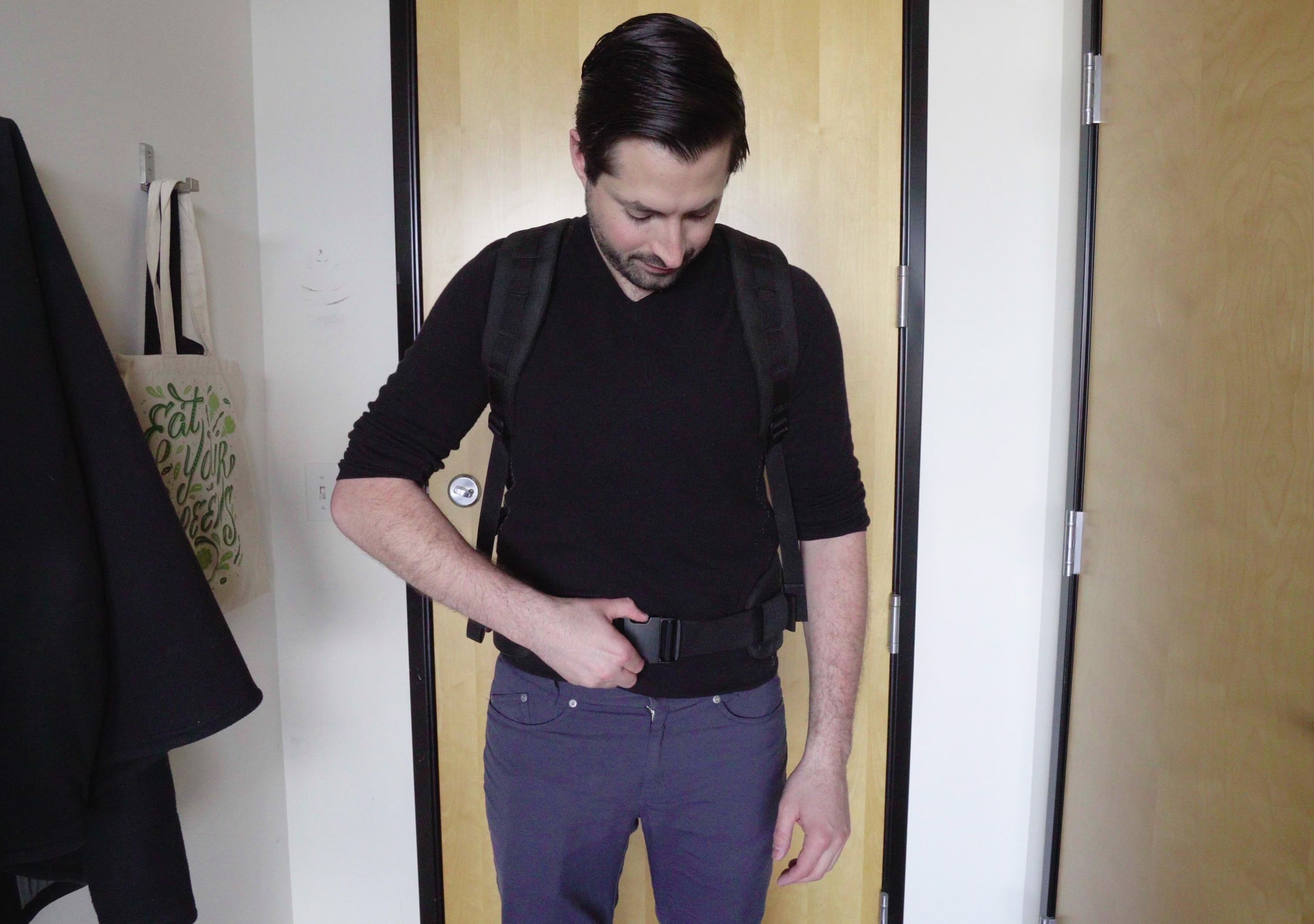 GORUCK includes a super hefty detachable hip belt, which we really like. It's got a huge DuraFlex buckle—a great sign for durability—and some nice foam padding. The hip belt attaches really easily, you can just slide it into this sleeve towards the bottom of the pack. Considering the size and weight of this pack, we're probably going to keep this attached most of the time.
The final thing to mention here is the internal frame sheet. This thing is a beast—it's definitely a lot thicker than the frame sheet on the GR2, and that's saying something. The frame sheet adds a lot of structure to the bag and makes for a great carry when combined with all the other elements in this harness system.
We actually talked to Scott at Ruck Customs about this frame sheet—he develops custom frame sheets for GORUCK bags that are much more substantial than the stock ones. He's actually still trying to figure out how to improve upon this stock GR3 frame sheet, which definitely says something (he does offer great Kydex mods for the GR1 and GR2 though).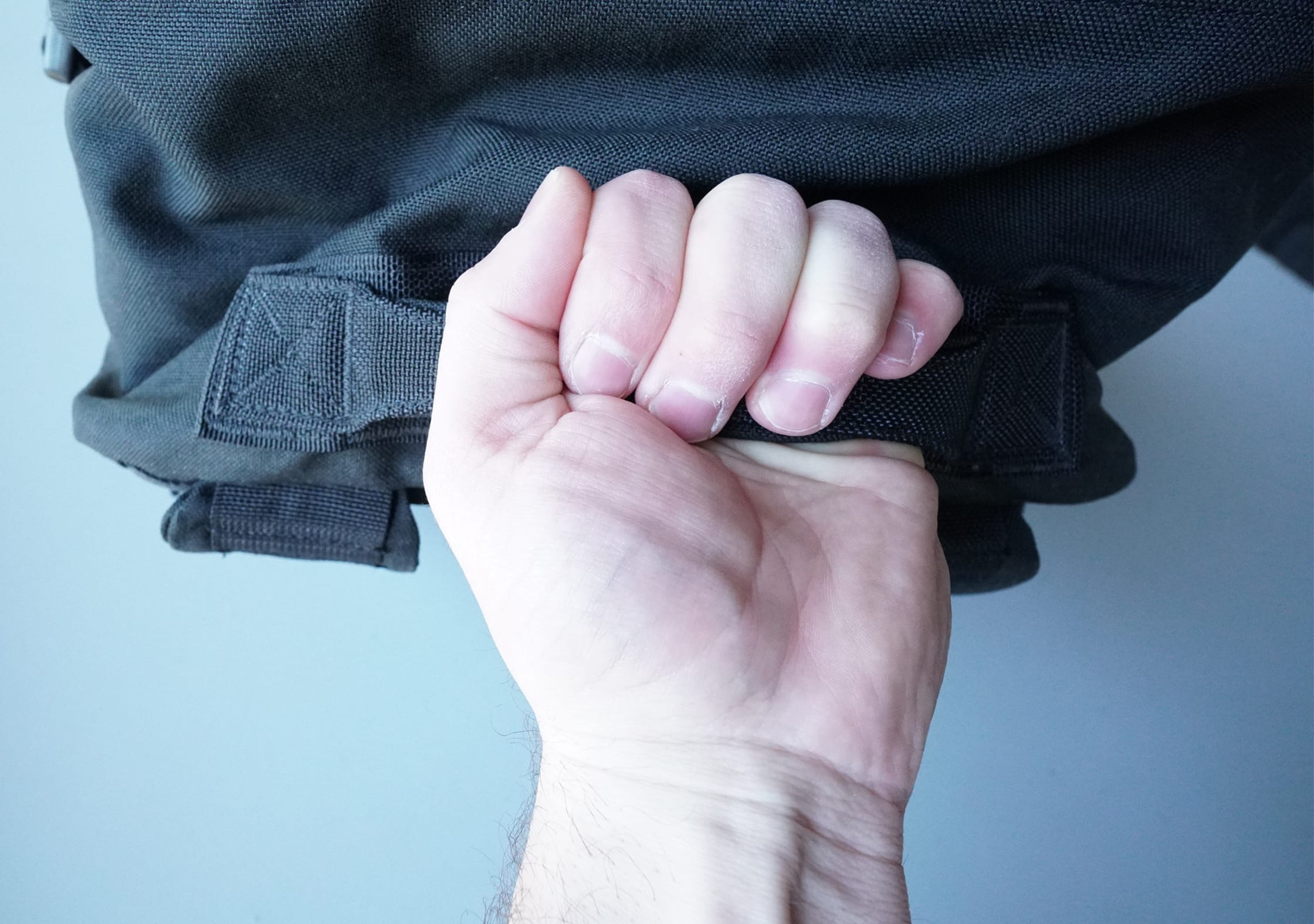 There are carry handles on both sides of the pack, as well as the top. We found these handles to be deceivingly comfortable! They're thin and compact but they still have a nice amount of padding, which is awesome. We did notice that they aren't exactly in the center of the pack—they're sewn in towards the back of the frame sheet. This means that when you pick up the bag it won't really distribute the weight perfectly, it'll be sort of leaning to one side.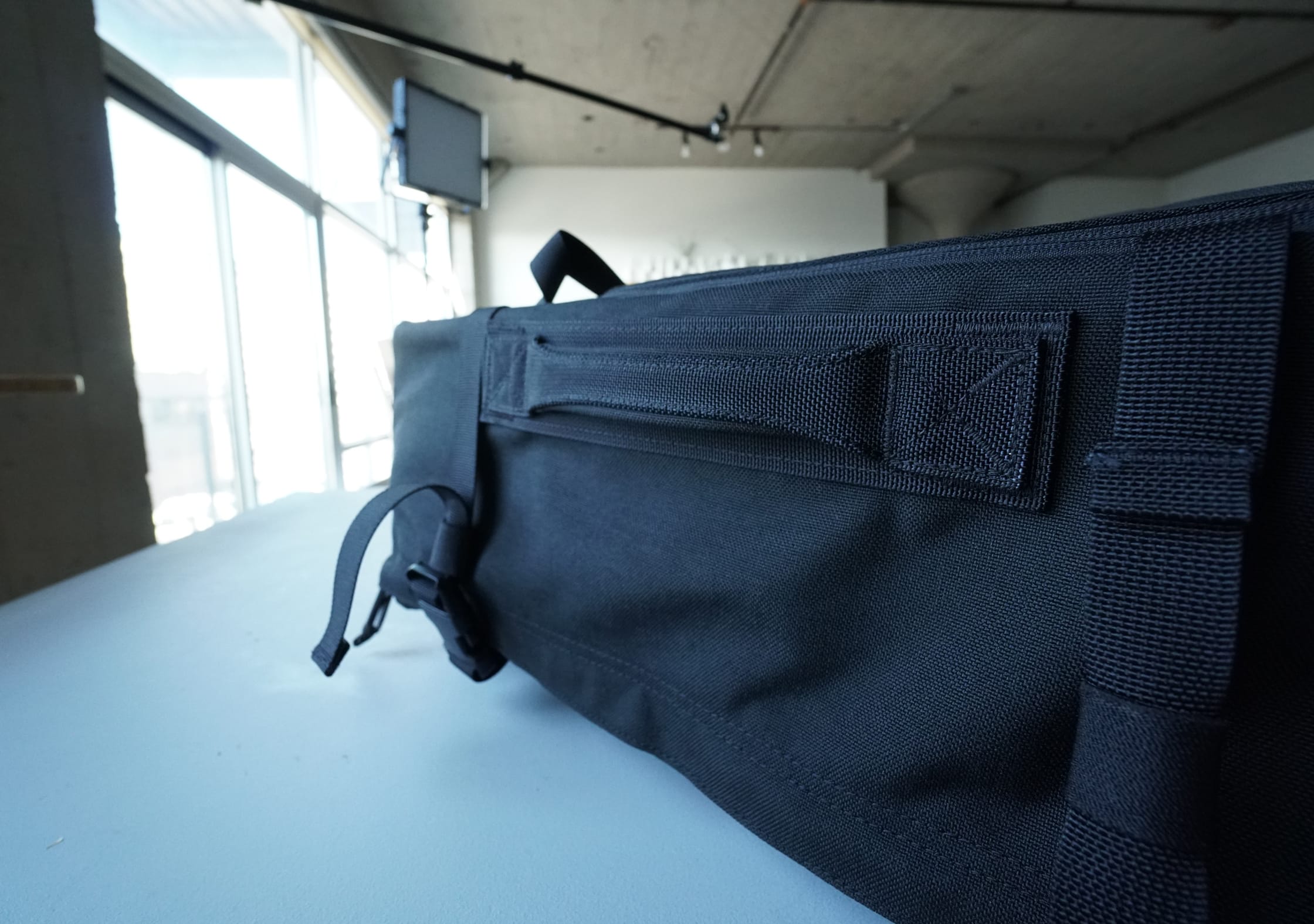 Our guess is they did this for durability reasons, as the area where the handles are sewn in is very well reinforced. We always like durability, of course, but we do wish there could have been some compromise here to help with that weight distribution. It shouldn't be a major issue—we generally just use these handles for overhead bins or getting in and out of cars—but hey, we're always looking for perfection!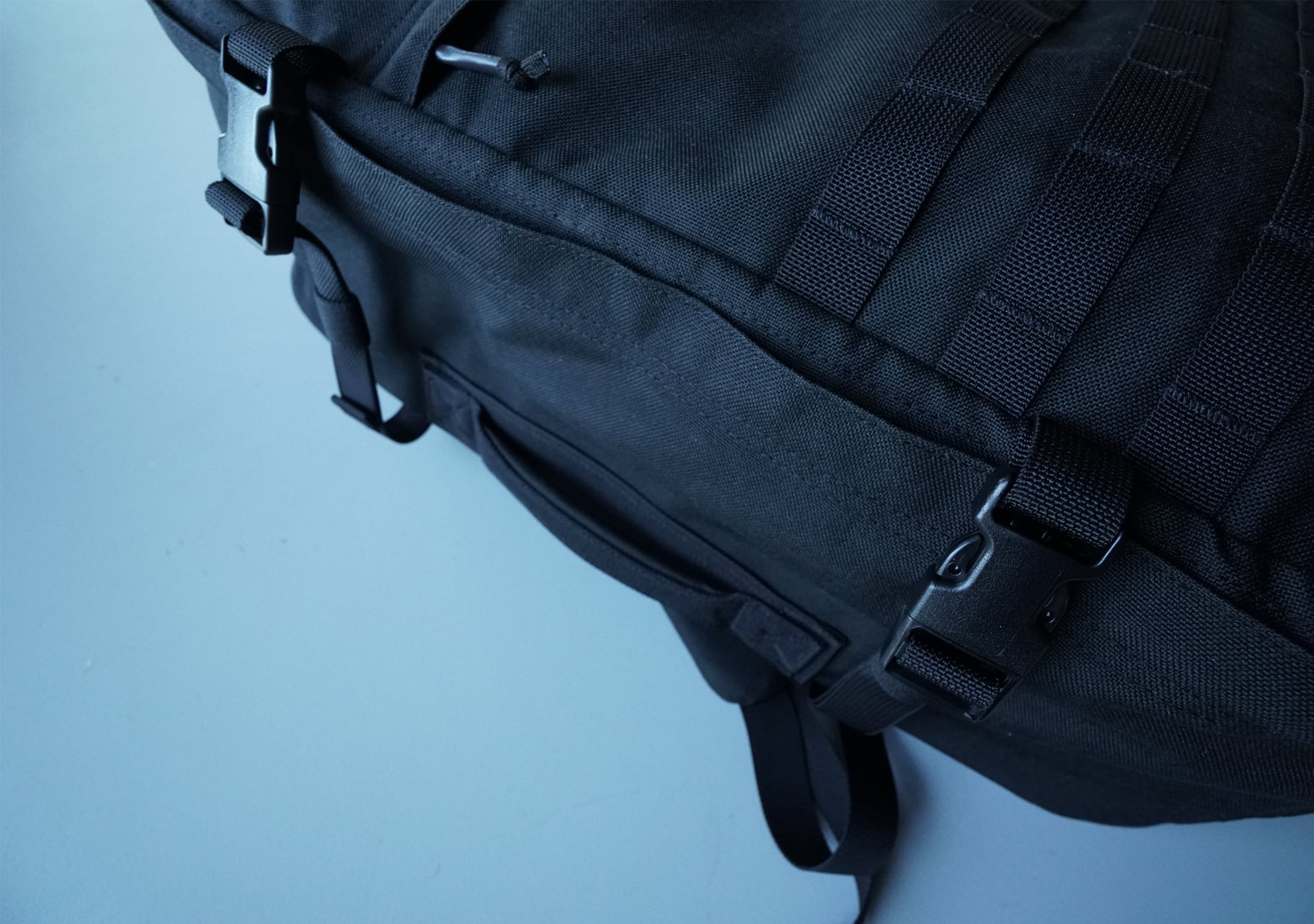 The other noticeable feature on the outside of this pack is the compression strap system. There are four compression straps—two on each side—which we were happy to see. The GR2 is lacking in the compression department, so it's nice to see that GORUCK listened to the many requests for compression on the GR3. The straps have DuraFlex buckles with a small elastic band that can hold any excess strap—nothing fancy, but it gets the job done. Who needs fancy compression straps, anyway?
There are, however, two main problems we've found with these compression straps. 1) If you don't want to use them, there's no way to hide them—they're just going to kind of flop around when not in use. Not ideal. And 2) when going in and out of the pack, the strap can get in the way of the zipper. Also not ideal.
It's not a total dealbreaker, but could have been done better. This is certainly a tough area on many packs—we've seen a few manufacturers skirt around this problem by having the compression strap end just before the zipper. But that can also create some problems as it puts quite a bit of pressure and strain on the zipper itself, and you're not going to get quite as much compression if the strap doesn't go all the way to the other end of the pack. Kind of a Catch-22.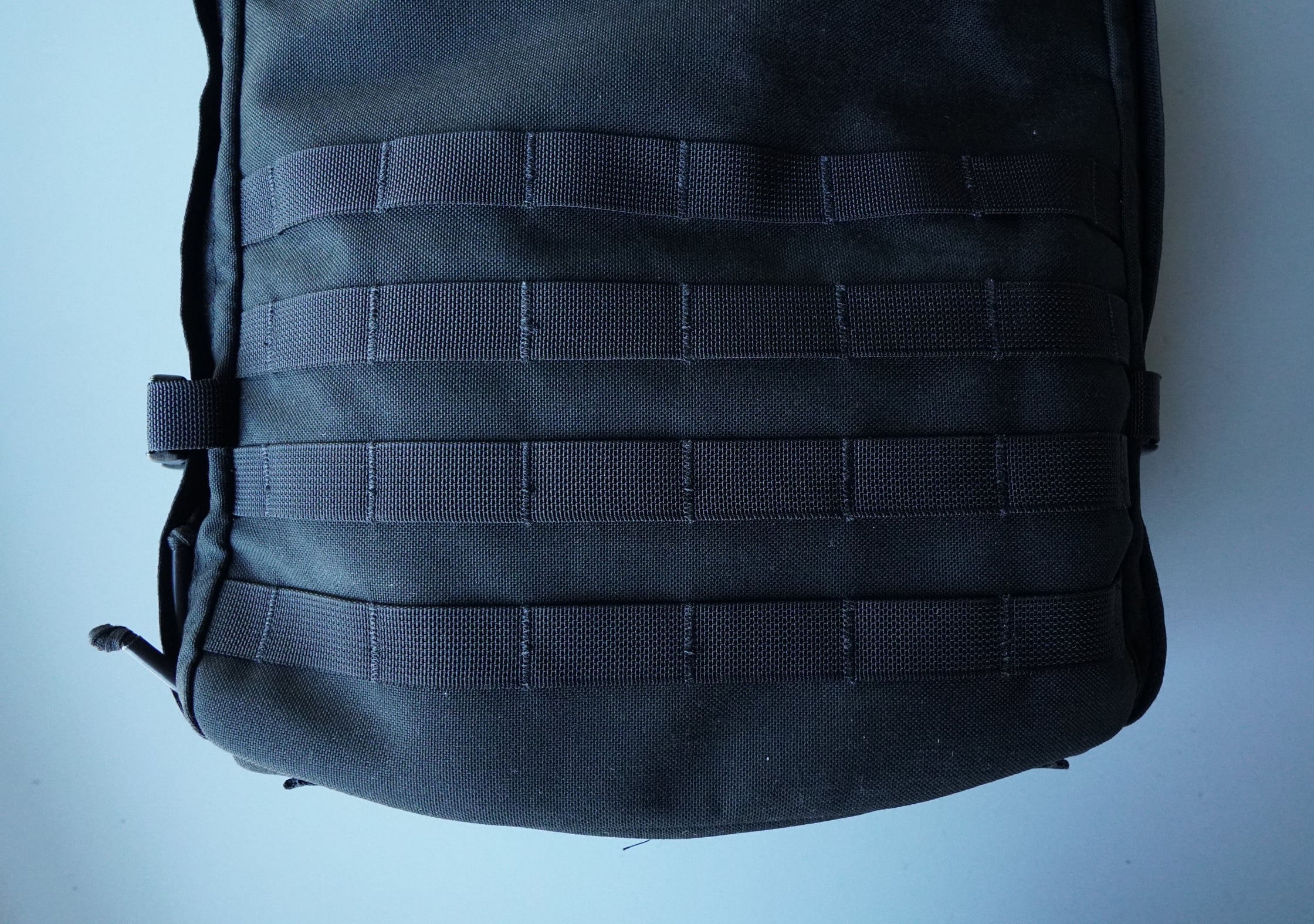 On the back of the pack, near the bottom there are four rows of MOLLE with six loops across. And just to clarify, this is only on the MOLLE version of the bag—the slick version doesn't have these four rows of MOLLE.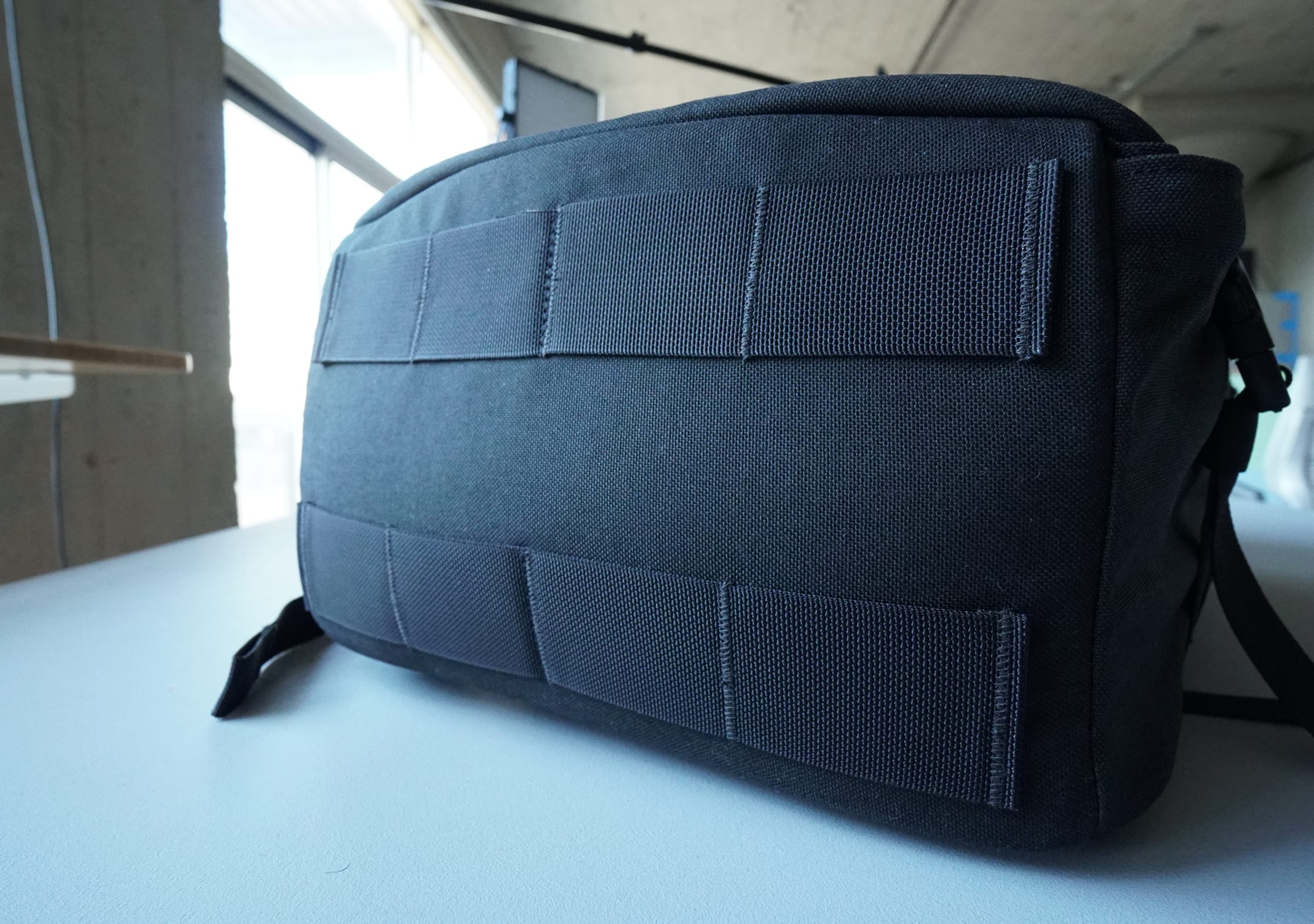 Then on the actual bottom/base of the pack there are another two rows of MOLLE with four loops. GORUCK sells a bunch of MOLLE accessories (like their awesome padded field pockets, for instance), and the GR3 Compression Tough Bag is specifically built for that bottom section of MOLLE. It's the perfect size for a sleeping bag or a few pairs of dirty shoes. If you're looking for some other options to utilize this area of the pack, GORUCK has a couple padded, MOLLE-compatible field pockets that range from 1L to 4L in size.
Keep in mind that attaching any large MOLLE accessories will make this bag no longer TSA compliant. This thing is really right at the edge of compliance. …Which is also a really cool band name. You can keep that one. You're welcome.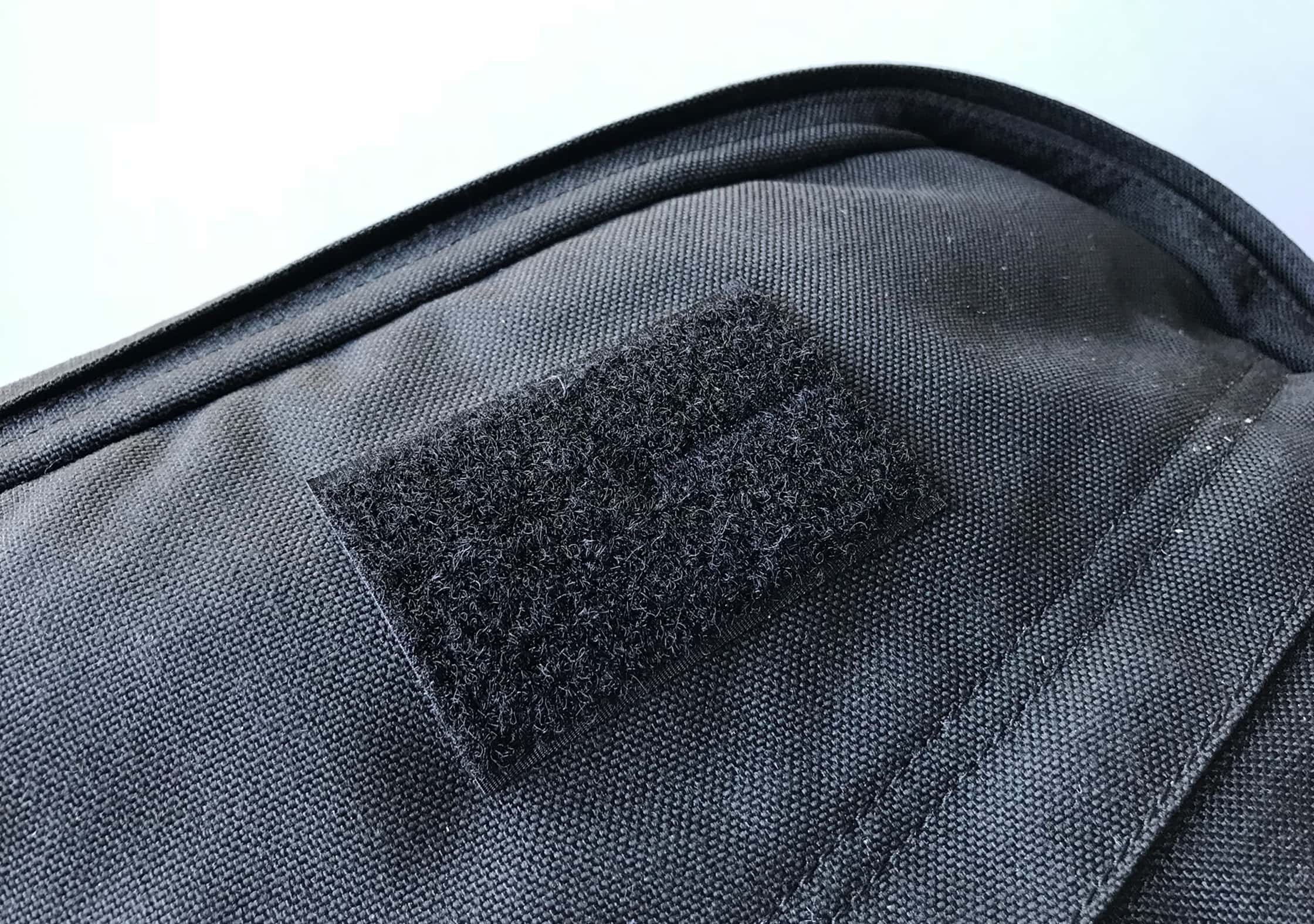 The final exterior item is the velcro patch towards the top of the bag. This is a standard feature on basically all of GORUCK's products, and you can attach a patch of your choosing. We stuck our Pack Hacker patch on there, of course! You can find a few patches—including the classic American Flag one—on GORUCK's website.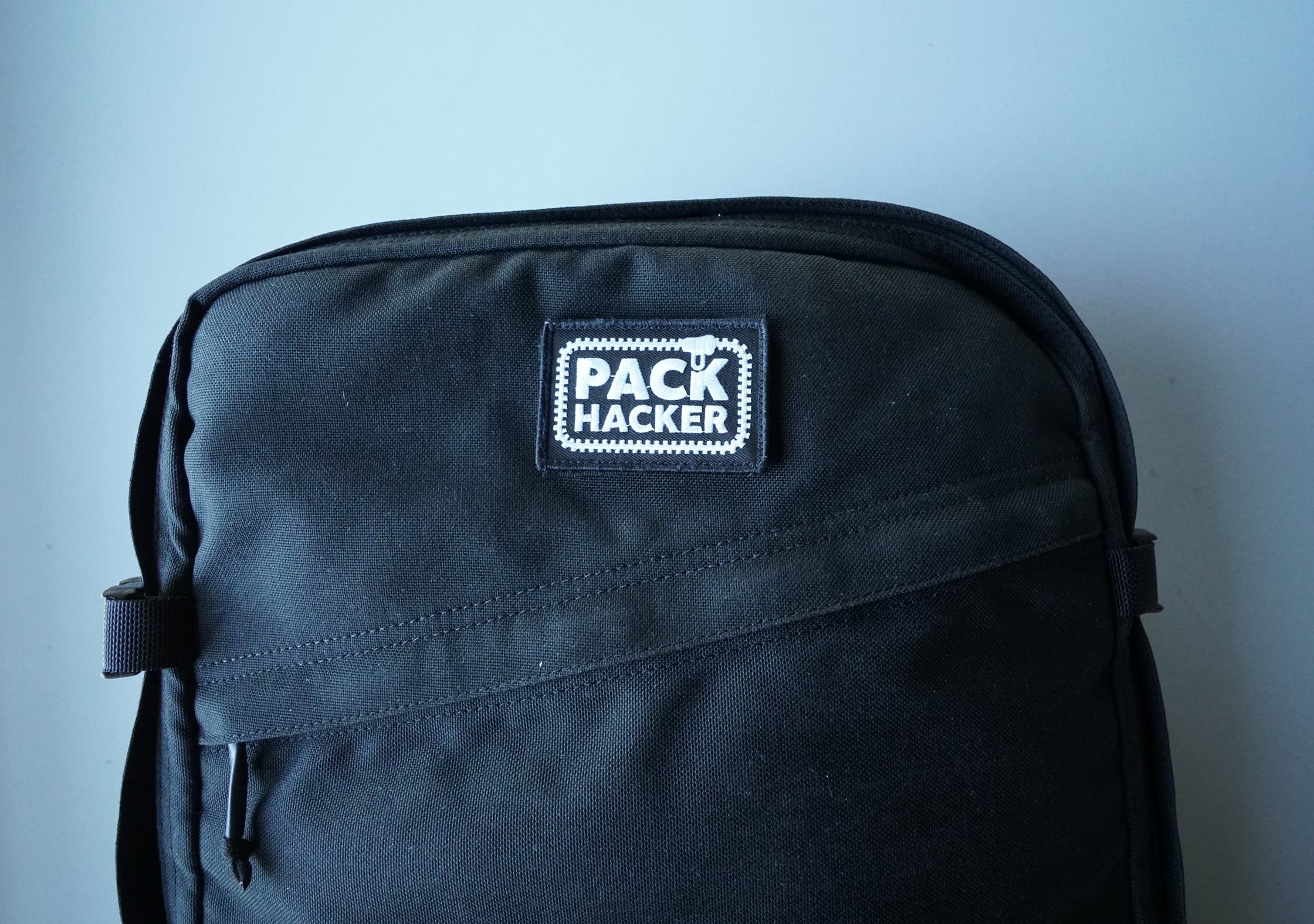 Inside the Pack
Although this section is called "Inside the Pack," we're actually going to start with the outside pocket. Weird how that works, eh?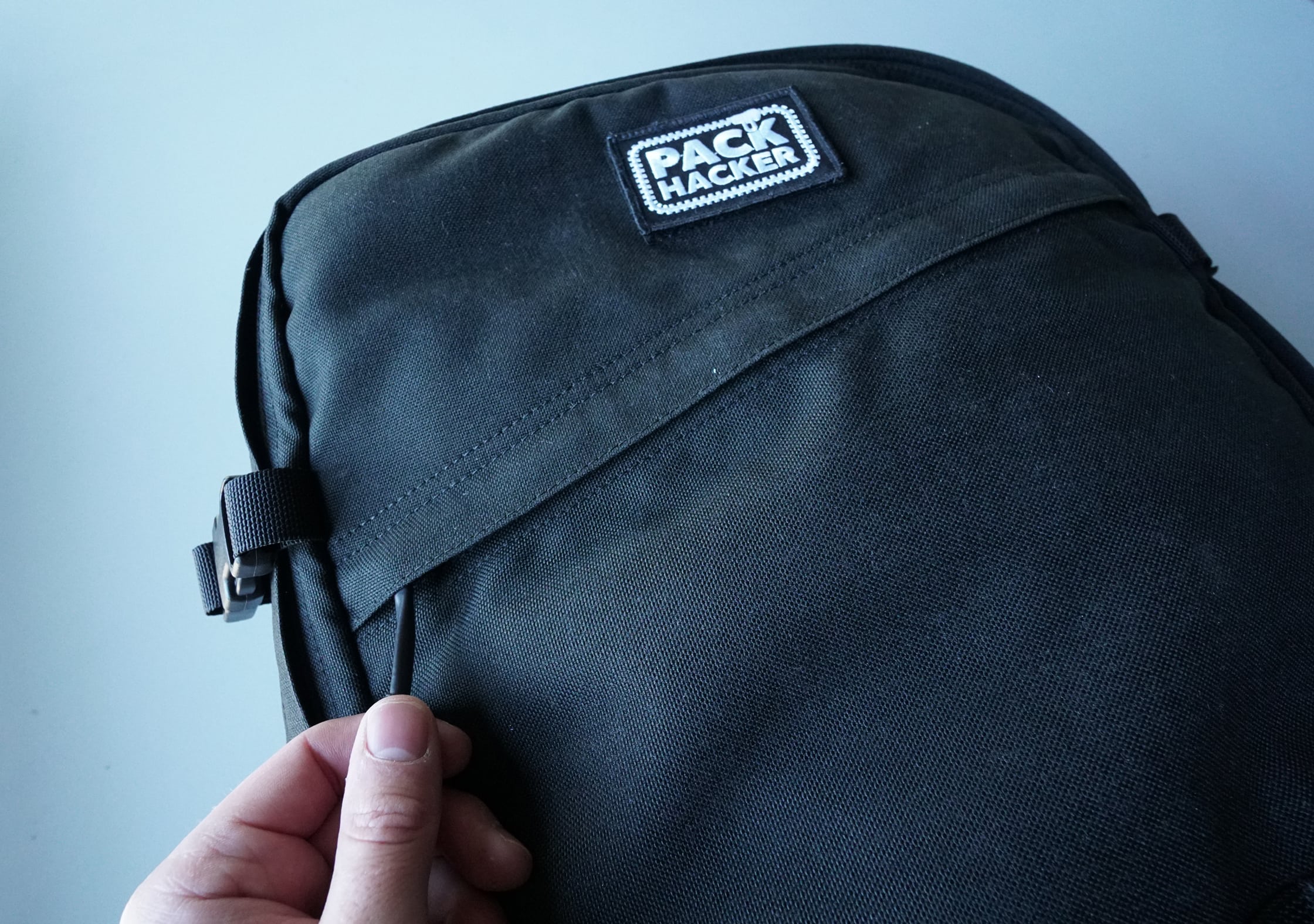 There is a slash pocket on the outside that goes all the way down to the bottom of the pack. No organization, no frills, just a big ole pocket. This is a good place for some flatter items—if your bag is fully packed you could throw some documents in here and they won't get too messed up.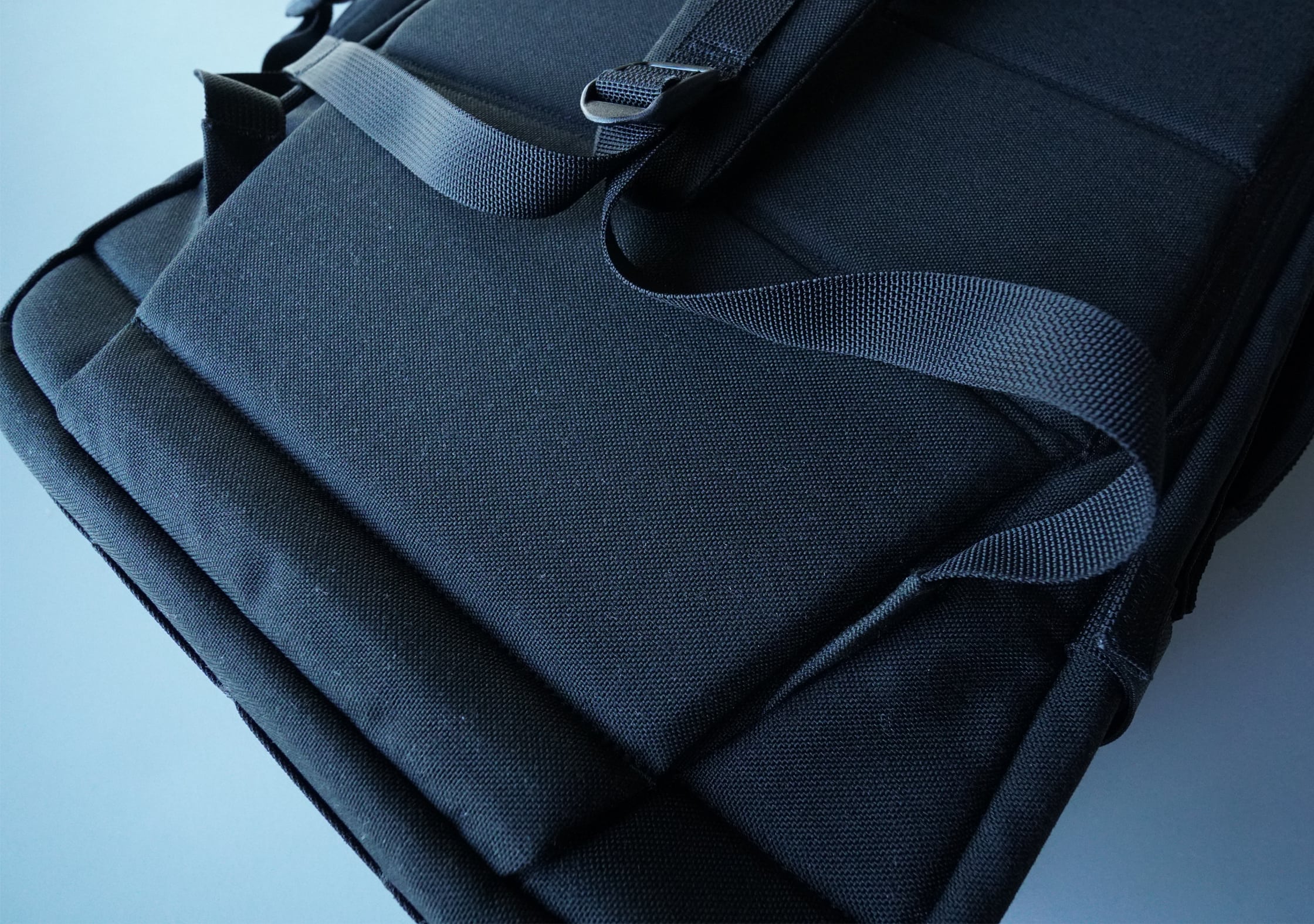 On the other side of the pack—right along the frame sheet—is the laptop compartment. This compartment is 20" high and 13" wide, so it should fit just about any laptop you could throw at it. It's got a false bottom (the pocket doesn't go down to the bottom of the bag) so your laptop shouldn't—in theory—hit the ground if you drop the pack. The frame sheet we talked about earlier also adds a lot of protection here. GORUCK really stands by their laptop compartments, and we can confirm that this thing is no joke.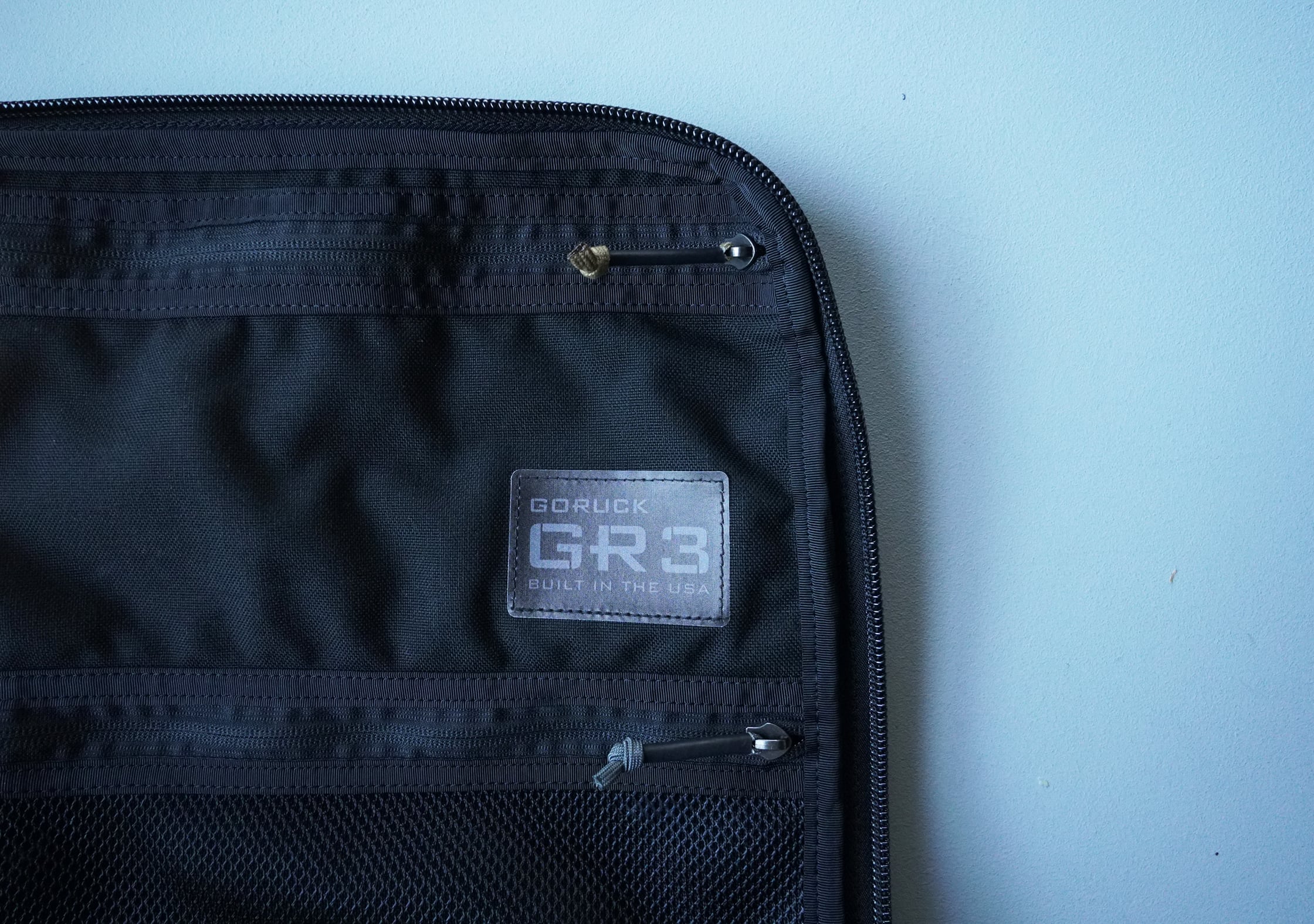 Now onto the main compartment. This area opens up with some beefy YKK zippers that have GORUCK's "silent zipper pull system." They've basically shrunk-wrap some paracord on the zipper pulls so they don't jingle and jangle as the pack moves around. This is one of those nice features that you would never think about until you have it. Having a relatively-silent bag is super nice, especially when you're jostling things around in your hostel at night.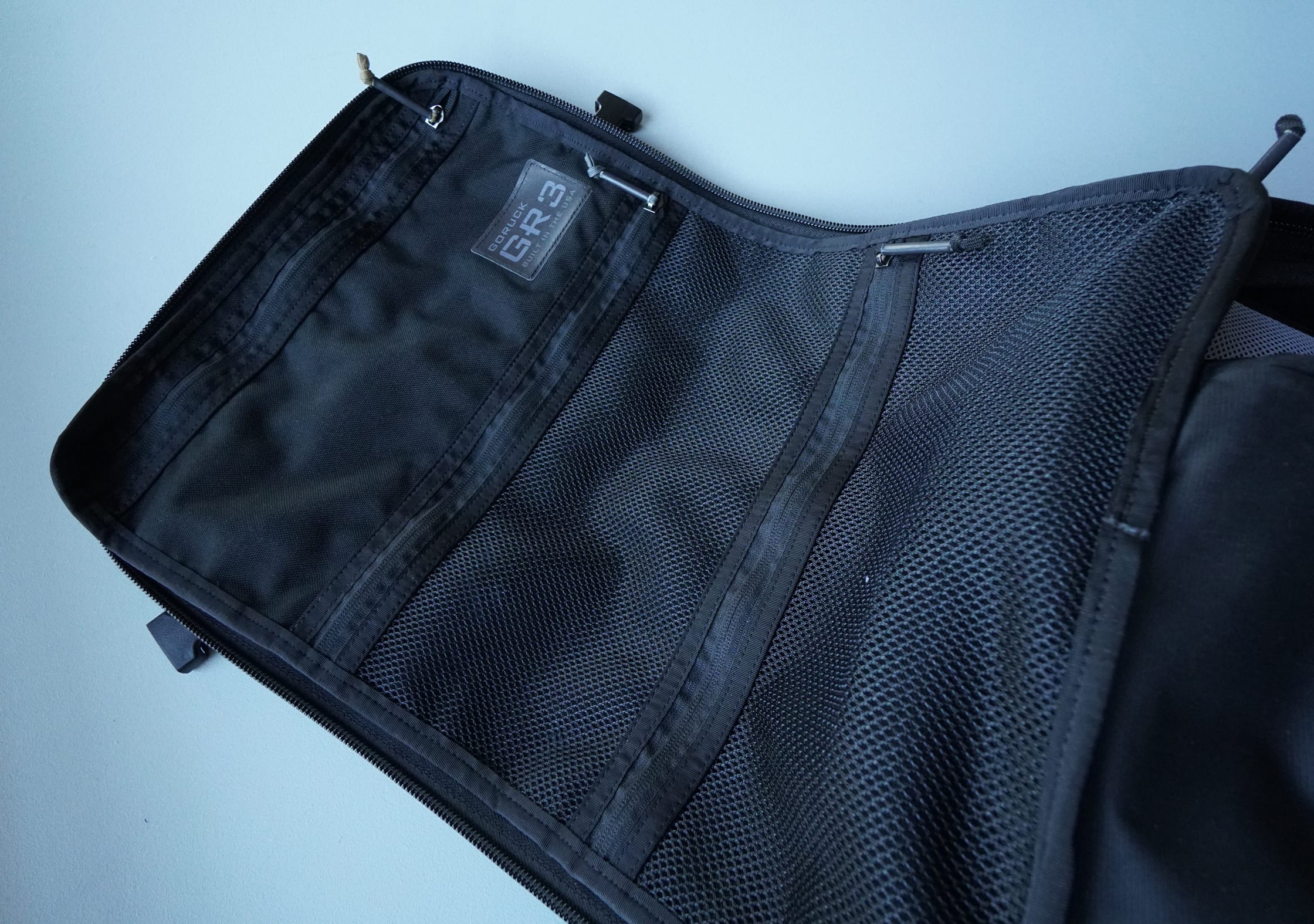 After opening the main clamshell, you'll see that there are some pockets on the interior flap. There are three pockets that are split up equally along the whole flap—two of which are mesh. These pockets could each hold about 2 Pop-Tarts, lengthwise. If you're new here, we like to use the trusty Pop-Tart scale for pocket sizing—we're working on making it a standard among all backpack companies. Stay tuned for that.
This is probably the most secure area of the pack, as any potential thief would have to get through two sets of zippers to get in here. Keep in mind these mesh pockets are not "3D" pockets, so you're going to want to stick to relatively flat items.
These pockets all have different colored paracord on the zipper pulls, which is a cool feature from GORUCK. Again, not something you'd really think about but it is very convenient—when you ask your friend to grab that charger from your pack, you can tell them what color pocket it's in! No need to play word games.
"It's in the first mesh pocket on the interior flap! No, not the first pocket—the first mesh pocket! Yes, it's the second pocket but the first mesh one. No, not first from the bottom, first from the top! … You know what, forget it. I'll just do it."
We've all been there. Color coding is great.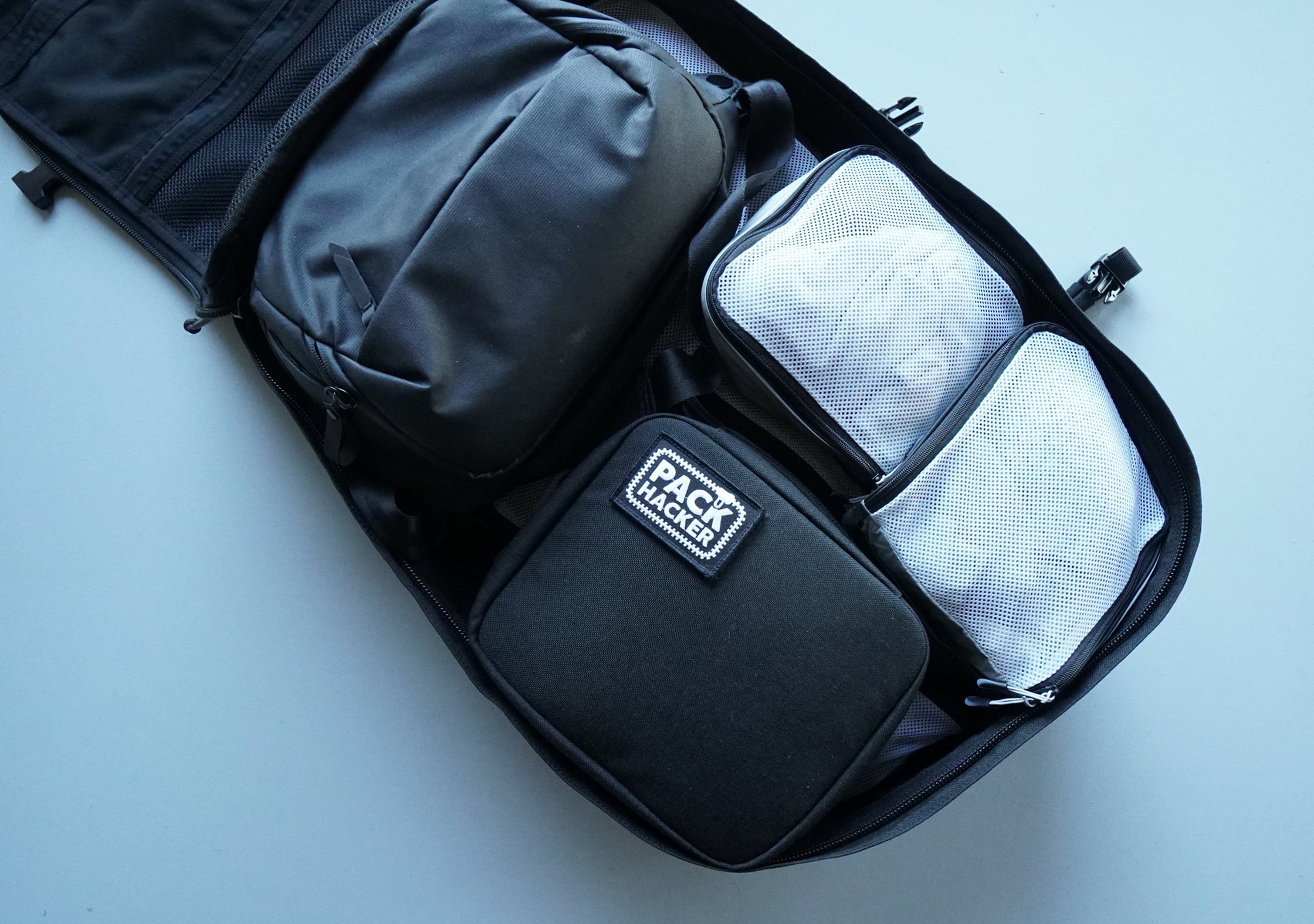 Opposite that interior flap is the massive clamshell. This is, in fact, the biggest clamshell compartment we have tested to date. You could definitely fit a small child in here, maybe a couple small dogs or medium-sized cats—you get the idea. It's big. Please don't put your kid in here.
Packing cubes are basically a necessity in this bag. We really don't see how you could get by without them, unless you like your clothes turning into a jumbled mess. There is enough room for two layers of packing cubes, so you'll want to be kind of strategic when you pack this thing up. We've found it's best to lay down some flatter packing cubes on the bottom and then throw the smaller or bulkier ones on top of them—but feel free to experiment. You will generally want more weight towards your back and less on the front for an optimal carry. But go with what you feel, we're not going to call the backpack police on you.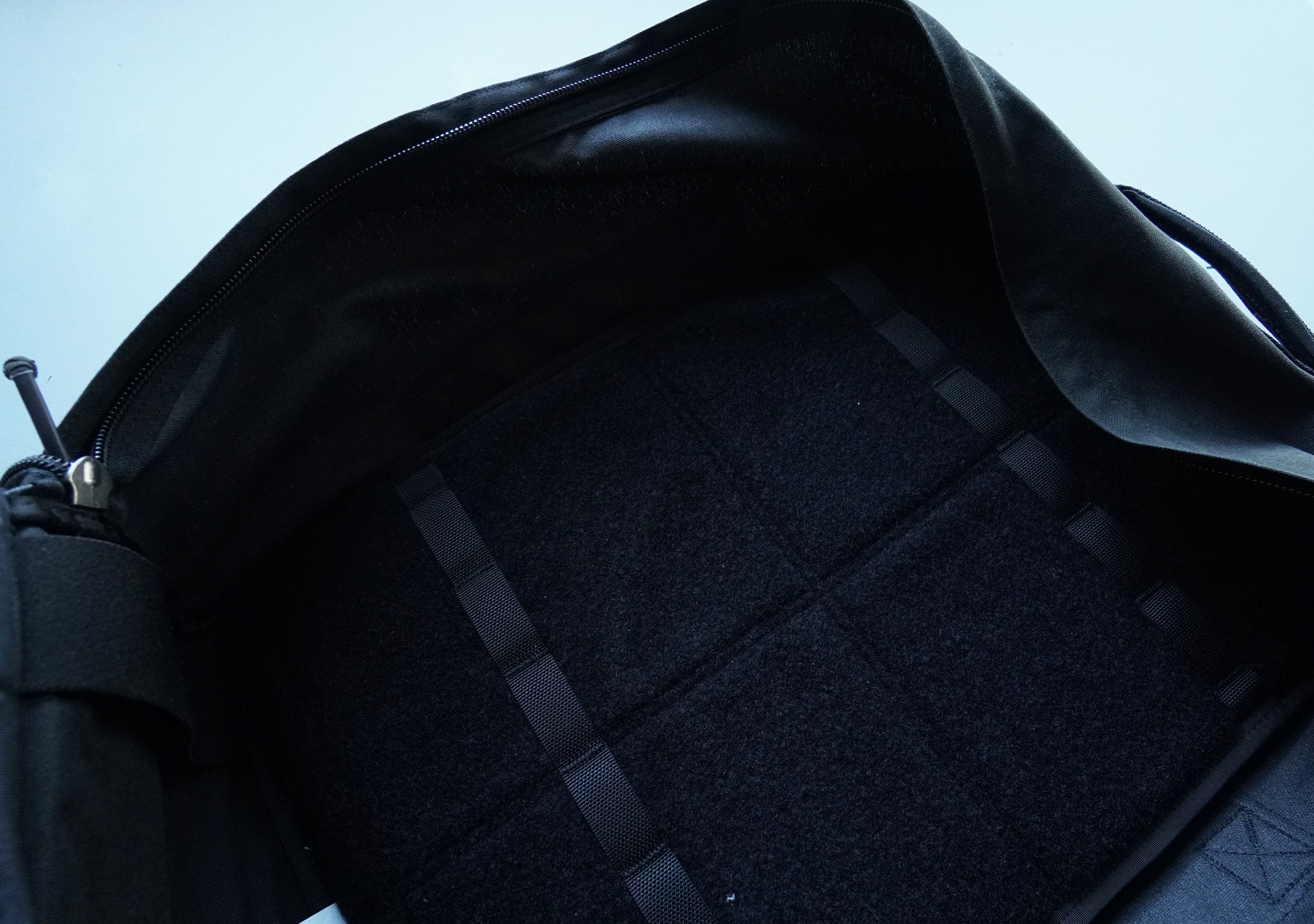 The bottom of this compartment does have a layer of velcro, which is very cool. This is great if you have some packing cubes with velcro on them—like the 2 or 3 liter velcro field pockets from GORUCK—as they'll stay in place really well. With a compartment this big, your packing cubes will most likely move around during use if the bag isn't super tightly packed, so it's worth looking into velcro packing cubes OR you could just DIY-it and stick some velcro on a few cubes yourself.
In addition to the velcro, there are also two rows of MOLLE here. Again, this is a great feature and some great thinking from GORUCK. If you've got a GORUCK field pocket or smaller pouch with some MOLLE on it you can secure it that way. You'll also notice that the outside has four rows of MOLLE while the inside has two. This is because you won't need quite as much security and stability on the interior versus the outside, plus it will be much easier to attach and reattach as necessary.
While there are only a few features on the interior of this pack, we really liked how GORUCK has arranged everything and you can tell there was a lot of thought put into it. Clearly, this bag has very little internal organization but the few pockets it does have are well constructed and strategically placed.
If you like having a good amount of organization or you don't like using packing cubes, the GR3 might not be your best bet. We tend to like packing cubes and we've found that the handful of pockets do provide enough organization for us to get by. When it comes to bags this big, we've actually found that packing cubes are a much more efficient way to organize everything—you can simply grab the pouch you need instead of searching through an entire bag. Need a cord at the coffee shop? Just grab the cord pouch you've got instead of bending over and sorting through your enormous pack.
Durability & Testing
We've been testing out the GR3 for a couple months now, and it has held up very well. We've put the GR2 through some extensive use without any issues at all, so we're pretty confident this thing will stand the test of time.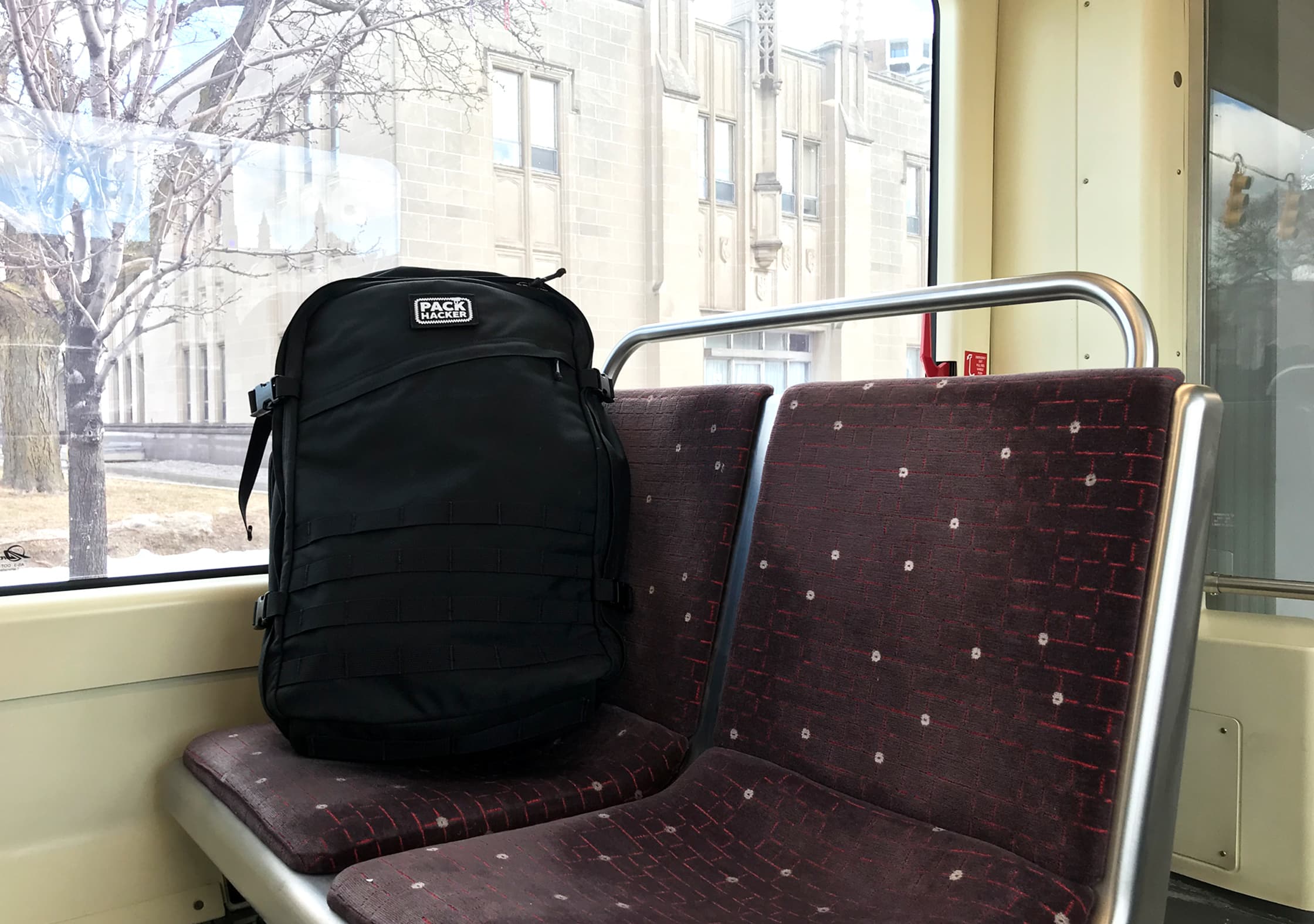 Even if there are any durability issues, GORUCK backs up their products with their GORUCK Scars Warranty, which we've heard great things about—although we've never had to use it ourselves. They're basically going to help you out with either a repair or exchange unless you have clearly put the bag through some out of the ordinary abuse. For example, they mention that if you were to put a chainsaw to the pack or throw it in a campfire, it would not be covered under their warranty. We think that's pretty reasonable.
Oh, they also tested all the stress points on this bag with up to 400 pounds! So that means this pack can hold the weight of two decent-sized human beings, which is not something most bag manufacturers would be eager to test out.
Usage Timeline
Initial Usage
Condition: Excellent
Looks great, although the straps are a little uncomfortable right off the bat. Packing cubes are a must!
1 Month of Use
Condition: Excellent
Straps have broken in a bit, feeling more comfortable. This thing is huge.
Access the Pro Community Discussion
Get your questions about the GORUCK GR3 answered from our team and the Pro Community right here on the page. Plus, join discussions with other members about gear, guides, and more.
Other Bags & Luggage Reviews