Chrome Industries Macheto Travel Backpack Review
The Chrome Macheto is a slick, highly durable cube-shaped travel pack from a trusted brand—which is great. But… the carry leaves a lot to be desired.
Our Verdict
Unlock the Pro Summary
Save time. Get access to brief summaries of our reviews so you can browse and make decisions more efficiently.
Pros
Slick look
High durability from a trusted brand
Smart "suitcase-like" features
Cons
Too bulky and cubey
Harness system doesn't account for weight and size
Compression buckles are hard to deal with
Recent Pack Hacker Video
Technical Details
Capacity

48l

42 liters when compressed

Dimensions

18 in x 13.5 in x 12 in (45.7 x 34.3 x 30.5 cm)

Height is 10" when compressed

Notable Materials

Ballistic Nylon, Tarpaulin, YKK Zippers, Polyester

Manufacturing Country

China

Laptop Compartment Size

15"

Warranty Information
Full Review
Get up to 10% off Chrome Industries • Join Pack Hacker Pro
In this review, we are looking at the Chrome Macheto Travel Backpack. Chrome is a popular urban gear brand that has been putting out bags, clothing and footwear for over twenty years now. If you've never heard of them, you'll probably recognize their logo—a slightly Germanic falcon-lion looking thing… Griffon? Pretty sure it's a griffon.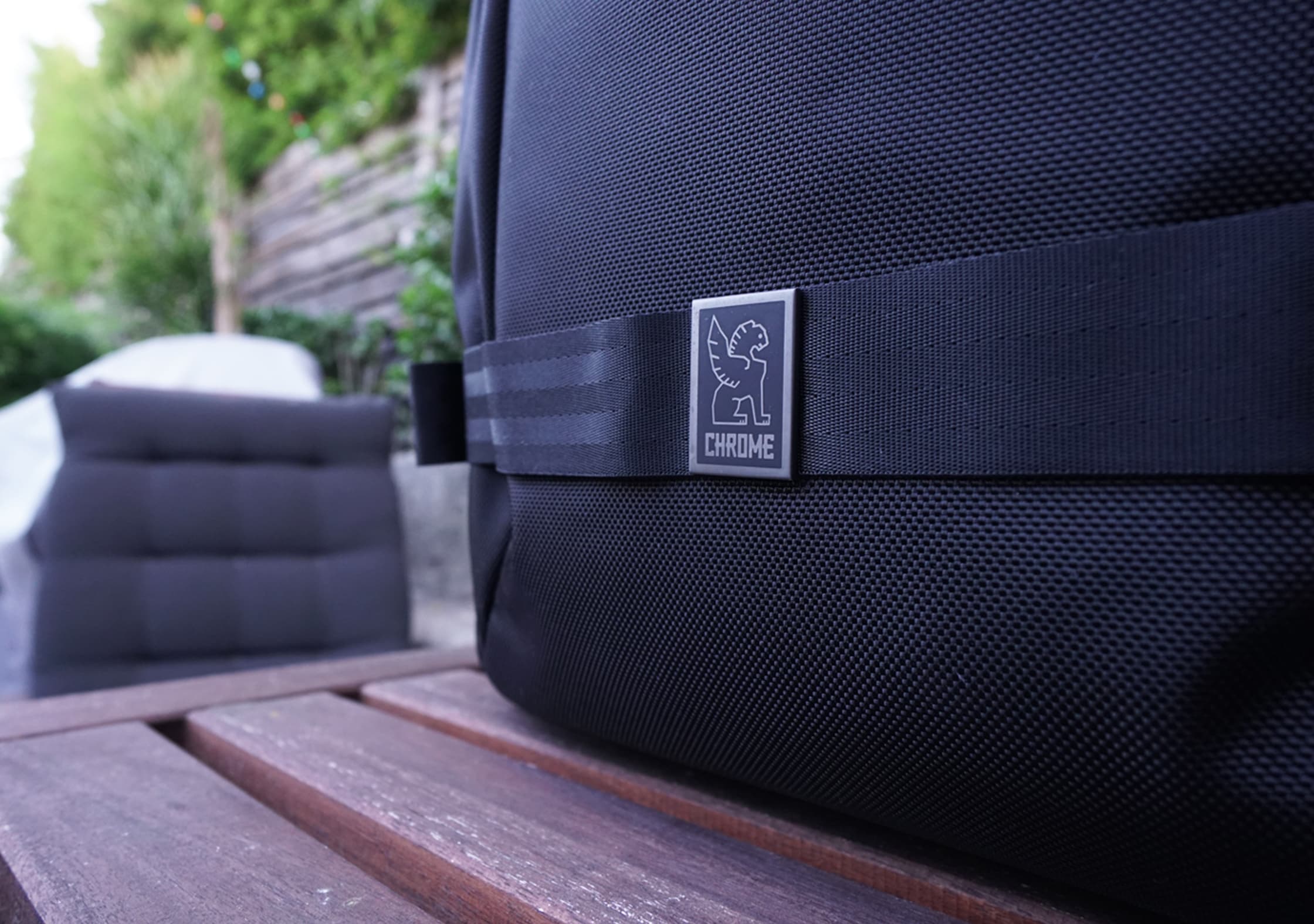 They're mostly known for their messenger bags—especially the ones with the seat belt buckle straps, which are super popular among cyclists. They've recently delved into travel-specific backpacks, and the Chrome Macheto is one of their first full fledged one bag travel pack.
We've used some various Chrome gear over the years and been really happy with their quality, so we were pretty excited to get our hands on this pack. Let's check it out…
Material & Aesthetic
As soon as you get this thing fully packed, one thing becomes abundantly clear. It's a box. We've actually been referring to it as "The Chunker" during our travels because it's just that—chunky.
We generally don't like this in a pack, but it kind of works with this bag. It seems like this was an intentional move on Chrome's part—it fits with the overall styling of the bag and doesn't look bad, like some other chunky packs we've seen.
It does have multiple compressions systems—both straps and zippers—which help make it a little less boxy. Well, they really just make it into a smaller box. If you're in a packed subway car with this thing you are guaranteed to smack some faces.
Now, the real drawback with this "boxiness" is that it does affect how the pack carries. If you've got a lot of heavy gear in here it can be a little cumbersome. You generally want the weight of a pack to be as close to your back as possible, but with this bag that just isn't going to happen. No matter what you do, there's going to be a lot of weight far from your back—it kind of pulls down on your center of gravity more than a lower profile bag would.
Despite the chunkiness, we can confirm that it fits in the overhead carry-on compartments of both Delta and Spirit airlines. And it will fit under the seat in front of you. It's hard to believe, but it will work.
This pack only comes in one color at the moment, which is black. Almost all of Chrome's bags come in only black, actually, which we're not mad about.
The outside is covered with 1680D Ballistic Nylon. Without getting too specific, 1680D Ballistic Nylon is thick and heavy—meaning the exterior of this pack will stand up to a lot of abuse. The material itself should be pretty water resistant and very resistant to scrapes and abrasions.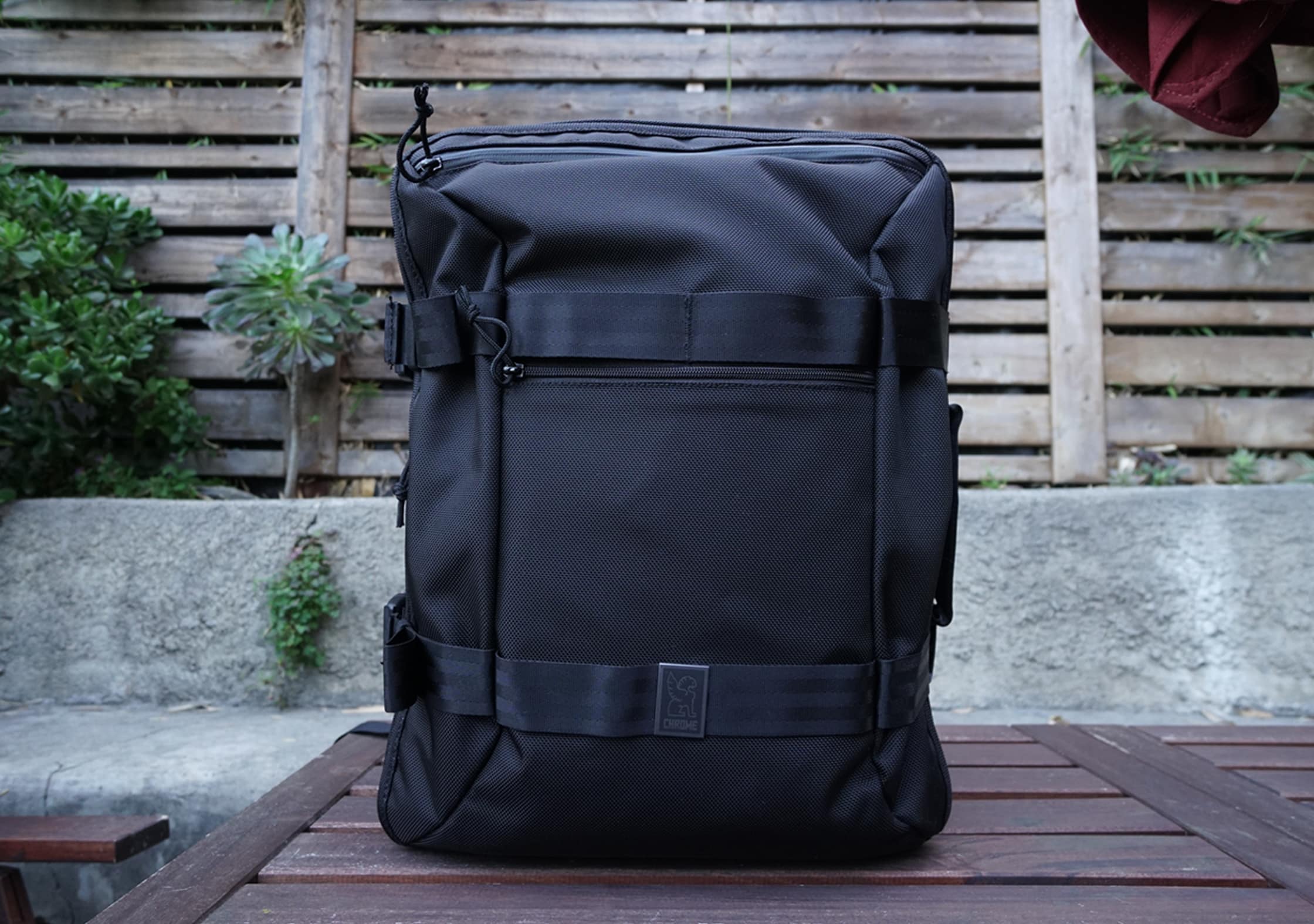 There's some minimalistic branding on the compression straps that fits in really nicely with the overall theme of the bag. Sometimes Chrome gets a little crazy with big red and black logos, but we really like this black on black look.
On the sides of the bag there is some more 1680D Ballistic Nylon that gives a lot of structure to the pack. It actually has a weave that is very reminiscent of a seat belt… In the past, Chrome did use seat belt buckles and some other salvaged materials on their bags. Is this actually made of repurposed seat belts? Our gut says no… But it does look cool.
External Components
The most obvious external components on this bag are the compression straps. They're just about the only thing you notice on the pack outside of the branding and zippers. These have that seat belt look as well, and it's a bit more pronounced than on the sides.
It sort of says something about this bag too… Nylon webbing? Nope. Paracord? Nah. A DOT-certified seat belt? That'll do.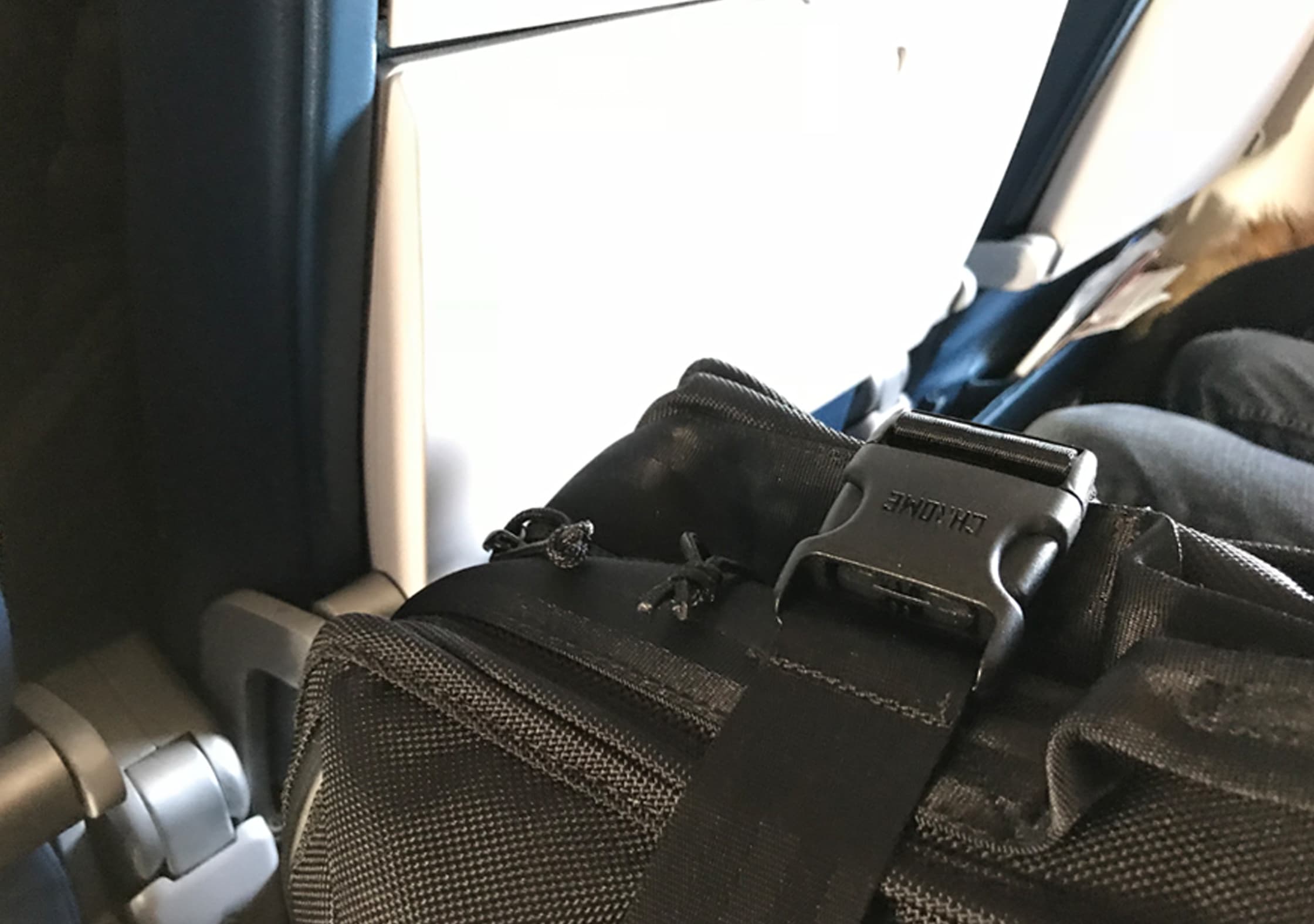 The compression straps have a super beefy plastic buckle on the side that you can use to tighten everything up. Normally plastic buckles can be a cause for concern, but these things are pretty massive—you'd have to really put some work in to break these suckers.
There are some elastic loops on the sides that you can use to tuck away any excess strap after you sinch things up. These loops are pretty flimsy and we think they would probably be one of the first things to fail on this pack.
In addition to the compression straps, there is also a zipper compression system. This is really just a zipper that goes around the outermost part of the pack. Unzipped, it will give you an extra two inches-ish of depth on the outermost pocket. But if you zip this up, it will just remove that extra depth and compress things a bit more. Most of the time you should be able to zip this up when the bag is packed and it will help lower the profile quite a bit. If it's really packed to the brim, you're not going to be able to zip this up.
When it comes to the shoulder straps, we really have no complaints. They've got some nice high-density foam and are really comfortable overall. Again, they've been doing this for years—it's not surprising that they've got the whole comfortable shoulder strap thing down.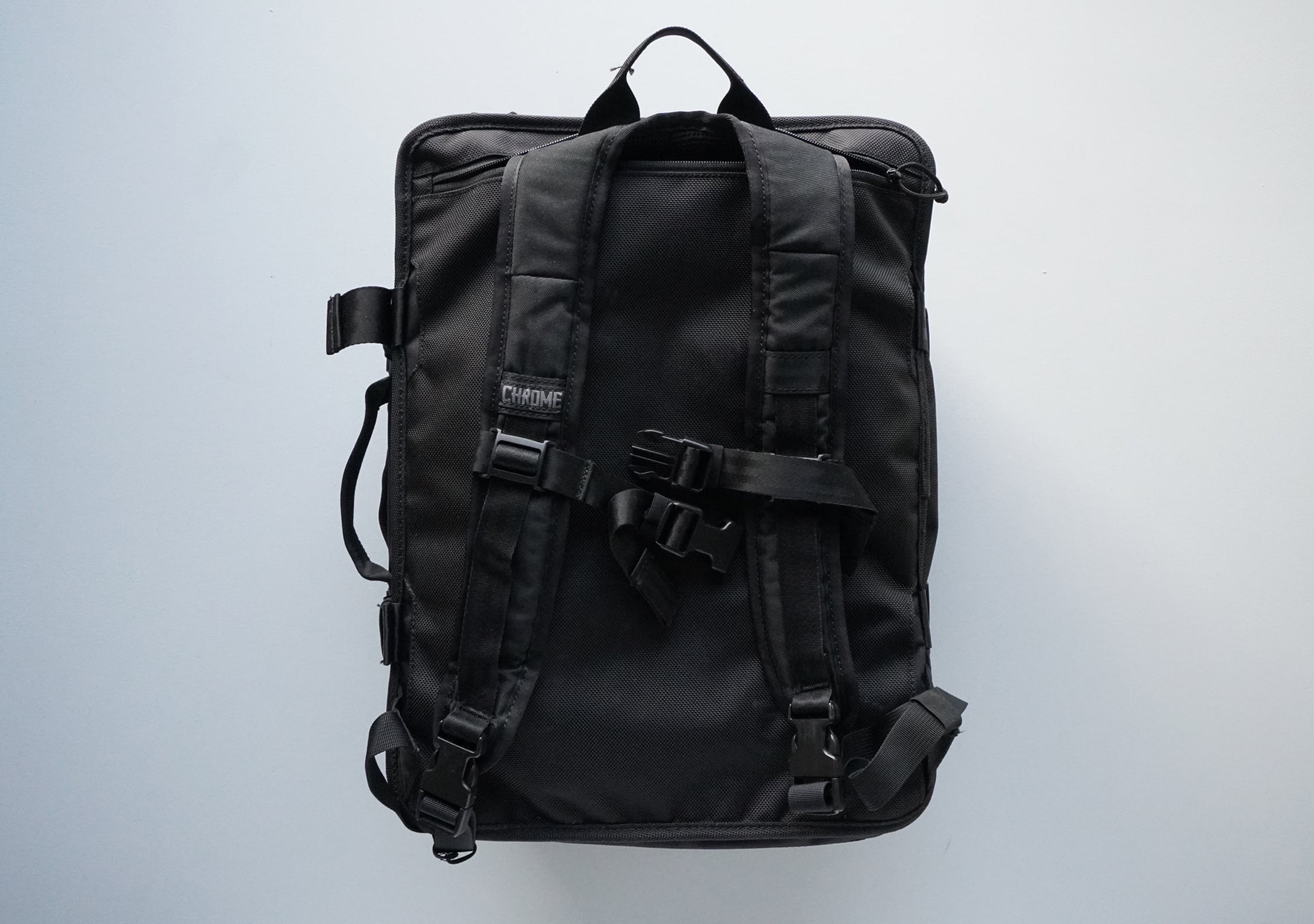 The sternum strap is pretty standard, very adjustable from both sides of the buckle. It's also got a beefier-than-normal buckle, so the durability should hold up well there.
Moving on to the hip bel—oh… Right. There's no hip belt. Hmm…
We tend to be pretty situational with hip belts here at Pack Hacker (it really depends on the amount of weight you're carrying) but to not have one at all on a travel pack is a bit alarming. A removable hip belt would be really nice here and would go a long way with the carry problems we've already seen on this bag.
Understandable for a day pack or something, but as far as we're concerned if you're marketing a pack as travel-specific you've got to have some sort of hip belt option.
The back panel behind the shoulder straps is pretty flimsy, to be honest. Most packs will have some sort of frame sheet in here to give it some shape, but there's just nothing here. This is okay if you've got a laptop or something up against your back, but depending on how your bag is packed it can affect the carry. It doesn't have much of a defined "structure," which is noticeable while wearing it.
Like many packs in this category, there is a hideaway system for the shoulder straps. Chrome has done a really nice job with their system—it hides your straps, it's simple, and it's easy to use. Everything you want, right?
All you need to do is unbuckle the straps and hide them using the zippered opening at the top of the back panel. Zip that up, and then you can take the lower-portion of the shoulder straps and hide them away in the sides of the bag. Easy. Simple. We love it.
You can hide the compression straps as well, but it's a bit of a hassle and you'll be left with some parts still dangling. To be honest, we're not really sure why you would—we suggest keeping them buckled in transit.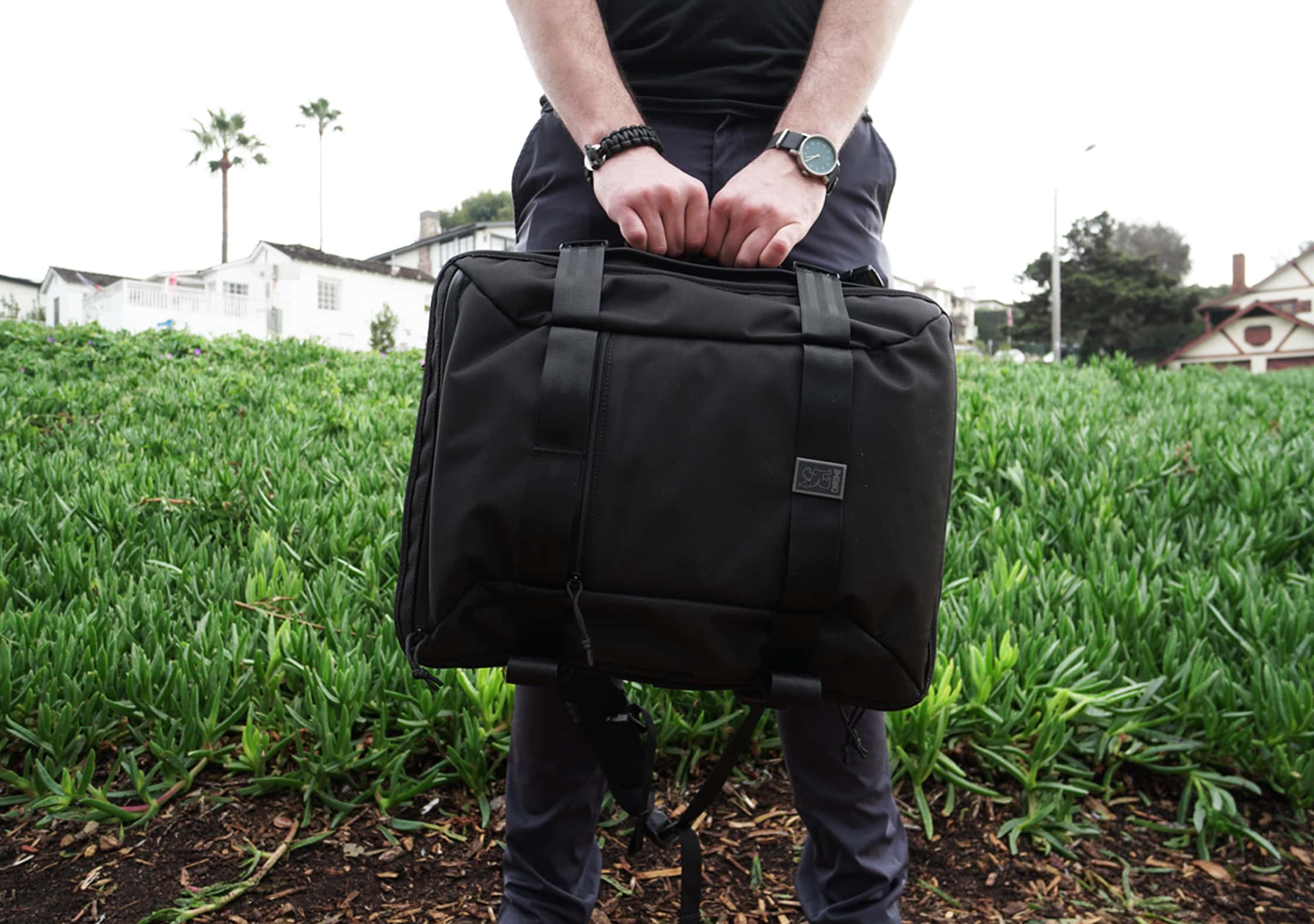 On the side of the pack are two briefcase-style handles which actually work very well. You can kind of bunch them together in order to hold everything in one hand. We've actually found this bag functions quite well in briefcase-mode if the load is light enough—much better than other travel packs with similar handles. The handles are centered nicely, they're pretty comfortable and the weight is distributed correctly.
Inside the Pack
Time to dive into the inside of this bad boy. Near the compression straps there are two external pockets. One is right under the top compression strap and extends to the bottom of the pack, while the other is at the very top of the bag. Both have a nice waterproof tarpaulin liner.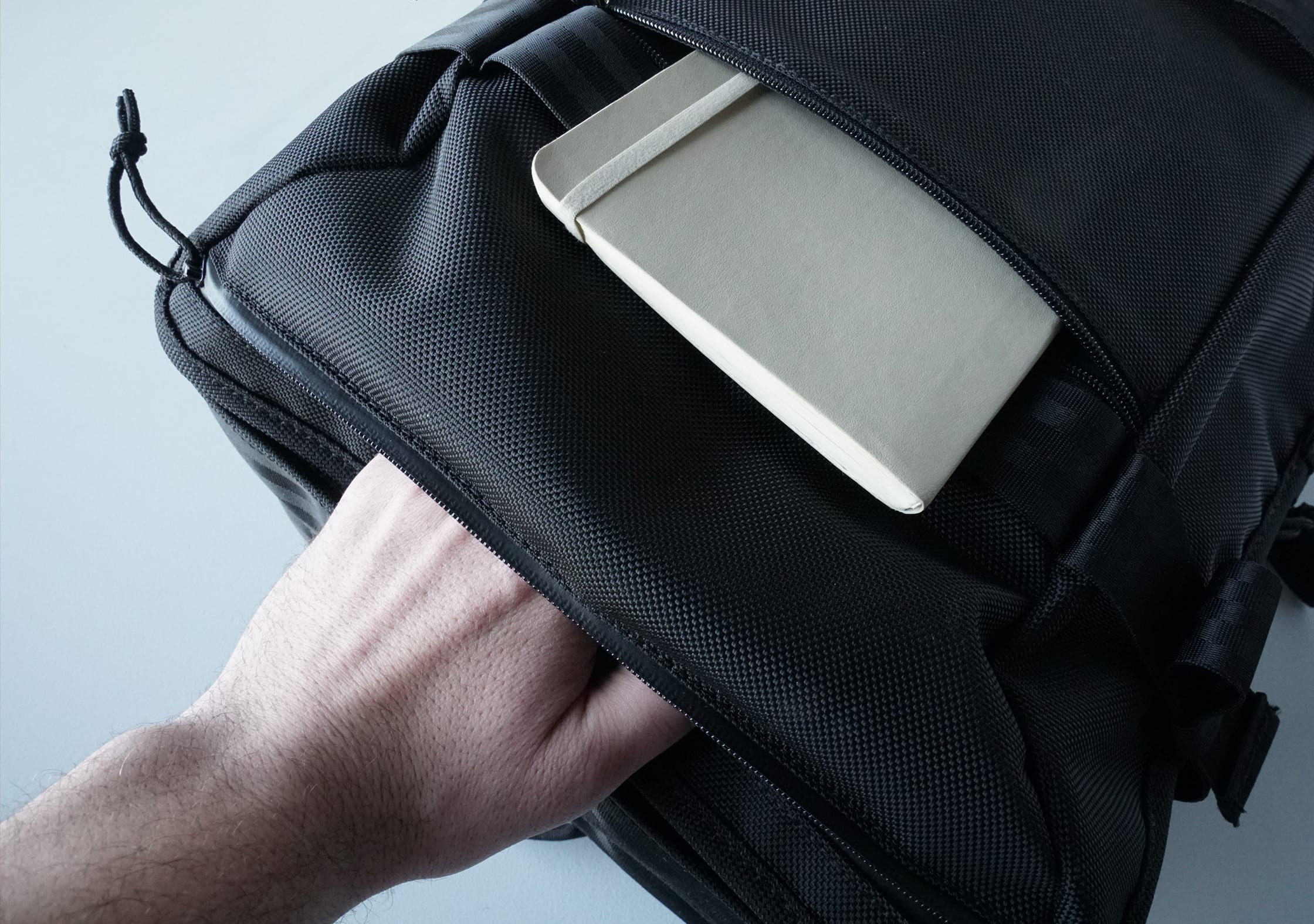 What is tarpaulin, exactly? Well, technically speaking it's not really a "type" of fabric—it's actually just a term for any large sheet of waterproof fabric. This is where the word "tarp" comes from… Making sense now?
Over the years, tarpaulin has come to be a catch-all term for various types of waterproof fabric. Generally, these fabrics are some sort of canvas or polyester coated in polyurethane for waterproofing, but in this case the liner on these pockets is made of 1000D TPE (Tri-Poly-Ethylene) tarpaulin. This is one of the most common types of tarpaulin—it's really just a simple fabric made from plastics.
What does this all mean? Well, the liner is made of a relatively-cheap, waterproof plastic material. The fabric itself isn't overly durable, but because it is so thick on this bag, it should hold up nicely.
It's highly water resistant and it probably won't break. That pretty much covers it. Sorry for nerding out.
Now that we've gotten the technicalities out of the way… What are these pockets good for, exactly? Well, the lower pocket is great for slim items like a notebook. You can't really put any bulky items in here. And the top pocket is a great airport-security area for keeping your liquids or necessities handy while getting through that dreaded security line.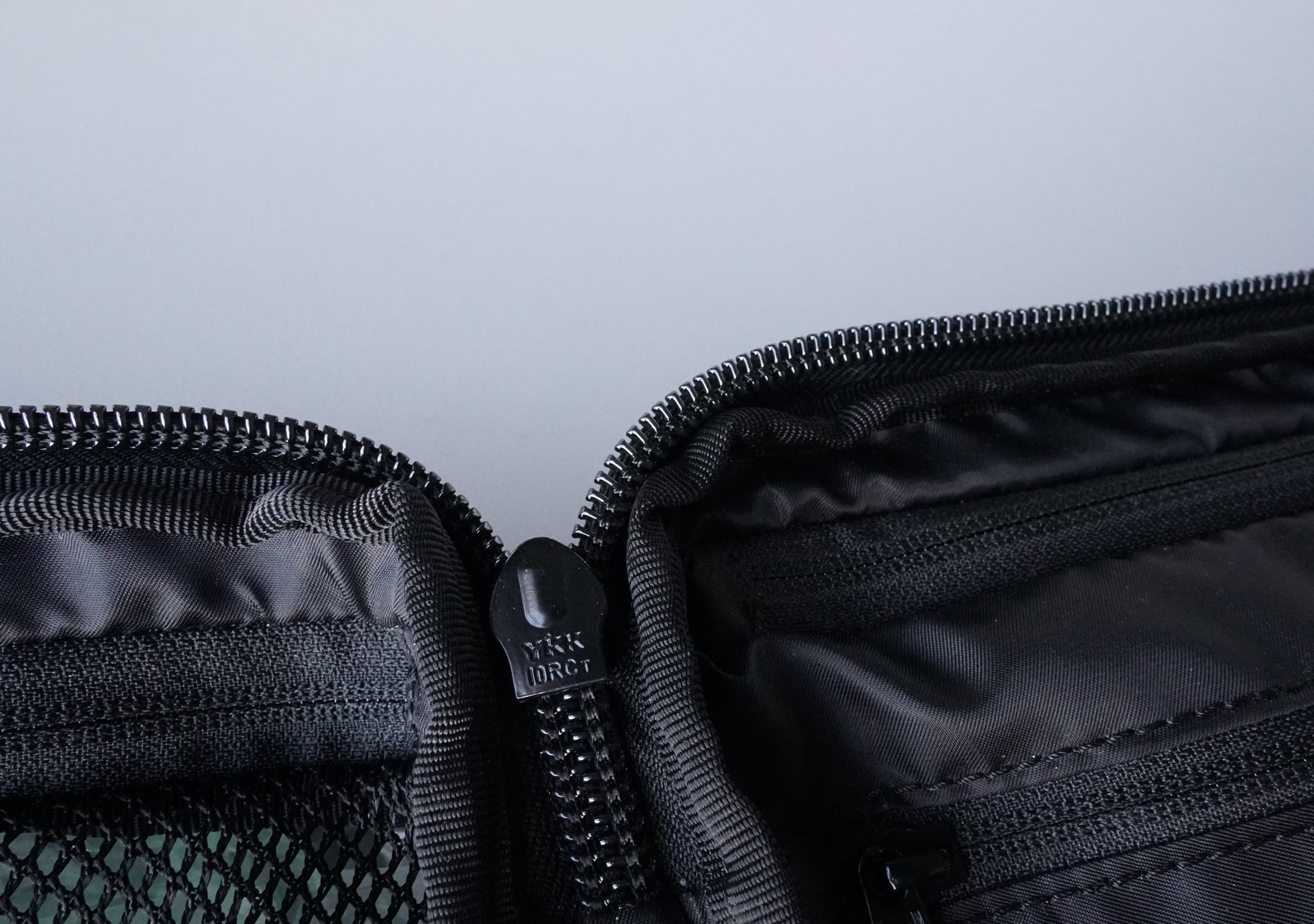 The external pockets have some great water resistant YKK zippers, which we love, and the main zippers are super beefy YKK's. Big points here for durability, we have no qualms about these zippers.
On the back panel there's a standard laptop pocket—fits up to 15" laptops—with some nice padding. The laptop sits nicely in the center of the bag, so if you drop it, the edges of your laptop should stay nice and safe. You've got an inch or two of breathing room there.
Time to open up this big ole clamshell pocket (with YKK RC #10 zippers). Chrome has really taken the clamshell design and ran with it—this thing feels like a suitcase when you open it up. You're not going to have this pocket half open, it's either all or nothing.
Inside that clam shell there is, big surprise, a ton of room. The left side has a fully open packing area with a mesh zipped cover. This is a great spot to throw folded or rolled clothes. You could easily pack things up and zip that mesh cover over to keep everything organized and in place. Keep in mind, those external pockets will intrude on this space.
To us, this pocket is just asking for some packing cubes—so we threw in two small and one medium Eagle Creek Specter Tech Cubes. This allows for a lot more organization, but isn't totally necessary. Whatever fills your pack!
Moving to the other side, there's a top pocket that is great for flat items. On the bottom is a pretty simple ⅓ mesh pocket. The key, of course, is that this whole side zips open to expose another compartment that is about the same size as the other one (it's a little less deep because of the laptop pocket). So, again, this is a great place to throw clothes and various essentials in while keeping things organized by zipping up that main cover.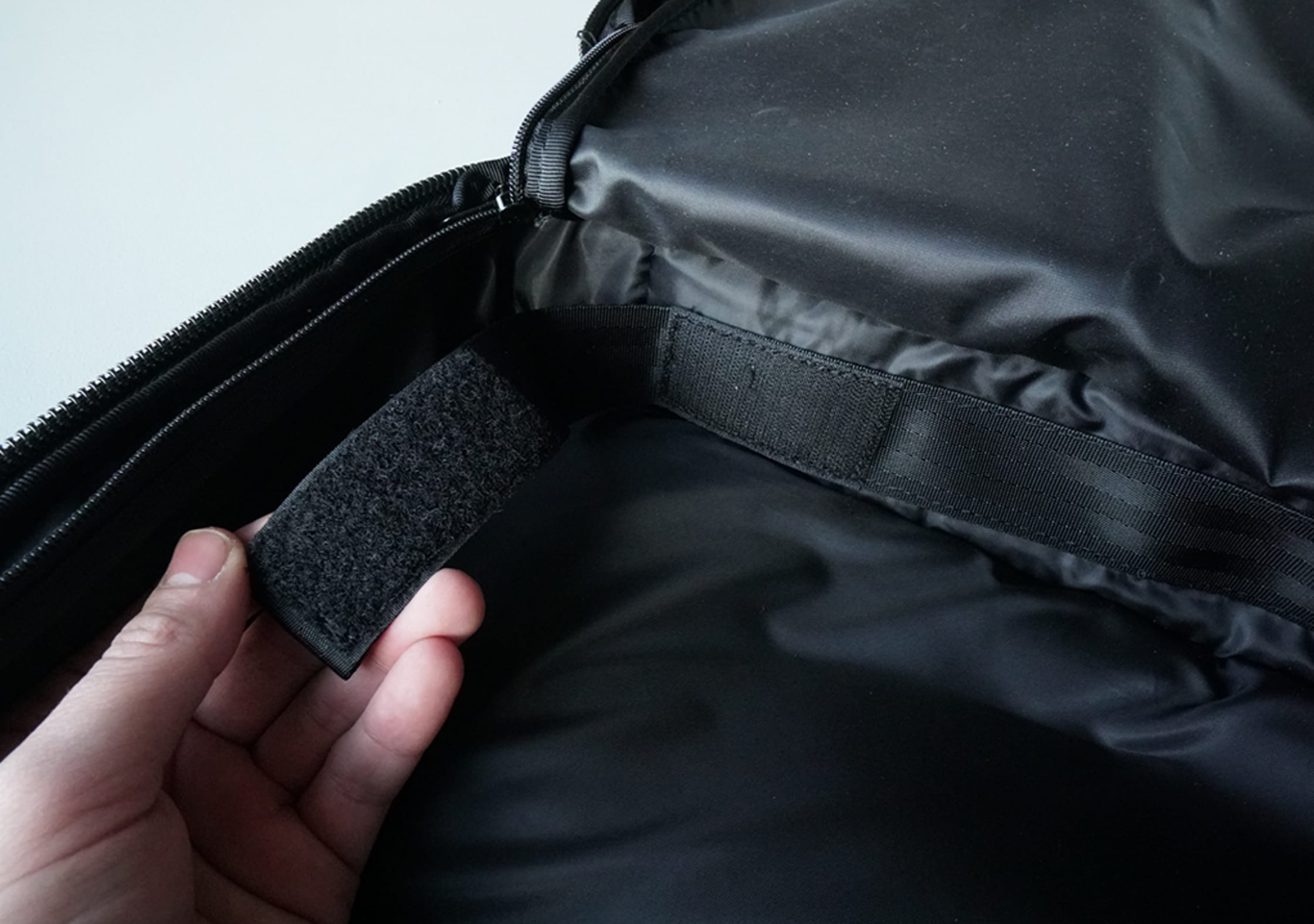 There is a weird velcro strap on that right side… We're really not sure what that is for, to be honest. It's not big enough to strap down your clothes or anything. If you've found a good use for it, drop us a line!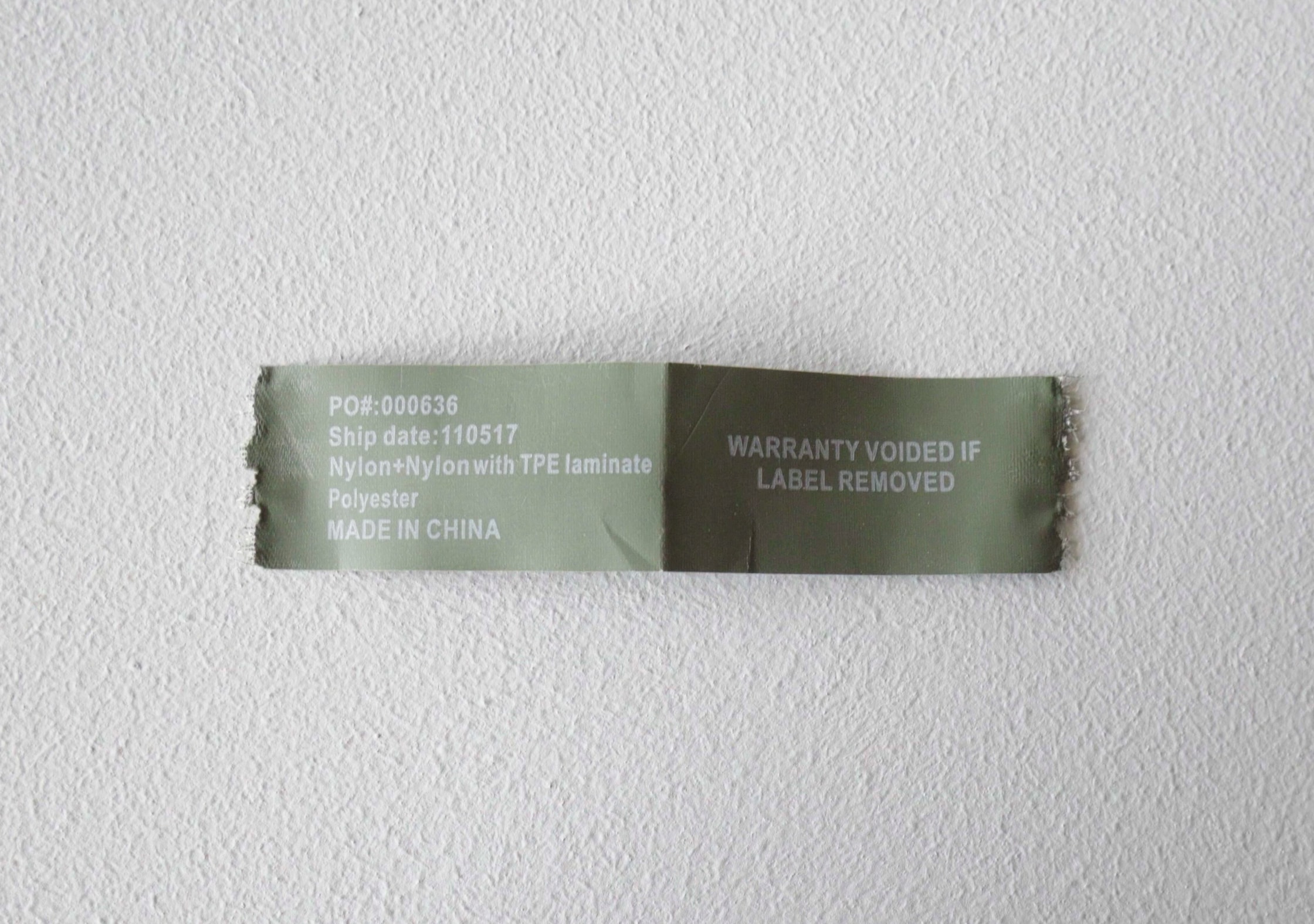 Oh, and the warranty label. This thing really caught us by surprise. It's a tiny green label inside that right compartment—it looks like some simple tag that lists the materials or something. Well, we like materials… So, of course we wanted to check it out!
Before we could even read what was on this thing, it ripped right off the pack. The good news? It does have some additional info—the ship date, fabrics, and classic MADE IN CHINA. Great stuff.
The bad news? The other side says "WARRANTY VOIDED IF LABEL REMOVED."
So… apparently our warranty is now void. That's cool. Note to self: don't touch small tags, even if they may have exciting information on them.
The takeaway here is that this clamshell pocket has a ton of space. While there really isn't much internal organization, that's also kind of the beauty of it… You can do whatever you want with this space. Simple, yet versatile.
Durability & Testing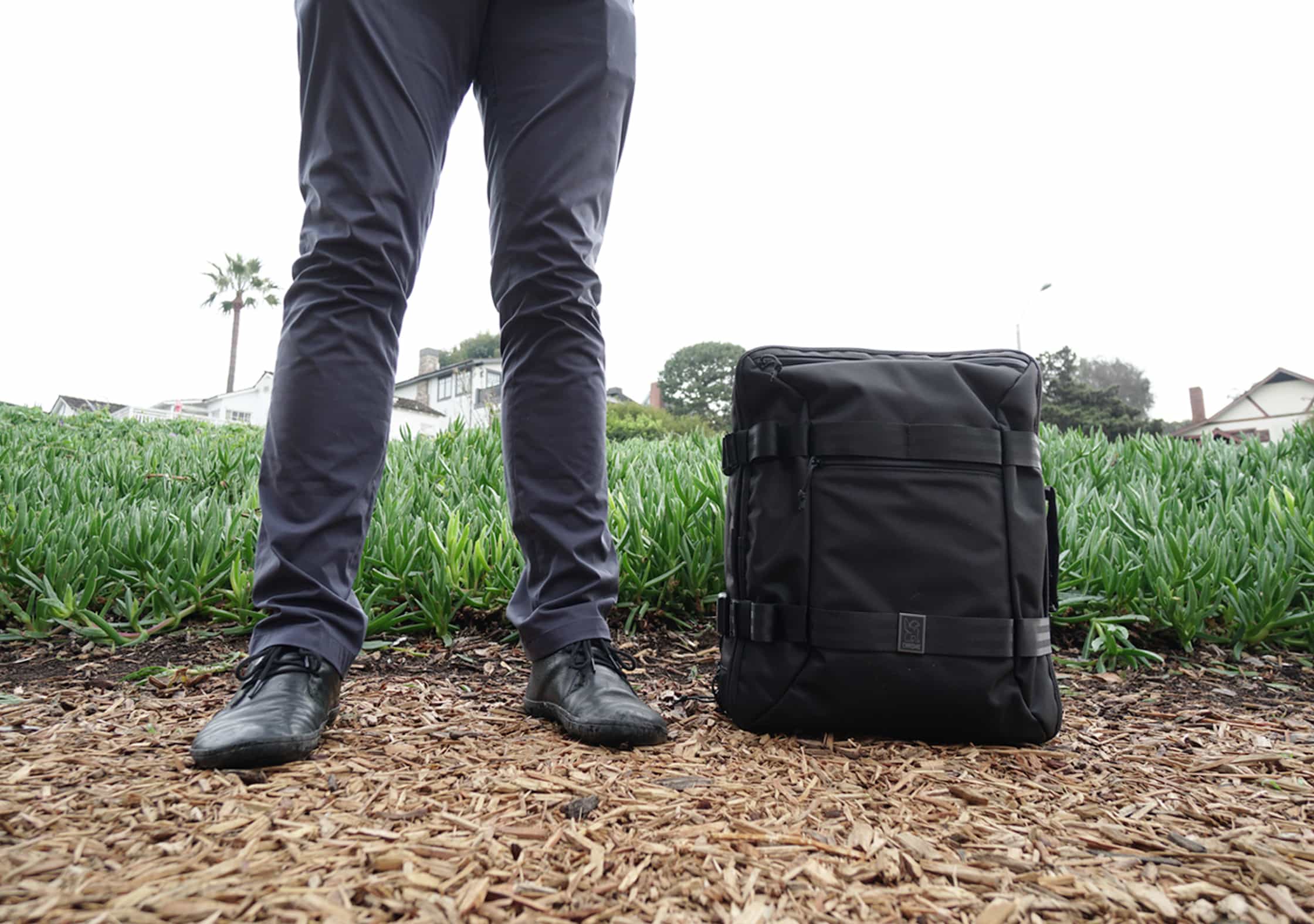 We've been testing the Chrome Macheto backpack for about 1.5 months now and have no complaints as far as durability goes. Tom has actually had a Chrome messenger bag for almost ten years and it is still going strong. He did have a buckle break in a car door—c'mon, it's a car door—but was able to get it repaired on the spot at a Chrome shop pro bono. Pretty awesome.
Other than those little elastic loops on the compression straps, we are pretty confident this bag will stand the test of time. And hopefully it does, because ours is no longer under warranty… Still a little bitter about that.
The Verdict
The Chrome Macheto is a great looking travel pack that pulls off the boxy, cube look exceptionally well. The durability is top-notch and it's got a lot of great functionality with its huge clamshell pocket. Someone who is used to traveling with a suitcase will have no problems packing this thing up.
But the main downside with this bag is the carry. There's just no way to put a big boxy shape on your back and have it be comfortable… It really hangs off your back and pulls your center of gravity down. If you're going to be doing a lot of walking during your travels, this will be noticeable. Plus, you're guaranteed to smack some things—or people—by accident.
The way a bag carries is super important for travel. As cool as this thing looks, it's hard to get by the carry.
Usage Timeline
Initial Usage
Condition: Excellent
Looks great, works well, although the carry could be better.
1 Month of Use
Condition: Good
Still holding up well. When fully packed – it's not the most comfortable as the weight is far from the wearer's back.
2 Months of Use
Condition: Good
Still chunky. Still going strong.
Access the Pro Community Discussion
Get your questions about the Chrome Industries Macheto Travel Backpack answered from our team and the Pro Community right here on the page. Plus, join discussions with other members about gear, guides, and more.
Other Bags & Luggage Reviews