Timbuk2 Closer Laptop Briefcase Review
Timbuk2's Closer Laptop Briefcase adds convenient touches that make it more versatile than a classic briefcase design, but we wish it came in larger sizes.
Our Verdict
Unlock the Pro Summary
Save time. Get access to brief summaries of our reviews so you can browse and make decisions more efficiently.
Pros
Extra set of velcro to adjust and secure the flap
Luggage pass-through doubles as a large pocket
Comes with a waist strap for extra stability
Cons
Water bottle pocket lacks stretch
Doesn't come in bigger sizes for larger laptops
Shoulder strap padding easily moves out of place
Recent Pack Hacker Video
Technical Details
Capacity

10l

Weight (lb)

2.2 lb (1 kg)

Dimensions

13 in x 15.4 in x 3.15 in (33 x 39.1 x 8 cm)

Notable Materials

Nylon, Duraflex Hardware, YKK Zippers

Manufacturing Country

Indonesia

Laptop Compartment Size

15"

Warranty Information
Full Review
Putting a contemporary twist on classic design can be a good opportunity to put forth one's interpretation of what it should be today. It can be as faithful to the original as desired, keeping the vintage looks, but with modern amenities—like installing internet in an old Victorian home. Or it can be as radical as Timbuk2's interpretation of a modern briefcase.

The Closer Laptop Briefcase does away with the leather and beige aesthetic and trades it in for shades of gray plus some modern amenities. As a result, it looks less like it belongs in a 1920's courthouse and more like something you'd find in a 2020's IT department. In addition, it has a dedicated laptop compartment, adjustable flap, flexible carrying options, and a well-positioned Napoleon pocket—all great stuff, whether you're working in-office or remotely. In this review, we'll discuss how the Closer does as a laptop briefcase.
Materials & Aesthetic
Straight away, the Closer makes a rather good impression with its sharp and professional look. There are two colorways available at the time of writing, the aptly named Jet Black Static and Typeset. With colorways named like that, you know the Closer will fit in a professional setting without stirring up unwanted attention. Our sample is the Jet Black Static, and we think it's the more eye-catching of the two. The outlines are accentuated by black trim, and the buckle's metal receptacles really pop, adding even more class to the design.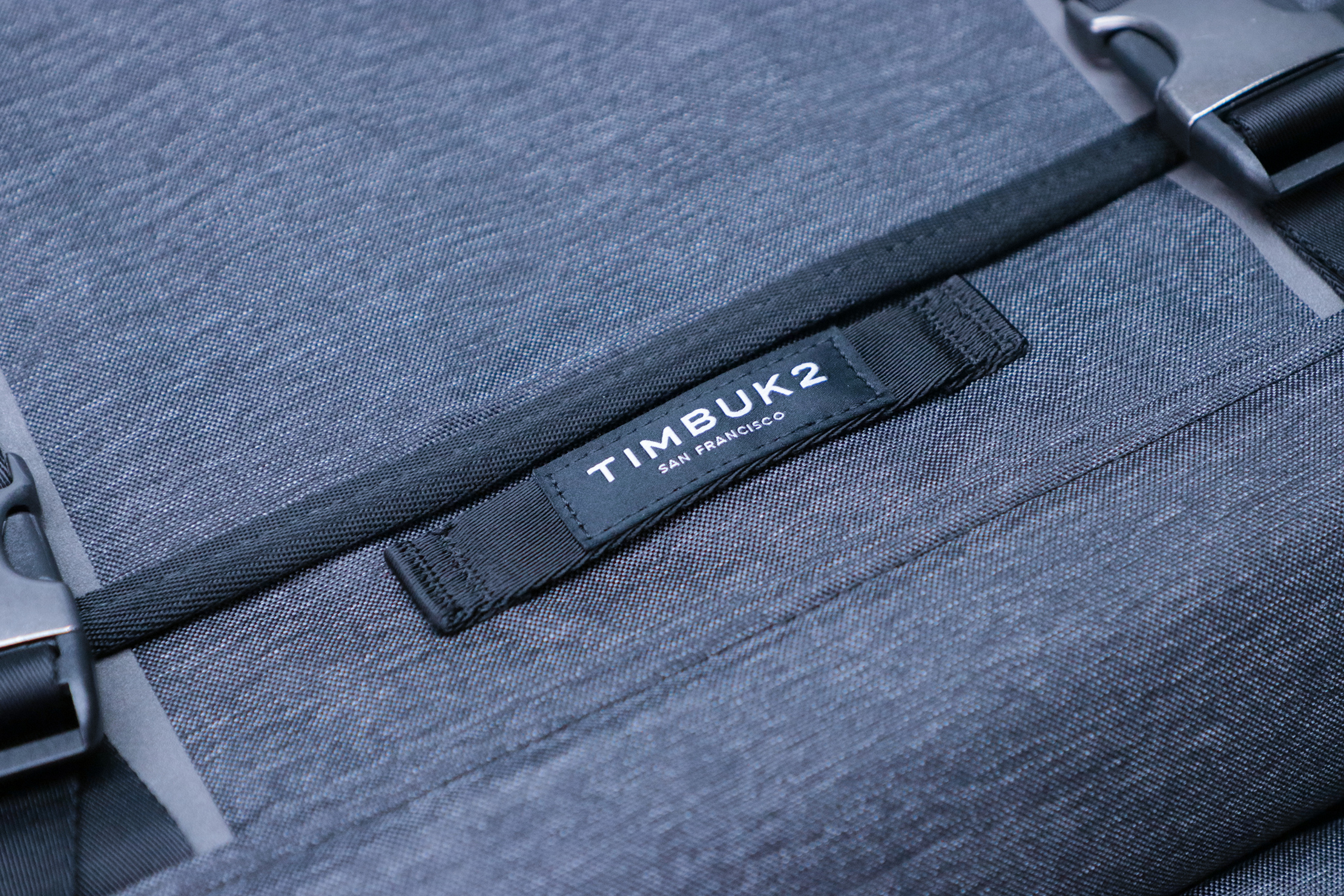 The Timbuk2 logo takes center stage, placed in the center where you'd typically see a lock on more traditional briefcase designs. Responsibility for actually securing the brief is left to the satchel-style buckles flanking the logo. We dig this contemporary take on the classic briefcase, and we think it reflects the modern features it brings to the table.
Onto more practical aspects, the Closer dons weather-resistant nylon as its main fabric, Duraflex hardware for the buckles, and YKK zippers wherever they're found. So apart from looking the part of a professional, it has the stuff to be one as well. But the ingredients are only part of the equation; it's how they're used that counts.
External Components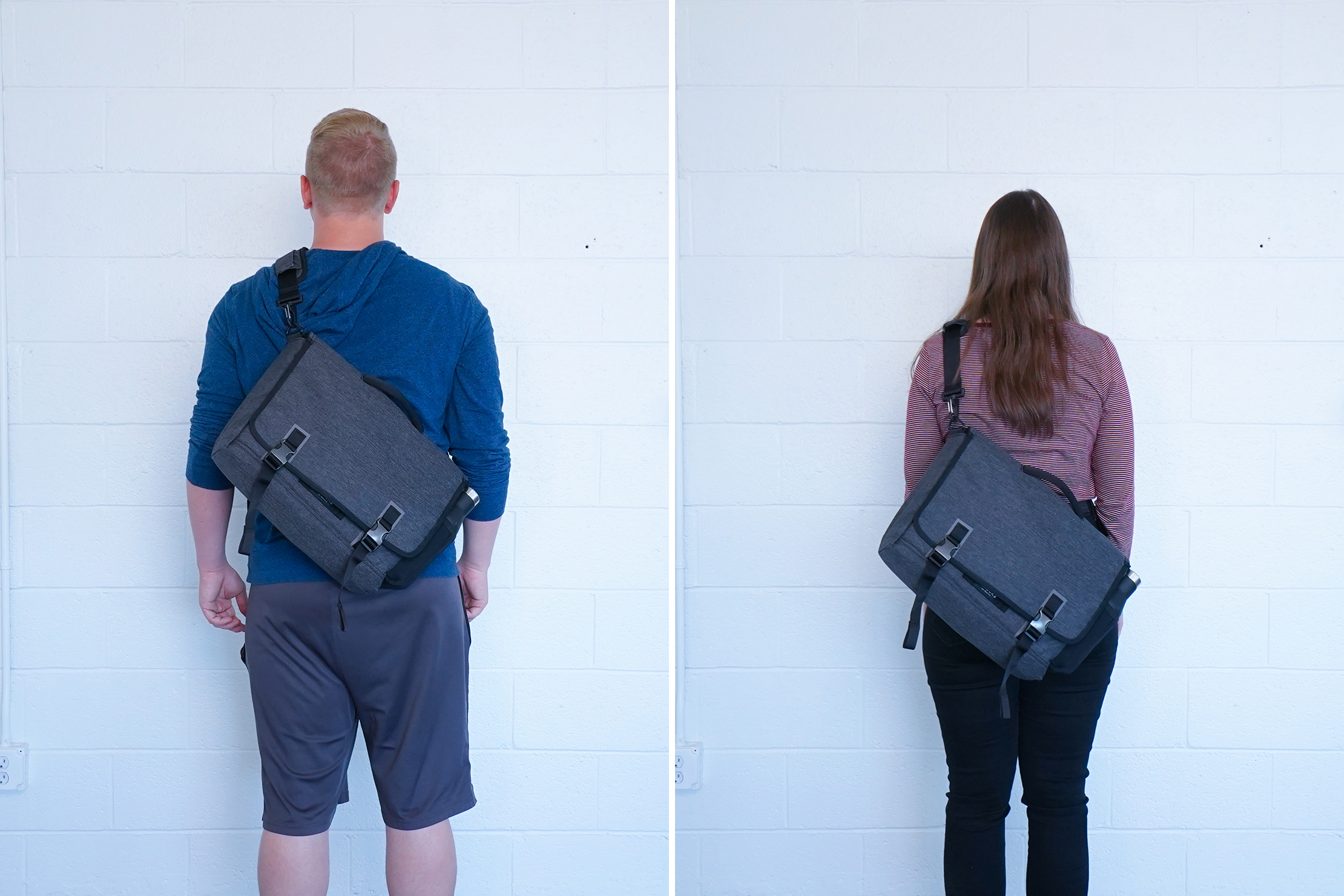 Despite the Closer being a "Laptop Briefcase," that doesn't mean it's limited to being carried around by hand exclusively. If we omit the name for a second, the Closer resembles a typical messenger bag as much as it does a briefcase. The shoulder strap is mounted via gatekeeper-style clips, meaning they can be easily removed if so desired. However, we kept the strap on because we found it more comfortable and convenient..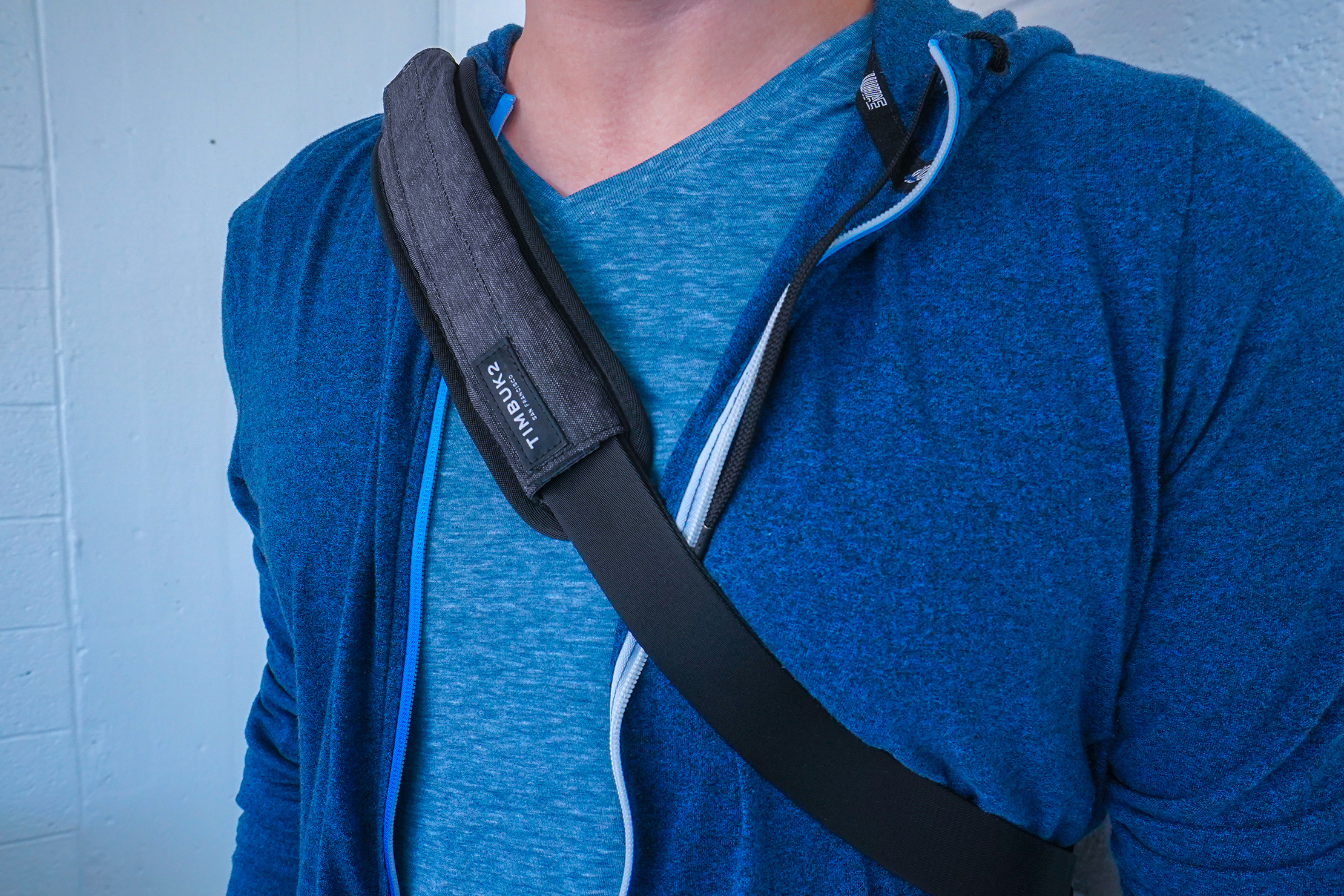 Apart from the shoulder pad slipping easily from its position, carrying the Closer is a relatively comfortable experience. It's even more comfortable when the additional waist strap is used. At 10-liters, the Closer isn't in dire need of this strap, but it's still a handy inclusion for those who get vigorous with their movements or go around town on a bike. It has a simple quick-release buckle in the middle, and it can tighten straight against the Closer when not in use, so it stays out of the way.
Of course, we can't overlook the top grab handle since this is primarily a briefcase, as Timbuk2 calls it such. What we have here is a well-padded handle that's soft to touch and doesn't obviously deform or sag the Closer's structure. Despite not being crafted from rigid leather, plastics, or metal, the Closer held together and behaved as well as a typical briefcase when carried around like one.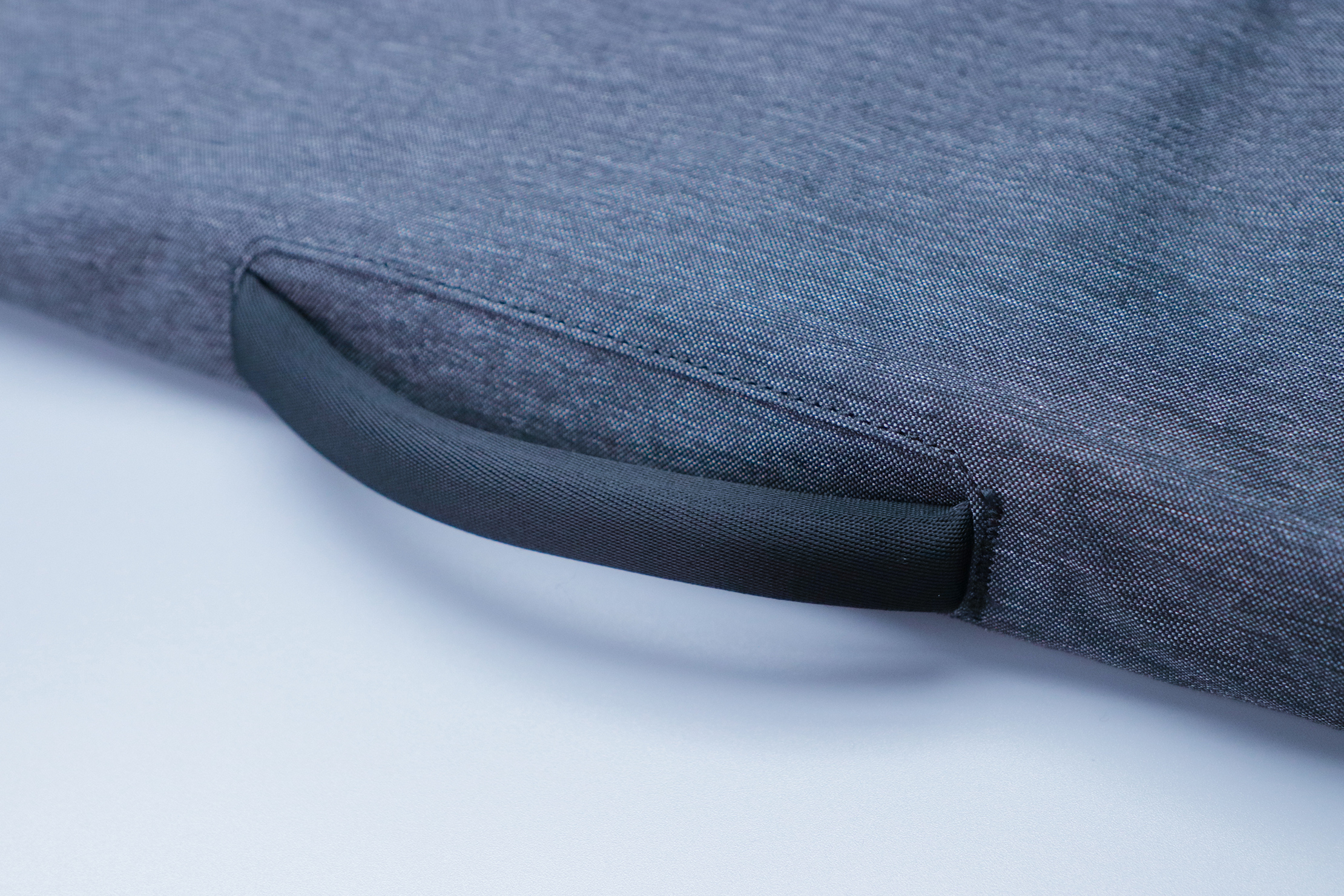 The back of the Closer features a luggage pass-through if you want to put it on your rolling luggage when going through the airport. When it's not being used as a pass-through, it can also be used as an extra compartment. Zip up the bottom of the pass-through so that it has a floor and presto! You get a quick-access compartment for your sketchpad or comic book—it's a simple yet convenient feature that we can get behind.
Lastly, there's a right side pocket for water bottles or folding umbrellas. The problem with this pocket is it's not as big as we first thought it was. We were able to fit our 16-oz EcoVessel The ASPEN here, but it was a pretty close fit, so your mileage may vary depending on how skinny your bottle is. Folding umbrellas could also fit inside, but the same caveats apply.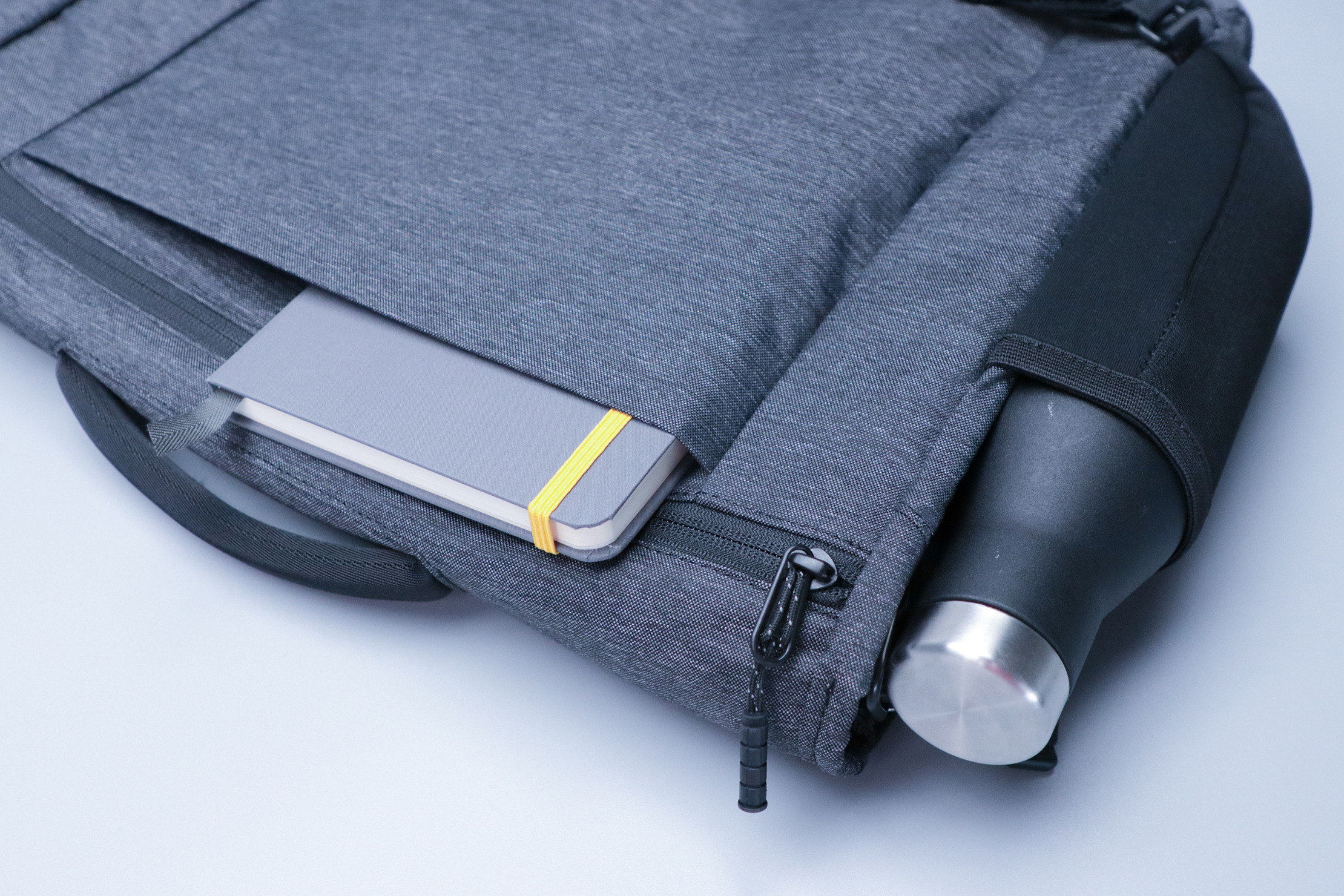 Inside The Briefcase
We'll start with Closer's flap because Timbuk2 snuck in a neat feature here that some might find handy. Undo the flap's length-adjustable buckles, and you'll find a wide loop-side velcro underneath that spans almost the entire width of the flap. On the bag itself are two grey strips that are hiding hook-side velcros underneath their respective covers. Yes, this makes the Closer's flap height adjustable, and unlike the buckles, it stays in the position where you attach the velcro.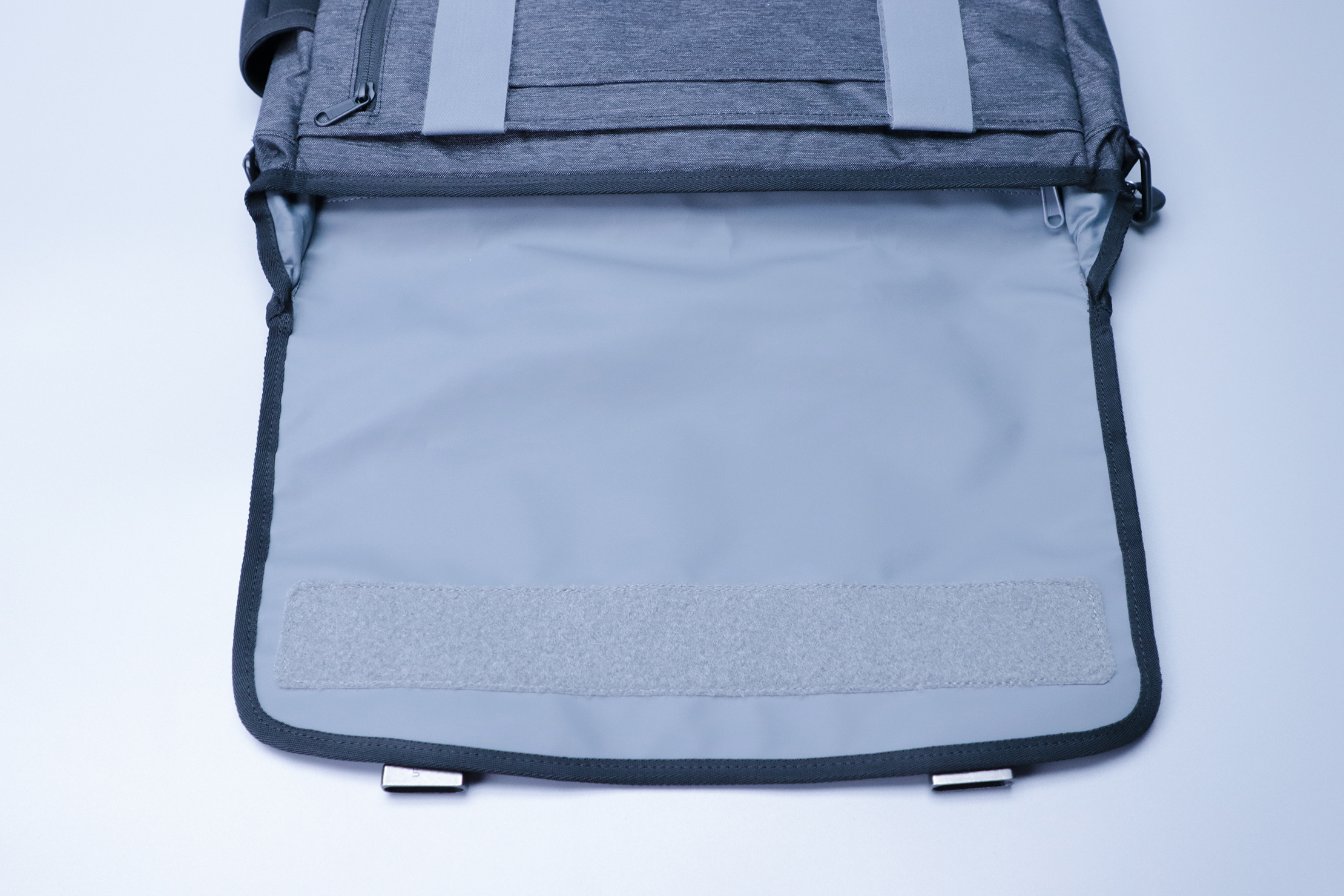 Between the hook-side velcro strips is a liner pocket for passport-sized items like, well, a passport or a field notebook. For everyday carry items that need more security, a Napoleon pocket is near the right side edge. It has a long built-in key leash, and the pocket is relatively easy to access due to its position but remains hidden underneath the flap. It's convenient and secure for EDC items like sunglasses and metro cards.
Behind the passport pocket is a wide compartment for larger notebooks or notepads. Personally, we use this for our iPad Pro just so it has its own dedicated space from the rest of our gear. This way, we know where to look first for our Apple Pencil if it gets separated from the tablet again.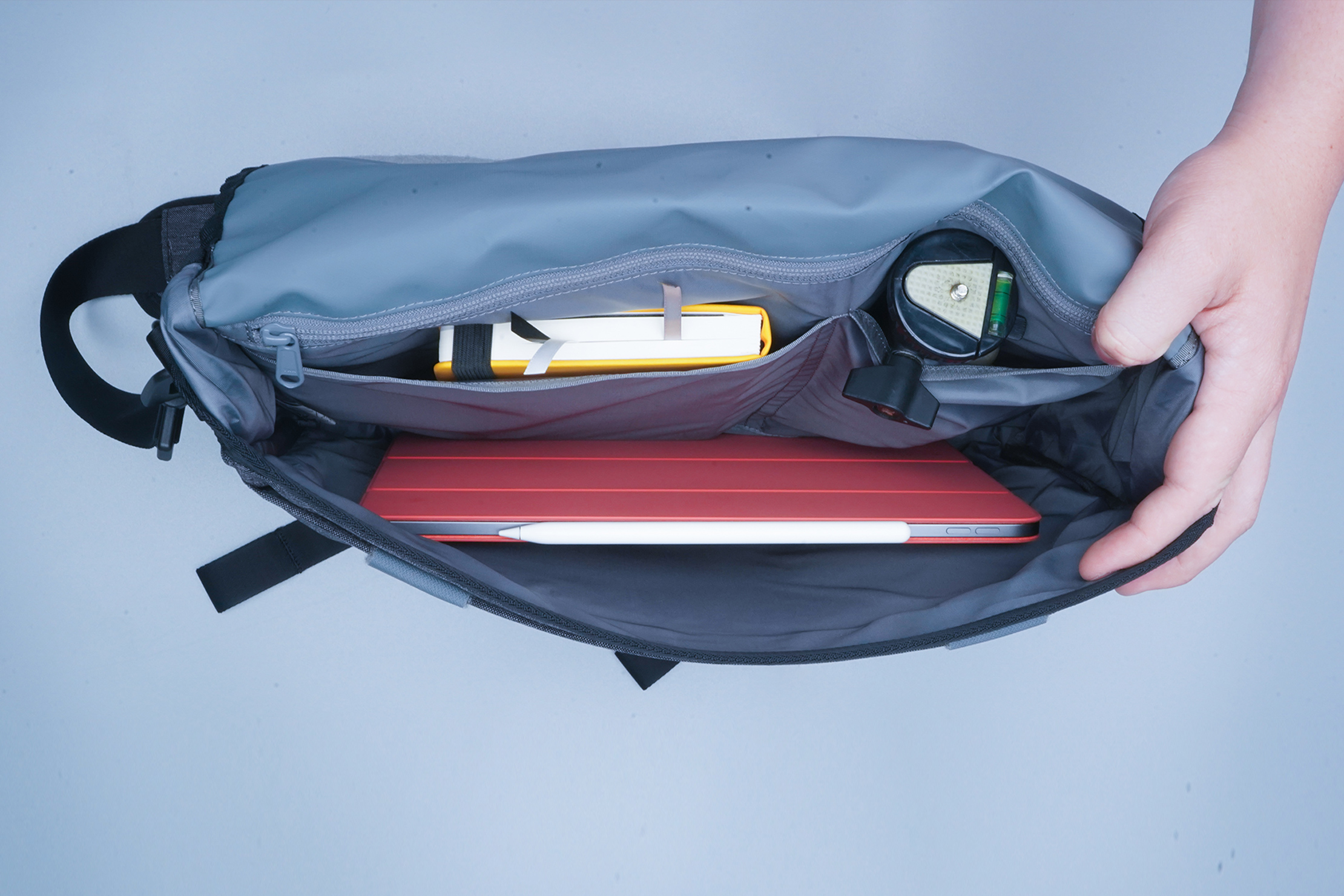 The main compartment has a decent amount of depth, and our 16-inch MacBook Pro easily slipped in with the rest of our notebooks and reference materials. If you like traveling with a laptop cooling pad, there's room for it here. The interior fabric has a light grey color that keeps things visible even near the bottom of the bag, though that may change once you've packed the Closer more tightly. At the back, there are two more liner pockets for writing materials and smaller stationery. Further towards the rear is a zippered security pocket that's as wide as the main compartment. This is an ideal place to store sensitive documents, whether legal, medical, or personal.
You may have noticed that we placed our 16-inch MacBook Pro inside the main compartment instead of the dedicated laptop compartment. Unfortunately, the Closer's laptop compartment is only rated for up to 15-inch laptops. In testing, it's less than an inch too narrow for the 16-inch MacBook Pro. That's very close, but unfortunately, just somewhat out of reach for the Closer. On the other hand, it wouldn't be fair to knock points off the Closer for something it was never claimed to be able to do. If you do have a 15-inch MacBook Pro, just note that ours gets a bit caught on the zippered opening though it does fit inside. As for protection, the compartment has thick padding on all sides—including the edges—to absorb mild bumps and knocks.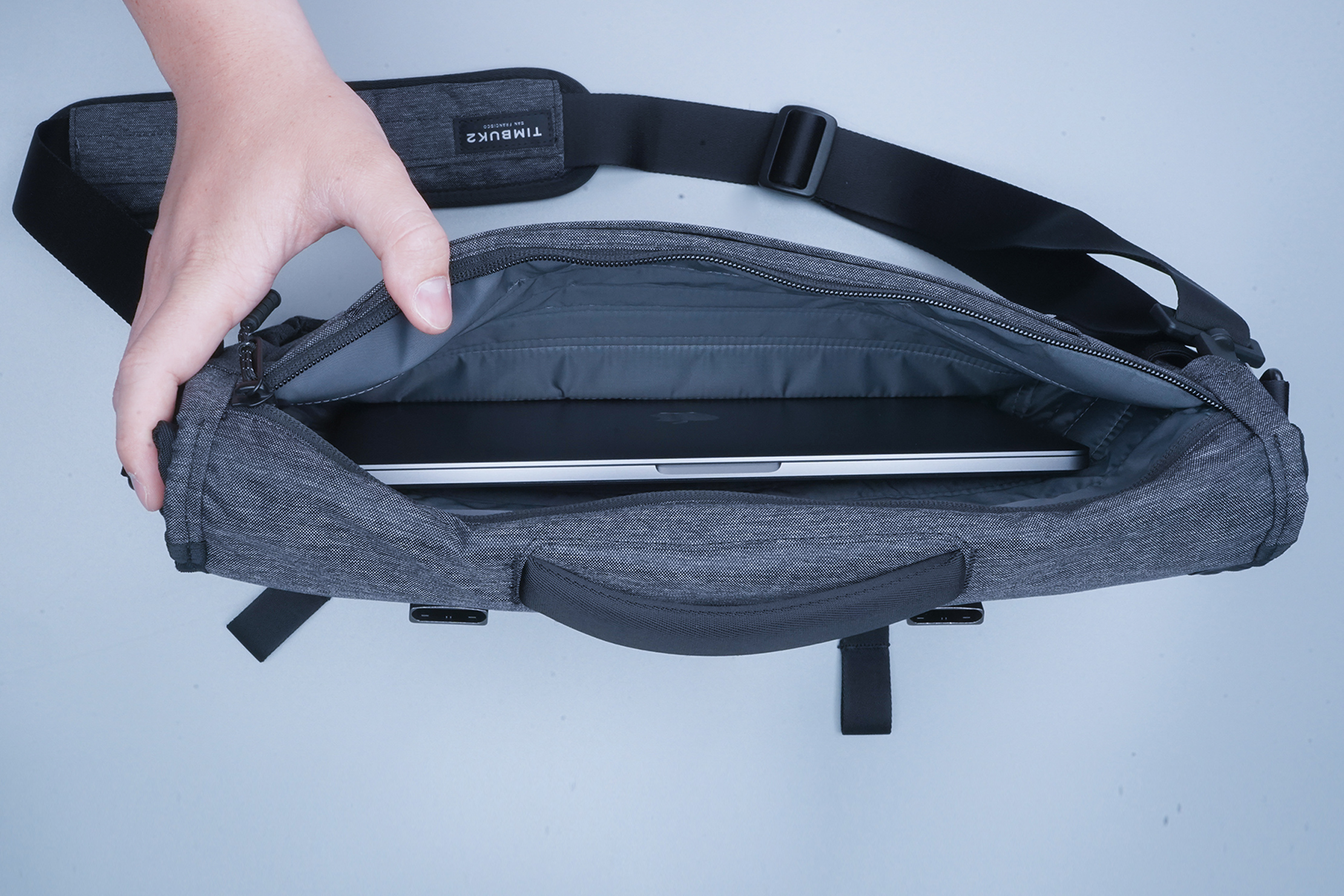 All things considered, the Closer executes its features well in an aesthetically pleasing package. There's a good balance of space and organization, coupled with clever design choices such as a well-positioned Napoleon pocket and velcro-adjustable flap. Unfortunately, since it comes so close to fitting our 16-inch MacBook Pro, it just makes us wish Timbuk2 would come up a bigger version made for 16 or even 17-inch laptops as well. Whether or not this is a faithful reimagining of what a briefcase looks like is subjective, but the functionality is definitely still present.
Usage Timeline
Initial Usage
Condition: Excellent
Well-padded, floating laptop sleeve that is separate from the main compartment
Included stability strap helps lock the bag to your back
Side stretch pocket for water bottle
2 Weeks of Use
Condition: Good
The harness system and overall carry of this bag are great
There is a lot of storage options with this bag, allowing for solid organization
Water bottle pocket is very limited in what it can carry
Access the Pro Community Discussion
Get your questions about the Timbuk2 Closer Laptop Briefcase answered from our team and the Pro Community right here on the page. Plus, join discussions with other members about gear, guides, and more.
Other Bags & Luggage Reviews