Minaal Daily 3.0 Bag Review
What the Minaal Daily 3.0 Bag lacks in structure, it makes up for with above par protection for your laptop, clever organization, and light weight.
Our Verdict
Unlock the Pro Summary
Save time. Get access to brief summaries of our reviews so you can browse and make decisions more efficiently.
Pros
Multiple compartments for convenient segmentation
Versatile, comfortable carry
Protective, suspended laptop sleeve
Cons
Some interior laptop compartment pockets lack closure—gear can slip out
Lack of structure on front flap of the bag—can feel floppy depending on gear inside
Snap fastener on back panel sleeve can be difficult to secure when bag is full
Recent Pack Hacker Video
Technical Details
Capacity

21l

Weight (lb)

2.16 lb (1 kg)

Denier

600D

Dimensions

16.9 in x 12.6 in x 6.3 in (42.9 x 32 x 16 cm)

Notable Materials

Recycled Nylon, YKK Zippers, ITW Hardware, Woojin Hardware, Hypalon®

Manufacturing Country

Vietnam

Laptop Compartment Size

16"

Warranty Information
Full Review
Get up to 20% off Minaal • Join Pack Hacker Pro
Considering the "daily" in its name, it should come as no surprise that the Minaal Daily 3.0 Bag can be used for your everyday ventures—heading to and from the office, exploring the city, or searching out the strongest Wi-Fi signal to get some work done remotely.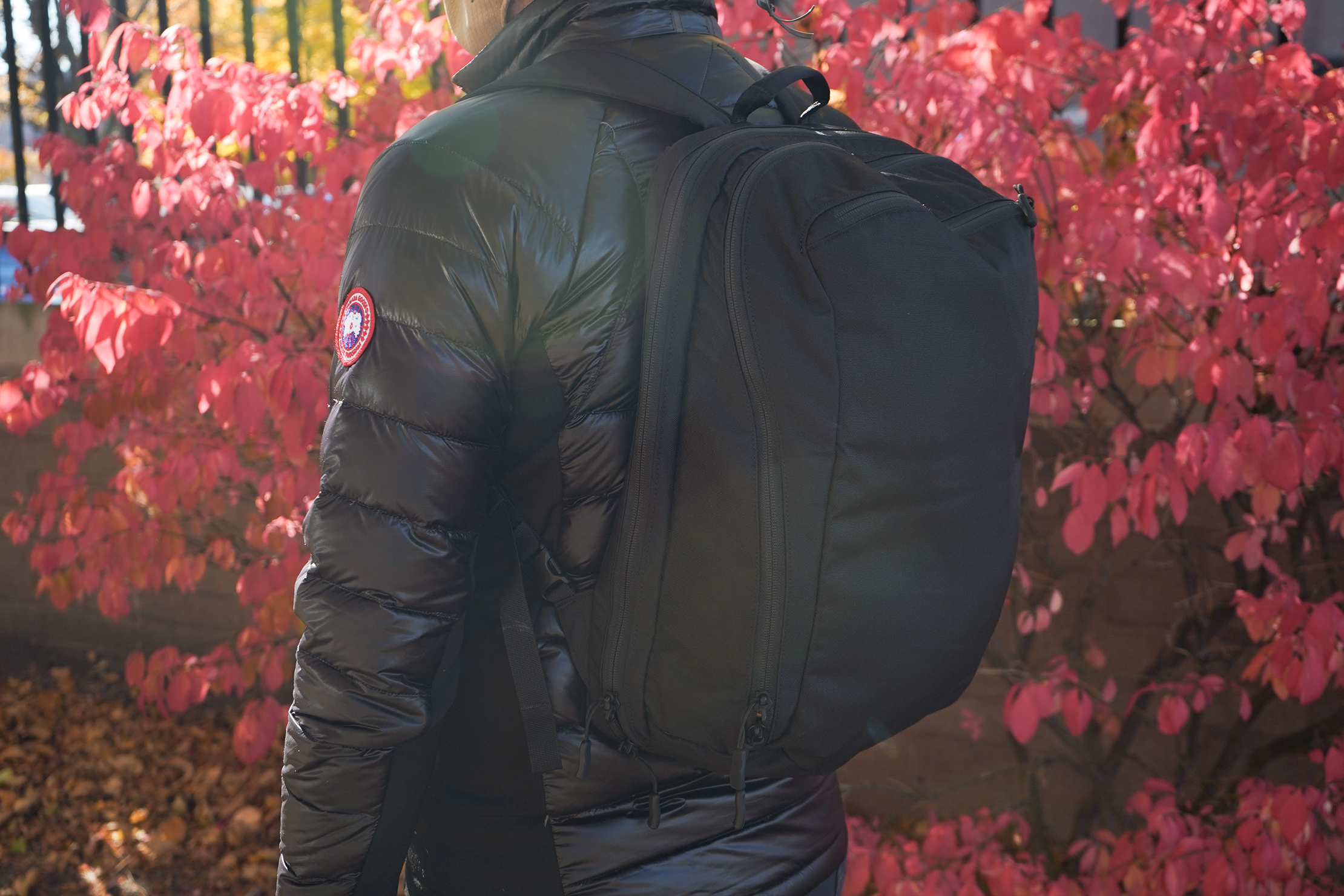 More prominently, you can pack it into the Minaal Carry-On 3.0 Bag to use as a daypack when you get to wherever you're going. The Daily 3.0 Bag is also the second iteration of the original Minaal Daily Bag that we've reviewed and features incremental improvements on its organization, harness system, and more—check out our detailed comparison of the two for an even better idea of their differences.
What's been a helpful addition, and what's been a letdown? We answer these questions and more in the review below—let's get to it!
Materials & Aesthetic
This bag's aesthetic poll has scored exceptionally high among our Instagram followers, clocking in at an 85% approval rating—and we think we know why. It has a classic and streamlined look to it that most can appreciate. Of course, your mileage may vary.
At the time of this review, you can grab the Daily 3.0 Bag in two colorways—Vancouver Grey or Aoraki Black (the one we've been testing). As it does with many bags, we think the Black colorway helps this thing keep a low profile; it attracts less unwanted attention while you're using the bag at home or on a trip.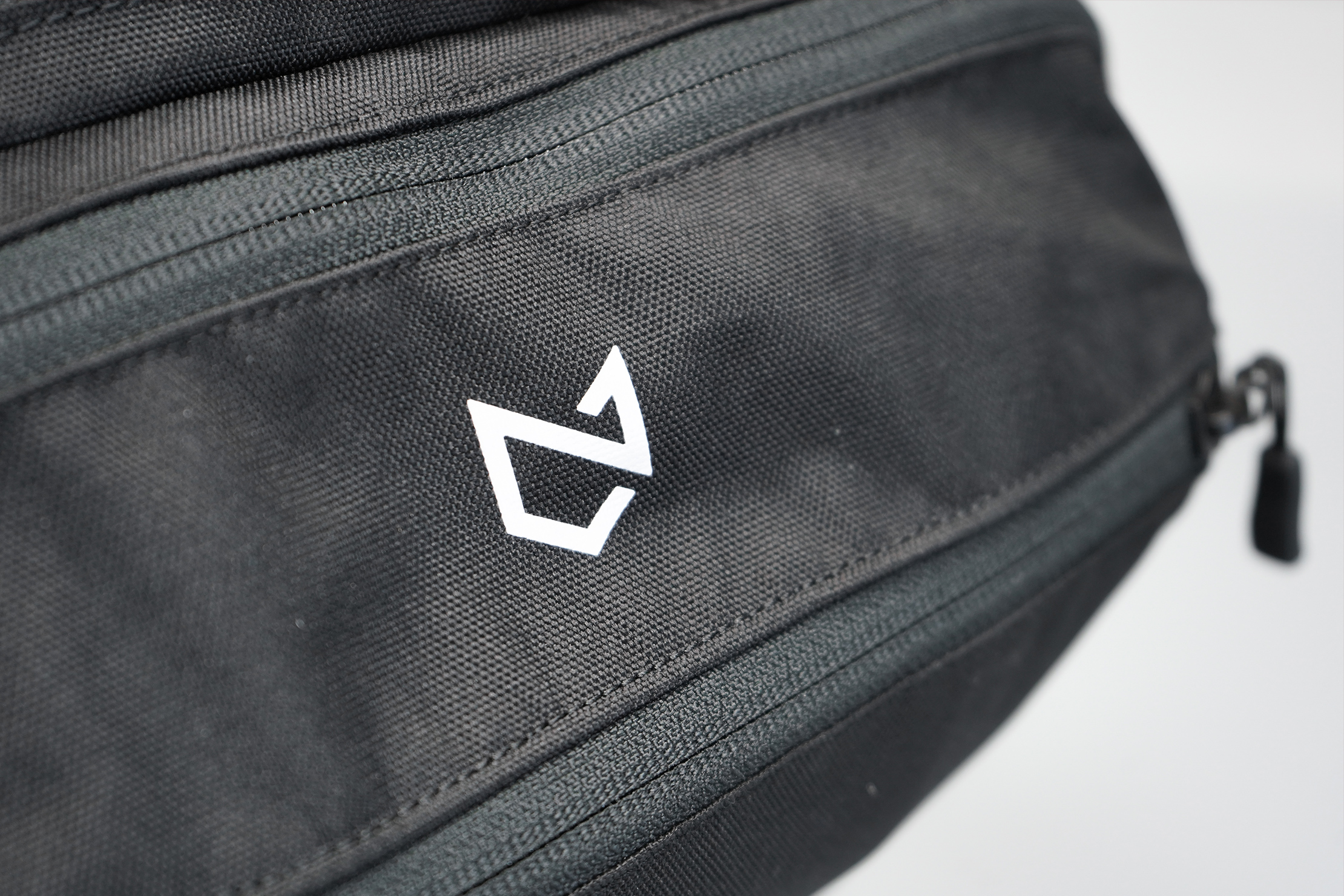 As with other Minaal products we've tested, this pack touts the brand's geometric fox-like figure on its front. It's white-on-black, so it doesn't thoroughly blend into the fabric, but it's positioned more toward the top of the bag. This is an update from their previous two-tone blue logo we've seen in previous iterations of Minaal products and we're digging it.
This positioning makes it harder for a passerby to see, and therefore more subtle if that's your thing. Their logo is also debossed into the back panel, which, again, not many people are going to see since it sits against your back when you've got the bag on.
Moving on to the material, the Daily 3.0 Bag is constructed with their 600D Picton™ fabric, recycled nylon that's durable and made under a Bluesign-approved production process (when we say "eco," you say "groovy"). We also conducted a test with this and the original Daily Bag by dragging them across a rug to see which picked up more lint. The Daily 3.0 Bag had considerably less fluff on it by the end, which a great improvement—this material keeps the bag looking clean with less effort on our end.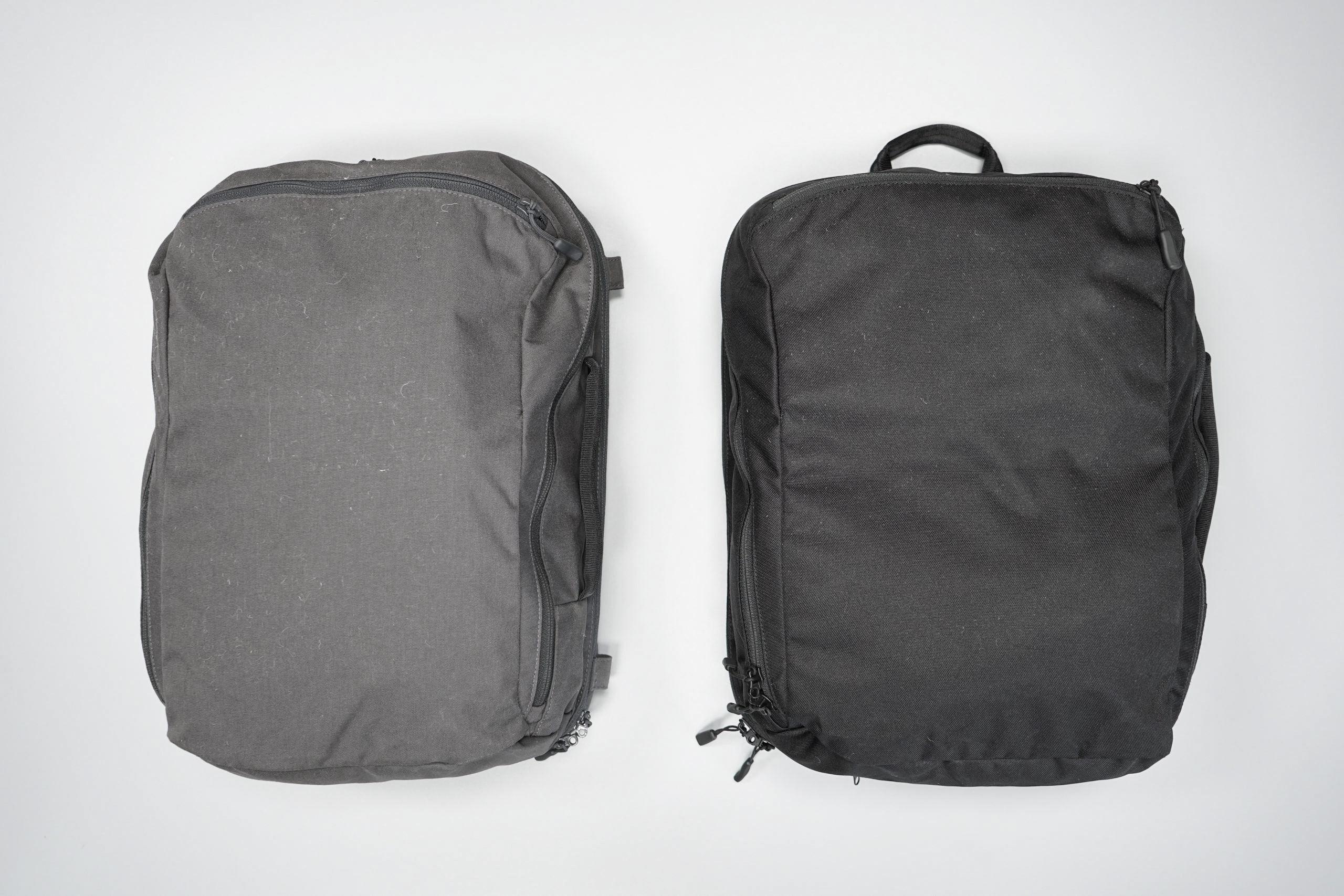 The material does have some water-resistant properties, as it's treated with a DWR coating, so you'll be just fine if you get caught in some lighter rain. However, if you find yourself in the throes of a tropical monsoon, you're going to want to take advantage of the included rainfly.
It stores at the bottom of the bag and, when engaged, allows water to slide off and away from any pockets and compartments, protecting the gear inside. Minaal also explains that the rainfly on this version of the bag fits tighter than the previous version, offering the same protection level but with a less bulky, crinkly look.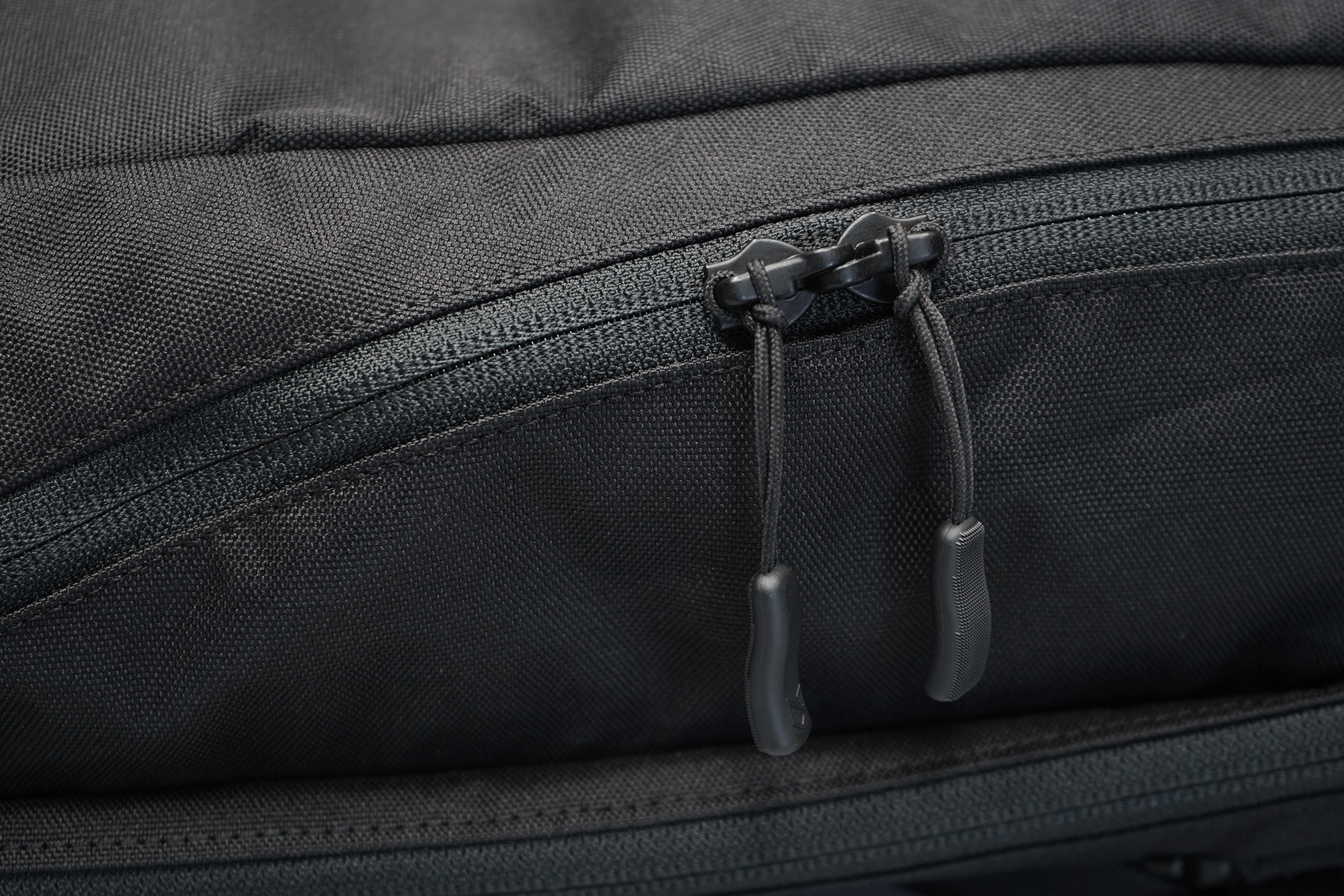 Minaal opted for reverse-coil YKK zippers for this pack—why YKK, you may ask? The answer is simple. This a brand that knows how to make a durable, robust zipper that offers a clean look and a smooth zip, which is precisely what we've encountered during our testing. Their zipper pulls are also easy to grab and help us open and close each pocket and compartment with ease.
We can't forget the hardware! You'll find a combination of ITW and Woojin hardware on this bag, all of which have been operating just fine; the buckles are staying secure, and the adjusters are tightening and loosening straps as they should.
External Components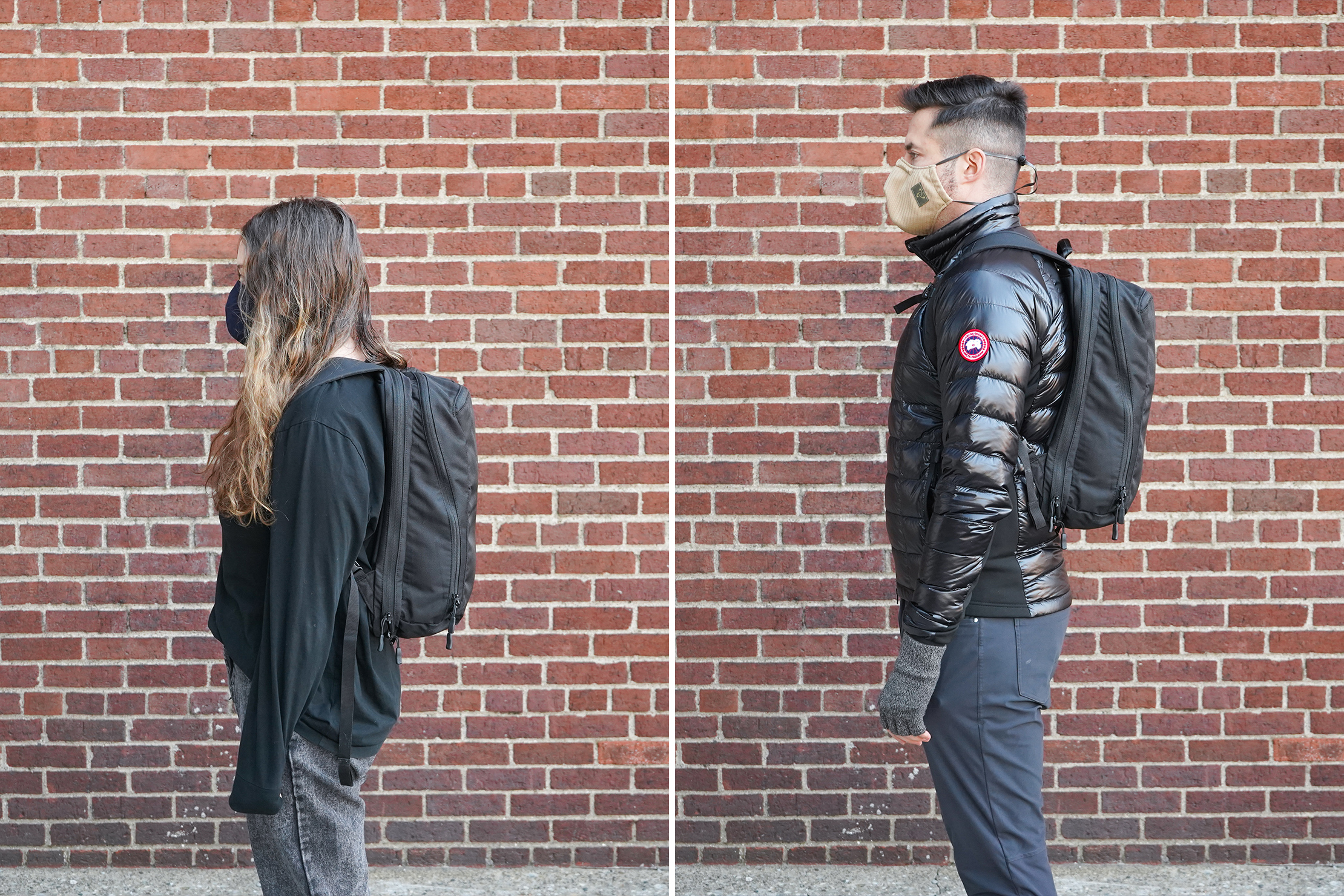 The Daily 3.0 Bag offers variety in its carry, as you can elect to wear it as a backpack or hold it at your side like a brief. In other words, it's a briefpack—or a backbrief, or maybe even a brackpack. Regardless of what you call it, we've found that both modes of carry have positives to them depending on your use case.
First things first: let's talk about the shoulder straps. They're well-built to support you and the load you're likely carrying, even if that means you have this thing fully packed. These straps are an upgrade from the first iteration of this bag—they're more densely padded, as well as edgeless, so you don't feel the sides of the straps digging into your chest.
We also appreciate their more minor features: like the attachment point on each one where we can keep a carabiner close by, and the elastic keepers to manage excess strap and promote the bag's clean look. They may be small in size, but they're great in their convenience. It's the little things, you know?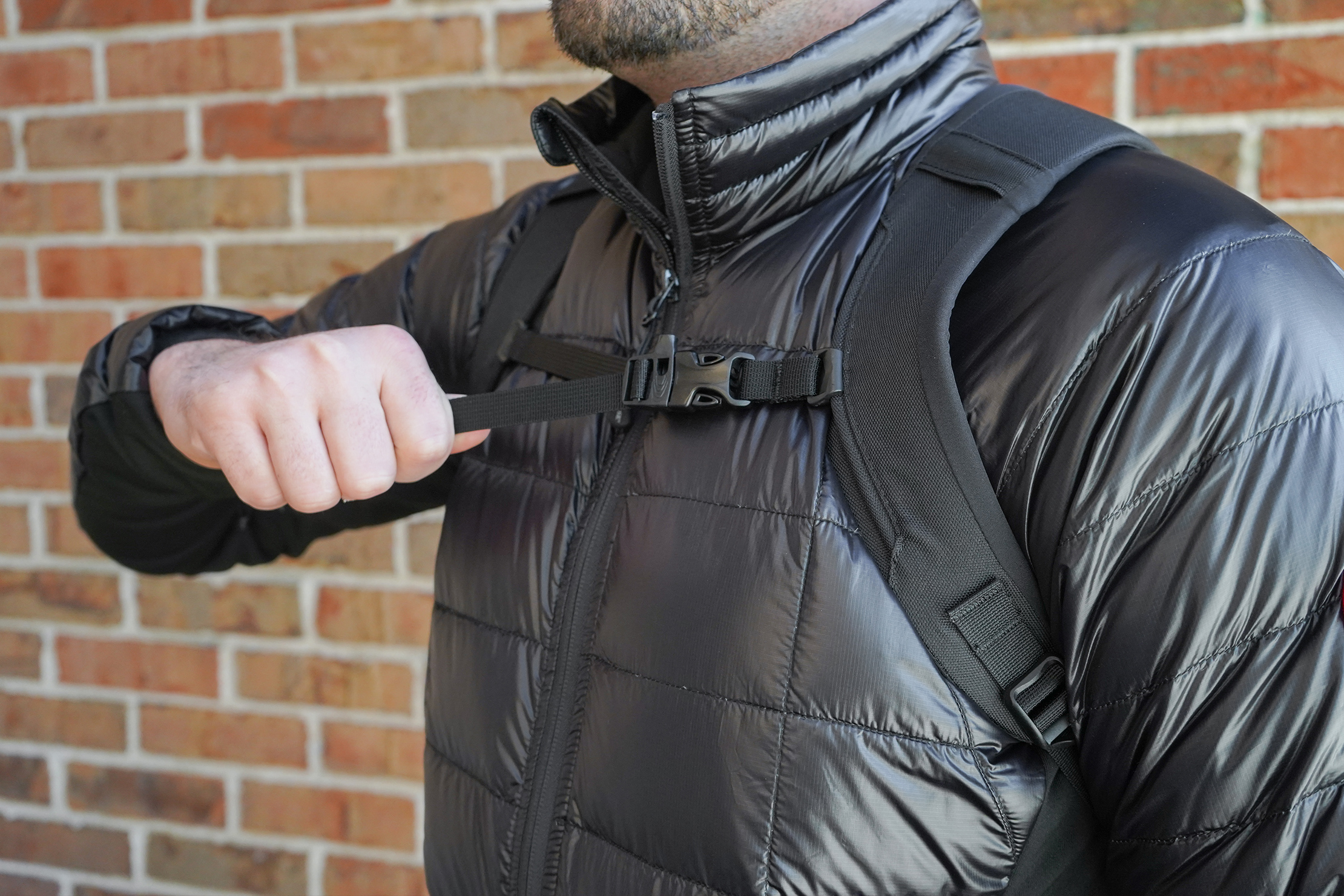 To carry this thing in backpack-mode, you can attach the straps to buckles you'll find in the bottom corners of the bag. Then, when you want to tote the bag briefcase-style, you can disengage these buckles and stow the straps away inside the sleeve behind the back panel. We've had a much faster go of getting the strap out of this sleeve than the one on the original Daily Bag, but that's not to say it's a flawless design.
The sleeve itself secures with a snap fastener—the previous iteration had two separate sleeves—that we've had some trouble clicking into place. We usually have to open the compartment behind it and apply pressure from both the inside and outside to get it into place. It doesn't take a ton of time and energy to do, but it can be an annoyance if you're constantly switching between the two modes of carry.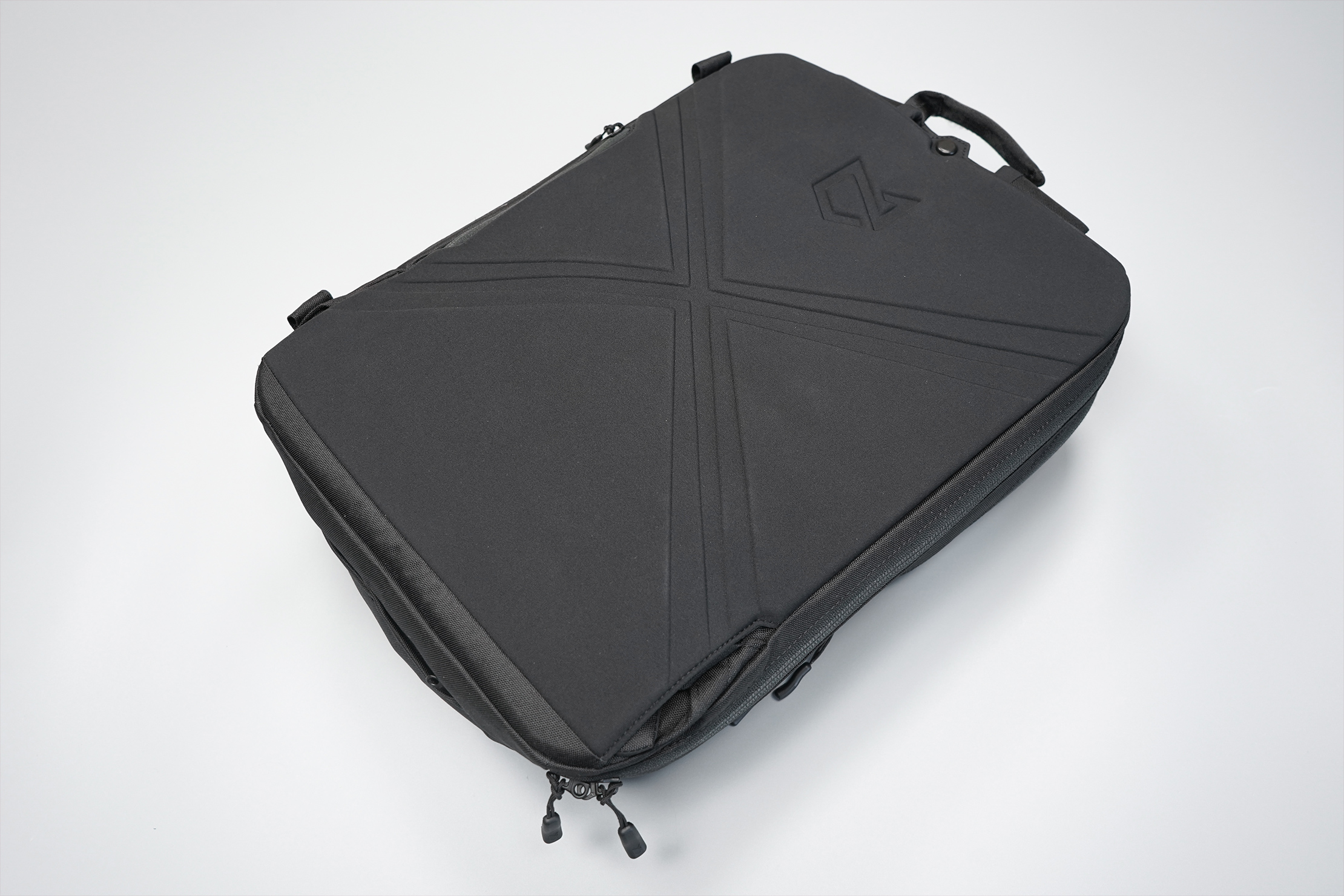 Next up is the sternum strap, whose hardware is courtesy of ITW. It attaches to and adjusts along a rail system on the shoulder straps allowing you to move it up or down to where it offers the most support (and feels most comfortable). Unfortunately, there's no elastic keeper to round up excess strap like with the shoulder straps, so you will have to deal with some minor dangling (though we've been able to deal with it during testing).
Now we can look at the back panel, which has also felt well-structured and overall comfortable against the body. It lacks a mesh lining, but its absence hasn't been a deal-breaker for us by any means—it just means that it's not as breathable as other bags we've tested and that some level of back sweat is inevitable (which is typically the case even with a mesh lining).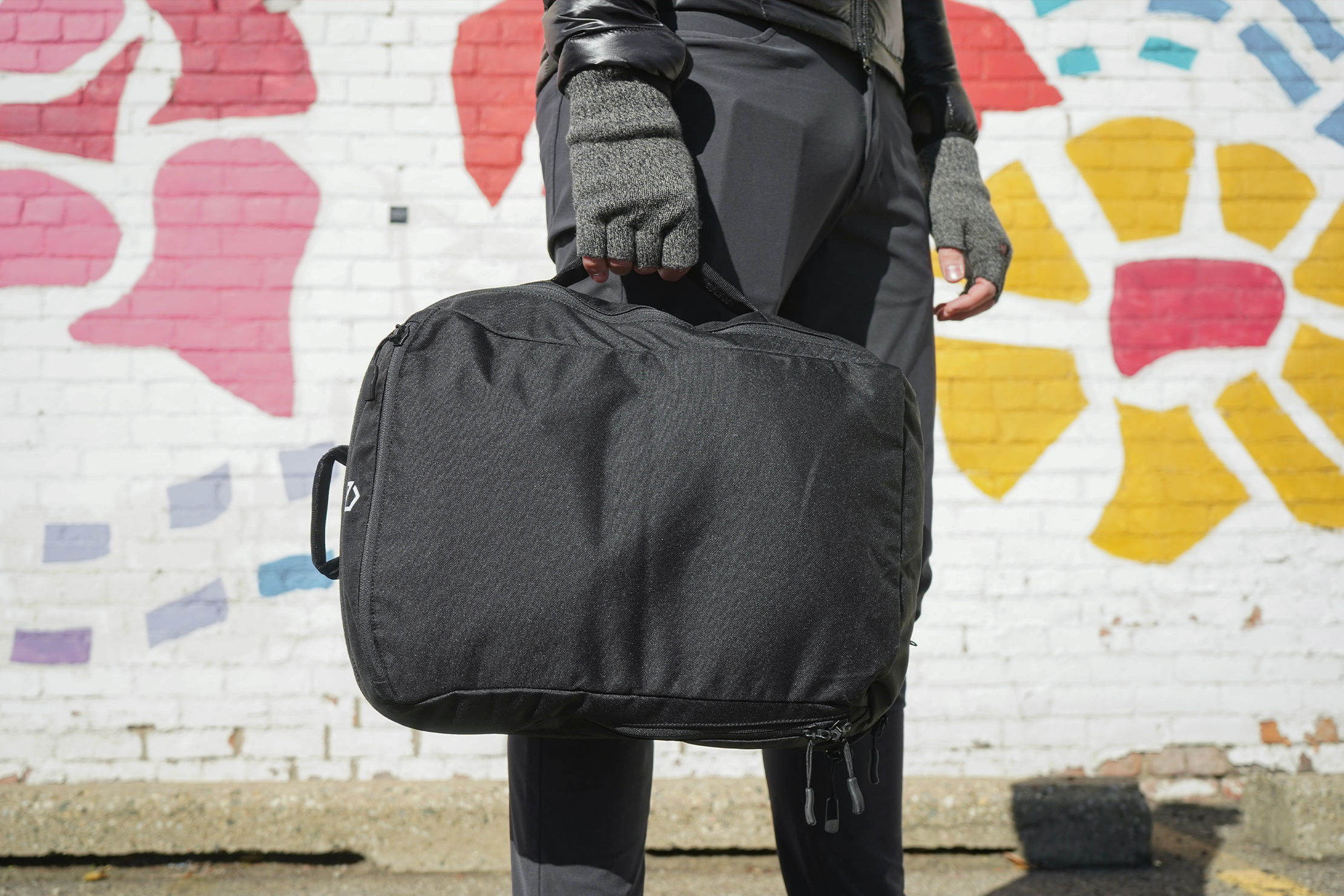 There's also a handle located at both the top of the bag and along one side. The top handle's padding and smooth exterior make it feel like a small, cushy seatbelt, and we've found this one helpful for sliding around and picking up the bag when we need to get inside. Then, there's the side handle, which has a similar feel and functionality. You can grab this handle and carry the bag as a brief when you're heading into a meeting or just need to give your shoulders a break.
Inside The Pack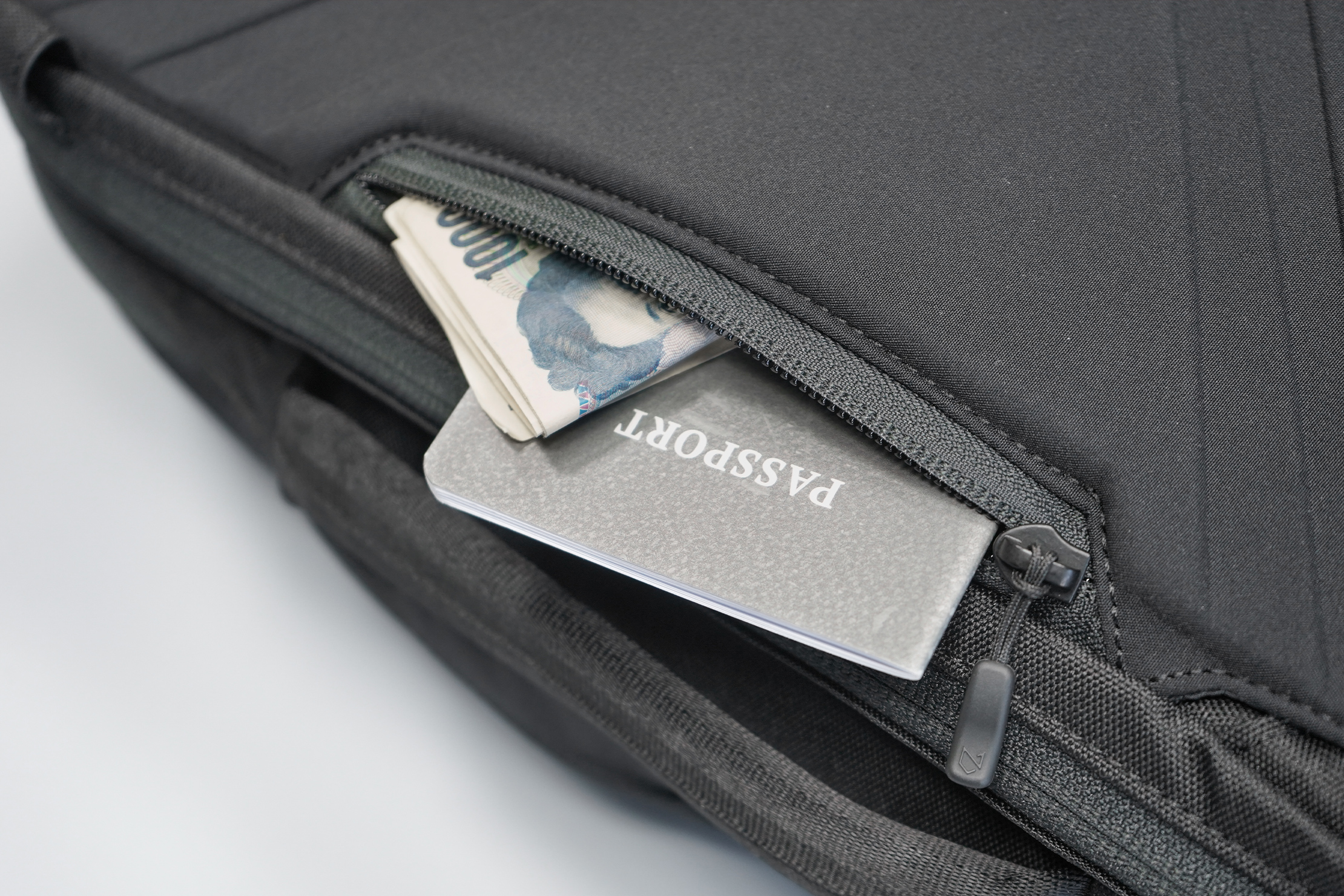 While we're back here, it's probably a good time to mention the bag's hidden pocket. It sits against your back, making it an ideal spot for your more valuable quick-grab items—your passport, wallet, some extra cash, and anything else you want to keep concealed and out of the wrong hands. This is a newer feature that we didn't see on the first version of the bag, so we're happy to see it included here.
Flipping to the front, you've also got a pocket to stash other items you're regularly using. We've been keeping a pair of Felix Gray Nash Glasses as well as some collapsable ROAV Eyewear Franklin Sunglasses inside ourselves.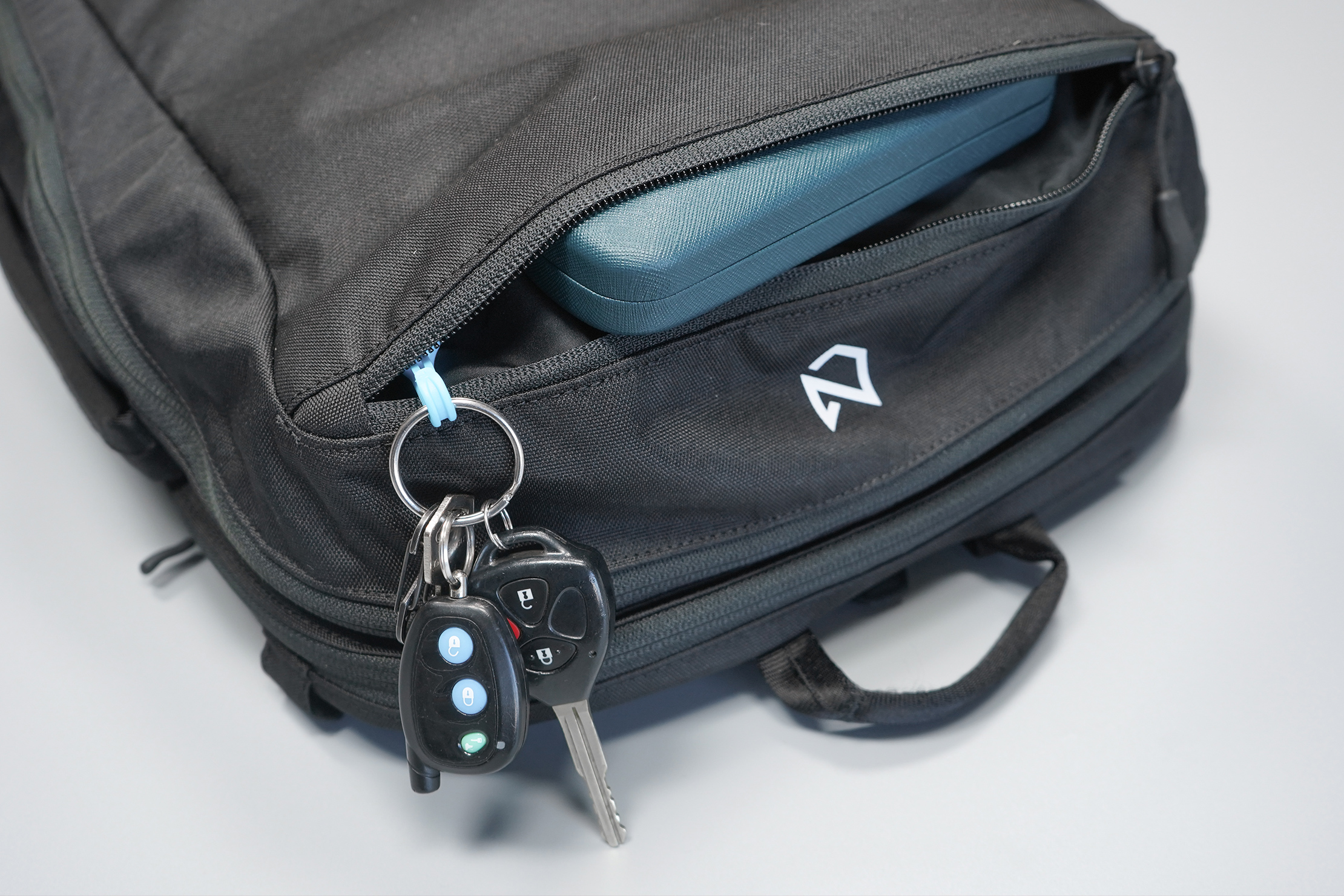 There's also a dedicated key leash inside you can clip your keys to so they're easy to find and grab when needed. The clip is a similar bright blue color as the brand's logo used to be, though, as we specified earlier, they've opted for white branding on this bag instead.
This color makes it easier to spot inside a sea of gear, though you also have the option to slip your keys in the separate mesh pouch inside this pocket while on the leash. This keeps them segmented, so they're quick to grab and prevents them from free-floating and scratching up your other gear (especially if you keep glasses or your phone inside as we have).
Pockets are great and all, but if you're a fan of the bag so far, you're probably anxious to get inside it. So, let's talk about the main compartment!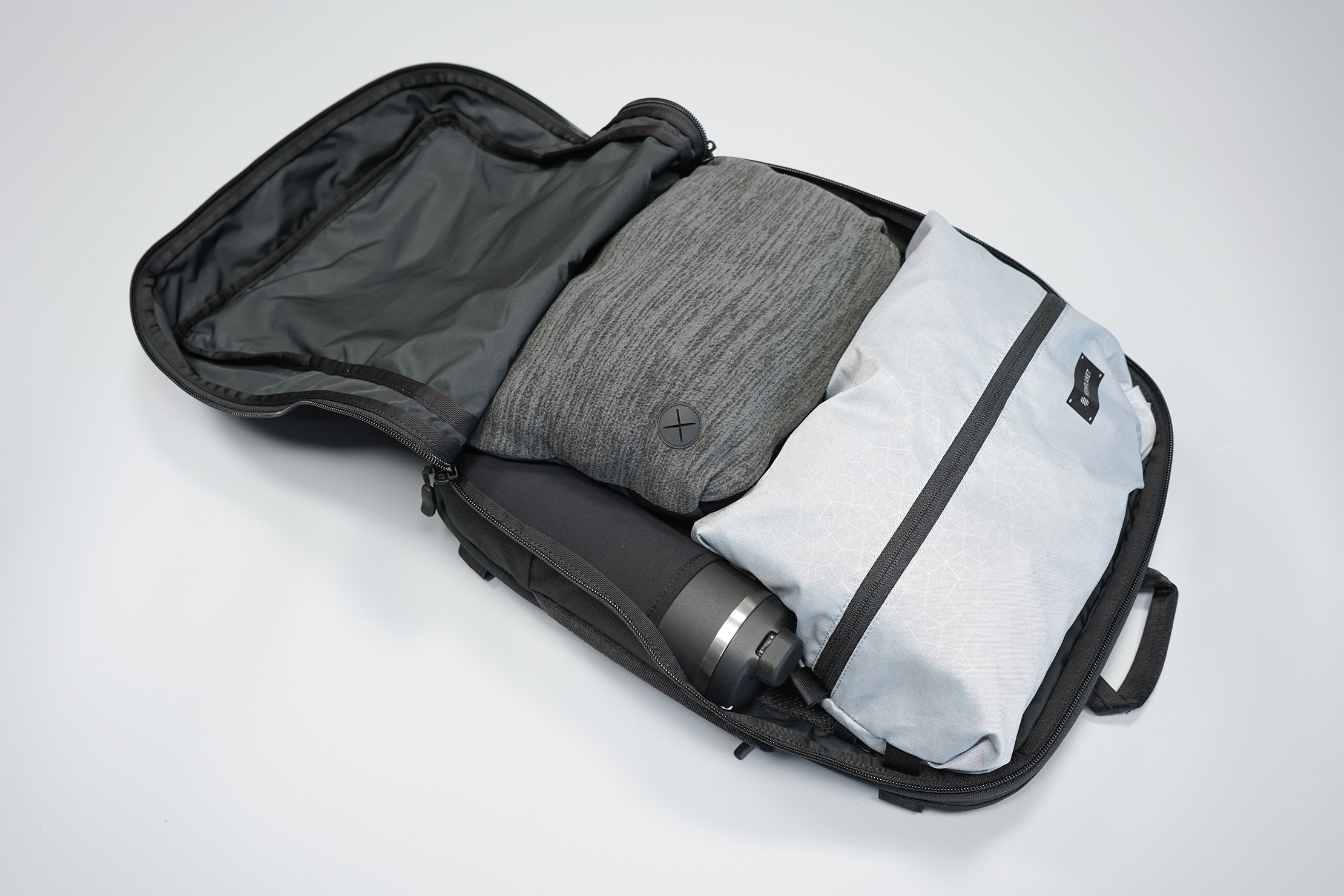 Altogether, this bag can hold 21L, and this compartment is where the bulk of that capacity lies. Its zippers easily glide open in a clamshell-like manner without much effort from you, creating a relatively painless process of packing and unpacking your stuff.
We say relatively because this bag lacks structure on one side, so, the front flap can feel floppy when you're opening and closing the bag, especially when it's fully packed. This phenomenon is a common encounter on lightweight bags like this as a more pronounced structure would add undesired poundage (or additional kilos, depending on where you are in the world). It would also make it more difficult for it to pack inside the Carry-On 3.0 Bag as it's designed to do, creating a little bag ecosystem.

In this Pro exclusive video, we show how the Minaal Carry-On 3.0 Bag and Daily 3.0 Bag work together. Unlock access to our entire catalog of Pro Exclusive Videos when you sign up for Pro.
We've been strategically packing out the compartment so that everything sits comfortably, and we don't have any bulging gear or divots in the fabric. To give you a visual, we've been leaving room toward the top to accommodate the bulk of the quick-grab pocket. We've also been keeping the Travel Zip Hoodie from our collaboration with Wool & Prince (The Travel Collection) to fill in the space below and even out the compartment.
Then, we've been keeping an 18 oz bottle in the dedicated pocket along the side. Since this bag doesn't have an aluminum stay behind the handle, which would add excess weight, slipping a stiffer bottle into this spot helps with the structure. Please make sure the bottle you do stash here is one that you trust, as it's going to be near your other gear, so you want to avoid a spill when possible. Altogether, packing out this compartment has basically been a game of real-life Tetris. The prize? A structured, balanced carry.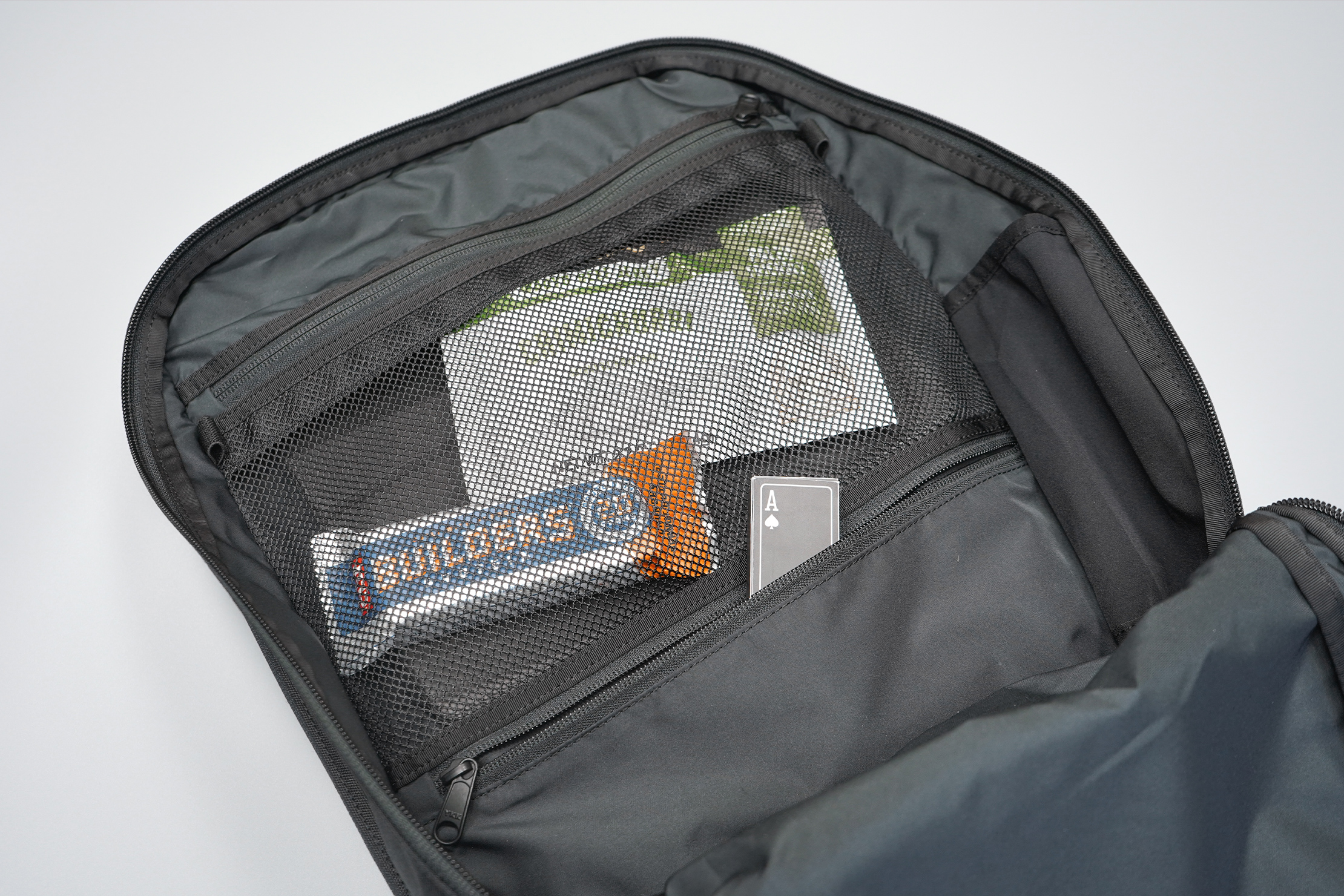 There's also some organization along the back wall, including a medium-sized zippered pocket towards the bottom. Because this pocket is inside the bag and would most likely be covered by your other gear, it's an incredibly secure spot for valuable items you can't fit in the external hidden pocket. That could include things like more cash, less frequently-used cards, essential documents, and the like.
Above this pocket is another larger mesh pocket where we've been storing snacks inside Stasher Reusable Silicone Bags, in addition to an Amazon Kindle Paperwhite. We like the visibility the mesh offers and the overall low-profile nature of this organization. It offers convenient compartmentalization without impeding our packing of the rest of the compartment.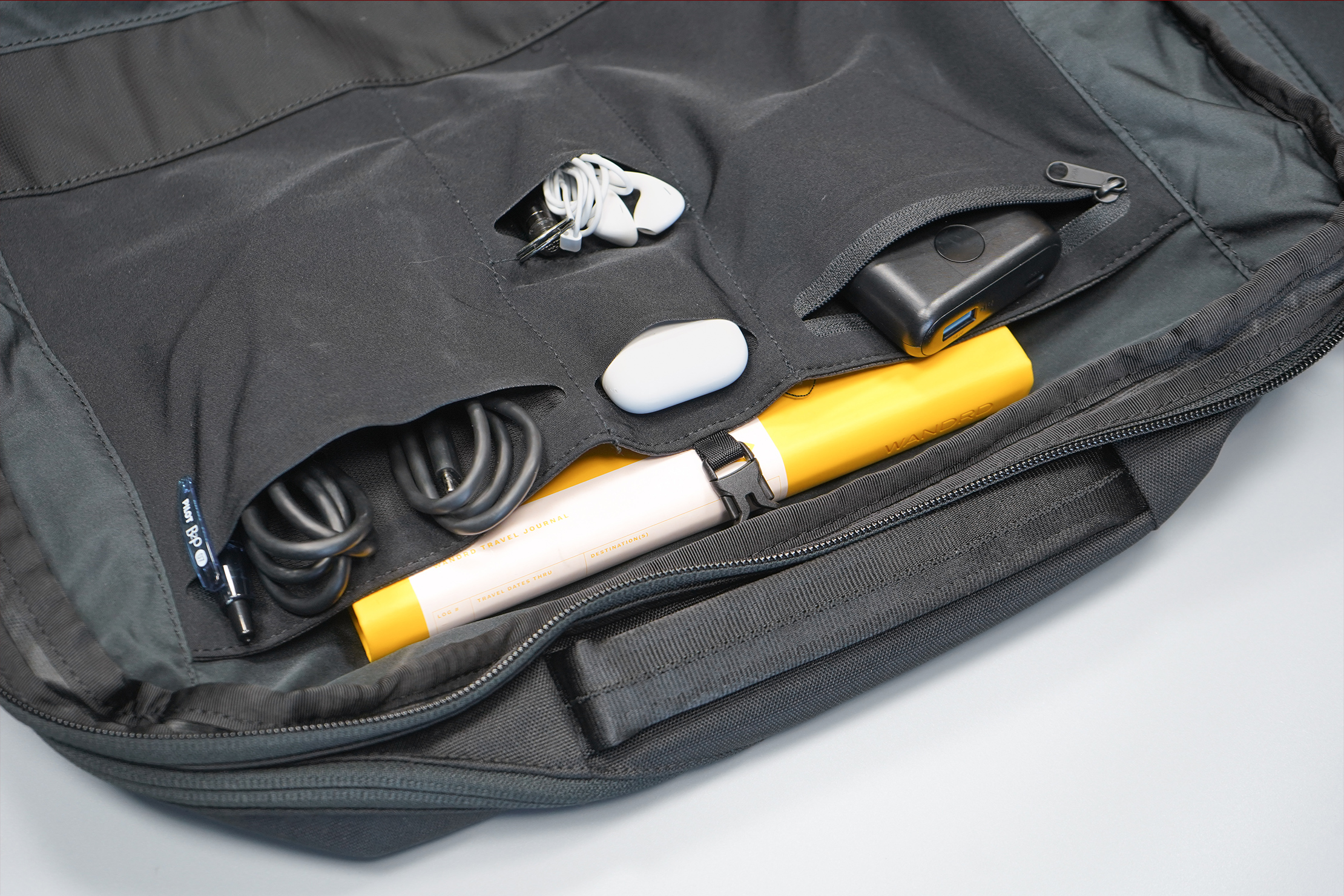 We can't say we're as big of fans of the organization in the laptop compartment, though—in particular, the pockets on the front flap. There are four sleeves—two larger, two smaller—that are oriented more for a briefcase carry, which is handy if that's how you're mostly using the bag. However, three out of the four sleeves don't have any closure. As a result, the tech accessories we keep inside are continually slipping out as the bag gets jostled around and opened up.
The fourth sleeve is secured with a zipper and does a much better job keeping gear inside, especially when we're in backpack-mode. We would've liked to see the remainder of the sleeves mimic this design or something similar to the CODEOFBELL X-POD's streamlined zipper system for the interior divider pockets. In the interim, you're welcome to incorporate a tech pouch of your choosing to better handle your accessories—cords, a mouse, flash drives, among other things.
Behind these pockets is a much wider sleeve where you can store other documents, folders, and flatter items. We've been using it as a spot for a keyboard inside the Roost Minimalist Keyboard Sleeve, and it fits nicely. Also in the Roost family, we've been keeping the Laptop Stand 2.0 in this compartment's free space. This way, all the tech we need for a day of work is in one spot.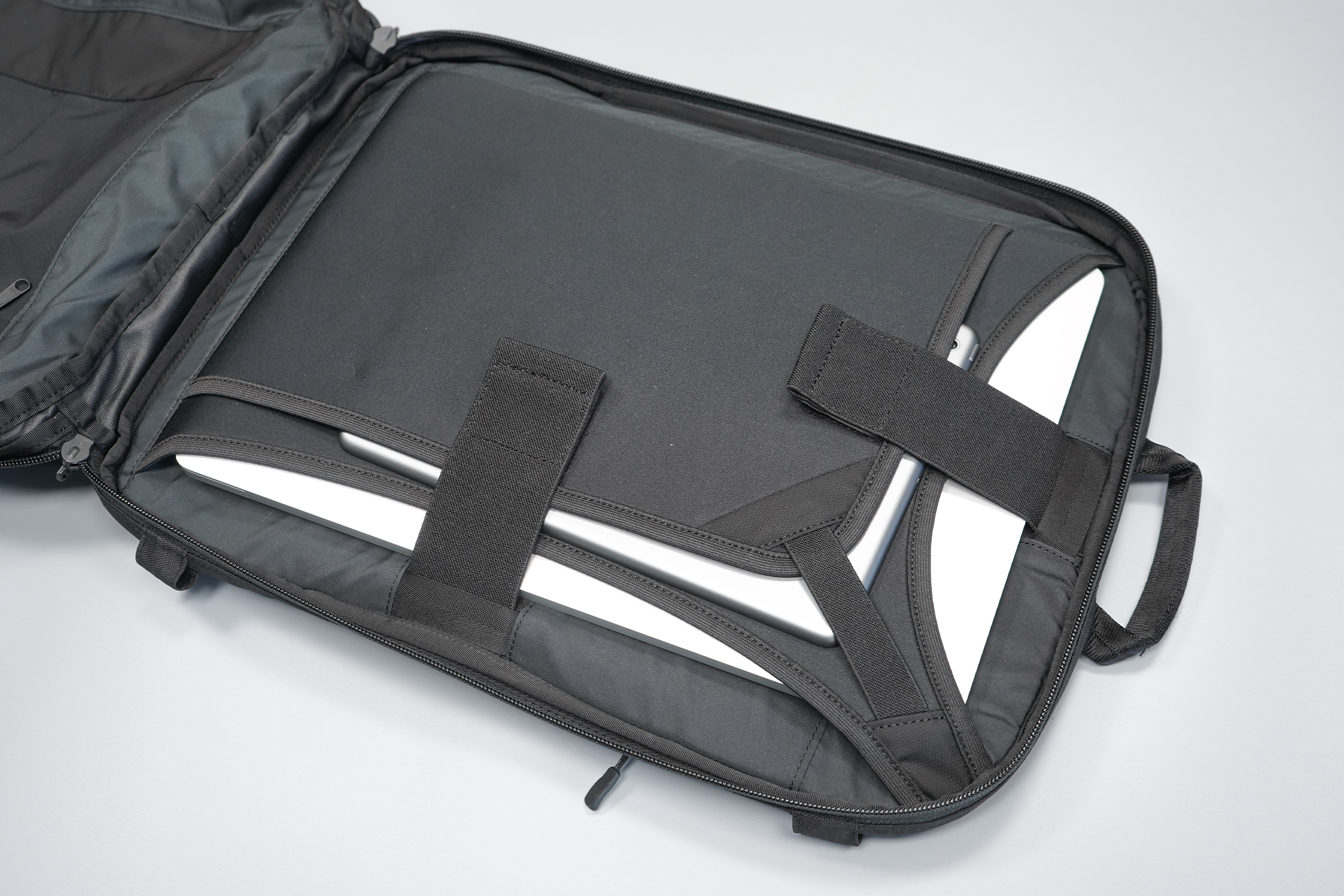 The DeviceNest is one of the best laptop protection systems we've come across in our testing to date. We're not kidding, either.
There are two openings on the sleeve, so you can slip in up to a 16″ laptop from the side or the top, depending on which access point is most convenient with your mode of carry. Once inside, you can secure the velcro strap over each entrance to lock your laptop in place, suspending it away from every edge of the bag, so your tech is protected no matter which way you drop it.
Now, your laptop may shuffle around slightly, but Minaal came prepared for this. There are two loops above both openings that you can slip the straps through to get a tighter, more secure fit if your laptop is a different size. You can also choose to disengage the straps altogether for quicker access to your laptop when you're going to be continually in and out of the bag.
On top of the nest is another sleeve that stretches open and closed by some elastic on one side. This is a place to keep a tablet or e-reader if you carry one (and aren't keeping it in the main compartment as we've been). Overall, we're delighted with the level of protection our tech is getting with this system, which is why we also raved about it so much in our laptop bag guide. For all you location independent workers out there that are always traveling with your tech in tow, we think you'll appreciate this as well.
Usage Timeline
Initial Usage
Condition: Excellent
Harness system is thin but densely padded for a comfortable carry
DeviceNest is adjustable and securely holds your laptop and devices
Comfortable to carry as a briefcase as well thanks to a well-padded handle
2 Weeks of Use
Condition: Excellent
This is kind of like a packable backpack on steroids—it doesn't self-compress into itself, but rather, lays flat within a bag like the Minaal Carry-On 3.0
We've been enjoying the lighter weight of this bag, but when it's filled up with heavy items, it can start to feel a little floppy—especially with heavy items in the front quick grab pocket
As usual, the DeviceNest has been awesome about protecting a carried laptop—it's one of the best laptop compartments out there and Minaal nailed this for the use case
Edgeless shoulder straps have been comfortable to carry with, even with the bag loaded to the brim, with gear
We dragged a Minaal Daily Original and Minaal Daily 3.0 across a rug and noticed the 3.0 picked up considerably less lint than it's earlier-released counterpart—nice improvement here—the fabric feels slicker
Access the Pro Community Discussion
Get your questions about the Minaal Daily 3.0 Bag answered from our team and the Pro Community right here on the page. Plus, join discussions with other members about gear, guides, and more.
Other Bags & Luggage Reviews