Minaal Carry-On 3.0 Bag Review
The Minaal Carry-On 3.0 carries over what made the 2.0 great: a sleek look and innovative, straightforward features—though it hasn't shed the subpar bottle pocket.
Our Verdict
Unlock the Pro Summary
Save time. Get access to brief summaries of our reviews so you can browse and make decisions more efficiently.
Pros
Adjustable device sleeve secures laptops & tablets nicely
Simple compression straps make for no-nonsense operation
Full clamshell opening for both compartments make accessibility a breeze
Cons
The bottle holder's bungee cord doesn't hold well
Exposed zipper near harness system during operation isn't great
Packing "scoop side" can get unwieldy if you don't use packing cubes
Recent Pack Hacker Video
Technical Details
Capacity

35l

Weight (lb)

3.12 lb (1.4 kg)

Denier

600D

Main fabric

Dimensions

21.6 in x 13.7 in x 7.87 in (54.9 x 34.8 x 20 cm)

Notable Materials

Recycled Nylon, YKK Zippers, ITW Hardware, Woojin Hardware, Hypalon®, Metal

Manufacturing Country

Vietnam

Laptop Compartment Size

16"

Warranty Information
Full Review
Get up to 20% off Minaal • Join Pack Hacker Pro
One of the few dreaded routines of the frequent flyer is waiting for your baggage to turn up after a flight. It's standing around while daydreaming about what could be happening right now if you weren't watching a boring montage of everyone else's choice of luggage pass you by on a conveyor belt.
Editors Note: Actually, as bag & luggage reviewers, this sounds like the definition of a fun time. There's nothing like kicking back with an ice-cold beverage watching bags drift by on the conveyor belt. Anyone else? No?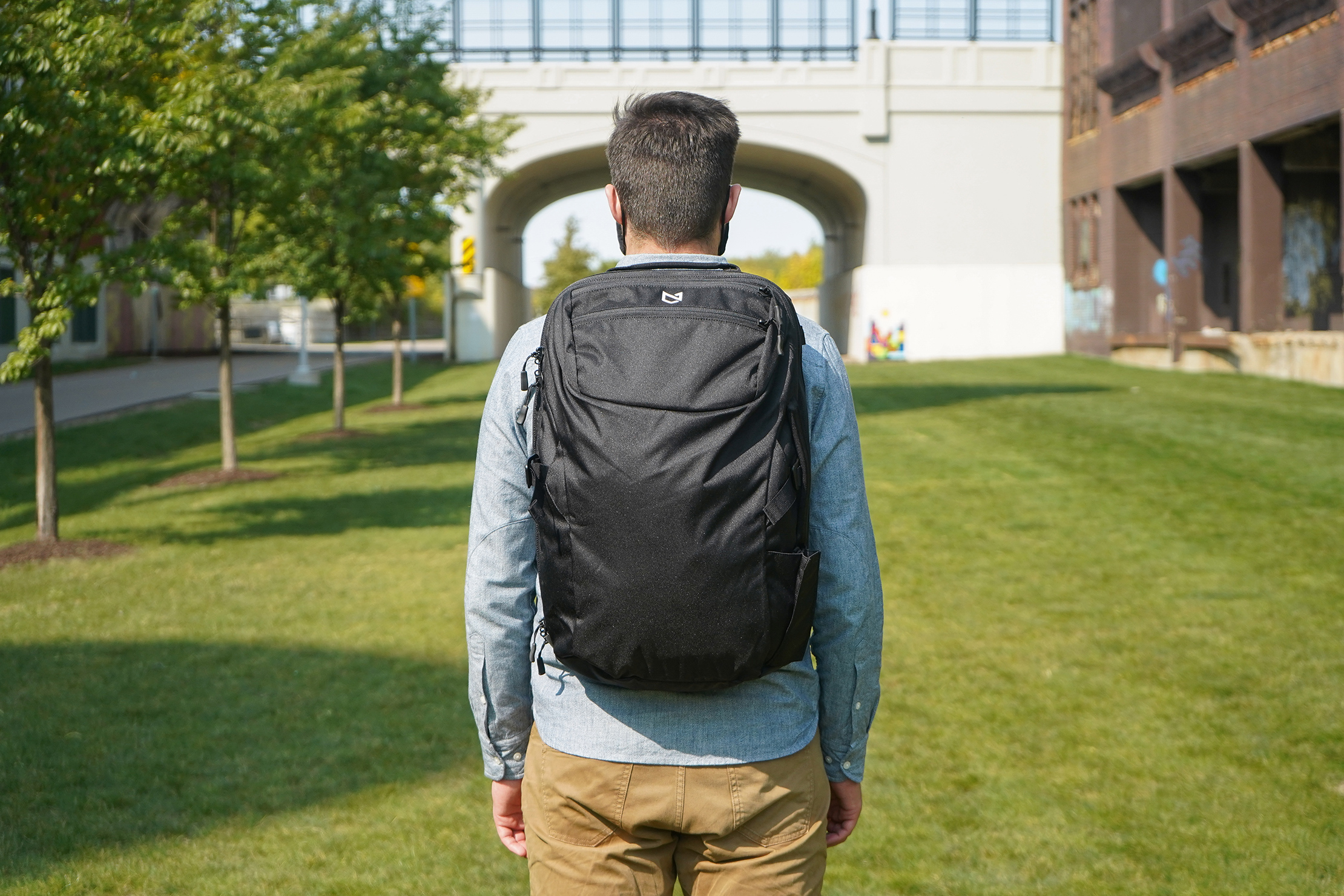 Minaal thinks so too, and the largest bag in their line-up is the Carry-On series, designed to comply with carry-on standards. Now on its second iteration, the Carry-On 3.0 picks up the mantle from the Carry-On 2.0 and features some critical improvements despite looking practically the same. A few of these improvements are in terms of accessibility, comfort, and security, aspects that the 2.0 did well previously. Spoiler: that suspension laptop holding system (DeviceNest™) we like is here as well.
Check out our video comparison of the Minaal Carry-On 2.0 vs Minaal Carry-On 3.0.
We'll explore in detail what these improvements are and also shed some light on what we think are missed opportunities. Digital nomads, prepare to see if this is the right bag for you.
Materials & Aesthetic
We kick things off with the looks of Carry-On 3.0—which admittedly isn't all that different from the 2.0. If you put it side-by-side against the 2.0 and asked people to tell which is which, they'd be hard-pressed to tell them apart. We liked the sleek minimalist look of the 2.0 that shied away from boxy and mini-fridge-like profiles. If Minaal felt they'd struck gold with the old design, we'd say so as well. Like we always say, "If it ain't broke, don't redesign the wheel" or something like that.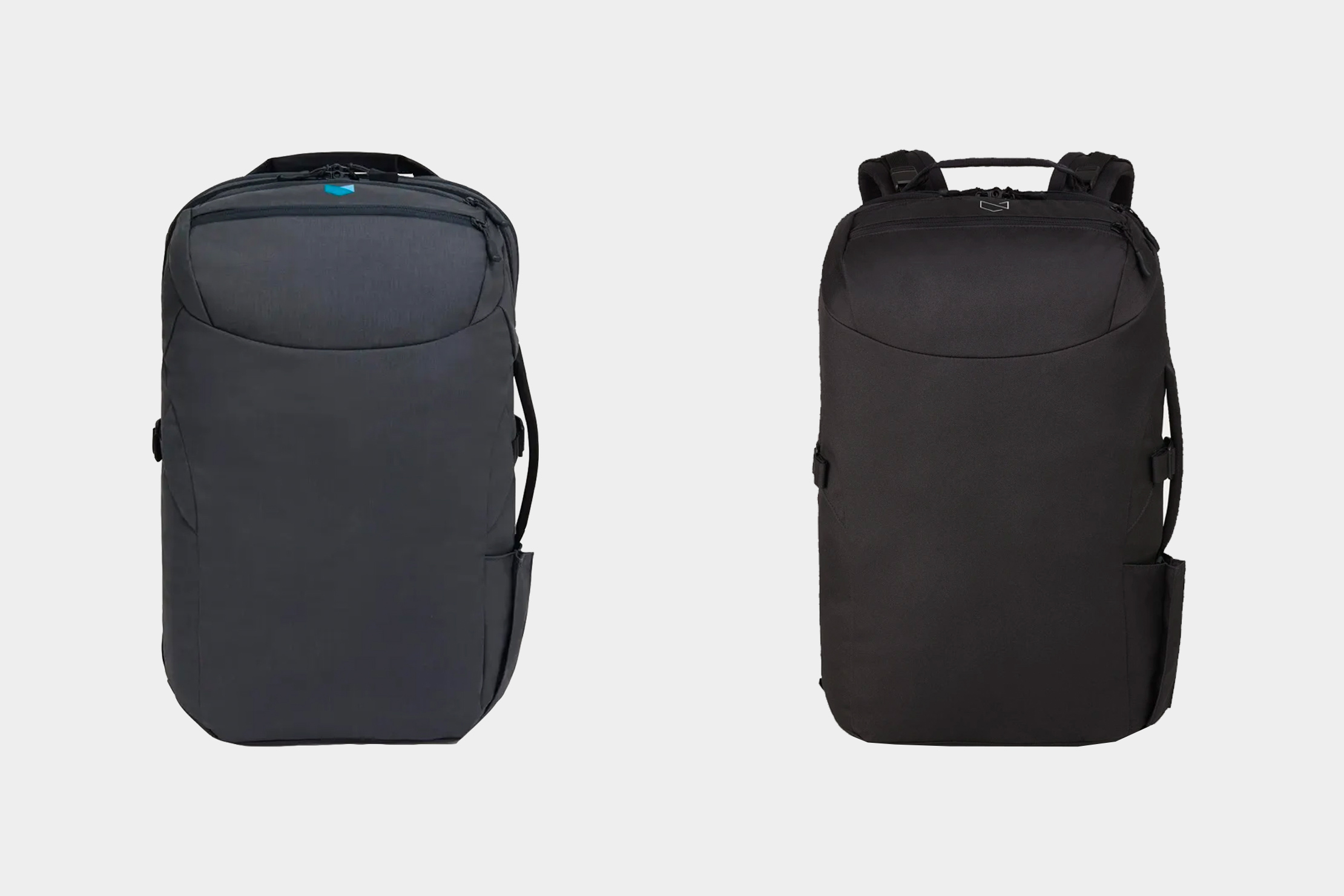 As with the 2.0, the Carry-On 3.0 only comes in two colors: Vancouver Grey and Aoraki Black. Self-explanatory colors, but the Vancouver grey has a bluish tint. Maybe Vancouver gets bluish during overcast weather, or Minaal knows something about Vancouver that we don't—speaking of things that aren't blue—the logo at the top. It's now a white line-art, replacing the old solid blue one.
The internet seems to be split on whether they like the redesigned logo. The white line art is super clean and minimal, while the blue gives it a bit of color and style. This in no way affects how the bag functions, so we're okay with either.
Minaal uses their Picton recycled nylon to keep quality up to their standard. Minaal cited quality control issues with CORDURA for their 2.0 (which we don't necessarily agree with since many brands use CORDURA without issue). Either way, the Carry-On 3.0 improves upon the nylon used on the 2.0 with 600D fabric for most of the outside with a couple of abrasion-prone areas upping it to 1200D.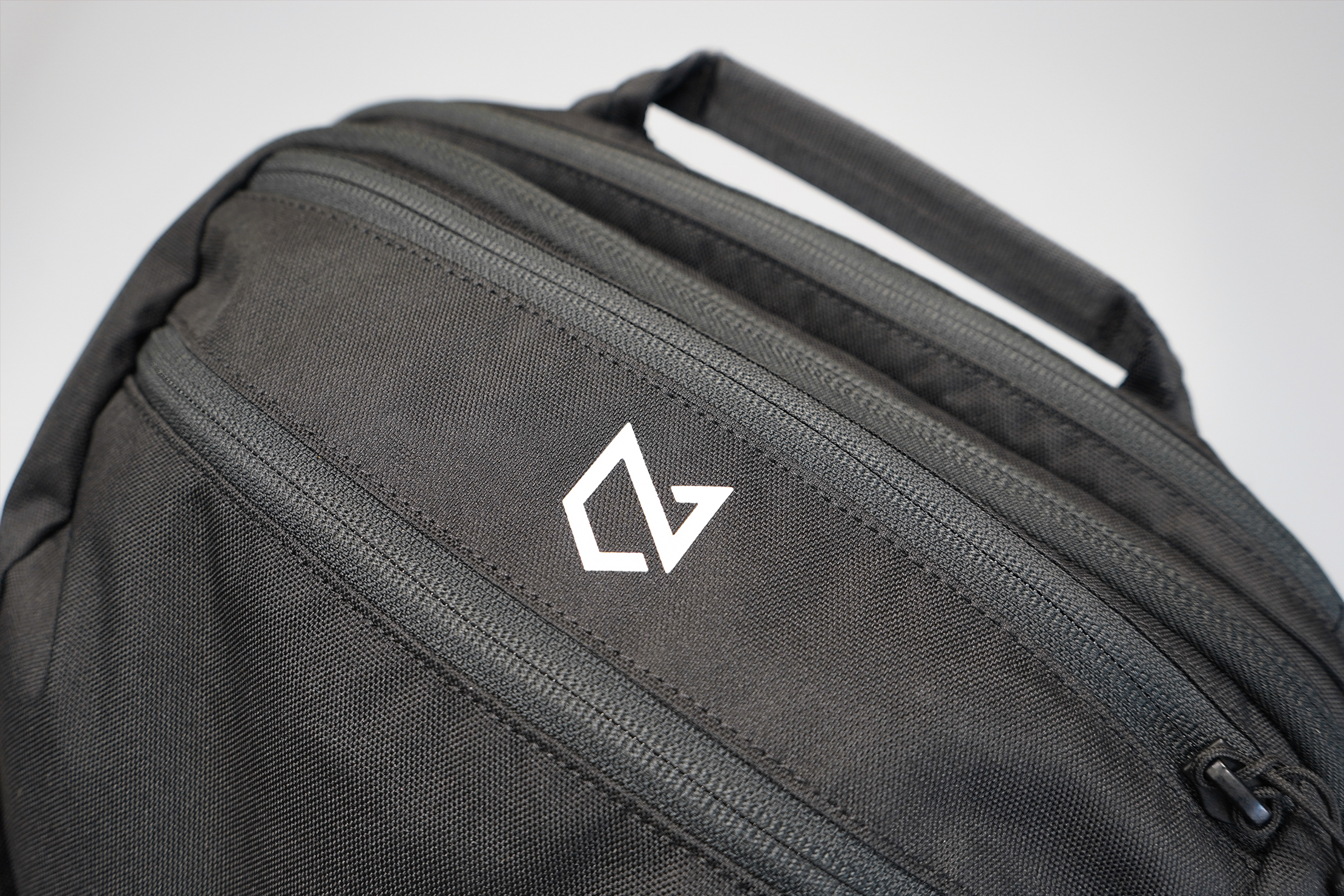 The biggest gripe we've had with the fabric used before was that it was very susceptible to picking up lint—a common residue you'll find at airports across the world. It's also the bane of every corduroy enthusiast's existence everywhere. We're happy to report that the new and improved Picton fabric attracts less dust and lint than the previous iteration.
The zippers are all YKK that we've all come to know due to their outstanding quality. The buckles are courtesy of Woojin, UTX, and ITW, also of admirable quality. Everything zips, clips, and slides nicely, along with no jams to speak of that weren't our fault.
External Components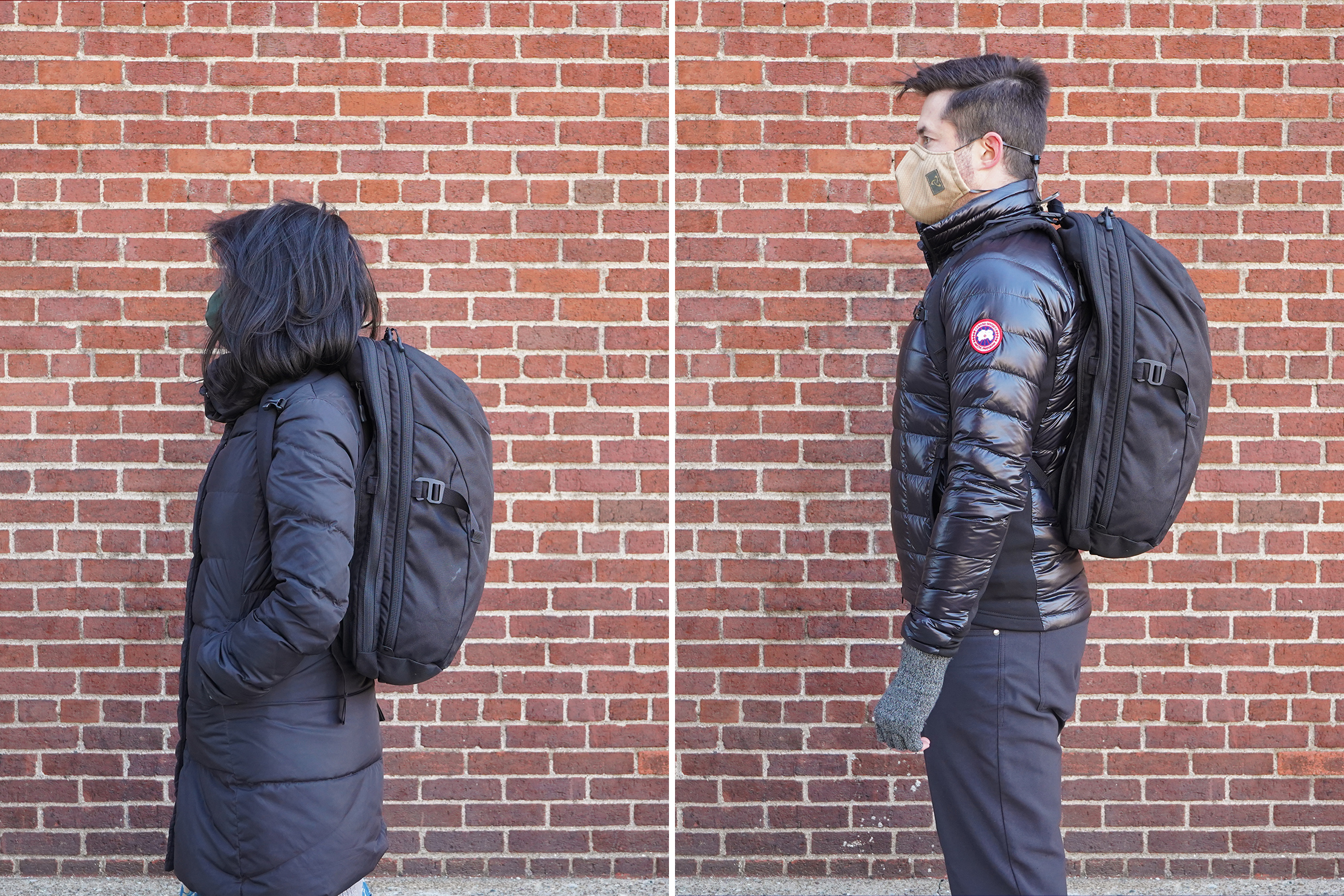 Since this is a carry-on bag, it's fair to assume that it will be easy to carry on your own from your house, through the airport, on the airplane, through the airport again, and to your destination. For that, the superb harness system here has got your back (and your shoulders & hips). Minaal has even printed the exact size specs of the Carry-On 3.0 on the shoulder straps for any gate agents that get bag-check happy. It's a bit hard to read, but a nice sentiment. At the end of the day, you're probably going to have to check your bag if the agent says to, but every little bit of documentation helps.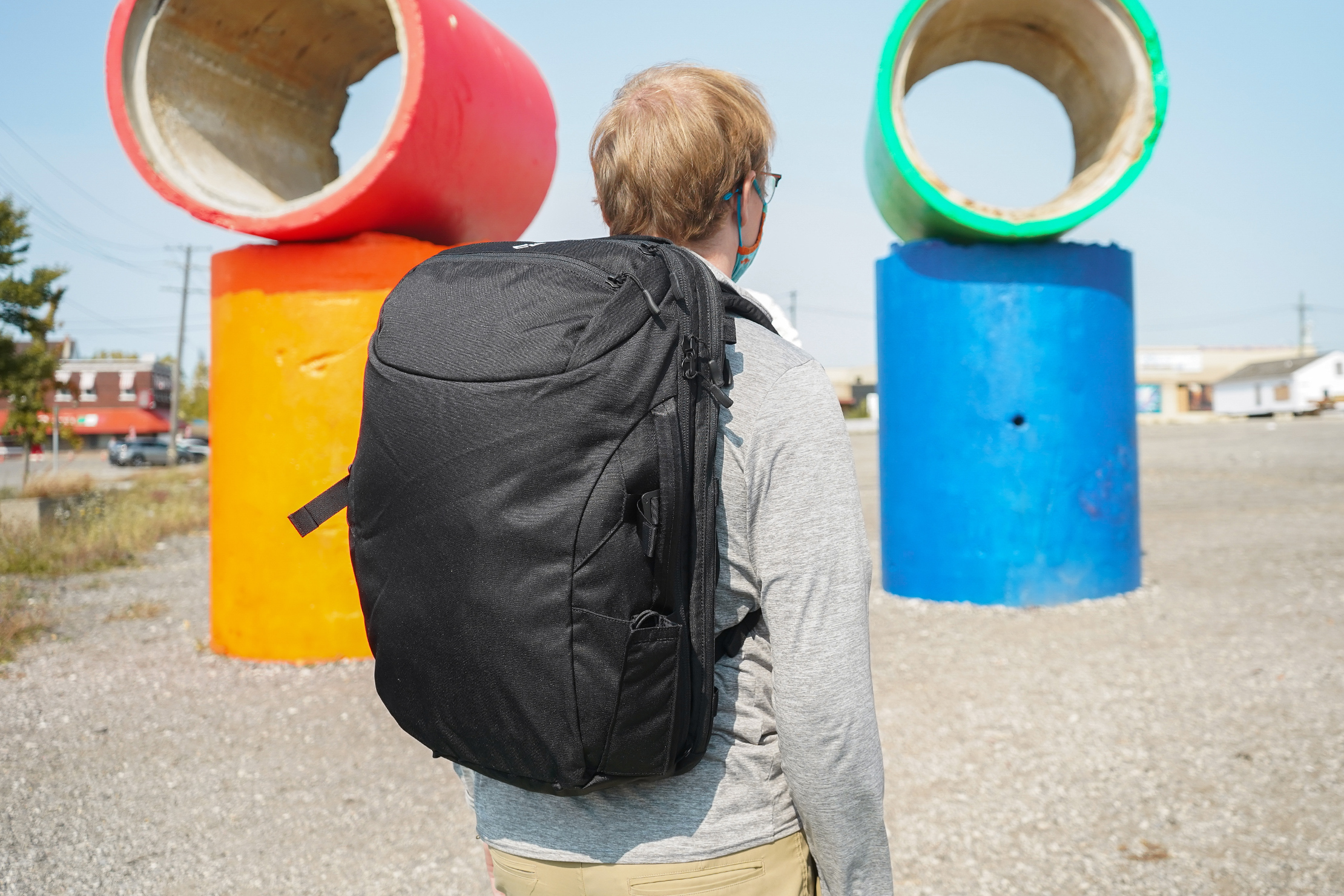 The shoulder straps themselves have been constructed with two different layers of foam. The outside layer has thick and dense 5mm EVA EH35 foam, while the inner side, the one that's touching you, has a softer 5mm layer of EVA EH20 foam. The back panel looks worrying in comparison since there only seems to be very shallow air channels. But the material is breathable and more than up to the task in our testing. The whole experience is quite comfortable considering how much you'll be packing inside, as we'll see later.
A posse of straps are at the ready should you need additional support. We really dig the sternum strap here because of how easy it is to adjust. It's an on-rail type of deal that slides along top to bottom depending on your preference. The long male half of the sternum strap tucks away neatly into an extra female receptacle located on the same shoulder strap. Did we mention that there's a tiny but handy emergency whistle now as well?
There's also a detachable hip belt if you'd like to go all-out on support. However, do bear in mind that if you bring it, there's no special compartment for it later when you don't need it, and you'll have to detach it with the "kind-of-a-pain" gatekeeper buckles.
One of the key features we praised in the previous version are the magnetic load lifters. These are mounted near the top of the shoulder straps and attach to magnetic anchor points stitched to the pack's top. They work well and keep the load from dragging down too much. It's a concept they've proved works with the 2.0, and we're glad to see it retained for the Carry-On 3.0.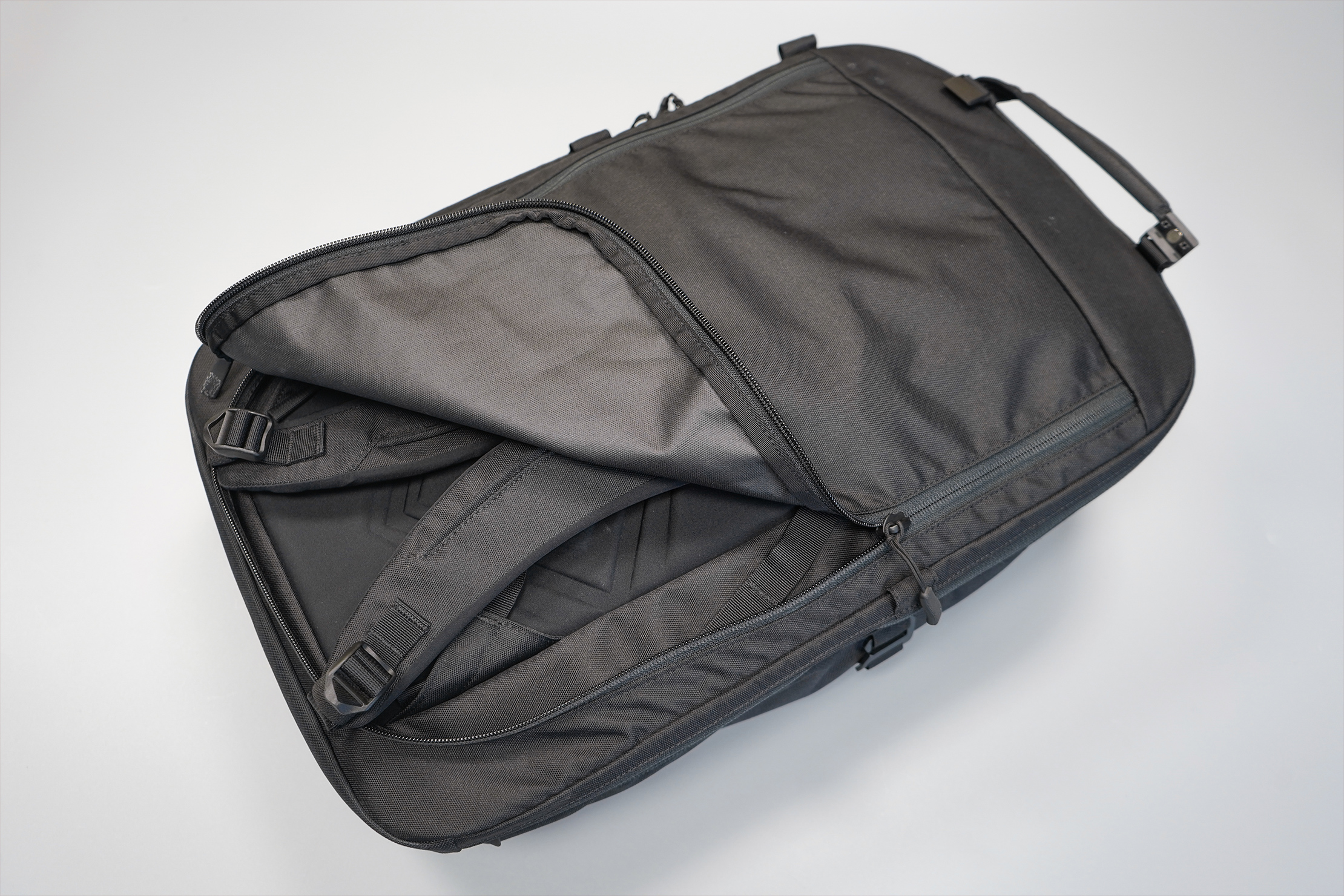 Also carried on from the previous iteration is the hideaway feature for the harness system. Tucked away at the top of the back panel is a cover that hides away all the rear straps when fully unfurled. We've previously noted on the 2.0 that when the cover is rolled and tucked away, the lump can touch the base of your neck, mainly if the load lifters are used. Minaal's reduced this to the extent that we haven't noticed this minor annoyance on the Carry-On 3.0. It's a small change, but it's one less nitpick we can check off.
A pair of zippers run around the edges, and everything looks squared away once zipped up. We still have reservations about having zipper elements exposed like this for most of the time you're using the bag. YKK zippers are great, but they're by no means indestructible. This is something Minaal may improve, but it's more of a nitpick than a significant flaw.
Also retained between the 2.0 and 3.0 is the same water bottle holder solution, and we're not really fans of it. The main issue is the rather flimsy bungee cord that doesn't seem to hold bottles in place. Plus, there's no elasticity in the bottle holder itself (aside from the bottom)—only gusseted fabric.
We've had bottles slide out of this pocket quite easily—especially if they're smoother and cylindrical. We've dealt with this issue by using a more "bottle-shaped" water bottle and by securing our tumbler cap to the handle using a carabiner in case it slips out. It's a workaround, and we'd rather that we did not have to resort to it at all. One small improvement made over the previous version here is the elasticated bottom to accommodate different bottles' sizes better. However, it doesn't do much to prevent bottles from slipping out.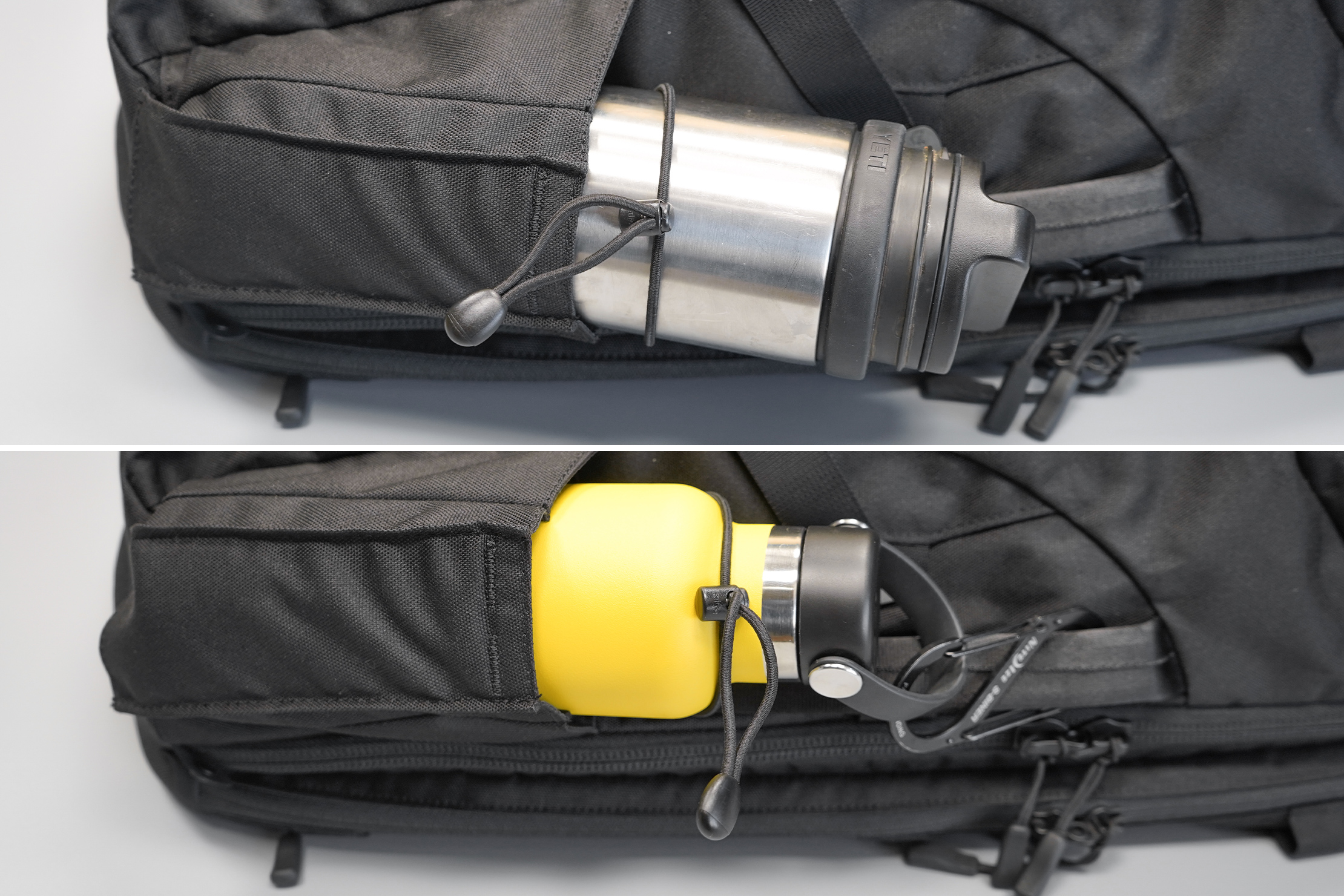 Continuing along the sides are the simple but effective side compression straps. We love these for the simple fact that they are, well, simple. Minaal did the right thing and didn't go crazy with additional compression straps for the sake of adding more items to the spec sheet. Undo the G-hooks and attach them to the rear loops, adjust to the desired tightness, and you're done. It's easy and stows away nicely, just the way we like it. As a bonus, the compression straps do not obstruct the zipper when in stow-away mode either.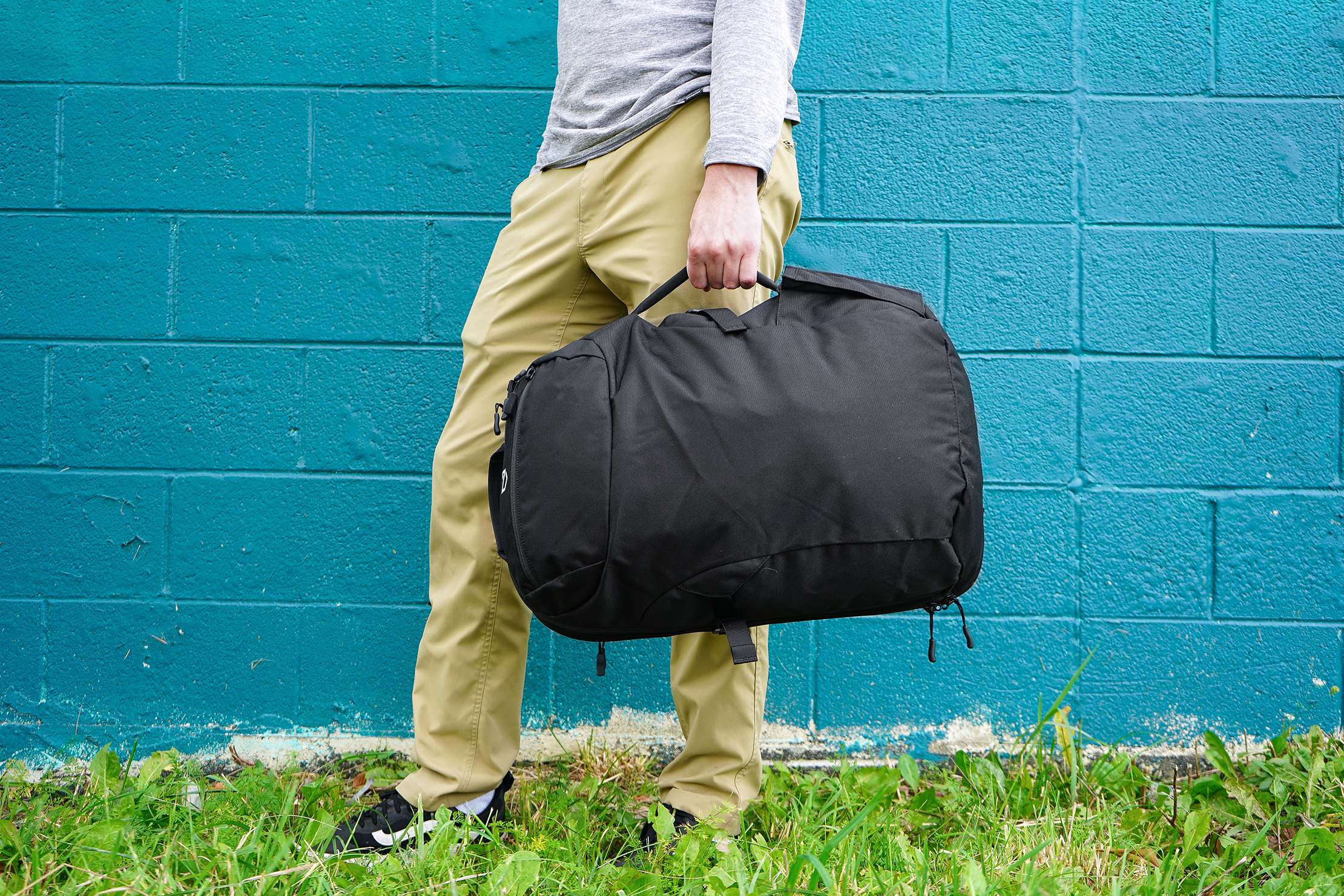 Along with the top handle, there's also a side-mounted handle for suitcase-style portability. Minaal cleverly stitched this handle at an angle to prevent the bag from sagging and to better distribute the weight between the two points. There's still some bowing left, but not enough that the contents of the bag will fold excessively into itself.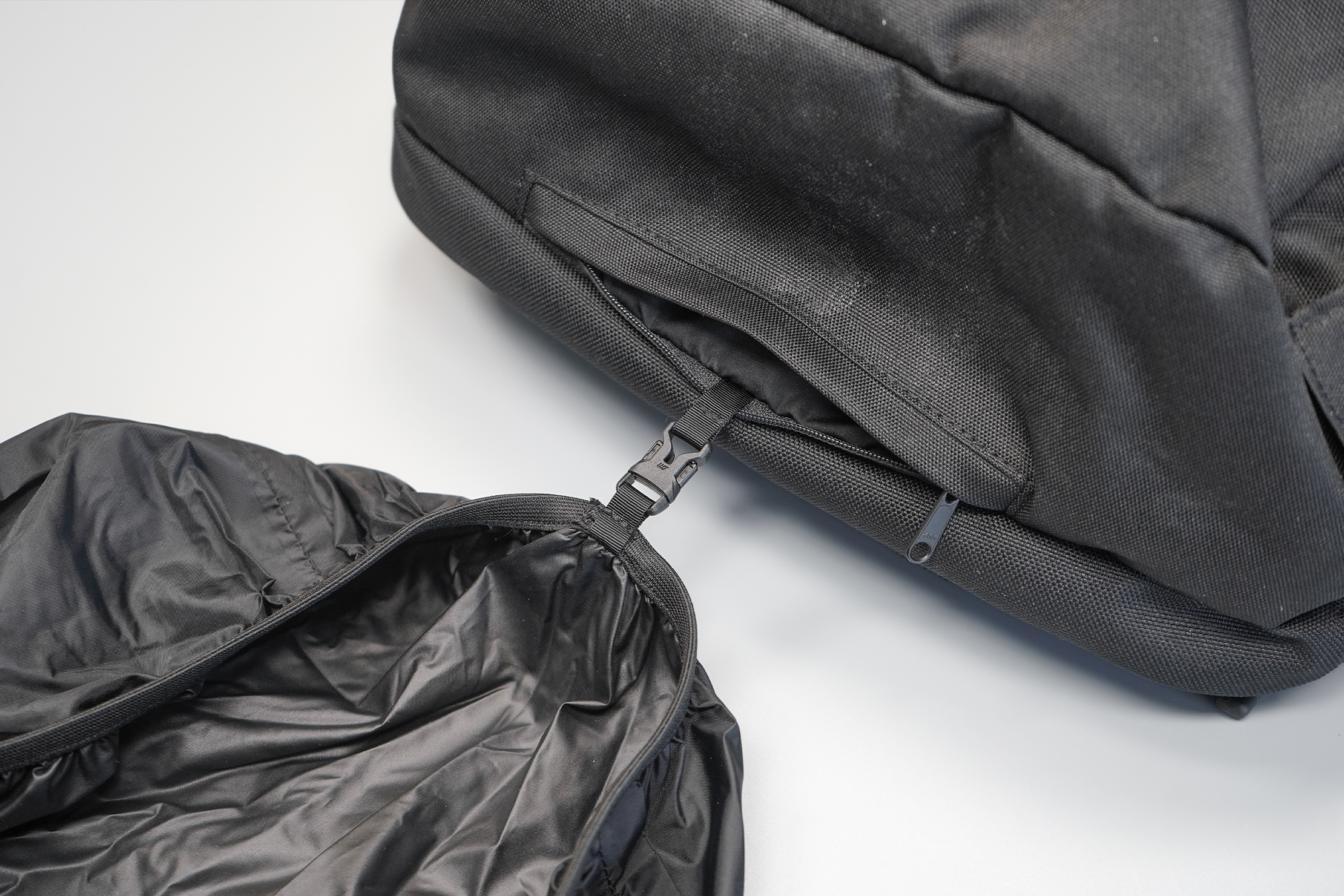 Before we forget—because it's so well hidden—the hidden bottom pocket contains the Carry-On 3.0's rain cover. It is convenient when you suddenly find yourself in a heavy downpour in places with unpredictable weather. But in most instances, you can leave this rain cover at home, seeing as the Picton fabric is capable of come water resistance on its own. This also saves you some space inside, as you'll see later.
Inside The Pack
Circling back to the front, the Carry-On 3.0 has easily accessible pockets. The top pocket keeps your wireless earbuds and charging cables quickly within arm's reach—or at least not buried under piles of clothes in the stow-away compartment. Further inside is a mesh pocket and a nice bonus key clip for your keys or—if you're a rebel—comical keychains you've racked up from all your overseas trips.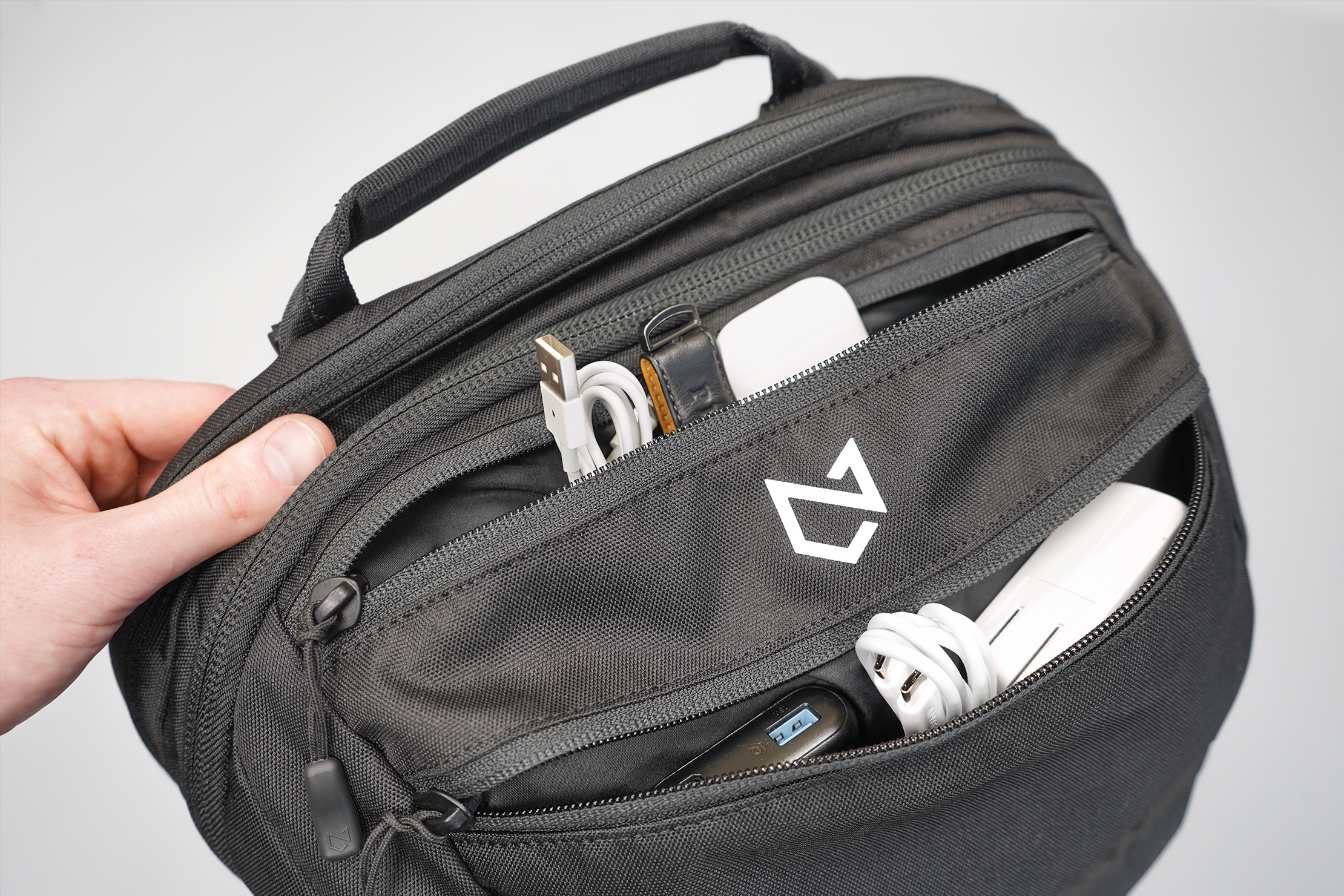 The next pocket below is much roomier, with enough room for power banks, chunky laptop charging bricks, professional mice, a tech pouch, really anything a digital nomad would take with them. Note that as much as you fill up this pocket, an almost equal amount of space is taken from the "scoop" section of the main compartment, as you do with the rain cover.
New to this version is the addition of a security pocket underneath the back panel's right mid-section. It's relatively deep, reaching to the center of the bag. It conveniently fits Minaal's RFID Travel Wallet, but it can hold other wallets as well. This is another excellent place for a passport. The pocket is located about two inches inland of the back panel, so it'll be more challenging for a pickpocket to get to.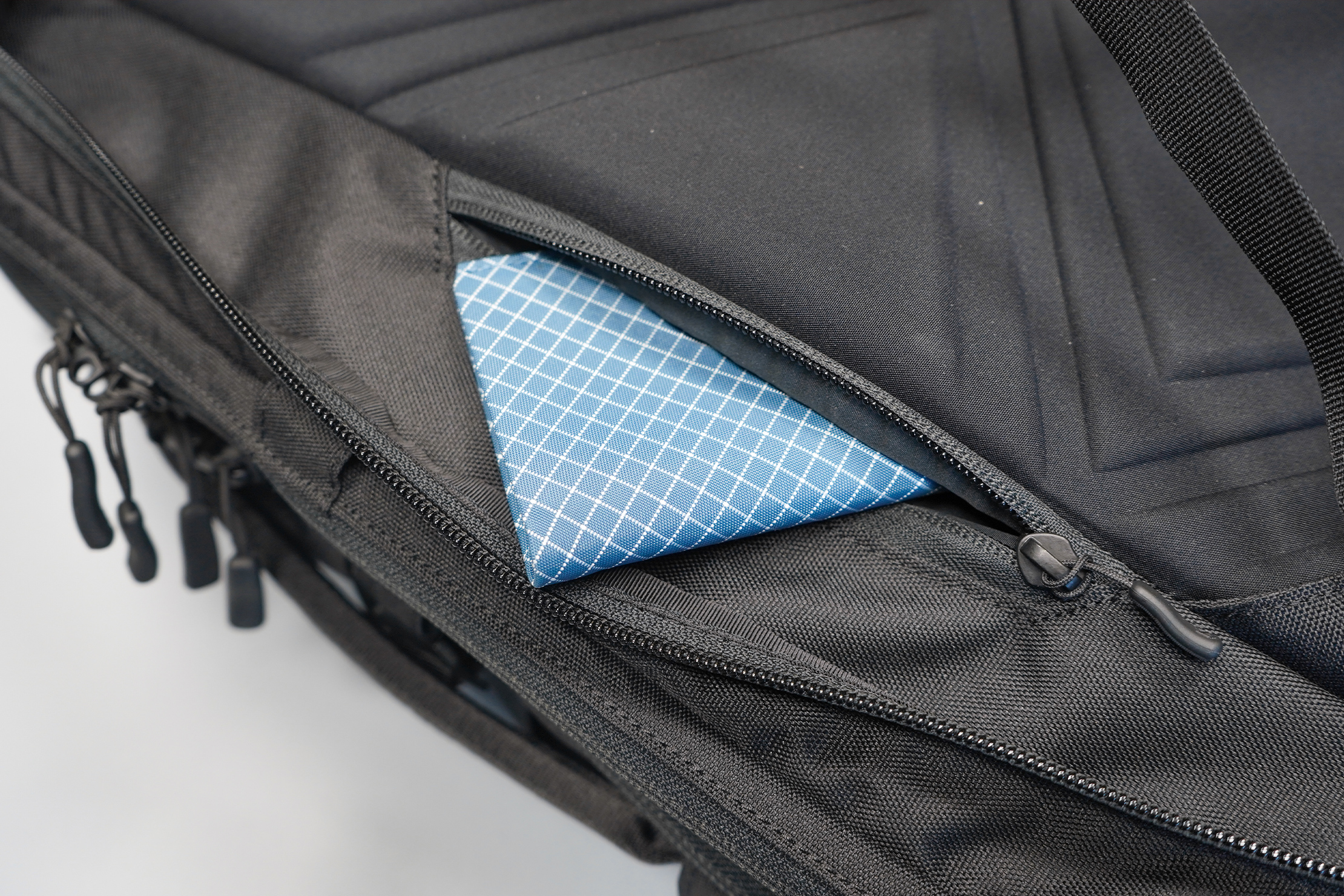 There are two main compartments to the Carry-On 3.0, but we'll start with what you digital nomads want to know about first: the device compartment.
Something new from the previous version is that the device compartment now fully opens clamshell-style. No more sticking your head and peeking into the abyss if you need to fish out something that's inevitably made its way down to the bottom. Consequently, if you filled up this compartment, the contents might spill out if you recklessly open it all the way—just something to be conscious of when opening this in-flight in a crowded cabin.

On one half of the device compartment is the unique laptop-tablet sleeve that we were all wowed by on the 2.0. It's functionally the same system: You slide your devices in and loop in the top and right straps to the appropriate slots and everything should be secured in place. A simple envelope style sleeve would have sufficed, but kudos to Minaal for going with a solution that can hold down your gadgets regardless of size due to it being adjustable. We're not fans of overengineering something for the sake of novelty, but this solution genuinely has function so it gets the thumbs up from us.
The other half is a lot more straightforward. A wide but shallow pocket sits atop a document sleeve. The shallowness dispels any doubt from our mind that this was purely intended for pens, pencils, and other writing material. If that wasn't enough, the fact that the bottom sleeve is closed only by a single clip means that it's intended for larger documents. It's as if Minaal is hinting at a deeper meaning here, with the way they juxtaposed your laptop and tablet against papers and pens. Or maybe we're just overthinking things—again.
Now we arrive at the main compartment. But wait don't open it yet! You first have to remind yourself that you must lay the bag on its tummy (that's the front) before you do. Your clothes live in the "scoop" section, after all, so you'll have to make sure that that section is resting while the other half is the one that opens.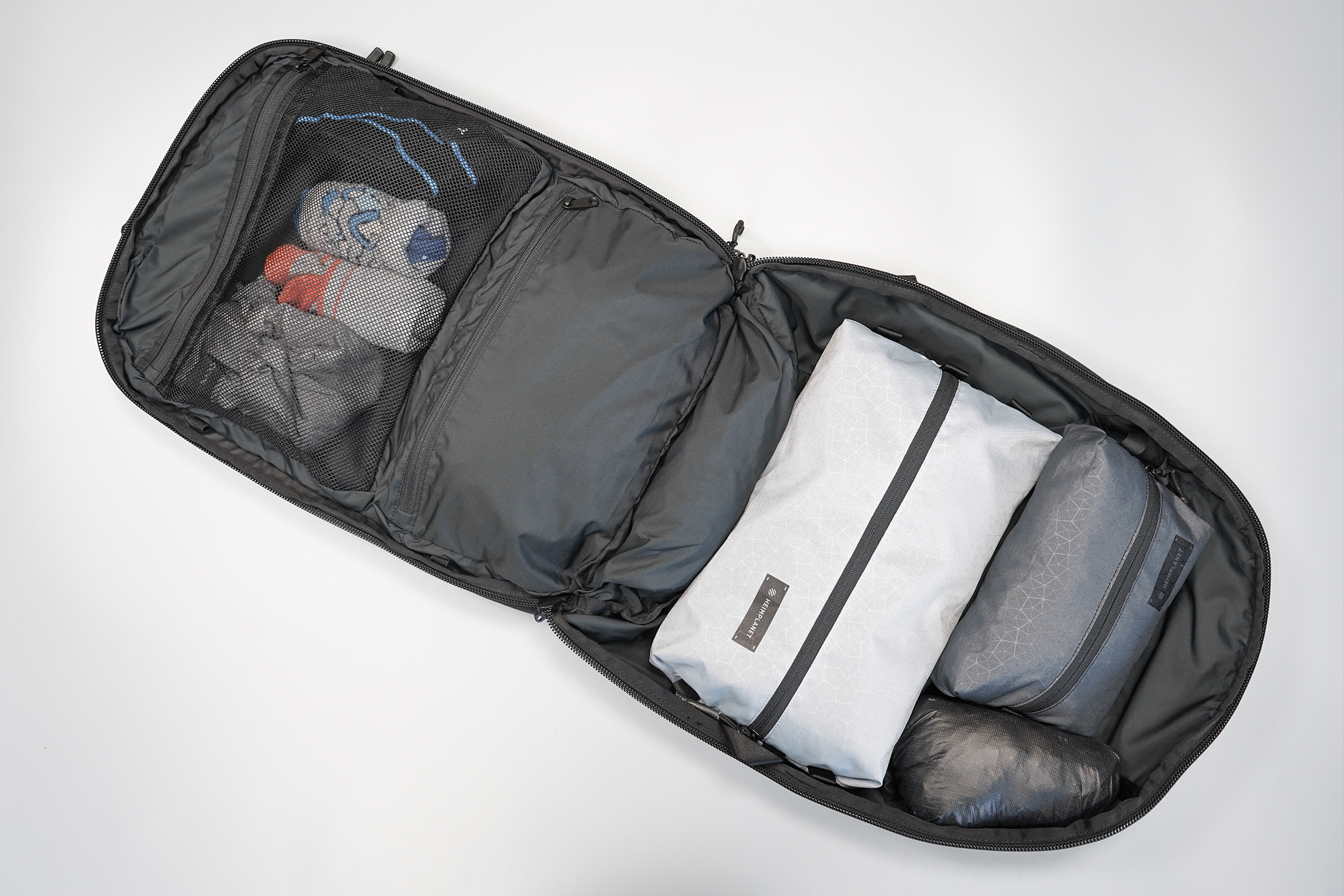 The scoop is basically just that—a cavity where you put your clothes in. Frankly speaking, packing cubes are a must here to keep things organized. It can accommodate two small ones and one medium-sized packing cube. We used the Eagle Creek Pack-It Isolate Packing Cubes for this one, and it fits perfectly. Minaal also makes their own packing cubes if you want to keep it all in the family. A fair amount of room can be taken up by the large front pocket, depending on what you put in there, and the rain cover compartment. Pack carefully and pay attention to those two if you wish to maximize the gear you pack in the main compartment.
Optionally, you can also pair the Carry-On 3.0 with Minaal's own Shirt Protector accessory. There are built-in loops on the other half of this compartment where the Shirt Protector can latch on to, so it's worth considering if you like laying your shirts flat as opposed to rolling them up into a packing cube.
A mesh pocket and a regular nylon pocket sit on the opposite side. These can fit small articles of clothing and accessories, such as delicates, handkerchiefs, socks, and neckties. There's a healthy amount of dimensionality to these pockets and they have about an inch or so of depth to them. Other travel backpacks provide internal pockets that are simply stitched fabric or mesh on a surface. For this, Minaal provisioned a bit of side fabric so that these pockets can expand evenly, and not into a mound.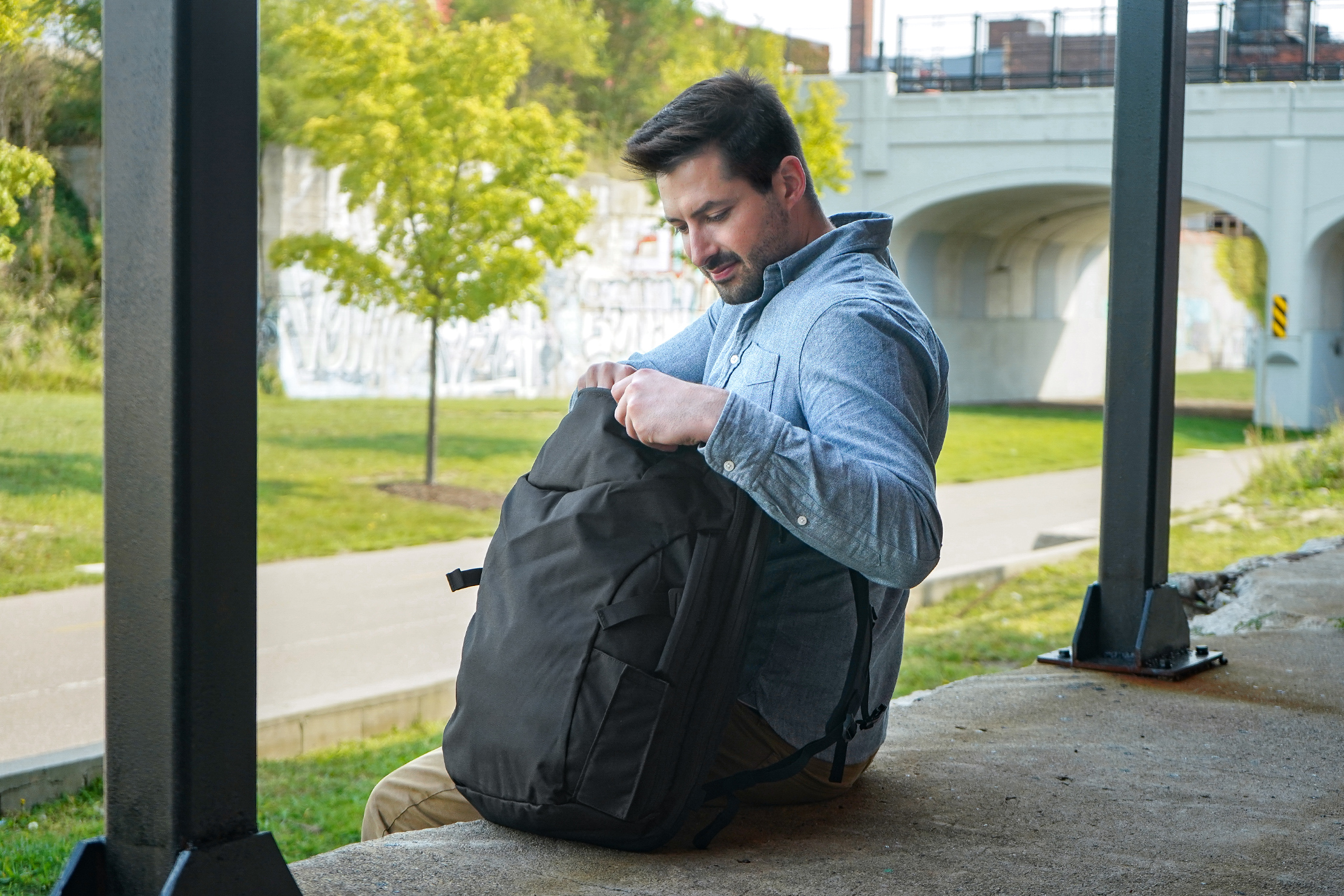 Minaal's on the third iteration of their bags and we can see that they know when something is working and when something is not. Smaller companies like Minaal seem to be always bursting with ideas to buck the trend and make something that's truly stand-out.
Case-in-point is the laptop-tablet sleeve we dig so much. It's not a game-changer that will turn your world upside-down, but it's an idea that serves to improve your experience and we love to see things like this pushed forward and retained. Other examples would be the well-hidden rain cover, dual foam layered shoulder straps, and simple side compression straps.
At the same time, however, it's unfortunate to see one less-than-ideal solution slip through. The flimsy bungee cord on the bottle holder really leaves much to be desired. We can't help but notice fully filled tumblers falling out whenever we try to use it in spite of tightening the cord as much as we could. We've cited our own workaround, but we'd rather not have users do that.
If you're not a big fan of carrying a water bottle, the Minaal Carry-On 3.0 shapes up to be a superb one-bag answer for the digital nomad who's asking to live out of 35 liters. There's ample space for your laptop, tablet, and the accompanying ecosystem of accessories that make up your digital office, and enough clean clothing to keep you looking fresh between flights.

In this Pro exclusive video, we show how the Minaal Carry-On 3.0 Bag and Daily 3.0 Bag work together. Unlock access to our entire catalog of Pro Exclusive Videos when you sign up for Pro.
Usage Timeline
Initial Usage
Condition: Excellent
Smart organization all over this bag makes it great for travel
Harness system is solid and fully packs away
Tech and device compartment now opens fully clamshell
2 Weeks of Use
Condition: Excellent
Even though it's tailored for carry-on air travel, this was a great bag to have on a 550-mile road trip from Detroit to the Smoky Mountains
Comfortable harness system with a heavy load—and 3.0 is even better than 2.0
One of the best digital nomad and remote work bags around
We wish the water bottle pocket would have improved from the 2.0 version
1 Month of Use
Condition: Excellent
Tech & device compartment is still incredible—we're digging the protection and ease of use
Bottle pocket is still causing problems even with trying a couple different sizes and shapes
Overall, still pleased with the way this thing is holding up.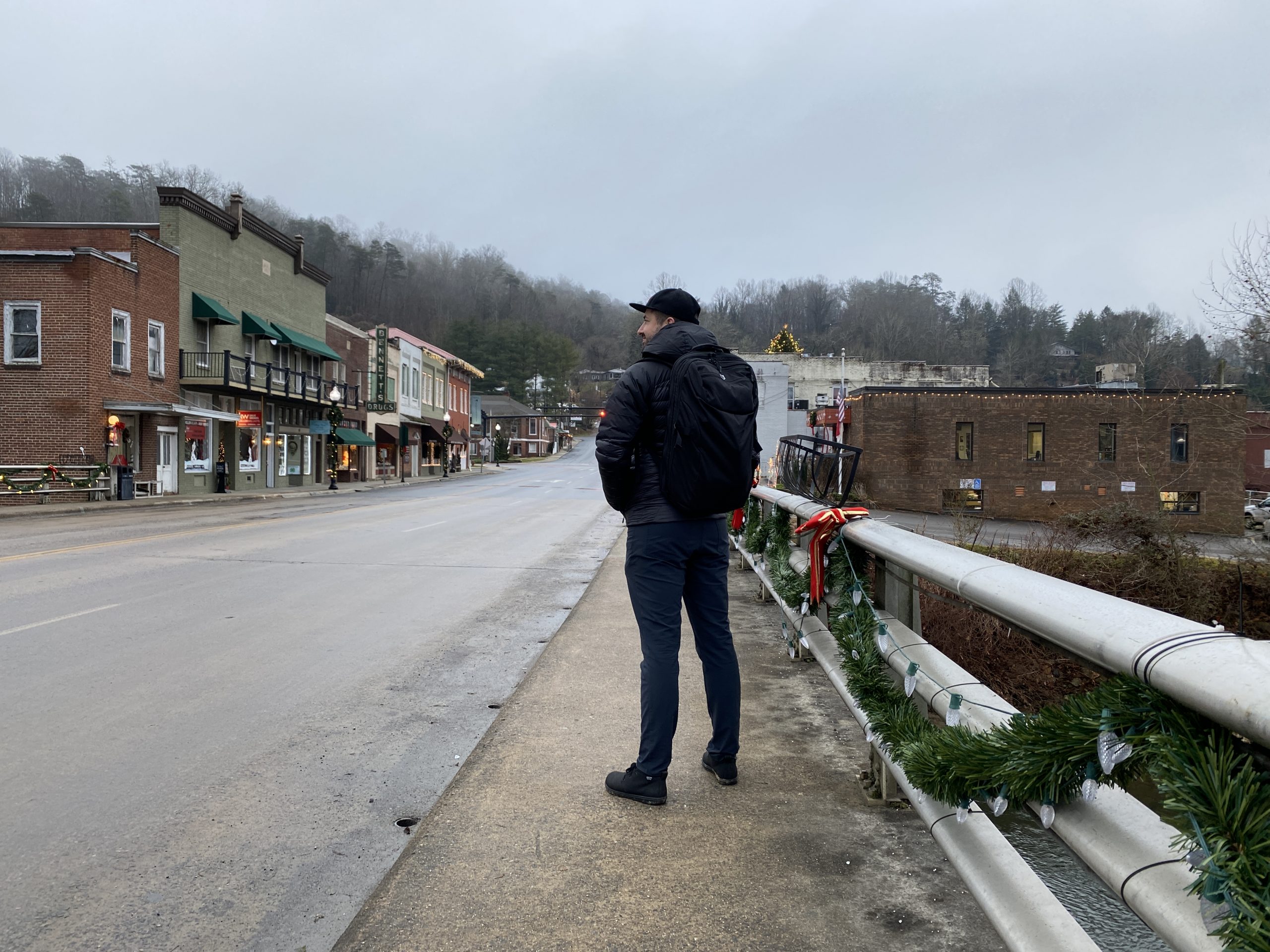 Access the Pro Community Discussion
Get your questions about the Minaal Carry-On 3.0 Bag answered from our team and the Pro Community right here on the page. Plus, join discussions with other members about gear, guides, and more.
Other Bags & Luggage Reviews