EVERGOODS Civic Panel Loader 28L (CPL28 V2) Review
The EVERGOODS CPL28 (V2) is an excellent pack featuring a comfortable fit and convenient organization, even if it's missing some basics, like strap keepers and a mesh back panel.
Our Verdict
Unlock the Pro Summary
Save time. Get access to brief summaries of our reviews so you can browse and make decisions more efficiently.
Pros
Conveniently-integrated organization
Comfortable, flexible harness system
Suspended, densely-padded laptop sleeve
Cons
No elastic keepers to manage excess strap, can get dangly
No mesh lining for added breathability
Corner sleeves in front pocket are difficult to access
Recent Pack Hacker Video
Technical Details
Capacity

28l

Weight (lb)

3.48 lb (1.6 kg)

Denier

500D

Dimensions

19.25 in x 12.5 in x 8 in (48.9 x 31.8 x 20.3 cm)

Notable Materials

Nylon, Polyurethane, YKK Zippers, DWR Coating, Aluminum, Duraflex Hardware

Manufacturing Country

Vietnam

Laptop Compartment Size

17"

Warranty Information
Full Review
If you take the EVERGOODS Civic Panel Loader 24L (V1) (or CPL24 V1 for short), upgrade some features and add 4L extra liters of storage, you get the bag we're reviewing today: the EVERGOODS Civic Panel Loader 28L (CPL28 V2).
Editor's Note: You can also check out our comparison video of the CPL24 (V1) versus the CPL42 (V2).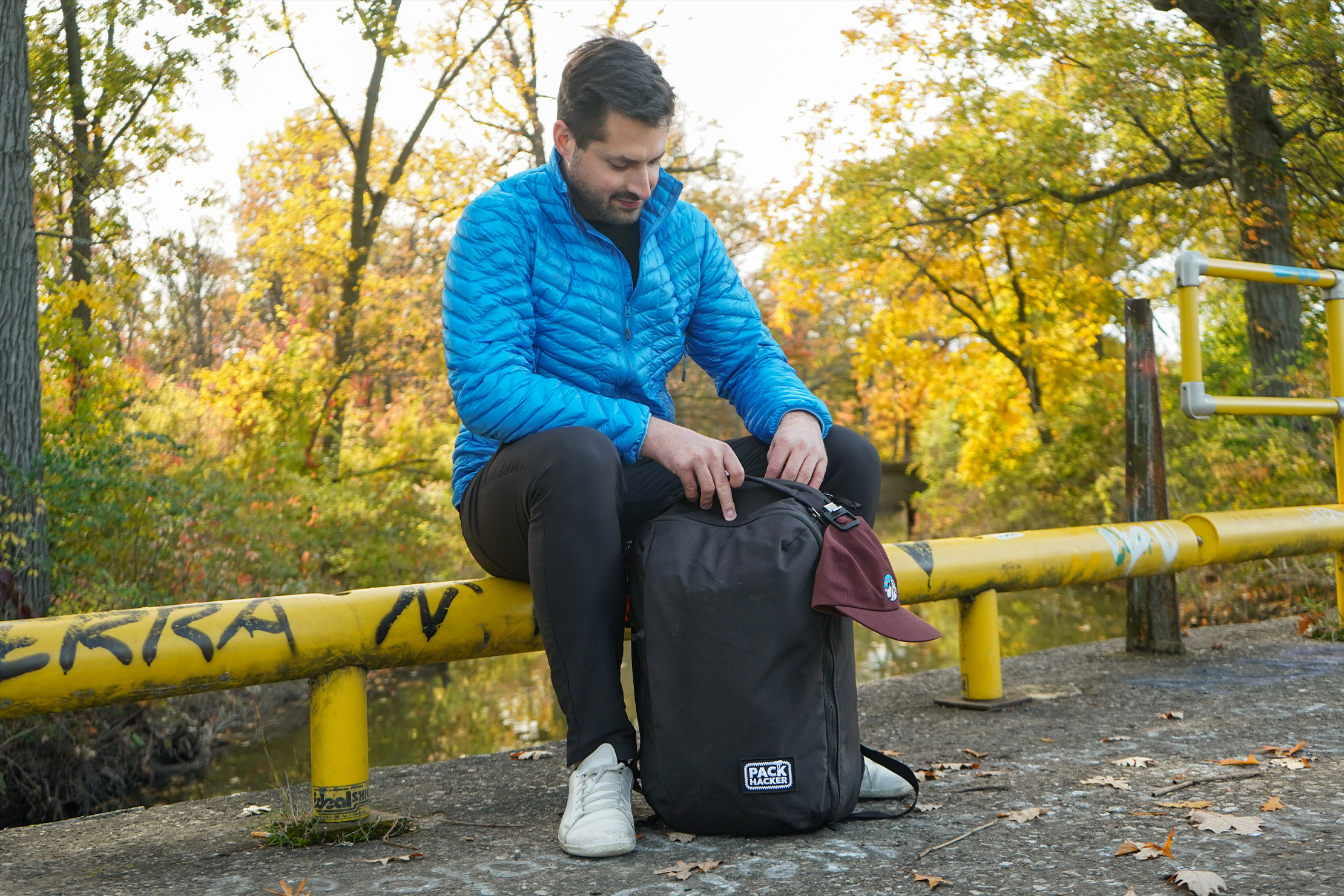 The CPL28 (V2) is a larger daypack with a comfortable, flexible harness system and convenient segmentation for our different gear types: from tech to frequently-used items to everyday essentials.
Just how good is this EVERGOODS pack? Read on to find out!
Materials & Aesthetic
This bag doesn't have much going on externally, and its simplicity is either something you'll find refreshing or underwhelming. According to our poll on its aesthetic, around 75% of our Instagram followers would say the former. It looks rugged but clean and is more than capable of getting your stuff from A to B.
At the time of this review, the CPL28 is only available in Black—which, if you're someone who favors a subdued, no-nonsense bag, should work for you and your use case just fine. If not, you can always stay on the lookout for newer, more exciting colorways should they be available in the future.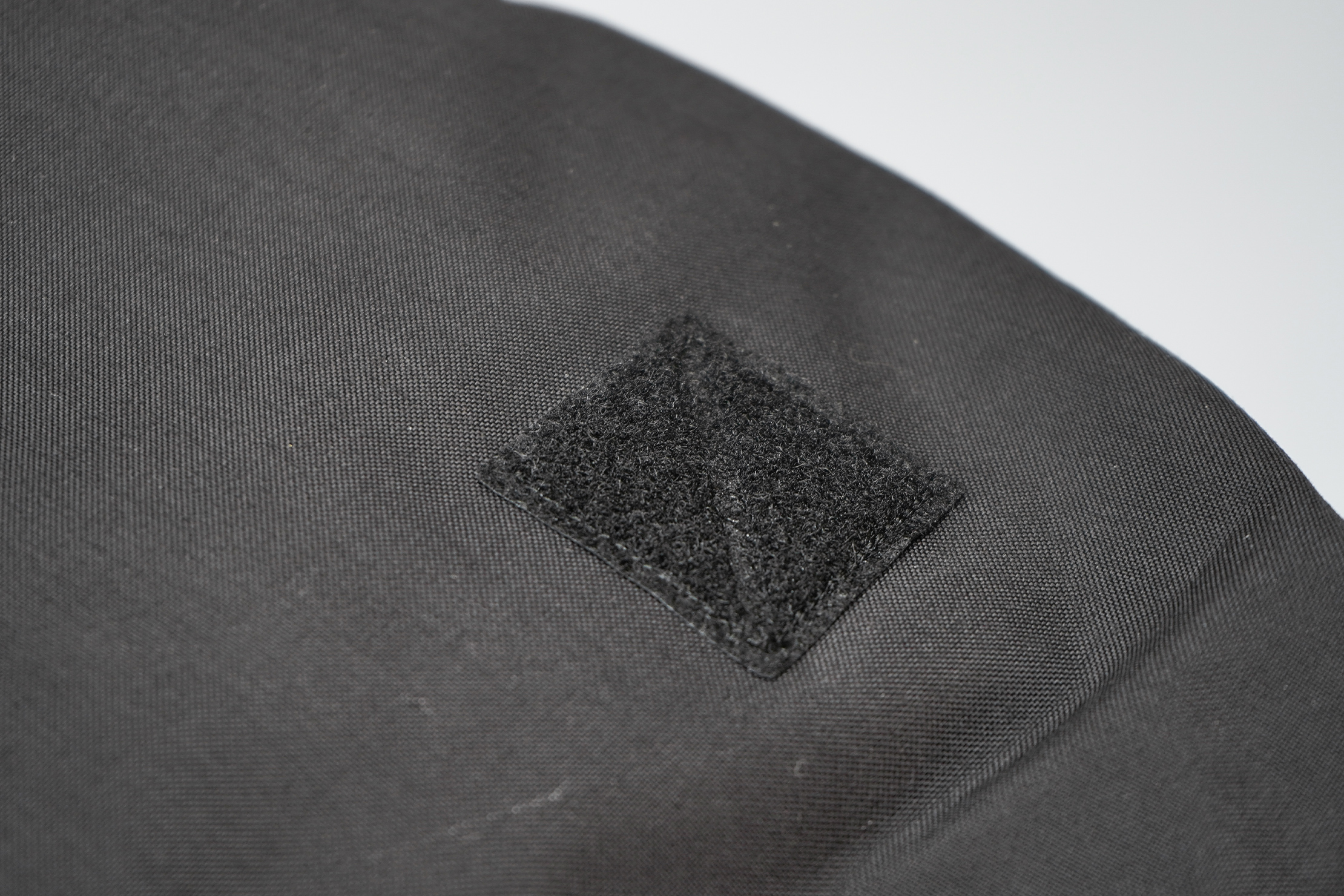 As we noted above, this bag has a pretty simple look to it. In fact, the only branding you'll find on the outside is a 2×2 velcro square with a diagonal line that makes up the EVERGOODS logo. You can add some of your own personality to the pack by throwing on a patch, which is what we've done with our own Pack Hacker patches (and you can get your own as a bonus of joining our Pro Community).
The outside of this pack features a 500D nylon fabric with a PU coating on the back and DWR coating on the front, while the inside is lined with 420D HT nylon. So, not only are you getting a stiff, durable material inside and out, but a ton of added water-resistance to keep your gear and the pack itself dry and damage-free. We will say that it picks up quite a bit of lint, which is something to be aware of; you may want to give it a quick glance before heading out so you can wipe away any debris.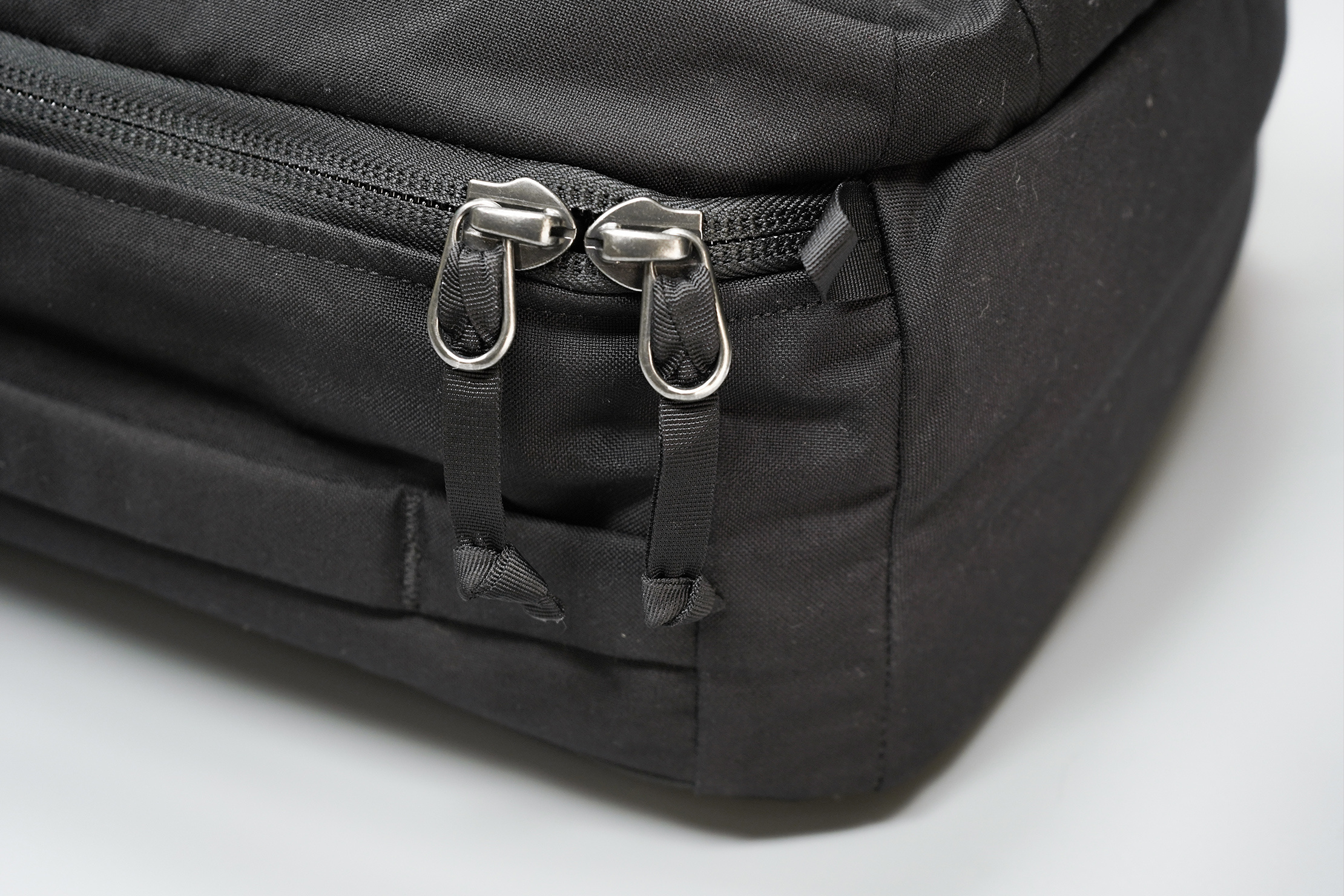 The CPL28's water-resistance extends even further with DWR-treated YKK zippers around each compartment to keep out unwanted moisture. There's also a small loop at the bottom of each side of the bag that you can hold with one hand and zip or unzip each compartment with the other. This way, you're getting as smooth a zip as possible, every time.
We love seeing small, thoughtful additions like these that make using and accessing the pack just a little bit easier. These loops aren't as easy to grab as the ones we experienced while testing the Mystery Ranch Urban Assault 21 (UA21), but we're still digging their added functionality and they're much more subdued. Plus, you can also use them as a spot to clip a carabiner, so you always have one close by.
We're happy to see Duraflex hardware incorporated throughout this bag, too. This is a brand we're pretty familiar with and have had positive experiences with in the past. We can add this pack to the list, as everything has been working smoothly so far.
External Components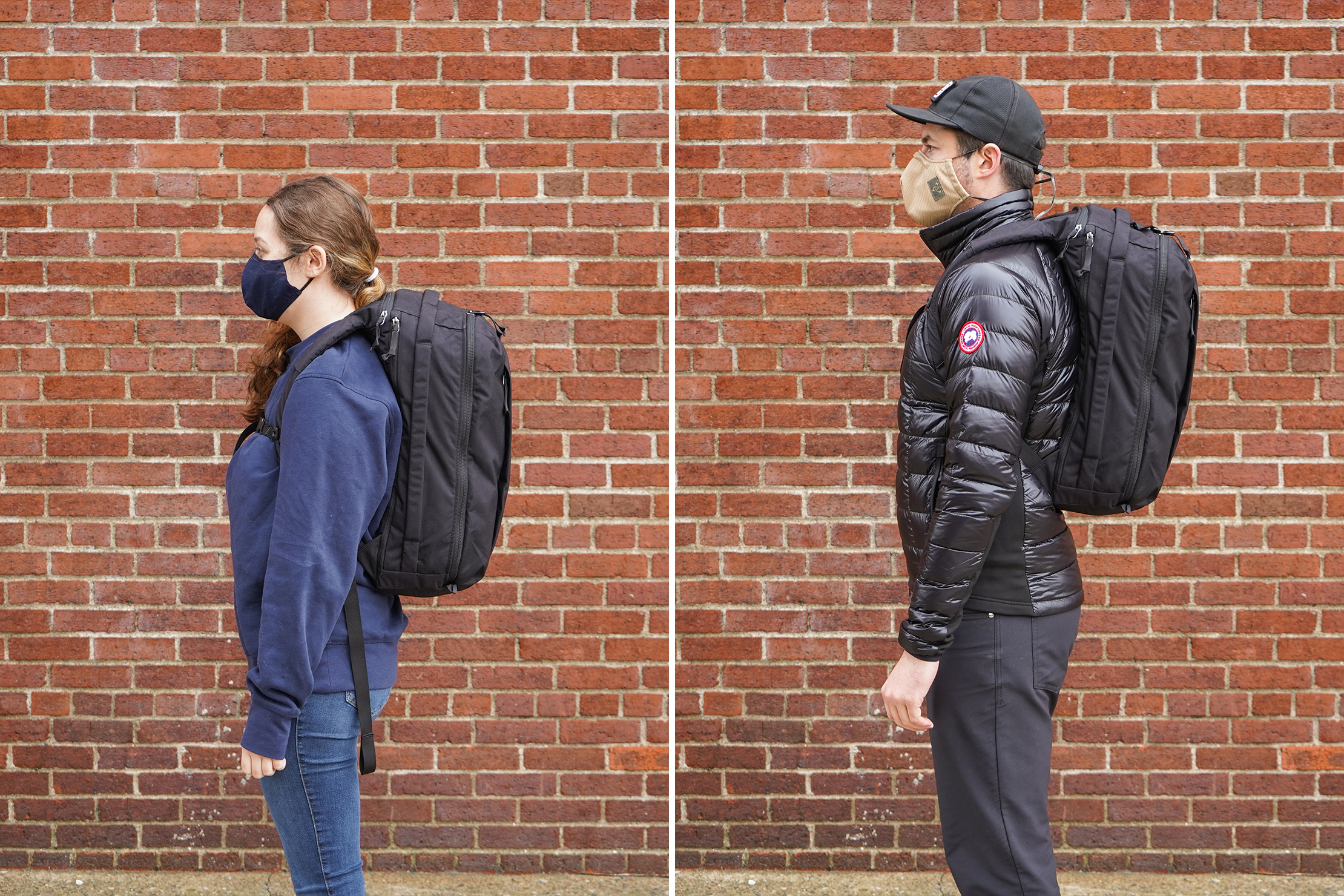 The extra 4L between the CPL24 and CPL28 has had a relatively significant impact on its fit, which is either a positive or a negative depending on your body type. The CPL28 is longer than its 24L counterpart, and we've found it caters better to taller frames, as some of our towering team members can attest. There's no "hover back" phenomenon (where the bag is pulling away from the back) like we've experienced in the past with some other bags.
All that said, this may not be the case for you. The CPL28's measurements might not be as well-suited for shorter carriers, as it might feel oversized and uncomfortable. We've also felt it poke into the lower back some. So while we've appreciated its design during testing ourselves, it all comes down to your frame and preferences.
The shoulder straps comfortably curve to the shoulders and are padded with dense, spongey EVA foam that acts as a cushion against the body. If that's not enough, you can also feed a water bladder hose through the fabric welts at the top to get that clean, easy hands-free hydration when you're taking this thing in the outdoors.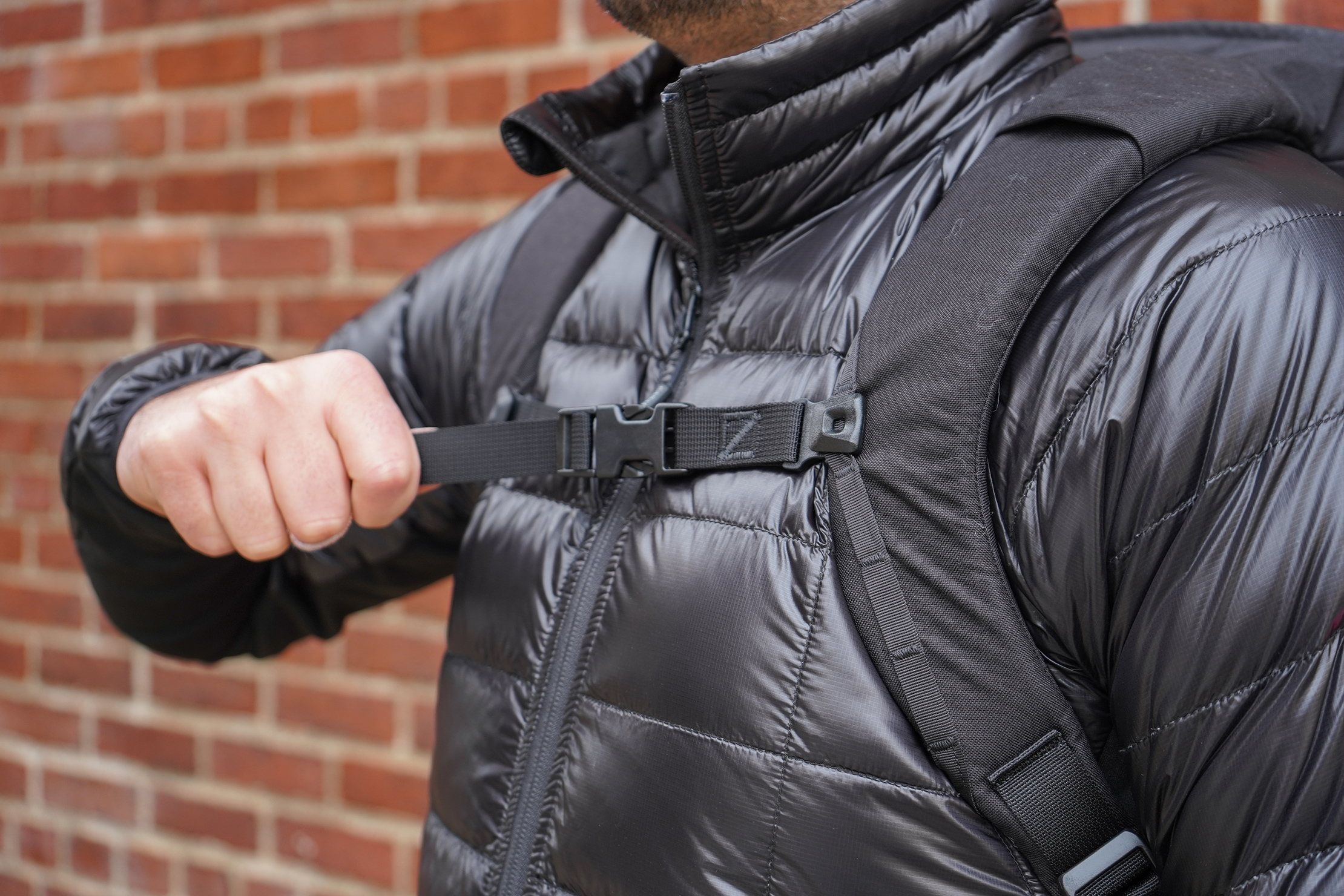 These straps are lacking a mesh lining, though, so you're not getting the level of ventilation you might like. There also aren't any strap keepers to help keep excess strap under control, but this is an easy fix—adding some Tom Bihn Strap Keepers (even just some VELCRO Brand Cable Ties will do the trick).
On the version of the CPL24 V1 that we tested, the sternum strap did not directly clip to the attachment points along the shoulder straps, making it far easier to come loose and more likely to get lost. On this version of the CPL28, the sternum strap's hardware does attach to the shoulder straps—and while it can be a hassle to get on and off, it's much more secure than its predecessor. We appreciate the upgrade and the stability it adds to a larger daypack like this one.
A tip we've picked up from using this particular type of sternum strap in the past is to spin it around, so the clip on the end doesn't have a chance to reattach as you're sliding the strap out from the attachment point. It saves you time and hassle during the adjustment process.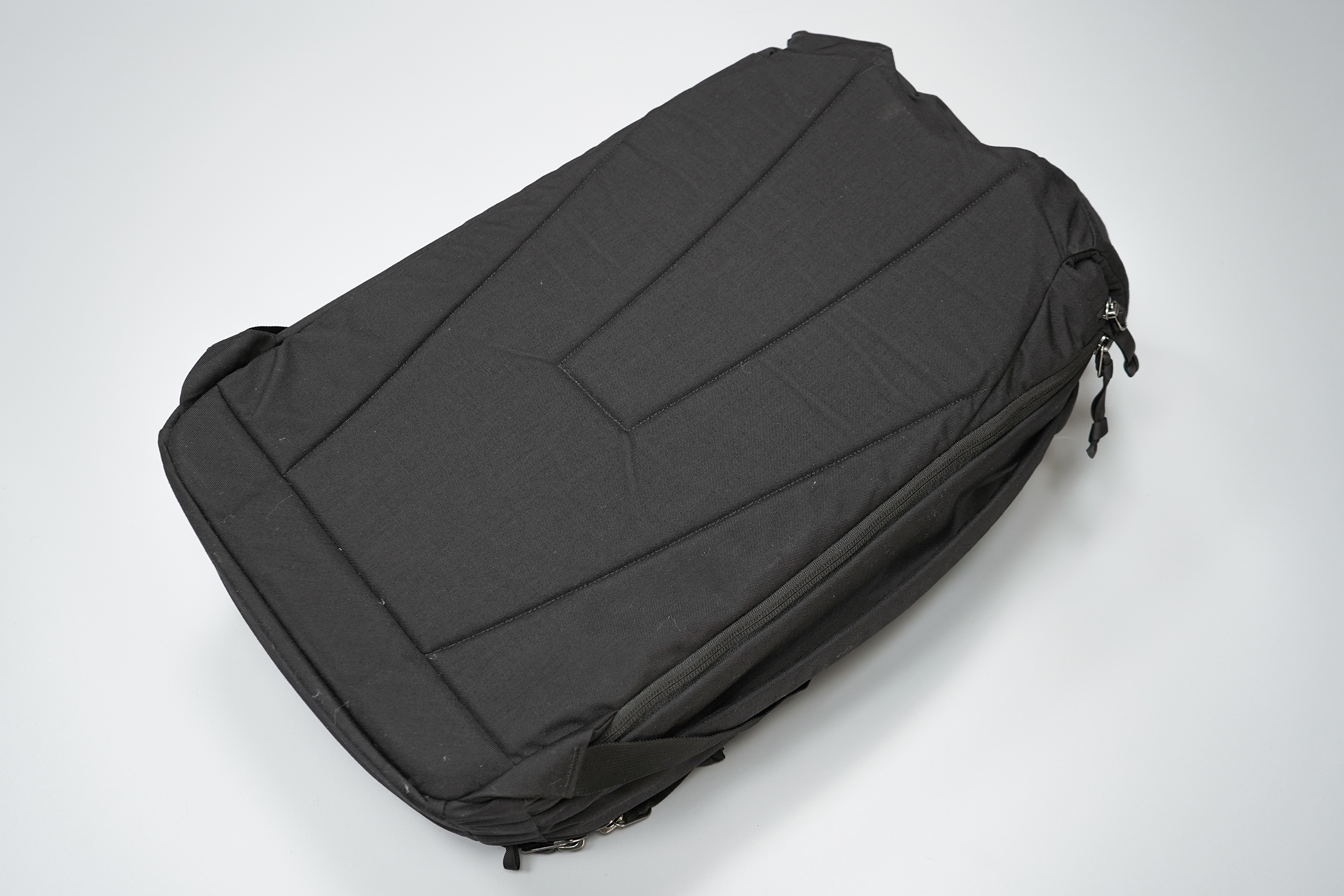 The back panel is also missing a mesh lining for added breathability, aligning it with certain GORUCK packs and those like them that we've tested. The bottom line is that you're going to get sweatier faster, especially on lengthier wears and when you're out in warmer weather. It's not the end of the world, but it's probably safe to say that no one likes having a sweaty back if they can avoid it (and a quality mesh lining would help prevent this, at least for a while).
One neat feature about this bag's harness system that we don't always see is the extra curvy fabric at the back panel's top. This design allows both the shoulder straps and back panel to contour comfortably to, you guessed it, your back and shoulders (even with a laptop in the nearby compartment, which we'll note later in the review).
You have a handle on one side that stretches the bag's full height, making it super easy to grab in any spot. The other great thing about this handle is that there's an aluminum stay underneath. This way, the material doesn't pull away and cause the bag to look misshapen; rather, the CPL28 retains its structure.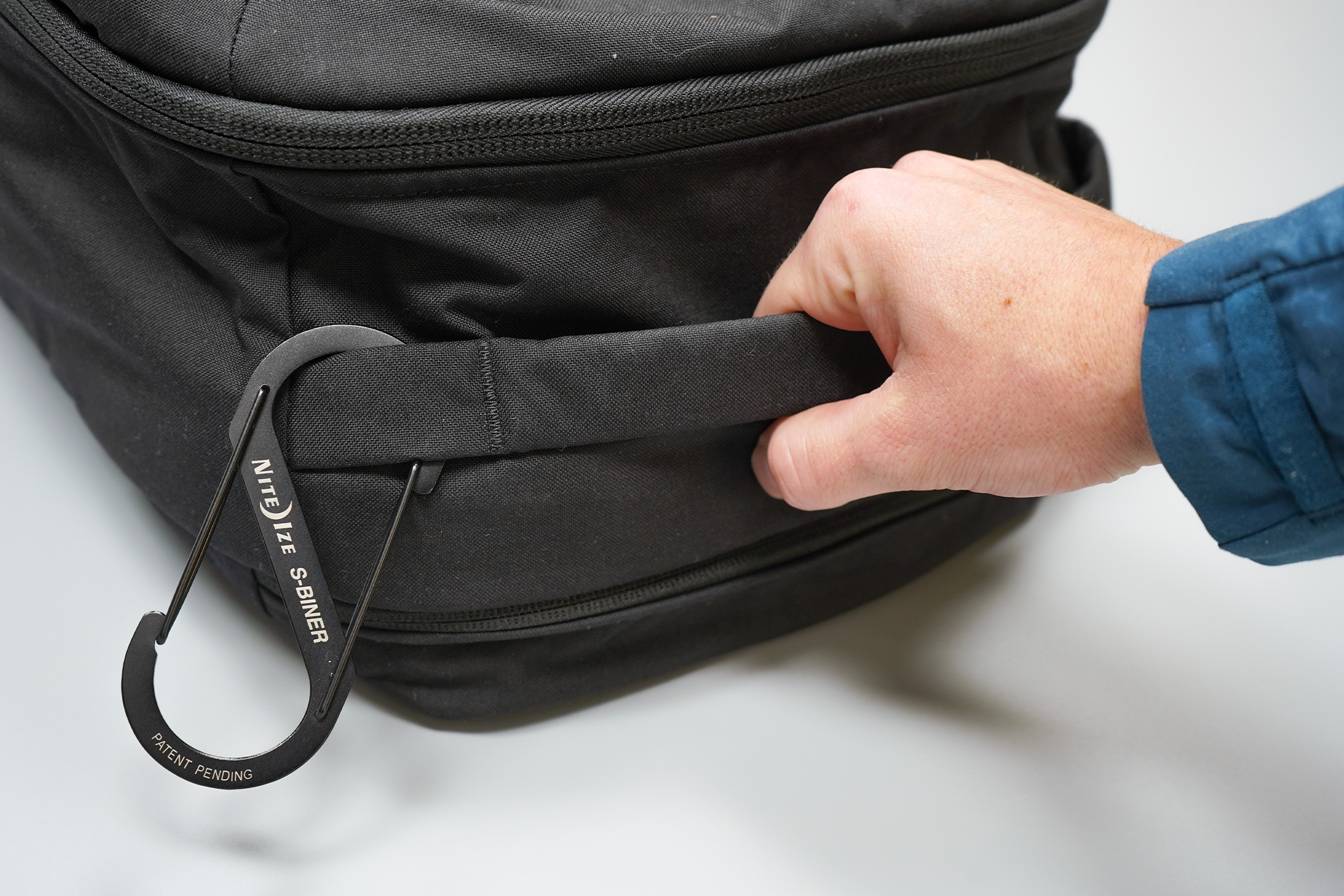 This handle stretches along the top of the pack as well, creating an attachment point for a carabiner (like the Nite Ize S-Biner we've been using) and allowing you to grab the bag from either spot when you're on the move or need to get gear out. This top handle is centered and took some getting used to as we found ourselves continually reaching more toward the back of the bag. That said, once you're in the habit of grabbing in the right spot, it's not such a nuisance.
Inside The Pack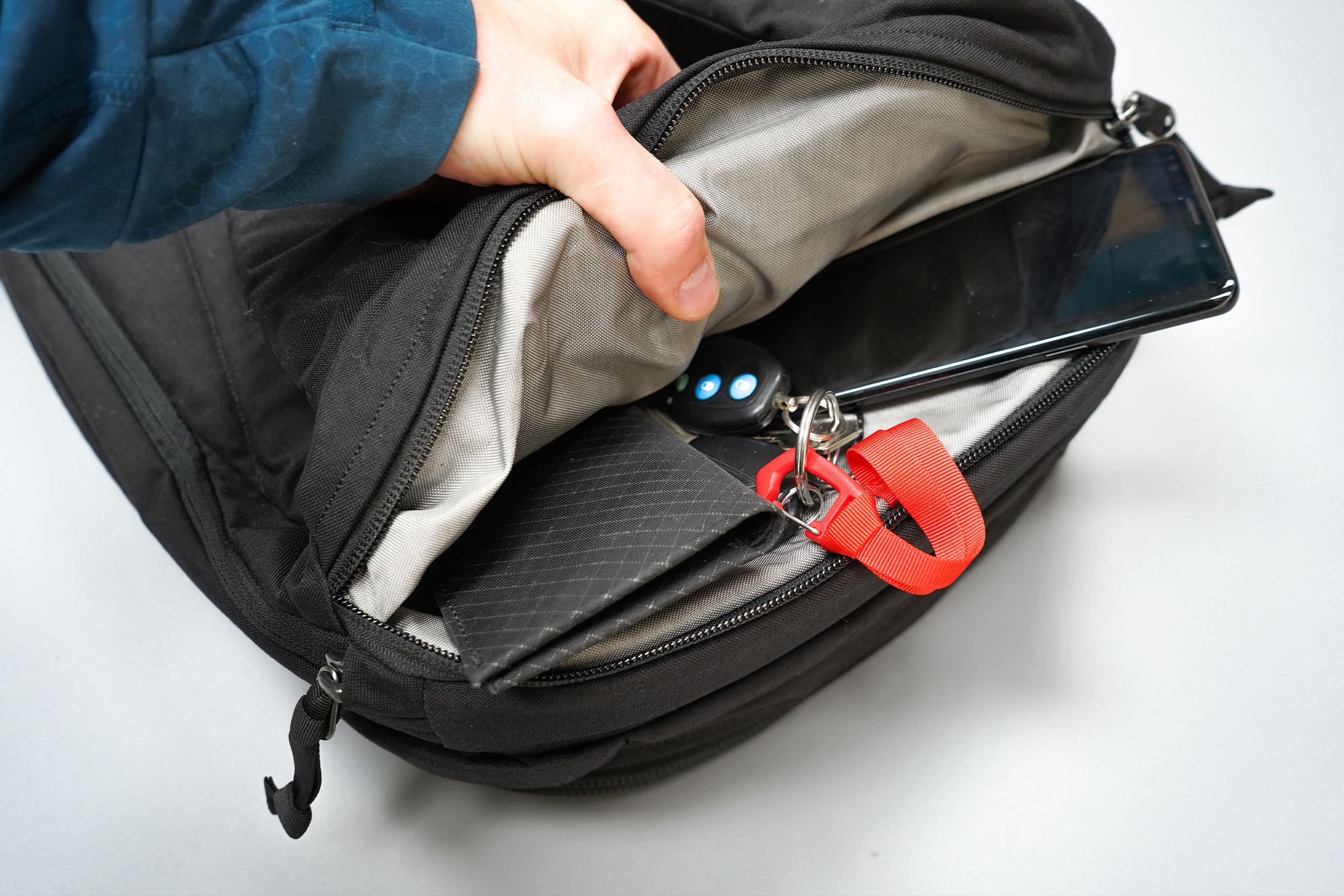 The quick-grab pocket at the top of the pack is a great spot for the gear you need to get in and out in a pinch. It gains space from the extra fabric we mentioned earlier and is just deeper than the width of a plus-sized iPhone, so you have some room to throw all the basics—wallet, keys, and phone (duh)—as well as additional items like cologne, chapstick, snacks, etc.
Speaking of keys, another upgrade we get in the CPL28 is this pocket's key clip. On the CPL24 V1 and other older EVERGOODS bags, you have a small, standard clip at your disposal that gets the job done but contrasts with the brand's other higher quality materials. On the contrary, this key clip is much more robust and secure, so we can be confident our keys won't break or slip off.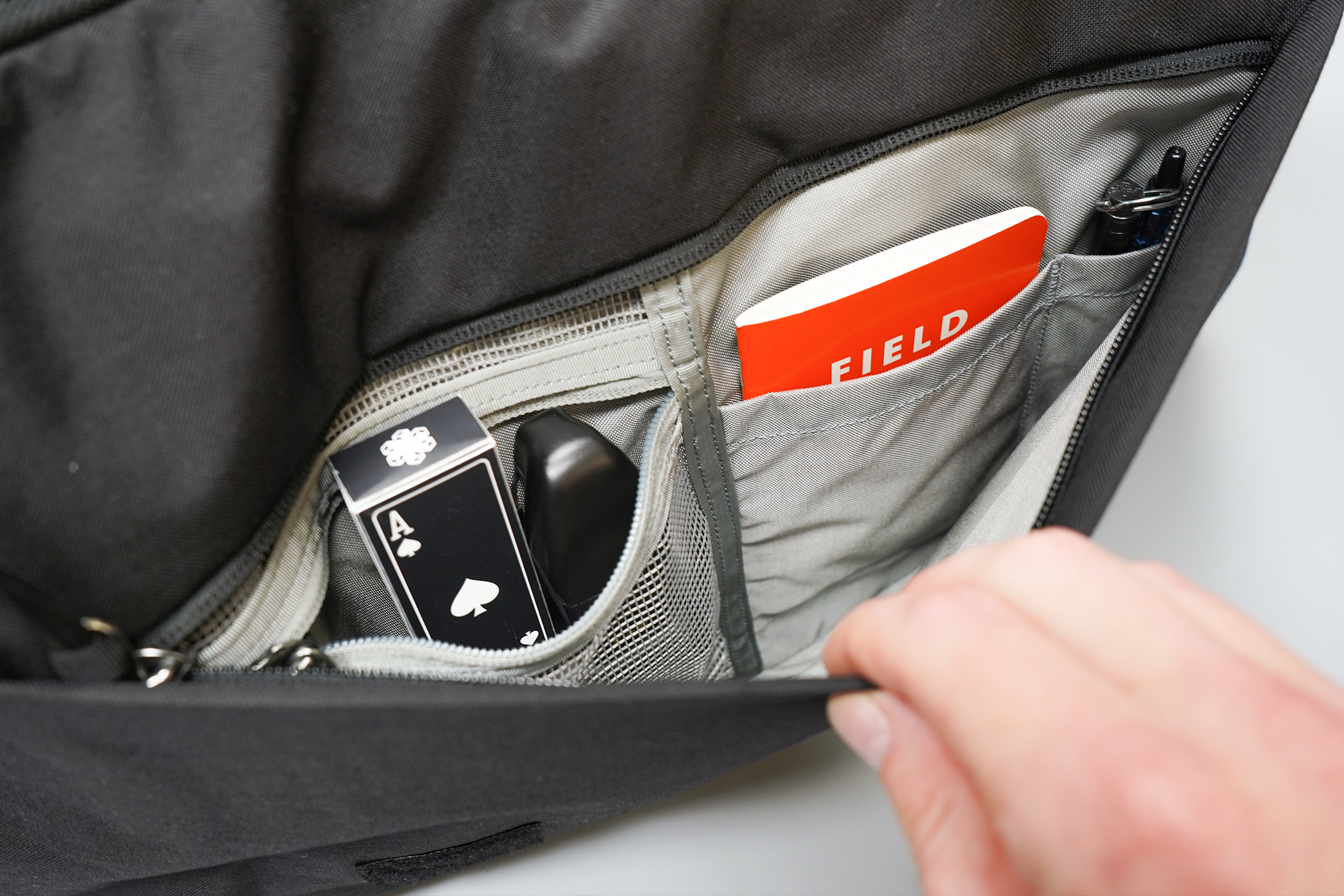 On the front of the bag, there's a larger pocket you can access from the zipper on the side, covered by a fabric welt to promote a cleaner look. Often pockets like this are strictly free space, requiring you to incorporate packing cubes of your own to create segmentation elsewhere in other bags. On the other hand, this pocket has both a fair amount of integrated organization for smaller stuff and room for larger items.
You have a sleeve at one end to slip one or two pens into, so they're easy to find for jotting down notes on the fly. That said, they're not the easiest to access, as this sleeve is nestled tightly in the corner of the pocket, which is something to note. Next to this sleeve is a pocket about the size of a passport or a smaller notebook if you're carrying either.
Beside this one is another zippered pocket to stash tinier accessories—a travel spork, flash drives, and the like. This zipper prevents any items from falling out when the bag gets jostled around while still allowing us to swing the bag to the front and quickly grab what we need. And while the other two pockets don't have closure like this, we haven't had any issues with gear slipping out during testing.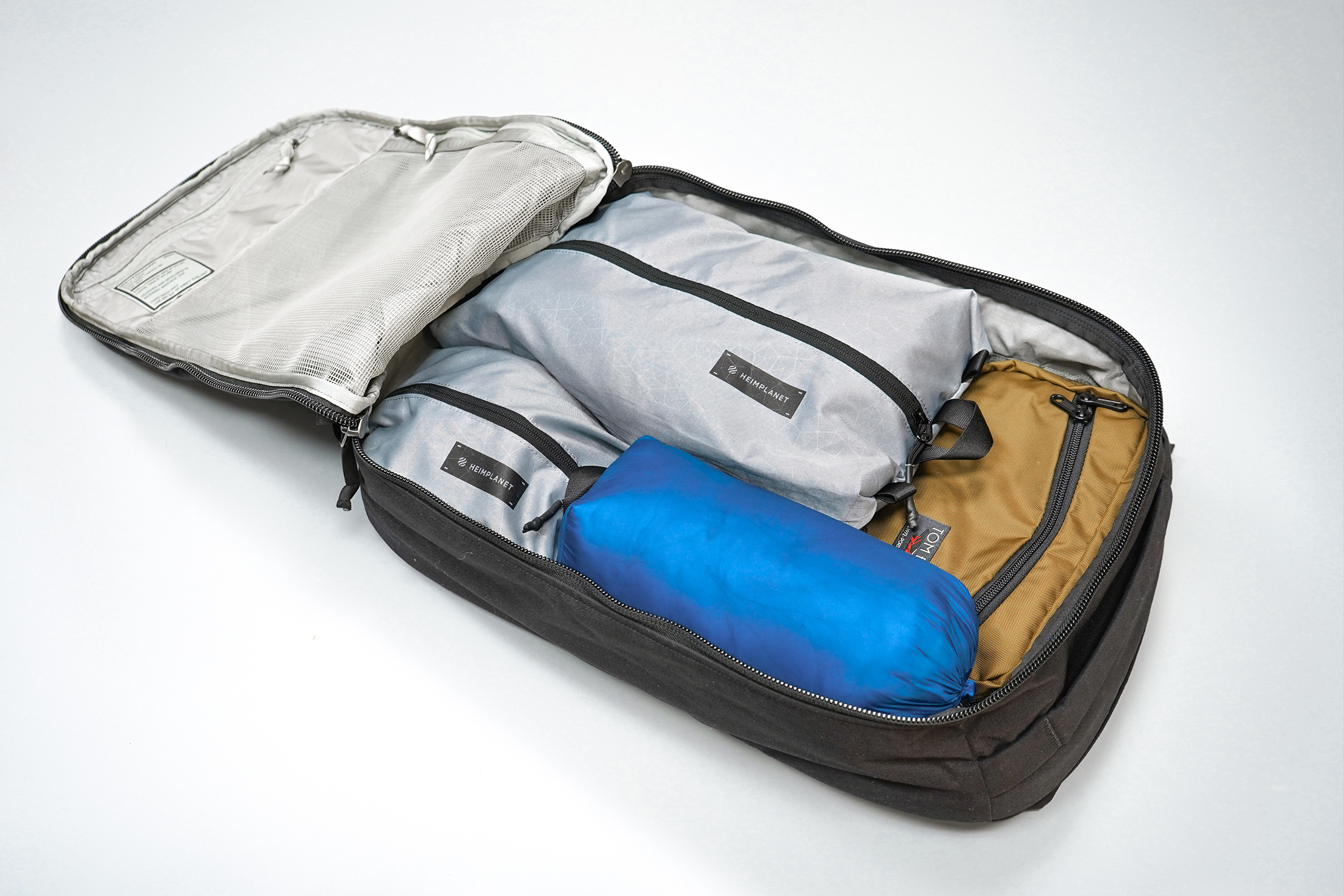 Now, for the pièce de résistance, the main compartment! This compartment's clamshell opening makes finding and grabbing your gear a quick and easy process. At 28L, this pack can hold a pretty hefty daily lineup or even accommodate what you need for an overnight trip of your choosing. You have two pockets on the front flap in terms of organization—one large and one small—along with a document sleeve and PALS webbing against the back wall.
Starting with the front flap, we've been using its large mesh pocket to store a standard notebook and Kindle tablet. Of course, this is also an excellent place for more tech-specific accessories, whether that means cables, adaptors, an over-the-ear pair of headphones, among other things. Above this is a smaller zippered pocket where we've just been keeping a pair of Felix Gray Nash Glasses inside their case. It's branded with the EVERGOODS logo and information about the bag, including its production year (so we don't get it confused with the original version).
What we really appreciate about these pockets is that they're both liter-independent. We mean that even when the free space in this compartment is packed out, we can still load these pockets with gear. Plus, because of how their openings are situated, we can unzip the bag either right side up (for the top pocket) or on its side (for the mesh pocket) to quickly pull out anything inside.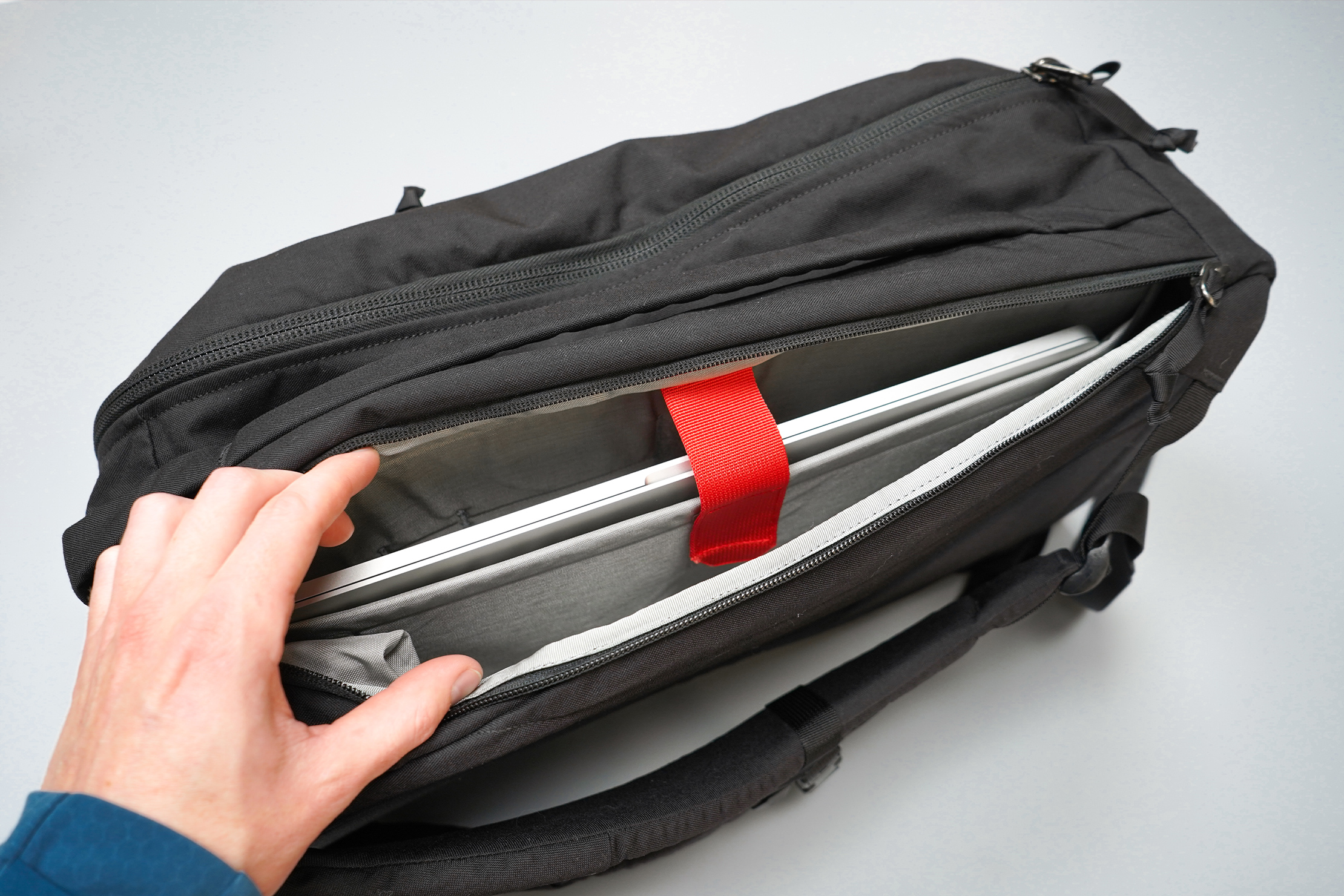 Lastly, you have a dedicated laptop compartment with a built-in protective sleeve that can accommodate a 16″ laptop. This sleeve has a velcro strap to secure your laptop in place and a false bottom on every side, so your tech is protected no matter what angle you drop this bag from. Considering how much we rely on our laptops every day (and their hefty price point), we're happy that this pack provides the protection they deserve.
As for our readers who like to go big or go home when it comes to their tech, you can also fit up to a 17″ laptop in the free space of this compartment inside a separate protective sleeve of your choice. No matter what size you're keeping inside, it's going to be well-protected and won't feel like a brick against your back. If you like this pack's protection but not much else, our Best Laptop Bag can help you find one that works well for both your tech and everyday use.
Usage Timeline
Initial Usage
Condition: Excellent
Laptop compartment with internal padded sleeve is fully suspended on all sides
Low profile design makes it great for city and urban use
Has ports for a water bladder for outdoor use
2 Weeks of Use
Condition: Excellent
We're digging that there's now a larger option versus the CPL24
The harness system is super comfortable and the top of it contours to the back—it fits better than the CPL24 for our taller team members
Wish elastic keepers were included for the straps—or a similar system to the MPL30
The organization options have been nice for daily use and it's a good blend of open space + pocketing for travel
Access the Pro Community Discussion
Get your questions about the EVERGOODS Civic Panel Loader 28L (CPL28 V2) answered from our team and the Pro Community right here on the page. Plus, join discussions with other members about gear, guides, and more.
Other Bags & Luggage Reviews