Mystery Ranch Urban Assault 21 (UA21) Review
The Mystery Ranch Urban Assault 21L Backpack transitions from urban to adventure use with ease, but you'll need to be conscious of how you pack it.
Our Verdict
Unlock the Pro Summary
Save time. Get access to brief summaries of our reviews so you can browse and make decisions more efficiently.
Pros
Tri-Zip offers versatile, convenient access
Densely-padded, breathable harness system
Versatile in its use case
Cons
Tablet and laptop sleeves can be hard to access when bag is fully packed
Bag shape can get a slight dent in the middle when not fully packed
No included elastic keepers to manage excess strap
Recent Pack Hacker Video
Technical Details
Capacity

21l

Weight (lb)

2.8 lb (1.3 kg)

Denier

500D

Dimensions

20.25 in x 10 in x 8.75 in (51.4 x 25.4 x 22.2 cm)

Notable Materials

CORDURA®, Nylon, YKK Zippers, Duraflex Hardware

Manufacturing Country

Vietnam

Laptop Compartment Size

15"

Warranty Information
Full Review
Mystery Ranch was deliberate in their naming of the Urban Assault 21L Backpack, as this is a bag that does look at home on city streets but can easily transition to more rugged environments when needed.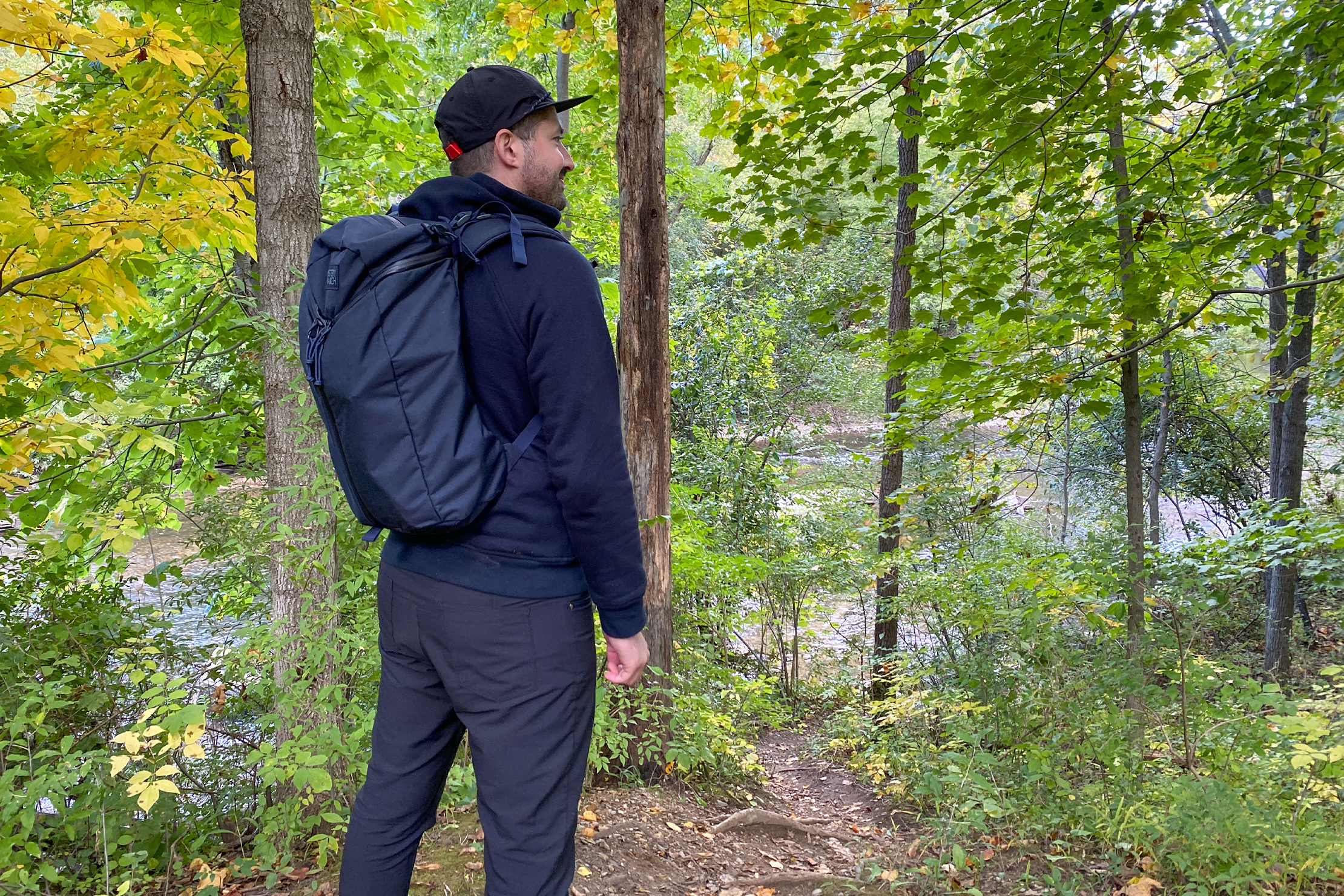 The Urban Assault 21L Backpack, or UA21 we'll call it, is a comfortable everyday carry with just the right amount of room for your daily lineup. It's also available in an 18L and 24L version if you're looking for more or less space, though we'll be zeroing in on the 21L for this review.
We've taken this bag all around Michigan and Minnesota throughout our testing cycle. Head down below to read about our experience!
Materials & Aesthetic
According to our Instagram poll, around 77% of folks liked the look of the Mystery Ranch Urban Assault 21L—a whopping 26% higher than the UA24's 51% score. They're relatively similar in their streamlined style, though the UA21 isn't quite as bulky, offering a lower profile look.
At the time of this review, the UA21 is available in 13 different colorways, ranging from bright, statement shades like Lemon and Flame, to more subdued ones like Black and the Galaxy colorway we've been testing.
This bag is more of a hybrid between urban and outdoor use and style, but different colorways bring out different vibes. The more muted shades fit the citified aesthetic, while a colorway like Wood Waxed or Coyote feels more outdoorsy. Of course, what you choose all depends on your preferences!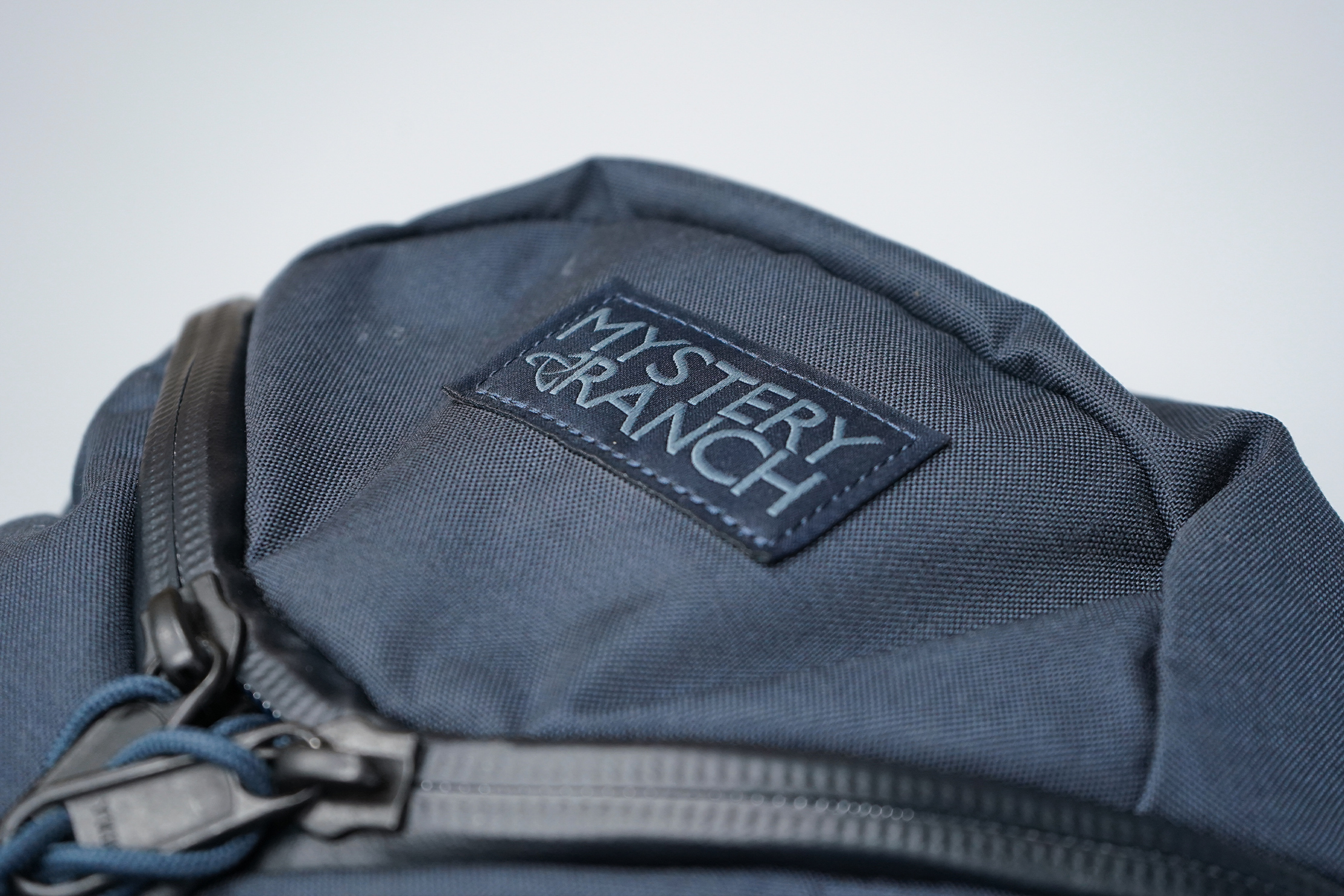 You won't find any mysterious-looking bottles of ranch logos on this pack, but you will see the Mystery Ranch wordmark on a patch on the front of the bag. It's not the most subtle, but hey, Mystery Ranch makes some awesome packs. Why not tell the world what a high-quality bag you're wearing?
Material-wise, Mystery Ranch opted for some durable 500D CORDURA nylon that feels rugged in the hand and hasn't sustained any tears, scratches, or scuffs during our month of testing. We didn't have any issues with this material on the UA24, and we don't expect to have any with this pack anytime soon, either.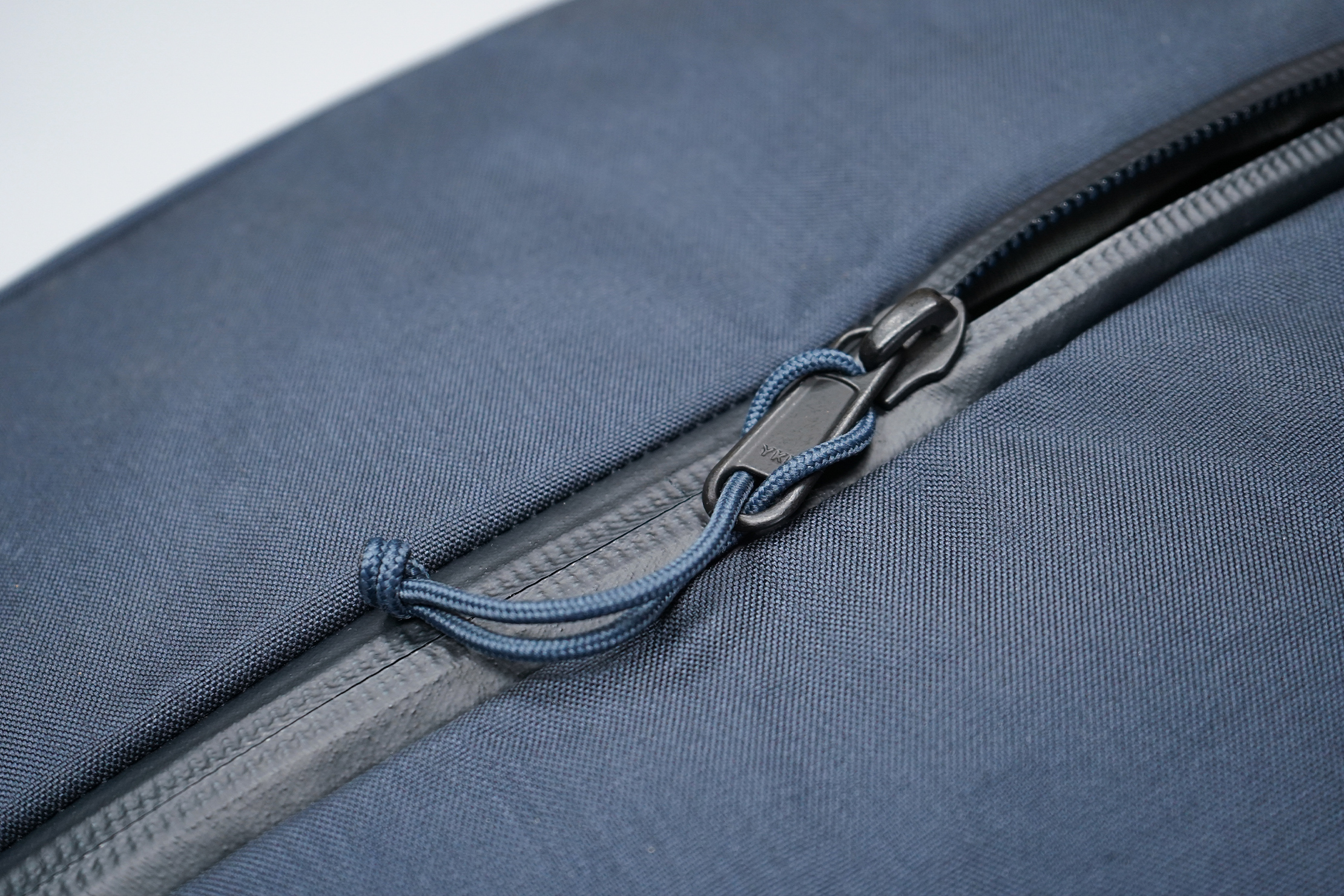 AquaGuard YKK zippers are incorporated throughout this pack, which adds some much-appreciated weather-resistance to keep our everyday tech and gear the way it always should be—dry. They have some large corded pulls that, due to their size, are still easy to use when you're out in colder weather and wearing gloves.
There are also small nylon tabs located at the end of each zipper that you can hold onto with one hand to keep the bag sturdy, while you use the other to glide the zippers open and closed. We like this thoughtful addition and have found that it helps make for an effortless zip every time. Plus, you can use those nylon tabs to fasten additional gear with a carabiner in a pinch.
When you think of durable hardware, one name that may come to mind is Duraflex. You'll be glad to see this brand's hardware included in this pack. Every buckle has been buckling, and the adjusters haven't given us any issues either, so we don't have any complaints to report!
External Components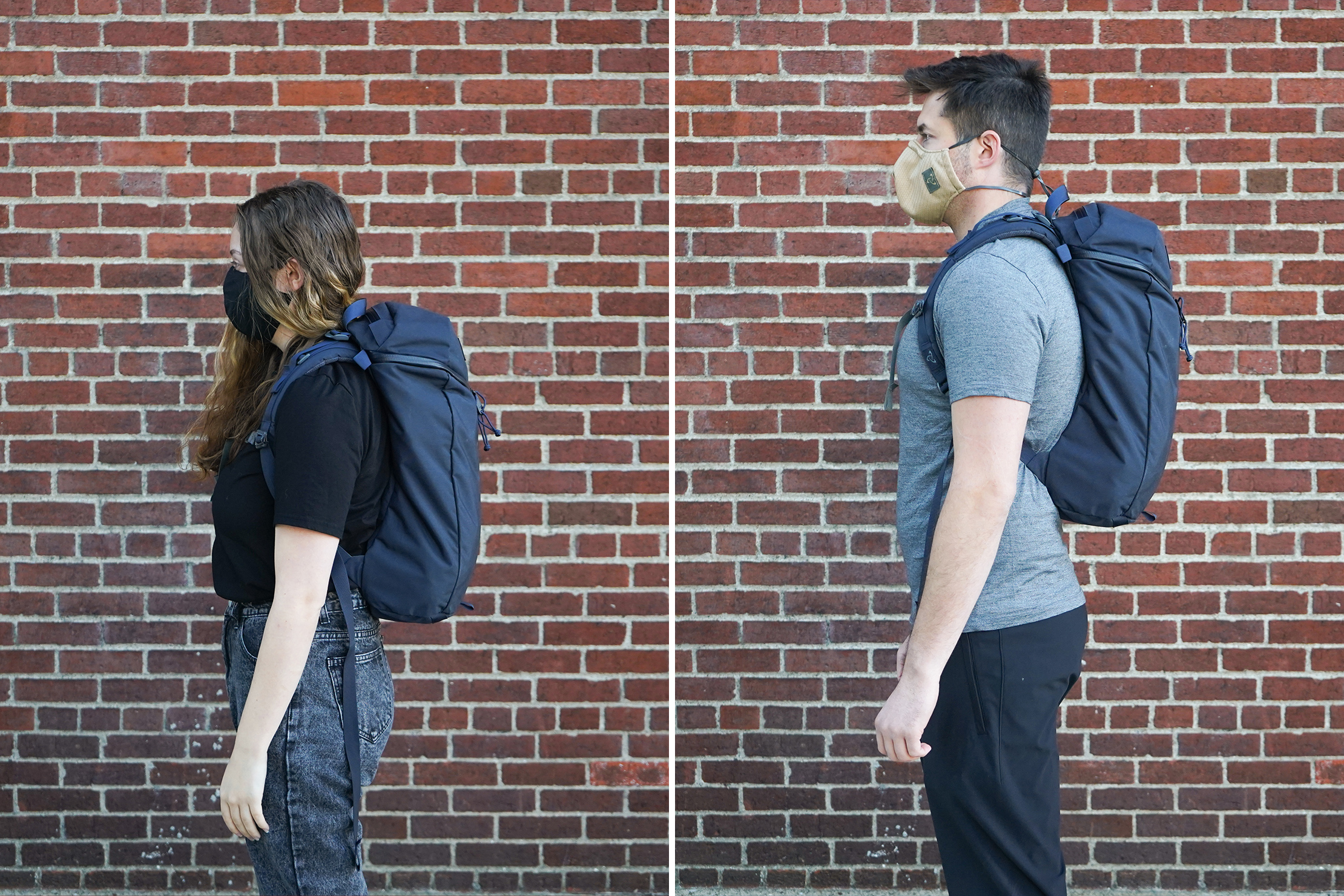 The UA21 has one of the most comfortable harness systems we've had the pleasure of testing. Our taller team members have been especially pleased, as this bag has a narrower, longer frame that caters well to this body type. We're not experiencing any hovering at the bottom like we often do with shorter packs, which is refreshing.
Looking at the shoulder straps first, they're densely padded with spongey mesh that helps cushion your shoulders—it's comfortable enough for more extended wear. We're also thankful for the air mesh lining that helps keep us well-ventilated. Our only wish is for some elastic keepers to manage the excess strap, but it's not a deal-breaker by any means. This is an easy aftermarket addition by using something like the Tom Bihn Strap Keepers or MacGyvering something up with VELCRO Brand Cable Ties.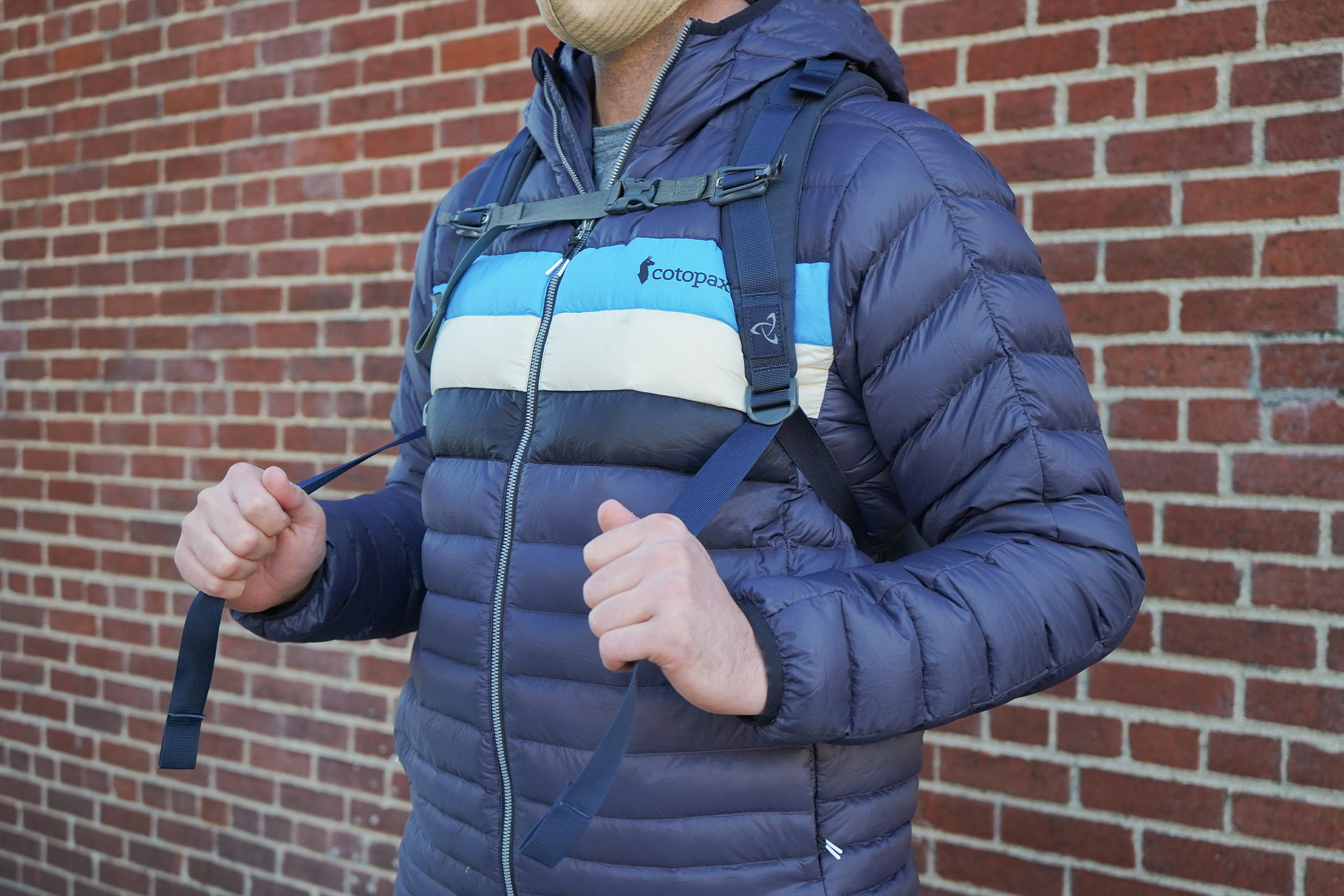 The bag's sternum strap is secured to nylon straps on each shoulder strap and can easily be moved up and down to wherever it offers the most support. The sternum strap's hardware is also equipped with a bungee cord you can use to secure the hose of a water bladder so it's not flailing around as you walk.
Toward the top of the bag are load lifters that come in handy when you're using this bag on more outdoor adventures like hiking or camping. They can be adjusted to keep the bag closer to the top of your body and help distribute weight more evenly. They're a little much when you're just using this thing as an everyday pack as it only holds about 21L of gear, but they're helpful for lengthier wears.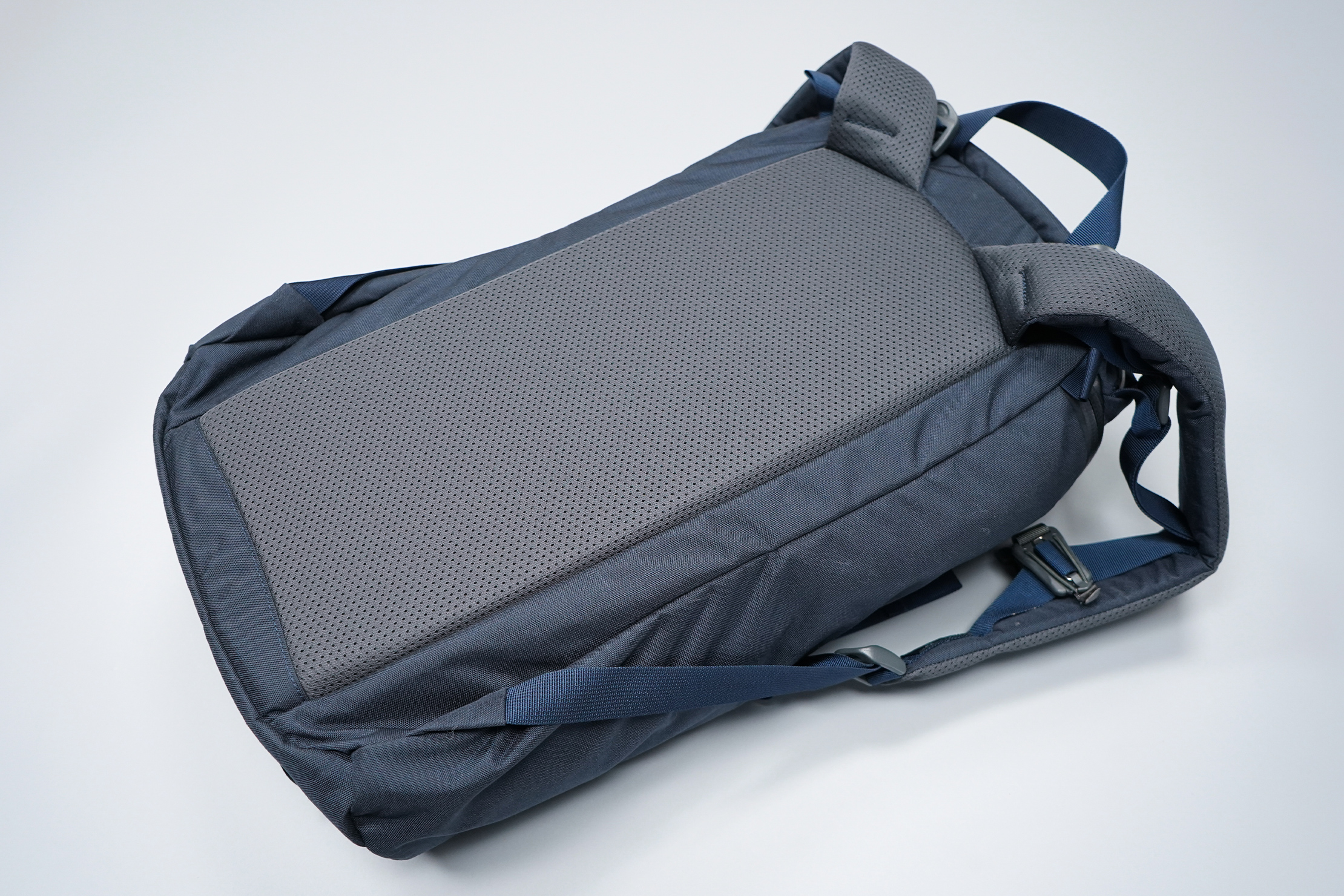 Moving on to the back panel, we're happy to see the same air mesh lining integrated here as we saw on the shoulder straps to keep the air flowing (although some back sweat is always inevitable in warmer weather). This bag also has a decent frame sheet that creates the right amount of structure without feeling too stiff against the back and can still contour with the wearer's body shape.
As for the top handle, it's essentially a nylon webbing strap sewn across the top back of the bag that you can grab when you need to pick or hang it up. It's not padded, and Mystery Ranch didn't fold it over onto itself and sew it together like some other manufacturers do to create a bit more of a padded feel. Still, it gets the job done.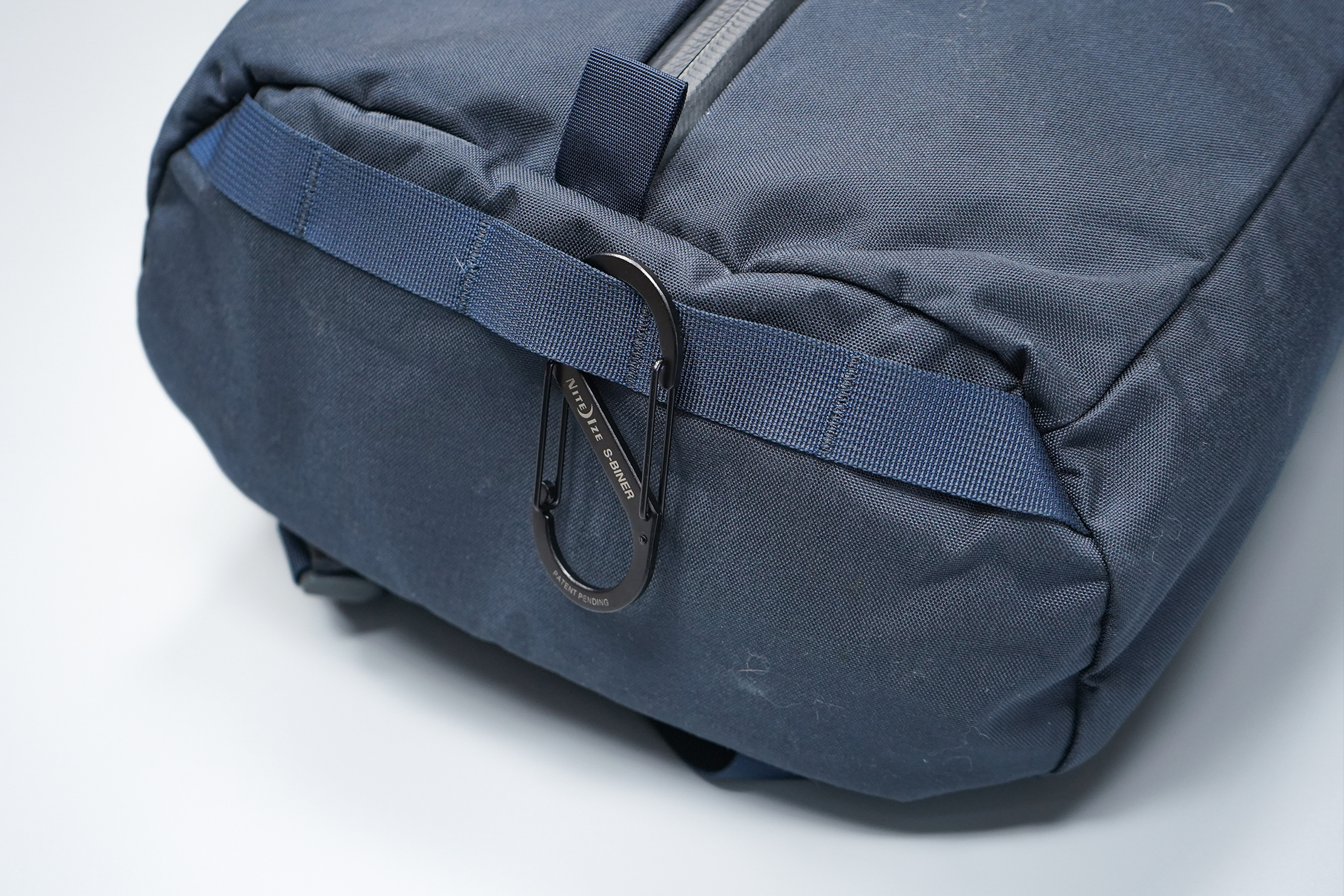 One addition that you don't see on the UA24 is the line of PALS webbing located on the bottom of the UA21. You can clip carabiners here or attach other MOLLE accessories if desired. And like we mentioned earlier, those nylon loop zipper tabs do have an opening in the middle if you want to clip anything through those.
There aren't any external water bottle pockets on this pack like there are on the UA24. Their absence could be because they would bulk up the bag's slim urban aesthetic. There's room on the inside of the compartment to store one if it's an essential item for you, but you may not be comfortable keeping water that close to your laptop and other gear—your mileage may vary—we've been keeping our YETI Rambler 18oz Bottle inside just fine.
Inside The Pack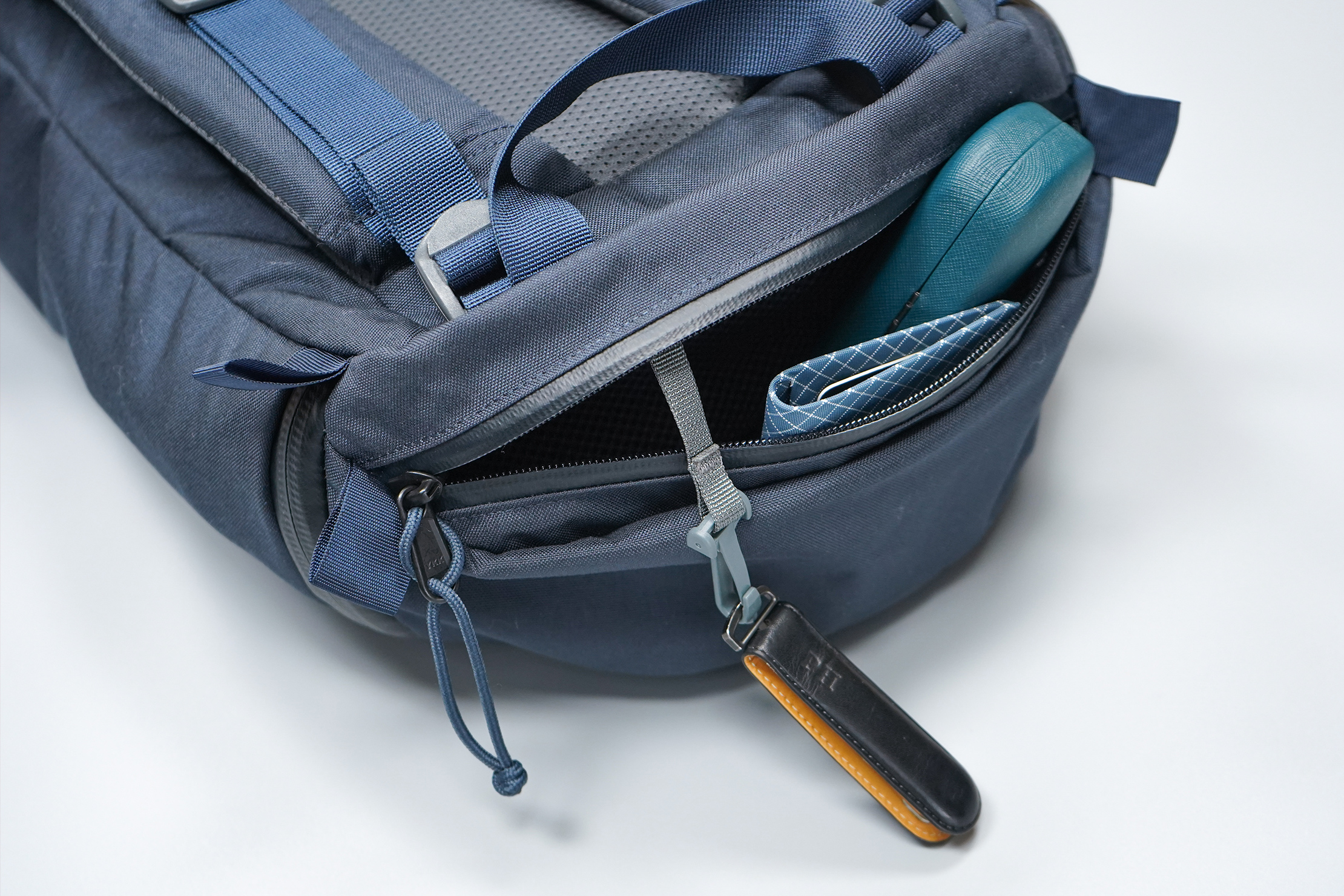 Let's talk about this top quick-grab pocket before we get into the main compartment. It's essentially a mesh net that can hold all your frequently-used gear, whether it's your wallet, a pair of sunglasses inside their case, or even your phone when you're not using it. We like that this pocket is simple in design and ample in size.
This pocket also features a dedicated key leash. The clip is plastic but feels surprisingly robust in the hand—plus, it's been effortless to maneuver, for quick key access. The key leash location makes sense, too—it's easier to access than if it were inside a pocket in the main compartment, which we've seen on some other packs.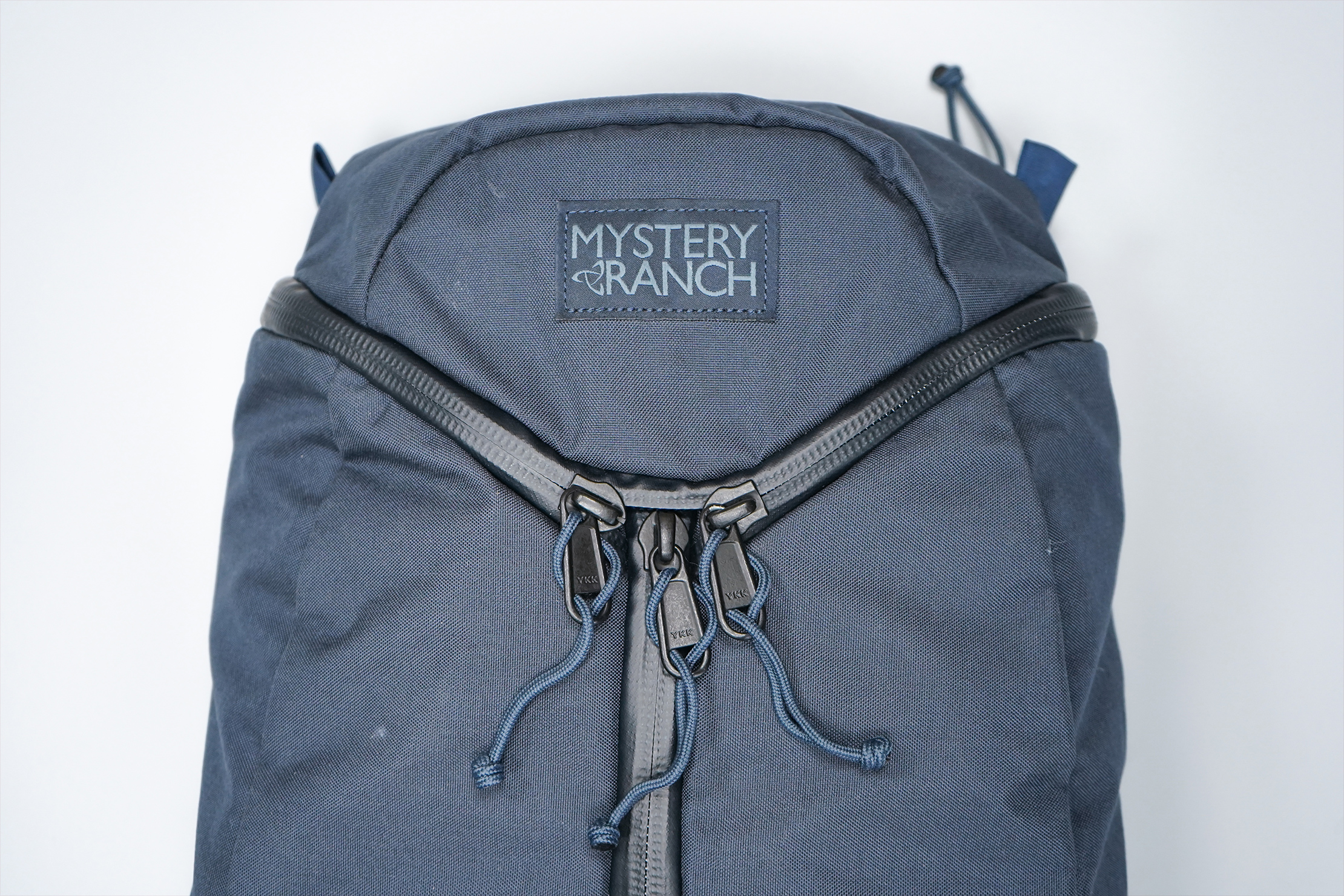 The UA21 might look simple on the outside, but it has a lot going on inside the main compartment. This compartment secures by a triple-zip system, which makes for versatile access. On one hand, you can unzip the two diagonal zippers and reach in like you would a top-loading bag when you're quickly grabbing something out of the top.
On the other hand, you can unzip the middle zipper that stretches the length of the bag to grab anything you're keeping closer to the bottom of the compartment. Or, you can unzip all three and open up the entire pack for the most visibility and ease of access.
Once you're in, you'll notice a small mesh pocket on both sides where you can store smaller accessories. For reference, we've been keeping a power bank in one of them, and it's worked well during testing. Of course, you can throw anything you need to in here, from cords to extra batteries, to pens for when you need to jot something down on the fly.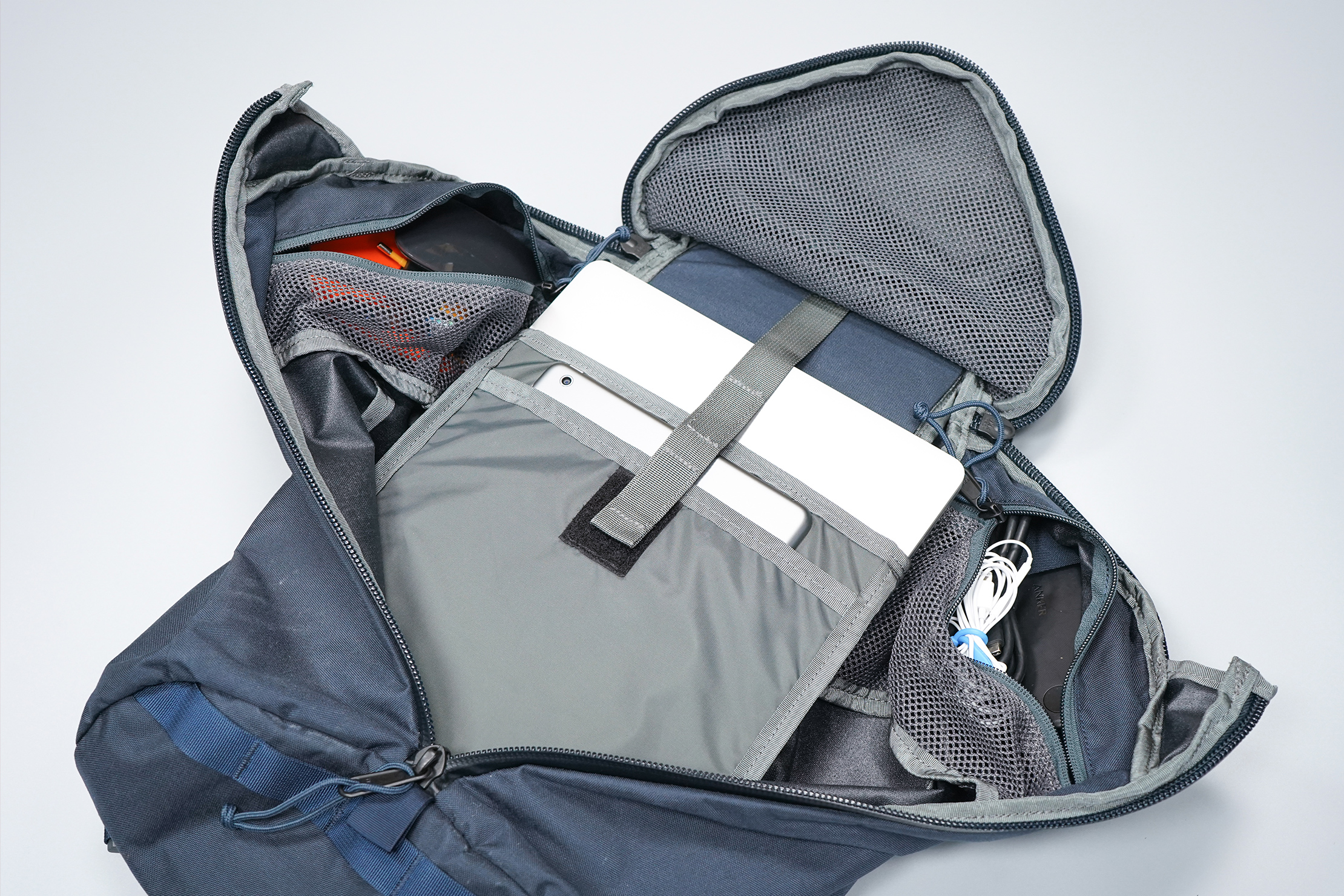 One thing to note here is that what you pack inside will impact how easily you can curve the bag's flaps back into the center. So, if you're keeping any super long items inside, it might inhibit the compartment's closure. The battery bank we linked earlier is about the size of a plus-sized iPhone and we've noticed it a little, but not in a way that affected the usage of the bag during testing.
When you have the top pocket packed out but only a few things inside the main compartment, the gear will sink to the bottom of the bag. This sinking creates some dead space in the middle, which causes the fabric to indent ever so slightly—almost into a slight peanut shape. You'll want to fully pack the bag out if you're looking to avoid this.
Against the back wall of the main compartment, you have a dedicated laptop sleeve that can hold up to a 15″ laptop. We've been testing with a 15″ MacBook Pro ourselves, and while it's a little bit of a tight fit with when inside a protective sleeve, it still slides in and out with ease. If you want a bag with a separate laptop compartment, you may want to size up to the UA24.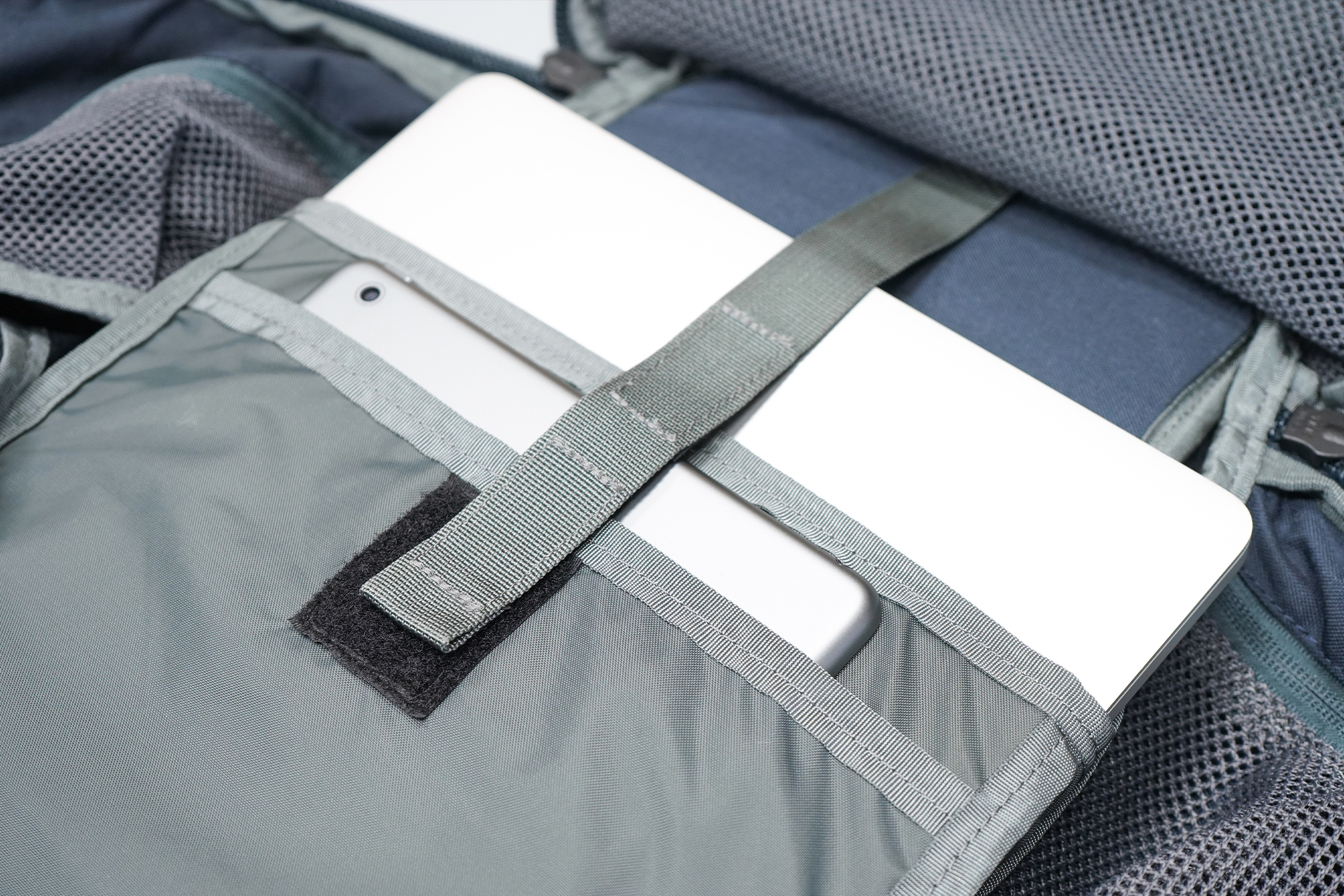 We've still been comfortable enough keeping our laptop inside as is, given the support from the frame sheet and the significant suspension of the sleeve from the bottom of the bag. The laptop compartment has a nice false bottom. Both of these features keep our tech protected when it's getting shuffled around on our commute or if (when) we accidentally drop it.
You also have a sleeve in front of this one for your tablet or e-reader if you carry one with you, although we've been using it as a spot for a keyboard. We'll give the same explanation as we did for the laptop: you can be confident that when your tech is in this sleeve, it's safe and secure from unexpected drops.
A velcro hook-and-loop system secures both of these sleeves. We like this particular setup because the loop target (the patch with the softer part of the velcro) is larger than the hook (the scratchy piece of the velcro at the end of the strap), instead of the two being the same size. This way, we don't have to perfectly match them up each time to secure the strap—we can just drop it and go.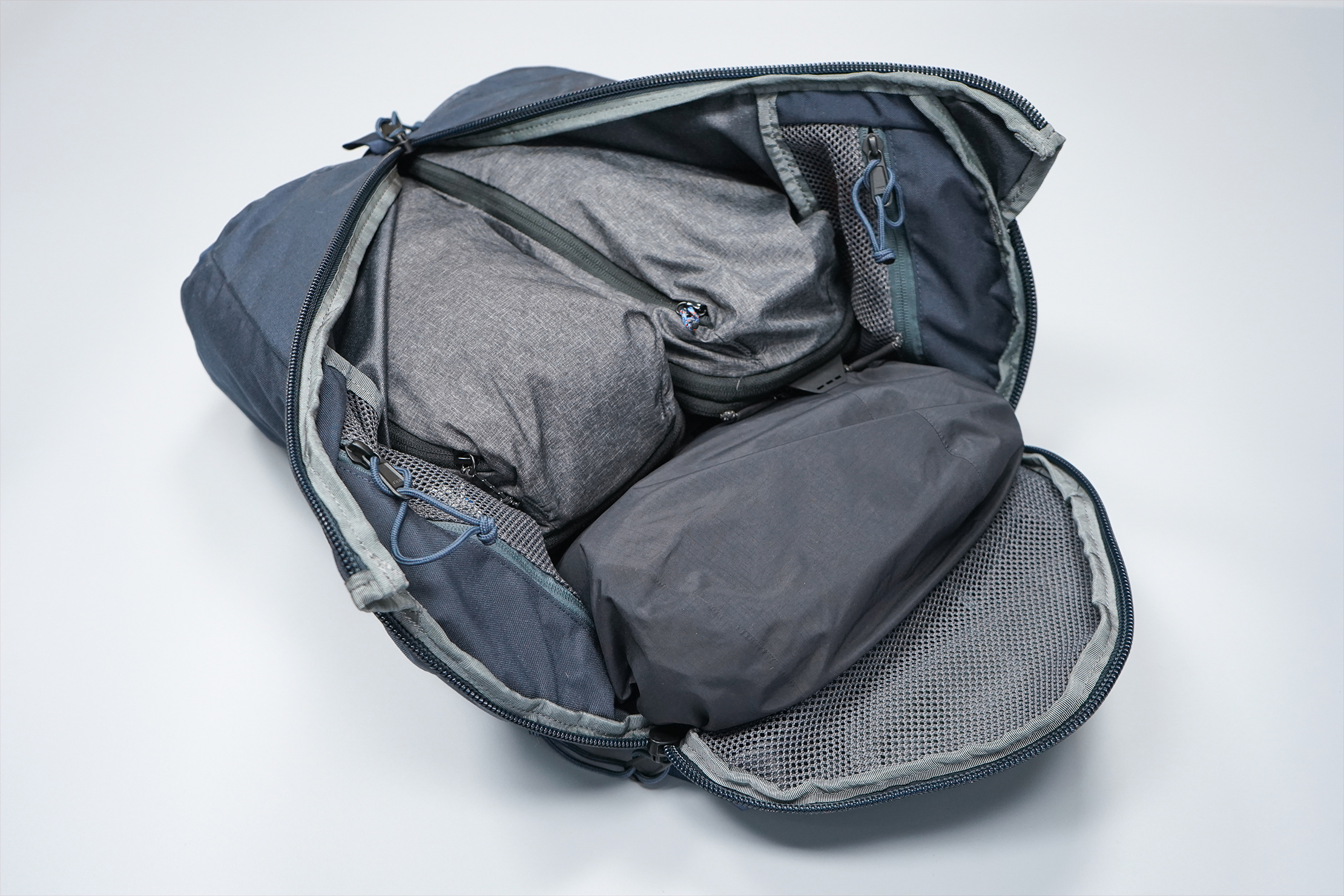 The rest of this compartment is just a bunch of open space that you can pack out with whatever you please. We've been keeping an extra hoodie, a smaller packing cube, and a Roost Laptop Stand 2.0 inside, but you can add or subtract gear and packing cubes of your own depending on the level of compartmentalization you're looking for.
Our only note here is that if you do pack this compartment to the brim—whether it's with free-floating gear or individual packing cubes—it's going to impede your access to the laptop and tablet velcro strap against the back wall. Because of this, you may need to take things in and out each time to reach your tech. In these cases, we've just kept the strap unfastened for easier access. It's not a deal-breaker for us, but it's something worth noting.
Usage Timeline
Initial Usage
Condition: Excellent
Curved back panel and thick shoulder straps make this bag very comfortable carry even when fully loaded out
Laptop closure doubles as a hydration bladder holder
Works just as well for urban EDC or outdoor adventures
2 Weeks of Use
Condition: Excellent
The 3-Zip design has allowed for easy access to the bottom of the bag—it's been easy to grab a balled-up hoodie out of the bottom of the bag
The top drop pocket size is ample to dump items into
We found that the bag shape can get a slight divot if the top pocket and the bottom of the main compartment are fully loaded, but the top of the main compartment is empty

Mystery Ranch Urban Assault 21 slight divot in middle of bag
1 Month of Use
Condition: Excellent
Still holding up strong after a month of use
The harness system has been slick enough in an urban environment, and on comfortable enough for a 9-mile hike
Noticing that the long laptop compartment strap can be hard to get access to if the main compartment is full
The YKK AquaGuard zippers, along with the main fabric, has held up well against inclement weather on the hiking trail—the bag certainly isn't "waterproof", but it's weather-resistant enough to hold up to rain showers for a shorter period of time
Access the Pro Community Discussion
Get your questions about the Mystery Ranch Urban Assault 21 (UA21) answered from our team and the Pro Community right here on the page. Plus, join discussions with other members about gear, guides, and more.
Other Bags & Luggage Reviews