EVERGOODS Civic Panel Loader 24L (CPL24) Review
The EVERGOODS CPL24 is a sleek, urban backpack that is thoughtfully designed and built to last a lifetime. We just wish the sternum strap was more secure.
Our Verdict
Unlock the Pro Summary
Save time. Get access to brief summaries of our reviews so you can browse and make decisions more efficiently.
Pros
Built with super-durable materials
Sleek, urban aesthetic
Thoughtful, simple design
Cons
Sternum strap isn't as secure as we would like
Collects dust and lint pretty easily
Back sweat could be an issue
Recent Pack Hacker Video
Technical Details
Capacity

24l

Weight (lb)

2.8 lb (1.3 kg)

Denier

500D

Dimensions

18 in x 8 in x 11.5 in (45.7 x 20.3 x 29.2 cm)

Notable Materials

YKK Zippers, Nylon, DWR Coating, EVA Foam, Aluminum, Polyethylene

Manufacturing Country

Vietnam

Laptop Compartment Size

15"

Warranty Information
Full Review
If you were going to put two backpack experts in a room and ask them to design a sleek, durable pack meant for the city (but okay for the trails) the result would be the EVERGOODS Civic Panel Loader 24L (or CPL24).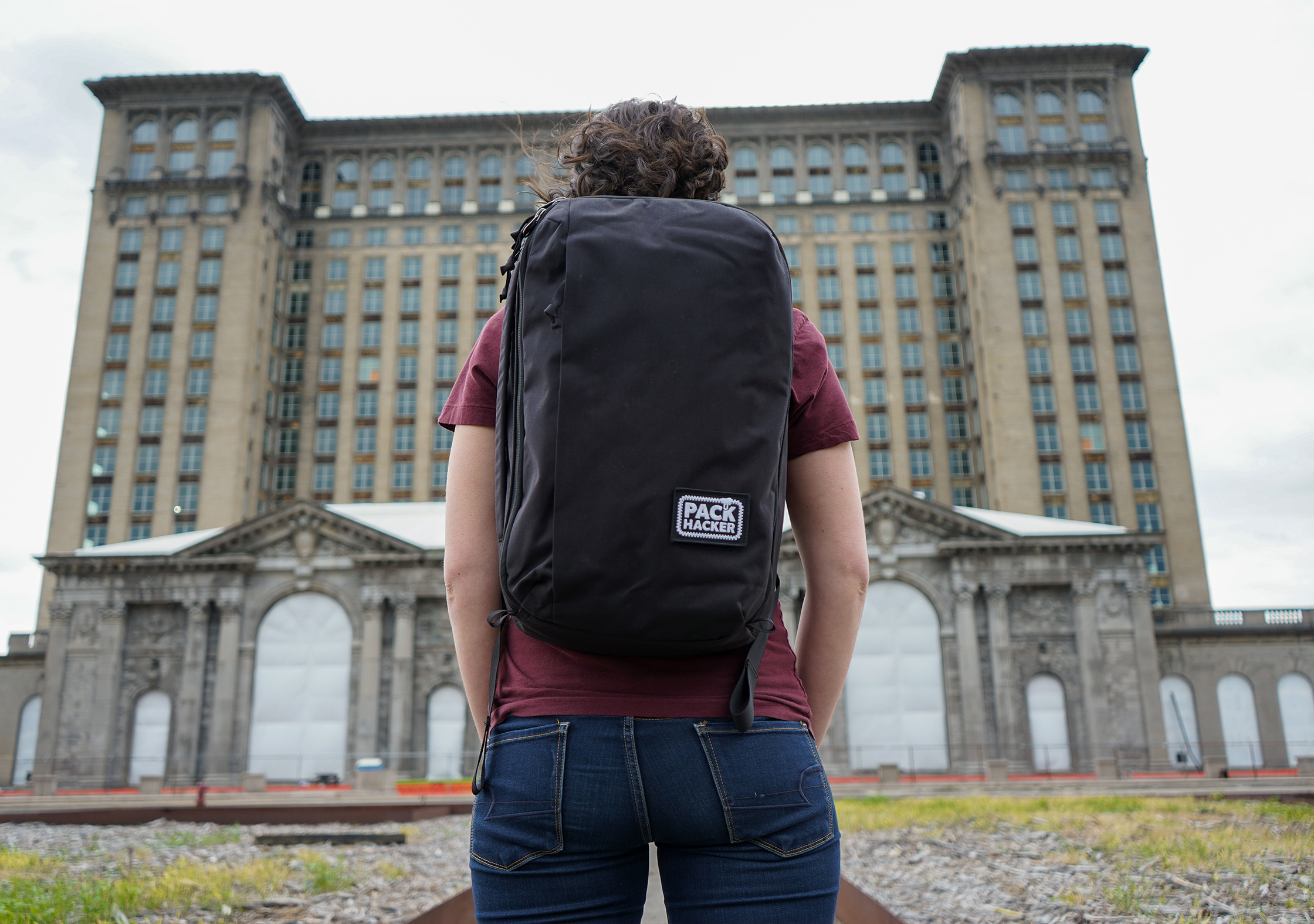 Because that's basically what happened. EVERGOODS, the brainchild of two former backpack guys from Patagonia and GORUCK, prides itself on creating lasting, quality equipment that you can rock in New York City one day and at the top of a peak the next.
And, though more urban than rural, their CPL24 nicely embodies that mission. It's a minimalist, durable pack with everything you need in a city-backpack and nothing you don't.
So let's jump right into it.
Materials & Aesthetic
Let's just start with the obvious: This pack is beautiful. Yes—we know—beauty is in the eye of the beholder and all that, but EVERGOODS went with such a sleek, minimalist design here that even a skeptic couldn't describe the CPL24 as ugly (and, no, that's not a challenge).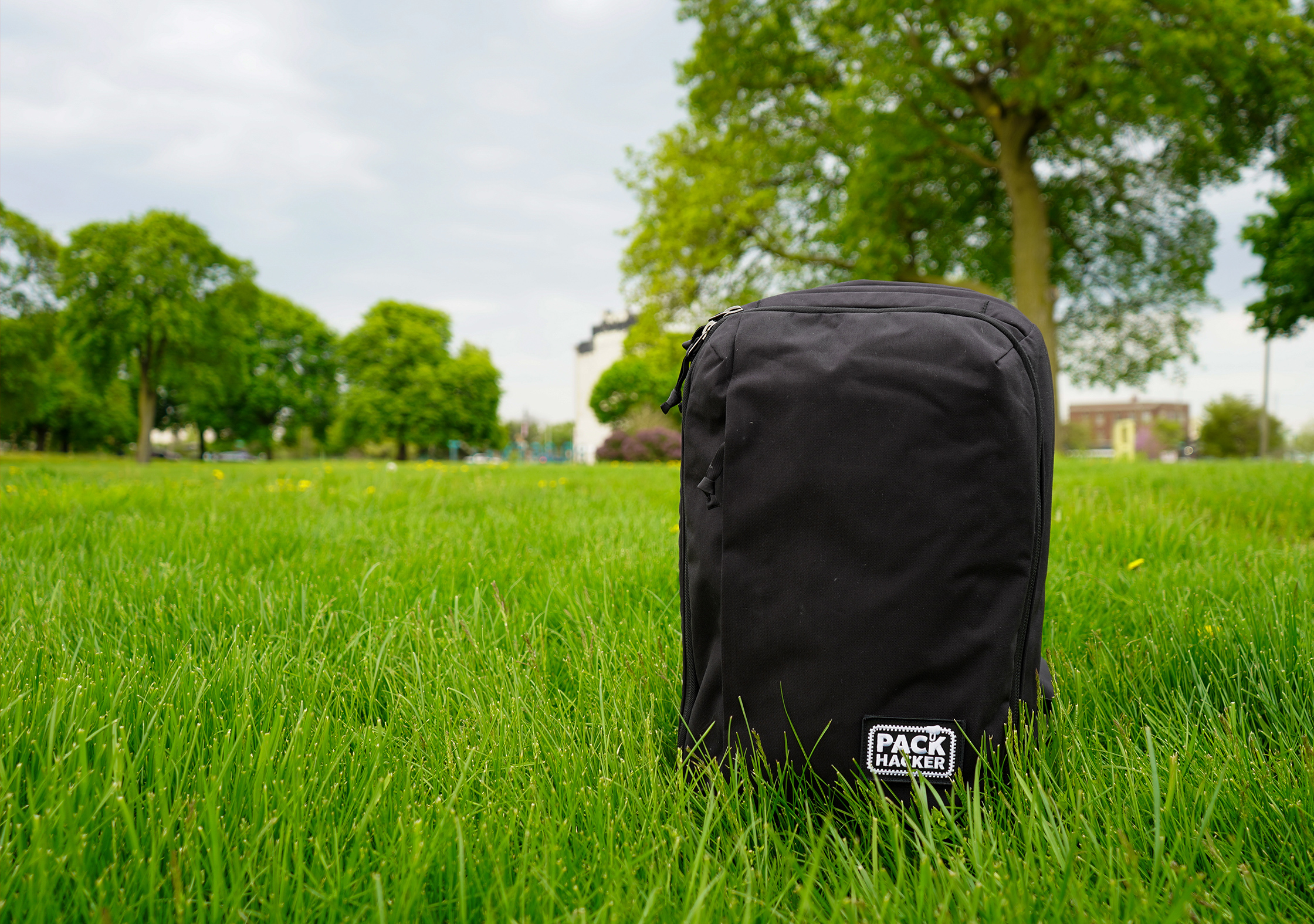 Currently, EVERGOODS only offers two colors: black and gray. The gray is nice in a very "modern sci-fi" way, but we're partial to the black. Not only does black look good with almost everything, but it also doesn't scream tourist or show stains easily. For those wanting a pop of color, EVERGOODS is such a young company we wouldn't be surprised if it offers a more varied selection down the line.
At 24L, the pack isn't large enough to warrant a hip-belt or any robust load-lifters, and EVERGOODS skipped out on adding any extra straps, buckles or pockets, creating an overall polished, clean look (and limiting how often you might snag the pack on something).

The branding is also—you guessed it—minimal. On the front of the pack the EVERGOODS logo is stitched into a small velcro patch, which you can cover with a reflective patch the company sells or anything you want, really (as long as it's velcro, obviously). The logo is also on the sternum strap, and a few places inside of the pack, including a small square with the EVERGOODS name, logo, care instructions, and materials.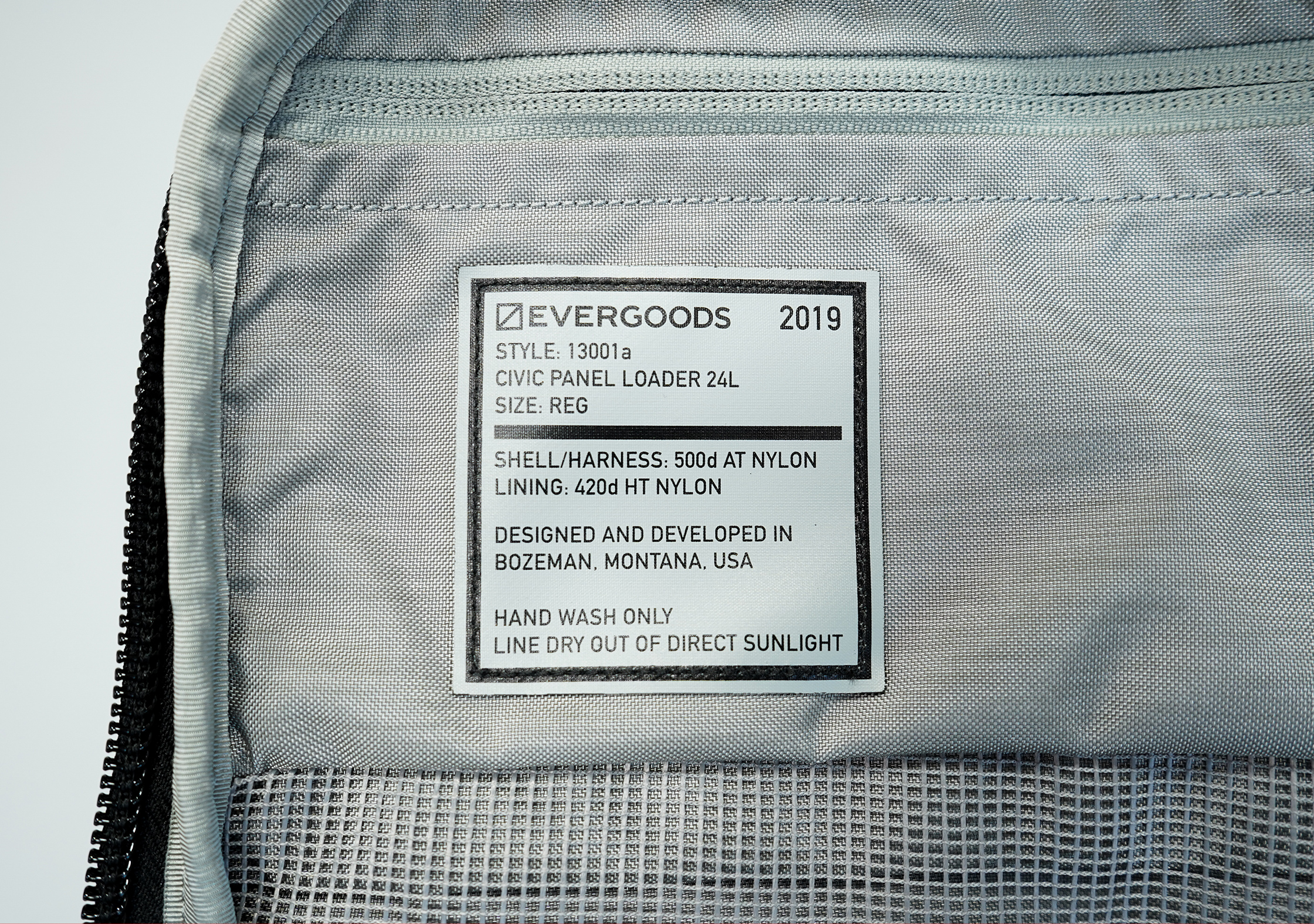 If you're familiar with EVERGOODS, then you'll know it's obsessed with these materials. We imagine their designers dream about 500d nylon and aluminum alloy (and we say this in a loving way because we also dream about 500d nylon and aluminum alloy).
It's because of their teams' attention to detail that the pack feels like it would withstand a hurricane (but we didn't test this because, you know, that would require standing in the middle of a hurricane).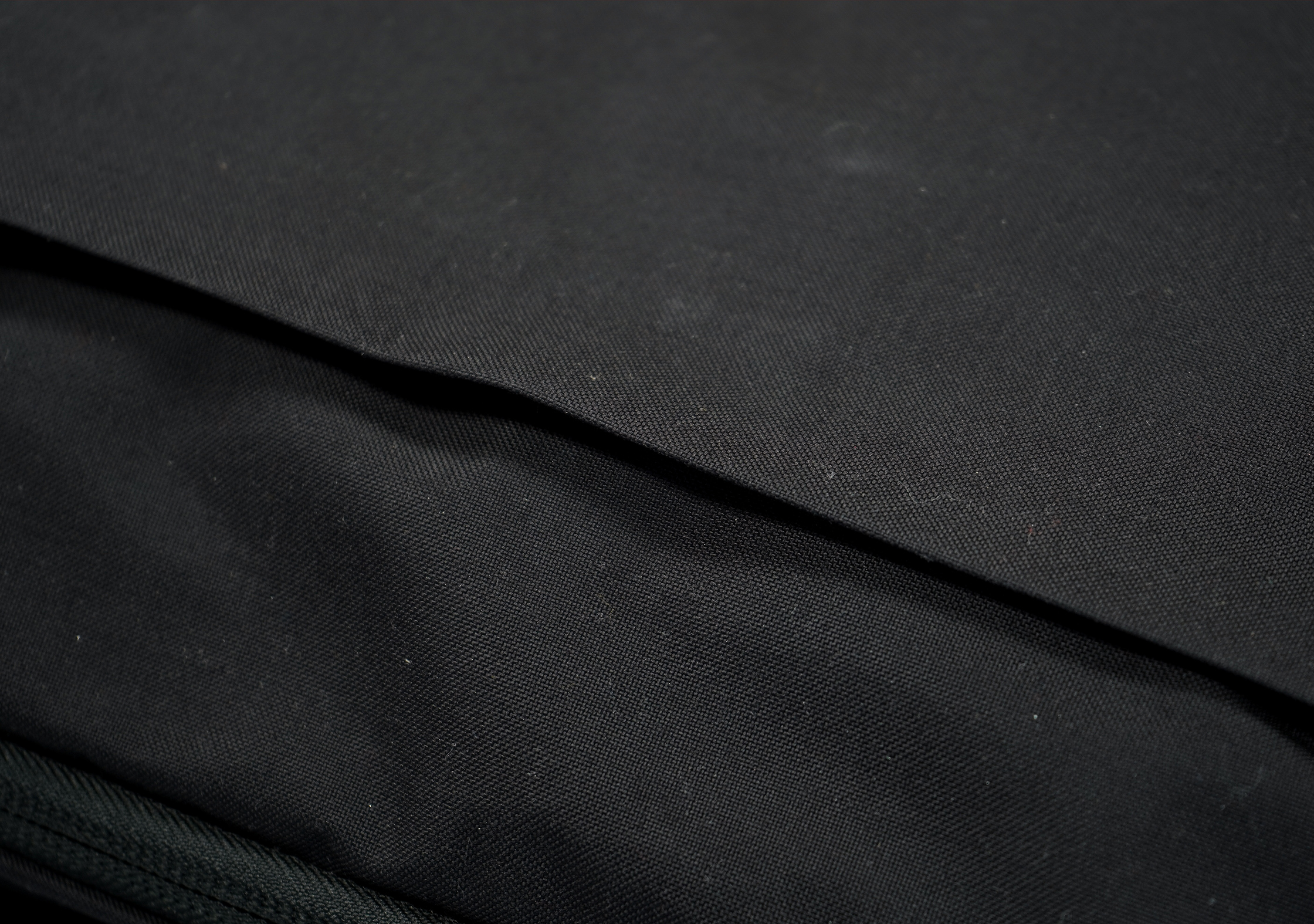 The pack's shell is made of 500d high tenacity nylon 6,6 with air-textured yarn. In layman's terms that means the exterior of the pack is made of some durable stuff—resistant to heat and water—and the air textured yarn gives it that matte, urban feel.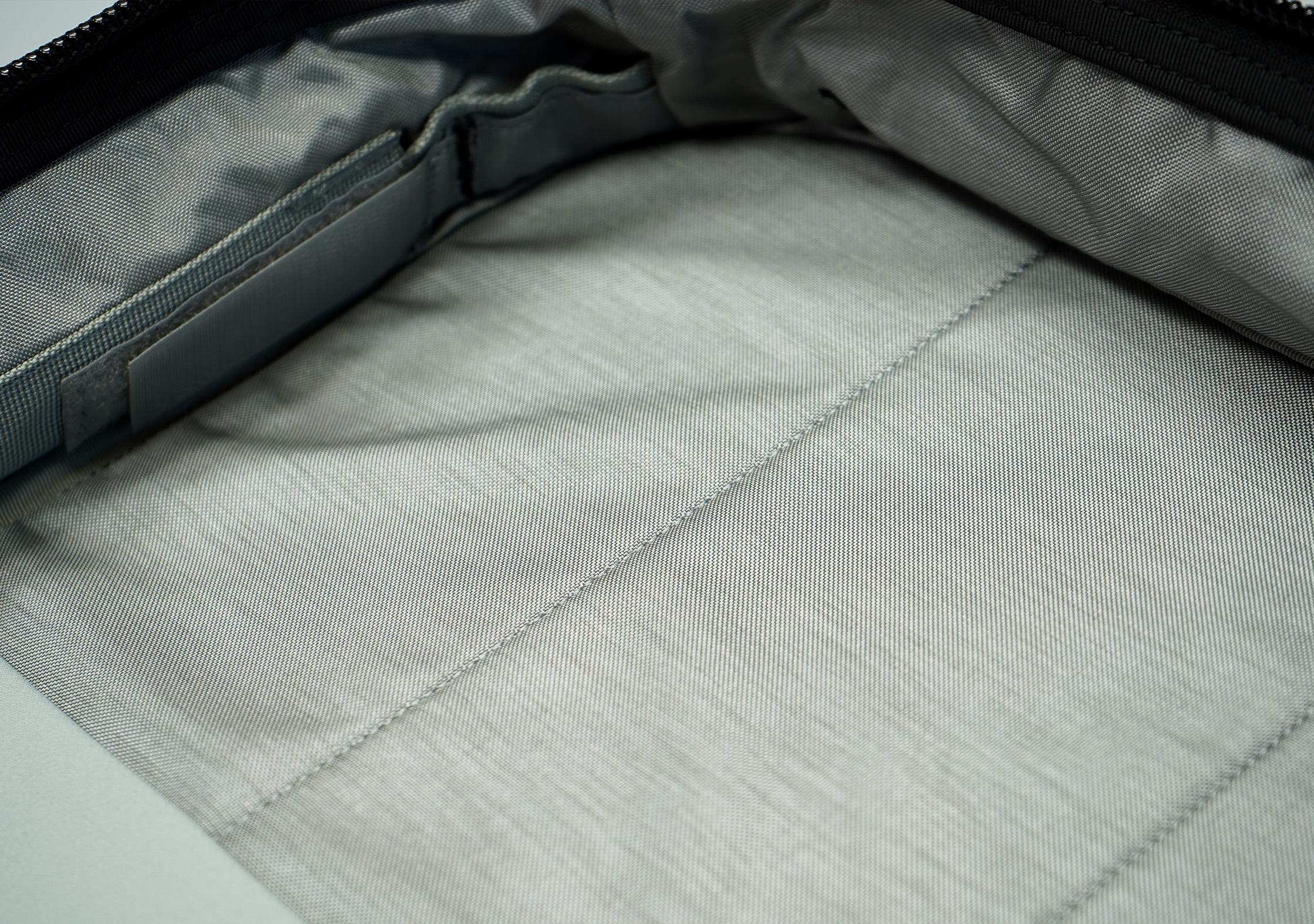 The inside is made of 420d high tenacity nylon, known for its great strength to weight ratio, which we certainly noticed as the pack is lighter than we might've expected for such a durable build. EVERGOODS uses a 1-to-1 Plainweave for both the external and internal materials, a weave pattern that is water, tear, and abrasion resistant.
The shell is finished with a polyurethane knifecoat with an additional DWR coating on the face. We did some digging around about what exactly a polyurethane knifecoat is when we reviewed the EVERGOODS CTB40, but basically, it's a technique involving—yep—a knife to get a precise amount of coating on a swatch of fabric.
Since you're likely not a backpack material engineer—all you really need to know is this coating makes your pack all the more weather and tear resistant.
We did notice the pack collected lint and dust quite easily. This is somewhat contested, with some reviewers saying that it hasn't been a problem for them, but in our experience, we've noticed that lint/dust/dirt does cling to the exterior materials of the pack. So keep that in mind if you're planning to travel to somewhere…linty (so everywhere).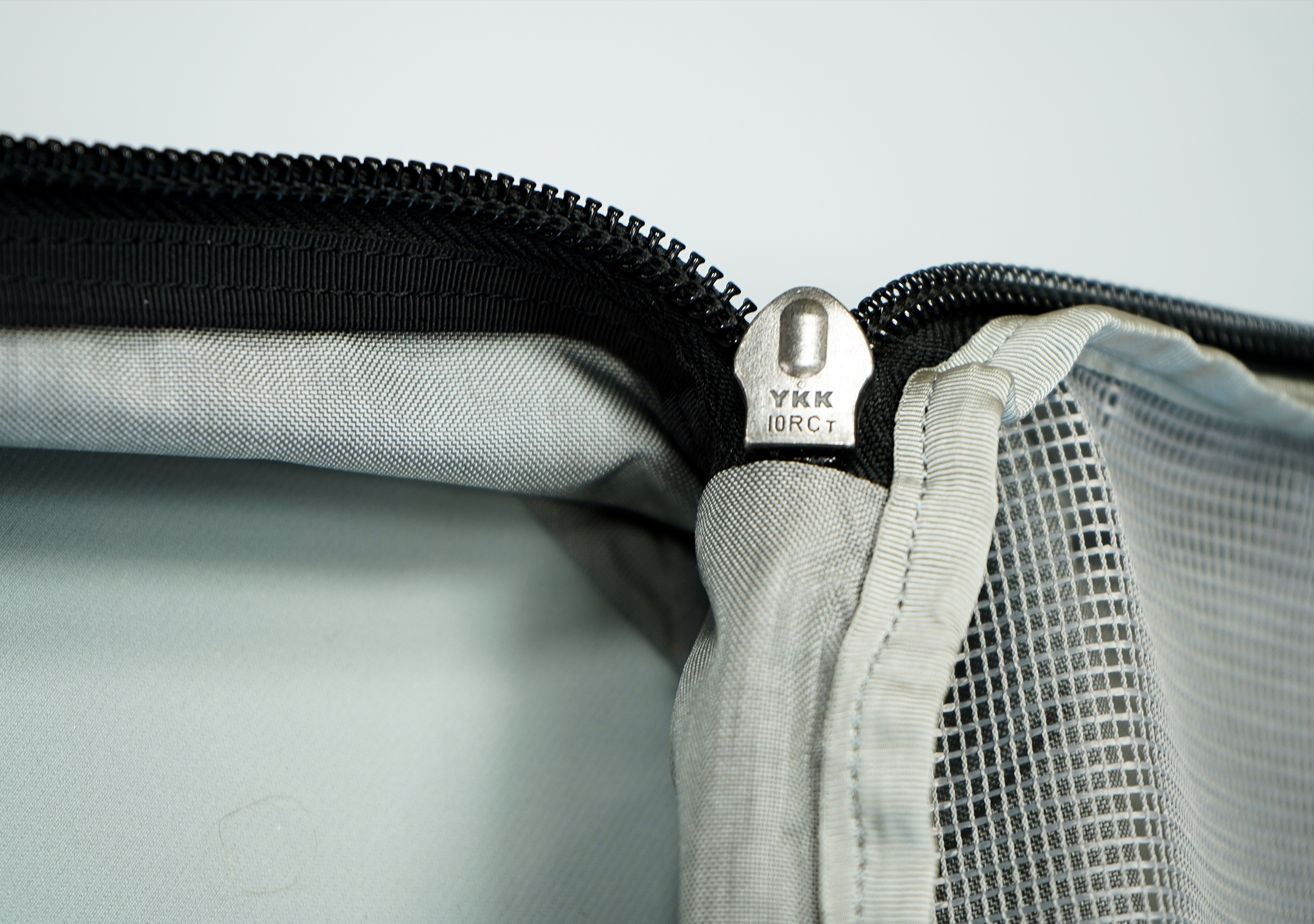 EVERGOODS uses YKK #10 RC zippers on the main compartment and YKK #8 RC zippers elsewhere. For those of you not familiar, YKK zippers are designed to last forever, and you can feel that strength and durability when using them. When we first started using the CPL24 the zippers were a bit sticky, but after three weeks of use they smoothed out and now work just fine.
Whew—that was a lot. But for those wanting to get into the nitty-gritty, there's still more (told you the EVERGOODS team takes materials seriously). For easy digestibility we've broken it up into bullet points:
EVERGOODS uses 7075-grade aluminum stays to keep the pack's shape, particularly when on its side. The pack doesn't really stand on its own, even while full, unless it's on its side.
We have some issues with the pack's sternum straps (more on that later), but the plastic Duraflex hardware that it's made of is definitely high-quality.
The straps use a dense EVA foam (EV50 from ZOTEFOAMS, for the curious) so not only do they feel nice, but the foam has a long lifespan.
External Components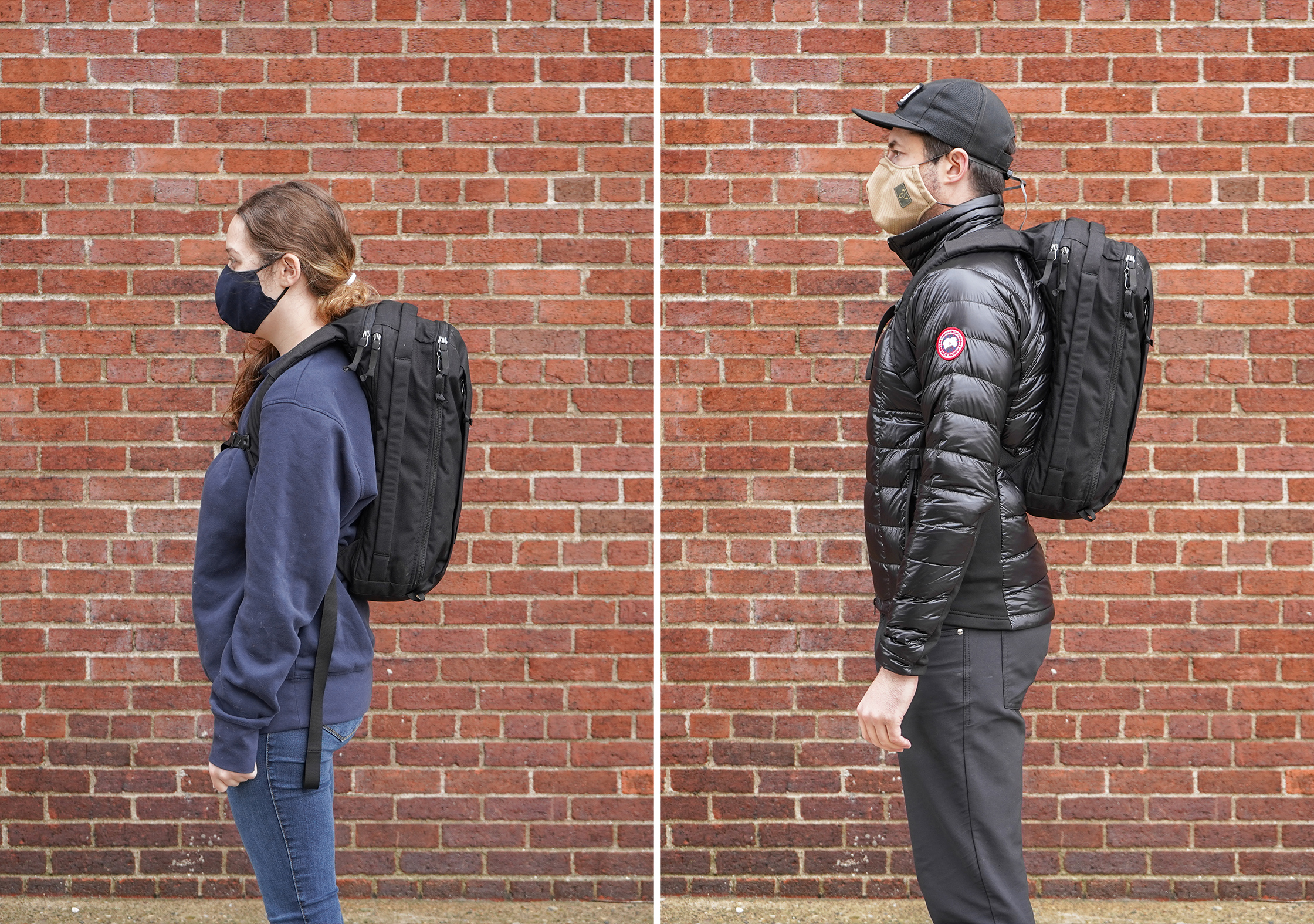 Arguably one of the most important aspects of a backpack is its straps. The straps on the CPL24 are contoured and designed to follow the natural curve of your shoulders, even when holding a stiff laptop in the back compartment. It carries a little higher than most packs, which does help with distributing the load, although can feel a bit odd if you aren't used to it. This also means it works well for people with smaller torso sizes, although we don't think larger people will be terribly affected either way.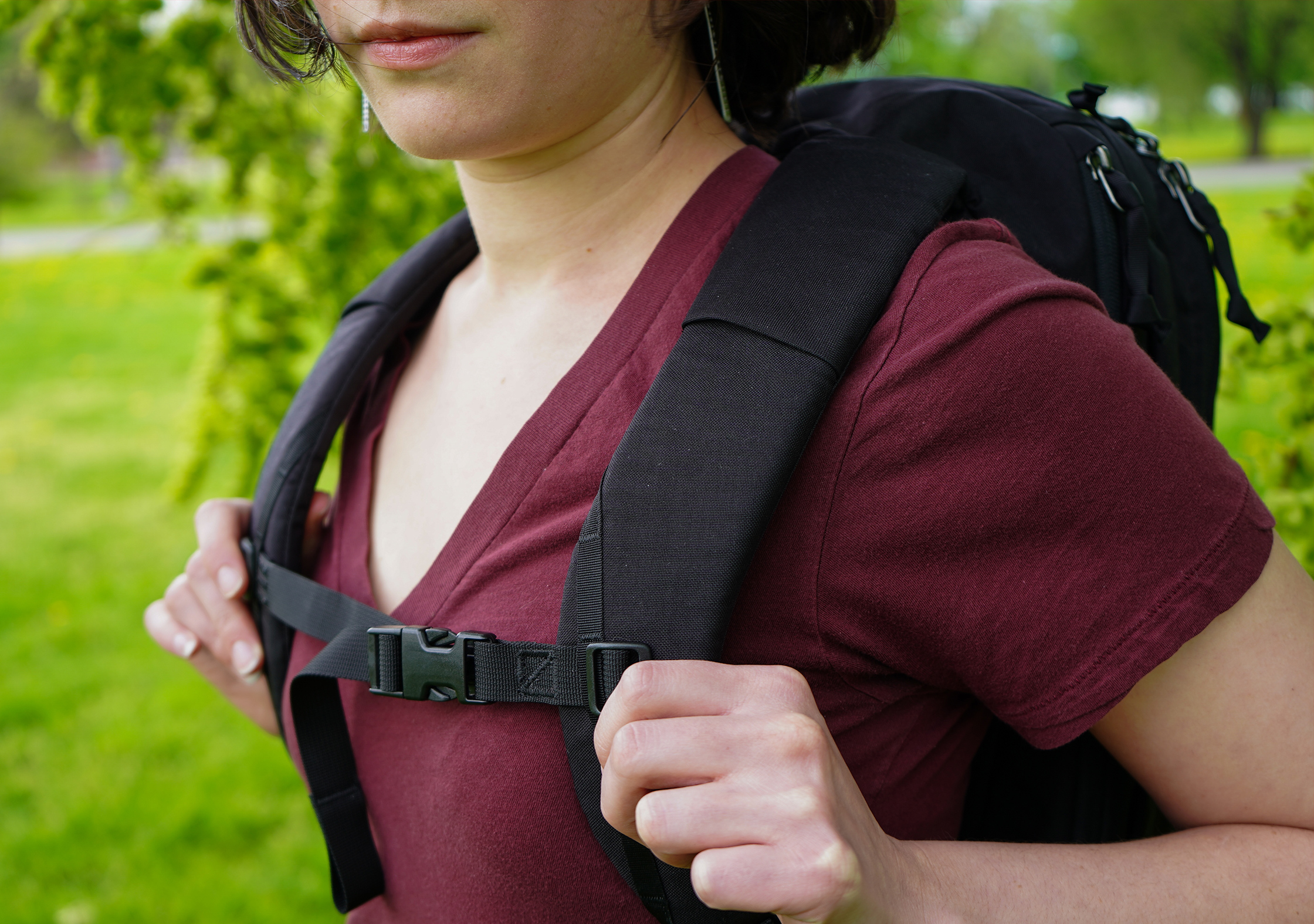 The back panel is nicely padded and comfortable, but there's nothing there to help with the dreaded, always-feared back sweat. However, one great perk is that you don't always have to wear this thing like a backpack. There are two exterior handles, and the one on the side allows you to hold the bag like a briefcase.
The back panel has some decent structure, too. If you like the CPL24 but want a frame sheet that's a bit more rigid, consider a kydex frame sheet.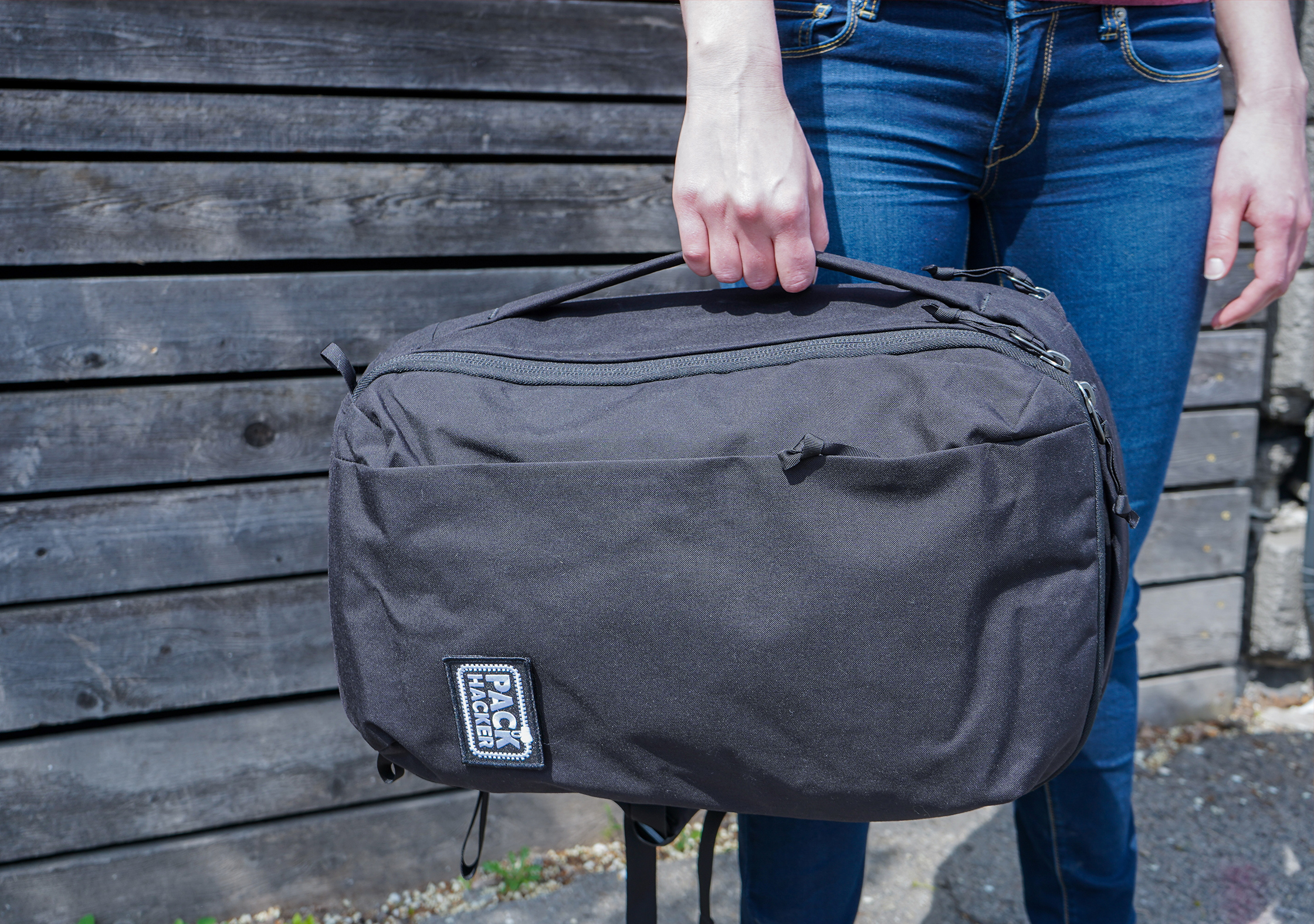 We never actually carried the bag that way, instead using this side handle either to move the pack or help us get to a compartment, but on a super hot day when you have a meeting and don't want that awkward circle of sweat on your lower back, this could be a workaround.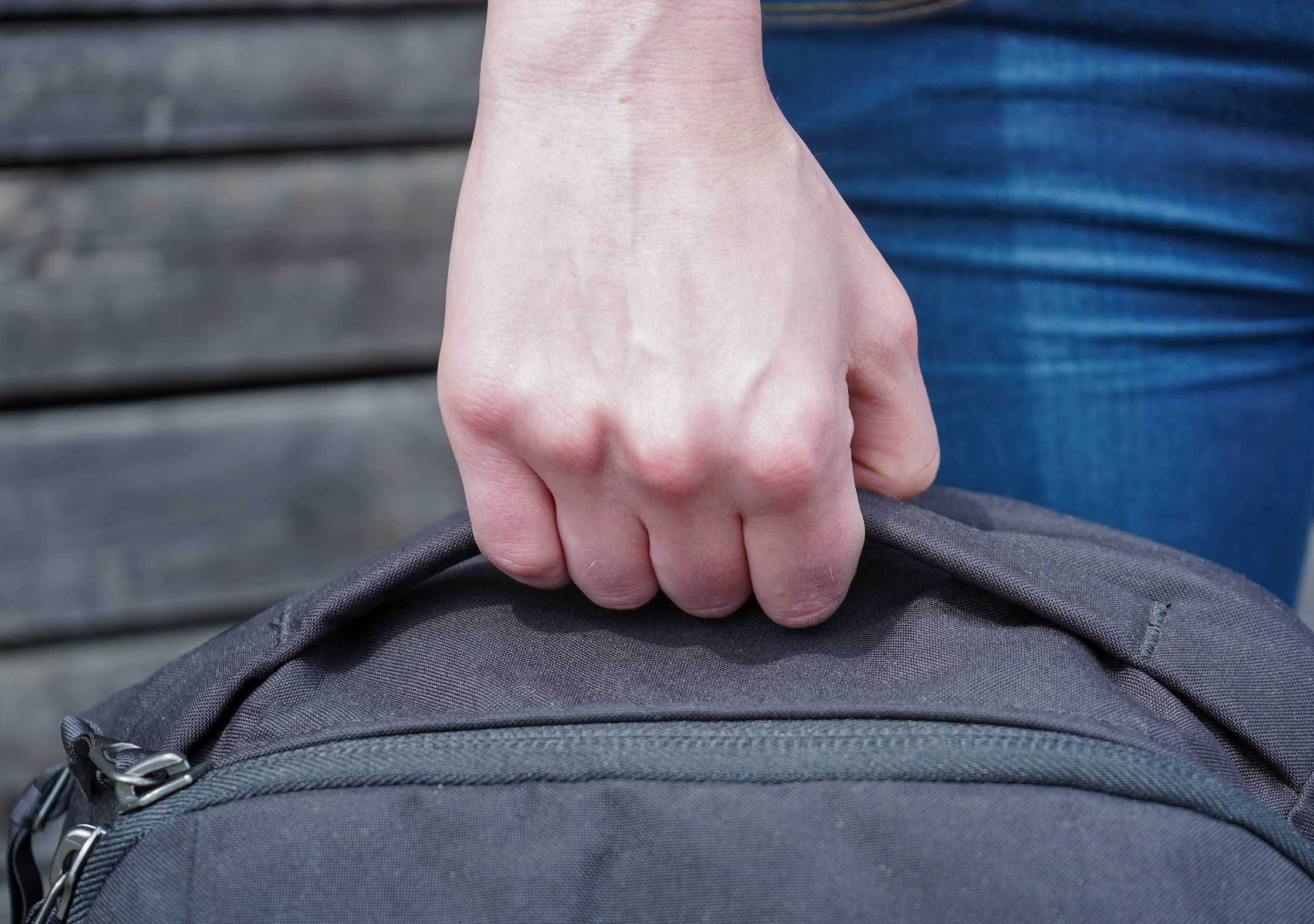 The other handle sits on top of the pack and acts like your normal backpack handle. Both of them tuck in nicely against the pack so there are no excess frills, which is obviously important to the EVERGOODS team (and our team).
Which brings us to the lack of side water bottle pockets. This is one of those "you either love it or you hate it" situations. The lack of side water bottle pockets means the pack's exterior is sleeker and there's less stuff to get caught on things, but it also means you don't have a great place to store water bottles or reusable coffee mugs, which can be a bit of a problem if you're a coffee connoisseur/environmentalist (there is a place for a water bladder, which we'll get to later).
Despite trying to have as minimalist of an exterior as possible, EVERGOODS included counter pulls, which are little loops of fabric to hold onto while you zip, beneath the main compartment. And we're glad they did. Not only does it make the zipping process that much easier, but as we noted in our review of the EVERGOODS MPL30 the counter pulls offer an additional layer of security.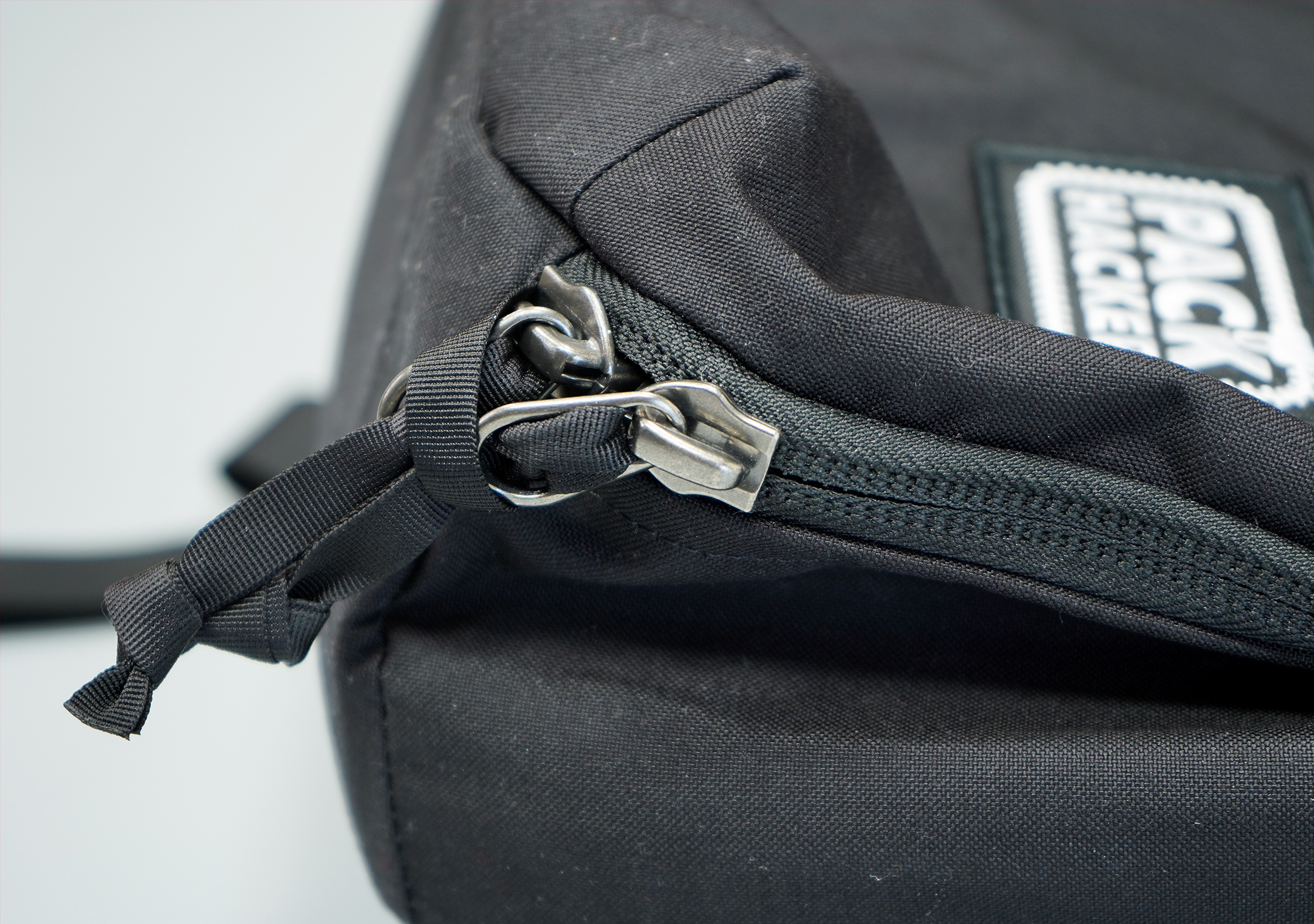 If you tug your zipper pulls through these pulls, it'll make it harder for someone to get into your pack. That half-a-second can be the difference between someone stealing your stuff or getting frustrated and moving on to an easier target.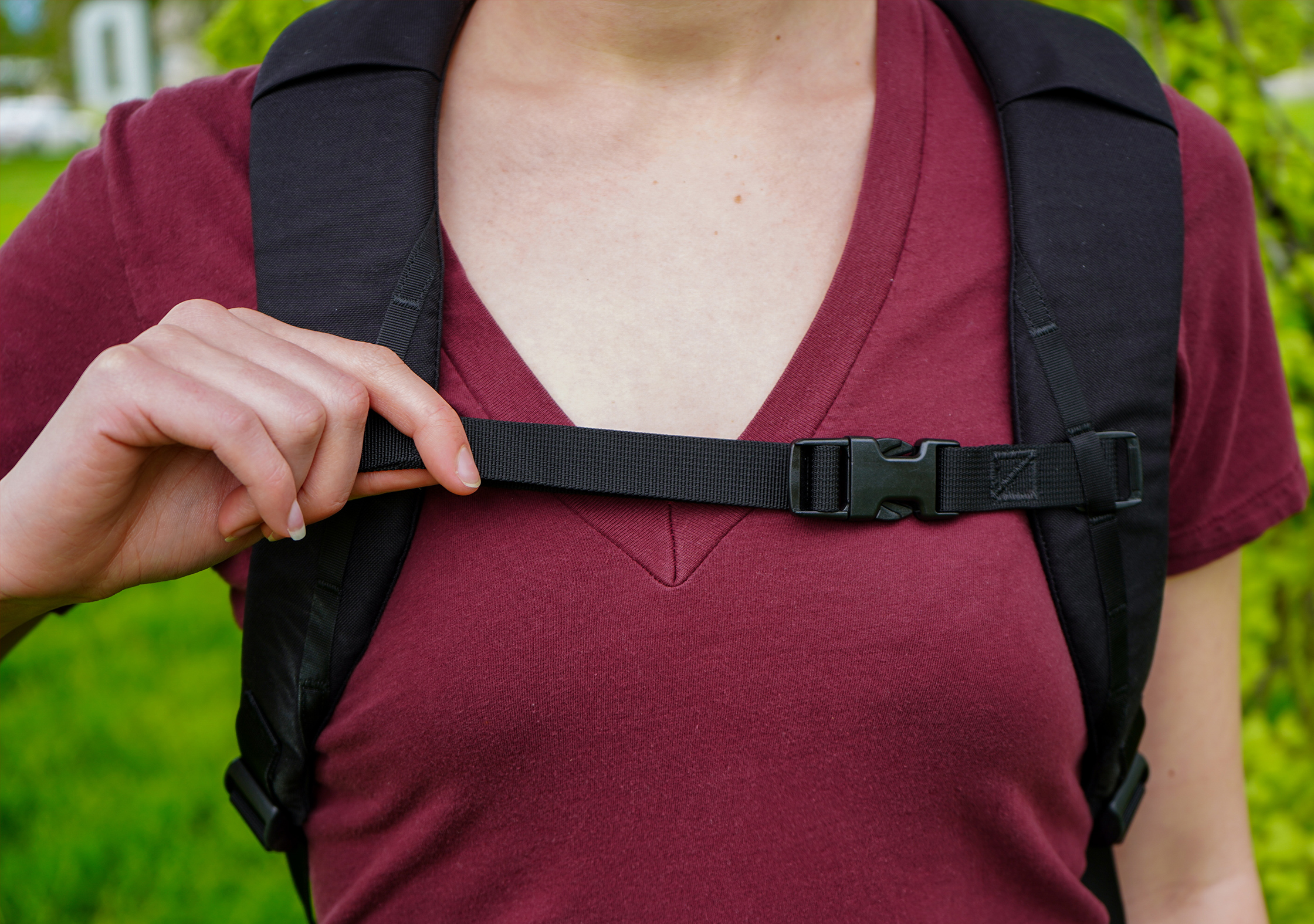 Our main issue with the CPL24 lies with the sternum strap. We like the fact that it's adjustable, but that adjustability means the sternum strap isn't safely secured to the shoulder strap. Over the course of a weekend trip, we lost the sternum strap twice. The second time, the strap would have been lost forever, if a kind stranger hadn't told us we had dropped something (shout out to you, kind stranger).
Inside the Pack
The interior of the pack is just as minimalist as its exterior. There are only three compartments.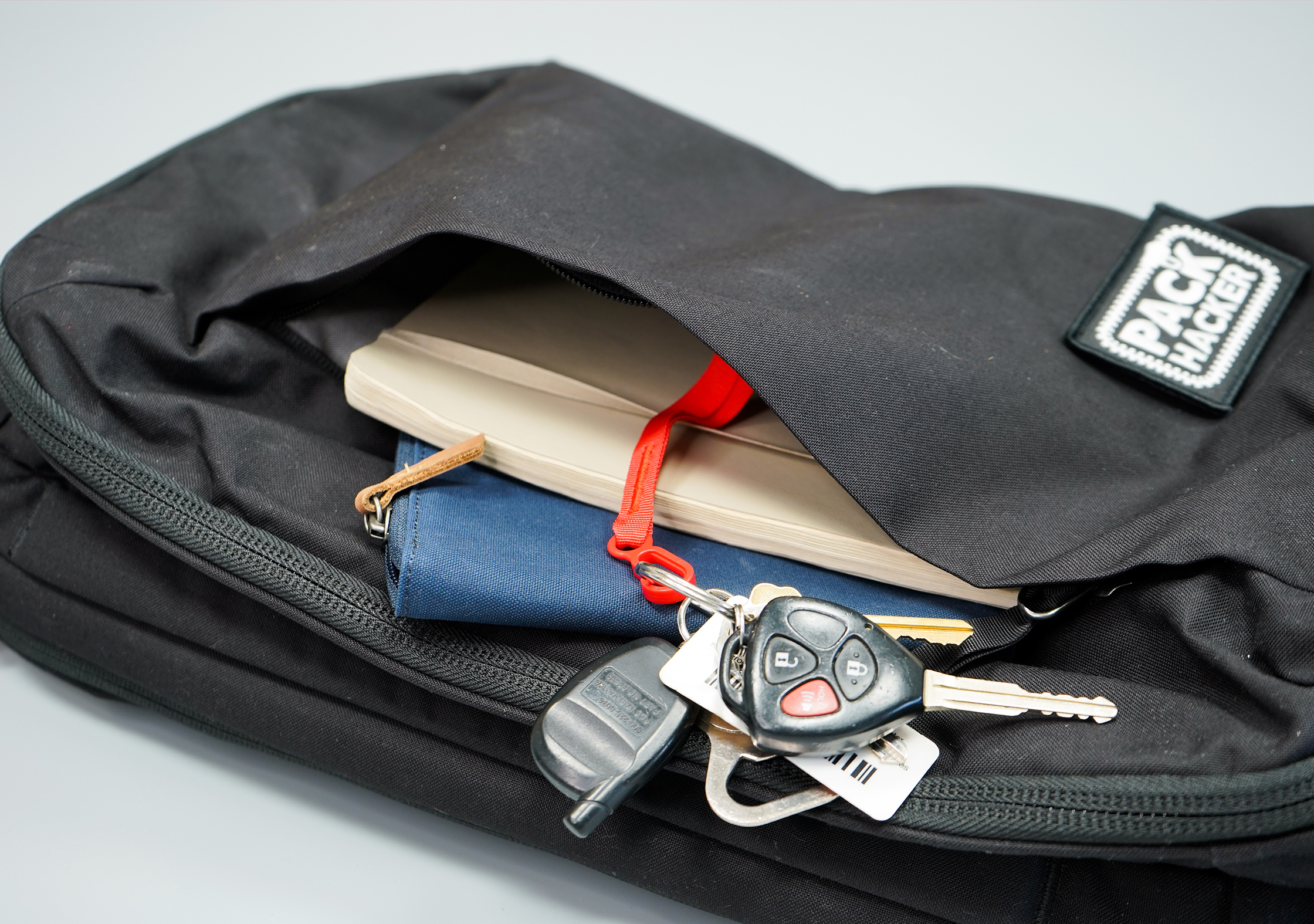 There's the front compartment, which is a nice spot for something flat like a book or journal. It also has a key leash… so keys would work well here too.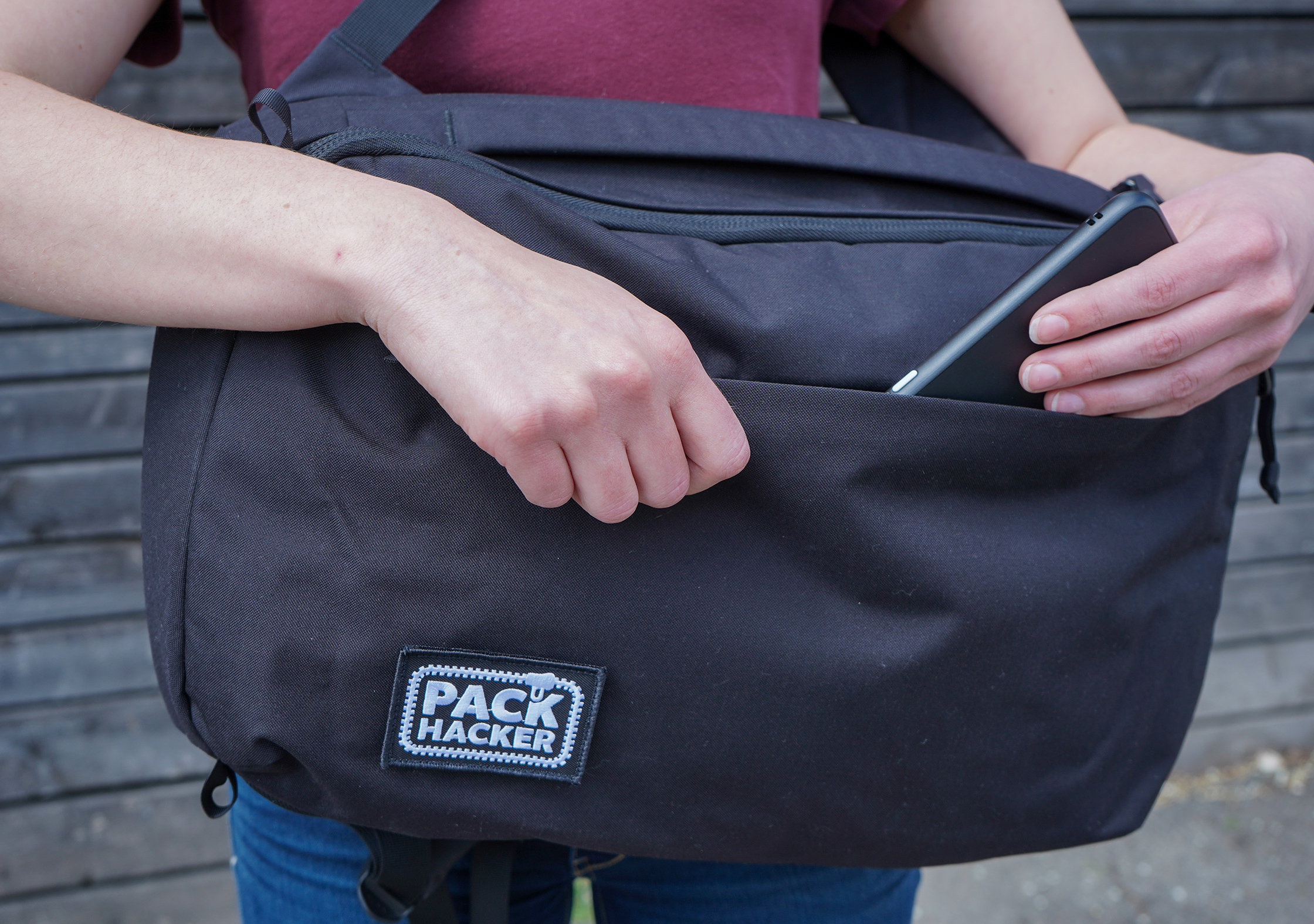 The best thing about it is its vertical zipper, which provides easy access when using the side handle or when you swing it forward off of one shoulder. There have been a few complaints that the bag is oriented to lefties, as you'll have to slide the bag off your left shoulder to access the front compartment, but we didn't have any issue with it.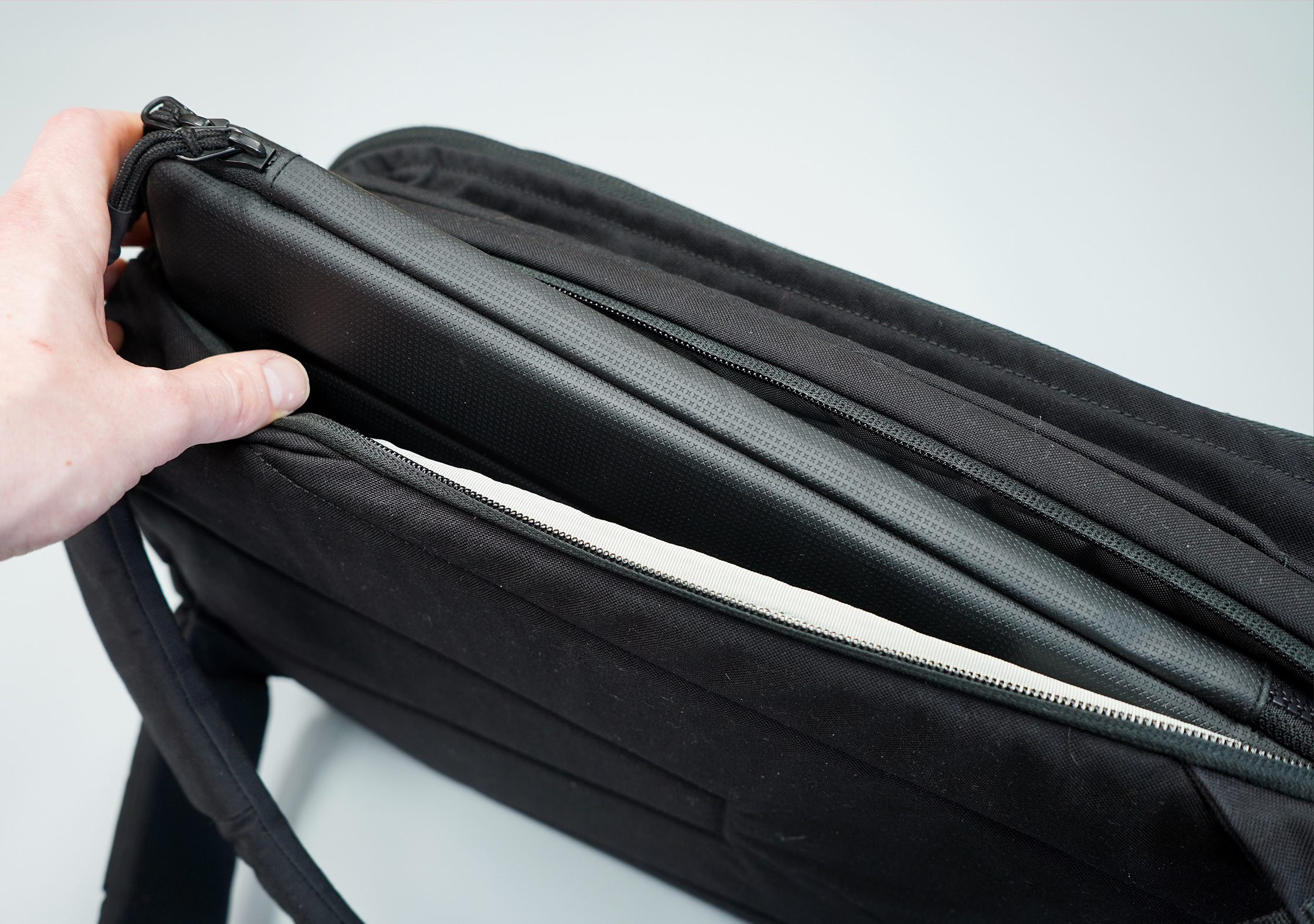 On the opposite end, there's the dedicated laptop compartment where you can easily slide your laptop in while the rest of the pack is stuffed to the brim. It's a solid design and offers some protection, but there are no straps to keep a smaller laptop from shifting while you walk—so you might consider a laptop sleeve.
EVERGOODS claims it can fit up to a small 17'' laptop, although we haven't tested this ourselves (and we aren't entirely sure what a "smaller 17-inch laptop'' even means—17 inches is 17 inches…right?).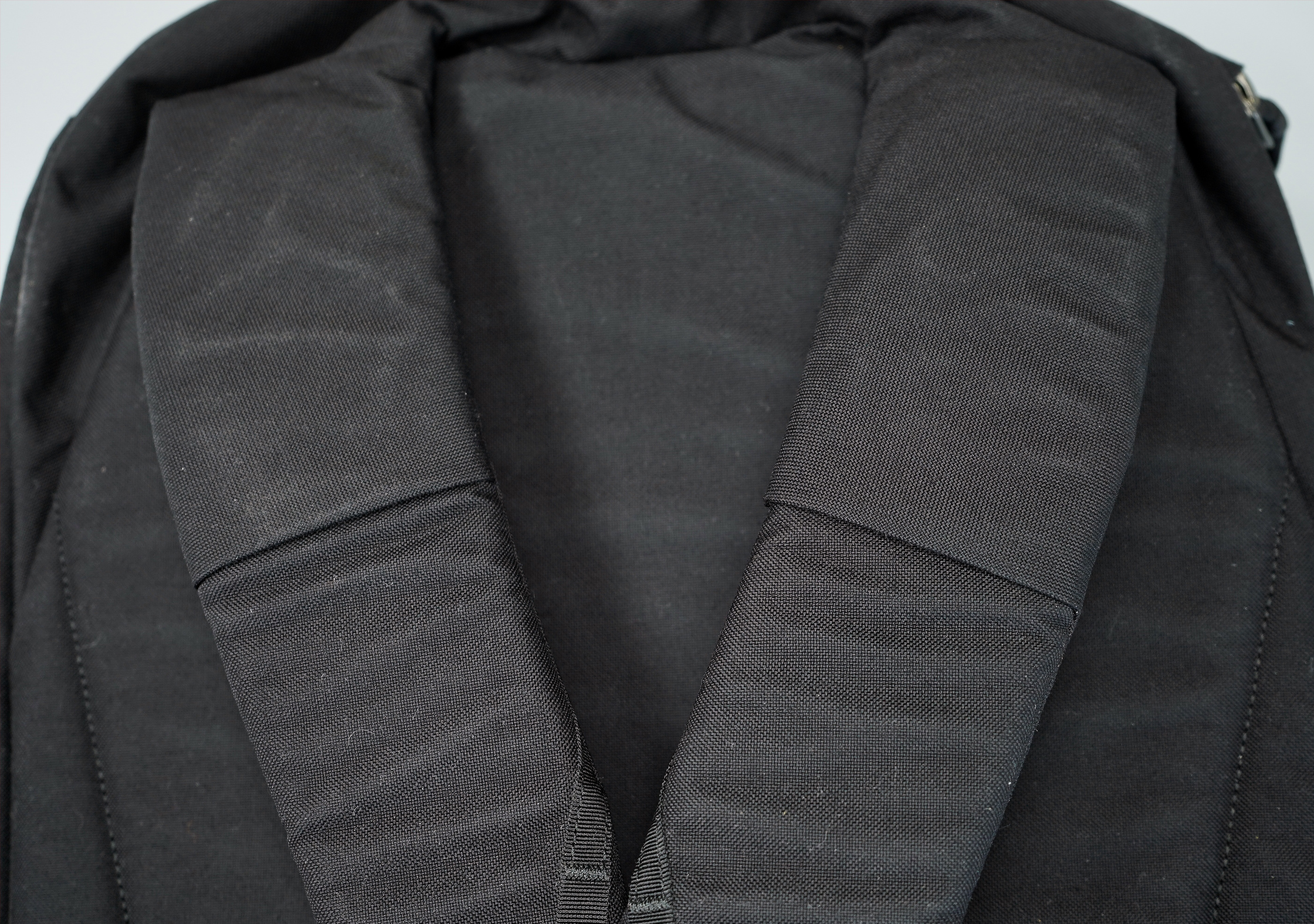 EVERGOODS also designed this compartment for a water bladder (just take out the laptop first), and the shoulder straps have subtle built-in sleeves for hydration tubes. We're not exactly hiking experts, but we do think this could come in handy on a weekend hike where you're looking to stay hydrated (and if you want to rock a water bladder while touring the streets of a new city—all the more power to you).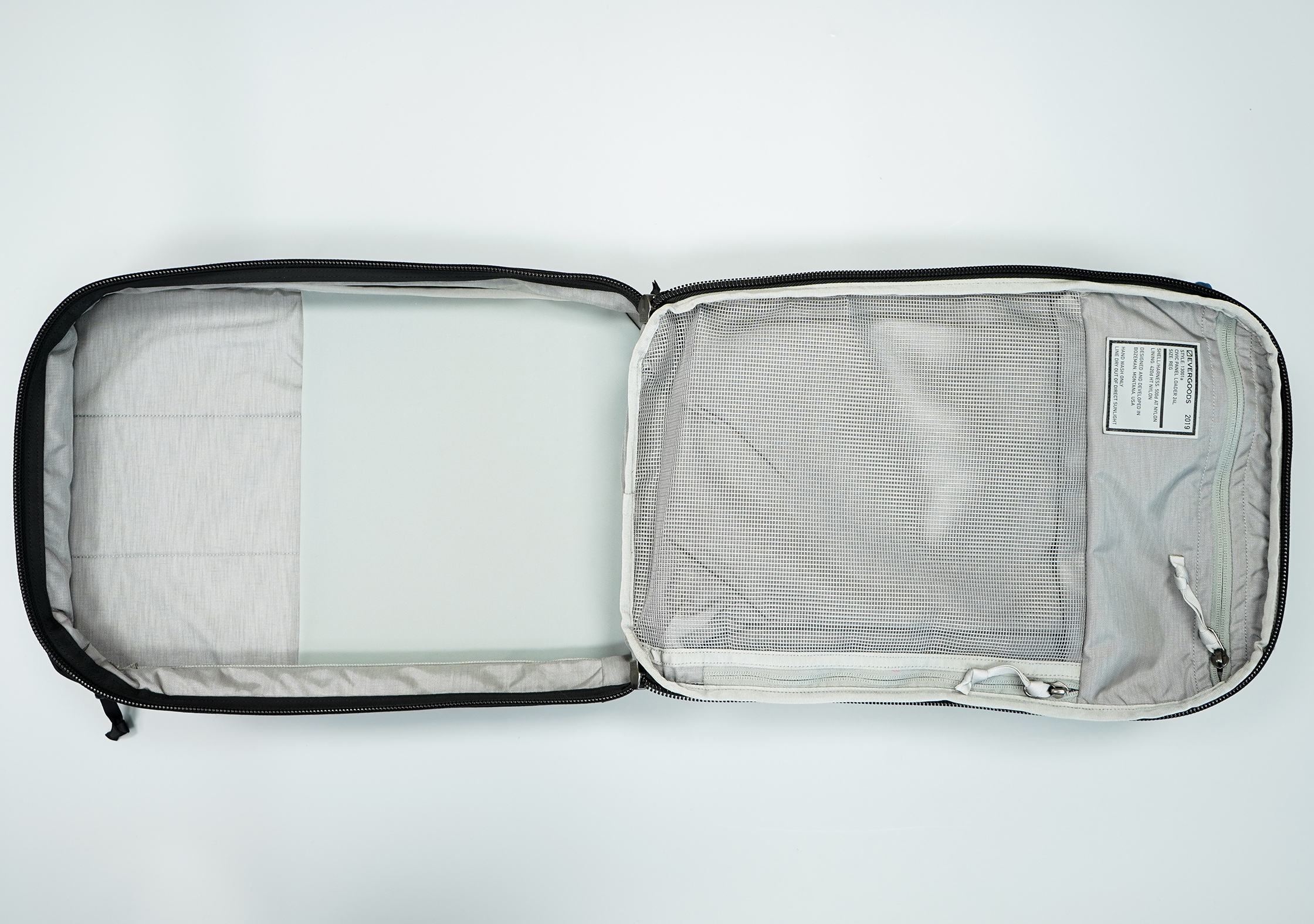 In between these two compartments is the main one, which has a clamshell design, opening all the way around like luggage does (clamshell, get it?). This is super convenient, allows you to access the main pocket from a variety of different angles and, of course, means you can open up your bag entirely to see all of your gear and organize it.
Like we do for all clamshell packs, we recommend using packing cubes here because it'll make organizing infinitely easier. Packing cubes also help you fit more stuff—meaning you can use this pack on longer excursions—and ensure your things won't shift in transit.
EVERGOODS doesn't stray from its simple design here, and we're not complaining.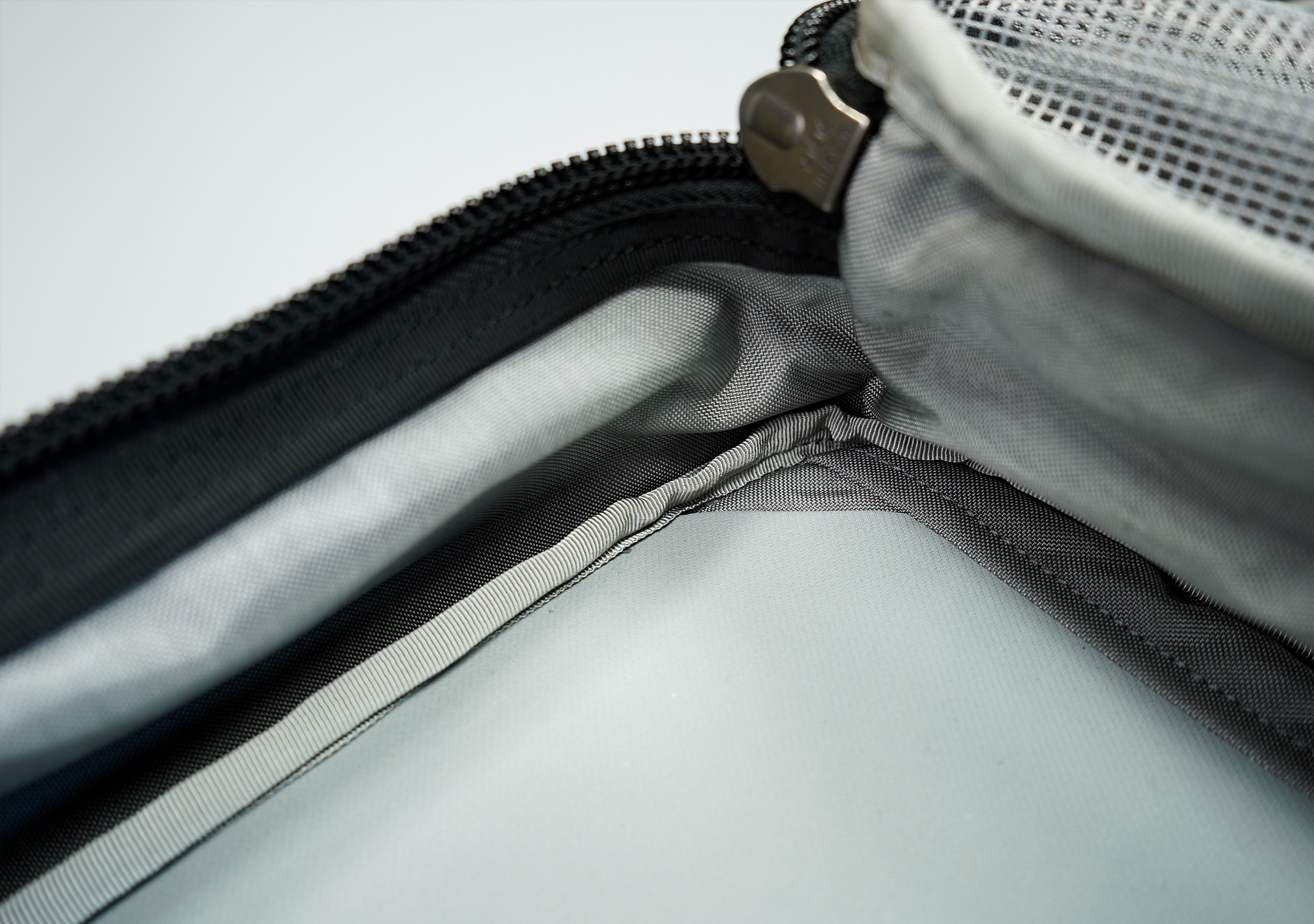 On one side, you have open space to put the bulk of your stuff, like your clothes, with a small stretch pocket against the back—perfect for a notebook or a tablet. We think all the little details really shine here as the stretch pocket has two cuts on the bottom corners, keeping the pocket clean of debris, but also protecting the bottom of your notebook or papers from getting all messed up.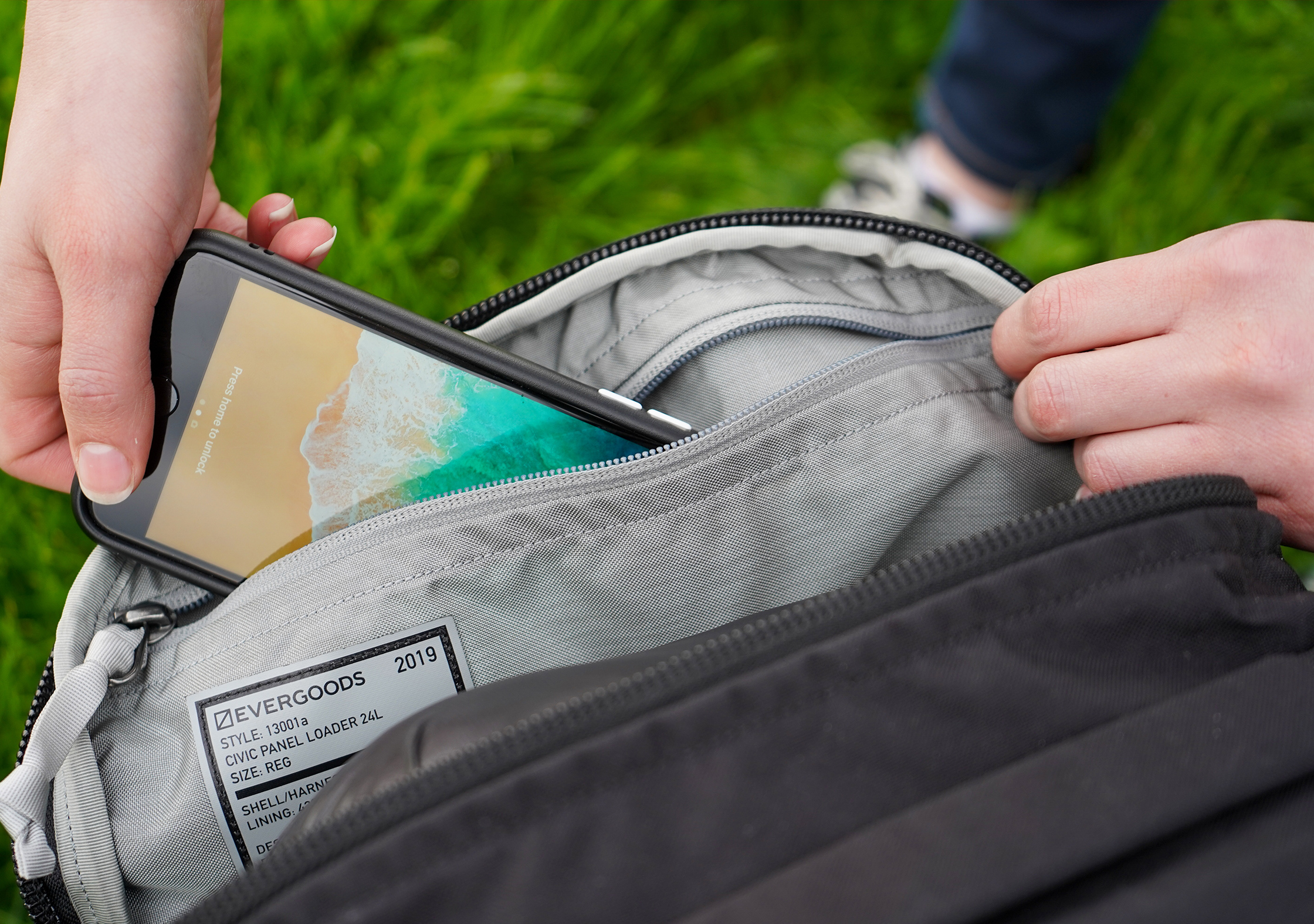 Opposite that there are two stacked pockets: a large mesh one and a smaller, nylon one above it. We used this upper pocket for our phone and wallet since it's easy to get to and well-protected. It's also a good spot for glasses or any other fragile items you may have. Both of these pockets have their own volume—which means they are useable no matter how full the other half of the compartment is. That's a fantastic touch by EVERGOODS that we're really digging.
While the pack holds a decent amount of stuff, we did find that at 24L it felt simultaneously a little small and a little big. You can fit all you need for a small trip inside the pack, but it'll probably be tight and you'll need to do some serious organizing.
At the same time, it's almost too big for a day pack. But size is incredibly subjective—so what wasn't the exact right fit for us might be perfect for you.
Durability & Testing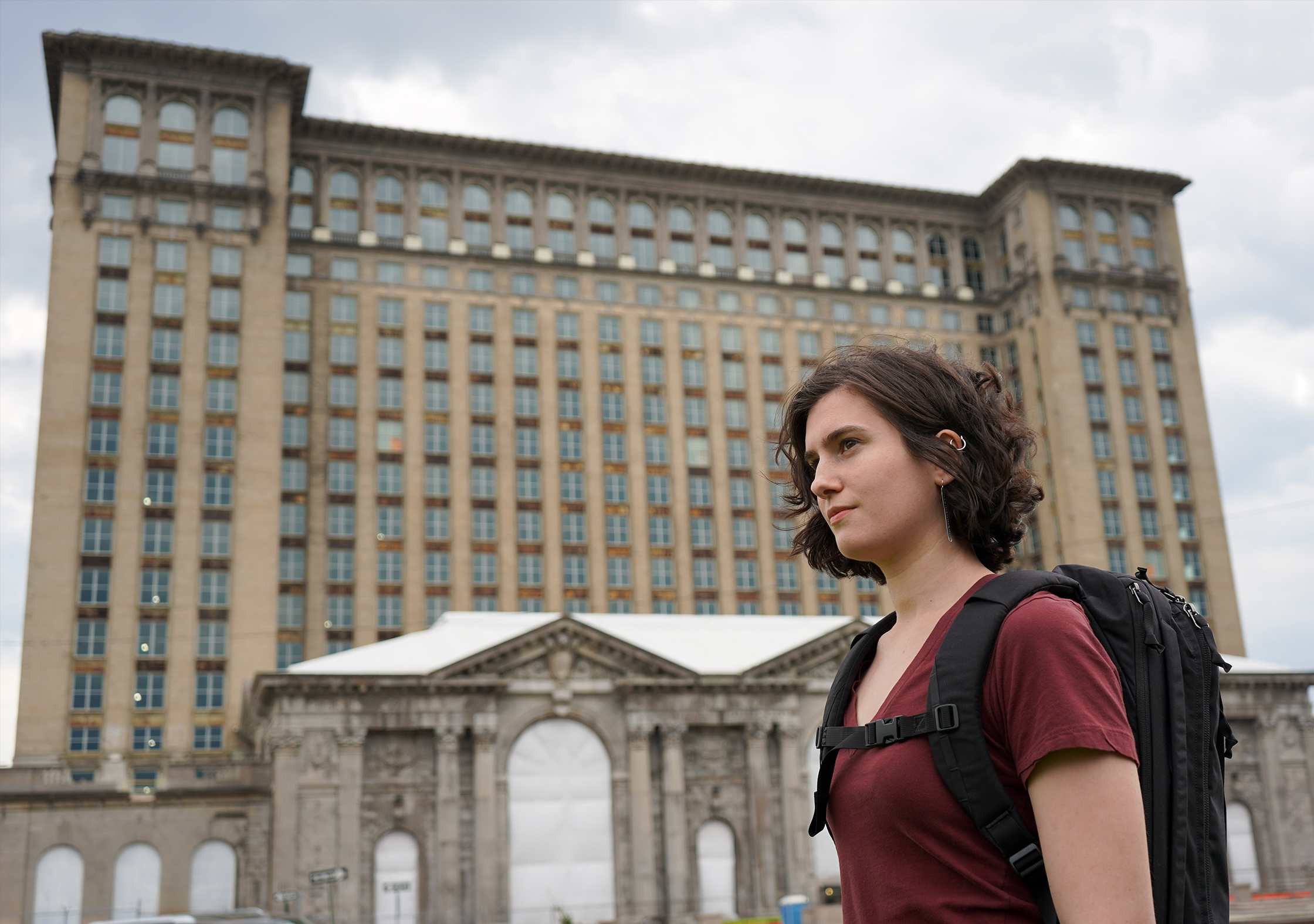 We have been testing the CPL24 around southeast Michigan for two weeks and taken it with us on a four day trip to Toronto, Ontario where the pack was up against extremely variable weather. Within the course of a weekend it was close to 70 degrees Fahrenheit (20 degrees Celsius) and 32℉ (0℃), sunny and pouring rain, windy and… actually, it was always windy. And the CPL24 handled it all with ease and grace.
Overall, we've been impressed with how well it's held up so far. Besides a little dust and lint, it still looks brand new at the time of this review.
What we love most about this pack is how durable it is. EVERGOODS uses strong materials from reliable companies. Coupled with the pack's timeless, minimalist design, we're pretty confident the CPL24 will last you a very, very long time.
Usage Timeline
Initial Usage
Condition: Excellent
Great little pack for zipping around the city or to take on short trips.
Seems to wear a bit "high."
We're digging the quality materials from EVERGOODS.
2 Weeks of Use
Condition: Excellent
A nice comfortable carry, with no pulls or loose threads to speak of. But the sternum strap has slipped off the shoulder strap twice already—it's definitely a concern moving forward.
Access the Pro Community Discussion
Get your questions about the EVERGOODS Civic Panel Loader 24L (CPL24) answered from our team and the Pro Community right here on the page. Plus, join discussions with other members about gear, guides, and more.
Other Bags & Luggage Reviews