Peak Design Everyday Tote 15L (V2) Review
If you're looking for a durable, sleek, customizable EDC bag, the Peak Design Everyday Tote 15L (V2) is a solid pick—especially if you have camera gear.
Our Verdict
Unlock the Pro Summary
Save time. Get access to brief summaries of our reviews so you can browse and make decisions more efficiently.
Pros
Comfortable to carry crossbody or as a tote
Customizable organization
High-quality, durable, weather-resistant materials
Cons
The zipper on the main compartment can get in your way when you're trying to pull out larger documents
The quick-grab pockets can eat into the space of the main compartment
FlexFold Dividers showing wear after only a couple weeks of testing
Recent Pack Hacker Video
Technical Details
Capacity

15l

Weight (lb)

1.81 lb (0.8 kg)

Without dividers

Dimensions

16.5 in x 12.6 in x 6.7 in (41.9 x 32 x 17 cm)

Notable Materials

Recycled Nylon, DWR Coating, Polyester, Polyethylene, Polyurethane, YKK Zippers, Aluminum, Leather, Zoom Zippers, Hypalon®

Manufacturing Country

Vietnam

Laptop Compartment Size

13"

Warranty Information
Full Review
Get up to 10% off Peak Design • Join Pack Hacker Pro
If you're a Peak Design fan and a tote bag fan then you'll likely fall in love with the Peak Design Everyday Tote 15L (V2). That's because this bag is quintessential Peak Design—from the aesthetic to the functionality to the customizable organization—and, well, a tote bag. And because it's quintessential Peak Design, there's a lot going on. So let's get straight to it, shall we?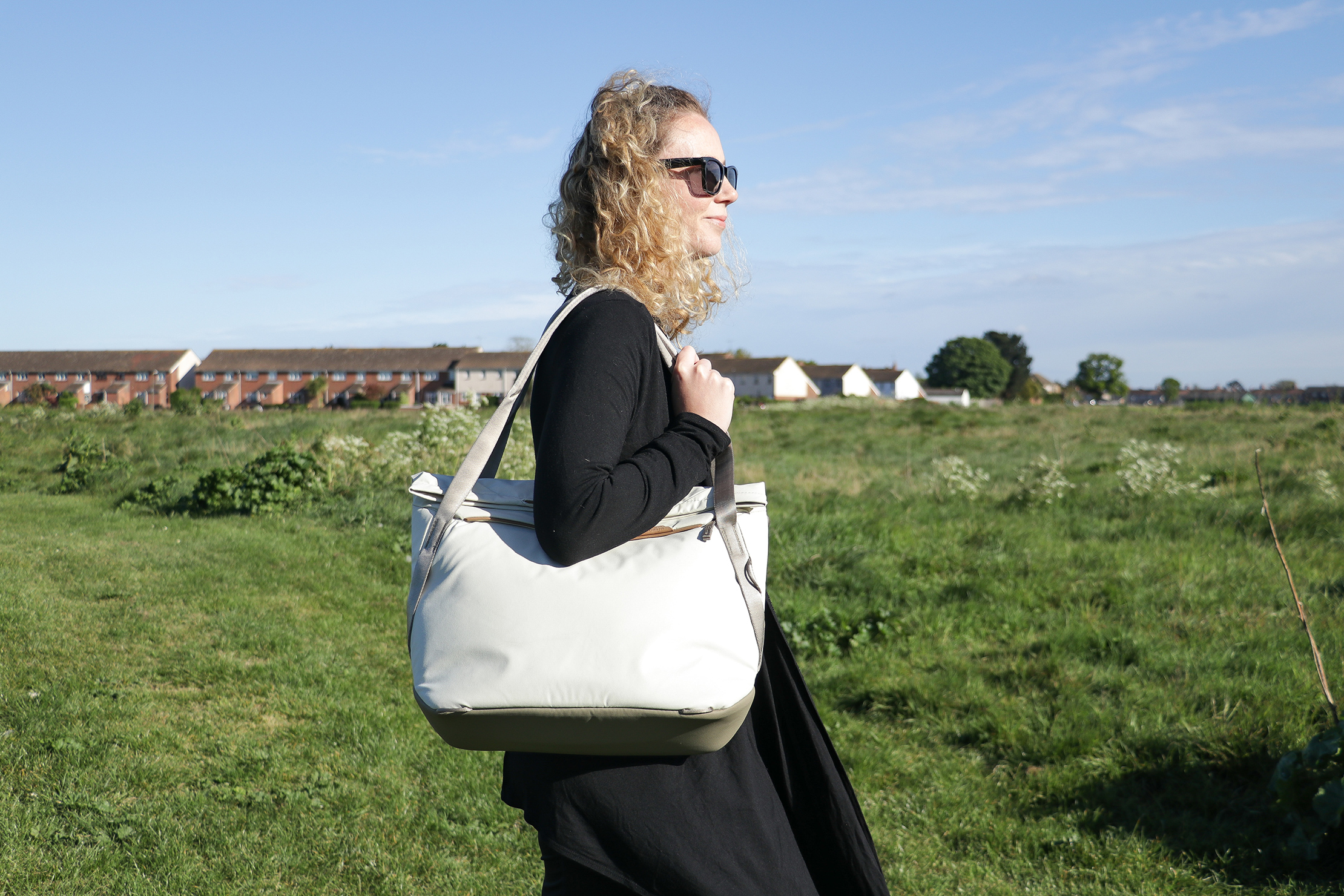 Materials & Aesthetic
The aesthetic of the Peak Design Everyday Tote 15L (V2) is—you guessed it—quintessential Peak Design. (Should we keep a count of how many times we use the word quintessential in this post? So far, we're at 3.) Seriously, it looks like the folks at Peak Design took an enlarger (growth?) ray to the Peak Design Everyday Sling 10L (V2) and added tote handles. It has a clean and modern, almost sci-fi feel to it—and we're digging it. Throw on some aviators and you'll be looking good. We also appreciate that it has a relatively low profile, so it wears well on the body. The 15L capacity is also a solid size for daily carry.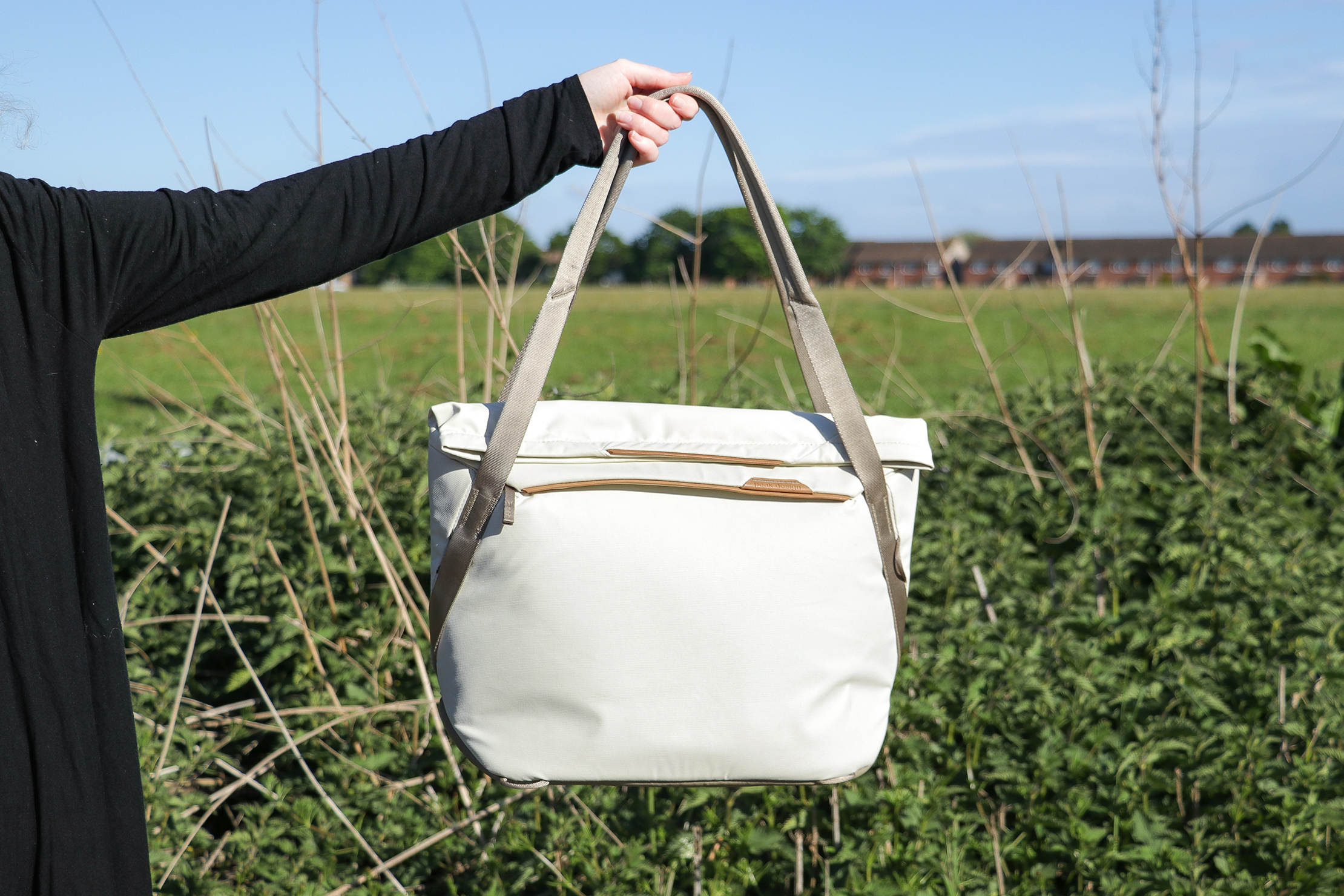 At the time of this review, it's available in Bone (white) and Black. We summoned our courage and have opted to test it in the sleek Bone colorway. We'll discuss how it's holding up in the durability section below, but you can probably guess that owning a white tote is something that requires great responsibility and cleanliness. Or—we suppose—a nonchalance toward stains and marks.
We do like that the bottom of the bag is a light brown to help hide said stains and marks on the part of the bag most likely to get dirty.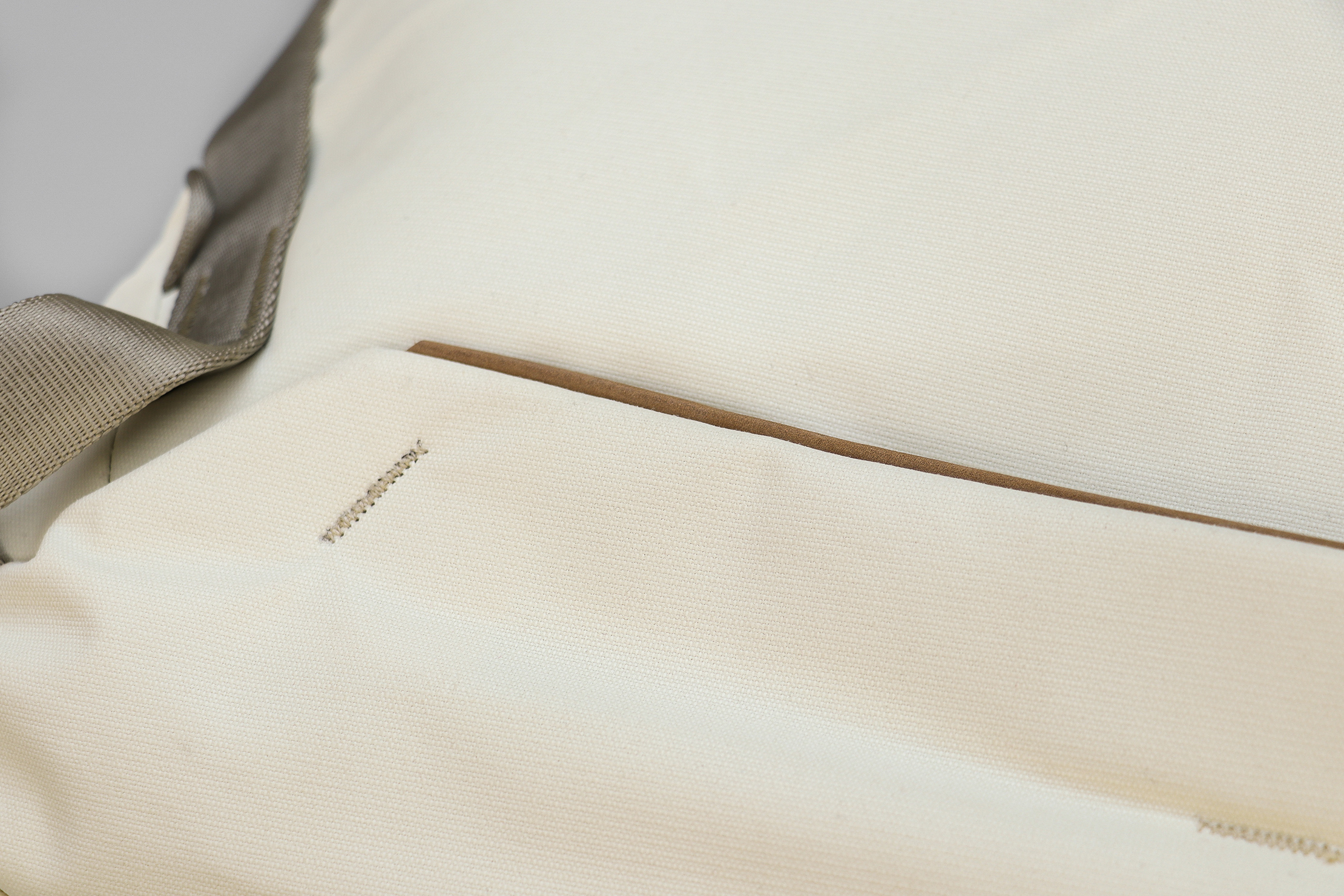 The shell is made from 100% recycled 400D nylon canvas and is DWR impregnated, double PU-coated, and Bluesign® certified (note that the black colorway is not Bluesign® certified). If you're not as nerdy about fabrics as we are then all you need to know is that this bag is durable, weather-resistant, and uses materials that have been made in an environmentally and socially responsible way. The shell has a soft, rubbery feel to it that adds to the bag's premium vibe.
The bag also has a 900D nylon waterproof bottom liner. The Bone colorway features leather accents, which adds a touch of sophistication. And—if you avoid animal products—the Black colorway has Hypalon accents. We always appreciate when companies offer a vegan option, so our hats off to the folks at Peak Design.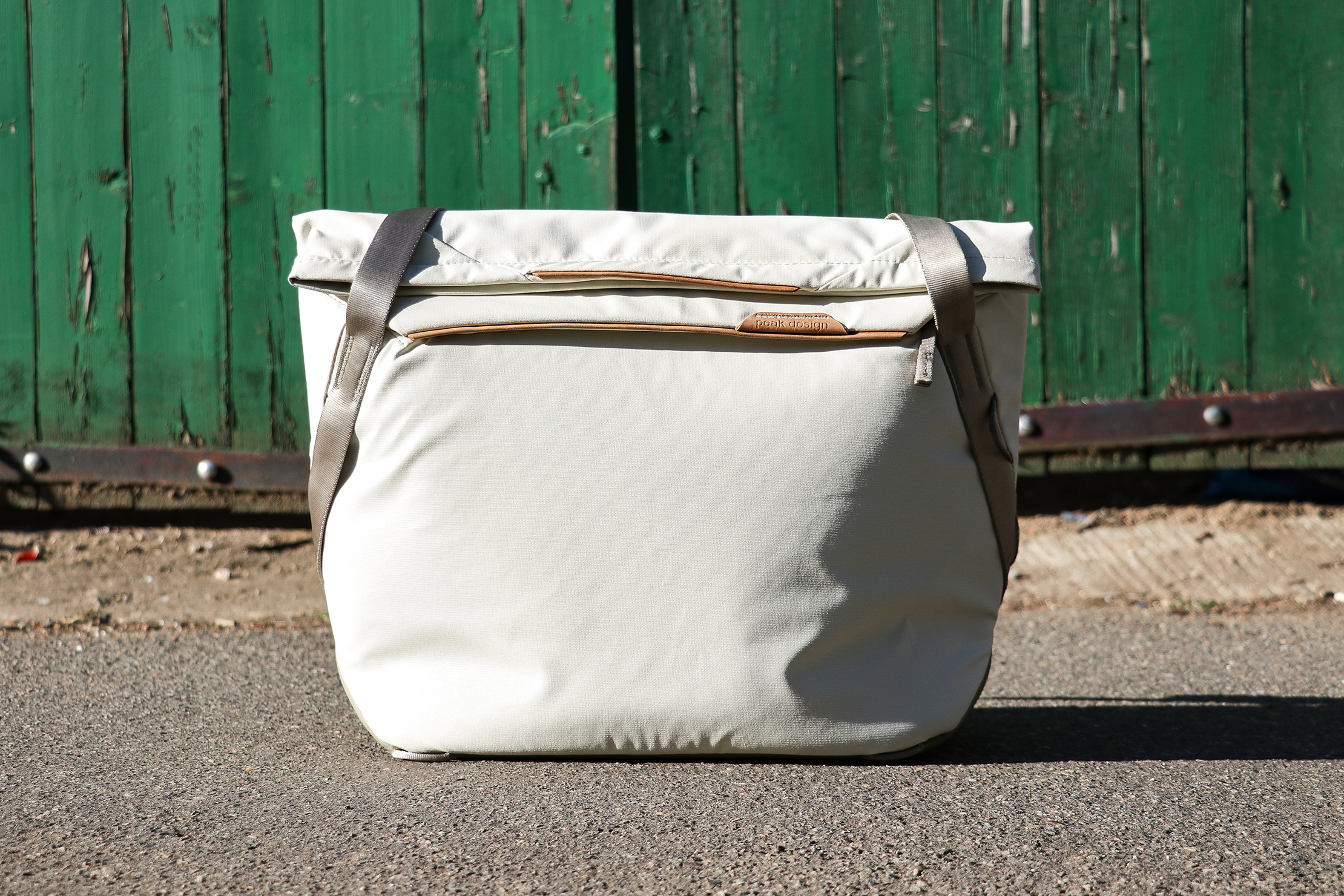 The tote is also structured enough that it stands up on its own (!), which is as awesome as it sounds. It's nice to be able to pop the bag down beside you without it face diving into the floor. The only time the tote can't stand on its own is when you're carrying gear externally via the bottom straps (which we'll discuss more later).
The external zippers are Peak Design's own UltraZips, which were born out of a collaboration with Zoom Zippers. So far, we've been digging them on this tote and the rest of the Everyday line we've been testing. They're smooth in a very satisfying way and we've encountered no durability issues so far—and we don't expect to anytime soon.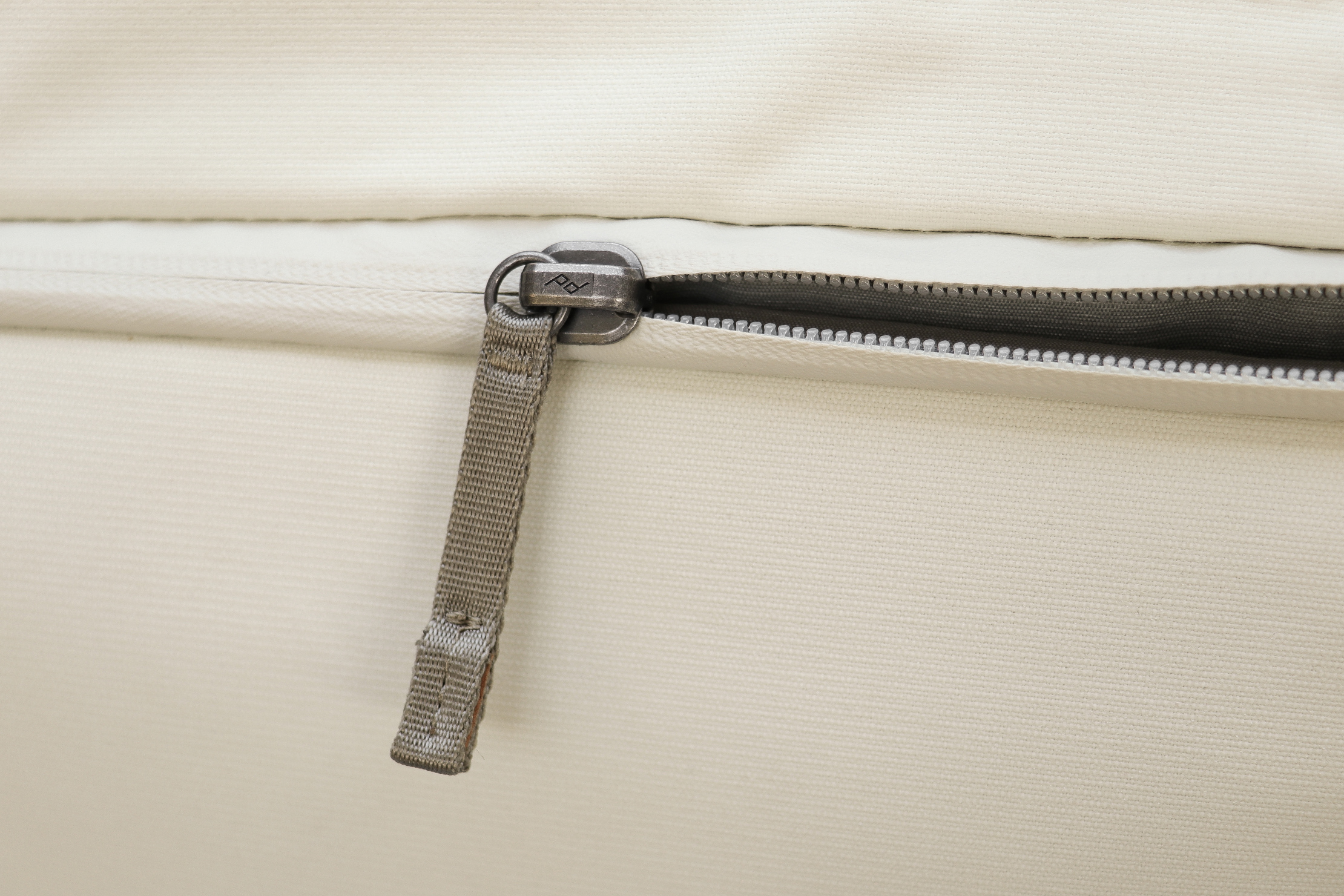 Finally, you'll find anodized aluminum and glass-reinforced nylon hardware. Overall, the materials are top-notch, weather-resistant, durable, and—yes—quintessential Peak Design (quintessential count: 4). The bag should last you many years and adventures to come.
External Components
As its name states, this bag is first and foremost designed to be carried as a tote. The tote handles are soft, thick, and feature a good amount of padding. The nylon is also doubled over and sewn in. What this means is that even if you've packed up the tote with a heavy load, it's comfortable to carry in the hands. The handles are also long enough you can toss them over your shoulder.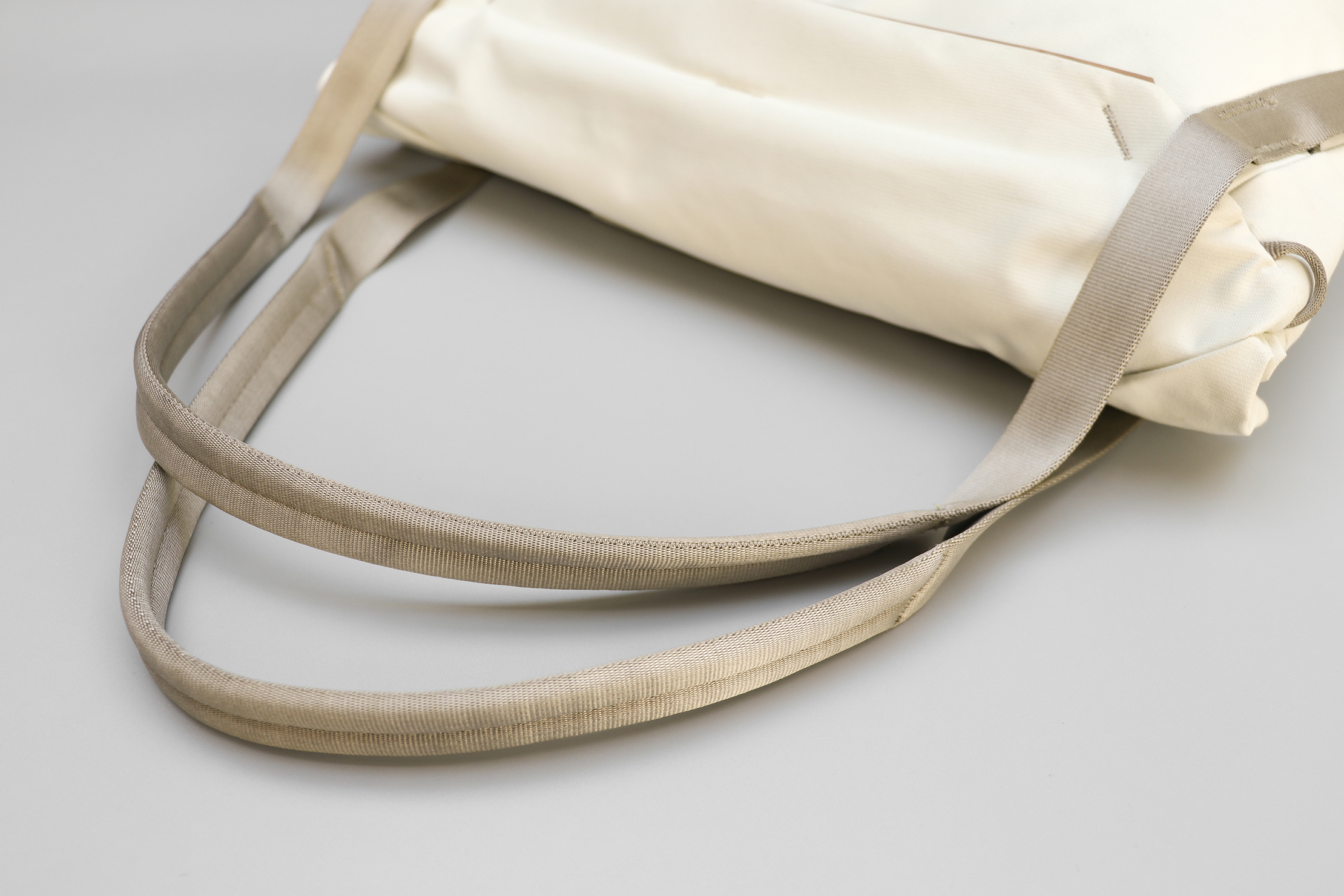 The tote also comes with a crossbody strap, so you can carry this tote as a messenger bag (loose across your body) or an oversized sling (tight across your body). Like the tote handles, the crossbody strap is well-padded. Plus, you can slightly adjust said padding to get it exactly where you want it. Again, this makes for a comfortable carry.
Of course, the word comfortable is relative. Let's be real, carrying a heavy load on both of your shoulders—a la a backpack—will probably be more comfortable than carrying that same weight crossbody or in the hands. But the thick padding makes the tote and crossbody carry as comfortable as it can be. Long story short: the carry is comfortable…for a tote bag.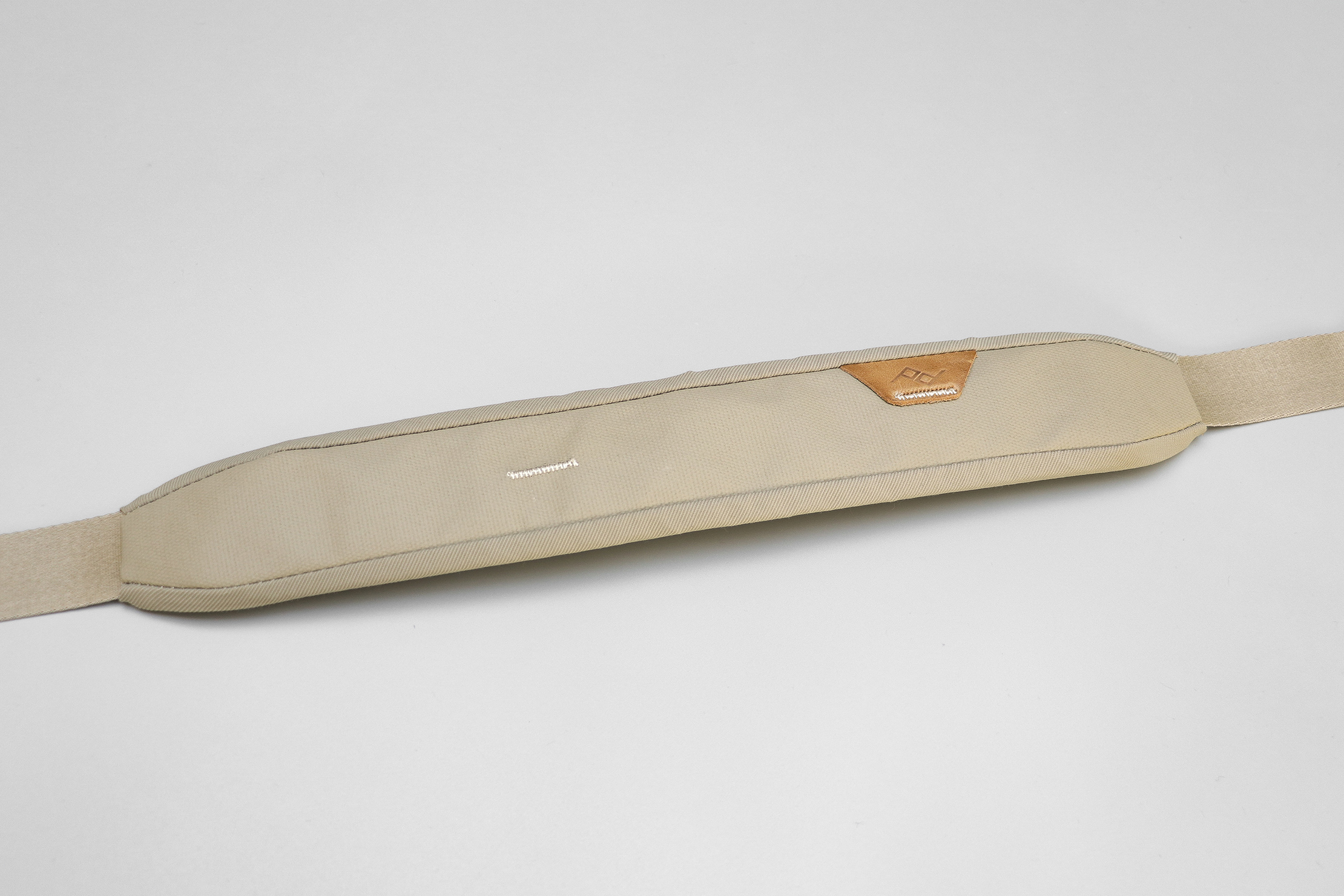 The crossbody strap has the same quick-release adjuster you'll find across Peak Design's line of products (you might even say it's quintessential Peak Design. Quintessential count: 5). This quick-release adjuster allows you to quickly and easily loosen or tighten the strap with one hand. And it securely locks in place, so you don't have to worry about it loosening on its own. It's a fabulous design that we've enjoyed testing on this tote and other Peak Design gear.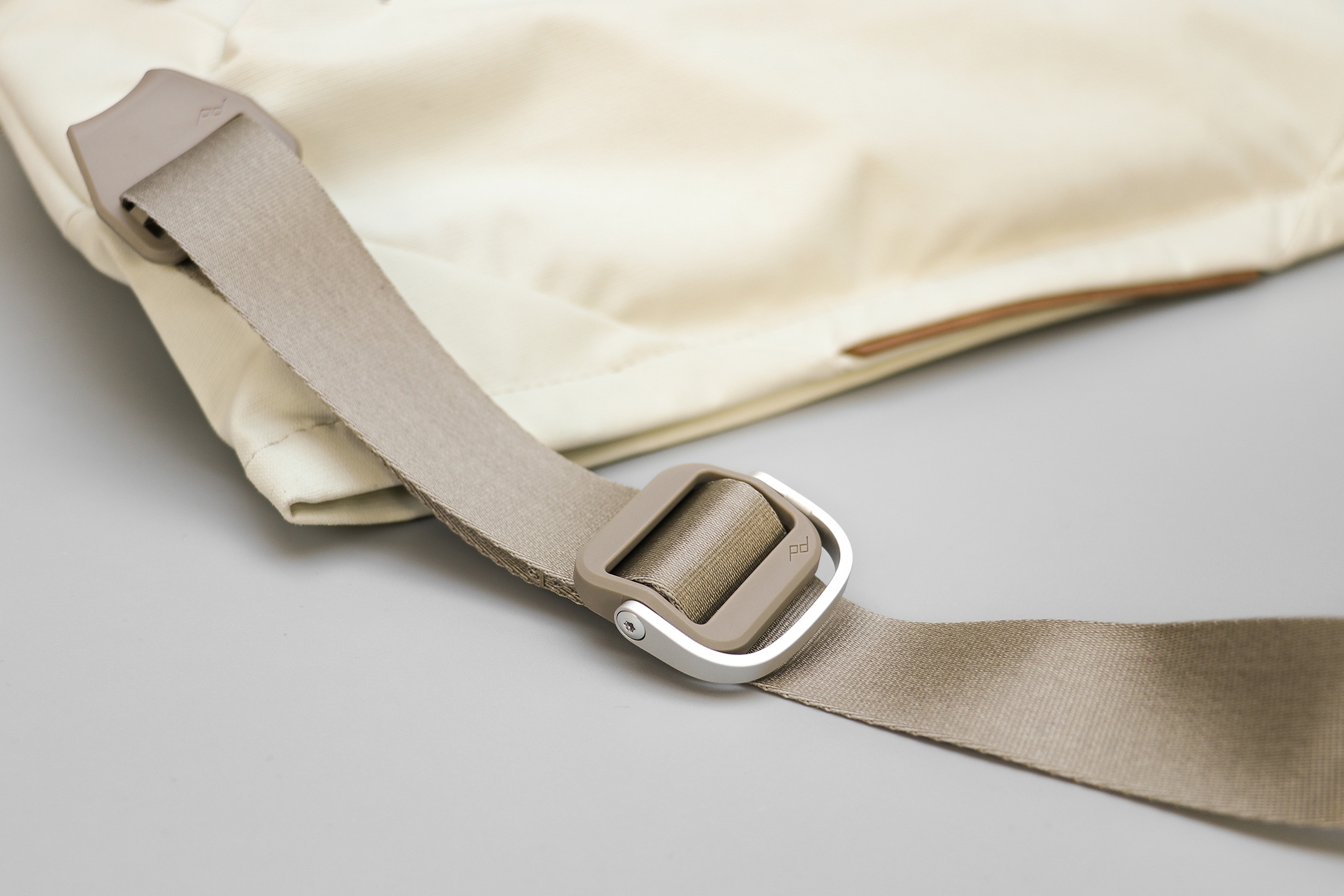 There's also a thin handle that tucks beneath the magnetic flap of the main compartment, which can act as a luggage passthrough. We've never reached for this as a grab handle since it's so easy to pick this thing up by the tote handles—plus the handle is short and so tucked away it's a pain to grab—but it's there if you need it.
There are two lash straps that come with the bag. You can hook them across the bottom of the tote or attach them to loops on the sides of the tote, stringing them across the face of the bag parallel to each other or crisscrossing like an elongated X. Either way, they allow you to carry gear externally—say a tripod, yoga mat, or jacket. And they're removable, meaning they won't get in your way if you don't want/need them. Moreover, you can also use the side loops to attach a light, carabiner, or other accessories.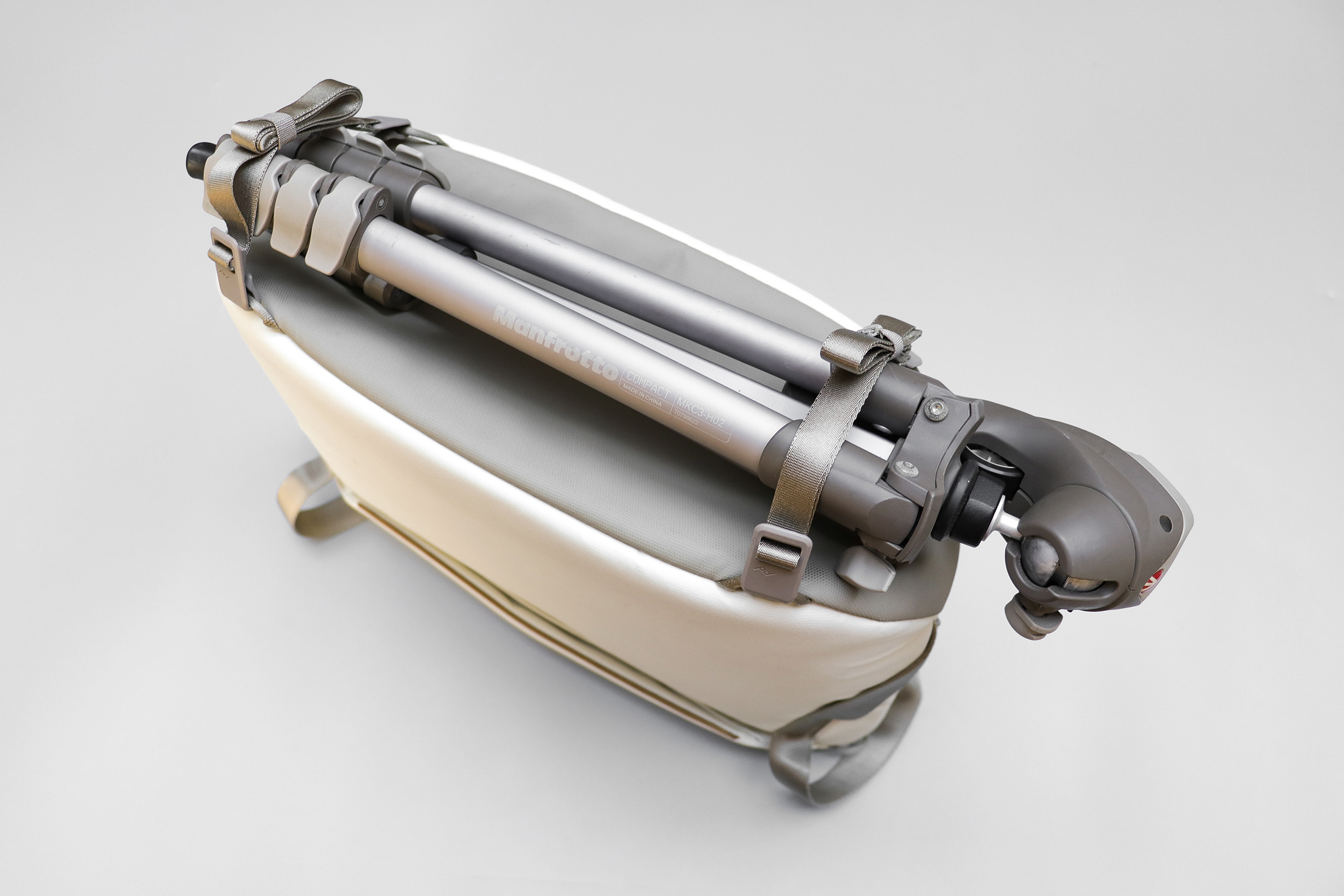 Finally, we want to note that there are no water bottle pockets. We don't think this is a huge deal as you can hook a water bottle to a carabiner and carry it externally, or tuck one into the main compartment (using a FlexFold divider to separate it from your stuff), but it may be a deal-breaker for some.
Inside the Tote
Alright, it's time to open this sucker up. First up, on the back of the tote, there is a quick-grab pocket with a magnetic closure. The magnets are strong and feel secure, but we don't recommend tossing small items here. There are gaps between the magnets, so there's a chance a small item could slip through. Or—more likely—you could knock the magnet and flip the flap open, thus creating an opportunity for your things to fall out.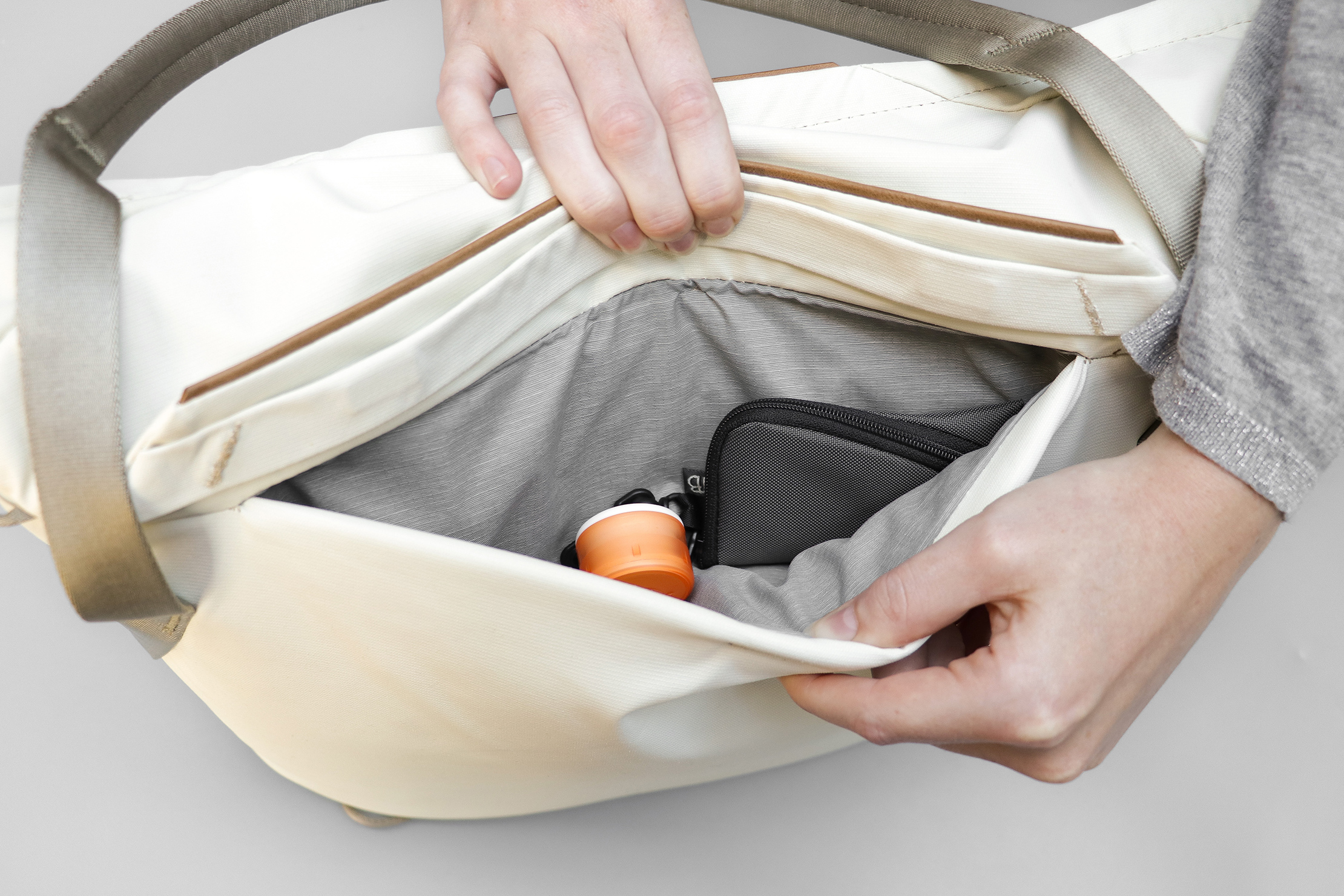 We don't think this is any sort of deal-breaker though because on the other side of the tote there's another quick-grab pocket that's secured with both magnets and a zipper. Inside, you'll find a good amount of organization.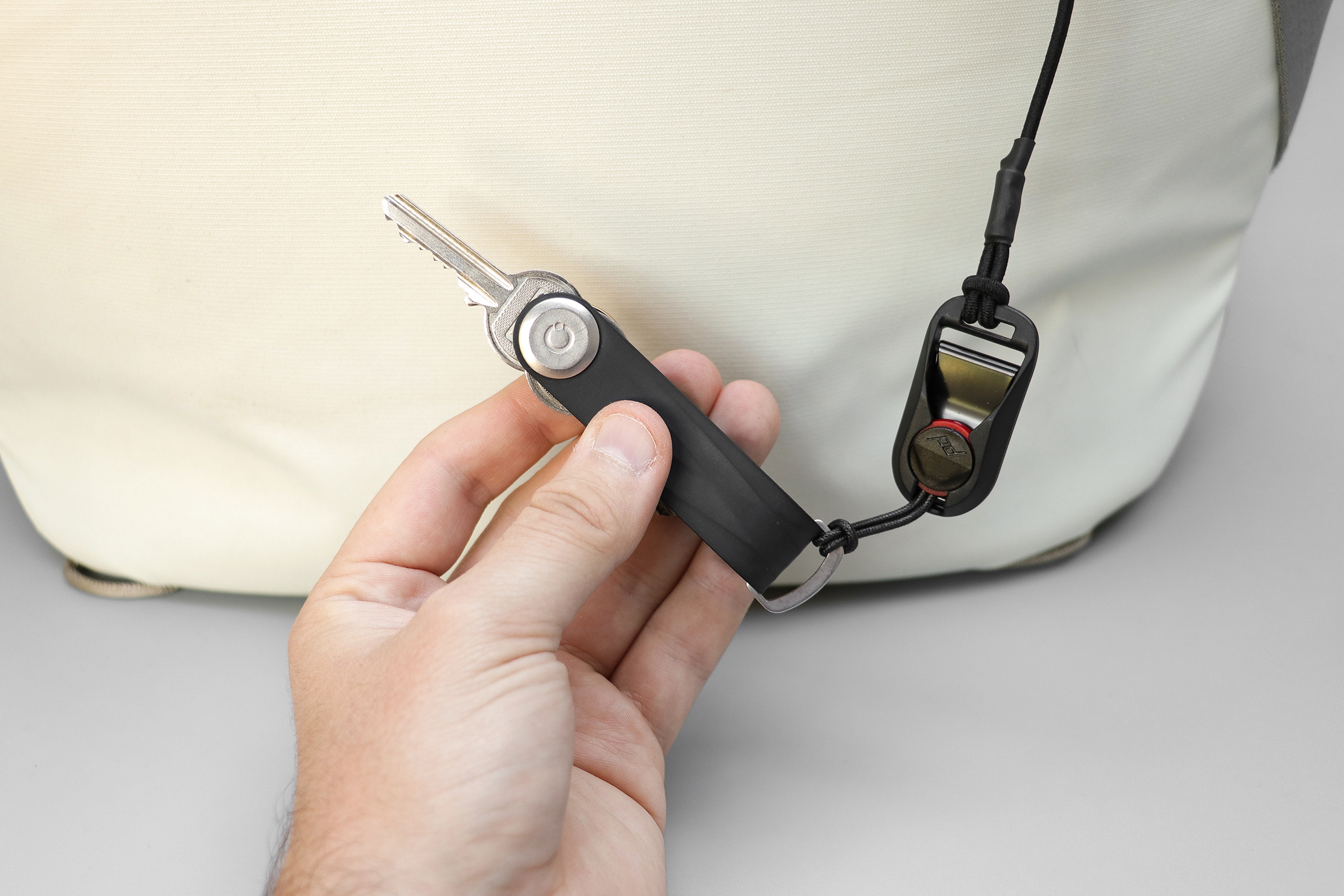 There's a key leash, which attaches to a small loop. It's super stretchy, so you should be able to unlock or lock your door without having to detach your keys. You know, depending on how far away you're standing. While the key leash does get the job done, it just doesn't seem to fit with the premium feel of the rest of the bag. On the same side, there are four stretchy pockets with color-coded stitching.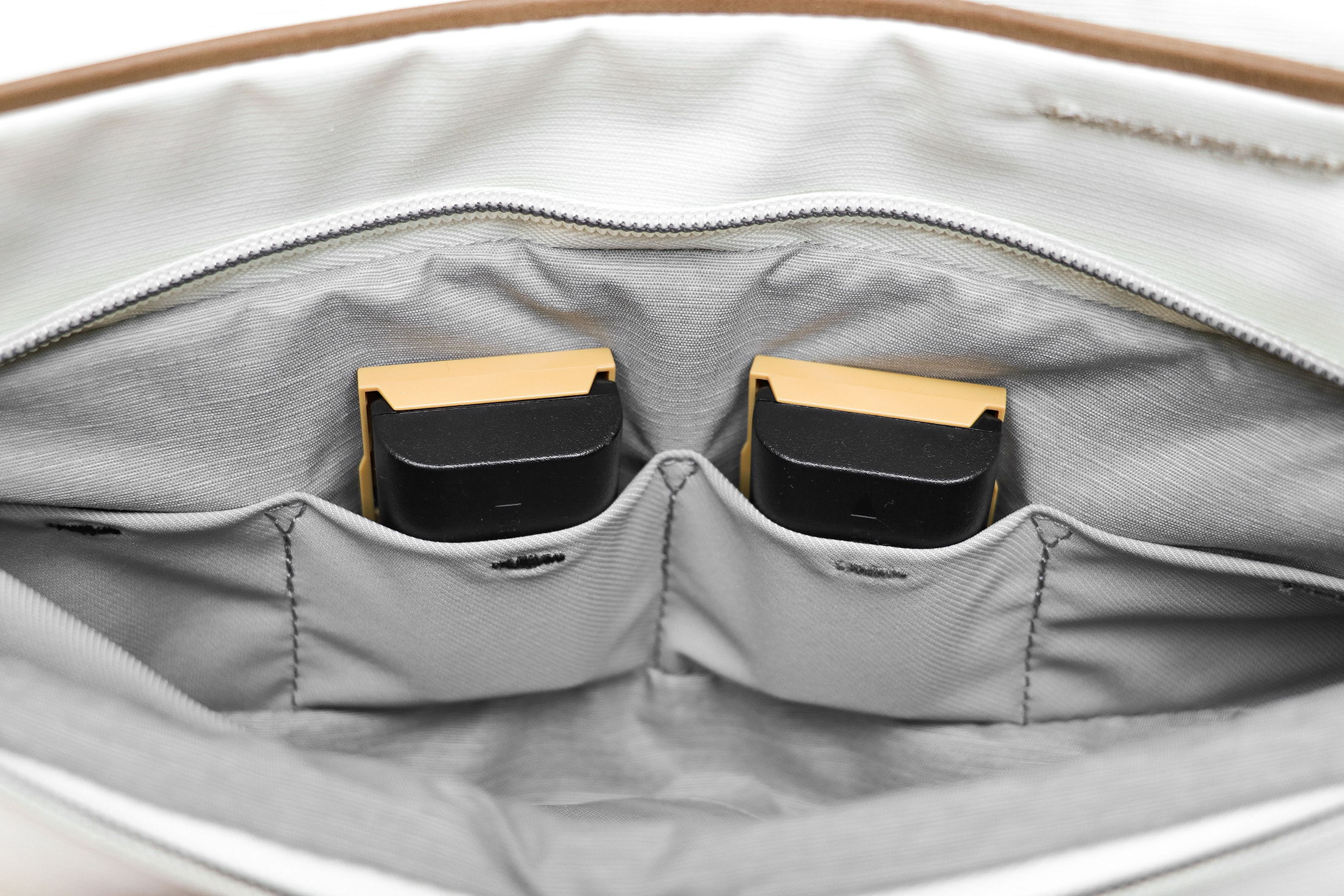 Two of the pockets have black stitching and two of the pockets have gray stitching. You can use this to create some sort of organizational system. Say black for fully charged camera batteries and gray for dead ones. Or black for empty SD cards and gray for full ones. Or black for gummy worms and gray for sour gummy worms. Sort it out however you need to.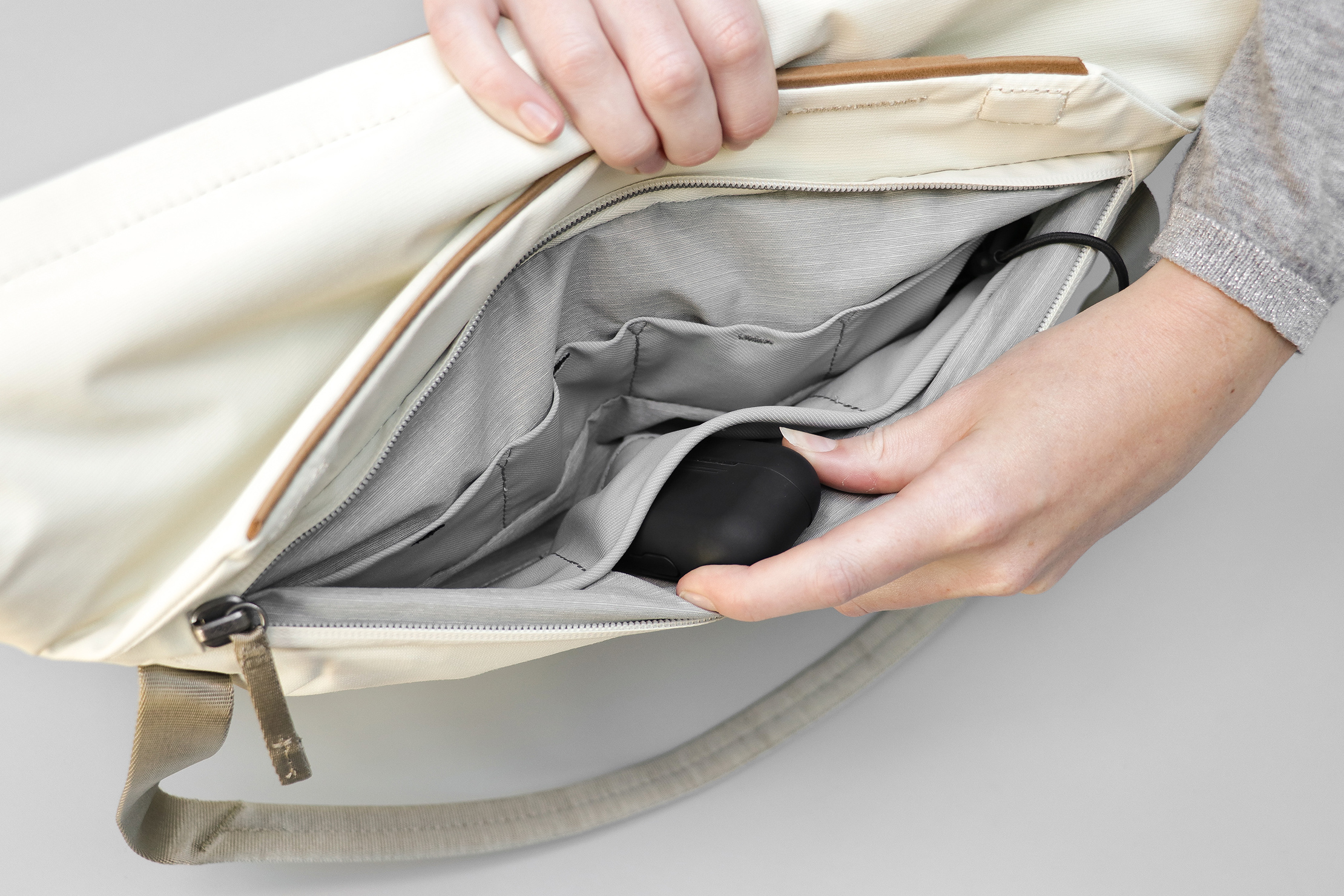 There are three similar stretchy pockets on the opposite side, which are a little bit wider. Now, both quick-grab pockets will eat into the capacity of the main compartment if you fill them up. Not a huge deal, but worth noting. We do like that the quick-grab pockets never bulge out and make the bag look bulky.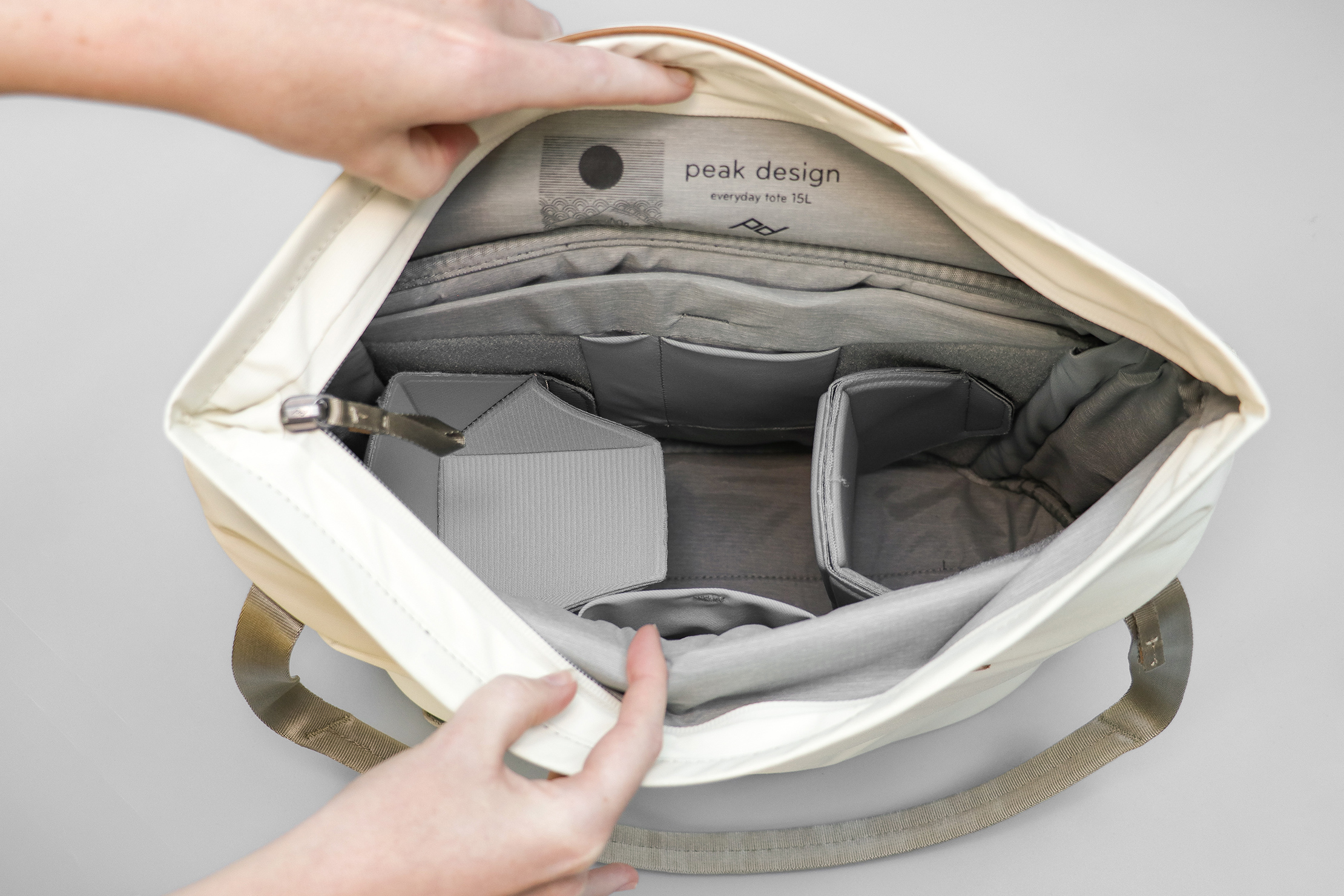 That brings us to the main compartment, which is secured with both magnets and a zipper. You can leave the zipper open if you need quick access, which is a super nice design feature. If you're using this as an EDC bag and going from your house to the coffee shop to the co-working space and back, you can leave the main compartment unzipped for quick access, while still having some security with the magnetic closure.
If you're familiar with Peak Design, you won't be surprised to see the two FlexFold dividers here. The soft FlexFold dividers, which are quintessential Peak Design (count: 6), allow you to customize this space. You can origami them in a few different ways to work with whatever setup you have—using them as dividers, shelves, or shelves without backs (for things like camera lenses). You can also remove one or both of the dividers or even buy more from Peak Design for primo organization.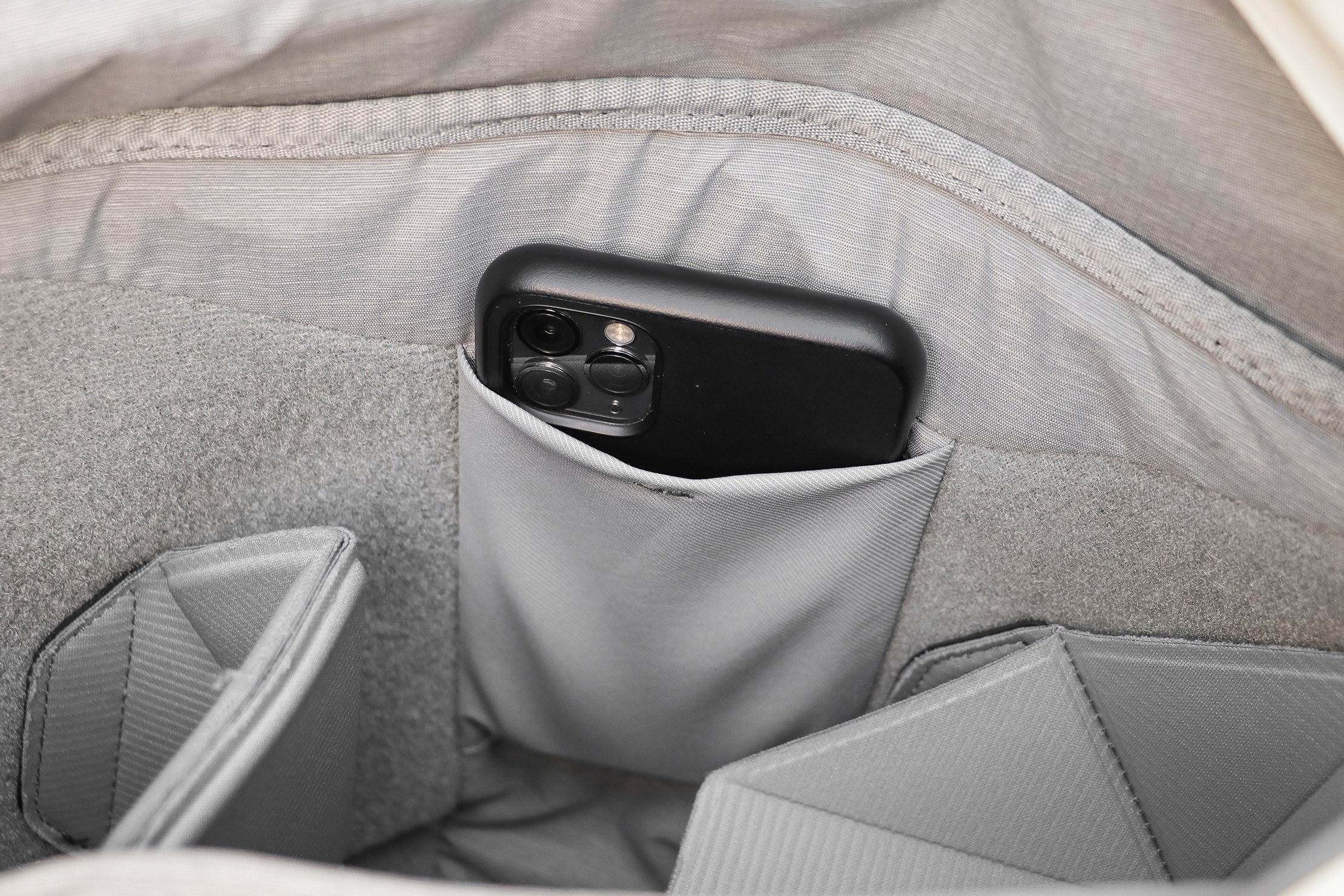 On one side of the main compartment, there's a soft, padded stretchy pocket ideal for your phone or a pair of sunglasses. The opposite side features a similar pocket, only a little bit thinner. And, next to that, there's a pen/stylus (styli?) pocket.
The main compartment also houses the laptop (which fits up to a 13'' laptop) and tablet/document pockets. Both have a good amount of padding, although we wish the laptop compartment had a false bottom for extra security. We always like when laptop sleeves suspend your laptop off of the bottom of the bag, so it won't hit the ground when you drop it or set it down a bit too roughly. That said, there is a lot of padding on the bottom of the sleeve, which is much appreciated.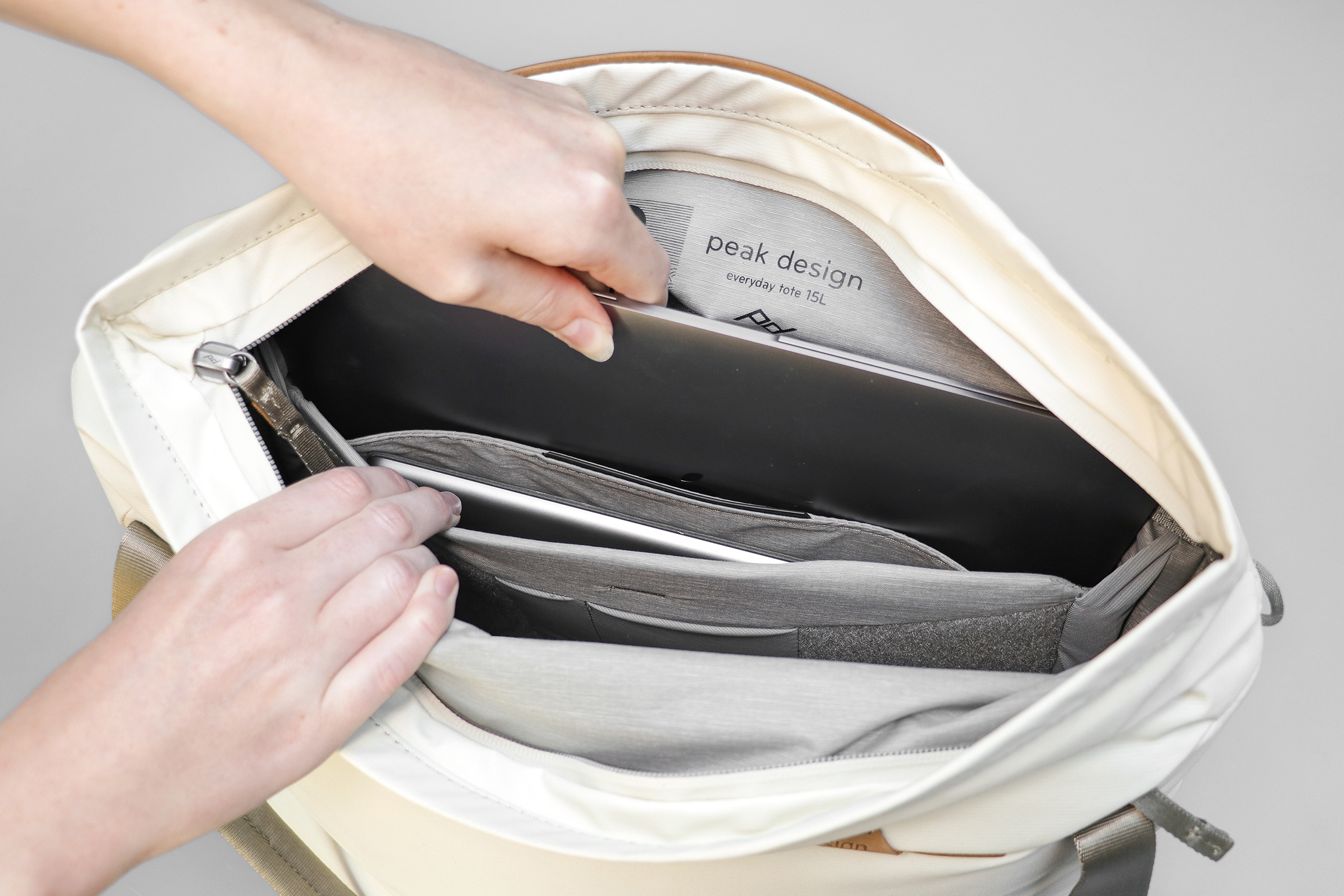 We also like that both the laptop and tablet sleeves press against the back of the compartment with a magnet, staying out of your way until you need them.
The rest of the main compartment is a bucket of open space. At this point, it thins out at the top. It's also a bit stiff. But, we believe, that the bag will loosen up with time and use.
One small thing we've noticed about the main compartment is that the zipper can get in your way when you're trying to pull larger documents out. It's annoying enough to point out, but also not the end of the world.
Durability & Testing
After testing the Peak Design Everyday Tote 15L (V2) for two weeks as a daily driver in Essex, England, we're happy to report that it's another solid option from the folks at Peak Design. It has everything we've come to expect and enjoy from the brand, but in tote form. Of course, that means it works best is you're carrying a camera and camera gear. But it does work just fine as an EDC bag, even if you're not a photographer/videographer.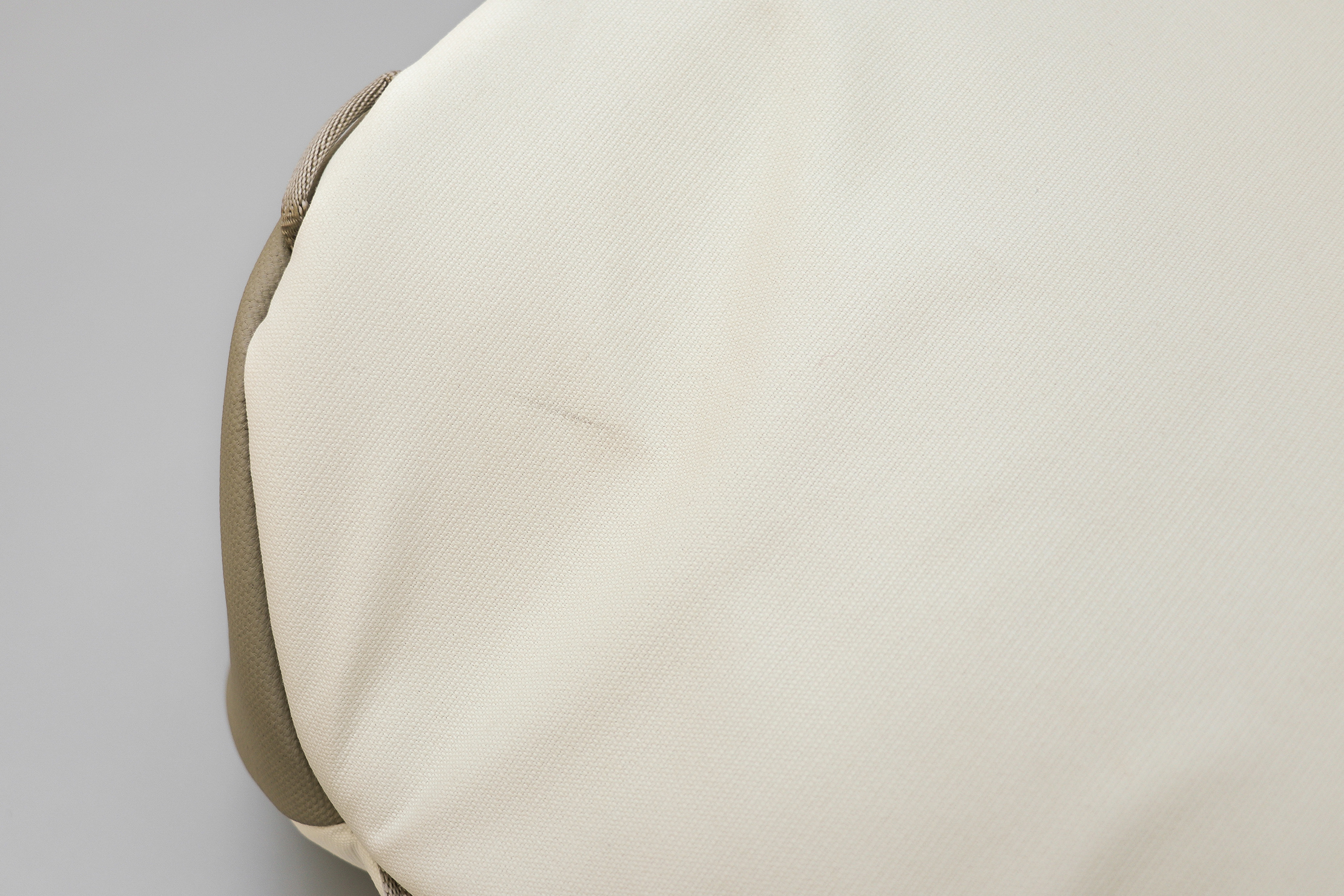 The only durability issues we have to report are aesthetic blemishes—a few visible marks have popped up. At this time, they're pretty faint. Of course, you can opt for the Black colorway and not have to worry about dirt and other marks showing as easily as on the Bone colorway we've been testing. We also want to note that the FlexFold Dividers are starting to show a small amount of wear. The edges are pretty close to fraying and there are a handful of loose threads. While the current states of the FlexFold Dividers are okay, we expect they'll only get worse. We've had this same problem with other gear from the Peak Design Everyday line—and it's disappointing every single time, especially considering the price Peak Design gear.
Ending on a positive note, the quality and craftsmanship throughout the rest of the pack are top-notch, which is—say it with us—quintessential Peak Design (final tally: 7).
Usage Timeline
Initial Usage
Condition: Excellent
Main opening can be closed with either the weatherproof zip or magnetic clasp depending how quickly you need to access items
Can be carried by tote style by the handles or messenger bag style with the detachable shoulder strap
Internal dividers offer some good protection and customization
2 Weeks of Use
Condition: Good
There are a couple of faint marks on the top of the pack, but apart from that this colorway is holding up okay so far
The main compartment is spacious, but the zipper sometimes gets in the way when trying to get larger documents out
Even when this tote is fully packed it holds its shape very well
The multiple handles come in handy and it's great to have that extra versatility here
The quick-access pockets on the outside work best for smaller items and will eat some space in the main compartment if they're full
As this tote wasn't tested with camera gear, the FlexFold dividers weren't used as much, but they still came in handy for separating items and holding the water bottle up
Access the Pro Community Discussion
Get your questions about the Peak Design Everyday Tote 15L (V2) answered from our team and the Pro Community right here on the page. Plus, join discussions with other members about gear, guides, and more.
Other Bags & Luggage Reviews