Peak Design Everyday Sling 10L (V2) Review
Part camera bag, part everyday carry bag, the Peak Design Everyday Sling 10L (V2) has some clever thinking going on—but a third divider would be nice.
Our Verdict
Unlock the Pro Summary
Save time. Get access to brief summaries of our reviews so you can browse and make decisions more efficiently.
Pros
Enough space to carry the daily accessories and a small camera kit
Digging the swivel strap and quick-release adjuster
Clever and customizable interior organization
Cons
Access to the front pocket is slow
Dividers are already showing wear and tear
The back panel is nothing special
Recent Pack Hacker Video
Technical Details
Capacity

10l

Weight (lb)

1.5 lb (0.7 kg)

Without dividers

Denier

400D

Dimensions

10.2 in x 16.5 in x 5.9 in (25.9 x 41.9 x 15 cm)

Notable Materials

Recycled Nylon, DWR Coating, Polyester, Polyethylene, Polyurethane, YKK Zippers, Aluminum, Leather, Zoom Zippers, Hypalon®

Manufacturing Country

Vietnam

Laptop Compartment Size

13"

Warranty Information
Full Review
Get up to 10% off Peak Design • Join Pack Hacker Pro
The Peak Design Everyday Sling 10L (V2) is essentially the tricked out older sibling of Peak Design's 3L and 6L Everyday Slings. You'll notice several similarities, but substantial differences as well. Most notably—the 10L Sling is yes, a camera bag, but it's also been designed to carry your daily essentials. It even has a laptop sleeve. The other two are primarily camera bags.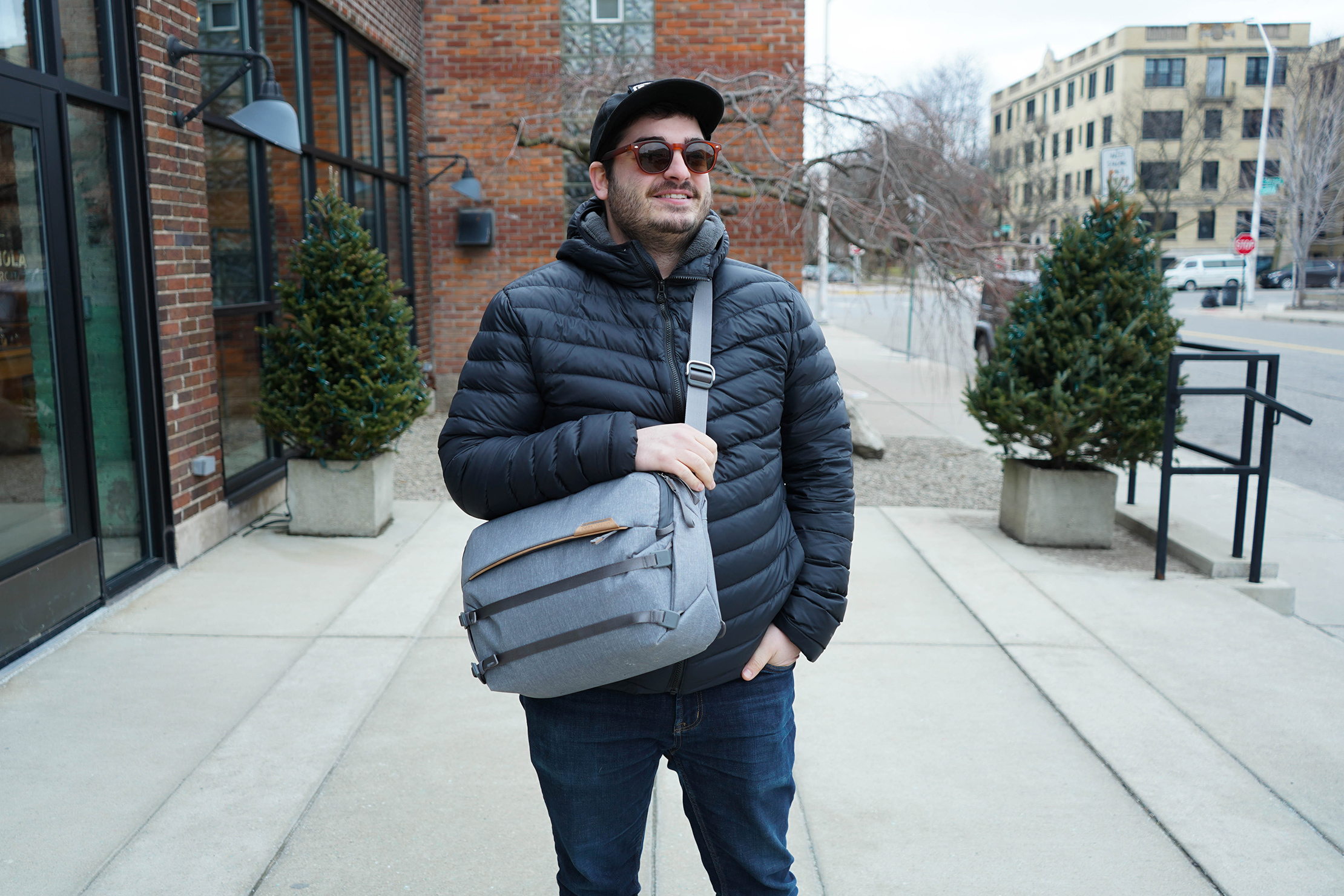 We've been testing it as a hybrid, toting around a small camera kit as well as the tech we need for a productive day at the office (well, co-working space, but same difference). How has it performed? Let's take a look.
Materials & Aesthetic
A little bit less than half of our Instagram audience has given both the 3L and 6L Everyday Slings a thumbs up, as far as aesthetic goes (and the 10L looks exactly the same, only bigger). And we happen to agree with the fans.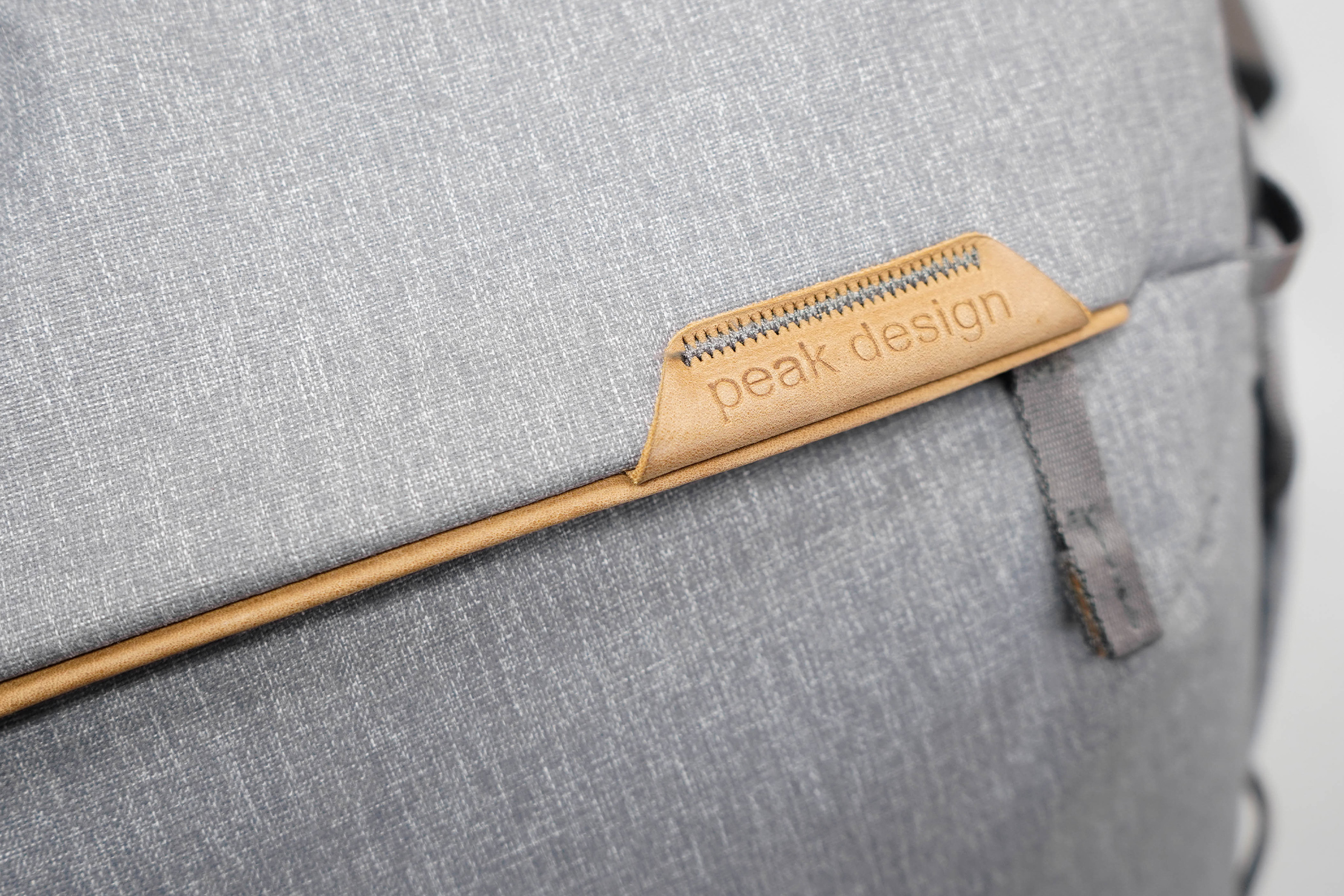 We're digging the techy, modern vibe as well as the leather accents that give this thing a touch of old-fashioned elegance. And we have some good news for the vegan Peak Design enthusiasts out there—the accents on the Black colorway are Hypalon. We appreciate when companies offer a version of their gear without animal products, so good job, Peak Design.
At the time of this review, the 10L Sling is available in Black and Ash. We're usually proponents of black colorways—just look at our Digital Nomad Packing List—and we also love the premium look of the heather gray (Ash) colorway we've been testing. So you can't go wrong here, at least in our opinion. If you love bright, flashy colorways, this sling might not be for you.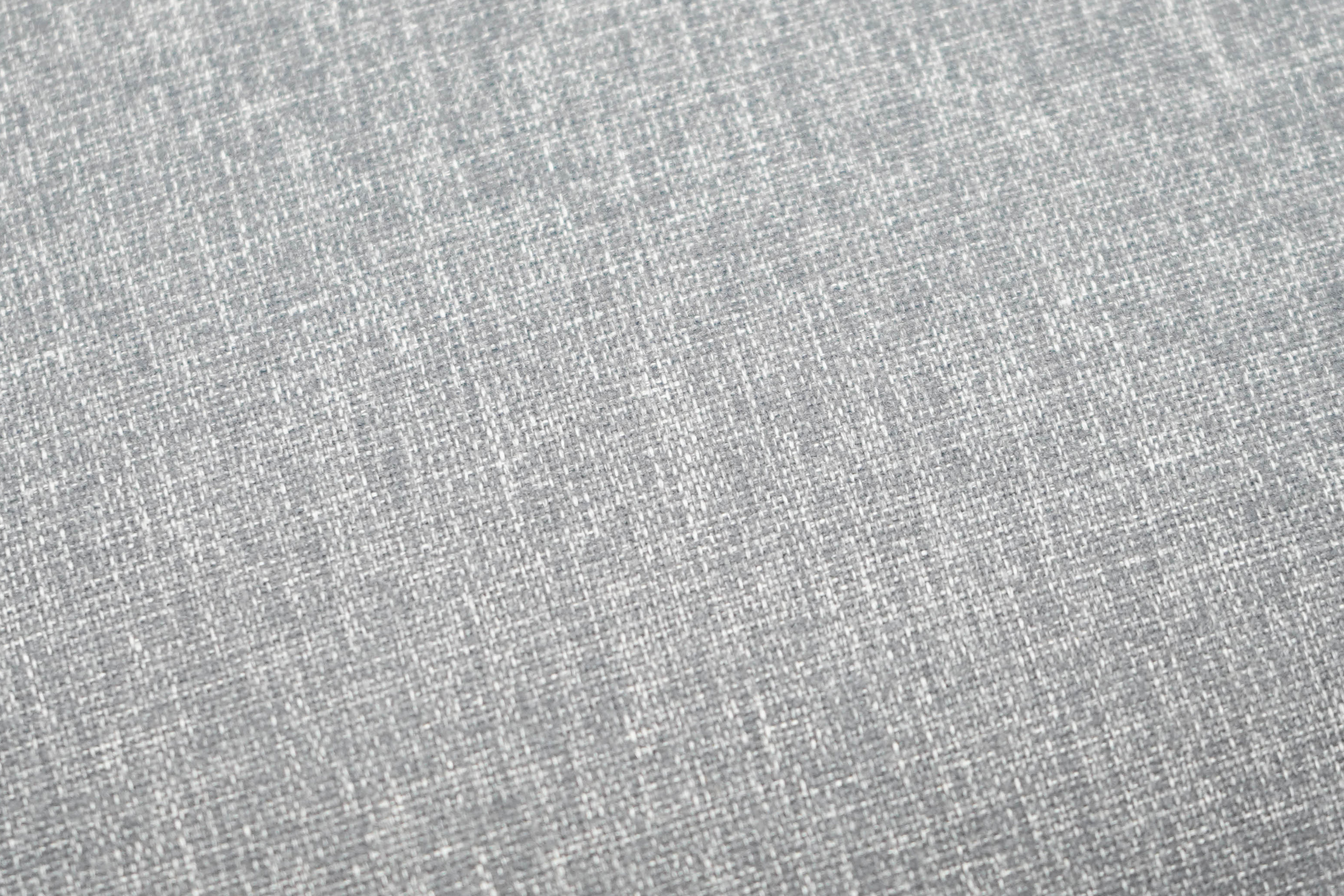 The materials on this sling are equally as premium. The recycled 400D Double Poly-Coated DWR Impregnated Nylon Canvas is the same fabric you'll find across Peak Design's Everyday Line (V2). 400D Double Poly-Coated DWR Impregnated Nylon Canvas doesn't exactly roll off the tongue, does it? But all you need to know is that this stuff is solid. And the DWR coating gives it a slight rubbery feel and helps with weather-resistance.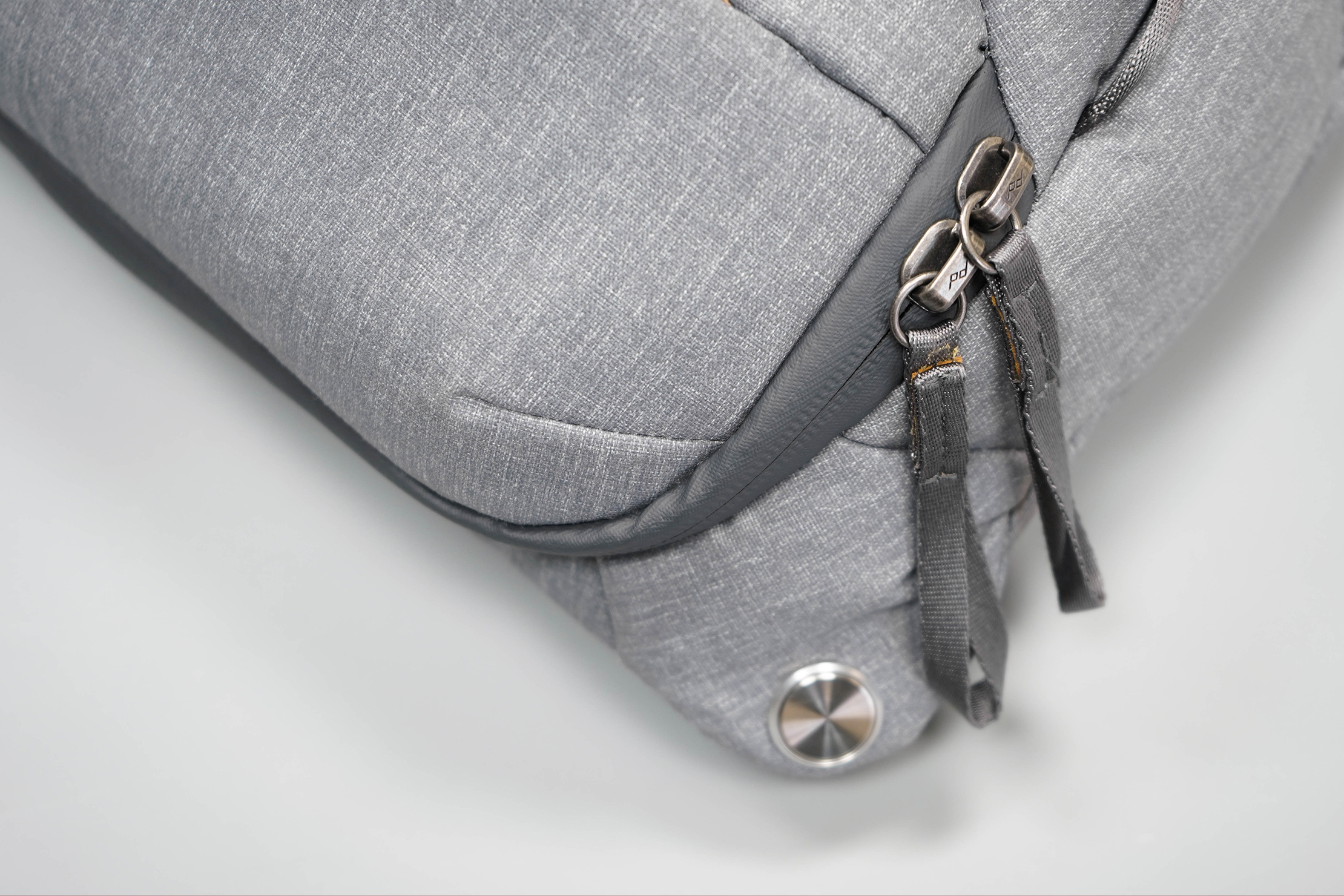 The zippers are Peak Design's UltraZips—a proprietary zipper born out of a collaboration with Zoom Zippers. We've been testing the UltraZips for months between all of the Peak Design gear we've been using—the Everyday Backpack Zip 20L (V2) and Everyday Sling 3L (V2) to name a couple. They're smooth to use and, so far, we haven't experienced any problems.
External Components
While simple, the external components on the Everyday Sling 10L (V2) are quite clever.
There are attachment points all over this thing. You can use a carabiner to hook whatever you want to them, but they're primarily for attaching the two lash straps that come with the sling. You can customize how these lash straps are situated, stringing them across the face of the bag parallel to each other or crisscrossing like an elongated X—ideal for a compressible rain jacket or things of that nature. You can also affix the straps to the bottom of the bag—ideal for a travel tripod.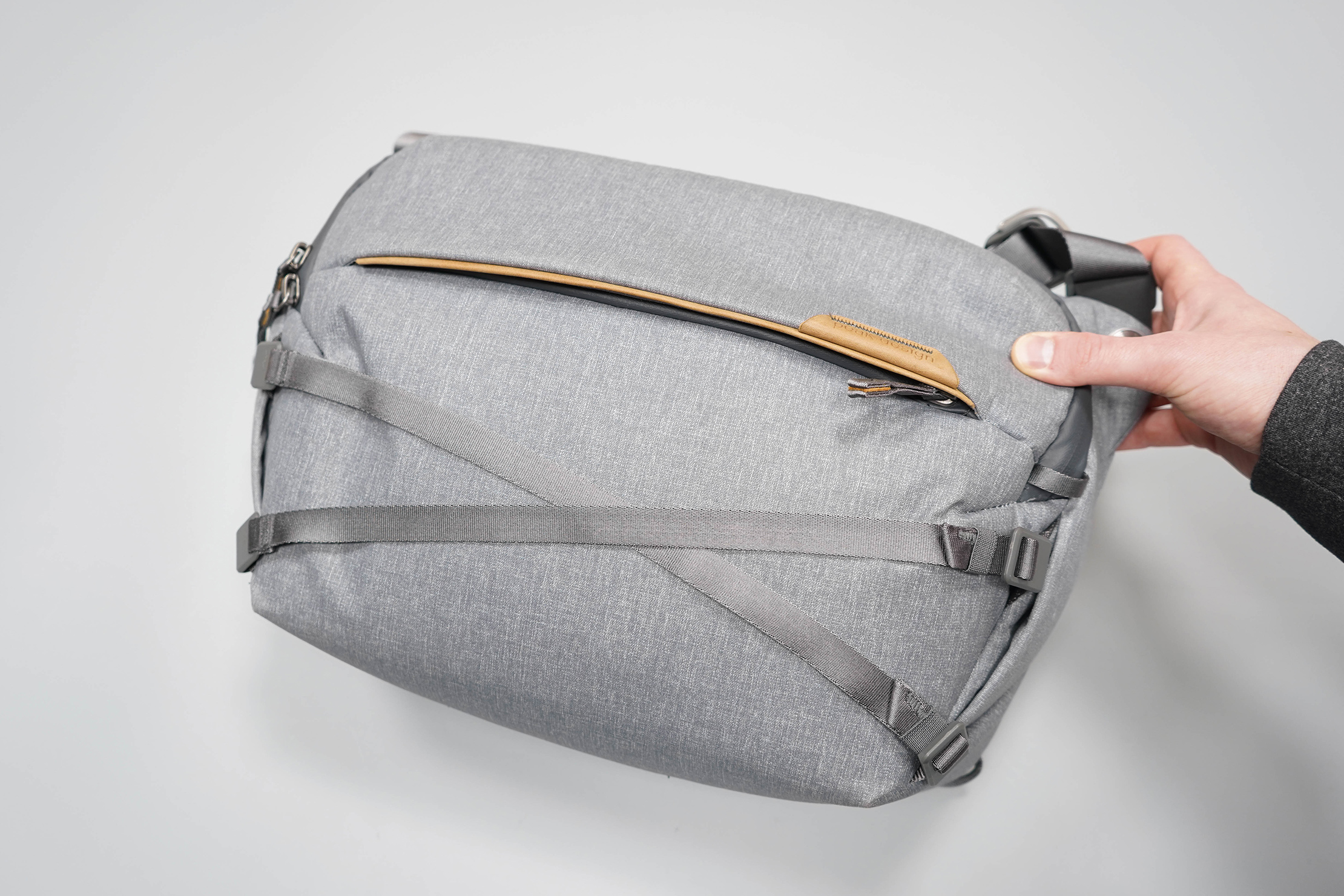 If you're familiar with Peak Design, you won't be surprised to see the Swivel Strap. We know it's not new to the company, but it's as glorious to use as ever. It moves with your body, making the strap more comfortable to wear for long days exploring the city. Plus, it helps the sling sling forward for quick access.
The quickness is heightened by the oh-so-amazing quick-release adjuster. As we admitted in our review of the 3L size of the Everyday Sling, we are obsessed with this feature. You can easily adjust the strap with one hand. That way, you can properly fine-tune the strap to fit your body or loosen it for an easier time slinging it forward to access your gear, all within seconds. And it securely locks in place, so you don't have to worry about it randomly loosening.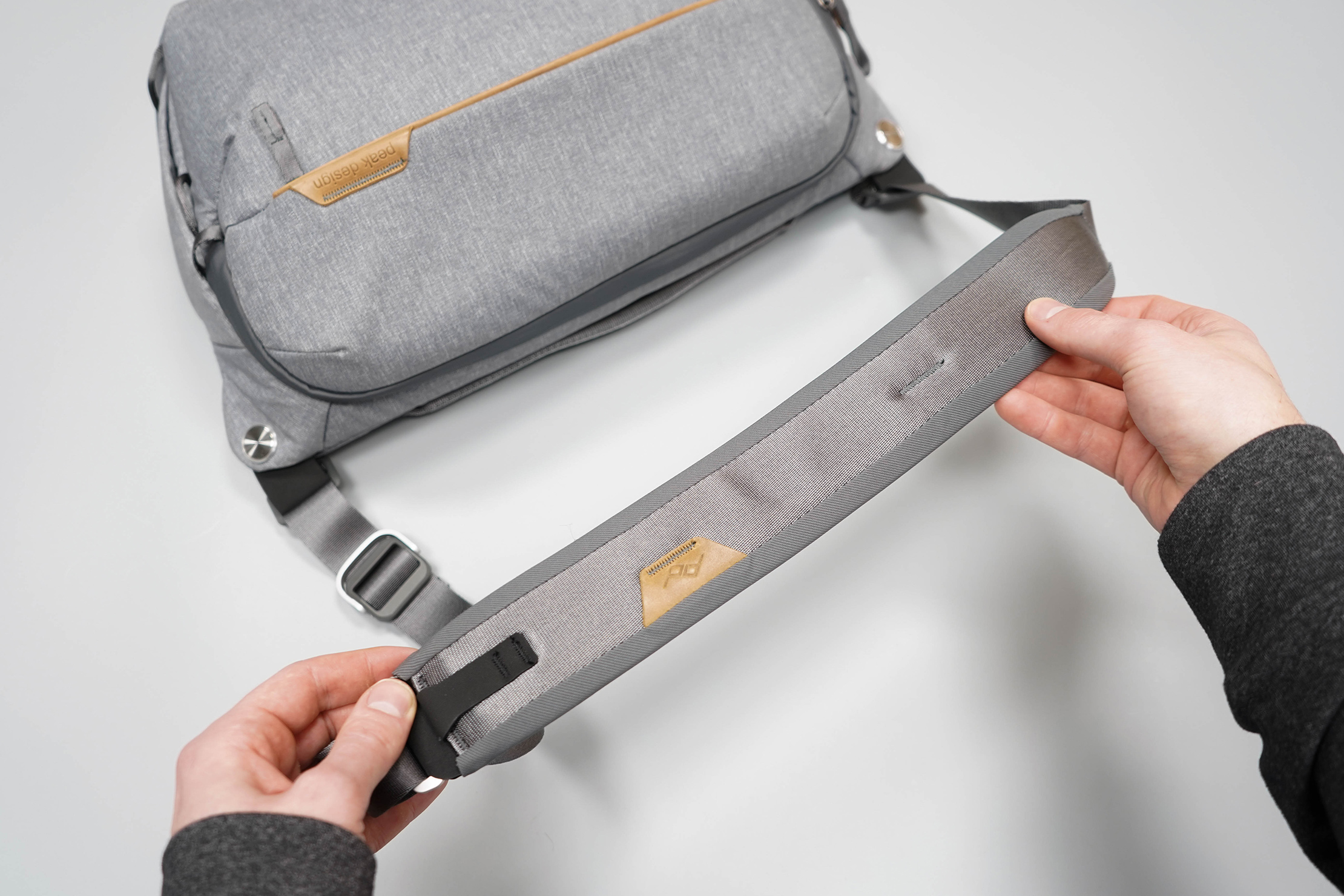 Once you get the strap adjusted, you can tuck any excess strap into the small pocket for that lovely #DangleFreeExperience.
The strap itself has the ideal amount of padding. It's thin, but dense and spans a majority of its length. You can wear it on either shoulder, although you'll have to play with the strap a bit to ensure the padding sits in the exact right place. Since the Pack Hacker team members who tested this bag are right-handed that meant skewing the padding toward the left. That way, we could wear it on our left shoulders and easily reach the quick-release adjuster with our right hands. If you're left-handed, you may want to do the opposite.
Unlike the 3L and 6L Everyday Slings, you cannot wear the 10L as a waist pack. Well, you probably could, but it hasn't been designed for it.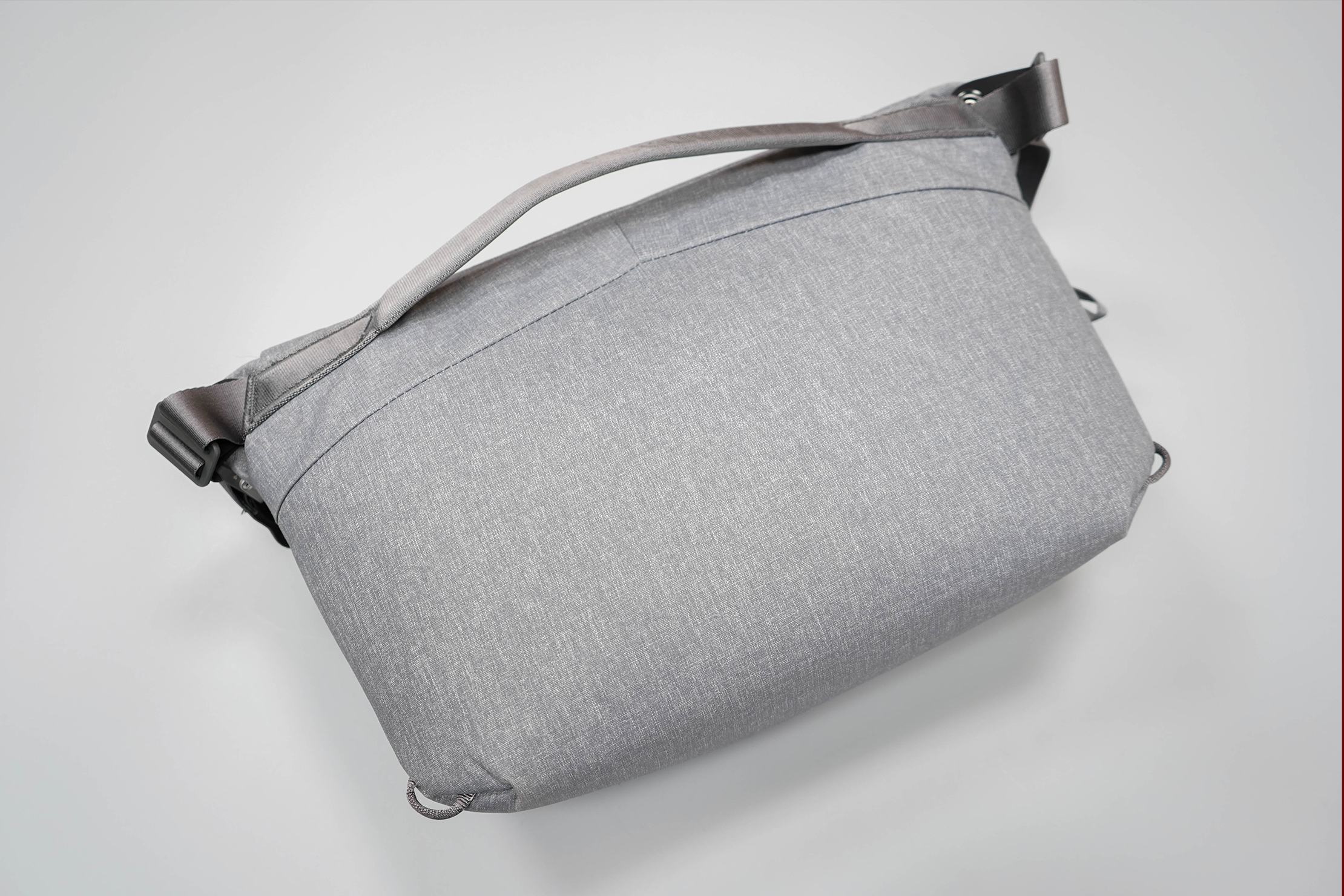 The back panel doesn't have anything special going on, which isn't a huge deal since this is a sling bag. That said, it has a 10L capacity and when you fully load it out, it can get heavy. If you're wearing this sling for extended periods of time—particularly in hot climates—you may end up with a sweaty back. Of course, there are ways around it. You can loosen or tighten the strap, so the bag wears at different heights, or switch between carrying it across your chest and back. Still, it's something to be aware of.
As per usual for Peak Design, this bag has a stiff structure. In this case, it allows the bag to sit up on its own. Something that's always a great touch.
Finally, there is the handle/luggage passthrough. As a handle, it works alright. It's anchored in an odd position—so it can double as a luggage passthrough—so it's not the most comfortable to hold. But it allows you to hang up the sling or quickly grab it (say from out of the seat in front of you on a plane). As a luggage passthrough, it's simple but effective.
Inside the Sling
Still with us? Good—because it's time to open this sucker up.
Let's begin with the exterior pocket. It has some of its own-depth, which is nice because you can fit a good amount of stuff inside without eating into the capacity of the main compartment. That said, it can be difficult to get your hand inside of it due to the way the fabric folds over the zipper. It's not a huge deal—in return, you get some water-resistance, and we've mostly kept items we don't use too frequently in it.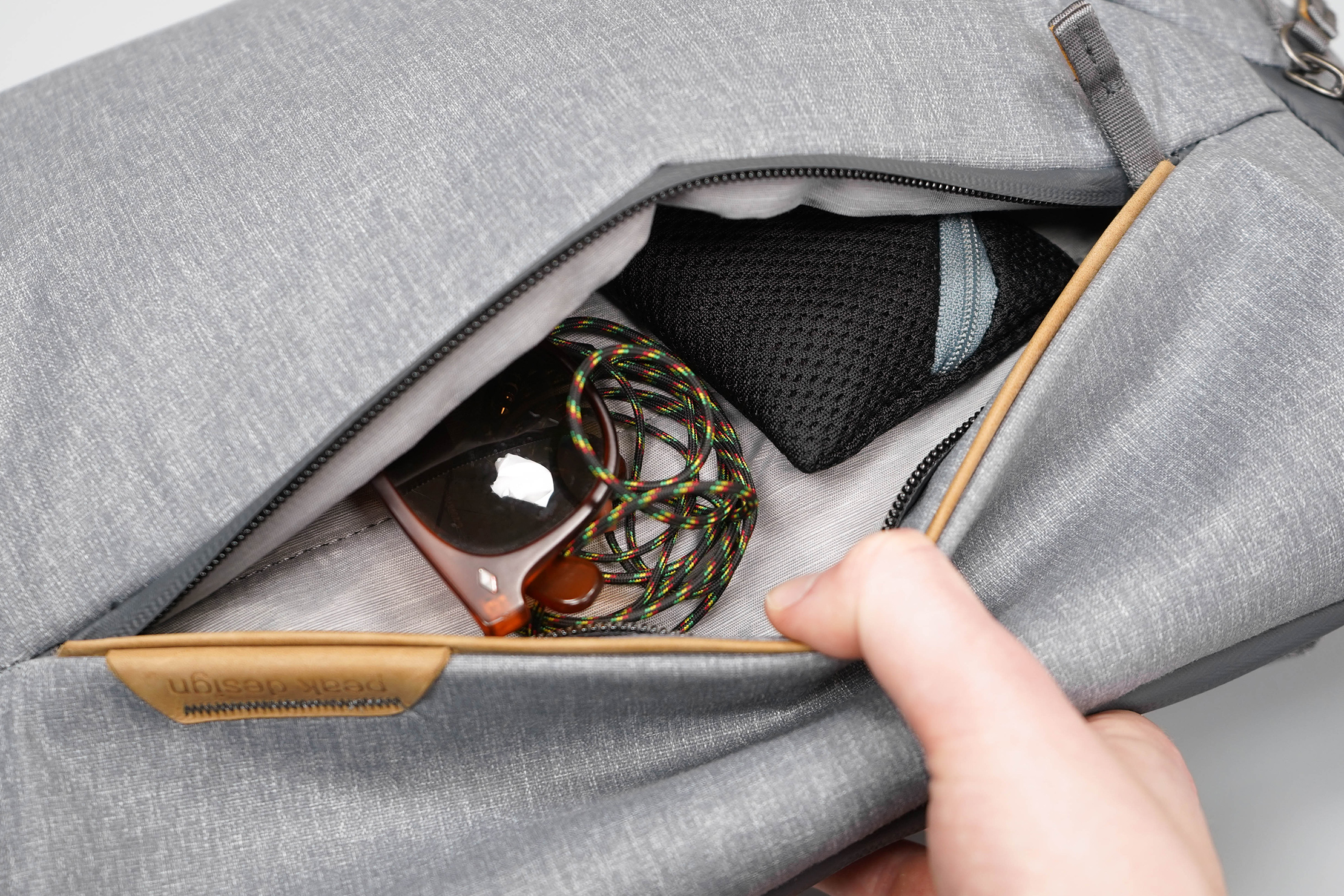 Inside, there's no organization. So we've taken it into our own hands and put all our random tech bits and bobs inside a Tom Bihn Color Zipper Ghost Whale Organizer Pouch. We've also kept a pair of headphones and keys here.
Alright, time to jump into the main compartment. Like we said at the beginning of this review, we've been testing this sling as a hybrid camera bag/everyday carry bag. As such, we've split the main interior essentially in two. When we're wearing the bag, the left side houses our camera gear and the right side holds our tech stuff. Of course, you can use this sling as either-or.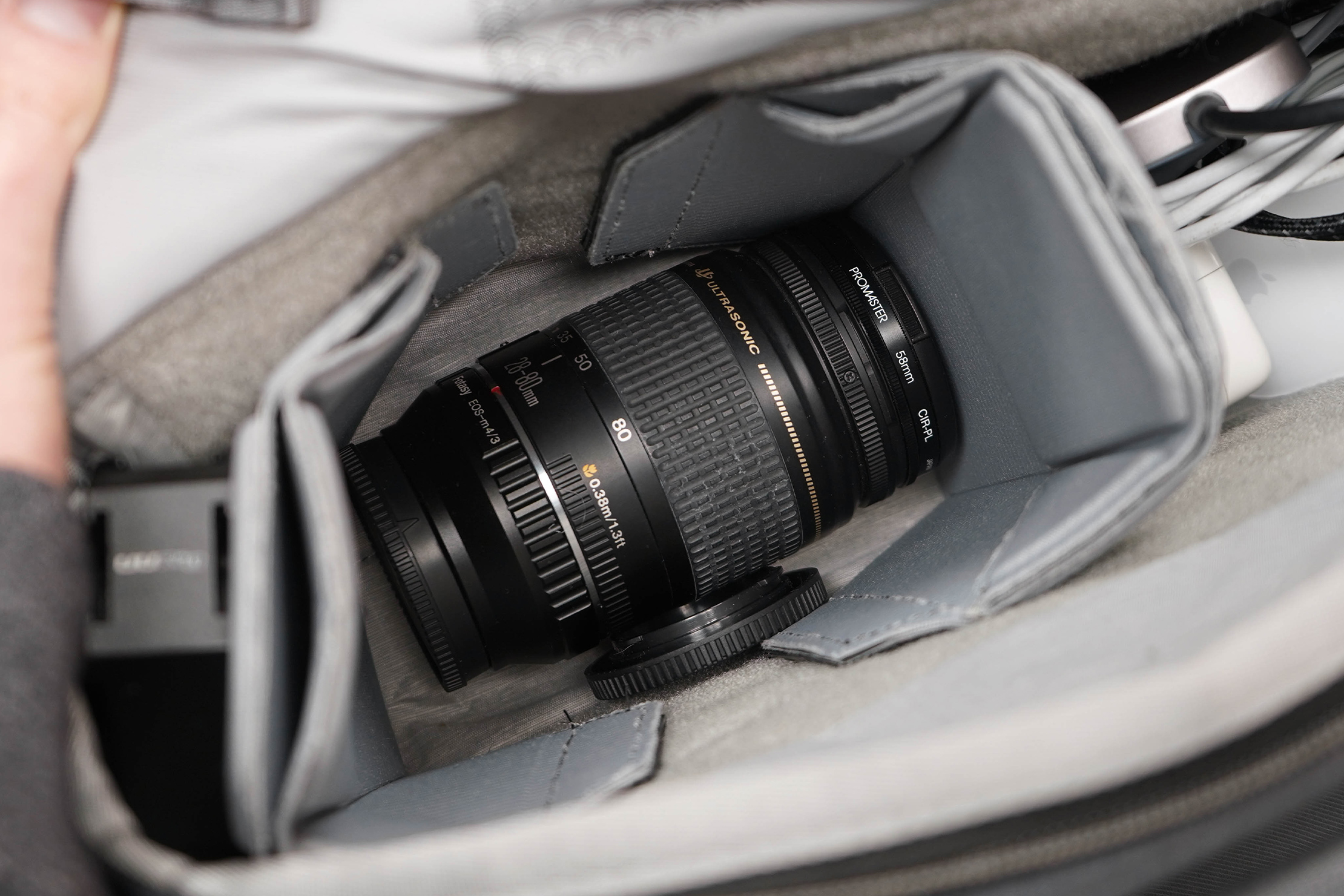 The Everyday Sling 10L comes with two FlexFold dividers. We would've preferred if the sling has come with one more for optimal organization. But you can buy FlexFold dividers separately. As it stands, we've used the two dividers to make a shelf/pocket with our Panasonic Lumix GX85 with a small 25mm lens attached on top and a 28–80mm lens beneath it. This space has been designed so that you can use the dividers in whatever way works for you—the sky's the limit. Left of that, we put a top handle just in case we need it to shoot some video b-roll.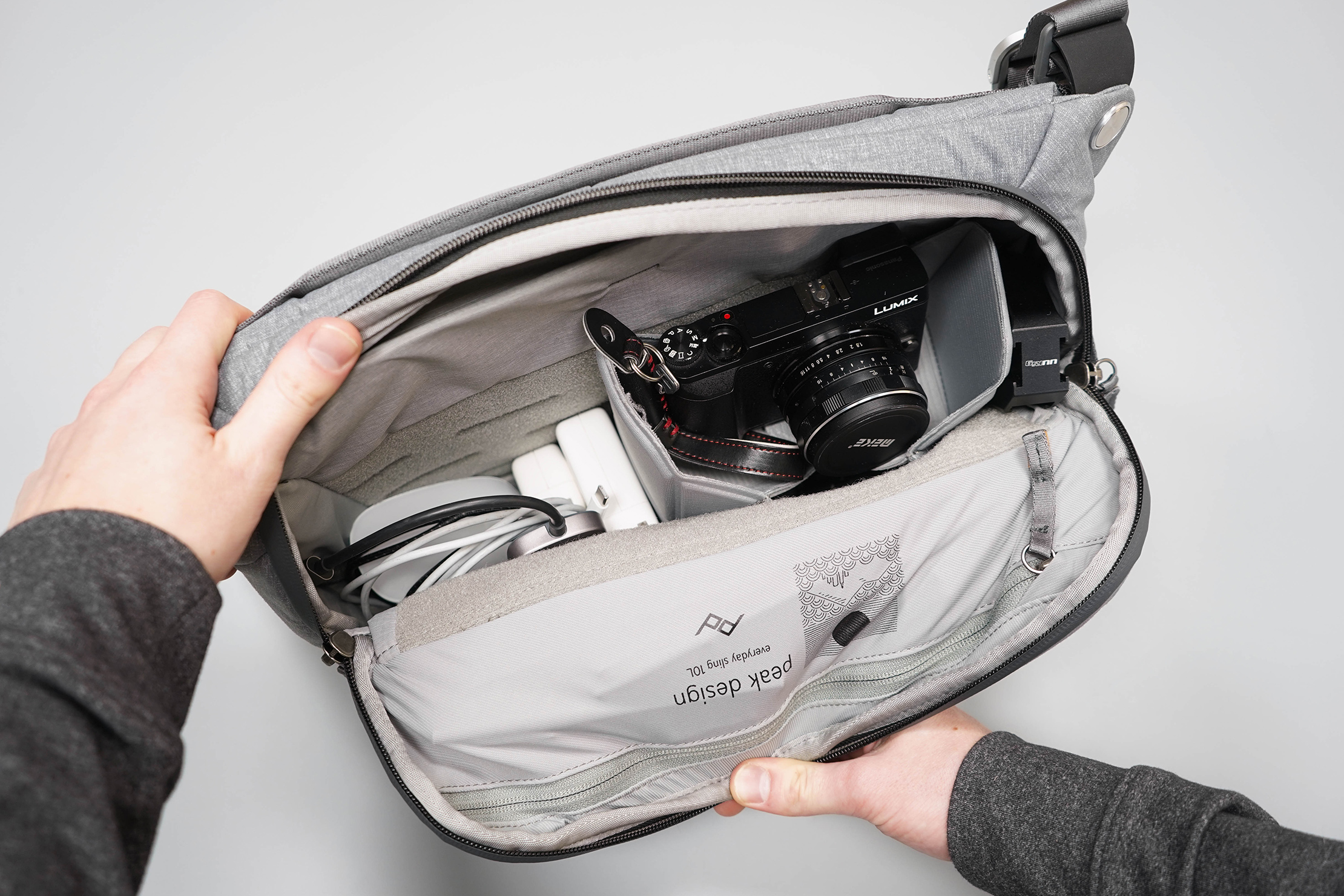 We've used the right side of the interior as a dump pouch for tech stuff. Throwing an Apple Magic Mouse, Bluetooth headphones, a USB-C hub, phone charger, and laptop charger here. This is where the third FlexFold divider would've come in handy—to keep this side of the bag from descending into chaos. That said, we eventually organized everything with two small tech pouches. We've also found that the Peak Design Tech Pouch fits just about perfectly in this space.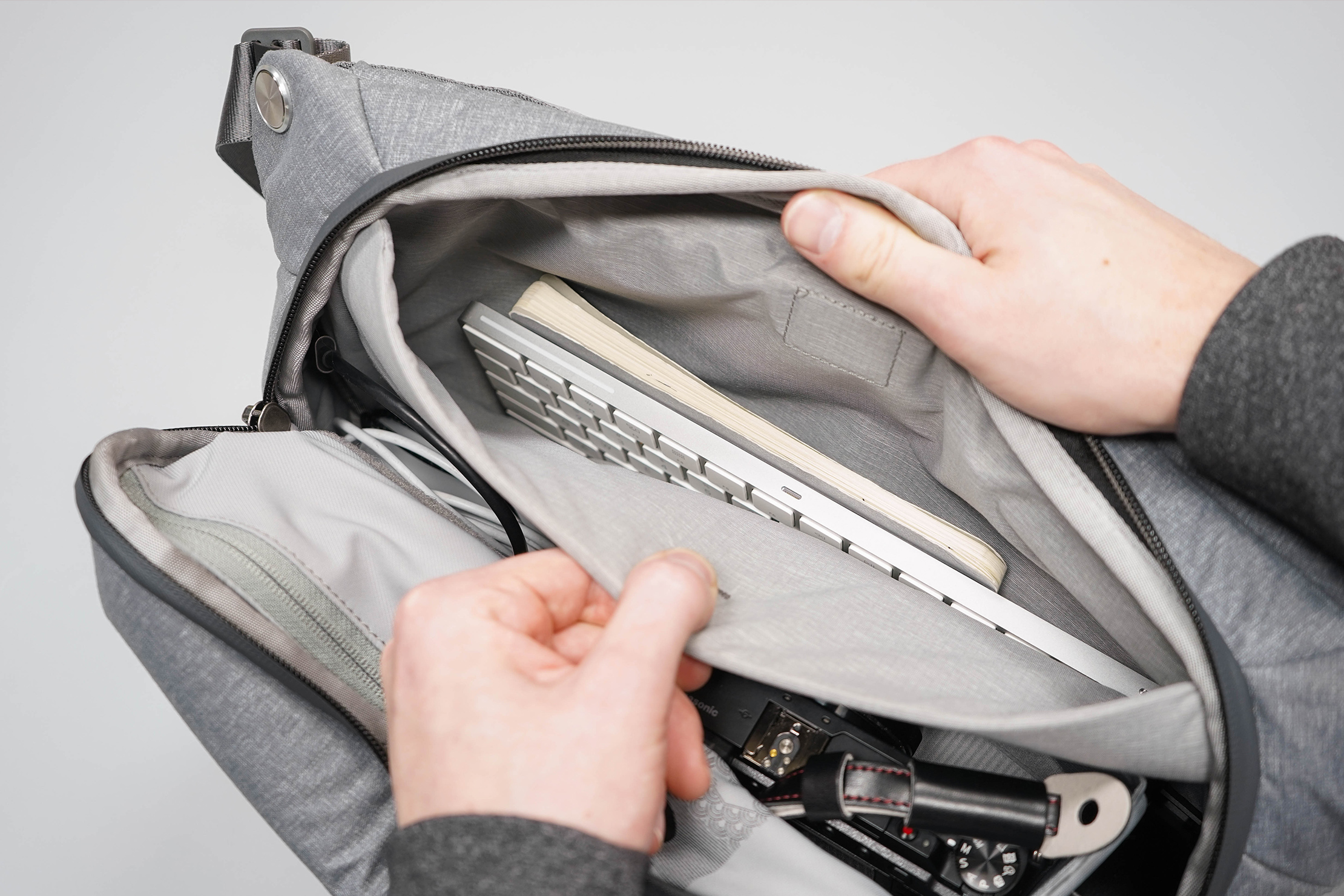 Against the back, you'll find a sleeve that's designed to fit a tablet or 13'' laptop. We've tested it with a sort of thick 12'' laptop and it was a tight squeeze. You'll likely be able to fit a thin 13'', but it'll be snug. We've also used this space for an Apple Magic Keyboard and a Baron Fig Vanguard Softcover Notebook (when the laptop isn't in it). It can be difficult to get inside this sleeve as it's tucked behind the lip of the bag, but we appreciate that it stays out of the way. And it closes with a magnet, which is always fun.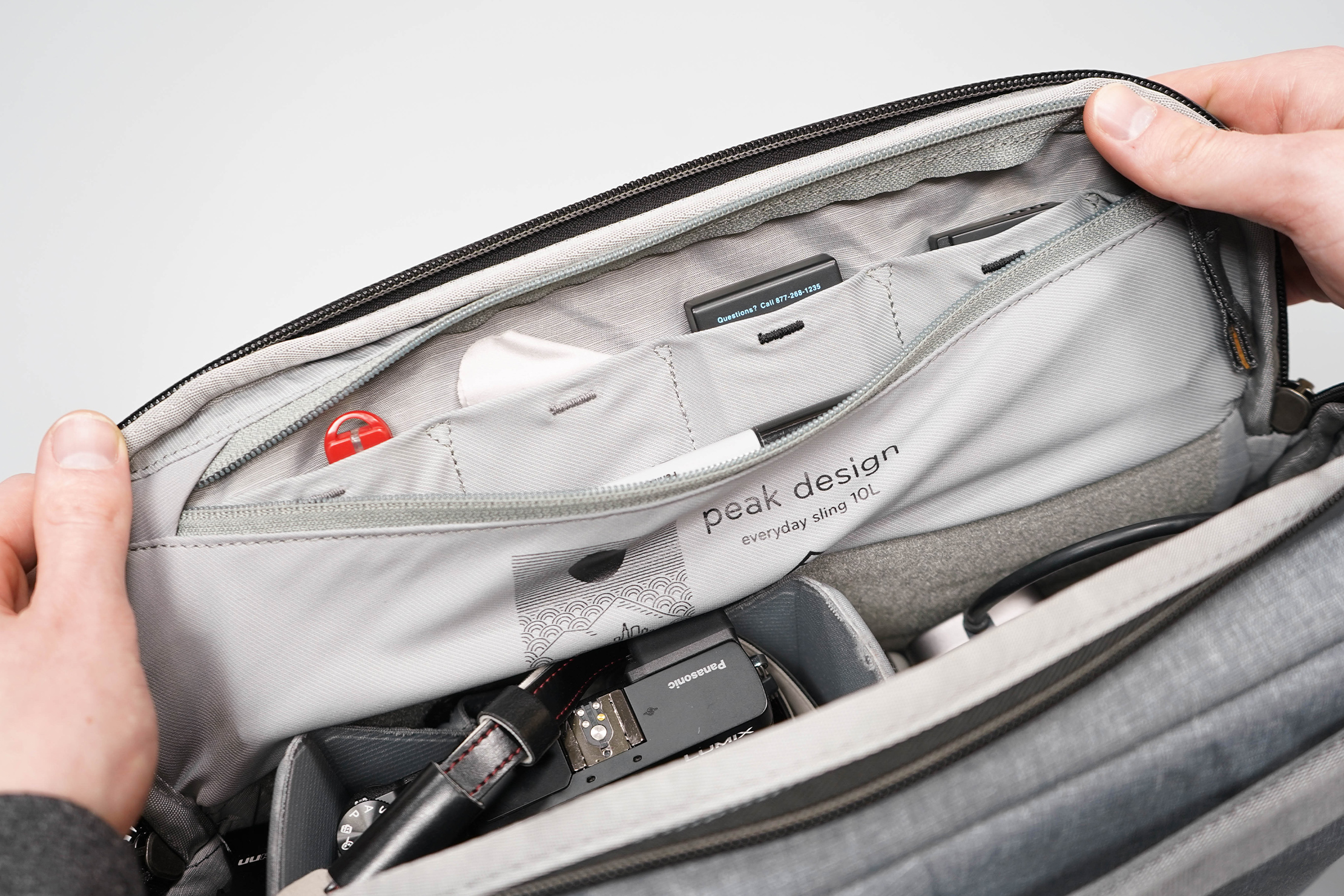 Opposite that, on the inside flap, there's a skinny, stretchy pocket. It's made of a soft material that's a lot of fun to pet (is that weird…?) We've kept pens here, but it's also a good spot for various cords and such. Inside, there are five small divider pockets designed for camera batteries, SD cards, and the like. The fifth is smaller than the others and can be tricky to access because the zippered opening covers most of it.
Four of them are color coordinated: two have gray stitching and two have black stitching. You can do with that what you will—ignore it, use it as a way to distinguish between spent/full batteries and SD cards, or between camera/tech. We've done the latter, keeping camera batteries in the black pockets and tech accessories in the gray (like flash drives).
Durability & Testing
We've been testing the Peak Design Everyday Sling 10L (V2) for a little over two weeks as a daily driver in Detroit, Michigan. It's solidly a camera bag first, but it still works for your tech essentials. We've loved testing it as a hybrid between the two, always ready to pull out our camera when a photo-worthy moment arises.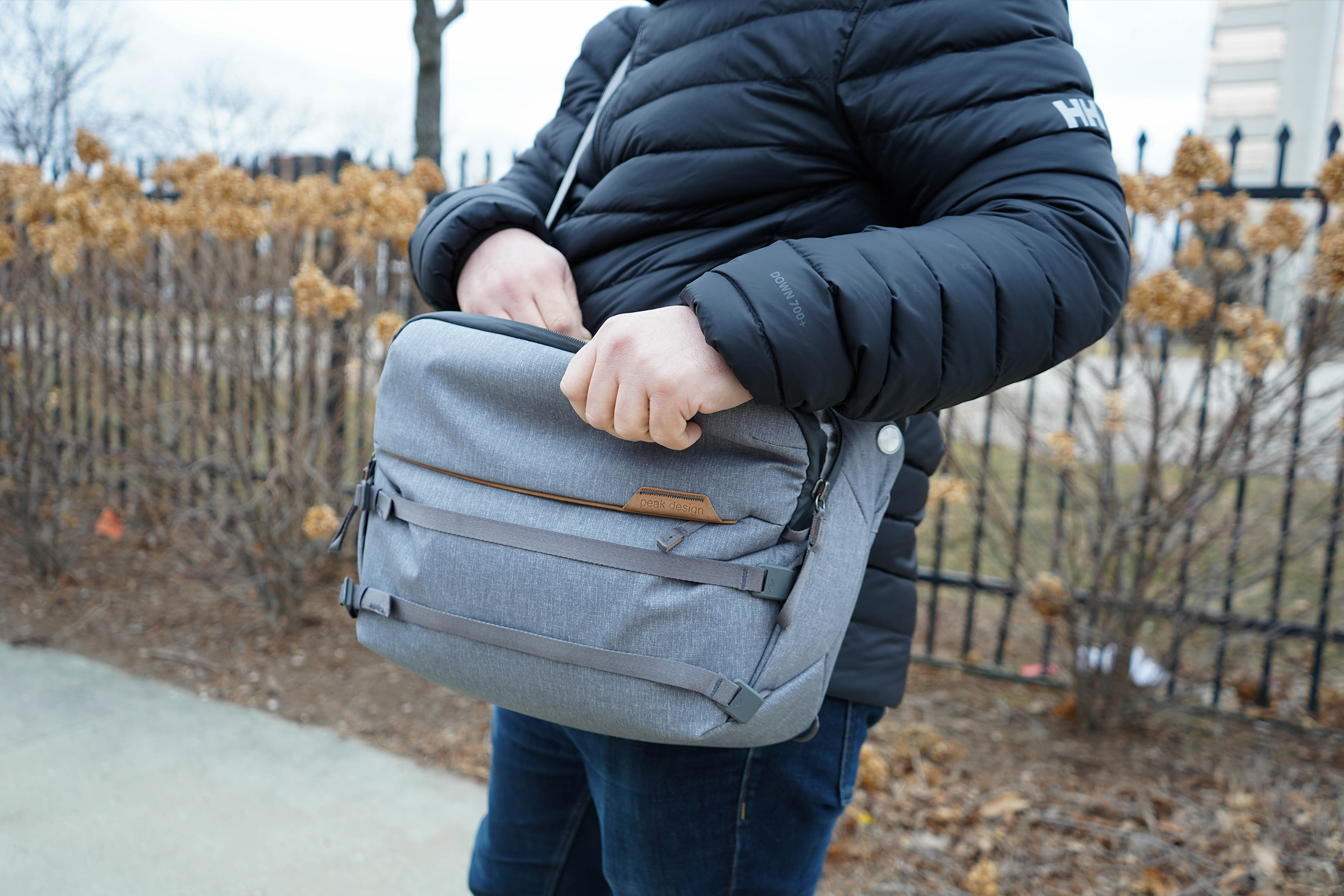 Unfortunately, we have the same durability issue to report that we've found across the entire Peak Design Everyday Line (V2). The FlexFold dividers are not doing so hot—there are a lot of loose threads on the edges. The durability just doesn't seem to match the rest of the materials and the premium price tag. It's a bummer.
Usage Timeline
Initial Usage
Condition: Excellent
Large size and laptop compartment make this a suitable backpack replacement
Internal organization can fit a camera and multiple larger zoom lenses
A sleeker and more streamlined than the Peak Design Everyday Sling 10L V1
2 Weeks of Use
Condition: Excellent
We have plenty of room to carry our daily accessories and a small camera kit (just in case inspiration strikes). It's great always having both protected and organized in one place. Plus the strap is comfortable and super smooth to adjust.
Durability-wise, we've noticed the same fraying on the edges of the FlexFold dividers that we've experienced while testing other bags in Peak Design's Everyday Line V2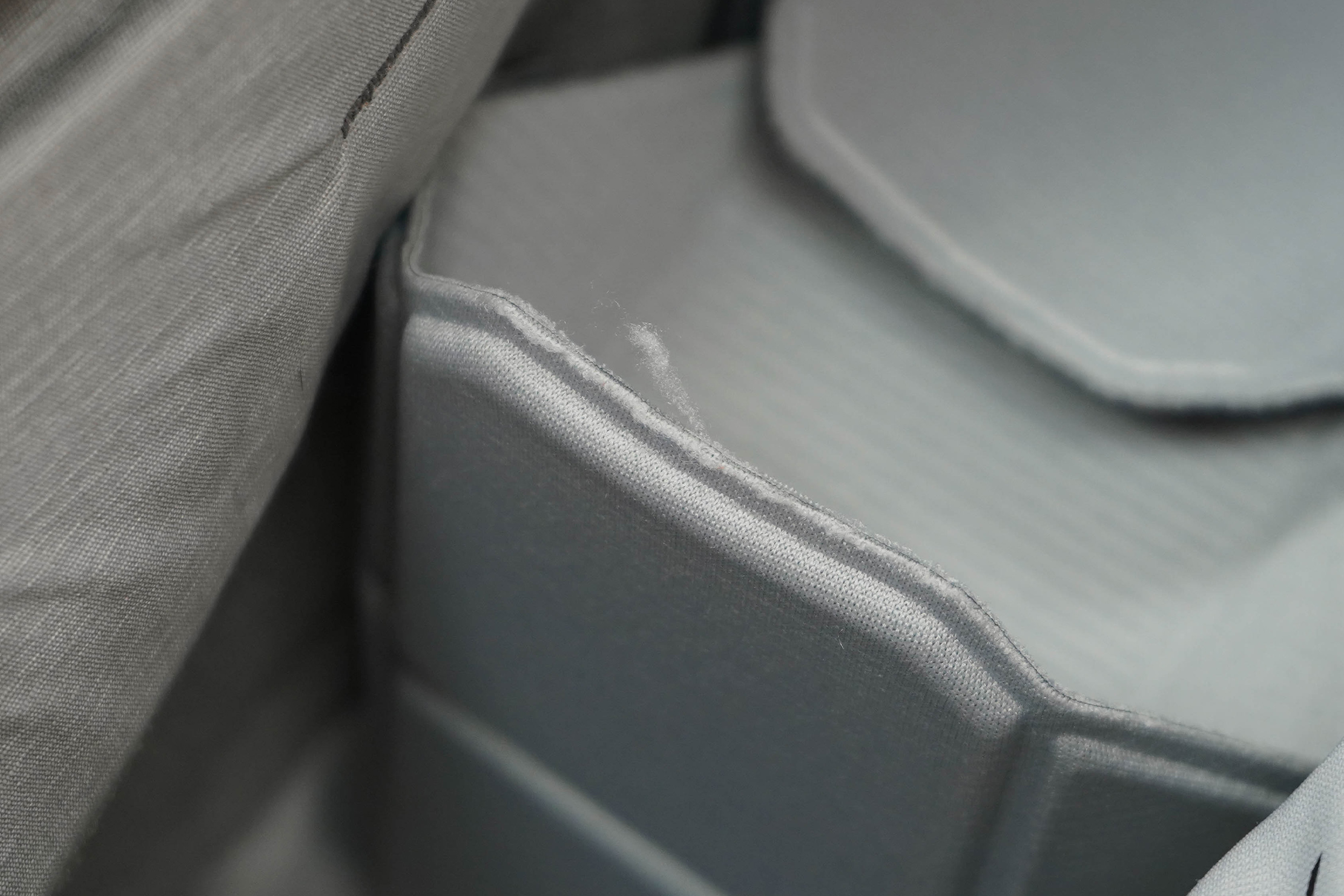 Access the Pro Community Discussion
Get your questions about the Peak Design Everyday Sling 10L (V2) answered from our team and the Pro Community right here on the page. Plus, join discussions with other members about gear, guides, and more.
Other Bags & Luggage Reviews