Peak Design Everyday Sling 6L (V2) Review
The Peak Design Everyday Sling 6L (V2) is innovative and sleek—although it's not as comfortable in waist pack mode as the 3L version.
Our Verdict
Unlock the Pro Summary
Save time. Get access to brief summaries of our reviews so you can browse and make decisions more efficiently.
Pros
The swivel strap and quick-release adjuster is amazing
Good size for a camera and a few small to medium-sized lenses
Highly customizable with two Flexfold dividers
Cons
Waist pack carry isn't that comfortable
Frayed edges on the Flexfold dividers after a month of testing
Interior pocket zipper can interfere with accessing the small stretch pockets
Recent Pack Hacker Video
Technical Details
Capacity

6l

Weight (lb)

1.28 lb (0.6 kg)

Without dividers

Denier

400D

Dimensions

9.44 in x 13.4 in x 5.12 in (24 x 34 x 13 cm)

Notable Materials

Recycled Nylon, DWR Coating, Polyester, Polyurethane, Polyethylene, YKK Zippers, Aluminum, Leather, Zoom Zippers, Hypalon®

Manufacturing Country

Vietnam

Warranty Information
Full Review
Get up to 10% off Peak Design • Join Pack Hacker Pro
Your camera kit is as unique as you are. Sorry to get all cheesy on you right off the bat, but it's true. You may capture sweeping landscapes, the unique patterns on a butterfly's wings, or the layout of a backpack's interior organization (just us?).
Since every videographer and photographer has different needs, it makes sense that Peak Design—a company that's all about making premium gear specifically for videographers and photographers—offers three sizes of the Everyday Sling (V2): 3L, 6L, and 10L.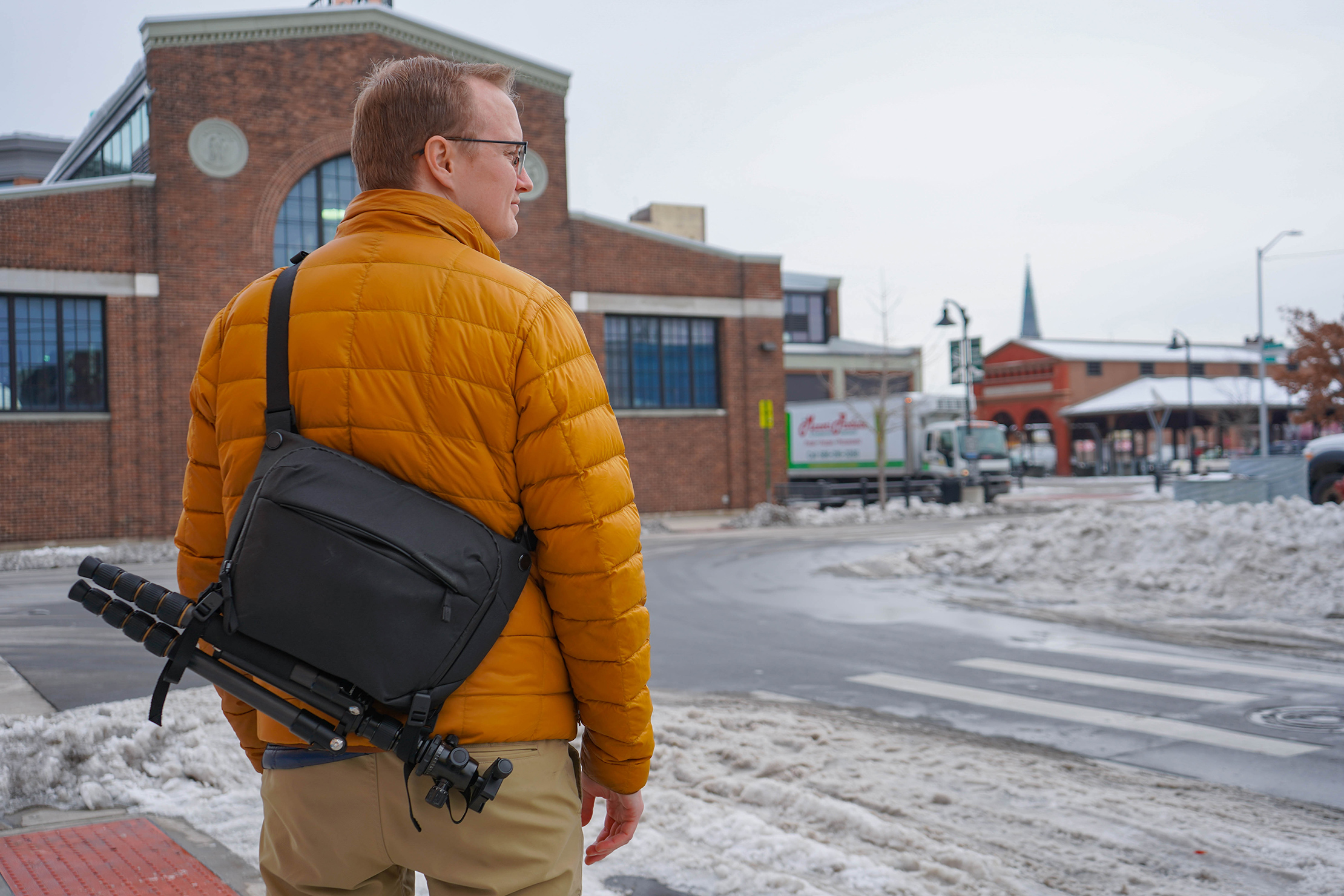 Today, we're going to take a look at the Peak Design Everyday Sling 6L (V2). We've already reviewed the three liter size. Basically, the 6L version is the same as the 3L version only, you know, larger by three liters. Plus, the 6L version has a tablet sleeve.
In this review of the 6L version, we'll be focusing on how the sling works as a larger size. If you'd like to get into the nitty-gritty about the materials, innovative features, and internal organization, check out our full review of the Peak Design Everyday Sling 3L (V2).
Before we dive in—just know that your preference between the two will come down to how much stuff you want to carry. The more stuff you have, the more you'll appreciate the extra space available in the 6L size.
So let's check it out.
Materials & Aesthetic
There's not much to say here as the Peak Design Everyday Sling 6L looks exactly like the Peak Design Everyday Sling 3L…only larger. Plus, at the time of this review, it's available in three colorways: Ash, Black, and Midnight. The Midnight colorway—an elegant way to say dark blue—is exclusive to the 6L size. So even if you don't need the extra space, you may pick up the 6L for this primo color.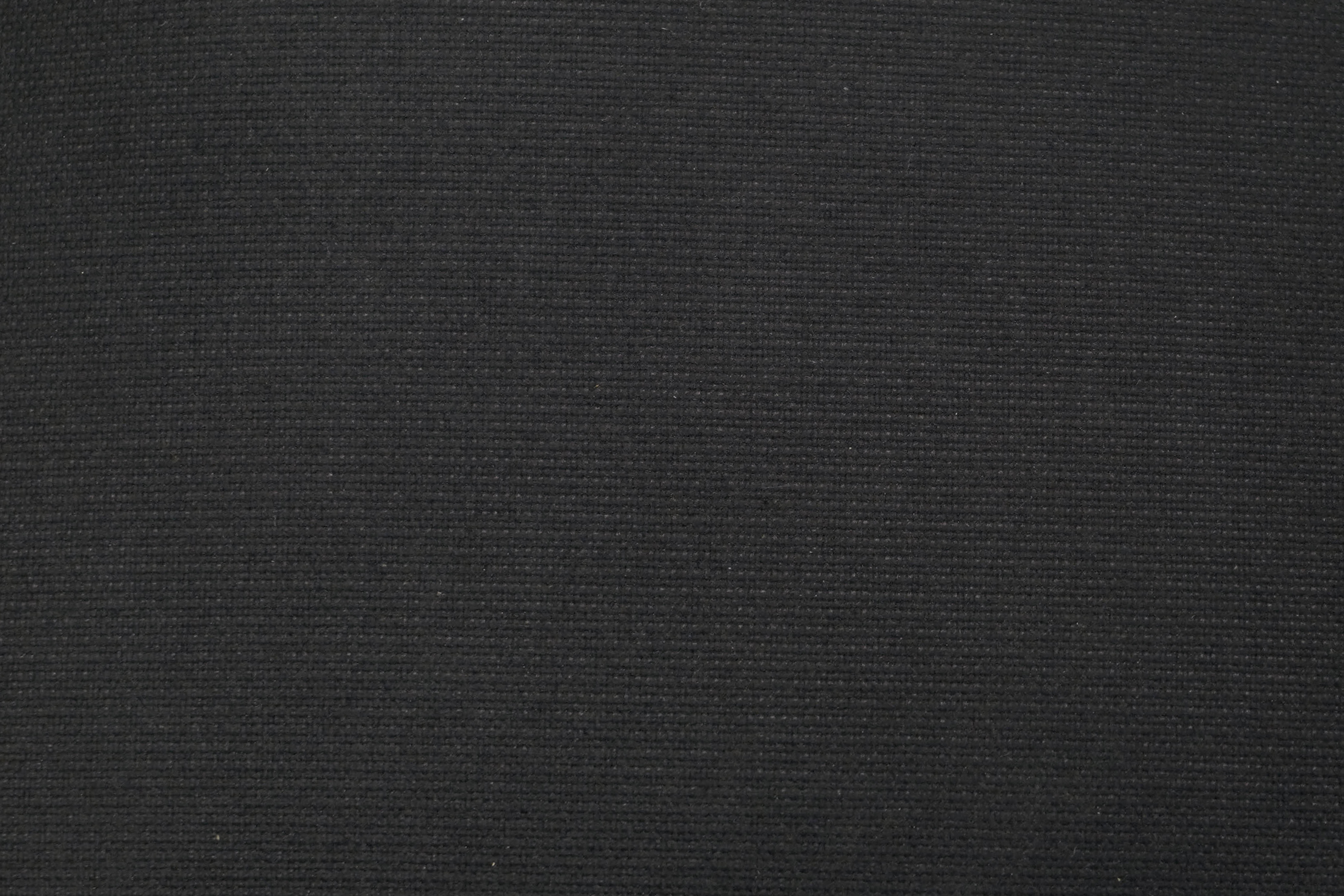 The 6L is made from the same ultra-strong water-resistant 100% recycled 400D double poly-coated and DWR-impregnated nylon canvas. If you take away nothing else from that sentence, you should note that the sling is durable and weather-resistant. Don't take it on a high-speed underwater motorcycle chase, but your camera gear should be safe if you get caught in the rain.
And the Midnight and Ash colorways are both made from bluesign® certified fabrics, something we always appreciate. Speaking of environmentalism, as of January 2020, Peak Design is a designated B Corp. We'll let the folks at B Corps explain, "Certified B Corporations are businesses that meet the highest standards of verified social and environmental performance, public transparency, and legal accountability to balance profit and purpose." Yeah, we think it's awesome too.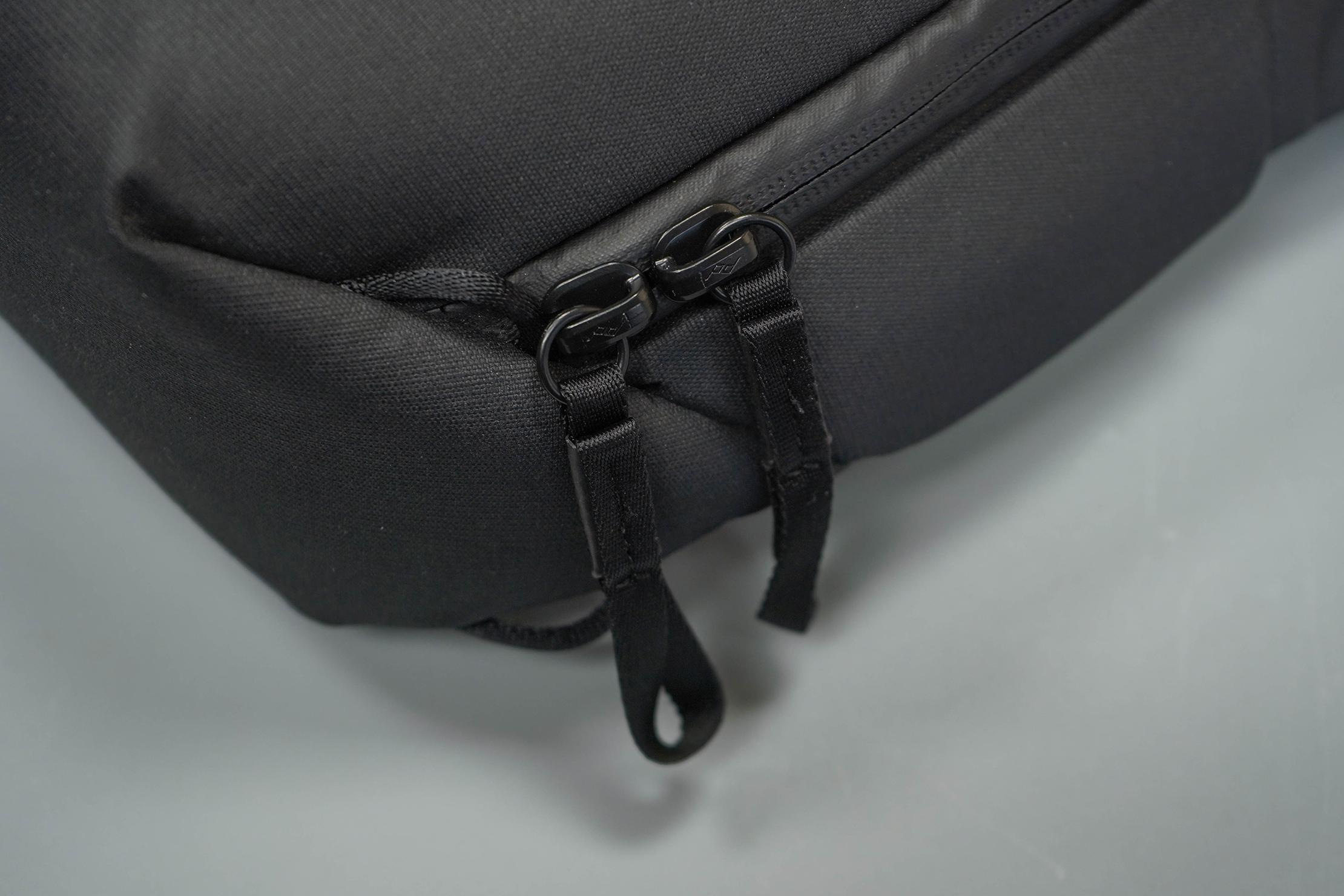 Anyway, the zippers are the same UltraZip Zippers found on the 3L and 10L sizes, and throughout the entire Everyday Line V2. Born out of a collaboration between Peak Design and Zoom Zippers, these zips are oh-so-smooth. Check out our video on the Everyday Line V2 if you want to get the low-down.
External Components
Externally, the Everyday Sling 6L mimics the 3L. You'll find the same handles, back panel, swivel strap, quick-release adjuster, and lash straps.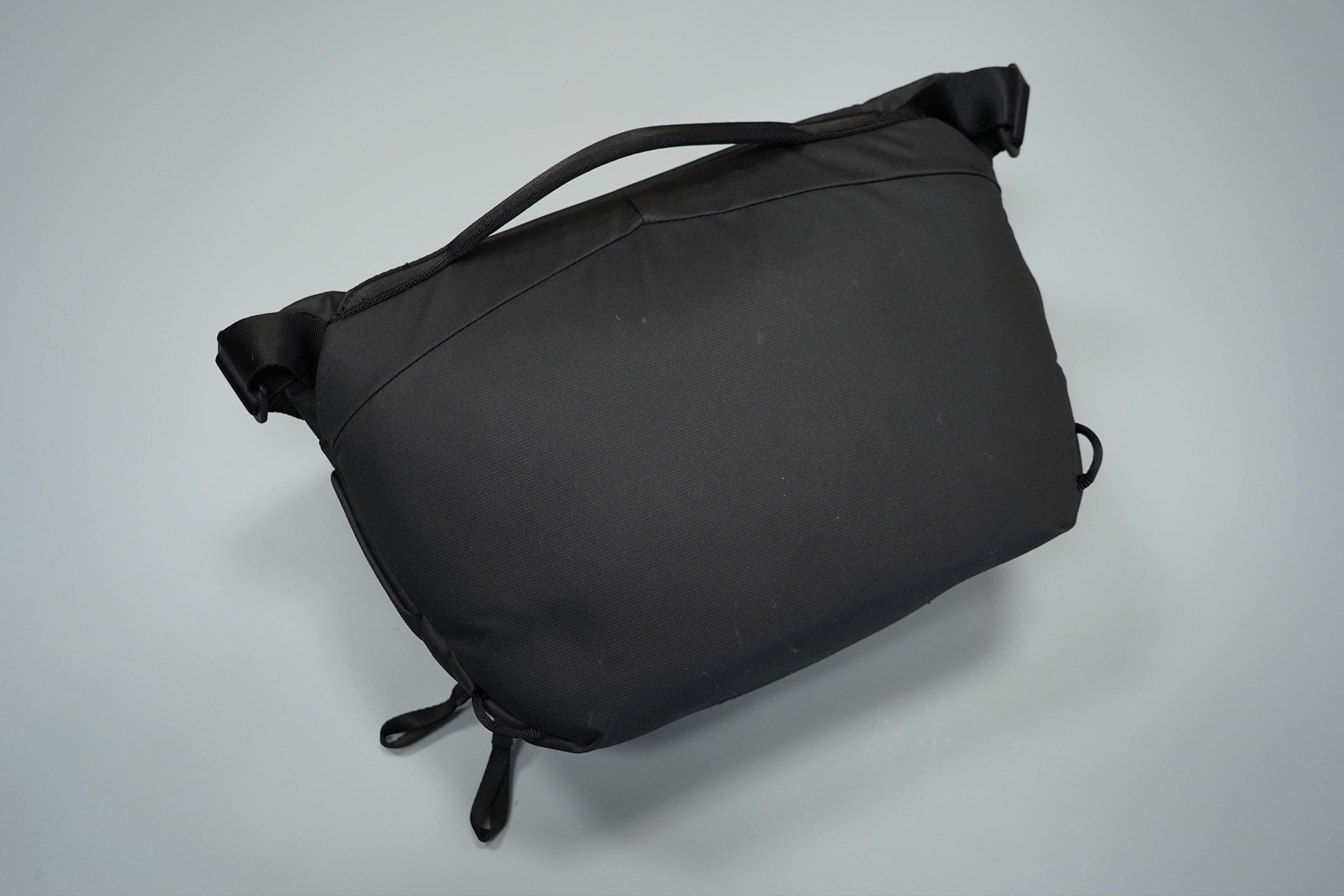 We go deep into these components in our review of the 3L, so go check it out if you want to know more. Cliff Notes version—the handles are nice and thick; the back panel is nothing special, but works just fine; the swivel strap makes accessing your stuff quick and easy while adding to the overall comfortable carry; the quick-release adjuster makes adjusting the strap to fit across various parts of your body a cinch; and the lash straps help you carry gear externally (we'll talk about them more in a second).
While the individual components are the same, we've found the overall carry slightly less comfortable and less versatile on the 6L version than on the 3L version.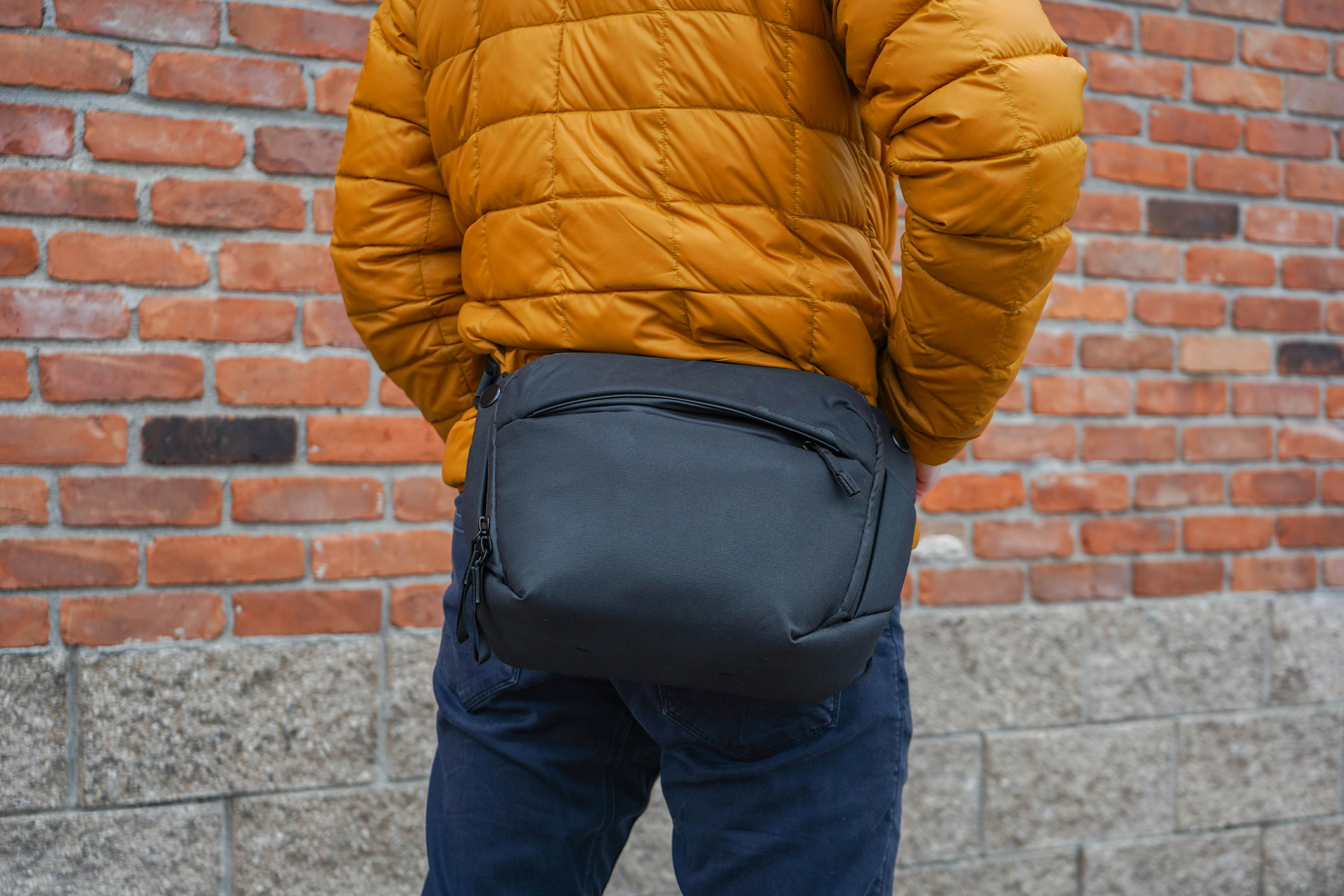 You can still wear the sling as a sling (across the chest or back) and as a waist pack (slung around your hips). But it's too big to wear comfortably as a waist pack, for us anyway. Both in regards to how it looks—it will overwhelm smaller frames—but you also have to really tighten the strap for it to stay on your waist. Otherwise, it'll be dragged down by its weight.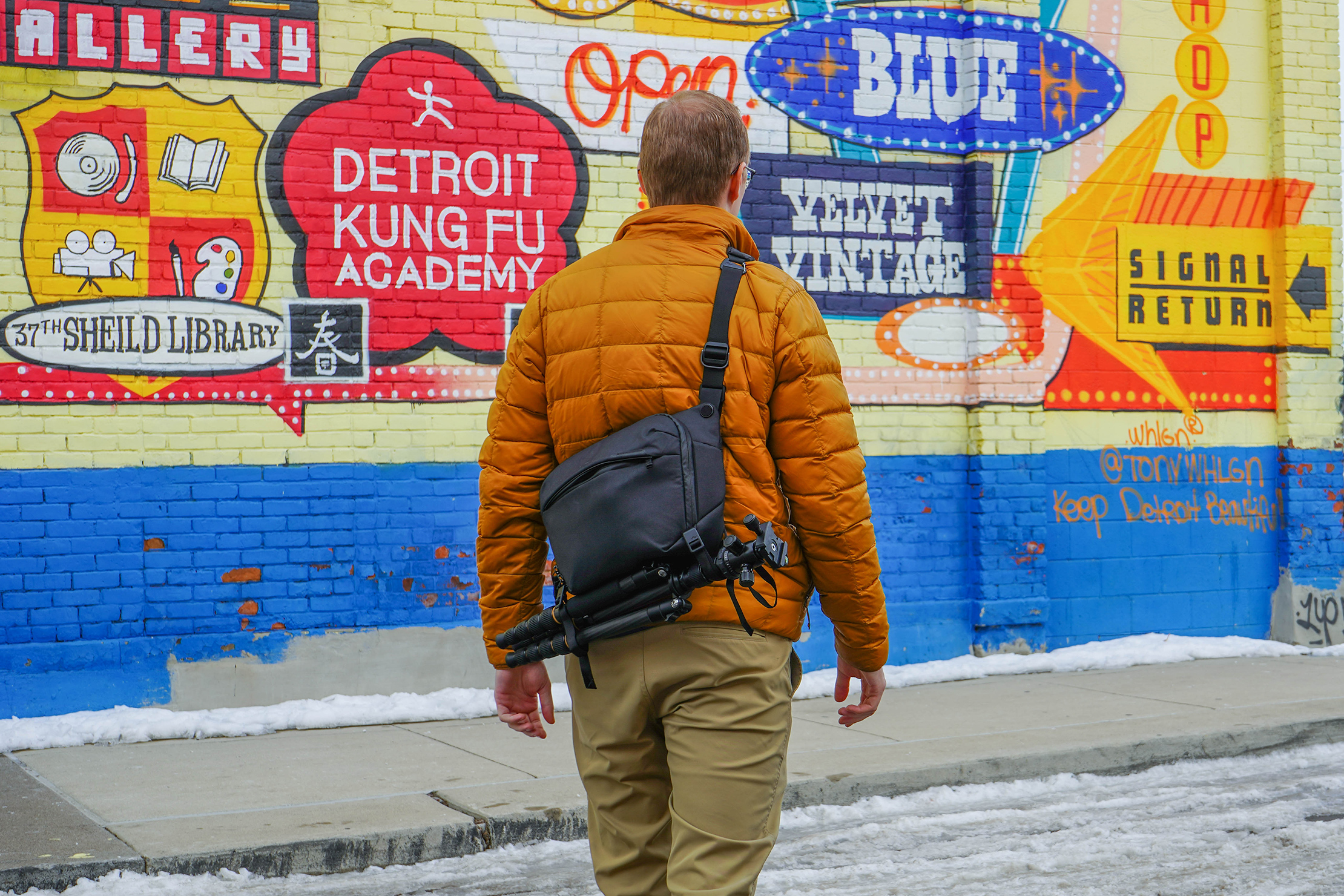 The sling-style of carry works better, but it's not ideal. It slides down your back, probably due to its size and weight. Especially if you're out and about, say bagging a peak to get a shot of those epic views.
It will still sit on your back, but lower and off to the side (instead of high and in the middle like we prefer to carry slings). It's not uncomfortable, but if you want it higher you'll have to constantly adjust it. We have been testing it while wearing a slippery down jacket, which is possibly making this whole thing worse.
We've found that a purse-style of carry works the best—on your side, beneath an arm—probably because it has nowhere to slide.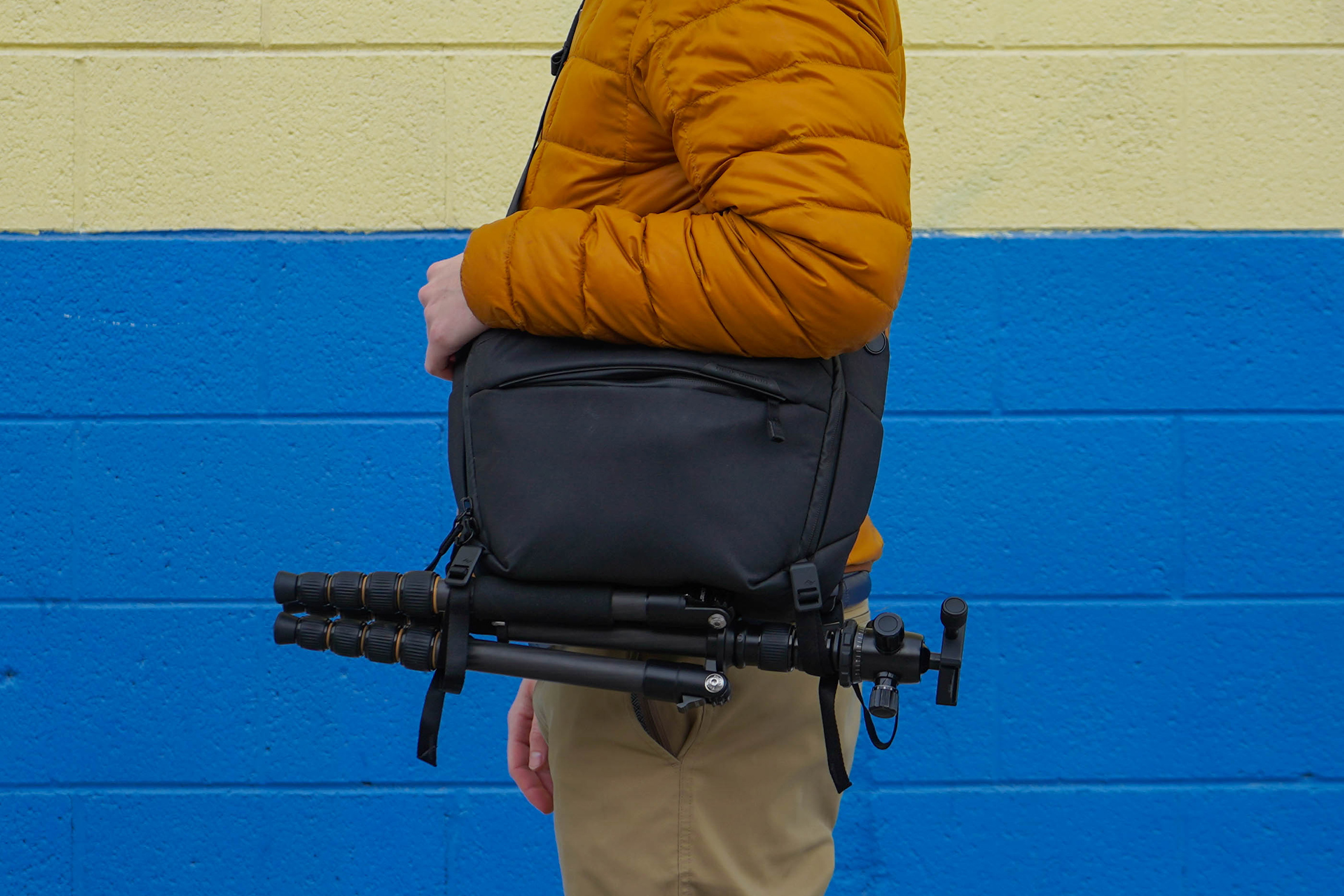 On a more positive note, let's talk about those lash straps. The sling features the same two Cord Hook external carry straps—i.e. lash straps—that you'll also find on the 3L size. The straps are there so you can carry gear externally—whatever you want, although they've specifically been designed to hold a tripod. And they work better on the 6L size. The tripod doesn't stick off the body of the bag nearly as much as on the 3L. It just fits nicer.
Inside the Sling Bag
Peak Design advertises the 6L as the perfect size for a "small mirrorless, DSLR, or drone kit" or, outside the photography world, for, "5 beers, maybe a 6-er if you really stuff 'em in." (To put that in perspective, the 3L size only fits 3 beers.) You gain the most space in the height of the sling, with only a small increase in width, so it's ideal if you have longer lenses.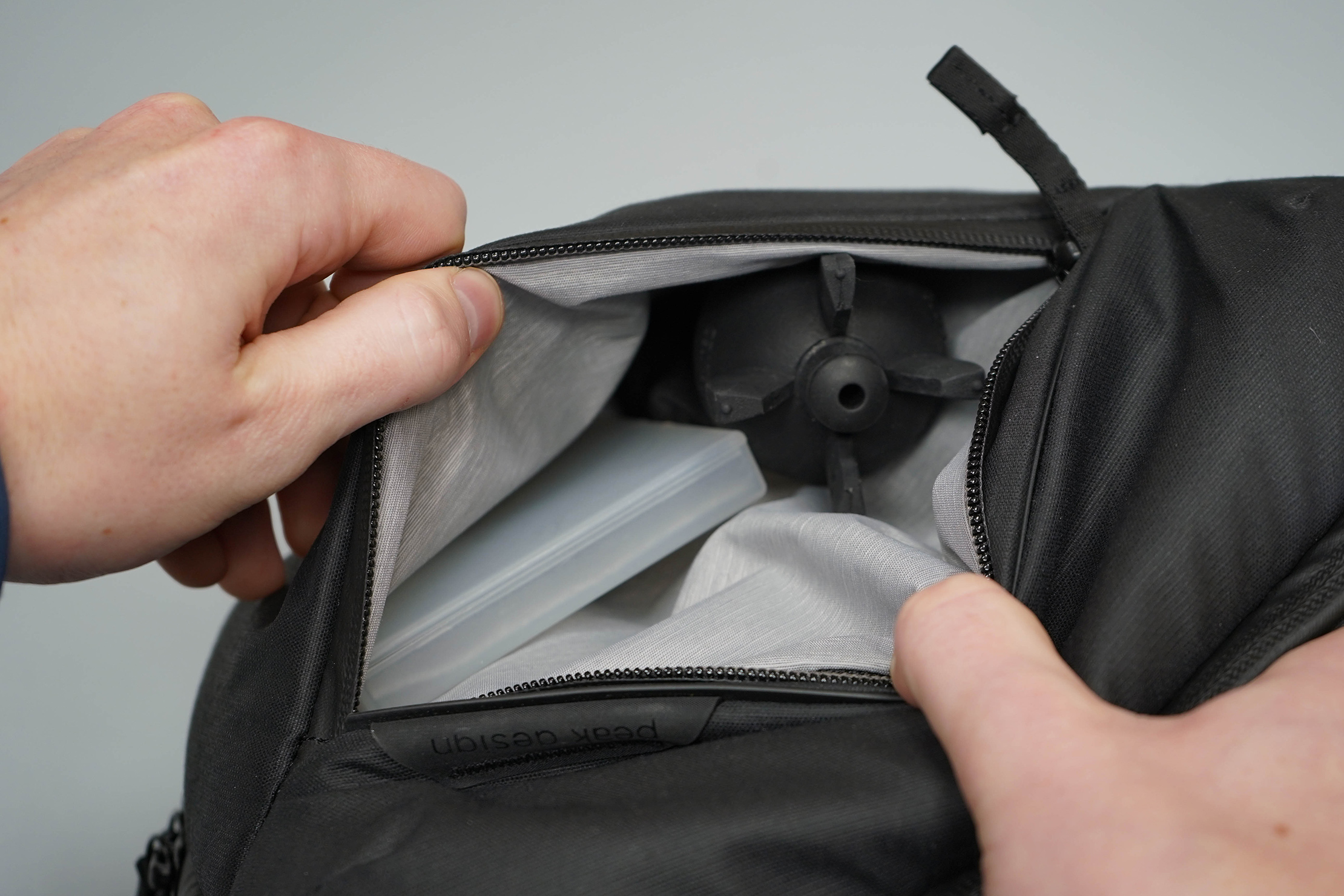 The front compartment will fit an ND filter, lens wipe, and a rocket blower for cleaning lenses and sensors (we can't fit the blower inside the 3L size).
Inside the main compartment, you'll see the same layout as on the 3L size. But instead of one Flexfold divider, there are two. It's highly customizable—you can devise whatever configuration works best for you.

We've essentially set up two shelves with the dividers—on one side our Sony A7-III with a 28-70 mm lens attached to it and a Peak Design Camera Leash beneath it. On the other side, we have a 10-18 mm lens with a Lume Cube beneath it. Really, our day-to-day setup doesn't require the extra space—it fits perfectly fine in the smaller size. But, again, if you carry a larger camera, longer lenses, or more accessories, then you'll appreciate the extra space.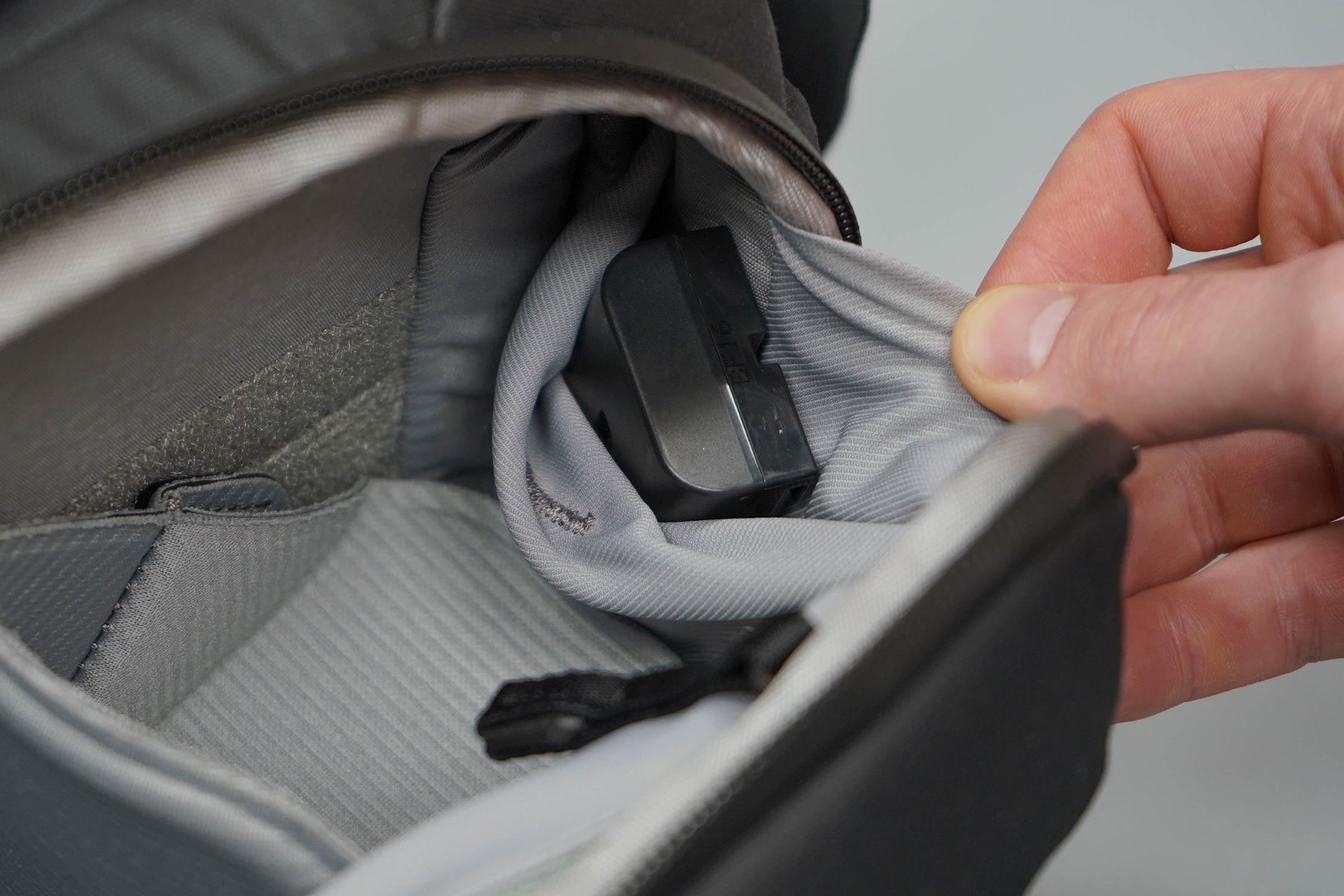 There are two flexible pockets on the sides of the main compartment—same as on the 3L—although these are slightly more useable because there's more space for them to stretch. You can fit bulkier items inside of them.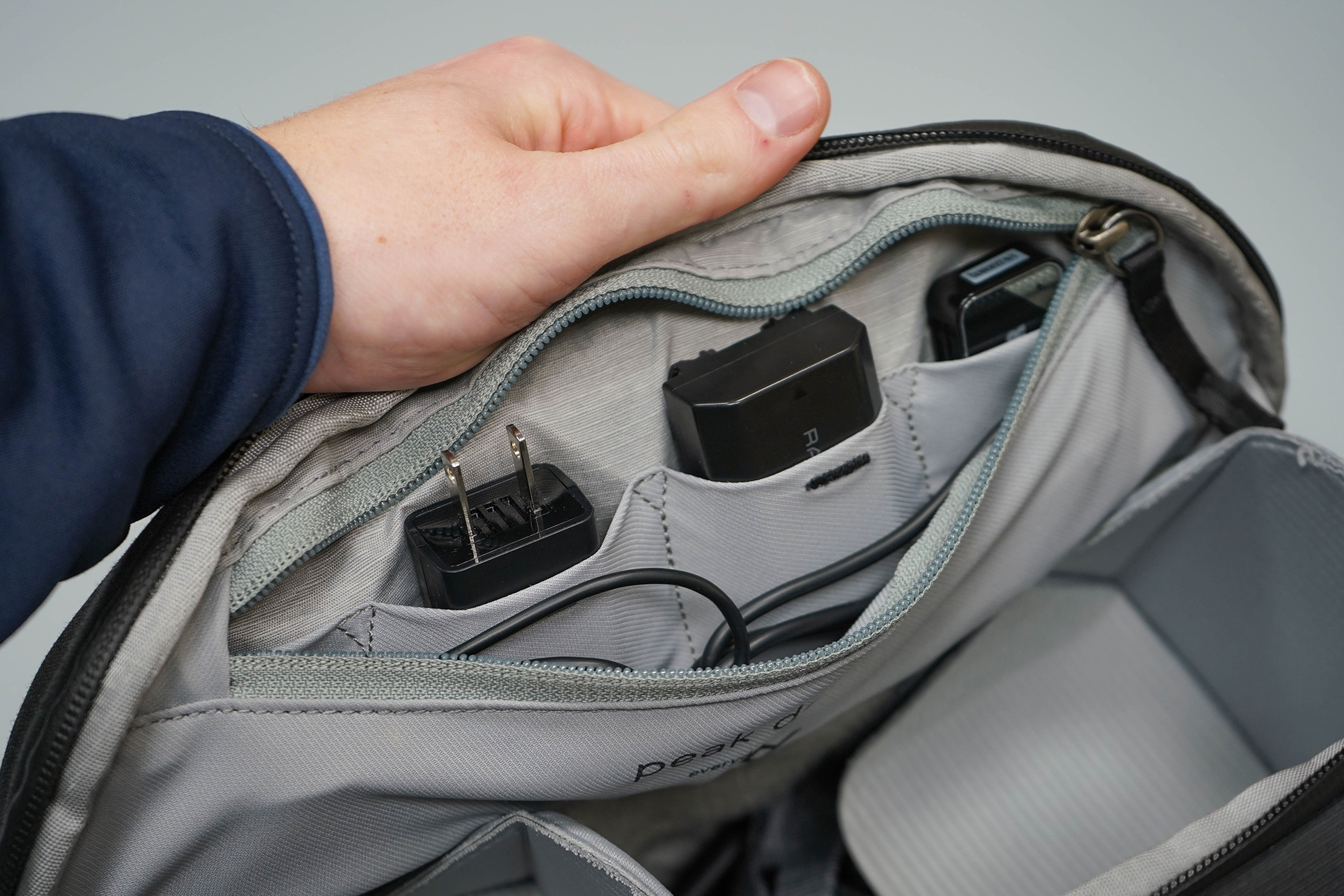 There's also the same stretchy zippered pocket with the same four small stretchy pockets inside the front flap—we've used them for a charging brick, extra battery, and SD card reader with our cords and chargers sitting in the quick-grab pocket itself. Accessing the fourth small stretch pocket can be a bit cumbersome because the zippered opening covers most of it. Not a huge deal, but something to note.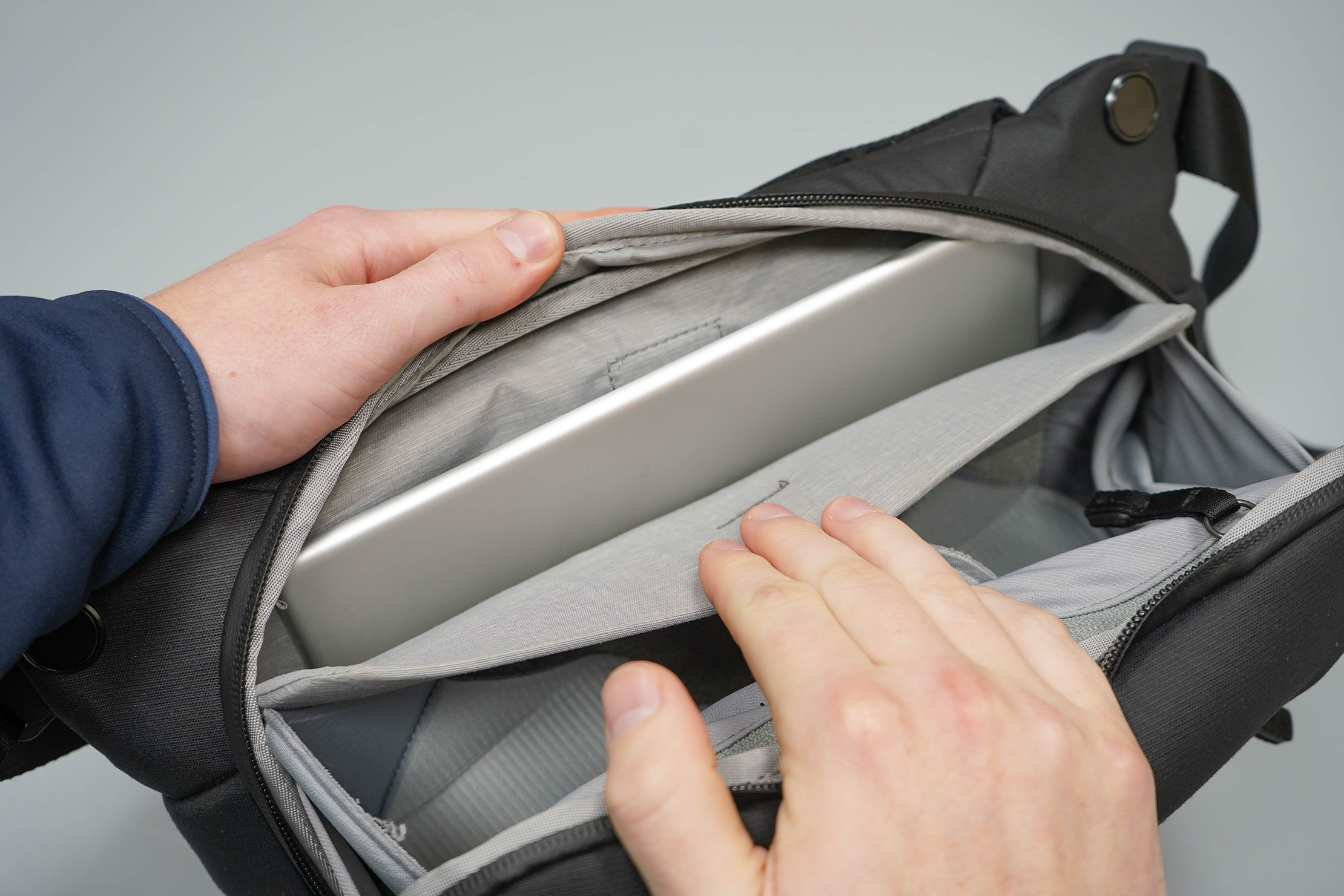 Besides some extra space, the main difference here is that the 6L size has a tablet sleeve with a magnetic closure that will fit up to an 11'' tablet. It has plenty of padding to keep your tablet safe. You could also throw a flat book or notebook in this space. And, if you have no need for the sleeve, it lays flat and stays out of your way.
Durability & Testing
We've been testing the Peak Design Everyday Sling 6L for approximately a month in Detroit, Michigan, taking it out on long days shooting photos or capturing b-roll for our Youtube channel. It's obvious the folks at Peak Design put a lot of thought and energy into this sling, intuiting the needs of photographers and videographers everywhere.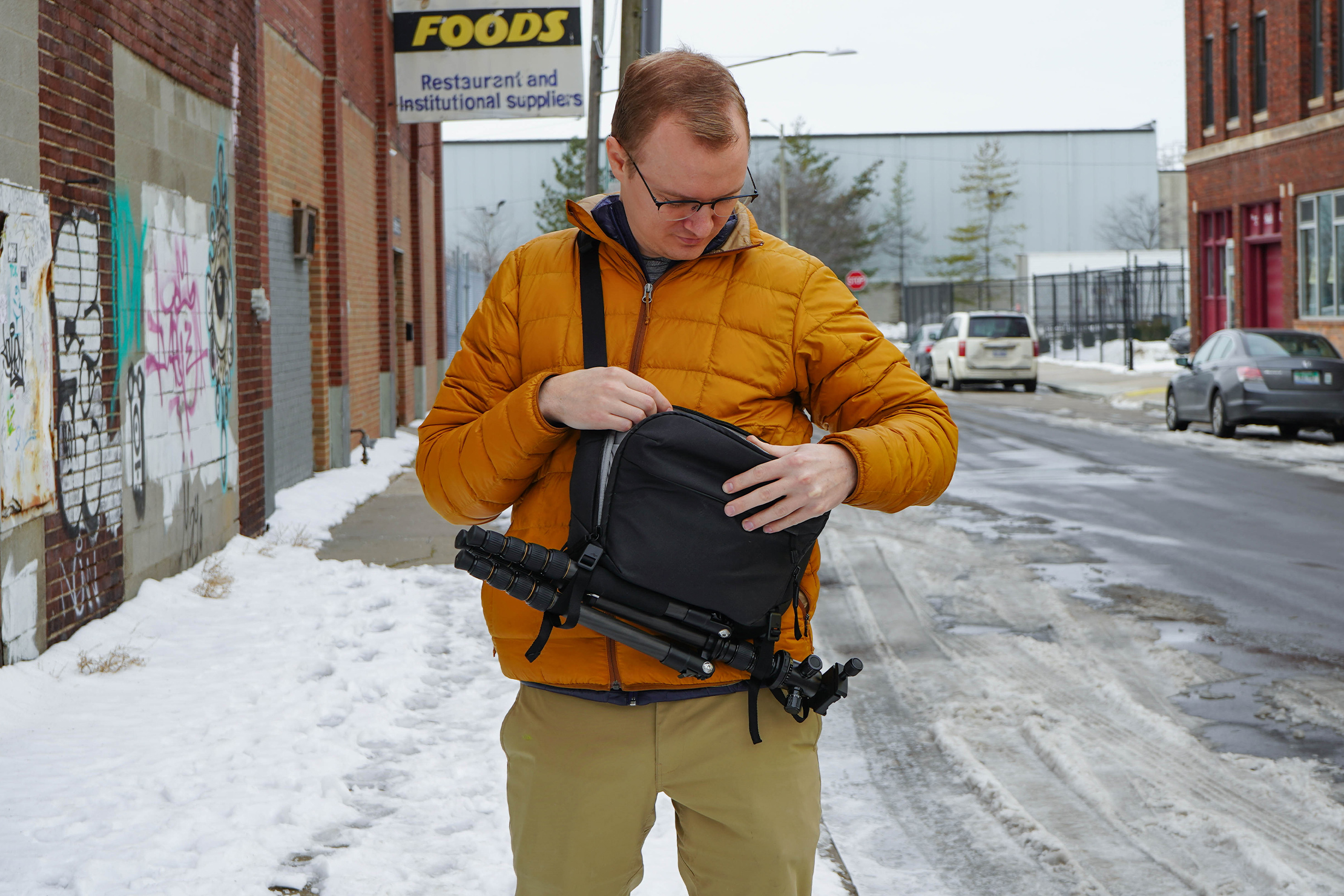 Whether or not you'll want the 3L, the 6L, or the 10L depends on your set-up. If you need some more direction, check out our video comparing the three sizes or visit the Peak Design website, where you'll find a breakdown of various types of kits that'll fit inside each one.
As far as durability is concerned, almost everything is looking good. We have noticed some loose threads along the edges of the Flexfold dividers—in fact, we've noticed the fraying on the internal dividers throughout the Everyday V2 line. The fraying on the dividers inside the 6L sling isn't as bad as we've seen on the other products. And it's not a big deal—as long as it doesn't get much worse.
Usage Timeline
Initial Usage
Condition: Excellent
Similar look and feel to the Peak Design Everyday Sling 5L but just a touch bigger
Great size for carrying a camera and a few small to medium-sized lenses
Can be worn as a sling or a waist pack
2 Weeks of Use
Condition: Excellent
The bigger size doesn't sit as well our back as the smaller three-liter version so we've been carrying more purse-style, which has been working great
1 Month of Use
Condition: Good
We've had the same fraying problem on the internal dividers as we've had on all the Peak Design Everyday V2 line


Access the Pro Community Discussion
Get your questions about the Peak Design Everyday Sling 6L (V2) answered from our team and the Pro Community right here on the page. Plus, join discussions with other members about gear, guides, and more.
Other Bags & Luggage Reviews