Osprey Radial Review
The Osprey Radial may be large, but it's a pleasure to take on a bike, and its built-in kickstand makes it easy to prop up next to you wherever you're staying.
Our Verdict
Unlock the Pro Summary
Save time. Get access to brief summaries of our reviews so you can browse and make decisions more efficiently.
Pros
Angled water bottle pocket convenient to use while biking
Highly adjustable harness system is comfortable to wear
LidLock helmet attachment and U-lock pocket are great for biking
Cons
Elbow can rub against tall bottles inside the angled side pocket
Lack of strap keepers means slack flops around
Expansion makes the bag's handling a bit sloppy
Recent Pack Hacker Video
Technical Details
Capacity

34l

Weight (lb)

3.31 lb (1.5 kg)

Denier

210D

Main; 500D Accent & Bottom

Dimensions

20.49 in x 13.79 in x 11.82 in (52 x 35 x 30 cm)

Notable Materials

Nylon, Packcloth, Woojin Hardware, ITW Hardware, YKK Zippers

Manufacturing Country

Vietnam

Laptop Compartment Size

15"

Warranty Information
Full Review
They say riding a bike is easy because it's a skill that you never really forget once you learn it—it's déjà vu working in your favor. In the same way, we have another familiar experience in store for you in this review: Osprey's Radial. The name may not sound familiar to you, but the bag's resemblance to its siblings—the METRON and the Tropos—is hard to ignore.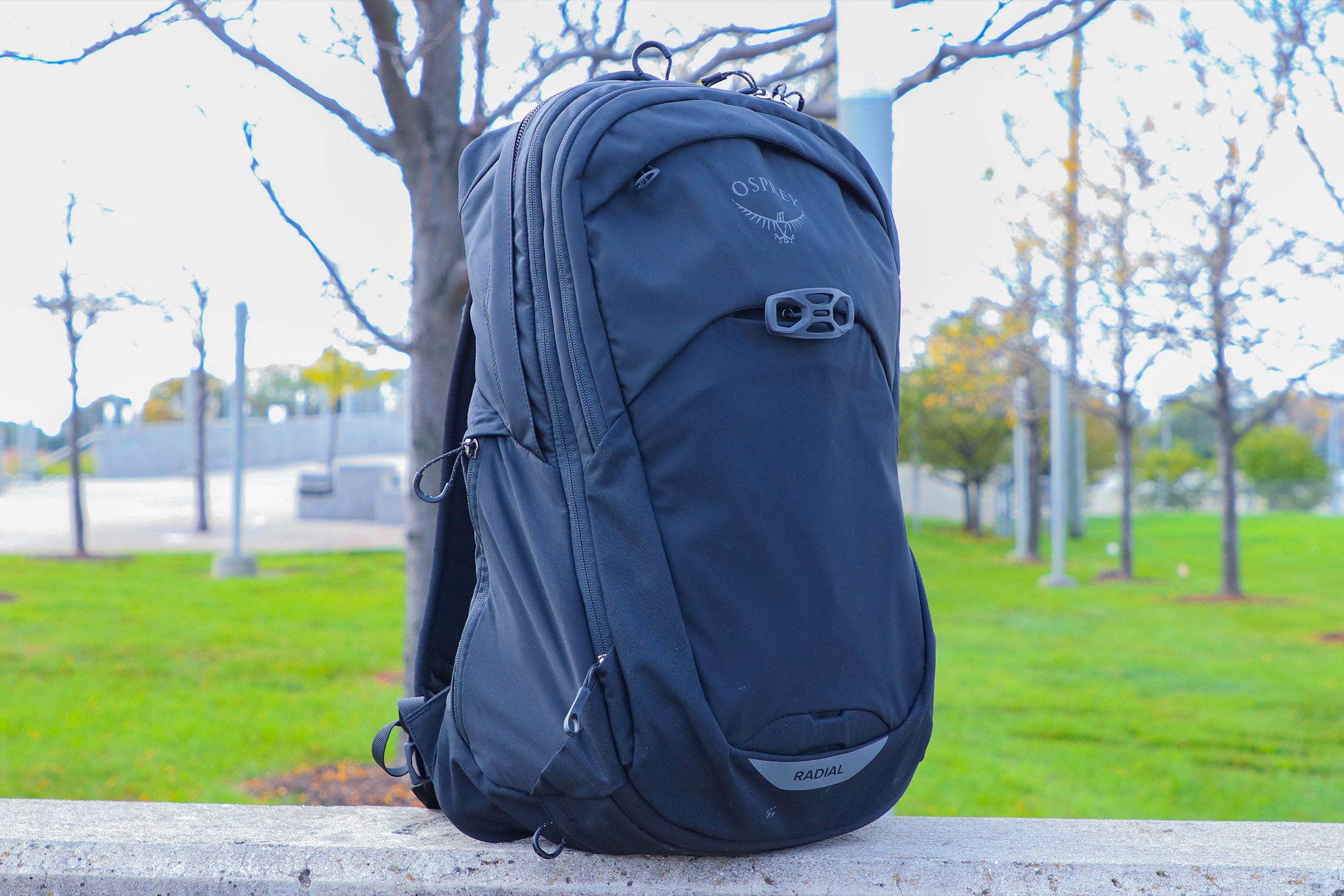 It's not just the looks; all three share a similar set of features and build quality. But do they share the same quirks? For example, we can recall that the METRON and Tropos both lack strap keepers. Spoiler alert: the Radial does too. However, there's more to the Radial to separate it from the rest of the family. With its 26-liter size and ability to further expand to 34 liters, plus an integrated kickstand, it's certainly not living under anyone's shadow. So without further ado, let's get into the nitty-gritty of the Radial and see what else this bag has to offer.
Materials & Aesthetic
We've reviewed other bags from Osprey, such as the METRON and the Tropos, and these two really have the most striking resemblance to the Radial—so much so that we even made a comparison video about it. They're not the most minimalistic designs out there—far from it, actually. The Radial fully embraces all of the frills that come with its feature-rich design. With lines and curves that run across the bag's body, it's not minimalist, but it's still a clean design in our eyes.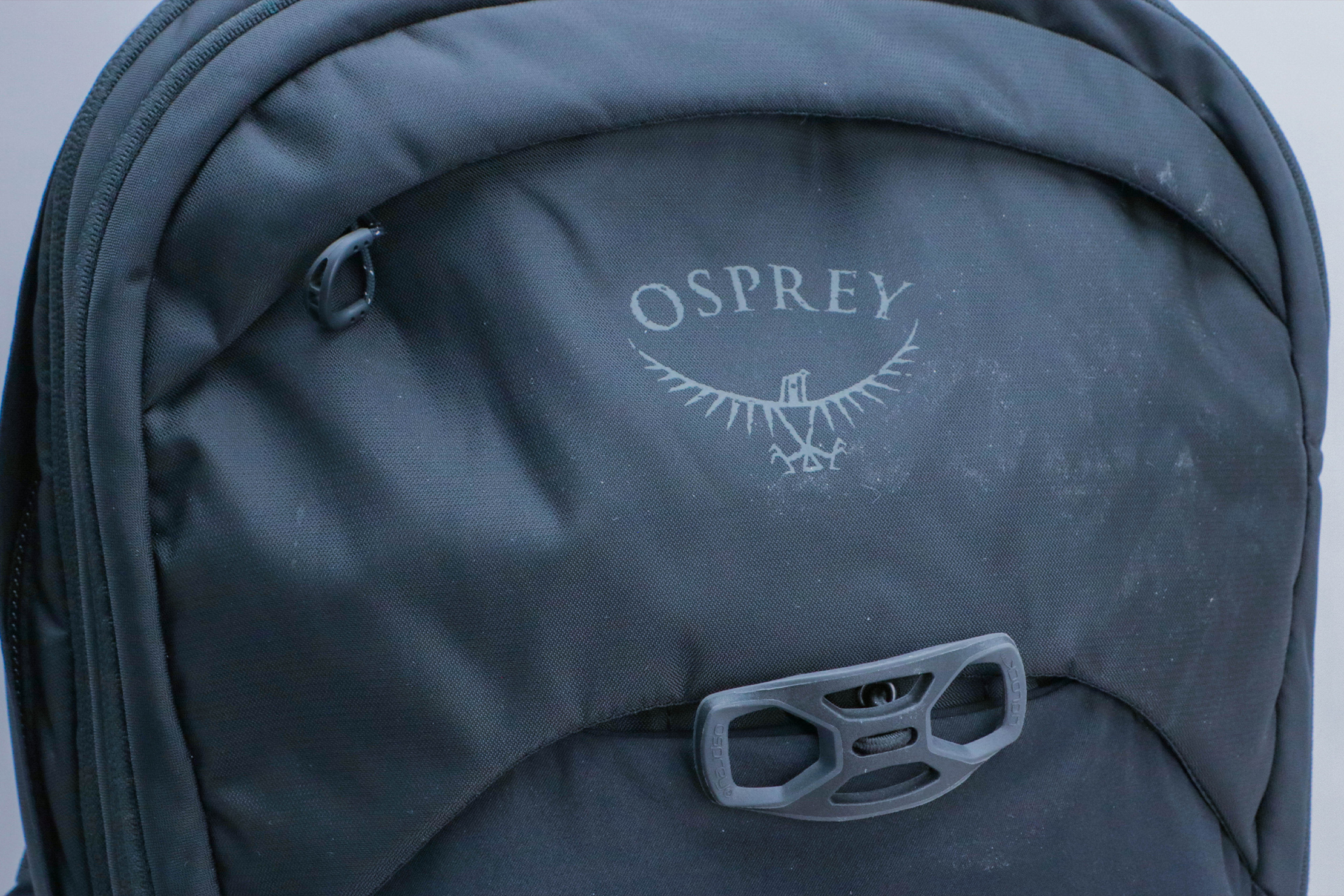 Check out how the plateau-shaped outline of the U-lock pocket, sunglasses pocket, and other seams of the bag run almost perfectly parallel to each other. Apart from the lines, the Radial also doesn't have too many parts sticking out of it (more on this later), remaining smoothly shaped—excellent for a streamlined biking experience. The Radial is one beast of a bag at this size, so we're happy to see that Osprey was able to keep the aerodynamic design going.
The branding appears minimal, though both the Osprey and Radial names are presented front and center of the bag. They're very tastefully applied, though, so we don't have any gripes towards either. As usual, the Black colorway is our preferred choice because it's easy to match with different colored gear and hides stains well, something that bags are prone to with outdoor use. There is one other colorway available at the time of writing, though: Succulent Green Night Jungle Blue. That's a long name, but we'll summarize it for you as a two-tone blue-green combo. It's a nice colorway, as it shows off more of the Radial's lines and shape than the Black.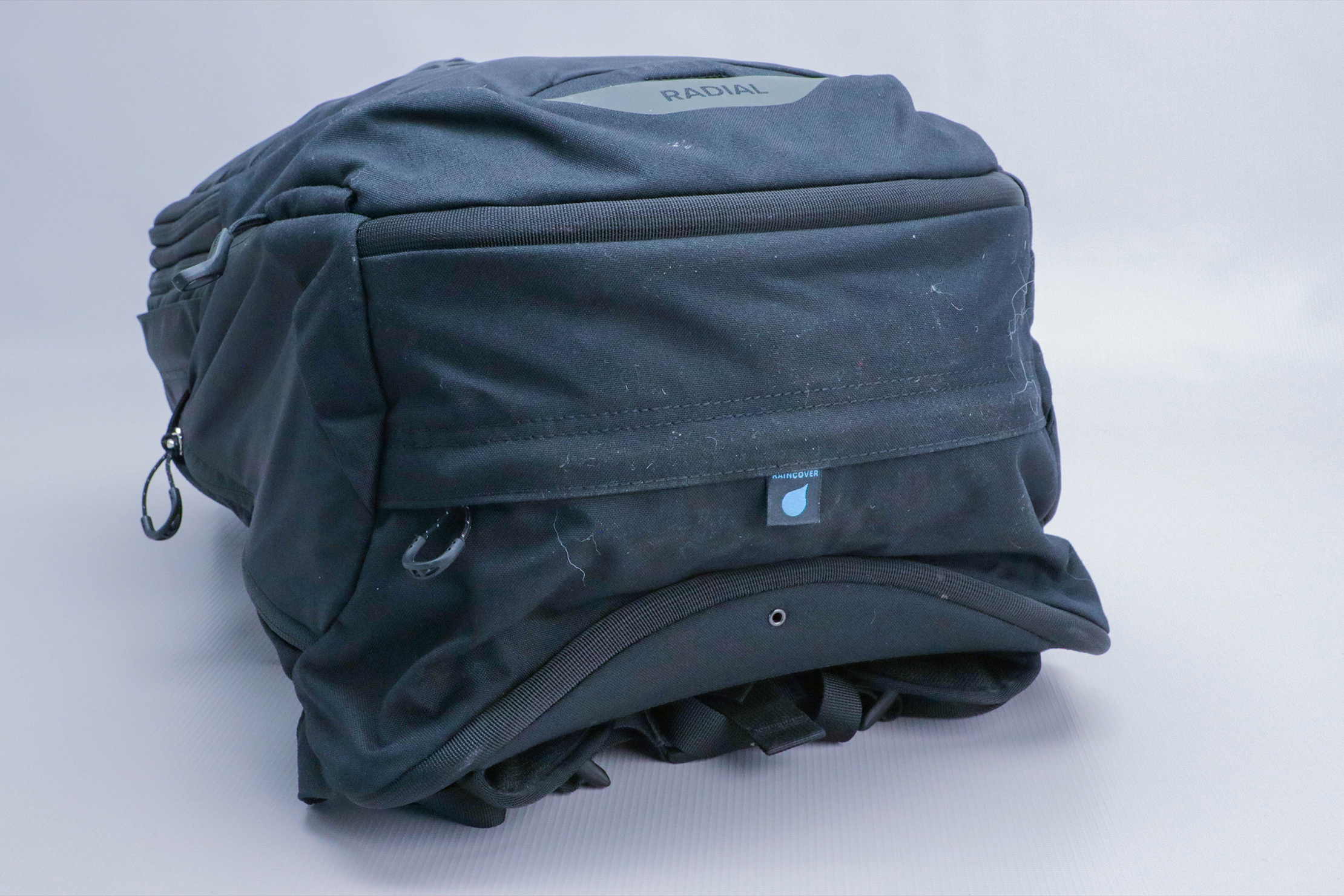 Like the METRON and Tropos, Osprey uses a mix of different fabrics on the Radial. The main material is a relatively light denier 210D Nylon Dobby, while the accent and the base of the bag get heavier 500D Nylon Packcloth. Both fabrics feel tough and weather-resistant, and they lend to the bag's overall structure. The dobby weave adds a bit of texture, but it's not too noticeable on this all-black colorway. Some bags in the neighborhood of the Radial's size feel floppy, but the good news is that's not the case here.
Apart from the fabrics, another thing that helps with support is the integrated kickstand rather rigid frame sheet that forms a sort of skeleton. If we were to compare the Radial's structure, it's more akin to a suitcase than a typical daypack. Don't worry, that doesn't mean the Radial handles like a cardboard box on straps either, as we'll explain later on.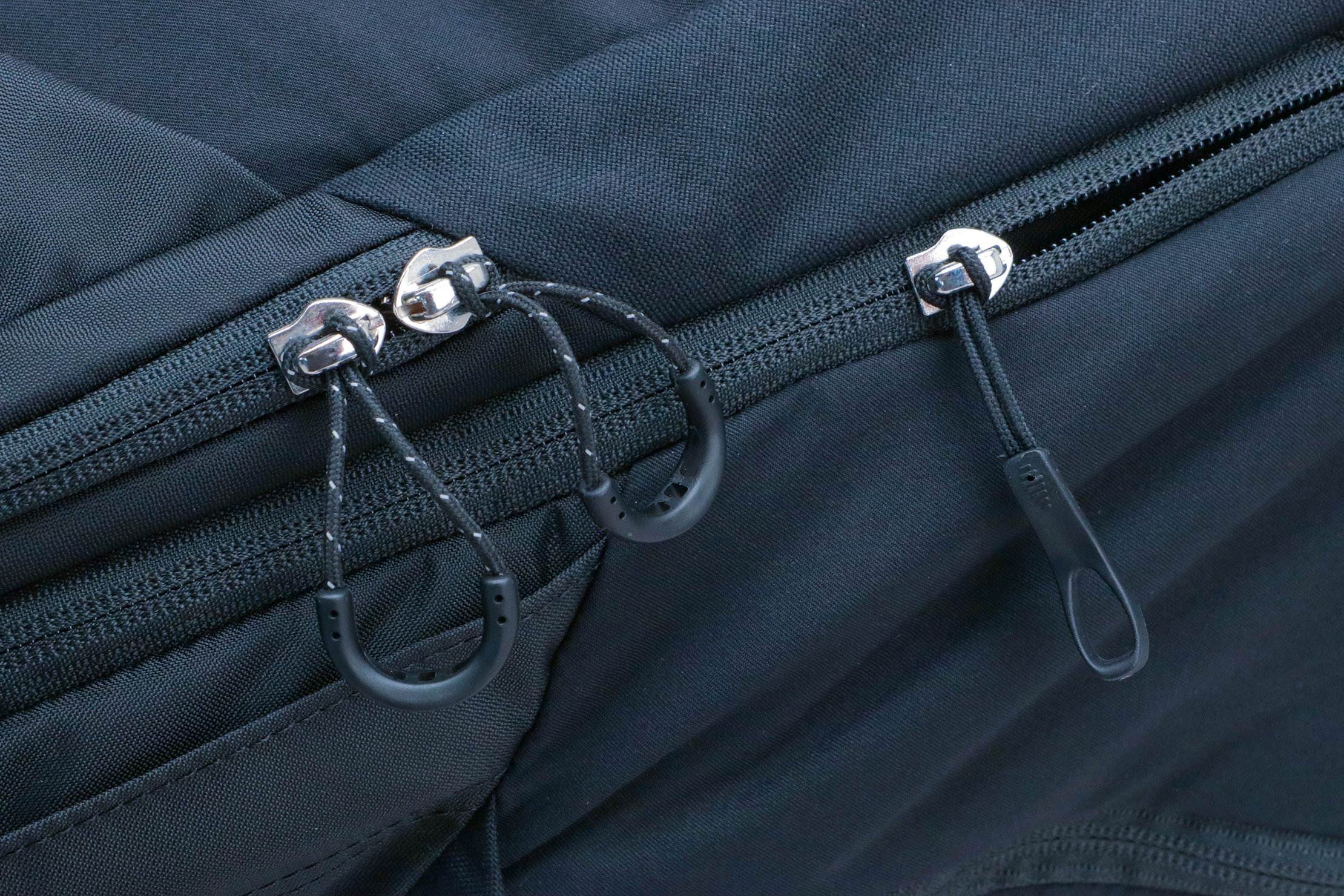 Osprey's good choice of materials also extends to the little things that matter. The YKK zippers glide along without a hitch despite the longer travel courtesy of the Radial's large size. We paid special attention to the compression system's lone zipper because it had the longest path to travel, going from one bottom corner to the other, and it did well. We also dig that Osprey put two kinds of zipper pulls: large ring ones for primary compartments and slim rubber ones for secondary pockets. This makes a ton of sense because large ring pulls are handy for easier access to the main compartment, while slim pulls for the bottom rain fly pocket keep things low-profile.
Meanwhile, the hardware is a mix of ITW and Woojin, both of which are well-regarded for their quality buckles, clips, and adjusters. Needless to say, they work seamlessly on the Radial, and we had no problem using them, whether it's the adjusters for the load lifters, the sternum strap, or shoulder straps.
External Components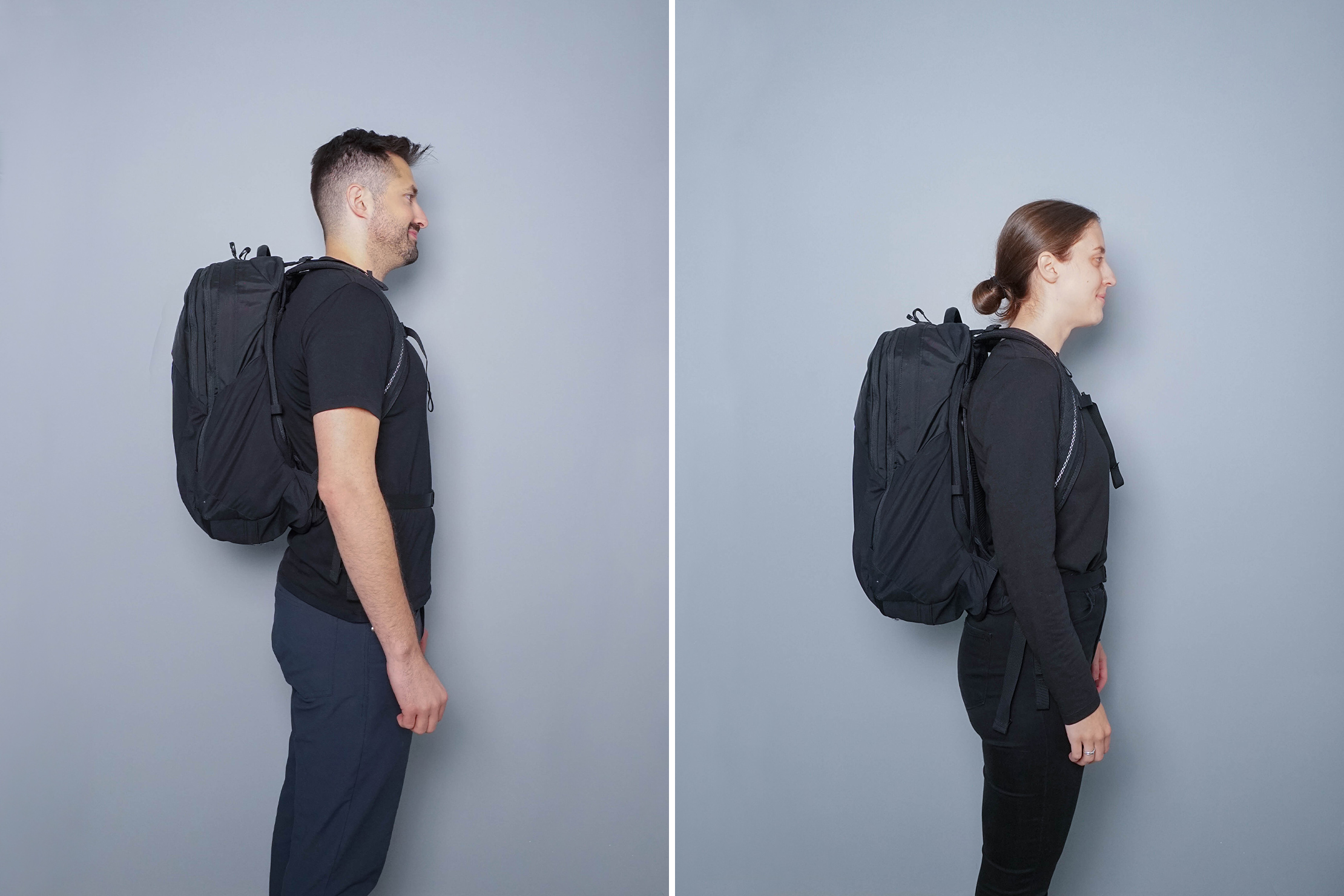 The Radial is really up there among the beefiest daypacks we've tested. Coming in at a whopping 34 liters, it's a beast of a bag to carry with you. Osprey's aware of this, and they've made sure to kit out the Radial with a harness system that's more at home with hiking backpacks than typical day-to-day backpacks. It's not quite as comprehensive as something like the one on the Salkan Backpacker where everything is padded like a racing seat. However, there's still a ton of adjustability on the Radial to help you tune it to your needs.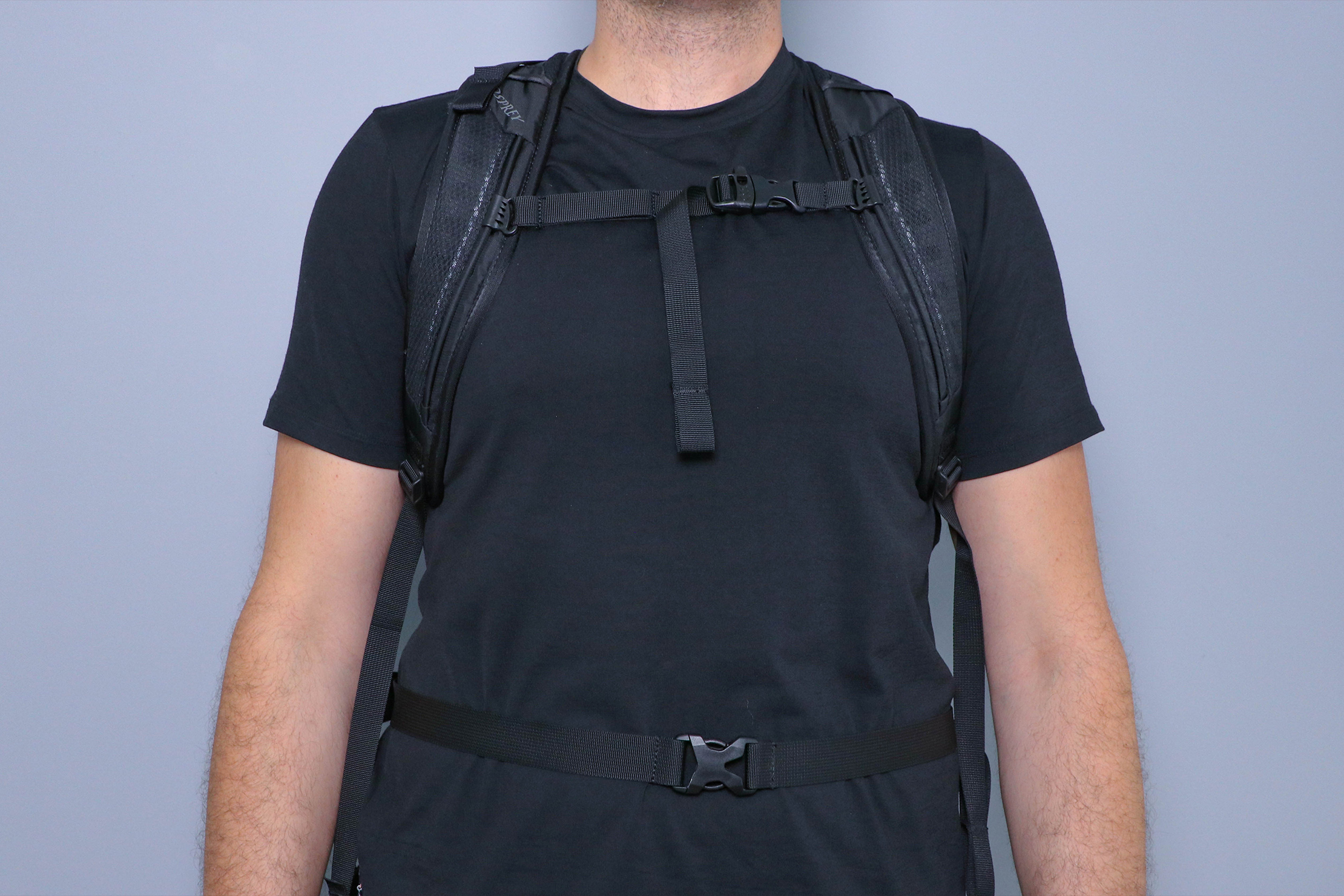 Up at the top is a folded nylon handle for carrying the Radial over short distances like across or between rooms. Just behind the handle are the load lifters, from which the shoulder straps partially hang. Load lifters are nice to have on larger backpacks because they prevent that saggy feeling by pulling the bag closer to the top. Each of the load lifters is independently adjustable, which is sweet if you're carrying an unbalanced load and want one of the lifters tighter than the other.
The shoulder straps can be vertically adjusted through a clever anchor system. The top end of the shoulder straps forms a collar with toggles that thread through slots built into the sides of the floating back panel. There are five slots on each side, giving you a total of five levels of adjustments. By our testing, those with bigger builds among the Pack Hacker crew felt comfortable with the second topmost slot, while those with smaller builds felt more comfortable with the bottom two slots. The toggles are a bit tough to thread through, but thankfully it's one of those "set-it-and-forget-it" types of systems.
The straps themselves are generously padded, with an outer layer of mesh material. In our experience, having mesh at the top layer of shoulder straps can be a bit of a placebo, though it doesn't harm the experience. The sternum strap is our favorite kind; it slides along a rail for very granular adjustment and uses a side-release buckle. There are no fancy magnets or hooks to fuss around with, so we find it a breeze to use.
Going back to the floating back panel we mentioned earlier, it's almost all mesh, apart from the sides that have a bit of foam padding. If you're looking to put the Radial on your rolling luggage, the sides are open as a pass-through. Down at the bottom are wing-like tips that wrap around and hug your hips' sides. The overall carrying experience is comfortable, but we miss a few features present in their other packs. The Radial's hip belt is thinner compared to the METRON's (even though it's the bigger bag), and there's no dedicated pocket for this hip belt to stow away. Instead, we got creative and clipped it behind the back panel.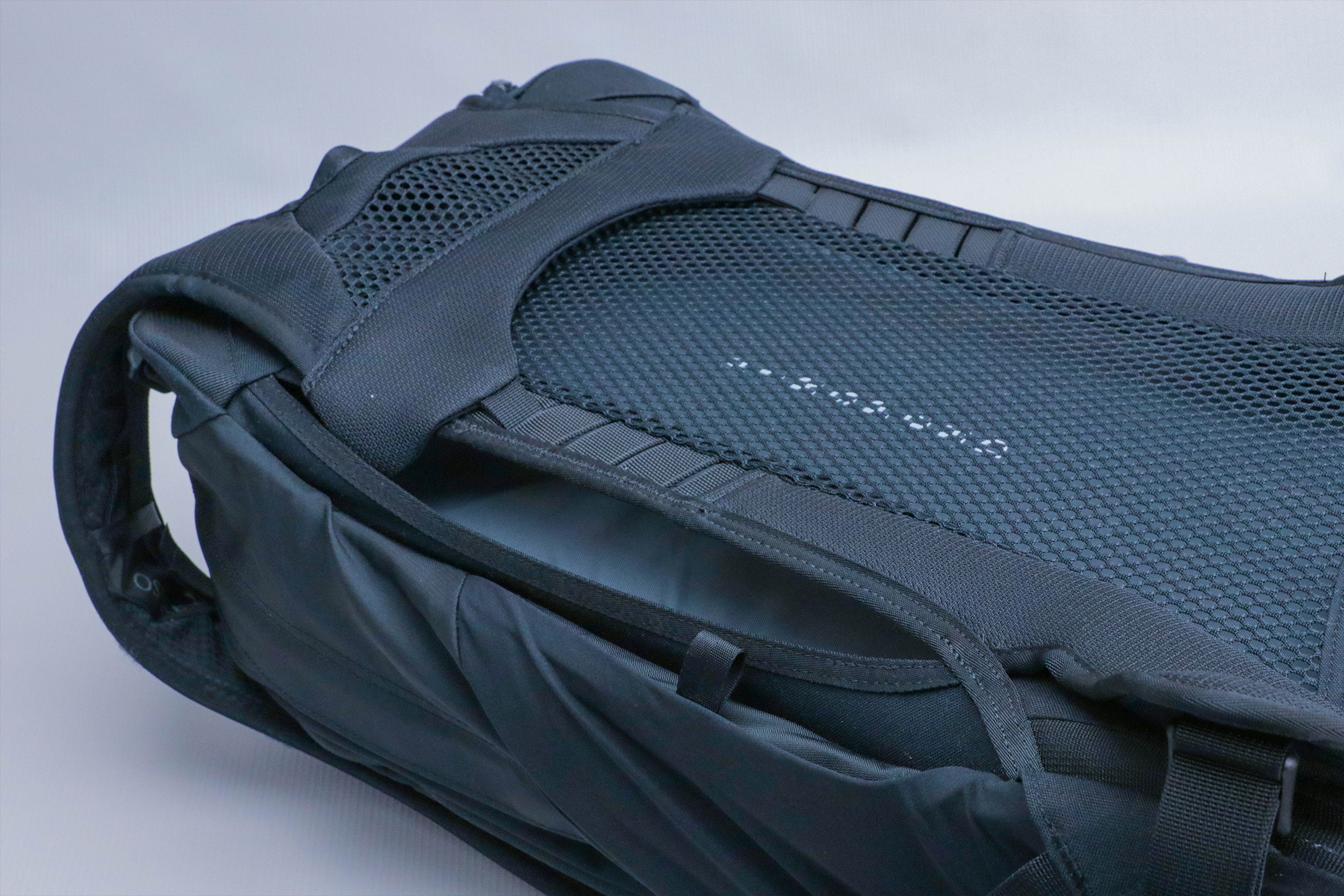 One thing we notice with all of the Radial's many straps is that they all lack keepers. We also took note of this with the METRON and the Tropos, which, in our opinion, is a missed opportunity since all three bags are bike-focused. A lot of the slack tends to flop around, especially during bike rides on windy days, and it can be distracting at times. The silver lining for the Radial is that since it doesn't have compression straps like its siblings, it has fewer dangling straps to worry about overall.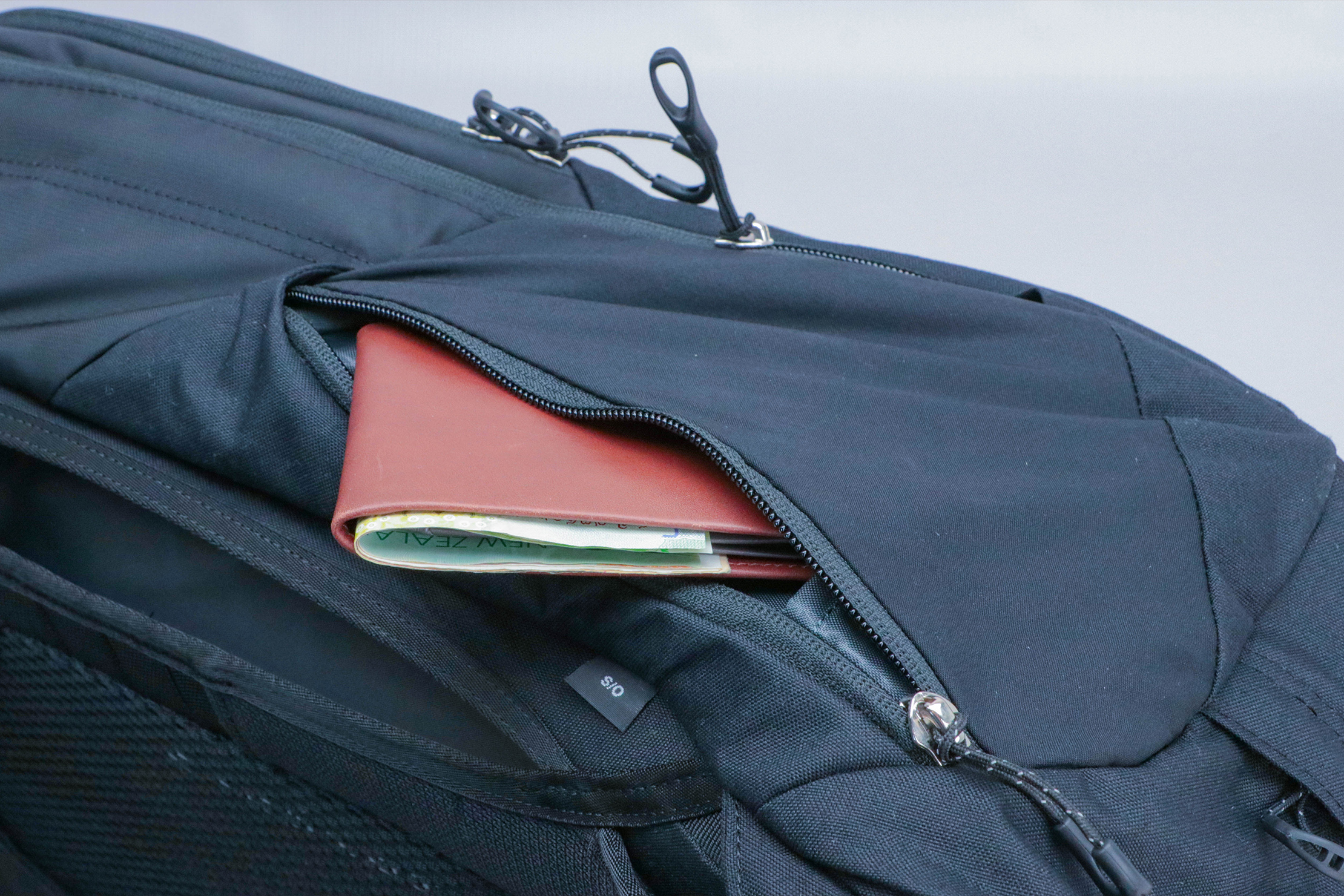 The Radial has two side pockets, one on each side, and they're both the stretchy mesh kind. The left pocket is zippered for quick-grab items that you may wanna reach for while biking, like your phone or wallet. On the opposite side is the water bottle pocket that's cleverly angled, so bottles are easier to grab while biking. The only drawback we found with this angled pocket is that our elbow frequently brushed against the top of our 18 oz. YETI Rambler. To be fair, it's a pretty tall bottle, and shorter bottles may fare better, but it's still worth noting if that's something that peeves you.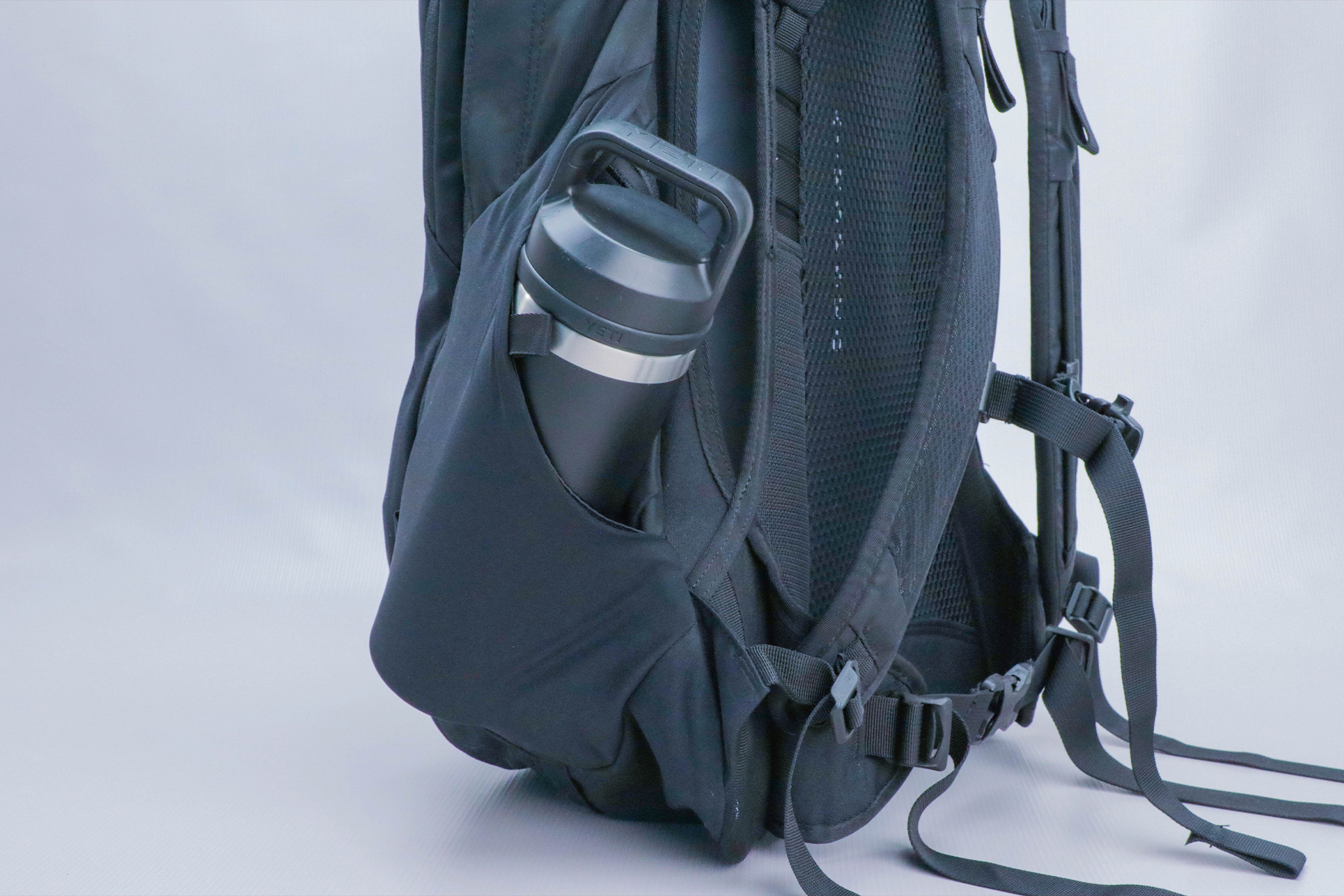 Oh, and if you were wondering, the angled pocket has sufficient grip to hold bottles in place. Despite the elbow issue we mentioned above, we stuck with our tall YETI Rambler, and it never fell out by accident. Continuous jostling will eventually shimmy it out, but generally speaking, we're not too worried.
While the fabrics used on the Radial are fairly water-resistant on their own, Osprey throws in a rain fly for good measure. At the bottom of the bag is a zippered pocket, inside of which is a bright green rain fly. It's detachable, too, in case you're confident that it's not going to rain and want to save a bit of weight, or if you need the pocket for other purposes. There's also a small islet for drainage and ventilation, so you won't have to worry too much about odor or water buildup.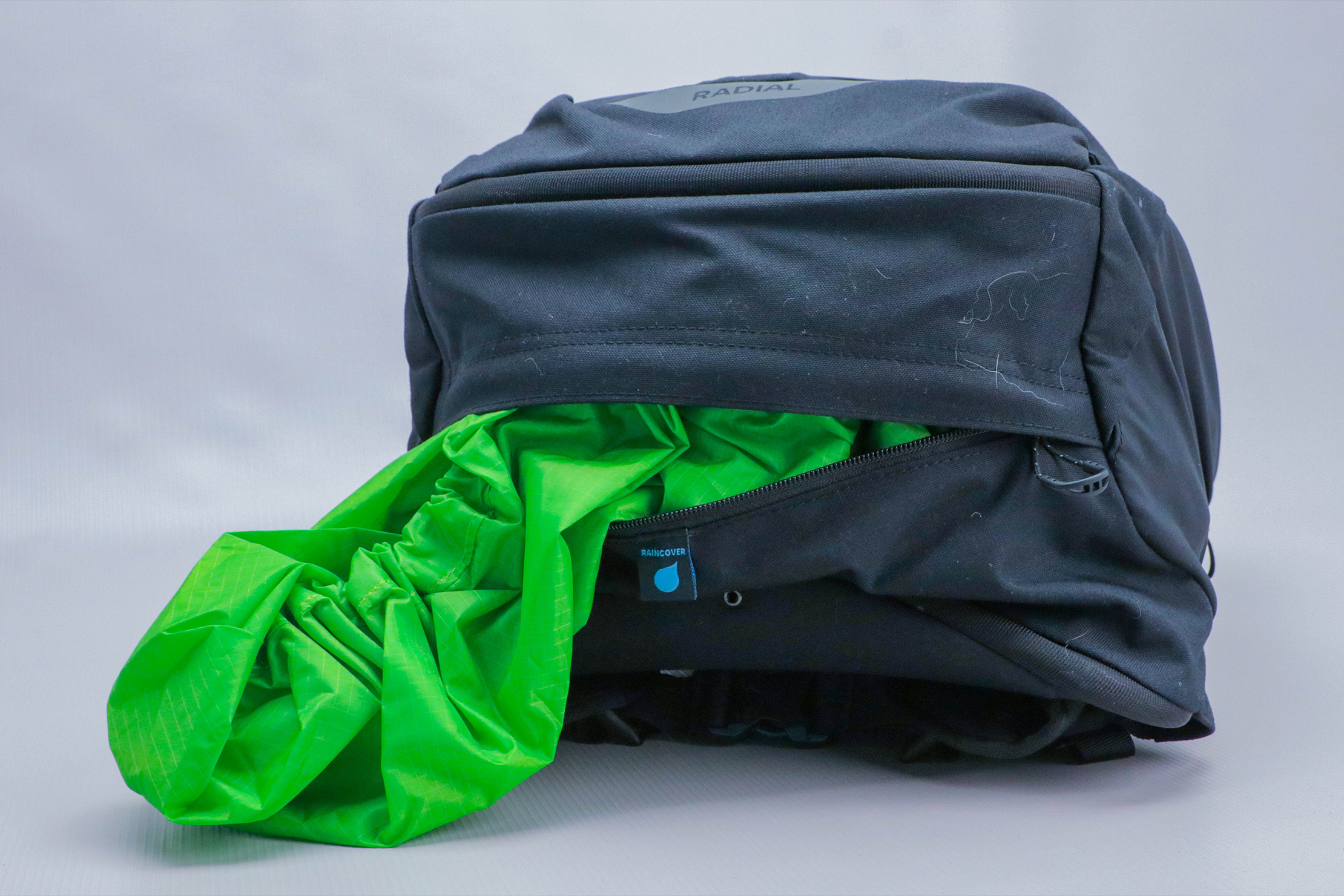 Lastly, on the outside is one of the headlining features of the Radial: the LidLock helmet attachment. Thread the toggle that's on a stretchy cord through one of the ventilation holes on your helmet, and it anchors itself in place. The tension is enough to hold a helmet securely against the Radial, and it's easy to undo with one hand too.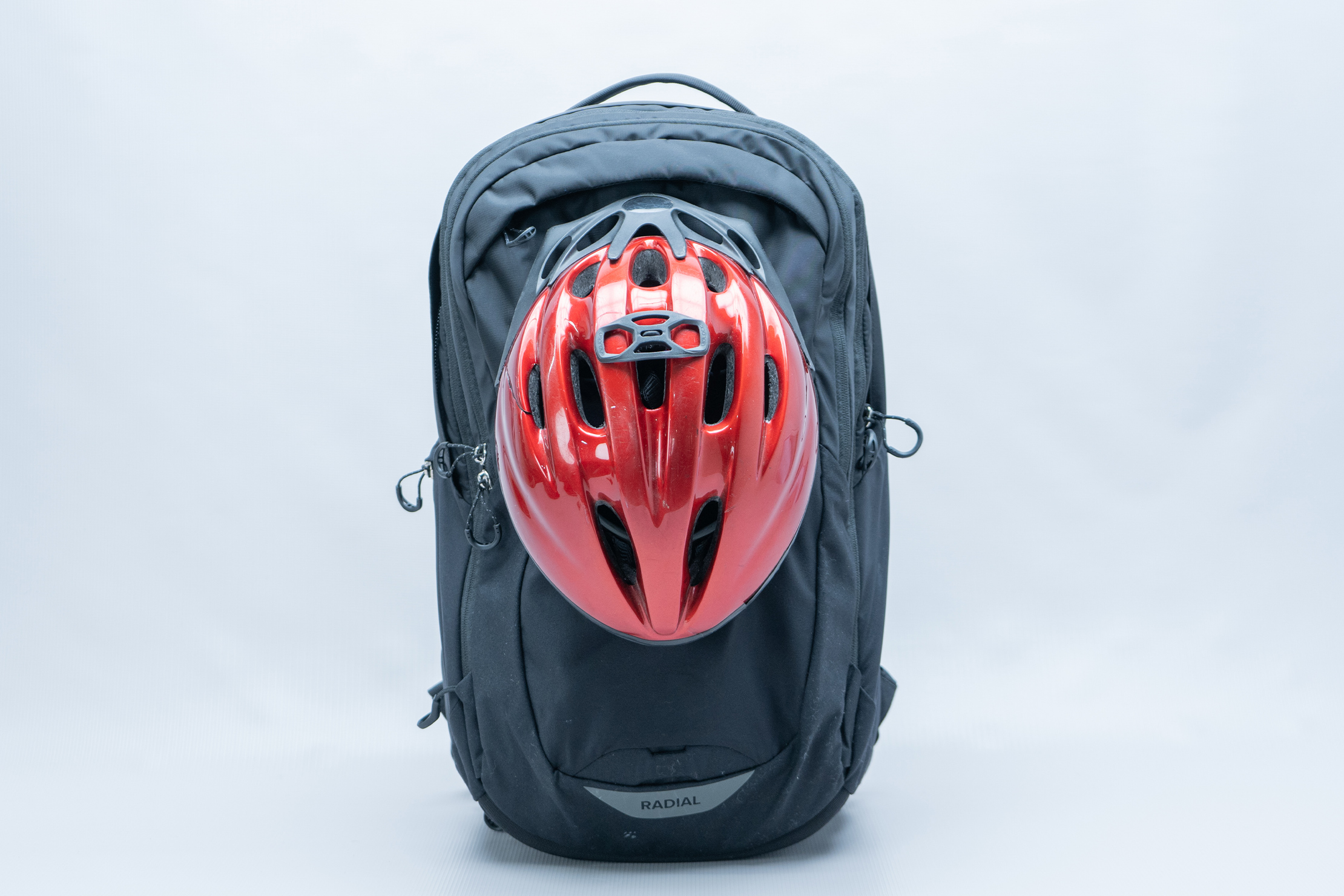 It's a simple but convenient feature to have for any cyclist because it's an easy way to carry a bike helmet around. No more leaving it hanging around the parking lot alongside your bike and carrying a separate lock for it.
Inside The Backpack
Another bike-focused feature just nearby the LidLock system is the U-lock pocket. The pocket has a stretch material, though the brim is reinforced for durability's sake. Now, there is a sequence to this. Ideally, a U-lock goes inside the pocket first before attaching a helmet to the LidLock. This is especially useful to remember if you're using the U-lock pocket for other quick-grab items like a power bank or compressible jacket; otherwise, you'll be detaching your helmet each time. It's an open pocket, so some rain may get inside, but a top gusset shrouds most of the opening from accidental splashes.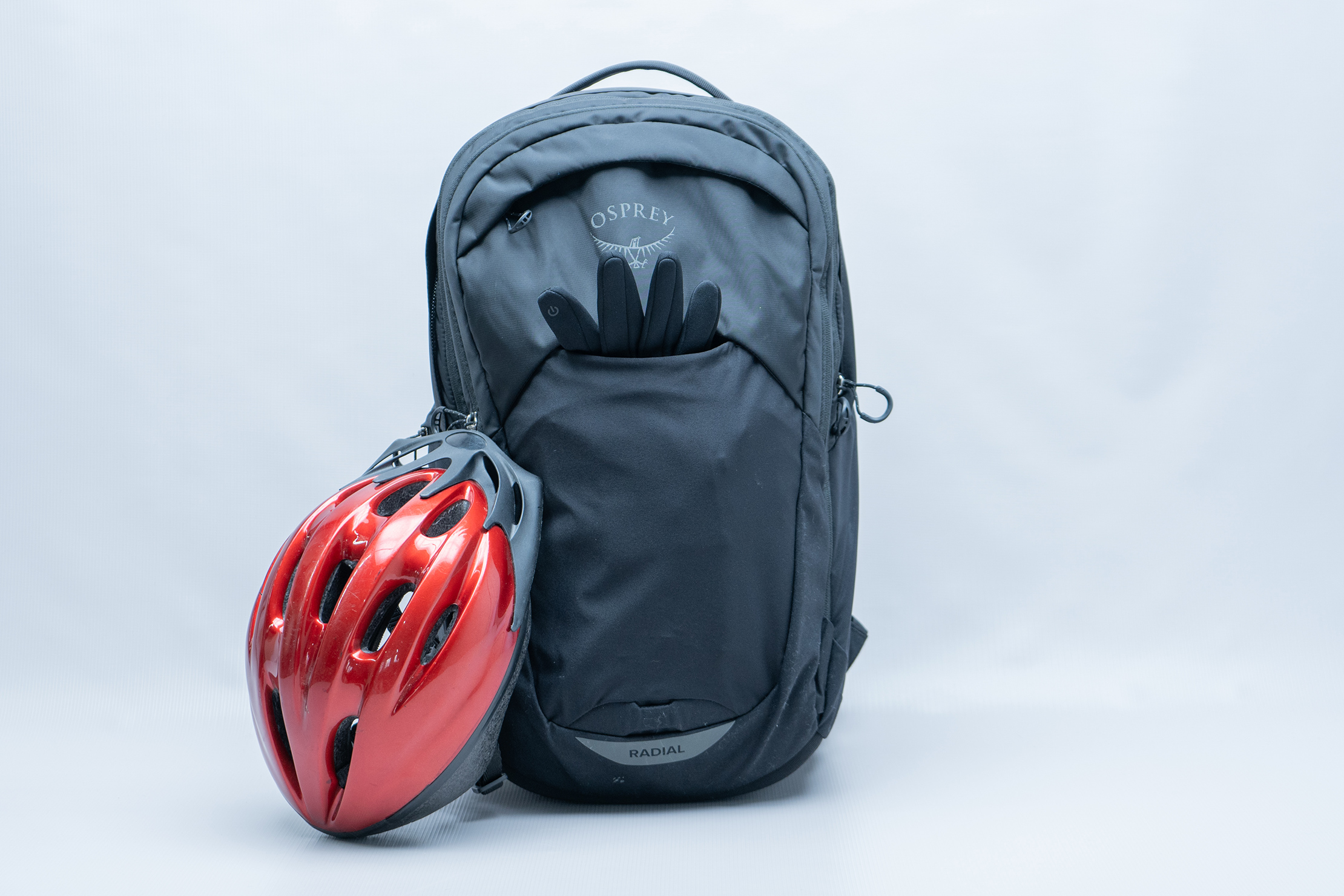 Before we get more into the many pockets and compartments of the Radial, we have to talk about the bag's built-in kickstand. No, you don't get to deploy this yourself like a bike's kickstand. Instead, it's a metal frame embedded in the Radial, and you can feel it when you press around the body of the bag. It curves around from the sides and towards the front.
Combined with the rigid frame sheet, it allows the Radial to stand upright, even when it's empty. It's one of those features that hide behind the scenes, but we're oh-so-happy to have. We can pretty much set the Radial to one side without having to worry that it might tip over or that we have to lean it against a wall or table leg. Standing bags are underrated in our books.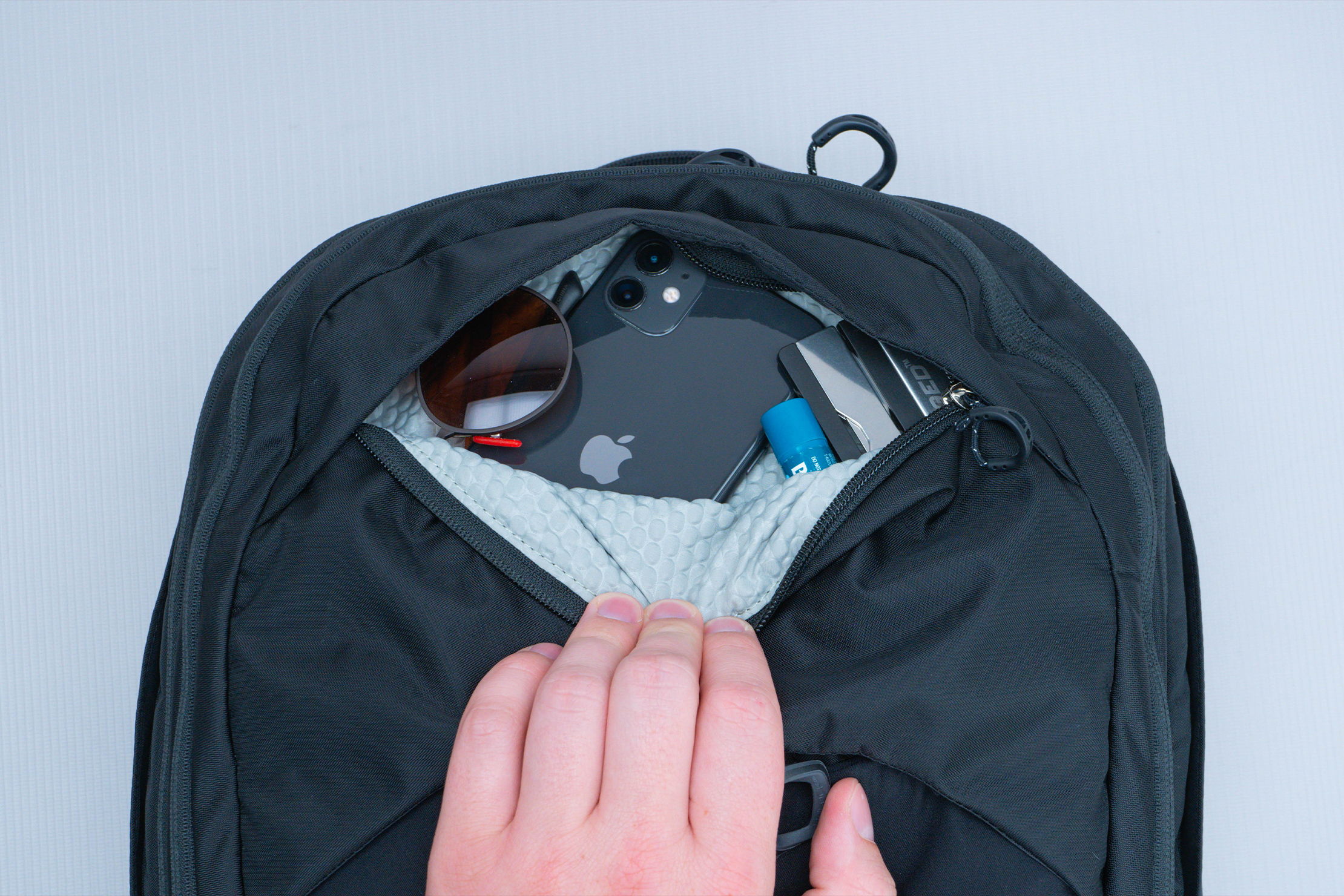 Above the stretchy U-lock pocket is another front pocket. Osprey bills this as a sunglasses pocket, and it's properly equipped with a soft liner to avoid scratching lenses. However, since this pocket has a ton of volume, even for large aviator sunglasses, we threw in other everyday carry items like a Zippo, wireless earphones, and our Anker PowerCore Lite 10000mAh Portable Charger. Plus, the liner fabric is bright white—always a nice bonus for ease of finding items.
The front compartment has a row of three mesh liner pockets. The mesh itself doesn't have much stretch, and the rim isn't elastic, so items aren't gripped in place that well. Fortunately, since the Radial easily stands upright, items inside these pockets mostly stay inside. Each of the three pockets is also subdivided into two, adding up to effectively six pockets in total, though you'll be stacking items together. The space inside is fairly deep and is able to take in a compressed jacket and other bulky items to an extent. Thanks to the wide horseshoe-style opening, putting those in and taking them out isn't a hassle either.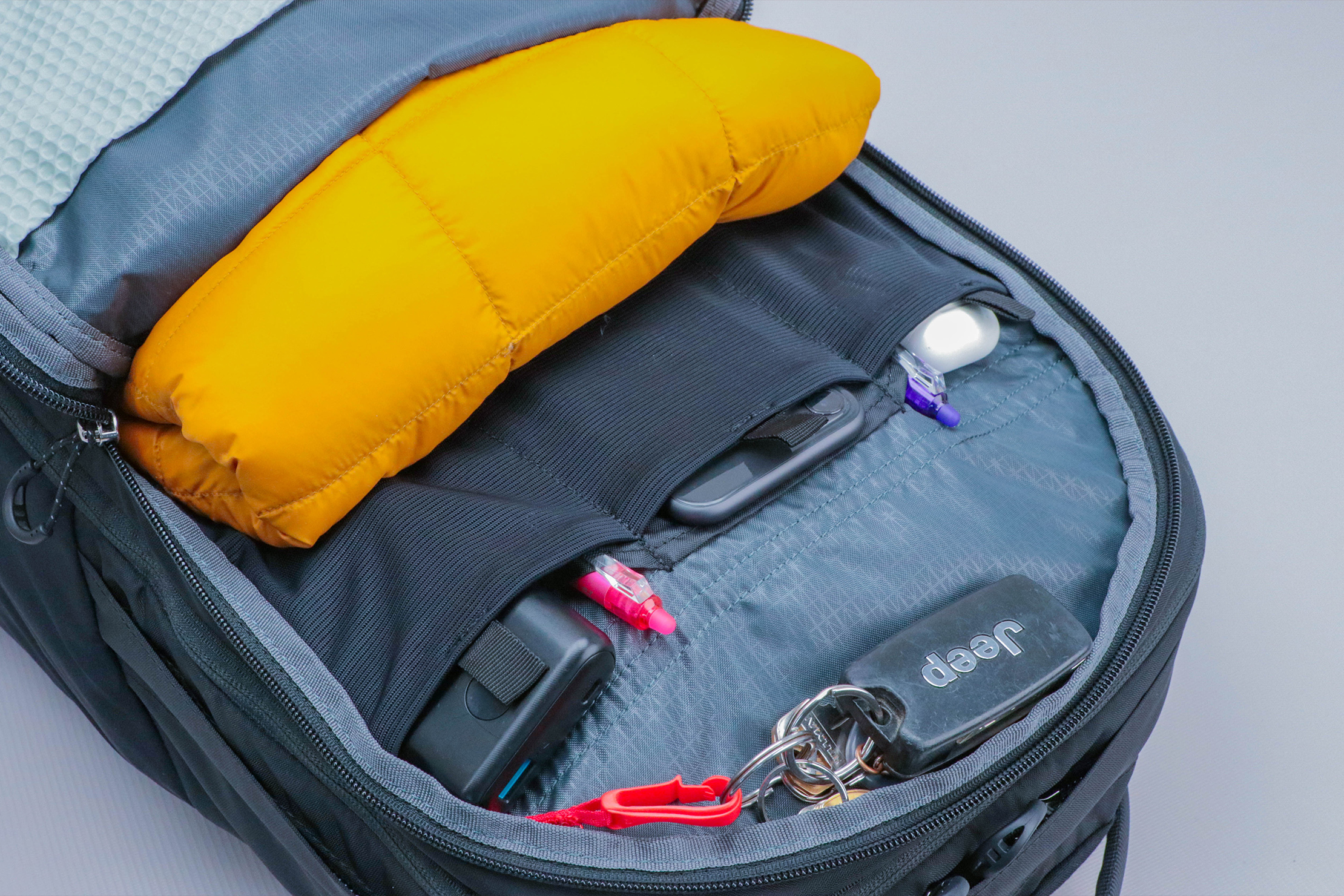 One unique feature of the Radial that the METRON and Tropos don't have is the ability to expand. Conversely, the Radial doesn't have compression straps while its siblings do, so the designs have opposite approaches when it comes to managing bulk. There's a lone zipper at the bottom left of the Radial that unzips to the opposite side. This is the same style of expansion that bags like the Peak Design Travel Backpack uses. However, the implementation on the Radial isn't as seamless as on the Peak Design's.
Once uncompressed, the Radial loses its tightly-packed feeling, and it sloshes around easily. Handling is definitely compromised, but it's still the way to go if you really need to pack some extra bulk, as it ups the total capacity from 26 to 34 liters. Interestingly, the Tropos is 34 liters, but we found that the compression straps handle better. Between an expanded Radial that carries slightly sloppily and a Tropos whose compression straps lack strap keepers, there are definitely pros and cons to both sides worth considering.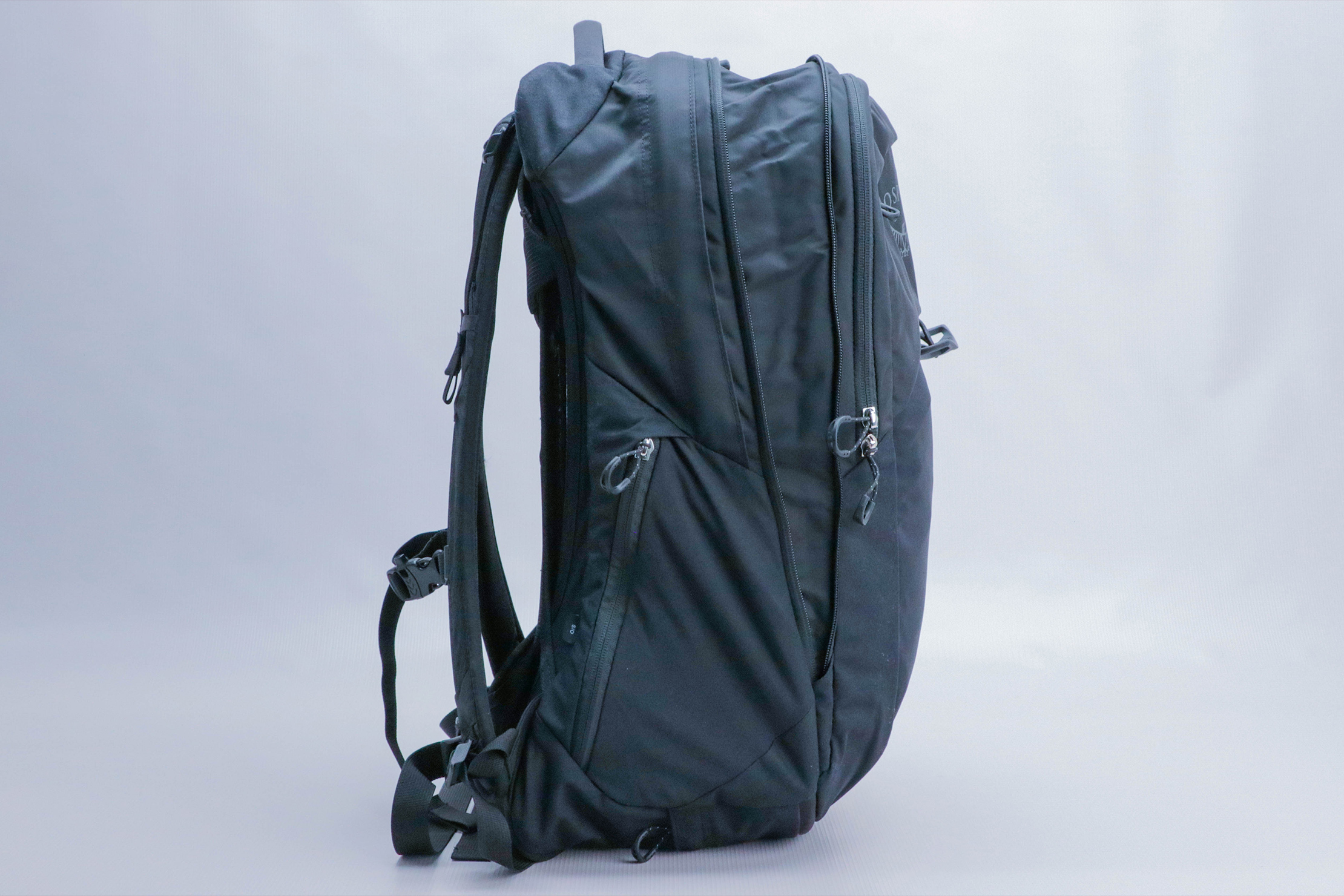 On the bright side, the Radial's main compartment is spacious even in its non-expanded state. The compartment's opening is also horseshoe-style, making accessibility relatively easy as it goes about halfway down the large bag. A fabric gusset even shrouds the zippers for extra weather resistance, which is always nice to see. We were able to carry a few packing cubes and pouches in addition to a pair of sneakers and our trusty 16-inch laptop. That's right—shoes do fit inside the main compartment.
In fact, Osprey includes a dedicated shoe pocket inside at the front side. Mind you, putting shoes in this pocket takes up a significant amount of space, and depending on what kind of you're planning on carrying, it may even be necessary to expand the Radial to accommodate them. In other words, plan your packing list carefully, especially if you're looking to utilize the shoe compartment.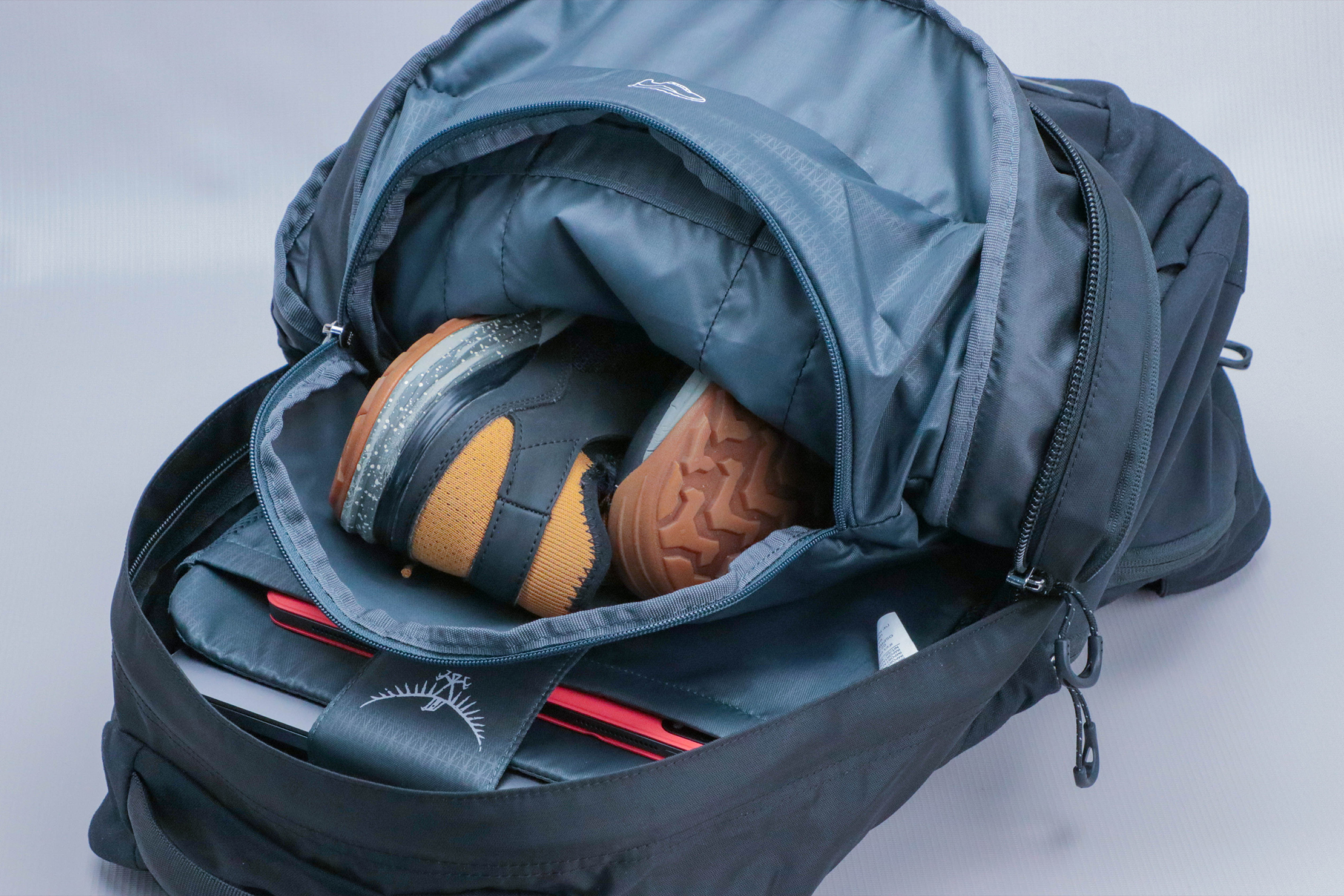 As for the laptop and tablet sleeves, we have to make a note of how big the false bottoms are. The tablet sleeve is raised about two inches from the base, while the laptop sleeve by about an inch. Since the integrated kickstand doesn't collapse like fabric, you can be sure that the chances of your devices getting a hard shock from the bottom is nearly zero.
There's a bit of padding on both the front and the back in addition to the frame sheet, plus stretchy mesh at the sides to allow for thicker laptops. Our 16-inch MacBook Pro is a relatively slim laptop, so it fits inside without an issue, and so too does our cased 12.9-inch iPad Pro inside the tablet sleeve. A large tab with a loop and hook fastener locks things in place, and it covers both the tablet and laptop partitions.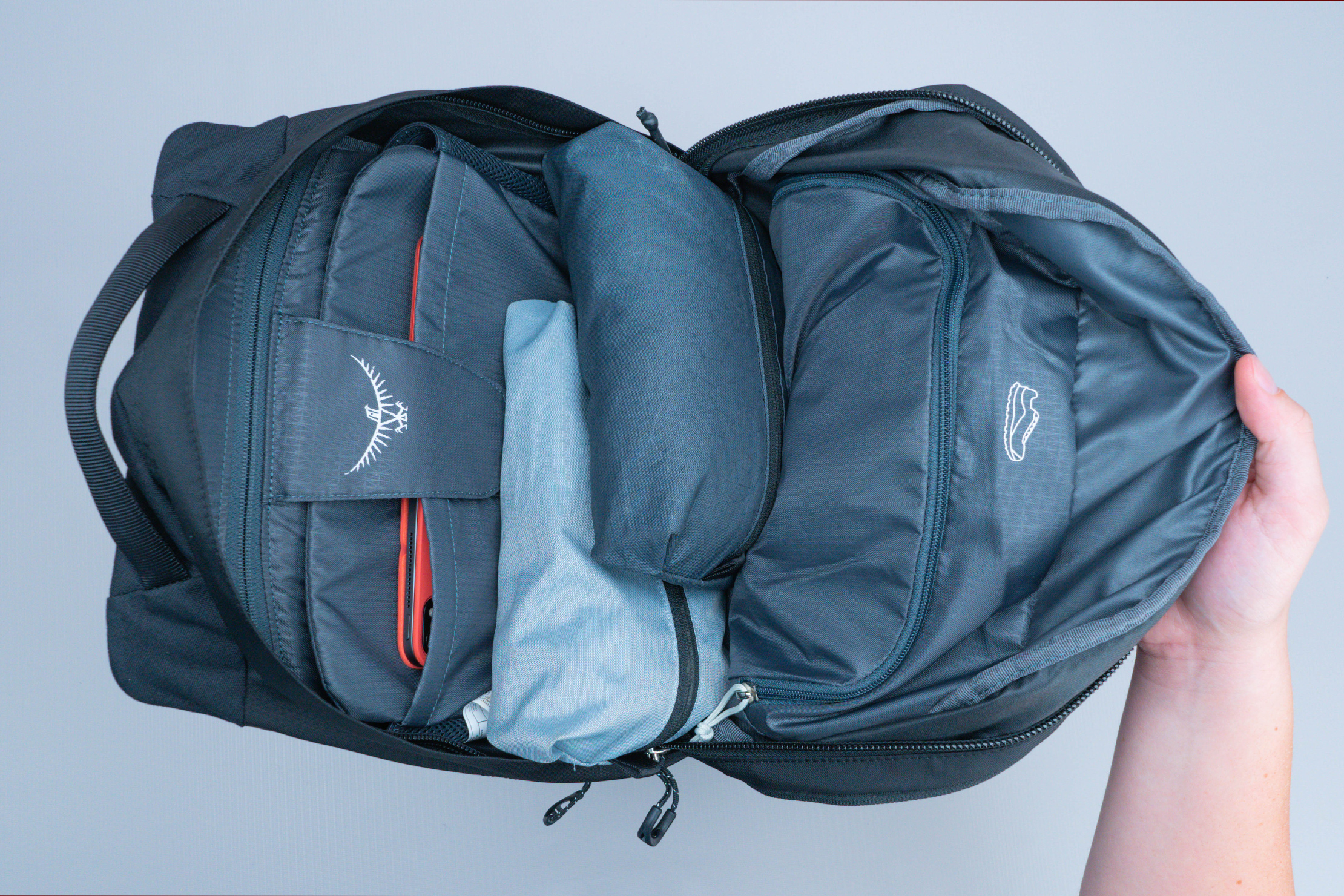 Lastly, the frame sheet is accessible through a zippered opening above the laptop sleeve, just in case it needs replacing. We think this is a nice bonus for those who like to tinker with their bags and who might want to do a bit of DIY-ing. For the most part, though, you probably won't have to replace it anytime soon as ours has barely exhibited any permanent damage due to bending.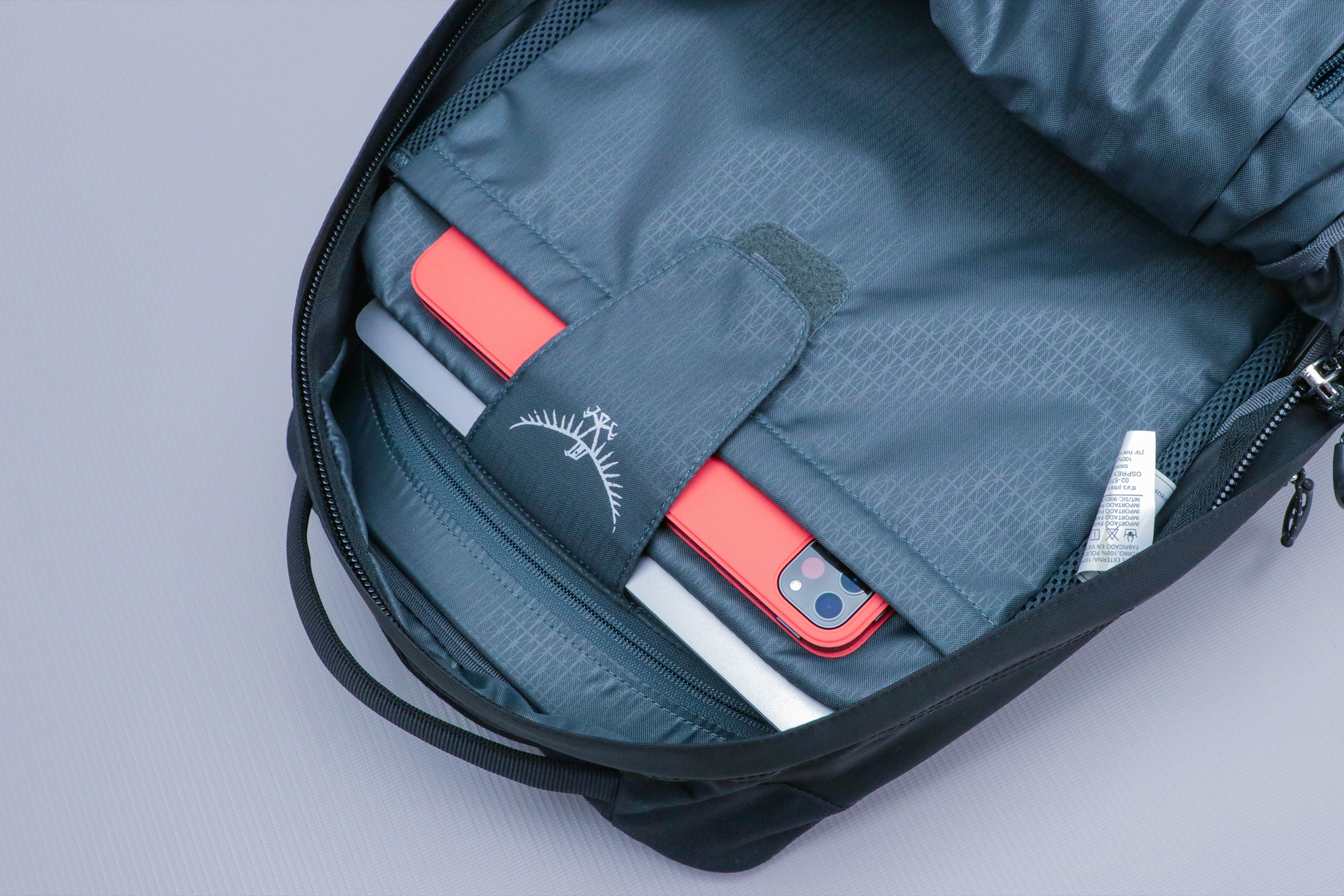 Some of us here at the Pack Hacker HQ enjoy biking to and from places, so bags like the Radial have a natural appeal to us. The LidLock helmet attachment and dedicated U-lock pocket are particularly nice-to-have features, plus the bag's integrated kickstand is a great benefit to day-to-day quality of life. However, the expansion does compromise the Radial's handling, and the lack of strap keepers is something we wish to be remedied in a future version, including on the METRON and the Tropos. It's still a solid and beastly bag to carry around, with the right features to back it up for those looking for a backpack to take on a bike.
Usage Timeline
Initial Usage
Condition: Excellent
Has a built-in kickstand
Also comes with a Lidlock for attaching bike helmets
Sits and wears well on the back, but this is a big bag.
2 Weeks of Use
Condition: Excellent
Kickstand is nice at keeping bag standing up, even with barely anything inside
Side water bottle pocket is nice in concept, but gets in the way with everyday use
Helmet bungee is a nice touch
Not thrilled about a shoe compartment so central to the bag but it gets the job done
Harness system is super comfortable and breathable, taking nods from hiking backpack
Access the Pro Community Discussion
Get your questions about the Osprey Radial answered from our team and the Pro Community right here on the page. Plus, join discussions with other members about gear, guides, and more.
Other Bags & Luggage Reviews