The North Face Daypack Review
For a heritage backpack by a reputable brand, check out The North Face Daypack. It lacks internal organization but is spacious enough for EDC and short trips.
Our Verdict
Unlock the Pro Summary
Save time. Get access to brief summaries of our reviews so you can browse and make decisions more efficiently.
Pros
Material has good weather resistance in a downpour
Gusseted water bottle pockets can be buttoned down
Top pocket is liter independent
Cons
Invisible zippers aren't always smooth to open
Top pocket can sag down if main compartment isn't full
No strap keepers
Recent Pack Hacker Video
Technical Details
Capacity

22l

Weight (lb)

1.44 lb (0.7 kg)

Denier

600D

Dimensions

11.61 in x 4.92 in x 17.52 in (29.5 x 12.5 x 44.5 cm)

Notable Materials

Recycled Polyester, DWR Coating, YKK Zippers, ITW Hardware, Leather

Manufacturing Country

Indonesia

Laptop Compartment Size

13"

Warranty Information
Full Review
Unless you've been living under a rock, surely you've heard of The North Face. The brand's dependable craftsmanship, high-quality materials, and affordable price point make it hard not to like them. The North Face Daypack is yet another offering from this reputable brand that didn't disappoint us in terms of durability, function, and most of all, style. We dig the classic heritage style of the bag and the simplicity of the main compartment, whose main feature is a laptop sleeve. We're fans of the gusseted water bottle pockets that don't interrupt the bag's clean silhouette but expand when you want to use them, too.
Nothing is perfect, though, and we do have some minor nitpicks. The top pocket can sometimes cave in, depending on how you've packed it, and the front pocket eats into the main compartment. And while it doesn't bother us, the lack of internal organization may not be everyone's style. Let's dive right in and check out all the features this bag has (or doesn't have) to offer.
Materials & Aesthetic
The North Face Daypack is made of 600D recycled polyester with a DWR finish for weatherproofing. This material has a soft feel that's incredibly smooth and plush-like to the touch. It doesn't seem like it would have good weather resistance, but we were pleasantly surprised at how well it held up. We once had to make a run for it from the office to the car in an unexpected downpour, and even though it would only be a minute sprint from door to door, we had some concerns about how well our soft daypack would protect our laptop. Luckily, none of our stuff inside the pack got wet, so kudos to The North Face for that.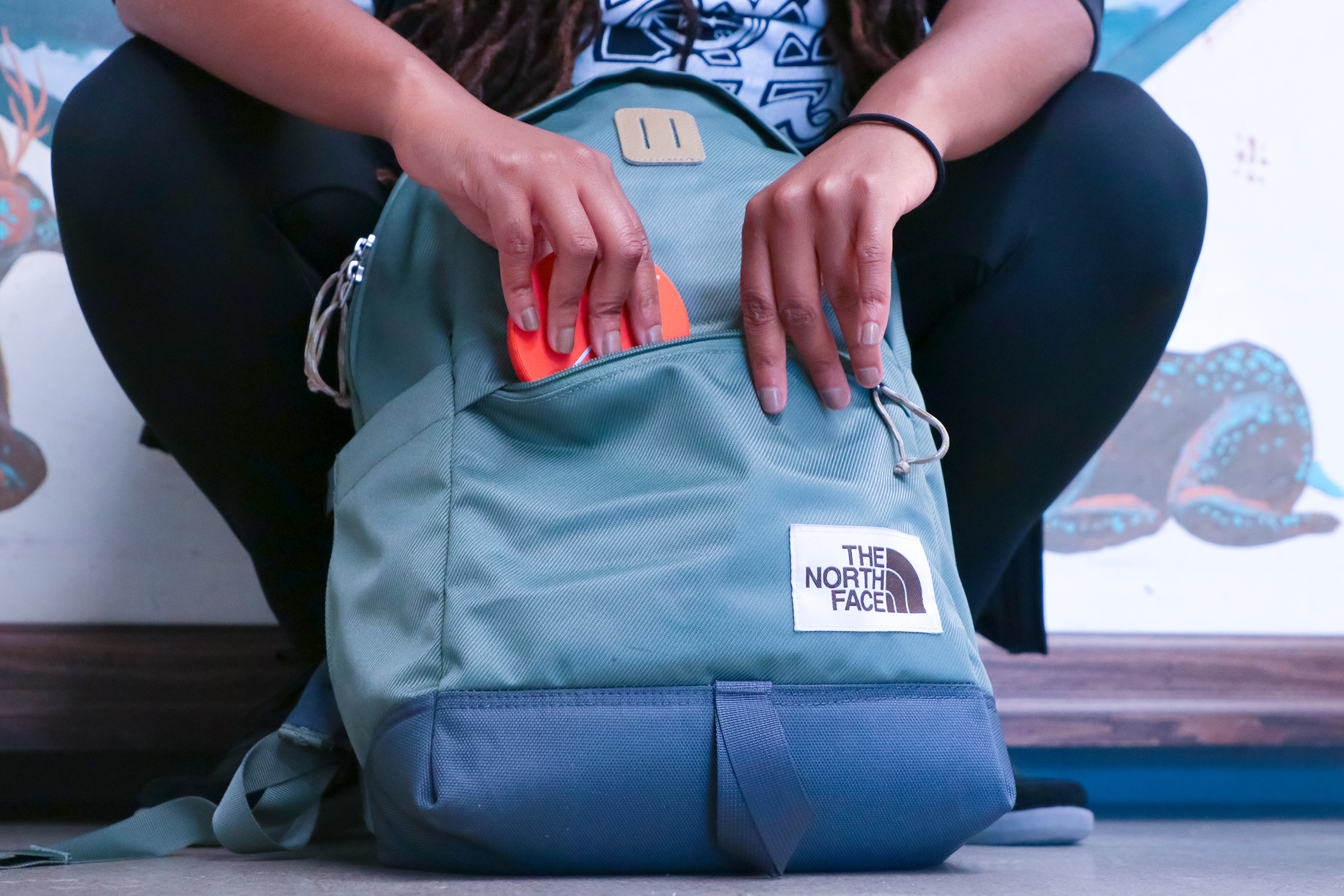 Everything about this pack screams "heritage aesthetic." It's got that classic silhouette that comes to mind when someone says "backpack." You know, like the kind you used to wear in grade school, but remarkably more sophisticated. The leather patch smack dab on the front center and woven "The North Face" logos add even more throwback vibes. Speaking of logos, we appreciate how the branding isn't too over the top on this bag. Some more popular brands tend to plaster their name all over their products, but that isn't the case here. There's just one on the front and a much smaller tag on one of the shoulder straps.
As expected from a brand as well known as The North Face, the rest of the materials on this bag are top-notch. We've got YKK zippers with long paracord zipper pulls for easier zipping and Nexus hardware on the shoulder strap adjusters. Check, check, and check on the quality materials list. At the time of this review, The North Face Daypack is available in about 10 colorways with different accents on the shoulder straps, the bottom of the bag, and zipper pulls. Of course, they all have some pretty fun names like the Aviator Navy Botanical Day Dream Print and Evening Sand Pink Dark Heather.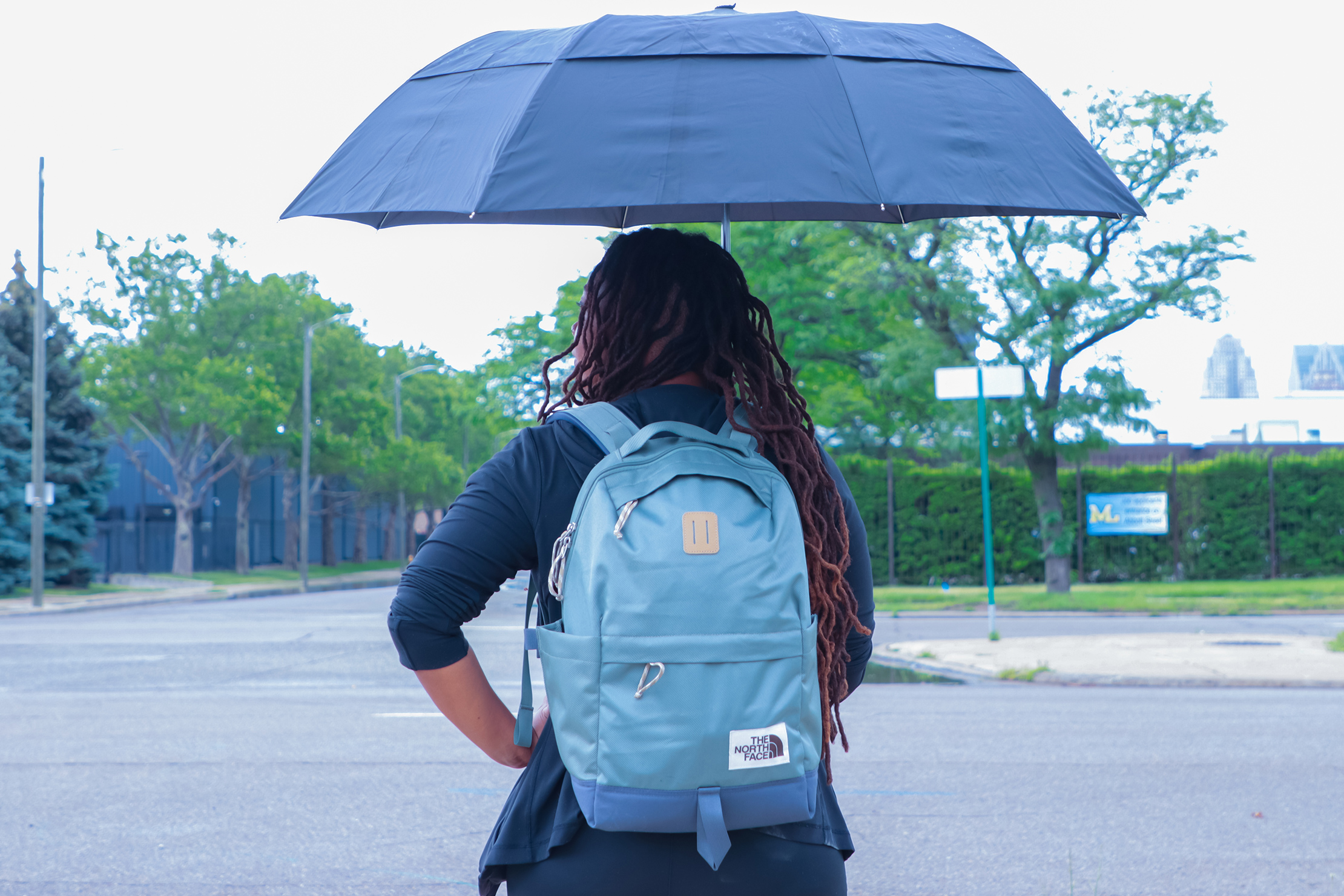 It's hard to choose with so many options, but in the end, we opted for the Agave Green with Vandis Grey accents and Kelp Tan zipper pulls. It's a shift from our typical preference for black bags, but sometimes you gotta mix it up, you know? This colorway makes us feel like we're either getting ready for a nature hike ('cause it's green) or preparing to weather a storm ('cause it's grey). That makes sense, right?
External Components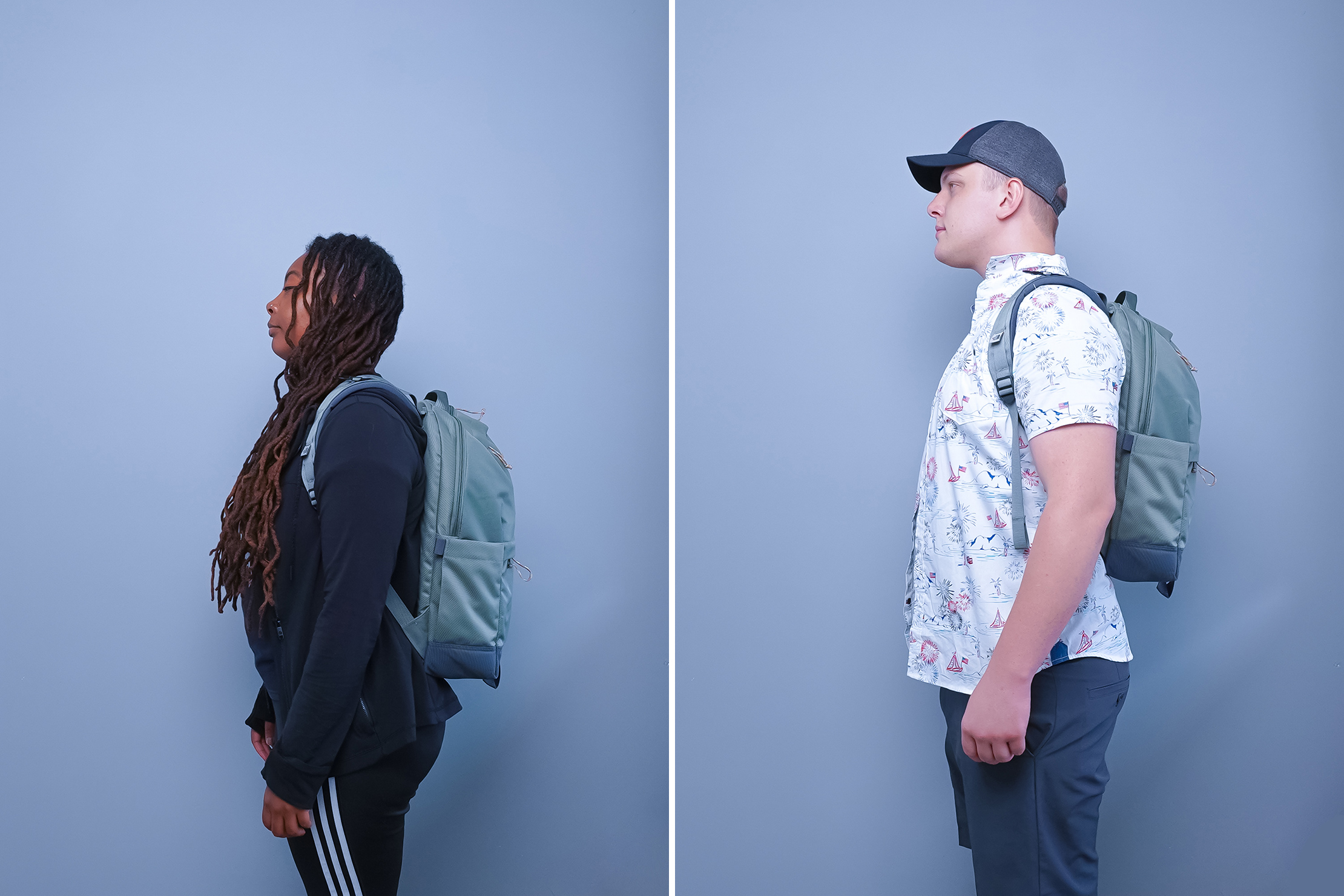 Now that we've talked about the soft material, heritage vibes, and banging colorways, let's look at how those aesthetics come together in the external components. We'll start with the harness system, which we found comfortable with the right amount of padding for everyday carry. The edgeless shoulder straps with cushy foam not only look clean, but they're also incredibly soft. A very structured frame sheet and thick rows of padding on the back panel make the pack sit comfortably upright against your back, ensuring that you don't feel your laptop on the inside. Combined, the shoulder straps and back panel make for a seriously comfortable carry, even when this bag is fully packed out. The shoulders straps also feature nylon webbing for you to clip on hand sanitizer, organizer pouches, or whatever other accessories you want quick access to.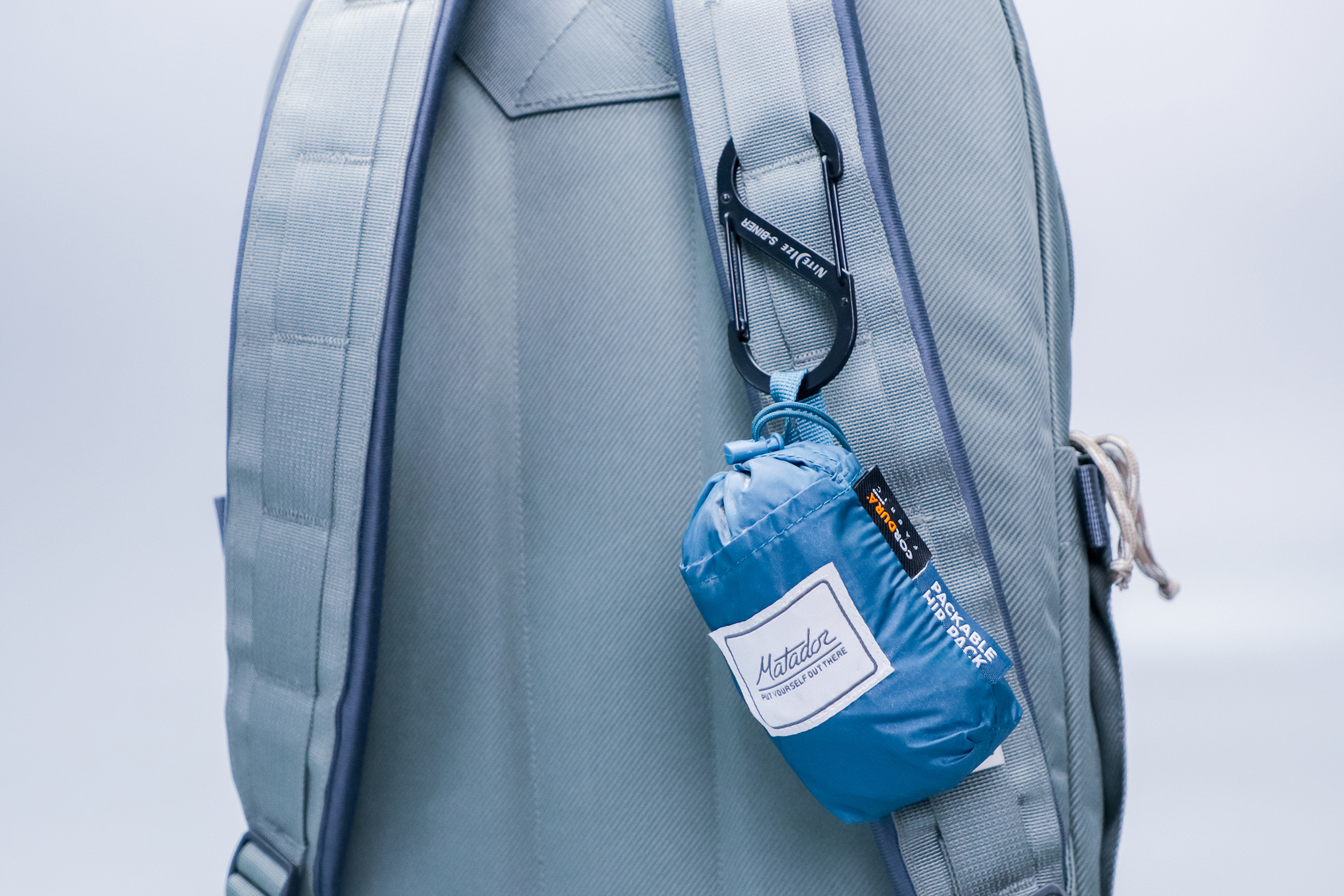 Over on the front of the pack, there are two spacious pockets for quick-grab items you don't want hanging on the outside of your bag. The bottom one is relatively wide, stretching almost across the entire front of the pack. We dig this large capacity. Unfortunately, it's not liter independent, which means it cuts into the main compartment if it's stuffed too full. Just above that is another pocket. This one is liter-independent, so it doesn't eat up space, but it has a tendency to flop over when you unzip the main compartment if it's too heavy. When you don't have much in the main compartment, stuffing the top pocket too much will also make it sag inward, giving the bag an unattractive dip. You'll see what we mean once we get inside the bag in the next section.
We still dig the amount of space these pockets offer; the key is not to overpack them. They also have an interesting "invisible" zipper flap covering the zipper track. We say interesting because it looks cool and makes it more difficult for someone to get inside. Unfortunately, that includes both a would-be thief and the wearer. We found that the zippers sometimes get stuck underneath the invisible flap, so they aren't always smooth to unzip. Sometimes they glide open with no snags, but it really just depends on how you've packed the pockets, so just watch out.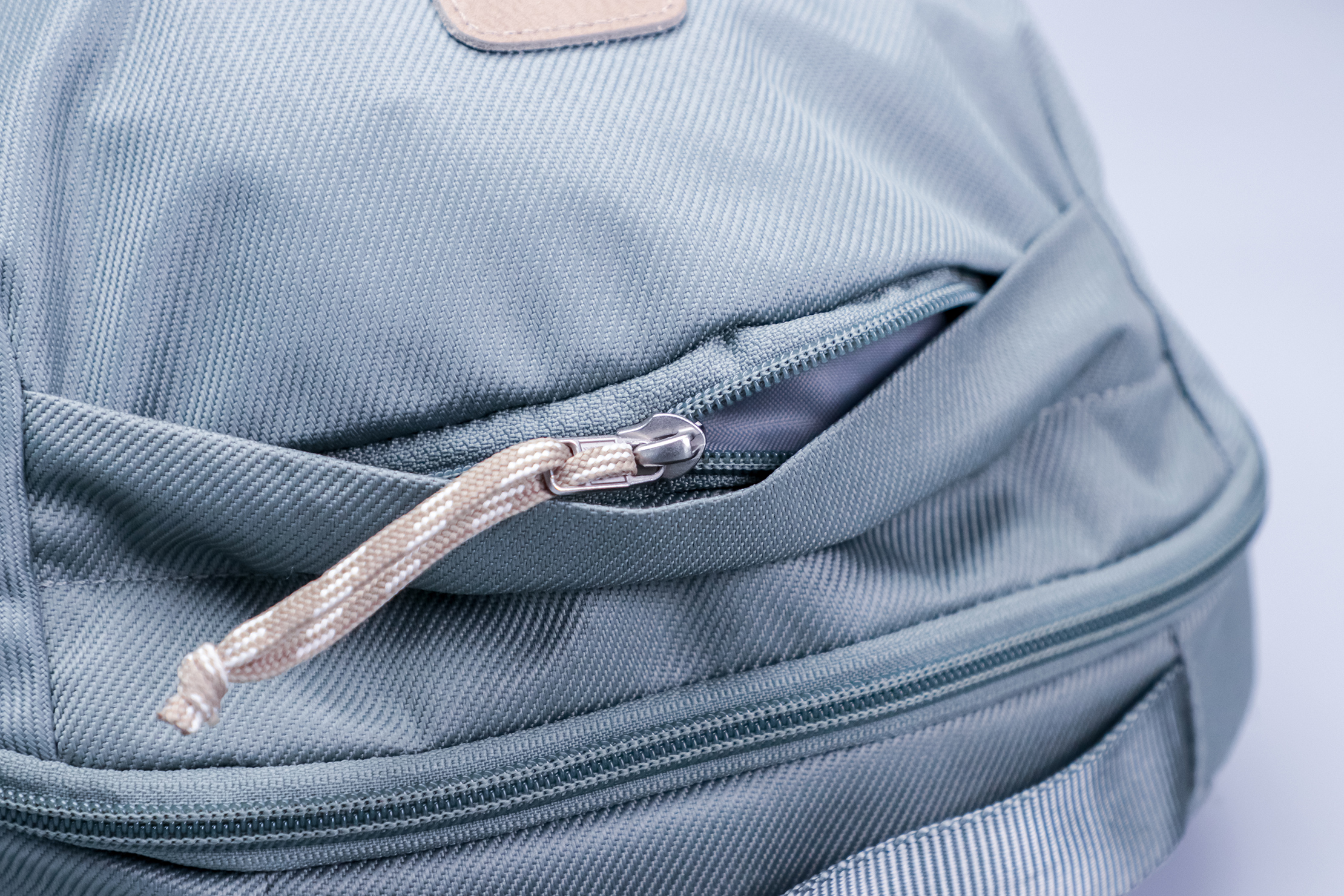 Probably one of our favorite features on the outside of this little pack is the water bottle pockets. We always dig when bags have two of them since we often carry both water and coffee for our daily hydration needs. What makes the bottle pockets on this bag great, though, are their gusseted design. A snap and tab of nylon webbing on each pocket allow it to expand while keeping close to the body of the bag while not in use. This helps the bag maintain a clean profile. They're also fairly deep, so no problem if you've got a heftier water bottle like the 20oz Bindle Bottle Slim or Purist Collective Founder 32oz. Although, a larger bottle may cut into some space inside the main compartment.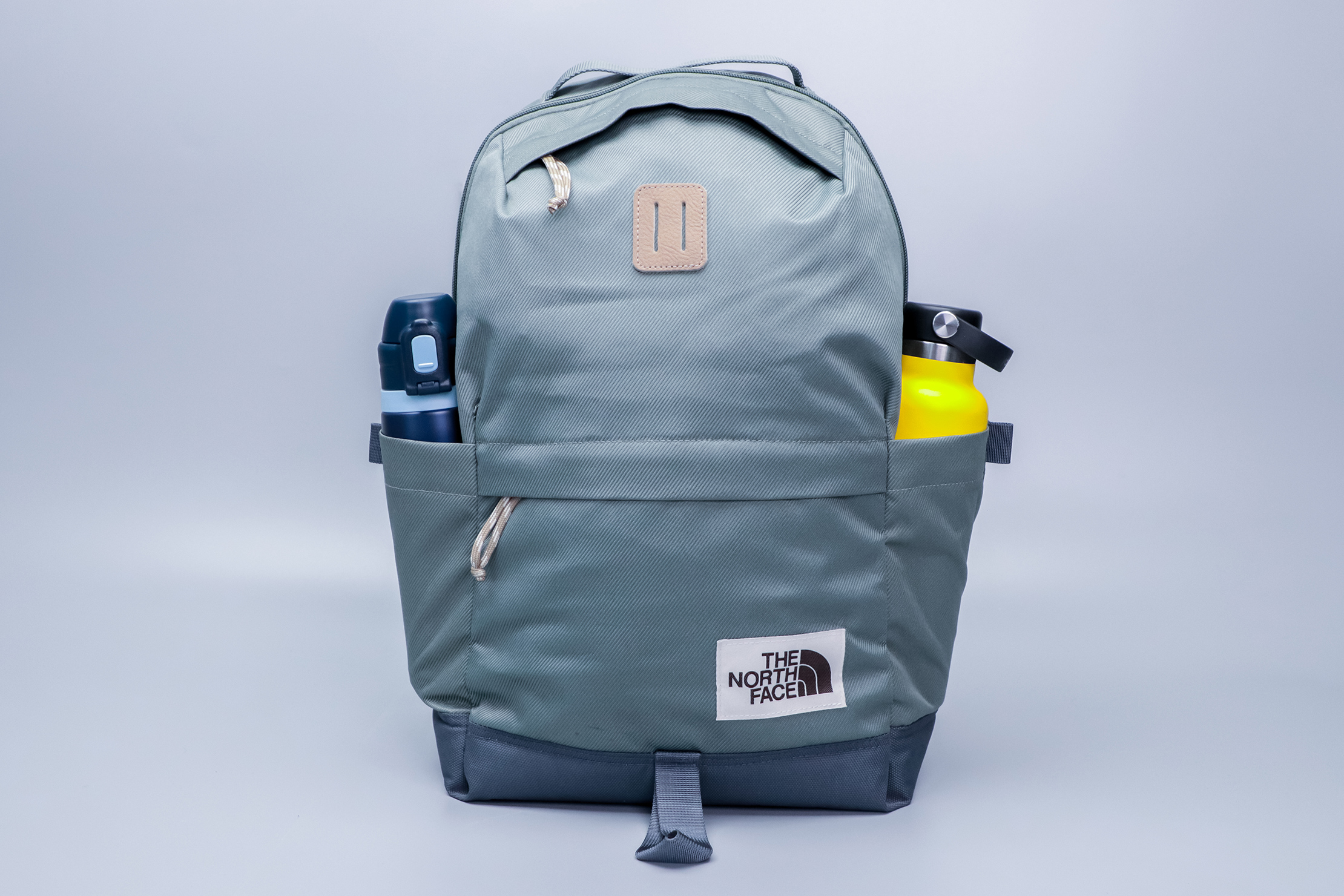 There's also a loop at the bottom for your bike light in case you commute via cycling. It's kind of funky and looks like a pull tab that would open up some secret compartment. Even if you don't use a bike light here, it looks streamlined and doesn't stick out far from the bag. Plus, if you're traveling in a group and don't want to get lost in a crowded train station, your friends can just hold onto you via this loop so you don't get separated. It's like the adult version of holding hands in elementary school. We told you it was a throwback bag! On the opposite end of this pack, there's a wide grab handle that makes it convenient for getting under the airplane seat if you carry it as a personal item. We like how soft it is because it doesn't put any unnecessary strain on your hand if the bag is in a tight space.
Inside The Pack
Now that we've covered everything on the outside of this daypack, we're finally ready to tackle the inside. The main compartment opens up horseshoe style and doesn't have a ton of organization going on, which isn't bad for everyday carry. This is a good thing for folks who like to organize their gear in pouches, and it's spacious enough to fit a packing cube or two. We were able to put our laptop, one large Heimplanet Packing Cube, and a tech pouch inside. The space is ample enough for a weekend trip, especially if you empty out your packing cubes and use the bag as a daily driver once you arrive at your destination. While we like its simplicity, it all comes down to a matter of personal preference. So if you prefer bags with more pockets and places to organize your tech, then this is probably not the pack for you.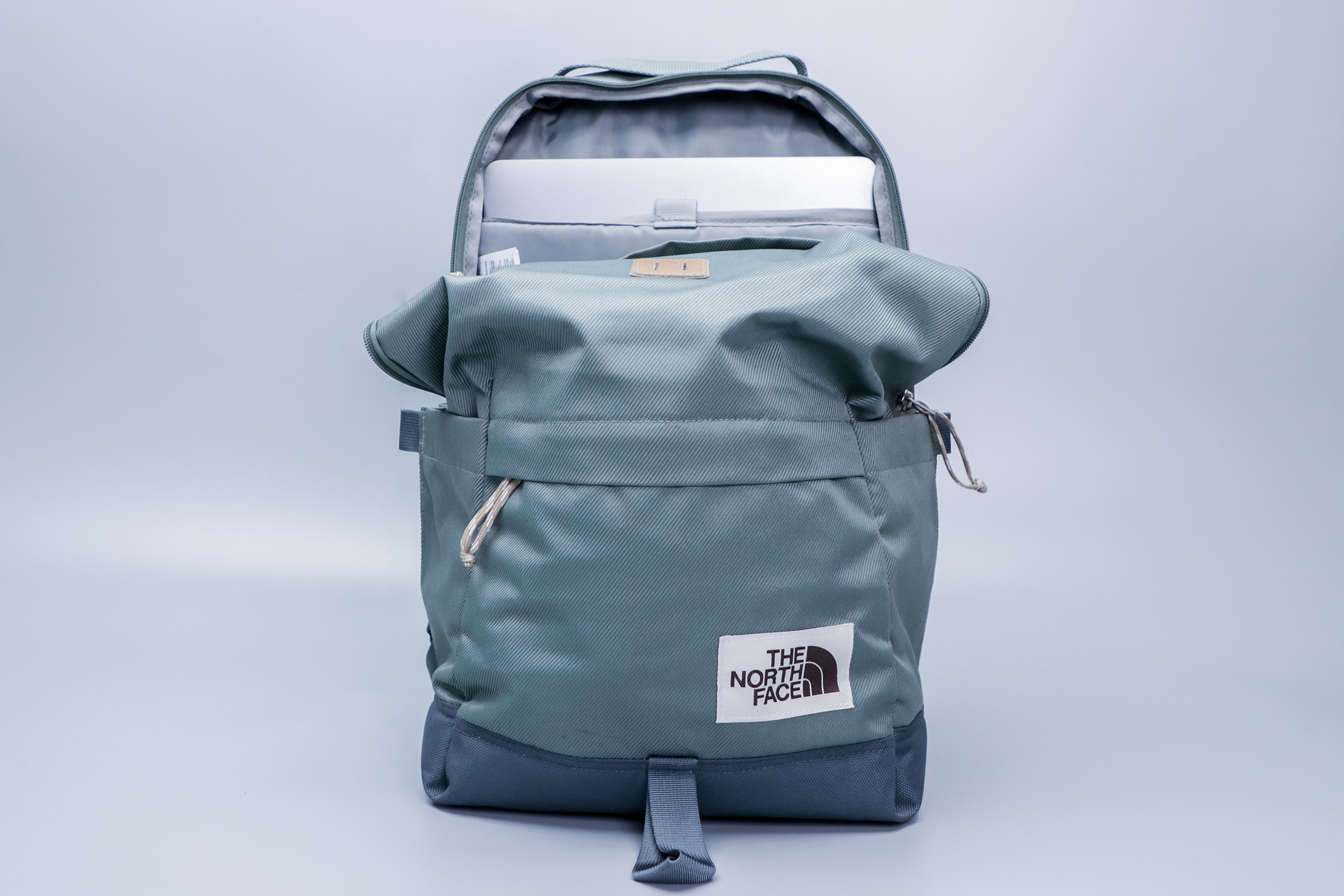 You may have to do some strategic packing to avoid that top pocket either flopping over or making the front of the bag saggy. We found that if we had a packing cube, jacket, or other pouches in the main compartment that helped add structure against the bag's front, the top pocket had no issues staying upright. It was when we just had a laptop inside that we got the problem with sagging. Since this is a daypack, there were many days where we indeed only needed to carry a laptop and a few small items in the top pocket, causing the dip to appear. On those days, we didn't think overpacking to avoid this happening was worth it. It all comes down to how you intend to use the bag, and honestly, the possibility of sagging on the front is a very minor nitpick and not extreme enough for us to dislike it.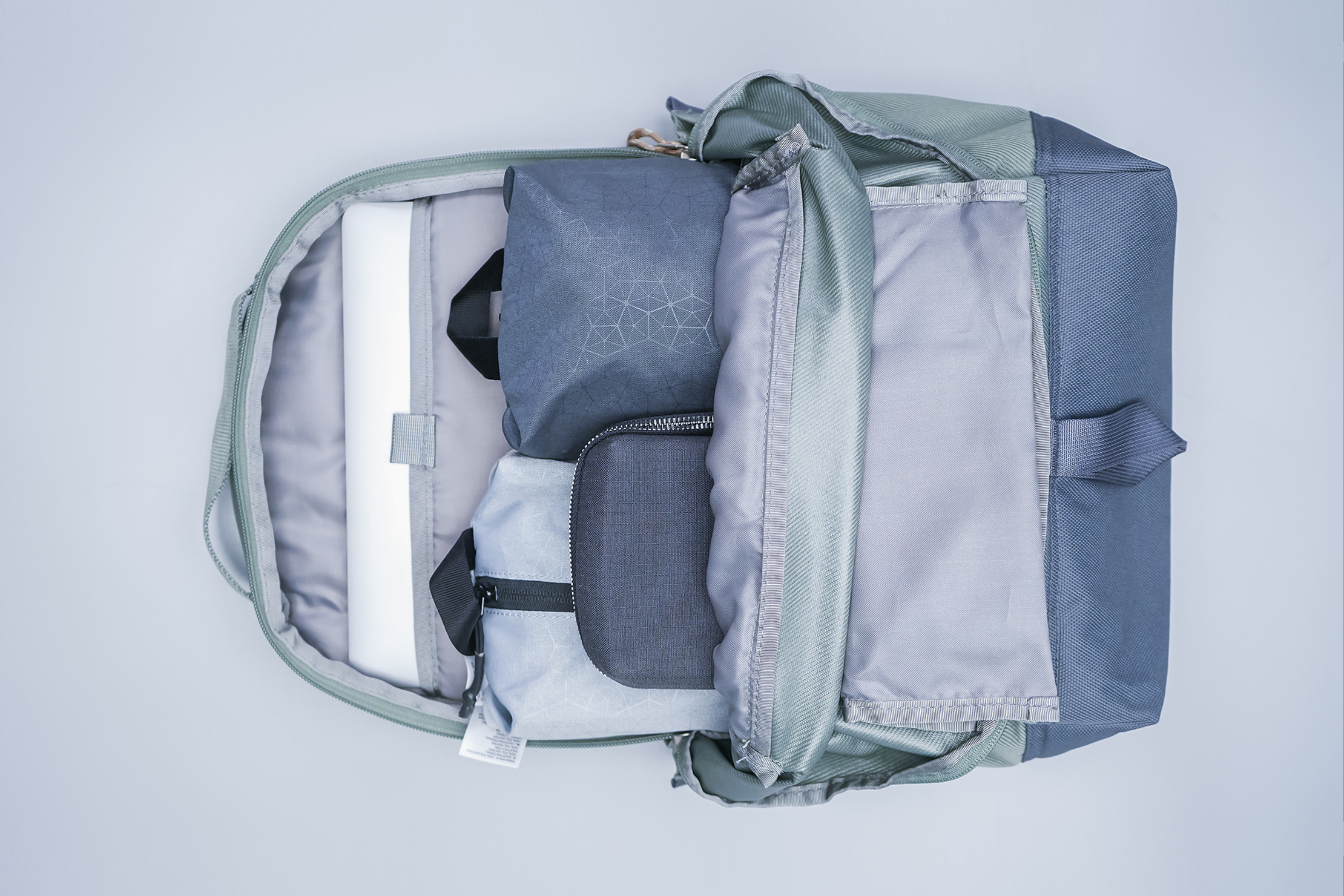 The main feature on the inside of the bag is the laptop sleeve. It has a generous false bottom which we always like to see. In case you're not sure what a false bottom is and why you'd want your pack to have one, let us explain. A false bottom means that the laptop sleeve stops short of the actual base of your bag. This leaves your laptop or other device suspended so that it won't hit the floor and get potentially damaged if you drop your bag or have a tendency to toss it around carelessly. We definitely don't recommend doing that, false bottom or not, but we also understand that unpleasant things can happen in transit. The laptop sleeve on The North Face Daypack is padded on all sides, giving us full confidence that our precious cargo is protected.
Overall The North Face Daypack is a solid option for everyday carry with a classic style that never gets old. Despite a few minor nitpicks, the lack of internal organization works well for EDC and weekend trips, with space for a few packing cubes and organizer pouches.
Usage Timeline
Initial Usage
Condition: Excellent
Front pocket is notably spacious
Water bottle pockets sit flat against the bag, but they're gusseted so they expand pretty wide
Has a built-in loop for a bike light
2 Weeks of Use
Condition: Excellent
Top pocket sometimes flops over if it's full when you open the bag
Material is very soft but has nice weather resistance and didn't soak through in a downpour
Invisible zippers on front pockets are not always smooth to open
Laptop compartment is thickly padded and suspended to keep your device safe
Really digging the heritage vibes
Access the Pro Community Discussion
Get your questions about the The North Face Daypack answered from our team and the Pro Community right here on the page. Plus, join discussions with other members about gear, guides, and more.
Other Bags & Luggage Reviews